By Gregg Easterbrook
Special to Page 2
When my two football-crazed boys got up early this morning I said, "Guys, Arizona was ahead by 20 and had the ball on the last play of the third quarter." Immediately both said, "And the Cardinals lost." Not only did Arizona blow a late 20-point lead at home in front of a national television audience; the Bears committed six turnovers and the Cards still managed to lose. Arizona held Chicago to nine first downs and was plus-four in turnovers, yet managed to lose. In the closing seconds, Arizona had last year's Pro Bowl kicker lined up for a 41-yarder to win, and trigger what would surely have been wild civic celebration, and still lost. What's a stronger expression than "pitiful"? We must now twist an old line and proclaim: Whom the football gods would destroy, they first make Arizona Cardinals.
Yet it's not enough to say that mere Cardinal-ness cost Arizona this game. Blowing a late 20-point lead is not easy: Dennis Green and his coaching staff worked hard to blow it. Consider the situation at the start of the fourth quarter. Arizona led 23-10 and had a first-and-10 on its 23. At this point, the clock -- not the Bears -- is the opponent; just keep those numerals on the scoreboard declining and victory is likely. Yet after the first play of the fourth quarter, Arizona called timeout. On the possession, Matt Leinart threw incomplete twice, stopping the clock twice more. On its next possession, still leading 23-10 and now with 10:53 remaining, Arizona went run, incompletion, incompletion, stopping the clock two more times before punting. TMQ's Immutable Law of Doing the Obvious holds: Sometimes all a team needs to do is run the ball up the middle for no gain, and everything will be fine. Had Arizona not called a timeout in a clock-killer situation, and had the team simply run up the middle for no gain on these four plays Leinart threw incomplete, probably there never would have been a winning 83-yard Chicago punt return with 2:58 to play. The clock would have expired and the contest would have ended with Arizona leading.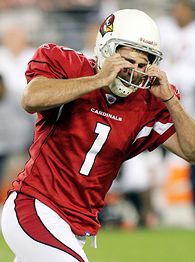 Roy Dabner/AP Photo
Even Neil Rackers couldn't save the Cardinals from themselves.
Stadium note: The new Arizona stadium is tremendously impressive, though it makes it a shame the Levitra sponsorship contract with the NFL ended in March. When Levitra, a Viagra competitor, put its billboards in NFL stadia, my line was that while Levitra is intended to increase scoring, it would reduce scoring because the end zone would get farther and farther away during games. Now a stadium exists with a movable field surface -- the end zone actually could get farther away during games. Perfect backdrop for a Levitra ad! That aside, whenever the high-sex-appeal Cardinals Cheerleaders dance, expect the Arizona field to get a little longer.
In other football news, the MAC rules! This weekend Mid-American Conference starting quarterbacks in the NFL were 3-0 (Bruce Gradkowski, Chad Pennington and Ben Roethlisberger), while starting quarterbacks of the max-glam Pacific-10 went 2-5 (Drew Bledsoe and Jake Plummer winning -- Mark Brunell, Joey Harrington, Damon Huard, Matt Leinart and Carson Palmer losing).
And in other sports news, first the Red Sox win the World Series, then the White Sox win, now the Detroit Tigers are in the World Series. Is it me or does this seem to anyone else a sign of the Apocalypse? Recently scholars working near the Dead Sea unearthed an ancient scroll that warns, "And lo, it shall come to pass that the sox of red will wear the garlands of summer, and then the sox of white, and after that the lowest of the low will be raised high. And verily, this shall happen in a time of great underground explosions and earthquakes that shake the land itself." Be on the lookout for seven-headed dragons and battalions of armored locust, OK?
Stat of the Week No. 1: Chicago became the first team to overcome a 20-point deficit without scoring a touchdown on offense.
Stat of the Week No. 2: Denver, at 4-1, has scored only 12 more points than Oakland, at 0-5.
Stat of the Week No. 3: At 4:18 p.m. ET on Oct. 15, the Buccaneers, last year's NFC South champion, won their first game of the season.
Stat of the Week No. 4: Seattle is 4-1 despite being outscored. In seven quarters, spanning from the end of their game with the Giants to halftime this Sunday, the Seahawks were outscored 85-13.
Stat of the Week No. 5: Donovan McNabb and Marc Bulger have combined to throw 23 touchdown passes and three interceptions.
Stat of the Week No. 6: Buffalo had a scoring drive of minus-12 yards.
Stat of the Week No. 7: Bill Parcells joins Tony Dungy and Mike Shanahan as the only coaches to beat all 32 NFL teams (possible because they beat their present clubs while coaching elsewhere.)
Stat of the Week No. 8: Despite no field goals this Sunday, Jeff Wilkins of St. Louis is on a pace to kick 48 field goals; the season record is 40.
Stat of the Week No. 9: Buffalo, Cincinnati and Washington lost to teams that entered the weekend a combined 0-14.
Stat of the Week No. 10: Since the moment they trotted out to be introduced at Super Bowl XXXVII, the Oakland Raiders are 13-41.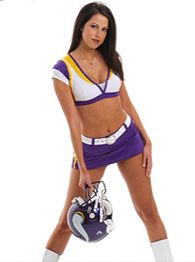 Minnesota Vikings
71 inches, 72 inches ... it's all good.
Cheerleader of the Week: The spectacularly statuesque Laura of the Minnesota Vikings, whom two years ago TMQ speculated "must be Amazonian in stature, as she towers over other Viking cheerleaders in their group portrait." Perhaps what's really at work is that others on the squad are pixie-ish. This year Laura's team bio declares, "I am NOT 6 feet tall. I was last measured at 71 inches, so anyone who wants to argue needs to get out their measuring tape!" Hmmm -- roughly 50 million guys would take Laura up on her offer to check her measurements. Also according to her team bio, Laura has a bachelor's in communication from the University of Minnesota, takes Bosu classes and her "future goals" include a career in marketing. "Future" goals are the only kind -- you can't have retroactive goals!
Sweet Play of the Week: Pittsburgh leading 7-0, the Steelers had a first-and-10 on the Chiefs' 47. Pittsburgh ran a sweet-looking play in which Ben Roethlisberger faked the hitch pass right, then faked a handoff up the middle, then threw deep to the unguarded Nate Washington on the skinny post -- touchdown, and the walkover was on. Not only did Kansas City defensive back Greg Wesley let Washington go deep, not even attempting to cover him; not only was Wesley making the high school mistake of "looking into the backfield" trying to guess the play rather than guarding his man; check the tape of what happened once Wesley turned and realized Washington was behind him. Wesley merely stood there and watched the touchdown, jogging a little in the general direction after it was too late. This is the sort of defensive esprit de corps that would later in the game result in Kansas City taking over the mantle of TMQ's Single Worst Play of the Season So Far (see below).
Sweet Possession of the Week: Baltimore scored to pull within 23-21 of Carolina with 2:19 remaining -- and holding all three timeouts, the Nevermores decided to kick away. Surely Baltimore's vaunted defense, backed by a crowd roaring at military afterburner decibels, could get the stop! Instead, three snaps by the Cats' offense, a first down, and the rest were kneel-downs. Note: This contest matched two teams renowned for power rushing. In the game there were 568 yards passing and 138 yards running.
Sour Play of the Week: You've got to have some pretty sour plays to blow a 20-point lead at home on "Monday Night Football" with a quarter to play. The sourest for the Cardinals was the one that started their epic collapse. Leading 23-3, Arizona faced second-and-10 on its 15 on the final snap of the third quarter. Matt Leinart dropped back, and Chicago left defensive end Mark Anderson came through the Arizona offensive line untouched by human hands to blindside Leinart, who fumbled, Bears safety Mike Brown recovering for the touchdown. Watch the replay. Arizona right tackle Oliver Ross lines up directly across from Anderson. The right tackle blocks the left end in all offensive schemes known to man. When the quarterback is a lefty as is Leinart, the right tackle is The Man because he guards the quarterback's blindside. Yet on the play Ross makes no attempt to hit Anderson. Ross simply straightens up and watches as Anderson blows through untouched. No quarterback, even for the worst team, expects to be blindsided one second after the snap by a defensive lineman who's never been touched at all. A talk item on the ESPN pregame show for the Monday night game was how terrible the Arizona offensive line is. Yup.
Sour Sequence of the Week: Trailing Denver 13-0, Oakland had a second-and-8 deep in Broncos territory early in the third quarter. The Raiders went sack, sack and then settled for the field goal. On the next possession, Oakland had a first-and-10 on its 43. The Raiders went penalty, incompletion, incompletion, incompletion, penalty, punt.
Robert B. Stanton/WireImage.com
They're down on their knees and begging the football gods in San Francisco, and it's still not enough.
Sweet 'N' Sour Two-Week Sequence: Two weeks ago, San Diego honked to the Ravens partly because on a key short-yardage down, the Bolts called a play that had Philip Rivers throw backward to LaDainian Tomlinson running outside, and the play failed. Surely San Francisco would not expect San Diego to use a play that just failed! The Chargers went to the same action on short-yardage again, this time for a touchdown. Two weeks ago that San Diego action was one of TMQ's Sour Plays of the Week, and now it's Sweet.
Big Gamble That Worked No. 1: Leading 14-13 over Cincinnati with 18 ticks remaining, Tampa had the Bengals facing a second-and-10 on their 47, still holding two timeouts. The Bucs took a crazy risk by blitzing seven men, and the result was a sack that, for all intent and purpose, sealed the game. Acoustics note: Trailing 13-7 at home and winless on the year, Tampa went for everything on fourth-and-3 from the Cincinnati 8-yard line with 43 seconds remaining, and officials on the field ruled incompletion. When the replay booth reversed the call and ruled the play a touchdown, the pirate-themed stadium shook so loudly my laptop rattled.
Big Gamble That Worked No. 2: Trailing St. Louis 28-27, the Blue Men Group reached first-and-10 on the Rams' 32 with 17 seconds remaining. Their coaches gambled by sending Mack Strong up the middle, assuming the field goal was already within reach. Then Matt Hasselbeck spiked the ball to stop the clock, and on the disorganized play Seattle was called for not being properly lined up, moving the spot back to the St. Louis 36-yard line with four seconds to go. Had the call been a false start, 10 seconds would have run off the clock and the game would have ended. The replay showed both illegal formation and false start, but it was illegal formation the zebras called, and that penalty does not include a 10-second runoff. From the 36, Josh Brown hit a 54-yard field goal to win. Note about an ending more exciting than Seahawks fans would have cared for: With three minutes remaining, Seattle led 27-21 and had a third-and-4 on Les Mouflons' 11, St. Louis down to one timeout. Maurice Morris ran and crossed the first down marker; had he simply dropped to his knees, the game would have, for all intent and purpose, been over. But Morris tried to churn for an extra yard and fumbled. A moment later, Marc Bulger threw that highlight-reel 67-yard touchdown to Torry Holt, and the sweaty-palms finish was set in motion.
Medium-Sized Gamble That Worked: Game tied at 24, the United States Saints reached first-and-goal on the Philadelphia 9-yard at the two-minute warning, holding one timeout. Thrice Drew Brees knelt on the ball, then John Carney kicked the winning 31-yard field goal with three ticks remaining. Doing it this way precluded the chance of a fumble or that New Orleans would score a touchdown quickly, leaving the Eagles time. But field goals are hardly automatic. Had Carney missed, everyone in the sports-yak universe would today be second-guessing not trying for the touchdown here. Note to ESPN fact-checking department: Please verify that the Saints are actually 5-1.
AP Photo
The NCAA has demanded the Indian feathers be removed from "Freedom," the statute at the top of the Capitol dome.
At Least Since Congress Was Not in Session, the Citizens Were Safe: Many TV news channels now flash glaring bright-red bars across the bottom of the screen, even if the story being reported concerns sorghum subsidy payments. Bright red is thought to command attention. News channels also now commonly flash BREAKING NEWS even when the "breaking news" is a government press conference at which some robotic figure issues denials, or a similar non-event. And news channels now commonly project a picture-in-picture of a live view of something, since live is more compelling than taped. Last week I was watching Fox News, and as the Dennis Hastert scandal was being discussed, the screen showed the Capitol Dome above the legend, LIVE VIEW OF U.S. CAPITOL. Not only was it just a live view of the walls of a building, Congress was not in session at the time.
Stop Me Before I Blitz Again! Early in the Flaming Thumbtacks-at-Redskins contest, Washington called a big blitz on a Tennessee third down, and caught Vince Young for the sack. Now Washington leads 14-13 in the third quarter, Tennessee faces a third down. and again six blitzers cross the line; perfect "hot read" pass for 27 yards to Drew Bennett. Three snaps later, Tennessee faces a fourth-and-2 on the home team 31 and Jeff Fisher makes the right Maroon Zone decision -- rather than launch an unlikely long field goal, he tries for the statistically likely first down. Again Washington's defensive coordinator, the tastefully named Gregg Williams, sends the big blitz and again Young makes the "hot read," tossing 23 yards to the man-covered Brandon Jones. Tennessee scores on the possession to take the lead and never looks back.
Gene Blevins/WireImage.com
Hey Mark Brunell, they're open! They're open!
Nation's capital note: The Skins honked despite a pregame flyover by the Thunderbirds, who were in town for the dedication of the Air Force Memorial. But then perhaps it is best we do not discuss the Redskins and the concept of air power in the same paragraph!
Draft note: Houston had the first choice and picked defensive end Mario Williams over the electric Reggie Bush and hometown hero Vince Young. Bush has been fabulous and Young, on Sunday making just his third start, gives the early impression of a force to be reckoned with. The Houston defense? Last in the league.
T.O. Recommended Reading List: Terrell Owens asked outside the Cowboys' locker room, "Why am I here?" T.O., I advise that you read:
"Man's Search for Meaning" by Viktor Frankl
"The Once and Future King" by T.H. White
"My Antonia" by Willa Cather
"Huckleberry Finn" by Samuel Clemens
"The Pursuit of Happiness" by David Myers
"I and Thou" by Martin Buber
"Invisible Man" by Ralph Ellison
"Things Fall Apart" by Chinua Achebe
"Death Comes for the Archbishop" by Cather
"The Human Race" by Robert Antelme
"God in the Dock" by C.S. Lewis
"Omnipotence and Other Theological Mistakes" by Charles Hartshorne
"The Ghost Road" by Patricia Barker
"Our Town" by Thornton Wilder
"The House of Breath" by William Goyen
Ronald Zak/AP Photo
Viktor Frankl's book has a lot to teach T.O.
These books have enriched my understanding of the question, "Why am I here?" "The House of Breath" is especially recommended, as it is one of the most humane and emotional novels of the past century, yet barely known. I will commend two more books, much lower in quality than the great works listed above, but nonetheless worth reading: "Beside Still Waters" by Gregg Easterbrook and "The Purpose-Driven Life" by Rick Warren. Though I disagree with some of Warren's theology -- I don't believe there is any divine plan for individual lives, God is watching events unfold just as we are -- "The Purpose-Driven Life" has helped many people find a sense of meaning and the strength to live virtuously. Warren is a lot easier to follow than Buber, and there is merit in arguments for human kindness that anyone can grasp. And as for my own contribution to the literature on this question, I hope you'll read it.
This Fulfills My Obligation to Say Something About the Dallas at Houston Game: The contest was played before an announced crowd of 63,186.
Early "Game Over": Pittsburgh leading 21-0 early in the second quarter, backup running back Najeh Davenport went 48 yards up the gut of the Kansas City defense, and TMQ wrote the words "game over" in his notebook.
Best Purist Comeback: Jersey/A trailed 14-3 in the third quarter at Atlanta, having just watched Warrick Dunn sprint 90 yards for a touchdown. The Georgia Dome crowd was dancin' in the seats. Rather than panic -- TMQ's Law of Football Panic is, "Don't panic yet, there will be plenty of time for that later" -- the Giants staged a nine-play, 84-yard touchdown drive that included numerous rushing plays. Then the Jersey/A defense held Atlanta to a three-and-out. The Giants staged an 11-play, 91-yard drive that included numerous rushing plays. The Jersey/A defense held Atlanta to a three-and-out. Then the Giants staged a six-play field goal drive, then held the Falcons to a three-and-out, then the Giants staged an eight-play touchdown drive on which six plays were rushes, making it 27-14. The rest was Atlanta panic.
During this comeback there were no big turnovers or flashy Jersey/A play, just work, work, work on both sides of the ball. TMQ contends that unless it's the fourth quarter, a team that is behind, even way behind, should not go pass-wacky. When you're behind what you need is a scoring drive. Call anything in the playbook, even time-consuming rushing plays. Just get a score, and then see what the world looks like. Congratulations, Jersey/A, on not panicking.
Semi-Official News Agency Releases Semi-Truth Expressed in Semi-Grammar: Worried about North Korea having the atomic bomb? You'll feel better after checking the Korean Central News Agency, mouthpiece of the Pyongyang government. Several recent press releases celebrated the recent 80th anniversary of the Down-With-Imperialism Union. Oddly, North Korean government announcements may be read in Korean, English -- or Spanish. Many announcements concern the presentation of ceremonial gifts, flowers and letters of commendation. For example:
Neal Ulevich/AP Photo
The NCAA once sanctioned Kim Il Sung for using the tomahawk chop to threaten South Korea.
Pyongyang, July 11 (KCNA) -- Cambodian King Norodom Sihamoni sent a large floral basket to the DPRK embassy in Phnom Penh on the occasion of the 12th anniversary of demise of President Kim Il Sung. Written on the ribbon of the floral basket were letters reading, "Highest tribute to HE Generalissimo Kim Il Sung, president of the Democratic People's Republic of Korea. Norodom Sihamoni, King of Cambodia." The deputy prime minister hoped that Kim Il Sung would always live in the hearts of the Korean people.
Or consider this North Korean statement, headlined JAPAN'S SERVILITY TO THE U.S. RIDICULED.
Pyongyang, July 3 (KCNA) -- GI criminals are accorded such "special treatment" in prisons by Japan that they are given chances to have showers everyday, meat is served to them as part of their meals and cakes, coffee and milk are offered to them between meals, according to information released by the Japanese government recently. Commenting on this, Rodong Sinmun Monday observes: This is touching off due resentment among Japanese including families of those who fell victim to the GI crimes. Such "generous treatment" accorded by Japan to the U.S. criminals there is not regarded as something surprising or strange but as quite a natural and common practice in that country as it is steeped in flattery and subservience to the U.S., its master, to the marrow of its bones.
Bear in mind that in North Korea, to take a shower or have a meal that includes meat represent exotic special privileges reserved for the party elite. Below is the North Korean government's announcement to the world of its atomic test:
Pyongyang, October 9 (KCNA) -- The field of scientific research in the DPRK successfully conducted an underground nuclear test under secure conditions on October 9, Juche 95 (2006) at a stirring time when all the people of the country are making a great leap forward in the building of a great prosperous powerful socialist nation. The nuclear test was conducted with indigenous wisdom and technology 100 percent. It marks a historic event as it greatly encouraged and pleased the KPA and people that have wished to have powerful self-reliant defense capability. It will contribute to defending the peace and stability on the Korean Peninsula and in the area around it.
We're All Professionals Here: Buffalo had a second-and-2; the Bills allowed sacks on consecutive plays and ended up punting on fourth-and-21.
Perhaps Shedding Light on Why These Teams Are a Combined 3-9: Buffalo punted to Detroit on fourth-and-1, and the Lions punted back on fourth-and-1.
Kevin Rivoli/AP Photo
A typical summer day in Buffalo.
When I Was a Kid, I Actually Did Walk Through Snow to Deliver Newspapers: This week the venerable Buffalo News, last major newspaper in the United States offering afternoon delivery, converts to morning-only. For 126 years, the Buffalo News has arrived on subscribers' doorsteps at 4 p.m.; now the time will be 6 a.m. The transition of newspaper sales from afternoon to morning tells more about changing American sociology than about the news business. As recently as two generations ago, most Americans had blue-collar employment that involved shifts beginning at 7 a.m. and ending at 3 p.m. Workers would depart for the factory in predawn darkness and return, exhausted, in late afternoon: to put your feet up with the afternoon paper before dinner was not only a way to stay informed but one of life's small pleasures. Today less than a fifth of the United States workforce has blue-collar employment, while more than half work in office settings. That today the typical American is white-collar, rather than being engaged in backbreaking manual toil, stands among the great achievements of the postwar era, and is insufficiently remarked upon. But for the newspaper business, this makes morning delivery a must. White-collar employees don't arrive at work till 8 or later, thus having time to read the paper over coffee; they need to know the morning's news, to sound informed at the office; they stagger home late having stared at screens and documents all day, in no mood then to read.
As a boy growing up in Buffalo, I rose before dawn daily to deliver the old Courier Express, the Buff News' morning competitor, which folded in 1982. Walking my paper route I kept a transistor radio in my pocket in hopes of hearing the sports scores. The Courier Express "went to bed," or finalized its content, before midnight, so often the night sports scores were not in the morning paper. There being no Web or ESPN, teenagers and sports-nuts went through the day wondering who had won the previous night's games, and did not find out until the News began thunking on doorsteps in the afternoon. There was a civilized feeling to an afternoon newspaper, as if the butler would bring it round with your correspondence and a glass of sherry. Now Instant Messaging means there are no letters for the butler to bring, while the speeding-up of everything mandates we get our news immediately upon waking. Consider that even in Buffalo, today the majority of newspaper customers live on the white-collar clock. TMQ salutes the last afternoon daily to succumb.
Garrett Ellwood/WireImage.com
Cheerleader professionalism helped Denver overcome Oakland -- but probably wasn't necessary.
Mile-High Mystery: Denver is playing fabulous defense, allowing just 37 points in five games. The Broncos are also playing terrible offense, scoring just 62 points. Football lore says defense trumps offense, so presumably this foretells a big season for the orange horsies. But Denver's lame offense is particularly puzzling given that the team's great defense keeps getting the ball back in good field position. On Sunday night, Denver coughed and clanked to score 13 points at home against the league's worst team.
Tis Better to Have Rushed and Lost Than Never to Have Rushed At All: Start of the fourth quarter in Atlanta, the Falcons had lost a seemingly solid lead, but still trailed the Giants only 17-14 with a stanza remaining. Atlanta faced third-and-2 on its 32. The Falcons have by far the league's best rushing attack, averaging 232 yards per game and a twinkling-bright 6.4 yards per run. Atlanta also has the league's 27th-rated passer in Michael Vick and 32nd-rated overall passing attack. So why not just run the ball? Sack, then the punt shanks and a few plays later Atlanta trails 20-14. On the next possession, taking over with 11:04 remaining and loads of time to grind down the field for the go-ahead touchdown, Atlanta coaches went pass-wacky. Result: sack, scramble, punt. From the point at which the No. 1 rushing team in the NFL took an 11-point second-half lead, Atlanta coaches called 19 passing plays and four rushes. Ye gods.
Republicans, Democrats Accuse Each Other of Partisanship: Perhaps the most tedious aspect of politics is wrangling over credit or blame. First, since government usually can only influence events, not control them, rare is the case where Democrats or Republicans are clearly to blame or deserve full credit for anything. Second, all that matters to citizens is whether things go well, not who signed which piece of paper on what day. Here are three examples. It is absurd for Republicans to keep saying Bill Clinton is to blame for not killing Osama bin Laden in 1998. Republicans were in control of the White House from January to September 2001, and they didn't do anything decisive about bin Laden either. It was absurd for Sen. John McCain last week to say that Clinton's 1994 agreement with North Korea is the reason that nation (perhaps) developed an atomic weapon. Republicans have now held the White House for as long as Clinton administered his North Korea deal, and Republicans did not stop North Korea either. And last week when new low-polluting "reformulated" diesel fuel hit the market, it was absurd that Democrats claimed George W. Bush deserves no credit because the initial rule mandating the advance was signed by Clinton a few days before he left office.
Steve Mellon/AP Photo
"And if elected, I promise to blame the other party."
On the diesel fuel advance, which will cut air pollution, Bush could have stopped the rule but instead supported it -- over the howls of the petroleum industry, which refines diesel. Anti-pollution regulations typically allow industry five to seven years to design and manufacture the technology needed to reduce emissions. Owing to this lag it is common for one president to put into practice a regulation first proposed by his predecessor; Bush's father signed the 1991 legislation mandating a reduction in acid rain, then Clinton actually carried out that reform. All that matters is whether the public benefits, and the new low-polluting diesel fuel, for which Clinton and George W. Bush ought to share credit, will lead to a big reduction in smog, plus a reduction in asthma incidence. Note that the country's most important news organization, the New York Times, buried the arrival of polluting-reducing diesel fuel on page A22, since it is inconveniently positive news.
Clinton addendum: The recent fictionalized TV docudrama about the buildup to Sept. 11 ominously suggests Clinton's State Department sabotaged the 1998 missile strike against al-Qaida in Afghanistan by warning Pakistan that our missiles were about to cross its airspace on their way somewhere else. Bin Laden fled his Afghan camp while the missiles were in the air, and it's likely bad people in the Pak government tipped him off. But the revisionism skips why we warned Islamabad missiles were coming. Weeks before the strike, Pakistan had tested its first atomic bomb; Pakistan and India were on the verge of history's first atomic war. If unknown missiles approaching Pakistan had triggered an atomic exchange, this would have been a moral horror. The Clinton Administration absolutely had to warn Pakistan, risking a tip-off: Any other course would have been immoral. The real question about the 1998 strike was why missiles were fired across Pakistan (from a submarine in the Arabian Sea) in the first place. Missiles could have been fired from the Persian Gulf across Iran into Afghanistan. Cruise missiles are hard to detect; Iran in 1998 was not on high alert as Pakistan was; and Shia Iran doesn't much like Sunni al-Qaida. Thus flight across Iran might have avoided the tip-off.
Revisionism addendum: Suppose Clinton had, in 1998, ordered an invasion of Afghanistan to destroy al-Qaida and Taliban forces there, as the docudrama suggested Clinton should have. Surely the president would have been bitterly denounced by Republicans, and since Sept. 11 would never have happened, today the 1998 invasion of Afghanistan would be spoken of as a pointless fiasco of the highest order. Something to chew on when you think about the Iraq war.
Maybe Flying Should Be Hard: The light plane belonging to Yankee pitcher Cory Lidle that crashed into a Manhattan apartment building, killing him and his flight instructor, was a Cirrus SR20. Development of this plane was chronicled in the 2001 book Free Flight by TMQ's pal James Fallows. The goal of the Cirrus project was to make individual air travel more practical by creating a relatively low-cost plane that is much easier to fly than previous aircraft, and that has a safety feature no plane has ever had -- if you get into bad trouble, you pull a lever and a giant parachute unfurls, floating the machine to the ground. Whatever went wrong aboard Lidle's Cirrus appears to have happened so fast, there wasn't time to pull the lever; and the aircraft was so low the chute probably would not have helped. At any rate, this raises a number of questions about the relationship between safety engineering and vehicle use.
Cirrus Designs/AP Photo
Can safety devices be dangerous?
Media accounts since the Lidle crash have noted that on nine occasions Cirrus pilots have pulled the chute lever, saving 21 lives. But the device is no panacea, as there have also been four fatal Cirrus crashes in 2006. Air crashes are so rare that the occurrence of a fatal Cirrus crash hardly means people should stop flying the plane: if someone slammed an SUV into a Manhattan apartment building, killing four, no one would hesitate for a moment to hop into an SUV and drive away after hearing the news. But some aviators quietly question whether the Cirrus parachute is actually a good idea. They wonder if it creates an illusion of total safety that makes Cirrus pilots cavalier about their training hours and flying choices. That safety devices might cause cavalier driving has been noted in cars -- more in a moment. And the Cirrus crashes call into question the No. 1 trend in the general aviation industry, the advent of semi-automated small planes that are designed to be much easier to fly than previous aircraft. The Cirrus, which costs $250,000 to $350,000, and two new "very light jets" called the Adam and the Eclipse, which cost $1.8 million to $2.3 million, are runaway hits in the aviation market. The well-to-do and new air-taxi services are buying these planes like crazy, partly on the theory that they do not require high proficiency of pilot skill, and can make practical extremely convenient point-to-point air travel. That extremely convenient point-to-point air travel will become affordable on semi-automated or even fully automated small planes is the thesis of "Free Flight," a book that should be of renewed interest in light of the Lidle crash. But will it necessarily be smart to fill the air with large numbers of planes that novice pilots believe are "easy" to fly? Maybe not.
Death rates per mile of automobile travel have been in mild decline for decades, so as regards cars and SUVs, the picture is mainly good. But the safety engineering of modern passenger vehicles is so much better than a generation ago -- antilock brakes, air bags, electronic brake management, improved handling power and impact-absorbing chassis design -- that perhaps road fatalities should have declined even more. Researchers including Fred Mannering of Purdue University have proposed that airbags and antilock brakes cause no net improvement in highway safety because they encourage aggressive driving. Faster, less vigilant driving roughly offsets safety improvements, leaving the net about the same as it would be without the safety engineering, Mannering believes.
Gerry Broome/AP Photo
Nascar race or typical suburban boulevard scene?
A false sense of invincibility especially backfires as regards the SUV. Many owners of SUVs drive like lunatics, perhaps because they believe the SUVs make them invincible. Studies by Ted Gayer of Georgetown University have shown you are more likely to die as the driver or passenger of an SUV than if in a regular car. Be sure to see this study by Michelle White of the University of California San Diego, published in the Journal of Law and Economics , which shows the backfire effect of Americans buying ever-larger SUVs and pickup trucks in the false belief that size confers safety. For each one million SUVs or pickup trucks that replace regular cars, White found, from 34 to 93 additional highway deaths occur. Eerily, White further found that "for each fatal crash that occupants of large vehicles avoid, at least 4.3 fatal crashes involving others occur." That is to say, the apparent protective qualities of big vehicles actually cause more people to die. Mannering has a point about careless driving, but my guess is that the trend toward SUVs and pickup trucks driven as cars explains why highway fatalities have not declined as much as they should.
Advanced safety features on vehicles might even be a root cause of the road rage that has been afflicting American boulevards in the past decade. Road rage seemed to begin roughly corresponding to the arrival of antilock brakes and universal air bags. Drivers falsely assume these high-tech features make them invincible, and so gun the engine, cut each other off and race to beat stoplights. It's impossible to oppose safety engineering, of course. But we must bear in mind that safety features can lead to carelessness on the part of drivers or pilots.
Jim Fallows note: His brilliant new book "Blind into Baghdad" is the most important thing anyone has written about the Iraq War. Read it.
Nike
Would you want L.T. throwing the ball, or Michael Vick?
More On Briscoe High: Of Nike's high school football commercial, reader Jim Speese of Reading, Pa., writes, "You argued no coach would call a halfback option on the last play of the game from midfield, because the defense would never bite on the run in that situation. But Don Shula recognizes that LaDainian Tomlinson throws a better ball than Michael Vick. Putting the final pass in LT/2's hands gives the team a better chance of victory." TMQ also declared himself puzzled that the Briscoe High spot uses "Spirit in the Sky" as its music track. Yes this is a catchy tune, and yes it is heard in football movies, prominently in "Remember the Titans." But the song is, after all, about dying and meeting Jesus! Note that Nike manipulated the track so you hear its many references to dying but never hear the name Jesus. (Play the commercial here; the song lyrics are here.) That a big corporation thinks it's fine to subliminally associate military-age young men with glory in death, but not fine to associate them with history's most important pacifist, creeps me out. Anyway comes now reader Mary Beth Calorama of Venice, Calif., to report Norman Greenbaum was not, as everyone thinks, a one-hit wonder. He was a two-hit wonder: under the name Dr. West's Medicine Show, Greenbaum recorded the cult hit "The Eggplant that Ate Chicago," one of TMQ's all-time favorite songs.
Single Worst Play of the Season So Far: Relax, San Francisco, previous holder of this distinction: It is now held by Kansas City. Leading 21-0 in the first half, Pittsburgh had second-and-6 on the Chiefs' 13. The Steelers lined up with a tight end, fullback and receiver Hines Ward bunched tight right. At the snap, the tight end ran an out into the flat, the fullback ran an "arrow" route into the flat behind the tight end, and Ward ran straight up the field and turned around. Kansas City's defense did not react in any way to Ward, simply leaving alone the opponent's most dangerous weapon: Touchdown. Rookie safety Jarrad Page made the wrong decision, double-teaming another Steeler, while the boastful Ty Law, the corner on that side, stood like a topiary covering no one at all. Middle linebacker Kawika Mitchell also was near Ward and decided his time was best spent covering no one. Three guys available and none of them reacted to the opposition's best threat: The Single Worst Play of the Season So Far.
Miami Dolphins Sack-O-Meter: The Dolphins surrendered no sacks at Jersey/B -- but three turnovers versus none for your opponent will pretty much do it to you. The serious pun potential Mike Mularkey ran a dreadful offense in Buffalo for two seasons: dull playcalling, poor offensive line performance, erratic quarterbacking plus a megabucks running back struggling to seem average. Now Mularkey is running the Miami offense, and does anything sound familiar? Meanwhile with Drew Brees playing fabulous and Daunte Culpepper benched, Miami's offseason looks ever-worse. Brees was eager to join the Dolphins as a free agent; Nick Saban decided he'd rather give up a second-round draft pick to trade for Culpepper. If you had to choose now, what would you say was the worst management decision of the offseason: Mario Williams over Bush or Young, or Culpepper plus a second-round choice over Brees?
This Week's High School Item: A couple years ago I touted James Collins, a gifted coach who took over the program at my kids' high school, which hadn't had a winning season in a decade, and by his second year reached round two of the state playoffs. My kids' high school is struggling this season, so let me redirect your attention to a graduate of Collins' coaching staff, a former Arena League (and briefly NFL) player named Gunnard Twyner. He was Collins' offensive coordinator, then in the offseason became head coach at Kennedy High School of Silver Spring, Md. Kennedy long has been a troubled school owing to academic problems plus complex racial politics; and on the much less important topic of football, its football teams were just dreadful. When Twyner was hired, Kennedy had lost 26 consecutive games. School spirit was so low only a handful of guys came out for tryouts in the August heat. Home games were staged in eerie silence before a few dozen morose immediate relatives of players. Last season, Kennedy was outscored 368-43.
Obviously, I'm telling you all this because there has been a remarkable turnaround. Just in his first season, Twyner has Kennedy at 5-1 and the talk of Maryland prep football. Smart and charismatic, somehow Twyner reversed the defeatist attitude of the school and made this summer's football tryouts an A-list event. He promised a deep-strike Rams-style attack to provide entertainment to spectators. Kennedy just played its homecoming before a raucous chanting crowd that would make any Texas high school football star feel at home. Twyner even managed to win a game 55-8 without running up the score -- it was 47-0 at the half and then he sat the starters. Remember the name "Gunnard Twyner" because in a few years you'll read it in your sports section when he is hired by a big-college program.
Generic Prediction Update: As the season began, I made the off-price private-label forecast, "Home Team 20, Visiting Team 17 will in 2006 happen more than any other outcome." I urged those who engage in quixotic quests to predict exact NFL final scores never to think about matchups, field conditions, injury lists or mojo, simply endlessly predict Home Team 20, Visiting Team 17. My system has the benefit that you don't need to possess incredible insider information, or even know who's playing. On Sunday, Home Team 20, Visiting Team 17 happened twice -- in the Miami at Jersey/B and Buffalo at Detroit contests. It's only Week 6 and already I have predicted two exact NFL final scores. Has any full-time professional sports pundit come close to that?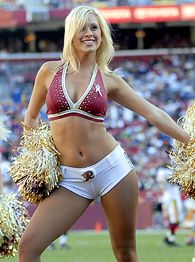 William E. Amatucci Jr./WireImage.com
A special treat for those of you who reached the end. The Redskins lost this week, but thanks to their cheerleaders, we're all winners!
Obscure College Score of the Week No. 1: California of Pennsylvania 24, Slippery Rock 14. The buildup continues for TMQ's annual Obscure College Game of the Year -- Indiana of Pennsylvania versus California of Pennsylvania at Hepner-Bailey Field at Adamson Stadium in California, Pa. on Nov. 11. California of Pennsylvania University offers courses online, so you don't actually have to be in either California or Pennsylvania. TMQ is suspicious of the online university movement, which seems to me more marketing gimmick than actual education. The online University of Phoenix, which just bought the naming rights to the place that should have been named Pat Tillman Field, is profitable but borders on diploma mill -- you pay a fee to call yourself graduate of the "university," without ever setting foot on a campus. But if marketing organizations using serious-sounding names like University of Phoenix are going to sell diplomas online, it seems only a matter of time until real universities do the same. California of Pennsylvania is at the forefront.
Obscure College Score of the Week No. 2: Brevard 10, Chowan 5. The Hawks' faithful lament -- if only we'd gotten three more safeties. Located in Murfreesboro, N.C., Chowan University's dining hall "is committed to providing a wide variety of healthy choices for our students" yet offers pizza and french fries at all meals.
Reader Animadversion: Got a complaint or a deeply held grievance? Write me at TMQ_ESPN@yahoo.com. Include your real name and the name of your hometown, and I might quote you by name unless you instruct me otherwise. Note: Giving your hometown improves your odds of being quoted.
Next Week: Terrell Owens stands in the Cowboys' locker room and asks aloud, "Why did chance distribution of natural resources and geographical advantages impact cultural evolution so profoundly?"
In addition to writing Tuesday Morning Quarterback, Gregg Easterbrook is the author of "The Progress Paradox: How Life Gets Better While People Feel Worse" and other books. He is also a contributing editor for The New Republic, The Atlantic Monthly and The Washington Monthly, and a visiting fellow at the Brookings Institution. Sound off to Page 2 here.