By Gregg Easterbrook
Special to Page 2
So Michael Vick really can throw -- maybe Nike should film the Briscoe High commercial again and let Vick attempt the final pass! Don't be deceived by Vick's four-touchdown-pass performance, Atlanta's success starts with rushing. On Sunday, the Falcons ran for 173 yards despite facing an overstacked defense. Pittsburgh stacked the line to stop the run, and Vick play-faked and rolled out for his throws. Atlanta leads the NFL in rushing by a runaway margin: 222 yards rushing per game, plus a diamond-sparkling 6.1 yards per rush attempt. Which leads us to the question of why is Atlanta's running game so good? And the answer is not what you're thinking.
Maybe you think the Falcons rush so well because their offensive line uses the Alex Gibbs theory of cut-blocking. In the Gibbs' scheme, offensive linemen move laterally more than driving straight ahead, and seemingly attempt to injure defenders by diving at their knees. Injury attempts usually fail, but because the front seven is preoccupied with protecting its knees, the defense does not perform as well as it otherwise would, opening up running lanes. This cut-blocking philosophy is indeed an ingredient in the running success of the two teams that feature it, Denver and Atlanta. But it is not the key to the Falcons' ground game, especially since the league in recent years has reviewed film of offensive line play by Denver and Atlanta and warned these teams about attempt-to-injure tactics.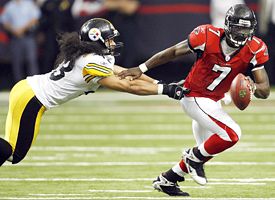 Kevin C. Cox/WireImage.com
Michael Vick's fast -- but that's not the only reason for the Falcons' rushing success.
Maybe you think Atlanta rushes so well because Vick's running ability adds a dimension no other NFL team has. That's surely a factor -- Vick is genuinely fast. But he's hardly the first quarterback who can run (think Fran Tarkenton) or the first who is really fast (think Steve Young). The real reason the Falcons are chewing up the National Football League on the ground is that they are the first team in recent memory to have the sheer brass to use a high school offense.
Some high school teams run almost all the time, but that strategy breaks down against a sophisticated opponent. A few high school teams attempt pass-oriented attacks. But at the prep level, constant passing works only for schools with a combination of superior athletes and the ability to have the entire team together six hours a day in July for a boatload of illegal practices. The basis of most successful high school offenses is a run focus with a quarterback who is himself a running threat; you run, run, run and then use the play action and pass deep. I've heard people complain that high school offenses are too conventional because so many are run, run, run then play-fake and throw deep. There's a reason so many high schools do this -- it works! And now the Atlanta Falcons have brought this philosophy to the NFL.
Sure, every pro football team wants to run, and every team uses the play-action. But the NFL in the last decade has become a short-pass-oriented league. Teams that keep running until they draw the defense to the line, then play-fake and throw deep, are rare. Indianapolis is one -- despite the Colts' pass-wacky image, so far they have run 173 times and passed 131 times. Atlanta is using the high school approach to a fare-thee-well. The Falcons have rushed 219 times this season and passed 148 times. On Sunday, when Pittsburgh crowded the line to stop the run, Vick play-faked and threw deep.
What makes the Atlanta offense more high-school-ish is the rollout emphasis. Effective high school offenses have far more rollout passes than pocket passes. Somehow the idea has arisen among pro coaches that only dropback passes are "real" passes and only yards gained with dropback passing, not yards on quarterback scrambles, help. Rollouts confuse defenses, while simplifying the view for the quarterback, who only has to look at half the field. Long scrambles absolutely break the backs of defenses. The Colts' offense is only semi-high-school because Peyton Manning is almost always in the pocket and almost never pulls it down to run. Vick this season has mostly been rolling out, which helps his read -- he only has to look at about half the gridiron, not scan the whole gridiron and wonder where to throw -- and gives him a better running option since he can get to the sideline and avoid taking a big hit. Since Michael Vick came into the league, his coaches have experimented with having him throw dropback deep passes; having him do loads of designed runs; having him attempt the West Coast short-crossing-route attack; and now they're simply letting him operate a classic high school offense. And just like in high school, it works!
The Falcons run, run, run and then when the defense comes up, they play-fake and throw deep -- and they do it while rolling out. The moment when the opponent has run on five straight snaps, then the quarterback play-fakes and sprints in the opposite direction, is the one every high school coach dreads. This action is so popular in high school because it is so effective, yet is not used that much in the pros. Denver is the only other club in recent years to go high school on a regular basis; last season the Broncos' offense, although it did pass the ball more than it ran the ball, had a lot of run, run, run and then Jake Plummer play-fakes and sprints out the opposite way. (Because Denver is sputtering on offense this season, it's hard to assess what the plan is supposed to be.) NFL teams -- you've tried power-rush, single-back, run-and-shoot, no-huddle, five-wide. Now it's time to try high school! And yes, a quarterback as fast as Vick helps, but as anyone who watches high school football knows, the run-run-run then play-fake and rollout offense can make almost any quarterback look good. So why don't more NFL teams do it? Maybe it's vainglory. Offensive coordinators want people to think they are engaged in super-complex mystical planning that only insiders can grasp. They don't want to borrow tactics from high school, even if those tactics work.
In other football news, reader Hugh Gurney of Bournemouth, England, notes that you already can vote for the Pro Bowl. Less than half of the season has been played! "Just like I started to find Christmas gifts stocked in my local supermarket in August, Pro Bowl voting seems to come earlier every year," Gurney writes. Bad enough that Pro Bowl voting closes after Week 15, with two games left to play, rendering performance in those contests irrelevant. Tuesday Morning Quarterback calls the Hawaii contingent the Eighty-Eight Percent All-Pros as a result. Allowing fans to vote so early confirms the complaint that the Pro Bowl is a popularity contest, not an honor for the best performers. Hey NFL, it's October. Nobody could possibly make a reasonable Pro Bowl judgment already.
And in other football news, "Friday Night Lights" has revealed itself to be a fantastic television show. For my suggestion to save it, see below.
Stat of the Week No. 1: Denver, at 5-1, has scored seven more points than Oakland, at 1-5.
Stat of the Week No. 2: Since taking a 20-point lead over undefeated Chicago, Arizona has been outscored 46-12.
Stat of the Week No. 3: Jacksonville is 4-5 all-time against Houston.
Stat of the Week No. 4: Brett Favre threw two passes on the same play. (A deflected pass bounced back to him.)
Stat of the Week No. 5: Dick Jauron is on pace to finish with one winning season in seven as a head coach.
Stat of the Week No. 6: As noted by reader Emanuele Fadini of Turin, Italy, the Cardinals had 11 takeaways in the last two games and lost both.
Stat of the Week No. 7: From 4:29 to 4:48 p.m. ET, Atlanta had four field goal attempts to win against Pittsburgh.
Stat of the Week No. 8: Bill Belichick is 13-1 against Buffalo.
Stat of the Week No. 9: Owing to multiple penalties, Washington kicked off from its 5-yard line.
Stat of the Week No. 10: Drew Bledsoe was lifted for throwing an interception. On his first snap, backup Tony Romo threw an interception.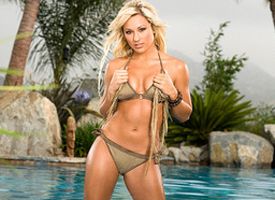 Chargers.com
Though we favor expanded markets for developing world textiles, we oppose increased use of textiles in the Charger Girls swimsuit calendar.
Cheerleader of the Week: Tom Bacon of Manhattan Beach, Calif., nominates from the medium-hot San Diego Chargers the red-hot Michelle, whose favorite charity is Make Trade Fair. This offshoot of Oxfam International lobbies for reasonable payments to developing-world farmers and tradespeople. According to her team bio, Michelle says "I support anything that helps third-world countries." You don't bump into cheer-babes concerned with developing world economic issues every day! One of the big causes for fair-trade advocates has been ending tariffs that penalize developing-world nations importing textiles to the West. Though even with totally equitable textile rules, developing nations would not sell much in the way of textiles for the two-ounces-of-fabric swimsuits worn on the Charger Girls calendar.
From Hero to Zero to Romo: Sure you just gave up your body on a dramatic dive for a touchdown, but Drew Bledsoe, what have you done for us lately? With 3:56 remaining in the second quarter and the Cowboys at the Jersey/A goal line, Bledsoe scrambled, dove and took hammer-hard hits as he scored the touchdown that pulled the home team to within 12-7. The crowd cheered. Just five snaps later, with 1:38 left in the second quarter, Dallas was again at the Jersey/A goal line and Bledsoe threw an interception. The crowd booed, and Bledsoe was yanked from the game. Dallas fans roared their approval as Tony Romo entered -- except he threw an interception on his first snap. Romo ended up tossing three interceptions in the second half, one when Dallas was yet again at the Giants' goal line.
So both Dallas quarterbacks ended the game in the doghouse, and TMQ thinks bad coaching is the explanation. Early in the contest, G-Persons leading 7-0, Dallas had a first-and-10 on its own 1-yard line, the most dangerous spot on the field. Dallas' coaches called for Bledsoe to take a five-step drop backward into his end zone; he barely avoided a safety. Now it's second down, and what do Dallas' coaches call? Another dropback: sack, safety. The Cowboys' offensive line messed up on this play -- LaVar Arrington came through the "B gap" untouched, the right tackle and right guard both ignoring him. But the key mistake was the coaches' calls, not the players' performance.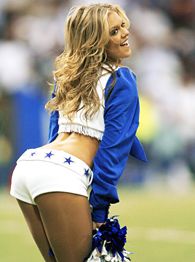 G. Newman Lowrance/WireImage.com
The game wasn't much fun for Cowboys fans, but the cheerleaders never disappoint.
Now we're at the Giants' goal line with 1:38 left in the first half. It's second-and-goal, Dallas holds all three timeouts, plenty of time to run the ball. Instead, the Cowboys' coaches call a short square-out. When you're at the goal line, the short square-out is the riskiest play you can call. Defenders are up at the line, so the cornerback is in position to break on the ball and intercept it; and in this situation the pass travels almost entirely sideways, giving the corner time to react. Dallas' coaches should know how risky the short square-out at the goal line is because three weeks ago when the Cowboys were at the Philadelphia goal line in the closing minute, game in the balance, Dallas' coaches called a short square-out that was intercepted and returned for a touchdown. Maybe, just maybe, the Giants watched film of that. So what do Dallas' coaches tell Bledsoe to throw? A short square-out, interception. Just to prove it was no fluke, when the Cowboys reached Jersey/A's 11 late in a game that was still contested, Dallas' coaches again called a short square-out, again intercepted, and this time it was returned for the icing touchdown. Afterward, did Bill "Mr. Personality" Parcells blame himself or his staff? Somehow he didn't get around to that.
Three Dallas notes: First, it's long been clear that Parcells is an egomaniac in both the casual and, perhaps, clinical senses of that word. Lately he's gone downhill to simply becoming a nasty person, spitting and snarling at everyone around him. What's Parcells going to do next, demand worship? When I look at Parcells, the phrase that comes to mind is "failed human being." Second, the deciding play of Monday night's game was a Terrell Owens blunder. Trailing 19-7 midway through the third quarter, Dallas had a fourth-and-2 on the Jersey/A 32. Romo put a perfect short pass into Owens' hands, and he dropped it like it was a live ferret. I wrote "game over" at that juncture. Third, Dallas did run one really sweet play -- a play we rarely see, and I don't understand why. Scoreboard reading 26-13 at the start of the fourth quarter, the Cowboys lined up for a deuce attempt. Everybody split wide, empty backfield; the Giants' defenders frantically spread wide to stop the wacky pass they expected; Romo simply went straight up the middle for two points. When you spread the field at the goal line, often the result is five offensive linemen blocking only five defenders in the box, and the odds for a successful quarterback sneak are excellent.
Giants note: At this point Tiki Barber, TTNY ("The Toast of New York"), should replace Brett Favre as the most admired player in the NFL, and as the one who exemplifies the best of football culture. This guy plays amazingly well -- last night when the Giants needed power running, he even did that. Barber has played at a high level for a long time. He never complains, refuses to blame others and never whines about his contract. He's well-read and well-informed. He radiates the fact that he knows football is just entertainment, that there are a thousand things in the world that matter a thousand times more. An awful lot of football is idiotic or even harmful. Fairly it may be asked, "What has football produced that can be admired?" One answer is, "Tiki Barber." Only Barber knows how his knees and ribs feel when he wakes up the day after a game -- the morning after is always the worst. If his time to step aside is coming, so be it. But Tiki, you're the bomb.
Sweet Play of the Week No. 1: Game scoreless, Philadelphia faced a third-and-4 on its own 33. The Eagles came out with two wide receivers to the left; City of Tampa blitzed six. Ronde Barber was lined up to cover the slot man, but the instant Donovan McNabb turned to throw left, Barber "jumped the route" -- assumed he knew where the throw was going -- and cut in front of the outside receiver, intercepting the pass and returning it for a touchdown. Tampa coaches must have noticed in film study that McNabb liked to throw a quick slant to the outside guy of two in these situations, because Barber is a methodical player, not a gambler. (Barber left his own man uncovered, which could have been a disaster had McNabb looked that way.) Later Barber cut in front of a Philadelphia receiver for another touchdown return off an interception, as the Bucs' defense scored two touchdowns while the Bucs' offense recorded three field goals.
Sweet Play of the Week No. 2 Atlanta had just scored in the second quarter to pull within 17-14 of Pittsburgh. Kickoff man Mike Koenen adjusted the ball, turned to walk away -- and suddenly turned back around for a snap onside kick. At that moment some Steelers were looking toward each other, not the action. Onside recovered, Atlanta scored on the possession and went on to win in overtime. Atlanta's league-leading running game outrushed Pittsburgh 173 yards to 55 yards. Cautionary note: The Falcons' defense has given up 891 yards and 65 points in its last two home games.
Sweet 'N' Sour Play: Game tied, Carolina had a first-and-10 on the Cincinnati 20. Blocking fullback Nick Goings lined up far right, like a flanker. Occasionally teams split out the fullback, but it's usually a diversion to draw defenders from the real action. Goings went straight up the field into the end zone, where Jake Delhomme hit him with a touchdown pass. Sending the fullback deep -- that was sweet. No one from Cincinnati covered Goings, who was, after all, an eligible receiver. That was sour.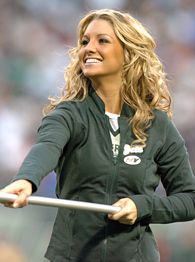 Brian Killian/WireImage.com
Looks like the Jets' cheerleaders will have plenty to cheer about!
Sweet Tactic of the Week: The Jets went no-huddle the entire game, confusing the Lions' defense. Now the Lions' defense is easily confused, but the tactic was especially apt because Detroit was starting several who-dats in place of injured or suspended defenders. Eric "I Was a Teenaged Coach" Mangini is 4-3 and as the season progresses the Jets face a motorcade of losers -- Cleveland, Houston, Green Bay, Buffalo, Miami, Oakland. Don't be surprised to see this team play in January.
Sour Play of the Week No. 1: Trailing 20-6 with 1:42 remaining in the first half, San Diego reached first-and-10 on the Kansas City 30, out of timeouts. Philip Rivers hustled the Bolts to the line and spiked the ball. Huh? There's plenty of time, and a spike costs a down! After running just two plays instead of three, San Diego missed a 47-yard field goal attempt with oodles of time remaining on the clock. Every week there is one play TMQ watches over and over again in rapt fascination, and this week, this was it. Why did Rivers spike the ball with ample time left?
Sour Play of the Week No. 2: In the previous week's game against Kansas City, Hines Ward caught a touchdown pass from about the 10-yard line by running a simple buttonhook route into the end zone and being ignored by the Chiefs' defense, which instead doubled up on other receivers on the same side. Now it's Pittsburgh at Atlanta and presumably the Falcons have watched film of their opponent. Trailing 7-3, the Hypocycloids have a third-and-goal on the Atlanta 11. Three receivers line up on the right side. Ward runs a simple buttonhook into the end zone and is ignored by the Falcons' defense, which instead doubled up on other receivers on the same side.
Sweet 'N' Sour Pair of Plays: Reader Diane Firstman of Brooklyn, N.Y., has pointed out that if you're going to call a trick pass, have a running back, not a wide receiver, throw the ball. A wide receiver pass might have worked in the last Super Bowl, but the odds say it's a bad call. In the 2004 season, running backs were 7 of 12 passing for six touchdowns and one interception, while wide receivers were 5 of 25 passing for two touchdowns and three interceptions. On Sunday, the Raiders were cruising at 22-6 until Oakland's coaches called a trick-play pass by wide receiver Ronald Curry (who did play QB at North Carolina); the wild interception he heave-hoed created what little late drama this game offered. Compare that to the touchdown pass thrown by Minnesota running back Mewelde Moore. The play diagrams looked better for the Vikings' play than the Raiders', too. Curry was throwing deep, while Moore's receiver was directly in front of him about 10 yards away. Moore's option was simple: Throw if the man is completely uncovered, otherwise just run.
Amusement Value Play of the Week: Trailing Washington 14-10 with 46 seconds remaining in the first half, Indianapolis faced a second-and-goal on the Skins' 2. Marvin Harrison lined up wide right, then came in motion back toward the formation, then stopped at the shoulder of the Colts' right tackle. Usually a receiver who does this on a short-yardage play will lead the blocking for a runner coming right behind him. At the snap, Colts tailback Dominic Rhodes came straight behind Harrison -- who stepped out of his way and stood there, making no attempt to block anyone. Run stuffed. Normally I'd slam this as a sour play but as Harrison came in motion before the snap, I thought, "There's no way Marvin Harrison should dive into the line and lead block." Apparently he felt the same. Harrison made up for it by catching two touchdown passes in similar goal-to-go situations.
Maroon Zone Play of the Week: Trailing Carolina 14-10 on a blustery afternoon, Cincinnati faced a fourth-and-1 on the Cats' 35 with 9:13 remaining. This is the Maroon Zone -- too close to punt, too far for a field goal attempt. On fourth-and-1 in the Maroon Zone, you should either power-rush or play-fake and throw deep. Cincinnati did the latter, Carson Palmer connecting for 32 yards to Chad Johnson. That set up the winning touchdown. Green Bay also went for it on fourth-and-1 from the Miami 41, setting up the icing touchdown.
Jeans in Poor Condition Cost More Than Jeans in Good Condition -- Only in America! Last February, TMQ marveled at $198 "premium destroyed" jeans from Abercrombie. Imagine, I wrote, trying to explain to someone in Bangladesh who is impoverished partly by lack of fair-trade laws that Americans pay extra to have their pants damaged. Consider now that an Italian company called Martelli Lavorazioni Tessilli had $140 million in revenue in 2005 -- all from smashing up expensive jeans and other fashion wear to make the items look misused. "Careful attention to vintage forms the basis of Martelli's artistic path," the company declares of its work shredding and discoloring jeans, showing a pair of jeans that appear to have been found at the bottom of a collapsed mine shaft. Imagine trying to explain to someone in Bangladesh that destroying perfectly good jeans has proven a boom business for a company.
Pun Alert: Last week scandal-plagued Hewlett Packard admitted it hired a private eye to go through the household trash of Wall Street Journal reporter Pui-Wing Tam. Going through trash -- why, that's beyond the pail!

On an exclusive basis, Tuesday Morning Quarterback has obtained the first actual photograph of dark matter.
Most of Universe Still Missing: "We have confirmed that at least 80 percent of the material in the universe consists of an invisible dark matter whose nature is not yet understood," Dr. Sarah Bridle, a physicist at University College of London, announced in May. We don't know what 80 percent of the universe is -- but trust us, we're experts! Bridle spoke in conjunction with the unveiling of the first large three-dimensional map of the locations of galaxies in the observable universe. This mega-atlas shows the galaxies moving as if being acted upon by far more force than could be accounted for by the matter and energy present in stars, stellar nebulae, black holes and other known cosmic objects. Hence, the map represents more support for the vexing speculation that most of the universe exists as "dark matter" and "dark energy," commodities we don't see because they are not found in our galaxy, the Milky Way. Bridle's calculations suggests the ordinary matter from which the Milky Way formed might constitute only a fraction of the larger universe. Or to flip it around, what we consider ordinary matter might, in cosmic terms, be the weird stuff, with most of the universe made of something entirely different. Reader Rusty Neff of White Salmon, Wash., adds that a few months after Bridle's map was released, NASA researchers claimed the first observational evidence of dark matter, in a distant galactic cluster known to astronomers as 1E0657-56. And actually it does not surprise me that scientists are unable to locate most of the universe. Surely at this initial stage in the human quest for knowledge, men and women barely grasp the basics of the cosmos and physical law. My personal guess is that so far we know 1 percent of what there is to know.
We're All Professionals Here: ESPN's pregame coverage on Sunday, "NFL Countdown," touted San Diego as the AFC's best team. The Bolts took the field at Kansas City and their first four possessions went fumble, punt, interception, fumble.
At Happy Hour in Hell's Sports Bar, They Offer Free Chicago Cheesesteaks, Philadelphia Wings and Buffalo Deep-Dish Pizza: Hell's sports bar has 28 wide-screen plasma TVs, and on Sunday all were showing Arizona at Oakland. For the highlight show, all 28 screens showed nothing but, over and over, Arizona kicking a field goal from the Oakland 19 though down 22-6 in the fourth quarter.
Stop Me Before I Blitz Again! No. 1: Kansas City led 27-13 early in the fourth quarter and had San Diego facing a fourth-and-3 on the Chiefs' 37. The Chiefs blitzed seven, which is like handing out an engraved card reading, "Please accept our invitation to score a touchdown." Which the Chargers did on a simple flare pass to LaDainian Tomlinson.
Stop Me Before I Blitz Again! No. 2: Denver leading 10-0 in the third, the Broncos faced a second-and-goal on the Cleveland 9. The Browns blitzed seven, which is like handing out an engraved card reading, "Please accept our invitation to score a touchdown." Which the Broncos did, icing the game with a six-point pass to Brandon Marshall.
One Fascinating Life: The below obituary, of a man neither you nor I ever heard of, appeared in the Washington Post last week. Every word of this obituary is fascinating. The life's story told represented, for me, an argument why God would remain interested in human affairs:
Harald Lindes, 85, former editor of the U.S. Information Agency's Russian-language magazine Amerika, died Oct. 11 at the Deer's Head Hospital Center in Salisbury, Md. Mr. Lindes worked for the USIA for 21 years, starting under broadcaster Edward R. Murrow during the Kennedy administration. Mr. Lindes retired in 1980, then worked for about five years as a personal assistant to cellist Mstislav Rostropovich, former director of the National Symphony Orchestra.

Mr. Lindes was born in St. Petersburg, Russia. When he was 15, his father was arrested and executed, and his family was exiled to Siberia. In 1939, he returned to study in his native city but in 1942 was arrested by the Stalin regime, sentenced to a labor camp and sent to the Finnish front, where he was captured by the Finns. Because of his German name, he was handed over to the Germans, where he was drafted into the German army.

After World War II, he left Europe and moved to New York and then Monterey, Calif. He became a master sergeant in the Army Reserves and began teaching Russian at what is now the Defense Language Institute in Monterey. He moved to the Washington area in 1958, working briefly for the Voice of America before joining the USIA.

Apart from work, he enjoyed researching his genealogy at the Library of Congress and reading Russian history and works of world culture and religion. He also enjoyed travel and growing vegetables and herbs at his home in Kensington. Survivors include his wife of 60 years, Olga Lindes of Kensington; two children, Nina Willett of Ocean Pines, Md., and Hal Lindes, a guitarist in the rock group Dire Straits, of Los Angeles; and seven grandchildren.
Buck-Buck-Brawckkkkkkk No. 1: Trailing 21-3 with 11:50 remaining in the contest, Buffalo faced a fourth-and-9 on the New England 28. In trotted the field goal unit. What does a field goal here accomplish except perhaps make the final score less embarrassing? Entering this game, the Bills had been defeated in 11 of their past 12 outings against New England. Play to win! Play to win! Plus you're 2-4, what do you have to lose? And now you're 2-5. Note: You deserve to be 2-5. New England led 7-3 and faced a third-and-10 on the Buffalo 21. Tom Brady was hemmed in by the rush, danced around a bit and then simply took a knee for a loss of yardage. After Brady went down -- the rules specify that when a ballcarrier voluntarily goes to his knee, the play ends -- Buffalo's London Fletcher body-slammed the kneeling quarterback. There's dumb, there's stupid and there's beyond-classification; this was the last one. Rather than attempt a field goal, New England got a first down, scored a touchdown on the possession, and TMQ wrote the words "game over" in his notebook.
Warning, Serious Item: Of the many moral questions regarding the Iraq War, the one the American political and media systems are not dealing with in any way, shape or form is the number of Iraqi deaths. A few months ago President Bush said the estimate he has been given by military intelligence is 30,000 Iraqi deaths caused either directly by our military or set in motion by our invasion. American forces have been trying to avoid killing the innocent. But no matter how carefully our armed forces have behaved, why is the American conscience not shocked by so many innocent people killed owing to our unilateral decision to seize another nation? Why did the media shrug when Bush used this shocking figure?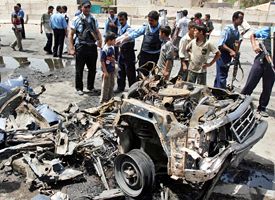 Karim Kadim/AP Photo
American lives matter. Why don't Iraqi lives matter?
Had some other country or group done something that caused 30,000 deaths here, we would claim an unlimited right of self-defense and retaliation. Yet the death the United States has brought to the innocent of Iraq isn't even being discussed here. Some of the Iraqis who have died because they have been hit by our bombs, or in the sectarian violence our destruction of the Iraqi government set loose, would have died by now regardless; perhaps some of them would have been killed by Saddam Hussein, had he remained in power. But by invading Iraq we made ourselves responsible for what happened next, and what has happened next is killing of the innocent. When 3,000 were villainously slain here, we called it a crime against humanity. Since then we have caused or played a role in the deaths of perhaps 10 times as many in Iraq, and this is spoken of here as if it were some mere unfortunate side effect of policy. History may judge America harshly for acting as though Iraqi lives have no value.
I suspect one reason the Iraq death toll elicits so little concern is that exaggerated estimates exist. Americans can say of the exaggerated estimates, "Oh, that's way too high" and skip over thinking about the more probable numbers. The latest silly estimate comes from a new study in the British medical journal Lancet, which absurdly estimates that since March 2003 exactly 654,965 Iraqis have died as a consequence of American action. The study uses extremely loose methods of estimation, including attributing about half its total to "unknown causes." The study also commits the logical offense of multiplying a series of estimates, then treating the result as precise. White House officials have dismissed the Lancet study, and they should. It's gibberish.
But gibberish that diverts attention from the real numbers. Let's assume the estimate given to George W. Bush is correct, and 30,000 Iraqis have died because of the American invasion. Let's assume half were members of Iraqi military engaged in combat and thus fair targets under the laws of war, setting aside whether the fighting, initiated by us, was morally justified. That still leaves 15,000 innocent dead on our hands. But not on our consciences, since no one is talking about this.
Buck-Buck-Brawckkkkkkk No. 2:Trailing Indianapolis 33-14, Washington faced fourth-and-5 on the Colts' 17 with 10:15 remaining. A field goal here only cuts the margin to 16 points, meaning the Redskins still must score two touchdowns and two deuce conversions while shutting Indianapolis down for the remainder of the contest. Chances of this? One-in-10, at best. Going for it would offer a roughly 50/50 chance of a first down, then perhaps a touchdown that makes the rest of the game interesting. As the field goal unit trotted onto the field, TMQ wrote the words "game over" in his notebook. Outraged, the football gods pushed the try wide.
Best Blocks: Fantasy leaguers were thrilled by the 95-yard touchdown run by Chester Taylor, but what impressed TMQ was the blocking. Center Matt Birk had a perfect block at the point of attack while tackle Bryant McKinnie made the too-rare "secondary" block -- first he blocked his assigned man, then hustled to block someone else. On Ahman Green's 70-yard touchdown run for Green Bay, the backbreaker against Miami, perfect blocks were thrown by tackles Mark Tauscher and Daryn Colledge. Green went the distance untouched: It's pretty fun to run 70 yards for six points when everyone in front of you already has been knocked to the ground. Reverse of best blocks: The Cincinnati offensive line, which gave up 21 sacks in 2005, already has surrendered 19 in 2006.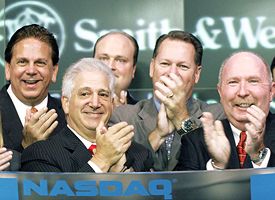 Mark Lennihan/AP Photo
They're applauding more theft by CEOs.
New Record for CEO Gluttony: Last week William McGuire, CEO of insurer UnitedHealth and a centerpiece of the latest corporate-boardroom scandal (backdated stock options) agreed to leave the company. The Wall Street Journal estimated that for his 14 years running UnitedHealth, McGuire pocketed a total of about $1.6 billion. That's $457,000 per day, or $57,000 per working hour. So McGuire paid himself more per hour than the median American annual household income. And this was during a period when UnitedHealth was cutting benefits to those it insures, cutting benefits received by its own workers, and cutting payments to physicians and hospitals for health care. Obviously this greedy little man is beyond disgrace: To experience disgrace, one must have a conscience. But why isn't McGuire's $1.6 billion simply considered theft from shareholders? UnitedHealth is a public company, and there is no possibility the fantastic amount was justified by market forces -- that is, that the UnitedHealth board could not have found a similarly qualified CEO for less than $1.6 billion.
Miami Dolphins Sack-O-Meter: Everybody in the sports-pundit world predicted great things for the Marine Mammals 2006 because they wanted to believe Miami was back. There was that six-game winning run at the end of 2006, though as TMQ pointed out at the time, only one victory came in a meaningful game against a winning team. But all sports nuts love the Miami area. Sportswriters and sportscasters itch for reasons to go to Miami on expense accounts -- then hang out in the great clubs, eat stone crabs and gawk at babes in thong bikinis on South Beach, now the No. 1 babe-watching destination in the Western Hemisphere. (Readers, if you contest that judgment, send pictures.) Nick Saban has a rep as a man's-man coach, so the sports-yak world wanted to believe Saban is a super-genius who somehow knows something about coaching that nobody else knows. South Florida is a trendy destination for athletes, agents and celebs, has an NBA crown and two World Series titles, and needed only a Dolphins rebound to complete the picture. The feel and mystique of the Miami franchise -- how could you not win with that in your corner? And the gorgeous Dolphins' cheerleaders, how could you not win with them dancing on your sideline? ESPN The Magazine and Sports Illustrated said Miami would make the Super Bowl, while others were nearly as sanguine.
The considerable wishful thinking about the now 1-6 Dolphins was not tempered by realism about their roster. It's not just two high-priced struggling quarterbacks who both were shown the door by previous employers. It's everybody else, too. Look who started Sunday against Green Bay. The defensive line -- all retreads from other clubs. The linebackers -- a couple of nice players in decline (Jason Taylor is a linebacker now). The defensive backs -- who are these guys? Mostly rejects from other teams; one was recently let go by Oakland! Miami has some decent talent at running back and receiver. Then there's the offensive line, which has surrendered 26 sacks, second-worst in the league. The right guard was let go in consecutive offseasons by Arizona and then Cleveland. The right tackle is a No. 1 draft pick who couldn't handle the pressure at left tackle. On Sunday only three players started for Miami who would start for New England, Denver, Chicago or a similar quality team: Chris Chambers, Jeno James and Taylor. In recent years the Dolphins have freely squandered draft choices -- two ones for Ricky Williams, a two for Daunte Culpepper, a two for A.J. Feeley, a three for Lamar Gordon. The result is a weak roster of retreads. Saban has a blog, a megabucks beachfront home and a nice panama hat, but no magic fairy dust to sprinkle on these guys. The Dolphins' core problem is a lack of quality players, and there might be unpleasant seasons of rebuilding ahead.
Now a few kind words for Joey Harrington. Though he finished with three interceptions, two of them were perfectly thrown passes that bounced off the hands of the no-account Randy McMichael. Once McMichael seemed like an emerging NFL star; now having to watch him play makes you wince.
Wacky Martini Watch: Todd Nemish of Tacoma, Wash., reports that Sublime, a tres-chic restaurant of Palm Beach, Fla., offers smoked pear, green tea and lychee martinis. Nothing like a little healthful green tea with your triple shot of vodka!
NFL in Iran Update: We must be cracking down on Iran, because with several attractive games in the early Sunday slot, Tehran saw New England at Buffalo.
Houston Texans Sack-O-Meter: The Houston offensive line allowed just one sack and provided excellent run blocking as the Moo Cows toyed with the supposedly powerful Jacksonville defense. Defense wasn't the only letdown for Jax; the team's offense gained just 220 yards against then NFL's last-ranked defense. Stretching back to last season, Jax is on a 3-4 run. The Jacksonville team does an awful lot of talking; it needs to do more playing. Reader Robert Thee of West Hempstead, N.Y., also notes that a week ago, Jax still had its starters in with three minutes to go and a 38-0 lead over Jersey/B, trying to run up the score. On Sunday, the football gods exacted vengeance.
Actual Phil Simms Quotes Without Editorial Comment: Pittsburgh at Atlanta broadcast: "The Steelers like to throw it inside and they like to throw it outside." "When Michael Vick rolls out, he might run it or he might hit a pass or he might throw it away." "The reason this offense works is that they practice it during the week." Also, Simms declared "he's wide open!" of a receiver who was hit before his feet came down.
Will "Friday Night Lights" Forfeit Its Season for Using Ineligible Actors? NBC's "Friday Night Lights" is struggling in the ratings race. There's a new episode tonight -- Tuesday Morning Quarterback urges you to tune in while you still can! "Friday Night Lights" is just tremendous: well-made, well-acted, engaging, both visually and intellectually rich. Only a handful of shows in the history of television have attempted to portray the stresses and beauties of average American life, without glamorization, absurd plot contrivances or one-liners. In its effort to capture the fleeting feeling of Grovers Corners small-town life, "Friday Night Lights" is art: and being art, faces a challenge in winning public acceptance. Yet success is possible. I dare you to watch "Friday Night Lights" and try telling me it's not great television!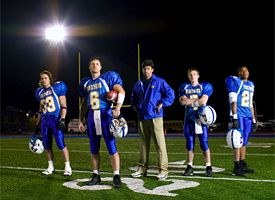 NBC
They're not afraid of their crosstown rivals. But can they beat the Nielsen Destroyers?
Here are the good aspects of "Friday Night Lights." First, brilliant cinematography. Many television shows claim to offer theatrical-quality film values; "Friday Night Lights" actually does. NBC has spent a ton of money on "Friday Night Lights," a reported $2.6 million per episode -- perhaps too much for the long-term survival of the series. In Hollywood, production money often disappears into Ferraris for the director and presidential suites for the cast; "Friday Night Lights" producers are getting their money's worth onto the screen. The episodes have many outdoor scenes, which are more expensive than studio-filmed scenes; lots of crowd scenes; lots of gritty depictions of school corridors, parking lots, restaurants, gas stations and other standbys of daily life. (The greater the number of scenes, the more expensive an hour of television is to produce; many contemporary TV dramas have too many scene shifts, but that's a separate issue.) Next, the acting is first rate. Third, the situations and characters presented are as close to real life as television can come. Yes, the cast is better looking than any representative sample of actual people, and 25-year-olds play 17-year-olds. But there's no over-glamorized action, no preposterous subplots. Surely "Friday Night Lights" would have stood a better ratings chance had the show been some "Gilmore Girls"-esque teen inanity. Instead "Friday Night Lights" challenges viewers with material that isn't flashy or pumped up.
Now to the not-so-good aspects. The pilot episode not only was a total downer -- it ended with the character you thought would be the series focus being paralyzed for life -- but gave viewers the impression the show held small-town life and prep football in disdain. The pilot was heavy on subliminals suggesting the producers thought the sort of people who play or care about high school football are rubes or have warped values. That view might be defensible as an artistic choice, but my informal survey of friends who love football culture and who watched the pilot was unanimous on this point: Everyone one of them said that if "Friday Night Lights" was going to be about bashing football, they weren't going to watch. It turns out the show does not think small-town America or people who care about high school sports are weird; subsequent episodes have been sympathetic to the characters and to the town depicted. But as the saying goes, you never get a second chance to make a first impression. Having the pilot be depressing, then end with a character paralyzed and everyone sobbing, was the sort of touch effete Manhattan critics love, but viewers don't -- who wants to watch more of that? The "Friday Night Lights" pilot was a disaster in terms of stating the show's case for its audience. This show would have been better served to start with the second episode, whose concluding image -- the coach and his petrified backup quarterback standing alone on the field of an empty stadium late at night with all the game lights on -- was haunting.
Can "Friday Night Lights" find the ratings numbers to survive? NBC premiered the series at 8 p.m., when teenagers watch. But adults are more likely to be regular viewers, and 10 p.m. a better time slot. To see what happens, NBC will broadcast an episode of "Friday Night Lights" at 10 p.m. on Oct. 30. The trouble is that's a Monday, and thus the episode will air across from ESPN's "Monday Night Football." Come on NBC, we know you have staff cutbacks, but surely you could afford to have someone check first to see what else is on that night!
Here's my radical notion to save "Friday Night Lights": The show should be marketed to women. Though "Friday Night Lights" has contact drills and running hills and football insider terminology such as "skinny post," the true subject of this series isn't sports. The true subject is teenagers under the pressure of contemporary life. The same scenes of tense family life, husband-wife strain and economic insecurity that turn off viewers who expected all-out sports action ought to give "Friday Night Lights" considerable appeal to women. Also, the show could be marketed to upper-income female viewers as a way for them to get in touch with an aspect of society that all the men around them care about but they don't understand. (Working-class women generally already understand football, it's the upper-income women who don't.) NBC, this show will soon be facing fourth-and-99! Market "Friday Night Lights" to women to save the series.
Worst Crowd Reaction: As Seneca Wallace, in for the injured Matt Hasselbeck, fumbled late in Seattle's loss to Minnesota, the Qwest Field crowd loudly booed. Sure the Seahawks went to the Super Bowl last season and came into this game with a 12-game home winning streak, but what have you done for us lately? And remember Qwest crowd, Wallace is your leader now. Booing him accomplishes exactly nothing.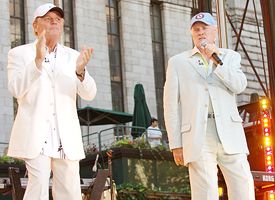 Jamie McCarthy/WireImage.com
In the '60s they got their good vibrations from beach bunnies; now, from NFL games.
I'm Pickin' Up Good Vibrations: First my television set shook from ecstatic cheering as the Buccaneers hit a 62-yard field goal on the final play to win at home, then a moment later my laptop shook from ecstatic cheering as I listened to the radio call of Kansas City hitting a 53-yard field goal on the final play to win at home.
Trust Us, We're Experts: Sports Illustrated predicted Carolina and Miami would meet in the Super Bowl. The teams are a combined 5-9. Three weeks ago, ESPN: The Magazine ("Published on Earth, the Planet"), which also picked the Dolphins for the Super Bowl, said "there is no need to panic" in Miami because the team "will rally." My advice to the Dolphins? Panic.
TMQ Ombudsman Needed: Last week I said my kids' high school "hadn't had a winning season in a decade" before making the playoffs in 2004. As I have now heard from an estimated 99.9 percent the members of the teams of 1999 and 2000, the school went 7-3 both seasons. You'd think I could get the facts straight about my own local high school!
TMQ Ombudsman Not Needed: I took some heat for my April item saying that not only was D.C.'s tax-subsidized new stadium for the Nationals way too expensive, the plan calls for so little parking, suburbanites will never come. Staff members of the D.C. Council e-mailed to call me an idiot, to say there would be plenty of parking. Headline from page one of last week's Washington Post: STADIUM GARAGE PROPOSALS REJECTED. D.C. Plan Now Lacks Parking." Not only did the original plan call for a ridiculously low 1,225 spaces, or one parking place per 34 seats in the ballpark -- the new Yankee Stadium will have 10,000 parking spaces, one per 5.3 seats -- even provisions for that mini-garage have stalled. As of the moment, the cunning master plan is for the new Nationals facility to offer no parking at all. Let me repeat my April pronouncement: "When the ballpark project zeroes out the D.C. government's bond rating, please, congressional committees, don't say you weren't warned."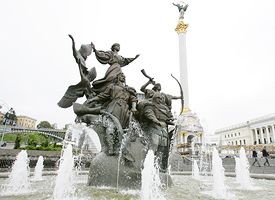 Rolf Klatt/WireImage.com
A byutifyl funteen in hysturic Kyiv. Source: United States government.
Massive Re-Spelling, In Times and Places of Our Choosing: Tuesday Morning Quarterback has obtained a memo declaring that "the whole USG" (internal Washingtonese for "United States government") will now refer to the Ukrainian capital as Kyiv, rather than Kiev. This decision was made by unanimous vote of the Board on Geographic Names, which apparently is an actual organization, not an element in a Monty Python sketch. The Board has declared, "Although Kiev remains the conventional name for this city, all State Department and operations are requested to immediately begin using the new spelling Kyiv in all written communications." So we can't stop the North Korean nuclear program, we botched the Iraq war, we've handed a trillion dollars in federal debt to our children, but dadgummit, we will spell the name of the capital of Ukraine any durn way we please. Note: TMQ believes if the NFL expands internationally, the franchise for this city should be called the Kiev Chickens.
Hidden Plays: Hidden plays are ones that never make highlight reels, but stop or sustain drives. Two snaps before the Bengals' Reggie Kelly caught a touchdown pass, Carolina cornerback Ken Lucas dropped an interception thrown directly into his hands; the Bengals went on to win by three. And yes that was the Reggie Kelly, the tight end Dan Reeves once traded a first-round draft pick for at Atlanta. Kelly was viewed as a bust in Atlanta owing to high expectations, but has gone on to become a solid performer along the Ohio River.
Obscure College Score of the Week No. 1: Pittsburg of Kansas 63, Southwest Baptist 20. Pittsburg of Kansas is the Matewan High of college football, a team that seeks out weak opponents then relentlessly runs up the score against them. Two years ago, on its way to having the highest-scoring season in college football history, Pittsburg of Kansas faked a punt while leading 63-7. Then faced with an equal foe, the Gorillas honked the Division II title game. This Saturday, Pittsburg of Kansas led Southwest Baptist 49-17 at the start of the fourth quarter yet continued to pass, relentlessly trying to run up the score on a completely overmatched opponent. Earlier this season, in an ugly display of bad sportsmanship, the Gorillas ran the score up to 87-0 against helpless little Panhandle State. (Currently Panhandle is 0-7 with four losses by at least 50 points.) Apparently they don't have character-education courses at Pittsburg of Kansas but they do have plenty of punks in the football office. Presumably when Pittsburg of Kansas meets a real opponent in the playoffs it will collapse as usual.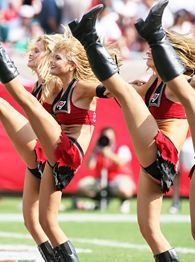 Tom Briglia/WireImage.com
Congrats! You made it to the end -- the Tampa cheer-babes salute you!
Obscure College Score of the Week No. 2: Western New England 3, Endicott 0. Located on a beautiful North Shore hillside in Beverly, Mass., last weekend Endicott recalled simpler times by playing host to a Saturday night fire pit with cocoa and ghost stories.
Law of the Obvious (College Edition): TMQ's Law of the Obvious states: Sometimes all a team needs to do is run the ball up the middle for no gain, and everything will be fine. Leading Michigan State 38-10, Northwestern took possession with 6:31 remaining in the third quarter. Did the Wildcats run, run, run to grind the clock? For the remainder of the contest, Northwestern coaches called 10 rushes and eight passes. Five of the passes clanged incomplete, stopping the clock, while two were intercepted; Michigan State kicked the winning field goal with five ticks remaining on the scoreboard. From the point it took possession with a 38-10 advantage at 6:31 in the third, had Northwestern simply run up the middle for no gain on every play, victory was close to certain. You've got to work hard to blow a 35-point lead, and Northwestern coaches were determined. Craziest call: Leading 38-17 at the end of the third quarter, the Wildcats faced third-and-10 on the Spartans' 11. Run up the middle for no gain then kick the field goal that makes it 41-17, and everything is fine. Instead pass, interception, and a collapse for the record books is set in motion.
Reader Animadversion: Got a complaint or a deeply held grievance? Write me at TMQ_ESPN@yahoo.com. Include your real name and the name of your hometown, and I may quote you by name unless you instruct me otherwise. Note: Giving your hometown improves your odds of being quoted.
Next Week: The NFL bans players from ingesting dark energy.
In addition to writing Tuesday Morning Quarterback, Gregg Easterbrook is the author of "The Progress Paradox: How Life Gets Better While People Feel Worse" and other books. He is also a contributing editor for The New Republic, The Atlantic Monthly and The Washington Monthly, and a visiting fellow at the Brookings Institution. Sound off to Page 2 here.