By Gregg Easterbrook
Special to Page 2
So my plan was to lead this column by praising the Denver defense, which goes out and gives up 34 points against Indianapolis. Now Denver has allowed 78 points in seven games, bested by Chicago's 69 points allowed. But the Broncos still are having the best defensive season so far, considering they have played four of the league's power teams (Colts, Patriots, Chiefs and Ravens) while the Bears have only played one (Seattle), with Chicago opponents a combined 17-33. Anyway the Colts always stomp the Broncos; it's some horse voodoo thing. We still need to know why the Denver defense is playing so well. Last week, I proposed the Atlanta offense was playing well because the Falcons are daring to use a high school offense. This week, I propose the Denver defense is playing well because the Broncos are daring to use a high school defense.
Watch tape of the Denver defense and you'll be amazed at how plain Jane it is. Almost always a conventional 4-3-4. No stunting before the snap. No overloading one side, not even showing overload then backing out. No linebackers shooting gaps. No press corners. Almost no blitzing. Most remarkable by recent NFL standards, the linebackers and cornerbacks are six yards off the line, rather than three to four yards as virtually all other teams use. This year, the Broncos have lined up almost every down in a classical by-the-book defensive set with everyone in the standard position and not moving. If you attend a lot of high school football, as I do, you know: This is exactly how high school defenses play.
Aggie Skirball/WireImage.com
Denver's defense had a hiccup against Indy, but they're still having an outstanding year.
Denver's lack of blitzing is what might jump out at the casual spectator. According to NFL analyst Pat Kirwan, last season Denver blitzed on 16 percent of opponent snaps, somewhat above the league average. This season, Denver has hardly blitzed at all -- just three blitzes in 60 Colts snaps Sunday, a 5 percent blitz rate. Most high school teams rarely blitz, because the blitz leads to big plays surrendered. In recent seasons, NFL defensive coordinators have boasted about sacks and turnovers off the blitz, then changed the subject when some party-pooper like me mentions big plays surrendered. I've heard that in the offseason, Denver coach Mike Shanahan decided he wanted to limit big plays. That meant little blitzing.
The lack of pre-snap movement by the Denver defense is less obvious, but equally high school-ish. In recent seasons, NFL defensive coaches have gone ga-ga for unorthodox looks and jumping around before the snap to confuse blocking schemes. High school defensive coaches traditionally are more concerned with making sure everyone is in the right place before the snap. That means conventional static sets: exactly what Denver is using! Sunday, Peyton Manning almost never did his "chicken dance." He audibled and pointed around less than he has in years -- and the reason was the defense was not shifting, so he had nothing to point about. Maybe the effectiveness of the 2006 Denver defense will wear off as opponents figure out what the Broncs are up to. I suspect this defense has worked well so far because other teams come into games expecting the Denver defense to jump around and show unconventional looks like everyone else, and aren't prepared for orthodoxy!
In more football news, examples of bad sportsmanship have been all too frequent this season, with many college and high school teams relentlessly running up the score. (Running up the score is fairly rare in the NFL.) Once I thought that any high school or college team up by 50 points should begin kneeling on the ball, even if it was the third quarter. Letters from coaches and former players have persuaded me that proposal is impractical. To my complaints about running up the score, coaches and former players have countered: How do we know when we've scored enough, and how can we send out the second- or third-string but not let them run regular plays? Therefore let me propose a practical guide to points sportsmanship.
• First, teams may score at will in the first half. Even if you're ahead by a huge margin it's fine to throw deep or do anything else, until intermission.

• In the second half, scoring is no longer needed if a team leads by 40 points in the third quarter or 30 points in the fourth quarter. Michigan State just proved it is physically possible to overcome a 35-point lead in the third quarter. But since that has now happened once in a century of college competition and never in the NFL, a 40-point lead in third quarter signals it is time to rein in the horses, while a 30-point lead in the fourth quarter signals the same.

• Once an unassailable lead has been achieved, teams may continue to run regular plays -- but if scoring a touchdown, players should kneel on all PAT tries. This is my Big Important Proposal. You're ahead 42-0 at the start of the fourth quarter. The starters are all seated, but you can't tell the subs to do nothing but run up the middle for an entire quarter. You let them run most of the playbook except deep passes, reverses and so on. They score a touchdown making it 48-0, and you kneel on the PAT try, even if there's a quarter remaining. Extra points are, after all, "extra" points. Once a huge lead is attained, "extra" points are totally unneeded. With an insurmountable lead you've got to run some kind of offense, but you don't have to try extra points. By kneeling on all extra-point plays after attaining a huge lead, the victor would communicate respect for its opponents and make clear that it is not trying to inflate the score, merely running its offense until the game ends. Also, this solution allows the second- and third-teams their chance to run the regular offense. Coaches of powerhouse college and high school teams: Start kneeling on those PATs in the second half.
Let's sum this up as Tuesday Morning Quarterback Law of Fair-Play Scoring. One, all is fair in the first half. Two, after attaining a 40-point lead in the third quarter or a 30-point lead in the fourth quarter, no starters on the field and no deep-strike plays. Three, if you do score with either of these leads, kneel on the point-after, no matter what the clock. Isn't this a decent proposal for a common understanding of how to avoid running up the score and the bad feelings it engenders all around? I'd think any coach could live with the Law of Fair-Play Scoring -- any coach except a bad sport, of course.
Just one month ago, TMQ asked, "How soon 'til Steelers fans start booing Ben Roethlisberger?" Sure he came into the season having just won the Super Bowl and was 28-4 as an NFL starter. But now Roethlisberger is 1-4 this season and already has thrown 11 interceptions, including a dreadful pick this Sunday into triple coverage at the Raiders' goal line. Had Roethlisberger simply tossed the ball away on that down, the field goal on the next play makes it Oakland 13, Pittsburgh 9; instead the interception went the distance in the opposite direction making it Oakland 20, Pittsburgh 6. I'll ask again: How soon 'til Steelers fans start booing Ben Roethlisberger?
In other football news, man, what great games this weekend! Kansas City-Seattle, Atlanta-Cincinnati, Indianapolis-Denver, Jacksonville-Philadelphia, Baltimore-New Orleans and New England-Minnesota were all strong matchups. Why so many strong pairings? The four bye teams -- Buffalo, Detroit, Miami and Washington -- had a combined record of 6-22. Most of the cupcakes took the weekend off, and the result was the games played were tremendous. TMQ's suggestion to improve NFL play: Let these four teams take the rest of the season off.
And in still more sports news, last week I asked readers for examples of dignified or generous behavior by college or high school teams. I am happy to report many such examples of good sportsmanship below.
Stats of the Week No. 1: Undefeated Chicago is winning by an average of 22 points per game.
Stats of the Week No. 2: Since leading undefeated Chicago by 20 points at home at the end of the third quarter, Arizona has lost three straight and been outscored 23-74.
Stats of the Week No. 3: Seattle allowed 16 points in its first two games and has been allowing 32 points a game since.
Stats of the Week No. 4: Pittsburgh is 2-5 despite outscoring its opponents.
Stats of the Week No. 5: Five teams already have more than 200 points but one of them, Philadelphia, does not have a winning record.
Stats of the Week No. 6: All NFC West teams have lost at least two straight games; the division is on a combined 0-13 streak. Reader stat submitted by Sharp Richmond of Mount Airy, Md.
Stats of the Week No. 7: College stats bonus: In a four-point loss to Texas, Texas Tech had 519 yards passing and minus-1 yard rushing.
Stats of the Week No. 8: In the last quarter-century, Seattle is 2-19 at Arrowhead Stadium.
Stats of the Week No. 9: Cincinnati's offensive line already has given up as many sacks as it did in the entire 2005 season.
Stats of the Week No. 10: Discounting meaningless contests played after the Colts locked their best postseason seeding, Indianapolis has won 28 consecutive regular-season games.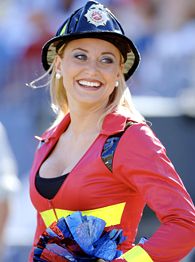 Joe Murphy/WireImage.com
This outfit is certainly not putting out any fires.
Cheerleader of the Week (Halloween Special): In the last week, the nation's news pages have been filled with reports of a national craze for teenaged girls and young women wearing revealing Halloween costumes with hardcore themes such as French maid or bondage harness -- see this New York Times article by Stephanie Rosenbloom. On Saturday night, TMQ and the Official Wife attended a trendy Halloween party, and there beheld one woman in a super-skimpy French maid's costume including accessories that would be worn only by a very obedient maid, another woman in a mermaid outfit that came close to the topless look reported by ancient sailors who struggled to resist these creatures.
For more than a decade, studies have reported declining sexual activity, especially among the young -- fewer teens below age 18 who have had intercourse, later age of first intercourse, fewer total sexual partners by most people, falling rates of teen pregnancy. (That teen pregnancy was in 2005 at its lowest rate ever in the United States is the kind of positive news the media never get around to reporting.) At the same time that take-it-slow and monogamy are rising, teen girls and young women wear ever-more-revealing clothes and, now, sex-themed Halloween costumes. Tuesday Morning Quarterback does not pretend to understand the paradoxical trend of declining sex coupled to increased sexiness. But I can tell you who was there first: NFL cheerleaders!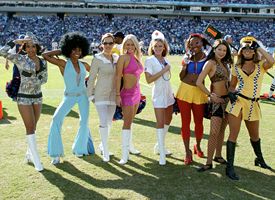 Joe Murphy/WireImage.com
The Titans' cheerleaders on Sunday. Play doctor, anyone?
The fad for high-sex-appeal NFL cheerleaders began about 20 years ago, and not long after that studies began to show lessening incidence of young-teen sex and frequent promiscuous sex. Five to 10 years ago, NFL cheerleaders began sporting sexy Halloween costumes. Naughty nurse, naughty elf, naughty serving girl, scantily attired devil, let's-play-doctor doctor -- all have been done on an NFL sideline on Halloween weekend in recent seasons. Can an NFL cheer-babe dominatrix cracking her whip be far behind? Spectators are grateful, needless to say. But just as the larger social trend seems to be more sex appeal coupled to less sex, the put-it-out-there sexiness of cheerleaders' Halloween costumes seems more aesthetic than arousing. Somehow, NFL cheerleaders can be really good looking and nearly naked without suggesting the erotic: the image presented is one of attractiveness, fitness and body confidence, rather than of sex itself. This must tell us something about society -- I just have no idea what. At any rate, throughout this column TMQ celebrates the weekend's cheerleader Halloween costumes.
Label on Patriots' Helmet: Insert Player, Perform Well: Doug Gabriel, Reche Caldwell, Junior Seau -- nobody else in the league wants 'em, you put 'em in a Patriots uniform and they're stars. Last night on "Monday Night Football," the New England Patriots once again rolled out castoffs and who-dats to pound another team. Miami said Seau was washed up. Approximately 31 teams passed on Gabriel and Caldwell. Billy Yates started at guard for New England -- his first career start in four seasons. No, I'd never heard of him, either. Yates was cut by Miami, which has a terrible offensive line. Last night Yates played fine for New England. Ryan O'Callaghan started at right tackle for the Flying Elvii. O'Callaghan was the 13th tackle taken in April's draft, selected in the fifth round after a lot of glamour names went, and he's playing great while glamour-name, high-drafted tackles like Winston Justice aren't even on their teams' active lists. Whatever Bill Belichick has, he sprays it on new players awfully quick.
As for the game, it was mere formality after the first possession. And Minnesota was a winning team getting its stuffings kicked out despite the benefit of the mystique of its first "Monday Night Football" home appearance in five years. Minnesota couldn't cover any of the Pats' castoff receivers. Minnesota couldn't get past the Pats' who-dat offensive linemen to pressure Tom Brady, despite the New England five-wide, which meant no halfback to pick up Vikings blitzers. Representative New England perfect play: Leading 10-0, the Patriots faced third-and-12. At the snap, Brady and his tailback sprinted right, influencing the defense that way; then Brady stopped on a dime and threw the half-screen (one blocker) back left to Caldwell. Matt Light, the blocker, pasted the Viking at the point of attack and off Caldwell went for a 34-yard gain. New England scored on the possession to make it 17-0 and at that point the Vikings might as well have left to get peanut butter-chocolate Halloween martinis. Everybody sprints one way, then throw the half screen back the other way -- we have this play in my sixth-grader's flag football league playbook, and the New England Patriots can fool the Minnesota Vikings with it.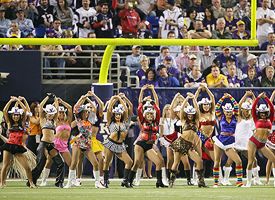 Tom Dahlin/WireImage.com
If the Vikings had disguised their coverages as well as the Minnesota cheerleaders disguised themselves, the Monday night game might have been close.
Sweet Play of the Week No. 1: Last week TMQ said teams should spread the field at the goal line, then simply have the quarterback run up the middle with five offensive linemen taking on five defenders in the box. Game scoreless, Baltimore faced third-and-goal on the New Orleans 5. The Nevermores lined up with two wide receivers wide on each side; Saints defenders frantically spread wide; then Steve McNair simply ran straight up the middle for six. Apparently now that Brian Billick is calling his own plays, he's free to call from the Tuesday Morning Quarterback playbook! Baltimore also ran a nice "series" sequence in which one play sets up another. From the New Orleans 4, the Ravens set three receivers right and had Clarence Moore, the inside guy, run the quick turn-in -- touchdown. Later from the Saints' 6, the Ravens set three right and had Todd Heap, the inside guy, run a quick turn-out -- touchdown; the defense seemed to expect turn-in.
Sweet Play of the Week No. 2: Trailing 3-0, Denver faced second-and-goal on the Indianapolis 1. In a variation of the spread-then-sneak action advocated by TMQ, the Broncos came out double tight end with I-backs and a slotback right; then blocking back Kyle Johnson went in motion wide left, drawing a defender with him; at the snap tailback Mike Bell sprinted left, as if expecting a quick flip and drawing a linebacker out of the middle; then Jake Plummer drove straight ahead for six. Earlier in this drive on third-and-long, Plummer sprinted out right then threw a 45-yard completion on the deep zed-out to David Kircus on the left. Considering how far behind the line Plummer was and that his pass traveled across the field right to left, Plummer threw a perfect ball almost 70 yards in the air.
Sweet Play of the Week No. 3: Trailing 35-14 in the fourth quarter, New Orleans faced fourth-and-goal on the Baltimore 5. Saints coaches called for seven blockers; Ravens' coaches called a one-man rush. One defender rushed, 10 dropped into coverage -- I've never seen it. Seven New Orleans blockers stood walling off one single man while 10 Baltimore defenders covered three receivers. Flummoxed, Drew Brees threw the ball away, for all intent and purpose ending the game. This week, this was the play TMQ obsessively watched over and over. The fascinating thing is that after 10 Baltimore defenders dropped off, there stood Brees surrounded by seven blockers with only one Raven between him and the goal line. Had Brees and his wall of blockers simply surged forward, a touchdown run was likely. But not too many teams practice for a one-man rush! Lite rush bonus: Trailing 29-27 with 13 seconds remaining, Cincinnati lined up for the Hail Mary. The Bengals had six blocking, Atlanta rushed three -- and got the sack.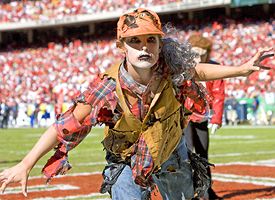 Barry Taylor/WireImage.com
A Chiefs cheerleader who did not get the memo about scanty costumes.
Sour Play of the Week No. 1: Trailing San Diego 14-7 in the third quarter, St. Louis had first-and-10 on the Bolts' 29. Recycled power back Stephen Davis fumbled forward, ball bouncing to the San Diego 21. Usually touchdown returns of fumbles come on those that bounce away from the direction of the play, allowing a defender to "scoop and score" with only green grass ahead. Forward fumbles are usually fallen on in a mass of humanity. In this case, San Diego safety Marlon McCree ran the fumble back 79 yards for a touchdown that was the decisive play in San Diego's win. How did he get away with it? As McCree picked up the loose ball, Les Mouflons' gentlemen simply stood there doing nothing. Hey, highly overpaid St. Louis offensive starters -- "play to the whistle!"
Sour Play of the Week No. 2: Trailing Tennessee 7-3 with 18 seconds in the first half, Houston faced third-and-13 on its 46, holding one timeout. David Carr dropped back, was sacked, his fumble returned for a touchdown by the Flaming Thumbtacks. With only 18 seconds and one timeout, what were the odds of anything good happening for the Texans on a third-and-long pass?
Sour Play of the Week (Matched Set): When someone other than a quarterback throws on a trick play, the player should be coached thus: Throw only if the receiver is completely unguarded, otherwise just run and we don't care if you take a loss. Baltimore leading 7-0, New Orleans had first-and-goal and called a halfback pass by Reggie Bush. The receiver was double-covered and rather that just run, Bush heave-hoed, interception. Later at Denver, game scoreless, Indianapolis called the halfback pass by Joseph Addai. The receiver was double-covered and rather that just run, Addai heave-hoed, offensive pass interference.
Sweet 'N' Sour Play: Brett Favre ran for his first touchdown in five years; that was sweet. As he rolled right, on the outside there was Favre, blocking back Brandon Miree and four Arizona defenders. Favre motioned Miree into the corner of the end zone -- and all four defenders went with the who-dat fullback, ignoring the future first-ballot Hall of Famer as he strolled into the end zone. That was sour.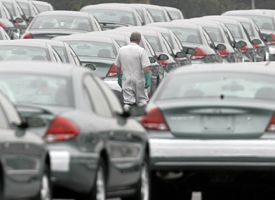 AP Photo/John Bazemore
Car thief walking past dozens of Taurus models with the keys in the ignition.
You Can Leave a Taurus With the Door Open and the Engine Running, and It Will Be There When You Come Back: Last week the final Taurus rolled off the assembly line, as Ford ended the two-decade production run of the car. Today the Taurus is thought of as dour and frumpy, but when it debuted in 1985, the car was a breath of fresh air -- the first American-made sedan intended to compete with Honda and Toyota on quality. In the late 1980s and early 1990s, the Taurus was the No. 1-selling vehicle in the United States. This car got you where you wanted to go, and there was even once a sexy edition, the Taurus SVO, in monochrome black with big wheels, foreshadowing the current craze for pimped editions of the Chrysler 300 sedan. The world eventually passed the Taurus by. According to the Insurance Institute for Highway Safety, in 2005 the Ford Taurus was the nation's least-stolen car.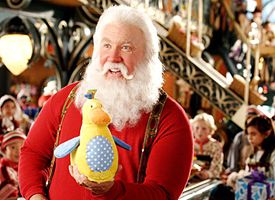 Disney
What's next, a Christmas movie that opens on the Fourth of July?
Is United Nations Day the New Thanksgiving? Each year, Tuesday Morning Quarterback bemoans the earlier-and-earlier start of commercialization of Christmas. This year the first Christmas movie, "The Santa Clause III," opens Nov. 3. I saw a Christmas-themed television ad for the Garmin navigational device, complete with fake snow and caroling, on Oct. 29.
Click That Seat Belt! It's good to hear Indianapolis defensive tackle Montae Reagor is expected to recover from injuries sustained in a recent car crash. Guess what Reagor was driving: an SUV, which rolled over. Though many buyers believe SUVs are safer than regular cars, and manufacturers subtly play to this belief in advertising, statistics show you are more likely to die or be injured inside an SUV than inside a regular car. In low-speed, front-to-rear and side-to-side impacts, SUVs are in fact safer for occupants; but SUVs are so much more likely to roll over at high speed than regular cars that the total risk of death is greater for the person in the SUV. Also, what was Reagor not wearing at the time of the crash?
Preposterous Punt Watch: Trailing 14-10 at the end of the third quarter, Dallas threw incomplete on the Carolina 42 on third-and-2, and also was called for holding. Surely, I thought, John Fox will take the penalty to push the Cowboys out of his territory; otherwise they will go for it on fourth-and-2 at the Carolina 42. Instead Fox confidently declined the penalty, and Bill Parcells obliged by ordering a punt on fourth-and-2 from the opposition 42 while trailing in the second half. Dallas went on to win the game, but don't tell me Parcells knew Carolina would later commit three turnovers. You're behind in the second half and punting on short yardage in opposition territory!
At Happy Hour in Hell's Sports Bar, Pitchers Are Just $5 But the Beer Is Warm -- Unless You're English, In Which Case It's Cold: Hell's sports bar has 28 wide-screen plasma TVs, and on Sunday all were showing Houston vs. Tennessee at Long Playing Field. For the highlight program, all 28 screens in Hell's Sports Bar showed nothing but, over and over, San Francisco punting in Chicago territory when the Niners were trailing by 41-0.
Best Purist Drives: Kansas City drove 88 yards for a touchdown in 13 plays -- 12 of them rushes. Leading 13-3, Jacksonville took possession with 7:27 remaining. Jax ran, ran to grind the clock to 2:45 before punting, and the rest was filler.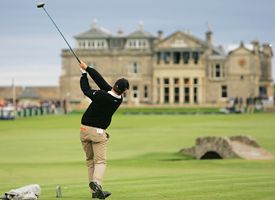 AP Photo/Alastair Grant
You see a golfer. Page 2 sees a sinister conspiracy involving Daylight Savings Time.
Congress Is Afraid to Do Anything About Petroleum Imports, But Happy to Issue Orders to God: Enjoy your trick-or-treating in the dark tonight, because starting next Halloween, Daylight Savings Time still will be in effect on Oct. 31. The recent energy bill enacted by Congress -- which contains hundreds of pages of special-interest favors but largely does nothing about energy supply or consumption rates -- had a title lengthening the part of the year when DST remains in effect. Beginning in 2007, Standard Time will be in effect only from Nov. 4 'til March 9 -- two-thirds of the year will be non-standard, only one-third Standard. (Unless you live in Arizona or Hawaii, which do not observe Daylight Savings Time.) Though I like an extra hour outdoors in the summer too, Daylight Savings Time seems to have gotten completely out of hand. The God-given cycles of sunrise and sunset aren't good enough for us?
Proponents of DST always say that it reduces electricity use, by postponing by one hour the time when all the interior lights of structures are turned on. See Michael Downing's "Spring Forward," an entire book devoted to attacking Daylight Savings Time! Downing acknowledges DST cuts electricity use but maintains it increases petroleum demand, which is more harmful than reducing electricity use is helpful -- especially considering Congress refuses to enact a meaningful energy policy. "Spring Forward" demonstrates that the primary energy impact of the extra hour of evening daylight is to cause people to drive places to do things; and while the United States has centuries' worth of coal and uranium to make electricity, we're already too dependent on imported petroleum from Persian Gulf dictatorships. What sinister conspiracy does Downing believe is behind the extension of Daylight Savings Time? The golf industry! Spring Forward asserts the extra month of DST added that Congress mandated in 1986 "represents $400 million in added annual sales and fees" to golf-course operators because more people play in the evening.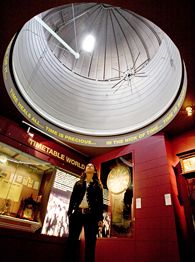 AP Photo/Czarek Sokolowski
We can tell you this is part of the Royal Observatory, but for PC reasons we cannot mention that it is in England.
The Obvious Solution Is to Rename It "Politically Correct Time": Speaking of Standard Time, since 1847 the world's time has been judged in relation to the Royal Observatory in Greenwich, United Kingdom. In the days of sailing ships, Greenwich Mean Time was what British sailors set their timepieces to, in order to calculate longitude. Gradually, hours plus-or-minus GMT was accepted as the world standard for delineating time zones. Of course it's an arbitrary standard -- some place on Earth must be chosen, and whatever place is chosen would be arbitrary. In recent years a politically correct movement has demanded that Greenwich Mean Time not be spoken of, as it implies England is the center of world culture. Instead, Coordinated Universal Time is now the preferred term, since it makes no reference to the existence of English culture. But Coordinated Universal Time is still based on the time in Greenwich, England! Changing GMT to CUT changes nothing except to replace an exact physical description with a PC euphemism. And what about "Zulu time"? The clock reading in Greenwich is abbreviated Z, which is pronounced "Zulu" in radio argot (like "whiskey" for W, "November" for N and so on). This means United States military communications commonly refer to Greenwich Mean Time as "Zulu time." How long until saying "Zulu" is deemed politically incorrect?
This global time utility can be useful, though beware it is only "accurate to within 0.3 seconds." Think such tiny amounts of time can't matter? In calibrating the GPS guidance devices of the bombs dropped on Iraq in March 2003, Air Force planners took into account not only the lag between when a GPS signal was transmitted from a satellite and received by a smart bomb -- far less than a second at the speed of light -- they took into account the effects of relativity on the signals, since time passes ever-so-slightly differently when the bomb accelerates by falling.
Buck-Buck-Brawckkkkkkk No. 1: Trailing 28-7 in the third quarter, the United States Saints punted on fourth-and-1. The Saints went on to lose 35-22.
Buck-Buck-Brawckkkkkkk No. 2: Trailing Jersey/A by 17-3, City of Tampa faced fourth-and-5 with 3:29 remaining. In trotted the punt unit. "This absolutely must be a fake," I said aloud. Boom goes the punt, and TMQ wrote the words "game over" in his notebook. There are three minutes left and you need two touchdowns, why are you punting???????
Buck-Buck-Buck-Buck-Buck-Buck-Buck-Buck-Buck-Buck-Buck-Buck-Buck-Buck-Buck-Brawckkkkkkkkkkkkkkkkkkkkkkkk: Trailing Chicago 41-0, San Francisco punted from the Bears' 38. Still down by 41 points and facing fourth-and-goal on the Bears' 5 in the fourth quarter, San Francisco kicked a field goal.
Your Seat Assignment Is Coach, But for an Additional Fee, You Can Upgrade to an Overhead Bin: It was a bad sign when the launch customer for the new Boeing 787 was startup Air Gitmo, an ultra-no-frills carrier that will jam the maximum number of people into the minimum space by strapping passengers down so they cannot move their limbs during the flight. A Wall Street darling and endorsed last week by Vice President Dick Cheney, Air Gitmo plans to offer low fares but no meals and no human rights. Passengers must sign waivers of the Geneva Convention, the Constitution and the Peace of Westphalia. Water will be rationed; blaring rock music will insure in-flight sleep deprivation; anyone who presses the flight-attendant call button will receive an electric shock. The Air Gitmo marketing slogan -- "We Give 'Now Ready for Boarding' a Whole New Meaning" -- says it all.
AP Photo
The last airliner that was designed for passenger comfort.
OK, so I'm making up Air Gitmo: though please don't show this item to Delta or American, as their existing fleets would require only minor modification to fit the Air Gitmo business plan. The part about the latest Boeing is not made up. Due in the sky soon as Boeing's first new jetliner of the 21st century, the 787 "Dreamliner" is a monster hit in terms of airline orders. Airlines are drawn to the 787 because it offers a big leap in fuel efficiency, while Boeing has promoted the plane as the first airliner since Pan Am's Flying Clippers of the 1930s designed with passenger comfort in mind. Boeing released photos of mock-ups with comfortable 3-2-3 coach seating schemes and relatively generous 19-inch-wide coach seats, versus the current industry standard of 17-inch coach seats.
Your writer warned in 2003, "Don't believe for one minute you will ever board a 787 that looks anything like the pictures!" I warned the same again in 2005. What's happened since? Last winter, Boeing quietly admitted the planned 3-2-3 coach seating will be dropped on most Dreamliners for 3-3-3, wedging an additional passenger into each row. Comfortable 19-inch-wide seats have given way to 17-inch tush crunchers. And that's with the 787 still awaiting test flight. Traditionally after airline customers take delivery of jetliners, they rip out the interiors, shrink the "pitch," or fore-and-aft distance between seats, and jam in more chairs, eliminating legroom. Airline marketing departments call this "density modification." Surely in actual use the Dreamliner will become a density-modified airborne livestock pen.
But if the Dreamliner is hostile to passengers, at least it will be easy on the environment. Boeing promotes the jetliner as "eco-friendly" and says, "We are designing the most environmentally preferred airplane ever, whether in the air, in the factory, or on the ground. From initial design to the retirement of the airplane, we are seizing every opportunity to minimize the impact on the planet's natural environment." If a spotted owl books a 787 flight, for it the seats will be decent-sized.
The Dreamliner's competitor, the new Airbus 350, has been a flop with airlines companies, which are not ordering the plane. Partly, this was because elements of the A350 design made nine-across seating impossible. In July, Airbus announced it will reengineer the 350 to allow nine-across seating. The reengineered Airbus 350 also gets a cabin three inches wider than the 787, meaning typical coach passenger receives an extra one-third of an inch of space. Airbus had the nerve to christen this new design the A350 Xtra Wide Body. Wider by one-third of an inch -- live it up!
Note 1: If you saw the New York Times story saying Airbus was designing standing-room "seats" in which passengers actually would be strapped to boards, this story is not true, as the Multicolored Lady has since admitted.
Note 2: When you say "customer" for Boeing and Airbus, usually you don't mean the airlines themselves but little-known International Lease Financing Corporation, owner of record for much of the world's commercial air fleet. International Lease Financing buys jetliners and leases them to American, United and so on, doing the paperwork in such a way that the depreciation can be shifted around in years when the airlines lose money and thus owe no taxes to claim deductions against. International Lease Financing, a subsidiary of scandal-plagued insurance giant AIG, is run by Steven F. Udvar-Hazy, the man who pioneered commercial jetliner leasing, then repaid his debt to the skies by donating $65 million in seed money for the way-cool new air and space museum near Dulles Airport outside Washington, D.C. If you haven't been to this museum, it is well worth the trip. But as TMQ continues to marvel, the official name of the place is the Steven F. Udvar-Hazy Center, including the middle initial. Oh, so you mean that Steven Udvar-Hazy.
Note 3: I don't mean to sound too harsh on the 787, which will use less fuel per passenger-mile and pollute less than any current jetliner, thanks to a light carbon-fiber composite fuselage and the advanced GEnx turbofan from General Electric, a breakthrough in aviation engine design. (Though, good luck pronouncing "GEnx.") Headroom and overhead bin room will increase; tiny windows, a common complaint about jetliners, will be supplanted by larger ones. I'm sure once the Dreamliner is airborne, savvy flyers will book it. Current airliner cabins are kept super-dry to reduce humidity in contact with the metal fuselage. A carbon-based fuselage means the Dreamliner will have normal cabin humidity, which passengers are sure to appreciate.
Boeing
The Boeing 787 Dreamliner cabin mock-up. Use for comparison only. Your actual seat may be far smaller.
Today's jetliners are also pressurized not to ground level but to the equivalent of an altitude of about 8,000 feet. This is why your ears pop even inside a pressurized cabin, and why babies' ears hurt, making them cry. Pressurization to 8,000 feet reduces stress that causes metal fatigue on the fuselage -- at cruise altitude, the cabin is pushing outward against the hull with less force than if the pressurization mechanisms were simulating air pressure at the ground. With the 787's composite hull, fatigue shouldn't be an issue. The Dreamliner will be pressurized to near ground level, meaning no more popping ears and fewer babies crying. But this might prove a mixed blessing. The reason so many flyers slumber on airliners, even during turbulence, is that thin air makes you drowsy. People sleep well in mountain vacation cabins, and they sleep well at a simulated 8,000 feet. Aboard Dreamliners pressurized to near ground level, passengers might find that they can't sleep the flight away. Flights attendants might spend a lot more time racing to bring drinks to cranky, wide-awake people in 17-inch-wide seats. Don't be surprised if airlines end up reducing pressurization aboard 787s, so the passengers fall asleep and don't complain about the lack of room.
Note 4: Boeing is recommending that all 787 engine housings be painted a single color. The company's studies show that the tiny ridges between paint shades in multiple-color airline liveries interrupt laminar airflow over engine nacelles, increasing fuel consumption by nearly 100 gallons per airliner per day. This is the level of detail that manufacturers already are working with to reduce petroleum consumption -- and the world still needs to get, what, maybe four or five times more energy-efficient?
We're All Professionals Here: Possessions for the Eagles at home against Jacksonville: punt, punt, punt, punt, downs, punt, end of half, punt, field goal, punt, field goal.
Frontiers in Advertising: This week General Electric is running television ads extolling its unpronounceable GEnx. This might well be the best aviation engine ever manufactured, but what are the ads supposed to do, make you want to run out to the store and buy a high-bypass jet engine? In the Washington, D.C., subway system a few weeks ago, billboard ads appeared for the new 767-based tanker aircraft Boeing proposes building for the Air Force. Are the ads supposed to make subway riders want to run out and buy an aerial refueling fleet? Of course Boeing is trying to get Congress to fund its tanker program -- but members of Congress do not ride the subway.
Best Blocks: One thousand one, one thousand two, one thousand three, one thousand four, one thousand five, one thousand six, one thousand seven, one thousand eight. That's how many thousands I counted as Michael Vick scanned the field on third-and-5 in the fourth quarter, before finding Roddy White for the first-down catch that made possible the winning field goal against Cincinnati. On LaDainian Tomlinson's 38-yard touchdown run, an off-tackle right, LT/2 was touched once, when he was already 20 yards downfield. Mike Bell went into the end zone from close range standing up for Denver, and when you go in standing up on a goal-to-go play, that's good blocking. Julius Jones of Dallas was barely touched as he went straight up the middle for 14 yards for the key touchdown against Carolina, and Fred Taylor of Jax was barely touched on a simple straight-ahead touchdown. With Seattle leading 14-13 late in the second quarter, Kansas City faced third-and-5 and handed off to Larry Johnson, whose 7-yard run isn't the kind that makes highlight reels, but sustained the drive -- and benefited from beautiful blocking.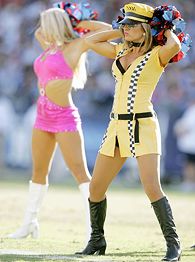 Andy Lyons/Getty Images
We're not sure what these Titans cheerleaders' costumes are, so we definitely need a closer look.
Note: Jones' run was an example of TMQ Law of the Other Shoe: When there's a bad turnover, the defense usually gives up a bad play on the next snap. Dallas scored to make it Cats 14, Cowboys 13 in the fourth quarter. Brad Hoover of Carolina fumbled the kickoff, and the other shoe fell when Dallas scored on the next snap. But wasn't Hoover's knee down before the ball popped out? Sure looked down to me. This is a common officiating error, to watch the scramble for the ball, not simply watch the knee, which can render moot the scramble for the ball.
How Indianapolis Beat the Denver High School Defense: The Broncos had given up two touchdowns in six games against a strong schedule, then surrendered four touchdowns to the Colts. Indianapolis scouted Denver well, and knew was it using a six-yard back-off for linebackers and cornerbacks, while most other teams place these players three to four yards off the ball. If the defense is backing off, why not throw under? That's what Peyton Manning did, endlessly throwing short passes in front of the Broncs' defenders. Even taking over on its 20 with 1:49 remaining, Indianapolis short-passed down the field for position for the winning figgie. Since the Colts like to run-run-run then deep strike, adjusting to the short pass showed flexibility on the part of Indianapolis coaches. Endlessly the Colts threw under the Bronco. They didn't drop the ball and remained patient despite the lack of big plays, which the Denver defensive set is unlikely to allow.
The Colts' sweetest play? Trailing 14-13, Indianapolis faced third-and-3 on the Denver 5. The Colts lined up with Reggie Wayne wide left, Dallas Clark in the slot left; corner Darrant Williams (who had a bad game) was across from Wayne and safety John Lynch across from Clark. At the snap, Wayne ran a quick post and Clark ran laterally into the area Wayne vacated. Both Williams and Lynch read this as a pick pattern to set up a hitch to Clark. Both went toward Clark, leaving Wayne uncovered for the touchdown.
I Want My Midweek MAC! One of TMQ's favorite aspects of the college football season is Tuesday and Wednesday night MAC games on ESPN. I love those midweek contests that don't involve megabucks top-20 schools, and yet provide excellent football, plus rockets on helmets. But here November is about to begin, college football is entering its home stretch, and still no midweek MAC on ESPN! Tomorrow night's card does offer Fresno State at Boise State, and midweek WAC and Mountain West games are fun too. But where, oh where, is the midweek MAC? Midweek games have been oddly few on ESPN this fall, doubly puzzling as football goes 24/7.
Good Sportsmanship Report: Mike Paulson of Canton, Mass., wrote, "I teach at Canton High, whose football team has not won a game in more than two years. A week ago Friday night we hosted North Attleboro High, an undefeated powerhouse school ranked in the state's top five. It was not surprising that at halftime, North Attleboro led 35-0. The second half was very different, the game ending with a final score of 35-13. Afterward I complimented our coach on a well-played second half. He explained that North Attleboro had dressed its junior varsity squad for the game and played JVs the entire second half." Congratulations to North Attleboro High coach Kurt Kummer for showing good sportsmanship. Note that when good sportsmanship is shown, everybody wins. North Attleboro got its victory; the team's junior varsity got some valuable game experience; Canton got the thrill of recording touchdowns against a ranked team. Had North Attleboro run up the score, everyone including the victors would have left the event with an empty feeling. Instead, everyone felt good about what transpired.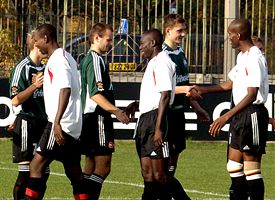 AP Photo/Czarek Sokolowski
Sportsmanship makes everybody happy.
Michael Plowman of Dyer, Tenn., and the class of '94 at Gibson County High School, writes: "During my junior season we only had 17 players on our team. We were playing the highly ranked Union City Golden Tornadoes, third in the state at the time. We lost 41-0, but Union City coach Rick Barnes pulled his starters after the first series of the second quarter. Coach Barnes actively tried to avoid embarrassing us. His was the only hand of a coach I shook after a game all season." Michael, coach Rick Barnes earned your handshake!
Jason Dagle of Selinsgrove, Pa., wrote: "In the summer of 2004, the Southern Columbia High School team lost two players in a drowning accident at a football camp. That year en route to an undefeated season, the Tigers would only field nine players for their first play, to honor their lost friends. While a few teams tried to a hit a big play against the Tigers' nine-man set, most opponents also fielded only nine players for the first play." In the 2004 Pennsylvania state Class A championship game, Southern Columbia sent out nine players for the first play, and opponent Rochester High responded by sending out only nine. Thus good sportsmanship was shown by Rochester High School and many other Pennsylvania high schools that year.
Tim Agnew of Omaha, Neb., wrote: "Outside Omaha there is a little high school called Mount Michael. For years in the 1970s and 1980s they had a dominant basketball team that won two state championships, coached by a man named Jim 'Killer' Kane. This nickname was more for the effort he coaxed out of his players than what he did to opponents. 'Killer' would NEVER allow his team to put up 100 points. If they managed to get ahead by a safe lead he would send in the subs, and if the subs reached 99 points he would have them purposefully turn the ball over to let the opponents score. Jim Kane, who died in 2003, was the Omaha World Herald Coach of the Year in 1983, is a Nebraska Hall of Fame coach and recently the trophy for the best Nebraska high school basketball team was named after him. Kane constantly pushed his own players but also respected his opponents." Because of good sportsmanship he is warmly remembered, whereas bad-sport coaches are forgotten the instant they slink off.
Finally, Miraida Morales and Ashley Lane of Chicago were among many readers to point out the recent New York Times story about Cold Spring Harbor High of Long Island, N.Y., located in an affluent district, which raised $45,000 so that crosstown rival Roosevelt High, from a low-income district, could keep its football program in operation.
Have another example of generosity or fair play at the high school or college level? Send it to me at TMQ_ESPN@yahoo.com.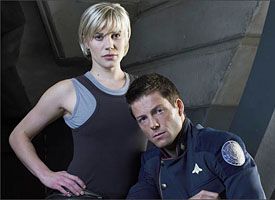 Sci-Fi Channel
In next week's episode, Starbuck and Apollo learn that Cylons have infiltrated the production staff of "Battlestar Galactica."
This Week's "Battlestar Galactica" Complaint: Premise of "Galactica," Season 9: Finally arriving at Earth, Starbuck and Apollo buy a Los Angeles townhouse, only to have a bunch of Cylons move in next door. The Cylons are coming and going at all hours, holding loud parties and engaging in promiscuous relationships with gasoline pumps. In the season opener, Starbuck applies for a green card in order to work at a Starbucks, but is informed she must return to her planet of origin and enter the solar system legally.
The Football Gods Chortled: Carolina receivers dropped numerous passes, including a killer Keyshawn Johnson drop of a touchdown that would have given the Panthers a 21-10 lead. Two of Drew Brees' interceptions were well-thrown passes that bounced off his receives' hands, while the Todd Heap touchdown pass that gave Baltimore a 28-7 lead bounced off the hands of a Saints' defender who should have intercepted. Sage Rosenfels would have finished with three touchdowns, no interceptions and perhaps the Houston starting job had not one perfectly thrown pass caromed off a receiver's hands for a pick. And the Jersey/A-Bucs game might have ended differently had not Tampa receivers dropped two Bruce Gradkowski touchdown passes. Note: Can you prove to me that Tiki Barber was the one playing running back for the Giants while Ronde Barber was the one playing corner for Tampa? C'mon, I dare you, prove it!
From Romo to Zero to Hero: Tony Romo sure looked good for Dallas. Just as good blocking instantly causes quarterbacks to become more talented, a mobile quarterback instantly causes offensive linemen to become better blockers. Strange playcalling by both teams' coaches hung over this game, however. Drew Bledsoe's interception disaster against the Giants came when Dallas coaches called a short square-out at the goal line, one of football's riskiest calls -- and did so mere weeks after Bledsoe had an interception disaster against the Eagles when Dallas coaches called a short square-out at the goal line. What did Dallas coaches call Sunday night at the goal line against the Panthers? Two short square-outs, one for a touchdown, one for an incompletion that forced a field goal. Dallas coaches: If you keep calling the short square-out at the goal line, you will pay the price again.
As for Carolina, here is the Cats' next possession after Dallas recovered the fumble and jumped to a 21-14 lead: incompletion, incompletion, incompletion, punt. There was 9:43 remaining when Carolina got the ball, why go into pass-wacky panic? Entering the fourth quarter with a 14-10 lead at home, Carolina proceeded to run the ball zero times: every play was a pass, resulting in an interception and a lost fumble on a sack. Bad enough that Carolina receivers dropped the ball multiple times. If you've got the lead and are at home and every fourth quarter snap is a heave-ho, you deserve defeat.
Wacky Liqueur of the Week: Jason Overby of Charleston, S.C., notes the Sicilian liqueur Cynar is an artichoke-based bitter. The bottle even has a picture of an artichoke on it. "Maybe this is the new way to get your daily serving of vegetables," Overby suggests.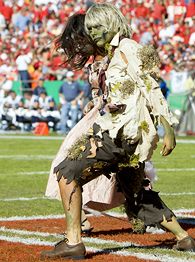 Barry Taylor/WireImage.com
Cheerleader auditions for Kansas City did not go as well as initially hoped.
Adventures in Officiating: "Get on the ground!" Twice TMQ yelled this toward Kansas City players. Chiefs leading 27-14, Kansas City lined up to attempt a field goal; the snap was bad; holder Dustin Colquitt should simply have gone to the ground, but instead scrambled and lost the ball, returned for a touchdown by Seattle. Later it's Kansas City 35, Seattle 28 at the two-minute warning. Defensive end Jared Allen intercepted a pass, and had he simply gone to the ground, the game for all intent and purpose would have ended. Instead he tried for a runback and Deion Branch of the Seahawks tomahawked the ball away from him. Get on the ground!
Now the officiating points. As Branch yanked the ball from Allen at the sidelines, he was in contact with Allen's out-of-bounds body. Didn't Branch touching an out of bounds Allen make the ball out of bounds and hence still Kansas City's? Rule 3, 20(b) says, "The ball is out of bounds when while in player possession, it touches a boundary line or anything other than a player or an official on or outside such a line." So you can be in contact with an out player and still be inbounds yourself. On the botched field goal, officials ruled that Colquitt fumbled. Watch the replay: This was one of human history's worst forward pass attempts, and thus should have been ruled an incompletion, giving the Blue Men Group possession on the Seattle 39, rather than a touchdown.
Parking-Lot Theory of Officiating: In the waning seconds of the Jets at Browns' collision, Jersey/B trailed by a touchdown; tight end Chris Baker caught the fourth-down pass but his feet hit outside the end zone; officials said he was not pushed out. The push-out rule says the receiver gets the catch if he would have come down in bounds, were it not for a push. True, nobody can know what might have happened. But that sure looked to me like Baker might have landed inbounds if he hadn't been pushed! Maybe this is parking-lot thinking at work, since the game was at Cleveland. TMQ has long believed that officials at all levels of football are inclined to give the very last call to the home team -- because they are worried about being accosted in the parking lot on their way to their cars.
After the ruling ended the game, New England coaching alums Romeo Crennel and Eric "I Was a Teenaged Coach" Mangini hugged. There was enough weight in that hug to distort the local space-time continuum. Looks like they served the scrod fried, not baked, at the Patriots' training table! Note to Mangini: Going all-no-huddle worked a week ago because Detroit wasn't expecting it. On Sunday, Cleveland was expecting it.
Obscure College Score of the Week No. 1: Colby 10, Bates 7 in four overtimes. Located in Waterville, Maine, Colby "gives students a broad acquaintance with human knowledge." What about Klingon knowledge? What about the insights of the Cylon lesser poets? Sounds to me like Colby is guilty of anthropocentrism.
Obscure College Score of the Week No. 2: Black Hills State 17, Valley City State 0. Seven years into doing Obscure College Score of the Week, I still encounter colleges I've never heard of, and this week Valley City State is it. Located in Valley City, N.D., Valley City State says its campus is "one of the most attractive in North Dakota." The school offers three different majors in Exercise Science and Leisure Studies, one of which has a required course in Walking and Jogging.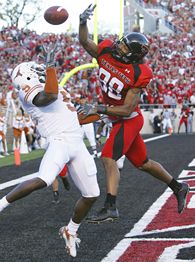 AP Photo/LM Otero
The football gods smite down those who try to run up the score.
Running Up the Score Watch No. 1: TMQ's Law of the Obvious holds: Sometimes all a team needs to do is run up the middle for no gain, and things will be fine. At the start of the second quarter on Saturday, Texas Tech led Texas 21-0. For the remainder of the contest, Texas Tech threw 43 passes and ran nine rushes -- endlessly stopping the clock with incompletions and leaving time for Texas to win 35-31 in the fourth quarter. Yes, Tech has a pass-oriented philosophy. But Texas Tech coach Mike Leach also has a well-known obsession with running up the score. You can't help thinking that leading 21-0, Leach was more concerned with attempting to compile a spectacular final score, about which he could boast, than with simply winning the game. And the football gods come down hard on that sort of hubris.
Running Up the Score Watch No. 2: Reader Joe Bittner of San Jose, Calif., notes that over the past two seasons, Bowling Green relentlessly ran up the score on humble Temple, winning by a combined 140-23. Saturday, the football gods exacted vengeance as Temple snapped its 20-game losing streak by defeating Bowling Green.
Reader Animadversion: Got a complaint or a deeply held grievance? Write me at TMQ_ESPN@yahoo.com. Include your real name and the name of your hometown, and I may quote you by name unless you instruct me otherwise. Note: giving your hometown improves your odds of being quoted.
Next Week: Don't go pass-wacky with the political football -- get out and vote!
In addition to writing Tuesday Morning Quarterback, Gregg Easterbrook is the author of "The Progress Paradox: How Life Gets Better While People Feel Worse" and other books. He is also a contributing editor for The New Republic, The Atlantic Monthly and The Washington Monthly, and a visiting fellow at the Brookings Institution. Sound off to Page 2 here.