By Gregg Easterbrook
Special to Page 2
Last week New York State made a worm-can-opening decision to let adults change the gender designations on their birth certificates. The New York Times ran an article speculating on what might happen once people are free to choose their legal genders, and posed several hypotheticals, including, "Would a woman who legally becomes a man be able to play in the National Football League?" The paper mused that such questions "have yet to be explored." Actually TMQ can answer that one right now -- women already are allowed to play in the NFL!
I checked with league spokesman Greg Aiello, who said, "The NFL has no male-only rule. All human beings are eligible, as long as they are three years out of high school and have a usable football skill set." Prep and college football have experienced huge controversies about whether girls and women can play. There's never going to be huge controversy in the NFL, because the decision is already made -- women are welcome.
Of course, today it seems extremely improbable there will ever be a woman, even a kicker, who could win an NFL roster spot on her merits, considering what importance biceps, quads and pecs hold in football. But a generation ago you would have said it was extremely improbable there would ever be female professional basketball players, let alone ones who dunk. Most likely as women in sports become stronger, taller and fitter, men will grow stronger, taller and fitter to the same degree, always leaving the XYs in the dominant position over the XXs. But one never knows. TMQ has said this before: It's only a matter of time until a woman plays in the NFL, and I hope never to meet that woman.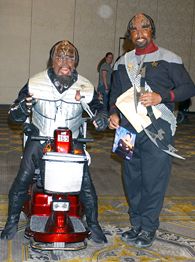 Albert L Ortega/Wireimage.com
Women are now welcome in the NFL. Klingons? Well, so long as they don't play quarterback.
In other football news, San Diego at Cincinnati turned out to be one of the best and most exciting NFL games ever: see analysis below. Looking at the day's schedule and knowing there were two broadcasts scheduled for the Washington, D.C., area for Sunday's 1 p.m. ET slot -- Fox showing Redskins at Philadelphia and CBS having the rights to Chargers at Bengals -- I eagerly expected to see this marquee contest. Imagine my dismay when instead Baltimore at Tennessee was beamed to our nation's capital. What's going on here? The NFL's maddening "secondary markets" rule required that the Ravens' game air in Washington. In league-network contracts, some cities are designated "secondary markets" for nearby franchises. Because Washington is designated a secondary market for Baltimore, and Baltimore a secondary market for Washington, our nation's capital sees all the Ravens' road games, while Charm City sees all the Redskins' road games.
The secondary market rule can be nutty -- for instance, Erie, Pa., usually sees Bills' games rather than Steelers' games, and Erie is, after all, in Pennsylvania, not New York. Oakland and San Francisco see each other's road games, which in recent seasons should be forbidden for humanitarian reasons. And the rule applies only to road games, not sold-out home dates, for no logical reason TMQ can figure out. But what's really maddening about the secondary-markets rule is that it often forbids local affiliates from showing the day's best matchup.
As this column notes ad infinitum (Latin for "by using my AutoText"), the NFL spares no expense to stage fabulous games, then often makes it impossible for viewers to watch the games. It's understandable that local affiliates always would show the home team, even if this means passing on a headliner matchup to air a losing local team's contest. But the idea that local affiliates also must show a nearby out-of-town team, even if a great game is available on the same network, is ridiculous -- to say nothing of bad economics, since it would seem that broadcasters would maximize ratings by airing the best possible pairings. Dan Masonson of NFL headquarters told TMQ, "A secondary market is a TV market in the team's home territory with stations having signal penetration back to within 75 miles of that team's stadium." Since Fed Ex Field and M&T Bank Stadium are within 75 miles of each other, the cities must see each other's road games. OK, that's the rule. But why is it the rule? Why does the NFL impose a broadcast directive that often has the effect of forbidding large blocks of viewers from watching marquee contests?
This independent Web site, noted by many readers including Valerie Rutledge of Aspen, Colo., maps out what parts of the country get which game. On Sunday only the Ohio Valley, Pacific Northwest, southern California, Nevada, Alaska and parts of Texas, North Carolina and Illinois saw Bolts at Bengals. Hawaii and most of Texas saw Jersey/B at New England, the farm belt saw Kansas City at Miami, New Orleans and Michigan's Upper Peninsula inexplicably saw Bills at Colts. Please, National Football League -- junk the secondary markets rule, which is a vestige of the days when television jammed things down viewers' throats and viewers were supposed to accept it without protest. The secondary markets rule is especially offensive because the NFL continues to grant a monopoly over its Sunday Ticket package -- a fabulous product that allows viewers to pay to see any game -- to DirecTV, the satellite provider. DirecTV is great, but since millions of American households cannot receive DirecTV, this monopoly effectively bars viewer choice, even to viewers who happily would pay extra.
Today the Senate Judiciary Committee holds a hearing on whether the DirecTV monopoly on Sunday Ticket is anti-consumer and constitutes restraint of trade. Finally, Congress has noticed this issue! TMQ's prediction: The NFL, which seriously does not want Congress rethinking the antitrust exemption granted to the league in 1961 over its television contracts, better move pronto to make Sunday Ticket available to all cable carriers. The 1961 agreement with Congress specifies that in exchange for an antitrust exemption, the NFL will make its broadcasts available to everyone. Instead, the Sunday Ticket broadcast operates under a monopoly structure. Congress is already in a foul mood about the NCAA's tax-exempt status for profitable D-I football. The new Congress will want to differentiate itself from the last by being pro-consumer. The NFL's television contracts are worth nearly $4 billion a year; the league would be foolish to run any risk with that sum. Roger Goodell, change your deal with DirecTV before Congress changes it for you.
In other NFL television news, we sure hope you like the 2-7 Tampa Bay Buccaneers, who were on "Monday Night Football" last night and will be telecast nationally at Dallas on Thanksgiving Day. Maybe you'll want to plan a family touch-football game for early afternoon on T-Day, since the early nationally televised contest is Miami at Detroit, teams with a current combined record of 5-13. But the interesting thing about Thanksgiving will be the first NFL Network live game broadcast that night.
There's a quiet conspiracy theory holding that the NFL Network, which wants cable carriers to place its product on basic cable, not on a premium-pay digital tier, manipulated the Thanksgiving schedule. Being on basic cable is far more attractive financially than being on premium, because basic goes to most of the country's households and thus is very appealing to advertisers. Time Warner and Comcast are resisting putting the NFL Network on basic cable -- they think the monthly fee the NFL Network is asking is too high. Time Warner has even established a Web site that aggressively denounces NFL Network's money demands. But can any cable carrier resist offering all customers the best access to the most important sport? Now consider the conspiracy angle. Check the Thanksgiving lineup -- a crummy game on CBS (Miami at Detroit), a crummy game on Fox (Tampa at Dallas), and a fantastic game on NFL Network (Denver at Kansas City). Technically the NFL Network bid for television rights to NFL games as an independent firm receiving no special treatment, and technically Harvard doesn't favor the children of big donors, either. The conspiracy theory holds that the league manipulated the Thanksgiving schedule so that when millions of Americans look in their newspaper listings next week and realize Thanksgiving's hot game is on a channel their cable carriers do not provide, they will call Comcast, Time Warner and others to demand that the NFL Network be added to basic cable. Don't be surprised if this happens across the country on the day before Thanksgiving.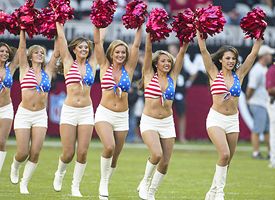 Greg LeBoeuf/Wireimage.com
Here in Arizona we've got a new stadium, we've got Matt Leinart, we've got beautiful cheer-babes, and we are totally determined to maintain our tradition of losing.
And in other football news, years ago TMQ called the franchise that plays in the desert the Arizona (Caution: May Contain Football-Like Substance) Cardinals. Consumers should be warned! With Arizona at this point almost comically bad -- see details below -- TMQ once again rolls out that cognomen. Plus a new, well-known gentleman dons the mantle of TMQ's Single Worst Play of the Season So Far. And it's not Terrell Owens!
Stat of the Week No. 1: Carson Palmer threw for 440 yards, three touchdowns, no interceptions -- and Cincinnati lost.
Stat of the Week No. 2: Drew Brees threw for 398 yards, a touchdown, no interceptions -- and New Orleans lost.
Stat of the Week No. 3: Denver, at 7-2, has scored just 12 points more than Tennessee, at 2-7.
Stat of the Week No. 4: Houston has 21 wins in its franchise history; six are against Jacksonville.
Stat of the Week No. 5: Cincinnati is 1-5 since center Rich Braham went out injured.
Stat of the Week No. 6: Three different players named Johnson scored for Cincinnati in the same quarter, as noted by reader Renfei Tu of Ocala, Fla.
Stat of the Week No. 7: Buffalo's Terrence McGee had 233 return yards, more than the 162 yards recorded by the team's entire offense.
Stat of the Week No. 8: Seattle is 6-3 despite being outscored.
Stat of the Week No. 9: In the Tampa-Carolina "Monday Night Football" game, there were three interceptions in 77 seconds.
Stat of the Week No. 10: Discounting meaningless contests played after the Colts locked their best postseason seeding, Indianapolis has won 30 consecutive regular-season games.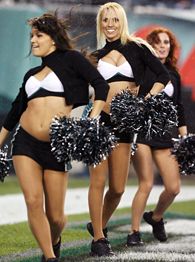 Tom Briglia/Wireimage.com
In the wind and rain Sunday, the Eagles Cheerleaders showed total professionalism.
Cheerleader of the Week: For nearly a decade the Eagles Cheerleaders have owned the cutting edge of cheesecake technology. It was the Eagles Cheerleaders who went beyond the swimsuit calendar to the lingerie calendar; who pioneered the sideline bikini look, with Vera Wang designed outfits that are little more than Riviera swimsuits plus athletic support for hip-hopping; who placed the first age-appropriateness warning on an NFL Web site; whose lingerie pictures caused Tuesday Morning Quarterback to declare that some images could not be shown "for thong-based reasons." Nobody's got it goin' on and puts it out there like the Eagles Cheerleaders.
Then a few weeks ago something went horribly, horribly wrong. For the Jax at Eagles game, Philadelphia's cheerleaders wore track suits. The Eagles proceeded to lose, their high-scoring offense held to six points. OK, so kickoff temperature was 53 degrees with a 24-mph wind gusting to 57 mph. But still! How are the Eagles supposed to win if their cheerleaders are fully clothed? Reader Beth Youells of West Melbourne, Fla., wrote to TMQ at the time, "Though I'm a pretty free-thinking kind of girl, you can imagine my husband's amusement when we saw the Eagles' cheerleaders take the field against the Jaguars. The first thought that came to my mind was: 'Uh-oh. They're wearing pants. This isn't good.'" Beth offers a haiku:
Even chick fans know:
When cheerleaders are covered,
the home team is doomed.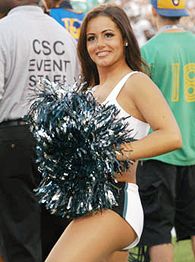 J. Baccile/Philadelphia Eagles
Philadelphia cheer-babe Janette likes confident men. Um, I guess.
This week as Washington visited Philadelphia, the Eagles' cheer-babes were back on their feet. Kickoff temperature: 61 degrees with rain and gusting wind, yet they came out in two-piece numbers barely more than bikinis -- outstanding professionalism! Needless to say, Philadelphia won handily. In recognition, this week's Cheerleader of the Week is Janette of the Eagles. According to her team bio, Janette is a gymnastics instructor with a nursing degree. A nurse and a cheerleader -- male fantasy overload! On her team bio, Janette answered the question, "How does a guy get your attention?" thusly: "It's intriguing to me when he has total confidence and a sense of humor." So Janette, I am completely, utterly, absolutely certain you will find TMQ hilarious.
Sweet Play of the Week No. 1: Twice this season, TMQ has done items on NFL defensive linemen who are so overweight and out of shape, they can't run all the way to the end zone after picking up fumbles. No such problem for St. Louis defensive end Victor Adeyanju, who sprinted at full speed the length of the field for an 89-yard touchdown against Seattle.
Sweet Play of the Week No. 2: Under tackle, Vince Young flipped a sweet lateral to tight end Bo Scaife, who ran for the touchdown. Young also ran one in himself on the QB sweep. Quarterback rushes are especially effective at the goal line because when the quarterback runs the offense is playing 11-on-11, versus playing 10-on-11 when the quarterback hands off.
Sweet Series of Plays: Miami called three trick plays against Kansas City: one worked, one backfired and one simply led to an incompletion. That's about par for the course for trick plays. The one that worked was the "flea flicker" -- Ronnie Brown took a hand off up the middle, then turned and pitched the ball back to Joey Harrington, who threw for 46 yards to Chris Chambers, and the Dolphins got their only touchdown on the next snap. At that point, Harrington had heaved six consecutive incompletions toward Chambers, so the Dolphins really needed a spark. (Over the years I have wondered why this action is called a "flea flicker," and never heard a convincing explanation.) The one that backfired was an attempted reverse; fumble, recovered by Kansas City and the Chiefs got their only touchdown a few snaps later. The incompletion came as Brown, running to his left, tossed a halfback pass left-handed. The Dolphins also ran an end around, but that doesn't really count as a trick play. Note that Kansas City was flat and Damon Huard unimpressive on the Sunday after the little-known Huard received lots of publicity, prominently a big profile in the New York Times.
Rich Gabrielson/Wireimage.com
It's been a rough couple of weeks for Al Harris 'round these parts.
Sour Play of the Week: Last week TMQ singled out cornerback Al Harris of Green Bay for a sour play on which he covered no one, standing around making the high school mistake of "looking into the backfield" as Lee Evans streaked past him for a long touchdown catch. This week Harris did exactly the same thing, simply standing there looking into the backfield as Billy McMullen of Minnesota streaked past him for a long touchdown catch.
Sour Tactics of the Week No. 1: Against Cleveland, Atlanta rushed 29 times for an average of 5.1 yards per play, and passed 41 times for an average of 4.6 yards per play. Michael Vick's throwing success of a month ago is a distant memory -- but what's worse is that Falcons' coaches seem to be operating under the illusion that Vick is suddenly a polished drop-back passer. A month ago when things were working for Atlanta, the Falcons were running a high-school-inspired offense -- rush, rush, rush, then play-fake and sprint out. Losing each of the past two weeks, Atlanta coaches have kept Vick standing in the pocket as if he were Peyton Manning, and it's not working, resulting in both poor passing stats and overlooking the good stats of the Atlanta run game. Trailing 17-13, the Falcons took possession with 5:27 remaining and went incompletion, run for 4 yards, incompletion, punt. Your running game works -- so run the ball! Note: was that an optical illusion, or did both Charlie Frye and Kellen Winslow look fabulous?
Vick's tendency to wave the ball around when scrambling also has gotten out of hand. A careless Vick fumble was a key play in the team's loss at Detroit last week; Sunday, Vick carelessly fumbled in Cleveland territory just before the two-minute warning. A beginner's mistake is to "use the ball for balance," waving the football on one side of your body while you cut the other way. Vick does this far too often, and it's the kind of fundamental error that should not be tolerated from a Pro Bowl quarterback.
Sour Tactics of the Week No. 2: Trailing San Francisco 19-13 with 2:41 remaining, the Lions faced fourth-and-13 on the Squared Sevens' 19, holding two timeouts. A fourth-and-13 conversion is unlikely; a short field goal closes the margin to three points and means Detroit, between timeouts and the two-minute warning, can get the ball back with plenty of time if staging a successful stop. Instead interception, game over.
Best Play Ere the Clock Struck Midnight: Carolina tried various sideline fly routes all night against City of Tampa and they didn't particularly work, but then nothing else was working either. Leading 17-10 with 3:18 remaining, the Cats sent Steve Smith on an out-and-up along the left sideline and it finally worked, game-icing touchdown as Smith beat either Ronde Barber or Tiki Barber. That final Carolina drive must have made the football gods wince. Taking possession with a touchdown lead and 8:26 left, a classic clock-killer situation, the Panthers called as many passes as rushes. Can't anybody just run up the middle to seal a game anymore?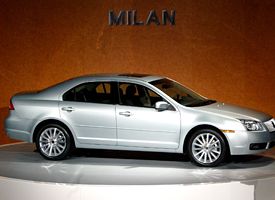 Nam Y. Huh/AP Photo
This was built by Ford? This really must be the 21st century!
Proofreaders Shocked by "Consumer Reports" Article Praising American Cars: The Ford Fusion, Mercury Milan, Lincoln Zephyr and Chevy Tahoe all were near the top of the latest Consumer Reports auto quality survey. American-marque cars have not topped that survey since Lyndon Johnson was president. There's a theory in the car world that Detroit auto executives and United Auto Workers members do their best work when their companies are losing money, and thus are desperate to please customers. If so, this seems a fine time to buy an American-marque car. Recently I drove a rented Mercury Milan and loved it. The car felt good, handled well and seemed tightly finished. If the rental clerk had handed me the key but "Honda" had been written across all the car's badges, I would have said, "Hey, so this is the new Honda."
Social Justice Goes Six-for-Six: In the hoopla over last week's historic elections, it is important this detail not be missed: Six states held referenda on raising their minimum wage, and in all six the measures passed by big margins. Success margins ranged up to 76 percent yes in Missouri.
The six-for-six success of higher minimum wage proposals tells us four things. First, Americans are a fundamentally generous people. The majority of voters who said yes to raising the minimum wage are above that wage themselves, and know higher minimums will result in higher prices for their goods and services. Second, concern with social justice is a rising trend among Christian voters. The 76 percent yes in Missouri is especially revealing because evangelical turnout was high in that state, owing to a referendum about embryonic stem cell research on the same ballot. Jesus taught that the first concern of social policy should be the needy, and in recent years, evangelical Christianity has been waking up to that teaching. (On that topic I recommend to readers the new book "Tempting Faith" by former George W. Bush aide David Kuo, an evangelical; also it's important that Rick Warren, America's most prominent Christian pastor, has recently been talking more about obligations to the needy than any other topic.) Third, the referenda results are another indicator of how far out of touch the House and Senate were, since in 2006 the Republican leadership in both chambers worked to sabotage a higher federal minimum wage. Finally and most importantly, the vote tells us the federal minimum wage must go up.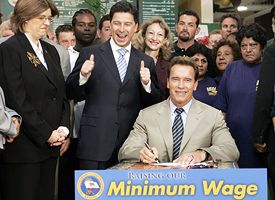 Reed Saxon/AP Photo
If even Arnold agrees the minimum wage must rise, this issue will be back!
Today the federal minimum is just $5.15 an hour. Some states have higher minimums -- that's what the votes were about -- but others do not, and in all states local actual wages tend to shadow the federal minimum, rising when the federal number rises. It is shocking, and an indictment of Washington, that today's federal minimum wage is barely worth half the minimum of the 1960s. Expressed in today's dollars, the minimum wage would need to be $10.20 an hour to have the same value as the federal minimum of 1968. Through the 1960s, full-time work at the federal minimum wage kept a family of three above the poverty trend; today a family of three headed by a full-time minimum wage worker is 24 percent below the poverty line. Yes, teenagers from affluent families working summer jobs don't need $10 an hour -- a teen-wage exception to the minimum seems fine. But our social contract should ensure that any adult who works full time receives basic financial security, and a $10-an-hour federal minimum wage would achieve that end. A $10 federal minimum wage would increase the cost of pizza delivery. It would also increase social justice: and all Americans ought to vote for that.
San Diego-Cincinnati Analysis: Trailing 28-7 at intermission, here are the results of San Diego possessions in the second half: touchdown, touchdown, touchdown, touchdown, touchdown, punt, touchdown, victory formation. What was striking about the Bolts' comeback is that it was not triggered by turnovers, as comebacks usually are: Cincinnati coughed up the ball only once in the second half. What was striking as well is that the Bengals never let up: when Cincinnati scored to take a 38-28 lead at the end of the third quarter, I thought the Chargers' comeback might expire. Next, what was striking is that even after collapsing from a 28-7 advantage to a 49-41 deficit, Cincinnati did not fold, reaching first down at the San Diego 15 before four consecutive incompletions ended the game. And of course it was striking that a Marvin Lewis-coached club could not hold a 21-point lead at home.
But here's what was really great about the San Diego comeback -- the Chargers did it with a balanced attack, not by going pass-wacky. In the first half, San Diego coaches called 16 passes and 10 rushes; in the second half, 23 passes and 14 rushes. TMQ preaches: Unless it's late, when you're behind do not start throwing on every down, because this hands the game to the defense. Call from the regular playbook, mix the pass and run, get a touchdown and then see what the world looks like. Fourteen times during an historic 42-point second half, San Diego coaches simply handed the ball to LaDainian Tomlinson -- and it worked because Cincinnati was in a soft nickel or dime look for the entire second half. Running backs love to rush against a soft nickel. There was exciting play after exciting play in this contest: Tomlinson running for 14 yards on a key third-and-2; Philip Rivers twice at the goal line faking to star tight end Antonio Gates then throwing touchdown passes to his backup Brandon Manumaleuna; a 74-yard touchdown pass to Chad Johnson; three single-play touchdown drives. But what meant most in the end is that San Diego didn't panic, rather it kept mixing plays. And now you know what I am going to say about TMQ's Law of the Obvious: Sometimes all a team needs to do is run up the middle for no gain, and things will be fine. From the point it was the home team leading 28-7 in the third quarter, to the Bengals' final possession when they were forced to throw on every down, Cincinnati coaches called 12 passes and 11 runs. Five of the passes fell incomplete, stopping the clock. When you're playing with a big second-half lead, don't call more passes than runs.
Terminology note: Last week TMQ said the short-yardage action on which the quarterback fakes up the middle then backhand-flips to the tailback sprinting outside was dubbed Flip 90 by its designer, Mike Martz. Scouts Inc.'s K.C. Joyner points out that in Martz's system, "90" meant outside left; many teams use odd numbers for offensive left gaps, even numbers for right gaps. On his key third-and-2 run, Tomlinson took this odd-looking action to the right against a seven-man Cincinnati blitz. Hence, he ran Flip 80.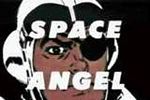 Captain James T. Kirk would rather you did not know about him.
NFL Prejudiced Against Space Aliens: So "human beings" are allowed in the NFL, but not Klingons? Obviously pro football is prejudiced against Klingons, Vorlons, Cylons and Taelons! And why do the names of sci-fi aliens always end in "-on?" The Vorlons were one of the sinister aliens of the old show "Babylon 5." Sci-fi fans continue to lament that its planned follow-on series folded after a few episodes. What I liked about the "Babylon 5" follow-on series was that the key spaceship was modeled on the Starduster, starship in the old "Space Angel" cartoon series of the early 1960s. If you go here and click on "Space Angel," you can see a grainy image of the glamorous Starduster, plus series heroes Scott McCloud, Taurus and Crystal Mace. Airing from 1962 to 1964, "Space Angel" plowed the ground that "Star Trek" would walk beginning in 1966, especially boundless optimism that a handful of wisecracking people aboard a snazzy starship would be able to accomplish more good than harm in the cosmos. For many Boomers, "Space Angel," not "Star Trek," was their first exposure to the notion of gallivanting around the galaxy -- and "Star Trek" bore more debt to "Space Angel" than its creators liked to admit. There have been so many fads involving back-in-the-day shows from the morning age of television. Why hasn't there been a "Space Angel" nostalgia fad?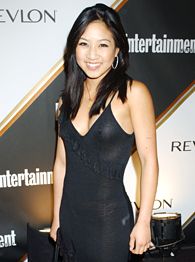 Albert L. Ortega/Wireimage.com
Mr. Secretary General, we will waive our right to simultaneous translation if the ambassador agrees to wear her swimsuit.
For This Reason Alone, Kwan Will Be the First American Diplomat in a Generation Who Is Popular in France: Skater Michelle Kwan has been named a "public diplomatic envoy" -- good-will ambassador -- by Secretary of State Condoleezza Rice. Surely this makes Kwan the first American diplomat ever to have done swimsuit modeling!
Adventures in Officiating: Facing second-and-goal on the Pittsburgh 4, the Saints appeared to execute a bouncing direct-snap to tailback Deuce McAllister, who ran for the touchdown. Announcers debated whether it was a trick play or a botched snap. It was the latter, and the official Game Book lists the play as a fumble by center Jeff Faine. Overlooked -- there should have been a penalty! Direct-snapping to a running back is legal only if the quarterback never places his hands under center; once someone places his hands under center, only that person can receive the snap. Drew Brees was under center when this happened. Rule 7-3-4 states, "Any extension of hands by a player under center as if to receive the snap is a false start unless, while under center, he receives the snap."
Best Blocks: As Willie Parker sprinted 72 yards, Pittsburgh's Marvel Smith, Alan Faneca, Dan Kreider and Cedrick Wilson got perfect blocks. The play was a simple off-tackle -- but because it was second-and-18, New Orleans was in a nickel with only six men inside the "box," where they were overwhelmed by seven blockers. Faneca initially double-teamed a Saints' defensive lineman, then sprinted upfield to paste someone else too, executing the "secondary block" that so many pro linemen can't be bothered with. Parker ended the possession with a 3-yard touchdown run that put the Steelers ahead for good. On that snap, New Orleans lined up with all three linebackers inside the offensive tackles, and Pittsburgh simply sent Parker outside. It appeared the Hypocycloids' game plan was keyed on Ben Roethlisberger checking whether the Saints' linebackers lined up -- and this worked to the tune of 217 yards rushing for the victors.
We're All Professionals Here: Trailing undefeated Indianapolis 17-16 with 7:38 remaining, Buffalo had second-and-3 on the Colts' 15 and a great chance for the colossal upset. The Bills went loss of yardage, loss of yardage, missed field goal, and TMQ wrote the words "game over" in his notebook. Note: In the past two weeks, J.P. Losman has completed 17 passes and been sacked nine times.
Greg Baker/AP Photo
You take this for granted. The world's poor do not.
Religious Leaders Also Endorse Tap Beer Over Bottled Beer: The United Church of Canada, the country's largest Protestant denomination, has asked members to stop buying bottled water, saying that because "water is a sacred gift that connects all life," therefore "the privatization of water must be avoided." It isn't clear why water privately held in small bottles is offensive whereas water privately held in, say, the baptismal pools of United Church of Canada sanctuaries is fine. Bottled water has no known health benefits versus tap water in the United States, where municipal water purity standards are high. Sometimes bottled water is a convenience, other times simply a status marker; churches are supposed to oppose the use, for status, of money that might go to the poor, so at least in that sense of United Church of Canada campaign can be defended theologically. If the members of the United Church of Canada saved whatever they would spend on bottled water and donated that sum to the impoverished of the developing world, that would be admirable. If the same people refuse to buy bottled water, then spend the savings on faux-granite countertops for their kitchens, this accomplishes nothing. Especially considering that Canada is the Saudi Arabia of water -- no nation has a greater surplus of freshwater resources, compared to population needs. The rivers of Quebec roar with so much pristine freshwater from the Laurentide ice sheet, which has been melting for 18,000 years and still is far from thawed, that Canadians have more water than they or their descendants will ever need.
The situation is very different in the developing world. The United Nations Development Programme just published its latest Human Development Report, one of the world's most important annual documents. (Tomorrow your columnist is moderator for the Washington unveiling of the report -- note the announcement is the first United Nations press release ever to mention ESPN.com.) This year's report focuses on safe water in the developing world. Roughly 1.1 billion people lack clean drinking water. The waterborne illnesses they suffer as a result not only cause human misery -- each year in the developing world there are more deaths from diarrhea diseases than from cancer in the United States and nations of the European Union combined -- but also hold back developing nations, as the sick can't look after themselves. Some 2.6 billion worldwide lack proper sanitary conditions for wastewater treatment.
In the Middle East and in much of China, where aquifers are being depleted at an alarming rate to support rice cultivation, freshwater scarcity is the core problem. But the new Human Development Report argues that poverty, government corruption and lack of infrastructure, not water availability, are the biggest malefactors overall. The situation is especially painful in the poor parts of many developing world cities, where there is no reliable municipal water service, and the poor spend as much as a third of their meager incomes to buy safe water. Even an American or Canadian who's chugging all the Dasani he or she can hold spends far less than 1 percent of his or her income on safe water.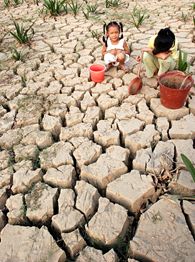 Color China Photo/AP Photo
1.1 billion human beings lack safe drinking water. That could change for the price of a few days of American luxury.
As the United States looks outward to the world for good deeds our nation can do, helping impoverished nations improve their drinking water supplies and water sanitation stands near the top of the list. The United Nations report estimates $10 billion in capital investment could provide 500 million poor people with safe drinking water. That's roughly one month of United States military expenditures in Iraq. Suppose we accelerated our inevitable withdrawal from Iraq by a single month -- and remember, withdrawal always has been inevitable. Suppose the $10 billion in savings was invested in developing-world water purity. Such United States action literally could be a lifesaver for millions and improve America's image in the world, rather than diminish it.
At Happy Hour in Hell's Sports Bar, the Margaritas Are Boiling, Not Frozen: Hell's sports bar has 28 wide-screen plasma TVs, and on Sunday all were showing Houston 13, Jacksonville 10. For the highlight program, all 28 screens in Hell's Sports Bar showed nothing but, over and over, highly paid first-round draft choice Matt Jones of Jax letting two perfectly thrown passes bounce off his hands for interceptions.
Hoist on His Own Petard: Since Gillette Field opened, there have been rumors Bill Belichick deliberately keeps the playing surface in bad condition so his players but not visitors will know where the sweet spots are. The new stadium itself is gleaming and magnificently well thought-out, yet the playing surface is dumpy. Coincidence? Belichick's grounds keeping plot came back to haunt him as Eric "I Was a Teenaged Coach" Mangini brought the Jets to visit during a rainstorm. Twice with Jersey/B leading 10-6, Tom Brady auto-sacked himself when he slipped in mud; overall, New England players seemed to fall more often than Jets.
I don't know about you, but at this point I am sick of all the Belichick-Parcells-Mangini-Curtis Martin byplay between the Patriots and the Jets. They compete with each other. Why do they constantly have to be angry at each other? Perplexing Belichick moment: Leading 17-14 with 1:15 remaining, the Jets faced fourth-and-10 on the New England 40 and deliberately let the clock run out. Belichick declined the penalty, which would have marched Jersey/B backward five yards; Troy Brown ended up fair-catching on the New England 11, effectively ending the game. Most punters would rather kick from the 45 than the 40 in perfect conditions, but given the driving rain and 1:15 remaining, New England needed to push the Jets back. I couldn't help wondering if Belichick declined the penalty solely because he knew Mangini did it deliberately, the master wanting to frustrate his former student.
Norwegians Complained About Their Government Complaining About the Complaining: The new Human Development Report ranks Norway as the world's best place to live and Niger as the world's worst; the United States ranked eighth. The report praised Norway for modernism, personal and sexual freedom, affluence, little crime, a clean environment and generous benefits funded by the country's oil wealth. It was Norway's sixth consecutive first-place finish in the report, and the news prompted Norwegian government minister Erik Solheim to protest a "culture of whining" in which Norwegians spend too much time complaining. But Erik, that's a complaint too! Finishing fourth on the United Nations ranking of best places to live was Ireland, and talk about a comeback story. Just a generation ago, the young left Ireland and you couldn't give away an Irish country house. Now Ireland's economy, culture and real-estate market are running at Gold Rush levels.
Single Worst Play of the Season So Far: Tennessee leading 26-20, Baltimore had second-and-6 on the Flaming Thumbtacks' 11 late in the fourth quarter. Very highly paid cornerback Adam "Pacman" Jones lined up across from Derrick Mason, the Ravens' best receiver. Jones was in man coverage. Mason ran a down-and-in. Jones simply stood there watching him, making no attempt to interfere, as Mason caught the winning touchdown. Check the replay: Jones jogs a few steps, then just comes to a halt and watches. This is the Single Worst Play of the Season So Far.
Best Crowd Reaction: When the Eagles launched a mincing fraidy-cat punt on fourth-and-3 from the Washington 40 -- never punt in the Maroon Zone! -- the Lincoln Field crowd booed lustily.
Pelosi Also Promised to "Avoid Clichés Like the Plague": The night she learned she would become Speaker of the House, Nancy Pelosi promised to "take this country in a new direction." If the United States had a "new direction," wouldn't California face Europe and the Carolinas face Asia? Politicians often pledge to "turn the country around," which sounds like an exceptionally bad idea, or to "get this country moving," which would only cause earthquakes.
Madam Speaker note: Pelosi announced she would back Rep. John Murtha for House Majority Leader because, by declaring opposition to the Iraq War, Murtha "spoke truth to power." Murtha is not a penniless wandering sage, he is himself among the most powerful people in the United States! Back when Republicans were impeaching Bill Clinton, Rep. Henry Hyde declared what they were doing was "speaking truth to power." Hyde, at the time chairman of the House Judiciary Committee, was himself among the most powerful people in the United States. The phrase "speaking truth to power" is apt when a disenfranchised person follows his or her conscience at some personal risk. When rich people living in sinecure and privilege, such as members of the House of Representatives, pat themselves on the back for supposedly "speaking truth to power" -- especially when all they've done is criticize the opposition party! -- it is more proof of how spoiled and out-of-touch Washington lawmakers are.
Samkon Gado Play of the Week: Leading 13-10 on the road at Jacksonville, Houston faced fourth-and-1 on its 41 with 1:40 remaining, Jax out of timeouts. Rather than punt, the Texans ran Gado up the middle, first down, and the rest was kneeling. Jacksonville has a longstanding habit of honking important games at home, including a 2004 late-December home loss to Houston that knocked the Jags out of the playoffs. As this column has noted, the Jags do an awful lot of talking; it's time they did some playing.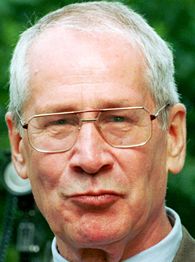 Jan Bauer/AP Photo
Super-spy, menace to Western civilization, advocate of world socialism and cookbook author.
Tasty, Nutritious Dishes Designed to Be Left Under a Park Bench at 2 a.m.: The death last week of former East German spymaster Markus Wolf brings the news that in retirement Wolf was the author of a cookbook, a recipe collection called "The Secrets of Russian Cooking." Hmmm. And if you take the third letter of each ingredient, multiply by the number of pages in the book, divide by the number of words in the recipe ...
The Raiders Had Randy Moss, Jerry Porter and Doug Gabriel -- and There's a Reason the One New England Traded for Was the One You'd Never Heard Of: A couple weeks ago, TMQ noted that New England Patriots' receivers helmets are stamped INSERT HEAD, BECOME STAR. Reche Caldwell, Doug Gabriel -- nobody else in the league even wanted them, at New England this season both are playing swell. The flip side of this issue is that when receivers remove the Flying Elvii helmet, they turn back into pumpkins. In the winter of 2005, David Patten, who played like a star in New England, signed a big-money, free-agent contract with Washington; in the season and a half since, Patten has 23 receptions and no touchdowns, and often does not get into games even when healthy. This winter David Givens, who played like a star in New England, signed a big-money contract with Tennessee; he missed a month with injuries, and otherwise has eight receptions and no touchdowns. Let's see, coming to New England makes a mediocre receiver look good, leaving New England makes a good receiver look mediocre. What do these propositions have in common? A part-time male model named Tom Brady.
Sweet 'N' Sour Play: Every few years Tuesday Morning Quarterback is stunned that some NFL team -- despite dozens of coaching-staff and scouting-department people who do nothing but football all year long and are collectively paid millions of dollars -- seems unaware that a missed field goal can be returned. Usually field goal attempts go out of the end zone, so this doesn't come up much. But on the long try, the defense should have a return man ready, and the kicking team should be prepared to play defense. Chicago leading 24-20 early in the fourth quarter, Jersey/A lined up to attempt a 52-yard field goal. The weak-legged Jay Feely (6-of-16 lifetime from beyond the 50) was the kicker. The Bears put speed merchant Devin Hester in the end zone. Feely's kick clanged short. Hester fielded it and cleverly began to stroll slowly, as if about the hand the ball to an official; then took off for a 108-yard touchdown that broke open the game. Not only were the Bears ready for a short kick, they had a return called -- it was "return right," with coordinated blocking. That was sweet. The Giants seemed not to know the field goal try could be run back, even though Chicago did exactly the same thing in the same situation for a 108-yard touchdown return last season. That was seriously sour. Note: Last year the Bears had six touchdown returns, and this year already have three. There's nothing more demoralizing than to work, work, work for every yard of field position, then suddenly see some skinny gentleman racing up the sideline in the other direction.
I'm Still Waiting for Quiznos to Call About "Tuesday Morning Quarterback Sponsored by Quiznos:" Newspaper circulation continues to decline, though as Michael Knisley has noted, when the Web is taken into account, more people are now reading newspapers than ever before. Keeping newspapers in business requires advertising, so what should newspapers hope for? Bad news for corporations! Often when there are business scandals, corporations go on a spending spree for ads. This week most major newspapers have full-page advertisements purchased by the manufacturer of Tylenol, alerting consumers that its brand of acetaminophen is not involved in the recent recall. Remember last winter, when the oil companies were being hammered by complaints about high prices and profits? According to the ad-monitoring service TNS Media Intelligence, in January and February 2006, oil companies spent $53 million on image advertising, double their amount from the same months in 2005. (Hey Exxon Mobil, if you sponsor TMQ, I promise to stop mentioning global warming.) My favorite recent example involved electricity rates soaring in Maryland because of deregulation. Consumers have been complaining, then recently Pepco, the state's big utility, bought full-page newspaper ads asserting it was doing everything possible to hold down prices. The cost of the ads was billed to ratepayers.
Preposterous Punts Watch No. 1: The Arizona (Caution: May Contain Football-Like Substance) Cardinals reached fourth-and-2 on the Dallas 49 and punted. Just to prove it was no fluke, later Arizona reached fourth-and-2 on the Dallas 47 and punted. Not only is it crazy to punt on fourth-and-short in opposition territory -- you're 1-7, what have you got to lose? And now you are 1-8. Note: I don't wish to alarm anyone, but Tony Romo has the NFL's second-best passer rating, trailing only Peyton Manning.
Preposterous Punt Watch No. 2: Pittsburgh leading 31-24 with 11:00 remaining, the United States Saints faced fourth-and-6 on the Steelers' 39; when the punt boomed, TMQ wrote the words "game over" in his notebook. (Two downs later, Willie Parker ran 76 yards and the game was, in fact, over.) Not only was this yet another example of punting in opposition territory when trailing late. On the previous down, New Orleans faced third-and-6. Given the scoreboard, clock and field position, Saints' coaches should have assumed a two-down situation -- calling a run on the assumption the team would go on fourth. Instead, New Orleans threw for the first and, failing, punted. If you know you're going on fourth, your third-down call should be calculated to ensure you get at least some of the required yardage.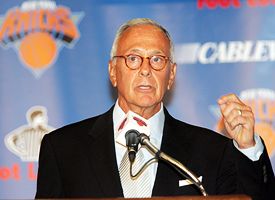 Daniel J. Barry/Wireimage.com
I offer to coach your basketball team for a couple weeks for millions of dollars, so long as you don't mind being denounced in the media when I walk out.
And Rumor Says Larry Brown Is Complaining That $43 Million for Two Years Isn't Enough: The bottom line on Larry Brown is that between his contract buyout to leave the Detroit Pistons and his contract settlement to leave the New York Knicks, he received a staggering $43 million for two years of coaching. And bear in mind -- it was two years of doing a terrible job. At Detroit, Brown walked out on a playoff team, and before walking out was undercutting the team's championship chances by discussing his desire to leave. The next season at New York he won only 23 games, while frequently denouncing in public the Knicks' players and management.
So it seems Larry Brown is evidence of two TMQ laws. First, my Iron Law of Modern Cultural Economics: This holds that the worse something is, the more money it makes. This law does not apply to the markets for industrial and consumer products. There, competitive forces function as econ textbooks say they should: High-quality products win, poor-quality products are rejected, and the market relentlessly pressures for the best price. In culture, textbook economics break down. Books, movies, music, celebrity-hood -- the worse something is, the more money it makes, while high-quality products fare poorly or fail outright. Also Brown proves TMQ's law of job-hopping coaches: When you hire someone who's only in it for himself, you get someone who's only in it for himself.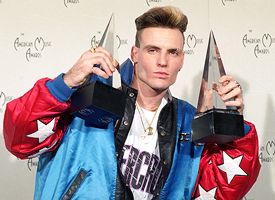 Reed Saxon/AP Photo
Proof of theorem that the worse something is, the better it sells.
Huh? What? Trailing Cleveland 14-3, Atlanta attempt an onside kick -- with eight seconds left in the first half. What was that supposed to accomplish? Weirdly, the Browns then lined up to attempt a Hail Mary from the Falcons' 49, and fumbled; Atlanta recovered and lateraled twice, reaching the Cleveland 17 as time expired.
Stop Me Before I Blitz Again! No. 1: Philadelphia lead 3-0 and had first down on its 16. The Redskins big-blitzed. Donte Stallworth ran an out-and-up; highly paid corner Shawn Springs simply watched him go by, covering no one; highly paid safety Sean Taylor was way out of position if the coverage was two-deep; as Stallworth completed his 84-yard touchdown, the sole Redskin bothering to chase him was linebacker Lemar Marshall. This is the first time I've ever seen a Gregg Williams defense play without pride. And yes, the Philadelphia blitz worked against Washington -- twice in the first half, Eagles' blitzers came across untouched by anyone, though the Nanticokes have one of the league's highest-paid offensive lines. At this point the Washington season is lost, so it's good that Mark Brunell will sit while we find out what Jason Campbell can do. The aging Brunell seems to be regressing toward inexperience, lately tossing up crazy heave-hoes under pressure. Early at Philadelphia he was about to be hit and heave-hoed for intentional grounding -- just take the sack! In the second half, about to be hit, Brunell heave-hoed directly to Sheldon Brown, who ran it back for the touchdown, icing the game. Letting Campbell play makes the remainder of the Redskins' season interesting.
Stop Me Before I Blitz Again! No. 2: Jersey/A had the Ming Ding Xiong ("Bears whose outcomes are decided by fate" in Chinese) on the ropes, leading 13-3 with 42 seconds remaining in the first half, Chicago on the Giants' 29. How about a big blitz? Easy touchdown pass to Mark Bradley, who had five receptions coming into the game.
Immutable Law Observed: TMQ's immutable law holds, Kick Early Go For It Late. Trailing Oakland 13-7, Denver faced fourth-and-goal on the Raiders' 1 with 11:10 remaining. If it had been the first half, a kick would have been called for. But it was late, and Broncos' coaches wisely went for it -- play-fake touchdown to blocking back Kyle Johnson in the flat. (Calling a play to Johnson, who had three receptions entering the game, is an example of the tactic of, on a pressure down, deliberately throwing it to a guy you never throw to.) Denver note: Just as the Broncos seem to be able to make anyone into a good running back, they seem to be able to make anyone into a good tackle. With undrafted free agent tackle Matt Lepsis out injured, undrafted free agent Erik Pears is playing left tackle for Denver, and playing quite well. This guy is so obscure he's not even listed in the NFL Players Association player database.
Obscure College Score of the Week: Indiana of Pennsylvania 21, California of Pennsylvania 17 in the Tuesday Morning Quarterback Obscure College Game of the Year. Anthony Cellitti caught a 28-yard touchdown pass with 50 seconds remaining as the nameless Indiana of Pennsylvania team defeated the Vulcans of California of Pennsylvania at Hepner-Bailey Field in California, Pennsylvania. Located in Indiana, Pa., Indiana of Pennsylvania University has a formal school policy on civility. What it doesn't have is a sports nickname. As noted by IUP alum Brandon Minich, the school once was the Indiana Indians; then adopted a vague ursine-like logo. This season, IUP is playing nameless while the student body debates a new nickname.
Obscure College Score of the Week No. 2: Malone 20, Walsh 10. Located in Canton, Ohio, Malone University boasts of being "among the top colleges and universities in the Midwest" in the latest U.S. News rankings. Malone was 55th of the 70 Midwestern college and universities the magazine ranked. So Malone was "among" the top colleges in the Midwest, but only in the sense that my books are "among" bestsellers at the bookstore. The U.S. News ranking is hardly omniscient; there's no shame in not being at the top. But why must colleges that aren't at the top strain to give the impression they are?
Reader Animadversion: Got a complaint or a deeply held grievance? Write me at TMQ_ESPN@yahoo.com. Include your real name and the name of your hometown, and I may quote you by name unless you instruct me otherwise. Note: giving your hometown improves your odds of being quoted.
JC Ridley/Wireimage.com
A special treat for those of you that reached the end this week.
Reader Challenge: In the latest round of contract negotiations, the four established broadcasting organizations that carry NFL games -- CBS, ESPN, Fox and NBC -- agreed to sell some advertising time to NFL Network. Newspapers, magazines and television stations generally are free to accept or reject advertising; the First Amendment forbids censorship by government, but says nothing about what private businesses decide to do with their ad space. As part of the build up to Thanksgiving night, during Sunday's CBS and Fox games, NFL Network ads urged viewers to call their cable carriers and demand the new channel on basic cable. There's some consolation in the awareness that even the mighty NFL needs to rally popular support for its positions. But such ads effectively recommend you watch a network different from the one you're watching -- after all, in order to tune in NFL Network you must first tune out the Columbia Broadcasting System. Challenge to readers: In coming weeks, count instances of television networks airing ads for competitors, and report them using the link at Reader Animadversion. And I mean ads for true competitors, not common-owner channels such as CNN and TBS.
Let Them Jump Up and Down!!!!!: Please, National Football League, reasonable people are begging you, do away with the really stupid new celebration rule! On Sunday night, the Giants were called for celebration because a bunch of guys ran into the end zone and jumped up and down after a touchdown. (The new rule says only the scoring player can celebrate.) Puh-leez! The purpose of professional sports is entertainment, and celebrations are entertaining. Or at least do no harm. Sunday night, Giants coach Tim Coughlin repeatedly screamed and cursed at officials while waving his arms like he was possessed. That's the sort of thing that really should draw a flag -- the NBA crackdown on screaming at officials is a great idea. Yet by the rulebook, Coughlin's shows of disrespect were perfectly fine, while a couple guys slapping hands is treated like a violation of the Nuclear Nonproliferation Treaty. This weekend, my son's sixth-grade county flag football team got called for celebration because 11-year-old boys jumped up and down after a score. Puh-leez, offload these silly rules!
Next Week: Michelle Kwan wears her bikini at a diplomatic conference, and peace is instantly achieved in the Middle East.
In addition to writing Tuesday Morning Quarterback, Gregg Easterbrook is the author of "The Progress Paradox: How Life Gets Better While People Feel Worse" and other books. He is also a contributing editor for The New Republic, The Atlantic Monthly and The Washington Monthly, and a visiting fellow at the Brookings Institution. Sound off to Page 2 here.