By Gregg Easterbrook
Special to Page 2
For years, Tuesday Morning Quarterback has blamed "SportsCenter" for the epidemic of poor tackling in the NFL. Defenders take wild risks, hoping to make a spectacular jacked-up tackle that will be shown on "SportsCenter." But then they whiff and miss the runner completely, whereas if they'd just broken down to proper form and wrapped up, the play would have ended. This weekend there were an unusual number of awful-looking interceptions in the NFL – and I blame that on "SportsCenter," too.
Trailing 17-13, Oakland reached first-and-goal on the Kansas City 8 with 32 seconds remaining, holding two timeouts. The timeouts and the four downs meant if a play wasn't there, Aaron Brooks could simply throw the ball away. Instead on first-and-goal, Brooks heave-hoed a crazy pass into triple coverage – interception, game over. Sometimes the best play a quarterback makes is to throw the ball away. But throwing the ball away doesn't get your clip on "SportsCenter," whereas a dramatic touchdown pass forced into coverage might.
OK, that was Brooks. But Carolina's Jake Delhomme, a Super Bowl starter in 2004, threw a crazy pass into triple coverage – interception. With the Jets near the Chicago goal line, Chad Pennington, who for his career has thrown just one interception per 36 pass attempts (that's excellent, Brett Favre throws a pick every 30 attempts) heave-hoes into triple coverage – interception. After the game Brian Urlacher, who made the pick, said he thought the Jersey/B quarterback never saw him. Maybe not. But subtract Urlacher, and the intended receiver was still double covered! Had Pennington simply tossed the ball away, the Jets would have kicked a field goal for a 3-0 lead. But tossing the ball away would not have gotten Pennington on "SportsCenter." Ben Roethlisberger, Donovan McNabb, Drew Brees, Eli Manning and other quarterbacks threw crazy interceptions forced into coverage this weekend. Coincidence? Tuesday Morning Quarterback thinks not!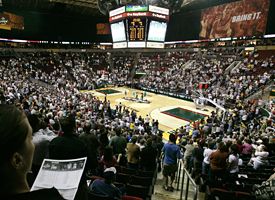 AP Photo/Elaine Thompson
You think sports owners instead of taxpayers should pay for arenas? Why -- that would be free enterprise!
In other sports news, don't overlook that on election day, Seattle voters overwhelmingly approved an ordinance forbidding the use of public funds for NFL, NBA and MLB stadia. The proximate result might be that the NBA's SuperSonics leave the Emerald City when their current lease to play at the KeyArena expires. But sports owners beware, this might be the bow wave of an approaching trend. As recently as the 1980s, a civic-minded person could argue that some public expense was justified for pro-sports stadium construction in order to create economic activity, especially in downtown areas. Now there's so much money pouring into pro sports, and many owners are so rich, that it has become obscene to expect taxpayers to fund facilities that generate private profit for the wealthy. It's troubling, too, that with the majority of today's pro sports facilities being partially or wholly publicly funded, the owners claim proprietary rights regarding images of what happens inside. If, say, Indiana taxpayers are going to pay for the Colts' new stadium – as they are – why shouldn't anyone film or broadcast what happens within this public venue, ending the NFL's exclusive network agreements? TMQ expects this view to gain legal traction in the coming years. Pro sports commissioners: Better start planning now to pay your own stadium costs on a free-market basis.
In other NFL news, at 7:18 p.m. ET on Sunday, as the Colts left Stonehenge Field in Irving, Texas, mumbling "#@%*!" under their breaths, corks popped. In one of the sweetest traditions in sports lore, on opening day of every NFL season, each surviving member of the 1972 Miami Dolphins, the sole perfect team in modern pro football history, sets aside a bottle of champagne to cool. And it's genuine champagne from the French province of Champagne, not the boysenberry-infused sparkling-Gewurztraminer wine-like substance that passes for bubbly these days. At the moment the stadium clock hits all-naughts for the vanquishing of the season's last undefeated team, the 1972 Dolphins pull the corks, secure in the knowledge that they will reign as the sole perfect team for at least one more year. Gentlemen of 1972, enjoy your annual draught. TMQ feels confident you will continue to sip champagne each autumn until you are called to meet the football gods, and greeted by song and feasting.
Note: I just reproduced the above item from my AutoText, substituting only the name of the last undefeated team, the field where it fell and the moment when the clock zeroed out. For every year TMQ has existed, I have reproduced that item from my AutoText, substituting only the year's particulars. Gentlemen of 1972, Tuesday Morning Quarterback feels confident I will continue to reproduce that item from my AutoText on an annual basis for seasons to come. My heirs might be reproducing it decades or centuries into the future. Note: I also reproduced that comment from AutoText, and as a reader noted last season at this juncture, my heirs cannot use the same item for "centuries" unless the 1972 Dolphins become true sports immortals.
And in sad, nauseating news, O.J. Simpson has confessed. There is no way on God's green Earth an innocent man, falsely accused, could put his name on a book in which he "imagines" what it "would" have been like to cut a helpless woman's throat. His acquittal might protect Simpson from jail, but it no longer protects his honor; Simpson himself has voided that by doing something that only a guilty man would even contemplate. Maybe at this point Simpson belongs in a treatment facility for the criminally insane -- but he does not belong in the Hall of Fame or on the wall at Ralph Wilson Stadium. His bust must immediately be removed from Canton and his name pulled down from that place of respect. Take a crowbar to them today. The fact that Fox and its publishing subsidiary just canceled the book and associated television show does not create any excuse for the National Football League. Any other course other than the removal of Simpson's bust from the Hall and his name from the stadium wall will put the NFL in a state of disgrace. Once the bust and the name are gone, sandblast the areas to get the filth off.
Stat of the Week No. 1: New Orleans gained 595 yards, and lost.
Stat of the Week No. 2: Chicago and Indianapolis are a combined 4-0 at the Meadowlands; the Giants and Jets are a combined 5-5 there.
Stat of the Week No. 3: Cleveland has lost every home game to Pittsburgh in this century.
Stat of the Week No. 4: Trent Green and Rex Grossman combined for seven yards passing in the first half. Both their teams went on to win.
Stat of the Week No. 5: Minnesota lost despite holding Miami to minus-three yards rushing.
Stat of the Week No. 6: The Cincinnati defense has given up 1,025 yards in its past two outings.
Stat of the Week No. 7: In the Seattle-San Francisco game, the ball changed hands three times in 22 seconds.
Stat of the Week No. 8: LaDainian Tomlinson has 22 touchdowns in 10 games, putting him on a pace for a record-setting 35 touchdowns on the season.
Stat of the Week No. 9: In its past two games, San Diego has fallen behind by a combined 52-14, then outscored its opponents by a combined 70-16.
Stat of the Week No. 10: The Jacksonville defense has allowed five points per game on "Monday Night Football" and 16 points per game in all other games.
Carolina Panthers
Yes, Your Honor, my outfit is a bit devilish. But then, replevin can wait.
Cheerleader of the Week Reader Michael Rodriguez, an attorney from Lake Worth, Fla., nominates Heather of the Carolina Top Cats – who is also an attorney. According to her team bio, Heather has passed the state bar and is also training to run in the New York City Marathon. This is one focused, goal-oriented cheerleader! Rodriguez writes, "Can you imagine being her client, turning on the game and realizing your counselor is dancing at midfield on national television? Do you think she'd get continuances for hearings scheduled for Mondays on account of having to perform on 'Monday Night Football'? There are just so many questions I need answered." Your Honor, my lawyer will be here as soon as she finishes posing for the swimsuit calendar. Here are lawyer cheers:
Sway to the left, sway to the right, res judicata keeps me up at night!
Briefcase, deposition, hearing, sidebar – call us if you're ever hit by an uninsured car!
CLASS action, CLASS action!
Sweet Play of the Week: TMQ has tackled items this season suggesting that when teams reach the goal line, they should spread the field with multiple wideouts, then simply run up the middle. Trailing Atlanta 7-3, Baltimore had third-and-goal on the Falcons' 2. The Ravens lined up four wide. Atlanta pulled five defenders way wide, and left no one between the center and tackle on the offensive left. Jamal Lewis then went straight ahead over left guard for the touchdown.
Sweet Plays of the Week (Sweet Pair for the Trick or Treats): Game tied at 10 early in the fourth quarter at New Orleans, the Bengals faced third-and-2 on their 40. Chad Johnson was supposed to run an "out." Carson Palmer was flushed from the pocket and scrambling. Johnson saw it, cut up the sidelines and waved his hand – touchdown – and Drew Brees' fantastic passing yardage was on its way to being irrelevant. Later, Cincinnati leading 24-10 and the Saints at midfield, rookie seventh-round draft pick Ethan Kilmer, pressed into duty, cut in front of a Saints receiver, intercepted the pass and returned it for the icing touchdown. After the score, as the hyperventilating Kilmer stood on the sideline in delirium, Johnson ran to get him a water bottle and sprayed water directly into Kilmer's mouth. Say what you will about Ocho Cinco – as of that sideline act, I like Chad Johnson.
Sweet Defensive Stop of the Week: Dallas led 21-14, but Indianapolis had second-and-3 on the Cowboys' 9 with three minutes remaining. "Let's eat dinner, you know the Colts will pull it out," I said to my boys. Run stuffed for one yard. Third-and-2, a rare Indianapolis total screw up – two receivers in the same place in the end zone practically collide as the pass approaches. Fourth-and-2, maybe there was defensive holding, but Dallas' coverage was so tight Peyton Manning couldn't find anyone. And I don't wish to alarm you, but Tony Romo now trails Manning by a half point, 100.5 to 100, for the best passer rating in the league this season.
Sour Play of the Week: Baltimore leading 17-10, Atlanta faced third-and-4 on the Nevermores' 19 at the start of the fourth quarter. Michael Vick takes the snap, and – never run backward! – Vick retreated, spun, ran backward and finally stumbled under a horde of defenders at the Baltimore 36, for loss of 17. The Falcons knocked themselves out of field-goal range in the process, and had to punt. Sometimes the best play a quarterback can make is to throw the ball away! On its possession following the punt, Baltimore scored a touchdown to ice the game. Had Vick simply thrown the ball away, the next snap likely would have made the game 17-13.
Sour Sequence of the Week: The St. Louis at Carolina game was scoreless and tense until the Cats kicked a field goal late in the first half and everything then collapsed for Les Mouflons. On its possession after the kickoff, St. Louis surrendered two sacks, punted, then saw Carolina hit a 62-yard touchdown pass to Steve Smith shortly before intermission. The rest of the same was filler. Note: Once 4-1, the Rams have quietly lost five straight, despite Marc Bulger having thrown for 10 more touchdowns than interceptions.
Sweet 'N' Sour Play No. 1: Game scoreless, Indianapolis faced third-and-10 on the Dallas 23 with 16 seconds remaining in the first half. The Colts lined up with two wide receivers left. At the snap, both faked positioning themselves for screen blocks, while a tailback ran into the left flat. Then Reggie Wayne, the real intended receiver, shot up the left sideline, touchdown. That was a sweet play design. But all the Cowboys' defenders came up on the screen fake, leaving Wayne unguarded – even though there were only 16 seconds remaining in the half. When the half is almost over, where, oh where might the pass go? Maybe up the field! Failing to guard the end zone when the play was nearly certain to go to the end zone was sour.
Steven Murphy/WireImage.com
Miami's cheer-babes were all worked up about Jason Taylor's play.
Sweet 'N' Sour Play No. 2: Earlier this season, Jason Taylor, who has been playing like a linebacker in Miami's hybrid 3-4, saw a tight end sneaking into the flat, followed him, intercepted a short pass and returned it for a touchdown. Now it's Miami 17, Minnesota 13 with 3:39 remaining and the Vikings have the ball on the Marine Mammals' 47. Minnesota calls screen left; Taylor rushes left against very highly paid Hyperboreans tackle Bryant McKinnie; when McKinnie super-backpeddles as if he wants the Miami rusher to follow, Taylor senses a trick and turns around, seeing the screen man. Interception returned for a touchdown, icing the contest. That was sweet. From the point Taylor sensed the screen, the very highly paid McKinnie stopped trying to block him. After the interception McKinnie just stood there, making no attempt to chase the play. That was seriously sour.
Sweet 'N' Sour Play No. 3: Early in his 510-yard passing day against Cincinnati, Brees threw a 72-yard touchdown strike off the flea-flicker. But the play was a sweet 'n' sour foreshadowing: Brees heave-hoed into triple coverage, and it was only luck that the result was a touchdown rather than an interception. Later, twice near the Bengals' goal line Brees would force the ball into coverage for interceptions, though both times settling for a field goal was attractive.
Jax, Giants -- Are Either for Real? Last night on "Monday Night Football," the Jaguars played no fewer than four first-round draft choice receivers: Kyle Brady, Matt Jones, Mercedes Lewis and Reggie Williams. The Jags also played two fourth-round draft choice receivers, George Wrighster and TMQ favorite Ernest Wilford, plus undrafted free agent receiver Cortez Hankton. Bottom line? The four first-round big-bonus glamour boys combined for three receptions for 63 yards; the three little-known nonglamour receivers combined for 11 catches for 154 yards. And this wasn't because the Giants defense was choking up on the first-round guys, that's for sure. Last night's "Monday Night Football" game was a great object lesson in the reality that high-drafted players often expend much of their energy sulking, complaining and demanding the ball, while low-drafted and undrafted players expend their energy working to earn the ball.
Otherwise the "Monday Night Football" game seemed a study in mood swings. Jax can obviously play when it wants to, having steam-cleaned Pittsburgh and Jersey/A in prime time on national television. But the Jaguars have also lost twice to Houston, which makes them difficult to take seriously, and are a listless 1-3 away from Alltel Stadium. The Giants looked hot a month ago, but now have delivered two straight lethargic performances, and Eli Manning seems to be reverting to being a true freshman at Mississippi. TMQ loves Tiki Barber, TTNY ("The Toast of New York"), but at this point it's clear his announcement of a year-end retirement has become a distraction. For the last few weeks, the national media have been all over Tiki and his twin Ronde. For Ronde that's OK, distractions don't matter much when your club is 3-7 and rebuilding. But Jersey/A is in a playoff push. Here's my proposal: Tiki, stop doing media for the rest of the year. Concentrate on the game. Prove that you're all about the team, not yourself. It will help the Giants, and further burnish your reputation.
Play of the game: Maurice Jones-Drew walking into the end zone standing up for an untouched touchdown, making it Jaguars 23, Giants 10 in the fourth quarter and causing your columnist to close the light for bed. At the point of attack, guard Chris Naeole trap-pulled and pancaked Antonio Pierce, who's a good player. One of the problems with the Pro Bowl is that offensive linemen make it almost exclusively on rep, not performance. In the last two years, Naeole has been one of the league's best guards. Ticket to Hawaii for him, please.
Dumbest Browns Play Since Dwayne Rudd Threw His Helmet: Cleveland leading 10-0 with 54 seconds remaining until intermission, the Browns' Daven Holly intercepted a Ben Roethlisberger pass and returned the ball inside the Steelers' 5. Back up the field behind the action, Cleveland reserve defensive end Simon Fraser slammed into Roethlisberger trying to hurt him, then slammed him again. Then after Roethlisberger fell and tried to stand up, Fraser slammed him a third time. The roughing penalty spotted the ball way back at the Steelers' 44, and Cleveland did not score. Pittsburgh ultimately rallied to win by four points in the closing seconds, meaning basically this mindless attempt to injure the opposing quarterbacl cost Cleveland the game – and ought to cost Fraser his spot on the Browns' roster. First, there's a highly specific rule that says that during a turnover, defenders who become blockers may not hit the quarterback unless he is trying to make the tackle. Second, it's hard to believe Romeo Crennel coaches his players to attempt to injure. Third, Fraser is a nobody who has never started a game in his career – what makes him think his own petty belligerence is more important than the team? If Cleveland doesn't cut Fraser, at least the NFL should suspend him.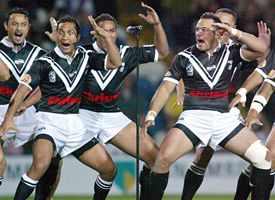 AP Photo/Sergio Dionisio
New Zealand Kiwis rugby team performing a haka. TMQ reported the Maori dance fad two years ago. How come it took till last week for the Wall Street Journal to notice?
TMQ Was So Ahead of the Maori War Dance Fad: Last week the Wall Street Journal ran a Page 1 article about the football team of Trinity High School of Texas, archrival of Permian High (subject of the book "Friday Night Lights"). Topic of the article? Trinity High is now doing the haka, a Maori war dance, before games. (This is the fourth or fifth time this fall that some aspect of high school football has been on the front page of the New York Times, Washington Post or Wall Street Journal!) The story explained that Trinity got the idea in 2004 by seeing, in an Internet football column, an item about the New Zealand rugby team that does the haka before games; the Internet column included a link to a video of the dance, the newspaper noted. Hey Wall Street Journal, next time spell out that the haka item and video link appeared in Tuesday Morning Quarterback. Here, watch the New Zealand All Blacks perform a haka taparahi prior to a 2004 rugby match against the French national team.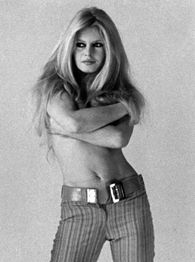 AP Photo
Brigitte Bardot, the Britney of the late 1950s.
Since the Bikini Is Now Routine and Topless Is Oh-Hum on European Beaches What, Exactly, Is Left to Shock With? Tuesday Morning Quarterback would show misplaced priorities if I let 2006 pass without noting this year is the 60th anniversary of the bikini, designed to celebrate the end of World War II and putting the atomic bomb into bombshell. (The suit's name comes from Bikini Atoll, site of a heavily publicized atomic bomb test in the summer of 1946, just as bikinis were hitting French beaches.) Fashion writer Kelly Bensimon supposes in her new "The Bikini Book" that the bikini is popular not in spite of being scandalous but because it is scandalous – bikinis allow a woman to broadcast a lewd and bawdy image without actually doing anything lewd or bawdy. Today, when some young actresses won't take a movie role unless the script specifies their clothes hit the floor, it is charming to remember that the 1956 film "And God Created Woman" was marketed on the fact that Brigitte Bardot briefly strutted around in a bikini. Today Bardot would be expected to play volleyball in her bikini! I hope you didn't miss this Mary Buckheit article on Page 2, in which she asks whether bikini beach volleyball has become too sexy to be taken seriously as a sport. Mary – bikini beach volleyball is a sport? Gosh, that never even occurred to me.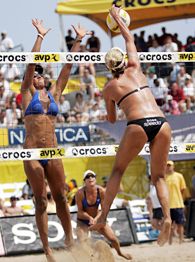 AP Photo/Mary Altaffer
In the ancient Olympics, athletes were naked. In modern Southern California, really, what's the difference?
Maroon Zone Play of the Week: Leading 7-0, New England faced fourth-and-1 on the Green Bay 39, went for it, converted and scored a touchdown on the possession. Eight different Flying Elvii players caught, carried or were thrown to on the drive, including linebacker Mike Vrabel on a trick-play attempt.
Best 99-Yard Drive: San Diego went 99 yards in 11 plays, six of them rushes. LaDainian Tomlinson ended the drive going in standing up for an untouched touchdown. (The Chargers actually gained 104 yards on the drive, overcoming a penalty.)
Future Medical Researchers Lament: If Only People of 2006 Had Known the Benefits of Coffee and Twinkies: That researchers have been studying the health effects of coffee for decades and still can't figure out whether it is good or bad for you is an indicator of the limits of certainty in medical knowledge. Some studies suggest coffee reduces the risk of heart disease, diabetes and cirrhosis; some studies say coffee increases the risk of stress, high blood pressure and sleep disorders; other studies say coffee in moderation has no discernible health impact. Comes now this Norwegian study suggesting coffee is a better antioxidant than blueberries, raspberries and similarly touted fruits and veggies. Study subjects who consumed "high intake of a variety of antioxidant-rich plant products such as walnuts, pomegranates, blueberries, blackberries, ginger, fruit and berry juices, green tea, kiwi fruits, tomatoes, spices, blue potatoes, blue broccoli and red cabbage" turned out to receive about the same antioxidant benefits as those who simply drank a few cups of coffee daily.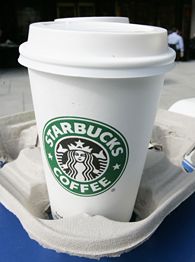 AP Photo/Pablo Martinez Monsivais
A bowl of fresh blueberries or this? Medical science has no idea.
Best Blocks: Tennessee leading 10-6 on the Flaming Thumbtacks' opening possession of the second half, Philadelphia's defense was taking the field for its first series since learning, in the locker room, that Donovan McNabb was out for the season. Travis Henry went 70 yards up the middle for the touchdown on the first play, breaking open the game. And yes, they'd just heard McNabb was out, but the Eagles' defenders had stacked eight in the box on this down – and still allowed themselves to be blown backward by the Titans' offensive line. Cheer-babe note: Last week TMQ detailed the almost one-to-one relationship between how much the Philadelphia Cheerleaders wear and whether the home team wins. Kickoff temperature 50 degrees, the Eagles cheer-babes danced in the first half in miniskirts, and the game was close despite the injury to McNabb. When the cheerleaders came out to start the second half in loose-fitting track suits – not the sprayed-on leotards they've worn in recent years in similar weather – TMQ knew that even the Philadelphia pep squad had given up on the game.
Worst Blocks: The Rams' offensive line not only allowed seven sacks, including a safety – on every sack, TMQ spied at least one offensive lineman who was doing nothing, simply standing there watching as Marc Bulger went down. I am constantly amazed by how many NFL plays there is at least one man standing around doing nothing whatsoever. Sloth on snap after snap was displayed by the Rams' offensive line at Carolina.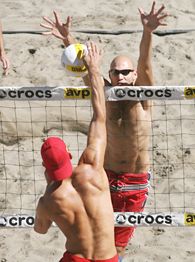 Chris Putman/WireImage.com
This picture has nothing to do with the bikini-in-history item, but still, it's only fair to female readers.
I Hate Julie! For Northeast dwellers like me, holiday travel season brings calls to Amtrak, and that means talking to "Julie," the infuriating, sickly sweet automated voice of the nation's tax-subsidized rail carrier. "Julie" pretends to be your friend, but you must listen to her read long stretches of boilerplate before she'll let you speak to a real human being – and Amtrak insults your intelligence by making you say "agent, agent, agent, agent, agent, agent, agent," over and over before "Julie" finally intones, "Would you like to speak to an agent?" Has even one single traveler ever actually used "Julie" to book a train ticket? Here is TMQ's 2006 desultory conversation with "Julie" – bearing in mind that Congress expropriates money from your pocket to pay for her:
JULIE: I'll be able to help you. Let's get started.


ME: Ontologically, I cannot start unless I know where I must end.


JULIE: Sorry. I didn't understand.


ME: Obviously you didn't go to college.


JULIE: Are you interested in a one-way or round trip?


ME: We are all on a one-way trip.


JULIE: Sorry. Could you repeat that?


ME: Julie, I would like you to take me places I have never been.


JULIE: No problem. If you decide you want to return, we can take care of that later.


ME. I'd like two tickets to paradise.


JULIE: What city would you like to start from?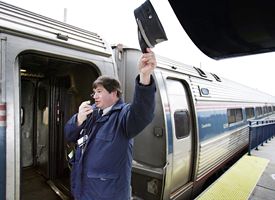 AP Photo/Robert F. Bukaty
Dispatcher. Dispatcher. Dispatcher. Hoover Dam! Julie, stop reading the disclaimers, connect me to the train dispatcher.
ME: Sumer. That is where human civilization started.


JULIE: I think you said, "Seattle train station."


Later
JULIE: You need to say what kind of people will be traveling.


ME: It's me -- the passenger is worldly, debonair, irresistible to women, vaguely noir-ish in an impermanent, contingent sort of way.


JULIE: I'm having trouble understanding you.


ME: Why don't we meet for a drink in the lounge car and I'll explain.


JULIE: I'd better connect you to an agent.


NFL Network Update: Honchos of startup NFL Network must have been sweating bullets as Oakland came within seconds of upsetting Kansas City, which would have reduced the allure of NFLN's first-ever live game, Kansas City-Denver on Thanksgiving night. So many NFL Network ads ran during the Fox and CBS football broadcasts on Sunday that viewers must have thought Budweiser, Coors and Miller all went out of business on the same day. Honchos on Park Avenue must have been steaming when the Washington Post television section for this week did not list the Denver-Kansas City game under its "football" heading, because the broadcast will be available in the nation's capital only to DirecTV and premium-digital subscribers. One of the NFL Network ads showed Denver owner Pat Bowlen in his office, seemingly preparing for the game. Perhaps you thought: Hmm, an owner participating in an advertisement, that's unusual. Bowlen, more than any NFL owner, wants the league to take over its own broadcasting, cutting out the established networks when the current contracts expire. Bowlen has wagered a lot of his corridor reputation on the idea that NFL Network will work. You bet he's helping out with the ads. But did he get an appearance fee?
AP Photo/Ryan Remiorz
Their Grey Cup runneth over. Note to female and nontraditional male readers -- two beefcake photos in one week.
They Never Punt on Fourth-and-1 in the CFL: Congratulations to the British Columbia Lions, winner of the CFL's 94th Grey Cup. Lions players broke the Grey Cup itself while waving it around after the game – but after 94 years, they needed a new one anyway. And you'd think it would be too cold in Vancouver for triangle top swimsuits, but you'd think wrong: Here is cheerleader Kelsey of the Felions , who is honest enough to admit her favorite sport is hockey. (Excuse me, favourite sport.) All British Columbia Lions cheerleaders' team bio pages include a declaration of their favorite things to do "in the lower mainland," which in frostback talk means the area south of Horseshoe Bay, at the base of the Sea to Sky Highway. If you haven't been to Vancouver, B.C., you've missed one of the most beautiful cities-amidst-nature settings on our Earth.
Preposterous Punt Watch: Game tied at 7 in the first quarter, New Orleans faced fourth-and-2 on the Cincinnati 40. Last week the Saints went buck-buck-brawckkkkkkk on fourth-and-6 on the Steelers' 39 in the fourth quarter, and this turned out the deciding play in their loss. Surely they won't repeat the mistake! Drew Brees brought his team to the line, yelled "hut hut" numerous times, and then took the penalty when no Trick or Treats jumped offside. The punt that followed officially might have been on fourth-and-7, but to my mind it was a Preposterous Punt on fourth-and-2, since the Saints were never going for it. Plus I haven't seen the fourth-down hut-hut draw-them-off nonsense work in the NFL in about 10 seasons.
Stop Me Before I Blitz Again! No. 1: Joey Galloway's 34-yard touchdown reception, which broke open the Washington-City of Tampa game, came against an eight-man Redskins' blitz. Column after column, TMQ documents that seven- and eight-man blitzes are like handing out engraved invitations to score touchdowns. When the Bucs ran a complex reverse for a five-yard gain early in the first quarter, the Fox announcers grumbled mightily about how there's no point in a reverse that only gains five yards. Yes there is! TMQ's law of reverses holds that any reverse that gets back to the line of scrimmage is a positive play – because it spooks the defense, slowing the rush. Washington recorded no sacks in the game, despite facing a rookie quarterback with two rookies on his offensive line.
Kevin Mazur/WireImage.com
Spamalot is playing on Broadway, which is in New York not New Jersey, and anyway the cast felt the Jets' performance was a bit predictable.
Stop Me Before I Blitz Again! No. 2: The Ming Ding Xiong ("Bears whose outcomes are decided by fate" in Chinese) leading 3-0 on the first play of the fourth quarter, Jersey/B blitzed seven – easy 43-yard touchdown pass to Mark Bradley for the game's icing points. Blitzing once in a while can be devastating; blitzing a lot, as the Jets did Sunday, nearly guarantees the opponent an easy touchdown at some point. The Jets' constant no-huddle, which seemed clever when Eric "I Was a Teenaged Coach" Mangini rolled it out in October, now seems stale. Watching the game I regularly thought, a la Monty Python, "I felt that was a bit predictable." Note: According to the NFL, on Sunday the Jets played at Giants Stadium.
Stop Me Before I Blitz Again! No. 3: Lee Evans' first 83-yard touchdown catch came against a seven-man blitz; his second 83-yard touchdown catch, against a five-man blitz. On the second Evans' bomb, Houston had its free safety lined up 25 yards off the line at the snap – it looked like he was expecting to field a punt – yet still couldn't catch the deep man.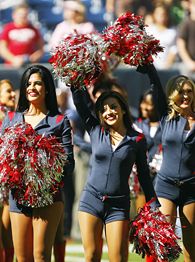 Bob Levey/WireImage.com
The moment the Houston cheerleaders came out overdressed, you knew the home team would lose.
Cheerleader Professionalism Watch: Reader Kevin of Rochester, N.Y., notes that for Buffalo at Houston, the Texans' cheerleaders wore conservative outfits, and the home team lost. Not far away in the same weather, Cowboys cheerleaders wore hardly anything for Indianapolis at Dallas, and the home team won. Reader Will Woods of New York City notes that Yale's cheerleaders stayed in miniskirts throughout the Harvard-Yale game, while Harvard cheerleaders changed to track suits at halftime. Needless to say, Yale won, sharing the Ivy League title with Princeton, which had its biggest season since 1964. Saturday night at Princeton, they lit The Bonfire on Cannon Green for the first time in 12 years, signifying Princeton had swept Harvard and Yale.
Redundancy Watch: Reader Will Gray of Tennessee notes that FedEx, official name of the company that originally was named Federal Express, now has a FedEx express division. That is, Federal Express express.
At Happy Hour in Hell's Sports Bar, There Are No Nachos – But Unlimited Free Celery: Hell's sports bar has 28 wide-screen plasma TVs, and on Sunday all were showing Detroit at Arizona, especially the Lions reaching first-and-goal on the Cardinals' 1, then losing yardage on three consecutive snaps. For the highlight program, all 28 screens in Hell's Sports Bar showed nothing but, over and over, Green Bay punting on fourth-and-1 in the fourth quarter when down 28-0.
We're All Professionals Here: Having rallied to pull within 20-14 at San Francisco, defending NFC champion Seattle faced fourth-and-1 on its 37 at the two-minute warning, holding all three timeouts. Electronic Arts-cover-cursed Shaun Alexander was stopped for a loss, Niners ball. On the first San Francisco snap, Frank Gore fumbled, Seattle ball. On the first Seattle snap, sack. On the second Seattle snap, interception.
Darling, You Look Lovely in That Strapless Miami Dolphins Evening Gown: The NFL granted permission to coaches Nolan the Younger of San Francisco and Jack of the River of Jacksonville to wear business suits on the sideline. For years, coaching staffs have been required to wear NFL-licensed apparel, which means golf shirts, varsity sweaters and so on. Last year on NFL.com, I proposed a solution – NFL-licensed business suits. I wrote, "Imagine walking into your next business meeting nattily attired in a three-piece Denver Broncos business suit with a bright orange stripe up the side. Imagine a tuxedo with tiny Philadelphia Eagles' logos as trim, or a women's power suit in the colors of the New England Patriots. Of course this idea is completely ridiculous, Americans aren't so crazy about the NFL that they would actually wear suits with team logos on them – 'Sweetheart, get me NFL Properties on the phone fast.' If only I'd been sharp enough to sign with the NFL for a commission on this idea! Because now there are NFL-licensed men's dress blazers in team colors. Reebok note: The NFL-approved apparel that Marty Schottenheimer and other San Diego coaches wore on the Denver sideline Sunday night was not San Diego colors. Bolts' coaches were adorned in gray and off-white. Huh?
Another Way In Which Dogs in America Live Better Than People in Parts of the Developing World: One breakthrough in antibiotics is a class of chemicals called cephalexins, which kill both gram-positive and gram-negative bacteria, yet have minimal side effects. Discovered in 1948 by an Italian chemist, cephalexins – most common trade name Keflex – were not widely available until the 1970s. By the 1980s, word was out on this drug's combination of effectiveness and minimal risk. Parents began saying, "Doctor, please give my child Keflex." Why do I mention all this? First, this is Tuesday Morning Quarterback: I don't have to have a reason. Second, recently I took Geneva, the brainless Official Dog of TMQ, to the vet. And they gave her – Keflex. From miracle drug for people to pills for the dog! The problem is that in many parts of the developing world, parents still plead, "Doctor, please give my child Keflex." American parents might soon plead, "Doctor, please give my child Claforan or Cefcatacol," these being advanced cephalexins that work against the antibiotic-resistant germ strains found in hospitals. How long before American dogs get Cefcatacol while developing-world patients still plead for Keflex?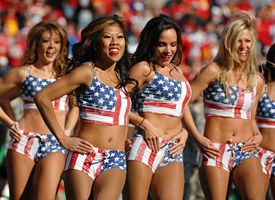 Kirby Lee/WireImage.com
Here is how the Kansas City Chiefs' cheerleaders dressed on Sunday. Do you even need to ask who won?
Best Purist Drive: Trailing Oakland 13-10, Kansas City took possession on its 20 with 4:53 remaining – and rather than go pass-wacky, ran on six of 11 plays, scoring the winning touchdown at 1:54. On fourth-and-1 at their 29 with 3:28 remaining, the Chiefs didn't punt, they didn't panic and throw. They ran the ball up the middle.
Huh? What? TMQ's Law of the Obvious holds: Sometimes all a team needs to do is run the ball for no gain, and everything will be fine. Leading 21-17, Houston faced third-and-2 on its 19 on the first play following the two-minute warning, with Buffalo down to its last timeout. The Texans threw incomplete, stopping the clock, then punted; the Bills scored the winning touchdown with nine seconds remaining. Had Houston simply run for no gain, victory was likely. Instead the Moo Cows stopped the clock, keeping Buffalo alive. Every week there is one play TMQ watches over and over in rapt fascination, and this week this one was it. To top it off, with 2:25 remaining, Buffalo had punted on fourth-and-4 from midfield. "It's like the coaches are competing to see who can make the stupidest call," my 11-year-old, Spenser, commented. Houston won that competition.
NASA
Ten years ago no one even knew dark energy existed, and already NASA thinks it can explain the origin of the universe in a PowerPoint.
Missing Universe Watch: As TMQ regularly notes, physicists remain unable to locate the bulk of the cosmos, which is believed locked up in undetectable dark energy and dark matter. As the academic cosmologist Lee Smolin notes in his important new book "The Trouble with Physics," only about 4 percent of the universe is confirmed as ordinary matter and energy, and "of the other 96 percent, we know absolutely nothing." We can't find 96 percent of the universe – but trust us, we're experts! Last week NASA said Hubble Telescope images of the movements of the galaxies suggested that dark energy did not become significant until the cosmos was about five billion years old. This sort-a makes sense. Gravity grows more powerful as distance decreases, dark energy appears to be an antigravity force that grows more powerful as distance increases – so the expanding universe had to fly apart for a few eons until the galaxies achieved enough distance from each other for dark energy to come into play. If this thinking is correct, with each passing epoch the galaxies will be still farther apart, and thus dark energy more powerful. But, um, we still have no idea what dark energy is or how it operates. Last week NASA also estimated that the firmament is 70 percent dark energy, 25 percent dark matter, and 5 percent everything else. So we can't even agree on whether 95 percent or 96 percent of the entire universe is missing. But trust us, we're experts!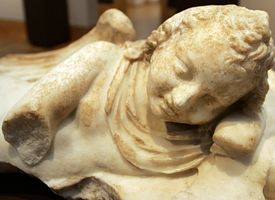 AP Photo/Steven Senne
The goddess Eros, after failing to get a room at the Chicago Sofitel.
Meanwhile this new study appears to rule out speculation that much of the missing matter is present in deep space as MACHOS, or massive compact halo objects. The hypothesized MACHOS were thought to be extremely large numbers of ancient, dead stars on the boundaries of galaxies. It was assumed by some cosmologists that MACHOS eventually would be shown to be the most common objects in the universe, just hard to find because they long ago stopped producing light. But an international collaboration of astronomers, working under the project title Eros – acronym of the French name Expérience de Recherche d'Objets Sombres – failed to detect any sign of ancient, burned-out stars in the Magellanic Clouds, the "dwarf galaxies" close to our Milky Way. So for the moment, MACHOS seem out as an explanation for the missing mass. And yes, in this case Eros defeated MACHO.
Beyond Platform Shoes: Watch closely when NBC shows its booth stand-up view of John Madden and Al Michaels during Sunday night contests. Though their heads are even, Michaels' belt appears far higher than Madden's, as if Michaels had an NBA-style physique with super-long legs and high waist. What's going on is that Madden is quite a bit taller than Michaels – who is standing on a riser, to make them appear the same height. Michaels is also closest to the camera, which aids the illusion.
Are You Dissatisfied With Your Auto Insurance If You Don't Have a Crash: Recently I saw a television ad for life insurance from a company called People's Benefit Life. The pitchman promised, "Satisfaction guaranteed or your money back!" Presumably the only way to ensure satisfaction for a life insurance policy is if your heirs receive the due payment in a timely manner. That only happens when you die. So if you fail to die, claim dissatisfaction and demand your money back! Note: The ideal outcome for all insurance premiums is that they are wasted. Ideally every dime you spend on car and health insurance should be waste, if you never have a problem about which to file a claim. If only all life insurance costs could be wasted.
Local Affiliate Asleep at the Switch: WUSA, the CBS affiliate in Washington, D.C, aired Cincinnati at New Orleans, an excellent matchup, in the 1 p.m. ET slot. By late fourth quarter when it was Bengals 31, Saints 16, the contest was over. Yet the local affiliate stayed with every last sleep-inducing snap even as Pittsburgh at Cleveland, with WUSA also had rights to, became a red-hot fantastic finish.
Pittsburgh Comeback Analysis: So Ben Roethlisberger had thrown three interceptions in the game, though two bounced off receivers' hands. So one was run back for Roethlisberger's third interception-return touchdown of the season, which is embarrassing. So Roethlisberger has thrown a league-worst 17 interceptions, and trails Jon Kitna and J.P. Losman in passer rating. So the defending champions are 3-6 and down 13-3 in the fourth quarter. Still, these are the Pittsburgh Steelers. Taking possession with 13:42 remaining, Roethlisberger led the Steelers on an 87-yard touchdown drive that including converting a third-and-20. Now the score is only 13-10, but Cleveland returns the ensuing kickoff for a touchdown. Still, these are the Pittsburgh Steelers. Taking over again, Roethlisberger led the Steelers on a 17-play, 79-yard touchdown drive. Getting the ball back, Cleveland went three-and-out and politely threw incomplete, stopping the clock. Roethlisberger leads the Steelers on a 77-yard touchdown drive that won the game with 39 seconds remaining. Counting penalties and excluding kick returns, in the fourth quarter Pittsburgh ran 38 plays for 243 yards, while Cleveland ran 10 plays for 35 yards. And the Browns were playing at home before the NFL's most energetic crowd!
Tactics note: Game scoreless in the first half, Cleveland faced fourth-and-1 on the Pittsburgh 26, attempted a field goal and missed. Normally TMQ's immutable law Kick Early Go For It Late would say this is the right call, though rain and a gusty wind made the kick problematic. Anyway you can't dance with the champ, you've got to knock him down! Pittsburgh is the Super Bowl champion; Cleveland had lost six straight at home to the Steelers; victories don't come in the mail, they must be seized.
Wacky Concierge of the Week: Last week on a business trip, TMQ stayed at the swank Sofitel near the Water Tower in Chicago. Its directory offered a Sofitel Romance Concierge. Guests were urged to order a "customized romantic experience" arranged "with the assistance of our Emily Post Institute-trained Romance Concierges" who are "specially qualified to help you plan any kind of romantic occasion." I've always longed for a customized romantic experience! The hotel's romance packages included champagne, scented lotions and "chocolate body paint and whipped cream" sent up to the room. At the Emily Post Institute, they teach you how to advise couples on ways to use whipped cream in hotel rooms? But then Sofitel is a French hotel company.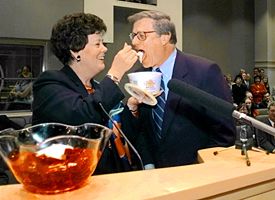 AP Photo/Mark Foley
Not what couples staying in an expensive French hotel are supposed to do with the whipped cream sent up by the Romance Concierge.
Swank hotel note: With the advent of cell phones, people don't use hotel long-distance that much anymore. At the Sofitel, I made four two-minute weekend phone calls from Chicago to Maryland – and they were billed at $8.99 each. Good grief! If you ever stay at a Sofitel, for goodness sake do not pick up the telephone. Chicago note: On Saturday night, November 18th, the city's Christmas parade marched up Michigan Avenue.
ESPN Name Too Long, Marketers Fret: Washington state adopted "Experience Wa" as its tourism slogan, apparently assuming that with current trends in literacy, people can no longer remember entire words. Washington has two state songs, a state fossil, a state dance, a state tartan and a state grass.
San Diego at Denver Comeback Analysis: "The Chargers have them right where they want them," Spenser said as he went to bed with the Broncos leading 24-7. And it was so true. When the Bolts left the field 35-27 victors, I thought, "Six weeks to go, this is the team to beat in the NFL."
TMQ Law of Comebacks holds: Defense starts comebacks, offense stops them. From midway in the third quarter when the home team took its 24-7 lead, the visitors held Denver to one field goal and five first downs. This was at Denver, where oxygen depletion is supposed to confer on the Broncos an incredible second-half advantage. After San Diego scored to make it 24-14, Denver went incompletion, incompletion, incompletion, punt – the kind of series that would never make a highlight reel, but is integral to the comeback. After San Diego scored to make it 24-21, Denver reached first-and-10 on the Chargers' 18. A touchdown for the home team, and "offense stops comebacks" takes over. Instead Denver went incompletion, three-yard run, fumbled snap, field goal. As the field goal split the uprights for a 27-21 Denver lead, TMQ wrote the words "game over" in his notebook – "over" meaning San Diego would win – and went to bed.
Most Fun Play: Denver leading 24-14, San Diego faced third-and-2 at midfield at the end of the third. The Bolts lined up in what seemed like a flag football formation, quarterback Philip Rivers in the shotgun with a back on either side exactly at his depth. Denver zone-blitzed six, defensive end Ebenezer Ekuban dropping into coverage in the defensive left flat to compensate for a blitzing corner on that side. LaDainian Tomlinson ran a down-and-in – what traditionalists call a "replace route" – against Ekuban. Tomlinson easily shot past the defensive end, catching a 51-yard touchdown pass. Think about what happened on this play. To this point, Tomlinson has scored 20 touchdowns, almost twice as many as the next best player in the league. Yet the man who has to this point scored 20 touchdowns is covered deep by a defensive end. There was no safety help in sight – John Lynch had to cover a wide receiver because of the blitz, and had his back to Tomlinson the entire time.
Three San Diego-Denver comeback notes: First, Denver came into the game with the fewest points allowed, and surrendered 35 points at home. Until Sunday night, the Broncos had been playing a very disciplined, conventional 4-3; against San Diego they blitzed, stunted and jumped around like mad, and you can see what good it did them. (I don't wish to alarm anyone, but New England just passed Denver and now rivals Chicago for fewest points allowed.) Second, the game offered numerous examples of how Denver has adjusted its dive-at-the-legs chop-block scheme to achieve quasi-legality. Between the tackles in the NFL, a blocker can dive at legs so long as the defender is not already "engaged" with another blocker. Example: Second quarter, unknown interchangeable Broncos running back Damien Nash goes up the middle for 26 yards. On the play, Denver center Tom Nalen first hits San Diego nose tackle Jamal Williams, then slides off him to the right just as left guard Ben Hamilton dives low at Williams' legs. Legal play: Nalen released Williams the instant before Hamilton chopped his legs. Sportsmanlike? That's another matter.
Third note: In the fourth quarter, Rivers heave-hoed a crazy pass attempt under tackle, and it fluttered in the air for a likely interception. Little-known Bolts receiver Vincent Jackson sprinted like mad toward the ball and leapt to knock it away from a defender. All too few NFL receivers seem to care that when the pass is bad, it is their responsibility to become instant defensive backs. Jackson cared – and in the fourth quarter, the football gods rewarded him with a touchdown reception.
Actual Staples Advertisement: Free shredder with your next purchase.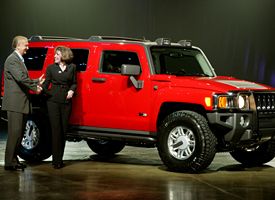 AP Photo/Reed Saxon
Congratulations on your gleaming new Hummer! Just don't try to sit in the back seat.
A Miracle of Engineering: The gigantic new Hummer H3 weighs hundreds of pounds more than a Lincoln Town Car and is a foot taller, yet nonetheless manages to be cramped inside. "The cabin seems too small for a vehicle with such a hulking interior," the Wall Street Journal reported. "Headroom is poor and narrow windows limit visibility." The back seat is especially cramped, with five inches less leg room than a Town Car. Plus the EPA rates the new Hummer as one of the worst air-pollution offenders on the road. Absurdly big on the outside, uncomfortably small on the inside: only in America!
Obscure College Score of the Week: Delta State 17, Elizabeth City State 10 (Division II playoffs). Located in Elizabeth City, N.C., Elizabeth City State's sports teams are the Vikings – missing their chance to be the Betties. Not even the women's teams are the Betties, rather, the Lady Vikings. Since Vikings rape and pillage how, exactly, is this done in a ladylike fashion?
Obscure College Score of the Week No. 2: Capital 32, Wittenberg 14 (Division III playoffs). Located in Columbus, Ohio, Capital University forbids burning incense in dorm rooms. The school runs freshman blogs on its official Web site. Here is April Haviland's blog.
Reader Animadversion: Got a complaint or a deeply held grievance? Write me at TMQ_ESPN@yahoo.com. Include your real name and the name of your hometown, and I may quote you by name unless you instruct me otherwise. Note: giving your hometown improves your odds of being quoted.
Next Week: Merchants bring out their Christmas decorations – for Christmas 2007.
In addition to writing Tuesday Morning Quarterback, Gregg Easterbrook is the author of "The Progress Paradox: How Life Gets Better While People Feel Worse" and other books. He is also a contributing editor for The New Republic, The Atlantic Monthly and The Washington Monthly, and a visiting fellow at the Brookings Institution. Sound off to Page 2 here.