By Gregg Easterbrook
Special to Page 2
Perennially, Tuesday Morning Quarterback stares in disbelief as teams punt when trailing late. But there's a worse sequence of events -- when an NFL coach punts with the game still in reach, then goes for it with only minutes remaining and all hope lost. Sunday, Washington trailed Atlanta 24-10 with 10 minutes remaining, and the Redskins faced fourth-and-2 at midfield. Joe Gibbs sent in the punting unit. You need two scores and there are 10 minutes left! More than two-thirds of fourth-and-2 plays succeed! You're at midfield! Boom goes the punt. Then, still trailing 24-10 with four minutes remaining, Redskins deep in their territory, Washington faced fourth-and-4. At this point it made no difference whether the Redskins punted, went for it or started square dancing. And then -- at the point it no longer mattered -- Gibbs went for the first down.
Isolated instance? In Atlanta-New Orleans on "Monday Night Football" back on Sept. 25, the Falcons trailed by 20 points early in the fourth quarter and faced fourth-and-7: Jim Mora ordered a punt. After the clock had ticked down to six minutes and Atlanta still trailed by 20, but now faced fourth-and-12, then Mora decided to go for it. When there was still hope, however slim, of staging a comeback, Mora punted. When all hope was extinguished, Mora went for it. Oakland versus Seattle on "Monday Night Football" on Nov. 6, Oakland trailed by 13 points in the third quarter and punted on fourth-and-1 from midfield; then with nine minutes remaining, still down by 13 and facing fourth-and-5, then the Raiders went for it. Trailing the Giants 16-3 with seven minutes remaining Oct. 8, Gibbs ordered the Redskins to punt; at the two-minute warning, with all hope lost, then he went for it. Onside kicks follow a similar pattern. In the USC-Notre Dame game, the Irish scored to pull within 31-17 with 10 minutes to go, and still held some hope; Charlie Weis had his charges kick away. When it was 37-24 with three minutes remaining, then Weis ordered an onside kick.
Here are the possible reasons that NFL and big-college coaches punt on fourth-and-short when there's still time for a comeback, then go for it on fourth-and-long when there's no hope whatsoever:
• "But that's what we always do!"
• "That's what Jimmy Conzelman and Ray Flaherty did!" (Note: Coaches of the 1930s.)
• "I want the players to be the ones who get blamed for losing the game."
Over and over again it is impressed upon TMQ that for all the billions of dollars invested in the NFL and big-college NCAA football, for all the dozens of assistant coaches per team and thousands of hours spent dissecting game film, it is amazing how little coaches seem to think about what they are doing. Punting on fourth-and-short when trailing late makes no sense, unless you aren't thinking about what you are doing. Or unless your true concern is blame-shifting. If the coach goes for it and the attempt fails, the next day the sports-yak world blames the coach; if the coach sends in the punt unit and the defense doesn't get the ball back, sports radio blames the defense. This attitude is aided by the fact that sportscasters, in my experience, never point out how ridiculous it is to punt on fourth-and-short when trailing late -- probably because most sportscasters never really think about the game, either. Trailing Philadelphia 27-3 at the end of the third quarter on Nov. 12, the Redskins faced fourth-and-5 at midfield. "That will force Washington to punt," announcer Dick Stockton intoned. No team is "forced" to punt. But NFL coaches like it when sportscasters assume this, as it shifts the criticism off the coaches. And boom went the punt.
In other news, in Sunday's loss to the Jets, the Packers dropped back for 49 passing plays, for an average gain of 4.1 yards per play and three turnovers. On the other hand, they had 23 rushing plays, for an average gain of 6.5 yards and no turnovers. The result was an embarrassing Green Bay defeat at Lambeau Field. Regardless of whether the run is working, Green Bay's coaches are calling Favre's number over and over again in hopes of getting him the record for career touchdown passes.
In more news, trailing 20-0, ball on the Pittsburgh 9 on the game's last down, Jon "Once I Was a Teenaged Coach" Gruden sent in the City of Tampa field goal unit to make the final 20-3. Obviously the Bucs were toast no matter what they did on that play. But there is the little matter of being able to look at yourself in the mirror, and for that, Tampa needed to spend its last play trying a touchdown. Gruden didn't want a shutout on his record; shutouts look bad when management sits you down for your season-ending review. But Gruden's first responsibility is to the team, not his résumé. As a player I'd rather lose 20-0 but go down swinging than humiliate myself with a meaningless field goal on the last snap.
And in college news, the sports-yak world is agonizing over whether Michigan or Florida "deserved" to meet Ohio State in college football's final game. Either choice would be arbitrary -- without a playoff format, it's impossible to know who "deserves" to play the Buckeyes. Bear in mind, the BCS formula was never intended to ensure a clear, on-the-field champion. It was intended to maximize television exposure for the big conferences. Note that the formal name of the Ohio State-Florida event does not involve the phrase "national championship." Rather, what will happen on Jan. 8 is the BCS Championship Game. Get it? The winner becomes champion of the BCS -- a system devised to maximize the income of BCS founding schools -- not champion of college football. TMQ thinks the event's formal name should be College Football's Final Game of Another Controversial Season.
Why did USC honk its chance to play in College Football's Final Game of Another Controversial Season? Blame the Song Girls! See below.
Stat of the Week No. 1: In the past two weeks, Tennessee has trailed by a combined 35-0, then outscored opponents by a combined 44-3.
Stat of the Week No. 2: Chicago had twice as many return yards (222) as offensive yards (111).
Stat of the Week No. 3: Seattle is 8-4 and has been outscored by opponents this season.
Stat of the Week No. 4: Terrell Owens leads the league in dropped passes.
Stat of the Week No. 5: Tom Brady is 21-1 on artificial turf -- and artificial turf was just installed at Gillette Field.
Stat of the Week No. 6: After allowing 65 points in Weeks 10 and 11, the Bengals allowed seven points in Weeks 12 and 13.
Stat of the Week No. 7: Denver has played six games after dark and six in daylight.
Stat of the Week No. 8: Houston had more return yards (213) than offensive yards (124).
Stat of the Week No. 9: Detroit, at 2-10, has outscored Denver, at 7-5, this season.
Stat of the Week No. 10: The 13 punts in the first half of Eagles-Panthers game Monday night were a record for a half.
Washington Redskins
We promise not to make any foreign affairs jokes about Tiffany's Georgetown degree in diplomatic studies.
Cheerleader of the Week: Reader Caesar Montevecchio of Erie, Pa., nominates Tiffany of the Redskins, a graduate of Georgetown University, one of the hardest colleges in the United States from which to receive a thick letter (signaling admission). Montevecchio reports, "Tiffany was the captain of the Georgetown cheerleading squad, and I was a male member of that team. She is really bright and really friendly." According to Tiffany's team bio, "I've enjoyed defying the stereotypes that exist about cheerleaders." Also according to her bio, at Georgetown, Tiffany was enrolled in the Walsh School of Foreign Service, a prestigious school-within-a-school for aspiring diplomats. Maybe Secretary of State Condoleezza Rice should travel with Tiffany as her personal pep squad -- Rice could use one. Here are diplomatic cheers:
Frank and useful! Frank and useful! We felt the exchange was frank and useful!
Our hands are high our feet are low, and from our country your ambassador must go.
AIR strike, AIR strike.
AP Photo/Virginia Mayo
They need cheerleaders: "Gimme a G.! Gimme a 7!"
Sweet Play of the Week No. 1: Redskins leading 14-10 in yet another desultory effort by the Falcons, Atlanta had the ball on the Nanticokes' 22, and Mora the Younger radioed in some dumb play -- probably a 14-step drop that required Michael Vick to sprint backward to midfield. Vick defied his coach and in the huddle drew up a post pattern to Michael Jenkins: touchdown. Afterward Vick said, "Sometimes you have to overcome coaching." Bravo! Mora isn't stuck with a coach-killer quarterback, Vick is stuck with a quarterback-killer coach. Here is a suggestion to put Atlanta into the playoffs: Switch off the helmet radio and let Vick call his own plays. Have Mora spend all his time talking to his dad on a cell phone on the sideline. Vick is a gifted player, Mora is a knuckleheaded coach. Let the gifted player take charge and see what happens. Falcons note: The player Jerious Norwood turned inside-out on his game-icing, 69-yard touchdown run was Carlos Rogers, a very highly paid No. 1 draft choice.
Sweet Play of the Week No. 2: Backup quarterback Derek Anderson scrambled 33 yards in overtime to put Cleveland into position for the winning field goal and the upset of Kansas City -- and no, I'd never heard of Derek Anderson either. Kansas City Chiefs: If you can't hold a 14-point fourth quarter lead against the Cleveland Browns, then your defense is still terrible. Often when a starter goes out injured and an unknown enters the game, the defense relaxes. But coaches are supposed to know this. Sunday, Herman "I Honor My Contract When I'm In the Mood" Edwards looked like he assumed the game was over as Anderson trotted into the huddle.
Sweet Play of the Week No. 3: Game tied at 13, Dallas faced third-and-5 on the Jersey/A 15 in the fourth quarter. The Boys lined up with an empty backfield and with two wideouts left and three right; Terry Glenn came in motion left to right; at the snap he took a simple flare pass behind the three right receivers and ran for the first down. Dallas scored a touchdown two snaps later and prevailed.
Sweet Sequence: Game tied at 17, the Flaming Thumbtacks reached fourth-and-11 on the Colts' 42 with 12 seconds remaining. Jeff Fisher sent Rob Bironas, career long of 53, out to attempt a 60-yard figgie. "This is a mistake," said my 11-year-old, Spenser. "If Tennessee misses Indianapolis gets the ball at midfield with one timeout, enough to throw once down the middle, then maybe stop the clock for a field goal try the other way." Sure enough Fisher asked for timeout, thought this through, then pulled the kicking team and sent in the punt unit. Indianapolis called its final timeout, in order to switch in its punt return team. "Now Tennessee can try the kick, because the Colts are out of timeouts," Spenser said. Sure enough Fisher changed course again, sending Bironas back into the game -- and his 60-yarder was straight and true to win. And I don't wish to alarm anyone, but Vince Young is already 5-4 as a starter.
Sour Set of Plays: If you have a couple minutes to kill, count the Vikings who either stood around doing nothing, or jogged at half speed, during Chicago's punt-return touchdown and interception-return touchdown. Minnesota Vikings: You are highly overpaid professionals, how about breaking a sweat? Bears note: After leading the league in return touchdowns in 2005, Chicago already has five return touchdowns this season. But you can't count on return touchdowns. Clubs that count on defense and special teams to score touchdowns often pull up short in the postseason.
Sour Single of the Week: Last week four Giants defenders stood around doing nothing on the decisive down of Tennessee's comeback win. This week it's Dallas and Jersey/A tied at 20, Cowboys' ball on their 32 with one minute remaining. The Giants rush three, Dallas sends out four -- meaning eight defenders have dropped into coverage against four receivers. TMQ counted one, two, three Jersey/A defenders simply standing like topiary, doing nothing at all, as tight end Jason Witten streaked up the field for the 42-yard catch that positioned Dallas for the winning kick.
Peter Aiken/WireImage.com
The cheerleaders brought their A game, yet St. Louis lost to Arizona at home! Verily, the football gods have waxed wroth toward the Rams.
Sour Defeat of the Week: St. Louis lost to Arizona at home -- ouch. Afterward, Marc Bulger blasted his teammates for quitting on the season, and Les Mouflons sure played like a team that has quit. Offensive linemen standing around doing nothing, receivers carelessly letting passes bounce off their hands for interceptions -- it was ugly. First-year coach Scott Linehan should have benched a lot of starters by the third quarter. Instead he stood watching.
"Monday Night Football" Analysis: Jake Delhomme cost Carolina the Washington game a week ago with a crazy interception heave-hoed into coverage, and cost Carolina the Philadelphia game Monday night with two crazy fourth-quarter interceptions heave-hoed into coverage. The trouble is his backup, Chris Weinke, is 1-15 as a starter, and Carolina carries no third quarterback on its roster. So it's not like the Cats' coaches have a broad range of choices. If you watch tape of the Panthers' Super Bowl season, you'll notice Delhomme was heave-hoeing into coverage then, too. But his luck was good and the passes were usually caught; now the passes are being intercepted. I don't think Delhomme has lost his touch, as the sports-yak world is now saying; I think he's always been forcing the ball into coverage, had good luck for a while, and now his luck has run out. Monday night Jeff Garcia forced a pass to a covered Donte' Stallworth, who made a great play for a 51-yard reception, and the "Monday Night Football" booth crew praised Garcia. Two plays later he again forced a pass to a covered Stallworth, near-interception, and the booth crew slammed Garcia for throwing into coverage. The quarterback's read and throw were nearly identical on both downs. All of us tend to downplay the role of luck in outcomes, wanting to believe merit and effort decide everything. Lady Luck is often the arbiter. As James Garner's Maverick said, "Luck is the lady that I love the best."
Ron Galella/WireImage.com
Riverboat ring your bell, fare thee well Annabel ... wait, this has to have something to do with the NFL!
Sweet 'n' sour Monday night play: Trailing 7-0, the Eagles faced first-and-goal on the Panthers' 8. Philadelphia lined up five-wide, but Carolina was not in its dime, not expecting a five-wide at the goal line. (Although with the Eagles, you should.) On the right side the tight end ran an "out," then Brian Westbrook ran the down-and-in behind him. Because Carolina didn't have its dime on the field, Westbrook was covered by linebacker Thomas Davis, easily outrunning him for the touchdown. That was sweet. Davis, who played safety in college, wasn't even close to Westbrook when the pass arrived, and a former safety should be able to cover a back out of the backfield. That was sour.
Blocking note: Ultra-enormous Philadelphia tackle Jon Runyan completely outplayed Carolina defensive end Julius Peppers, so Delhomme was hardly the sole Panther to have a bad night. A couple years ago I stood next to Runyan and asked him my standard question for NFL players who seem impossibly large: "What does the sky look like on your home world?" When I asked this of Vernon Davis of the Niners, he smiled and laughed. Runyan just stared at me. Jon, you need to catch up on your science fiction. Lame NFC note: The slumping Panthers play the slumping Giants on Sunday, and hard as it seems to believe, the winner will occupy the inside track for a wild-card slot.
The Railroad Trusts, Standard Oil and Sunday Ticket on DirecTV -- Congress, Why Has One of These Monopolies Not Been Busted? As the stalemate between NFL Network and the cable carriers continues -- NFLN wants an arm-and-a-leg to allow its Thursday night slate to be shown, and Comcast and Time Warner keep saying no -- corporate executives at NFL Network's offices in California must be rending their garments and gnashing their teeth. Why? The first two Thursday games were duds. Had they been thrillers, football lovers would be ringing up Comcast and Time Warner to complain. As it is, few cared about the two games most of the country didn't see. Wonder what will happen to the pace of negotiations the morning after the first exciting Thursday night game?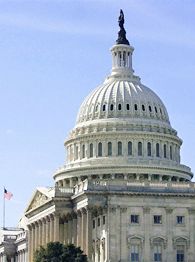 AP Photo/J. Scott Applewhite
They had a deal with the NFL. The NFL broke the deal. How much longer till they notice?
Frustration about what games you see or don't see is nearly universal among NFL enthusiasts. Peter Kurtz of Houston reports he was in Dubai on the day of the fabulous San Diego-Cincinnati game -- which could not be seen in the capital of the U.S. of A., but was shown to the oil sheiks of the Persian Gulf. Peter Staunstrup of Copenhagen reports Denmark saw the San Diego-Cincinnati game our nation's capital was not allowed to see. Steve Panos of Toronto reports that throughout Canada, NFL Network is already on basic cable -- meaning Canadian viewers get better access to NFL games, played in stadia funded by American taxpayers, than American taxpayers do.
Josh Zelechoski of Baltimore, currently living near Chelyabinsk, Russia, and working on the destruction of chemical arms of the former Soviet Union, reports he gets American Forces Network: The military channel that, as this column has documented, offers U.S. servicemen and servicewomen overseas a better choice of NFL games than do Fox or CBS here. Kevin Brady, a Foreign Service officer serving at the United States Embassy in Rome, reports he watched Bolts-Bengals on AFN, while Washington, D.C., was forbidden by NFL rules to watch that fantastic game. TMQ is very glad that servicemen and servicewomen and diplomats overseas get a great choice of the most appealing NFL contests -- every year at least one airman or Marine writes me to say that a downside of coming home is he or she will lose the ability to see the best NFL contests! Why not solve this problem, NFL, by expanding choice from other nations to the United States? Consumer choice is the trend throughout the economy, so much so that even the biggest and most powerful companies have given in. Among large commercial enterprises the NFL is nearly alone in insistence that it will shove what it wants down consumers' throats: and that is a formula for professional football to fall from its lofty perch.
This brings us to the real scandal in NFL broadcasting -- not the dispute about NFLN, but that the wonderful Sunday Ticket package, which allows consumers to bypass this problem by paying to see any game, can only be seen by the lucky few with DirecTV. Friends who have DirecTV tell me it's wonderful. But I can't get DirecTV, and millions of others can't either. Anyone who lives around trees or tall buildings cannot on a technical basis receive DirecTV; the phrase "anyone who lives around trees or tall buildings" describes half the United States. For example Bob Crane of Columbia, S.C., a Chicago Bears fan who tried to buy DirecTV, couldn't because the satellite signal cannot be received where he lives. Crane writes, "I was and am still furious that even though I was willing to pay the fee to see my Bears, a monopoly deal leaves me no way to obtain the service."
AP Photo
J. Pierpont Morgan's cartel was busted by Congress. Now Congress should bust the cartel that prevents millions of Americans from choosing for themselves what Sunday NFL game to watch.
The wonderful NFL Sunday Ticket, restricted via NFL cartel arrangement to customers of DirecTV in the United States, is available to any cable customer in Canada, as noted by many frostback readers, including Kevin Heselton of Regina, Saskatchewan. This means Canadians get better access to NFL games, played in stadia funded by American taxpayers, than American taxpayers do. Is there somehow some need for the NFL to forbid all but DirecTV customers from choosing any game -- does this somehow advance the NFL business model? No, because as many international readers including Alex McLeish of Beaconsfield, United Kingdom, have reported, anyone who lives outside the United States can now watch any NFL game live by signing up for a Yahoo! streaming video service. Live outside the United States? The NFL is happy to let you watch whatever game you please. Are you an American whose taxes paid for the NFL's stadiums? Sorry, you are shafted.
In 1961, the pre-merger National Football League received an antitrust exemption from Congress, partly in return for its promise that all game broadcasts would be available equally to all Americans. For a decade, the most desirable broadcast service the NFL offers, Sunday Ticket, has been denied to the majority of Americans who don't or can't get DirecTV, in seeming defiance of the league's promise to Congress. Last year the NFL signed a contract that extends the cartel till 2011, and the reason was simple, DirecTV paid a lavish fee. But DirecTV shouldn't be able to buy something that violates at least the spirit, if not the letter, of the NFL's 1961 promise to Congress. As the new Congress takes its seat, the Senate Judiciary Committee has announced it will investigate NFL dealings with DirecTV. Sure the NFL and DirecTV signed a contract, but it's one that violates a public trust -- and Commissioner Roger Goodell, it will go better for you and the sport if you amend the Sunday Ticket deal on your own terms, rather than waiting for Congress to alter it for you. Unless, of course, you'd rather surrender the NFL's antitrust exemption.
Untouched Touchdown Runs of the Week: No Buffalo defender touched LaDainian Tomlinson on his 51-yard touchdown -- which came against an overstacked rush defense with eight in the box. No defender touched Tomlinson on his 2-yard, game-icing touchdown -- which came against an overstacked rush defense at the goal line. Both runs were off-tackle left behind guard Kris Dielman and tackle Marcus McNeill.
Repeatedly Touched Touchdown Run of the Week: Human bowling ball Maurice Jones-Drew of Jax bounced off half a dozen Dolphin defenders on his way to a game-icing, 32-yard touchdown. Hey NFL defenders, this guy is hard to tackle quit hitting him high and bouncing off, go for his ankles. Miami announced the crowd as a sellout at 73,160, slightly below capacity, but thousands of spectators changed into orange or teal seat costumes around halftime. End zone sections were practically empty by the middle of the third quarter. Miami fans how about being true to your school! Just like you would to your girl, guys! Hmm, maybe Miami fans were being about as true to their team as they would to their girl. (Note: Allusion to the Beach Boys' song, whose original lyric was "just like you would to your girl, guys" and whose PC version is now "just like you would to your girl or guy.")
Sophisticated Analysis of George W. Bush's Body Language Shows He Reacts to the Words "Democratic Congress": My friend and former boss Charlie Peters, founder of the wonderful magazine Washington Monthly, once said most of sociology could be boiled down to producing proof that hungry men want to eat. Last week, the august New York Times (that's the august newspaper, not an August issue) ran a page-one story offering irrefutable proof that as the Giants staged their epic collapse at Tennessee, the expressions of Giants' coaches and players were negative, while Titans' players acted happy! Sideline photographs of Tom Coughlin looking grim and Vince Young smiling were presented as if representing an incredibly scientifically advanced revelation about human nature. More, the Times declared that it had not only looked at some video of Giants and Titans players on the sideline, but presented the pictures for analysis to "Tonya Reiman and Maxine Lucille Fiel, [who] do not know much about football, but are fluent in body language." Reiman and Fiel gave the Times the amazing information that they could tell which team was winning and which was losing just by analyzing who looked happy and who looked sad.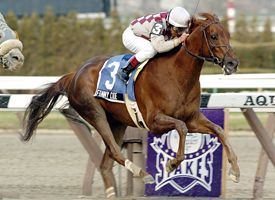 AP Photo/NYRA, Adam Coglianese
The horse's body language suggests existential dread, cognitive dissonance and repressed anger about a man on his back.
According to the Times, Reiman is "a public speaker based on Long Island and has evaluated Terrell Owens." Fiel is "a writer and consultant based in Queens, who has evaluated baseball players, golfers and the racehorse Funny Cide." We're never told what, exactly, it means to have "evaluated Terrell Owens." Nor did the Times tell readers what, if anything, it might mean to have "evaluated" a horse. ("The horse feels conflicted today. He's trying to balance career and family.") According to her Web site, Tonya Reiman is a "body language expert" who can "show you how to unlock the keys to personal success and self-mastery by learning how to read the emotions of others." Setting aside that it is impossible to unlock a key, I evaluated Tonya's performance on The O'Reilly Factor. I feel she was nervous, insecure, overly aggressive and clearly compensating for something. Maybe she worries that she's passing herself off as a "body language expert" when there isn't one single person on planet Earth who doesn't already know that people act uncomfortable when they're under stress and jovial when things are going well. Maxine Fiel calls herself a "body language expert" who is "listed in the prestigious Marquis Who's Who in North America." Who's Who, once an important source of biographical information, has in recent decades become a vanity press. Now you can list yourself, and the publisher then sells you a copy of the volume for $710.
Upcoming New York Times front-page articles:
•Two experts who do not know much about college students use sophisticated analysis of body language to determine that at parties, many college students are thinking about sex.
•Food, drink linked to weight gain.
•Fistfights a sign of anger, experts find.
'Tis Better to Have Rushed and Lost Than Never to Have Rushed at All: Trailing 10-0 late in the third quarter, City of Tampa reached first-and-goal on the Pittsburgh 3. In this situation, the Bucs simply must score. A touchdown is much better than a field goal, but trailing by two scores with a quarter remaining, the Bucs simply must score. Pound the ball three times and a touchdown is likely. Instead pass, interception, and Pittsburgh takes the ball the other way for the icing touchdown. Passing at the goal line can be especially ill-considered because stuffed runs leave the opponent pinned, while an interception in the end zone is a touchback, giving the opponent the ball on the 20, which is where the Steelers took over.
Um, That Was Adequate: Results of the Jets' first-half possessions at Green Bay: field goal, touchdown, touchdown, touchdown, touchdown. Note: For six weeks Jersey/B has been using the no-huddle exclusively, first team in years to do so. Packers' defenders looked unprepared for the tactic.
Capitalism Will Make a Movie About the Hanging of Capitalism: The new movie "Fast Food Nation," which ridicules fast food as a corporate conspiracy, is produced by the cinema division of Rupert Murdoch's News Corp., a multinational. "An Inconvenient Truth," which tells us big corporations are destroying the world, is distributed by Paramount Classics, owned by Viacom, a multinational. Many recent thrillers and action movies depict big corporations as evil, and the movies are produced and distributed by big corporations. Presumably this happens because the evil corporation is a hackneyed cliché of screen writing, and in recent years Hollywood has produced little beyond hackneyed clichés. But consider: Perhaps sinister big corporations have some secret reason for wanting us to think big corporations are sinister.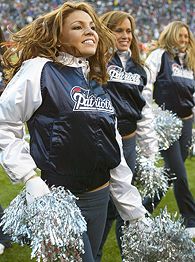 Jim Rogash/WireImage.com
The Patriots won despite overdressed cheerleaders -- plainly, the football gods have decided once again to smile upon Bill Belichick.
Buck-Buck-Brawckkkkkkk: Early in the fourth quarter, uber-underdog Detroit reached fourth-and-1 at the New England 8, leading 18-13. Now it's late, and TMQ's immutable law, Kick Early Go For It Late, dictates going for it. But even more important than TMQ's law -- if such a thing can be imagined -- the Lions are 2-9 and have nothing to lose. Fortune favors the bold! Go win the game! And now they are 2-10. As Detroit's field goal boomed, putting the Lions ahead 21-13, TMQ wrote the words "game over" in his notebook: meaning Detroit's chances were over. From the point of the mincing fraidy-cat field goal to when all-naughts showed for New England's victory, the Patriots staged two long drives for 15 points while the Lions had just seven snaps, and on them turned the ball over three times. As TMQ always notes, when a coach goes for it in situations like this, he tells his team he is challenging them to win. When a coach orders a mincing fraidy-cat kick, he tells his team he assumes they will lose, and wants to limit the margin of defeat.
Kick Early Go For It Late: How did this immutable law do overall this weekend? Game scoreless, the Jets reached first-and-goal on the Green Bay 6 on their first possession, followed the law, kicked early, and cruised to victory. Tennessee trailed heavy favorite Indianapolis 14-0 when reaching fourth-and-5 on the Colts' 7 in the second quarter, followed the law, kicked early, and went on to victory. Then again the Arizona (Caution: May Contain Football-Like Substance) Cardinals prevailed though violating the law -- the Cards went for it on fourth-and-goal from the St. Louis 1 early in the game, failed, yet still won.
Take the Sack! Maybe Jay Cutler will be a fast learner. In the second quarter, Denver leading 10-0, Cutler was under tackle by three Seahawks and instead of just taking the sack -- "take the sack!" all viewers in the Easterbrook household were calling at the screen -- he heave-hoed blindly into the air, interception, touchdown return. Then in the third quarter, Cutler was again hemmed in by three from the Blue Men Group on the same play-fake, looked up, saw he was doomed, and took the sack. So that's progress. But it is unclear how it counts as progress for the Broncos, who entered the game 7-4 and playing at home with the greatest home-field advantage in the NFL, to lose owing to a rookie starter. There's a month remaining in the regular season -- does anyone believe Cutler will be a playoff quarterback in a month? But then, the switch to Cutler by Mike Shanahan might spare Denver the need to work on playoff game plans.
10 Weeks Out of Service To Prevent Those Annoying Hour-Long Repairs: Actual notice recently on the Brookings Institution intranet: "The Otis Elevator Company will be undertaking a complete replacement of the electronic and mechanical equipment that operates our elevators. To do this, one elevator in each building must be taken out of service for 8-10 weeks. After those elevators are back in service, the other elevator in each building will be shut down for the next 8-10 weeks. No doubt this will cause some inconvenience to all of us and, frankly, you won't notice any improvements once the elevators are back in operation. They won't be faster or look any different. But they will be more energy efficient and more reliable." Wait -- they're shutting down the elevators for 10 weeks in order to make them more reliable?
The Football Gods Continue to Repay New Orleans: Reggie Bush scored four touchdowns but lost control of the ball on two of them; running in the clear on another play, he auto-fumbled, losing the ball out of bounds. This is something New Orleans has to correct. Meanwhile the Saints benefited from challenging their own play. Mike McKenzie intercepted and ran the ball back to the San Francisco 1, where he fumbled and the Niners recovered. Saints' coach Sean Payton challenged the ruling, maintaining McKenzie was down by contact earlier in the runback -- and the zebras sided with the home team. In 2005 everything went against the Saints, and in 2006 everything's going in their favor.
Is This Glass Half Toxic or Half Safe? "The cancer-causing chemical dioxin should be cleaned up to a new, much higher standard, the National Research Council said yesterday." -- Washington Post. The National Research Council has found that "Americans exposed to small doses of dioxin, a toxic chemical, may face less risk from cancer than previously believed." -- New York Times, same day. Download the 32-page executive summary and figure it out for yourself.
How Long Until Some CEO Flies in an Entire Personal Airbus 380 to a Conference to Denounce Fossil Fuel Waste? In recent years Tuesday Morning Quarterback has charted both the profusion of corporate-sized jets -- so many that it's becoming difficult for the rich to park their planes at Aspen, Nantucket and other glam destinations -- and advent of the Boeing Business Jet and Airbus Corporate Jet. The BBJ is an entire Boeing 737 converted for the use of a single CEO, government official or plutocrat; the ACJ is an entire Airbus 320 converted for the same purpose. (Both planes normally seat up to 140 passengers.) Governments of mid-sized nations have been ordering BBJs and ACJs for their top officials -- the Czech Republic just ordered three. Aviation insiders call such planes "Air Force One Juniors," intended to stroke the egos of government officials by making them feel so important that they, just like the president of the United States, fly in their own personal jetliner. The Czech Republic has a population of 10 million, about the same as the population of New Jersey: yet its leaders feel the country must have three Air Force One Juniors, so that not just the prime minister but the Foreign Secretary and the head of the Czech military can have an entire jetliner devoted to personal comfort. Privat Air, a European charter company, recently converted a Boeing 757, a larger plane, into a one-person luxury cruiser. It is now for rent to governments -- so that on that special occasion, any country can pretend to have an Air Force One Junior.
It's distressing when CEOs use shareholder money to buy themselves BBJs or ACJs, which can cost $100 million fully fitted with luxury features such as king bed apartments. (Boeing says there are now 88 BBJs in operation around the world, and refuses to disclose the buyers.) It's distressing that spoiled CEOs claim they need entire jetliners to themselves as an anti-terrorism tactic. (Go here, then click "BBJ," then "utility," then "security.") It's distressing that soaring above the clouds in their $100 million shareholder-funded extravagances, CEOs sign memos cutting health care benefits for working people. It's distressing that governments of impoverished nations in Africa have purchased BBJs or ACJs to stroke the egos of their corrupt dictators. But what's really distressing is the latest news: now an entire Boeing 737 converted to the personal use of a CEO is no longer enough! Boeing has begun to market personal 747s and 787s, while Airbus is taking orders for a personal version of the upcoming A380, the world's largest aircraft.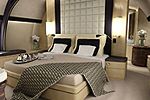 Lufthansa
The CEO's airborne skating rink is just behind the plane's master bedroom suite.
Lufthansa Technik, a German firm that converts planes built as passenger jets into personal luxury skycruisers, says there are now 39 VIP versions of the 747 in the world -- and that's not counting the actual Air Force One, a converted 747, or Air Force Two, the converted 747 that Vice President Dick Cheney absurdly has at his personal disposal. Technik says the VIP 747s cost an average of $230 million each, about $180 million to buy the airliner used and another $50 million to add luxury features. Fifty million dollars to add luxury features. Bear in mind this is only a little less than the price of the most expensive home ever sold in the United States, the Palm Beach estate of billionaire Ronald Perelman, which sold in 2004 for $70 million -- and that 33,000 square-foot mansion covered six acres of valuable oceanfront land. A Boeing 747, one of the world's largest airplanes, normally seats about 400 people. A luxury-refitted 747 has almost 5,000 square feet of interior space, twice the size of the typical American home. Some of the VIP 747s have been converted for corporate use, several are owned by Persian Gulf oil sheiks, and a few have been refitted exclusively for the use a single individual.
Eyeing the growth in flying luxury liner converted from used aircraft, Boeing and Airbus will offer VIP versions of their new 787 and A380 as soon as the planes are flying. The new Boeing 787 Dreamliner, due at airports in a couple years, is expected to sell to airlines for about $180 million and seat 300 passengers. Last month, Technik unveiled its concept studies for a personal luxury 787, expected to cost around $250 million. In Technik's proposed layout, the VIP 787 "master stateroom" has "his and hers bathrooms." There are also "two en-suite guest cabins." More: "The dining and conference room with full communication facilities is a prime feature of the design, highly visible on entering the plane. The centrally located feature dining table seats 10 for elegant and comfortable dining, in fully certified seats. Dinner service is effortlessly carried out from the buffet credenzas on either side of the dining table. Full height wardrobe storage is provided for guest coats and bags. As required, a 42-inch plasma screen can rise up from the credenza to the aft of the dining table. This room can be privatized from the entrance hall and forward lounge by solid sliding doors. The integrated movie theatre is a complete entertainment extravaganza. It is the ideal live entertainment venue as well." Plasma TVs everywhere -- you're going to climb aboard your own private $250 million mega-luxury jet and just watch television?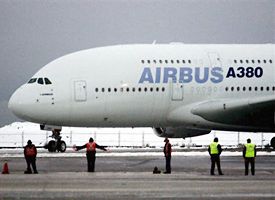 AP Photo/CP, Richard Lam
Send it back. It's not big enough for our CEO's ego.
Most overdone and offensive will be the personal version of the A380, a jetliner designed to carry about 600 passengers. The personal version will be called the VVIP380 and will sell for $400 million or more, depending on the level of interior luxury. Technik says it expects at least 10 VVIP380s will be purchased, and implies most will be bought by oil sheiks. Because the A380 has two decks, in a corporate-jet version, one entire deck would be reserved for the CEO, the other deck for underlings. Go here and have a look for yourself. Airbus calls the proposed plane "a flying palace."
At Happy Hour in Hell's Sports Bar, There's No Cover Charge -- But You Can't Leave: Hell's Sports Bar has 28 wide-screen plasma TVs, and on Sunday they all showed St. Louis getting steam-cleaned at home by Arizona. For the highlight program, all 28 screens in Hell's Sports Bar showed nothing but, over and over, Green Bay attempting a field goal when trailing 31-0.
Houston Texans Sack-O-Meter: Houston won 23-14 -- and the Texans had minus-five yards passing.
Huh? What? When the Falcons-at-Redskins collision ended, Fox could have switched to the red-hot conclusion of Lions-at-Patriots, a Fox-rights game. Instead the network switched to the final minute of Arizona-at-St. Louis, a woofer pairing and a game where the Cards led 34-13 anyway.
AP Photo/Orlin Wagner
They'd be even more healthful and delicious deep-fat fried.
Wacky Food of the Week: Darren Staley of Millers Creek, N.C., notes that deep-fried sweets are the rage at state and county fairs. According to a recent Los Angeles Times article by David Pierson, deep-fried Twinkies and deep-fried Oreos were a hit at this summer's Los Angeles County Fair. Pierson added, "At the State Fair of Texas, known for introducing the first corn dog in 1942, a vendor who won the best taste category last year for his deep-fried peanut butter, jelly and banana sandwiches has stolen headlines again this year for inventing deep-fried Coke. Other items making the rounds include deep-fried macaroni and cheese, deep-fried spaghetti and deep-fried cosmopolitans -- a pastry filled with cheesecake and topped with cranberry glaze and a lime wedge." Deep-fried Coke turns out to be a frying batter based on Coca-Cola. Don't the sponsors of county fairs want their patrons to survive to return the next summer?
Oh Ye Mortals, Trifle Not with the Football Gods: Halfway through the 2005 season, Willis McGahee was leading the league in rushing, and pronounced himself "the best back in the NFL." Since that moment, McGahee has rushed for 1,125 yards and scored four touchdowns, while LaDainian Tomlinson had rushed for 2,058 yards and scored 40 touchdowns. On Sunday, Tomlinson and McGahee met, LT/2 outrushing Willis by 152 yards. Note: Two weeks ago, TMQ called San Diego "the team to beat" in the NFL. Since then, the Bolts have barely bested Oakland and Buffalo.
TMQ's Christmas List: Worried that your dog isn't watching enough television? For Christmas, get Rover the Dog Tales a video designed to be watched by canines. The images contain no reds, which dogs can't see. The manufacturer advises owners whose dogs are alone all day to leave the television on with the video playing on continuous loop. For yourself, how about this attractive electronic head massager.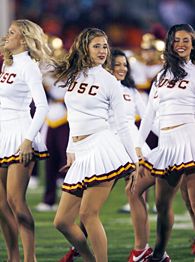 Aggie Skirball/WireImage.com
Some blame the BCS computer, others blame Pete Carroll being overconfident. Here are the true culprits.
Blame the Song Girls! In Florida and Michigan they must have stared at their television screens in disbelief, then leapt for joy. Not because of the ending of the USC-UCLA game, rather, for the second-to-last play. The Bruins faced fourth-and-5 on their 25 with 13 seconds remaining, the heavily favored Trojans out of timeouts and needing a touchdown to seal their invitation to the BCS title game. At that point USC had one, and only one, hope: Block the punt. Yet not only did Pete Carroll not send at least eight men -- and TMQ's law of punt blocks holds that you must send eight to block a punt -- Carroll sent only six! Four others peeled back toward the return man. The USC coach wagered that his team was more likely to return a punt the length of the field than block a punt with an all-out rush. Boom went the punt to the Trojans' 12, and boom went USC's BCS championship hopes.
Traditionalists might say UCLA simply played better, but reader Ryan Gray of Los Angeles has the true explanation: USC's renowned Song Girls caused the defeat. Gray notes in mid-November as the Trojans defeated Cal, clinching the Pacific-10 title, the Song Girls danced with roses, symbolizing the Rose Bowl. Before the BCS system, a Pac-10 title did confer a Rose Bowl trip, and in those days it was appropriate for the Song Girls to dance with roses at the moment the title was won. But not only does the BCS system scramble who goes where -- more important, as Gray pointed out in an e-mail two weeks ago, this year at the moment USC beat Cal, the only way the Trojans could end up in the Rose Bowl was if they lost one of their two remaining games, to Notre Dame or UCLA. Which is what happened. Rather than play for the BCS crown, Southern Cal is now Rose Bowl-bound. Blame the cheerleaders -- they are the ones who used their beauty and wiles to beseech the football gods with roses!
BCS note: Sportscasters insist on saying its formula is a mix of computer numbers and "human polls." Once again the Klingons aren't consulted on an important matter! No wonder by the 23rd century they will be embittered against the United Federation of Planets. Can't we just say "polls?" Humans are, at this early stage in history, the only life forms known to engage in polling.
Small Guy Plays Tall: Last Friday night, Spenser and I went to watch Sherwood High at Northwest High in the Maryland 4A semifinals. I don't know any kids or parents at either school, but wanted one last look at Deontay Twyman of Sherwood, Maryland's best prep player for the past two years. I assumed it would be a last look because Sherwood is an undersized team, and Twyman is an undersized player, a 6-foot 170-pound quarterback; Northwest was a heavily favored, undefeated powerhouse with several enormous D-I prospects. Plus the wind was whipping at 30 mph, sure to neutralize Sherwood's pass-oriented attack Twyman has 78 career touchdown passes, a huge number for a high school quarterback who plays against big-school competition. Anyway, Twyman has been such a magnificent prep athlete, I wanted to watch him one more time. It turned out not to be his final game, as visiting Sherwood prevailed with Twyman putting on one of the finest one-man shows I've ever seen in sports. He threw through the wind for a touchdown and several key first downs, while Northwest's more-publicized quarterback heaved interceptions; Twyman, a passer by nature, took off running again and again when the wind gusted, rushing for three touchdowns; he executed a key fake punt; he recorded several big hits at safety. A dozen times this player made something out of nothing under a heavy rush, repeatedly causing Spenser -- who's already a little jaded about football -- to say "Wow!"
Peter Aiken/WireImage.com
We promise not to make any something-in-your-stocking jokes about these outfits.
Yet Twyman has received no D-I scholarship offer owing to his stature. This coming Friday night, Sherwood plays for the Maryland state major-school championship against Suitland, another local power, at M&T Bank Stadium, the Ravens' home. College scouts, attend this game! Deontay Twyman might be only 6-foot-0, but I've seen few players in my life with his combination of athletic ability, football IQ and total determination. He could be a star if he was 5 feet tall.
Obscure College Score of the Week No. 1: Massachusetts 24, New Hampshire 17 (Division I-AA playoffs.) Located in Durham, N.W., the University of New Hampshire has an 8,361-word parking policy. The United States Constitution is 4,400 words. Check Article XII, Section III of the University of New Hampshire parking policy for some of the silliest empty verbiage you will ever behold.
Obscure College Score of the Week No. 2: Northwest Missouri State 28, Chadron State 21. (Division II playoffs.) Located in Chadron, Neb., Chadron State has a 28-page faculty evaluation manual.
Obscure College Score of the Week No. 3: Saint John Fisher 31, Rowan 0. (Division III playoffs.) Located in Glassboro, N.J., Rowan University was once called Glassboro State, but in 1992 changed its name in recognition of a gift of $100 million from Henry and Betty Rowan. The school's newspaper is called The Whit. A "whit" is something negligible.
Reader Animadversion: Got a complaint or a deeply held grievance? Write me at TMQ_ESPN@yahoo.com. Include your real name and the name of your hometown, and I may quote you by name unless you instruct me otherwise. Note: giving your hometown improves your odds of being quoted.
Next Week: Following the lead of William & Mary, Rowan University renames itself Henry & Betty.
In addition to writing Tuesday Morning Quarterback, Gregg Easterbrook is the author of "The Progress Paradox: How Life Gets Better While People Feel Worse" and other books. He is also a contributing editor for The New Republic, The Atlantic Monthly and The Washington Monthly, and a visiting fellow at the Brookings Institution. Sound off to Page 2 here.