By Gregg Easterbrook
Special to Page 2
Once again the NFL is hurtling toward weak teams reaching the playoffs while strong teams clean out their lockers for next season. This isn't funny -- and the solution is to make the NFL postseason a seeded tournament. What would happen if the NFL postseason was a seeded tournament? Games would be better and public interest would increase, that's all.
Last season 11-5 Chicago enjoyed a first-round bye and then played at home, while 12-4 Jacksonville got no bye and opened on the road. In 2004, three winning teams -- Baltimore, Buffalo and Jacksonville, all 9-7 -- were shut out of the playoffs while two 8-8 teams, Minnesota and St. Louis, were invited. In 1999, two 8-8 teams, Dallas and Detroit, made the postseason while a 9-7 team, Kansas City, did not; also that season 11-5 Buffalo opened on the road while 10-6 Washington opened at home. These examples could go on and on. The NFL playoff structure, with an automatic slot for each division winner and two wild cards per conference regardless of overall records, does not do what the NFL is supposed to be all about -- reward performance on the field. Almost every season, at least one team is rewarded in playoff terms for sheer luck regarding what conference or division it is in, while another that has performed better on the field is told to take off its Ace bandages and turn off the locker room lights until July. A seeded-tournament postseason format would change this.
Consider what we're hurtling toward this season. One or maybe even two 8-8 teams might make the playoffs from the NFC, while from one to several 9-7 teams could fail to advance from the AFC. It's not out of the question that an 8-8 team will reach the playoffs while a 10-6 team is told to disband. And if you're an NFC aficionado, remember this setup is as likely to hurt you as help you: in seasons when the NFC is strong, the current playoff format penalizes that conference while granting favors to weak teams in the AFC. If the season ended today, New Orleans at 9-5 would get a bye, while Baltimore at 11-3 and New England at 10-4 would play in the first round. With two weeks remaining it is possible San Francisco could win its division and play host to a home playoff game at 8-8, while it is impossible for Denver to open at home even if it finishes 10-6. A seeded-tournament format would ensure that the teams with the 12 best records advance to the playoffs, the teams with the four best records get a bye, and the teams with the eight best records open at home. Isn't ensuring that the best teams advance in the interest of the NFL?
Yes, there is tradition and sentiment attached to the league's divisions, and the division winner must receive a playoff slot or divisions lack meaning. But at the very least, the NFL could switch to a league-wide wild-card format. Under such a system the eight division winners would advance as they do now, while the four wild cards would be the four next best teams, regardless of conference. That's what a wild card is supposed to be for, after all -- to find places for teams that played well but were stuck behind a superior club in their division. As it is now, the wild-card format is a quota plan for the conferences: Each is assured of two extra slots regardless of performance. Once the season ends, I'll calculate what the playoffs would have looked like under a seeded tournament and under league-wide wild cards -- and I'll wager in advance that the pairings in either scenario would be more attractive than what we're likely to get from the current system.
NFL: Changing the playoff format to reward the best teams could only cause interest to increase! If you have further doubts, my closing argument: The NCAA men's basketball bracket. No postseason in any sport is more exciting, and it is a seeded tournament.
---
"Coach, can you see the scoreboard?" Often TMQ wants to holler this at coaches who seem oblivious to the big shiny numbers on the Jumbotron. Carolina trailed Pittsburgh 17-0 and had second-and-10 on the Steelers' 19 with seven seconds remaining in the first half, holding one timeout. John Fox ordered the field goal. Sure, kick early go for it late -- unless you're way behind and a loss ends your playoff hopes! With seven seconds and a timeout, a shot at the end zone was realistic. OK, so it's 17-3 at intermission. Flash forward to the end of the third quarter. It's Pittsburgh 20, Carolina 3 and the Cats face fourth-and-2 on their 25, the home crowd roaring at fighter-jet-afterburner decibels. Remember, a loss all but ends Carolina's season. In trots the punting unit -- and I scarcely even need tell you Pittsburgh took the ball the other way for a touchdown that made the lead 27-3 and caused TMQ to write the words "season over" in his notebook about the Cats. Wait, there's more! Now it's 27-3 in the fourth quarter, and Carolina faces fourth-and-16 from its own 13. Sure that's a long down, but you trail by 24 points and the greatest fourth-quarter comeback in NFL history was from 25 points. You've got to go for it! Carolina punted and the football gods, outraged, allowed the Steelers to return the punt for a touchdown. You're 6-7 and a loss all but concludes your season, why aren't you going for it? Now you are 6-8 and your season is over.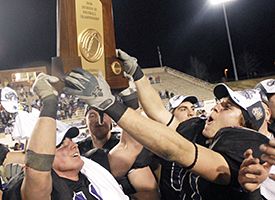 Don Petersen/AP Photo
At the non-bowl levels, someone actually wins the championship.
In college news, the NCAA wants us to stop saying "Division I-A" and "Division I-AA," instead saying "Football Bowl Subdivision" for Division I and "Football Championship Subdivision" for Division I-AA. Scholarship athletes are getting A's for classes they never attended at Auburn, but this is what the NCAA Board of Directors is wasting its time on! Supposedly this exercise in euphemism was triggered by I-AA schools feeling the AA suggested they were of lesser status. To me it always just made them sound like batteries. Anyway, many colleges that play AA football -- the Ivies, Bucknell, Colgate, Davidson, William & Mary -- are of substantially higher quality and status than the bowl-eligible crowd. From my standpoint this name change is Division I-AA doing Division I-A a favor by lending it prestige, not the other way around.
Also, note how the new euphemism moves the word "championship" away from the biggest schools. While the BCS system isn't exactly a part of the NCAA, the two exist symbiotically: The football-factory conferences rely on the NCAA to ensure they maintain control of money flow to the major bowls, and money flow is far more important to the football-factory conferences than choosing a true national champion. Which is what Division I-AA does, and congratulations to Appalachian State University of Boone, N.C. So the new euphemism -- which the NCAA itself isn't yet using -- in effect makes it official that the bowl system does not even attempt to determine a national champion. At least now that's official!
In Brett Favre news, Green Bay had four red-zone possessions against woeful Detroit, and Favre did not record a touchdown pass. Now he has two games this season in which to throw eight touchdown passes to take over the all-time career record from Dan Marino. From the Lions' 5-yard line, Favre threw incomplete, then the Packers kicked a field goal. From the Lions' 14, Favre threw an interception. On a Packers' first down on the Lions' 14, Favre did not throw and a running play scored a touchdown. On a first down on the Lions' 12, Favre threw incomplete, then threw incomplete again, then threw an interception. Bottom line? Favre had five passing attempts close to Detroit's goal line, resulting in two interceptions and three incompletions. On the fourth red-zone possession, Favre appeared nervous, aware his shot at the record was slipping away. You could almost see him thinking, "I've passed so many tests, just one more, just let me pass one more and I can be content." But after all Favre has been through and accomplished, to become anxious about this final test seems mistaken. Brett and his coaches should just accept that he won't get this record, and try to make what might be this great player's final two games as relaxed as possible. Yes, it would be tremendous fun for Favre to finish as the all-time leader for touchdown throws, but that was always up to the football gods, wasn't it?
In other news, what's the best thing to happen to the Buffalo Bills since Jim Kelly and Bruce Smith? Their former coach Mike Mularkey went to work for the Miami Dolphins; see below. And rest easy previous holders Jersey/A, San Francisco and Tennessee -- the Seattle Seahawks have put on the mantle of Tuesday Morning Quarterback's Single Worst Play of the Season So Far. See below, too.
Christmas falls on a Monday this year, so there will be no TMQ next week. The column resumes on Jan. 2. Tuesday Morning Quarterback sends holiday best wishes to all space aliens, mega-babes and football enthusiasts. Bells are ringing all across the local star cluster!
Stat of the Week No. 1: Buffalo and Tennessee opened a combined 4-12 and since have gone a combined 10-2.
Stat of the Week No. 2: The Giants and Panthers are on a combined 1-9 streak. The only victory came when they played each other.
Stat of the Week No. 3: The NFC South is on a combined 0-10 streak.
Stat of the Week No. 4: New Orleans lost, and clinched its division title.
Stat of the Week No. 5: Florida's Bucs and Dolphins are a combined 3-10 at Buffalo and Chicago in December.
Stat of the Week No. 6: Chris Weinke is 1-17 as a starter.
Stat of the Week No. 7: Romeo Crennel is 1-11 in the division as the Browns' head coach.
Stat of the Week No. 8: Arizona has never beaten Denver.
Stat of the Week No. 9: Miami won 21-0 last week, and this week lost 21-0.
Stat of the Week No. 10: The Colts' first six possessions on Monday night: field goal, touchdown, touchdown, turnover on downs, touchdown, touchdown.
Tennessee Titans
Amy will cheer as soon as you satisfy your deductible.
Cheerleader of the Week: Derek Swarz of Welland, Ontario, nominates Amy of the Titans. According to her team bio, Amy is studying for a master's in exercise physiology, works as a claims adjuster for State Farm Insurance, and her biggest fear is storms. Amy, if you're afraid of storms, perhaps insurance adjusting is not your ideal occupation. Insurance companies might be less stuffy if they employed cheerleaders. Here are insurance cheers:
Tote that barge, lift that bale, in six to eight weeks we'll put your check in the mail!
House destroyed by natural causes? You're not covered! Next time read the clauses!
RE-ject, RE-ject!
Ontario note: As a boy I whiled away happy hours watching ships squeeze through the Welland Canal. Although the official Web site of the Welland Canal admits this engineering structure is "not as well known as the ancient Egyptian Pyramids," check the site to blow a container vessel's horn and see a lock-operation simulator. Use this utility to track the movement of ships through the Saint Lawrence Seaway.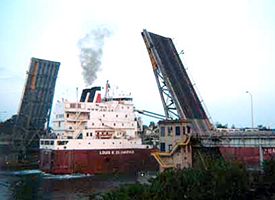 WellandCanal.com
The Welland Canal is not as impressive as the Pyramids. On the other hand, we're reasonably sure aliens did not build it.
Sweet Play of the Week No. 1: Philadelphia led 29-22, and Jersey/A had first-and-10 on its 20 with three minutes remaining. The Eagles showed what appeared to be a seven-man megablitz, but actually was a five-man zone blitz -- a defensive back and a linebacker rushed from the offensive right, while defensive end Trent Cole dropped into coverage on the offensive left. The zone blitz has two virtues. First is the well-known virtue that the offensive line might become confused about where the rush is coming from. The second virtue is little-known. When a quarterback reads blitz, he might look for a "hot" receiver in one of the areas that blitzers have vacated. But on a zone blitz when a defensive lineman drops into coverage, the hot receiver might have company instead of being all alone. Indeed, the fact that zone blitzes create uncertainty in the quarterback's mind about where it is safe to unload the ball is central to making the zone blitz effective. At any rate, Eli Manning thought it was an all-out blitz, and assumed the hot man left would be all alone. Instead Cole was there, made the interception and returned it for the icing touchdown. Just as offensive coordinators get complimented for well-designed plays, this was a sweetly designed defensive look by Eagles D-coordinator Jim Johnson.
G-Persons note: After becoming furious last winter when Tiki Barber criticized him after a game, Tom Coughlin continues to criticize Eli Manning in public after every loss. The quarterback's psyche is essential to football success. Be it right or be it wrong, Little Brother is the quarterback the Giants chose. Coughlin constantly denouncing his own quarterback in public is self-destructive for the Giants, plus just plain stupid on Coughlin's part. He can be replaced in the offseason a lot more easily than a first-overall drafted quarterback.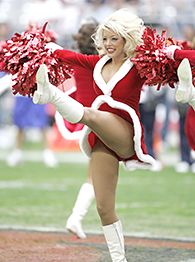 Mike Moore/Wireimage.com
Surely the football gods were appeased by these outfits -- but then, even the football gods can only do so much for the Arizona Cardinals.
Sweet Play of the Week No. 2: Jay Cutler won for the first time, making the Broncos 1-2 since The Ultimate Leader decided to change horses midstream during a playoff run. TMQ remains suspicious of the strategy. Remember, playing in Once It Was Called Mile High Stadium is the greatest home-field advantage in football -- and as of Sunday when San Diego clinched the AFC West, it became impossible for Denver to open the postseason at home. Change one of the Cutler losses and the Broncos' position might be much stronger. But check Cutler's 54-yard touchdown pass to Javon Walker. The rookie released the pass from the Denver 36, and Walker caught the ball at the Arizona (Caution: May Contain Football-Like Substance) Cardinals' 2, meaning the ball was in flight 62 yards. When John Elway was in orange, scouts and touts used to marvel at his ability to throw an accurate pass 70 yards. Now it's only Jay Cutler's third start and he has shown the same basic gift.
Sour Play of the Week No. 1: Trailing 24-10, Jacksonville faced fourth-and-goal on the Tennessee 1 with eight minutes remaining. The Jaguars have the league's second-highest ranked rushing attack; on the day, they average 5.1 yards per run attempt; three-quarters of NFL rush attempts on fourth-and-1 succeed. So did they pound the ball? Incompletion, and on the low-percentage jump-ball fade pattern to boot. 'Tis better to have rushed and lost than never to have rushed at all!
Sour Play of the Week No. 2: Dallas leading 7-0, Atlanta had second-and-10 at the Cowboys' 49 on the first snap of the second quarter. Michael Vick sprinted backwards all the way to his own 38 before heave-hoeing a crazy pass that was intercepted and returned for a touchdown by DeMarcus Ware. TMQ has asked this three times and will ask it a fourth: Why do Atlanta coaches have Vick running backward so much? The Falcons are sinking slowly into the sunset, and nearly all their calamity plays this season have come with Vick racing backward. Vick is the NFL's best running-quarterback threat since Randall Cunningham. When Vick executes conventional sprint-outs, he is devastating. On the conventional sprint-out, Vick is close to the line and can take off running; if the defense comes up to honor the run, then Vick throws. When Atlanta coaches tell Vick to race straight backward -- he often appears to be executing an eight-step or even nine-step drop -- Vick retreats away from the line and surrenders his running threat, while having to throw off his back foot falling backward, which is a recipe for fiasco. Now it's Dallas 31, Atlanta 28 with nine minutes remaining, the Falcons facing third-and-3 in a game in which they rushed for an average of 4.7 yards per carry. Did Atlanta power-run? Did Vick sprint out? Atlanta coaches called a shotgun formation. Vick raced backward, then threw incomplete; as the punt boomed, TMQ wrote the words "game over" in his notebook. Why do Atlanta coaches have Michael Vick running backward so much?
Sweet 'N' Sour Play No. 1: Game scoreless, Buffalo faced second-and-16 on the Miami 33. Blocking tight end Robert Royal, who has poor hands and rarely runs anything more than a short turn-out, took off deep downfield on a fly. He was supposed to lure a safety away from the intended receiver. J.P. Losman looked, looked left and seeing no one open, snapped back right and threw a 33-yard touchdown to Royal for the longest reception of the tight end's five-year career. Sending a guy who's never caught a long pass straight up the field on a fly pattern was sweet. Sour: Miami's defense totally ignored Royal, the corner on that side just watching him go by and covering no one, both safeties ignoring him. Hey, he's got bad hands, but nobody is that bad! Ignoring a deep receiver was sour. And we don't wish to alarm you, but Buffalo has won five of its past seven games -- with the only losses to Indianapolis and San Diego by a combined margin of four points.
Sweet 'N' Sour Play No. 2: Tom Brady flipped a screen to Kevin Faulk, who went 43 yards for the touchdown, a 17-0 Flying Elvii lead and the rout was on at Next One Will Have Seven Moisture-Sensitive Vibrating Heated Titanium Blades, Make Espresso, Raise Llamas, Monitor Atmospheric Pressure on the Moons of Meepzor, Improve Your Love Life and Play a Constructive Role in the Middle East Peace Process Field. It was a weakside screen and three offensive linemen -- Dan Koppen, Matt Light and Logan Mankins -- all got out in front of Faulk. That was sweet. But none of the linemen had to hit anyone because no Texan was in the picture for almost the entire run. That was sour. The Steelers' offensive line also blocked well on the screen pass touchdown to Najeh Davenport that turned the Carolina-Pittsburgh game into a rout.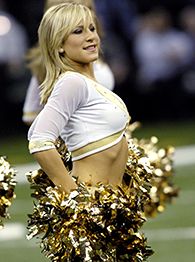 Steve Franz/Wireimage.com
The football gods frowned on the Saints' cheerleaders lack of naughty-elf outfits.
Sweet Tactics: It's the week before Christmas, and football pundits are expressing shock that the New Orleans Saints lost a game. ESPN fact-checking department, please confirm that we have not fallen into an alternate universe. The underachieving Washington Redskins' defense was stout at the Superdome, and one reason was smart tactics. Unlike recent Saints' opponents, the 'Skins did not go all-out to stop Reggie Bush, rather, tried to take away the Saints' other options -- and it worked. The contest seemed another argument for turning off the scoreboard. By the second half, Saints' players knew from the scoreboard that Carolina was getting steam-cleaned by Pittsburgh, meaning New Orleans would make the playoffs win or lose. And you sensed that during the week, Drew Brees had been reading the newspapers and listening to sports-talk radio, wondering if he will get the league MVP. Drew, that always has been up to the football gods.
Monday Night Football Analysis: So it's Indianapolis 24, Cincinnati 13 midway through the third quarter and the Colts have second-and-goal on the Trick or Treats' 1-yard line. On a night Marvin Harrison has already caught two goal-to-go touchdown passes, from the 4 and the 3. To that point, Marvin Harrison had caught 118 touchdown passes overall, best of any active player and third-best in NFL annals. Earlier this season at New England, Harrison caught a short, goal-to-go touchdown pass, and twice in other games earlier this season Harrison caught touchdown passes when the Colts had a short goal-to-go situation. So where, oh where, might Peyton Manning throw? Maybe to Marvin Harrison! Yet Harrison was single-covered, and badly so: Touchdown, and the rest was filler.
Cincinnati's inability to cover a 6-foot, 185-pound man in a very small area at the goal line was emblematic of a TMQ theme -- that even with NFL clubs having dozens of coaches and scouts earning many millions of dollars and doing nothing but football full-time, teams fail to notice really basic stuff. Three times on "Monday Night Football" the Colts faced short goal-to-go situations, all three times Manning threw quick slants or quick fades to Harrison exactly as they have done all season in this situation, and all three times Cincinnati was in the wrong defense. All three times, no one jammed Harrison at the line. Harrison is a little guy by NFL standards and hates to be jammed; his worst games have come against the bump-and-run. Jamming Harrison at midfield is risky because he might get deep, but where is the risk in jamming at the goal line? All three times, the league's leading active touchdown receiver was single-covered at the goal line while at least two (on one play, four) Bengals defensive backs and linebackers stood like topiary, covering no one at all. And all three times the corner across from Harrison -- Deltha O'Neal, a highly paid former Pro Bowl gent -- at the snap backpedaled. It's the goal line, don't give ground! All Harrison needs is to run two yards and turn! Which is all he did, three times, resulting in three touchdowns.
Even with NFL Clubs Having Dozens of Coaches and Scouts Earning Many Millions of Dollars and Doing Nothing but Football Full-Time, Teams Fail to Notice Really Basic Stuff: Now it's Indianapolis 31, Cincinnati 13 early in the fourth quarter, and the Bengals face fourth-and-7 on the Lucky Charms' 10-yard line. A really basic thing you should know about the Colts is that they score a lot. That means you've got to score a lot to beat them. Here Cincinnati trails by 18 in the fourth quarter. A field goal makes the margin 15 -- which might be overcome, but only if you prevent the Colts from scoring again in the game. Up to the point of this decision by Marvin Lewis, the Colts had scored on five of six possessions while recording 23 first downs. Is there any reason to think their offense will suddenly lurch to a dead halt? So you've got to try for the touchdown here; getting a touchdown at this juncture was Cincinnati's sole hope of a comeback. Boom goes the field goal, and the Bengals never threatened again. It was obvious at this juncture that Lewis was more concerned with containing the margin of defeat than going all-out to win. Want another example? Trailing 31-16 with 11 minutes remaining, Lewis had the Bengals punt from midfield. When it was 34-16 with 16 seconds remaining and it did not matter in the slightest whether Cincinnati tried for the first down or started square dancing, then Lewis went for it.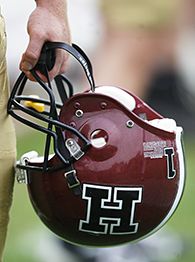 Jim Rogash/Wireimage.com
It costs $158,000 a year to put a head into this?
Harvard Course: Fuzzy Math 101: As higher education grows ever-more expensive and essential to success, the price of a bachelor's degree is becoming a barrier to social equality. Recently Harvard, which charges an actual-cost average of $36,115 per year to undergraduates, said it would charge nothing at all to children from households earning less than $50,000 a year. Other elite schools are making similar pledges, while Princeton recently converted all financial-aid loans into grants (discounts), making college more affordable for average families. These are good developments. My question: Why does anyone pay to attend Harvard? At the end of fiscal 2006, Harvard's endowment, richest in education, hit $29 billion, which exceeds the gross domestic product of Costa Rica. Federal law requires that endowments and philanthropies give away at minimum 5 percent per year, so the Harvard endowment must release to Harvard at least $1.5 billion through the current fiscal cycle. That's $79,000 per student, combining undergrads and graduates. Swarthmore College recently told the New York Times its full annual spending (payments for attendance, plus endowment and foundation income) is $73,000 per student. Harvard has higher expenses than Swarthmore because it operates research-center facilities and a medical school, but Harvard also receives many millions of dollars annually in federal research and medical funding that Swarthmore and similar liberal-arts colleges don't receive. So if the Harvard endowment will throw off more per student this year than Swarthmore spends in total per student, why is Harvard charging anything to attend? Harvard asserts its expenses this academic year will be $3 billion, which works out to $158,000 per student. That's the expense Harvard claims per student per year, not per four-year degree. One wonders where all this money is actually going.
College names note: Stanford is often called the Harvard of the West, Davidson is widely known as the Harvard of the South. Why doesn't someone found a new university and actually name it The Harvard of the West?
NFLN Update: Maybe the football gods don't want Thursday night games! Startup NFL Network has now broadcast four Thursday night contests, and 15 of the 16 quarters have been among the league's most sleep-inducing of the season. Only the final quarter of San Francisco at Seattle was interesting, and my guess is even those households that get NFLN switched off when Niners-'Hawks was a lively 7-3 at the end of the third.
Diehards who stuck around beheld the dénouement of one of the worst displays of overconfidence in pro sports history. Seattle entered the contest as a heavy favorite over San Francisco and expected to clinch the NFC West before its noisy home crowd. But the Blue Men Group started acting like they'd already won when they did not even hold a secure lead. Game scoreless, Seattle punted from the San Francisco 43. Leading 7-0, Seattle punted from the San Francisco 40 and then later punted from the San Francisco 36, as if there were no need to press the case and score more. Three punts in opposition territory in a single half! The Seahawks should have moved aggressively to knock the Niners down. Instead Seattle kept passively punting in the maroon zone, and the Squared Sevens hung around. Now suddenly it's San Francisco 10, Seattle 7 early in the fourth quarter. The home team had third-and-1 on the visitor's 27 and was stuffed on two straight runs -- though the Niners' defense allows an average of 4.2 yards per carry. The Seattle offensive line, among the league's best in 2005, barely seemed to lean against the Niners' front on both these embarrassing plays. To top it off -- well, see below.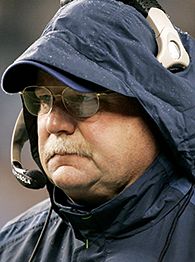 Larry Maurer/Wireimage.com
He's not afraid to face 52-degree weather.
As recently as a few years ago, TMQ drummed on the immutable law, cold coach equals victory. I gave numerous examples of how, in bad-weather games, the coach who overdressed in a ridiculous K2 mountaineering parka inevitably was defeated by the coach in a varsity jacket or light coat. My arguments were so persuasive that NFL coaches have since almost entirely shunned super-heavy winter wear: Tuesday Morning Quarterback might not have made a dent in the obsession with punting when behind, but I've convinced the pro football world that cheerleaders shedding attire and coaches shunning heavy coats are keys to victory. In the San Francisco at Seattle contest, however, Mike Holmgren committed what's now a relatively rare violation of TMQ's law of cold coaches. Kickoff temperature 52 degrees with rain and light wind, Nolan the Younger trotted onto the Niners' sideline wearing varsity jacket and baseball cap. Holmgren came out in what appeared to be a North Sea oil-rig workers' survival suit -- heavy parka, heavy insulated pants, outsized hood pulled over his head. Mike, it was 52 degrees! (The Pacific Northwest storm of last week did not reach Seattle until after midnight.) As the broadcast began and I saw what the coaches were wearing, I said, "The Niners can win this."
Law of the Other Shoe: TMQ's immutable Law of the Other Shoe holds that when something goes badly wrong on one play, usually involving a turnover or change of possession, something often goes badly wrong on the next play too, especially if the defense has unexpectedly come onto the field. San Diego leading 7-3, Kansas City blocked a punt; a Chief touched the ball beyond the line of scrimmage, a Bolt fell on the ball. Officials initially ruled it Kansas City ball on the San Diego 15, thinking a blocked punt must belong to the receiving team. But a scrimmage kick touched by the receivers beyond the line of scrimmage is a live ball; zebras corrected the ruling and gave San Diego first down on its 15. The Chargers had benefited from having their punt blocked! Kansas City's dispirited defense failed to take into account the Law of the Other Shoe -- on the next snap, LaDainian Tomlinson ran 85 yards for a touchdown.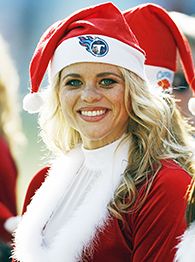 Rich Gabrielson/Wireimage.com
Jacksonville's strategy was a Christmas gift to Tennessee fans.
Jax Agonistes: Favored Jacksonville staged an epic meltdown at Tennessee, allowing a 92-yard fumble return touchdown and interception return touchdowns of 83 and 61 yards. You don't see many games in which a team outgains its opponent by 298 offensive yards and 18 first downs, holds the opponent's offense to a field goal, and loses. But return yards count just as much as offensive yards, and when you factor in return yards, Jacksonville gained 521 total yards to Tennessee's 468 total yards, which spells a close game, exactly what the final score showed. What's really infuriating about those three long Flaming Thumbtacks' returns is that because they were so long, they came with the Jags positioned to score. Jacksonville turned the ball over from the Tennessee 16, 27 and 47. Two of David Garrard's turnovers were cover-your-eyes awful -- a careless fumble on the Titans' 16 when just getting on the ground likely would have been followed by a field goal and a Jax lead, a crazy interception heave-hoed into coverage when the Jaguars were only down by seven points with a quarter to go. Jax has now beaten Dallas, Indianapolis, both Jerseys, Philadelphia and Pittsburgh while honking to Houston twice and to Tennessee. The Jaguars' defense is third-best in points allowed, the Jaguars' offense is second-best in rushing -- how can this team overall still be so unimposing? This team just does not pay attention, and lack of focus starts at the top.
Note: Everyone raced to the stat sheets to check Tennessee's return yards. A long-standing TMQ complaint is the nutty record-keeping of the NFL's official game books. Check the game book for this contest. In the game totals, one subject area is headed, "total return yardage (not including kickoffs)." Huh? So then it's not the total. But even if you add kickoff yardage, you still don't get the total -- you must go separately to the "fumbles" heading and see if any fumble return yards are noted. Why doesn't the "total return yardage" stat line simply list total return yardage?
Two Out of Three Ain't Bad: "It's a touchdown!" I sometimes proclaim this when I see a quarterback confidently plant his feet and confidently launch a deep pass. I figure the quarterback's confident body language means he sees an open receiver deep. Jason Campbell of the Redskins and Kyle Boller of the Ravens both hit deep touchdown passes Sunday on plays on which they confidently planted and confidently threw, causing your columnist to say "It's a touchdown!" as the ball took flight. On the other hand, in the fourth quarter Drew Brees confidently planted and confidently threw an interception directly to Carlos Rogers of Washington.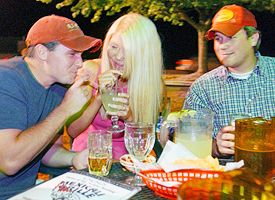 AP Photo/Jeff Blake
You only got the horseradish pomegranate margarita? Next time try the frozen horseradish pomegranate margarita.
Wacky Margarita Watch: Reader Miles Pittman notes the New York Times food section recently ran the below recipe for a horseradish pomegranate margarita:
1/3 cup fresh horseradish, peeled and chopped


1 cup silver (blanco) tequila


½ ounce Cointreau


¾ ounce fresh lime juice


½ ounce pomegranate juice


¼ ounce simple syrup.

1. In a bowl mix horseradish with tequila and let mixture sit for 24 hours. Strain through cheesecloth.

2. Pour 1½ ounces horseradish-infused tequila and all other ingredients into a cocktail shaker. Fill shaker with ice and shake it vigorously for 6 seconds. Add ice cubes to an old-fashioned glass and pour drink over them.
The Times left out the final step -- "Pour mixture down drain."
The Football Gods Promised an Investigation: Speaking of football on television, I don't think there's been enough of it! Bad enough that MAC, Conference USA and Mountain West games were conspicuously absent from their accustomed Tuesday and Wednesday night positions on ESPN this autumn. Worse, December has arrived, and there are days and times with no nationally telecast football game at all. This is America, how could this happen? On Dec. 5, 6, 12, 13 and 20, no nationally televised pro or college football games air. On Dec. 9 there was no televised primetime football game, while on the evenings of Dec. 8 and 15 and on Saturday afternoons of Dec. 9 and 16, only small-college football was broadcast. What's going on here? With 500 channels and universal football mania, we actually need more football on television.
Buck-Buck-Brawckkkkkkk: Trailing Buffalo 21-0, Miami faced fourth-and-6 on its 41 with eight minutes remaining. That can't be a punt! Trailing 21-0, Miami faced fourth-and-4 on its 33 with four minutes remaining. That can't be a punt! When it was fourth-and-5 with a minute remaining and it did not matter in the slightest whether the Dolphins kicked, tried for the first down or started square dancing, then Miami went for it.
The Bears Are 12-2, Have Clinched Home-Field -- and Are Making Excuses: "Tim Rattay got all his passing yards after the Bucs had already lost the game," said Jimmy Johnson at 4:09 p.m. ET on the Fox postgame show, when it was Chicago 31, Tampa 17. At 4:22 p.m. ET, Rattay threw another touchdown pass to force overtime. So the announcers thought the contest was over when the Bears went ahead 24-3 late in the third quarter. More important, the Bears thought the game was over. Often defenses relax when the backup quarterback enters the contest: Chicago relaxed to the tune of 268 yards passing and three touchdown passes allowed to Tim Rattay, who hadn't thrown for a touchdown since September 2005. The stars of the Buccaneers' almost-comeback were Rattay, Ike Hilliard and Joey Galloway -- all retreads. And blah blah blah, we've got injuries. Blah blah blah, we've got players in legal trouble. In the NFL everybody has injuries and, this season, practically everybody has players in legal trouble. If you have Super Bowl ambitions, your defense better be able to hold a 21-point second half lead against a losing team.
A Few Cosmic Thoughts: Complex animals, including the first vertebrates, seem to have appeared on Earth around 540 million years ago. This period is known to that paleontologists as the Cambrian Explosion, because animals went from unknown to common in a short time by geological standards. At least that's how it seemed, since no fossils of complex animals older than about 540 million years had been found. Was this because there were no older complex animals, or because they lacked the kind of hard bone structures that leave fossils? Recently a team of researchers at Nanjing University in China found in Precambrian rocks evidence of animals similar to mollusks that lived 600 million years ago. Animals have roamed our world for 600 million years. Every time the tools of astronomy improve, the universe is shown to be larger -- and every time the tools of paleontology improve, life is shown to be older. Meanwhile in Dong Xa in Vietnam, Peter Bellwood and Judith Cameron of Australia National University recently found the ruins of a log boat identical to a distinctive design that dates to Rome during the reign of Caligula. Coins and other artifacts found with the boat date to the same period. Could the Romans have gotten as far as Vietnam? Every time the tools of archeology improve, the human past becomes more tantalizing.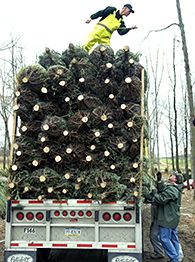 John Beale/AP Photo
We've found the trees. Now all we need is the Biblical reference.
As We Read in the Third Epistle to the Corinthians, the Apostle Said, "Verily, Take Ye a Tree, and Place Onto It Baubles and Little Electric Lights from CVS …": Last week Sea-Tac International Airport in Seattle briefly removed, then returned to place, all Christmas trees after being threatened with a lawsuit asserting display of the trees without symbols of other faiths violated separation of church and state. (Sea-Tac is publicly owned.) This raises a common misconception that drives TMQ crazy at this time of year -- Christmas trees are not religious symbols! Yes, you put them up at Christmas time. But ornaments on trees, Santa in the chimney, flying reindeer, chuckling elves, stockings by the fire: good luck finding these things in the Bible! (Though several generally accepted translations contain references to unicorns.) Santa is vaguely based on Saint Nicholas, a third-century Greek bishop renowned for his love of giving presents; the Christmas tree probably descends from the 16th century German custom of trimming a tree to celebrate New Year's. Even so, trees and stockings are no more part of Christian theology regarding Christmas than latkes and dreidels are part of Judaic theology about Hanukkah -- all are communal traditions with their antecedents in sociology, not religious belief. Modern observation of Christmas involves two simultaneous events: religious commemoration of the birth story of Jesus and an entirely secular festival of gift-giving centered on a pleasing children's fable about a kindly bearded sorcerer who loves little boys and girls and leaves them presents while they sleep. Airport Christmas trees and similar decorations have nothing to do with religion, everything to do with materialism. Even in modern churches, at this point Christmas celebration is 99 percent secular, 1 percent religious. This does not sit well with some Christians, including me. Be that as it may, Christmas trees and Santa Claus are not religious symbols! Unless for the church of the National Association of Manufacturers.
It's Fun to Play Downhill: Owing to two Texans' interceptions, a failed fake punt and two short punts, plus a penalty, in the first half New England took possession on the Houston 24, 31, 34, 42 and 44.
The Ravens Are So Good They Made Kyle Boller Look Good on Sunday: Baltimore leads the league in turnover differential and is second in sacks differential -- the Ravens continue to be a team you don't want to play. Yet they struggled at home against Cleveland's backup quarterback, not pulling away until late. Fun play that never happened: Trailing 27-17, Cleveland was on its 24 at the two-minute warning. Backup quarterback Derek Anderson was hemmed in, and lateraled to tight end Kellen Winslow, who had been blocking. Winslow was attempting to launch a pass downfield when the Ravens sacked him.
Trust Us, We're Experts: Sports Illustrated predicted Carolina and Miami would meet in the Super Bowl. The Dolphins are eliminated and the Panthers are 6-8.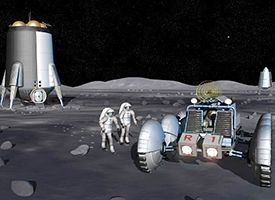 NASA
Sorry, you can't park here -- we're preserving this dust for future generations. Try the next crater over.
Over the Moon: As NASA declares that people will return to the moon, TMQ wonders -- by what right can astronauts land there? That is, are we trespassing? A 1967 treaty, signed by the United States and most nations, prohibits claims of national sovereignty on the moon. Richard Steiner, a professor at University of Alaska, has proposed that the United Nations designate the moon a World Heritage Site, which would rule out development on the lunar surface: Explorers could land, but Burger King would be out, and perhaps even NASA moon bases would be proscribed. The trouble is that the World Heritage Convention, ratified by United States in 1973, specifically says it protects heritage sites "on Earth." A Six Rings Over Saturn theme park would be OK as far as the United Nations is concerned! Steiner also has asked the National Parks Service to prohibit development on the moon; whether the National Parks Service has jurisdiction over other worlds is unclear.
On the flip side the Moon Society, devoted to lunar issues not college pranks, wants legislation and treaties making it clear that "large scale industrialization and private enterprise" would be legal on the moon. A Japanese firm called Shimizu Construction has done a design study on a lunar resort. The study skipped the astonishing cost of reaching the moon -- $50 million per ton landed on the moon is an optimistic goal for the new NASA program -- and simply asked what a lunar resort might be like for guests. (Answer: They would sit in extremely cramped metallic pods looking out the window and eating granola bars.) Because the cost of sending even tiny capsules to the moon is absurdly high, TMQ considers lunar land-use questions moot until such times as there might be a fundamental breakthrough in propulsion.
This Fulfills My Obligation to Say Something About the Rams-Raiders Game: Punter Matt Turk's stat line was significantly padded by a 74-yard punt. A magnificent kick? St. Louis was kicking from its 19 with 17 seconds remaining in the first half, Oakland out of timeouts. The Raiders rushed everyone, hoping for a blocked kick; Turk's punt boomed and then rolled, rolled, rolled. Note: Oakland has been shut out three times, including twice at home.
TMQ's Christmas List: How about this charming powered paper towel dispenser. It's so exhausting and draining to pull a paper towel off the roll, battery power is needed. Or how about a Kaz brand heating pad. They're stamped with a capital-letters 125-word warning statement, including the caution, DO NOT USE IN OXYGEN ATMOSPHERE. Like, on another planet? (Sometimes physicians order nearly pure oxygen delivered through a facemask, but it's hard to imagine getting the heating pad under the facemask, while "oxygen tents" are employed only for infants.)
Christmas note: The airways are awash with ads for the latest big-screen flat-panel televisions from Samsung, Sony and others. This raises the Advertising Televisions on Television paradox. All ads tout the "incredible clarity" and "magnificent pictures" and "striking colors" of the latest sets. But if you're watching on an outdated set, you cannot possibly see the incredible clarity or striking colors. And if you can see the magnificent picture, then you don't need a new television! This is especially nutty when ads boast of the astonishing features of new High Definition sets. The only way you can appreciate the astonishing features of High Definition is to watch on an HD system -- in which case you've already got one.
At Happy Hour in Hell's Sports Bar, They're Playing Kenny G Christmas Music: Hell's sports bar has 28 wide-screen plasma TVs, and on Sunday all were showing the Rams at Raiders game. For the highlight program, all 28 screens in Hell's Sports Bar showed nothing but, over and over, Detroit facing fourth-and-26 from its own 1.
Pro Bowl Note: Today the NFL announces the 88 Percent All-Stars: the gentlemen who have been chosen for the Pro Bowl despite the fact that two games remain. Shouldn't the Pro Bowl be a distinction for those who play well all season, not just in the first 14 games? Two weeks from now when the regular season has concluded, Tuesday Morning Quarterback announces his annual All-Unwanted All-Pros squad -- the NFL's best players who were never drafted, or were let go, or both.
Rookie of the Year Note: The sports-yak world is debating whether the Rookie of the Year should be Vince Young, Reggie Bush, Devin Hester or Marques Colston -- all glory boys. Ninety percent of the action in football happens away from the ball. No rookie has had a better combination of good play and positive impact on his team than defensive tackle Haloti Ngata of Baltimore. He's not a ball carrier. But why isn't he in the Rookie of the Year mix?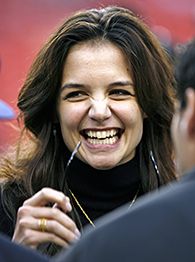 Allen Kee/Wireimage.com
Katie does not care one bit about money -- just like the NCAA!
The NCAA Does Not Yet Actually Brand Players, But It's Under Consideration: Though the NCAA periodically insists it does not care about money -- neither does Katie Holmes -- the NCAA also boasts of being a brand. Its registered trademarks not only include Final Four but Campus Corner, The Big Dance, The Road Ends Here and the puzzling, "All Day. Every Day. Our Game." Since the NCAA is into cute wording, note the mission-statement declaration on its branding page: "Learning. Balance. Spirit. Community. Fair play. Character. These are the attributes that the NCAA promotes through its branding initiative." Missing word? Education. "Learning" doesn't necessarily mean academic education -- it could mean getting better at sports.
The Football Gods Chortled: When bumbling coach Mike Mularkey quit the Bills last winter and went to Miami as offensive coordinator, Neil Easterbrook, an Official Brother of TMQ and a diehard Bills' fan, immediately pronounced: "This is great, now Mularkey will coach against Buffalo twice a year and do just as bad for the Dolphins as he did for us." And yea, verily, it came to pass. The Bills swept the Dolphins this season and outscored them 37-6, the sole Miami touchdown coming with a minute remaining in a rout. Hey, Wayne Huizenga -- don't ever fire Mike Mularkey!
Sominex Bids to Sponsor Upcoming Jets-Raiders Game: The Jets are quietly 8-6 and stand a decent chance at the playoffs in the first season of Eric "I Was a Teenaged Coach" Mangini. Why aren't they generating excitement? I think the reason is their look. Jersey/B explicably continues to play in 1847 throwback uniforms plus black shoes -- the antiquated unis and black shoes make the Jets appear to be the slowest-looking team in the NFL. The Jets' appearance projects monotony; maybe this is what Mangini wants. Their game plan projects monotony -- underneath, underneath, underneath. Maybe that's what Mangini wants, too. How could an opponent get psyched up for playing the Jets? Maybe that's what Mangini wants.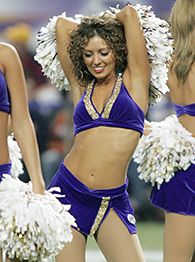 Marilyn Indahl/Wireimage.com
The Jets' game plan lulled even the Minnesota cheerleaders to sleep.
As for Minnesota, the Vikings have one of the league's most expensive offensive lines with megabucks starters Steve Hutchinson, Bryant McKinnie and Matt Birk, plus a highly paid blocking tight end in Jim Kleinsasser, yet Sunday provided little pass protection to Minnesota's quarterbacks. It seemed clear as Minnesota wheezed out before its home crowd that Vikes players have quit on the season. Novice head coach Mice Tice coddled the Vikings, and was replaced by novice head coach Brad Childress, who has coddled the Vikings. For many years running, Minnesota players have been paid extremely well for scant performance, while getting away with whatever they please off the field. The record won't change until that changes.
Single Worst Play of the Season So Far: San Francisco had rallied to lead the heavily favored Seahawks 17-7, and now faced third-and-8 on the Seattle 18 with 1:49 remaining. The home team's sole hope of pulling out victory rested on a stop. Alex Smith faked a handoff up the middle, then bootlegged left -- and basically walked to the end zone as Seattle defenders stood around, hands on hips, doing nothing whatsoever. For the last 15 yards, Smith was waving the ball in the air and jogging because no Seattle defender bothered to chase him. Linebacker Lofa Tatupu jogged in Smith's general direction as the quarterback scored; no other Seattle defenders, including its speed defensive backs, could be bothered moving. To top it off, Smith had retreated all the way to the Seattle 27 on his bootleg fake -- there was plenty of time to catch him, and none of the highly overpaid Seahawks so much as tried. Seattle Seahawks defense, you are guilty of TMQ's Single Worst Play of the Season So Far.
Obscure College Score of the Week No. 1: Appalachian State 28, Massachusetts 17 (Division I-AA championship). Located in Boone, N.C., Appalachian State University has a formal business relationship with a highway.
Obscure College Score of the Week: Grand Valley State 17, Northwest Missouri State 14 (Division II championship). Located in Allendale, Mich., Grand Valley State has a hospitality-industry major whose electives include "HTM 175, International Food and Culture. An exploration of world cultures via an examination of foods." A college course about eating!
Obscure College Score of the Week: Mount Union 35, Wisconsin-Whitewater 16 (Division III championship). Located in Alliance, Ohio, Mount Union College posts online the floor plans of its largest women's residence hall. TMQ suspects many male Mount Union students have found these schema useful for sneaking in or sneaking out after midnight.
Obscure College note: With the subdivision title games concluded, the stadium lights have been turned off at the nation's little schools. Obscure College Score of the Week falls silent till that happy day in late August when the stadium lights come back on again. TMQ finds it reassuring that long after you and I have departed this mortal coil and are trying to scalp tickets to meet the football gods, every Saturday all across the nation, plastic-clad combatants will be slamming into each other as autumn leaves fall, guys try to get girls' cell numbers and car alarms go off in the parking lot.
Reader Animadversion: Got a complaint or a deeply held grievance? Write me at TMQ_ESPN@yahoo.com. Include your real name and the name of your hometown, and I may quote you by name unless you instruct me otherwise. Note: giving your hometown improves your odds of being quoted.
Next Week: Nothing next week -- the column resumes on Jan. 2. Maneuver your heartthrob under the mistletoe and kiss her or him once for me. Wait, that didn't come out right.
In addition to writing Tuesday Morning Quarterback, Gregg Easterbrook is the author of "The Progress Paradox: How Life Gets Better While People Feel Worse" and other books. He is also a contributing editor for The New Republic, The Atlantic Monthly and The Washington Monthly, and a visiting fellow at the Brookings Institution. Sound off to Page 2 here.