By Gregg Easterbrook
Special to Page 2
Right now is the annual peak for coach obsession, as NFL teams fire and hire head coaches. Practically every aspect of American society has in recent decades become overblown – pumped up with money, media focus and popular fixation. Coaching is no exception. Coaches at all levels of sports have changed from figures frowning on the sidelines to celebrities who receive high pay, sign endorsement deals and are spoken of as possessing mystical abilities. NFL head coaches now earn at least $1 million per season,and several earn $4 million or more; dozens of college football coaches now earn more than the president of their colleges; in an increasing number of high schools, the best-paid person is the football coach. Beyond money, there's an increasing sense that having top coaches is essential to the well-being of a city, college or high school. Coaches, especially football coaches, have never been a hotter commodity. Why?
Let me propose that the current national obsession with coaches reflects these themes:
• The illusion of control.
• The abdication by politicians and intellectuals of the father-figure role.
• The exaggeration of insider knowledge.
• The illusion of special motivational ability.
• The winner-take-all of modern economics.
• The Walter Mitty daydream.
First, the illusion of control. Obviously some coaches are better than others – I'd certainly rather be coached by Pete Carroll than Nick Saban. (More on Saban below.) But as sports become ever-more important and ever-more analyzed, there seems an increasing tendency to want to believe that everything on the field happens for a reason. The ball didn't just bounce into some guy's hands, good coaching put the guy into the right position. The receiver didn't just run fast and get open, hours of round-the-clock study enabled the coach to determine precisely what pass pattern to call. It wasn't that the Colts played well Saturday while the Chiefs had an off day, this happened because Tony Dungy did an astonishingly good job of preparing his team using subtle psychological tools plus mega-brilliant game planning, while Herman Edwards did a poor job of preparing his team. Actually, Dungy and Edwards probably both did pretty much the same things all week before that game – Indianapolis just has better players than Kansas City. But we don't want to believe that, we want to believe the coach is in near-total control of events and outcomes. The explosion in conspiracy-theory thinking, in books and movies supposing there are secret agencies and master plans controlling our lives, spills over into sports in the sense that we want to believe Team A didn't win mainly because it's better than Team B, it won because someone was in control of the entire event. That someone has to be the coach. The phrase "everything happens for a reason" has taken on resonance in popular culture, and not only in religious circles. We don't want to believe luck and coincidence are major factors in our lives. We want to believe someone is in control. Project this thinking onto sports and the importance of the head coach inflates.
Second, the abdication by politicians and intellectuals of their father-figure roles. For good or ill, for generations people have looked to political leaders and intellectuals as father figures of society. Even if you had a good relationship with a good father, you still need other father figures, since your own father inevitably will pass on, and at any rate most people's own fathers are not players in high-profile public matters. But roughly since Watergate, politicians steadily have demeaned and trivialized themselves; is there anyone on the current national political scene you'd want as a father? A few generations ago, millions looked for life guidance to the examples of public-spirited intellectual figures such as Albert Schweitzer or Upton Sinclair. Today's intellectuals seem arrogant, money-focused and contemptuous of the average person. So we switch our father-figure thinking onto coaches who seem both men of achievement and who share one of our common concerns, love of sports. A few coaches such as Knute Rockne achieved national renown in the period before general cynicism. But it may be telling that the onset of the coach as superstar, the first instance being Vince Lombardi, came roughly at the same time disillusion with political and intellectual leadership began setting in.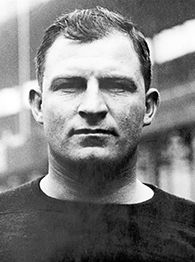 Pro Football HOF/WireImage.com
Giants' coach Steve Owen came along before the $25 million coaching contract.
Next is the exaggeration of insider knowledge. Pretty much every possible play and tactic, and every practice technique is known to every coach. Of course, it's also true that all chefs work with the same ingredients; two people can employ the same basic knowledge and one can come to a much better result than the other. But we seem to want to believe good coaches aren't merely people who are good at their professions, we want to believe they have incredible insider information. This mirrors the current national fascination with the notion that hush-hush secret information is at the crux of world events. Hollywood encourages this view, when the less sexy reality is that most events reflect nothing more than what meets the eye.
Next is the illusion of special motivational ability. Anyone who's been involved in competitive athletics knows that 90 percent of motivation comes from within the athlete. But the coaching guild doesn't want you to know that. A good coach can help the athlete realize the last 10 percent of motivation, while a bad coach can depress what the athlete already has – but in either case the real power of athletics comes from the players' psyches. But we live in a moment when celebrities and supposed experts get $50,000 to give motivational speeches, during which they stand on a stage flailing their arms and screaming "Get going, get going." We want to believe there are secret motivational tools that will unlock our hidden potential. Athletes will tell you that an amazing percentage even of successful coaches have poor interpersonal skills and are poor motivators – mainly, they yell. Show me a coach who yells a lot, and I'll show you a coach who is wasting everybody's time. But the illusion that coaches have incredible motivational abilities adds to their mystique.
Next is the winner-take-all aspect of modern economics, nodding here to Robert Frank of Cornell University, who has documented this phenomenon. Coaches at the top of pro and college football today earn 50 times what a high school varsity football coach earns. Not a single one of the top pro or college coaches is 50 times more able than the typical high school coach. I'd estimate that today's very best football coaches, such as Bill Belichick or Carroll, are approximately twice as good at what they do than any high school football coach who won a 4A or 5A state championship this fall – but Belichick and Carroll earn 50 times as much. At the high school, small-college, big-college and NFL level there are several thousand skilled, competent football coaches of approximately equal ability – coaching skill at the small-college level is especially overlooked. Of the several thousand able football coaches, a handful become rich while the rest labor for typical wages. This distorts our perspective of coaches, as winner-take-all economics distorts our perspective of Hollywood figures, CEOs, rock stars and the rest.
Finally there is Walter Mitty's daydream. We can't imagine actually becoming an NFL player, because we're not strong enough or fast enough. We can't imagine becoming a movie star because we're not good-looking enough, or becoming a pop star because we know we can't sing. The sports coach, on the other hand, has no special physical abilities or God-given gifts. Coaches can't run a 4.4 or hit a high note. I could be like him, I could run that team is in a lot of fans' minds. We don't imagine ourselves actually becoming Supreme Court justices and heart surgeons because we know professions like these involve many years of intense study and training. Coaching, on the other hand, seems like something almost anyone could learn. In the end, we revere coaches as persons of incredible prowess when really they are not all that different from the typical man or woman. And they would prefer this not be generally understood, thank you.
In other news, in the NFC wild-card playoffs on Saturday, why didn't Dallas pull the goalie? Down 21-20 with seven seconds remaining, Seattle punting from its 28, the 'Boys' sole realistic hope was a blocked punt. Yet Dallas had a return man back, and he did nothing but watch the kick bounce out of bounds at midfield. Then for the final snap, Seattle did what Oklahoma failed to do against Boise State in the Tostitos Fiesta Bowl – lined up its defenders on the goal line. In both cases, the opposition was at midfield on the final down, needing to reach the end zone. Oklahoma put its deepest defenders at the 15, gave up the touchdown, and went on to lose in overtime. Seattle lined up three men along the goal line, stopped the pass and won. In a situation where the opponent must score a long touchdown on the final snap, your defenders belong on the goal line.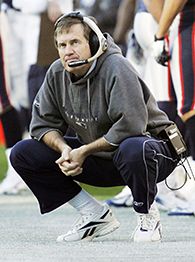 AP Photo/Elise Amendola
Bill Belichick and the Patriots upset the Chargers 24-21 in a playoff game in San Diego last season.
In fashion news, on the sideline at Philadelphia, Donovan McNabb wore a ski cap, gloves, parka and what looked like snowmobile pants – and it was 52 degrees. The cheerleaders were in leotards and tank tops! Meanwhile, New England's coach Belichick is starting to look like the guy who hustles you at the train station saying he needs a dollar for bus fare. On Sunday, Belichick failed even to reach his recent low standard of sideline attire, wearing a hoodie with the sleeves cut off. What's Belichick going to do next, show up in old sweat pants and sandals, needing a shave?
In zebra news, wild-card weekend ended without a blown call – OK, the holding call against Chris Snee of the Giants was ticky-tack, but did not affect the drive – plus several difficult calls corrected on replay. Since we complain mightily when the officials get calls wrong, let's compliment them for getting these games right. Officials have good and bad games, just as players do. Michael Jordan once said that whenever he spoke to an official before tipoff, he would say, "Have a good game." Audiences need to appreciate that officials are trying to perform, too.
Now here's a gambling tip. As TMQ notes, my compromise with my Baptist upbringing is to be pro-topless but anti-gambling. Wagering only brings regret and sorrow. But if you're making the harmless $5 workplace wager on the NFL playoffs, bet the home teams this weekend. Home teams in the NFL divisional round are the surest thing in sports. Since the current playoff format was adopted in 1990, home teams in the divisional round are 51-13, a .796 winning figure. Usually the reason the home teams are home in the first place is that they are better than the wild-card teams. Equally important, in the divisional round the home teams have spent a bye week relaxing in hot tubs while their opponents were out in the cold being pounded. Home teams dominate the NFL divisional round, so check-mark them in your office pool. You don't even need to know which team is playing!
A week later in the championship round, the home advantage dissipates. Since 1990, home teams in conference championship games are 18-14, a .562 winning figure. That is nearly identical to the rate at which home teams have won all games in the past decade. In the championship round, nobody's had the previous week off and the Super Bowl is just one W away. Players leave everything on the field in championship contests. So at the next step the home team won't necessarily be the favorite. But this weekend, look homeward. And of course, if the visitors win, remember the Tuesday Morning Quarterback ironclad no-questions-asked guarantee: All Predictions Wrong or Your Money Back.
In other football news, let TMQ's annual awards begin. Soon comes my All-Unwanted All-Pros. Beyond that is the coveted "longest award in sports," the annual Tuesday Morning Quarterback Non-QB Non-RB NFL MVP. As the warmup, below I name my Player of the Year.
Stat of the Week No. 1: Tom Brady is 11-1 as a starter in the playoffs.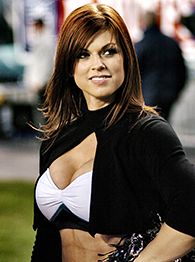 Michael P. Malarkey/Wireimage.com
While the Eagles' cheerleaders showed some skin, Donovan McNabb dressed for cross-country skiing.
Stat of the Week No. 2: In playoff games started by Brady, the Patriots' defense has allowed an average of only 16.7 points.
Stat of the Week No. 3: From the point Tony Romo was named to the Pro Bowl, Dallas lost all remaining games.
Stat of the Week No. 4: In three games against the Eagles this season, Tiki Barber averaged 4 yards per carry. In all other games, he averaged 5.4 yards.
Stat of the Week No. 5: At one point, Indianapolis had 23 first downs to zero for Kansas City.
Stat of the Week No. 6: The Jets are on a 1-8 road streak in the playoffs.
Stat of the Week No. 7: Nine of Ty Law's 56 career interceptions have come against Peyton Manning.
Stat of the Week No. 8: Indianapolis, which travels to Baltimore this weekend, is 2-7 in outdoor playoff games.
Stat of the Week No. 9: New Orleans has never won a playoff game after the wild-card round.
Stat of the Week No. 10: Marty Schottenheimer is 5-12 in the postseason and has not coached a playoff victory in 13 years.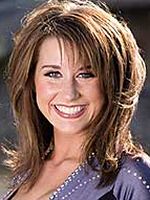 Seattle Seahawks
A psychology-major cheer: Our hands are high, our feet are low, there are issues with your ego.
Cheerleader of Wild-Card Weekend: Kammie of the Seattle Sea-Gals, who has a degree in psychology from the University of Washington, which means your line will not work on her. According to her team bio, Kammie is classically trained in ballet and jazz dance and lists reading as her favorite hobby, which is not something often encountered in cheer-babes bios. Here is a group portrait of the Sea-Gals in their alluring new "Hello, sailor" summer outfits.
Sweet Plays of Wild-Card Weekend: Dallas had third-and-7 on the Blue Men Group 8, trailing 21-20, less than two minutes remaining. Seattle appeared finished. Tony Romo threw to Jason Witten, who looked like he would either score or get the first down at the 1. Lofa Tatupu made an all-strength wrestling tackle, setting up fourth-and-1. Then came the botched hold that will go down in football lore – but wait, Romo scrambles left and has the angle for the first down or touchdown. If he makes either, Dallas probably wins. The Seahawks' Jordan Babineaux dove at Romo's ankles from behind and stopped him just where Witten was stopped. Seattle ball, Seattle wins. Who had a chance to block Babineaux? Kicker Martin Gramatica, who offered only a halfhearted shove. I never liked Mike Vanderjagt either. But he's ill-tempered, and this play called for an ill-tempered kicker, rather than one who shies from contact. If everything about this play is exactly the same except Vanderjagt is still the Cowboys' kicker, I say he pastes Babineaux, and Romo scores the touchdown.
Sweet Play of Wild-Card Weekend: The simple halfback flare pass is fairly easy to complete, and often no one is assigned to cover the halfback flare, ensuring a 5- to 10-yard gain. Don Coryell, sensei of the pass-wacky attack, said a team should call five halfback flares per game, both for easy yards and to get the safeties nervous about the short man so eventually they will overlook the deep man. Leading 23-16, New England faced third-and-goal on the Jersey/B 7 with 5:21 remaining. The Jets blitz six. Kevin Faulk runs a simple halfback flare into the right flat, and records the untouched touchdown that ices the game.
Sour Tactics of Wild-Card Weekend: Trailing 23-8, Kansas City took possession at its 18 with 10 minutes remaining – and did not go hurry-up! The Chiefs played the whole game like they'd been out late the night before. But watching Trent Green casually form the huddle, then slowly walk up to the line – trailing by two touchdowns with the clock ticking down – was beyond odd.
Sweet 'N' Sour Play of Wild-Card Weekend No. 1: Leading 6-0, Indianapolis had first-and-10 on the Kansas City 45, holding one timeout. Peyton Manning threw to Dallas Clark at the Chiefs' 36, a little too far for a field-goal attempt. The Colts ran up to the line with Manning making the "spike the ball" gesture. You remember when Dan Marino faked this gesture in a clock-stop situation. After the fake spike gesture, Manning handed off to tailback Joseph Addai, who ran up the middle to the Chiefs' 32, where Indianapolis called timeout with two seconds remaining. Field goal, 9-0 at the intermission. Nobody executes complex decisions on the fly better than the Colts, and the ability of Manning to recognize that a few more yards were needed, then signal the correct trick play, was sweet. Meanwhile as Addai took the handoff and headed up the middle, he was surrounded by Kansas City players. Had the Chiefs defenders simply allowed Addai to run one more yard before tackling him, the clock would have expired. While Indianapolis was showing perfect situational awareness, Kansas City was showing none. That was sour.
Sweet 'N' Sour Play of Wild-Card Weekend No . 2: Trailing 20-13 late in the third quarter, the Jets were moving the ball well against the New England defense. With first-and-10 at midfield, the Jets called a quick hitch to the left receiver. Blitzing Patriots' linebacker Rosevelt Colvin jumped into the path of the throw, nearly intercepting, then Colvin jumped up and down and slapped his helmet over the dropped pick. Everyone watched Colvin jump up and down – except Bill Belichick and his assistants, who were screaming "live ball!" because the toss had been a lateral. Enormous Flying Elvii defensive tackle Vince Wilfork grabbed the loose ball and ran to the Jersey/B 15, which was sweet. A field goal followed. Play to the whistle! Afterward numerous Jets said they didn't realize the play was a lateral, but you don't even need to know, just play to the whistle! No whistle had sounded. Meanwhile, the Jets failed to design the hitch screen to ensure that it did not change from a forward pass to a lateral and thus live ball. That was sour.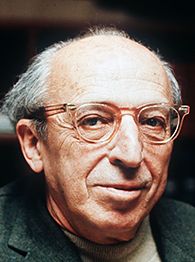 AP Photo
Aaron Copland intended to celebrate the common person, not the political hack.
Fanfare About a Fanfare: Last week at the funeral for Gerald R. Ford, Copland's magnificent "Fanfare for the Common Man" sounded. This was appropriate, as few appreciate that the person who would become President Ford was born into modest circumstances as Leslie King Jr., and in youth lived a hand-to-mouth existence until his mother left an abusive husband. Last week in California at the second inauguration of Gov. Arnold Schwarzenegger, "Fanfare for the Common Man" also sounded. Come on! Schwarzenegger is a multimillionaire celebrity who hangs out with rock stars and the Silicon Valley uber-rich. Yes, Arnold started modestly, too. But there's been a trend in recent years of politicians using the Copland fanfare because it is so magnificent and because it is associated with status, having been played at the funeral for Robert Kennedy. That was debatable given Kennedy's favored birth, but the occasion was a funeral. Playing "Fanfare for the Common Man" at routine political events seems an exercise in politicians' egos. Schwarzenegger might not know what the arrangement signifies in the history of music, but surely does know that for a living politician to walk on to a stage to this mighty fanfare is to say, in musical terms, "I am the most important person in the world." Please, politicos, stop misusing this air! Save it for memorials, and for events that celebrate the common man.
Jersey/B at New England Analysis: Rarely do you behold both teams trying to trick each other with exactly the same game plan. Bill Belichick's Patriots and Eric "I Was a Teenaged Coach" Mangini's Jets both went hurry-up most of the game, used four-wides to spread the field, tried to force the other team not to substitute on defense and tried to catch the other team with 12 men on the field. Several times both teams raced up to the line and quick-snapped. Belichick likes the no-huddle pace to keep the opponent's defense from substituting. So does his acolyte Mangini. Till the fourth quarter, two versions of the same tactics battled to a draw.
On defense, the Jets opened with a 2-5-4 – the odd-looking defense Belichick himself drew up for the Bills-Giants Super Bowl, when Buffalo was playing hurry-up and trying to prevent opponents from substituting. Mangini threw in a strange and, perhaps, novel innovation. Most of the Jets' front seven was moving before the snap – not just switching from gap to gap but walking back and forth in all directions. They seemed to be wandering around. It was the Times Square Defense, since it looked like a crowd milling about aimlessly in Times Square. The goal was to create confusion for the New England offensive line about which of the milling-around defenders would rush. It sure was interesting to watch, but didn't work, the Jets sacking Brady only once. Every postseason, the Patriots' offensive line becomes near flawless. They're off to their usual start.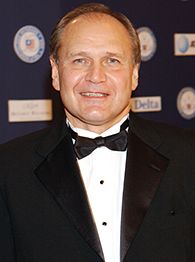 Arun Nevader/Wireimage.com
Robert Nardelli made $275,000 per day. But there's no problem with CEO pay, no sir.
TMQ's Nightmare: Overpaid CEO Hosts Senator on Corporate Jet: Last week, two news items reflected recent TMQ complaints – overpaid Home Depot CEO Robert Nardelli was forced out, and the House of Representatives voted to forbid Congress members from flying on corporate-supplied private jets unless they pay the true cost of the flight.
Combining regular income, stock options, pension and a golden parachute, Nardelli received $274 million for six years of work. That's $34,250 an hour. That's about 3,000 times the hourly wage of a Home Depot worker. That's $275,000 per day – five times as much per day as the typical American family earns in a year. Good management is of value to a company's shareholders: skilled corporate officers should be well paid. But there's a difference between "well paid" and something akin to looting. Why isn't Nardelli's $274 million, taken from the shareholders, simply viewed as embezzlement? Home Depot stock fell from $43 to $41 under Nardelli's tenure, a 21 percent drop when calculated for inflation. The CEO cannot control a company's stock price, and excessive emphasis on stock price creates a temptation to cook the books. But it's absurd to think that shareholders can get hosed under a CEO's watch, and for that the CEO deserves $274 million. The Home Depot board offered Nardelli the terms that led to the $274 million. Boards of directors have a self-interest in overpaying CEOs, because many board members are themselves CEOs who know their own pay will rise if other CEOs' pay rises. With Nardelli's $274 million, CEO overpay has reached runaway levels. What the Home Depot board did was perfectly legal, and that in itself is a scandal. The word for what many public-company CEOs and their boards are up to should be: embezzlement.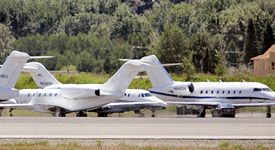 AP Photo/Elaine Thompson
Hey, who booted my jet? I thought this space was legal!
As for members of Congress flying around on corporate jets, not only should the people's representatives have to wait in line at the airport like everyone else, the main thing politicians do when they fly on private jets is shuttle from one fundraising event to another. If lack of access to corporate jets makes it harder for members of Congress to fundraise – good! Now it's time for the Senate to match the House restriction.
New York Times Chases Tuesday Morning Quarterback: Two months ago, TMQ did an item on the shortage of parking spaces for private jets. Last week the august New York Times (that's the august newspaper, not an August edition) caught up to the story. Times reporter Elsa Brenner adds a hilarious detail. Park Avion, a California firm, is building private-jet condominium hangars that will sell for about $2 million each.
Preposterous Punt Watch: "Now the Cowboys are forced to punt," Al Michaels pronounced as Dallas faced fourth-and-4 on the Seattle 40, trailing 3-0. They're not forced to punt. The idea that not punting on fourth down is some wild, desperate gamble infects the very vocabulary of football. The average NFL play gains about 5 yards; had Dallas gone for it, success was a strong possibility. Instead, punt into the end zone for a measly net of 20 yards in field position.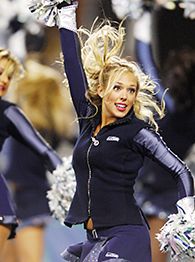 Kirby Lee/Wireimage.com
Seattle's coaches considered having her play corner.
Dallas at Seattle Analysis: Dallas is positioned to win with a short field goal, and Tony Romo fumbles the hold. But why is Romo the holder? Bill Parcells has now lost five games in the past two seasons on failed field-goal attempts in the final moments, and that's gotta hurt. But Parcells let Romo stay the holder after being promoted to starter at quarterback. Drew Bledsoe is earning $3 million to hold a clipboard. Why wasn't he holding for kicks and concentrating on this role? Seattle came into the game with both starting cornerbacks inactive, a "street" free agent who didn't play in any regular-season game dressed as an emergency corner. So why didn't Dallas press the Blue Men Group secondary with five-wide formations? The Cowboys went five-wide on just five snaps, otherwise staying with their regular offense. This was a huge missed opportunity. For its part, Seattle faced a Cowboys' defense that had been shredded in December by New Orleans, Philadelphia and Detroit – all used multiple shifts and men in motion to confuse Dallas about where to line up. Yet the Seahawks too stayed with their regular offense, employing only a handful of multiple shifts. Doesn't anyone watch game film anymore?
Seattle's offensive line, its strength in the team's 2005 Super Bowl year, looked average – the loss of LG Steve Hutchinson to Minnesota has caused LT Walter Jones to play merely well, not great. In 2005, the Hawks were unstoppable running Shaun Alexander left behind Jones and Hutchinson. Saturday, trailing 20-13, with first-and-goal on the Dallas 1, Seattle tossed left to Alexander, and he lost 7 yards. The line did rally at the end, however. After Romo's botched hold, the announcers spoke of the game as over – but the situation was Seattle leading by one point, ball on its own 2, Dallas holding all its timeouts with 1:14 remaining. A safety wins it for Dallas; three stops and three timeouts puts the Cowboys in position for a winning field goal after the punt. The game was far from over after the botched hold! Then Alexander ran up the middle to the 22 behind fabulous blocking, and the game really was over.
Dallas' special teams might have lost the game, but on the kickoff return touchdown by Miles Austin, all four Cowboys wedge players for an instant managed to hold hands as they formed the wedge, exactly like you're supposed to! Now explain to me why Roy Williams is in the Pro Bowl. On the first Jerramy Stevens touchdown reception, Williams had single coverage on the Seattle tight end and was toasted – and Stevens is not exactly John Mackey in his prime. On the second Stevens touchdown, providing the winning points, Williams was way out of position. That second Stevens catch was a sweet call. Score Dallas 20, Seattle 15, Seahawks' ball on the Cowboys' 37 with four minutes remaining, Mike Holmgren called a goal-line set and a short seam turn-in to Stevens, as you might call at the goal line. Dallas obligingly put the middle linebacker on Stevens as if it really was the goal line, and the play went the distance. Coach Holmgren – last year in the Super Bowl you didn't play the multitalented Seneca Wallace at wide receiver, saving him for, well, what exactly? In this game, with receiver injuries, you started Wallace at receiver; he caught a pass on the first Seahawks' down; then he came out for the rest of the contest. Saving him for, well, what exactly?
Tuesday Morning Quarterback has done not one, not two but three items this season on the strange tendency of Dallas coaches to call sideways passes at the goal line. Three times this season, Dallas has been at the opposition goal line and coaches have called a quick out or other sideways pass that travels parallel to the goal line, three times resulting in big interceptions. How fitting that a sideways pass at the goal line started the chain of calamities that undid the Dallas season. The Cowboys had just completed their goal-line stand, holding Seattle scoreless after it attained first-and-goal at the 1. Dallas leads 20-13 and has the ball on its 2 with seven minutes remaining. The call is a sideway pass – the hitch to Terry Glenn. Fumble, safety and Dallas must kick off; Seattle scores the winning points following the safety free kick.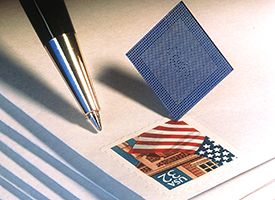 AP Photo/Tom Way
Chips keep getting cheaper and better; if only we could say the same for stamps.
A. Richard Newton, 1951-2007: Last week I opened the newspaper and found an obituary for Rich Newton, dean of engineering at the University of California at Berkeley and one of the underappreciated figures in the making of Silicon Valley. Newton died young at 55, of cancer. Just a couple months ago I was sitting in Newton's office, interviewing him for my next book, which is about the role of ideas in economic growth. Through hours of talk he said nothing about being sick, and at the end of the interview, was kind enough to guide me back to the freeway through Berkeley's famously confusing streets. Newton mentored a generation of engineering students, was renowned for taking under his wing the kids with the most improbable, blue-sky ideas. He had many achievements, most important a key role in developing "electronic design automation" – which allows software to plan the surfaces of chips, rather than having people shape these incredibly complex structures. One reason cheap, effective chips have in the past five years proliferated in cell phones, video games, car dashboards and many other places is that electronic design automation dramatically lowered the cost of creating chips tailored to specific applications. Newton had many opportunities to leave academia and become wealthy, but stayed because he enjoyed the creative ferment of college. "To start from nothing and create an idea that ends up improving people's lives, it's just fun, the most fun in the world," Newton told me. And now he's gone, without ever being celebrated like so many Silicon Valley celebrities. Memento mori: in Latin, remember that you too will die.
Saban Points Part 1: TMQ's law of job-hopping coaches holds: When you hire a coach who's only in it for himself, you get a coach who's only in it for himself. Of all schools, Alabama should know this. In 2002, the Tide hired Mike Price away from Washington State, even as Washington State was preparing for a bowl game. That is, Alabama hired the kind of person who would walk out on his previous commitments. We all remember the fiasco that followed. Now Alabama has signed Nick Saban away from Miami, Saban walking out on his Miami commitments just two years after arriving, and just two weeks after publicly vowing he would not leave. Hall of Famer Don Shula called Saban a "liar" and a "quitter," and that was sugarcoating it! Saban walked out on LSU, then walked out on the Dolphins – once again the Tide places the mantle of Bear Bryant upon the kind of person who does not honor his commitments. What would the Bear, a man of honor, think to know the University of Alabama now hires the kind of people who break promises? TMQ predicts another Alabama fiasco. Potential Alabama recruits, bear in mind: If Saban repeatedly lied at Miami, what makes you think he will hesitate to lie to you? At least in hiring a coach who doesn't keep his word, Alabama gets someone who is a perfect fit for its program.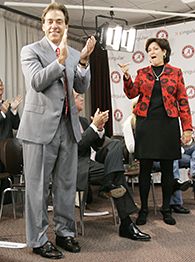 AP Photo/Rob Carr
You can trust Little Nicky to stay at Alabama, because he promised to.
Saban Points Part 2: Little Nicky – Saban is short – sure came up little in the slimy way he hauled out of Miami. The fact that he left was not a problem in contract terms. His contract allowed him to return to college coaching; this was a provision Marine Mammals owner Wayne Huizenga offered Saban two years ago in order to help entice him to walk out on LSU. So Huizenga knew he was getting the kind of guy who walks out, and in doing so Saban was only exercising a contractual right. It's the way Saban walked out that makes him a sleaze.
Saban repeatedly lied about interest in the Alabama job even as his agent was negotiating with the school. And sorry Jason Taylor, "everybody does it" does not justify such deceit. Coaches in big-deal sports are paid huge sums of money in a world of poverty and want, and one rationalization for their pay is that they are supposed to set good examples for the young. What kind of example did Saban set by repeatedly lying in public? At the news conferences where he lied, Saban belittled reporters who tried to call him out. As former Dolphins coach Jimmy Johnson noted, only people of low character belittle those who earn substantially less than they do. Little Nicky has a longstanding reputation of being nasty to secretaries, office assistants and others beneath his station – he's the coaching equivalent of the Meryl Streep character in "The Devil Wears Prada." And Saban was classless with his assistants. He used a speakerphone call to tell the assistant coaches he was walking out on them, lacking the courtesy, or the guts, to look them in their eyes. (Alternatively, maybe Saban feared telling his assistants in person and seeing their expressions of delight.) He informed his players he was walking out on them via e-mail. Something to think about, potential Alabama recruits – if Nick Saban decides it serves his purposes to screw you, he won't even have the manliness to say it to your face. But check your e-mail!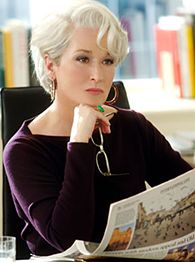 20th Century Fox
Meryl Streep has signed to play the title role in "The Nick Saban Story."
Saban Points Part 3: Little Nicky follows Steve Spurrier as big-deal college coaches who came to the NFL expecting championships and praise, and soon retreated to the college ranks. One thing going on here is that it's much harder to win at the NFL level than at the football-factory level. Football-factory colleges have such incredible recruiting advantages that they often take the field with two or three times as much talent as the opponent, and it's easy to look like a genius coach if your guys are far more talented. In the NFL, the talent contrast between a division winner and the division's last-place team is surprisingly small. Football-factory schedules are rigged with cupcakes, insuring even an orangutan could coach a big-deal college team to several annual wins. In the NFL there are losing teams but no cupcake teams; San Diego had to work hard to beat the Oakland Raiders, this year's worst NFL team. At the football-factory level, coaches are treated like little gods, while press coverage is adulatory; at the NFL level, coaches are under constant criticism, and the media knives are always out. One reason football-factory college coaches seem like little gods is that their advantages in recruiting and cupcake opponents allow them to have several 30-point victories every season, whereas in the NFL, even the best coaches are relieved to beat the Raiders by a touchdown. Runaway victory margins in college help coaches seem like geniuses, while the close margins of most NFL games mean even winning coaches face criticism.
You can't blame Saban and Spurrier for wanting to retreat from a life of criticism to a life on being treated like little gods. The very morning last week that Saban decided to walk out on Miami, he boarded a private jet for Alabama, where he was received by a worshipful throng as if he were Dwight Eisenhower returning from the defeat of Germany. Saban simply left his Miami problems behind, not even bothering to say goodbye to the assistants and players who depended on him. If you're a little god, you go where the worshippers are.
Bobby Petrino Footnote: So why is Petrino going in the opposite direction – away from splendor at Louisville toward the long knives of the NFL and the Atlanta Falcons? He seems the latest instance of the coach who knows the ultimate test of the NFL, for whom everything has gone smoothly so far at a football factory, and who believes he will pass the NFL ultimate test. Good luck, Bobby. Note Saban, Spurrier, Butch Davis, Dennis Erickson – the Giants are the sole NFL team with a former football-factory head coach, and Tom Coughlin's tenure has not been a moonlit stroll in Central Park. Athletic director Tom Jurich and Petrino did a fabulous job of taking Louisville from also-ran to a powerhouse that went 41-9 in the past four years and just won the FedEx Orange Bowl. But though Petrino has a strong track record, there's some thinking that Jurich was the brains of the operation. Atlanta is likely to chew Petrino up and spit him out: TMQ says two years from now Petrino will be begging his agent to find another job as agreeable as Louisville. And bear in mind that last August after interviewing for several openings, Petrino signed what was announced as a "10-year" contract to stay in Kentucky, then recruited by promising prospects that he would stay for the long haul. Michael Vick: If Petrino lied at Louisville, what makes you think he will hesitate to lie to you?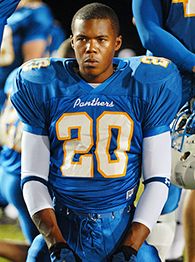 NBC/Van Redin
Recruiters from the BBC have made illegal contact with Smash Williams.
Tuesday Morning Quarterback Player of the Year: As excitement builds to see who will be named to the TMQ All-Unwanted All-Pros and who will win the prestigious Tuesday Morning Quarterback Non-QB Non-RB NFL MVP, let me tide you over with my Player of the Year: Brian "Smash" Williams, tailback, Dillon Panthers. Williams, played on "Friday Night Lights" by actor Gaius Charles, has scored the winning touchdown on the final play of all but one Panthers game this season. And still the plot has Williams fretting about whether he will be recruited for college ball! As TMQ has noted, "Friday Night Lights" is a fantastic show – one of the best-made television series ever, and you don't need to be obsessed with football to appreciate its quietly sensitive depiction of the pressures of contemporary family life. "Friday Night Lights" is that rare television show that causes you to know more about the world by watching, rather than less. Come on NBC: Sway to the left, sway to the right, renew another season for "Friday Night Lights!"
But since the show is about high school, it's starting to drive me crazy that we don't know what class year the characters are. Injured star quarterback Jason Street (actor Scott Porter), super-cheerleader Lyla Garrity (actress Minka Kelly), downtrodden nice guy Matt Saracen (Zach Gilford), bad girl Tyra Collette (Adrianne Palicki) and bad boy Tim Riggins (Taylor Kitsch) – are they juniors? Seniors? Graduate students? Saracen, Riggins, Tyra and Smash have cars, which seems pretty senior-like. Of course, all the performers are in their mid-20s – physically all look like they already have American Express cards. But class year is hugely important to high school life, and to locating the characters' travails in the spectrum of growing up. Surely producers are fudging the characters' class years because they don't know how many seasons "Friday Night Lights" will present. As of last Wednesday's episode, the Panthers are "one victory away from making the playoffs," and the Texas 5A football bracket requires four victories to win the state championship. That means the Dillon Panthers will play five more games on NBC this spring, leading up to the inevitable pressure-packed state championship episode. If the series concludes this spring, it must end with Dillon winning the championship (they will not be stopped one yard short like in the movie), Street having his "rise and walk" moment and everyone graduating. But if the show is renewed, they can't graduate!
Coaching note: "Friday Night Lights" is realistic in that although Coach Taylor is revered by his town, in private he does not seem especially gifted. In one episode Smash, the team's star, has a terrible first half because he's nervous about a college recruiter being at the game. What does Coach Taylor do at halftime? Scream at Smash. A skilled motivator would take a player in this situation aside and say, "Forget the first half, it never happened. We will never talk about it and never watch film of it. Clear your mind and be yourself. We loved you before this game started, and no matter how you play in the second half, we will love you when the game is over." My guess is that in Coach Taylor's situation from this episode, the overwhelming majority of highly paid coaches would simply yell at the player. Many highly paid coaches know amazingly little about managing human psychology.
Texas note: You can buy sharp-looking school gear of the actual Texas state champions, Southlake Carroll, here. In Texas the high schools not only have 15,000-seat stadia – they have Web sites to sell you school hats and tees! And I'll bet they ship overseas. So why can't a Southlake Carroll hat be the trendiest thing to wear in Tokyo? Southlake Carroll finished the 2006 season ranked No. 1 nationally in the USA Today high school poll. Note that Hoover High of Alabama, featured in the MTV series "Two-A-Days," failed to make the national top 25 because Hoover finished "only" 13-2. That's 15 games! There are high school teams in the USA Today top 25 that played 16 games, just like an NFL club. In Maryland, my state, the max a high school team can play is 14 games, which itself seems too many. The rush to make high school football more like college and the pros includes increasing the number of games played. Where will it stop?
Jersey/A at Philadelphia Analysis: Yes, it seems from the stat sheet as if Philadelphia coaches actually called as many rushes as passes – 31 of each. But there were two sacks and four scrambles by Jeff Garcia, meaning Philadelphia called 37 passing plays and 27 rushing. Still, in a bad-weather game the Nesharim gained more yards running than passing – the football gods will smile on that. The big run, Brian Westbrook's end around for a 49-yard touchdown, was led by a perfect pull block by center Jamaal Jackson. When your center gets out to lead the play wide, good things will happen.
Jersey/A started with a quick touchdown, then held the hosts three consecutive times and started possessions on the Eagles' 49, the Giants' 48 and the Eagles' 46. Result? No points. You can fail to capitalize on good field position once, even twice in a game. When the Giants failed to capitalize on three straight excellent drive starts, it was a wonder they were still close at the end. The play that should haunt G-Persons fans in the offseason came on the first snap of the fourth quarter. Philadelphia 20, Jersey/A 10, the Giants had third-and-2 on the Philadelphia 6. Had the Giants gotten a touchdown, the endgame would have been very different. Third-and-2, and Jersey/A rushed for an average of 4.9 yards on the day, so did Kevin Gilbride of the Giants call a rush? Pass incomplete, short field goal. When Tom "Mr. Personality" Coughlin gave the playcalling duties to Gilbride before the Giants' regular-season finale, a big win over Washington, the sports press praised this as a brilliant move. But the Redskins have one of the league's worst defenses. Against a good defense at Philadelphia, Gilbride's playcalling did not seem much better than might have been offered by a volunteer from the audience. Coaching note: When Eli Manning threw an interception, Gilbride responded by yelling at him. A skilled coach would calmly have said, "Here's what you did wrong and here's how to avoid repeating that mistake."
Blitz-happy Eagles defensive coordinator Jim Johnson resisted the urge most of the contest – but you knew it wouldn't last. Philadelphia 20, Jersey/A 13 with 6 minutes remaining, the Giants faced second-and-30, Eli Manning having to that point thrown for a modest 116 yards. Seven-man blitz on second down, six-man blitz on third down – suddenly the Giants have first down, and score to tie on the following snap. It's second-and-30 in the rain, just play straight defense!
Stop Me Before I Blitz Again No. 1: The Chiefs opened in conventional defense, and NBC announcer Cris Collinsworth kept urging them to blitz. Eventually Chiefs coaches started calling blitzes, and the results were: a Kansas City interception, a Kansas City sack, Peyton Manning's only touchdown pass, Indianapolis' two longest completions of the game. That is – the Kansas City blitz generated most of the exciting plays of the game, an equal number positive and negative from the Flintstones' standpoint. Television announcers extol the blitz, in part because they don't know the statistics about its probability of backfiring, in part because television announcers want exciting plays. And the blitz does generate exciting plays, it's just that a large number are negative for the defense. When you blitz only occasionally, on the other hand, the blitz can be devastating. Indianapolis blitzes less than any team in the NFL, and had only blitzed Kansas City twice on the game when the Chiefs faced third-and-8, trailing 23-8, with 6:35 remaining. The Colts sent six, Kansas City seemed surprised, Trent Green heave-hoed for the interception that was the "game over" moment.
Stop Me Before I Blitz Again No. 2: Seattle has just staged its wild rally to take a 21-20 lead over Dallas. The Cowboys face second-and-7 at their 42. The Qrowdy Field crowd is making deafening noise. Tony Romo has looked shaky all the second half, as Dallas has scored only three points on offense. The odds seem to favor the defense – instead it's a six-blitz, 12-yard completion into Seahawks' territory. The next snap is a seven-man blitz, and as TMQ often notes, the seven-man blitz is like handing out engraved invitations for the offense to make a big play. Julius Jones sprints 35 yards past the blitzers to the Seattle 11, and it seems now nothing can save the home team. After the 35-yard run, Al Michaels and John Madden declared the long gain had happened because Seattle lined up its free safety too deep. Neither mentioned the all-out blitz. Because announcers extol blitzing, when a blitz backfires, announcers always say nothing. And why did Seattle line up its free safety so deep? Because seven were blitzing.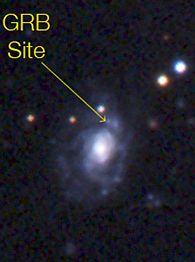 Niels Bohr Institute
When we find the 95 percent of the universe that's missing, we will find a huge mass of socks, house keys and youth.
News From Space: TMQ regularly notes developments in the study of gamma-ray bursts, the puzzling phenomena from deep space. Gamma-ray bursts, usually a few seconds long, are extremely powerful blasts of energy whose origin is unknown. Since the discovery of gamma-ray bursts in the 1960s, astronomers studying them have assumed these energy blasts have a natural origin. TMQ asks, what if they are the muzzle flashes of cataclysmic weapons being used in distant combat? Recently, cosmologists have speculated that gamma-ray bursts must be associated with supernovas. But this summer researchers led by Johan Fynbo, a Danish astronomer, observed two gamma-ray bursts that were not followed by a supernova explosion. One of the bursts lasted 102 seconds, and current theories of how stars explode hold that any gamma release associated with a supernova could last only an instant. Fynbo said his discovery "represents a whole new category of gamma-ray bursts" that cannot be explained in terms of supernovas. Whatever's producing these strange events is very far away in cosmic terms. Let's hope it stays that way. Note: Fynbo works at the Dark Cosmology Centre at the University of Copenhagen, which is devoted to locating the 95 percent of the universe that's missing.
Kansas City at Indianapolis Analysis: Indianapolis, its rush defense known to be weak, opened with two middle linebackers on the field and the safeties up; Kansas City played directly into the hands of this strategy by opening with two tight ends and running straight into the middle. The result was no Kansas City first down until the third quarter, at 6:32 p.m. ET. It wasn't until late in the third quarter when Kansas City adjusted by throwing to the tight ends, who were covered by middle linebackers in the Colts' unusual scheme. Immediately, Kansas City moved for a touchdown and, immediately, Indianapolis coaches switched back to standard linebacker sets. Not often does one game plan clearly trump another; in this case it did.
Also, it did not help that the Chiefs played like they'd been out late the night before. Indianapolis 6, Kansas City 0 in the second quarter, just after an interception that should have fired the Chiefs up. First down, dropped pass. Second down, rush for eight. Third down, dropped pass. Fourth down, punt on fourth-and-2. The Kansas City offensive line, the league's best for several seasons, had a sluggish outing. A first-half sack of Trent Green, on a third-and-5, came with Indianapolis in a three-man rush; Dwight Freeney blew past Jordan Black using the "flatten" move perfected by Bruce Smith. (You charge ahead with your chest so low you look flat; only the best pass rushers can do this physically demanding move.) Indianapolis leading 23-8 with 6 minutes remaining, the Colts recorded a sack, then a sack and a fumble recovered. On each snap Indianapolis had four rushing five, and at least one Kansas City offensive lineman was simply standing there doing nothing at all as his quarterback went down. Yuch.
On defense, Kansas City had its safeties deep to prevent long completions, so Peyton Manning endlessly threw under. Endlessly throwing under is not thrilling to watch, but works against a soft zone. One of Big Brother's interceptions was just a bad pass. The other two were all but identical. On both, at the line Manning signaling a "sight adjustment" – an unspoken audible where the receiver and quarterback switch the call based on what they see. On both plays, Manning wanted Marvin Harrison to cut out; both times Harrison cut in while Manning threw out, resulting in two interceptions to Ty Law who was just standing there. Since both mistakes were sight adjustments – that is, uncalled plays – this should be correctable. But you still wonder about Manning's annual postseason swoon. In the regular season, Manning's career touchdown-passes-to-interceptions ratio is nearly 2:1 – 275 touchdown passes to 159 interceptions. In his postseason career, Manning has thrown 16 touchdowns and 11 interceptions. It's not in your mind that his passing efficiency declines in the playoffs.
Reader Animadversion: Got a complaint or a deeply held grievance? Write me at TMQ_ESPN@yahoo.com. Include your real name and the name of your hometown, and I may quote you by name unless you instruct me otherwise. Note: giving your hometown improves your odds of being quoted.
Next Week: Coach Taylor of "Friday Night Lights" takes Eli Manning aside and yells at him.
In addition to writing Tuesday Morning Quarterback, Gregg Easterbrook is the author of "The Progress Paradox: How Life Gets Better While People Feel Worse" and other books. He is also a contributing editor for The New Republic, The Atlantic Monthly and The Washington Monthly, and a visiting fellow at the Brookings Institution. Sound off to Page 2 here.