By Gregg Easterbrook
Special to Page 2
Everyone was saying the real Super Bowl would be Baltimore at San Diego in the AFC Championship Game, then both teams honked out despite the bye-week advantage, the home-field advantage (they were a combined 15-1 at home this season) and the nearly-naked-cheerleaders advantage. The Indianapolis and New England players beat the Baltimore and San Diego players by small margins; Tony Dungy and Bill Belichick outcoached Brian Billick and Marty Schottenheimer by historically huge margins. In the fourth quarters, Billick and Schottenheimer looked like novice coaches in over their heads at a youth-league contest. In fact, in the fourth quarter Schottenheimer forgot something important that youth-league coaches reliably remember! (See below.)
But first: Television announcers, will you please stop saying, "It was almost intercepted" whenever a defender barely touches the ball?
"That was nearly picked off by Chicago's Chris Harris!" proclaimed Joe Buck of Fox during the Seahawks-Bears game -- about a pass that bounced off a defender who was falling down out of bounds. (And when Fox cuts to a view of its football announcers, why do we see them facing away from the field? Maybe this explains a lot of the coverage.) During the Colts at Ravens collision, Dan Dierdorf of CBS gravely intoned, "This is the second Peyton Manning pass that should have been intercepted, both were sure picks." You go catch that "sure" pick! Calling the Eagles at Saints game on Fox, Dick Stockton decreed, "Josh Bullocks of the Saints just dropped two consecutive interceptions." On both, Bullocks barely got his hands on the ball. During the Bolts-Patriots game, Jim Nantz of CBS proclaimed after a pass bounced away from a defender's chest, "It should have been picked off, that was an easy catch." As Han Solo said to Princess Leia following their escape from the Death Star, "Easy! You call that easy?"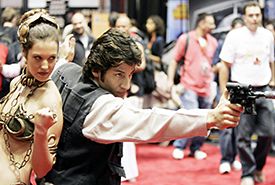 AP Photo/Darron Cummings
Easy! You think it's easy pretending to be a Star Wars character!
Ninety percent of the time when an announcer says a pass "should" have been picked off, the ball barely grazed a leaping defender's hands, or the defender was falling down or going out of bounds. Announcers, of course, constantly yak about what might have happened -- "If he hadn't been tackled, he could have gone all the way!" But often declaring passes "should" have been intercepted shows a lack of knowledge about the sport, since a defender is much more likely to drop a pass than a receiver. First, the receiver knows when and where to expect the ball, while the defender does not. Second, receivers have more experience catching passes -- I wince when some announcer declares that a linebacker "should" have caught a pass he was barely able to get his fingertips on. Third, many almost-interceptions have been tipped and are wobbling as they reach the defender. Finally, there's a difference in physics. Offensive players are usually moving away from the quarterback when a pass arrives, while defenders are usually moving toward the quarterback. The zip on the ball increases if you are moving in the direction of the passer; it's simply harder to catch a pass when you cut in front of someone than when you are striding upfield. Think it's "easy" to make an NFL interception? Try running with your back toward the person with the ball, then suddenly turning around and running full speed in the direction of a pass delivered at NFL velocity. Perhaps half of possible interceptions are dropped, while only a small number of possible offensive receptions are dropped. There are reasons why this is universal across all teams.
In other football news, Tom Coughlin fired his offensive coordinator with a week left in the season, then fired his defensive coordinator a week after losing in the playoffs. Apparently everyone on the Giants' coaching staff is to blame for what happened this season except Tom Coughlin! Stated another way, the people Coughlin hired did a terrible, horrible, awful job -- but Coughlin did a fine job of supervising them! Mike "The Ultimate Leader" Shanahan just fired defensive coordinator Larry Coyer, who oversaw a defense that started this season by becoming the first in 64 years not to allow a touchdown over the first 11 quarters. But that was September! Obviously by December Coyer had become a total incompetent -- while Shanahan had not changed in any way and was not in any way responsible for the Broncos' failure to make the playoffs. Halfway through the season, Billick fired his offensive coordinator and took over play-calling duties; Billick patted himself on the back in public when the Ravens scored well in the next few games. On Saturday, Baltimore honked out of the postseason at home, scoring a meager six points against one of the NFL's weakest defenses. So Coach Billick, will you fire yourself? Something tells me Billick will pronounce himself not in any way responsible! All over the league this week, assistant coaches are being fired while head coaches give themselves another chance. Richard Nixon would understand the coaching dynamic of the modern NFL.
In other football news, it's only mid-January, this year's ring doesn't even know whose fingers it will go on, and already fans and sports Web sites including ESPN.com are obsessing about the draft. Why? Twenty-eight of 32 teams are down for the count; there is no next game to look forward to, so fans turn their attention to picking new players -- skipping the fact that few draftees have any impact in their rookie years. Meanwhile, Seattle held the mantle of TMQ's Single Worst Play of the Season So Far, then lost it, then worked this weekend to win it back. Well, "worked" is hardly the right word. (See below.)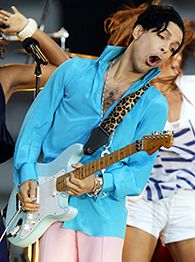 AP Photo/Jeff Christensen
The Artist Formerly Known as The Artist Formerly Known as Prince.
In entertainment news, Prince will perform at halftime of the Super Bowl. This breaks the string of aging Brit acts, though sustaining the string of Super Bowl halftime performers whose best work was done before many current spectators were born. During the period he used a glyph as a name, the singer in question was called The Artist Formerly Known as Prince. Now that he once again goes by Prince, this makes him The Artist Formerly Known as The Artist Formerly Known as Prince.
Stat of the Week No. 1: Tom Brady is 12-1 as a playoff starter.
Stat of the Week No. 2: Brady has never won the Associated Press NFL MVP award, and he received no votes this year.
Stat of the Week No. 3: Philadelphia played at New Orleans twice this season; both games ended with the home team winning 27-24.
Stat of the Week No. 4: Peyton Manning, who has twice as many touchdown passes as interceptions in regular-season games, has 16 touchdown passes and 13 interceptions in the postseason.
Stat of the Week No. 5: Manning improved to 5-6 as a postseason starter.
Stat of the Week No. 6: With eight minutes remaining in the second quarter of the New England at San Diego game, the sixth quarter of AFC playoff action this weekend, the first AFC touchdown was scored.
Stat of the Week No. 7: Nate Kaeding has hit 25 of his last 27 field-goal attempts at home -- both misses coming in crucial situations late in playoff games.
Stat of the Week No. 8: Marty Schottenheimer now has a 5-13 playoff record, for a .278 winning percentage.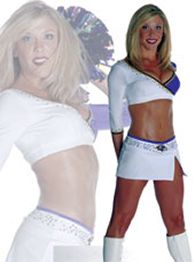 Baltimore Ravens
She's gorgeous, scantily attired, and likes football, science fiction and video games. Fifty million guys want to know if she has plans for the weekend.
Cheerleader of the Week: Jon McDonald of Toms River, N.J., was among many readers who have suggested Suzanne L. of the Baltimore Ravens, a cheer-babe whose team bio says her hobbies are "Complex analysis, dancing, Star Trek and Lord of the Rings, playing Everquest." Also according to her team bio, Suzanne L. has a bachelor's in mathematics. A beautiful, glamorous woman who likes football, science fiction and video games -- the dreamgirl of about 50 million guys!
New England at San Diego Analysis: So you're San Diego. You're overconfident because you spent the bye week telling yourself you are the 1966 Packers while Tom Brady and Bill Belichick are yesterday's news. Simultaneously you're nervous because Marty Schottenheimer cannot beat the Dillon Panthers in the playoffs. Now you've just seen the Patriots erase a 21-13 deficit to tie the game with 4:30 remaining. Why, exactly, do you decide to panic? The game is tied. You've got the ball with 4:30 remaining. You've got the league's best running back and the league's best offensive line. Belichick in this situation would relentlessly grind the clock, planning to kick the winning field goal with a few seconds left. So what did the Chargers do? Handed off to LaDainian Tomlinson for 5 yards -- then incompletion, incompletion, punt. Up to the point at which the Chargers panicked, Tomlinson and backup Michael Turner had combined for 26 carries for 147 yards, a 5.6-yard average. Run the ball and control the outcome! You're at home, where crowd energy helps the rushing game! Instead incompletion, incompletion, punt -- then watch New England dance at the center of your field.
The faces of the Chargers' players suggested they expected to win by 20 points, and when LaDainian Tomlinson scored to make it 21-13 with eight minutes to go, they decided to act as if they were ahead by 20 points. With eight minutes remaining, the Bolts were celebrating on the sidelines, and the clueless Schottenheimer did not tell them to get their heads back in the game. Schottenheimer was oblivious to the 16-ton weight about to be dropped on his head -- even though the opponent was the most efficient, unflappable team in NFL history! When New England's players saw some Chargers celebrating on the sidelines with eight minutes remaining as if it was already over, and realized the clueless Schottenheimer was oblivious, they smelled blood. I'll never forget the look on Michael Jordan's face when he saw Charles Barkley start to dance and clown around with a minute left in an NBA Finals game that Barkley thought Phoenix had already won. Jordan smelled blood, and a moment later the NBA crown was his.
Oh how well New England played down the stretch. Reaching second-and-1 on the San Diego 4 with about five minutes remaining, trailing by eight points, the Flying Elvii lined up "heavy," and the Bolts responded with a nine-man line. At that point New England had 47 yards rushing and had dropped back to pass on 17 consecutive snaps! Yet San Diego fell for the play fake. They've thrown on 17 consecutive snaps, why are you buying the play-fake? Now it's 21-19 and the visitors line up to go for two. Not only did New England successfully execute a high school play -- direct snap to the tailback as the quarterback jumps into the air to simulate a bad snap. Before the snap, Tom Brady was furiously pointing and gesturing to the wideouts on his left, as if audibling to a pass. The pointing and gesturing was all a ruse.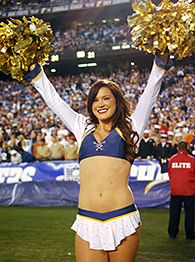 Kirby Lee/Wireimage.com
The San Diego cheerleaders gave it their all; the San Diego fans gave it their all; Marty Schottenheimer gave it ... well, the bad news is Marty Schottenheimer gave it his all.
When the pressure is on, New England's tactical decisions are almost always right. The Pats played most of the first half with two tight ends, and trailed 14-3 at the two-minute warning of the second quarter. At that point, New England switched to three wide receivers, forcing San Diego to put nickel back Antonio Cromartie on the field. Cromartie may have been a first-round draft choice, but he started only one season at Florida State and often seems to have scant idea of where he should be on the field. Playing a little more than half the game, Cromartie recorded six tackles, most by any San Diego defensive back -- and all came after his receiver caught a pass. From the point New England switched to multiple wides, the visitors outscored the home team 21-7. And as usual, the New England offensive line becomes invincible in the playoffs, surrendering only one sack after the Pats went three wide and opened up the edge to the boastful Shawne Merriman. His only "sack" was to stop a Brady scramble at the line of scrimmage.
I guess I don't need to mention that on what proved the decisive down for the Patriots (score tied, New England facing third-and-10 on its 34 with less than three minutes remaining, odds favoring a stop for the defense). San Diego blitzed, resulting in a 49-yard completion into field-goal range. A sharp quarterback like Brady wants to be blitzed on third-and-long! I ask anyone to explain why Schottenheimer decided to go for it on fourth-and-11 on the New England 30 when the game was scoreless, and a 47-yard field-goal attempt for Pro Bowler Nate Kaeding beckoned -- the play resulted in a lost fumble -- then decided to punt on fourth-and-4 from the New England 41 on the next possession. Fourth-and-11 in field-goal range, I'd kick. Fourth-and-4 on the 41, I'd go for it. Schottenheimer did a nice job of getting the percentages backward! I ask anyone to explain why Schottenheimer wasted a timeout by challenging a fourth-quarter fumble ruling, when the call was obviously correct. Imagine how different the endgame might have been if San Diego still held a timeout when it reached first-and-10 on the New England 36 with 24 seconds remaining.
And I ask anyone to explain where the San Diego coaching staff was with the Bolts leading 21-13 and New England facing fourth-and-5 with 6:25 remaining. Marlon McCree of San Diego intercepted the ball, then committed the aforementioned fumble. On fourth down you knock down the pass! Had McCree simply slapped the ball to the ground, the Bolts would have taken possession on their 41 with the clock winding down, the league's best running back and an eight-point lead.
On fourth down it is the responsibility of the coaching staff to remind defenders not to intercept! Before a key fourth down in our middle-school flag league this fall, I screamed to my players: "Knock it down! Do not intercept!" My 11-year-old, Spenser, had a perfect bead on a pick and instead slapped the ball to the ground. After the game he said, "Dad, I really wanted the interception, but I knew you knock it down on fourth down." Why didn't San Diego's professionals know this? Why didn't the highly paid San Diego coaches remind them? Before a fourth-down snap by the opponent, coaches are supposed to scream, "FOURTH DOWN! KNOCK IT DOWN!" Knocking the ball down on fourth down not only gives your team possession at the original line of scrimmage, which is usually a better spot than an interception spot, but prevents the intercept-then-fumble scenario. McCree said after the game that he made the pick because he thought he would score a touchdown -- another reason why defenders must be coached to knock it down on fourth down! Defenders always fantasize about touchdowns. McCree would have been lucky to get back to the original line of scrimmage. All San Diego had to do on this season-killer snap was exhibit a standard well-coached response to a favorable situation, and the Chargers might now be preparing to host the conference championship. Instead, San Diego screwed up something several of my 11-year-olds got right on several occasions this fall. And note that neither CBS announcer so much as noticed that slapping the ball down would have saved San Diego's day. Endlessly it amazes me that television football pundits who are well-paid to do nothing all year but yak about sports seem unaware of the basics of what's happening on the field.
As for New England, two months ago TMQ did an item on the fact that productive receivers who sign big-money deals to leave Foxborough immediately become average or nonentities (Deion Branch, David Patten, David Givens) while unwanted receivers who arrive at New England (Reche Caldwell) immediately become ballers. I speculated this had something to do with the male-modelesque Brady. Now Jabar Gaffney -- a nobody at Houston for years, 11 receptions in the regular season in 2006 -- gets inserted into the Flying Elvii postseason lineup and so far has 18 catches in two outings.
Expensive is Better -- at Least in the First Year: Why did Atlanta give Bobby Petrino nearly $5 million a season to become head coach, when the majority of recent football-factory coaches jumping to the NFL have exited with tails between their legs (Nick Saban, Steve Spurrier, Butch Davis, Dennis Erickson)? As TMQ notes annually at this time, NFL coaching vacancies come along much more often than football-factory vacancies -- the average head coach tenure in the NFL is about three years, more than 10 years at the football factories -- for marketing reasons. In the NFL, two-thirds of teams do not make the postseason, and thus two-thirds of fan bases end the season hopping mad; firing the head coach is the most practical, dramatic step an owner can take to give fans hope that next year will be different. In college, nearly every football factory makes a bowl game, so nearly every football factory can end the season claiming success. Because a college football factory season almost always ends in a bowl game, the ticket selling period -- most tickets are sold over the winter -- begins on a high note. Many NFL ticket selling periods begin on a low note, the team just having failed to make the playoffs. A high-profile coaching appointment kicks off the seat-selling campaign with a positive.
Even assuming Petrino becomes a successful NFL coach -- which is statistically unlikely -- he might add one, perhaps two victories to the total the Falcons could achieve next season. But he'll add tremendously to marketing. The Falcons traditionally have struggled to sell out the Georgia Dome. The last two years were good sales years owing to Michael Vick excitement, but then both years ended on bummer notes. It was reasonable for the Falcons to expect trouble selling seats this offseason. Hiring Petrino should change that. If his name sells 5,000 seats per home game in 2007, that will bring in around $2.5 million in ticket revenue and a roughly equal sum in parking and concession income. So Petrino is likely to pay for himself -- in the first season, at least. Subsequent years will depend on whether his aura remains or fades.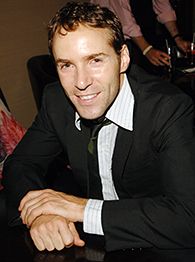 George Pimentel/WireImage.com
Actor Alessandro Nivola, who's debonair, a skilled actor, a rising star in Hollywood and the son of TMQ's Brookings boss. Did we mention that he's also studly? (The actor, not my boss.)
David Beckham note: his "$250 million" deal to play in Los Angeles is actually "up to" that amount, depending on how the marketing goes. How long till it is common for star players and coaches to sign deals whose value is contingent on seat sales and tie-in income? Movie note: Beckham has a cameo in "Goal II," due soon, which costars the debonair hunk Alessandro Nivola, son of my boss at the Brookings Institution.
Seattle at Chicago Analysis: TMQ has done a couple items on the decline of Walter Jones, who last year won the coveted "longest award in sports" -- the Tuesday Morning Quarterback Non-QB Non-RB NFL MVP -- but this year has had streaks of being average or even bad. Sunday, the score is tied, 24 seconds remain in regulation and the Seahawks have third-and-10 on the Chicago 45, holding a timeout. A 15-yard completion puts the Hawks in range for the kick to win. And ahem -- it's a playoff game, this down is not exactly chopped liver. The ball is snapped and the Bears rush only three; Tank Johnson records the sack that ends Seattle's chance to win while Walter Jones just stands there watching. Five Seahawks offensive linemen were available to block three rushers. As Matt Hasselbeck struggled to avoid the sack, Jones, guard Rob Sims and center Chris Spencer simply stood there watching, not blocking anyone or even attempting to block anyone. This was the Single Worst Play of the Season So Far.
Painful sequence for Hawks fans: Chicago ball, and Rex Grossman throws a 68-yard touchdown strike to Bernard Berrian, who runs the deep post with no safety in sight. Now it's three snaps later, and Matt Hasselbeck throws the deep post to Darrell Jackson. Brian Urlacher, the middle linebacker, is in position deep to break up the pass.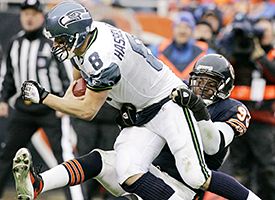 AP Photo/Jeff Roberson
Looking at this photo makes you feel like a Seahawks offensive lineman -- because you're doing nothing while Matt Hasselbeck gets sacked.
Game tied at the two-minute warning, Seattle faced fourth-and-1 on the Chicago 44 and made the right decision by going for it -- punting would have been ridiculous. Hasselbeck bobbled the snap, preventing the Seahawks from converting and going on to win. How has it gotten all the way to Tuesday and the sports-yak world seems not to have noticed that hard on the heels of winning a playoff game against Dallas when the Cowboys' quarterback bobbled a last-minute snap, the Seahawks' quarterback bobbled a last-minute snap? Surely the football gods chortled. In the final three minutes of regulation, Seattle snapped the ball in Chicago territory six times, and six times failed to get the extra few yards needed for the field-goal attempt to win. Blue Men Group fans, it just wasn't meant to be.
The Future Will Occur at Some Point: In my preseason preview of the NFC, I noted, "Sooner or later the Skins' profligate ways will catch up with them." Make that sooner. Washington faces a salary cap crash, plus had already traded away its second, third and fourth choices of the 2007 draft. The Redskins have even already traded away 2008 draft choices! Jason Campbell looked like the real deal at quarterback, but otherwise this team has serious needs and little cap space or draft ammunition. Last winter TMQ proposed that the best thing Chainsaw Dan Snyder could do during the 2006 offseason would be to lull on the beach of some private island, quaffing rum drinks with little parasols. Instead Snyder hung around Redskins Park and insisted the team release good players who went on to perform well elsewhere (Ryan Clark, Walt Harris, Robert Royal) while spending megabucks on glamour boys other teams wanted to get rid of (Adam Archuleta, Andre Carter, T.J. Duckett, Brandon Lloyd). The expensive glamour boys performed just as poorly in Washington as they had for their previous employers. How could Snyder possibly have anticipated that! To top it off, though the Redskins finished 2005 playing well on offense, Chainsaw Dan insisted the team toss out its entire offensive system and bring in a new system administered by a new guy with the nutty title "associate head coach." Now how could anyone possibly have anticipated this would trigger a poor offensive performance in 2006? Please Dan, in the 2007 offseason, park yourself on a secluded beach thousands of miles from our nation's capital, order drinks with parasols and leave the football to the people who know what they're doing.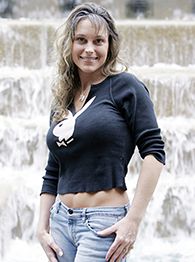 AP Photo
When Staff Sergeant Michelle Manhart disrobes, Air Force personnel stand at attention.
Mega-babe News: The Air Force just suspended staff sergeant Michelle Manhart, who posed nude for the issue of Playboy now reaching newsstands. "This staff sergeant's alleged action does not meet the high standards we expect of our airmen," an Air Force spokesmen told the Associated Press. Why say "alleged?" Open an issue, the proof is there. Plus it seems to me the Air Force having a sergeant good-looking enough to pose for Playboy does reflect "high standards."
Philadelphia at New Orleans Analysis: Oh no -- the Saints almost lose on the trendy flip! The "flip" play has gone from rare to standard this season, and leading 27-24 with three minutes remaining, ball on the Eagles' 32, New Orleans called the flip and fumbled it, Philadelphia recovering. Then the Saints forced the visiting team into fourth-and-15 from its 39-yard line, 1:56 remaining, Philadelphia holding two timeouts. You cannot under any circumstances even consider punting! Boom went the punt, and needless to say Philadelphia never touched the ball again. Sure, fourth-and-15 is a long down, but I seem to remember the Eagles' converting a fourth-and-26 in the playoffs. Anyway, it's do-or-die, you must go for it! With Philadelphia having only two timeouts, the best outcome for the punt was that New Orleans would be stopped on its possession and kick the ball back, giving Philadelphia roughly the same field position with one minute and no timeouts. This outcome assumes Philadelphia can stop New Orleans from gaining a clock-zeroing 10 yards in three tries, and to that point New Orleans had rushed for 5.7 yards per attempt. Of course, Philadelphia was not able to prevent those 10 yards. A fourth-and-15 try was more promising than a passive punt -- and then if you fail, you go down swinging.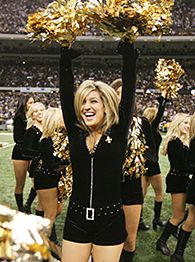 Tom Briglia/Wireimage.com
Maybe Andy Reid was distracted by the Saints' cheerleaders when he ordered the fatal punt.
Highlight of the game: Trailing 21-13, New Orleans faced first-and-goal on the Philadelphia 5. Deuce McAllister took the ball straight ahead and seemed stopped at the 2, but kept driving his legs for the touchdown. What made this play a highlight: Every player on the New Orleans side kept driving his legs. The Saints' offensive linemen did not simply shove their men and then stand up and look around, as highly paid NFL offensive linemen so often do. All New Orleans blockers kept driving the Eagles back until they heard the whistle. The football gods reward that sort of thing.
Lowlight of the game: Trailing 27-21, Philadelphia faced third-and-1 on the New Orleans 4 at the start of the fourth quarter. The Eagles rushed for 6.2 yards per carry in this game: just run the ball and the first down is likely. Instead, the Eagles pass, loss of yardage, field goal and the visitors never penetrated New Orleans territory again. Just run the ball! Especially since in this situation, any result except a loss of yardage and a fourth-down run is a high percentage play, too. TMQ has done numerous items on how the pass-wacky Andy Reid seems to think that only passing yardage counts. Down at the goal line in a game in which the Eagles rushed well, Reid didn't want a rushing touchdown, he wanted a passing touchdown -- the sports press treats passing success as evidence of coaching genius, while viewing rushing success as just bump-and-grind. Reid's tragic flaw, his desire for passing numbers, may have cost the Eagles a postseason win. This isn't important enough to call Greek tragedy. Maybe it rises to the level of Albanian tragedy.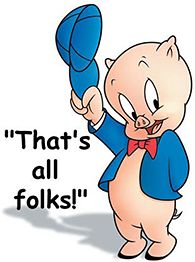 Porky came along before computer animation. He was a real pig -- in the imaginary sense.
Porky Pig Isn't in the Commercial Because He Carries American Express: The "where have I heard that before?" tune playing in a current Visa commercial -- food court meals being served in assembly-line fashion until someone pays with cash instead of with a Visa card -- is "Powerhouse" by the jazz composer Raymond Scott, who wrote the music in 1937. "Powerhouse" is among the most-quoted airs of modern music -- quoted in musical terms -- yet few can identity the composition's name. About industrial power and automation, "Powerhouse" became the theme music for Warner Bros. cartoons of World War II era, and has since been heard in The Simpsons, the film "Honey I Shrunk the Kids" and as theme music for Cartoon Network. Here is the main air in the 1937 version, and here another portion of the work often heard in cartoon chase scenes. Scott, who died in 1994, composed a substantial body of jazz and helped develop the electronic synthesizer. You can watch the Visa commercial here. Though it depicts short-order cooks flipping flapjacks, the spot is titled "Lunch."
Advertising note: OK, OK, I'll buy a Dodge Ram and drive it to Wendy's for the $2.99 meal! Man am I sick of the Rock 'Em Sock 'Em Robots commercial and the Wendy's $2.99 commercial, which during the NFL playoffs seemed to run more than all other advertising spots combined.
Britney Gave Interviews to All Seven Authors, Saying "Like, Whatever" Seven Times: TMQ dislikes the modern convention of listing multiple people as "authors" of a work written by a single person; this is part of the overall cheapening of the written word. Several previous items have concerned the absurd number of people listed as "authors" of scientific papers. For example, the lead paper in the current issue of Science magazine, "Draft Genome Sequence of the Sexually Transmitted Pathogen Trichomonas Vaginalis," lists 67 authors. (Yes I know science papers list those who only purport to have contributed to the research, but most names are there for reasons of bureaucratic credit-grabbing, and if the paper turns out wrong and must be withdrawn, about 65 of the 67 will claim they aren't responsible.) There's now a New York Times article devoted to mocking the fact that People magazine's latest Britney article lists seven authors. The Times' own article mocking multiple authors lists two authors! Anyway, it seems perfectly reasonable that seven people would be required to think of something new to say about Britney.
Globalization Works in Both Directions: Years ago, at a dinner party in Pakistan, I enjoyed a bowl of mango ice cream, and thought, "This mango craze will never get out of the subcontinent." Good thing I didn't make a prediction! Qibla Mango soda is becoming the must-have drink in parts of the developing world. Qibla is an English transliteration of an Arabic term that means "to have direction in one's life." The company was founded in the United Kingdom; currently British Columbia is the only part of North America where Qibla drinks are sold. Now McDonald's has jumped on the bandwagon with a mango milkshake. How long until developing-world products and flavors become as common in the West as Western items are elsewhere?
Indianapolis at Baltimore Analysis: Brian Billick must be relieved that Indianapolis at Baltimore was the first game of the divisionals and New England at San Diego the last -- meaning when the weekend concluded, the sports world was focused on the collapse of the Bolts and the poor coaching job by Marty Schottenheimer. The collapse of the Ravens and the poor coaching job by Billick seemed as much a story. Baltimore entered at 13-3, having given up the fewest points in the league, and with plenty of motivation to defeat the team that abandoned Charm City in the dead of night 23 years ago. Instead, the Ravens got steam-cleaned. Baltimore had a poor game plan, performed listlessly and seemed to quit in the second half though trailing by only one score until the closing moments. Schottenheimer at least had his team ahead most of the way and in the game until the final snap. Billick never even had his team in the game.
Here's one of many examples of Billick's slipshod coaching. Trailing 9-3, Baltimore took possession on its 20 with 1:05 remaining in the first half, holding two timeouts. Billick had the Ravens run the ball into the line twice and then trot to the locker room, never calling the timeouts despite quickly gaining a first down. Huh? What? This is the playoffs, there is no tomorrow! Allow me to rephrase: Huh? What?
Ravens players gave a pitiful effort, quitting on play after play. With Indianapolis leading 3-0 in the first quarter, Todd Heap fumbled a short pass in the flat, just 3 yards downfield. As Heap and some Colts fought for the ball, the entire Baltimore offensive line just stood and watched. The fumble occurred a short distance from the Baltimore offensive linemen, and they stood doing nothing at all, as if posing for a group portrait, while Indianapolis recovered. Later, in the third quarter, the Ravens were backed up on their 5, and Steve McNair was being chased in the backfield. Baltimore center Mike Flynn not only did nothing at all to help McNair -- Flynn stood watching and adjusting his elbow pad as his quarterback was being hemmed in and slammed down. He's your quarterback, go protect him! Later, in the fourth quarter, Baltimore was within a touchdown of the lead when McNair heave-hoed toward receiver Demetrius Williams. The pass was a little short, and Williams just stood there watching, making no attempt to break up the interception that followed. One or two players might give poor effort, and have themselves to blame. When everyone on a team gives poor effort, the coaches are to blame.
The signature play of Baltimore's defense this season has been the overload blitz, in which two or even three come from the same area. Previously I speculated that the overload blitz, which works against inferior teams, would backfire against the savvy Peyton Manning. We'll never know, because the Ravens' defense played vanilla the entire way -- conventional 3-4 with little stunting or blitzing. Last January, Pittsburgh defeated Indianapolis in the postseason by coming into the game with a blitz-happy reputation, then playing straight defense. Maybe Baltimore coaches were trying to use that ploy. But Indianapolis coaches have now seen that game plan, and seemed ready for straight defense. When vanilla didn't work, Baltimore never adjusted. Though TMQ doesn't like constant unorthodox blitzing, this was what made Baltimore the league's best defense in the regular season. Dance with the one who brung ya!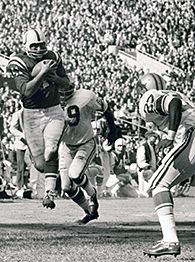 AP Photo
Maybe Brian Billick would have taken the shackles off Tom Matte and let him try to win.
On offense, Billick seemed to lose confidence in McNair after the quarterback threw an interception at the Indianapolis goal line in the second quarter. From then on the Ravens' offense went vanilla too. Example: Early in the fourth quarter, the Nevermores faced third-and-18 on the Indianapolis 39, trailing 12-3. Billick, who was calling the plays, called a short dump pass to the blocking back; gain of 6, field goal, and Baltimore never scored again. McNair was 16 of 21 at that point; Baltimore desperately needed a touchdown both to draw within one score and to rev up the crowd. Yet Billick called a designed dump pass -- McNair never looked at anyone but the blocking back. If you've lost confidence in your quarterback, take him out! Put in Kyle Boller or Trent Dilfer or Tom Matte. Billick seemed to view victory as so automatic it barely even mattered if the offense scored.
Billick's poor coaching caused TMQ to write "game over" in his notebook as early as I ever have for a non-blowout. Indianapolis leading 12-3 midway through the third quarter, Billick ordered a punt on fourth-and-4 from the Colts' 41. Not only does the average NFL play gain about 5 yards: you're down by two scores in the second half in opposition territory in the playoffs. Why are you punting???????????? I scarcely need tell you it took Indianapolis just two snaps to pass the point where the ball would have been had Baltimore gone for it and missed. By going for it here, Billick could have kept a scoring drive alive and told his players he was challenging them to win the game. By launching a mincing fraidy-cat punt he told his players the coaches had quit on the game, so they might as well quit too. As Indianapolis quickly roared past the point of the Preposterous Punt, Dan Dierdorf solemnly intoned, "Brian Billick felt like he had a great chance to get his offense great field position" with a defensive stop. Billick's offense just had great field position, and passively surrendered the ball.
As for Indianapolis, you don't need to say much about a club whose defense holds the favored team without a touchdown on its home field, and whose offense stages a scoring drive that begins on its own 1-yard line against the league's leading defense. The Colts looked as ready as they'll ever be to break the Dungy-Manning Super Bowl jinx. My only small complaint: Twice in the fourth quarter, the Colts took possession with a six-point lead and instead of grinding the clock, tried to insert the misericord with play-fake passes. The passes resulted in an interception and a sack-then-punt, with hardly any time used. After gaining their third possession of the fourth quarter, still leading by six, the Colts finally ran -- rushes on 12 of 13 snaps, staging a classic clock-killing drive to seal the victory. Several times this year, Indianapolis has entered the fourth quarter leading and gone for the quick coup de grace rather than start working the clock. It's something to be aware of.
Disclaimer of the Week: Recently I used Columbia University's applications Web site to send a letter of recommendation for a former student who is applying to Columbia grad school. Before doing this, the user must click "I accept" to a 1,168-word disclaimer, much of which was in all-caps to discourage reading. Froth in the Columbia disclaimer included, "Access and use of the online recommendation is subject to all applicable federal, state and local laws." You don't need to click "I accept" to cause federal and state laws to apply. The law applies whether you want it to or not.
Movie Disclaimer of the Week: The disclaimer for the Cedric the Entertainer flick "Code Name: Cleaner" warns of "sexual content, crude humor and some violence." My guess is it should really warn, "crude sexuality, violent content and some humor."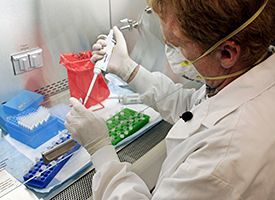 AP Photo/Chuck Stoody
Act before midnight tonight to receive a free chromosome.
Coming Soon -- Drive-Through DNA: "RheoSwitch -- precise, variable control of mammalian gene expression." Haven't you always dreamed of precise control of mammalian gene expression? Buy it here. Hmmm, wonder if they will send me a free sample of this pMYB5 control plasmid so I can try manipulating a little E. coli at home. Welcome to the world of the gene-device ads in Science magazine,which has been taken over by advertising for genetic materials and gene-manipulation laboratory devices. All of the full-page ads in the front of the magazine in a recent issue were for such products. (Advertising in the front of a magazine costs more than in the middle.) "Ambion's MagMAX delivers high-quality RNA to maximize the success of your gene expression studies," one ad says. "Achieve excellent transfection efficiency in some cell lines," a Roche ad promises. "One reagent convenience for DNA and RNAi transfection," an ad for Invitrogen proclaimed. "SpeedStar DNA Polymerase is a convenient, efficient DNA polymerase specifically designed for fast PCR," Takara Bio promised. I liked my polymerase convenient! "Enter the world of reliable gene silencing," Qiagen's ad headlined. "Our next generation of high-fidelity Pfu-based fusion enzymes sets a new standard for PCR performance," Stratagene's inside-cover ad proclaims. OK, medical laboratories need to shop for products just like everybody else does. What's spooky is that these are slick ad-agency ads with graphics and sell lines. "MessageAmp II -- Biotin Enhanced!" cries an ad for Ambion, whose Web site promises, "Scale up easily to acquire more RNA." The magazine ad for Ambion has flowers and looks for all the world like a prescription-drug sales pitch. "DNA Sequencing for $2.50 per reaction," with "plasmid and PCR purification available" and "no charge for standard sequencing primers" proclaimed a recent ad in Science, while "Simplify Gene Silencing Experiments with Pre-Designed RNA -- Fast! Easy! Guaranteed!" declared another.
Corporate Overlap Watch: This season Cris Collinsworth called games on both NBC and on NFL Network, and you can't watch NFL Network without first turning off NBC, or vice versa. Peter King of Sports Illustrated appeared on NBC's Football Night show: Sports Illustrated is owned by Time Warner, which owns CNN and TNT, and you can't watch either without first turning off NBC. The NFL gains most of its revenue by selling rights to NBC, CBS, Fox and ESPN, which can't be profitable and thus pay the NFL unless people watch their shows, and you can't watch NFL Network without first turning off NBC, CBS, Fox or ESPN. You can watch any network using DirecTV, but to watch 99 percent of what's on DirecTV, first you must switch off Fox, which is owned by News Corporation, which owns DirecTV. I'm not sure where Verizon and Sprint figure into this, but I'm working on it.
Reader Animadversion: Got a complaint or a deeply held grievance? Write me at TMQ_ESPN@yahoo.com. Include your real name and the name of your hometown, and I may quote you by name unless you instruct me otherwise. Note: Giving your hometown improves your odds of being quoted.
Next Week: The Tuesday Morning Quarterback All-Unwanted All-Pros -- the NFL's best players who were undrafted, or waived, or both. In addition to writing Tuesday Morning Quarterback, Gregg Easterbrook is the author of "The Progress Paradox: How Life Gets Better While People Feel Worse" and other books. He is also a contributing editor for The New Republic, The Atlantic Monthly and The Washington Monthly, and a visiting fellow at the Brookings Institution. Sound off to Page 2 here.