The season has corkscrewed to a close, and now all space aliens, mega-babes and football enthusiasts face that long, desolate offseason until two-a-days resume in July. That makes the time appropriate to point out a fact that many Americans don't believe -- there are more days in the year without football than with! Discounting college spring games and the pro preseason, contests that even the immediate relatives of players have trouble caring about, during 2007, football games will occur in the United States in 23 of the year's 52 weeks. Forty-four percent of the weeks there will be football; 56 percent of the weeks there will not be. Monday night telecasts? Counting "Monday Night Football" on ESPN and college games, 20 of the 52 weeks of 2007, or 38 percent of Mondays. Two Mondays without football for every one Monday with -- can that be legal? Figuring down to the days, I roughly estimate there will be about 90 days in 2007 when a person can either watch a football game on national television or easily attend a local high school contest. That's 25 percent of the days of 2007. Only one day in four brightened by football. Can that be legal?
The season might have ended, but Tuesday Morning Quarterback has saved the best for last: my annual Bad Predictions Review. And if you read this thinking, "Wait a minute, a month before the draft we predicted the Texans would select Mario Williams instead of Reggie Bush" -- actual prediction from the Houston Chronicle -- remember, this is my Bad predictions review.
Category One: Offseason Predictions
Six of the top 10 teams in last June's ESPN.com's 2006 power rankings failed to make the playoffs. Last July, "SportsCenter" had football pundits Mike Golic, Sean Salisbury and Mark Schlereth spend a week producing an elaborate complete-season forecast. Their predicted Super Bowl winner? The Carolina Panthers, who failed to make the playoffs. They forecast Indianapolis would lose in the first round of the playoffs, while the Redskins, whose actual finish was 5-11, would be the league's third-best team. Four of the group's predicted postseason entrants (Atlanta, Carolina, Pittsburgh and Washington) failed to achieve a winning record.
Over at Sports Illustrated, in June 2006 Jeffri Chadiha predicted Chicago would fail to make the playoffs. "Plaxico Burress won't be the only unhappy person in the Tri-State area, there will be plenty of Giants fans joining him because their team will be home for the postseason," Chadiha foresaw; Jersey/A made the playoffs. Nunyo Demasio of Sports Illustrated wrote that if the Chargers let Drew Brees go, "the franchise [faces] dark days." The Chargers let Brees go and finished with the best regular-season record in the league. Demasio forecast Carolina to win the Super Bowl while the Cleveland Browns would be "contenders" and "the NFL's most-improved team." Cleveland finished 4-12. Andrew Perloff of Sports Illustrated predicted Baltimore would fail to make the postseason: "The Ravens will [not be playing] in January. Take it to the bank. Take it to the M&T Bank Stadium." Baltimore finished 13-3 and opened the postseason at home at M&T Bank Stadium. Peter King of Sports Illustrated predicted Dallas would beat New England in the Super Bowl; Dallas failed to make it past the first round. King predicted Drew Bledsoe would quarterback the Cowboys' Super Bowl win, though in 2005, King had called Bledsoe "too old to be really good anymore." Meanwhile in order for New England to have appeared in the Super Bowl, it would have needed to win the AFC Championship. Yet later, in the week before the actual AFC Championship, King would predicted New England would lose.
At NBC Sports, Michael Ventre forecast a Super Bowl of New England over Carolina. Ventre dismissed the Colts as "wannabes," adding, "unless the franchise does a roster overhaul and brings in some players with muscle and mean streaks -- especially on both sides of the line of scrimmage -- they'll again have a glowing record followed by an ignominious exit." Indianapolis dominated line play on both sides in its Super Bowl win. Ventre further forecast that Atlanta, Minnesota and Tampa "are legitimate dark-horse candidates to pull a surprise." They surprised only him, all missing the playoffs.
Greg Cote of the Miami Herald forecast a Super Bowl of Panthers over Chiefs; neither recorded a playoff victory. Bill Williamson of the Denver Post predicted the Miami Dolphins would go "all the way to the Super Bowl -- and beyond," which is a spacey thought. Miami finished 6-10. Williamson further declared that New Orleans signing Drew Brees "won't work." Brees made the Pro Bowl while New Orleans reached the NFC championship. (After writing in the offseason that New Orleans signing Brees was a big mistake, in December, Williamson wrote that signing Brees was "the best pickup of the 2006 offseason.") In a piece for MSNBC, Williamson foresaw, "There will be no surprise contenders. Of the 12 teams that made the playoffs in 2005, at least 10 stand a strong chance of returning." Five of the 2005 playoff teams returned to the 2006 postseason, while the Jets and Saints surprised by changing from terrible in 2005 to playoffs in 2006.
At the Boston Globe, Ron Borges foretold that Miami picking Daunte Culpepper over Brees was "a gamble that looks like it might pay off." Culpepper was benched. At CBS Sportsline, Pete Prisco wrote that acquiring Culpepper made Miami "a legitimate Super Bowl threat." Signing Aaron Brooks, Prisco predicted, "could be a move that pays off in a big way for the Raiders." As for the Jets, "It's a two-year rebuild for this team." Of Chicago's quarterback, Prisco predicted, "Don't give up on Rex Grossman. The kid has tools." Maybe he left them in his pickup truck!
At MSNBC, Don Pierson -- whose column is titled "Ask the NFL Expert" -- forecast, "The Saints aren't very good and probably won't make the playoffs." Vince Young "won't even get to play." Young was Rookie of the Year. The Texans will be a force in 2006, Pierson foresaw, because "Gary Kubiak should be able to construct an offense a whole lot better" than the team's 30th finish of 2005. Houston finished 28th on offense. Meanwhile The Sporting News forecast that Kevin Jones of Detroit "likely will make the Pro Bowl." Jones ran for 689 yards.
Jeremy Green of Scouts Inc. predicted Dallas would win the NFC East, while Keith Kidd of the same service forecast Washington would win the same division; neither team did. Another Scouts Inc. prediction, from Gary Horton: "The biggest offseason move by the Cowboys may be the acquisition of veteran kicker Mike Vanderjagt. His accuracy could result in a couple of wins." Vanderjagt was waived after blowing two game-winning kicks.
AP Photo/Jae C. Hong
Iraq, the federal deficit, global warming -- but some sociological trends are clearly positive.
Basically This Item Exists As An Excuse to Run the Swimsuit Photo: As the Miss America pageant struggles to remain relevant, I'll give you the winner from 80 years ago, Lois Delander of Illinois, and the winner from two weeks ago, Lauren Nelson of Oklahoma, as evidence life really is getting better. It seems puzzling that Nelson appears to be in pain, or panic, as she receives the crown -- and this is the image the Miss America organization chose to highlight. If you've ever wanted a set of Miss America golf balls, now's your chance.
Trust Us, We're Experts: The very first Wall Street Journal edition of 2006 had as its lead story an article predicting a bad year for stocks. "Expect below-average returns again in 2006," was the banner quotation, from Jeffrey Kleintop, chief investment strategist at PNC Advisors. During 2006 the Dow Jones Index rose 16 percent. The final Wall Street Journal edition of 2006 featured a wrap-up proclaiming "a blockbuster year" for stocks. The first Wall Street Journal of 2006 also contained a table in which 33 high-profile Wall Street, hedge fund and corporate economists -- people who draw spectacular salaries for making economic forecasts -- predicted the coming 12 months. Their consensus was that 2006 would end with unemployment at 4.9 percent, the federal funds rate at 4.75 percent, the Euro at $1.20 and the Dow Jones "somewhere between 11000 and 11999." The year ended with unemployment at 4.5 percent, the federal funds rate at 5.25 percent, the Euro at $1.31 and the Dow Jones at 12463. Note: Considering the Wall Street Journal predicted 2006 would be a bad year for the stock market, I find it unsettling that in the first edition of this year, the same newspaper predicted 2007 will be a good year for the stock market.
Category Two: Predictions as the Season Begins
The Wall Street Journal forecast Indianapolis as the Super Bowl winner, although defeating the Panthers, who failed to make the playoffs. The Journal added that the Redskins' roster "should be improved enough to yield a division title." Washington failed to make the playoffs.
USA Today offered six dueling Super Bowl picks as opening night approached: Colts over Panthers (predicted twice), Panthers over Colts, Colts over Falcons, Panthers over Broncos and Seahawks over Bengals. All wrong! Plus seven of USA Today's 12 predicted Super Bowl entrants failed to reach the postseason. The Associated Press predicted that Baltimore, Chicago, Jersey/B and San Diego would fail to make the postseason while the Carolina Panthers "are Super Bowl material."
Chris Mortensen of ESPN.com forecast a Super Bowl of Dallas over Cincinnati; neither won a playoff game. Mort predicted New Orleans would be the league's worst team at 2-14; the Saints reached the NFC championship. "The Bengals won't just tear it up offensively, their defense will play at a higher level," Mortensen wrote; Cincinnati finished 30th on defense.
Adam Schein of Fox Sports predicted a Super Bowl of Panthers over Bengals; neither reached the playoffs. Culpepper, Schein foresaw, "will be in the MVP mix." For the Jets, "it's a rebuilding season." Schein predicted, "The Redskins are loaded with talent on defense -- Gregg Williams' unit will once again frustrate the opposition;" the Redskins finished 31st on defense. San Diego? "I haven't seen enough to put San Diego in the playoffs." Tampa? "Jon Gruden's Buccaneers will be a big factor in the playoff race." New Orleans? "This team will fall short."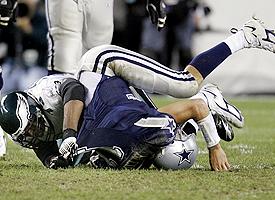 AP Photo/Rusty Kennedy
Bledsoe's season did not work out quite as predicted.
Just before opening night, Peter King switched his Super Bowl pick from Dallas over New England to Dallas over Indianapolis. He foresaw another big year for Seattle: "The Seahawks are the only NFL team that can say, with supreme confidence, 'We're going 6-0 in our division.''' Seattle finished 3-3 in its division. He prophesied of the San Francisco quarterback, "I don't see Alex Smith leading the Niners out of the wilderness, but I don't see him being the next Heath Shuler, either." He isn't! In 2006, Shuler became a congressman. King saw Miami winning its division at 10-6 because "Nick Saban made a great call on Daunte Culpepper," choosing him over Brees. Flash forward: Halfway through the season with Miami foundering, King would write, "The Dolphins long for the days before [selecting] Culpepper" because they should have signed Brees.
In its season preview issue, Sports Illustrated forecast a Super Bowl of Miami versus Carolina; neither made the playoffs. The previous year, Sports Illustrated had forecast a Super Bowl of Carolina over Indianapolis; neither made the Super Bowl. Five of Sports Illustrated's projected 12 playoff teams -- the Broncos, Dolphins, Panthers, Redskins and Steelers -- failed to make the postseason. These bad predictions pale, however, in comparison to the tea-leaf-reading of ESPN The Magazine, "Published on Earth The Planet." In 2004, ESPN Mag predicted Kansas City would win the Super Bowl; the Chiefs failed to make the playoffs. In 2005, the Mag predicted Minnesota would win the Super Bowl; the Vikings failed to make the playoffs. In 2006, ESPN Mag predicted Miami would win the Super Bowl; the Dolphins failed to make the playoffs. For three consecutive years, ESPN Mag's predicted Super Bowl winner has not even qualified for the postseason. After the Dolphins opened 1-3, the Mag declared "there is no need to panic" in Miami. Dear Miami: You should have panicked!
Then there was the incredible ESPN.com meta-forecast. Twelve fulltime pro football pundits predicted the Super Bowl outcome. Their forecasts: Colts over Panthers (predicted six times), Panthers over Colts, Colts over Seahawks, Seahawks over Colts, Panthers over Patriots, Seahawks over Broncos, and Bengals over Cowboys. Twelve tries, all wrong! No ESPN expert forecast the Bears to make the Super Bowl, while 10 of ESPN.com's 24 projected Super Bowl entrants failed to make the playoffs. Also from the meta-forecast: Michael Smith had Michael Vick as MVP, Mike Golic had Bill Parcells as Coach of the Year and Merril Hoge had Nick Saban as Coach of the Year.
College Bonus: CBS Sportsline predicted Ohio State would meet West Virginia in the BCS title game. West Virginia failed to make a BCS bowl.
Bad Quarterback Draft Predictions: Jay Cutler "could move ahead of Vince Young or perhaps even Matt Leinart," Clifton Brown of the New York Times wrote before the draft. The actual order was Young, Leinart, Cutler. "Matt Leinart may go second in the draft, he may go third, but he's not going to slip," Mel Kiper Jr. of ESPN declared before the draft. Leinart slipped to ninth. "Marcus Vick is going to be picked a lot higher than you think -- maybe as high as late third round," Matt Hayes of The Sporting News wrote shortly before the draft. Vick was not chosen in any round. (Marcus Vick "will be a star for the Miami Dolphins at wide receiver," Paul Zimmerman of Sports Illustrated added on September 1. The following day, Miami waived Vick. Although he was later re-signed by Miami, he caught zero passes on the season.) Clemson quarterback Charlie Whitehurst "could be this year's Charlie Frye," the Denver Post's Bill Williamson wrote before the draft. Perhaps that was an honor Whitehurst did not seek! Predictions to remember: On draft day, Hoge said Brody Croyle will be a better quarterback than Vince Young. Croyle is currently third string at Kansas City. On draft day, Ron Jaworski of ESPN said Kellen Clemens will be a better quarterback than Young, Leinart or Cutler. Clemens is currently the backup at Jersey/B. "In five years we will talk about Clemens the way we talk about Tom Brady," Jaworski predicted.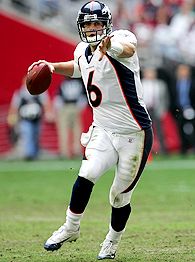 Stephen Dunn/Getty Images
Starting Jay Cutler was a "brilliant move" -- if the goal was a higher draft choice for Denver.
This Is Football; It's Baseball Where You Cover All Bases: Reader Randall Good of Gettysburg, Pa., notes that before the Cowboys at Eagles game, Cris Carter predicted in writing on Yahoo's sports site that Philadelphia would win. In a video clip on the same site, Carter predicted Dallas would win.
Retroactive Bad Prediction! In June 1986, Newsweek ran its infamous "Marriage Crunch" cover story, which pronounced that a college-educated career woman of age 30 had only a one-in-five chance of winning a husband, while an educated professional woman of age 40 had essentially no chance. At a time when this must have sounded funny to someone at Newsweek, the magazine declared that a single 40-year-old career woman was "more likely to be killed by a terrorist" than to find a man who would say "I do." Twenty years later in June 2006, Jeffrey Zaslow of the Wall Street Journal checked to see how these predictions stood the test of time. Women aged 30 to 40 in 1986 when Newsweek declared them unmarriageable are aged 50 to 60 now, Zaslow reasoned. Crunching Census Bureau stats, he found that 90 percent of college-educated American women between the ages of 50 to 60 have married at least once. Zaslow tracked down the 10 career-shark single women who were named in the 1986 Newsweek cover story as certain spinsters: eight later married. Zaslow was engaged in an informal "longitudinal" study, which in sociology means following what happens to people over an extended period. The mother of such studies is NLS-72 -- the National Longitudinal Study of the High School Class of 1972, which follows the lives of high school graduates from 1972.
Category Three: Midseason Predictions
Half the season is in the books, and patterns are emerging. What do the pundits predict now? "I'm reasonably sold on the Eagles" to win the Super Bowl, Michael Silver of Sports Illustrated wrote, while the main midseason Sports Illustrated article predicted a Super Bowl of Colts over Giants. "The Broncos' defense is great, better than Baltimore's hyped unit. And yes, the Denver defense is good enough to win a Super Bowl," Bill Williamson proffered in the Denver Post.
At the midseason mark, USA Today ran six more Super Bowl predictions: Colts over Falcons, Bears over Chargers, Patriots over Giants, Patriots over Bears and Colts over Bears -- the latter from Jeff Zillgitt. Sean Salisbury of ESPN also predicted, at midseason, Colts over Bears. These exceptions are essential to proving the rule: There are so many NFL predictions, somebody's got to be right.
Pete Prisco of CBS Sportsline foresaw that the injury to Donovan McNabb "will just about do it for the Eagles' playoff chances." When Mike Shanahan benched Jake Plummer for Jay Cutler, John Clayton of ESPN said Shanahan "has pulled off another brilliant move. By going down the stretch with rookie quarterback Jay Cutler … the Broncos appear set to enter the AFC playoffs." Denver went 2-3 under Cutler and missed the playoffs. Steve Silverman of MSNBC wrote at midseason that Tony Romo was the next Tom Brady while "the pieces are in place" for Cowboys to make Super Bowl. The pieces were what was left on the floor after the Cowboys' collapse.
Worst midseason prediction, from Jeffri Chadiha of Sports Illustrated: "The Indianapolis Colts will be exposed. They probably won't make a strong playoff run. They aren't going to win the Super Bowl."
Snyder to Hire Jeff George to Run New Restaurant Division: Last week Red Zone Capital, the investment firm of Chainsaw Dan Snyder, acquired Johnny Rockets, the 1950s nostalgia-burger chain. Here are some of the sweeping changes Chainsaw Dan plans:
• Fry cooks, busboys to be fired weekly.
• Successful menu items such as cheeseburgers to be dropped; Snyder personally will choose recipe for new seaweed burger.
• Instead of singing "That'll Be the Day" and "It's My Party," waiters and waitresses will sing "In A Gadda Da Vida."
• New corporate P.R. strategy will focus on denouncing media and suing anyone who mentions Johnny Rockets in print.
• Heinz ketchup to be replaced with Washington Redskins branded tomato-like product.
Michael P. Malarkey/WireImage.com
We're surprised the announcers didn't say "It was almost intercepted!" on this play.
Life Imitates Art: Last month Tuesday Morning Quarterback made sport of television announcers who cry "it was almost intercepted!" when a defender barely touches the ball. First Indianapolis snap of the Super Bowl, Peyton Manning threw over the middle and Brian Urlacher, leaping as high as he could, barely grazed the pass with his fingertips, knocking it off course. Jim Nantz of CBS: "It was almost intercepted!"
Retroactive Bad Predictions: "There's no question gas will hit $4 a gallon" in 2006. Ben Brockwell, director of pricing at the Oil Price Information Service, in 2005.
Super Bowl Commercials: This year's were so lame there is hardly even anything to mock, except the FedEx commercial, which showed cubicle workers of the future floating weightless in an office on the Moon. You're not weightless on the Moon! Coffee falls to the surface with a splash just like on Earth.
Bad Hurricane Predictions: The year of Katrina and Rita, 2005, obviously was awful for Atlantic cyclones, with a record 15 hurricanes. Both the National Oceanographic and Atmospheric Administration, and media-favorite hurricane forecaster William Gray of Colorado State University, predicted 2006 would be bad, too. In December 2005, Gray predicted for 2006 nine hurricanes, five of them intense; there was an 81 percent chance a major hurricane would strike land in the United States in 2006, Gray and CSU said with ridiculous pseudo-precision. In May 2006, NOAA forecast eight to 10 hurricanes, six of them intense. The 2006 hurricane season would be "hyperactive," NOAA declared: "The main uncertainty is not whether the season will be above normal but how much above normal it will be." Actual: In 2006 there were five Atlantic hurricanes, two of them intense -- pretty much smack on the 20th century average for the Atlantic basin. None made landfall in the United States.
What's amusing is not so much how far off the predictions were but how the forecasters tried to weasel out of their projections. Late in August, after most of the summer already had passed with calm seas, NOAA switched to forecasting only seven to nine hurricanes. Gray and CSU switched to forecasting seven hurricanes, three of them intense. That is -- now that we know there haven't been a huge number of hurricanes, we are predicting there won't be a huge number of hurricanes! In August, CSU lowered its prediction of a major landfalling hurricane from the ridiculous pseudo-precise 81 percent to an equally ridiculous pseudo-precise 73 percent.
AP Photo/Alan Diaz
I see nine ... no wait, seven ... no wait, I see five hurricanes coming!
In September, Gray and Colorado State changed predictions a second time, "forecasting" five hurricanes. That is, once it was nearly certain 2006 would end as an average year for hurricanes, the hurricane experts predicted an average year. Unable to resist its utterly meaningless pseudo-precise forecasts -- issued, perhaps, to impress science-illiterate journalists -- Colorado State said in September there remained a 59 percent chance a hurricane will affect the U.S. coast that month, plus a 14 percent chance a hurricane would strike the United States in October. Needless to say, none struck in either month. Note to the experts at Colorado State -- when you multiply a bunch of estimates, do not treat the product as precise.
Gray and CSU might as well have claimed there was a 59.263452096489244 percent chance of a landfalling hurricane. Hilariously, the Associated Press story about the September backtrack by Gray and Colorado State declared, "Previously, Gray had predicted seven hurricanes." Wait a minute, at first Gray predicted nine hurricanes. Then after he knew there would not be a lot of hurricanes in 2006, he started claiming he had predicted seven. After the hurricane season was nearly over, he started claiming he predicted only five. When media hurricane concern ramps up around Memorial Day, bet you anything Gray tells gullible reporters, "I was the one who predicted there would be five hurricanes in 2006."
Category Four: Bad TMQ Predictions
"Don't assume this is a lost season for Jersey/B," I wrote in August, when sports pundits were forecasting an awful year for the Jets. I listed four reasons Eric "I Was a Teenaged Coach" Mangini's charges would reach the playoffs in his first year. So am I am seer? Three weeks later when I predicted season records, I forecast Jersey/B at 4-12.
This year 11 of my 32 forecast season records proved exactly right or within one game plus or minus; 18 were off; three were way off. Last year I hit 11 of 32 exact or within one, too. Both these performances are disappointments compared to 2003, when TMQ predicted 18 of 32 season records either exactly or within one. Then I foolishly thought I might know what I'm doing; increasingly, 2003 appears to be a fluke. Last season I compared my 11-of-32 performance to Paul Zimmerman of Sports Illustrated, and found he also went 11-of-32. This season I compared my 11 of 32 to Don Banks of Sports Illustrated, and found he went 9 of 32 in predicting team records either exactly or within one.
My generic predictions took a beating. My annual Super Bowl generic prediction -- "the team goin' to Disney World will come from among the group that did not make the cut for 'Monday Night Football'" -- honked out in the wild-card round when Kansas City, the sole non-MNF baby to qualify for the postseason, lost. My off-price ultra-generic prediction, Home Team Wins, was kicked in the teeth, finishing only 141-125, a paltry 53 percent correct. The advanced generic formula advocated by Professor Eric Isaacson of Indiana University -- Best Record Wins; If Records Equal, Home Team Wins -- had an off year too, finishing 150-117, or 56 percent. Isaacson's formula did beat the weakest predictor on the ESPN board, Chris Mortensen, whose forecasts went just 146-121. My generic final score prediction -- Home Team 20, Visiting Team 17 -- fared OK, happening five times during the 2006 season. To my knowledge none of the sports pundits, touts or books who attempt to predict exact final scores actually called more than one score correct in 2006. So next year just endlessly forecast Home Team 20, Visiting Team 17. You don't even need to know who's playing!
If you're silly enough to predict exact final scores, for goodness sake don't foretell rare scores or outliers. Amazingly common in NFL final score forecasts are the outcomes 11, 12, 15 and 18 -- scores that rarely occur. Reader Bob Fitzgibbon of Walpole, Mass., notes three game outcomes that occurred six times in 2006 -- 20-17 (five with the home team winning, once for visitor), 23-20 and 24-21. Three outcomes occurred four times -- 24-10, 27-24 and 17-13. If you're going to engage in a quixotic attempt to predict exact final scores, use these number pairs. If you predict a game will end with a 11, 12, 15 or 18 in the scoring pair, or with any score below 10 or above 27, you're not following the percentages.
Avoid Best Bets: The "wisdom of crowds" theory also took a beating this season. Last year, the consensus of Yahoo! users finished ahead of all Yahoo! sports experts. This year the consensus of users pulled up third. If you wanted a reasonable guide, unanimous picks by ESPN experts went 80-37 on the season -- in the future, predict only games that all ESPN experts are in agreement on. Though that's no guarantee either. As noted by reader Bryan Beske of Madison, Wis., before Week 9, the tout box on ESPN.com's NFL page proclaimed, "Our experts don't agree very often, so when they unanimously select five games on the Week 9 schedule, consider those picks as good as Ws." Three of the five ESPN unanimous projections turned out wrong. The NFL sportswriters at USA Today finished 80-22 on their "lock of the week." That is, when they were certain something would happen, they were right 78 percent of the time. The year's worst forecasting performance: the staff of Pro Football Weekly went 31-34-2 on "best bets." Their best predictions finished behind flipping a coin!
Trust Me, I'm Running the Economy: Alan Greenspan, Federal Reserve chairman at the time, said in 2004: "A severe price distortion in housing seems most unlikely." Greenspan said in 2005: "We don't perceive there is a national housing price bubble." In 2006, housing prices had their sharpest decline in 38 years.
Bronze Olympic Predictions: Economics professor Daniel Johnson of TMQ's beloved alma mater, Colorado College, devised an incredibly scientifically advanced computer formula using per capita income, population, "past performance and political systems" to forecast the medals outcome at the Turin Olympic Games. Colorado College announced that the formula, which it called "remarkably accurate," predicted the medals finish order would be Germany, Russia, Norway, United States. Actual: Germany, United States, Canada, Austria.
Predictions From Beyond the Stars: "The pick for this year's come-from-the-dumps team is the Arizona Cardinals. … There might be a playoff game in that new stadium next January." -- Pete Prisco, CBS Sportsline. Clark Judge of the same organization predicted both Arizona and Detroit would make the playoffs. (Judge's justification: "Hey, five of Detroit's losses in 2005 were by no more than six points." In 2005, 45 percent of all NFL games were decided by no more than six points.) Jeremy Green of Scouts Inc. forecast, "The Cardinals have the potential to be the most explosive offense in the NFL." Arizona finished 18th on offense. Michael Smith of ESPN.com had the Lions winning their division and Rod Marinelli as Coach of the Year. Don Banks of Sports Illustrated: "There's a nine- or 10-win season out there waiting to be had for Oakland. You heard it here first." That's the only place you heard it! Adam Schein of Fox Sports predicted the Lions would win "eight or nine games;" Peter King predicted Detroit would be the "surprise team" of 2006, winning its division at 10-6. Detroit was last in its division at 3-13. (King: "Jon Kitna will make few of the glaring errors Joey Harrington made." Actual: Kitna threw 10 more interceptions than thrown by Harrington in 2005.) King further predicted David Boston would be the "surprise guy" of the season for the Buccaneers. A few days later Boston was waived.
Bad Iraq Predictions: "I predict Iraq won't have a civil war, that it will have a viable constitution, and that a majority of Iraqis and Americans will, in two years time, agree the war was worth it." -- Jonah Goldberg in the National Review Online in 2005. The media watchdog group FAIR points out that Thomas Friedman of the New York Times, a prominent advocate of the United States invasion of Iraq, since 2003 has predicted on at least nine occasions that the Iraq situation would be resolved in less than a year. "I think that we're going to know after six to nine months whether this project [the Iraq war] has any chance of succeeding," Friedman told Oprah Winfrey in January 2006. "The next six to nine months are going to tell whether we can produce a decent outcome in Iraq," Friedman said on the "Today Show" in March 2006. So Iraq is must be resolved now, right? Friedman in late November 2006: It will be "either 10 months or 10 years" before the Iraq situation is settled. And why has the United States involvement in Iraq gone so badly? Friedman in November 2006: "Iraq was already pretty broken before we got there -- broken, it seems, by 1,000 years of Arab-Muslim authoritarianism, three brutal decades of Sunni Baathist rule and a crippling decade of United Nations sanctions. It was held together only by Saddam's iron fist. Had we properly occupied the country and begun political therapy, it is possible an American iron fist could have held Iraq together long enough to put it on a new course." So how come Friedman didn't tell us this before thousands died?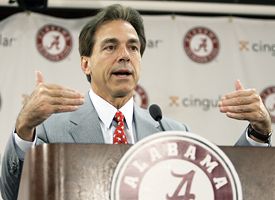 AP Photo/Rob Carr
At his first Alabama press conference, Saban declared, "I am not a crook" and added, "I did not have sexual relations with that woman, Miss Lewinsky."
Nick Saban Predictions: Mark Maske of the Washington Post: "Nick Saban has the look of being a big-time NFL coach, and it won't be long before he has the Dolphins in Super Bowl contention." Bill Williamson of the Denver Post: "Nick Saban is building something special in Miami." ESPN's John Clayton: "Nick Saban … will catch or pass the Patriots" in 2006. The Associated Press: Miami will win the AFC East because "Players have bought into Nick Saban's system." Peter King on NBC's "Football Night in America" on December 31, 2006: "Nick Saban does not want to go anywhere. Saban is not going to leave the Miami Dolphins. Saban is not going to go to Alabama. Saban is not going anywhere." Three days later Saban took the Alabama job. Nick Saban: "I'm not going to be the Alabama coach."
Subset -- "Could" Predictions: The qualifier "could" runs through many bad predictions. Practically anything "could" happen. Jennifer Lopez "could" go out to dinner with me; Congress "could" set aside partisan bickering in the name of the national interest. Gil Brandt, NFL.com: Houston "is a team that could surprise people [and] make the playoffs." Clark Judge, CBS Sportsline: Drew Henson "has shown signs of becoming the quarterback who could figure into the future of the Cowboys." Henson was waived in training camp. Andrew Perloff of Sports Illustrated: Craig Nall "could follow Matt Hasselbeck's lead and go from being Brett Favre's backup to the Pro Bowl." Nall was third string all season for the Bills and did not appear in a game. Bonus: Megabucks consulting firm Booz Allen Hamilton predicted bird flu "could" cause the entire Internet to shut down.
Subset -- Weirdly Specific Predictions: Pete Prisco, CBS Sportsline: "Ben Watson caught 29 passes in 2005 and he will at least double that this season." Watson caught 49 passes. Jason Whitlock, Kansas City Star: Larry Johnson will run for 110 yards in the Chiefs' final regular season game. He ran for 138 yards. Michael Wilbon, the Washington Post: The Bears can win the Super Bowl if Devin Hester's kickoff returns reach "near midfield twice." Peter King, Sports Illustrated, of his predicted Super Bowl: Terrell Owens will have six receptions. Not five, not seven -- six.
Subset -- Sean Salisbury Predictions: In October on "SportsCenter," Salisbury forecast a Super Bowl of Indianapolis over Chicago. So he's a seer? Then when the playoffs began, Salisbury predicted a Super Bowl of San Diego against New Orleans. Sean -- be true to your school! Then the week before the Super Bowl, Salisbury predicted that if Devin Hester returned a kick for a touchdown, the Bears would beat the Colts.
Rugby Gods to Wax Wroth Against Russell Crowe: Last week TMQ noted that the Chicago Bears fired their Honey Bears cheerleaders in 1986 for being "too sexy," and the football gods, outraged, have not allowed Chicago to win a Super Bowl since. Reader Scott Yonts of Winston-Salem, N.C., reports that actor Russell Crowe, part owner of the South Sydney Rabbitohs rugby team, just fired the cheerleaders for being too sexy. "A team of percussionists will replace the cheerleaders, the club announced," the Associated Press reported. One wonders how many Australians, exactly, are going to say, "Hey mate, let's go out to the football pitch and have a look at the drum corps." Will Russell Crowe be replacing babes with percussionists in his own personal lifestyle? Check out the Rabbitohs Cheerleaders while you still can. And if the Bears are any guide, the Rabbitohs aren't going to be winning the Rugby League crown anytime soon.
Wacky Martini Watch: Chicago has a booming nightclub scene, and is also becoming the world capital of strange cocktails. Reader Chris Hanson of Oak Park, Ill., nominates this wacky martini from a trendy Chicago night spot: the bartender "infuses Skyy vodka with pomegranate, peppercorns and thyme; adds some red-wine syrup; and squeezes in the juice of a lime." Not shaken or stirred, infused!
AP Photo/Carlo Allegri
Dan Snyder just acquired Johnny Rockets last week, and already the restaurant chain is way over budget.
Wacky Food Predictions: The Washington Post predicted that "one-bite food" would be the food fad of 2006; instead the 2006 fad was the 1,230-calorie Triple Whopper. (Think Johnny Rockets is a fresher alternative? A Rockets Double, chocolate shake and regular fries contain a stunning 2,823 calories and 162 grams of fat -- a full day's recommended calorie maximum plus nearly three times the daily recommended fat intake.) At the December 2005 Future of Food Conference, advertising guru Faith Popcorn predicted 2006 would see the widespread marketing of "faith-friendly food," including "Christian-raised chicken." Wait -- chickens raised by Christians, or as Christians? And why did Popcorn's 1991 prediction of a fad for "cocooning" make her a corporate-world celebrity? "Cocooning" only means "people stay home at night." That is, Popcorn predicted people will continue to do what almost everyone has almost always done.
Soon Illegal Canadian Pennies Will Be Sneaking Across the Border: Last week Tuesday Morning Quarterback declared that not only are pennies an anachronism, so are nickels and dimes. Reader Meredith Carrell of Taos, N.M., reports that since pennies and nickels now cost more to produce than they are worth, the United States mint has banned the melting of pennies and nickels while "prohibiting the unlicensed exportation of these coins, except that travelers may take up to $5 in these coins out of the country." Please, travelers, take the coins out the country -- we want to get rid of them! The new regulation is backed by the threat of a $10,000 fine for melting pennies. Considering that a penny now contains 1.4 cents worth of copper, the fine would be $14,000 if paid in pennies.
Serious Predictions: September 2005: David Nabbaro, a World Health Organization official, says a bird flu pandemic might kill 150 million people worldwide. February 2006: Anthony Fauci, director of the National Institute of Allergy and Infectious Diseases at the National Institute of Health, says, "It's almost certain that within a reasonable period of time we will experience an influenza pandemic." March 2006: Michael Leavitt, secretary of Health and Human Services, advises Americans to stockpile six weeks' worth of food, water and medicine in their homes in case the United States economy collapses during a bird flu pandemic. April 2006: the WHO formally warns of up to 7.4 million global deaths. May 2006: ABC airs a made-for-TV movie that depicts half the United States population dying nearly overnight from bird flu. May 2006: The White House avian flu response plan warns of 2 million Americans dead and says the president should be prepared to send the United States Army into cities to put down bird flu riots. Total actual deaths worldwide from avian influenza since the disease was identified in 2003: 166.
Of course 166 deaths represents 166 tragedies. But more than 4 million people have died in traffic accidents worldwide during the same period in which 166 perished from bird flu -- statistically, traffic deaths look exactly like a pandemic, yet no government or media organization seems particularly concerned about road safety. And of course the determined response of the global public-health community has helped stave bird flu off. (The reasons a mass outbreak of avian influenza seems unlikely are summarized here, in article I wrote for Slate.) During the same period that governments and the media have pressed the panic button over a small number of bird flu deaths, 1.5 million people worldwide have died from rotavirus, which unlike bird flu is actually spreading and killing in significant numbers. Rotavirus is confined to the poor nations of the developing world, so no one in the West cares. There is a vaccine for rotavirus, but it costs $200 per course -- prohibitive for poor nations. White House, how about an emergency plan to stop rotavirus? Television networks, instead of sci-fi silliness on bird flu, how about some coverage of the world's actual disease emergency?
Bad New Orleans Saints Predictions: "No one should make the mistake of assuming the Saints are ready to compete for a playoff spot." -- Don Banks of Sports Illustrated, July 2006. In January, the same Banks predicted the Saints would win the NFC title game. None of ESPN.com's 12 preseason forecasts had New Orleans making the playoffs.
WireImage.com
Page 2 knew all along Reggie Bush wouldn't be the first player chosen. We just forgot to say so.
Where Will Reggie Play?
"The Texans will select USC running back Reggie Bush with the No. 1 pick in this April's NFL draft, team and league sources told Chris Mortensen," ESPN.com declared in January 2006. The next day, Mortensen added that "no matter what anyone says," Houston was "certain" to draft Bush. "Reggie Bush will be the first pick in the draft," Mel Kiper Jr. said on ESPN radio in January 2006. "Reggie Bush is going number one, it's just a question of to who," Kiper reiterated on ESPN television in March. "I just don't see [Houston] passing on USC running back Reggie Bush," Kiper said two days before draft. On Friday night before the noon Saturday start of the draft, the Texans used their first choice on Mario Williams. At 10 a.m. Saturday as ESPN draft coverage began, host Suzy Kolber asked an ESPN panel who was surprised by the Texans taking Williams instead of Bush. All the panelists said they were surprised -- except for Mortensen, who declared that he had never expected Bush to be chosen first. Kolber asked about the reports Bush would go first, and Mortensen answered with a sneer, "Those projections were made by the media." Mort -- you are the media! Mortensen declared he had known since Thursday that the Texans were choosing Williams. Oh, so you knew all along: you just forgot to say so!
What Will Reggie Weigh? At the Indianapolis Combine, Reggie Bush weighed in at 201 pounds, but told the media he "expects to be at 205 pounds" by the USC Pro Day in April. The next week Peter King wrote, "I expect Bush will weigh about 208 pounds" at USC Pro Day. "About" 208 pounds -- so my prediction may be off by a few ounces! LenDale White was 238 pounds at the Combine, and predicted he would be 233 pounds on Pro Day. Actual weigh-ins from USC Pro Day: Bush 201 pounds, White 244 pounds.
Category Five: Playoff Predictions
Now it gets interesting: What did the experts say once the playoff field was known? On the eve of the wild-card round, USA Today ran its third set of dueling Super Bowl predictions: Chargers over Saints (predicted twice), Ravens over Eagles (predicted twice), Chargers over Bears and Colts over Bears. So once again USA Today did have a correct prediction -- but by a different guy! At midseason, Jeff Zillgitt said Colts over Bears. Once the playoffs started he switched to predicting Chargers over Saints, while Jarrett Bell switched to predicting Colts over Bears. Considering USA Today's triple-predictions format, each of its six NFL writers got three shots at a Super Bowl prediction; the paper finished 2 of 18.
On CBS television, Dan Marino predicted a Super Bowl of San Diego versus New Orleans, Shannon Sharpe predicted New Orleans versus Baltimore. On ESPN television, Chris Berman predicted New England versus Seattle. All wrong!
Ron Borges of the Boston Globe forecast a Super Bowl of New Orleans over San Diego -- though earlier he had predicted New Orleans would finish last in its division. Aaron Schatz used the incredibly scientifically advanced database of Footballoutsiders.com to forecast Baltimore as the Super Bowl favorite; then after the Ravens lost, forecast New England as the winner.
Coming into championship week, Sports Illustrated's main prediction was a Patriots-Bears Super Bowl, while the consensus of Sports Illustrated NFL writers predicted a Colts-Saints Super Bowl. That about covered the bases! Of ESPN's forecasters, all eight said New Orleans would defeat Chicago to reach the Super Bowl. This despite the Bears being a 14-3 team playing host to an 11-6 club in the Saints. Sean Salisbury, who at midseason had predicted the Bears would make the Super Bowl, and Joe Theismann, who at midseason called the Bears "the class of the NFC," both predicted Chicago would lose the NFC championship at home to a team with an inferior record. Only the ESPN computer, Accuscore -- which simply endlessly predicts that the team with the best statistics will win -- correctly called the NFC championship. Though before you go trusting computers, Accuscore liked New England over Indianapolis.
Dewey Beats Truman! "The upcoming election of 2006 is not likely to be all that close -- the left is going to lose big." Prediction from conservative commentator Michael Novak in June 2006, five months before the left won big in the 2006 elections. In September 2006, two months prior to the vote, Republican Rep. John Boehner of Ohio, then House majority leader, said, 'I can see us losing a seat or two, but I don't see us losing our majority." The Republicans lost their majority and 30 seats. One week before the election, White House political advisor Karl Rove, said, "I'm looking at all of these races, adding them up, and I add up to a Republican Senate and Republican House." Both the Senate and House turned Democratic.
New Frontiers in Bad Predictions: In August 2006, Paul Zimmerman of Sports Illustrated wrote that him picking Indianapolis to win the Super Bowl "won't happen in the near future." In January 2007, Zimmerman picked Indianapolis to win the Super Bowl. That is -- Zimmerman made a bad prediction about his own predictions! Zimmerman's forecast that Indianapolis would win the Super Bowl came one week after predicting Indianapolis would lose the AFC championship. Zimmerman also predicted Chicago would lose the NFC championship, writing, "One thing I don't like about the Bears is their special teams." Bears' special teams to that point had scored six touchdowns! Meanwhile Dennis Dillon of The Sporting News wrote of Denver's decision to switch to Jay Cutler, "This move could lead to the Broncos making a deep run into the playoffs, but it also could blow up in their faces." Denver missed the postseason on a field goal in overtime, meaning the Cutler decision neither caused a deep run nor blew up. TMQ admires this Bad Prediction for its sheer audacity -- seemingly so vague as to predict the full range of possibilities, it still managed to be wrong!
Category Six: Bad Super Bowl Predictions
The day after Chicago and Indianapolis won the Super Bowl invites, Mike Florio of Profootballtalk.com predicted the Colts would take the Lombardi Trophy by 10 points. The night before the game, Florio switched sides and said Chicago would win. Mike -- be true to your school! Florio: "The Bears have constructed a game plan that will focus on chewing up the clock via the efforts of running backs Thomas Jones and Cedric Benson." Chicago coaches called 31 passing plays and 17 rushing plays.
ESPN.com offered no fewer than 21 dueling Super Bowl exact final score projections and all, of course, were wrong, though NFL editor Peter Lawrence-Riddell barely missed at Colts 28, Bears 17.
Then there was the incredible celebrity Super Bowl ring-up conducted by David Nielsen of Scripps Howard News Service. Annually for 18 years, Scripps Howard has phoned a surfeit of celebrities before the big game and asked their predictions. A sampling of this year's answers: Dwyane Wade predicted Bears, 28-24. Charlie Sheen said Colts, 37-33. Mickey Rooney said Bears, 24-14. Jennie Finch said Colts, 34-27. Bob Cousy said Colts by the odd score of 37-12. Dionne Warwick said Colts, 31-28. Actor Jim Caviezel said Colts, 31-20. (Caviezel played Jesus in "The Passion of the Christ" and -- I am not making this up -- has said that to method-act sorrow on the cross, he thought about the Minnesota Vikings' Super Bowl losses.) Alfred Rascon, a retired Army major who won the Medal of Honor, said Bears, 21-14. Actor John Amos said Bears, 24-17. Needless to say you have guessed that of the dozens of celebrities called by Nielsen, none predicted the exact final score.
Six years ago, Tuesday Morning Quarterback used incredibly scientifically advanced analysis to estimate that someone forecasting only probable outcomes -- that is, avoiding 11, 12, 15 and 18 plus all low and high totals -- had a roughly one-in-500 chance of predicting an exact NFL final score. Scripps Howard News Service has now polled a total of 1,541 celebrities over nearly two decades. Only tennis player Martina Navratilova (1998) and tough-guy actor Dennis Farina (2005) have predicted the exact final Super Bowl score. Two of 1,541 correct -- just about my forecast range. Thus, Tuesday Morning Quarterback predicted the ability of people to predict!
Michael Bezjian/WireImage.com
Can Hugh Hefner's current girlfriend predict how long she will hold that distinction?
Which Scripps Howard prediction came closest? Astronaut Buzz Aldrin, swimmer Michael Phelps and magicians Penn & Teller just missed at Colts, 28-17. TMQ was intrigued by two near-misses. CIA Director Michael Hayden came close at Colts, 24-17. If only the CIA's intelligence about Iraq had been as good as its intelligence about the Super Bowl! Playboy model Kendra Wilkinson came close at Colts, 27-13. Last year, one of the closest Super Bowl predictions was offered by Playboy model Andrea Lowell, who forecast Pittsburgh over Seattle by 21-17. Obviously all future exact final score predictions should be made by Playboy models! I will speak to ESPN management about incorporating this into the column.
The Envelope Please ...
Worst Prediction of the Year, Fourth Runner-Up: Dan Pompei, The Sporting News. At the halfway mark of the season, Pompei wrote that the Bears will "fade" while the Dolphins have "a strong finish." Jake Plummer, Pompei added, "is a better quarterback than he has shown, expect him to prove it in the second half of the season."
Worst Prediction of the Year, Third Runner-Up: Tuesday Morning Quarterback, spoken on the ESPNews show Hotlist. "Dallas is going to stick with Drew Bledsoe. Bill Parcells has been around long enough to know not to change horses in midstream of a playoff push."
Worst Prediction of the Year, Second Runner Up: Terry Bradshaw, Fox Sports. "The Eagles cannot make the playoffs." Predicted two weeks before the Eagles made the playoffs.
Worst Prediction of the Year, First Runner-Up: Mike Florio of Profootballtalk.com: "We predict for both the Bears and the Colts a tough time in 2006."
Worst Prediction of the Year: Bob Oates, Los Angeles Times. Oates predicted Cincinnati, Denver, Detroit, Miami, Pittsburgh and Washington would reach the postseason -- all missed -- while Chicago would not make the playoffs. He said the Lions had a realistic chance of advancing to the Super Bowl. And the Indianapolis Colts? They will "flame out" because Peyton Manning "isn't a natural quarterback."
Reader Animadversion: This feature folds its tent and steals off into the desert until two-a-days resume.
Next Week: Tuesday Morning Quarterback folds its tent and steals off into the sunset, though will reappear briefly around the NFL draft. As always, I advise you use the offseason to engage in spiritual growth, reconnect with family and friends, perform volunteer work in the community, install energy-conservation devices, exercise daily, attend worship services of any faith, and read some of those great books you've always meant to read. Of new or upcoming books, I recommend "Blocking the Courthouse Door" by Stephanie Mencimer (nonfiction), "American Gospel" by Jon Meacham (biography), "Half of a Yellow Sun" by Chimamanda Adichie (fiction), "The Trouble with Physics" by Lee Smolin (science), "The Origin of Wealth" by Eric Beinhocker (economics), "Five Days in Philadelphia" by Charles Peters (history) and "Presidential Humor" by Liz Carpenter (humor). Read, exercise, mediate, serve others -- then you will feel justified in racing back to the couch, the remote, the microbrews and the swimsuit calendars when the football artificial universe resumes in the fall.
In addition to writing Tuesday Morning Quarterback, Gregg Easterbrook is the author of "The Progress Paradox: How Life Gets Better While People Feel Worse" and other books. He is also a contributing editor for The New Republic, The Atlantic Monthly and The Washington Monthly, and a visiting fellow at the Brookings Institution. Sound off to Page 2 here.