BRISTOL, Conn., Feb. 27, 2010 -- Today ESPN is delighted to announce its new telepathic infusion feature, available to users of Microsoft's new Windows Subspace operating system. Just click on the icon that shows high-voltage electricity entering a human brain, and the entire contents of today's Page 2 will be beamed directly into your neocortex. It's fast, it's easy, and the advertising will be over before you know it! (Note: You must first click "I accept" to the disclaimer. Please do not read the disclaimer before agreeing.) To celebrate the arrival of 2010 technology, Tuesday Morning Quarterback forecasts the 2010 draft, to be held in New York in two months. An asterisk indicates junior-eligible.
1. LOS ANGELES BIMBOS: Tim Tebow, QB, Florida
A quarterback is a natural first choice for a new expansion franchise, and Bimbos coach Urban Myer won't be able to resist tabbing his own Florida star. The Bimbos' unusual ownership structure -- the new franchise is jointly owned by Creative Artists Agency, Paramount, Nike and venture capital firm Kleiner Perkins Caufield Byers -- means the funds should be available for Tebow's projected $1.28 billion signing bonus.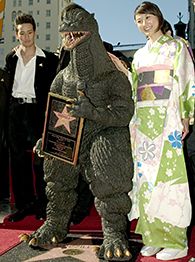 AP Photo/Damian Dovarganes
Matt Millen would draft him first if he was a wide receiver.
2. DETROIT LIONS: Arrelious Benn*, WR, Illinois
Following the Lions' third consecutive 0-16 campaign, fans continue to call for the ouster of Matt Millen. Detroit is now 24-120 under Millen's leadership. Despite a nearly empty Ford Field this season, the Ford family (which owns the Lions) just signed Millen to another long-term contract extension. "We -- must -- have -- Matt -- Millen," William Ford said with a blank expression on his face at the news conference, as Millen was observed manipulating the dials of a strange device. The new deal also gives Millen total control over car marketing decisions for Ford Motors. Millen has announced that all high-selling Ford models such as the Edge will be discontinued, and the company will roll out a new line of oversized SUVs called the Godzilla.
3. SAN DIEGO CHARGERS: Tray Allen*, OT, Texas
Choice interrupted by the announcement that XM Radio, Sirius, DirecTV and JetBlue just merged to form a cutting-edge "stationary entertainment" company. The new enterprise, to be called Goin' Nowhere Airlines, will offer "so many hi-tech video and audio options that hours will pass before passengers notice their plane is idling on a taxiway," a spokesperson said.
4. INDIANAPOLIS COLTS: Jermaine Cunningham, DE, Florida
It's been a painful downhill slide for the Colts since their Super Bowl XLI win, though the recent signing of free-agent quarterback Rex Grossman has created some optimism for next season.
5. OAKLAND RAIDERS: Markeith Summers, WR, Mississippi
After firing coach Lane Kiffin three games into the 2007 season, then firing replacement Wayne Fontes, then firing replacement Tom Flores, then firing replacement Rich Kotite, Al Davis was praised widely for naming Debbie Messinger of Great Neck, Long Island, N.Y. as the first female coach in the NFL. "Sure she's 15 years old and has never seen a football game," Davis said of his new coach. "But she has a lot of fine qualities. For one, she was willing to take the job."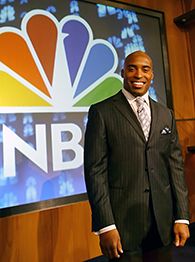 Bennett Raglin/WireImage.com
Ronde Barber signs with NBC.
6. TORONTO BILLS: Joe McKnight*, RB, USC
The Department of Homeland Security continues to investigate how three moving vans carrying Bills' equipment and office furniture were able to cross the Lewiston-Queenston Bridge between New York and Ontario at 3 a.m. without being stopped for inspection. (
Here is the disclaimer
for those seeking employment on New York-Canada border bridges.)
7. TAMPA BAY BUCCANEERS: Jai Eugene, CB, LSU
Controversy continues over the recent disclosure that for the last 13 years, Tiki Barber has played cornerback for the Bucs while Ronde Barber was a running back for the Giants and is now a co-host for "The Today Show." Ronde declared at a news conference yesterday, "They never suspected a thing." At least the Associated Press believes it was Ronde who said this.
8. ATLANTA FALCONS: Gerald McCoy, DT, Oklahoma
Playing Michael Vick at middle linebacker was going surprisingly well, until the injury to quarterback Vinny Testaverde forced Vick back under center and the same old problems started all over again for coach Jim Mora Sr.
9. NEW ENGLAND PATRIOTS: A.J. Haase, TE, Yale
After Bill Belichick appeared on the sidelines in painter's overalls and flip-flops for the Patriots' most recent playoff contest, NFL commissioner Condoleezza Rice threatened to fine the team unless its coach exhibits "at a minimum, the personal grooming standards of a chimney sweep."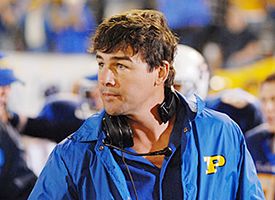 "Friday Night Lights" -- NBC
Meet the Cowboys' coach of the year 2009.
10. DALLAS COWBOYS: Marvin Austin*, DT, North Carolina
The 'Boys posted a respectable showing in 2009 considering they were coached by Kyle Chandler, the actor who played coach Eric Taylor on the old "Friday Night Lights" television show. At first it seemed unnerving that Dallas owner Jerry Jones referred to his new employee as "Coach Taylor," rather than as Kyle Chandler. But gradually this caught on, and now the Cowboys' players actually believe the man running the team won the Texas 5A state championship with the Dillon Panthers.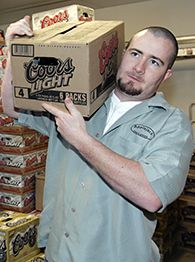 AP Photo/Jack Dempsey
America's energy solution unveiled.
11. DENVER BRONCOS: Myron Rolle, S, Florida State
The Colorado economy has been booming since it was discovered that Coors Light can be converted into ethanol.
12. MIAMI DOLPHINS: Lee Chambers*, RB, Miami
The South Beach trendy set finally has gotten over the January 2007 defection of Nick Saban, now the head coach of the University of Saskatchewan.
13. WASHINGTON REDSKINS: Sergio Kindle, LB, Texas
Daniel Snyder has been a little distracted since being named Secretary of State by President Jenna Bush. At least after a few months on the job he stopped referring to the Cowboys, Eagles and Giants as the "axis of evil."
14. TENNESSEE TITANS: Ryon Williams*, WR, Florida State
After leading Briscoe High to a last-second victory in the Nike commercial, Williams had a solid career for the Seminoles.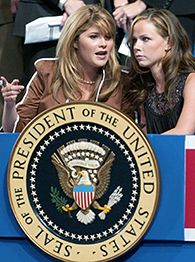 AP Photo/Ed Reinke
One can be president, the other vice-president.
15. BALTIMORE RAVENS: Josh Oglesby*, OT, Wisconsin
The Ravens have not scored a touchdown in three seasons, and you really have to wonder how long their defense can keep this club competitive.
16. GREEN BAY PACKERS: Carl Johnson, OT, Florida
Speaking to reporters last week, Brett Favre said he had not yet decided about retirement.
17. JERSEY/B JETS: Tony Jerod*, DT, Texas A&M
The once-youthful Eric Mangini has aged so much in four years of running the Jets he's now appearing in AARP commercials.
18. PITTSBURGH STEELERS: Akeem Hebron, LB, Georgia
Team officials expect Ben Roethlisberger to make a full recovery from the broken ribs, torn ligaments, root canals, pneumonia, dengue fever, brain surgery, lung transplant, skydiving accident, scuba-diving bends, whooping cough, bird flu and lumbago he suffered during the offseason.
19. KANSAS CITY CHIEFS: Mitch Mustain, QB, Arkansas
NFL owners refused to approve the Chiefs' proposed relocation from Missouri to Kansas.
20. PHILADELPHIA EAGLES: Justin Boren, C, Michigan
Some family-values groups have objected to the team's use of porn starlets as cheerleaders.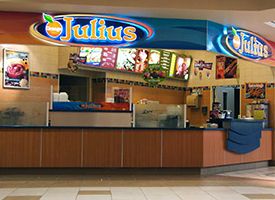 Julius Peppers' post-sports career -- owning an Orange Julius.
21. CAROLINA PANTHERS: Ricky Sapp, DE, Clemson
The Panthers are worried about their pass rush now that Julius Peppers has retired and opened an
Orange Julius stand
.
22. CINCINNATI BENGALS: Micah Johnson, LB, Kentucky
This year all Cincinnati draftees immediately will be placed under house arrest. As the Bengals' first choice walks up to the podium in New York, corrections officers will secure an electronic bracelet to his ankle.
23. JERSEY/A GIANTS: Jason Street, QB, Notre Dame
The "Friday Night Lights" lead character, who recovered in the 2007 season finale episode, went on to attend Notre Dame as planned and now will star for the Giants. Though it was a bit petty of Eli Manning to steal his girlfriend, Lyla.
24. NEW ORLEANS SAINTS: Aaron Hernandez*, TE, Florida
Now that the NFL season has been extended to 26 games, running through Lent, and the Super Bowl falls on Easter, the party scene in New Orleans has been seriously complicated.
25. SEATTLE SEAHAWKS: James Gregory, LB, Franklin & Marshall
The Seahawks' all-blue theme continues as the team has mandated that its players paint their faces blue for games, causing TMQ to rename this franchise the Seattle Picts.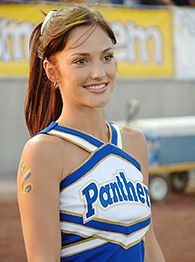 "Friday Night Lights" -- NBC
Lyla's romance with Eli Manning will be a subplot next season.
26. JACKSONVILLE JAGUARS: DeMarco Murray, RB, Oklahoma
People laughed when Britney Spears bulked up to 345 pounds and joined the Jags as a nose tackle. They're not laughing now.
27. CHICAGO BEARS: Thaddeus Gibson, LB, Ohio State
Lovie Smith's policy of firing an assistant coach whenever the defense allows a touchdown has led to a pretty lean staff.
28. ST. LOUIS RAMS: Apaiata Tuihalamaka*, DE, Arizona
Marshall Faulk's un-retirement was a hit with fans, but the Merlin Olsen comeback did not go as well.
29. CLEVELAND PINKS: Steve Weedon, LB, West Virginia
Traditionalists continue to be outraged that the Browns' name was altered as part of the league's attempt to broaden its appeal to women.
30. SAN FRANCISCO 49ERS: Eric Berry*, CB, Tennessee
Plans to share a new stadium with the Raiders went awry when Al Davis made a last-minute demand that the Niners pay for joint laundry services for the two teams.
31. MINNESOTA VIKINGS: Vidal Hazelton, WR, USC
Patrons can shop while watching Vikings games at the team's new stadium in the Mall of America.
32. HOUSTON TEXANS: Luke Schmidt, FB, Notre Dame
Picking low for the first time in franchise history, the AFC champion Texans continue to celebrate the MVP award won by Mario Williams -- who proved them right to select him first in 2006 ahead of two now-forgotten players.
33. ARIZONA CARDINALS: A.J. Wallace, CB, Penn State
Marty Schottenheimer finally won it all.
In addition to writing Tuesday Morning Quarterback, Gregg Easterbrook is the author of "The Progress Paradox: How Life Gets Better While People Feel Worse" and other books. He is also a contributing editor for The New Republic, The Atlantic Monthly and The Washington Monthly, and a visiting fellow at the Brookings Institution. Sound off to Page 2 here.