"With the 248th pick in the 2007 NFL draft, St. Louis selects …"
You'll need to steel yourself to survive this coming weekend. You'll need draft guides, a laptop, microbrews and a mute button at the ready. Lots of fresh air is recommended. And you'd better be in it for the long haul. Any wimp can watch the first round on Saturday. True draftniks are still squinting at the crawl at the bottom of ESPN on Sunday afternoon as the bell rings, a linebacker from Texas Methodist University is picked, Sal Paolantonio interviews a quality-control coach and the camera shows a team's draft room in which tired-looking guys shuffle stacks of paper or stare off into space.
You'll also be barraged with draft clichés this week. Here is what some of them really mean:
"We were surprised he was still there." Translation: "We're worried about choosing a guy everyone else passed on." Maybe there's a reason he was still there!
"A lot of teams called about our pick, but we decided to keep it." Translation: "No one called about our pick."
"Our doctors aren't concerned about that injury." Translation: "Why the hell didn't we know he was injured?"
"The Wonderlic test is just one of many factors we consider." Translation: "None of our coaches can answer those questions, either." (Question: Judy's brother is three times as old as Michelle's younger sister, who is traveling 60 miles per hour east along the hypotenuse of a triangle. In five years, what will Dick Cheney's Social Security number be?)
"We take the best available athlete." No one ever says, "We steer clear of the best athletes." Yet year in and year out, this appears to be the draft strategy of several NFL teams.
"We are not influenced by workout numbers at the combine." That must be why most of the league's teams sent most of their coaching staffs to Indianapolis.
"We're very concerned with character issues." Translation: "We'll overlook practically anything, but we know the commissioner wants us to say we're concerned about character."
"We draft for performance, not potential." OK, then why will Dave Ball of New Hampshire, who broke Jerry Rice's Division I-AA touchdown record, be lucky to hear his name called?
"We always draft for special teams." Translation: "We never draft for special teams." Though one-third of field position is determined by kicking downs, most NFL clubs rarely choose players for special-teams ability.
"We really like our draft." Translation: "Boy, what a great job I did." No April NFL cliché bothers TMQ more than, "We really like our draft." First, what is a coach or general manager supposed to say? They aren't going to say, "We just blew our picks on a bunch of no-account who-dats who are headed straight to the waiver wire." In the hours after the draft, team officials would be foolish not to declare that they liked their draft class; saying this is part of sales promotion, to get customers excited about next autumn. (Most NFL ticket sales occur during the offseason.) And when a coach or general manager says, "We really like our draft," what he's doing is evaluating himself. He's the one who made the picks -- so of course he'll assign himself a high grade!
"That's about where I expected him to be chosen." Sure to be said by Mel Kiper Jr., and translates as, "In my mock drafts I also had him going a lot higher and a lot lower."
"That's exactly where I expected him to be picked." Sure to be said many times this weekend by multiple draft pundits, and translates as, "Actually, I never heard of this guy until a few seconds ago."
"Huh? Did they just pick somebody?" Sure to be said many times this weekend by Tuesday Morning Quarterback, and translates as, "Huh? Did they just pick somebody?"
In other draft news, as usual for this time of year, everyone's debating who the first few choices should be and in what order. Bear in mind that the exact draft order does not signify which players are best -- nobody knows that. Suppose JaMarcus Russell goes first to Oakland. This won't tell us he's the best player, or even that he's better than Brady Quinn; it will only tell us Oakland management is guessing Russell is the guy most likely to improve the team's chances. Joe Thomas may go before Adrian Peterson; this wouldn't tell us Thomas is better than Peterson, just that a club is guessing he is more likely to improve its chances. Guesswork is a core theme. Of course, if you knew Russell would be the next John Elway, you'd take him in a flash regardless of whether you needed a quarterback. Of course, if you knew Gaines Adams was the next Bruce Smith, you'd take him in a flash regardless of whether you needed a defensive end. But nobody knows such things. Keep the guesswork element in mind as the "experts" speak in the coming days, as if the NFL draft were a science based on tenths of a second in the shuttle run. Remember, many NFL personnel managers thought the Colts made a big mistake by choosing Peyton Manning instead of Ryan Leaf.
And in other draft news, everyone has a mock draft -- but only Tuesday Morning Quarterback mocks the draft! My annual Mocking Mock Draft follows. And everyone forecasts the first round -- but only Tuesday Morning Quarterback proceeds directly to forecasting the last round. See below for my annual seventh-round forecast. Forget who will go first in the NFL draft. Who's going to go last?
2007 MOCK OF MOCK DRAFTS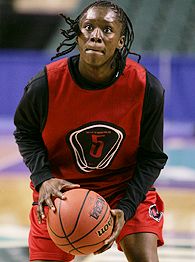 AP Photo/Mary Ann Chastain
Essence Carson: TMQ's projected No. 1 pick.
1. Oakland Raiders: Essence Carson, captain, Rutgers women's basketball
No figures in the sports world will get more public support and enthusiasm next season than the Rutgers women -- maybe they are the ones who can make the Raiders popular again! In the second round, Oakland hopes to tab Sam Zell, billionaire buyer of distressed properties. Crumbling office buildings, the Chicago Cubs … these pale in comparison to the turnaround challenge with the Oakland Raiders.
2. Detroit Lions: Calvin Johnson, wide receiver, Georgia Tech
If Matt Millen uses a lottery pick on a wide receiver for the fourth time in five years, he will need just seven more drafts to realize his dream of having the first NFL team to start an offense composed entirely of wide receivers chosen in the first round. Note: Detroit has stockpiled four fifth-round picks. Finally Millen's brilliant long-term strategy is revealed.
3. Cleveland Browns: Rudolph the Red-Nosed Reindeer
With the Indians' home opener snowed out in April, the Browns are worried their Sept. 9 opener against the Steelers will be snowed out, too. Rudolph could use his nose to signal-in plays. And during the offseason, Rudolph can work as a replacement for the notorious Chief Wahoo.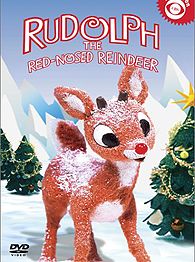 If current weather trends hold, he'll arrive in Cleveland no later than Halloween.
4. City of Tampa Buccaneers: Katherine Harris, defeated Florida senatorial candidate
If Harris had been in charge of scoring NFL games last year, the Bucs would have won the Super Bowl!
5. Arizona Cardinals: Sanjaya Malakar, oddity
Exactly the sort of prospect the Cards traditionally seek high in the draft. In the epic Sanskrit poem Mahabharata, Sanjaya is a character whose name means "victory." Evidently the "American Idol" judges don't read a lot of epic Sanskrit poetry.
6. Washington Redskins: Nancy Pelosi, Speaker of the House
George W. Bush calls Redskins owner Dan Snyder and pleads with him to draft Pelosi, "then line her up as the Z receiver and send her over the middle."
7. Minnesota Vikings: Randy Moss, Marshall University
The Vikings hope to start all over by drafting not the current Randy Moss, but the Randy Moss of 1998. Classified Pentagon technology is involved.
8. Houston Texans: Vince Young, quarterback, University of Texas
"Honest, Commissioner, that's what we wrote on our card last year. Honest. Can't we just hand in the card this year?"
9. Miami Dolphins: Lou Saban, retired coach
The Dolphins will tab Nick's older cousin, bring him to town, publicly promise him the head coaching job -- then tell him they've changed their minds.
10. Atlanta Falcons: Bobby Douglass, quarterback, University of Kansas
Teaming Douglass with Michael Vick could produce the greatest running back tandem in NFL history.
11. San Francisco 49ers: Al Gore, Oscar winner
Having Gore speak at halftime would reduce greenhouse gas emissions -- because fans would not drive to the stadium to attend games. If you're taking your sweetheart on a date, take her to "An Inconvenient Truth," because she'll cuddle up to you during the scary parts. Note: In a little-reported development, Gore used confusing butterfly ballots to rig the Academy Awards vote. The winner in his category should have been this Oscar finalist, a documentary about Pentecostalism produced by Rachel Grady and Heidi Ewing. It's well worth your time to watch. Ewing and Grady are the hottest documentary team working right now -- their 2005 "The Boys of Baraka," about four Baltimore inner-city kids attending a boarding school in Kenya, is also a must-see.
12. Buffalo Bills: Zak DeOssie, linebacker, Brown
Harvard's Marv Levy will pick this Ivy League star for Yale's Dick Jauron.
13. (Projected trade) Pittsburgh Steelers: Robert Jarvik, inventor, artificial heart
The Steelers plan to have a physician line up in the backfield with Ben Roethlisberger. (Projected trade: Steelers send their first, third and seventh picks in 2007, plus their second selection in 2008, fifth pick in 2009, third and sixth picks in 2010, seventh pick in 2011, seventh pick in 2012, fourth and fifth picks in 2013, third pick in 2014, third pick in 2015 and an option to exchange seventh-round choices in 2009 to the Rams for St. Louis' first and fourth selections in 2007, third pick in 2008, fourth pick in 2009, third and fifth picks in 2010, fifth pick in 2011, sixth pick in 2012, second pick in 2013, fifth pick in 2014 and third pick in 2015. Also, the teams agree to a Secret Santa exchange.)
14. Carolina Panthers: Moezeldin Elmostafa, Durham, N.C. cab driver
Elmostafa is the witness who knew that one of the Duke lacrosse players couldn't possibly have done what he was accused of doing, and stuck to his story despite police attempts to intimidate him into silence. And while everyone is rightly bashing the sleazeball district attorney, what about the Durham police department? The Durham police in this case come off looking highly suspect, yet no officers or commanders have been fired.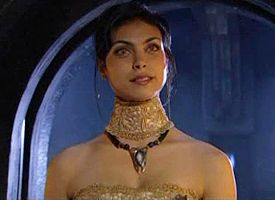 Sci-Fi Channel
She's an invincible telepathic mega-babe from another galaxy -- and soon to be looking for work.
15. St. Louis Rams: Adria, sinister super-advanced space alien
Since the Rams won the Super Bowl led by a space alien taking the form of "Kurt Warner," it's all been downhill for the St. Louis franchise. Now that the "Stargate SG-1" television franchise is going off the air, maybe the Rams could sign Stargate's mightiest alien?
16. Green Bay Packers: Andrew von Eschenbach, director, Food and Drug Administration
Thousands of spectators attend Packers games with cheese on their heads. How can we be sure this cheese is safe and wholesome? Does it even meet the legal definition of cheese? See here for the definitions, including such appetizing categories as cheese that is "surface-ripened principally by mold." Note: The FDA director follows the modern affectation of the unneeded middle initial, calling himself Andrew C. von Eschenbach. Oh, so you mean thatAndrew von Eschenbach.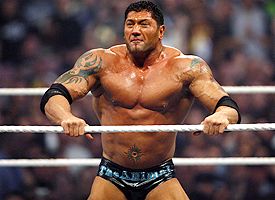 Leon Halip/WireImage.com
Dave Batista, wrestler beefcake, offers the male equivalent of silicon-enhanced cleavage.
17. Jacksonville Jaguars: Dave Batista, professional wrestler and former bouncer
The Jags covered nearly 10,000 seats at Jacksonville Municipal Stadium -- you can't buy tickets to those seats even if you want to -- in order to increase the frequency of sellouts, and thereby make attending a Jacksonville game seem more desirable. Isn't the next logical step placing bouncers by the stadium gates and refusing to let some patrons in?
18. Cincinnati Bengals: Daniel Bogden, Paul Charlton, Margaret Chiara, H.E. Cummins III, David Iglesias, Carol Lam, John McKay and Kevin Ryan
Maybe the eight federal prosecutors fired by the Justice Department for refusing political orders can clean up the Bengals' multiple problems with the law.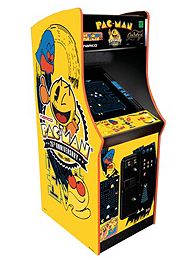 Try to imagine how long the words Puck-Man would have lasted on this 1980s game.
19. Tennessee Titans: Tôru Iwatani, lecturer, Tokyo Polytechnic University
Iwatani designed the original Pac-Man, which debuted in Japan in 1980. He called his creation Puck-Man. Midway, an arcade-game manufacturer which brought the rights, renamed the product Pacman on the assumption that the P would get changed to an F within hours if not minutes of a Puck-Man machine being installed in an American arcade.
20. Jersey/A Giants: Scarlett Johansson, mega-babe
World's most beautiful woman was born in Manhattan and should be an irresistible local-pride choice for the Giants -- if only they were a New York team.
21. Denver Broncos: Jim Brown, Len Ford, Frank Gatski, Otto Graham, Lou Groza, Gene Hickerson, Leroy Kelly, Dante Lavelli, Mike McCormack, Marion Motley, Ozzie Newsome, Paul Warfield and Bill Willis
Former Cleveland Browns not already on the Broncos' roster.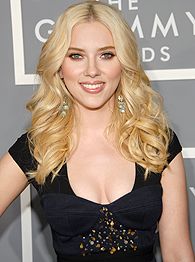 Kevin Mazur/WireImage.com
She's beautiful, she's talented, too bad her birthplace of New York City lacks an NFL team.
22. Dallas Cowboys: James Arness, U.S. marshal, Dodge City
Wade Phillips has a great Texas name and is a good coach, but he's too mild-mannered for the Cowboys' job, which requires a tough guy.
23. Kansas City Chiefs: Denzel Washington, head coach, T.C. Williams Titans
Herm Edwards barely seemed to be paying attention, let alone showing any emotion, as Kansas City was dismantled by Indianapolis in the postseason. Denzel Washington was a lot more psyched up about an imaginary high school game than Edwards was about an actual NFL playoff game! Note: if you stare at the Chiefs' red logos long enough, will you see green?
24. New England Patriots: Katharine Jefferts Schori, presiding bishop, Episcopal Church
She's getting nowhere healing the rift between the Episcopals and their parent Anglican Communion. Maybe she can heal the rift between the Patriots and the Jets. Note: Schori is an instrument-rated pilot, her daughter is a United States Air Force officer and her husband is a retired topologist.
25. Jersey/B Jets: Phoebe Cates, mega-babe
World's most beautiful brainy woman was born in Manhattan and should be an irresistible local-pride choice for the Jets -- if only they were a New York team.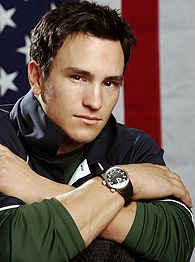 AP Photo/Ed Andrieski
Though he never puts on his cleats, Jeremy Bloom looks mah-vel-ous.
26. Philadelphia Eagles: Jeremy Bloom, male model
Last April the Eagles used a midround choice on Bloom, though he had not played football in three years. Now that he hasn't played in four years, he must be even more valuable!
27. New Orleans Saints: Poseidon, god of the sea
New Orleans needs to stay on Poseidon's good side. Poseidon was also god of horses, which should bring the Saints luck in their opener against the Colts.
28. New England Patriots: Vera Wang, couturière
Bill Belichick must stop wearing ripped-sleeve hoodies on the sidelines. Maybe if Wang designed a smashing selection of ball gowns and cocktail dresses for him…
29. Baltimore Ravens: Ryan Kalil, center, USC
Possible actual pick thrown in for variety.
30. San Diego Chargers: Amar Bose, inventor of the waveguide speaker
The Chargers will install gigantic loudspeakers on their sidelines and on fourth down scream at their defenders, "Fourth down -- knock it down!"
31. Chicago Bears: Joe Bastardi, Expert Senior Forecaster, Accuweather
Bastardi, who sells private weather forecasts to corporate clients -- only in America! -- claims to possess "astonishing ability to grasp the potential impact of severe weather patterns." Using his astonishing ability, he could have told the Bears to run the ball in the rain at the Super Bowl! Note: Expert Senior Forecaster is his actual title.
32. Indianapolis Colts: Danny Manning, assistant coach, University of Kansas men's basketball
As a precaution, Bill Polian hopes to lock up rights to athletes named Manning.
Hoping to Close the Deal, Austin City Fathers Also Offered NBC a Fruit Basket: The city of Austin, Texas, where "Friday Night Lights" is filmed, has offered to pay NBC $40,000 if the network renews the series. This is reminiscent of the Austin Powers scene in which Dr. Evil threatens to destroy the world unless he receives $1 million. "Friday Night Lights" is among the most expensive shows in television history -- those authentic-looking public gatherings and outdoor crowd scenes are costly to film. Consider the brief scene where Tyra's mom confronts Buddy Garrity as he leaves church. This was effective cinematography because it visually communicated the double standard of Buddy endlessly talking sanctimony while cheating on his wife. The church-confrontation scene must have caused NBC accountants to groan, because it was an outdoor shoot that meant renting a church, hiring lots of extras as congregation, dressing them in Sunday-finest costumes and so on. Some accountant must have said, "Couldn't she just call him on the phone?" Producing "Friday Night Lights" costs at least $40,000 per minute of air time. So the city of Austin's proposal is that if NBC films another 1,000 minutes of FNL, about the number for the first season, Austin will pay for one of those minutes.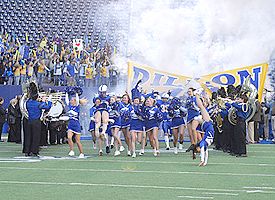 NBC
Sway to the left, sway to the right, renew another season for "Friday Night Lights!"
TMQ really likes "Friday Night Lights." Many episodes did, however, veer dangerously toward chick-flick. Longing glances, nonstop relationship talk -- an announcer might as well say, WE INTERRUPT THIS PROGRAM FOR A FOOTBALL SCENE. In the final few episodes of what everyone hopes was Season One, the show focused on the marriage of Eric and Tami Taylor. The surprise twist in television terms was that they have an affirmative relationship -- few television dramas depict marriage as an honorable estate, let alone show husband and wife as best friends and happily monogamous. But we got so much about the strong marriage of SuperCoach and SuperWife that when the Panthers won the state championship in the final reel, there was no time for anything on how this impacted the high school kids or the town of Dillon. "Friday Night Lights" producers got so distracted by the Taylors' domestic state of affairs that the Panthers forgot to play enough games! Dillon ended its
imaginary championship season
at 11-2, and you must appear in 16 games to reach the Texas state finals.
Too much click flick, not enough football was complicated by football being depicted unrealistically -- especially in game situations. Seven of Dillon's 11 victories came on long touchdowns on the game's final play, which is ridiculous. Every time a game ended with a million-to-one final-play touchdown, my 12-year-old, Spenser, proclaimed, "Oh come on." To win the state championship, the Panthers went the length of the field as the clock expired: a team might do that once a generation, but no team has ever done it seven times in a season and no team ever will. FNL's repeated use of preposterous game endings was like those "Star Trek" episodes where hope seems totally lost until at the last minute the captain presses a bunch of buttons really fast and then everything's fine. Yes, Hollywood wants overdone moments and emotional manipulation -- "Remember the Titans" ended with a ridiculous length-of-the-field winning touchdown on the final play -- but one of the selling points of "Friday Night Lights" is that it's not just more Hollywood schlock. Please FNL producers, if the football gods grant you another run, depict football games realistically, not as sci-fi.
Anyway, "Friday Night Lights" is a fabulous show and really deserves a second year. Here's my cheer for NBC executives:
Sway to the left, sway to the right,
Renew another season for "Friday Night Lights"!
Actual Texas High School Football: Back in the actual Texas, here is the 16-game season of Southlake Carroll, current 5A champion. Note that in 2006, Southlake Carroll played four games at Texas Stadium, home of the Dallas Cowboys, one game on Texas Tech's field and one at the Alamodome. A high school team! Also note that 16-0 Southlake Carroll, winner of three consecutive Texas championships, played only two close contests in 2006. Fourteen of the Dragons' 16 victories were walkovers, most decided by the second quarter. Can it be strictly by chance a preponderance of the really good football players in Texas were for three straight years born in the Southlake Carroll school district? As high school football has gone big-time, several states have begun to exhibit what is in effect prep recruiting. Families of boys with football promise move into the districts of the best teams, sometimes of their own accord, sometimes with coaches' encouragement and the aid of boosters, though all states ban the latter practices. The result is a few teams like Southlake Carroll record blowout win after blowout win after blowout win -- and what is sportsmanlike or even interesting about blowout wins? Many recent Texas high school playoff games have been low-quality contests owing to the blowout factor. Texas, California, Washington state and several others need to have a look in the mirror about the epidemic of district-hopping by high school football players, before the integrity of the sport is diminished.
In Praise of David Carr: TMQ's immutable Law of Quarterback Talent holds: All quarterbacks suddenly become more talented when the pass blocking is good. Matt Schaub seemed promising in Atlanta, where the blocking was good and a premium running attack kept pressure off the quarterback. Now he goes to the Texans, and we'll see how he looks while being sacked 249 times a game. Actually, that's the total number of sacks endured by David Carr as a Texan, but if you have ever had the misfortune of watching the Moo Cows, it felt like whoever was behind center got hit 249 times per game.
Let's inject a little realism on the Texans' wily quarterback moves. In the 2006 draft, Houston passed on Vince Young, who's from Houston. Now Houston gives up two second-round draft choices -- the equivalent of a first-round pick -- for Schaub, a backup with a grand total of two career starts. A decade ago, Buffalo gave Jacksonville a No. 1 choice for backup quarterback Rob Johnson, and perhaps you remember how that turned out. Schaub's career passer rating is lower than Carr's, while their career YPA and touchdown-interception ratios are essentially the same. That is to say, Schaub has performed somewhat less well than Carr, despite playing in a dramatically better offense. What does Schaub bring to the Texans? The sense that he hasn't played enough to be viewed as a disappointment. Houston management considers this worth the equivalent of a No. 1 draft choice, while considering David Carr worth nothing at all, since the Texans waived him.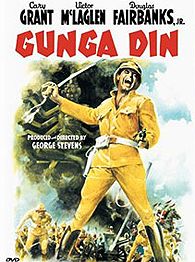 If only the Houston Texans' offensive line had this kind of spirit.
TMQ has always admired Carr, who for five years toiled without grievance for a poorly run, losing franchise. The Texans under Carr had a succession of who-dats at left tackle, plus no-accounts at other offensive line positions; never fielded a blue-chip running back; and if you can name a Houston tight end, you are a better man than I am, Gunga Din. Yet Carr performed reasonably well and
never complained
. As the first overall choice in the NFL draft, Carr might have sounded off. Eli Manning, Carson Palmer, Michael Vick -- several recent first-overall quarterbacks -- have thrown public temper tantrums. Thrust into a bad situation, Carr was a consummate gentleman and the exemplar of the team player. For that he was shown the door. Here's my first 2007 prediction: Carolina will be very happy to have landed the classy David Carr.
Law of Quarterback Talent note: JaMarcus Russell totally outperformend Brady Quinn in their bowl meeting, leading conventional wisdom instantly to transfer the expected No. 1 crown from Quinn to Russell. Maybe Russell will be the better pro; I have no idea. (And, bear in mind, neither does anyone else.) But during the Sugar Bowl, I was counting "one-thousand one, one-thousand two, one-thousand three, one-thousand four" as Russell stood upright like a statute and calmly scanned the field for receivers. When Notre Dame snapped the ball, Quinn rarely had two seconds before he was hit or forced to scramble. All quarterbacks suddenly become more talented when the pass blocking is good! The LSU offensive line provided great pass blocking in the Sugar Bowl, while Quinn spent much of his final two collegiate contests, against USC and LSU, scrambling to his right. Suppose Russell finds himself at Oakland behind a gawd-awful line that last year surrendered 72 sacks, while Quinn lands with a team with good pass protection. Sports pundits may profess amazement that Quinn has suddenly become more talented while Russell has suddenly lost his talent!
Classy quarterback note: Drew Bledsoe leaves with an admirable expression of perspective. His parting statement: "I feel so fortunate, so honored, to have played this game that I love for so long, with so many great players, and in front of so many wonderful fans. I fulfilled a childhood dream the first time I stepped on an NFL field, and the league did not let me down one time. I retire with a smile on my face, in good health, and ready to spend autumns at my kids' games instead of my own." This is the same guy who, when traded away from the Patriots, bought a full-page ad in the Boston Globe to thank New England spectators for cheering for him. Far too many successful men and women in all walks of life spend their time nursing trivial grudges, rather than expressing gratitude as Bledsoe did. This isn't just a point of civility. Psychological research shows that people who feel and express gratitude live longer, have fewer heart attacks and strokes, and score well on other measures of well-being. So Bledsoe's only a long shot for the Hall of Fame -- so what? He leaves with his head held high, his priorities in order and generously thanking others, rather than complaining. There goes one classy guy.
"The S&P Rose, and NFL Draft Futures Were Off a Fraction": Everyone's been puzzling over the Denver-Tampa trade, in which the Bucs get the rights to Jake Plummer, who says he has retired. The Broncos receive a seventh-round choice if Plummer really retired, but a fourth-round pick if he plays for anyone in 2007; if Plummer really is done, Tampa receives his contractual obligation to return at least $3 million in forfeited bonuses, money originally paid by Denver but now owed to Tampa, which holds Plummer's paperwork. Sports pundits have offered two interpretations of this trade. The first is that Oakland wanted Plummer but Denver refused to do business with the Raiders, so used the Bucs as an intermediary, essentially offering a commission. (If Tampa trades Plummer for more than a fourth-round choice, the Bucs profit.) The second interpretation is that Denver was trying to unload the headache of collecting the money Plummer must return if he indeed retired. But why would Tampa want that headache? OK, the Bucs are owned by the Glazers, who in business matters can be, let's say, whimsical. At any rate, Tuesday Morning Quarterback sees a perfectly straightforward explanation for the transaction: Denver was willing to pay $3 million for a seventh-round draft choice.
For years, the NBA and NHL have engaged in outright sales of draft choices. Last June, Phoenix simply sold the 27th pick in the NBA draft to Portland for cash. But while swapping picks for cash is respectable in other sports -- TMQ has proposed that the Chicago Board of Options Exchange establish a market in draft-choice futures -- traditionally the NFL frowns on selling draft positions. If Plummer really retires, Denver will have broken the taboo, surrendering a right to reclaim at least $3 million (the total might be higher) in exchange for a seventh-round choice. That sets the market quite high: if a seventh-round NFL draft pick is worth $3 million, what would higher choices sell for on the open market? Last year the Suns got $3 million from the Trailblazers for their first-rounder. Economically, the Plummer deal suggests that a seventh-round choice in the NFL draft is worth as much as a late first-round pick in the NBA. Considering the disparity between NBA and NFL revenue, and the relative value of victories in the 16-game pro football season versus the 82-game pro basketball season, these prices may not be far out of whack.
Meanwhile another NBA practice -- exchanging salary-cap space -- is creeping into the NFL. Trading for Adam Archuleta, Chicago assumed about $4.5 million in guarantees owed to him by the Redskins. Essentially, that means the Bears traded cap-strapped Washington $4.5 million in accounting space. How long until there is a salary-cap futures market?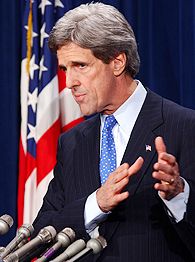 AP Photo/Susan Walsh
John Kerry told a news conference, "Also I've just finished a play called 'The Demise of a Salesman.'"
Responding to Charges That His Book Borrows From Others, Sen. Kerry Said, "Ask Not What Your Publisher Can Do for You...":
In 1995, yours truly published a book on environmental policy called "A Moment on the Earth." Sen. John Kerry and his wife Teresa Heinz Kerry have just published a book on environmental policy called "This Moment on Earth." OK, titles cannot be copyrighted; anyone is free to sell a book called "Gone With the Wind." (The 2001 legal controversy regarding the book "The Wind Done Gone" concerned not the title but similarities of plot and characters; under some circumstances, plot and characters can be copyrighted.) Seriously, can Sen. Kerry claim never to have heard of my book "A Moment on the Earth"? It was, after all, a New York Times and American Library Association "Notable Book of the Year"
in the same topic he's writing about
. Anyway, let's assume this was an honest mistake by a United States senator and a rich woman whose names are often attached to material they have barely glanced at. Here are other works of literature being written by John Kerry and Teresa Heinz Kerry:
"The Reasonably Good Gatsby"
"For Whom the Bell Rings"
"To Kill a Magpie"
"Much Ado About Relatively Little"
"The Bridge Over the River Kennebec"
"The DiMaggio Code"
"War and Pizza"
"Moby-Dave"
Also, John and Teresa will record a jazz track titled "Take Six" and a rock-and-roll song titled, "(I Can't Get Nothing) Satisfactory."
How Soon They Forget: Which team blew the fourth overall selection of 2002? Which blew the fifth pick of 1996? Which blew the sixth overall choice of 2003? Which blew the third overall selection of 1998? You don't recall, but you do remember who expended the second overall choice of 1998 on Ryan Leaf. This kind of thing is doubly delicious because the team that blew the third pick of 1998 -- Arizona, on Andre Wadsworth -- originally held the second choice, but traded it in the Leaf deal. All football enthusiasts clearly recall the colossal error San Diego made with the second choice of 1998; and the man responsible for that decision, Bobby Beathard, never worked in football again. Hardly anyone remembers how Arizona botched the next choice; and the man responsible for that decision, Bob Ferguson, kept his job with the Cards for another five years, then was hired by the Seattle Seahawks. If you're going to blow a draft choice, don't blow the first or second choices, which people remember -- blow any pick from the third on down.
NFL Hypocrisy Watch: "We must protect the integrity of the NFL," NFL commissioner Roger Goodell said in announcing the suspension of Adam Jones and Chris Henry. He continued, "It is important that the NFL be represented consistently by outstanding people as well as great football players. We hold ourselves to higher standards of responsible conduct." So why is O.J. Simpson still a member of the NFL's Hall of Fame?
Free Agency Isn't Free: For all the hoopla over this winter's free-agent signings, consider: How many big-bucks free agents started in the Super Bowl? Two, Muhsin Muhammad and John Tait of Chicago. Adam Vinatieri of the Colts and Ruben Brown of the Bears also came through free agency, though not for big bucks. Indianapolis and Chicago fielded mainly homegrown performers who were acquired via the draft or as little-known young players. In the winter of 2006, Edgerrin James and Steve Hutchinson received the biggest free-agent bonuses and the most free-agency hype; their new teams were eliminated by Thanksgiving. It is not impossible for a big-bucks free agent to become an important piece in a successful NFL club's puzzle, but it is rare. Unlike basketball or baseball, where a star can win a game with an individual performance, in football victory comes only if the entire team plays as a unit. Slow, painstaking development of draft choices and low-profile players is the essence of cohesive team performance. Bringing in a flashy, high-priced free agent often proves a net minus, as the overpriced guy harms team chemistry more than he helps performance. Plus, as TMQ perennially points out, highly hyped free agents who have just signed for a megabucks bonus often celebrate by taking their next season off.
Upcoming Smithsonian Exhibit: The Luxurious Golden Throne Sat Upon by the Smithsonian CEO: For two years, TMQ has been complaining that Lawrence Small, secretary of the Smithsonian, paid himself about $1 million a year though his organization's budget is mostly federal subsidies and his most challenging responsibility was deciding what to order for lunch. (Congress makes all major decisions involving the Smithsonian.) Last month Small resigned after the Washington Post revealed that he tried to prevent the Smithsonian's inspector general from examining his expense accounts. The expense accounts contained a lot of hot fudge, such as Small and his wife flying first-class to Hawaii for a Thanksgiving holiday and staying at a four-star resort at taxpayer expense. If corporations that are funded by the voluntary choices of consumers want their execs to fly first and stay at resorts, that's fine; but the Smithsonian operates using taxes forcibly removed from your pocket. Last week James Grimaldi and Jacqueline Trescott of the Washington Post added the detail that Small took $1.1 million in housing allowances justified on the grounds that his home was used for official entertaining, but then did little entertaining. In 2005, for instance, Small took $179,322 in tax funds for official entertaining at home but actually hosted only one party for 10 people.
The absurdity of claiming you spent $17,932 per guest for a dinner party raises the possibility that the departed Smithsonian CEO was little more than a glorified shoplifter. Three of the last four presidents (Ronald Reagan, Bill Clinton and the second George Bush) were elected partly on their promise to change the culture of Washington, making the capital less arrogant and more accountable. Since big Washington institutions like the Smithsonian are still run as personal fiefdoms for top officials, and still raise their middle fingers to the taxpayer, it tells you how little has changed.
Discounting to Present Value the McGahee Trade: TMQ is underwhelmed by Willis McGahee, who's a legend-in-his-own-mind type. Football pundits speak of him as a star; McGahee speaks of himself as if he were Franco Harris, but McGahee's career stats are run-of-the-mill and defenses don't fear him. Still, he's a decent back, which makes me wonder why the same sorts of pundits who praise McGahee also said Baltimore gave up too much for him. The price was the Nevermores' third-round picks in 2007 and 2008, plus a seventh-round choice this week. Because Baltimore's seventh-rounder is choice No. 239, whoever is chosen there will be a long shot to make an NFL roster. If I were the Bills, I'd offer the pick to Denver for $3 million. Because this year's third-rounder is near the end of the round, it is only slightly better than a fourth-round choice; meanwhile, the 2008 third-rounder discounts to a fourth-rounder. (Future choices discount by one round per year: That is, you'd need to trade your first-round selection in 2008 to get someone's second-round selection in 2007.) In effect, Baltimore gave two fourth-round draft picks for a starting-quality tailback; the Ravens got McGahee for significantly less than the Patriots surrendered for Wes Welker. Anyway, whose front office has done a better job on player decisions in this decade, Buffalo's or Baltimore's?
If the Lions Did Get the Entire Fourth Round, Would They Improve? This weekend sports nuts will be yakking about the draft value chart compiled by Jimmy Johnson when he coached the Cowboys, and often used to calibrate draft-pick swaps. This chart has relevance in the middle but becomes inaccurate at the extremes: that is, it's a bell curve. If a team wants, say, to move from the fourth round to the third, the chart tells how much should be surrendered. But at the top and bottom -- the outlier regions of a bell curve -- the chart becomes distorted.
According to the chart, you should able to trade a late fifth-round selection for nine seventh-round choices, or trade the first overall selection for 750 late seventh-round picks. (Commencing in the fifth round, selections have impossibly precise fractional values such as 29.4.) According to the chart, if Washington offered the sixth overall pick to trade up for Oakland's first overall choice in order to select Calvin Johnson, the Redskins also would owe Oakland either the eighth overall choice or three second-round picks. No matter how good Johnson looks, it's hard to believe Oakland would not be better off with the sixth overall choice plus three extra second-round picks. According to the chart, Detroit's second overall selection is worth a third-round choice -- plus the entire fourth round! If someone could offer the Lions the entire fourth round for their pick, even Matt Millen would take the deal. According to the chart, Houston's pick, 10th overall, is worth the entire fifth round -- any NFL team would be better off with the entire fifth round than with the 10th overall pick. And if a third-round pick is really worth the entire seventh round, as the chart says, wouldn't you rather have the entire seventh round?
Here are how some famous trades worked out according to the value chart:
In the Ryan Leaf trade, San Diego gave Arizona 3,310 points worth of picks for a choice worth 2,600 points. (This trade involved present and future choices; I score the future choices as the present year's value divided by two.) But though San Diego lost this trade, Arizona didn't win, as it used the high picks obtained on Andre Wadsworth and David Boston (Wadsworth was a bust while Boston had but two good seasons). In the Michael Vick trade, the Falcons gave the Chargers just 2,210 points worth of selections for a pick worth 3,000 points -- but San Diego came out ahead by using one of the choices on future Hall of Famer LaDainian Tomlinson. In the Eli Manning trade, the Giants gave San Diego 2,920 worth of points for a pick worth 3,000 points. That seems perfectly balanced until you consider how the choices were used. Jersey/A ended up with the phlegmatic Manning while San Diego got Philip Rivers, Shawne Merriman and Nate Kaeding, all Pro Bowlers. Finally, to obtain Jerry Rice, San Francisco gave New England picks valued at 960 points, and got back selections worth 1,058 points. Thus the Niners ended up with more draft value and, of course, with one of football's best-ever players.
Reader Animadversion: This winter I received an e-mail from Jamar Cartwright of Chicago, pointing out that in the same paragraph of a 2006 column, I referred to a white college senior as a "collegian" and a black senior as a "prospect." Race wasn't mentioned in the paragraph or relevant to it, but Cartwright found subconscious significance in the choice of terms: "'Collegian' is a positive word, every father wants his son to be a collegian. 'Prospect' implies some sort of automaton, just a machine for running and tackling." He continued, "I can't back my point with hard proof, but I bet that if you paid close attention, you would find sportswriters and sportscasters rarely call white athletes hoping to enter the NFL or NBA 'prospects,' while constantly using this term for young black males." Is this PC oversensitivity or is there subtle coding involved in describing aspiring African-American players as "prospects"? Draft weekend seems a time to test this question, so I will pay attention and ask readers to do the same; file your views at TMQ_ESPN@yahoo.com.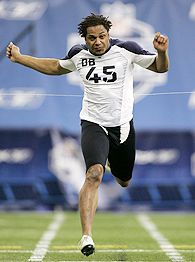 AP Photo/Michael Conroy
Where will Bo Smith of Weber State go? Keep reading.
Incredible Seventh-Round Forecast:
Only Tuesday Morning Quarterback saunters where others fear to tread by going directly to forecasting the seventh round. I'm sure my board will look a lot like yours. But please don't write to complain that I have Drew Mormino going to Kansas City with pick No. 231. In private conversations with scouts and NFL personnel directors over the last few weeks, I've become convinced the Chiefs will take Mormino in the seventh -- not the Dolphins at pick No. 219 like everyone is saying.
211. Oakland. Marvin White, safety, Texas Christian. Note: transferred from Texas Methodist.
212. Dallas. Mark Fenton, center, Colorado.
213. Cleveland. Le'Ron McClain, fullback, Alabama. Has driven from Birmingham to Little Rock in under six hours.
214. Tampa. Michael Allan, tight end, Whitworth. Small-college star projects as a management intern in the NFL. Note: Allan redshirted in Division III.
215. Arizona. Tyron Brackenridge, cornerback, Washington State.
216. Washington. Garrett Wolfe, running back, Northern Illinois. Inevitably to be nicknamed "Boy Who Cried" by Chris Berman.
217. Minnesota. Reggie Lewis, cornerback, Florida. Federal judge overturns Ohio legislature's attempt to outlaw OSU-Florida collegiate sporting events.
218. Houston. Dave Ball, wide receiver, New Hampshire.
219. Miami. Dan Mozes, center, West Virginia. Listed as 6-2 3/8ths, but scouts believe he is really 6-2 1/8th.
220. New Orleans. Jared Zabransky, quarterback, Boise State. Agent says Zabransky will not reveal the secret of the Fiesta Bowl-winning behind-the-back handoff until his bonus check has cleared.
221. Chicago. Gabe Hall, tackle, Texas Tech.
222. Buffalo. Alonzo Coleman, running back, Hampton. Wowed scouts with ability to cut back on household expenses.
223. Tennessee. Corey Graham, cornerback, New Hampshire. Note: Wildcats just flying off the board at this point.
224. Jersey/A. Mike Jones, guard, Iowa. Radio City draftniks howl in outrage that Giants tab Jones with Zach Latimer still on the board.
225. St. Louis. Zach Latimer, linebacker, Oklahoma.
226. Carolina. Nathan Bennett, guard, Clemson. At combine, impressed with a 42.36 in the potato-sack race.
227. Pittsburgh. Corey Anderson, fullback, Tennessee.
228. Green Bay. Joe Cohen, defensive end, Florida.
229. Jacksonville. Daniel Coats, tight end, BYU. Inevitably to be nicknamed "Of Many Colors" by Berman.
230. Cincinnati. Michael Coe, cornerback, Alabama State.
231. Kansas City. Drew Mormino, center, Central Michigan.
232. Seattle. Jay Alford, defensive tackle, Penn State. Joe Paterno told NFL scouts, "I've never seen a kid who hits harder at a buffet."
233. Denver. Xzavie Jackson, defensive end, Missouri.
234. Dallas. Yamon Figurs, kick returner, Kansas State. Inevitably to be nicknamed "It" by Berman.
235. Green Bay. Rory Johnson, linebacker, Mississippi.
236. Philadelphia. David Patterson, defensive tackle, Ohio State. Panics on learning that next fall the Eagles play the Dolphins, a Florida team.
237. Dallas. Kody Bliss, punter, Auburn. Worked summer-stock theater to improve his acting when bumped by a defender.
238. Miami. Brandon Fields, punter, Michigan State. Worked at a dry cleaner's to improve his hang time.
239. Buffalo. Kelvin Smith, linebacker, Syracuse.
240. San Diego. Dante Rosario, tight end, Oregon. Note: seems to have intangibles, but it's hard to be sure.
241. Chicago. Justin Hickman, linebacker, UCLA.
242. Indianapolis. Brandon Harrison, safety, Stanford. Ran a 0.0000003745 on a really fast surface at the Stanford Linear Accelerator.
243. Green Bay. Kasey Studdard, guard, Texas.
244. Atlanta. Jon Cornish, running back, Kansas. Note: Inevitably to be nicknamed "Game Hen" by Berman.
245. Tampa. Brandon Myles, wide receiver, West Virginia.
246. Tampa. Gerald Alexander, safety, Boise State.
247. New England. Stephen Nicholas, linebacker, South Florida. Scouts impressed that he uses proper form when breaking down enzymes.
248. St. Louis. Mike Otto, tackle, Purdue. Holds all-time school record for most used sneakers in a dorm room.
249. St. Louis. Keith Jackson, defensive tackle, Arkansas.
250. Jersey/A. Andrew Carnahan, tackle, Arizona State. Radio City draftniks howl in outrage that Giants tab Carnahan with Uche Nwaneri still on the board.
251. Jacksonville. Uche Nwaneri, defensive end, Purdue.
252. Jacksonville. Mario Henderson, tackle, Florida State. If you act before midnight tonight, you will also receive the amazing new solar-powered Lint Lure.
253. Cincinnati. Stephon Heyer, tackle, Maryland.
254. Oakland. James Jones, wide receiver, San Jose State. Note to broadcast media: name is pronounced "James Jones."
255. Detroit. Bo Smith, cornerback, Weber State. Note: draft guides for 2008 go on sale tomorrow.
Next Week: TMQ grades the draft and every team finishes above 4.0 as weighted GPA and advanced placement credits come to the NFL.
In addition to writing Tuesday Morning Quarterback, Gregg Easterbrook is the author of "The Progress Paradox: How Life Gets Better While People Feel Worse" and other books. He is also a contributing editor for The New Republic, The Atlantic Monthly and The Washington Monthly, and a visiting fellow at the Brookings Institution. You can reach him here.