The incredible ever-building obsession with the NFL draft -- now broadcast live in its entirety by
two
television networks -- ought to make us wonder if America needs its national head examined. The standard explanation for draft mania is that Americans are so utterly obsessed with football, they're willing to spend draft weekend just talking about the sport -- not watching games, merely talking. Another factor is that all 32 teams are active in the draft, and thus all 32 sets of fans have a stake in the day's outcome. When there's a playoff game or a "Monday Night Football" contest, only two of 32 sets of fans have a direct stake. But Tuesday Morning Quarterback thinks a different force accounts for NFL draft mania. Namely, that the NFL draft is a major flashback to high school.
Remember that dreaded moment in high school gym class, when the phys-ed teacher said, "Choose up sides." Two captains were tapped. They flipped a coin to see who would go first. The winner chose the best athlete, or maybe the most popular kid, for his or her side. The other captain chose the second-best or second-most popular. Then the next, then the next, until finally one person was left -- the kid nobody wanted, the kid the first captain had no option but to allow on the team.
Maybe you were that kid, perennially humiliated by being the last one. Maybe you were hot stuff in high school and always picked high. Regardless, the whole "choose up sides" system reeked, always forcing some into humiliation because -- because what, God didn't make them athletic? Gym teachers who used the "choose up sides" system were lazy or cruel, since they knew perfectly well it mortified some of those they were charged to care for. Even if you escaped choosing up sides at school, the system ruled the playground, too. When asked to recount what they hated about adolescence, many adults cite the moment of choosing up sides.
Now we come to the NFL draft. It's choosing up sides on a national level -- but somebody else does the sweating! The same pressure, fear and private anxiety are involved, plus huge amounts of money have been added. The viewer can enjoy this all voyeuristically, reliving the choosing-up-sides moment of youth but without any personal risk. Watching Brady Quinn when the Dolphins passed on him and the Radio City Music Hall crowd gasped -- wasn't the look on Quinn's face the look of the high-school kid who keeps not getting pointed to? That is our secret fascination with the NFL draft. It's choosing up sides in all its meanness writ large, but the viewer is never the one whose feelings are hurt.
In other sports news, the 2006-2007 academic session was the Year of the Smart School in big-deal collegiate athletics. Eleven high-quality academics-oriented colleges made the men's NCAA basketball tournament -- Boston College, Davidson, Duke, Georgetown, Holy Cross, North Carolina, Notre Dame, Penn, Stanford, Vanderbilt and Virginia. These are schools where the athletes attend class, complete their reading and hand in their assignments on time. At these colleges, if it's a weekday night and you're looking for a guy from the football or basketball team, the first place to try is the library. At Davidson, Holy Cross or Penn, if it's a weekend night and you're looking for a guy from the football or basketball team, try the library! Quality academic schools Air Force and Michigan made the men's NIT, and Bucknell should have -- the NCAA snub of Syracuse was nothing compared to the NIT snub of Bucknell, which consistently leads the nation for the combination of elite academics and success in high-level athletics. Superb academic schools Amherst, Brandeis, the University of Chicago, Johns Hopkins, Rochester, Trinity of Connecticut and Washington in St. Louis made the men's Division III basketball tournament, which was won by Amherst. In the most recent football season, seven quality academic schools reached a major bowl: Boston College, Cal, Michigan, Navy, Notre Dame, Rice and Wake Forest. Below the bowl level, top academic schools Carnegie-Mellon and Washington & Lee made the playoffs, while Princeton, Williams and Yale would have done so if the Ivy League and New England Small College Athletic Conference did not prohibit members from sending football teams to the postseason.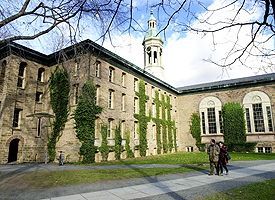 AP Photo/Daniel Hulshizer
Serious academic schools like Princeton field winning sports teams -- which most of the NCAA would rather you not know.
So it's not a fluke when a serious academic college with genuine student-athletes has a fantastic year in football or men's basketball -- this actually happened a lot in the 2006-2007 university year. If colleges that take academics seriously still can be winners at the big-boy levels, how come at most powerhouse schools academics is a joke and the athletes don't study at all?
And in other football news, draft obsession in newspapers, magazines, on the Web, on sports radio, on podcasts and on cable went over the top this April. Face it: We live in Mel Kiper World. His draftnik mania has gone from a lonely labor to a national consensus, and resistance is futile. I'm certainly surrendering. See below for the incredible series finale of my Mel Kiper Watch item.
Now the TMQ draft review:
Arizona: The Cards' first pick was an offensive tackle, their second pick a defensive tackle -- sounds like eminently sensible, old-school football. But this is Arizona, so you know it won't work out.
Atlanta: The Falcons' season hasn't even started collapsing yet, and already Bobby Petrino must be thinking that the pleasant, serene campus of Louisville sounds like an awfully nice place to sit around with some polite, attentive young men discussing football. What's the deal with Michael Vick anyway, does he try to think of ways to make himself look bad? Does he have a trouble consultant? Note that No. 1 overall Hokie first choices Vick and Bruce Smith were at Radio City Music Hall as a gesture of solidarity with Virginia Tech, but only the dignified Smith was allowed to speak; the league knew that if Vick spoke, he'd be booed. Standup comics will mine Vick's latest travail. Here's my contribution:
• Now we know why Vick really barks out signals.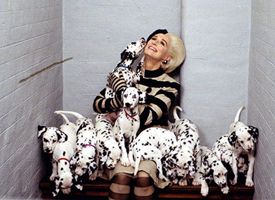 Walt Disney Pictures
Hey Michael, your date is here!
• Vick was seen club-hopping with Cruella de Vil on his arm.
• Falcons' new cadence: Sit, stay, hike!
• Petrino halftime speech: "It's not the size of the dog in the fight, it's the size of the dogfight at the quarterback's house."
• Any Atlanta receiver who catches a touchdown pass gets a biscuit. Good receiver! Good boy!
• If Michael Vick says he needs to go outside, you'd better let him.
Baltimore: The Ravens have won 17 of their past 24 games, and seem a likely monster team for 2007. Too bad this organization just cannot seem to find the answer at quarterback. Oh, look at the bottom of the Baltimore draft -- Troy Smith!
Buffalo: TMQ doesn't understand the trade that sent Takeo Spikes to Philadelphia for Darwin Walker. Walker is a respectable player, but the Eagles were likely to waive him for salary-cap reasons, as they have two recent No. 1 draft picks at his position. The puzzler in the transaction is Spikes, who was the best defensive performer in the NFL in 2004. Then he missed 2005 with a bad injury, and last season he struggled early. Spikes didn't begin to show his old form until the second half of 2006 -- and in that period, the Bills had several big wins while losing to Indianapolis and San Diego, the league's hottest teams, by a combined four points. In the second half of 2006, when you watched the Bills' defense you thought, "Takeo Spikes is back." Now he's been unloaded for a journeyman. Either Spikes' health remains an issue -- in which case why did Philadelphia want him? -- or Spikes has recovered, in which case why in blazes did Buffalo practically give him away?
Carolina: I'll reiterate my contention that the most important move of the 2007 offseason is David Carr to the Panthers. But if things don't work out in Carolina, I'll deny I said it.
Chicago: The Bears have been strangely quiet since halftime of the Super Bowl. They wheezed out the rest of the game, have mainly marched backward in the offseason, haven't resolved the Lance Briggs mess (though note that they used a draft pick on Stanford linebacker Michael Okwo, who has the same undersized hyperactive style as Briggs) and appear to be planning to return all their eggs to Rex Grossman's basket. Plus the net of their decision to trade away top running back Thomas Jones was: Dan Bazuin, Garrett Wolfe, Kevin Payne and a 2008 draft choice. I like a 177-pound running back as much as the next guy, but …
Cincinnati: Years ago a standard Tuesday Morning Quarterback line was that if Akili Smith, chosen third overall by the Bengals in the 1999 draft, didn't wake up, "he will soon count himself lucky to be covering punts for the Edmonton Eskimos." As pointed out by Richard Mah of Calgary, among many readers, Smith -- who's been out of football a considerable time -- just signed with the Calgary Stampeders. Good luck covering punts! I'll repeat my other long-ago contention about Smith -- if he'd been drafted in the third round, rather than third overall, he might have been a successful NFL quarterback. The pressure of being a high-drafted quarterback has overcome more than one young man. Expectations will be as much a danger for JaMarcus Russell as will the rushers the Oakland offensive line does not block.
Cleveland: Everybody's said this, but I have to second it: Boy, did Brady Quinn take the pressure well. "Dad, he's sweated through his hair gel," noted my son Grant as the middle of the first round approached and Quinn kept twisting in the wind on camera. But though Quinn might have been sweating like crazy, his poise never wavered, and he never got upset. Impressive! As the third hour of the draft passed and the Notre Dame quarterback still was not chosen, TMQ thought: "The longer this lasts the more valuable Quinn becomes, because he's proving he can handle intense stress."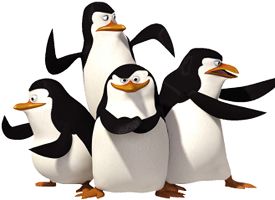 Dreamworks
Rico -- call the Dolphins! Kowalski -- call the Packers! Private -- get on the horn with Phil Savage!
While Quinn was sitting at the green-room table not being picked, all eyes and cameras on him, his mother Robin was holding up admirably too. What was she constantly whispering to him? My guess is she was whispering, a la Skipper of the Madagascar Penguins: "Just smile and wave, Brady, just smile and wave." As the wait progressed Quinn moved out of sight, but it made no sense for the commentators to say he had gone to Roger Goodell's "private" suite. Suzy Kolber interviewed Quinn inside the "private" suite. In what sense can something broadcast live on national television be characterized as "private?" Anyway, if there's anything able to transform the fortunes of the woeful Cleveland Browns (Release 2.2), it's a charismatic quarterback with ice water in his bloodstream. The Browns getting Quinn and Joe Thomas on the same day was a franchise-changing coup.
Dallas: The trade-wacky Jerry Jones outdid himself, conducting four swaps involving 15 picks. In trading their first-round choice, No. 22 overall, to Cleveland for the Browns' second-round choice this year and first-round choice next year, the Cowboys reenacted their 2004 swap with the Bills. That year they traded their first-rounder, also No. 22 overall, for Buffalo's second-round choice and first-round choice the following April. In 2004, Dallas seemed to wager that Buffalo would have a horrible year in 2005, and its pick would be in the top five. That didn't happen, but Dallas seems to be repeating the wager, expecting Cleveland to have a horrible year in 2007. Now for the net of Dallas' multiple trades. The Cowboys dropped down four slots in the first round, from No. 22 to No. 26; they surrendered a mid-second round choice; they dropped down 20 slots in the third round, from No. 67 to No. 87; they acquired a fourth-round choice; they surrendered a fifth-round choice; they improved the position of two sixth-round choices; and were left holding Cleveland's No. 1 next April. The many trades simplify as Dallas giving a 2007 second-round pick for Cleveland's 2008 first-rounder, which is a pretty good day's work, if arabesque.
Denver: Denver traded up from the 21st to 17th positions to get Jarvis Moss. Cincinnati was drafting at 18th, and perhaps the Broncos feared that because there were clouds over Moss' reputation, he was sure to be the Bengals' choice.
Detroit: The best athlete, good student, high character, involved in clean drinking water projects for the developing world -- Calvin Johnson was the superhero of the 2007 draft class. So how could the football gods do this to him? The football gods are testing you, Calvin, by sending you to the Lions. Write and let us know how things go, since no one will ever see your games. Note: Oakland traded a fourth-round choice to Detroit for Mike Williams, whom the Lions would have waived, and Josh McCown, who did not attempt a pass in 2006. Wait a moment -- Matt Millen got the better of someone in a football decision! Doctor, I think I'm feeling faint.
Stalin Memoir Shocker: "I Always Opposed That Gulag Idea": When he had a book to sell in 2004, former George W. Bush anti-terrorism advisor Richard Clarke sought publicity by declaring he always had been opposed to the invasion of Iraq. Now that he has a book to sell, former CIA director George Tenet is seeking publicity by declaring there was no case for invading Iraq. Oh -- so the two of you knew it all along, you just forgot to say so! Government officials have freedom of speech -- no one would have stopped Clarke or Tenet from speaking up when their views might have mattered. When silence advanced their careers, they said nothing. Only when they had something to sell did they suddenly loosen their tongues.
Green Bay The management question faced by Green Bay is whether to mortgage the future to create one final winning season under Brett Favre, or continue with business as usual. Instead the Packers seem to have chosen to do nothing at all, being invisible during free agency, making no move on Randy Moss and using their first draft choice on an injured defensive tackle. And what was Green Bay thinking spending its second choice on Brandon Jackson? This guy started a grand total of 11 games at Nebraska, then jumped out as a junior after what no one could consider a distinguished collegiate career. The Packers desperately need a premium tailback to take the pressure off Favre and have shown no urgency to get one. Note: Keyshawn Johnson did well for a novice sportscaster, but also garnered the best garbled comment of the weekend's coverage. As Green Bay's pick approached and all speculation was on Brady Quinn as Favre's successor, Keyshawn gushed, "Quinn could lead the Packers into the next millennium." Keyshawn, the next millennium starts in 994 years.
Houston In the 2006 offseason, the Texans made a huge quarterback blunder by passing on hometown hero Vince Young. This offseason, they traded two second-round choices for Atlanta backup quarterback Matt Schaub. Last week, I used Rob Johnson as an example of the dangers of trading high picks for untested backups. Many readers including Lily Coburn of Madison, Wis., countered that things worked out pretty well the last time a team traded high picks for an Atlanta backup quarterback -- the Packers giving up a first for Brett Favre. Lily, I'd forgotten: After all, that happened during the Eisenhower Administration, didn't it? But back to the Texans, suppose they'd done nothing leading up to the draft. They could have chosen Brady Quinn at pick 10 and thrilled their fan base, plus retained second-round choices this year and next. Time will tell, but to me it appears Houston has fumbled a major quarterback decision two years in a row.
Did you catch the Madden 2008 commercial that has Reggie Bush saying how happy he is in New Orleans and ends with him declaring, "To all the teams that passed on me in last year's draft -- thanks!" But it wasn't "all the teams," as only Houston passed on Bush; the Saints chose him with the second selection. This is a veiled shot at Houston management and Bob McNair, the Texans' megabucks owner, who derided Bush as a glory guy. The Texans need glory guys! Anyway, events sure worked in Reggie's favor. Right now, would you rather be a football player for the New Orleans Saints or the Houston Texans? Your Honor, I rest my case.
In Space, No One Can Hear You Yawn The most annoying aspect of science fiction is that nobody's ever actually dead. Just once I would like to see a sci-fi movie or television series that conforms to these rules: No time travel, no teleportation, no telekenesis and death is irreversible. Last month in its season finale, "Battlestar Galactica" employed sci-fi's worst cliché with particular superciliousness. There was an entire episode of death omens for Starbuck. Then we saw her fly into a deadly energy field, we saw her ship breaking up, we saw her ship explode, we saw her memorial service, and after that the name of the actress who plays Starbuck disappeared from the show's credits. In the season finale Hey look, Starbuck is back! And her ship's fine too! Alive again without the slightest explanation, Starbuck declares, as the cliffhanger for next year, that she has found Earth. When the next season starts, will producers even bother to offer some lame clarification of how she's suddenly OK? But then, logical coherence has not exactly been a "Battlestar Galactica" strong suit.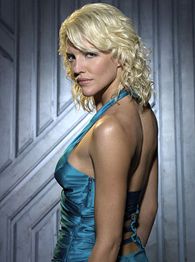 Sci-Fi Channel
Is that a "Battlestar Galactica" script in your pocket or are you glad to see me?
In the cheesy, fun 1979 original "Galactica" series, the mystery was whether viewers were watching events of the far past -- meaning eventually the characters would find Earth and plant the seeds of what's now civilization -- or the far future, meaning the show would conclude with a vision of human society as super-advanced. The big joke of the series finale was that when oppressed spacefarers finally found our world, it was 1979; the characters aboard the starcruisers had a look on their faces of, "This backwater dump is the mythical Earth?" Presumably, fans of the new series will spend its offseason wondering whether Starbuck found Earth of the past, Earth of the future or Earth of 2007. To make the joke complete, I think she should find Earth of 1979. The fleet arrives to discover Jimmy Carter is president, everyone is in disco gear, Farrah Fawcett's hair shows up on radar, Ronald Reagan is just a washed-up actor, plus circling the planet is an enormous battlestar commanded by Lorne Greene.
TMQ has complained before that on the new series, it is said to be physically impossible to distinguish a person from the cybernetically manufactured Cylons -- so what gives the Cylons their super-strength and ability to communicate telepathically? Telepathy and super-strength would need to be supported by body organs, meaning a medical examination would distinguish a person from a Cylon. This became especially ridiculous in the season finale, when the shocker was the revelation that four of the key human characters were, in fact, Cylons -- they didn't know themselves because they couldn't tell a human from a Cylon either! The robot programmed to think he's human is a sci-fi staple, but this veered into the preposterous, especially since one of the characters who discovers he's a Cylon is in his 60s, and previously it has been declared that human-appearing cyborgs have existed only 40 years. TMQ complains of the many contemporary movie and TV scripts in which once you learn the shocker revealed at the movie's end, what's happened up to that point no longer makes sense. (To cite another cyborg-based example: two-thirds of the way through "Terminator 3," Arnold Schwarzenegger, as the good cyborg from the future shocks the audience by revealing he has been programmed to obey Kate rather than John -- meaning humanity's survival depends on Kate, not John, as moviegoers were elaborately led to assume. But earlier in the movie Arnold ignored Kate and obeyed John!) If four of the central human characters desperately fighting the Cylons on "Battlestar Galactica" were actually Cylons, all their actions in the first three seasons become incomprehensible. Cheap shocks from revelations that cause previous events to make no sense are lazy writing. The original "Galactica" was cheesy and funny and poorly written; the current "Galactica" is simply poorly written.
Compensating Galactica virtue: the sinister cyborg Model Six, played by gorgeous actress Tricia Helfer, was captured and thrown in Galactica's brig. Her prison garb? Strapless evening gown with plunging neckline. She's in the prison for weeks, and when seen, always is wearing the strapless evening gown.
Indianapolis: Super Bowl winners often face this management choice: Mortgage the future for one more run at the Lombardi, or try to maintain a business-as-usual posture. On draft day, the Colts surrendered their 2008 first-round choice in order to help pump up the roster right now. That's what I would have done, too.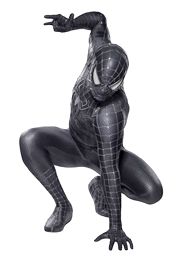 Columbia Pictures
Spider-man follows the all-black alternate uniform craze.
Jacksonville Since Jaguars are indigenous to Central America, while panthers are found in Florida, TMQ has never understood this team's name. But since the Jags wear alternate all-black jerseys and Peter Parker will wear an alternate all-black costume in the next Spider-man movie, how about a cross-marketing campaign? Change the team name to the Jacksonville Spideys. "Their spider sense is tingling now," announcers could say at key game moments. Jack of the River note: Jacksonville has a troubled quarterback situation and longstanding trouble selling tickets, yet Del Rio passed on Brady Quinn. Byron Leftwich and David Garrard both looked shaky in 2006, combining for only three more touchdown passes than interceptions. After the stunner of Miami not drafting Quinn, I confidently said to my boys, "Jax at 17th. Inconceivable that he gets past Jax at 17."
Jersey/A "How come Marty Schottenheimer was fired and Tom Coughlin kept his job?" asked my 12-year-old, Spenser, during the draft. I explained that some questions, such as the origin of the universe, might never have answers. Another question that might never be answered: Who's going to play left tackle for the G-Persons?
Jersey/B The Jets traded up with the Panthers to reach the 14th choice in the first round, then traded up with the Packers to reach the middle of the second round. Overall on Saturday, Jersey/B invested a first-round selection, two second-round picks, a third-rounder and a fifth-rounder in transactions that netted just two players, cornerback Darrelle Revis and linebacker David Harris. They'd better be good.
Kansas City The Chiefs' offensive line, key to its recent success, began to look shaky last season and now has lost Will Shields. Yet Kansas City did not select an offensive lineman till the sixth round. Does Herman "I Honor My Contract When I'm in the Mood" Edwards know something about his depth chart that we don't? But then, Edwards is the savvy guy who benched Damon Huard after he'd thrown 11 touchdown passes and one interception. For the remainder of the season, the Chiefs recorded eight touchdown passes and eight interceptions.
Trade Watch How did some draft trades play out on the infamous value chart? The Bills-Lions transaction looks like a value-chart loss for Buffalo. To exchange pick 44 for pick 34, Buffalo gave Detroit pick 74 -- a high third-rounder to move up just 10 slots in the second round. The value chart says Buffalo surrendered 680 points to receive 560 points. Comparison says Buffalo was too generous too, since to move up from the 36th pick, in the second round, to the 26th choice, in the first round -- also a rise of 10 slots, but to higher ground -- Dallas gave Philadelphia choices 87 and 159. But Buffalo really wanted Paul Posluszny and was calling everyone at the top of the second round. There is no obligation to trade; most teams in that area weren't selling, so the Bills had to make their offer irresistible. If Posluszny is as good in the pros as he was in college, no one will ever miss the third-rounder Buffalo expended. Football pundits said the Chargers gave up too much to acquire the high second-rounder they used on safety Eric Weddle: The pundits said "too much" because San Diego surrendered a low second-round choice, a third, a fifth and a third-round pick in 2008. Actually, by the draft value chart, the Bolts won the trade, obtaining a choice worth 530 points for picks worth 500 points -- remember, you must divide by two the value for that 2008 selection, in order to discount to present value. My favorite thing about the value chart is that it assigns absurd pseudo-scientific fractional significance to the concluding rounds. In one of the draft's final swaps, Jacksonville sent three late sixth-rounders to Atlanta for a fifth-rounder, surrendering, according to the chart, 39.2 points worth of picks for a choice worth 31.8 points.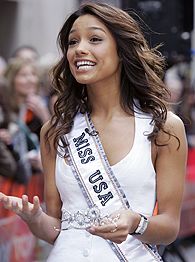 AP Photo/Richard Drew
Donald Trump wants Miss USA to go high road -- Donald, are you feeling OK?
More Proof of the Decline of Western Civilization NBC just renewed its deal to broadcast the Miss USA pageant, announcing a contract extension with "Donald J. Trump" -- oh, so you mean that Donald Trump. TMQ foresees, however, the beginning of the end for Miss USA. Previously staged with a Trump-style emphasis on skin, this year the pageant tried to go upscale, nearly eliminating cheesecake; the result was almost no male viewers. Swimsuit photos, previously heavily promoted by Trump, have vanished from the Miss USA Web site. Miss USA is on its way to the dustbin of history.
Miami They booed at Radio City, they groaned along South Beach, they dropped their test tubes at the National Academy of Sciences as the Dolphins passed on Brady Quinn -- and they clapped in Foxborough, Orchard Park and Florham Park. New Marine Mammals' coach Cam Cameron turned up his nose at Quinn, and the Patriots, Bills and Jets are glad he did. In the decade since Dan Marino retired, Miami has rolled out 10 starting quarterbacks, and next autumn the number will rise at least to 11. The Dolphins have invested three recent second-round draft picks in their quarterback position, and are likely to have no starter to show for it in 2007. (A.J. Feeley is gone, Daunte Culpepper is likely gone and John Beck is a development project.) Quinn might not be totally perfect in every respect, but fill me in, please, on who is. Quinn's a fine quarterback who was fired up for Miami and has the confident swagger no one since Marino has shown in teal. Brady and Miami would have been a perfect match; the pairing might have returned the Dolphins to power in the AFC East. Peyton Manning, Tom Brady, Ben Roethlisberger, John Elway, Brett Favre: Most Super Bowl winners have a premium quarterback. Miami passed on a premium quarterback because Cameron wanted -- a punt returner.
Ted Ginn Jr. seems like a nice guy, he's fast and the Dolphins have not run a punt back for a touchdown in seven seasons. But when I look at Ginn, I see Desmond Howard. Howard was a great return man in college, and an effective speed receiver at that level. Like Ginn, he was also slight. Howard went with the fourth overall choice, and when he arrived in the NFL could not get off the line: Howard deeply disappointed the team that drafted him (Washington), was waived, and never became a regular receiver, though he was a fine special teams player. Sure I'd like Ted Ginn on my team. But Miami preferred a punt returner to a franchise quarterback? They must have passed out cigars in Foxborough, Orchard Park and Florham Park.
Minnesota: The Vikings, who also passed on Brady Quinn, face 2007 with Tarvaris Jackson, Brooks Bollinger and Tyler Thigpen at quarterback. In 2006, Jackson and Bollinger combined to throw two touchdown passes and five interceptions. As for Thigpen, the gentleman is so obscure that until yesterday all his NFL.com prospect page said was: "He's a quarterback at Coastal Carolina." (Prospect pages usually contain reams of detail.) The Vikings ask that cheerleading candidates use the team's official hair salon, official cosmetics boutique, official photographer and official tanning studio.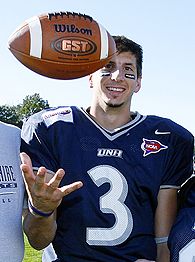 Jim Rogash/WireImage.com
Jerry Rice is staring at David Ball's taillights -- yet an NFL team did not draft the New Hampshire receiver.
Quarterback Tyler Thigpen of Coastal Carolina Was Drafted; Chris Leak Was Not: Nobody took Chris Leak, who just led Florida to the BCS title. Sure Leak is 5-11, but in college and high school he threw for 26,086 yards -- most of those throws coming over the outstretched hands of guys just as big as NFL defenders. Drew Brees is barely 6-1, and it's hard to believe less than two inches of height disqualifies Chris Leak from pro football. Nobody drafted Dave Ball of New Hampshire, because he doesn't have a flashy 40 time -- all he did in college was break Jerry Rice's I-AA touchdown records. Rice never had a great 40 time, either. Something tells me Leak and Ball will end up as successful pros, despite the best efforts of the zillion-dollar football scouting establishment to scoff at them.
New England: Traditionally the Belichick brain trust banks a high draft choice every year. In the 2006 draft, you knew Belichick was worried because it was smoke 'em if you got 'em -- the Patriots used every pick. This weekend the Flying Elvii returned to their previous management pattern, giving up a late first-rounder to bank San Francisco's 2008 first pick, then giving up a late third-round choice to bank Oakland's 2008 third. If the Patriots are banking picks again, that means Belichick thinks his roster is reloaded: which appears to be the case. Last season, New England nearly won the AFC championship despite having volunteers from the audience at wide receiver. Now Tom Brady will be throwing to Donte' Stallworth, Wes Welker and a perhaps-recharged Randy Moss, while the Pats' roster has gotten stronger in other areas, too. Plus New England is holding two extra high draft picks for 2008. How do these guys do it so much better than everyone else?
Moss is annoying, but if his head is screwed on straight he is potentially a major acquisition. You have to think Belichick is challenging himself here. Minnesota couldn't manage Moss, Oakland couldn't manage Moss, most NFL coaches were afraid even to try: if Belichick turns Moss into a team player who hustles, this will be yet more proof he is football's best-ever coach. Note that New England gave twice as much -- a second-round choice -- to obtain Welker as the fourth-rounder it gave for Moss. Who would have guessed a couple years ago that on the open market, Wes Welker would have double the trade value of Randy Moss? And note that with all those decent quarterbacks available in the mid- to late rounds, New England didn't draft one. Brady's understudy continues to be Matt Cassel, who has not been a starting quarterback since high school.
Other People's Good Points: Gil Brandt of NFL.com showed a statistical relationship between college games started and NFL success for quarterbacks. On this basis he predicted Brady Quinn, with 46 college starts, has a strong chance of NFL success while JaMarcus Russell, with 29 starts, could be a star but might be a bust. Brandt also noted Kevin Kolb's 50 college starts at Houston are fourth-most ever, predicting success for this little-heralded player, while showing the high-drafted bust quarterbacks tended to be ones who did not start many college games. Akili Smith started 19 times in college, for example. Quarterbacking depends on "reading" the field situation, and it makes sense that the more experience a quarterback had at the college level, the more likely he is to handle the pros. Philip Rivers started 51 college games, and when he took the field for the Chargers, knew what he was doing. Brandt's theory here seems so simple and so well-backed with stats that it is a wonder the megabucks scouting departments of NFL teams did not figure this out long ago.
Addendum: After this item ran, I learned that material similar to parts of Brandt's column previously appeared on the independent Web site FootballOutsiders.com, in the book "Pro Football Prospectus 2006," and in the publication ESPN NFL Draft. Original research into the relationship between college starts and pro quarterback success was conducted by David Lewin for "Pro Football Prospectus 2006" and FootballOutsiders.com; analysis was written for ESPN NFL Draft by Aaron Schatz, founder of Football Outsiders. I called Brandt, who said he had not seen their work. In his first career as general manager of the Dallas Cowboys, and in his second career as a sportswriter, Gil Brandt has compiled voluminous statistical research into football and its players, and become an important voice in helping the public understand college and professional gridiron. I can tell you Gil is a kind and generous guy, and repeatedly in his professional life has gone out of his way to help others. Many little-known college players from modest personal backgrounds never would have gotten their chance in the NFL without Brandt, while he has long made himself and his stats files available to writers and broadcasters at their convenience rather than his. But comparison makes clear Brandt should have credited the research in his column to David Lewin and the analysis to Aaron Schatz.
The most striking and original draft analysis came from Page 2's Ted Kluck, who broke down many years of first rounds and found that quarterbacks, running backs and wide receivers (in that order) were most likely to be busts, while safeties, linebackers and cornerbacks (in that order) were least likely to become draft flops. First-round safeties, defensive tackles and linebackers had the best odds of reaching the Pro Bowl, while first-round cornerbacks, offensive linemen and wide receivers the longest odds to receive ticket to Honolulu. Kluck's conclusions were striking on several fronts. One is that quarterback, running back and wide receiver -- the positions that produce the most statistics, and hence the players you'd think we knew the most about -- were most likely to disappoint in the pros. Maybe the stats generated by "skill players" tell you more about their teammates than about them. Next, notice what position appears to be the single safest to draft in the first round, generating fewest busts and most Pro Bowls: safety. And what do draft gurus endlessly say? Don't waste first-round choices on safeties. The next striking aspect of Kluck's findings is that the two positions with the highest first-round success, safety and linebacker, are positions that scouts and personnel managers don't pay much attention to. Maybe the picks in this category are successful because NFL personnel directors don't pay as much attention to them as others. Finally, what struck me about Kluck's analysis was its practical value: a general manager could simply use the data as a guide. Kluck did, predicting based on his own numbers that Gaines Adams, Adam Carriker, LaRon Landry, Brandon Merriweather, Amobi Okoye, Joe Thomas and Patrick Willis were the most-likely-to-succeed picks in this year's first round. TMQ will revisit this list in two years to see if he was right.
New Orleans: Last year the Saints drafted Jahri Evans from Bloomsburg of Pennsylvania and Marques Colston of Hofstra; both had great rookie seasons. This weekend New Orleans tabbed players from Akron, Kent State, Towson and Wingate. The Saints also have gents from Ball State, Colgate, Drake, North Carolina A&T, Tennessee-Martin and Weber State on the roster, to say nothing of Michael "Beer Man" Lewis, who never went to college. A true meritocracy! At New Orleans it doesn't matter where you're from, only whether you perform. College note: Bloomsburg reassures prospective students "major chain stores and a mall are nearby."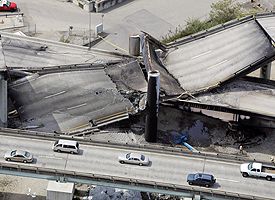 AP Photo/Paul Sakuma
A part of Oakland that's in better shape than the Raiders.
Oakland: Chris McKendry and Josh Elliott had a great factoid on "SportsCenter": Since 1990, Raiders' quarterbacks taken in the first, second or third rounds are a combined 5-18 as starters. So your challenge has been laid down, JaMarcus Russell: Can you win more than five games? I mean in your career, not in 2007. Ben Roethlisberger came into a great situation at Pittsburgh and was an instant success. Vince Young arrived at one of the league's best-coached teams and was an instant success. Russell is arriving at, well, let's just say the collapsed section of the San Francisco-Oakland Bay Bridge is in pretty good shape compared to the Raiders. But don't worry, a guy who has never been a head coach at any level is now in charge!
Hillary Clinton Denies Internet Rumor She Once Put a Postcard Stamp on a Regular Letter: The shocking truth has been revealed -- Barack Obama has a 20-year-old parking ticket! That expired coupon Obama tried to use at Safeway, the time he got an upgraded airline seat then failed to declare the value of the upgrade on his income taxes: it's all going to come out now. The parking-ticket story was absurd, yet there has been serious discussion about the fact that Obama's middle name is Hussein. This is a weird coincidence -- but strictly a coincidence, so why does anyone care? His father, who died in 1982, was Barack Hussein Obama; the Illinois senator simply carries his father's name. Obama was given the middle name long before "Hussein" had any political connotation. And as with all birth names, Obama was not consulted in the matter! Suppose somebody named Willard becomes a dictator somewhere, would we hold this against Mitt Romney? (Willard is his real first name.) That cable news fixated on Obama's middle name is an indicator of the incredible superficiality of contemporary politics. As was talk radio fixation on the four years Obama lived as a child in Indonesia, since he wasn't consulted about that either. Anyway, Obama spent most of his childhood in -- do you have any idea? -- Honolulu. Strangely, Fox News has not suggested there is a sinister Hawaii connection in his candidacy.
But if voters react adversely to Obama's middle name, he shouldn't hesitate to change it. My middle name is Edmund. My father and grandfather had Edmund as their middle name, my first child's middle name is Edmund, and I hope that a male child born to any of my children will bear the middle name Edmund. Having middle names run through a family is a nice tradition. Yet names are imposed on children; why should we not, in adulthood, choose the name by which we wish to be known? In several old American Indian cultures, one of the rites of passage was choosing the adult name that would replace your birth name. That's not such a bad custom.
Here are proposed new middle names for Barack Obama: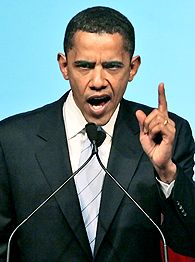 AP Photo/Lenny Ignelzi
Barack Delano Obama? Barack Milhous Obama?
• Barack Juan Obama (appeals to expanding Hispanic demographic)

• Barack Fitzgerald Obama (energize the JFK nostalgia base)

• Barack Edmund Obama (very classy -- Barack, give this serious thought)

• Barack Pasquale Obama (appeals to traditional urban ethnics)

• Barack Singh Obama (appeals to new urban ethnics)

• Barack Herbert Walker Obama (reaching out to Republicans)

• Barack Baruch Obama (sounds learned, maxes out the multicultural thing)

• Barack Steven Obama (initials appeal to fans of the Baltimore Symphony Orchestra)

• Barack Michael Sean James Obama (insures high voter turnout in Boston)

• Barack Hillary Obama
Speaking of presidential politics, recently I awoke in the night in a cold sweat over this thought: what if the 2008 presidential election ends up pairing Hillary versus Newt? Millions will move to Canada.
Philadelphia: TMQ complains ad infinitum (Latin for "by using my AutoText") that the Eagles under Andy Reid simply refuse, as a matter of principle, to build a running game. Year in, year out, Philadelphia lacks a premier power back and does nothing about it. Why should this year be any different? The Eagles did not acquire any of the power backs who changed hands this offseason, and waited till the late third round to tab a tailback. Note: Last fall, the Eagles accidentally paid scatback Brian Westbrook $3 million more than his contract called for, and didn't notice. Philadelphia front office, you will be receiving my invoice for this column soon.
Pittsburgh: Lawrence Timmons looked good at Florida State in 2006, but he's a one-year wonder, only starting as a senior. A year ago in the draft, Philadelphia used the 14th overall selection on another one-year wonder from the Florida State defense, lineman Broderick Bunkley, who spent much of his rookie season on the inactive list, totaling six tackles. Florida State front seven guys tend to look good because the Seminoles overload-blitz so much; every member of the front seven gets a couple highlight-reel plays, and those long touchdowns allowed, well, blame them on the safeties. Miami and Florida both had safeties taken high this weekend; these schools play conventional defenses. Florida State plays a gambling defense that makes the front seven look good and the safeties look bad. Something for Steelers' coaches to consider if they discover Timmons has no idea what it means to drop into coverage.
San Diego: Once again the Chargers have changed uniform looks, and once again failed to go back to their powder blues, best-looking unis in all sports lore. The football gods have waxed wroth against this team in the playoffs recently, and refusing to return to powder blue is surely not going to restore the football gods' favor.
San Francisco: The net of separate deals with the Patriots and Colts was that the Niners moved up from 42nd in the second round to 28th in the first round, in return for exchanging their 2008 first-round choice for Indianapolis' 2008 first. That's not much to pay for advancing from the middle of the second round to the first round. True, you'd guess that the 2008 Indianapolis No. 1 will come below San Francisco's. But there's no way of knowing that for sure. If San Francisco has a winning season in 2008, this transaction will end up costing San Francisco very little. The trade would cost the Niners nothing at all should San Francisco finish 2008 with a better record than the Colts. Unlikely? Super Bowl winners often suffer a letdown in the following campaign.
Seattle: In a cross-promotional deal with Seattle-based Starbucks, the Seahawks will no longer list players' weights: rather, will describe them as either "grande" or "venti."
St. Louis: The Rams sent Kansas City a fifth-round pick for Dante Hall, and also flip-flopped third-round slots. But the slots were right next to each other, St. Louis giving the Chiefs position No. 82 in exchange for position No. 84. This trade is so trivial it seems like a gratuity: "There you are my good chap, there's the fifth-round choice we agreed to, and I've put in a little something extra." Maybe the St. Louis and Kansas City general managers were having blueberry-almond martinis as they discussed the trade; Kansas City paid for the martinis, and St. Louis responded by including a tip in the trade.
Frequent Flyer Pick of the Draft: Choice No. 37, originally belonging to Washington, was traded to the Jets, then to Chicago, then to San Diego. There were 25 trades involving the 32 picks of the second round.
Tampa: They've got 600 quarterbacks at Tampa and have spent several recent high draft choices on offensive linemen. But will they have an offense in 2007? For all the rumors about the Bucs trying to get Calvin Johnson, they ended up with an awfully quiet draft. Given that Tampa was positioned just below Detroit and had plenty of extra picks to offer, if Johnson goes on to become the league's leading impact receiver, Tampa will be remembered as the club that had the television set turned up too loud when opportunity came knocking.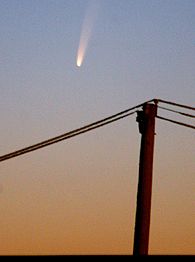 AP Photo/Cindy Shults
Don't worry, Vince Young, a comet probably won't hit your house on the day Madden 2008 is released.
Tennessee: Last month Vince Young was named cover boy for Madden 2008. Titans' officials announced that since then Young has slipped on a banana peel, been hit by a falling piano, been stranded on a runaway train, had to jump from a burning building, drove through a huge sheet of glass being carried across the street by stuntmen, suffered amnesia, was mistakenly deported to North Korea, and leaned against a wall that had just been painted. "Vince is a little shook up, but otherwise he's fine," coach Jeff Fisher said, as NASA warned that an enormous asteroid is hurtling directly toward the Titans' practice facility.
Washington: The tastefully named Gregg Williams loves safeties. His formative experience was as defensive coordinator at Tennessee, where the Titans' onetime league-leading defense used a modified "46" whose key player was the terrific safety Blaine Bishop. Williams has been looking for another Blaine Bishop ever since. When he was head coach at Buffalo and the Bills held the fourth choice in the 2002 draft, Williams argued hard for safety Roy Williams; Bills' president Tom Donahue insisted on tackle Mike Williams, who became an embarrassing bust. Landing at Washington as defensive coordinator, Gregg Williams convinced the Redskins to use the fifth pick of the 2004 draft on safety Sean Taylor. This weekend, Williams convinced the Redskins to use the sixth pick of the 2007 draft on safety LaRon Landry. They might have a 5-11 club in Washington, but they sure got them some safeties.
Washington has had the fewest draft choices in the 21st century, and this weekend exercised no second, third or fourth pick. But for the first time in modern memory, the Skins did not give up a choice in next year's draft for the quick-fix of a lower choice now. Could this be -- responsible management? And if so, what's it doing in Washington, D.C.?
My Last Mel Kiper Watch: Let's face it, we live in Mel Kiper World. Analysts thought ESPN lost its collective mind when the young network put Kiper on the air in 1984 to do color commentary during the NFL draft. But then analysts thought ESPN lost its collective mind simply by showing the draft: Why would anyone want to watch names being called? ESPN draft coverage quickly proved one of the highest-rated offerings in the cable television firmament. Kiper's zany fixation was essential to promoting the draft as a news event; he sent out the message that it was OK to be obsessed about who would pick whom, OK to pore over stat sheets and lists of collegians, OK to dissect fifth-round trades as if they were the lineage charts of the Hapsburgs. Twenty years ago, Kiper and Joel Buschbaum were perhaps the only independent NFL draft analysts in the United States. Buschbaum suffered from fragile health, dying young in 2002 at age 48; he rarely left his Brooklyn apartment, sometimes speaking on sports radio by phone but dreading the words "television studio." Kiper was the one who brought draft mania into the public eye via ESPN. Today the sports business is awash in draft commentators who are almost eerily knowledgeable -- or at least, who appear almost eerily knowledgeable. Draft obsession is universal: There have been more mock drafts on the Internet in the last month than all global warming studies by all scientists combined. The populist sense Kiper inspired -- that you don't have to bow before The Experts, anybody can figure out the draft -- is universal. Today we live in Mel Kiper World.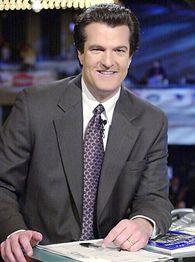 Dick Cheney thought he could take over the world -- instead, Mel Kiper did.
And the emotional, finger-jabbing, arms-waving, I-am-so-nuts-I-am-about-to-plotz style Kiper helped pioneer has spread broadly in sports television. It's easy to forget but when Kiper was starting off, his brashness was fairly rare in sports coverage. In the 1980s if an NFL team did something he didn't like on draft day, Mel said so in no uncertain terms, frequently overreacting, sometimes becoming so mad he sputtered and his hair shook. Kiper actually cared who went to which team -- and if you care about something, you get upset. Now everybody in sports television speaks as if the draft were an emergency meeting of the United Nations Security Council, and everybody gets worked up about the slightest miscue. When Kiper started, sports coverage tended to be reverential. He helped break that taboo.
Kiper's emotion, populism and obsession have been significant forces in the gangbusters economic growth of the NFL. I wrote last year, in full seriousness, "Mel Kiper Jr. has made a greater positive contribution to the incredible financial success of the National Football League than all but a few people in broadcasting." But because Kiper is wacky -- and because many sportscasters and sportswriters are privately jealous of him -- he gets little respect. Television careers don't last forever; Saturday was Kiper's 24th year of draft coverage, and everybody winds down at some point. In the last two drafts Mel hasn't gotten upset about anything, seeming almost strangely approving of almost every choice: maybe that's a sign. But before Kiper should hand over his hair gel to the next generation, the sports business needs to make some acknowledgment of the man's contributions. Yes, Kiper has a goofy demeanor. But the idea he started -- NFL draft obsession -- has been a spectacular success, and of the beat sportswriters, particularly, who condescend to Mel, I don't seem to recall any of them starting an idea that proved a spectacular success.
That said, half the fun of Kiper is beholding him careen all over the map. This year Kiper issued no fewer than six formal mock drafts, plus made innumerable predictions on ESPN television and radio, combining wrong predictions -- "I don't want to say it's 100 percent certain, but it's more than likely the Detroit Lions aren't keeping the second pick" -- with constant self-contradiction. Consider Kiper on Brady Quinn. Throughout fall 2006, Quinn was the top-ranked collegiate on Kiper's "Big Board." In early January, after the Raiders qualified for the first choice and after JaMarcus Russell bested Quinn in the Sugar Bowl, Kiper opined, "Brady Quinn should be a lock to land in Oakland." (Russell at that point had not declared, but was expected to.) In February, Kiper made Russell the likely first choice, saying JaMarcus had "a better body of work and stronger performances in big games." But Kiper already had seen Quinn's and Russell's games when he said Quinn was better! In mocks, Kiper had Quinn selected second by Detroit, third by Cleveland, seventh by Minnesota, ninth by Miami. Midwinter, Kiper turned against Quinn, saying, "He didn't play his best against the elite teams. Against the elite competition he struggled." Then in April, Kiper started to like Quinn again, calling him "at his best in pressure situations." On draft day, Kiper declared, "They say Quinn didn't perform well in big games, but that's not true," and Kiper proceeded to narrate clips of Quinn performing well against elite competition. He added, "Quinn's problem at Notre Dame is that he didn't have the best players around him." So Quinn failed in big games and succeeded in big games and was the best player in college and also a letdown and anyway his teammates were to blame. And yes, we were all surprised when Quinn slid to 22nd -- I don't claim to understand it. Anyway for the record, here's Mel before the draft: "There's no chance of [Quinn] falling out of the top 10. It's not going to happen."
Kiper on Greg Olsen in February: "He'll be there as a second-round pick. I don't think he played well enough to be a first-round pick." Then the Miami tight end's stock rose when he aced his combine appearance. After the combine, Kiper projected Olsen to go to Chicago at the 31st pick. By March, Kiper began projecting Olsen into the middle of the first round, saying Olsen has "great hands and is very athletic … he's the complete package." Asked in a chat if Olsen could last till the Bears at 31, Kiper answered, "No chance now. That's not going to happen." By draft day, Kiper rated Olsen the 11th-best performer available. Kiper had Olsen rocketing up from a guy who didn't play very well to a lottery pick, and the gentleman did not appear in a single game during this period! Kiper should have stayed with his instincts: Olsen went late in the first, at the 31st selection, to Chicago.
In different mocks, Kiper had the Cowboys using their first pick on Aaron Ross or Robert Meacham or Reggie Nelson or Dwayne Jarrett or Dwayne Bowe; they chose Anthony Spencer. Kiper had the Saints using their first choice on Chris Houston or Darrelle Revis or Daymeion Hughes or Ross. New Orleans took Meacham, while Hughes, whom Mel also projected as a first-round choice of New England, wasn't picked until Round 3. In February, Kiper said quarterback John Beck would go no higher than the fourth round, while quarterback Kevin Kolb would go no higher than the fifth; then in mocks, Kiper had Beck drafted in the second round and Kolb in the third. (Both went in the second.) Shortly before the draft, Mel offered weirdly specific forecasts such as, "If John Beck and Trent Edwards are still on the board after the first round, the Lions will take one of them with the second pick in the second round." Both were on the board when it was the Lions' turn with the second choice in the second round, and Detroit traded the pick. Kiper said Houston would select a cornerback in the first round, either Leon Hall or Darrelle Revis, and "if both Hall and Revis are available at Houston's turn, it will be interesting to see" which of the two the Texans picked. Both were available, and Houston took neither. Just before draft day, Kiper said Buffalo would chose Patrick Willis in the first round and Antonio Pittman in the second round; neither happened. Kiper projected Pittman to be the third tailback chosen; he was the 10th chosen. Mel projected Brigham Young tight end Jonny Harline as a third-round choice; he wasn't chosen at all. Of course Kiper's predictions were right on many points: He had the Ravens taking Ben Grubbs and the Colts taking Anthony Gonzalez, for instance. But if you predict practically every outcome, you'll be right sometimes by chance! In mocks or interviews, Kiper had Alan Branch going sixth to Washington or 11th to San Francisco or 13th to St. Louis or 21st to Denver or 23rd to Kansas City or 25th to the Jets; as the defensive tackle's stock declined, Mel said Branch was "too physically gifted to slide out of the first round." Branch lasted till the second round. Here's my favorite Mel moment of 2007. Ten days before the draft, he forecast Courtney Taylor as a third-round choice. Late Sunday afternoon, with only diehard draftniks still tuned in, Taylor went in the sixth round. "Some people had Taylor as a third-round choice, but he lacks speed," Kiper said.
This year perhaps a dozen football writers for major Web sites followed in the master's footsteps by issuing not one, not two, not three but multiple mock drafts, each contradicting the previous. Pat Kirwan of NFL.com inflicted nine mock drafts on the eyeballs of the Web. Kirwan had Jamaal Anderson going to Tampa, or to Minnesota, or to Atlanta, or to St. Louis, or to Green Bay or falling out of the first round altogether; he went to Atlanta. Kirwan had Paul Posluszny going in the first round to Carolina or to Pittsburgh or to New Orleans or to Indianapolis; he went in the second round to Buffalo. Days before the draft, Kirwan had Alan Branch going eighth overall (Branch was not chosen in the first round), Marshawn Lynch undrafted in the first round (he went 12th), and correctly divined just three of the 32 first-round choices. Now that we live in Mel Kiper World, where everyone's a draft guru, in future years TMQ will quit tracking Kiper and annually pick someone else's zany forecasts to unpack.
Running Up the Score Watch: As noted by readers including Matthew Freitas, Bridgewater (Mass.) State beat Newbury College 57-1 in baseball. Bridgewater coach Rick Smith kept his starting pitcher in five innings, though Bridgewater led 31-0 at the end of the third, and played only 17 of his 29 players despite the bench-clearing lead. That is some mighty bad sportsmanship on the part of the Bridgewater baseball staff. Poor sportsmanship does not occur in a vacuum -- usually it reflects lack of character -- so here's a question for the college's president, Dana Mohler-Faria: Does Bridgewater State teach character? The school's sports information office gets a round of boos for putting out a press release boasting about the score -- and waiting until the final sentence to note that Newbury is in its first season of varsity competition. The victor, not the vanquished, should be embarrassed about this game.
Next Week: The draft makes the halfway point to resumption of the NFL artificial universe. You've lived through February, March and April without football. Now there is just May, June and July to survive. Tuesday Morning Quarterback will return on a weekly basis in August.
In addition to writing Tuesday Morning Quarterback, Gregg Easterbrook is the author of "The Progress Paradox: How Life Gets Better While People Feel Worse" and other books. He is also a contributing editor for The New Republic, The Atlantic Monthly and The Washington Monthly, and a visiting fellow at the Brookings Institution. You can reach him here.

Also See
ESPN Top Headlines