Pats' tapes are gone, but questions remain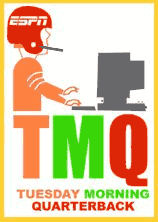 Reader Abhijit Kumbare of San Jose, Calif., writes, "It is very fishy that the NFL immediately destroyed all the evidence submitted by the Patriots." Steve Libenson of New York writes, "Consider what the press reaction would have been if David Stern had collected all the evidence about the ref altering games, then immediately destroyed that evidence without saying what it showed, and did so four days after going on national television and promising to get to the bottom of things."
Fishy, indeed. On Sunday, Sept. 16, NFL commissioner Roger Goodell went on national TV and promised he would get to the bottom of the Patriots' sign-stealing. Four days later, the NFL announced all videotapes and other spying materials compiled by the Patriots had been obtained by the league and destroyed. Goodell, who until then had been very upfront in addressing the Beli-Cheat scandal, didn't go back on television to say what the tapes contained; the commissioner has been in radio silence about the Patriots since the files arrived at the NFL's Park Avenue headquarters. The league acted in a hurry to dispose of damning documents, but has not revealed what was in the tapes and notes, nor said why there was a rush to get rid of them.
The lack of answers leaves several questions hanging out there. Chief among them: Is it possible the Patriots' tapes showed some evidence of New England cheating in a Super Bowl?
This weekend, in an e-mail exchange with NFL spokesman Greg Aiello, I asked twice whether the Patriots' documents contained evidence of cheating in the Super Bowl, and Aiello twice declined to either confirm or deny the existence of such evidence. The first time, he changed the subject with a detailed response about the original penalty; and the second time, after I protested he hadn't answered my questions, he replied, "I did answer your questions to the extent I'm going to answer them."
As a matter of logic, refusing to deny something is not the same as admitting it. But if the Patriots' tapes and documents contained no indication of cheating in the Super Bowl, it would be strongly in the NFL's interest to publicize this. Instead, the New England documents were shredded within roughly 48 hours of the NFL receiving them -- see timeline below. The rapid shredding occurred although Goodell said nothing about plans to destroy the materials when he was on national TV vowing his purpose was "maintaining the integrity of the NFL."
After Aiello twice declined to say what the Patriots' materials showed, I heard from him a third time Sunday. He wrote in an e-mail that my assumption the tapes contained indications of Super Bowl cheating is "wrong," then wrote, "There is no such evidence regarding the Patriots' Super Bowl victories." So, is this the denial that I've been seeking? But wait: Three days earlier, the NFL destroyed the evidence. I asked Aiello whether he meant there is no evidence now of New England cheating in a Super Bowl -- that is, after the destruction of the files -- or whether examination of the materials positively affirmed no cheating. He did not reply.
Aiello's "There is no such evidence" phrasing calls to mind what Richard Nixon's attorney general John Mitchell dubbed the "non-denial denial," an assertion that seems to say something but doesn't. On Sunday, I asked Aiello whether the league would make a simple, declarative statement that the spying files proved the Patriots did not cheat in a Super Bowl -- and have not heard back from him. I assume this is not because he has forgotten: I've heard from Park Avenue sources that the fact I am asking these questions is very much on the NFL's radar. I have known Aiello professionally for years and, like others who deal with him, have always found him skilled, knowledgeable and forthright. It's very odd to be getting a "non-denial denial" from him now.
I further asked Aiello who had examined the New England materials before they were destroyed, and he would answer only "senior members of the league office staff." I asked when the materials actually arrived at league headquarters -- How long were they there before being destroyed? -- and he would not answer. I asked whether the materials had been inspected by anyone conversant with the game plans and signals the Rams, Panthers and Eagles used against Bill Belichick's Patriots in the Super Bowl; football signs and terminology are cryptic, so it would help to have a skilled eye. Aiello wouldn't answer that. I asked who had ordered the tapes and notes destroyed, and he wouldn't answer that, either.
And I asked, if there was nothing incriminating in the New England documents, why was the league in such a hurry to shred them? First, Aiello wrote, "The purpose of destroying the tapes and related documents was to eliminate any advantage they might have given the Patriots going forward and ensure a level playing field for all 32 teams." But the league announced last week that the Patriots "certified in writing" that no copies of the materials exist. If the sole copies of the sign-stealing materials had been sent to the league office, it would be impossible for these materials to give the Patriots any advantage. When I pointed that out, Aiello countered that the reason for the destruction was "so that our clubs would know they no longer exist and cannot be used by anyone." Again, if the sole copies were being held by the league, how could any club use the material?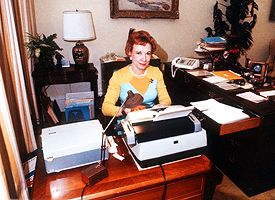 AP Photo
Rose Mary Woods, who reviewed the Patriots' tapes for the NFL.
Aiello further said Tuesday Morning Quarterback was wrong to assert, in last Tuesday's column, that Goodell issued an "emergency" order on the morning of Sunday, Sept. 16, mandating New England turn over all illegally obtained videotapes and sign-stealing materials. Aiello explained Goodell actually issued that order Thursday, Sept. 13, but that the existence of the order did not become known publicly until the morning of Sept. 16, when it was reported by Chris Mortensen on ESPN. I regret the error.
Aiello said the heavy penalties assessed the Patriots on Sept. 13 were for "the totality of the conduct" in multiple instances of sign-stealing over several years, not for "one tape seized at the end of one quarter of one game," meaning the tape taken from the Patriots in their season opener at the New York Jets.
It is unclear why, if Goodell on Sept. 13 issued an order for the surrender of all New England spying tapes and materials, the league said nothing about that directive at the time. More important, come Sunday night, Sept. 16, Goodell told Bob Costas of NBC that the Patriots had not yet complied with the order that we now know was issued Thursday and that he would "absolutely" impose additional penalties on the Patriots if they did not comply promptly. This means there were at least 72 hours in which New England was failing to abide by a high-profile direct order from the commissioner of the NFL -- and in that time was doing with its spying materials, well, lord knows what.
Here is a timeline of events so far:
Sunday, Sept. 9: During the Patriots-Jets season opener, security officers seize a video camera a team official on the New England sideline was using to film signal-calling on the New York sideline. NFL rules forbid filming the opponents' sideline or recording opponents' signal calling. Clubs had been reminded of this prohibition by a strongly worded directive sent from league headquarters in September 2006.

Thursday, Sept. 13: Commissioner Goodell declares the Patriots guilty of "a calculated and deliberate attempt to avoid long-standing rules designed to encourage fair play and promote honest competition on the playing field." He imposes on New England the strongest penalty in NFL history: loss of a first-round pick (if the Pats make the playoffs), or second- and third-round choices in the 2008 draft (if New England fails to reach the postseason); a $500,000 personal fine against Belichick; and a $250,000 club fine. Goodell orders the Patriots to turn over all videotapes and other materials obtained in violation of NFL rules, although this part of his decision is not publicly announced.

Sunday morning, Sept. 16: On ESPN, Chris Mortensen reports Goodell's directive that the Patriots surrender all videotapes and notes containing cheating materials.

Sunday evening, Sept. 16: On NBC's "Football Night in America," Goodell says New England has not yet complied with his order to surrender all illegal materials, adding the Patriots will be penalized more if the materials don't arrive soon.

Monday, Sept. 17: Asked whether he will surrender videotapes and notes to the league, Belichick answers, "Of course." Asked by The Boston Globe whether NFL headquarters has received the Patriots' materials, Aiello answers, "We don't have anything else on the matter to report right now."

Sometime between Monday night, Sept. 17, and Thursday afternoon, Sept. 20: The New England materials arrive at league headquarters.

Thursday night, Sept. 20: The NFL announces all of the Patriots' materials have been destroyed, disclosing nothing about their contents.
The history of scandals teaches us that when the point is reached that everything has come out, then the principals apologize in public and tell all. When the point has not yet been reached that everything has come out, there is usually stonewalling, denial and weird Nixonian/Clintonesque statements. The destruction of evidence and the lack of answers about what the evidence contained, leaves me wondering if there is something very important about the Patriots' spying scandal that has not yet come out.
And if you're tempted to say, "Gregg, at worst this is just cheating in some dumb football games," here's why the affair matters: If a big American institution such as the NFL is not being honest with the public about a subject as minor, in the scheme of things, as the Super Bowl, how can we expect American government and business to be honest with the public about what really matters?
In other football news, New Orleans looks awful, losers of four straight stretching back to last season. But please, football pundits, stop saying this is because "the Saints have gone from a last-place schedule to a first-place schedule." Fox Sports pundits said that repeatedly on Sunday, and ESPN pundits are likely guilty of saying it too. The Saints did get assigned a couple of tough opponents based on their finish last season. But they haven't played any of them yet!
The NFL's strength-of-schedule system is widely misunderstood, part of the parity myth that Tuesday Morning Quarterback annually demolishes. (I haven't gotten around to demolishing the parity myth yet this season.) Under the current system, which took effect when the NFL realigned in 2002, each team plays its division, a total of six games; one other division from its conference, a total of four games; one division from the opposite conference, a total of four games. That's 14 games, and the pairings are determined years in advance. In 2009, for instance, the New Orleans Saints will play six games within the NFC South, four games against the NFC East and four games against the AFC East. After the 14 games determined years in advance by formula, an NFL team's final two games are assigned based on performance. Because only two of 16 games annually are impacted by teams' performances the year before, strength-scheduling has far less role in NFL outcomes than conventional wisdom assumes. At any rate, the two strong opponents that were assigned to the Saints in 2007 based on the team's 2006 finish are Philadelphia on Dec. 23 and Chicago on Dec. 30. The Saints haven't played these teams yet! The three opponents the Saints have met so far, indeed every team they play until Santa is hitching his sleigh, were determined years ago by a random computer draw and have absolutely nothing to do with how the Saints finished in 2006.
Now as to what's wrong with the Saints, ye gods, their offensive line has gone from great to awful. TMQ believes that Freudian analysis of football always begins with the offensive line, and the New Orleans offensive line needs some cognitive therapy. Reggie Bush isn't going to gain many yards if he is hit by multiple defenders in the backfield, as he was on several snaps last night. Tennessee leading 10-0, New Orleans had first-and-10 at midfield in the second quarter; Jammal Brown and Jamar Nesbit, both good performers last year, simply straightened up and stood watching, blocking no one at all, as a Tennessee defensive lineman blew in to force Drew Brees to throw the ball away. On the first New Orleans snap of the second half, three Tennessee defenders hit Brees as the highly paid Brown simply stood watching, not even attempting to make contact with anyone. Brees was sacked and lost a fumble to start the fourth quarter and at that point New Orleans self-destructed; on the play, it seemed like the Saints had no offensive line at all.
As for the Titans, they look like last season's Saints -- winning streak, chemistry, exciting aura, young star from the draft class of 2006, representing a city that's due. Last night, reaching fourth-and-1 in Saints' territory, the Flaming Thumbtacks ran up to the line and quick-snapped to prevent New Orleans from putting in its jumbo defense. The ploy worked as Tennessee rushed for the first down, then scored its initial touchdown on the possession. That the Titans were ready to execute this ploy quickly, while the Saints weren't fast enough on their feet to call timeout, indicates the difference between a team on its way up and a team on its way down.
And in other football news, Miami is in danger of losing a statistical distinction much more important than Dan Marino's touchdown pass record. See below.
Stat of the Week No. 1: Stretching back to last season, Pittsburgh has won nine of its past 11.
Stat of the Week No. 2: The Eagles had 473 yards of offense against the Lions -- in the first half.
Stat of the Week No. 3: San Francisco has a winning record despite being outscored.
Stat of the Week No. 4: Carolina staged an 80-yard touchdown drive on which 67 yards were penalties against Atlanta.
Stat of the Week No. 5: Defending NFC champion Chicago has two offensive touchdowns in three games this season.
Stat of the Week No. 6: Tom Brady is 12-1 against the Bills.
Stat of the Week No. 7: Buffalo and St. Louis have been outscored a combined 147-56.
Stat of the Week No. 8: Bonus college stat: Syracuse and Louisville combined for 978 yards passing and 115 yards rushing.
Stat of the Week No. 9: Bonus college stat: Texas Tech gained 718 yards on offense -- and lost.
Stat of the Week No. 10: Stretching back to last season, Tennessee has won eight of its last 10.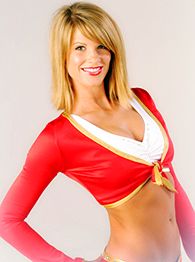 Kansas City Chiefs
Classic never goes out of style.
Cheerleader of the Week:
The season may be off to a rocky start for the Chiefs, but everything is under control for the
Kansas City cheerleaders
. Bet you thought there was nothing sexy in Missouri! Kansas City cheerleader
Haley
is a college student whose fashion personality, according to her team bio, is "classic and trendy." How can you be classic and trendy simultaneously?
Sweet Play of the Week: With Green Bay facing third-and-1 in the second quarter, the Packers lined up in (what else?) the shotgun spread, then senior citizen Brett Favre ran a quarterback draw for the first down. You don't often see people whose hair is graying running the ball on short-yardage downs in the NFL. Favre's underhanded shovel pass on a third-and-3 looked seriously cool, too.
Sweet Play of the Week No. 2: The all-bark, no-bite Falcons might be staggering at 0-3, but against Carolina, they executed one of TMQ's favorite plays -- the tight end fall-down. With the score tied at 10, Atlanta faced third-and-2 on the Cats' 13. Joey Harrington play-faked and rolled right; Alge Crumpler tried to throw a cut block and deliberately fell down; then he jumped up and ran into the left flat, forgotten by the defense. Easy touchdown pass.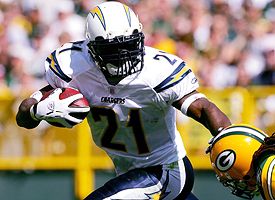 Matthew Stockman/Getty Images
Now that LT has a Darth Vader mask, maybe Qui-Gon Jinn could coach the Chargers?
Bring Back Marty Schottenheimer!
Leading 21-17 at Green Bay, San Diego faced third-and-3 with 2:27 remaining. The Chargers had the league's best power-rushing attack in 2006. Last week, losing at New England, the Chargers didn't power rush in short-yardage situations. Surely they'll make amends here! Shotgun spread, pass incomplete, clock stops, boom goes the punt to the Packers.
Sour Play of the Week: Now it's Packers ball at their 43, Chargers ahead 21-17 with 2:13 remaining. Green Bay must score a touchdown, so the rule for the safety is: Let nothing behind you. San Diego safety Clinton Hart lines up 15 yards deep, as deep as you'll ever see a safety except in a Hail Mary situation. Greg Jennings catches a quick slant that should have been a short gain -- and legs it out 57 yards to the end zone for the game's decisive play, running right past Hart, who simply stood there, watching the play.
Sour Play of the Week No. 2: Trailing the Giants 24-17, the Potomac Drainage Basin Indigenous Persons were stopped on third-and-goal from the Jersey/A 2, on a play that ended with about 40 seconds showing. The Redskins rushed up to the line as if the clock was about to expire, snapping the ball on fourth-and-goal; the team didn't seem set, the play was discombobulated and the runner crashed into his own blocker, ending the game. Why did Washington hurry the final play? There were 40 seconds on the clock, ample time for a standard huddle.
Sour Play of the Week No. 3: Game scoreless, Chicago faced third-and-goal on the Dallas 2. Run the ball! Instead, rollout right and Rex Grossman sprinted all the way backward to the Dallas 14 before deliberately throwing the ball away. Not only did the Bears, on the goal line, execute a play that called for the quarterback to sprint backward but the Cowboys' defense was in a dime, expecting pass; Grossman did not notice and audible to a run against a lightweight defense.
Buck-Buck-Brawckkkkkkk: With New England leading 31-7 at the end of the third quarter, Buffalo faced fourth-and-1 at midfield. I scarcely need to tell you the Bills punted, nor tell you the Patriots drove back the other way for the touchdown that made the game a laugher. This Bills team has become embarrassing to watch; Dick Jauron does not appear to be even trying to win. Dear Ralph Wilson, you are a wonderful man, but you have a coach who punts on fourth-and-1 in the second half when down by 24 points. That sort of thing is simply embarrassing. Note: Tailback LaDainian Tomlinson has more touchdown passes this season than the entire Buffalo team. Stat submitted by reader Andrew Nordmeier of Phoenix.
Best Purist Drive: Trailing 17-16 in the third, Oakland staged a 15-play, 9:06 touchdown drive that included going for it on fourth-and-1 at midfield, by rushing -- as you should on fourth-and-1 -- then running on three consecutive snaps after reaching first-and-goal.
The Star Wars Galaxy or Beautiful Women Who Like Ugly Men -- Which Is Hollywood's Greater Fantasy? TMQ has noted that movie and television plots often imply that the highest possible erotic fulfillment for an attractive young woman is sex with a balding, overweight, middle-aged man. As someone who meets two of those three descriptions, I'm all for the premise -- but it's about as realistic as the Green Hornet. (And why hasn't there been a big-budget Green Hornet flick?) At work is the desire of the balding, overweight, middle-aged men who run Hollywood to suggest that hot young women should be drawn to them; or at least to create fantasies in which this happens. Consider "The Sopranos." An uninterrupted stream of gorgeous young women eagerly jumped into bed with balding, overweight, middle-aged Tony, and not because he was paying them but rather because, according to the premise of the show, they found him irresistible. A variation on the Hollywood producer's daydream is the spectacular young woman who's turned on by an unappealing young man, and this was the premise of the movie "Knocked Up," released Tuesday on DVD. The guys who are now the balding, overweight, middle-aged dealmakers of Hollywood were once unappealing young men. "Knocked Up" projected their fantasy backward toward their youth.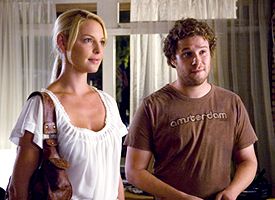 Universal Pictures
The ultimate Hollywood fantasy -- gorgeous woman, loser guy.
Count Your Lucky Stars There Is No Buffalo-Minnesota Game This Season:
The Vikings' offense rivals the Bills' for unwatchable ineptitude. Leading 10-3 and holding a timeout, Minnesota reached second-and-7 at the Kansas City 30 with 34 seconds remaining in the first half and went incompletion, sack, sack, intermission. Ultimately, the Vikings lost by three. But, my, those laddies in Minnesota can play run defense! Minnesota just held stud Kansas City tailback Larry Johnson to 42 yards on 24 carries.
Luckily, There's No Minnesota-St. Louis Game, Either: What is the story with the 0-3 Rams? Maybe the weak start links to Rams coach Scott Linehan's preposterously naming nine captains -- Marc Bulger, Steven Jackson, Torry Holt, Isaac Bruce, La'Roi Glover, Pisa Tinoisamoa, Will Witherspoon, Corey Chavous and Jeff Wilkins -- on the eve of the season. Having nine captains is like having no captains! For coin tosses, Les Mouflons look like those high school teams that send the entire team out to the center of the field.
Winning Campaign Theme for Barack, Mitt, Hillary, Rudy -- More Parking Spaces! This past Friday was international Park(ing) Day. Thousands of people in Los Angeles, New York, Paris, Seattle and other cities spent the day occupying street parking spaces by setting up lawn chairs or pingpong tables to prevent cars from parking. The stated purpose was a protest of car culture and lack of urban greenspace, but the primary impact of Park(ing) Day seems to have been to make drivers even more stressed out.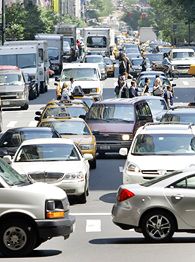 AP Photo/Richard Drew
Your government's plan for traffic -- make it worse.
A running TMQ concern is my theory that parking issues, not bioterrorism or global warming, will be the downfall of Western civilization. It is not just in your mind that it gets harder each year to find spaces. Today, there are about 240 million registered motor vehicles in the United States, but, not counting driveways, only about 110 million parking spaces. For the past two decades, an average of 3 million vehicles per year have been added to the nation's roads -- new vehicles purchased versus old ones retired -- while an average of fewer than 1 million parking spaces have been added annually. And those are just statistics for cars. At the same time, the nation's fleet of tractor-trailer trucks has risen sharply and hardly any new rig-length parking slots have been built; the result is that exhausted truckers often cannot find a place to pull over and rest. Maybe it has become a national necessity that millions of cars and trucks are stuck in traffic jams at any given moment. If they all tried to park simultaneously, they couldn't.
Enviros and some urban activists say offering parking only attracts cars and therefore we should reduce parking: That was the spirit of Park(ing) Day. But it's the other way around -- to reduce urban stress for everyone, the United States, European Union and, soon, China, need major initiatives to construct more parking spaces and parking facilities.
Parking spaces and parking garages are not being made in sufficient numbers for a variety of reasons, including silly government regulations that discourage new parking slots when urban residential complexes are built and the market-forces problem that urban land is almost always more valuable as offices, retail space or housing than as any kind of parking, even paid parking. Now Donald Shoup, an urban planner at UCLA, has thrown a new idea into the topic. His book, "The High Cost of Free Parking," argues that the price of street parking should go way up and should reflect congestion fees depending on time of day.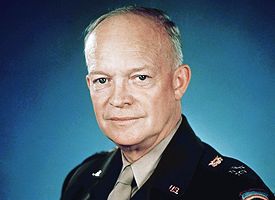 AP Photo
Dwight Eisenhower, as president of Columbia University in 1949, got the last legal street parking space in New York City.
Shoup estimates that nearly a third of the traffic volume in Manhattan is caused by cars cruising in search of free street parking -- although it seems hard to believe anyone has actually found a street parking space in New York City since the Eisenhower administration. I've done the equivalent of perhaps 100 miles of walking along Manhattan streets, and never once seen a fully legal, free, on-street parking space that was open. (Love those Manhattan cop shows that have the detectives pull into an open parking space directly in front of the building where they are going.) Shoup's studies further show that even in car-oriented Los Angeles, the typical driver circles the block 2.5 times before finding a street spot. All this circling in search of free street parking wastes petroleum while generating greenhouse gases. In a single small business district of Los Angeles that Shoup and his students studied, about 50,000 gallons of gasoline were wasted per year by drivers circling looking for free or inexpensive metered street spaces. Raising the cost of on-street parking, he thinks, would cause more drivers to go directly to pay lots, reducing wasteful trolling.
Shoup has a point, although he overlooks the parking-ticket conspiracy. Many cities today rely on parking tickets for revenue. Washington, D.C., realizes more than $100 million annually in parking-ticket fines; San Francisco reels in $85 million annually. This means on-street parking in many big cities already is high-priced, just in an economically inefficient fashion -- spaces appear to be free or available for a couple of coins, but actually end up costing parkers $50 after the ticket is paid. Presumably, we'd all be better off if parking meters in San Francisco or Washington and other cities charged $2 per hour but an army of meter maids and meter muffins did not slap tickets on windshields. The urban bureaucracies that administer the parking ticket system would resist such reform. What many big cities want is for people to overstay in a legal space, then get hit with a parking ticket.
However on-street parking is priced, the core of the problem is the need to build more parking spaces and parking garages. The idea that parking "only encourages more cars" is fallacious in the same way it's fallacious to argue that building roads only encourages cars. More cars are coming in any case: the questions are whether they will have places to park, and whether traffic will get a lot worse or only somewhat worse. Traffic jams and parking hassles are leading causes of modern stress. Stress is bad for us; thoughtful government planning should seek to make people's lives less stressful; this means more roads and a lot more parking spaces should be built. Roughly 2 percent of the global GDP is dedicated to parking costs. That's not enough!
The Parking of the Future, Here Today: CarLoft is a German company making a system that allows cars to be parked on apartment balconies: "The evening breeze is so nice, darling, let's go out on the balcony and sit in the BMW." AutoMotion Parking Systems is making a fully automated commercial garage in which the driver enters a "room" and the locked car vanishes on a pallet. The cost of installing the gearing is offset by the savings of having no labor costs for parking attendants. The first AutoMotion automated garage opened earlier this year in a luxury condo in New York's Chinatown.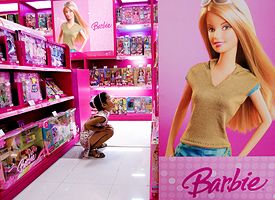 AP Photo/Andy Wong
Next year's new model, "Outsourcing Barbie," lets girls play at laying off their parents!
News of the Future, Here Today:
September 2007 -- CEO of Mattel Toys travels to China to apologize to the Chinese government for criticizing Chinese product quality.
September 25, 2017. BEIJING -- President Jenna Bush traveled to Beijing today to apologize to the Chinese government for criticizing China's annexation of France. China, which holds the entire U.S. national debt as Treasury bonds, had threatened to cut off tap water supplies to the United States unless the Bush administration apologized. As China now supplies the United States with all its manufactured goods, water, grain, beer, computer chips and potato chips, the threat was taken seriously. Arriving in her Chinese-built Air Force One, President Bush was surrounded by guards from a Chinese-managed contract security firm, which in 2015 replaced the United States military. Observers called the kneeling ceremony "brief and dignified."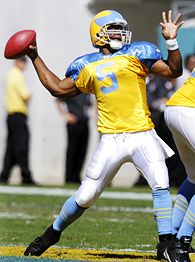 AP Photo/Rusty Kennedy
Fly, Parakeets, fly!
Attack of the Angry Parakeets:
In Arena League action, it was Eagles 56, Lions 21. The football gods must like blue and yellow. TMQ likes the "flip" run in which the quarterback looks one way while flipping backhanded the opposite way. The sweetest-looking play of Kevin Curtis' big day while dressed as a parakeet came when Donovan McNabb faked a flip into the flat, then looked for Curtis deep; the entire Detroit defense went with the fake flip, leaving Curtis uncovered. But when it was Philadelphia leading 49-21 with eight minutes remaining, what the hey was McNabb doing still in the game and still heaving passes? Especially as he's less than a year removed from a torn ACL. When it was Philadelphia 56-21 with five minutes remaining, what the hey was Jon Kitna doing still in the game and still heaving passes? Especially when he's just a week from a concussion.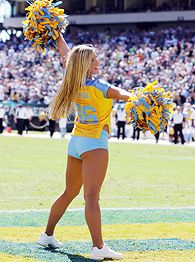 Jim McIsaac/Getty Images
A powerful argument for throwbacks.
Preposterous Punt Avoided:
Endlessly, TMQ notes that because the average NFL play gains almost 5 yards, going for it on fourth-and-short is not a huge risk. With the Dallas-Chicago game tied, the Cowboys faced fourth-and-3 on the Bears' 39 in the second quarter. When Dallas left its offense on the field, NBC announcer Al Michaels called the tactic "very risky" and "a huge gamble." It was playing the percentages! Maybe a 60-40 chance of converting and keeping the ball, versus punting into the end zone for a touchback and net field position shift of 19 yards. Dallas converted, although the drive ended in a blocked field goal attempt.
You Always Knew There Would Be An Item in Which I Criticized Someone for Not Punting: Owing to penalties and back-to-back turnovers, there was a sequence in the fourth quarter of Jacksonville at Denver in which the Broncos and Jags ran 12 consecutive plays inside the Denver 10-yard line. Puzzling centerpiece decision: Trailing 20-14 with 4:19 remaining and out of timeouts, facing fourth-and-5 on his own 9-yard line, Mike The Ultimate Leader Shanahan went for it, and Jay Cutler threw incomplete.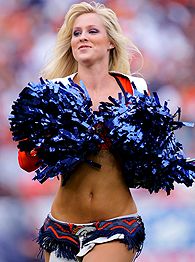 Doug Pensinger/Getty Images
The Broncos lose at home with their cheerleaders in two-pieces? Verily, the football gods are restive.
How Long Until the New England Patriots Have Their Own Spy Satellite?
When I lived in Pakistan, a regular source of amusement was the local papers railing against the supposed "Zionist-Hindu conspiracy," which struck me as the goofiest conspiracy theory ever. Imagine what the Pakistani newspapers are making of last week's news that Israel and India are about to stage a joint launch of military reconnaissance satellites. A large Indian rocket will fly from an island in the Bay of Bengal, placing into orbit two payloads -- India's first electronic spy satellite and Polaris/TecSat, the first advanced radar reconnaissance satellite possessed by Israel. The radar aboard Polaris/TecSat is said to have a resolution of 1 meter, meaning it can image items as small as a few feet across. Spy satellite resolution is often exaggerated, but if the satellite is even half as good as advertised, Israel will join the United States and Russian Federation in having space radars that can see considerable detail of other nation's activities. Most likely, Polaris/TecSat's first job will be to image all nuclear facilities in Iran.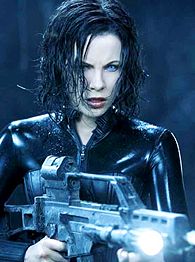 Screen Gems
As an immortal vampire werewolf assasin with psychokinetic powers, she'd fit right in with the fall network prime time premieres lineup.
The joint Israeli-Indian space flight -- note that India is providing the launch technology -- suggests three things about the near global future. First, lots of countries will join the United States and Russia in possessing sophisticated spying networks. Second, evermore military installations will be either underground or built beneath roofs or tents, so they can't be viewed from orbit. (How long until celebrities construct giant roofs over their swimming pools to frustrate space-based photography?) Third, the developing world will join the United States and Russia in space. Last week, Japan launched SELENE -- named for the promiscuous moon goddess, not for the preposterous sci-fi character played by Kate Beckinsale. Selene is on its way to the moon, the first Asian space probe bound there. But not the last: China and India plan to send probes to the moon in the next few months. If NASA actually builds the absurdly expensive, and scientifically pointless, moon base it wants, the agency might have to deal with developing-world space probes touching down on the moon-base ceiling.
Lunar note: Here's me talking on NPR's Morning Edition about the absurdity of the NASA moon-base plan. Although someday men and women will live on other worlds, until there is a propulsion breakthrough, it is folly for NASA to contemplate a super-expensive base on the moon, especially without a scientific rationale. Using current rocket technology, it costs about $25,000 to place a pound of cargo on the lunar surface. That means a moon-base crewmember would consume about $1 million per day worth of water, food and air, while the overall moon-base project might cost $200 billion or $300 billion. When 45 million Americans lack health care insurance, it is absurdity squared to contemplate taxing that group to spend $1 million per day per astronaut just for supplies on the moon -- especially when the main thing the crew of a moon base would do is monitor instruments, which could be accomplished from an office building in Scottsdale, Ariz. Anyway, after being on NPR, I received this delightful short poem from a listener: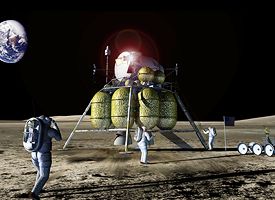 AP Photo/John Frassanito and Associates
NASA's new Moon lander, just $300 billion!
Since we've conquered poverty
And put an end to war,
Since we've now discovered
What this life on earth is for,
Since we've made a paradise
Of this precious, Godly place,
Let's gather all that wisdom
And move to outer space.
-- Jim Terr, Santa Fe, N.M.
Sweet 'N' Sour Pair of Plays: Normally, safeties occur on snaps from a team's 1-yard line; Seattle surrendered a safety to Cincinnati when snapping from its 6. The Blue Men Group botched the line call, with the right side of the line all slide-blocking left, leaving no one to protect the right flank; Bengals linebacker Lemar Marshall came through untouched by human hands and dragged Matt Hasselbeck down before he could finish his dropback. At the endgame, Cincinnati repaid the hosts with a worse mental error. Trailing 21-17, Seattle had first-and-10 on the Trick or Treats' 22 with 1:06 remaining. The Seahawks must score a touchdown to win, so where, oh where, might the pass go? Maybe up the field! Yet Nate Burleson was single-covered on a simple "up" to the end zone -- touchdown and Seattle wins.
Bartender, Shotgun Spreads for Everyone! Philip Rivers and Brett Favre spent nearly the entire San Diego-Green Bay game in the shotgun spread, and the Ravens, a power-rush team, went shotgun spread even on short-yardage downs against Arizona. At least half the NFL's teams ran the shotgun spread as their base look in Week 3.
Untouched Touchdown Run of the Week: Leon Washington of Jersey/B went 98 yards with a kickoff return without being touched. That doesn't happen unless there is excellent blocking.
Offensive Linemen Honored! The NFL's Hall of Fame in Canton, Ohio, has too few defensive players and offensive linemen compared with quarterbacks and running backs. No similar problem at the CFL Hall of Fame, which -- as noted by reader Peter James of Ottawa -- just inducted its Class of 2007: two offensive linemen, a linebacker and a wide receiver (Darren Flutie, Doug's brother). Come on, Canton, the Canadians can do it, why can't you? Let more non-glory-boys in.
Offensive Linemen Eligible! Both Kansas City and Pittsburgh run a number of snaps with six offensive linemen on the field. New England linebackers Junior Seau and Mike Vrabel several times lined up as double tight ends. Miami linebacker Jason Taylor lined up as a wide receiver on one snap, drawing a pass interference penalty, and lined up as a sixth offensive lineman on another down.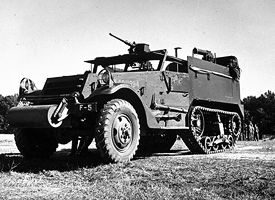 George Strock//Time Life Pictures/Getty Images
Who wants to be nicknamed Tank when you could be nicknamed Half-track?
"Self-Propelled Howitzer Johnson" Doesn't Have Much of a Ring, Either:
Now even The New York Times
has confused
Tank Johnson and Tank Williams. How come no one wants to be nicknamed Half-Track Williams?
Warning -- Praise of New England: Notwithstanding the relentless anti-Belichick tone of the previous two columns, TMQ lauds the New England coach for showing good sportsmanship. Leading Buffalo 38-7 with 4 minutes remaining, the Flying Elvii faced fourth-and-6 on the Bills' 8. Belichick simply had the fullback dive up the middle, Buffalo ball, to hold down the final score.
Leftover Belichick Point: Here's another question raised by the scandal. Three coordinators for Belichick at New England have gone on to become head coaches: Romeo Crennel, Charlie Weis and Eric Mangini. When they were at New England, all led offensive and defensive units that performed extremely well. As head coaches, all have struggled, with a combined record of 41-43. Maybe this is because after leaving the New England Patriots, Crennel, Weis and Mangini stopped benefiting from cheating. Excuse me, stopped benefiting from "a calculated and deliberate attempt to avoid longstanding rules designed to encourage fair play and promote honest competition on the playing field."
Stop Me Before I Blitz Again! With the score tied at 17 with 5:40 remaining, Washington had Jersey/A facing second-and-9 on the Redskins' 33. Tastefully named Gregg Williams blitzed seven, including both safeties; easy touchdown pass to Plaxico Burress, and the home team has blown a 17-3 halftime lead. Now leading 24-17, Jersey/A had Washington facing fourth-and-8 with 1:45 remaining. As the ball was snapped and the Giants blitzed defensive backs, TMQ said aloud, "It's a blitz, that means Washington will make the first down." So the Redskins did. Washington hadn't scored in the second half and had gained only 51 yards in the entire half to that point. Why was a blitz needed?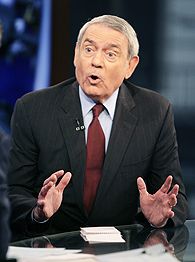 AP Photo/Seth Wenig
We knew Walter Cronkite, Walter Cronkite was a friend of ours, and Dan, you are ...
Suit Seeks $70 Trillion Plus Costs:
Last week, former anchorman Dan Rather sued CBS over the circumstances of his departure from the network. Rather made grand statements about his devotion to journalistic seriousness, and news commentators wrung their hands on that point. TMQ chortled because Rather announced he had filed a "$70 million lawsuit," and to my knowledge, almost every news organization called it a "$70 million lawsuit." Plaintiff demands are meaningless in civil action! If the plaintiff succeeds, judges or juries set the damages based on evidence presented and the relevant statutes. Rather might as well have announced a $70 billion lawsuit or a $70 trillion filing. Only novice attorneys, or persons seeking publicity, put ridiculous damage numbers in initial lawsuit paperwork. Thus, in the very act of bemoaning declining journalistic seriousness, Dan Rather employed a cheap gimmick to sensationalize his claim. Bonus observation: Rather's suit calls it a tort that CBS showed the former anchor the door, citing as its reason that he displayed poor judgment. (Rather does not allege breach of contract, the main point on which a person in his position might have a complaint.) In filing this embarrassing preening legalistic frivolity, Rather proves CBS right!
Maybe Houston Should Wear Bright Blue and Yellow: The Texans are 2-1 and just played a close game against the defending champion Colts. But you can't dance with the champ, you have to knock him out! Trailing 14-10, the Moo Cows had second-and-2 at midfield with 1:27 remaining in the first half, holding two timeouts. Houston coaches appeared to decide to take it to the locker room -- they called a dive into the line, then a short pass, then punted and the half was over. You can't dance with the champ, you have to knock him out! And what was that color Houston was wearing? At first glance, the Texans appeared to have gone all-black. Close-ups made the team appear to be in all purple.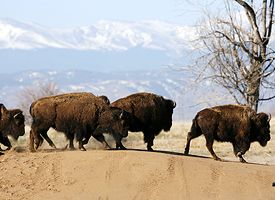 AP Photo/David Zalubowski
Where the buffalo roam over plutonium waste.
Toxic Waste Site Becomes Nature Preserve:
As recently as the late 1980s, Rocky Mountain Arsenal, near Denver, routinely was described in news accounts as "the most toxic place on Earth" -- chemical weapons and the napalm dropped on Japanese cities during World War II were manufactured there. Then the most toxic place on Earth
became a wildlife refuge
. Bald eagles, at the time still an endangered species, began roosting on Rocky Mountain Arsenal grounds in 1986; declaration of a federally protected wildlife refuge came in 1992; coyote, white pelicans and owls have been found on the grounds of the arsenal, and wild bison were recently introduced there. This seemed a good example of the resilience of nature. Commentators speak of the "fragile environment," forgetting that Earth's living world has withstood comet strikes and ice ages. The biosphere isn't "fragile," it's a green fortress. At the same time news reports were calling Rocky Mountain Arsenal "the most toxic place on Earth," endangered species were moving in and thriving.
Now from nearby comes even better proof of the resilience of nature. Not far from Rocky Mountain Arsenal is the Rocky Flats facility, where the plutonium triggers of nuclear bombs once were made. (The two locations often are confused because of their similar names.) Rocky Flats routinely has been called "the most dangerous place on Earth." There was a lot of careless handling of chemicals and plutonium at Rocky Flats, so much so that the FBI raided the plant in 1989 seeking waste-management records. Rocky Flats closed in 1994, and a $7 billion cleanup followed. This summer, the grounds were declared the Rocky Flats National Wildlife Refuge. Deer, prairie dogs and elk have been multiplying there in recent decades, apparently unfazed by living in the most dangerous place on Earth. Want to go hiking where nuclear-bomb triggers were made? Just don't disturb the wildlife.
U B the Coach: Trailing 30-20 with 3:07 remaining and two timeouts, Atlanta faces fourth-and-goal on the Carolina 6. The Falcons need a touchdown and a field goal. The field goal here is highly likely, trying for the touchdown is at best a 50-50 shot. On the other hand, the Falcons must score a touchdown, and here they are only 6 yards away; if they take a field goal, they might be a longer way away at the endgame. The middle position is to take a field goal, then onside kick. So do they try for the touchdown, or take a field goal then onside kick, or take a field goal then boom a standard kickoff? U B the Coach.
Scouts Notes: The Cardinals began to move the ball against the Ravens not so much because they switched from Matt Leinart to Kurt Warner but because they switched into a hurry-up spread and called plays at the line. Arizona scored 17 points in the fourth quarter from the pass-wacky hurry-up, doing so on Baltimore's home field. The Ravens' defense is the league's best; offensive coordinators have been struggling to find a weakness. Baltimore should expect to see a lot of hurry-up offense in coming weeks.
Dallas has a hot offense, in part because the Cowboys are using the tight end better than any other team. Tight end is the NFL's most neglected position: endlessly quarterbacks look for wide receivers who are covered by really fast guys when the tight end can go down the seam covered by a linebacker. Will offensive coordinators notice Dallas' success with tight ends and remember that they, too, have tight ends on the roster?
He Dreads the Game Film: A blocked Dallas field goal attempt was recovered by Bears safety Adam Archuleta, who sells a workout video about the incredible training regime that allowed him to "build his musculature and increase his speed." Archuleta was caught from behind in the open field by Pat McQuistan, an offensive tackle.
Miami Milestone in Jeopardy: Stretching back to last season, the Dolphins have lost six straight, and within a week or two, franchise face Dan Marino is likely to become the No. 2 touchdown passer in NFL annals instead of No. 1. Yet a more important milestone is in danger in America's sexiest city. Since the 1970 AFL-NFL merger, Miami consistently has been the league's leader for most wins in all seasons combined. Season in, season out, through different coaches, owners and quarterbacks, the Dolphins consistently win. At the start of each of the past three seasons, TMQ has written an item noting that the Dolphins could go 0-16 and still end the year as the league's winningest team since the merger.
Well, no more. Miami is now just nine games ahead of the second-winningest team since 1970, the Pittsburgh Steelers. It is possible the Steelers will end the year as the NFL's best since the merger, with both Marino and the Miami franchise itself staring at someone else's taillights.
Obscure College Score of the Week No. 1: Robert Morris 9, Morehead State 8. Located in Morehead, Ky., Morehead State is building a $16 million facility for outer-space research. Maybe India is secretly funding the project!
Obscure College Score of the Week No. 2: Indiana of Pennsylvania 45, Millersville 0. Located in Indiana, Pa., Indiana University of Pennsylvania is TMQ's favorite obscure college. Indiana of Pennsylvania provides cable television service to all dorm rooms, including Cartoon Network, Nickelodeon and Game Show Network.
Revenge of the Cupcakes! In August, TMQ criticized Louisville for having BCS title-appearance pretenses, yet opening the season with consecutive cupcake games against Murray State, which last year finished 1-10 in Division I-AA, and Middle Tennessee, which last year lost 59-0 at Oklahoma. The football gods have exacted their vengeance, and the football gods grind exceeding small. Louisville has since lost consecutive games to Kentucky and Syracuse and, with just a month gone in the college season, is all but out of the BCS bowl picture.
Reader Animadversion: Got a complaint or a deeply held grievance? Write me at TMQ_ESPN@yahoo.com. Include your real name and the name of your hometown, and I may quote you by name unless you instruct me otherwise. Note: giving your hometown improves your odds of being quoted.
Wednesday: TMQ readers supply shocking proof that Christmas season now begins before Halloween.
Next Week: The NFL hires Rose Mary Woods to review cheating tapes.
In addition to writing Tuesday Morning Quarterback, Gregg Easterbrook is the author of "The Progress Paradox: How Life Gets Better While People Feel Worse" and other books. He is also a contributing editor for The New Republic, The Atlantic Monthly and The Washington Monthly and is a visiting fellow at the Brookings Institution.