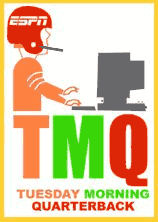 Attention, NFL coaches: There are a couple of guys on your roster who can both block and catch. They're open a lot. So why don't you throw to them? The guys I am talking about are tight ends.
Chicago, Cleveland, Dallas, Indianapolis, Jersey/A, Kansas City, New England, Pittsburgh, San Diego and Washington are running offenses that feature the tight end. Who's on that list? The NFL's three undefeated clubs, plus a team that put up 41 points at 5,280 feet in Denver on Sunday, plus a couple of other winning teams. Monday night, Terrell Owens was shut down cold and tight end Jason Witten was the Cowboys' receiving star, with nine catches for 103 yards and a touchdown. True, it might be so that the Colts, Cowboys and Patriots are getting good tight end production because they have the league's best offenses right now and every aspect of their play is superior. But Tuesday Morning Quarterback suspects one reason these teams are winning is because they are featuring the tight end.
The Tampa 2 pass defense that has infected the league makes it hard for wide receivers to get open. On most downs against a Tampa 2, there are more defensive backs than wide receivers and the safeties are deep to prevent big plays. (Attention, sportscasters, there is nothing mystical about the Tampa 2; it's basically a zone with each safety covering half the deep field. In fact, it might be easier for audiences if you just called this defense "a zone.") But the same properties that make the most popular defense of the moment hard on wide receivers are inviting to tight ends. In a traditional pass-coverage set, there's a strong safety on the tight end and a free safety deep. In a Tampa 2, there's no distinction between the strong and free safeties and both are deep; this means the tight end is covered by a linebacker. A tight end who's covered by a linebacker is an attractive target: Witten's touchdown Monday night came against a linebacker, not a safety. Add to this the fact that the tight end is a big guy, and quarterbacks love tall targets. Add that the vulnerable area of a Tampa 2 is the "seam" where cornerback responsibility stops and safety coverage begins; the seam is a part of the field of which the quarterback usually has a good view.
Roll these things together, and modern NFL quarterbacks absolutely should be looking for their tight ends in linebacker coverage in the seam. The Colts, Cowboys and Patriots, especially, are doing exactly that, with swell results. Dallas Clark of Indianapolis and Ben Watson of New England each have five touchdown receptions this season; among wide receivers, only Randy Moss and Plaxico Burress have more. Jason Witten of Dallas, Chris Cooley of Washington and Antonio Gates of San Diego have three touchdown catches apiece, outpacing most wide receivers at this stage of the season. This season, teams that feature the tight end are getting great results. And historically, teams that feature the tight end usually do well. Joe Montana and Steve Young were always looking for Brent Jones. Troy Aikman was always looking for Jay Novacek.
So why don't more NFL teams throw to the tight end? One reason is fundamental: Bad teams don't use smart strategy. Another reason, I think, is the dynamic of practices and walk-throughs. During practice, the quarterback wears a red pinny and can't be hit, and defensive backs often are told to allow quarterbacks and receivers to get their timing down. The result is that in practice, quarterbacks look for long throws to wide receivers rather than dropping the ball off to the tight end; completing a long throw in practice gets a round of applause. At game speed, the quarterback might wish he were better at finding the tight end, but by then it's too late. Hank Stram used to stand behind Len Dawson during Kansas City scrimmages and scream, "Tight end! Where's the tight end?" Dawson became really good at locating the tight end under game pressure; more coaches should teach this.
Another factor that's taking tight ends out of offenses is that with the increasing emphasis among offensive coordinators on preventing sacks -- teams have so much bonus money invested in quarterbacks that it's bad economics to let them get sacked -- tight ends are being kept back to pass block. The call "max protect" has been heard almost as much this season as "shotgun spread." The teams making good use of their tight ends as receivers also tend to be teams with the best offensive lines. Indianapolis and New England have surrendered a league-low three sacks apiece; because the offensive line performs well, the tight end is free to run patterns. The Redskins, Cowboys, Chargers, Ravens and Giants are low sacks-allowed teams, and hence are free to use their tight ends. After this Sunday's game against Tennessee, Falcons tight end Alge Crumpler blew up about his diminishing role in the Atlanta offense. The Falcons have surrendered 18 sacks; Atlanta coaches are keeping Crumpler in to block. Want to drive defenses to distraction with your tight end? First, build a good offensive line.
Speaking of the Falcons, they've dropped from first in rushing in 2006 to 21st this season, and Sunday they were heave-hoeing passes on third-and-short. Heck no, Atlanta doesn't miss Michael Vick. Right.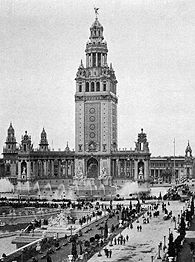 C.D. Arnold
The last time everything was hunky-dory in Buffalo.
In other news, nothing good has happened to Buffalo since the Pan-American Exposition in 1901. Sure, the Bills twice won the old AFL in the 1960s, but how many of Buffalo's citizens were even born when that happened? As the country has boomed since World War II, greater Buffalo is among the few urban regions that has lost rather than gained population. The city's economy has been contracting for three decades. Rust-belt industries move out, but unlike in other places that happened, high-tech industries don't move in. Buffalo offers a fantastic corporate-relocation value: top-quality housing stock at far below the median U.S. price, ideal summer weather, a strong cultural scene, the last open-for-development urban waterfront in the United States, a human-scale city where you never waste one second of your life stuck in traffic jams. And sure, it snows. But they plow. Having lived in Buffalo, Chicago and Washington, D.C., I can attest that snow is less disruptive to daily life in Buffalo than in Chicago or our nation's capital. Yet despite how attractive Buffalo seems as a corporate destination, companies don't come, and the city keeps spiraling downward.
All true sons and daughters of Buffalo cherish a magic-realist belief that if only the Bills would win the Super Bowl, the city's fortunes would be transformed. Actually, I think this would turn out to be true! Instead, what Buffalo has is an NFL team that lost a game Monday night by surrendering nine points in the final 20 seconds. You might have gone off to bed, but as the clock struck midnight on the East Coast, the Bills completed one of the worst collapses in football annals.
You've probably heard that Tony Romo threw five interceptions despite facing Buffalo's injury-depleted secondary -- the Bills' secondary has so many injuries it should be called a tertiary -- but Dallas rallied to win on a long field goal on the game's final snap. Buffalo was plus-5 in takeaways, and had three touchdowns on returns, yet still managed to lose. You have to work very hard to blow a game when you're plus-5 in the takeaway column and score three times on interceptions and kickoffs. Work hard to lose Buffalo did, and central to the collapse was coaching error, not player error.
Leading 24-16, the Bills faced third-and-8 on the Cowboys' 11 with 6:21 remaining. Buffalo had been using a simplistic, high-school-style offense of runs up the middle and hitch passes. The Bills threw down the field exactly once while throwing sideways or ultrashort 30 times, and ran outside twice (for a 5.5-yard average) while running straight up the middle 22 times (for a 3.1-yard average). Owing to turnovers, Buffalo took possession in Dallas territory three times on the night, but owing to the Bills' predictable offensive game plan, they netted only one field goal. Nevertheless, the Bills found themselves with an eight-point lead and deep in Cowboys' territory with 6:21 remaining.
Had Buffalo simply run up the middle for no gain, then kicked a field goal, the Bills almost certainly would have won -- they would have held an 11-point lead and kept the clock moving, and Dallas didn't score to pull within an onside kick of victory until 20 ticks remained on the clock. Instead, Buffalo offensive coordinator Steve Fairchild called a pass that was intercepted, ending the team's chance for a secure lead -- and it wasn't even a decent gamble because the Bills' ultrashort passes to that point were netting 4.6 yards per attempt. There were at least 20 coaches on the Buffalo sideline and in the press box. Somebody is supposed to stay on top of evolving stats like net passing -- on well-coached teams such as New England and Indianapolis, you'd better believe the guy making the calls gets evolving stats during the game. But with a secure lead just one snap away, Buffalo needlessly put the ball into the air, and needless to say, it was intercepted.
Then the Bills got possession again, still leading 24-16, and faced third-and-7 near midfield with 3:58 remaining. Again they threw -- incompletion -- again stopping the clock. Dallas didn't score its touchdown until 20 seconds were left: Had Buffalo simply run up the middle for no gain on either one of its late-fourth-quarter third downs, keeping the clock moving, the Cowboys would have run out of time and the home team would have won. In Week 1 -- when the Bills also lost on a field goal on the final play -- on a third down with about two minutes to go, the Bills also threw incomplete and stopped the clock; the Broncos kicked the winning field goal as time expired. TMQ's Law of the Obvious holds: Sometimes all a team needs to do is run up the middle for no gain, and things will be fine. Buffalo, 1-4, would be 3-2 today -- and talking about its monster upset of the Cowboys on "Monday Night Football" -- if the Bills' coaches had simply kept the clock moving with runs when holding late leads against Denver and Dallas. You have to work really hard to lose a game in which you were plus-5 on turnovers, but the Buffalo coaching staff was equal to this challenge.
In other football news, Denver is joining the competition to see who will be the year's train-wreck team. Here are the Denver possession results against San Diego, a game played in Colorado, where the altitude strongly favors the Broncos: Punt, fumble, fumble, punt, field goal, interception, punt, downs, downs, downs. Last season, the Broncos were 7-4 and had an inside track to the playoffs before Mike "The Ultimate Leader" Shanahan decided to bench Jake Plummer. Since then, Denver is 4-6 -- and 2-4 at home where, owing to Denver's altitude, the Broncos have the best overall home record in the past decade.
And in other football news, if you're unwanted in the CFL, you might as well start for the defending Super Bowl champions. See below.
Stat of the Week No. 1: New England is outscoring opponents by an average of 23 points per game.
Stat of the Week No. 2: Denver and Kansas City, which have the two best home records in the league over the past decade, were outscored at home by a combined 58-10 this week.
Stat of the Week No. 3: San Francisco had more points (7) than first downs (6).
Stat of the Week No. 4: Indianapolis, last in the NFL in rushing defense in 2006, held Tampa to 17 yards rushing.
Stat of the Week No. 5: Stretching back to last season, New Orleans has lost seven of its past nine games.
Stat of the Week No. 6: The Washington defense (9 points) outscored the Detroit offense (3 points).
Stat of the Week No. 7: Dallas is undefeated, but its opponents are a combined 6-19.
Stat of the Week No. 8: The Lions are 0-21 all-time against the Redskins in Washington.
Stat of the Week No. 9: The Oakland Raiders lead the AFC West.
Stat of the Week No. 10: Buffalo has two losses in which it never trailed until the game's final second.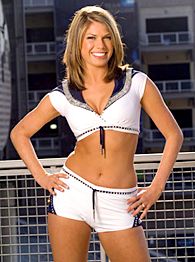 Seattle Seahawks
Jenny of the Seattle Seagals models their new "Hello, sailor" look.
Cheerleader of the Week:
Jenny of the Seattle Sea Gals
, who is a first-grade teacher, according to her team bio. How come no teacher I ever had at any level looked like Jenny? Jenny is a grad of
Western Washington
, which perennially finishes high on TMQ's Most Beautiful Campus list.
Sweet Play of the Week: With the game scoreless, the Steelers lined up on the Seattle 13 with trips left -- three receivers on the left side -- and tight end Heath Miller in the standard tight end position on the right. The play was to Miller all the way; he did a sweet look-in on the right side for the touchdown.
Sweet Blocks of the Week: Perennially, TMQ complains that linemen don't execute screens correctly. Too often, they lumber downfield as if they themselves were running for touchdowns and end up blocking no one rather than simply pasting the closest man and letting the runner make the decisions about where the play should go. On San Diego's first possession at Denver, Philip Rivers threw a screen to LaDainian Tomlinson and Bolts tackles Marcus McNeill and Shane Olivea made perfect blocks in the flat, simply knocking down the closest man. Tomlinson ran for 36 yards, setting up the initial Chargers touchdown.
Sweet Sight: The Kansas City spectators, perennially among the most loyal in the league -- the Chiefs were fourth in attendance in 2006, trailing only Washington and the New Jersey clubs, which play in larger stadia -- had emptied out of Arrowhead Stadium by the middle of the fourth quarter Sunday, with Jacksonville ahead 17-0. It's pretty sweet to be playing on the road and look up with plenty of time to go and realize the home crowd has left. Note: Larry Johnson had a horrid day Sunday, and he has just 275 yards rushing after five games. But remember, he started relatively slowly in 2006, too, with 357 yards rushing after five games -- then finished the season with 1,789 yards.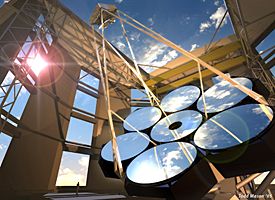 GMT Consortium
The Giant Magellan Telescope would be, well, giant.
Democratize the Sky!
TMQ has run several items in the past year keyed to discoveries by astronomers using the
Very Large Telescope
, a sci-fi-looking complex recently completed in the Chilean desert. Owned by an association of European governments, the VLT is the world's most advanced optical instrument -- a distinction it won't hold long -- and is located in the Chilean desert in part because the area offers no city-light interference, plus stargazer-friendly clear nights. The VLT has four 8-meter-diameter primary mirrors and is producing new astronomy information pretty much as fast as researchers can bang out papers. Last week, a consortium of American universities announced plans to build an even bigger telescope in high-altitude Chile, the
Giant Magellan Telescope
, which would mount seven large primary mirrors to VLT's four. The Giant Magellan Telescope is expected to have 10 times the resolving power of NASA's Hubble Space Telescope, which itself is scheduled to be replaced in orbit by an even more powerful space telescope sometime in the next decade. Not to be outdone, the Europeans have started planning for a Chile-based Extremely Large Telescope. The golden age of astronomy is poised to begin: More might be learned about the skies in our lifetimes than has been learned so far in all human history, and Chile will be at the crest of the next great scientific wave.
But the exciting thing going on in astronomy is not as much the improvement of equipment as democratization. All current powerful telescope projects are controlled by governments, universities or big institutions. Researchers must write elaborate proposals to book time on the telescopes, waiting years to have them pointed at some specific patch of sky; then the data from the pointing belongs to the researchers until they publish. Last week, a group of mainly British astronomers studying a specific patch of the heavens broke this guild arrangement by making all their images and data available to anyone using the Sky section of Google Earth. Here are the techno instructions for how to access the images, from a project called AEGIS: "Go to the Google Earth Gallery. To use the Sky feature, users must have the most recent version of Google Earth, version 4.2. From the gallery site, click on 'Learn More' to find the link to the AEGIS KML file. The KML file and instructions for viewing the images are also available on the AEGIS project site."
The next new thing in astronomy might be the Large Synoptic Survey Telescope, proposed by a consortium of scientists and entrepreneurs. The LSST would endlessly scan the entire sky, not specific astronomer-chosen points, and broadcast its results live over the Web. Anyone could watch the LSST images in real time or download the data for study. If the LSST is built -- the consortium is still working on funding, and the existing astronomy centers are said to be unhappy about open competition -- everyone would have access to a megabucks telescope to search the results or just stargaze in awe. Even in an age of computers, most stellar discoveries still are made by laborious poring over of images and readouts. If millions of amateur astronomers joined the few thousand professionals already doing this, the pace of astronomy discoveries surely would accelerate. Support the LSST and democratize the sky!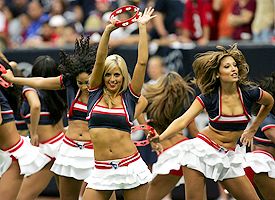 Ronald Martinez/Getty Images
Dance! Enjoy life! The Miami Dolphins are here!
Sweet 'N' Sour Matched Set:
With the score tied at 19, Miami faced fourth-and-9 on the Houston 38 with 1:55 remaining. That's a long field goal attempt for the lead, and if it fails, the Texans get the ball at midfield. Then again, Miami has a good place-kicker and the Houston dome offers ideal conditions for kicking. Marine Mammals coach Cam "Cam" Cameron ordered a punt, which was downed on the Moo Cows' 3. When Houston ran up the middle on first down, then did not call timeout, Miami's defenders went to sleep, assuming the hosts were accepting overtime. Five snaps later, Houston had advanced to the Miami 38 on the strength of three medium-distance passes, then kicked the winning field goal from exactly the same yard line at which Cameron declined to try a kick.
Sweet 'N' Sour Team Performance: Atlanta executed a beautiful fake punt from its own 29, snapping the ball to the up man, who handed off to career special-teamer Artose Pinner for a 49-yard gain. I thought: Finally, Bobby Petrino is showing the college spirit! Then with seven minutes remaining, trailing Tennessee 20-13, Petrino sent in the punting unit at the Tennessee 35. And I don't care that it was fourth-and-10, you don't punt in the Maroon Zone when trailing by a touchdown in the fourth quarter! Then, on the game's final meaningful snap, Atlanta coaches made a colossal blunder. With the Falcons still trailing 20-13, Atlanta faced fourth-and-goal on the Flaming Thumbtacks' 4. Veteran Atlanta left tackle Wayne Gandy had just gone out injured. In trotted undrafted rookie free agent Renardo Foster, to line up against experienced Tennessee right end Kyle Vanden Bosch. Atlanta coaches called a play that left Foster "on an island," no tight end on his side, no running back help. At the snap, Vanden Bosch pretty much hurled Foster to the ground and sacked Byron Leftwich, sealing the Tennessee victory; Vanden Bosch was on Leftwich in an instant even though Foster was called for holding on the play. How can you send an undrafted rookie free agent into a game cold on fourth-and-goal and not give him some help? Byron's Big Day: Entering in the fourth quarter, on his three possessions, Leftwich threw an interception, fumbled at the Tennessee goal line and was sacked on fourth-and-goal.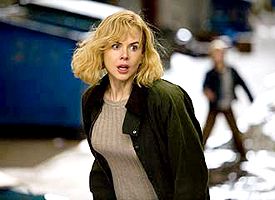 Warner Bros. Pictures
She's in grave danger. Aliens have kidnapped the entire city of Washington, DC, and replaced all the buildings with unrealistic ones.
New Orleans Meltdown Watch:
Yes, the Saints ran a successful fake punt against Carolina, but they continue to evoke timidity as they spiral from the NFC Championship Game backward toward the cellar. With the score tied at 3 in the first half, New Orleans punted on fourth-and-1 at midfield. This team had the league's No. 1 offense in 2006, and now it's afraid to try to gain one single yard at home! Two weeks ago, just after the Saints' previous game, TMQ wrote, "Ye gods, their offensive line has gone from great to awful," singling out heavily hyped New Orleans Pro Bowler Jammal Brown. On Sunday in the second quarter, trailing the Panthers 6-3, the Saints staged an 18-play drive that appeared to end in a touchdown; I thought, "Maybe that's the drive that will snap them out of it." But Brown was called for not being on the line of scrimmage on the play, nullifying the touchdown; the Boy Scouts ended up settling for a field goal and ultimately lost by three points. Lining up on the line of scrimmage should not be a huge, vexing challenge for a Pro Bowl tackle. Brown was yanked after this bonehead play and replaced by the legendary Zach Strief.
Body Snatchers Got the Director: In "The Invasion," the latest and one hopes final remake of "Invasion of the Body Snatchers," Nicole Kidman plays a Washington, D.C., psychiatrist. Out the window of her office we see -- skyscrapers. There are no skyscrapers in Washington, D.C., owing to a local ordinance that limits the height of buildings.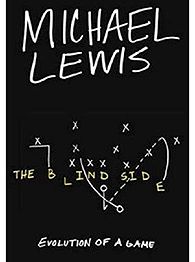 W. W. Norton
The cover of "The Blind Side" by Michael Lewis.
So It's Really a Book About Tony Romo?
The football diagram on the cover of the Michael Lewis book "The Blind Side," about the left tackle position, depicts a quarterback throwing the ball directly into double coverage.
Redskins Rebound Watch: If only perhaps for an afternoon, it was 1991 again for the Redskins' home crowd. Detroit had been averaging 29 points per game, and it recorded only a field goal against the 1991-looking Washington defense. The Lions seemed to expect to be blitzed a lot; offensive coordinator Mike Martz loves it when defenses blitz because someone is sure to be open deep. Instead, tastefully named Gregg Williams of Washington crossed Martz up with a conservative defensive game, rushing just four and playing his safeties deep. Williams knew the Detroit offensive line was performing poorly, with 22 sacks allowed in its first four games. (After five more by the Redskins, Detroit has allowed a league-worst 27 sacks, which is a pace for 86 on the season.) Williams correctly guessed that if deep safeties took away the long passes Martz adores, Jon Kitna would become frustrated and make mistakes, which is what happened. The defensive strategy came together at the end of the third quarter, with Washington leading 14-3 and Detroit taking possession on its 6-yard line. Washington rushed four; Detroit kept six back to block; and Potomac Drainage Basin Indigenous Persons end Andre Carter blew past Lions tackle Jeff Backus so rapidly that Kitna barely could set up before being tackled for a safety. Safeties usually come on snaps from a team's 1-yard line. When you snap the ball from your 6, have six blockers opposing four rushers and give up a quick safety, you have issues.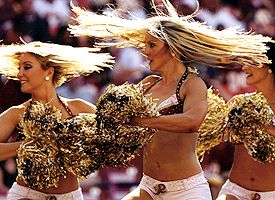 Win McNamee/Getty Images
The Redskins looked like their 1991 selves for a day, and the cheerleaders looked even better.
In "Scream IV," Good-Looking Teenagers are Trapped in the MPAA Headquarters and Stalked by a Madman with a Press Release:
Tuesday Morning Quarterback asked in 2005, "If Hollywood won't show smoking because viewers are impressionable, how come the movie industry eagerly glamorizes violence, torture and murder of the helpless as forms of cool recreation?" This question is worth asking again in wake of the recent decision by the Motion Picture Association of America to factor
depiction of smoking into movie ratings
. So Hollywood wants to discourage scenes of people lighting up -- but scenes of young women being tortured to death, that's fine, show 'em in the mall! Even given that Hollywood's leading product is hypocrisy, this development borders on surreal. The movie industry trade association is very, very worried about depictions of legal use of a lawful product -- TMQ doesn't smoke, so I've no brief here -- yet has no problem with the glamorization of slow-motion slaughter. The same month the MPAA wrung its hands about lighting a cigarette, the MPAA gave its blessing via an R, rather than an NC-17, to "Hostel II," which graphically depicts pretty girls being tortured to death with power tools. Because of the MPAA's ratings favor, this depraved flick was shown in suburban shopping malls. But should someone want to light up, the MPAA has pangs of conscience!
Individual Hollywood studios are exhibiting the same double standards. Universal Pictures (owned by General Electric), 20th Century Fox, Disney (parent company of ESPN) and Time Warner all have said recently that they would forbid or strongly discourage depictions of smoking in their movies. But slashing, torture and splatter -- why not! Time Warner-owned studios produced the recent "Texas Chainsaw Massacre" remake, which glorifies torturing the helpless to death, plus "Freddie vs. Jason," a movie about two psychopaths who hold a competition to see who can slash the most teenagers to death. Universal produced the recent "Land of the Dead," a film whose premise might have been absurd but whose content was nonstop gore. Disney-owned studios brought us the "Scream" series, in which teen characters crack jokes while stabbing and shooting their friends. Fox-owned studios recently produced the extremely graphic remake of "The Hills Have Eyes," which depicts multiple beheadings and throat cutting. All these movies got the big-studio green light. But don't you dare film a pack of Marlboros!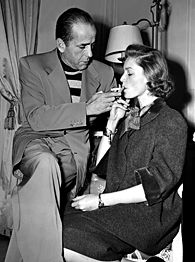 AP Photo
Today Hollywood would not show Humphrey Bogart lighting a cigarette for Lauren Bacall. But stabbing her to death? Hey, any movie studio would want that scene!
The reason to worry about depicting smoking in cinema is that viewers are impressionable and might imitate what's on the screen. If you watch a Star Wars flick, it does not make you decide to jump into hyperspace because you can't. But if you see smoking glamorized in the movies, you can decide to buy a pack of cigarettes -- and if you see the killing of screaming young women glamorized in the movies, you can decide to pick up a gun and start shooting your college classmates. Why does Hollywood make the connection regarding glorifying smoking but not the connection regarding violence? Among specialists, there is no controversy about whether watching violence causes violence. An overwhelming body of psychological data demonstrates that the more cinematic depictions of violence to which a child or teenager is exposed, the more likely the person is to commit violent acts in adulthood: The studies are summarized in this
joint statement
by the American Academy of Pediatrics and five other medical professional societies.
Today, big movie studios glamorize torture and murder as really super cool fun, then market such films to the young -- the worst possible combination of social irresponsibility. If the MPAA had any interest in making Hollywood accountable, it would rate all films depicting graphic personal violence as NC-17. That would be a fair compromise between safeguarding the moviemaker's prerogative to film and depict any kind of material for adults -- the First Amendment is absolute that adults should be able to watch whatever they please -- while protecting society from harm to the minds of the young. "Clearly, smoking is an increasingly unacceptable behavior in our society," the MPAA intoned in announcing its new ratings policy. But cutting girls' throats, shooting your classmates -- why should Hollywood have any problem with that? It's not unacceptable!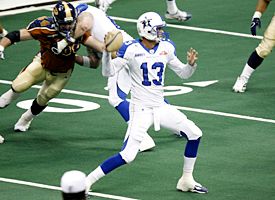 E.L. Bakke/WireImage.com
Clint Dolezel -- Brett Favre can only dream of his numbers.
Favre is the Prince of Touchdown Passes; Who is the King?
Brett Favre now has the most touchdown passes ever by an NFL quarterback with 423 -- but he's staring at the taillights of
Clint Dolezel
of the Dallas Desperados, whose 865 touchdown passes in the Arena League make him the most prolific ever. Dolezel has posted consecutive 100-plus touchdown passing seasons, throwing 105 touchdown passes in 2006 and 107 touchdown passes in 2007. This causes TMQ to wonder, who has thrown the most touchdown passes overall in high school, college and any pro league? A Wikipedia entry gives Arena League quarterback Aaron Garcia 883 total touchdown passes in high school, college and the pros. Arena League quarterbacks Sherdrick Bonner and Andy Kelly are also above the 800 mark for their pro careers, but I have not been able to find the high school and college touchdown pass numbers for Dolezel, Bonner or Kelly. If anybody knows, please send them to the address at Reader Animadversion. If anyone knows Favre's high school and college touchdown pass numbers -- bearing in mind Favre played some offensive line in a run-oriented offense in high school -- send those, too.
Favre note: Sure, he's playing well, but does this mean he should be carrying the Green Bay offense? Hosting Chicago, the Packers got the ball at the start of the fourth quarter, score tied. Here were the Green Bay calls for the remainder of the contest: run, pass, pass, pass, pass, pass, pass, pass, run, pass, pass, pass, pass, pass, pass, pass, pass, pass, pass. Chicago's final call was the kneel-down. And the Packers rushed for an average gain of 5.5 yards and weren't in trouble until their final possession.
News item: The NFL imposed a six-game suspension on quarterback Tim Couch for using performance-enhancing drugs. Couch is considered suspended by the NFL though he is not on any roster and has not appeared in an NFL game since 2003.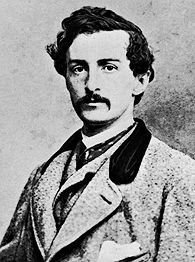 AP Photo/Sun Classics Pictures, Inc.
Now that the NFL has cracked the Tim Couch case, maybe it can find and destroy some Civil War documents.
WASHINGTON, D.C. (Oct. 9, 2007) -- Federal prosecutors today issued an arrest warrant for John Wilkes Booth, assassin of President Abraham Lincoln. "We're going to track him down and bring him to justice," Acting Temporary Day-to-Day Attorney General Peter Keisler said. Keisler also announced "a wide-spanning inquiry" into the Teapot Dome scandal and said federal agents would be dispatched to the Monongahela Valley "to investigate these rumors of a so-called Whiskey Rebellion."
TMQ Theory Looking for a Catchy Phrase: I can't prove this, but have long thought fumbled kicks are the worst type of turnover, hurting more than an interception or offensive fumble. The roof fell in at Once It Was Mile High Field on Sunday when San Diego scored a first-quarter touchdown, then the Broncos fumbled the kickoff and San Diego scored again. The tally was only 14-0 with an entire game ahead, but the psychological pain of fumbling away a kick seemed to deflate the home team. Leading 20-17 at the end of the third quarter, Green Bay had forced Chicago to punt, only to see Charles Woodson fumble on the runback. The Bears recovered and scored to tie the game, then Chicago owned the fourth quarter.
Today's Winning Number is 000-000-000: Readers know that TMQ's compromise with my Baptist upbringing is to be pro-topless but anti-gambling. No one should care how much the Donald Trumps of the world lose at roulette tables; but for the average person, gambling only brings sorrow. Few sights are more depressing than that of a working man or working woman, having just gotten the Friday paycheck, wasting a big chunk at the local convenience store buying $5 scratch-off after $5 scratch-off, chasing a fantasy of impossible wealth while causing real-world money problems in the moment.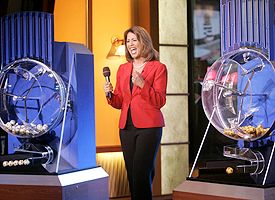 AP Photo/Shiho Fukada
Winner -- four people! Loser -- the country!
Today's item offers three anti-gambling points. First, on lotteries, the news media exaggerate the size of prizes -- and thus help glamorize lotteries -- by taking at face value the phony figures most lotteries announce. Last month, four winning tickets split the "$330 million" jackpot promoted by the Mega Millions lottery consortium. CBS News, Fox News and most other television outlets breathlessly reported that four people had won "$330 million." The actual value of the prize was $194 million, divided by four, which is heady enough. The number was puffed up to "$330 million" by expressing it as a 26-year annuity. Any sum of money can be roughly doubled by converting it to a long-term annuity, but present value is all that matters. If your employer gave you a choice of a $500,000 salary this year or promised you $39,000 a year for 26 years, there is not one chance on Earth you would take the latter deal, or fall for the fiction that your salary should be called "$1 million," though that is $39,000 times 26. Instead of saying the September Mega Millions winners split $194 million, news outlets went along with the glamorizing fiction that they won "$330 million." The news media are addicted to inflating numbers, of course. But what seems at work here is, first, lack of critical thinking by journalists and, second, that gambling lotteries spent $460 million on advertising in 2006, most of it on television, so the television news media do not want to offend gambling lotteries.
Next, this important story in Sunday's New York Times details how the supposed virtue of state-run gambling lotteries -- payments for public education -- increasingly is a swindle. State-run lotteries took in $56 billion in 2006, the paper reports, but only $17 billion of that amount actually went to the official purpose, support of education. The balance, 70 percent of receipts, was used for prizes and administrative expenses. If a charity spent only 30 percent of its proceeds on charitable works, the managers would soon be in jail. Yet state-run lotteries devote only a third to education and the legislatures of the 42 states plus the District of Columbia that sponsor gambling do nothing.
Why aren't legislatures outraged? I can't prove this, but I'll offer the most plausible explanation: because large amounts of the lottery proceeds are being stolen by the cronies of state legislators and governors, either stolen directly as embezzlement or indirectly as huge fees for nominal work. Last year in New York state, according to The New York Times, $748 million in lottery proceeds went to administrative expense. Yes, there must have been some legitimate expenses, but the figure is so huge that it could cover a lot of graft. Arizona's state lottery board subtracts 15 percent of the proceeds for administration; either Arizona state government is incredibly wasteful or large amounts are being shoplifted. One reason organized crime has long been attracted to gambling is that there is so much potential for funny business with the money. Now, 42 state legislatures have endorsed gambling, allowing the state legislators themselves to cozy up to people who are running enterprises that are similar to crime enterprises. Significant amounts likely are flowing to graft.
Finally, I find it wrong that the news media exult lottery winners without context or perspective. One of the problems of the United States is an ever-widening gap between rich and poor. When the media celebrate lottery winners, they are celebrating inequality -- a small number receiving far more money than they could ever possibly need, at the expense of a large number with money problems. Most lotteries yield back about half their ticket sales as prizes. So if the $194 million Mega Millions jackpot was based on about $400 million in ticket sales at $5 a ticket, that means four tickets made their holders extremely wealthy while 80 million tickets paid nothing. Those 80 million tickets that paid nothing were mostly purchases by working men and women who became worse off -- especially if they bought a lot of tickets -- in order that a very small number could become much too wealthy. The $56 billion spent overall by Americans on legal gambling lotteries in 2006 mainly caused large numbers of citizens to become less well off so that very small numbers could become much too wealthy. Doesn't this describe a core problem with the United States social system -- that large numbers of people are set back so that small numbers can become much too wealthy? Why should the media celebrate this regressive, caustic force?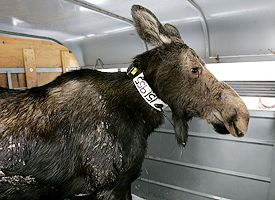 AP Photo/Douglas C. Pizac
In Maine, the moose know it hang around with wildlife researchers during hunting season.
Thanks for Filing Your Taxes! The IRS Has Automatically Entered You in Our Ambassadorship Sweepstakes!
It's too late to enter the annual
Maine moose permit lottery
, in which luck of the draw determines who is allowed to shoot a moose during moose-hunting season, now in progress. But anytime you apply for a hunting or fishing license in Maine, you are
automatically entered in a boat sweepstakes
. The disclaimer for the sweepstakes is 1,286 words.
Buck-Buck-Brawckkkkkkk: Trailing 20-0 at New England, Cleveland faced fourth-and-4 on the Flying Elvii's 24 in the third quarter. Romeo Crennel sent in the field goal unit, and TMQ wrote the words "game over" in his notebook.
Buck-Buck-Brawckkkkkkk No. 2: Trailing 14-0 at Washington, Detroit faced fourth-and-1 on the Redskins' 22 at the end of the third quarter. Rod Marinelli sent in the field goal unit, and TMQ wrote the words "game over" in his notebook.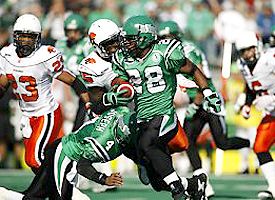 Saskatchewan Roughriders
Kenton Keith in the land of three downs.
Frostback of the Week:
Kenton Keith, who spent the past four seasons with the Saskatchewan Roughriders, ran for 121 yards and two touchdowns for the Colts against City of Tampa. Keith had two rushing touchdowns all last season in Canada.
Scouts Notes: Hyped Baltimore cornerback Chris McAlister got burned for a touchdown for the second consecutive week; in both cases, the receiver simply blew past McAlister, who generally gets no safety help. If I were a Baltimore opponent, I'd be picking on this gentleman.
Last week's Scouts Notes cautioned: "Chad Pennington is a nice quarterback, but this season he has no zing on his 'out' routes. If Pennington remains the Jersey/B starter, expect cornerbacks to begin jumping every 'out' he throws." On Sunday, the icing score of Jets at Giants -- the Giants were technically the home team, meaning the new Jets cheerleaders did not flounce -- came when Jersey/A's Aaron Ross jumped a short out thrown by Pennington and returned the interception for a touchdown.
AccuScore Speaks! A few weeks ago, TMQ laid out in excruciating detail the statistical proof that rarely punting will improve most teams' chances of victory. As the monster Dallas-New England confrontation looms, the sports service AccuScore computer-simulated the contest having first the Patriots, then the Cowboys use TMQ's rarely-punt matrix. Result? When the Patriots rarely punted, they improved from winning 52 percent of the simulations to winning 58 percent. When the Cowboys rarely punted, they improved from winning 48 percent of the time to winning 51 percent of the time. Dear Bill Belichick, here's some tactic intel you don't even have to steal: If you don't punt on fourth-and-3 or less, the computer says you will win at Stonehenge Field.
Hidden Plays: Hidden plays are ones that never make highlight reels but that stop or sustain drives. At Indianapolis, the Colts took a quick 13-0 lead over City of Tampa, but then the Bucs scored and stopped the next Indianapolis possession. Now it's 13-7 and Tampa faced third-and-6; Jeff Garcia throws a perfect first-down strike to Joey Galloway, who drops the ball as if it were a live ferret. Indianapolis scored after taking the punt and never looked back.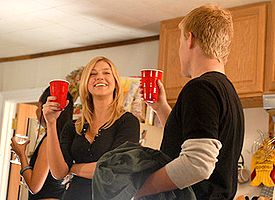 NBC
Unfortunately, "Friday Night Lights" is turning into "CSI: High School."
"Friday Night Lights" Goes Off the Deep End:
In the season premiere, Landry kills the guy who attempted to rape Tyra last season, then Landry and Tyra throw the dead guy's body into a river. I am not making this up. Hey, "Friday Night Lights" producers, how about a show about high school football, OK?
Miami Meltdown Watch: Perpetual turmoil under center has been Miami's lot since Dan Marino started doing weight-loss ads. In 2006, Joey Harrington, Daunte Culpepper and Cleo Lemon took turns at quarterback. The year before, it was Gus Frerotte and Sage Rosenfels. The year before that, A.J. Feeley and Jay Fielder. Brian Griese started several games at quarterback the year prior. This year, the Dolphins brought in Trent Green, who just got hurt and handed the reins to Lemon. That's 10 quarterbacks for the Dolphins in five years, and don't be surprised if rookie John Beck takes over soon -- the 2007 season is lost, so why not play the quarterback of the future? -- making it 11 in five seasons. There's no way a team can win without consistent leadership at quarterback. And just bear in mind as 2007 progresses, new Miami coach Cam "Cam" Cameron passed on Brady Quinn.
Globalization Tapes Its Ankles: The just-redesigned NFL Web site looks amazingly similar to the just-redesigned Web site of The Atlantic Monthly. So why doesn't The Atlantic Web site have Caitlin Flanagan swimsuit photos and video highlight clips of Cornel West going deep? In addition to redesigning its public portal, the NFL just redesigned its media-only Web site -- basically, the place where the league posts official denials. When you log in the first time, you are asked to chose a preferred language. Options include Arabic, Brazilian Portuguese, Catalan, Czech, Ukrainian, Simplified Chinese and Traditional Chinese.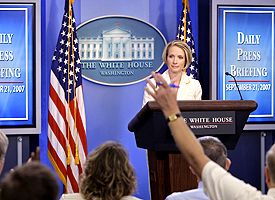 AP Photo/Ron Edmonds
This isn't Dana Perino, this is "a senior spokeswoman."
Pretense note: when the NFL employed its redesigned media site to issue a statement about the indictment of Michael Vick, the press release said in part, "The activities alleged are cruel, degrading and illegal." So the NFL agrees that illegal activities are illegal -- it's good to have that on the record! And who said this? Your guess is as good as mine. The statement was not attributed to Roger Goodell or Greg Aiello, people whose duties include speaking with the voice of the league. The news release was headlined, STATEMENT FROM AN NFL SPOKESMAN. This mimics the silliness of the White House and Department of State press rooms, where Josh Bolten or John Negroponte will stand in front of dozens of reporters who obviously know exactly who each is, but the ground rules are that they be quoted as a "senior administration official," as if the quoted person were so, so grandly magnificent his name dare not be used!
Postmodern note: At each heading, the new NFL media Web site has two click options. They are: READ MORE and READ LESS.
Bill Belichick Was Behind This Somehow: At 3:45 p.m. Eastern time Sunday, as the first games were ending, for about two minutes, the league's official scoreboard at NFL.com read Houston 24, Miami 3 (it was 19-19 at the time); Cleveland 20, New England 20 (the Patriots led 27-10); Seattle 13, Pittsburgh 13 (the Steelers led 21-0). All across America, people who had bet those games must have experienced heart palpitations.
Jaws Note: With Jake Delhomme and David Carr hurt, undrafted rookie quarterback Matt Moore made a brief appearance for the Panthers. On draft day in April, Ron Jaworski said Moore was the best quarterback prospect after JaMarcus Russell, Brady Quinn and Trent Edwards. All NFL general managers ignored Jaws' advice, yet now there has been a Matt Moore sighting. And speaking of JaMarcus Russell and Brady Quinn, are they in the NFL?
This Fulfills My Obligation to Say Something About the Rams-Cardinals Game: Trailing 34-23, St. Louis faced third-and-16 at the Arizona 29 with 20 seconds to go, yet Les Mouflons' backup quarterback Gus Frerotte was able to hit a 29-yard touchdown pass on the deep right to Randy McMichael, allowing the game to come down to an onside kick. Considering the contest was all but over and St. Louis had to score immediately, how could McMichael get behind the defense? Arizona wasn't expecting McMichael to be the target -- because when Frerotte threw right to McMichael earlier in the fourth quarter, the pass was intercepted and returned for a touchdown by Arizona.
Your Call Is Very Important to Us, and If You Believe That, We Have Some Bonds Backed by Subprime Mortgages to Sell You: Have you noticed that whenever a computer voice forces you to say -- or type with the phone keys -- your name and account, telephone or reservation numbers, then you are transferred to a real person, the first thing you do is give the same info again? Last week, I called United Airlines, whose automated voice forced me to type or say quite a bit a information before transferring me to an agent. The computer cheerfully said, "I'll be sure to give the agent the information you've already given me." The first thing the agent did was ask me to repeat all the info.
Bills Collapse Bonus: So Buffalo failed to move the clock, the Cowboys scored and recovered the onside kick, but the Bills still led 24-22. Dallas is at the Buffalo 43, which is a 60-yard field goal attempt; there are seven seconds remaining; and the Cowboys have no timeouts. Dallas comes to the line to run a play. There are only two possible plays the Cowboys can attempt, a Hail Mary to the end zone or a quick out so the receiver immediately steps out of bounds to stop the clock for a field goal try. With seven seconds remaining and the Cowboys out of timeouts, the only places they can throw are to the end zone or immediately to the sideline. Yet Buffalo's defenders were clustered in the middle of the field, not guarding the sidelines; Patrick Crayton caught an immediate out at the 35-yard line and stepped out of bounds, setting up the winning kick. Not only were the Bills in the wrong defense for this play but Buffalo also was holding two timeouts. Bills coach Dick Jauron did not call timeout to make sure his defense was set properly for the game-deciding play, or to let his defenders catch their breath. (The Bills' defense was on the field almost the entire fourth quarter.) Once more, you really have to be determined to blow a game when you are plus-5 on turnovers.
'Tis Better to Have Rushed and Lost Than Never to Have Rushed At All (College Edition): Man, it was fun to watch 41-point underdog Stanford upset No. 2 USC on the Trojans' own field and with a backup quarterback playing for the Cardinal. And all those super-ultra-great running backs and linebackers we keep hearing USC has, just where were they in the fourth quarter? But although I wouldn't change a moment of Saturday's Stanford-USC game, let me just point out that leading 23-17 with 2:53 remaining, facing third-and-19 near midfield, Pete Carroll ordered a pass that was intercepted and returned to the Trojans' 45, setting the stage for Stanford's winning touchdown on fourth-and-goal with 39 ticks left. If the Trojans had simply run up the middle for no gain on third-and-19, keeping the clock moving, then launched any decent punt stranding Stanford in its territory, the visitors' comeback almost surely would have run out of time.
Obscure College Score of the Week: California of Pennsylvania 38, Indiana of Pennsylvania 12 in the annual Tuesday Morning Quarterback Obscure College Game of the Year. Located in California, Pa., California University of Pennsylvania has a seven-part strategic plan that includes such items as, "Continue partnership with Southwestern Pennsylvania Fire Chiefs and Assistant Fire Chiefs."
Bonus Obscure College Score: Presbyterian 66, North Greenville 52. Winner Presbyterian College had 648 yards passing and 17 yards rushing. North Greenville gained 515 yards, made 30 first downs, committed only one turnover and had 43:23 time of possession, yet still lost. Located in Tigerville, S.C., North Greenville University cautions, "It is expected that students living in Housing and Residence Life will cooperate with the Housing and Residence Life staff."
Reader Animadversion: Got a complaint or a deeply held grievance? Write me at TMQ_ESPN@yahoo.com. Include your real name and the name of your hometown, and I might quote you by name unless you instruct me otherwise. Note: Giving your hometown improves your odds of being quoted.
Wednesday: Readers attempt to contact space aliens.
Next Week: The Motion Picture Association of America bans depictions of restaurants serving food containing trans-fat but makes scenes of murder mandatory.
In addition to writing Tuesday Morning Quarterback, Gregg Easterbrook is the author of "The Progress Paradox: How Life Gets Better While People Feel Worse" and other books. He is also a contributing editor for The New Republic, The Atlantic Monthly and The Washington Monthly.