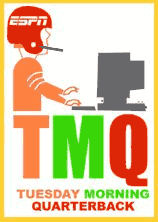 The Minnesota Vikings boomed a punt to Devin Hester of the Chicago Bears, most dangerous punt returner ever, and he repaid the favor by running the ball back 89 yards for a touchdown. As a result, football pundits everywhere are asking, "Why does anyone punt to Devin Hester instead of kicking the ball out of bounds?" Tuesday Morning Quarterback asks: Why do NFL teams ever punt to
any
returner, rather than deliberately punt out of bounds?
Hester has fielded 67 punts in his brief NFL career, running five back for touchdowns, an astounding touchdown percentage. In Week 5, the Green Bay Packers punted out of bounds rather than boom the ball to Hester. But the Chicago Flash is hardly the only dangerous return man. This season, the Cardinals boomed a punt straight down the middle to Baltimore speedster Yamon Figurs, who ran it back 75 years for the touchdown. The Steelers boomed directly to the Cardinals' Steve Breaston, who ran the punt back 73 yards for a touchdown, and the Cowboys boomed straight down the middle to the Rams' Dante Hall, who ran the punt back 85 yards for a touchdown. Denver boomed a punt straight down the middle to Buffalo's Roscoe Parrish, who took it 75 yards for six. Last year, the decisive play in Arizona's 20-point late-game "Monday Night Football" collapse against Chicago was an 83-yard touchdown punt return by Hester for the winning points. The Cardinals boomed the punt straight down the middle; why didn't they just kick it out of bounds? Last year, the winning play in New Orleans' comeback over City of Tampa was a 65-yard punt return touchdown by Reggie Bush. The Bucs boomed the kick straight down the middle; why didn't they just kick it out of bounds?
Because kickoffs out of bounds are penalized and squib kickoffs give the opponent good field position, in most circumstances, teams have little option but to expose themselves to the risk of a long kickoff return. Punts are another matter: A punt out of bounds is spotted at that point. This raises two questions. Last year in the NFL, the average punt traveled 43.2 yards, the average return gained 8.7 yards, so on average, a returned punt netted 34.5 yards. Some punts are fair-caught; adding them in, the 2006 net average was about 37 yards. An angled punt intended to go out of bounds will travel less distance than a punt boomed down the middle, but TMQ is guessing that if punters practiced deliberately kicking out of bounds, they could average putting the ball out of bounds 32 to 35 yards down the field, roughly the 2006 net. So constantly punting out of bounds would surrender approximately the same field position, but the chance of a touchdown return would be eliminated. And there were 15 punts returned for touchdowns in the NFL regular season last year, plus another six already this season.
Deliberately punting out of bounds might not always be advised; there could be circumstances that suggest a maximum boom. But often punting out of bounds seems like a desirable strategy yet to be tried. Evidence? I'll supply what you have come to expect from TMQ -- lavish praise of Bill Belichick. When the Flying Elvii played the Bills, Belichick had punter Chris Hanson deliberately angle the ball out of bounds to keep it away from Parrish. Hanson averaged a net of just 30 yards, but Parish did nothing: on balance, a good outcome for New England. Punters who constantly punted out of bounds also might get better at the coffin-corner kick. Angling the punt so it goes out inside the opposition 10 has become a lost art, as punters too often boom into the end zone at the expense of catching the opposition in bad field position.
Perhaps if deliberately punting out of bounds became standard, the NFL would make this tactic a penalty, as is the out-of-bounds kickoff. Based on the present rules, it's puzzling why teams are not punting out of bounds.
And speaking of what you have come to expect from Tuesday Morning Quarterback -- lavish praise of Bill Belichick -- is there anything we can learn from the Patriots' dominance so far? Sure, and it's odd that other NFL teams are not learning what can be learned. For example: Most New England long passes, and nearly all New England halfback flare passes, are drawn up so the receiver is directly in front of Tom Brady when he delivers the ball. This allows Brady to throw straight ahead, the most reliable sort of pass and one that is in the air for less time compared with sideways passing, deep outs and so on. On Sunday, the long pass to Donte' Stallworth, and two of the big throws to Wes Welker, were on plays drawn so the receiver was crossing directly in front of Brady -- that is, on the imaginary line defined by where Brady is and where the center snapped the ball -- as the pass was delivered. This is an efficient form of passing, so why don't other teams draw up plays that work the same way? And why don't they keep a safety directly in front of Brady?
Here's another lesson. New England has the most game-to-game game plan variation of any NFL team. Why don't other teams notice this and vary their game-to-game game plans more? Also, Belichick analyzes what his opponent faced in its previous game and devises game plans to bounce off that. In Dallas' previous outing, the Cowboys had faced a Buffalo team that ran an ultraconservative game plan on both offense and defense -- no blitzing, only one deep pass attempt in the entire contest. Thus, Belichick suspected the Cowboys would be lulled to sleep on these points: They would momentarily have forgotten that deep passing and blitzing are legal in the NFL. Repeatedly, Brady threw deep and there was no safety anywhere in the television tetragon: Having just played Buffalo, Dallas safeties had forgotten it's legal to throw deep in the NFL. On defense, New England blitzed far more than it usually does, especially using defensive backs on blitzes. Like any tactic, this didn't always work -- the 12-yard touchdown reception by Terrell Owens came against a double safety blitz. But overall, DB blitzing unsettled Tony Romo, who consistently seemed surprised by this tactic and antsy. Belichick knew Romo had just come off a big win against a team that played ultraconservative defense, and he guessed correctly that Romo and the Dallas coaches momentarily would have forgotten it is legal in the NFL to play hyperaggressive defense.
If I had to choose one team I wouldn't have to face in the coming month, I'd choose New England. But bear in mind: The Pats' opponents so far are a combined 14-20, and New England has defeated only one team, Dallas, that currently has a winning record.
In other football news, the NFL is denouncing the cable carriers for not showing you the most possible games -- while engaging in an elaborate monopoly deal to keep you from watching the most possible games! See below.
Stats of the Week No. 1: The Dolphins are 6-16 since the moment Sports Illustrated predicted they would win the Super Bowl.
Stats of the Week No. 2: Tom Brady is on a pace to throw 56 touchdown passes; the NFL record is 49.
Stats of the Week No. 3: Minnesota is last in passing defense and just a fraction short of first in rushing defense.
Stats of the Week No. 4: Owing to penalties and a successful fourth-down conversion, Jacksonville ran eight consecutive plays inside the Houston 20.
Stats of the Week No. 5: Oakland already has as many offensive touchdowns as it scored in 2006.
Stats of the Week No. 6: In back-to-back visits to the Meadowlands to face Jersey/A and Jersey/B, Donovan McNabb was sacked 15 times.
Stats of the Week No. 7: From its Pittsburgh contest into the first half of its New Orleans game, Seattle was outscored 42-0.
Stats of the Week No. 8: Devin Hester and Adrian Peterson combined for 624 all-purpose yards -- just slightly fewer yards than the all-purpose yards by all players in the Baltimore-St. Louis game.
Stats of the Week No. 9: New England is outscoring opponents by an average of 23 points per game.
Stats of the Week No. 10: Carolina emergency quarterback Vinny Testaverde has 6,562 career pass attempts. The Panthers franchise has, in its entire history, 6,412 pass attempts.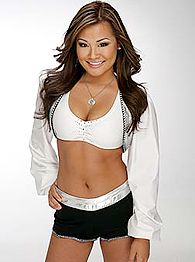 Oakland Raiders
Victoire juste, bebe!
Cheerleader of the Week:
Reader Ross Rehart of San Diego suggests
Jennifer
of the semi-resurgent Raiders -- Oakland's woes of recent seasons have caused many to lose track of the Raiderettes. According to her team bio, Jennifer speaks French and Vietnamese and was all-county in field hockey in high school. When I used the
Babel Fish
universal translator to render "Just win, baby!" into French ("Victoire juste, bébé!") and back into English, it became "Victory right, baby!" Hmm -- "Victory right, baby" sounds like a play call.
Sweet Play of the Week: New Orleans pulled away to a 21-0 lead over Seattle -- setting the tone for its first win -- when Drew Brees faked a handoff up the middle, then gave an end around to Lance Moore, who ran for the touchdown. On the first snap of the contest, the Saints had faked the end around and sent the ball up the middle; TMQ likes "series" plays in which one action sets up an action that happens later. TMQ has done two previous items on timid play calling by New Orleans coaches. On Sunday night, the Saints finally broke the timid mold, going for it on fourth-and-1 from their own 30 and, taking over on their 20 with a 21-7 lead and two minutes remaining in the first half, throwing deep rather than being content with that margin. At intermission, it was 28-10, and you knew Seattle's goose was cooked.
Sour Play of the Week: Devin Hester was single-covered deep on his 81-yard touchdown reception, blowing past cornerback Dwight Smith, but that wasn't the sour part. The game situation was Minnesota 31, Chicago 24 with the Bears on their 19-yard line and 1:49 remaining in the contest. That is: The Vikings knew Chicago had to throw deep, yet Hester was single-covered deep.
Sour Play of the Week No. 2: On its first possession, New England moved downfield as if the Dallas defense was not there. Reaching the Cowboys' 6-yard line, the Patriots sent Randy Moss on a quick down-and-in. Two Dallas defensive backs were in the area. Both stood like topiary, covering no one at all, as they watched Moss catch a scoring pass.
Sour Coaching Decision of the Week: Trailing 38-24, Dallas reached third-and-goal on the New England 5 with 10 minutes remaining. The Cowboys threw incomplete; Wade Phillips sent in the field goal unit; and TMQ wrote the words "game over" in his notebook. Taking the field goal at this juncture was total chickenfeathers, a cop-out that left Dallas behind by two scores against a team that was moving the ball at will. Dallas needed two touchdowns and, just 5 yards from pay dirt, didn't even try. I hardly need mention New England took the kickoff and marched down the field in the other direction for the field goal that iced the contest at 41-27. You can't help feel Phillips was quitting on the game, mainly concerned with holding down the final margin of defeat. But the really sour decision was the third-down decision to pass. At third-and-goal, trailing by 14 points in the fourth quarter, Dallas already should have decided to go for the touchdown if necessary on fourth down, and thus called a third-down run to make fourth down more manageable. The Cowboys rushed for an average of 6.5 yards in the game! Two runs from third-and-goal at the 5 were odds-on to succeed and create a tense finish. Instead, Dallas heaved the ball into the air incomplete, then its offense passively trotted off the field. If you're afraid to run at the goal line in your own house, you are going nowhere in the playoffs.
Buck-Buck-Brawckkkkkkk: Trailing 16-0 on the road at Baltimore, winless St. Louis reached fourth-and-1 on the Ravens' 14 in the third quarter. As the field goal attempt boomed, TMQ wrote the words "game over" in his notebook. This call was especially timid given that the Rams came into the game 0-5 and dispirited; if their coach is quitting on the season, why shouldn't the players quit, too? I understand that Les Mouflons have such injury problems that only three of the opening-day offensive starters dressed for this game. But you got the distinct feeling Scott Linehan wanted to avoid the shutout so that, when he faced the year-end performance review to determine whether he should be fired, one of the strikes against him would not be, "We got shut out at Baltimore." Coaches should be trying to maximize their teams' chance of winning, not making decisions based on career protection.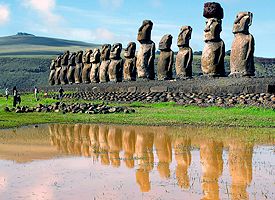 AP Photo/La Tercera
Ancient Polynesians came to this place. But why?
A Cosmic Thought About Reed Boats:
Last month, German adventurer Dominique Gorlitz was
forced to abandon ship
in his attempt to cross the Atlantic in a reed boat. He was trying to demonstrate that ancient people might have traveled from the Old World to the New thousands of years before Columbus. A 21st-century escort vessel rescued Gorlitz and his crew. I am perfectly willing to believe that before technology, the ancients were able to make very long voyages: from Europe to Greenland or North America across the stormy Atlantic; far across the open Pacific to Easter Island or Hawaii; or on foot from Asia to North America across the Bering land bridge that was exposed when sea levels were low during the Pleistocene ice age. Yes, I am willing to believe the ancients could accomplish amazing journeys. Here's what creeps me out:
Why did they try?
Millennia ago, people in Europe did not know there was a New World waiting to the west. Why undertake an extremely dangerous voyage without even knowing a destination existed? The Polynesians who crossed more than a thousand miles of open ocean to reach Easter Island some 1,700 years ago, or who undertook similarly perilous journeys to the Hawaiian Islands around that time, had no way of knowing there was any destination to reach. The canoelike boats used by Polynesians to reach Easter Island and Hawaii rode atop prevailing ocean currents; it was probably impossible that pretechnological longboat travelers could have reached the Easter or Hawaiian islands, charted them, then returned against the current to tell other Polynesians what they found. Long ocean crossings before roughly the Renaissance era were almost certainly one-way trips, so a traveler setting out from Europe toward the Caribbean, or from Polynesia toward the Hawaiian chain, would not know there was any place to reach; all they would have known is that everyone who previously set out in the same direction had never been heard from again. Similarly, why would the ancestors of the Paleo-Indians have walked more than 1,000 miles across the Bering land bridge if they had no way of knowing a bountiful new land was on the other side?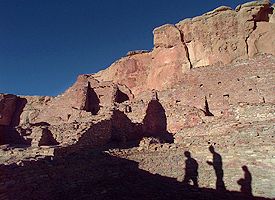 AP Photo/Eric Draper
Their shadows still haunt the Southwest. Why did they walk here?
All these ancient journeys entailed incredible hardship -- just try walking 1,000 miles across wilderness Alaska today, finding all your own food, medicine and shelter en route! All these ancient journeys resulted in the travelers arriving in virgin lands that were physically beautiful but offered no farms or villages, no crops, only the remotest hope of survival. Plus, the global population then was a tiny fraction of today's. Probably there was little population pressure in Europe and eastern Asia thousands of years ago, no resource shortage or land shortage from which to flee.
Why
did the ancients undertake perilous, grueling journeys when they did not even know whether there was a destination?
This paper
suggests that ocean current variations late in the last ice age made the Bering land bridge warm, vegetated and rich in animal life, meaning Paleo-Indians might slowly have moved toward North America across many generations of good hunting, transiting farther east as each generation followed the game to find its source. This is the closest to a "why" I've heard on any of the big ancient journeys. I've never even heard a theory on why the Polynesians tried to reach the remote down-current Pacific areas, or why the ancient Old World might have launched reed boats toward the New.
In Darwinian Terms, This Means Rich Guys Are Less Likely to Reproduce: The California Highway Patrol recently reported that although automobile accidents overall have declined in the state since 2002, there has been an 81 percent increase in crashes involving Aston Martins, Bentleys, Ferraris, Lamborghinis, Lotuses and Maseratis.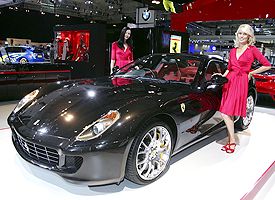 Brendon Thome/Getty Images
Dear rich guy: hop in, drive fast, crash, don't reproduce.
"Monday Night Football" Analysis:
Starting at pretty much exactly the point when Tiki Barber started talking about himself nonstop last fall, Jersey/A swooned to a 2-9 stretch that carried over into this season. Because Tiki had a lot of bonus points and credibility chips stored up with the media, he did not get pounded for his 2006 fits of egotism in the same way that characters like Chad Johnson get pounded. But now that the Giants are on a 4-0 run, it seems reasonably clear that the prior losing streak was not caused by Jersey/A being bad but was caused at least to some degree by Tiki's ego fit. The Giants have finally worked Barber out of their system, and returned to form. Maybe the eventual retcon ("retrospective continuity," common in comic books and sci-fi) will assert that it was Tiki's need to be the center of the Jersey/A universe that was holding Eli Manning back. People will start saying that if Eli plays as well in the second half of the season as he played on Monday night.
As for the Falcons, about the only thing that has not happened to them is that part of a Russian space station has not fallen on their practice facility. There's a conspiracy theory that says Bobby Petrino actually wants a bad year, so he can attain a high draft choice and select his former quarterback at Louisville, Brian Brohm, in the spring. Find me the coach who actually wants a bad year! TMQ thinks Petrino is having the experience common to big-deal college coaches who enter the NFL, such as, before him, Steve Spurrier and Little Nicky Saban. They come from an environment where they are treated as little gods, and where their recruiting advantage is so huge they have double the talent of most teams they face. A football-factory college typically has three or four contested games per year -- the rest are walkovers. Once in the NFL, the college coach discovers he is no longer a little god, the knives are always out, and the very best professional team has maybe 10 percent more talent than the worst.
In the NFL, every game is contested; there are no walkover weeks. Big-deal college coaches have a lot of trouble adjusting to that, and most hustle back to college. (Spurrier, Saban, Butch Davis, Dennis Erickson, etc.) Right now Atlanta looks nearly uncoached. On the Giants' first touchdown Monday night, Eli play-faked and no one covered Plaxico Burress deep -- though Burress came into the game with seven touchdown receptions. Maybe when the guy who came into the weekend as the league leader in touchdown receptions goes deep, someone should cover him! Then, trailing 24-10 with nine minutes remaining, Atlanta faced fourth-and-3 on its own 36-yard line. Petrino punted. You know, if this were Louisville, he would have gone for the first down.
Buck-Buck-Brawckkkkkkk No. 2: Trailing New Orleans 28-10 with 12 minutes to play, ball at the Saints' 40, Seattle coach Mike Holmgren ordered a punt. Who cares that it was fourth-and-11? You're down by three scores in the fourth quarter and punting in opposition territory! As Tuesday Morning Quarterback notes, teams that punt in opposition territory in the fourth quarter are assuring they will lose the game.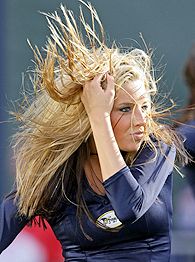 Drew Hallowell/Getty Images
They're glamorous, they're sexy -- this is possible in New Jersey?
'Tis Better to Have Rushed and Lost Than Never to Have Rushed at All:
Trailing 16-9, Jersey/B faced fourth-and-1 on the Philadelphia 4-yard line with 3:32 remaining: incompletion, and the Eagles would soon jog up the tunnel victorious, passing the Jets' glamorous new flag carriers. (In New York, that is to say in New Jersey, they are just way too cool for the word "cheerleaders.") Not only -- as TMQ endlessly shows -- is a rush on fourth-and-1 statistically more likely to succeed than a pass but, to that point in the game, the Jets had been averaging 4.9 yards per rush attempt versus 3.7 yards per called pass (attempts and sacks). So why did they heave-ho on the game's pivotal play? It's astounding how few teams, despite dozens of coaches and year-round film study, understand the basic numbers about rushing being a higher percentage play on short yardage than passing. Practically every offensive coordinator in the NFL now thinks, "If it's a critical down, we must throw."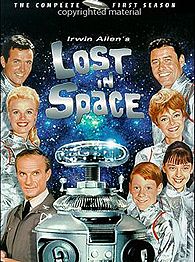 20th Century Fox
Danger, Will Robinson! Beware the Jacksonville Jaguars!
Warning, Will Robinson!
While we're all talking Pats and Colts, the Jacksonville Jaguars are quietly 4-1 and just out-rushed Houston by 183 yards. That's, um, an adequate margin. Jax is only allowing 12 points per game, second-lowest in the league. Pittsburgh is quietly 4-1 and allowing 10 points per game, best in the league.
A Cosmic Thought About Squash: Recently, French botanists found evidence in Nevali Cori, Turkey, that wheat was cultivated 10,500 years ago. This pushes back by millennia the oldest known controlled agriculture involving wheat; a generation ago, researchers believed wheat cultivation began no more than 7,000 years in the past. Every time astronomy instruments improve, the universe seems bigger. Every advance in archeology makes civilization seem older.
A really striking finding comes from Tom Dillehay of Vanderbilt University, who led a team that unearthed evidence of squash cultivation 10,000 years ago in the Andes Mountains. Think about what this means in terms of the standard explanation for the indigenous population of the Western Hemisphere. The standard explanation holds that when Europeans first laid eyes on this half of the globe, the people they found living here were descended from Asians who walked across the Bering land bridge near the conclusion of the Pleistocene ice age. Set aside the haunting question of why ancient people would have walked thousands of miles into the unknown, if there was squash cultivation in the Andes 10,000 years ago, then in order for the standard explanation of the arrival of men and women in the Western Hemisphere to be correct, ancient Asians not only had to walk across the Bering land bridge having no idea what was on the other side but also had to turn south and walk another 5,000 miles to what's now Peru. And they had to keep right on walking past warm, inviting California, Mexico and Central America, where life would have been relatively easy, not stopping until they reached a foreboding mountain range where ancient existence would have been extremely difficult. I am here to tell you: There must be something very basic about human prehistory that we haven't even come close to guessing yet.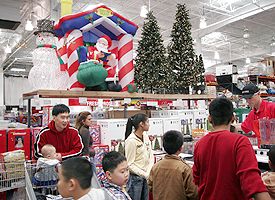 AP Photo/Mark Lennihan
Have a holly jolly Columbus Day!
Holiday Nonsense Update:
Dozens of readers, including Debra Swain of Indianapolis, reported that an Indianapolis radio station, WNOU, switched to an all-Christmas format Oct. 8. The station went off the air a few days later -- a fitting fate! Michael Burkett of Conroe, Texas, reports that
this Houston station
is telling listeners it will switch to a Christmas-music format Nov. 1. Have a holly jolly Armistice Day! Jeff DeTray of Napoleon, Ohio, reports that QVC already has an
hour-long Christmas items show
. Gavin Weiss of Rockville, Md., writes that this
Winchester, Va., radio station
already has a "Christmas Cash" promotion and that its Web site declares, "We're thinking about Christmas shopping because we know you're thinking about Christmas shopping." He asks, "Who are these people who are thinking about Christmas shopping? Chanukah starts before Christmas this year, but I doubt anyone's thinking about Chanukah shopping already." Actually … Nick Hubacker of Pittsfield, Mass., writes, "In early October I went to my local Bed, Bath & Beyond, and what did I see near the checkout? Not Christmas stuff -- though there might have been some elsewhere in the store -- but a whole pile of Chanukah junk. Chanukah starts on December 5th, so I guess Chanukah items should be out earlier than Christmas items. But still, [two] months?" Guys, you are on to something. The problem isn't that Christmas is promoted too soon, the problem is that Chanukah isn't promoted even sooner!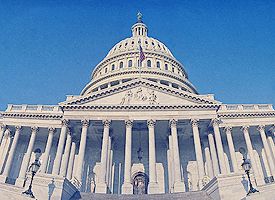 AP Photo
NFL to Congress: Please compel our competitors to do what we refuse to do.
NFL to Congress: Stop Others From Doing Exactly What We Do!
For a decade, the NFL's Sunday Ticket package, which allows viewers to pay for the right to decide for themselves which games they want to watch, has been available exclusively to subscribers to the DirecTV satellite service. Cable customers can't get Sunday Ticket at any price because the league refuses to offer Sunday Ticket over cable. But do as I say, not as I do! Now that many cable carriers have retaliated against the NFL's monopoly arrangement on Sunday Ticket by refusing to carry NFL Network, or by resisting NFL Network's high fees, the NFL wants people to write to Congress and demand that cable carriers be compelled to show NFLN. As noted by Rob from Weehawken, N.J., among many readers, the
NFL Network is running ads
this week complaining that cable carriers are "holding you hostage" and even "blocking the games" by not airing NFLN. Never mind that a cable carrier's not airing NFLN blocks viewers' access to eight NFL games per year while the NFL's refusal to allow Sunday Ticket to air on cable blocks the typical viewer's access to nearly 200 games annually.
Outraged that some cable carriers are doing to the public exactly what the NFL does to the public, NFL Network made a mass e-mail appeal last week asking viewers to "Tell your government officials that cable companies are denying you access to NFL Network." Rob counters, "Where's the form to tell my government official about DirecTV having a monopoly on Sunday Ticket? To tell government officials that the NFL is denying me access to live NFL games on Sunday Ticket?" Where, indeed? When the NFL thinks it comes out ahead by denying viewers the chance to watch Sunday Ticket -- most American homes do not receive DirecTV, and millions cannot receive it for technical reasons -- the league believes monopoly power is just great. When cable carriers think they come out ahead by not purchasing NFLN, the league thinks Congress ought to intervene. Note that the NFL isn't proposing the obvious compromise: Require all digital cable and satellite carriers to offer both NFLN and Sunday Ticket, then let consumers choose which they wish to pay for. Instead, the NFL wants Congress to force its product and associated costs on viewers who don't care about football in the offseason while the league continues to use the DirecTV monopoly to prevent the majority of Americans from obtaining free choice in which NFL games they watch.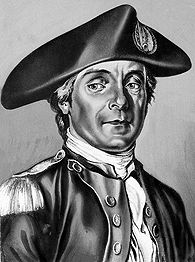 AP Photo
John Paul Jones: If only he had a lecture tour, a book contract and a Web site.
"I Have Not Yet Begun to Give Motivational Speeches," John Paul Jones Shouted Above the Din of Battle:
Hoping to light a fire under the Trick or Treats, Cincinnati coach Marvin Lewis brought in motivational speaker Michael Abrashoff, a former U.S. Navy captain
whose motivational-speaking claim to fame
is that he took over "the Navy's least productive ship" and "transformed it into the best ship in the Navy." Setting aside that many current Navy personnel might disagree about which one is the "best ship," how can anyone determine what the "least productive" or "best" ship in the fleet might be? Abrashoff commanded the Benfold, an Arleigh Burke-class guided missile destroyer. If the Benfold was not "productive" before the new skipper arrived, what was the problem - not firing enough torpedoes? Also, in 2007, a sailor who had served on the Benfold the year after Abrashoff's command was charged with supporting terrorism, so whatever astonishing mega-management procedures Abrashoff put into place do not appear to have had much lasting effect.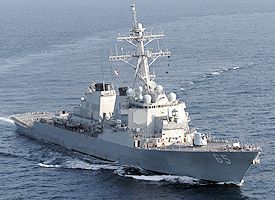 AP Photo/James Pinsky
The destroyer Benfold -- it's highly motivated!
TMQ has always been suspicious of motivational speakers, who dispense obvious advice (make lists, work hard) and empty generalities ("Have vision! Take charge!"), then keep no statistics on whether the organizations to which they speak perform any better. After Abrashoff gave the Bengals a motivational speech, they lost to Kansas City. Will that go on the speaker's advertising résumé shown to his next prospective clients? Then again, maybe Abrashoff told the Bengals, "Abandon ship!" Lewis certainly seems ready to abandon ship. Trailing Kansas City 20-7 early in the fourth quarter, the Bengals faced fourth-and-3 on the Kansas City 15. Lewis sent in the field goal unit, and TMQ wrote the words "game over" in his notebook.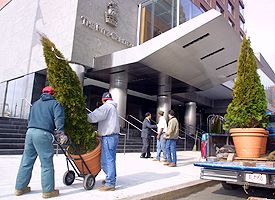 AP Photo/Robert Spencer
Maybe if you're a tree you can get service at a Ritz-Carlton.
There Are No Great Hotels, Only Expensive Hotels:
One of TMQ's laws of life is: There are no great hotels, only expensive hotels. Last spring, I stayed at someone else's expense at the
Ritz-Carlton at Battery Park
, just below Wall Street. The hotel did have a really nice deck lounge at which to sip a glass of wine and look at the Statue of Liberty and the lights of the ferries that industriously ply the waters south of Manhattan. Plus, the hotel offered a "bath butler" who required two hours' advance notice for the arduous task of pouring oils into the bath. But it was $595 plus tax for a "city view" room with a "view" that consisted of a wall and some maintenance apparatus. Come morning, three workers were standing outside no more than five feet from my window, looking right in. What an elegant experience! Last weekend, I stayed at someone else's expense at the Ritz-Carlton in New Orleans, where a card on the bed proclaimed that the sheets were "hyperclean." When making the reservation, I'd asked for a quiet room. Upon checking in, I reminded the desk about the quiet room: They assigned me to a room in which the windows actually were vibrating from the sound of Bourbon Street music, and it took an hour of repeated requests to get a switch. At this Ritz, I asked for the New York Times and New Orleans Times-Picayune at my door, and repeated requests never resulted in this. Obviously, these are the kinds of minor problems that happen all day long at hotels. The point is that two superexpensive hotels from a company that boasts about legendary service turned out to be no different from a Holiday Inn. If you've ever stayed at an absurdly expensive hotel and ended up wishing you'd been in a Holiday Inn, report your experience -- with specifics -- using the address at Reader Animadversion.
Hidden Play: Hidden plays are ones that never show up in highlight reels but that end or sustain critical drives. With Philadelphia leading Jersey/B by 16-9 with a minute remaining, the Eagles faced third-and-3. Brian Westbrook ran for 21 yards, and the rest was kneel-downs.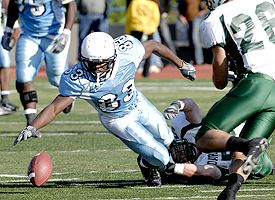 AP Photo/Paul Hawthorne
What Columbia University football needs is some forbidden scholarships.
If You Can't Beat 'Em, Add Fundraisers:
Last week, Patriots owner Robert Kraft, long a generous donor to Columbia University, his alma mater,
gave $5 million
to the school as part of its effort to raise $100 million for Columbia athletics. The
campaign itself
speaks about funding people and "making Columbia the first choice for the best student-athletes," but skirts the question of whether much of the money being raised will be used on athletic scholarships. The Ivy League bans athletic scholarships, but this ban is honored only in the breach by Harvard, Yale and Princeton: Promising football recruits don't get athletic scholarships, but amazingly, always qualify for financial aid! In December, after Princeton won the Ivy League championship, alum William Powers gave the football program $10 million -- the largest gift ever to Princeton athletics -- and Princeton all but announced some of the money would be
used for football scholarships
. One reason Columbia has become a football doormat is that, unlike many other Ivy League schools, it actually observes the ban on athletic scholarships. How naive! Presumably, if the athletic fundraising goals are met, that will change.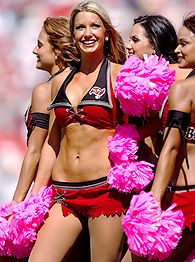 Larry French/Getty Images
Appease the football gods this well, and victory is assured.
The Football Gods Winced:
The Tennessee Titans were in exactly the same position as before the Music City Miracle play -- Tampa had just gone ahead with a field goal and was kicking off to Tennessee with 11 seconds on the clock. You knew there would be a fantastic trick play return! Instead, one return man caught the kick, turned and handed off to the other in the same place, going in the same direction. Huh? What? This nontricky trick return reached only the Tennessee 28, from which the game-ending Hail Mary failed.
TMQ Was Born Too Soon: High school girls continue to clobber high school boys in grades and SAT and ACT scores, the result being that for this academic year, 57 percent of college students are female, the Department of Education recently reported. As recently as a single generation ago, boys as a group were getting higher high school grades and scores than girls, and this was used to argue that boys possessed greater innate intellectual ability, especially in the sciences. So much for that idea! Girls' grades and scores have gone up sufficiently that some, including Jennifer Delahunty Britz, dean of admissions at Kenyon College, believe the highly selective colleges and universities are demanding higher standards of girls than of boys (that is, discriminating against girls) to keep student bodies roughly half-and-half. The DOE projects that if current trends continue, college student bodies will be 60-40 female by 2010.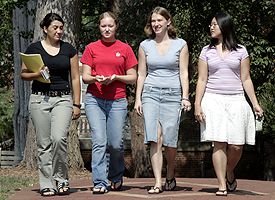 AP Photo/Steve Helber
College campuses are increasingly female -- so much for that inherent male IQ advantage theory.
Get on the Ground!
Charles Woodson of the Packers and Antwaan Randle El of the Redskins simultaneously caught a pass; why was a simultaneous catch awarded to Woodson, the defensive player? Regardless, Washington has only itself to blame for a killer turnover. Trailing 17-14 in the fourth quarter, the Redskins took possession on their 13. Clinton Portis, hemmed in by defenders, tried to bull forward for an extra half-yard and fumbled. When there is no chance of advancing any farther, just get on the ground; don't give defenders a free shot at ripping the ball out. Best crowd response: When the Packers, leading by three points, punted with 1:22 remaining, the Lambeau spectators booed. Why? There were 10 seconds on the play clock; Green Bay snapped too soon. Not many crowds would notice that!
Scouts' Notes: New England loves to play-fake at the goal line, then throw to the tight end or blocking back. Somehow, this keeps taking opponents by surprise. One reason it works is that the Patriots will throw to almost anybody at the goal line, not just to their stars. So far, little-used Kyle Brady and linebacker Mike Vrabel have caught goal-line play-action touchdown passes. The next time a little-used guy comes in for New England at the goal line, assume the play is to him.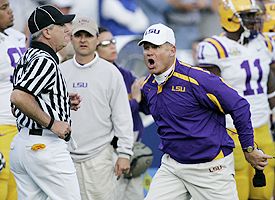 AP Photo/Ed Reinke
Les, losing once a year is not -- technically speaking -- the end of the world.
If Les Miles Lost Two Football Games, Would He Go Into Seclusion?
Why did Les Miles act as though the world had ended in his postgame news conference after the LSU-Kentucky contest, and why did the sports-nut world show such fascination with Miles' odd performance? Sure, LSU wanted to win, but all Miles did was lose … a … football … game. It was a sports contest, not war and peace in the Middle East: Show some perspective, already. Plus that was one fantastic game! The true sportsman considers it just as much an honor to be on the losing side in a well-played, memorable game as to be on the winning side.
Four Interceptions on 75 Attempts Doesn't Sound That Strange: Actual paragraph from the Associated Press report of the Hawaii-San Jose State game: "[Hawaii quarterback Colt] Brennan had an up-and-down night, completing 44-of-75 passes for 545 yards with four touchdowns and four interceptions." In the shotgun spread era, someone throws 75 times for 44 completions and 545 yards and gets mixed reviews! Actually, TMQ, watching that game, thought, "This guy is having an up-and-down night."
Obscure College Score of the Week: Elon 36, Georgia Southern 33 in overtime. Located in Elon, N.C., Elon University has an Office of Institutional Advancement.
Reader Animadversion: Got a complaint or a deeply held grievance? Write me at TMQ_ESPN@yahoo.com. Include your real name and the name of your hometown, and I might quote you by name unless you instruct me otherwise. Note: Giving your hometown improves your odds of being quoted.
Wednesday: No readers' column Wednesday; it will return next week.
Next Week: Motivational speaker suggests that, to build team spirit, the Cincinnati Bengals walk barefoot on hot coals from the Bering Strait to Peru.
In addition to writing Tuesday Morning Quarterback, Gregg Easterbrook is the author of "The Progress Paradox: How Life Gets Better While People Feel Worse" and other books. He is also a contributing editor for The New Republic, The Atlantic Monthly and The Washington Monthly.