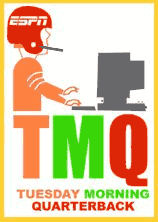 Patriots at Colts on Nov. 4 is shaping up to be one of the most attractive and exciting NFL regular-season games ever staged. The pairing is fabulous; the teams are the league's best; and there is a chance both will take the field undefeated. Plus, Patriots at Colts has a powerful, compelling narrative. Namely -- Good vs. Evil. The fact that I don't even need to tell you which team represents Good and which stands for Evil says a lot about how low New England has sunk. You knew instantly which was which, didn't you? Argument for the Indianapolis Colts as paladins who carry the banner of that which is beneficent: Sportsmanship, honesty, modesty, devotion to community, embrace of traditional small-town life, belief in higher power, even love of laughter. The Colts are the defending champions, so they obviously play well on the field. Yet after winning the Super Bowl, they have remained humble and appealing. Through prior years of postseason frustration, they never complained or pointed the finger outside their team. Their players are active in community affairs and don't carp about being assigned to a nonglamorous Farm Belt city with an antiquated stadium. Their coach, Tony Dungy, smiles in public and answers honestly whatever he is asked: He never yells at players or grimaces at bad plays and, when defeated, doesn't act as though it's the end of the world. Although religious, Dungy said on the night he won the Super Bowl that God doesn't care about football games, which shows perspective. The team's star, Peyton Manning, stands for love of family, constantly appearing in public with his brothers, father and mother. Manning is happily married and a
major donor to a children's hospital
. Manning spends a lot of time at children's camps and events, and he constantly makes fun of himself. Ladies and gentlemen, representing Good, the Indianapolis Colts.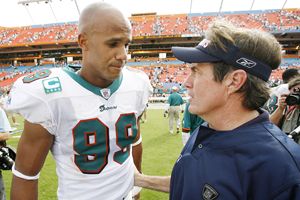 AP Photo/Hans Deryk
"Sorry we ran up the score, Jason. We're mad at the world."
Argument for the New England Patriots as scoundrels in the service of that which is baleful: Dishonesty, cheating, arrogance, hubris, endless complaining even in success. The Patriots have three Super Bowl rings, but that jewelry is tarnished by their cheating scandal. They run up the score to humiliate opponents -- more on that below -- thus mocking sportsmanship. Their coach snaps and snarls in public, seeming to feel contempt for the American public that has brought him wealth and celebrity. Victory seems to give Bill Belichick no joy, and defeat throws him into fury. Belichick and the rest of the top of the Patriots' organization continue to refuse to answer questions about what was in the cheating tapes -- and generally, you refuse to answer questions if you have something to hide. The team has three Super Bowl triumphs, yet its players regularly whine about not being revered enough. The team's star, Tom Brady, is a smirking celebrity-chaser who dates actresses and supermodels but whose public charity appearances are infrequent. That constant smirk on Brady's face reminds one of Dick Cheney; people who smirk are fairly broadcasting the message, "I'm hiding something." The Patriots seem especially creepy at this point because we still don't know whether they have told the full truth about the cheating scandal -- or even whether they really have stopped cheating. They say they have, but their word is not exactly gold at this juncture. Ladies and gentlemen, representing Evil, the New England Patriots. In the Good vs. Evil narrative of the Colts and Pats, running up the score is a telling factor: It reveals a team's sportsmanship or lack of same, and whether a team shows sportsmanship in public might offer insights into its character in private. New England is scoring so many points the Patriots offense looks like cherries and oranges spinning on a slot machine. The Flying Elvii stand plus-159 in net points, by far the best scoring margin in the NFL. This is supposed to be impressive. But I think it's creepy, and New England's creepy on-field behavior is only underscoring the seediness of the Beli-Cheat scandal.
On Sunday, the Patriots led the winless Dolphins 42-7 late in the third quarter, yet Tom Brady was still behind center. And he wasn't just handing off the ball to grind the clock, either. Rather, he was back in the shotgun, still throwing to run up the score. Here is a summary of the Patriots' possession with a 42-7 lead late in the third and Brady, Randy Moss and the rest of their offensive starters on the field: Pass, run, pass, run, pass, pass. When backup quarterback Matt Cassel entered the game in the fourth quarter, with the Patriots leading 42-14 -- a margin larger than the greatest fourth-quarter comeback in NFL history (see below) -- did he hand off the ball to grind the clock? Here were Patriots' coaches first three calls: Run, pass, pass. Cassel's second pass was intercepted and returned for a touchdown, and Brady re-entered the game. Did he grind down the clock? Pass, pass, run, run, pass. The final score was 49-28.
The week before, New England led Dallas 42-27 and had second-and-goal on the Cowboys' 6-yard line with 1:43 remaining and Dallas out of timeouts. Three kneel-downs would have ended the game. But Belichick kept calling plays, frantic to run up the score -- including calling a play with 23 seconds remaining from the Dallas 1-yard line, resulting in a touchdown that made the final New England 48, Dallas 27. The Patriots then kicked off, and Dallas got the ball with 13 seconds remaining. Cowboys coach Wade Phillips showed the dignity Belichick lacked and ordered a kneel-down. Beyond defeating division-leading Dallas, New England has beaten six teams with a combined record of 11-27. In New England's six games against nonwinning teams, Belichick kept the starters in long after the outcome was decided, trying to run up the score. This doesn't just demonstrate Belichick has no class (although it certainly demonstrates that). It's worse -- this suggests something vindictive. Yes, you can find games the Colts have won by a big margin in recent years, and yes, Manning was on the field through the fourth quarter at Jacksonville last night. But in that quarter, the Colts mainly ran to grind the clock: If they had wanted to win by more, they likely could have. As for New England's running up the score, supposedly the Patriots are angry about the Beli-Cheat scandal and are scoring points like crazy to express their anger against the world. Wait a moment:
What right do the Patriots have to be angry?
They, after all, are the ones who admitted to systematic cheating. Other people didn't impose that situation on them -- they cheated of their own free accord, imposing the tainting of their accomplishments on themselves. The Patriots were not wronged; they wronged others. Yet they're mad about being caught, and they seem to want to take out their bad feelings about themselves by embarrassing second-echelon teams. That bespeaks lack of character. That's Dark Side. That's Evil. Suppose New England's version of events is true -- that Belichick is a fine person who made an honest mistake about rules that seemed clearly written to everyone else but somehow were confusing to him and that he regrets his honest mistake. If this were so, wouldn't Belichick be attempting to convince the world he is a good guy by showing sportsmanship at every turn? Instead, he is raising his middle finger to the rest of the NFL, to the sporting media, even to the NFL fans who made his wealth and celebrity possible. If he were a misunderstood man who regrets an honest mistake, wouldn't he be candid and open in public because making his life an open book would convince us he's sorry for what he did? Instead, in public, Belichick continues to glare, stonewall and act offended that mere mortals dare to address him. There is not the slightest hint that Belichick is sorry for what he did -- only sorry he got caught. Innocent people falsely accused crave the recovery of their reputation, working hard to convince the world they are good. Creepy people who think they can get away with something act belligerent and show poor sportsmanship, which is what Belichick is doing right now.
Since Belichick took over the Patriots and began the franchise's remarkable run, he and his team have been praised, praised, praised, praised, praised, praised, praised, praised, praised, praised, praised; criticized when it was discovered New England had engaged in what commissioner Roger Goodell himself called "a calculated and deliberate attempt to avoid long-standing rules designed to encourage fair play and promote honest competition"; then -- after about a week of criticism -- praised, praised, praised. This is not a sequence of experiences that would leave an honorable person angry at the world. Yet Belichick acts that way, and he appears to be encouraging anger in his players, which is itself unsportsmanlike. Perhaps you can say in Belichick's defense that the modern American ethos encourages us all to feel sorry for ourselves -- so much so that even someone to whom football has brought wealth, celebrity and Super Bowl rings can tell himself he's a victim. Perhaps you can say in Belichick's defense that claiming victim status is a solid psychological ploy for the New England players -- who are not to blame for their coach's cheating, which they most likely did not know was happening. The New England players still might suffer some long-term harm from the cheating, though: Given the image New England is projecting, would you want Patriots' players endorsing your product? But if the Patriots are unfairly maligned, why the whole screw-you act they are staging? If the Patriots were unfairly maligned, they'd be trying hard to convince us their hearts are pure, and that distinctly is not what they are doing. Sure, many New England players are awesome performers: Both of Moss' touchdown catches Sunday came when he was double-teamed; the Flying Elvii offensive line was flawless again; Mike Vrabel, waived by Pittsburgh, might be the best linebacker in the NFL. But if the Patriots are so awesome they don't need to cheat, then why were they cheating in Week 1? The whole situation remains creepy. Should New England continue on and win the Super Bowl without a major attitude shift toward nice-guy behavior -- and should the year end without the NFL's ever explaining what New England evidence it destroyed or why -- there could be a huge amount of cynicism about this NFL season. Cynicism doesn't sell a sports product, nor is it what the NFL should be marketing to the young. That's why the Pats at Colts game Nov. 4 so clearly represents Good vs. Evil. The Colts stand for everything the NFL, and sports enthusiasts, should be proud of. The Colts stand for a positive future for the NFL. The Patriots stand for -- well, wouldn't it be nice if the Patriots would explain to us what they stand for. When Good meets Evil, I know who I'll be rooting for. In other football news, the St. Louis Post-Dispatch reports that
Rams center Brett Romberg took painkilling drugs
to appear in Sunday's game at Seattle, only to suffer additional injury on the field. How common is game-day painkiller use in the NFL -- and why isn't it disclosed to the league? Hear from the NFL's chief physician on this below.
Stat of the Week No. 1:
Until 4:06 p.m. ET on Sunday, New England had never been 7-0 and Miami had never been 0-7.
Stat of the Week No. 2:
At one point, Tennessee led Houston 32-7 and held a 311-34 advantage in offensive yards, yet the Titans ended up needing a field goal on the final snap to win.
Stat of the Week No. 3: New England has scored more points thus far this season than six teams (Carolina, Cleveland, Houston, Miami, Oakland and Tampa) scored all of last season.
Stat of the Week No. 4: Jeff Garcia completed 18 consecutive passes, yet the Bucs lost.
Stat of the Week No. 5: Oakland has not won a game in its division since November 2004.
Stat of the Week No. 6: The Giants have won five straight -- over opponents that are a combined 10-22.
Stat of the Week No. 7 : Jersey/B, Miami and St. Louis are on a combined 0-18 streak; Indianapolis, Jersey/A and New England are on a combined 18-0 streak.
Stat of the Week No. 8: (College stat bonus) Texas Tech's coaches called 74 passes and 10 runs Saturday; Navy's coaches called 67 runs and 12 passes. Both teams lost.
Stat of the Week No. 9: Randy Moss has scored twice as many touchdowns (10) as the entire Buffalo offense (5).
Stat of the Week No. 10: Rob Bironas of Tennessee scored more points this weekend (26) than 17 teams (Atlanta, Arizona, Baltimore, Buffalo, Chicago, Dallas, Detroit, Jacksonville, Kansas City, Minnesota, New Orleans, Oakland, Philadelphia, San Francisco, St. Louis, Tampa, Washington.)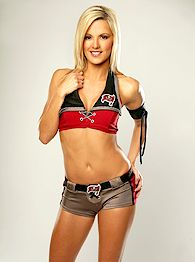 Tampa Bay Buccaneers
Despite her job as a probation officer, Page 2 will not -- absolutely will not -- use a frisking joke.
Cheerleader of the Week:
Reader Kevin Ward of Ireland proposes Leigh Killian of City of Tampa. According to her team bio, Killian is a graduate of Appalachian State -- one of this year's cool schools -- and works as a probation officer. Leigh, cuff me! The Bucs cheerleaders' warm-to-the-touch
team pose is here
.
Sweet Play of the Week: With New Orleans scoring a touchdown to take a 20-16 lead over Atlanta with five minutes remaining, a deuce attempt made sense. Reggie Bush lined up as a slotback and carried on the end around for the two points. TMQ likes end-around and reverse-action plays at the goal line, where defenses always overpursue.
Sweet Play of the Week No. 2: Leading 21-14, Denver had second-and-goal at the Pittsburgh 1. Fullback Cecil Sapp split out way left -- standing just a foot inside the out-of-bounds line, a formation normally seen only in high school. Someone had to guard him; in effect, this meant 10 Denver players attacking 10 Pittsburgh defenders, which made the crowded end zone area slightly less dense with defenders. Play fake -- Denver tight end Tony Scheffler pretended to block, then did a dancer's "turn out" and caught a sweet touchdown pass.
Sweet Defensive Play of the Week: Baltimore trailed Buffalo 19-7 in the fourth quarter but had just intercepted a pass at the Buffalo 14-yard line. Brian Billick called the Dillon Panthers' "gunslinger" play -- the quarterback hands off on a sweep, pauses an instant, then sprints up the opposite sideline as a receiver. This play is used often in high school, sometimes in college, but rarely in the pros. Bills defensive end Aaron Schobel saw Kyle Boller sprinting up the field, sensed trouble and dropped back to cover the quarterback, knocking the pass down at the goal line. Schobel even knew something many NFL defensive backs appear not to know -- that a rule change a few years ago made face-guarding legal. His back to the passer -- Baltimore wide receiver Mark Clayton -- Schobel raised both hands to block Boller's view of the ball.
Sour Defensive Play of the Week: Game scoreless, Dallas had the ball on the Minnesota 5-yard line. Terrell Owens did a simple down-and-in into the end zone -- and no Viking reacted to him. Highly paid defensive backs Antoine Winfield and Darren Sharper simply stood there like topiary, covering no one, watching Owens catch a touchdown pass. Hmm, wonder why Minnesota is last in the league in passing defense?
Sour Read of the Week: Trailing 21-7 with 35 seconds remaining in the first half and the ball at the Denver 31, Ben Roethlisberger had one-thousand one, one-thousand two, one-thousand three, one-thousand four, one-thousand five, one-thousand six, one-thousand seven, one-thousand eight, one-thousand nine -- as much time as you'll ever see a NFL quarterback have to choose a receiver. What did he do? He threw to Santonio Holmes, who was triple-covered -- incompletion. Roethlisberger failed to see Willie Parker, who was covered by no one at the Broncos' 15 and likely would have scored. The Steelers missed the half-ending field goal, then went on to lose by three.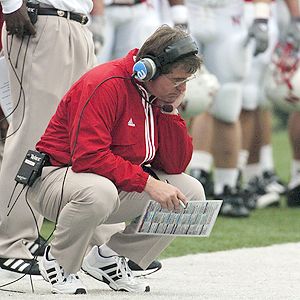 AP Photo/Dave Weaver
He'd be more successful if Nebraska did not require football players to pass a literacy test, unlike other D-I schools.
Nebraska's Real Problem -- Football Players in Class:
Nebraska athletic director Steve Pederson was fired last week because the football team is sputtering. Rarely has a man slept in a bed he so clearly made! As
Elizabeth Merrill reminded us
, not long after being hired as Nebraska AD in 2002, Pederson fired football coach Frank Solich, who was 58-19 lifetime with the Cornhuskers and 9-3 in the year he was fired. Solich was fired
the night after a victory
because Pederson judged the nine-point winning margin too small. Pederson dismissed Solich not because of on-field performance but because Pederson wanted to announce he was in charge and all must bow low before him. Since then, Nebraska fans have been dreaming of the days of Solich, and Pederson, one presumes, is now on his way to a profession for which he is qualified, such as night shift manager of a Dairy Queen in North Platte.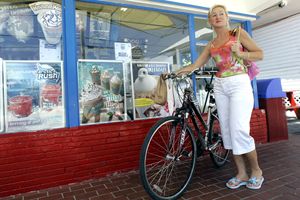 AP Photo/Wilfredo Lee
Steve Pederson will take over and immediately fire the sundae maker, saying, "I refuse to let the caramel sauce gravitate into mediocrity."
Two perennial power teams are really struggling this year, Nebraska and Notre Dame. What do they have in common? They are two of the small number of high-profile football-factory schools where athletes actually go to class. Using the NCAA's new "graduation success rate" metric, which takes into account transfers who graduate elsewhere, Notre Dame graduates a stellar 95 percent of its football scholarship players, and Nebraska is excellent at 88 percent. USC, which just punched Notre Dame in the nose, has a graduation success rate of 55 percent for football. Missouri and Oklahoma State, which punched out Nebraska in the weeks leading up to Pederson's dismissal, graduate 53 percent and 65 percent of football players, respectively. (
Find NCAA graduation rates here
.) On the campuses of most opponents Notre Dame and Nebraska play, academics are a big joke for football athletes, who do little but party and prepare for games. At Notre Dame and Nebraska, the football players are in the library working on term papers. Irish and Cornhuskers faithful have nothing to feel ashamed about. It's the NCAA that should feel ashamed of its education-optional attitude toward Division I football and men's basketball.
Sweet 'N' Sour Play: With a few seconds remaining in the first half and Arizona at the Washington goal line, the Cactus Wrens' coaches called a trick play -- backup quarterback Tim Rattay went into the game but split as a wide receiver, with receiver Anquan Boldin in the shotgun. Washington quickly signaled timeout; calling timeout in the face of a trick play is a sweet move many football teams fail to make. Later, Rattay came back in at the goal line (Kurt Warner's brace made it difficult for him to hand off, thus the use of Rattay on the goal line), and Arizona scored to pull within 21-19 with 21 seconds remaining. For the deuce, Arizona ran another trick play on which the ball was snapped to Boldin, who ran right and threw a terrible pass, interception. That was sour. Somehow, Washington managed to win this game despite gaining just 160 yards on offense; I guess I'll have to look at the tape.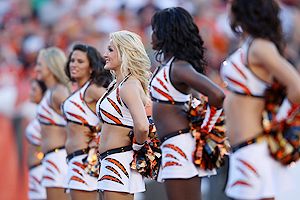 Andy Lyons/Getty Images
Basically, this photo exists to prove that the item supporting the subhead was justified.
Basically, This Headline Exists to Allow the Item: Unseasonably warm weather in much of the country enabled cheerleaders at many NFL games this Sunday to wear their summer outfits. Basically, this item exists to justify the picture that accompanies it.
Best Purist Drive: Leading 31-24 against Jersey/B, Cincinnati took possession with 4:19 remaining. The Bengals rushed on six consecutive downs, then punted the ball back to the Jets with 1:44 showing and Jersey/B having expended its timeouts. Chad Pennington promptly threw a hurry-up pass that was intercepted and returned for a touchdown. The Pennington pass was an out. Three weeks ago, TMQ wrote that Pennington "has no zing on his 'out' routes this season. … If Pennington remains the Jersey/B starter, expect cornerbacks to begin jumping every 'out' he throws." Since then, the icing plays of the Jets-Bengals and Jets-Giants contests have been Pennington out throws intercepted and returned for touchdowns.
Take That Ski Cap Off! When TMQ started in 2000, my first immutable law was Cold Coach = Victory. I'd observed a trend on cold days of NFL coaches wearing ridiculous K2 survival outfits of heavy parkas, hoods and snowmobile gloves. Overdressed coaches on cold days always lost to coaches who sported varsity jackets, I noted. In 2003 or so, ESPN did a photo comparison of cold-day coaches, showing the overdressed coach always lost to the cold coach. With reason! As Bud Grant once said, if you're worried about feeling cold, you've already lost the game. After the photo spread, the ridiculous K2 survival-gear look disappeared from NFL sidelines. In recent seasons, coaches have been keenly aware of not looking sissy in excessive weather gear. Because no one believes me about blitzing and punting, Cold Coach = Victory might be my primary contribution to football. (Actually, blitzing has declined in the NFL in the past three years, so maybe they do believe me -- but that's for another day.)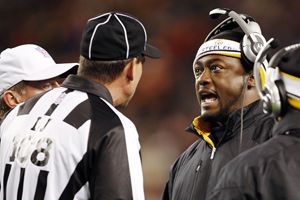 AP Photo/David Zalubowski
The coach is wearing a heavy parka and heavy ski cap. The officials have on shirts and baseball caps. Yet they survived!
Sunday night in Denver, this immutable law came into play. With a kickoff temperature of 37 degrees, Mike The Ultimate Leader Shanahan wore nothing on his head and no gloves, while the Broncos' cheerleaders sported sprayed-on leotards. Mike Tomlin wore a heavy ski cap pulled down over his ears, plus heavy-duty gloves. Cold coach equaled victory for Denver! Steelers' players wore heavy capes and hats on the sidelines, but most Denver players on the sideline wore light capes or none at all. Of course, the fact that Pittsburgh has committed nine turnovers in its past two trips to Denver also might have been a factor in the outcome.
29 Points and Two Turnovers, a Routine Quarter for the Texans: "Don't let them back in!" That's what jubilant KILT Houston radio commentator Andre Ware was crying as the Texans -- who trailed visiting Tennessee 32-7 at the start of the fourth quarter -- reached midfield with a minute remaining, having cut the deficit to 35-29. Reliant Stadium was mostly empty as the Texans staged what almost tied the NFL record for best fourth-quarter comeback. (In 1987, St. Louis came back from a 25-point fourth-quarter deficit to defeat City of Tampa.) Thousands of Houston fans were trying to work their way back from the parking lots into the stadium as KILT broadcast word of the Texans' comeback. When backup quarterback Sage Rosenfels hit Andre Davis with a 53-yard touchdown pass with 57 seconds to play, putting Houston ahead 36-35 -- and Tennessee defenders, why did you seem surprised by a deep pass in that situation? -- the Texans were on the verge of something memorable.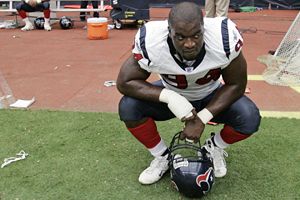 AP Photo/David J. Phillip
"We scored 29 points in the fourth quarter and lost. We must be the Houston Texans."
They were ... but for Tennessee. As the hundreds and hundreds still inside the stadium celebrated the 36-35 lead, TMQ thought, "This game isn't over." Tennessee had 57 seconds and all three timeouts; the Flaming Thumbtacks needed only a field goal. Because the crowd had left, there was no deafening noise as the visitors staged their final drive: Imagine if 71,054 lunatics had been screaming and pounding their feet instead. The Titans quickly reached their own 37 with 44 seconds remaining, and Houston coaches assumed, not unreasonably, that Tennessee would throw down the middle, then call timeout. As the visitors had three timeouts, there was no need to throw to the sidelines. Tennessee coaches outthought the Houston coaches by calling two deep sideline throws, and with two seconds on the clock, Rod Bironas boomed the 29-yard game-winning field goal.
How did the Moo Cows stage their almost-comeback? Not with turnovers, which often key comebacks; in fact, Houston actually surrendered two fourth-quarter turnovers in the course of scoring 29 points. The fourth quarter began with Houston on the Tennessee 7; the Texans scored and, way behind, went for two, making the count 32-15. The Houston defense held, and the Texans staged a 98-yard drive that took only four minutes off the clock; you sensed at that point that the Tennessee defenders already were mentally reading the next day's newspapers. Now it's 32-22. Tennessee went three-and-out, but Houston muffed the punt and the Titans recovered. Tennessee punted back to Houston with 4:30 remaining, and Rosenfels immediately threw an interception. How over can a game possibly be? Tennessee leads 32-22 and has a first down on the Texans' 17 with 4:14 remaining. At 3:49, Tennessee kicked a field goal to take a 35-22 lead, plus had Houston down to one timeout. Houston drove 75 yards -- all passes, as Rosenfels threw 26 times in the fourth quarter -- to score a touchdown that made it 35-29 with 1:47 left, then recovered the onside kick. After the recovery, Houston drove 66 yards in just 35 seconds for the touchdown that put the home team ahead for the moment. Four touchdowns in one quarter despite turning the ball over twice!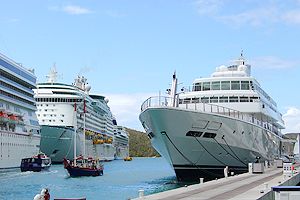 AP Photo/Mat Probasco
Already some mega-yachts won't fit into the harbor at Monaco. How long until a yacht cannot fit through the Suez Canal?
Destroyer-Sized Yacht Too Small for Billionaire's Egos?
The
Fort Lauderdale Boat Show
, world's largest, starts Thursday in Florida. On display will be a couple billion dollars' worth of yachts, luxury yachts and megayachts, seagoing excess being the latest boom industry in a world where far too many are impoverished yet an ever-larger number have more money than they know what to do with. According to Power & Motoryacht magazine, two decades ago, Americans owned five yachts that exceeded about 150 feet (about 46 meters) in length; today, there are at least 100 such megaboats. It's believed that two decades ago, there were at most a few dozen 150-foot-plus yachts worldwide; now, there are believed to be as many as 1,000. As recently as a decade ago, the 100-meter (328-foot) yacht was the status max. Now,
Blohm & Voss
builds a 345-foot megayacht too large to enter Monaco harbor, offers a 417-foot yacht and is said to be working on a 525-foot yacht for Russian plutocrat Roman Abramovich, the same man who is having an entire Airbus A380 converted to his private use. A 525-foot yacht would be longer than an Arleigh Burke-class guided missile destroyer.
Power & Motoryacht says the world's largest private yacht not owned by a Saudi prince is the Rising Sun, owned by Oracle billionaire Larry Ellison, a 452-foot megaboat with a price tag around $200 million. When the Rising Sun is anchored at night, it bathes itself in green light -- just in case you didn't get the money-boasting point! Many of the megayachts are registered in George Town, Cayman Islands, so the superrich owners can evade paying employers' Social Security taxes on the crew. And if your 345-foot megayacht can't enter Monaco harbor, how will you get to Bianca's party? John Tagliabue recently reported in The New York Times that the superrich are adding helicopters to their yachts. English luxury boat builder Edmiston has been showing designs for a 200-foot yacht with a landing pad for a $2 million Eurocopter. Want to buy American? Check out the 50-meter superyacht built by Westport of Seattle, which costs about $30 million to acquire and several million annually to operate. The Westport 164 has six staterooms but only one lifeboat -- maybe when they abandon ship, highest net worth gets the lifeboat.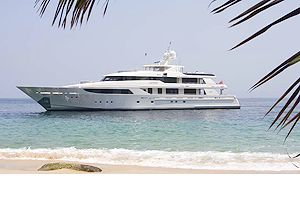 Westport Yachts
The "Buy American" mega-yacht. Note: Henchmen and Ursula Andress optional.
Own a megaboat? Then you should join the
International Superyacht Society
; member benefits include discounted tickets to the annual gala. Want to join the yacht revolution but can afford only millionaire, not billionaire, prices? Just as fractional ownership has come to private jets and vacation villas, so it now comes to seagoing excess. SeaNet is selling fractional shares of large yachts on a turnkey basis -- the key is turned over to you with the boat ready to set sail. For $582,150, you get a quarter share of a 66-foot
Manhattan yacht
. And why not drive to your fractional yacht in a fractional exotic car?
This company
sells time-share rights to Rolls-Royces, Ford GTs (that would be TMQ's choice) and other zoomy supercars that will reduce your odds of Darwinian fitness (see
last week's column
).
Best 97-Yard Drive: Oh, how the Philadelphia Eagles' defense will dread looking at Sunday's game film. When you're ahead 16-12 and have the low-voltage Chicago offense pinned on its own 3 with 1:52 remaining, are playing at home and face a visiting team that is out of timeouts, you should, technically speaking, win. The Philadelphia defense seemed to assume the game was already over, not waking up until Chicago reached the home team's 36 with 31 seconds remaining. Then the Eagles did just what Minnesota had done the previous week -- single-covered Devin Hester. Suddenly, Chicago was on the Philadelphia 15, and not even the charms of the Eagles cheerleaders could appease the football gods.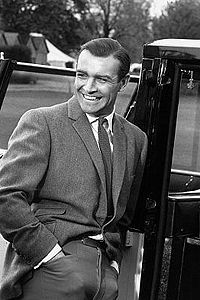 MPTV.net
Sean Connery: He was, once, actually this young.
The Pool of Vicious Sharks in Rupert Murdoch's Office Actually Does Make Sense:
In the Harry Potter books, at the center of the Ministry of Magic stands a stone arch that envelops a shimmering barrier. The barrier is the veil between life and death -- if you pass through, you die. Needless to say, there's a fight scene in front of the arch and someone tumbles through. My question:
Why would you have an archway that kills you if you go through?
The arch in the Ministry of Magic does not appear to serve any function: People on the opposite side can't come back to life. It's just something characters fall through in fight scenes. In one of the James Bond movies, the supervillain has a pool of hungry sharks in his office, and inevitably there's a fight scene on the edge. In the third (that is, sixth) Star Wars movie, the emperor has a bottomless pit in his office leading to a fusion generator, and inevitably there's a fight scene at the edge. If you were a galactic emperor, would you want something in your office that would kill you if you stumbled in? My favorite scene of this nature is the opening sequence of "Goldfinger." Bond destroys a drug baron's headquarters by attaching a detonator to a giant vat of nitroglycerin, said vat helpfully labeled "NITRO GLYCERIN." Where is the giant vat? In the drug baron's bedroom. If you were a criminal mastermind, wouldn't you want a large supply of deadly explosives in your bedroom?
Anesthesia Update: In the preseason, I did a column on NFL players' use of injected anesthesia on game day, an issue that needs the light of day. One of the basic questions is whether injected anesthesia is common or rare. A couple of weeks after my column ran, guard Pete Kendall -- in the process of being traded from the Jets to the Redskins -- told Rich Cimini of the New York Daily News that he took game-day anesthesia injections every Sunday in 2004, when he started 15 games. Also after the column ran, I received a call from Dr. Andrew Tucker, team doctor for the Baltimore Ravens and head of the NFL Physicians Society. Here's what he had to say.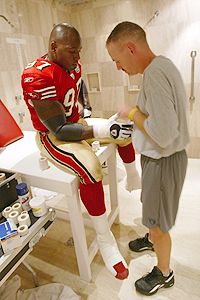 Michael Zagaris/Getty Images
NFL trainers apply a lot of athletic tape. How often do they inject drugs?
First, Tucker reports that, as the Ravens' team doctor, he gives "two to five" game-day injections of anesthesia per season. He says he is willing to inject anesthesia on game day to numb a hip pointer, a badly bruised rib or the acromioclavicular joint, which inflames in a shoulder separation. These conditions, Tucker said, are painful but not especially serious, making them candidates for game-day injection. "We usually start considering whether a player will get shots early in the week, so the decision is not made with game-day emotion," Tucker said. He said he will not inject game-day painkiller into ankles or knees -- "I could not feel comfortable with that" because of the risk of causing long-term degeneration. Tucker said he thinks, but does not know for certain, that most NFL team doctors will not inject anesthesia into joints. Tucker says that at times he has offered game-day anesthesia shots to players who declined, and that at times players have asked him for game-day anesthesia injections he would not give because players wanted their knees numbed. Tucker said that he has heard from old-imers in medicine that game-day injections to the knee happened often in the Dick Butkus era but that he thinks team doctors began to back off from that practice when they realized the degenerative joint conditions retired players were suffering. If Tucker is right and anesthesia shots to the knee were once common in the NFL, this might explain why so many retired players in their 50s walk with canes.
Intriguingly, Tucker said he believes every NFL team keeps a record of anything injected into a player: "Record keeping conforms to medical best practices, so a well-run team would keep both physician's dictation and head trainer's notes of any injected substance, whether it's cortisone or painkiller or anything else." There is no requirement that such information be reported to the league. But there could be -- after all, the league requires elaborate reporting of the medical status of players on the night before games. If the league required reporting of game-day injections, we'd know how often anesthesia is used and whether any teams are abusing the needle. Such information also could allow long-term medical studies to determine whether there is a clear link between injected anesthesia and early-onset arthritis and other problems reported by retired players. How about it, Roger Goodell? Require teams to report to the league how many game-day injections they give. The sole effects of such a rule would be to make the NFL cleaner and safer.
It's October, So Cast Your Pro Bowl Votes While Christmas Shopping: TMQ complains annually that Pro Bowl voting opens too soon -- thus making the vote a popularity contest, not an attempt to judge who's good -- and closes too soon, before the regular season concludes. Reader Matt Loughman of Zanesville, Ohio, points out that last week the NFL opened Pro Bowl voting after just six games had been played and many teams had played only five games! On Sunday, the NFL ran television ads urging viewers to cast Pro Bowl votes via cell phone. How can anyone have the slightest idea who belongs in the Pro Bowl with barely a third of the season in the books?
'Tis Better to Have Rushed and Lost Than Never to Have Rushed At All: Trailing Buffalo 19-14, Baltimore had third-and-1 near midfield with 1:50 remaining. The Ravens went incompletion, incompletion, and the rest was formality. The passes were not play-fake attempts for a long gain but rather were both dinky-dunky short throws into the flat. For the game, Baltimore rushed for an average gain of 5.3 yards per attempt; the Bills entered the game ranked 25th against the rush. Had the Ravens simply run up the middle on either snap, a first down was likely.
Endgame note: With 8 seconds remaining, Buffalo boomed a punt that was bobbled by Ravens return man Yamon Figurs, who recovered it as the clock expired. Why did the Bills boom down the middle to Figurs, who already has run one back for a touchdown this season, rather than punt out of bounds? A punt out of bounds would have taken five or six seconds off the clock, leaving Baltimore in its own territory with time for only one desperation Hail Mary. A 50-yard-plus Hail Mary on the game's final snap happens perhaps once a decade, but a punt-return touchdown happens, in the NFL, once a week on average. Why did Buffalo give Baltimore a last chance for a punt return out and victory rather than punt out of bounds and make Baltimore victory nearly impossible?
Maybe It's Because to the NFL, Cheating Is Something to Be Covered Up But Violence Is Something to Be Promoted: Numerous readers -- including Brian Kane of Philadelphia -- have written to note that during Sunday afternoon NFL broadcasts, Fox and CBS, especially CBS, are airing graphic promotions for grisly late-night crime shows. On Sunday during NFL games, Fox aired two sets of in-house promotions for shows bearing the warning "Viewer Discretion Advised." ("Viewer discretion" in this sense meaning "If you have half a brain, don't watch.") One, for "Prison Break," showed a sadistic man holding a gun to a helpless man's head. Over on CBS, an in-house ad for a crime series showed a man falling off a building to his death. Repeatedly run ads for "CSI: New York" showed three graphic close-ups of people who had been shot to death through the head. Set aside why it is that CBS considers graphic depiction of murder to be "entertainment." The NFL has contractual influence regarding many aspects of the way its games are presented by partner networks. If the NFL can insist on Fox, CBS, NBC and ESPN promotion for NFL Network -- on Saturday, CBS even inserted an NFLN in-studio live promotional segment into its college football coverage -- why can't the NFL insist on no gory advertising on Sunday afternoons when children are watching games?
Best and Worst Crowd Reactions: Good: After New England had gone touchdown, touchdown, touchdown, touchdown, touchdown, the Dolphins' defense finally forced a punt: the home crowd cheered wildly as the Patriots' punter trotted out. Bad: With Washington leading Arizona 14-0, young starter Jason Campbell threw an interception, and the home crowd booed lustily. In the fourth quarter, Washington leading 21-13, Campbell threw a checkdown underneath to his fullback on third-and-long, and as the Redskins' punting team came in, the home crowd again loudly booed. Intelligent: With Buffalo leading Baltimore 9-0, the Bills made first-and-10 on their 37 with 29 seconds remaining in the first half and holding all three timeouts. The crowd booed as Dick Jauron didn't use a timeout, simply having his charges trot to the locker room. Jauron seemed to think a nine-point lead is safe; the crowd knew better.
Best Blocks: On Cecil Sapp's 1-yard touchdown run against Pittsburgh, Denver guard Montrae Holland pancaked Steelers' star lineman Casey Hampton at the point of attack, first throwing him to the ground, then jumping on top of him. With Denver leading 21-14 in the third quarter and facing third-and-14, Holland threw a perfect screen block on Pittsburgh defensive end Travis Kirschke, springing the runner for the first down; Denver scored a touchdown on the drive.
Points That Got Cut from My Lead: So far, New England has played unimpressive opponents -- the Patriots' foes are a combined 17-28, and only Dallas has a winning record. But as many readers -- including Sara Beth Melka of Portland, Ore. -- have pointed out, good teams create some of the L's their opponents suffer, and as only 15 of 32 NFL squads have winning records, a good team is likely to face off against numerous losers. So how do the other top teams of the moment compare? Indianapolis is 6-0; its opponents are 20-18; and the Colts have posted three wins over winning opponents, Jacksonville, Tampa and Tennessee. Dallas is 6-1. Its opponents are 19-28, and the Cowboys have posted only one win over another winning team, Jersey/A.
Here are leftover amazing New England stats. New England is scoring at more than twice the points-per-game (40) of New Orleans (17), last year's highest-scoring team. Tom Brady is on a pace to throw 62 touchdown passes; the NFL record is 49. New England is plus-159 points and 4-0 on the road; the rest of the AFC East is minus-179 points and 0-10 on the road.
Bill Belichick Was Behind This Somehow: TMQ rarely glances at the spread: I am anti-gambling, and margin of victory is irrelevant in the NFL except to gamblers. (Margin of victory does matter in college, which is a continuing annoyance.) But even as someone who doesn't care about the spread, I found it amazing that, at midweek, New England was favored by only 15 points over Miami, rising to only 16.5 points before kickoff. The Patriots went into the game winning by an average of 23 points, and the Dolphins went in as an oh-fer team. Bookies put the line at the number sufficient to entice an equal amount of wagering on each team, so the book comes out ahead regardless of final score. If bettors were assuming the Dolphins would get clobbered, the line would have needed to be 20 points or more to entice anyone to place money on Miami. That the line peaked at 16.5 means a significant number of bettors were willing to wager that the Dolphins would give the Patriots a closer game than anyone else has so far. Imagine how those gamblers felt when it was New England 49, Miami 28 on the final snap and the Dolphins lined up to attempt a Hail Mary from midfield.
Miami Fails to Read TMQ: Last week, I noted that New England likes to diagram passes that result in the receiver's being directly in front of Tom Brady when the ball is delivered and asked why defenses don't respond by keeping a safety directly in front of Brady. On New England's first touchdown against Miami, Donte' Stallworth ran an intermediate slant and was directly in front of Brady when the ball was delivered, no safety anywhere in sight. I also noted last week, "New England loves to play-fake at the goal line, then throw to the tight end or blocking back. Somehow, this keeps taking opponents by surprise." On their second possession, the Flying Elvii had second-and-goal on the Miami 2. Play-fake, touchdown pass to the extra tight end. Miami looked surprised.
Endowed Coach? Money is flowing into college sports in torrents. Last week, TMQ noted that perennial Ivy League doormat Columbia is doing well in its drive to raise $100 million to become a sports power, and The Wall Street Journal reported that Ohio State will spend $109 million on athletics in this academic year alone. When colleges roll in money, endowed chairs are created. This has caused TMQ to wonder: Are there coaches out there receiving endowed chairs? If you know of any college coaches who hold an endowed chair, send me the specifics to the address at Reader Animadversion. I mean football coaches or coaches in men's or women's major sports -- I don't mean small-college minor sports such as archery that are coached by actual professors in their spare time.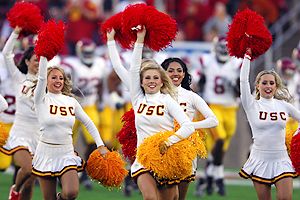 Kirby Lee/Getty Images
Here, $9,500 worth of Song Girls take the field.
We Can't Use 'Endowed Cheerleader?' as the Intro for This Item; No, We'd Never Try to Get Away With That:
As pointed out by Matthew Quirk of The Atlantic Monthly, USC's fabled Song Girls
now seek sponsorships
. A check for $1,900 buys sponsorship of a Song Girl for a year, although apparently you don't get your company name on her varsity sweater or swimsuit top. In fact, it's unclear what you do get. USC hopes to find sponsors who commit to regular annual donations per cheerleader: "A long-term dream would be to endow each of the twelve (12) Song Girl positions." Quirk further says that some colleges are selling sponsorships of specific football positions; that is, endow the weakside linebacker. If you know of examples of this practice, send the specifics -- especially URLs for any pages describing how to endow a position or a cheerleader -- to me using the Reader Animadversion address.
San Francisco Sinking Slowly into the West: You sensed the Forty-Niners' season ending when, behind 26-7, their megabucks offensive line committed holding penalties on consecutive snaps. That megabucks offensive line surrendered six sacks and allowed 14 quarterback hurries -- even holding didn't work. The Giants lead the league in sacks with 27, nearly four per game; the team's recent draft-day investments in hybrid defensive end-linebacker types is paying off in pass rush. Sunday the Giants rushed five on most plays, generally two defensive tackles and three of the hybrid defensive end-linebacker types. Between aging Trent Dilfer and the woeful San Francisco offensive line, five rushers were overwhelming, although Squared Sevens' coaches kept at least six blockers in on passing plays. Who's second in sacks so far? The Seattle Seahawks, quietly atop their division as usual.
Buck-Buck-Brawckkkkkkk: Trailing 9-0 in the first half at Buffalo, Baltimore coach Brian Billick ordered a punt on fourth-and-3 from the Bills' 38, into the end zone for a net of just 18 yards of field position improvement. By the time the Nevermores reached the fourth quarter, a desperate Billick would go for it on fourth-and-10 and fourth-and-11. Had he gone on the favorable odds of fourth-and-3 in Buffalo territory early, the endgame might have been very different.
Obscure College Score of the Week: North Dakota State 27, Minnesota 21. Not only did the Bison become the second Division I-AA team to defeat a Big Ten team on its home turf this season, North Dakota State now possesses the nation's longest Division I winning streak, 11 games. Just five years ago, North Dakota State toiled in Division II, now officially known as the Football-Like Substance Division. Located in Fargo, N.D., North Dakota State is a good option because it admits 87 percent of applicants.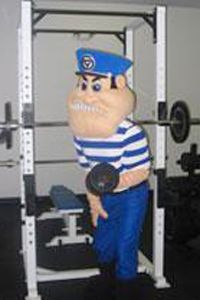 Grand Valley State
The Grand Valley State sports mascot -- some spinach from a can appears called for.
Obscure College Score of the Week No. 2:
Grand Valley State 51, Northwood 20. Grand Valley set the Division II record with its 35th consecutive win. Located in Allendale, Mich., Grand Valley's sports teams are the Lakers, although the school's campus is landlocked. The athletic team symbol appears to be an angry member of the Merchant Marine.
Reader Animadversion : Got a complaint or a deeply held grievance? Write me at TMQ_ESPN@yahoo.com. Include your real name and the name of your hometown, and I might quote you by name unless you instruct me otherwise. Note: Giving your hometown improves your odds of being quoted.
Wednesday: The NFL warns England of a fate worse than death!
Sunday: The Crummy Game of the Year: Cleveland at St. Louis.
Next Week: Tuesday Morning Quarterback offers item sponsorships. Who wants to sponsor Stop Me Before I Blitz Again?
In addition to writing Tuesday Morning Quarterback, Gregg Easterbrook is the author of "The Progress Paradox: How Life Gets Better While People Feel Worse" and other books. He is also a contributing editor for The New Republic, The Atlantic Monthly and The Washington Monthly.