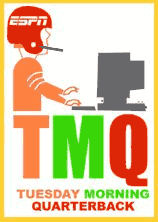 Once, in Silicon Valley, I heard Joe Costello -- a founding light of "electronic design automation" and now CEO of the lowercase think3 -- give a talk about the difference between seeking success and avoiding failure. Studies of crashes during aircraft landings under difficult circumstances, he said, showed that pilots who made bad mistakes when approaching an airfield and crashed, but lived to tell the tale, reported that they had been focused on avoiding obstacles. Pilots who made difficult landings without incident reported they had focused solely on the runway. Business and artistic success, Costello continued, follow the same pattern. Setbacks result from constantly trying to avoid obstacles, worrying about what might go wrong. Achievement results from keeping your eyes glued to the prize and endlessly repeating to yourself, "I can do this." Or, as I once wrote, "Keep your gaze in the distance, and though you will stumble, you will reach your destination."
These thoughts came to mind when Tiki Barber said on NBC's "Football Night in the Known Universe," or whatever its formal name is, that rookie Adrian Peterson of Minnesota keeps his eyes straight ahead, looking only down the field, ignoring tacklers. Watch tailbacks: Most are darting their heads from side to side trying to figure out where problems are. Peterson says he is always looking at the goal line and driving his legs, ignoring tacklers. His runs have this quality: maximum power toward the goal line, pay no attention to the obstacles. The great Walter Payton once said he could never remember the numbers of those who hit or missed him because he was looking down the field and the rest was a blur. (That's a paraphrase.) Peterson seems to have this same success-focused running style, plus he's bigger and faster than Payton was.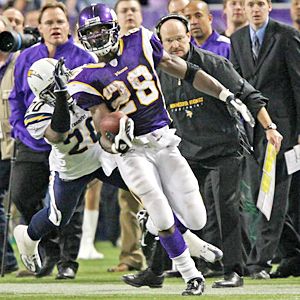 Tom Dahlin/Getty Images
Sign of the times: TMQ just changed the "AP" entry in his AutoCorrect from Advanced Placement to Adrian Peterson.
And yes, Peterson was still on the field with 1:04 remaining and the Vikings ahead by 18 points, setting his 296-yard single-game rushing record on a 3-yard run when Minnesota should have been kneeling. But aren't you glad he got that final carry? When Payton set what was then the single-game record -- 275 yards -- in 1977, he carried the ball on the Bears' final snap, too.
No runner can have a record-breaking day without great blocking, which Peterson got. On his 65-yard touchdown run -- a toss left -- left tackle Bryant McKinnie and left guard Steve Hutchinson opened a huge hole at the point of attack, then wide receiver Robert Ferguson blocked one defender downfield, stayed with the play and blocked a second defender. (Downfield blocking by wide receivers is essential to long rushes.) On Peterson's 46-yard touchdown run -- a toss right -- right tackle Ryan Cook and tight end Jim Kleinsasser opened a huge hole at the point of attack, then Ferguson and slot receiver Aundrae Allison made perfect downfield blocks.
Rookie tailback note: The Bills' Marshawn Lynch, taken five picks after Peterson in the 2007 draft, rushed for 153 yards Sunday and threw a touchdown pass. What does a guy have to do to get some media hype? More, apparently.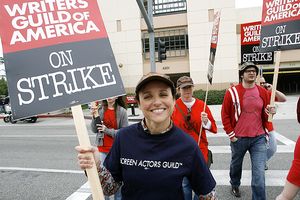 AP Photo/Gus Ruelas
So a priest, a rabbi and a striking Hollywood writer go into this bar ...
In national news, Hollywood's screenwriters are on strike. This means it could be weeks, even months, until we find out what happens when a beautiful lesbian emergency room doctor who suffers from retroactive amnesia falls in love with a CIA agent who is an ultrastraight evangelical unwed single father of cloned test-tube babies. It could be weeks, even months, until we find out what happens when a tough-as-nails space-alien bounty hunter from another dimension meets a charming Los Angeles street kid and tries to romance his aerobics-instructor mom while using the kid's Internet skills to seek a mysterious ancient tesseract that can prevent the universe from compressing itself into a new Big Bang. It could be weeks, even months, until the script for Nicole Kidman's all-singing musical adaptation of "Hedda Gabler" is ready. It could be weeks, even months, …
In other sports news, TMQ maintains there actually is not enough football on television. See more below.
Stat of the Week No. 1: Eighteen players have scored at least one touchdown for New England. Nearly half the league's teams (Atlanta, Baltimore, Buffalo, Carolina, Chicago, Denver, Jersey/B, Kansas City, Oakland, Philadelphia, San Francisco, Seattle, St. Louis, Tennessee and Washington) have not recorded 18 touchdowns.
Stat of the Week No. 2: Randy Moss has scored 12 touchdowns, more than five teams: Atlanta, Baltimore, Kansas City, San Francisco and St. Louis.
Stat of the Week No. 3: Cincinnati has not won in Buffalo since 1985.
Stat of the Week No. 4: Last year's three worst teams -- Oakland, Detroit and Cleveland -- are a combined 13-11.
Stat of the Week No. 5: The past two Sundays, Tom Brady, Peyton Manning and Brett Favre have become the only quarterbacks in NFL history to defeat 31 other teams.
Stat of the Week No. 6: The past two Sundays, Drew Brees is a combined 66-for-88 for 781 yards, seven touchdowns and no interceptions.
Stat of the Week No. 7: Since taking the field for their playoff appearance in January, the Jets are 1-9.
Stat of the Week No. 8: Two divisions, the AFC West and NFC West, have no team with a winning record.
Stat of the Week No. 9: While Minnesota rookie Adrian Peterson outrushed last season's leading rusher -- LaDainian Tomlinson of San Diego -- by 256 yards, Minnesota outrushed San Diego overall by 336 yards.
Stat of the Week No. 10: Stretching back to last season, Pittsburgh is on a 10-3 run.
Cheerleader of the Week (peace offering to Patriots fans edition):
Reader Jim Hickey of Andover, Mass., nominates Jessica of the New England Patriots cheerleaders,
whose swimsuit photo we can link to
but not show for cleavage-based reasons. According to her team bio, Jessica is majoring in cardiovascular technology at
St. Vincent's College
, a specialized health care institution, and her career goal is echocardiography. Imagine the effect of Jessica administering heart tests on any traditional male patients: "You seem healthy, but your heart rate is a little high at 195."
Untouched Touchdown Run of the Decade: San Diego's Antonio Cromartie ran 109 yards on the return of Minnesota's long field goal attempt on the final snap of the first half. Forget that the Vikings seemed unaware that field goal attempts can be run back, even though Devin Hester ran one back for a touchdown under similar circumstances last season. Forget that only six of the 11 Hyperboreans on the field even attempted to jog in the general direction of the returner. Cromartie was never touched by a defender. Thus, on the longest run in NFL history -- indeed, the longest NFL run that will ever occur unless the field is enlarged -- the runner went the distance untouched.
Sweet Play of the Week: With Buffalo trailing Cincinnati 21-19, the Bills reached first-and-goal on the Bengals' 8 in the fourth quarter. Marshawn Lynch had rushed on six consecutive snaps, and the Cincinnati defense was fixated on him. Lynch took a pitch right, accompanied by pulling tackle Langston Walker, and flipped a touchdown pass to tight end Robert Royal. With the score now Buffalo 25, Cincinnati 21, the Bills did not go for two, even though those infuriating coaches' cards say a six-point lead is much better than a five-point lead. Why not try a deuce? The singleton PAT raised the score to 26-21, meaning that if Cincinnati came back with a touchdown for a 28-26 lead, Buffalo could win with a field goal.
Sweet Series of the Week: Atlanta and San Francisco tied at 7, the Falcons reached first-and-10 on the Squared Sevens' 19. Atlanta rushed on five consecutive snaps, scoring the touchdown, and went on to win. The football gods smile on this sort of thing! Note: San Francisco and St. Louis combined have scored fewer points than Cleveland.
Sour Play of the Week: On the play that put Green Bay ahead to stay in the fourth quarter at Kansas City, Greg Jennings was covered on the deep skinny post by Donnie Edwards, a middle linebacker: 60-yard touchdown. The middle linebacker had Jennings deep, even though Kansas City knew that, six days before, Jennings won the Packers-Broncos game with a long touchdown reception in overtime.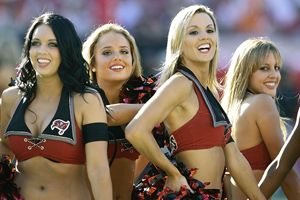 AP Photo/Chris O'Meara
Cheerleader professionalism on one side, the Arizona Cardinals on the other side -- the Cards at Bucs game was an easy call for the football gods.
Doubly Sour Play of the Week:
Arizona at City of Tampa, scoreless, the Cactus Wrens were on their own 20. Larry Fitzgerald ran a stop-and-go left, and Bucs cornerback Ronde Barber came to a complete halt, letting the receiver roar by. That was sour. Kurt Warner hit Fitzgerald in stride running up the sideline for what seemed likely to be an 80-yard touchdown. But instead of focusing his eyes ahead on his goal, Fitzgerald looked around to see where Barber was and stepped out of bounds, entirely on his own. That was doubly sour. Arizona settled for a field goal on the possession.
Untouched Touchdown Run of the Week: Carolina-Tennessee, scoreless, the Flaming Thumbtacks were facing third-and-goal from the Panthers' 3. Vince Young dropped back, scanned the field, saw the middle open and simply walked in for the touchdown. Note: Tennessee recorded seven sacks in the game, and Carolina has a total of seven sacks on the season. Didn't we used to hear that Julius Peppers was the new Fred Dean?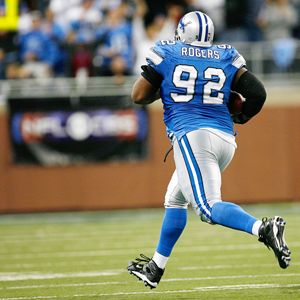 Kevin C. Cox/Getty Images
During his 11-second touchdown run, no one from Denver caught him.
Awesome Detroit Lions Roll Toward Playoffs:
(Note: New running item that might not last long.) Sign of the times: I just changed the "JK" entry in my AutoCorrect from "John Kerry" to "Jon Kitna." The Lions are 12th in offense and 28th in defense, yet somehow 6-2; the football gods promise an investigation. Detroit switched to eight- or even nine-man fronts, daring Patrick Ramsey to throw. And unfortunately for Denver, he accepted. Note that once the score was 37-0 in the fourth quarter, Kitna and most of Detroit's other starters sat down. And if you haven't seen the highlight clip of 340-pound Detroit defensive tackle Shaun Rogers running 66 yards for a touchdown with an interception, you must. Perhaps "running" is not the correct verb. Rather, let's call it "moving" 66 yards. Anyway, go to the happy-talk NFL.com (see below) and watch it under Game Clips. Note that one of the league's heaviest, slowest linemen went 66 yards for a touchdown -- according to the game book, the play took 11 seconds -- and most Broncos did not bother trying to catch him.
Denver is barreling down the tracks toward a switch in the wrong position, likely to become the train-wreck team of the 2007 season. By Thanksgiving 2006, the Broncos were 7-4, had a highly ranked defense and held the inside track to win their division. Then Mike "The Ultimate Leader" Shanahan showed the door to quarterback Jake Plummer and began making wholesale changes on his defense, including firing his defensive coordinator. Since that moment, the Broncos are 5-8; their rushing defense is now the league's second-worst; and they just got punched in the nose by Detroit, last season's second-worst club.
Monday Night -- You're Surrounded: Will Dec. 9 -- Pittsburgh at New England -- be Super Bowl XLII.LXXV? The Steelers just blew Baltimore off the field. Not only did they win big, they held the Ravens to five first downs! Sure, the weather was bad. And sure, the homecoming-game atmosphere -- was there a dance afterward? -- was a factor. But it takes great defense to hold any team -- even the low-voltage Ravens -- to five first downs. Here are the Baltimore offensive possession results: fumble, punt, fumble, punt, punt, interception, touchdown, end of first half, punt, punt, punt, punt, punt, punt, punt. Pittsburgh has a great defense and a good offense. Unless the Chargers snap out of it, the Steelers are the only team besides the Colts that can threaten the Patriots. Circle Dec. 9 on your calendar now.
As for the Ravens, they were 13-3 before trotting onto their home field for a January playoff game after a restful bye week. They're 4-5 since. Last year's successful if predictable formula for Baltimore was power defense and clock-control rushing; this year's unsuccessful formula is pass-wacky futility. In the first half Monday night, the Ravens' coaches called 16 passes (attempts plus sacks) versus nine rushes; the 16 called passes netted 16 yards, the nine rushes 53 yards. You don't need to consult Ernie Adams in his off-limits office next to Bill Belichick's to determine the flaw in Baltimore's strategy that those numbers reveal. Steve McNair has a 75.8 quarterback rating, Kyle Boller a 75.6 rating; both are barely better than Miami's Cleo Lemon statistically, yet the Ravens' coaches keep calling passes. Brian Billick is in his ninth year running the Ravens and he's still commonly referred to as an "offensive guru," even though his team is in its ninth straight year of poor offense. If Denver is already this season's NFL train-wreck team, Baltimore appears to be barreling down a siding toward a washed-out bridge.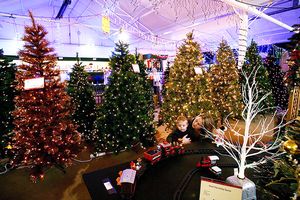 AP Photo/Owen Humphreys/PA Wire
Hark the cash register, angels sing ...
Oh, You Must Believe That On Guy Fawkes Day, Santa Won't Pass You By:
Reader Ronald Menna Jr. of Chicago reports that WCKG in Chicago went all-Christmas-music on Nov. 2, more than seven weeks before Santa comes down the chimney. Reader Tim Felice reports that XM Radio kicked off an all-Christmas channel the same day. "Nothing like Mariah Carey singing Silent Night on November 2nd," he writes. Sean Sutton of Ypsilanti, Mich., says that WNIC-FM in Detroit also went all-Christmas on Nov. 2.
Here is the station's festive Web site
. Ben Wiggins of Titusville, Fla., writes, "On November 1st, I walked into my local Wal-Mart and in the front entrance they had a fully decorated Christmas tree on display." Erik Hendrickson of La Mesa, Calif., gets credit for catching the first Christmas commercial on television, an ad for the Garmin GPS gizmo -- replete with snow, caroling and sleigh bells -- which he saw just before Halloween. Paige Kantor, of Great Neck on Long Island, gets credit for spotting the second Christmas commercial on television, for Dell during Sunday's NFL games. As noted by many readers, including Wendy DeSales of Chestnut Hill, Mass., the first Christmas movie of the season, "Fred Claus," opens Nov. 9. This means there's a good chance the first Christmas movie of the season will
close before Thanksgiving.
Finally, Jen Trewitt of Villa Park, Ill., reports that when she was driving to work on the morning of Nov. 2, she heard DJs on WLIT saying listeners were complaining that the station hadn't switched to a Christmas format yet. Driving home that evening, Jen hit the button for WLIT and heard caroling. She haikuizes:
Listeners complain:
Why no Christmas music yet?
Welcome, November.
Sour Play of the Week No. 2: With Buffalo leading 26-21 with just under three minutes to play, the Bengals appeared to stack up Marshawn Lynch in the backfield for a loss. As Lynch tried to spin away, all but three Cincinnati defenders simply stopped and put their hands on their hips, assuming the down was over. Endlessly I bellow at my middle school football kids, "Never stop moving on defense!" Eight of 11 Cincinnati defenders stopped moving as Lynch freed himself and ran 56 yards down the sideline for the game-icing touchdown. It's pretty fun to run 56 yards for a game-icing touchdown when the opposition isn't even trying to catch you.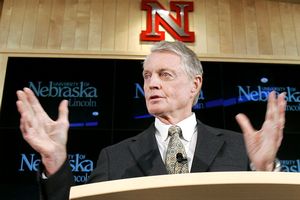 AP Photo/Nati Harnik
Tom Osborne, who became interim athletic director at Nebraska after Steve Pederson was fired, will stay on as the AD until June 30, 2010.
Nebraska Wins!
Two weeks ago, I proposed that one reason Nebraska and Notre Dame are struggling this season is that their football players actually attend class, unlike the football players at most of the schools' opponents. Lindsey Luebchow of the New America Foundation
drills deeper into the graduation stats for Division I-A football
. Citing the NCAA "graduation success rate" calculation -- which gives schools credit for transfer graduations -- she finds, "Nebraska would have creamed its last four Big 12 opponents if the games had been decided on graduation rates: Nebraska (83 GSR) over Missouri (60 GSR), Oklahoma State (64 GSR), Texas A&M (62 GSR), and Texas (42 GSR). Nebraska wins by an average of 26 GSR points per game!" Add Kansas (51 GSR), and Nebraska's average winning margin increases to 27 GSR points per game. Notre Dame, she notes, has an average GSR victory margin of 26 points per game over the rest of Division I-A football.
A Cosmic Thought: Recently, astronomers at the University of Montreal found a binary star system in which a star 84 times the mass of our sun orbits a star that is 114 solar masses. This binary set, about 20,000 light-years away in a dense stellar cluster called NGC 3603 -- in this view the giant sun is labeled A1 -- are the largest stars ever observed. Theory holds that extremely heavy, blindingly bright, fast-burning stars resembling the pair in NGC 3603 dominated the early universe; later, midsized, stable stars such as our sun began to appear. Now here's the haunting thing about the two huge balls of power located by the Montreal researchers: They are in our galaxy, not in distant space like previously discovered stellar giants. This means the monster stars of NGC 3603 formed recently in cosmic terms.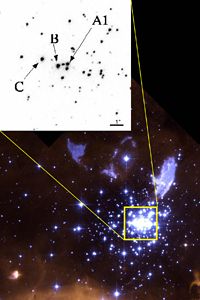 University of Montreal
The largest stars ever discovered. And in cosmic terms, they are nearby and new.
The previous very large stars glimpsed by astronomers are billions of light-years away; thus, they existed and burned out long ago, their light taking eons to reach Earth. The relatively nearby giant stars of NGC 3603 cannot be leftovers from the primordial mists, or they long ago would have consumed their mass and exploded. The universe appears to be at least 14 billion years old, yet stars are
still forming
-- including the class of extremely huge, high-powered stars that filled the sky when the firmament knew morning. Compared to us the cosmos is inexpressibly old; compared to itself, the universe glistens with dew. Creation might continue for hundreds of billions of years -- or forever.
Evil Defeats Good: Good met evil at the RCA Dome on Sunday, and Indianapolis' blown late lead seems to prove the maxim, "All that is necessary for evil to triumph is for good men to do nothing." The Indianapolis offense did nothing in the fourth quarter at home -- in the game's final 10 minutes, New England gained 135 yards and scored 14 points and the Colts gained 26 yards and scored no points. Had Indianapolis accomplished as little as picking up a few first downs on its possession after the Patriots' score to pull within 20-17, the outcome likely would have been different. But the good men of the Indianapolis offense did nothing.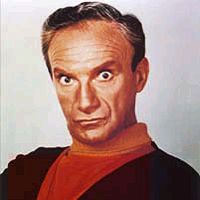 Did Belichick arrange for Dr. Smith to be aboard the Jupiter 2?
Though, as noted by reader James Collins of Arlington, Va., in the classic good-versus-evil story line, evil at first triumphs and appears to rout good, only to have good reassert itself in the final reel. Thus, Collins supposes, "Of course the Pats had to win this game, so that they can be defeated in the rematch." And OK, I admit the good-versus-evil narrative is a tab overblown at this point. Bill Belichick isn't Asmodeus. He's more like Dr. Smith in "Lost in Space" -- probably Belichick is an agent of Aeolus 14 Umbra. Anway what about that pencil in Belichick's ear? As he holds no clipboard to write on, Belichick does not seem to need a pencil. You don't think it's
really
a pencil! That's what Belichick wants you to think.
Indianapolis strategy: The Colts ran early, hoping to wear New England down. On most passing plays, Peyton Manning was in the shotgun spread; on most rushing plays, under center. This cue seemed so obvious and basic that I assumed the Colts had in store lots of passing plays with Manning under center. Instead, through most of the contest, whether Manning was in the shotgun or under center told you what the action would be. Umm … don't expect New England to miss this kind of thing. Indianapolis rushed for 84 yards in the first half, just 35 yards in the second half, in part because at halftime the Patriots adjusted to the Manning cue.
The Indianapolis defensive front performed well through the first three quarters, sacking Tom Brady twice and hitting him on three other occasions. Like Manning, Brady is accustomed to standing in the pocket untroubled; hit five times, he became antsy and threw two interceptions. But in the fourth quarter, Indianapolis pass pressure disappeared and Brady reverted to his male model-esque self, casually throwing perfect pass after perfect pass. The Colts never jammed New England wide receivers, lining up soft to prevent long gains. This worked when there was pass pressure and backfired when there was not. With Indianapolis leading 20-10 and 8 minutes remaining, New England faced third-and-goal on the home team 3. Brady threw a touchdown pass to Wes Welker on the quick square-out; no one jammed Welker at the goal line! With New England leading 24-17 with 2:13 remaining and facing third-and-6, Brady threw the game-icing first-down pass to Welker on the quick square-out; no one jammed Welker even though all New England needed was a short gain to ice the game!
For the Patriots' part, you saw that steely-eyed determination when, trailing 20-10 in the fourth quarter on the road at the house of the defending champion, New England looked more pumped and resolute than Indianapolis did. As the fourth quarter began, New England coaches started calling blitzes, shaking Manning up, sacking him to end one possession and causing the late-game turnover that was the deciding play. The normally flawless Indianapolis offensive line did not handle New England's late blitzing, seeming to expect backed-off tactics.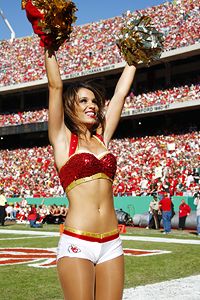 G. Newman Lowrance/Getty Images
Cheerleader professionalism on one side, Brett Favre on the other side -- the Green Bay at Kansas City game was a tough call for the football gods.
Of course, Marvin Harrison did not play. If Harrison had played and Randy Moss had not, and Indianapolis had won by four points, New England wouldn't be worried today. Indianapolis probably isn't worried today -- except about drops. With the Colts leading 13-7 in the third, facing third-and-2, Manning play-faked and threw deep to Reggie Wayne, who dropped what would have been a 65-yard touchdown pass; Indianapolis punted. The Colts leading 20-10 in the fourth quarter, Indianapolis safety Antoine Bethea dropped an interception; the next snap was the 55-yard completion to Moss. With the Colts trailing 24-20 at midfield with 2:38 remaining and two timeouts, Bryan Fletcher dropped a first-down pass at the New England 40; the next play was the game-deciding turnover.
Stats note: New England kicker Stephen Gostkowski has 46 PAT kicks, just one less than Pro Bowl placekicker Robbie Gould of Chicago recorded in the entire 2006 season.
Put More Football on Television! In the past month, there have been an average of 18 college football games shown on Saturdays on free television in the Washington, D.C., area; a total average of 26 games shown on Saturdays for those who, like me, get Comcast digital with the sports tier. Needless to say, I have not watched an average of 26 games on Saturday, although my wife might think I have. Yet throughout the 2007 college football season, as in 2006, there have been hardly any Tuesday night or Wednesday night games.
Put more football on television! Show it on Tuesday and Wednesday nights, when viewers can actually watch. As recently as 2005, the MAC, Mountain West and Conference USA played weekly Tuesday and Wednesday night games. This helped their recruiting -- "come to Utah and your friends can watch most of your games on national television" was a strong pitch. Tuesday and Wednesday night games were fan-friendly; people like me could pay attention to one or two games airing on Wednesday night in a way we could never make heads or tails of 26 games on Saturday. Three years ago, when Pittsburgh drafted Ben Roethlisberger, my son Spenser said, "This guy is good; the Steelers will be happy," because Spenser had seen Roethlisberger play for Miami University half a dozen times on Wednesday nights.
Then the second-tier conferences began to shift their games to Saturday, thinking it more prestigious, although actually only becoming lost in the bigger-school action. Some left ESPN and signed with start-up CSTV. The result has been that most Tuesday and Wednesday evenings of 2006 and 2007 have been football-free. That can't be right -- this is America! Tonight and Wednesday night, college football airs on ESPN2. As far as I can tell, this is the sole non-bowl week in which there is a football game on television every night. Savor it. And please, mid-major conferences, come home to Tuesday and Wednesday nights. All will be forgiven.
Television note: On Tuesday nights, NFL Network runs compressed replays of Sunday's best games. Ads for the NFLN replays say the games are broadcast "with enhancements." Enhanced games -- like what, extra players on the field?
Housing Problems Genuine, Sense of Crisis Phony: The sense that tighter credit and falling housing prices create some kind of "crisis" -- George W. Bush and Hillary Clinton have both said that of mortgage economics in recent weeks -- is an example of the modern urge to declare everything an emergency. Two years ago, the real estate market was overheated: Many were borrowing unrealistic amounts against the paper run-up in equity of their homes, and first-time buyers largely were shut out of the housing market. It's healthy when an overheated market cools off --now, first-time home purchases are possible again for young buyers. Those who are complaining they can't sell their homes for what they might have realized in 2004 or 2005 are still likely to come out ahead when they sell, at least if they have held their properties for more than a few years. Last week's New York Times estimated the real estate cooldown will reduce the appraised value of the U.S. housing stock 10 to 20 percent. Even the high end of that estimate would leave U.S. housing worth substantially more, in inflation-adjusted terms, than a decade ago, meaning the typical homeowner who plans to sell is still better off. Speculators who bought at the peak of the run-up in 2004 might lose out. But investing in homes or condos you don't plan to live in because you expect to double your money quickly always has been like expecting a winning lotto number.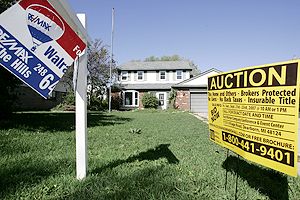 AP Photo/Carlos Osorio
Did you seriously think housing prices would never do anything but go up?
Commentary on the real estate cooldown is rich in nonsense. Editorialists and politicians are saying that declining home prices mean millions of Americans are "losing" money. Those who don't plan to sell in the near future -- that is, the majority of homeowners -- are not affected by changing housing prices, since the paper value of their homes does not affect their wallets. Editorialists and politicians also are saying that people who forfeit mortgages are "losing" the worth of their home. When you buy a home using a mortgage, you don't own the home: The lender is the owner until the loan is satisfied. You can't lose something that does not belong to you! Suppose you buy a $500,000 home, then can't make the payments and must leave. That would be a huge, awful setback for your family. But you have not "lost" $500,000, as commentary suggests -- that $500,000 in value would not have belonged to you until you paid off the loan.
Many of those who bought into the overheated housing market using gimmick instruments such as piggyback loans, in which downpayments were borrowed, put hardly any cash into the purchase -- the home's equity would not have been theirs for years or decades, even if everything went well. In most cases, a person who forfeits a recently purchased home will have paid only a tiny fraction of the appraised value of the property, and thus will suffer relatively small out-of-pocket losses. (The exceptions are speculators who bought on margin and victims of the fraudulent practice known as "equity stripping," but the latter is something done by criminals, not by legitimate mortgage lenders.) Blue-blooded Merrill Lynch is reeling from bad mortgage loans -- it'll need to cut back on caviar in the executive dining room! Pinstriped, made-of-money Citicorp is reeling from bad mortgage loans -- the executives will need to share company-paid private jets to Aruba instead of each taking their own! Some estimates hold that mortgage-loan losses might total $400 billion, almost double the inflation-adjusted cost of the savings and loan losses of the 1980s. But remember, most losses are by lenders, not by individuals who bought homes on credit.
Mortgages based on initially low gimmick loans that are now "resetting" at higher rates are causing genuine grief in the lives of many people. The fact that big-deal credit-rating agencies such as Moody's gave high ratings to bonds backed by subprime or gimmick mortgages reminds us again how much quackery there is at the top of American financial institutions. Former Labor Secretary Robert Reich, whose new book "Supercapitalism" is quite good, explains how the bond-rating agencies essentially operate on commission to investment banking houses, in an arrangement as shady as Enron's deal with its accountants.
What about people who jumped into the hot market from 2002 to 2005 using gimmick loans and might face default? There's no doubt many were snowed by mumbo jumbo from mortgage brokers, and no doubt many never read what they signed. But reading before you sign is, after all, your responsibility -- not a responsibility that should be passed along to fellow taxpayers who did read before they signed. Recent columns and politicians' statements on the mortgage "crisis" have suggested that those who signed gimmick loans, such as interest-only or adjustable-rate loans that are cheap initially but become much more expensive later, really aren't to blame for their own decisions. If you sign something that allows you to live beyond your means for a few years, and seems too good to be true, in what sense are you not responsible for that decision? Last week on a local newscast, I heard a woman who had signed a gimmick loan, and now was in danger of losing her house, say, "The broker told me it was no problem because if interest rates went up, I could just refinance." We would not take seriously someone who said, "The broker told me it was no problem because if interest rates went up, I could find a bar of gold on the sidewalk." If interest rates went up, so would refinancing rates; the way to lock in a low mortgage rate was to buy only what you could afford and sign a conventional fixed loan. People who didn't do that, preferring a promise of something for nothing, are now complaining they should be bailed out.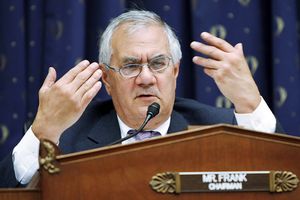 AP Photo/Susan Walsh
As part of his signature rumpled look, Barney Frank pays extra to have his glasses made crooked.
Wherever bailout demands go, bad legislation follows, and last month Rep. Barney Frank of Massachusetts proposed one of the most wrong-headed pieces of legislation in United States history: quite a bar to vault, obviously. TMQ has always admired Frank, from the time of his early congressional campaigns, when his slogan was "Neatness Isn't Everything." (Frank is perennially rumpled.) Plus, Frank is frank; honesty and sense of humor are qualities all big institutions need more of. But his proposed mortgage legislation is incredibly dopey. First, he would make firms that securitize mortgages, meaning package them for sale as bonds, liable if borrowers can't repay. That is -- if you lend me money and I can't pay you back, you are the one at fault. The argument boils down to: Your Honor, this company was wrong to give me money, and therefore it must give me more money. Frank's bill -- an obvious valentine to trial lawyers, who want new openings to sue banks and firms such as Merrill Lynch -- would make it the lender's legal responsibility to determine whether borrowers can repay, not the borrower's responsibility to be honest to the lender. Your Honor, the mortgage company is to blame for not stopping me from lying on my loan application.
The primary reason home sales have slowed so much in 2007 is that lenders have tightened their income-documentation rules and cut back on offers to subprime applicants, that is, to borrowers with poor credit histories. Which is to say, lenders are already doing what Frank says they should have done years ago. They are doing so voluntarily, to avoid losing more money; no coercive legislation would seem required. But what's the result of tighter credit? A "housing crisis," as sales slow and prices fall. You can't say it's bad when credit is loose, causing prices to soar, then also say it is bad when credit is tight, causing the housing industry to slow. Wait -- I guess you can, because Frank and many others in Washington are saying exactly this.
In this new paper, Anthony Downs of the Brookings Institution gives chapter and verse on why the housing price and credit "crises" are mostly hot air. His summary: "The facts hardly indicate a credit crisis. As of mid-2007, data show that prices of existing homes are not collapsing. Despite large declines in new home production and existing home sales, home prices are only slightly falling overall but are still rising in many markets. Default rates are rising on subprime mortgages, but these mortgages -- which offer loans to borrowers with poor credit at higher interest rates -- form a relatively small part of all mortgage originations. About 87 percent of residential mortgages are not subprime loans. Subprime delinquency rates will most likely rise more in 2008 as mortgages are reset to higher levels as interest-only periods end or adjustable rates are driven upward. Unless the U.S. economy dips dramatically, however, the vast majority of subprime mortgages will be paid. And, because there is no basic shortage of money, investors still have a tremendous amount of financial capital they must put to work somewhere. On the immediate problem of mortgage defaults, some aid to the subprime borrowers might be justified, but bailing out the lenders even more than we have up to now would create a moral hazard by merely encouraging them to do it again."
The Football Gods Punish Philadelphia:
With a kickoff temperature of 49 degrees, the Eagles cheerleaders showed great professionalism by wearing two-piece outfits with short-shorts. Yet the home team was pounded. This is hard to fathom -- unless the football gods were making a statement regarding the Andy Reid situation. They surely won't make that statement through NFL.com. Since the league's Web site was redesigned over the summer, its previous just-the-facts news orientation has been dropped in favor of a happy-talk house-organ sensibility. On Thursday afternoon, Reid's home was called a "drug emporium" by a judge. This story was immediately prominent on "SportsCenter," and on ESPN.com, MSNBC and other news sites. There was no mention of the Reid situation on NFL.com until about noon the next day, when the front-page headline read, "EAGLES' REID HAS NO INTENTION OF STEPPING DOWN." No reference to drugs appeared on the NFL.com opening page; you had to click open the story to find that word.
Buck-Buck-Brawckkkkkkk:
TMQ already has done four items this season on timid play calling by Marvin Lewis, including
noting last week
that when it was Pittsburgh 14, Cincinnati 3, and Lewis faced fourth-and-1 on the Steelers' 3, the Cincinnati coach sent in the field goal unit and TMQ wrote the words "game over" in his notebook. On Sunday at Buffalo, with the score tied at 7 and Cincinnati facing fourth-and-inches at midfield, Lewis sent in the punting team, and of course the Trick or Treats went on to lose. If the coach won't take a very small risk to seize some momentum in a collapsing season -- especially considering most fourth-and-1 tries succeed -- why bother to play? And to quote my item from last week, because it was the same again this week: "Attention, Carson Palmer, who has spent considerable time criticizing teammates: You trotted meekly off the field rather than pleading with the coaches to go for it. In a million years, would Brett Favre have trotted meekly off the field in this situation?"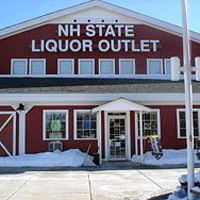 E-Z on! E-Z off! In New Hampshire, state liquor stores have their own highway offramps, to make drinking and driving far more convenient.
Sorry I Was Speeding, Officer -- I Was in a Hurry to Get to the State-Run Liquor Store Conveniently Located Right on the Highway:
Recently, TMQ complained that state-administered lotteries exist mainly to separate the working poor from their cash. Nowhere is this cynicism more obvious than in New Hampshire. There, the state's alcohol and lottery sales agencies maintain
stores along Interstate 95
, the Northeast's largest superhighway. The stores have their own dedicated exit ramps -- it's easy-off, easy-on to buy vodka in the Granite State! For added convenience, the highway alcohol-and-lottery stores are open Sundays. And does that state-employed liquor salesman at the freeway offramp seem eager to push lotto tickets? In New Hampshire, whenever a winning lottery ticket is sold in a state liquor outlet, the clerks of the store
divide 1 percent of the prize
.
The Football Gods Might Not Give You Your Job Back:
Kickoff temperature 47 degrees, the cheerleaders in miniskirts … on the sideline, injured Buffalo rookie quarterback Trent Edwards wore a down vest, a heavy ski cap
and
a hoodie with hood pulled over his head. Trent, we know you're from California, but it was 47 degrees!
Adrian Peterson Held to 296 Yards:
Not only did Adrian Peterson dance through the once-stout San Diego rush defense but Philip Rivers looked really shaky in the fourth quarter. Rivers fumbled three times, losing one. He has four lost fumbles, plus seven intercepted passes. The game was closer than the final score seemed -- Minnesota 21, San Diego 17 with 10 minutes left, a 40-yard Bolts pass was nullified by an illegal formation penalty. The Chargers ended up punting on the possession, and on the next play, Peterson ran 46 yards for a touchdown. But although the game was closer than the final score seemed, Rivers was shaky against a Minnesota defense that is great versus the rush but susceptible to the pass.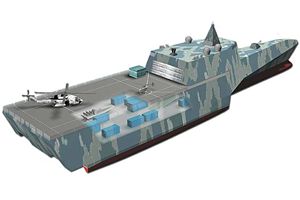 U.S. Navy
The Navy's modernistic new ship, coming soon to the West African coast.
Rely on TMQ for Breaking National-Security News:
Last week, the Navy canceled some contracts involved in the development of the Littoral Combat Ship, a high-speed, shallow-draft, modernistic corvette of which the service hopes to build 55. The Wall Street Journal said, "These ships are a key part of the government's plans for dealing with the potential threats posed by terrorists and others who might try to carry out attacks in shallow harbors." Ha! Although -- like all military hardware -- the Littoral Combat Ship might be used in unanticipated ways, its initial mission is likely to be control of the waters of the Guinea Coast of Africa. There's a strong chance that over the next one to two decades, the Guinea Coast region will replace the Persian Gulf as America's third-leading supplier of petroleum. (Canada and Mexico, not Saudi Arabia, are our first- and second-ranked foreign suppliers of oil; this must be why they get unrestricted access to NFL Sunday Ticket.) Buying the significant amounts of oil believed to exist in the western African nations would make considerable sense for the United States, lessening our involvement with Persian Gulf dictatorships while helping Africa grow and develop. Although whether oil is good for reducing poverty is disputed;
see this Wikipedia entry
on the theory of the "resource curse."
The U.S. Navy, especially, hopes the focus shifts from the Persian Gulf to the Guinea Coast as distant-oil supplier of choice. All petroleum departing the Persian Gulf must pass through the Strait of Hormuz, just 12 miles wide at its narrowest point; in military terms, the Strait of Hormuz is very vulnerable. Oil tankers transiting from the Guinea Coast to the United States would simply sail toward the setting sun and directly into the "blue water," where the U.S. Navy rules. Littoral Combat Ships will guard the Guinea Coast, allowing oil tankers safe passage to the open ocean and protection by the fleet. The Littoral Combat Ship certainly isn't going to fight terrorists aboard dinghies off Staten Island: Presumably, anti-submarine weapons and guided missiles will not be required for that! Why the New York Times, Washington Post and Wall Street Journal haven't reported on the plan for this new class of vessel -- or, for that matter, said much about the coming strategic significance of African oil -- is another question.
Untouched Touchdown Run of the Week No. 2: Jacksonville's Maurice Jones-Drew, surely the slowest player ever to be a kickoff return threat, was never touched as he ran 100 yards for a touchdown.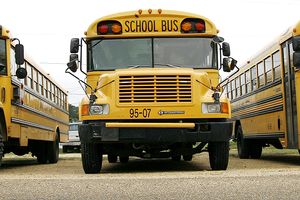 AP Photo/Rogelio V. Solis
Parents fear them, even though kids are far safer in a school bus than in any make or model of car.
Next Stephen King Auto-Written Formulaic Horror Novel -- "The School Bus":
Some parents drive their children to school, rather than let them ride the bus, because school buses do not have seat belts. This is a classic case of perceived versus real risk. National Highway Traffic Safety Administration figures show that school buses are by far the safest form of passenger vehicle -- a child is about eight times safer in a school bus than
riding in a parent's car to school
. That school buses lack seat belts pales before the fact that they get into crashes far less often than other types of vehicles. School buses are huge and bright yellow, and drivers make way for them; the result is that collisions involving school buses are rare.
Parents misperceive the risks of riding school buses because whenever there is a school bus fatality anywhere in the country, it is national news; deaths of schoolchildren in their parents' cars don't make CNN. This kind of media-generated anxiety causes us to fear small risks such as riding school buses or drinking tap water, while shrugging at significant risks such as crossing the street, riding motorcycles or breathing indoor air. The latter is a good example of mixed-up modern risk perception. Research shows that indoor air is almost always less healthful than outdoor air; this is true even during most episodes of summer smog. When local weathermen say, "There's an ozone warning today, stay indoors with your air conditioner cranked up," they are advising you to stay where the air quality is worse. Rising asthma rates might relate to children spending ever more time indoors, breathing lower-quality air, rather than outdoors breathing cleaner air. (All forms of outdoor air pollution have been declining since about 1980, regardless which party holds the White House.) Get your kids out of the house and onto the school bus!
Disclaimer of the Week: Recently, I received a gift certificate from Amazon.com. I first had to accept a 780-word disclaimer that included such verbiage as, "Any dispute relating in any way to Amazon.com gift certificates shall be submitted to confidential arbitration in Boise, Idaho." A 780-word disclaimer for a gift! And note the Boise, Idaho, requirement is there to make it impossible for any Amazon customer who lives anywhere but Boise in engage in "confidential arbitration."
This Fulfills My Obligation to Say Something About the Other Late-Start Games on Sunday: While New England was playing at Indianapolis, Houston played at Oakland and Seattle played at Cleveland. In those games -- umm, things happened.
This Fulfills My Obligation to Say Something About the Washington-Jersey/B Game: In consecutive home games against Bills and Redskins, the Jets scored one offensive touchdown.
Obscure College Scandal: Reader Mike Hay of Ann Arbor, Mich., reports that TMQ's favorite obscure college, Indiana of Pennsylvania, was just sanctioned by the NCAA. The former men's basketball coach used false addresses for recruits, and the former swimming coach forged signatures to arrange a no-show job for a female swimmer. Scandal strikes the town of Indiana, Pa.!
Obscure College Score of the Week No. 1: Susquehanna 8, Worcester Polytechnic Institute 7. Trailing 7-0, Susquehanna snapped with one second remaining, scored its touchdown after the clock expired, then went for the deuce and won. WPI played pretty good defense for the first 59:59! Worcester Polytechnic Institute is located in Worcester, Mass., which is pronounced "Wooster" locally.
Obscure College Score of the Week No. 2: Rhode Island 12, Massachusetts 6 in overtime. As noted by reader Preston Jones of Harrisonburg, Va., UMass scored all its points on safeties. The Minutemen faithful lament: If only we'd gotten four more safeties!
Obscure College Score of the Week No. 3: Walsh 54, Marian of Indiana 28. Well of course an entire team beat one single woman! Located in North Canton, Ohio, Walsh University should not be confused with Walsh College, and Marian of Indiana should not be confused with Marian of Wisconsin.
Bonus College Stat: Nebraska gained 484 yards, and lost by 37 points.
Reader Animadversion: Got a complaint or a deeply held grievance? Write me at TMQ_ESPN@yahoo.com. Include your real name and the name of your hometown, and I might quote you by name unless you instruct me otherwise. Note: Giving your hometown improves your odds of being quoted.
Wednesday: Readers crack back.
Next Week: TMQ accuses the Patriots of violating the Kellogg-Briand Pact and the Schengen Convention.
In addition to writing Tuesday Morning Quarterback, Gregg Easterbrook is the author of "The Progress Paradox: How Life Gets Better While People Feel Worse" and other books. He is also a contributing editor for The New Republic, The Atlantic Monthly and The Washington Monthly.