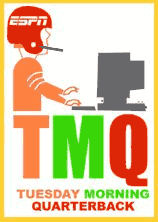 In a few days, hooded figures manipulating mysterious computer formulas will announce the final BCS standings and the lineup for college football's prestigious bowl games. Records, opponents, conference affiliations, polls and, it always seems, the phases of the moons of Saturn will be taken into account. But what if academics were factored in, too? What if there were an A/BCS -- an Academics-Included Bowl Championship Series?
I put that question to Lindsey Luebchow, a policy analyst of the New America Foundation and a contributor to Higher Ed Watch, one of the country's best blogs. Luebchow relentlessly dissects hypocrisy, double-talk and yammer in higher education, especially the big colleges' relationships to Congress. She is also a sports nut, and annually computes what the men's basketball Sweet 16 would look like based on educational achievement. So I asked her to do the same for the top 25 BCS teams.
Appropriately, Luebchow came up with a ratings procedure that's hard to understand -- just like the real BCS! Her reasoning: "The A/BCS formula starts with the football team's four-class average federal graduation rate, which includes all football players who entered college between 1997 and 2000 and graduated within six years. Football programs then earn or lose points based on three criteria. First, the gap between the graduation rate of the team and the overall school. Second, the gap between the black-white graduation rate disparity on the team and at the overall school. Third, the team's Academic Progress Rate, a measure developed by the NCAA that evaluates how many student-athletes are advancing toward a degree."
Without further ado, here are the big-bowl pairings if academics mattered, with the A/BCS ranking following the school name:
Allstate BCS Championship Game:
Boston College (127.80) vs. Cincinnati (97.25)
Rose Bowl Presented by Citi:
Auburn (73.15) vs. Boise State (68.90)
FedEx Orange Bowl:
Virginia (60.45) vs. Virginia Tech (60.15)
Tostitos Fiesta Bowl:

Clemson (59.35) vs. USC (51.65)
Allstate Sugar Bowl:

West Virginia (47.85) vs. Arizona State (46.35)
Exiled to the bottom of the A/BCS and the pre-New-Year's bowls named after lawn equipment and mufflers:
21. LSU (29.95)
22. Ohio State (28.55)
23. Oregon (8.35)
24. Texas (7.85)
25. Hawaii (-2.35)
Note the University of Cincinnati, often derided for low graduation rates in men's basketball, does very well academically with regards to Division I-A football. Note Auburn, subject of a recent scandal regarding some football players passing classes they seem never to have attended, gets the third seed in the A/BCS rankings, quite a respectable academic performance. Note Clemson, long a sports powerhouse, does well in the A/BCS, a reflection of Clemson's advance to serious-school status, and West Virginia does a lot better than most would have guessed. Note Virginia Tech has essentially the same academic-athletic performance as the selective, much-higher-prestige University of Virginia. Then note Ohio State and LSU, which have bounced around No. 1 and No. 2 much of the year, do poorly on athletic academics -- that $57 million in revenue the football program generated for Ohio State in 2006 doesn't seem to have been invested in textbooks or tutors. And perhaps Hawaii's negative ranking on the A/BCS scale means the average football player leaves the school knowing less than when he arrived.
A complete explanation of Luebchow's formula can be found here, along with her ranking for each of the 25 BCS contenders. Her thoughts on the A/BCS, posting simultaneously with TMQ, are here.
The First Annual A/BCS Poll also creates an opportunity to restate an idea proposed by a TMQ reader several years ago: the NFL should only alllow its players to list the highest school from which they actually graduated in media guides and television introductions. Scan the "2007 NFL Record and Fact Book," the league's official guide, and you'll find all but a couple of players have "college" listed after their names. During the player introductions that begin most telecasts, the majority of players speak the name of a college. But in too many cases, they only attended the colleges in question, never completing a degree.
For instance, a significant number of NFL players are, according to team rosters and sportscaster depictions, "from" Ohio State University. Luebchow uses NCAA data to calculate that only roughly 50 percent of recent Ohio State football players to reach the NFL actually walked in a robe to "Pomp and Circumstance." True, the non-graduates on NFL rosters are just saying they attended Ohio State or other colleges, not claiming to possess degrees. Yet having hundreds of NFL players listed as "from" a college where they rarely were in class and did not complete a diploma is deceptive, implying pro football bears a closer link to higher education than it really does. If, in contrast, NFL media guides and official publications listed the highest institution from which a player received a degree, significant numbers of players would be listing high schools. That might embarrass NFL players into finishing their degrees, also perhaps inspiring present NCAA athletes to graduate on time and qualify to list their colleges. It is, after all, the degree the player should be proud of -- not having taken up a dorm bed and worn a funny plastic hat.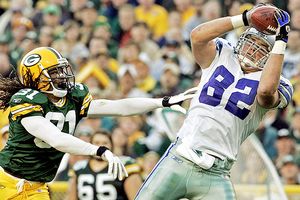 AP Photo/Mike Roemer
Most of America won't see the Cowboys-Packers game -- which is just the way the NFL Network conspiracy wants it.
In other football news, the NFL began putting Thursday and Saturday night late-season games on NFL Network last season. Since then, 280 Park Ave. -- league headquarters -- has been hoping for a monster game only NFLN subscribers would see. Why? So everyone else would ring up their cable carriers and complain about the lack of NFL Network. Finally, the league's wish has come true, as Thursday's monster Dallas-Green Bay pairing is an NFL Network game, meaning it will air in only roughly 35 million households. The NFL is quietly happy most Americans won't see this fantastic pairing, and that represents a reversal of the league's nearly 50-year policy of doing everything possible to put nationally televised games onto every American TV set. But the cable carriers have proved so resistant to the NFL's demands regarding NFL Network that the league has come to the point of hoping for an unseen monster game that might force the issue by causing viewer outrage.
This is walking a fine line -- because if there isn't viewer outrage Thursday, advertisers might start to wonder whether America is really as addicted to the NFL as we all assume. And that's not necessarily a thought the NFL wants in anyone's mind. Meanwhile, although NFL Network is a good product and TMQ hopes a compromise can be worked out to make NFLN a universal channel, it is reassuring, after a fashion, to know the NFL cannot always get its way. The NFL issues a demand, and the world says "no." This is a healthy development.
The problem is that the league is demanding too high a price for NFL Network. The league wants cable customers to pay for NFL Network, a seasonal product, almost twice what CNN charges for 24-hour, 365-day appeal. If the NFL simply cut its asking price, the rest of the pieces with the cable carriers would fall into place. There are egos involved, however. A couple of years ago, Comcast offered about $400 million annually for the slate of Thursday and Saturday late-season games. An owners' faction led by Jerry Jones of Dallas contended the league could make more by keeping the games and marketing them to cable over NFLN. So far, though, NFL Network pulls in only about $250 million in cable payments. Jones and other owners who insisted the NFL would come out ahead by direct-marketing NFL Network don't want to cut the asking price because that would be tantamount to admitting their original negotiating strategy was wrong. As we've learned, prominent people will pile fresh mistake atop fresh mistake to postpone the day when they admit their first mistake. The NFL's insistence on asking too much for its channel is yet another example of how often big business, with zillions of dollars in executive-suite and economic-consultant spending, nevertheless acts as if it's ignorant of basic economics. To increase revenues, cut prices; this raises demand. (A high price suppresses demand.) The modern globalized marketplace is relentlessly efficient at driving down prices, and has relentlessly, efficiently blocked the NFL's attempt to charge too much for NFL Network. As soon as the NFL drops the NFLN asking price to the market-clearing level, the channel will air in all homes. Then the NFL can scramble nervously to make its money on advertising, just like everybody else in the broadcast business.
Monster game note: Green Bay is second in passing and last in rushing. Wonder what the Packers will do on offense?
And in other news, for the shocking truth of the secret Bill Belichick-Tuesday Morning Quarterback connection, see below. For the United Nations-Tuesday Morning Quarterback connection, see below.
Stat of the Week No. 1: Oakland won its first AFC West game since 2004.
Stat of the Week No. 2: The Vikings' defense (21 points) outscored the Giants' offense (17 points).
Stat of the Week No. 3: Since taking its home field for last year's playoffs with a 13-3 record and a bye, Baltimore is 4-8.
Stat of the Week No. 4: Baltimore's next two opponents are New England and Indianapolis.
Stat of the Week No. 5: The Houston Texans have never won three consecutive games.
Stat of the Week No. 6: Carolina and St. Louis are a combined 0-10 at home.
Stat of the Week No. 7: Arizona gained 552 yards -- and lost.
Stat of the Week No. 8: (College bonus stat) Nebraska gained 610 yards -- and lost.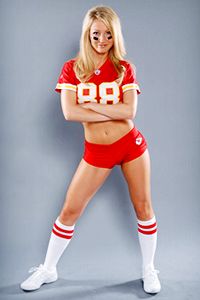 Kansas City Chiefs
According to the actuarial tables, the Chiefs will be a playoff team again during her lifetime.
Stat of the Week No. 9:
New England has as many touchdown passes as Atlanta, Baltimore, Buffalo, Minnesota, San Francisco and Tennessee combined.
Stat of the Week No. 10: Devin Hester has 10 kick return touchdowns in his first season and a half -- not counting a missed field goal returned for a touchdown last season and a touchdown return on the opening kickoff in the Super Bowl. The NFL career record, held by Brian Mitchell, is 13 kick return touchdowns, which Mitchell accomplished over 14 seasons.
Cheerleader of the Week: Reader Dave Butkovich nominates Sarah of the Kansas City Chiefs. According to her team bio, Sarah was Homecoming Queen at Central Missouri State University, graduated with a degree in math and works as an actuary. Perhaps in her professional capacity, she can project what year the Chiefs will return to the playoffs! Here is an actuarial cheer:
Cohort, risk group, life expectancy!
We love charts and graphs --
And numbers especially!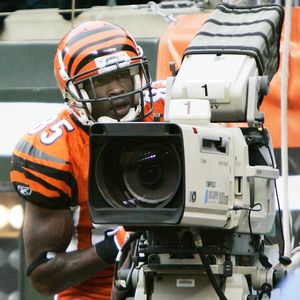 AP Photo/Al Behrman
We will not encourage this kind of behavior by showing it. No, we will not.
Sweet Play of the Week:
Somebody named Devin Hester -- whom NFL special-teams coaches have never heard of, given that they keep booming punts straight down the middle to him rather than punting out of bounds -- ran two kicks back for touchdowns against Denver, including, of course, a punt boomed straight down the middle. But the key play of the Chicago comeback occurred with Denver leading 34-20 in the fourth quarter and punting from the Bears' 46. The punt was blocked and bounced all the way to the Denver 18 before being recovered by Chicago -- touchdown four snaps later. As TMQ endlessly points out, NFL teams rarely go for the punt block, rushing only a few men, because coaches don't want to be blamed for calling an all-out rush, then getting a roughing penalty. TMQ's immutable law: Rush Eight If You Want to Block That Punt. Chicago rushed eight and blocked the punt.
Bears-Broncos note 1: On fourth-and-goal at the Denver 3 with 32 seconds remaining, Rex Grossman pump-faked in as Bernard Berrian faked the popular goal-line fade pattern, then threw out to the pin, touchdown, overtime. Bears-Broncos note 2: Yet another guy you've never heard of, undrafted free agent Andre Hall, had a big day rushing for Denver. How do the Broncos staff their tailback position, by asking for volunteers from the audience? Bears-Broncos note 3: reader Voytek Trela of West Winder, N.J., asks whether the three touchdowns in 27 seconds in the Chicago-Denver game -- touchdown, kickoff return for a touchdown, then long touchdown on the first snap after the second kickoff -- was the fastest three touchdowns ever. Anyone know?
Sour Play of the Week With Cincinnati leading 7-0, Tennessee reached second-and-goal on the Trick or Treats' 3 in second quarter. The Titans are a power-rush team, and the Bengals have a weak defense. So why not power-rush? Instead, five receivers into the pattern and no Tennessee player so much as touches Cincinnati linebacker Dhani Jones on a "green dog." (The linebacker rushes if he sees no one available to block him.) Sack, lost fumble, Cincinnati rout set in motion.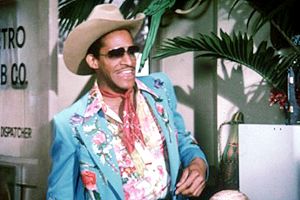 TBD
Actor Antonio Fargas, father of Justin, as Huggy Bear in the 1970s schlock show "Starsky and Hutch." How did he know every single thing happening in Bay City?
Sweet 'N' Sour Play:
When was the last sweet Oakland play? Leading 20-17 over Kansas City, which had beaten them nine straight times, the Raiders faced third-and-11 with 1:54 remaining and the Chiefs out of timeouts. If Kansas City forces a punt, home crowd energy might power a comeback; instead, Justin Fargas runs 21 yards, and the rest was kneel-downs. Sweet for Oakland! Sour for Kansas City, which knew the call would be a rush.
Sour Overtime Decisions of the Week (Caution: May Contain Football-Like Substance): In overtime, Arizona reached second-and-5 on the San Francisco 9, and after some indecision about whether to keep the offense on the field or send in the field goal unit, did the latter. Because of the indecision, the play clock ticked toward zero: Arizona coach Ken Whisenhunt did not call timeout despite having two timeouts available. After the delay-of-game penalty, Arizona missed the kick. But Whisenhunt had timeouts left over to donate to charity! Later in the fifth quarter, the Squared Sevens boomed a punt the Cards ran back to their 15, but Ben Patrick was flagged for what the NFL.com play-by-play mysteriously called "illegal block above the waist." (I can't find that penalty anywhere in the NFL rules; block in the back and hands-to-the-face are fouls, what is "illegal block above the waist"?) The penalty pushed Arizona back to its 3. On first down, Cards coaches called for Kurt Warner to sprint backward into his end zone. As TMQ endlessly asks, why do NFL coaches order quarterbacks to sprint backward into their own end zone? Sack, fumble recovered in the end zone by San Francisco, game over. On the play, Arizona had six blockers for four rushers, yet allowed the sack. Veteran tackle Mike Gandy barely brushed his man, then simply turned around and watched his quarterback get hammered.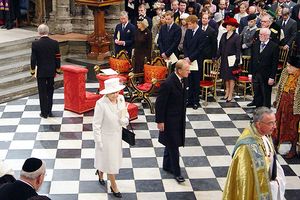 AP Photo/Tim Graham Picture Library
The Queen's anniversary. Her punishment: a poem in her honor.
The Sun Never Sets on Bad Poetry:
Last week was the 60th wedding anniversary of Elizabeth II and Prince Philip; as a nice touch, guests at their celebration included other British couples who wed on the same day, November 20, 1947. But it is a heavy burden to be queen, and the proof: She had to sit and listen as Judi Dench read an excruciating poem written in Elizabeth's honor, "
Diamond Anniversary
." Worse, the poem is by the
United Kingdom's poet laureate
. The very same British poet laureate who wrote, on the occasion of Prince William's 21st birthday: "It's a turning of the page, it's a coming of age." When Prince Charles and Camilla Parker Bowles finally wed, Motion's commemorative poem included a reference to: "The heart which slips and slides like a stream, weighed down by winter wreckage near its source." Hearts "slip and slide?" For that matter, streams "slip and slide?" And in cited usage, "winter wreckage" means he is calling Charles and Camilla old. (In standard poetic metaphor, winter heralds death.) Remember, this guy is not only a full-time professional poet but poet laureate of the United Kingdom! Shakespeare is turning over in his grave; Andrew Marvell has bolted to heaven's pub for a double; and greeting-card writers everywhere are wincing.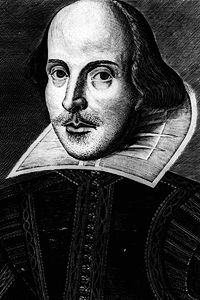 AP Photo
After hearing the commemorative wedding poem, he called his agent to join the writer's strike.
Monday Night -- You're Surrounded: Everyone was relieved at the Condiment Coliseum when the Steelers' last-second field goal attempt went through the uprights Monday night, meaning a 3-0 final and no overtime. Even the Dolphins were probably relieved. Although, had the game entered a fifth quarter tied at zero, it would have made possible the outcome I have always wanted to see -- the one that, as far as I know, has never happened, even in high school -- a final score of 2-0 in overtime.
Sure the Dolphins have injuries at running back, but it was pitiful that after waltzing into practice for the first time in nearly two years, Ricky Williams immediately got the start and even the star treatment. I'd start Tim Riggins before I'd start Ricky Williams! (On "Friday Night Lights," Riggins has been kicked off the team for a discipline violation.) After Williams has shafted the team twice -- first with his "retirement," then with his drug suspension -- how can the Dolphins not understand that Williams is solely and exclusively about himself and couldn't possibly care less about their team or any team! Maybe they should have Williams cover punts and try to earn back his right to be in the NFL. To let him waltz back in when it suited him and immediately hand him the starting job suggests Cam "Cam" Cameron is out of touch. The whole silly business, and the way Cameron handled it, was unprofessional. The Dolphins seem unprofessional. Maybe the two are linked.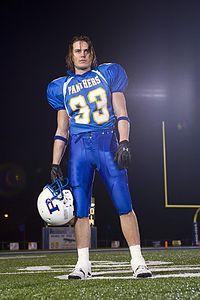 NBC
Tim Riggins has a MUCH better track record than Ricky Williams.
For several seasons, TMQ has been noting that Miami -- winningest NFL team since the AFL-NFL merger -- was so far ahead in the victory column that it could lose every game and still end the season as the winningest team. But after two awful years in orange and teal, this is no longer true. Pittsburgh has the second-most victories since the merger. And with the Steelers' win over the Dolphins on Monday night, Miami has 353 post-merger wins, Pittsburgh 349. There are five games to go this season. It is now possible that the Steelers will pass the Dolphins this season.
The Football Gods Winced: Not only did Eli Manning throw four interceptions, three of them retuned for touchdowns -- three of the four were crazy interceptions. The interception to Darren Sharper was forced into triple coverage when Jersey/A was on its own 13. The interception to Chad Greenway was forced into triple coverage when Jersey/A was on its own 30. But let's not pin the whole loss on Manning -- six Giants defenders surrounded Chester Taylor in the backfield in the second quarter, but none bothered to wrap him up, and Taylor ran for a touchdown.
Armistice Day: Dead Man's Curve for the Giants? Last season, Jersey/A opened 6-2, then slid sideways into the curve, hit a Jersey wall and went 2-7 for the remainder of the season. This season, the Giants opened 7-2 and are 0-2 since.
Belichick -- Secretly Manipulating TMQ? Reader Suzanne Senackerib of Franklin, Mass., writes, "I find it ironic that TMQ is constantly harping on the need for NFL teams to go for it on fourth down, then complains when the Patriots do just that." Well, I want teams to try to convert fourth down when the game is close -- not after already compiling a lead equal to the margin of the biggest comeback in NFL history, the Patriots being ahead by that much when they went on fourth down against Buffalo. But Suzanne has a point -- I have been receiving a lot of mail lately noting that if you fresh-squeezed a bunch of TMQ columns and poured them into a coach, what you'd get is a shimmering glass of Bill Belichick.
Kyle Lockwood of Milwaukee writes, "Belichick uses every advantage, so maybe one of his advantages is that he is the only coach who reads TMQ. He seems to follow almost every guideline you propose. He runs the ball when the odds tell him to, uses his timeouts effectively, plays press coverage, blitzes only when not expected, doesn't overdo his clothing in cold weather, makes sure the cheerleaders please the football gods, and this season, goes for it on fourth down while rarely punting. Wouldn't Belichick's new strategy of rarely punting result in higher scores for the Patriots and lower scores for the opposing team since no other team has adopted such an aggressive strategy? That is what TMQ predicted -- the team that rarely punts would increase its scoring. And look what's happening with the Patriots!"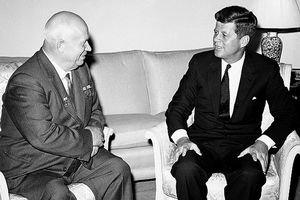 AP Photo
Bill Belichick was behind this meeting somehow. Page 2 is still trying to confirm the exact details.
Hmmm -- you don't actually think it is
a coincidence
that TMQ keeps hammering the Patriots, do you? Because Belichick seeks every edge, his well-run conspiracy would want to distract other coaches from noticing and using the football maxims in this column. Arranging for me to denounce him accomplishes this goal. More important, Belichick loves bulletin-board material. He wants to keep his players fired up by endlessly telling them the world thinks they are sinister. Most sports columns are losing interest in that theme, but not Tuesday Morning Quarterback, no sirree. You don't actually think that's
a coincidence
, do you? Nikita Khrushchev is said to have told John Kennedy that he would insult the president as a favor, to increase JFK's popularity in the United States. How you do know I am not a willing participant in the New England conspiracy, working overtime to help keep the Flying Elvii full of vinegar? (Note: I hope this item pleases my masters in Foxborough.)
Meanwhile, readers continue to speculate on why Belichick keeps his starters on the field, madly trying to score, long after an insurmountable victory margin has been achieved. John Lavell of Niagara-on-the-Lake, Ontario -- a lovely place and home to TMQ's favorite theater festival, writes, "I would propose they are attempting to play a 60-minute game in the event they need to play right down to the wire in the future. Their victory over the Colts took a tremendous effort for the entire 60 minutes, and the Pats proved up to the challenge. When Week 17 rolls around, and the Patriots are playing the Giants, I expect to see Brady firing away in the fourth quarter, not to break records, but to gain valuable situational experience before the inevitable bye week. What happened to the Colts a few years ago when they rested starters late in the season before a bye? They weren't game-ready and suffered defeat in their first playoff game." Sharon Rochester of Edmonds, Wash., supposes, "Belichick is communicating to his players that the sole way they are to play is full-out, max-throttle under all conditions. I admit this becomes unattractive when the Patriots have a huge lead. But think of how many talented NFL teams have players taking downs off or not giving games their full attention. Maybe Belichick has concluded that the way to condition players for the maximum effort teams win to need to win the Super Bowl is to make them go all-out at all times, and tolerate nothing else."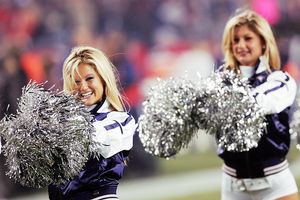 Michael Heiman/Getty Images
Seeking any edge, Bill Belichick arranges for the Patriots' cheerleaders to appease the football gods.
Finally and tellingly, Mustafa Saied of Orlando, Fla., writes, "Why are the Patriots on a mission to be the most dominant team in history? I think the motivation may come from last season, as opposed to the videotaping scandal. Belichick didn't take kindly to Peyton Manning bringing the Colts back from an 18-point deficit in the AFC Championship, then going go on to win the Super Bowl at his expense. After all, Belichick was supposed to be 'in Manning's head,' yet Manning beat Belichick in the most important game they ever played against each other. The vengeful nature we are seeing is Belichick making sure Brady gets the touchdown record away from Manning -- many times when the Patriots have run up the score this year, they could have rushed for touchdowns, but passed for them instead. Belichick wants Manning to be furious that his touchdown record is gone. And Belichick wants to be sure no team ever comes back against him again."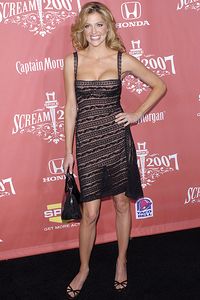 AP Photo/LMartinez
Actress Tricia Helfer plays an evil telepathic cyborg on "Battlestar Galactica." Hey baby, what's your prefrontal cortex routing number?
Even So, I Would Gladly Be Held Prisoner by Model Six:
NBC Universal, which produces "Battlestar Galactica," has announced the series will end after its new season, which just began. Maybe they've used time travel to see the future of Galactica's ratings! In the final episode, the characters will be shocked to discover they are not lost on the far side of the galaxy, they've actually been on a soundstage in British Columbia the entire time. They will learn the reason you can't tell Cylons from people is that the Cylons
are
people, namely, actors pretending to be cyborgs. At the conclusion of the series, Galactica's crew will open the doors of the soundstage, step outside and at last reach Earth.
Panthers, Redskins Combine for 10 Turnovers: Note to all Carolina and Washington offensive players: You can't score unless you have the ball. Washington also failed on fourth-and-short at the Tampa 4, which is effectively a turnover. With each passing week, it grows more painful to behold the dazed-and-confused look on the face of venerable Joe Gibbs as he trots off the field after another Redskins fiasco.
New England Now 10.75-0.25: The Patriots defense seemed to relax a little with Donovan McNabb out, so the Flying Elvii are not totally, absolutely perfect. Philadelphia was the first team this season to do what TMQ keeps calling for -- jamming Randy Moss -- and the tactic worked, with Moss looking human and making no big catch. Philadelphia blitzed the Patriots far more than any team has in 2007, sending six on perhaps two-thirds of New England downs, and this tactic somewhat rattled Tom Brady, who was sacked three times. Though note the magnificent New England offensive line mostly handled the heavy blitzing, and guard Stephen Neal -- an undrafted perennial first-teamer on TMQ's All-Unwanted All-Pros -- had a perfect downfield block on a third-and-long screen pass to Wes Welker. What was the New England offensive line's secret for handling the blitz? Each lineman just picked the guy directly in front of him and blocked like crazy. New England offensive linemen never take a down off or brush their guys then stand around passively watching, which is common among offensive lines of many NFL teams. That New England offensive linemen always maintain contact till the whistle is one of the keys to the Patriots' success.
For the game, New England coaches called 60 passes (attempts plus sacks and scrambles) versus 13 rushes. Why do the Patriots pass so much? It's not because the team cannot run; New England is seventh in the league in rushing yards per game (11th in yards per carry). Bill Belichick might simply figure that because passing plays gain on average more than rushing plays, might as well pass. On Sunday night, New England averaged 6.3 yards per called pass, 2.5 yards per rush; for the season, the only undefeated team is averaging 8.7 yards per pass attempt and 4.1 yards per rush. Belichick might reason: If my average pass gains twice as much as my average rush, why not call pass after pass after pass? Of course, you need a magnificent offensive line for this strategy.
Cold Coach = Victory: Kickoff temperature 33 degrees in Foxborough, Bill Belichick wore a hoodie with no gloves and Andy Reid was heavily swathed in ridiculous K2 survival gear. Belichick seeks every edge!
So It Turned Out the Seattle Defense Could, in Fact, Relax: Marc Bulger left injured, and the Seattle defense seemed to relax, as defenses often relax when a sub comes in for the other team's star. The sub in question was Gus Frerotte, and he led St. Louis to a quick 16-7 lead. Then, with Blue Men Group leading 24-19 at the endgame, Frerotte drove Les Mouflons to first-and-goal on the Seattle 4 with 1:09 remaining and St. Louis holding two timeouts. On first down, Isaac Bruce was open short for the win, Frerotte had plenty of time and the pass did not come close. Second and third downs were short gains on a pass and run. Now it's fourth-and-goal on the Seattle 1, 30 seconds remaining -- and Frerotte fumbles the snap, game over.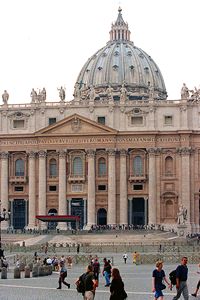 AP Photo/Plinio Lepri
Oh, ye of little MPG ...
If the Good Samaritan Had Been in an SUV, There's No Way He Would Have Stopped:
The Vatican released a 17,827-word
pastoral guide to driving
, which enunciates a Highway Code. Yes, it seems ridiculous to have the Church telling you to take your car in for regular maintenance, as this document does. Then again, with 35 million people dead in traffic accidents in the 20th century -- more than died in World War II -- and road rage increasing, it's not ridiculous to say the spiritual aspects of driving are going unacknowledged. When behind the wheel, far too many people exhibit hostility and carelessness regarding the safety of others, behaving in a manner they would never dream of exhibiting in face-to-face environments. The pastoral guide says, "Driving brings inclinations to the surface from the unconscious that usually, when we are not on the roads, are controlled. When driving, however, imbalances emerge and encourage regression to more primitive forms of behavior. Driving should be considered by the same standards as any other social activity." If we did that, road rage would plummet. The guide quotes Paul VI as saying of driving, "Too much blood is spilt every day in an absurd competition with speed and time," and has an extended section comparing the poverty and street despair we whiz past in cars in poor areas or in the developing world to the street despair that rich travelers refused to notice in Jesus' day. Why do otherwise kind-hearted and mild-mannered people become inconsiderate or even hostile in their cars? Propose your explanations using the address at Reader Animadversion.
Untouched Touchdown Run of the Week: Fred Taylor was never touched as he ran 50 yards for six to set the tone of Jacksonville's punchout of Buffalo; tackle Maurice Williams had a perfect block at the point of attack. It's pretty fun to run 50 yards for a touchdown for an 8-3 team when everyone in front of you already has been knocked to the ground. Jax note: David Garrard has thrown 209 passes without an interception, second-best ever. Bills note: Since reaching 5-4, Buffalo has been outscored 92-24.
Krumble on the Play! TMQ maintains that, other things being equal, a lost fumble on a kick return -- a "krumble" -- is the most damaging turnover. San Diego scored to take a 19-7 lead over Baltimore with 25 seconds in the first half, the Ravens fumbled the kickoff and the Bolts got a last-second field goal for a 22-7 lead at intermission. Baltimore never threatened in the second half. Note: In his career, Philip Rivers has 20 touchdown passes versus no interceptions in the red zone.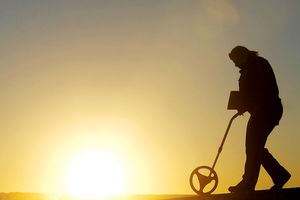 AP Photo/The Gillette News-Record/Paul Ruhter
Dangerously clear air is making sunlight brighter.
Air Pollution Is Good for You!
Is it getting brighter out there? Beginning roughly in the 1950s, studies in much of the world showed diminished sunlight -- air pollution was hazing out some sun, making the typical day less bright than in previous centuries.
New satellite data
compiled at the Goddard Institute of Space Studies suggest that since about 1990, more sunlight has reached the ground, making daylight slightly brighter. The reason is that anti-pollution programs have succeeded, greatly reducing the smog and fine soot in the air; this causes the lower atmosphere to be clearer, allowing sunlight to shine through. But -- is this necessarily good? Brighter sunlight could increase skin cancer rates. Throughout the postwar era, it actually has been safer to stroll Venice Beach in Los Angeles than to stroll in some dangerously clean place such as Hawaii because smog provides a kind of sunblock, screening out some UV radiation.
More important, it may be that artificial greenhouse gases have not warmed the Earth as rapidly as predicted because they have existed in a zany equilibrium with other forms of air pollution. Perhaps artificial greenhouse gases tend to warm the world but smog and soot reflect sunlight back into space and tend to cool the world, netting little change. Now, as the smog and soot disappear owing to the success of clear-air programs, perhaps the greenhouse gases will take over and artificial global warming will accelerate. This is another of the many reasons the time for greenhouse gases restrictions has come.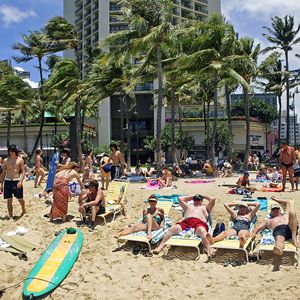 AP Photo/Marco Garcia
In Hawaii, the air is so clean you'd better have sunblock.
The Giant Cannons Will Be Made in China and Sold at Wal-Mart:
Any day now, China will pass the United States as the leading emitter of greenhouse gases. The booming economies of China and India are pumping out so much air pollution that the Pacific Ocean weather is being impacted, researcher Renyi Zhang of Texas A&M has shown. Much of the Chinese and Indian air pollution is fine black soot from the burning of coal without smokestack controls; soot pollution has almost been eliminated in the United States and the European Union but remains an issue in developing nations. Enormous soot formations blowing east from China, Zhang found, are seeding clouds over the Pacific, causing storms to become more intense. Other aerosol particles from Chinese and Indian industry are reflecting about 10 percent of the sunlight directed toward the Pacific basin back into space, temporarily cooling the Earth. Thus, we have a regional zany equilibrium -- greenhouse gases from China make the planet warmer, but aerosol pollution from China makes the planet cooler. Here's the rub: Chinese officials are moving aggressively to cut back on soot and similar aerosol forms of air pollution because they are associated with acid rain, which is a major public health issue in China. You've seen the Olympics preparation photos from Beijing, it looks as though the main stadium is being built in the methane atmosphere of a Jovian moon. The Chinese are really worried about that kind of air pollution, which causes respiratory disease, and are working to reduce aerosol emissions.
But the Chinese are not doing anything about greenhouse gases. Hey -- they're just like us! So if China succeeds in cutting back on the form of air pollution that tends to cool the Earth, while continuing to emit more of the kind of air pollution that warms the Earth, well, you get the point. As a bonus, if large amounts of the black soot from Chinese power plants and factories settle onto the polar ice caps, darkening their surface color, the ice caps will absorb more sunlight and melt faster. But don't worry, this will only be a problem for future generations!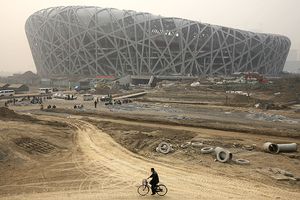 AP Photo/Oded Balilty
Construction is going well on this remote Jovian moon.
Now, if you're thinking, "Hmmm, maybe we should deliberately cause the kind of air pollution that cools the Earth," Nobel Prize-winning chemist Paul Crutzen already has suggested this. Calculations suggest that 1 million tons of acid-rain-like compounds, injected directly into the stratosphere -- in theory, too high to imperil human health -- would counteract artificial greenhouse gases. And just how would 1 millions tons of chemicals be injected directly into the stratosphere? Crutzen said "he envisioned giant cannons," Reuters reported.
Why We Should Act, Regardless: It seems the strongest objection against binding greenhouse-gas restrictions here is that China and India will swamp any emissions cuts made by the United States. In the short term, this is true -- but it's no reason to delay action. The United States has been the source of all the major technical and economic innovations to combat smog and acid rain, including catalytic converters, reformulation of gasoline, coal "washing" and the trading of emissions permits to cut the cost of acid rain reduction. Devised here, such ideas are spreading throughout the developing world. Smog in Mexico City, which seemed unstoppable a decade ago, is declining. China, India, Mexico and other growing nations are adopting American anti-pollution ideas of their own free choice because it's in their self-interest. No international treaties require other nations to take action against smog or acid rain -- they are doing so because they want to, the strongest of human motivations.
If the United States regulates greenhouse gases, American ingenuity will lead to an outburst of clever technical and marketplace ideas for cutting greenhouse gases cheaply. Right now, few inventors and businesspeople are working on this because you cannot make a profit by cutting greenhouse gases. Offer a profit incentive, and American brainpower will make the breakthroughs that change artificial global warming from unstoppable to just another management problem. If these breakthroughs are cheap, other nations will adopt them of their own free choice because it will be in their interest to do so -- no complex international treaties required. U.S. Congress, what are we waiting for?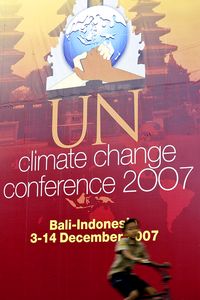 AP Photo/Firdia Lisnawati
Hundreds of government leaders flew to the latest United Nations global warming conference, in state-owned luxury jetliners, to condemn fossil fuel use.
And in Case You'd Like to Read About Climate Change from a Source a Little More Credible Than Me …:
One of the world's most important documents is the annual Human Development Report issued by the United Nations Development Programme. This report, which charts humanity's attempt to advance up from poverty and serfdom, has in its recent editions been guardedly optimistic about trends in the developing world -- where more progress has been made against poverty in the past 50 years than in all previous history combined. Two years ago, yours truly was the moderator for the Washington launch of the 2006 report; I linked to the text, and so many ESPN readers looked at the Human Development Report that the U.N. Development Programme had its biggest Web-hits day ever.
Later this week, I am serving as the moderator for the Washington launch of the 2008 report, "Fighting Climate Change: Human Solidarity in a Divided World." This report takes artificially triggered global warming very seriously, but it is more pragmatic and optimistic about solutions than most of the commentators you've seen. The guests for the report's launch are Robert Zoellick, president of the World Bank; former senator Tim Wirth, head of the U.N. Foundation; and Kemal Dervis, administrator of the UNDP. Dervis, a Turkish economist, is someone TMQ deeply admires. Like many progressive economists. Dervis has his eyes focused on the developing world. The developing world is where the action is, as the century-long sequence of challenges to humanity reaches its final phase. Those challenges: overcome the Great Depression, defeat fascism, break communist tyranny, conquer feudalism, and finally, bring freedom and material well-being to everyone. Dervis ought to be a lot better known. At the least, you can gain an understanding of his world view -- and the world view of the many people who are fighting in the developing world to complete the grand project of bringing freedom and material well-being to everyone -- by reading this year's Human Development Report, which is here, with the report embargo ending Tuesday night. ESPN readers, let's set another record.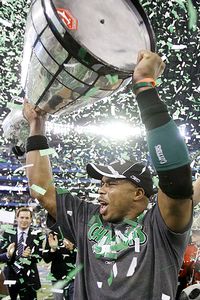 AP Photo/Ryan Remiorz,CP
Triumph in the land of the rouge!
News From the Thawing North:
Congratulations to the Saskatchewan Roughriders, who won the Grey Cup. (Traditionally, the CFL season ends early, before advancing glaciers cover the fields, though global warming might change all that.) You know it's still cold in Saskatchewan
because the cheerleaders pose fully clothed
. And though CFL football is a lot of fun, how seriously can you take a championship team with a mascot that's
a gopher on a bicycle
?
Message to Coaches: Kick, Avoid Blame: Trailing 20-17, Kansas City faced fourth-and-1 on the Oakland 23 with 4:26 remaining. Herm "I Honor My Contract When I'm In The Mood" Edwards ordered a try for the first down, and rookie tailback Kolby Smith was stopped for no gain. The reaction was a case study in why NFL coaches take the conservative approach -- to avoid criticism. If the coach orders even a high-percentage try and the team fails, he is lambasted; if the coach orders a kick and the team goes on to lose, the players are lambasted. After the game, sports radio hosts and sportscasters virulently denounced Edwards, with Tiki Barber on NBC's "Football Night In The Known Universe" calling the decision "inexcusable," and Jerome Bettis and Cris Collinsworth also strongly blasting the try. But about 75 percent of fourth-and-1 attempts succeed, and Kansas City had 36 rushes for 165 yards in the game to that point, so the odds were on the Chiefs' side. Had the try succeeded, Kansas City might have tied the game or even taken the lead while running down the clock -- then the NBC guys would have praised it as a bold, gutsy move. An awful lot of football commentary boils down to: "If you run you should have passed, and if you passed you should have run." True, the Kansas City fourth-and-1 attempt failed. But it was a smart, high-percentage decision. Had the play worked, sports yakkers would have fallen all over themselves gushing about it.
Note: On the play before the fourth-and-1, Edwards called a timeout, then decided to challenge the spot of the ball. His challenge failed, and Kansas City was charged for a second timeout. A few weeks ago, Romeo Crennel did the same thing -- first calling a timeout, then throwing the challenge flag and losing a second timeout. In both games, the second timeout was sorely needed at the end. If you're going to challenge a call, just challenge it! A failed challenge costs a timeout, anyway, but a successful challenge is effectively a bonus timeout.
Best Purist Drives: With Cincinnati leading 28-6, Tennessee failed on a fourth-and-5 at the Bengals' 18. Cincinnati then staged a 15-play drive that iced the game at 35-6. With Minnesota leading Jersey/A 24-10, the Vikings staged a 14-play drive that made it 27-10, and the Giants were running out of time.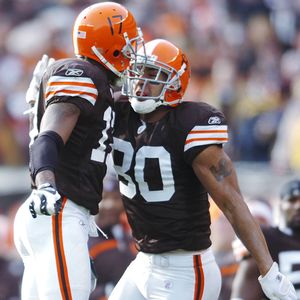 AP Photo/David Richard
In Cleveland, a number on a helmet is considered quite racy.
Who Needs Brady Quinn?
Cleveland's starting quarterback is playing so well that I just replaced the letters for "district attorney" in my AutoText with "Derek Anderson." His touchdown pass to Braylon Edwards on Sunday was threaded perfectly between three defenders; his touchdown pass to Kellen Winslow was threaded perfectly between two. With Cleveland advancing to 7-4 and having a strong shot at a wild-card berth, there is plenty of gnashing of teeth going on in Dallas because the Cowboys hold the Browns' first draft choice in 2008 -- traded for in April on the assumption it would be a lottery pick. And didn't the high-school-style numbers on Cleveland's throwback helmets look snazzy? It's about time we saw
something
on a Browns helmet. Note: The answer to the question "Who needs Brady Quinn?" is Miami.
When You Hire a Coach Who's Only in It for Himself, You Get a Coach Who's Only in It for Himself: Lloyd Carr retired at Michigan, and early last week, Les Miles of LSU refused to say whether he would return to LSU or seek the Michigan job. A few days later, LSU lost to Arkansas, surrendering its pole position for the BCS title game. True, Miles can't control that Carr stepped down in November or that columnists are linking him to the job. But he didn't deny interest in the job, either, nor did he emphatically embrace LSU, which sure seemed to indicate he already was thinking ahead about the Michigan post, which he has long been believed to be seeking.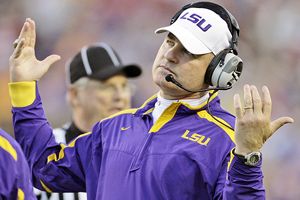 AP Photo/Alex Brandon
Les Miles will definitely, absolutely possibly consider perhaps remaining at LSU.
This brings up a point Tuesday Morning Quarterback perennially makes about coaches campaigning for other jobs when their current seasons are not complete, or halfheartedly pretending they are not campaigning. My point: When you hire a coach who's only in it for himself, you get a coach who's only in it for himself. Dennis Franchione, Mike Price, Bill Parcells (when the mid-'90s Patriots were close to the Super Bowl), Chuck Fairbanks, Herm "I Honor My Contract When I'm In The Mood" Edwards and Little Nicky Saban are all examples of coaches who either officially quit on their teams with a season still in progress or halfheartedly denied doing so. All of them, after arriving at their new gigs, had bad years. If a player openly angled to leave for another team, late in a season that was still in progress, we'd be outraged. Why is it OK for coaches to do this, shafting their
entire team
, not just causing a one-man problem like when a player drops his loyalty? Michigan, should you hire Miles, bear in mind you're getting the sort of person who sure seemed to place his own career goals ahead of a national championship run last week.
Obscure College Score Of The Week: Chadron State 76, Abilene Christian 73. (Division II playoffs.) Down 49-20 at the start of the fourth quarter, Chadron State led only once in the entire game -- by 76-73 at the conclusion of the third overtime. Located in Chadron, Neb., Chadron State's communications arts major has a required course in "Theories and Practice of Persuasion." Wait, isn't that what all college students work on every Saturday night? Division II note: TMQ's favorite obscure college, Indiana of Pennsylvania, ended its season with a 41-34 playoff loss to Shepherd.
Bonus Obscure Score: St. John Fisher 38, Curry 7. (Division III playoffs.) Located in Rochester, N.Y., St. John Fisher College has a school of nursing endowed by Robert Wegman, founder of the supermarket chain. Located mainly in non-booming old-industrial areas such as upstate New York and central Pennsylvania, Wegmans are the greatest supermarkets out there. Many Wegmans have entire internal food courts of higher quality than most delis and Italian restaurants. When, oh when, will a Wegmans open near me?
Reader Animadversion: Got a complaint or a deeply held grievance? Write me at TMQ_ESPN@yahoo.com. Include your real name and the name of your hometown, and I might quote you by name unless you instruct me otherwise. Note: Giving your hometown improves your odds of being quoted.
Wednesday Sorry, you'll get a reader's column next week. (Reader Animadversion is switching to every other week.)
Next Week: Bill Belichick secretly instructs TMQ to praise the Packers.
In addition to writing Tuesday Morning Quarterback, Gregg Easterbrook is the author of "The Progress Paradox: How Life Gets Better While People Feel Worse" and other books. He is also a contributing editor for The New Republic, The Atlantic Monthly and The Washington Monthly.