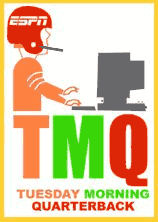 We've reached that point in the year when coach mania sets in. At many NFL teams, colleges and even high schools, fans and boosters are demanding: Fire the coach, he's to blame. At other NFL teams, colleges and even high schools, fans and boosters are exclaiming: Hire the astonishing SuperCoach, he will bring instant success. The reality is, although there are a few really good football coaches and a few really bad ones, the majority are approximately equal. Most use the same drills and same plays, make the same decisions in the same circumstances, give the same pregame speeches, and launch into the same halftime tirades. They certainly all use the same Winston Churchill quotations!
Last year about this time, the Chargers, Cardinals and Falcons each made a huge to-do about firing the coach and bringing in a new coach. The difference this year? Little or none, other than the fact that the Falcons' decline would have happened no matter who was the coach, owing to the Michael Vick debacle. Last year, the University of Alabama went 6-6 and qualified for a minor bowl; the school made a huge to-do of firing the coach and bringing in a supposed astonishing SuperCoach. This season, under Nick Saban, the Crimson Tide went 6-6 and qualified for a minor bowl. Michigan and Arkansas just threw huge sums of money at new coaches Rich Rodriguez and Bobby Petrino -- and the odds are neither will preside over a significant improvement in performance because the odds are that no coach could do that!
Let's call it the Illusion of the SuperCoach. This figment has led to ever-rising pay for coaches, under the false belief that there are vast, vast differences in coaches' tactical, motivational and recruiting abilities. Pro and big-college coaches complain bitterly about the quick hook and the dismissal pressure they face after a losing season. But that's the flip side of the same dynamic that leads to college coaches being paid $3 million per season and NFL coaches being paid as much as $5 million per season. Under the Illusion of the SuperCoach -- the idea that coaches have magical powers -- the coach who presides over a disappointing season must be fired (his magic wand failed!) and the coach of the moment deserves huge amounts of money. Coaches, as a guild, benefit from the Illusion of the SuperCoach. They don't want you to realize that the majority of coaches do the same things in the same situations.
Last season, at the peak of coaching mania, I speculated about the sociological reasons coaches are being overhyped and overpaid -- from the abandonment of the father-figure role by intellectuals and political leaders to the Walter Mitty fantasy that anyone can coach. (Which is true in the sense that anyone can become a volunteer coach, whereas most people cannot become a volunteer heart surgeon or volunteer movie star.) This year, let's stick to the football flaws in the Illusion of the SuperCoach.
The first flaw is obvious -- coaches don't play! A coach's hard work, good judgment and good play calling help, but these are only a few of many factors in sports success -- and all trail the athletic ability of the players by a large margin. I'd hazard an unscientific guess that in football, the coach can be responsible for up to a 10 percent swing in results: 10 percent more points scored under good coaching, 10 percent fewer under bad coaching. In a close game or a Super Bowl run, that 10 percent swing really matters. In the majority of games, the coaching differential between opponents is small, especially in college at the football-factory level, where many outcomes are not close.
On game day in the NFL and Division I-A, many head coaches do little more than decide when to kick (answer: always) and yell at officials. In terms of practice and preparation, more important in football than in any other team sport, the majority of head coaches bring their teams to approximately the same level of preparation regardless of whether they are super-paid or little-known. Go watch a practice of any well-run high school or college football team -- and there are several hundred fitting that description. What's happening in the practice, and what the coach is doing and saying, will not differ in any substantive way from what happens at a Dallas Cowboys practice.
If you covered the names and handed me the résumés of a Petrino-style coach and someone who has coached the same Division III school for a decade, then asked me which I wanted to run my team, I'd take the Division III guy in a heartbeat. By not endlessly job-hopping, he stayed in one place long enough to prove he was for real. Which brings us to TMQ's Law of Vagabond Coaches: When you hire a coach who's only in it for himself, you get a coach who's only in it for himself. In 2006, Petrino made a big public and contractual commitment to Louisville; six months later, he walked out on Louisville to make a big public and contractual commitment to the Atlanta Falcons; 11 months after that, he walked out on Atlanta to make a big public and contractual commitment to Arkansas. Dear University of Arkansas: If your new coach just betrayed his previous two employers, why do you think he will do well by you? (More on Petrino the Weasel below.) Petrino, Saban, Mike Price, Dennis Franchione, Chuck Fairbanks at New England, Bill Parcells at New England, now Rodriguez -- year in and year out, pro and college teams enthusiastically welcome as miracle workers coaches who have just broken their word elsewhere.
Consider Rodriguez, the latest high-profile walkout. The Charleston, W.Va., Gazette reports that after Rodriguez decided to walk out on West Virginia, he spoke to his players for a mere 10 minutes -- no questions, please! -- before exiting through a side door and heading to the airport for a flight to Michigan. These are players to whom Rodriguez surely made elaborate promises during recruiting. In December 2006, when some recruits were hesitant to sign letters of intent with the Mountaineers owing to rumors that Rodriguez would leave, he reassured them by publicly declaring he would stay at West Virginia "for a very, very long time." The moment there was something in it for him -- a pay increase from $1.9 million at West Virginia to a reported $3 million annual salary at Michigan -- Rodriguez shafted his players. The Detroit Free Press asserts that even before Rodriguez announced he was leaving for Michigan, he called Terrelle Pryor, this fall's most sought-after high school player, and urged Pryor to enroll at Michigan rather than at West Virginia. Immediately after there was something in it for him, Rodriguez shafted his former employer.
And this is the coach Michigan wants! Someone whose word is not bond; someone who, if the Free Press account is accurate, actively tried to double-cross his previous school. Wolverines: If Rodriguez is a fiasco at Michigan, don't say you weren't warned. And the history of selfish coaches suggests that fiasco will come calling. Petrino, Saban, Price, Franchione, Fairbanks, Parcells -- which of these guys did really well after walking out on a commitment for self-serving reasons?
Yet every year at this time, NFL and big-college teams throw big money at new coaches who are presented as having miraculous super ability. One reason? Because there is so much money in big-deal football now, and experience teaches that when money is available, money gets thrown. Another reason involves promotion: If the team plays poorly, you can't fire the whole team, but you can fire the coach. Making one single change, at the top, is a practical move for NFL or big-college programs seeking to create excitement regarding the coming season. Modern Fortune 500 corporations seem to overpay CEOs to create excitement, essentially saying to shareholders and potential shareholders: "Wow, we hired a guy who gets $50 million a year, he must be a miraculous super-genius; our share price will go up." By the time you find out he's just another guy sitting in a chair, the shareholders have been fleeced.
NFL and big-college football programs promote their coaching choices as incredibly important because this creates fan enthusiasm about the time that ticket-sales campaigns are gearing up. (The majority of NFL and Division I-A football ticket sales occur in the offseason.) Plus, the coach is the public face of a sports enterprise, the one who deals with the media and makes public appearances. Promoting the public-face person as a magnificent mastermind with incredible top-secret skills is in the team's best interest.
All this means that, for the Illusion of the SuperCoach to work, the public must believe it! Which seems to happen every year about this time, as fans and boosters clap wildly for the arrival of a new coach who just shafted his previous team -- believing, against all evidence, that he is being honest when he says it'll be different this time. Oh, and one more possible explanation for the SuperCoach fad: Sports nuts enjoy the coaching carousel. It gives fans and sports radio hosts something to talk about in the offseason. We're in late December, and the offseason jitters are already starting. The hiring and firing of NFL and Division I-A coaches constitutes a form of entertainment.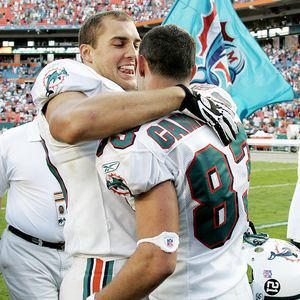 AP Photo/J. Pat Carter
We did it! We won! We're mathematically alive for 3-13!
In other football news, there was riotous celebration in Miami when the Dolphins scored in overtime against the Ravens to avoid becoming the first 0-16 NFL club. Players crowded into the end zone to dance together; owner Wayne Huizenga cried happy tears; the cheer-babes flounced; and the crowd went wild. "It was like winning the Super Bowl," Miami tackle Vonnie Holliday said afterward. Hey, guys, you're 1-13! And mathematically alive to finish 3-13.
In more football news, we saw the smartest sports play in many a moon Sunday. Philadelphia led Dallas 10-6 and had first-and-10 on the Cowboys' 25 with 2:19 remaining and Dallas out of timeouts. Brian Westbrook broke into the clear and could have run for a touchdown. But a touchdown would have given Dallas the ball back with plenty of time to score and attempt an onside kick. TMQ has done two items this season on how, at the end of a game, it can be better for the leading team not to score. Rather, the ball carrier should get on the ground so his team can conclude the contest with kneel-downs. What did Westbrook do? Ran to the Dallas 1, then slammed to a stop and got on the ground. Philadelphia just knelt to end the game, and the Boys never touched the ball again. What a brilliant move!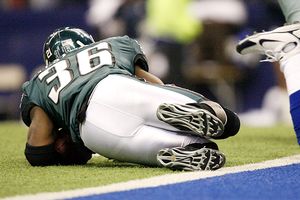 Hunter Martin/Getty Images
Brian Westbrook aced the football IQ test.
Does Westbrook read TMQ? Or maybe he just has a good memory. In early November, Philadelphia led Washington 26-25 and had first-and-10 on the Redskins' 10 with 2:24 remaining and the Redskins down to one timeout. Westbrook ran up the middle untouched for a touchdown, which gave the Eagles an eight-point lead but also handed the ball back to Washington with plenty of time. Had Westbrook dropped to his knees on the 1 that day, Philadelphia's situation would have been better. This Sunday, he remembered, staging one of the smartest sports plays in many a moon.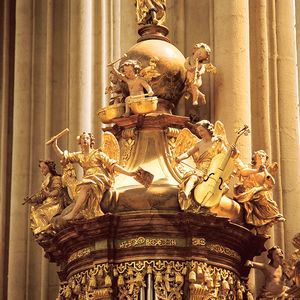 Imagno/Getty Images
A chorus angelorum sends holiday good wishes to all space aliens, megababes and football enthusiasts.
In holiday news, next Tuesday is Christmas -- there will be no Tuesday Morning Quarterback. But I do have an appropriate Churchill quote for the day: "We make a living based on what we get, and we make a life based on what we give."
Tuesday Morning Quarterback sends holiday good wishes to all space aliens, megababes and football enthusiasts. Bells are ringing all across the local star cluster!
Stat of the Week No. 1: Twenty-one Patriots players have scored touchdowns this season. Three teams -- Kansas City, San Francisco and Atlanta -- do not have 21 total touchdowns.
Stat of the Week No. 2: In a sequence in the Detroit at San Diego game, Jon Kitna threw interceptions on three of six Lions snaps.
Stat of the Week No. 3: David Garrard has 16 touchdown passes and two interceptions.
Stat of the Week No. 4: Going into the season, Denver and Kansas City had the league's best home records in the past decade. This season, they are a combined 6-9 at home.
Stat of the Week No. 5: On Tampa kickoff return number 1,865, in the club's 32nd season, the Bucs' Micheal Spurlock scored the first kickoff return touchdown in franchise annals.
Stat of the Week No. 6: Buffalo was shut out by Cleveland, which came into the week having allowed the most points of any NFL team.
Stat of the Week No. 7: Cleveland 8, Buffalo 0 was the NFL's first 8-0 game since 1929.
Stat of the Week No. 8: Cincinnati, which no longer can finish at .500 or above, has had only one winning season in the past 17 years.
Stat of the Week No. 9: Todd Collins of Washington started his first game in 10 years, the longest-ever span between starts for an NFL quarterback.
Stat of the Week No. 10: Greg Camarillo, who caught the winning 64-yard touchdown pass for Miami in overtime, came into the game with 2 career yards receiving.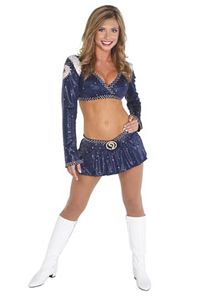 St. Louis Rams
Kate, a history major, knows that those who do not study game plans are doomed to repeat them.
Cheerleader of the Week:
Reader Greg Higginbotham of Jackson, Miss., a student at Millsaps College, nominates
Millsaps grad Kate of the St. Louis Rams
. According to her team bio, Kate was a history major in college. She is also the cover girl of the team's
warm-to-the-touch cheerleader calendar
, which has a sales pitch that assures buyers the calendar is "all swimsuit" -- no totally inappropriate sweaters or skirts.
Sweet Naked Play of the Week: Quarterback Shaun Hill, in the first start of his six-year career, scored a touchdown against Cincinnati on the rare true naked bootleg. The call was a sweep left, and only Hill knew he would keep the ball and run right. Watch the tape: San Francisco offensive linemen "down" blocked for a sweep left, then halfway through the play looked around as if to say, "Huh? What's the ball doing going that way?"
Sweet Naked Play of the Week No. 2: In the snow at Pittsburgh, Jacksonville had first-and-10 on the first snap of a possession -- always an attractive time to throw deep. David Garrard faked a pitch left, and the left tackle and left guard pulled left; Garrard then ran a naked boot right, without any blocker, and connected for a 55-yard touchdown to Dennis Northcutt.
Sweet Fully Clothed Play: On the first New Orleans touchdown, Drew Brees faked a wide pitch left, and the Saints' left tackle and left guard pulled left, then -- as the Arizona defense all went for the fake pitch -- Brees kept the ball, rolled right and threw over the middle to Marques Colston. Don't look now, but New Orleans is up to fifth overall in offense, trailing only powerhouses New England, Dallas, Green Bay and Indianapolis.
Sweet Fully Clothed Play No. 2: With Tennessee at Kansas City scoreless and the Flaming Thumbtacks with the ball on the Chiefs 16, the Titans faked a hitch screen left. Linemen faked a pull left; Roydell Williams went straight up the field from wide left; defensive backs came up to play the fake hitch screen; and Williams was open for the touchdown reception.
Sour Play of the Week No. 1: With the game scoreless in New England and Jets' ball on their 4, coaches called for Kellen Clemens to sprint backward into his end zone -- just like Tom Brady! But the Jersey/B offensive line is not just like the New England offensive line. With six blockers for four rushers, Jersey/B guard Adrien Clarke barely brushed Richard Seymour before turning around to watch him hammer the quarterback. Clemens compounded the error by not simply taking the safety but rather heave-hoeing a wild pass that was intercepted and returned for the touchdown.
Sour Play of the Week No. 2: With Carolina leading 6-3, Seattle had second-and-2 on the Cats' 43 with 1:44 remaining. A blown line call resulted in star left tackle Walter Jones' turning in to double-team a Carolina lineman, leaving 202-pound scatback Maurice Morris blocking one-on-one against linebacker Thomas Davis. Davis sacked Matt Hasselbeck, knocking the ball loose, and 20 seconds later, the Panthers held a safe 13-3 lead. Note: JaMarcus Russell and Brady Quinn have yet to start a game, but undrafted rookie quarterback Matt Moore started and won for Carolina.
Sour Play of the Week -- 'It Was Like Winning the Super Bowl!' Edition: With the Dolphins facing third-and-8 in overtime, Cleo Lemon threw a short crossing pattern to Greg Camarillo, who caught the ball running sideways, turned upfield and legged it 64 yards for the win. Where were the Ravens' safeties? On a passing down, no safety was anywhere to be seen downfield.
The NFL in Iran Update: On Sunday, Middle East TV beamed the Pittsburgh-Jacksonville contest to Tehran. So the weekend's big game was seen in the capital of the Axis of Evil -- but not seen in our nation's capital! In the early slot Sunday, most of the United States saw Steelers-Jaguars, a playoff-quality pairing and possibly the best remaining pairing of the regular season in terms of postseason significance and teams' records entering the game. Rather than show the fantastic Pittsburgh-Jacksonville game, the teams a combined 18-8 at kickoff, the CBS affiliate for the Washington area aired the woofer Baltimore at Miami pairing, the teams a combined 4-22.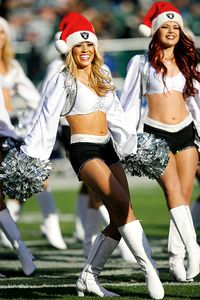 Joe Robbins/Getty Images
Must resist fill-the-stockings joke ... must resist fill-the-stockings joke.
Why did Washington see one of the worst NFL matchups of the season when the same network had the rights to one of the year's best games? The infuriating NFL "secondary markets rule," which mandates that away games of teams air in their "secondary markets." Washington is designated the secondary market for the Ravens, meaning the city sees all away Baltimore games -- even when the Ravens are awful and a high-quality alternative game is available. Oakland and San Francisco are secondary markets for each other, meaning when both teams are bad, as they are this season, Bay Area viewers see awful pairing after awful pairing after awful pairing -- all Raiders and Niners away games. The "secondary markets" rule applies only to away games. The NFL calls Harrisburg, Pa., a secondary market for Baltimore and mandates that local affiliates there show Ravens away games even though viewers in that area want to see the Steelers or the Eagles. When Baltimore plays a sold-out home game that's on television, Harrisburg stations are not required to show that game and may, instead, show what viewers actually want to watch!
Whenever TMQ complains about the absurdity of the NFL forcing local affiliates to air bad games when good games are available, someone from the league always tells me, "That is our rule." Why is it the rule? The "secondary markets" nonsense reduces viewership and ratings. Forget that the rule mistreats the average fan; the NFL seems to take pleasure from mistreating the average fan. (Exhibit A: the Sunday Ticket monopoly I might have mentioned.) But this rule also harms the league by depressing ratings. Free the Local Affiliates! Let them show the best games!
Iran note: Middle East TV now lets viewers vote on which Sunday afternoon NFL games they want to see, and viewers in the Middle East voted for Pittsburgh-Jacksonville. So Iranians get freedom of choice about the NFL while the Sunday Ticket monopoly means the majority of Americans are banned from NFL free choice. I ask again, why doesn't someone in Congress make this a populist cause?
Sked note: Pittsburgh-Jacksonville was especially worth showing because it likely was the strongest remaining pairing of the regular season. Next weekend, Redskins-Vikings is the sole game that will pair teams that both are still alive for the playoffs and have records of .500 or better. In the final week of the regular season, Tennessee-Indianapolis, New England-Jersey/A and Dallas-Washington will pair teams with winning records, but these contests will be without playoff implications for the Patriots and Colts, and possibly to the Cowboys and Giants.
'Tis Better To Have Rushed And Lost Than Never To Have Rushed At All: Against Minnesota, in a game lost by a touchdown, Chicago faced five third-and-1 or fourth-and-1 situations. Results: one conversion on a rush, two passes incomplete, one failed rush and one punt. Last year, the Bears were a power-rushing team. This year, they can't gain a yard on a pressure down.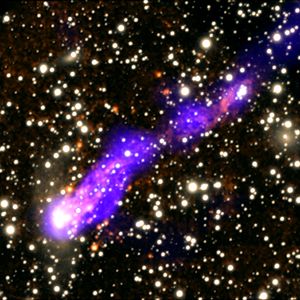 Chandra X-Ray Observatory
Could the universe be even larger and even grander than 60 billion galaxies?
A Cosmic Thought:
There appear to be 50 billion to 60 billion galaxies, containing on average about 100 billion stars each. Not even Tuesday Morning Quarterback has the room to multiply those numbers out and estimate the totality of stars in the cosmos. But whenever instruments improve, the universe is found to be larger and grander than previously thought. Recently, astronomers led by Ming Sun of Michigan State University used the Chandra X-ray observatory in Earth orbit to discover
a huge "tail" of millions of stars forming outside any galaxy
. Intergalactic expanses are vast compared with the galaxies themselves. Our Milky Way is about 100,000 light-years in diameter, and the next large galaxy is about 1.5 million light-years beyond the Milky Way rim, making the volume of void around the Milky Way far larger than our galaxy itself.
The intergalactic void appears to constitute the lion's share of the universe, and it has been assumed to be curved nothingness, no more than vacuum at just slightly above absolute zero. Standard theory says that only within galaxies could there be sufficient matter and gravity for stars and planets to coalesce. If it turns out stars commonly form in the immense intergalactic regions as well as within galaxies, then the universe might be far, far more populous -- in terms of stars and perhaps planets -- than even the 60 billion times 100 billion calculation suggests.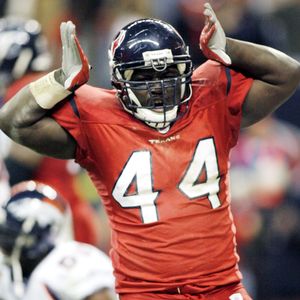 AP Photo/Dave Einsel
They look so much better in all-red uniforms!
Somewhere, Jake Plummer Is Chortling:
For years, TMQ has complained that the Houston Texans are dull. Thursday night against Denver, they seemed exciting -- it had to be that they were in all red! Or all Battle Red, as the Texans call that color. (Their other colors are officially Steel Blue and Liberty White, though the latter sure seems like Copy Paper White to me.) The red monochrome looked good on the Texans, and seemed to result in an uptick in their performance. Houston, ditch the moo-cow livery and keep the all red!
As for the Broncos, their coach -- whom the Denver team Web site calls "The Ultimate Leader" -- sure looks lost. Last year around Thanksgiving, Denver was 7-4 and held the inside track for a wild-card berth. But fans and football pundits kept complaining about Jake Plummer, and the Broncos had lost two straight, although they were close losses to San Diego and Kansas City, both power teams last season. Mike Shanahan decided to switch to Jay Cutler, and the Broncos are 8-11 since then, eliminated last season and now eliminated this season. Sure, there's more going on with that team beyond the quarterback switch, and sure Cutler has promise. But last year, Denver was a winner under Plummer, and since then, Denver has been a loser under Cutler. One suspects Plummer is off fly-fishing somewhere and having a good laugh about this.
Why Didn't Westerby Just Kneel On The Ball? With "Friday Night Lights" on hold until January, it's time for an update on the Dillon Panthers' Texas state title defense. So far, the team is 3-2, meaning the Panthers have a long way to go -- you must appear in 16 games to win a Texas 5A championship. As with last year, Dillon keeps winning on improbable last-minute plays. The Panthers beat Milbank High 6-0 on a long run by Smash on the game's final snap. They trailed an unnamed school 35-13 late in the third quarter, then were seen celebrating in the locker room afterward, so something spectacular must have happened at the end. My favorite "Friday Night Lights" game ending so far: The Panthers trailed rival Westerby High 19-6 with 40 seconds remaining, and Westerby had the ball. Westerby fumbled; Dillon returned the recovery for a touchdown, then recovered the onside kick, then scored the winning touchdown after time expired -- on the replayed down of a defensive foul. Seven of Dillon's 11 victories last season came on the game's final snap, and two of the first three victories this season have, as well.
Friday Night Lights note 1: Actress Minka Kelly, who plays the SuperCheerleader character, a high school senior, is 27 years old. Actor Taylor Kitsch, who plays Riggins, the fullback, also a senior, is 26 years old. Zach Gilford, who plays the quarterback, a high school junior, is about to turn 26. Adrianne Palicki, who plays the Bad Girl With a Heart of Gold, a high school senior, is 24 years old. Gaius Charles, who plays the star tailback, a character getting ready to graduate from high school, graduated from college two years ago. Of the regulars who portray high school students, only actress Aimee Teegarden, who plays the coach's endlessly weeping daughter, actually is a teenager, being 18. And please, "FNL" writers, while you're out on strike, think of a coach's-daughter subplot that does not involve her weeping!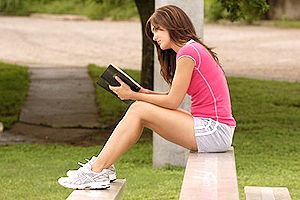 NBC
Actress Minka Kelly, a 27-year-old playing a high school senior.
Friday Night Lights note 2: The featured characters from the team are the former quarterback, the current quarterback, the tailback and the fullback. No linemen are featured. In the one episode in which the offensive line was seen briefly, the linemen were depicted as mindless brutes. (In the NFL, offensive linemen consistently have the highest scores on the Wonderlic test.) This season, a linebacker has been added as a recurring character, creating some position diversity.
Friday Night Lights note 3: Last season, Lyla Garrity, the SuperCheerleader character, was working on her college apps and otherwise acting like a senior, but she once again is strolling the halls of Dillon High, textbooks pressed against her bosom. High school girls usually carry textbooks and binders in the up position, against their chests; high school boys usually carry textbooks and binders in the down position, on their hips. If you have a theory on why this is so, propose it using the address at Reader Animadversion.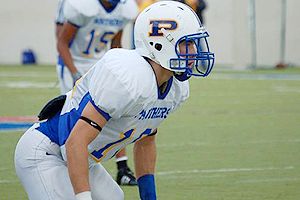 Pflugervillesports.com
Not the imaginary Dillon Panthers, the real Pflugerville Panthers.
Life Imitates Art:
Here are the contenders
in the real Texas, where the state football crowns remain undecided owing to the NFL-length high school season. This Saturday at the Alamodome, Euless Trinity will face Converse Judson and Katy will play Pflugerville, each bidding for one of the two 5A divisional championships. As pointed out by many readers -- including Gwen Mitchella of Austin, Texas -- NBC's "Friday Night Lights" does "location" shots at Pflugerville High, and television's imaginary Dillon Panthers use the
helmet logo
of the real-world Pflugerville Panthers. The television-show cheerleaders even dress just like the
actual Pflugerville cheerleaders
. Reader Wes Ward of Pflugerville reports the real-world Panthers are a holdout against the shotgun spread fad, employing the wing T. Here is Tuesday Morning Quarterback's prediction for the Katy-Pflugerville game -- the Panthers win an amazing comeback by going the length of the field on the final play!
Buck-Buck-Brawckkkkkkk No. 1: Trailing the awesome Miami Dolphins 16-13, Baltimore had fourth-and-goal on the Miami 1 with a few seconds remaining in regulation. Brian Billick sent in the place-kicking unit, as rookie quarterback Troy Smith showed moxie by pleading with his coach to go for the touchdown and the victory. NFL coaches almost always kick in this situation, sending the game into overtime, even though a fourth-and-goal from the 1 provides a 75 percent chance of victory and overtime is essentially a 50-50 proposition. But if the coach goes for the win and the try fails, he is blamed; whereas if he sends in the field goal unit, then loses in overtime -- as Baltimore did -- players get the blame. As noted by reader Nick Alexandrow of Arlington, Va., CBS announcers lauded Billick for sending in the field goal team and criticized Smith for pleading with his coach to try: That is, they lauded the losing strategy. "He's playing the percentages," announcer Kevin Harlan declared. He was doing the reverse of that!
Buck-Buck-Brawckkkkkkk No. 2: Trailing 17-7, Jersey/B faced fourth-and-1 on the New England 15 with 6:18 remaining. Jets, you must score a touchdown, you're close to the goal line and there's a 75 percent chance of success on fourth-and-1! Besides, you're 3-10 and playing the league's only undefeated team, what have you got to lose? When Eric Mangini sent in the field goal unit, TMQ wrote the words "game over" in his notebook. On the next Jersey/B possession, officials signaled a touchdown for the Jets, seeming to make the contest 20-17 with three minutes remaining. However, the score was reversed on review, and the football gods pushed the Jets' short field goal attempt wide.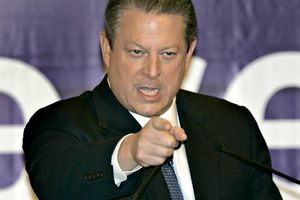 AP Photo/Dita Alangkara
Al Gore at Bali ...
Global Warming Update:
Last week at the Bali global warming conference in Indonesia, hundreds of government officials from around the world agreed to stage two more years of expensive meetings aimed at hammering out symbolic gestures unrelated to real reform.
Fifteen years ago
, hundreds of government officials from around the world met in Rio and agreed to stage years of expensive meetings aimed at hammering out symbolic gestures unrelated to real reform. Because global atmospheric concentration of carbon ... well, as a holiday treat, we'll skip the serious item. Let me just ask this regarding Al Gore, who employed the Bali stage to denounce the United States: Is it me, or is Gore turning into Danny DeVito as The Penguin?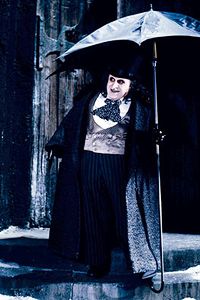 Warner Bros. Pictures
... and Danny DeVito as The Penguin. Separated at birth?
Leaderboard Notes:
New England has locked up the first seed in the AFC postseason and Indianapolis the second seed. Both now face a Meaningless Month of two regular-season games that are irrelevant to the standings, followed by a bye week. Neither the Patriots nor the Colts will play a game that counts until Jan. 12 at the earliest. Dallas and Green Bay have locked up NFC byes, but the first seed has not been determined, giving both incentive to win. All things considered, for the moment, you'd rather be Dallas or Green Bay, playing games that mean something, than be New England or Indianapolis.
Sweet 'N' Sour Sequence: Near the end of the first half, the Redskins called the Staten Island Ferry play: Quarterback pump-fakes a quick hitch and immediately hands off for a draw. (TMQ dubs this the Staten Island Ferry play because it's related to the Statue of Liberty but is nowhere as impressive.) The result was a 14-yard touchdown run. On Washington's next possession, getting the ball back with a 13-3 lead and a minute remaining, coaches again called the Staten Island Ferry play, for a 31-yard gain. Then called it again for 8 yards. Then called it again for 10 yards. The Redskins called the same play on four consecutive snaps, for 63 yards. That was sweet. The Jersey/A defense saw the same play on four consecutive snaps, and failed to stop it even once. That was sour.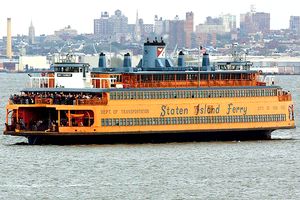 AP Photo/ Louis Lanzano
In their gray pants, the Giants look as though they couldn't outrun the Staten Island ferry.
NBC broadcast Washington at Jersey/A. Readers who attended the game reported that in the postgame traffic jam outside Giants Stadium, New Jersey state troopers were stopping cars to let John Madden's distinctive bus pass. At one point, the Madden bus was roaring along on the shoulder past blocked traffic with state trooper cruisers, emergency lights flashing and sirens wailing, in front and in behind. Is Madden a visiting head of state? Was he rushing to his laboratory to finish the cure for cancer? There is no reason New Jersey taxes should be expended to make Madden, or any sportscaster, feel self-important -- nor any reason average fans should be inconvenienced to allow a sportscaster to travel like the last of the Hapsburgs.
TMQ Put a Randy Moss Figurine on a Table, and None of the Defensive Back Figurines Could Cover It: Is there a McFarlane curse? Last week, Tuesday Morning Quarterback praised McFarlane sports figurines, which are of high quality. And in demand -- Spenser wants the Peyton Manning for Christmas, and I can't find him one! Reader Michelle of Gainesville, Ga., noted of the LaDainian Tomlinson figurine, which is impressive, "If you buy a Philip Rivers figurine and try to sit it next to this fella, will the plastic LT get up and walk off?" But maybe being turned into a figurine by McFarlane is on a par with being turned into a cover boy for the Madden game. Here are the company's six latest NFL figurines, released in November. Three of the six are Brady Quinn (hasn't played), Frank Gore (having an off year for a 4-10 team) and Steve McNair (played poorly before going on injured reserve).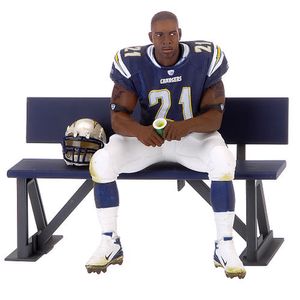 McFarlane Toys
Even the toy version of LaDainian Tomlinson looks fired up.
Why Tactics Matter:
Cleveland has used some unbalanced lines this season, and in thick snow on Sunday, employed the tactic often -- regular left tackle Joe Thomas lining up on the right, outside right tackle Kevin Shaffer. Most of Jamal Lewis' 163 rushing yards came to the outside right, behind the double-tackle combination. Buffalo kept trying to run straight up the middle, and in bad weather, the middle of the field degrades most, making traction impossible. All season, the Bills have fielded the league's most conservative offensive strategy, using extremely predictable short sideways throws and almost never throwing downfield, the result being that Buffalo is 29th in scoring. At Cleveland, in the first 58 minutes, Buffalo coaches called nothing but ultraconservative short sideways passes, and the Bills threw for 59 yards. Taking over with 1:51 remaining and desperate, Bills coaches began calling long pass routes. In the final two minutes, Buffalo threw for 65 yards, the Bills running out of time on the Cleveland 10. This was an elimination game for Buffalo, and the Bills did not become aggressive until the two-minute warning.
Note: With Cleveland leading 8-0, Buffalo took possession on its 35 with 1:22 remaining in the first half and holding all three timeouts. Bills coaches simply called three dives into the line, never trying to throw deep and never using a timeout. The football gods help those who help themselves.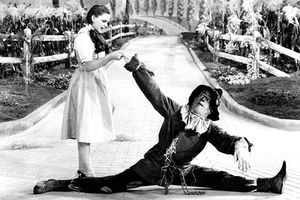 AP Photo/MGM
What was Dorothy's policy position on agricultural tariff barriers?
William Jennings Bryan Secretly Behind the Wicked Witch of the West?
Actual correction from last week's New York Times: "A television review in Weekend on Nov. 30 about 'Tin Man,' a mini-series on the Sci Fi Channel based on 'The Wonderful Wizard of Oz' by L. Frank Baum, referred imprecisely to an interpretation of Baum's having Dorothy wear silver shoes on the yellow-brick road. While the juxtaposition of the colors has been seen by some as indicating Mr. Baum's support for the monetary system of bimetallism, he is not known to have advocated that system."
Here are corrections expected to appear soon in the Times:
• "A television review about 'Tin Man,' a mini-series on the Sci Fi Channel based on 'The Wonderful Wizard of Oz' by L. Frank Baum, referred imprecisely to an interpretation of Baum's having the Cowardly Lion wear both whiskers and eye makeup. While the juxtaposition has been seen by some as indicating Mr. Baum's support for bisexuality, his views of gender issues are not known."
• "A television review about 'Tin Man,' a mini-series on the Sci Fi Channel based on 'The Wonderful Wizard of Oz' by L. Frank Baum, referred imprecisely to an interpretation of Baum's depicting an animal that is a cross between a bird and a monkey. While the juxtaposition has been seen by some as indicating Mr. Baum's advocacy of stem cell research, he is not known to have taken a position on DNA splicing."
• "A television review about 'Tin Man,' a mini-series on the Sci Fi Channel based on 'The Wonderful Wizard of Oz' by L. Frank Baum, referred imprecisely to an interpretation of Baum's having the Emerald City guards wear green and black. While the juxtaposition has been seen by some as indicating Mr. Baum's advocacy of anarcho-primitivism, whose flag is green and black, he is not known to have advocated that system."
Best Purist Drive: Jacksonville ran a 20-play touchdown drive, including converting twice on fourth-and-1. A sweet play in a lost cause: Needing a deuce conversion with the score 22-20 in the fourth quarter, Pittsburgh handed off to wide receiver Cedrick Wilson on an end-around left. Wilson executed a planned spin back toward the right and threw for two to fellow wideout Santonio Holmes.
Awesome Detroit Lions Roll Toward Playoffs: (Item canceled, will be replaced by a reality show.) Since jumping to 6-2, the Lions have dropped six straight. Detroit is simply unable to rush -- 26 rushing yards Sunday against San Diego -- and when the defense doesn't need to honor the run, the pass can't work. Through the six-loss string, Jon Kitna has tossed 11 interceptions.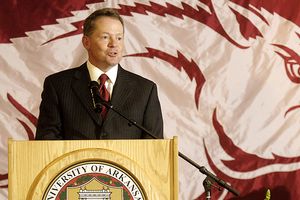 AP Photo/Beth Hall
At his first Arkansas news conference, Petrino declared, "I have proof Iraq has been buying uranium from Niger" and added, "I did not have sex with that woman, Miss Lewinsky."
Major Leftover Points on Petrino the Weasel:
Bobby Petrino quits on the Falcons after just 13 games, not having enough intestinal fortitude to deal with adversity even for a single year. Arkansas, remember the Law of Vagabond Coaches: When you hire a coach who's only in it for himself, you get a coach who's only in it for himself. Eleven months ago, Petrino made a "five-year" commitment to Atlanta, and as recently as late November, he was declaring in public that there was no way he would jump back to college. Then an offer came along and immediately he jumped -- without, according to the gossip Web site Profootballtalk.com, so much as pausing to say goodbye to his players. In July 2006, he signed a "10-year" contract with the University of Louisville, then walked out six months later to sign the "five-year" contract with the Falcons, then walked out for his "five-year" deal with Arkansas. Over barely 18 months, Petrino signed for 20 years! Potential Razorbacks football recruits -- when Petrino makes promises to you, bear in mind that he hasn't hesitated to break his word before.
In addition to being a promise-breaker, Petrino is a Class 1 Weasel. Introduced at Arkansas, he declared, "I certainly would have liked to have stayed [at Atlanta] and finished the season and have all that work out, but circumstances presented that this was what we had to do today and I couldn't be more happy about it." Oh -- he didn't break his word of his own accord, he was the helpless victim of "circumstances." Masked men rushed into the room and put a gun to his head! He was forced by circumstances to walk out on people who trusted him. Petrino has changed jobs 10 times since 1986, averaging barely two years per job. Masked men with guns keep running into the room!
Petrino the Weasel joins Little Nicky Saban and Steve Spurrier as recent football-factory coaches who ascended to the NFL expecting to be conquering heroes, then fled back to the college ranks. At least give Spurrier credit for making a dignified farewell, unlike Saban and Petrino. That college coaches run from the NFL back to college reflects the distinction in coaching cultures between the NCAA and NFL. In Division I, coaches are little gods, the players are for the most part obedient, and the football-factory schools hold such huge advantages in recruiting and gimmick schedules that an orangutan could coach a Top 25 team to bowl eligibility. In Division I, coaches throw clipboards if they don't win by five touchdowns. In the NFL, every yard is contested, the players are millionaires who talk back, you're relieved if you beat the Arizona Cardinals by a field goal and the media knives are always out. When the going got tough, Petrino and Saban sure got going!
Minor Leftover Points on Petrino the Weasel: According to The Atlanta Journal-Constitution, Petrino will be paid $2.85 million per year at Arkansas, $2 million from a booster's fund and the rest from the school: That is, from the taxpayers of Arkansas. This hardly seems a wise use of tax money, given that it is extremely unlikely Petrino will add to the sum of victories Arkansas might achieve by hiring any experienced coach with a decent résumé. According to the Journal-Constitution, Petrino's contract will pay him a $150,000 bonus for each year that he does not leave to take another coaching job. He gets a bonus simply for honoring his contract! Why, exactly, does Arkansas want to deal with someone the school assumes cannot be trusted? The Weasel's deal also includes "two loaned cars which are similar to the types of vehicles loaned to other head coaches," a personal luxury box at the stadiums in which the Razorbacks play, and membership and dues at a Fayetteville country club. Who funds these bennies, the boosters or Arkansas taxpayers?
We're left to wonder how Petrino got out of the Falcons' post in the first place. Atlanta owner Arthur Blank said last week that he "felt abused" by The Weasel's departure and that he had declined a request to grant the University of Arkansas permission to negotiate with Petrino. When you resign from a contract of the type Petrino had, you cannot take another job in the same profession until such time as the contract would have expired -- unless you are released from the contract or the agreement contained an exit clause you invoked. So either Blank released The Weasel from his promise or, when Blank negotiated the deal that brought Petrino from Louisville, he agreed to a very liberal exit clause that allowed Petrino to leave whenever he wanted, even midseason. If it's the former, Blank's behavior is puzzling; he could have just said no, telling Petrino, "You signed a contract, honor it." If it's the latter, the Falcons are terrible negotiators.
TMQ's Christmas List: Already talking on the cell phone while you drive and looking for something else to improve traffic safety? How about this sun visor with built-in television. Don't you feel safer already knowing soon people will be watching television while they drive! Why not drive while wearing this convenient helmet-shaped head massager; every Cylon on your Christmas list will want one. And if you think you are a frantic type A now, you're nothing until your home or office includes this scoreboard-style clock that tells time in seconds.
Point About Many College Coaches: Petrino will be paid about $2 million a year by a booster fund. One of the many hypocrisies of big-college sports is that although it's utterly forbidden for a booster to buy dinner for a player, much less convey any money or item of value, it is perfectly fine for a booster to place cash directly into the pockets of the coach. The NFL, a professional league where cash transfers are fine, would look askance if some local group started handing large regular payments to a coach, in return expecting access to the coach. This would seem like influence buying. Yet at the big-college level of football and men's basketball, influence buying by boosters is the norm.
The cash relationships between boosters and college coaches grow suspicious when it comes to running up the score. In the NFL, running up the score is quite rare -- Bill Belichick's 2007 fourth-quarter points obsession sticks out exactly because it is unusual for an NFL team to kick another team when it's down. In college, kicking the other team when it's down is standard operating procedure. What's different about the two levels of the sport? In college, many coaches have direct financial relationships with the boosters; in the NFL, none does.
Some college sports boosters simply love their schools, but some are high-roller types who bet on games. Football-factory schools often go into Saturday favored by large margins because the spread must be high to entice bettors to place wagers on the underdog. The only way a team can cover a high spread is by running the score up well beyond the margin necessary to win. When you see a football-factory school ahead 25 points in the fourth quarter yet still frantically throwing the ball, check the spread -- what might be happening is that the school's coach is trying to cover the spread, pleasing high-roller boosters who bet on the game. And those boosters are his employer. On the flip side, consider that Penn State under Joe Paterno never runs up the score. Modest Paterno, who gives much of his salary back to the school, accepts no booster payments.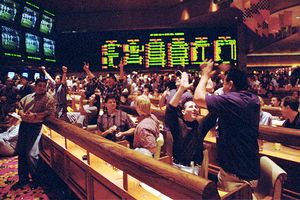 AP Photo/Lennox McLendon
Are big-college big-money boosters really concerned about the spread?
At Arkansas, Petrino the Weasel will be the employee of the boosters as much as he is the employee of the university -- and it might be the boosters' interests that he serves first, rather than the university's interest in a good reputation. He'll hardly be the only coach of this ilk in big-college football, financially beholden to groups of boosters that might include gamblers. Former coach Dennis Franchione got in trouble at Texas A&M when he made his financial relationship to boosters tawdry, formally charging them for information. (In October, Franchione was caught selling a "VIP newsletter" to boosters for $1,200 a year.
According to the Fort Worth Star-Telegram
, the newsletter contained tips on which players were injured -- information the NCAA, unlike the NFL, doesn't publish. (A high-stakes gambler planning to place big bets on Aggies games might pay $1,200 to know who was hurt.) But the fully aboveboard financial relationship entered into by Petrino with his team's boosters, and similar arrangements held by many football-factory coaches, can have a corrupting effect. College coaches should work for their colleges, not for the boosters, and should answer to college presidents, not to wealthy local businessmen. If booster payments to college coaches were banned, sportsmanship in college would improve because running up the score would be less common. And the market price for coaches would decline because taxpayers wouldn't stand for paying college coaches $3 million a year -- which they are not worth, in any case.
Still a Few Bugs in the System: "Welcome, everyone, to Thursday night football on NFL Network," NFLN lead announcer Bryant Gumbel said early in the Saturday night broadcast.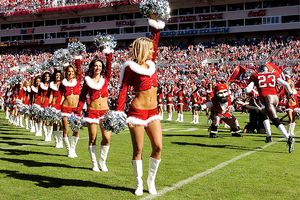 Larry French/Getty Images
If Santa Claus had scantily attired cheer-babes, he'd always defeat the Easter Bunny.
At Happy Hour in Hell's Sports Bar, Drinks Are Free But the Service Takes Forever:
Hell's sports bar has 28 wide-screen plasma TVs, and on Sunday all were showing Atlanta at Tampa. For the highlight program, all 28 screens in Hell's Sports Bar showed nothing but -- over and over -- 3-10 Atlanta punting on fourth-and-3 when trailing Tampa by 27 points in the second half.
Single Worst Play of the Season So Far: With Green Bay leading St. Louis 20-14 in the third quarter of what was then a tense game, the Packers faced third-and-10. Green Bay lined up trips left with Greg Jennings the interior slot man. St. Louis defensive backs Ronald Bartell and O.J. Atogwe stood directly in front of Jennings, Green Bay's deep threat, visibly arguing with each other about which of them would cover him. At the snap, neither covered Jennings, who simply ran straight up the field alone. Brett Favre threw Jennings a 44-yard touchdown pass; the receiver was so alone he looked as though he was expecting to field a punt. St. Louis Rams, you are guilty of the Single Worst Play of the Season So Far.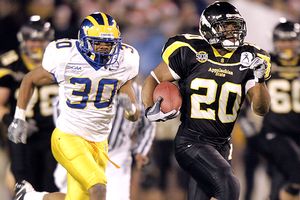 AP Photo/Wade Payne
Appalachian State of North Carolina upset Michigan. Who would win if the school played the Carolina Panthers?
Obscure College Score of the Week:
Appalachian State 49, Delaware 21 (Division I-AA championship). Located in Boone, N.C., three-time Division I-AA champ Appalachian State has an
on-campus corporate conference center
. With Appalachian State leading Delaware 28-7 in the third quarter, the Blue Hens faced fourth-and-1 at midfield. When Delaware sent its punt team onto the field, TMQ wrote the words "game over" in his notebook. This is a championship game! You're down by 21 points in the second half and punting on fourth-and-1 from midfield! An orangutan wouldn't punt in this situation! I scarcely need tell you Appalachian State took the ball the other way for the touchdown that iced that game. I'll just add that, on the possession, Appalachian State went for it on fourth-and-1 and converted -- as the vast majority of fourth-and-1 attempts convert. Trailing by 21 points, Delaware punted on fourth-and-1; ahead by the same margin, Appalachian State went for it. Coaches who want to win go for it on fourth-and-1.
Obscure College Score of the Week No. 2: Valdosta State 25, Northwest Missouri State 20 (Division II championship). Located in Valdosta, Ga., Valdosta State has existed since 1911 but had only seven presidents.
Obscure College Score of the Week No. 3: Wisconsin-Whitewater 31, Mount Union 21 (Division III championship). Mount Union plays "down," scheduling weak opponents who have no chance of victory. This year, the Purple Raiders won 75-7, 62-0, 63-3, 59-0 and 57-0 on their way to an undefeated season with an average outcome of 54-2, making Mount Union the highest-scoring college team of 2007. Wisconsin-Whitewater plays "up," seeking challenging opponents. As noted by reader George Ambelang of Sheboygan, Wis., Wisconsin-Whitewater scheduled tough out-of-conference opponents this season, including Division II St. Cloud State and Mary Hardin-Baylor, one of Division III's perennial powers. When a team that seeks strong opponents meets a team that seeks weak opponents, sportsmanship prevails. Located in Whitewater, Wis., UWW has an administrative organizational chart that makes the Pentagon look streamlined.
Obscure College Score of the Week No. 4: Carroll (Mont.) 17, Sioux Falls 9 (NAIA championship). Located in Helena, Mont., Carroll calls its sports teams the Fighting Saints. Not as good as the Fighting Quakers, but close! Reader Bart Hawkins of Great Falls, Mont., notes that Carroll coach Mike Van Diest has passed up the Division I coaching carousel to stay true to the little NAIA.
Obscure College Sign-Off: With the small-school championships determined, Obscure College Score signs off until next autumn, as schools that play from here on out are well-known. At small colleges all over the country, maintenance crews are covering the fields; the film rooms and coaches' office are dark; and the cheerleaders are putting the miniskirts away in very small drawers. (Actually, the film rooms and coaches' offices aren't dark -- even many Division III football programs now recruit, so coaches are busy looking at tape of high school prospects.) It gives me comfort to know that long after you and I have departed this mortal coil and are trying to scalp tickets to meet the football gods, all over the country at small colleges on Saturday afternoons, plastic-clad gentlemen will be slamming into each other while guys try to get girls' phone numbers, and car alarms go off in the parking lot.
Reader Animadversion: Got a complaint or a deeply held grievance? Write me at TMQ_ESPN@yahoo.com. Include your real name and the name of your hometown, and I might quote you by name unless you instruct me otherwise. Note: Giving your hometown improves your odds of being quoted.
Wednesday: Readers praise Harvard!
Next Week: No TMQ -- the column will resume on New Year's Day. Also, there will be no TMQ on Tuesday, Dec. 25, 2012. Enter that into your PDA now.
In addition to writing Tuesday Morning Quarterback, Gregg Easterbrook is the author of "The Progress Paradox: How Life Gets Better While People Feel Worse" and other books. He is also a contributing editor for The New Republic, The Atlantic Monthly and The Washington Monthly.