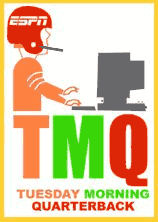 The Patriots must have a flaw, so let's consider one: Are they too good? Specifically, too good at passing? Tom Brady finished with a league-leading 4,806 passing yards, and for long stretches, New England's aerial attack seemed unstoppable even against solid defenses. Yet impressive as the Flying Elvii passing game was, the numbers posted were not unprecedented. In 2004, Daunte Culpepper recorded 4,717 passing yards. In 2002, Rich Gannon led the league with 4,689 passing yards. In 2001, Kurt Warner had 4,830 passing yards. In 1984, Dan Marino led the league with 5,082 passing yards. In 1981, Dan Fouts compiled 4,802 passing yards. Culpepper, Gannon, Warner, Marino, Fouts -- of all these quarterbacks with Brady-like performance, none went on to win the Super Bowl that season.
In fact, the NFL's passing yardage leader has never gone on to win the Super Bowl in the same season. For XLII consecutive years, the passing yardage leader has not been the quarterback to hoist the trophy as the Super Bowl concludes. Never. Maybe this year's Patriots will be the exception. But with passing-yardage leaders 0-for-41 at winning the Super Bowl, the odds seem to be against Brady.
You have to be able to run the football to win the Super Bowl; it seems that simple. Not all the time, of course. Pass-first teams have taken home many Lombardis, the 49ers of Joe Montana and Steve Young being an obvious example. Nicely balanced pass/run teams such as the Cowboys of the 1990s, the Colts of last season or the Patriots of 2003 (attempting 48 passes and 35 rushes in their Super Bowl win over Carolina) have ended their seasons wearing gaudy jewel-encrusted rings. And teams have gone pass-wacky in the Super Bowl and won, including the Patriots of 2004, who threw 51 times and ran just 17 times in defeating the Eagles -- although this tactic came as a surprise because New England had been almost exactly 50-50 on offense that season. But a team that was pass-wacky the entire season, producing the league's best pass yardage numbers, never has prevailed in the Super Bowl. Something to think about for New England, which just threw for 346 yards and rushed for 44 yards, at 1.7 yards per attempt, against the Giants in reaching 16-0.
Why do gonzo passing attacks tend to falter at the end? Pass defense requires mental discipline and concentration; pass defenders might tend to slack off a bit in the regular season but bear down in the playoffs, when there's no tomorrow. When the Steelers played the Patriots this year, Pittsburgh used a backed-off, almost careless coverage and seemed to shrug about the whole thing, as if thinking, "So we lose to New England today, so what, we're back in business next week." Nobody thinks that way in the playoffs.
ODDS AGAINST THE PATRIOTS?
The quarterback with the most passing yards has never won the Super Bowl that season:
When Being No. 1 Isn't a Good Thing

| | | | | |
| --- | --- | --- | --- | --- |
| Year | QB | Team | Yards | Result |
| 2007 | Tom Brady | Patriots | 4806 | ??? |
| 2006 | Drew Brees | Saints | 4418 | Lost NFC championship |
| 2005 | Tom Brady | Patriots | 4110 | Lost division round |
| 2004 | Daunte Culpepper | Vikings | 4717 | Lost division round |
| 2003 | Peyton Manning | Colts | 4267 | Lost AFC championship |
| 2002 | Rich Gannon | Raiders | 4689 | Lost Super Bowl |
| 2001 | Kurt Warner | Rams | 4830 | Lost Super Bowl |
| 2000 | Peyton Manning | Colts | 4413 | Lost wild card |
| 1999 | Steve Beuerlein | Panthers | 4436 | Missed playoffs |
| 1998 | Brett Favre | Packers | 4212 | Lost wild card |
| 1997 | Jeff George | Raiders | 3917 | Missed playoffs |
| 1996 | Mark Brunell | Jaguars | 4367 | Lost AFC championship |
| 1995 | Brett Favre | Packers | 4413 | Lost NFC championship |
| 1994 | Drew Bledsoe | Patriots | 4555 | Lost wild card |
| 1993 | John Elway | Broncos | 4030 | Lost wild card |
| 1992 | Dan Marino | Dolphins | 4116 | Lost AFC championship |
| 1991 | Warren Moon | Oilers | 4690 | Lost division round |
| 1990 | Warren Moon | Oilers | 4689 | Lost wild card |
| 1989 | Don Majkowski | Packers | 4318 | Missed playoffs |
| 1988 | Dan Marino | Dolphins | 4434 | Missed playoffs |
| 1987 | Neil Lomax | Cardinals | 3387 | Missed playoffs |
| 1986 | Dan Marino | Dolphins | 4746 | Missed playoffs |
| 1985 | Dan Marino | Dolphins | 4137 | Lost AFC championship |
| 1984 | Dan Marino | Dolphins | 5084 | Lost Super Bowl |
| 1983 | Lynn Dickey | Packers | 4458 | Missed playoffs |
| 1982 | Dan Fouts | Chargers | 2883 | Lost division round |
| 1981 | Dan Fouts | Chargers | 4802 | Lost AFC championship |
| 1980 | Dan Fouts | Chargers | 4715 | Lost AFC championship |
| 1979 | Dan Fouts | Chargers | 4082 | Lost division round |
| 1978 | Fran Tarkenton | Vikings | 3468 | Lost division round |
| 1977 | Joe Ferguson | Bills | 2803 | Missed playoffs |
| 1976 | Bert Jones | Colts | 3104 | Lost division round |
| 1975 | Ken Anderson | Bengals | 3169 | Lost division round |
| 1974 | Ken Anderson | Bengals | 2667 | Missed playoffs |
| 1973 | Roman Gabriel | Eagles | 3219 | Missed playoffs |
| 1972 | Joe Namath | Jets | 2816 | Missed playoffs |
| 1971 | John Hadl | Chargers | 3075 | Missed playoffs |
| 1970 | John Brodie | 49ers | 2941 | Lost NFC championship |
| 1969 | Daryle Lamonica | Raiders | 3302 | Lost AFL championship |
| 1968 | John Hadl | Chargers | 3473 | Missed playoffs |
| 1967 | Joe Namath | Jets | 4007 | Missed playoffs |
| 1966 | Joe Namath | Jets | 3379 | Missed playoffs |
New England's passing philosophy this season has been effective and also surprisingly simple: Brady almost always in the shotgun spread, few play fakes, no rollouts or bootlegs, just slants, curls, flares and up routes endlessly repeated. Because Brady, the Patriots receivers and especially the New England offensive line are all such good players -- and because Wes Welker blocks better than some offensive linemen on other teams -- a simple air attack with little deception and endless repetition of slants has ground out yards and touchdowns. Will the same tactics work against postseason defenders playing at maximum intensity? All previous league-leading passers, such as Drew Brees last season or Gannon in 2002, have discovered to their horror that the throws that seemed easy in the regular season aren't there in the postseason because defenders are performing at max throttle.
This is one of the reasons a team that wants to win the Super Bowl must be able to run, at least some of the time. Another reason is weather. New England has played two bad-weather games this season, in wind in the first half at Baltimore, in wintry mix against Miami at home. In the wind at Baltimore, New England was having trouble completing passes and trailed 17-10 in the third quarter when the football gods sent calm air and the Flying Elvii came back. In slushy sleet hosting Miami, the Patriots failed to score in the second half despite keeping Brady and other starters on the field. Laurence Maroney said after the game that the fact that the Patriots won in bad weather while rushing for 196 yards proved they could run. But the opponent was the league's worst team! Two weeks earlier, the Bills -- with an awful cover-your-eyes offense -- had rushed for 224 yards against Miami.
It's not that New England cannot rush, the Patriots finished 13th in the league in rushing yards. It's that New England has put all its eggs in the passing basket in terms of tactics, style of line play and continuing to throw constantly even when way ahead, rather than using the second half of big wins to work on the running game. This season, the Patriots were 60-40 on called passes (attempts plus scrambles and sacks), a remarkable pass bias considering how often New England was ahead late. Going pass-wacky occasionally has won some teams Super Bowls; being pass-wacky all the time has never resulted in a Super Bowl triumph. Maybe the Patriots can beat history, but the obstacle seems significant. And of course, Bill Belichick being Bill Belichick, maybe he will cross someone up with a run-oriented game plan. But having the league's No. 1 gunslinger has proved a trap for every previous team with the distinction.
If the New England offense has a fault when it comes to the run, on the flip side, the New England defense is much better than appreciated. New England finished fourth in total defense, which is extra impressive because the Patriots had so many blowout wins and even the best defenders tend to lose focus once their team holds an insurmountable lead. Four times this season, New England was in jeopardy in the fourth quarter: against Indianapolis, Philadelphia, Baltimore and Jersey/A. Four times, the key to the Pats' comeback was that their defense shut the opposition down, denying the first downs the other side needed to keep Brady off the field.
For two seasons, Mike Vrabel has been the league's best linebacker, and it really showed in 2007; the other Patriots' linebackers are stout, including Junior Seau, dismissed as washed up by San Diego five years ago; the Patriots' secondary plays with intensity, led by Rodney Harrison, a mad-at-the-world guy who has become Belichick's Mini-Me on the field; and New England is solid across the defensive front, if consistently dirty. (How the Patriots' defensive linemen get away with dirty tactics is another of the officiating mysteries surrounding this team; Vince Wilfork stuck his fingers into Brandon Jacobs' eye Saturday night and the zebras, standing there, not only did not toss Wilfork but didn't even flag him.) Plus, the Patriots are adept at varying defensive tactics. Often, they play a conservative coverage-oriented look in the first three quarters, then, having lulled offensive coordinators to sleep, blitz in the fourth.
So, the New England offense might not prove as strong as expected in the postseason and the Patriots' defense might shine. Of course, if something different happens, I will deny having said this.
In other football news, 9-7 City of Tampa hosts a playoff game, but 11-5 Jacksonville opens on the road, 10-6 Cleveland is eliminated and the 10-6 Giants travel to the 9-7 Bucs. Has there ever been a better case for making the NFL postseason a seeded tournament? No one cares about the AFC versus NFC Super Bowl setup any more: My guess is you don't even know how that series stands. (Basically, tied; yawn.) The postseason brackets should reward the teams that perform best, and the best Super Bowl pairing -- Indianapolis versus New England -- should at least be possible when the countdown begins. The NFL could retain conference and division structure for the purpose of organizing regular-season play, then make the playoffs a 12-team seeded tourney. Performance would be rewarded, and pairings would be better. What's not to like?
In leaguewide news, although the best part now begins -- the games an entire season of nonsense has built up to -- paradoxically, interest declines at this point in each NFL season. Only 12 of 32 teams remain standing, which means two-thirds of the fan bases are already dreaming of September 2008. In the regular season, even if your team stinks, you can always hope it'll have a good game the next week. Now, though, there is no next week for 20 of 32 franchises and their followers. With each passing week in the NFL postseason, fewer and fewer people really care what happens because their favorite teams are out. American men -- and, increasingly, women -- spend a much greater portion of each calendar year thinking about their dormant favorite teams than actually observing the teams' performance unfold. Already those postseason shakes are starting for millions. You're going to blink your eyes and realize, There are no more football games on television until autumn. It's coming amazingly fast -- a couple more bowl games, plus 11 NFL playoff contests, then the stadium lights are turned off. Savor this year's football while there is still time. Trust me: By mid-March, you'll be wishing the Chiefs at Jets overtime was just coming on.
In other football news, it's almost midnight on the final day of the regular season and one playoff slot remains undetermined. If Tennessee can hold on to defeat the Indianapolis practice squad -- Clint Session and Michael Toudouze are among Colts who have been on the turf most of the game -- the Flaming Thumbtacks are in. If the Colts' practice squad rallies, the Browns are in. With Tennessee leading 16-10, Indianapolis faces fourth-and-11 at the two-minute warning. Jim Sorgi throws deep to an uncovered Devin Aromashodu, and all across Ohio, people must have gasped as the ball flew and the Titans' end zone beckoned. Aromashodu dropped the pass as if it were a live ferret, and the clock struck midnight on the Browns' almost-magical season.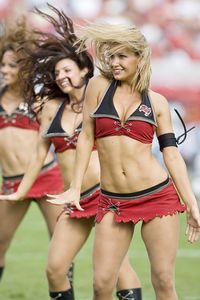 David Stluka/Getty Images
Even if the cheerleaders appease the football gods, you still need to play the starters.
The NFL has a rule saying teams must make a "bona-fide effort" to win, even if the game has no impact on the standings. The Giants surely honored that rule by going all-out against the Patriots, although Jersey/A already had locked into its seeding; the Giants' all-out effort was extremely impressive, and bodes well for their postseason. Most season-finale games don't matter, so no one cares about the bona fide effort rule. But Indianapolis, which also had locked up its seed already, did not make a bona fide effort to defeat Tennessee -- Peyton Manning played two series; starters sat out the second half -- and Tony Dungy's decision to field his practice squad had the effect of keeping Cleveland out of the postseason. There's no conspiracy here since Indianapolis, as the second seed, couldn't play the sixth seed (whether Tennessee or Cleveland) before the AFC championship and the sixth seed reaching the championship is unlikely. Still, the rule stipulates that NFL teams must try to win, and, in a consequential game, Indianapolis did not try to win.
Cleveland has a grievance -- and the football gods might wax wroth against the Colts. (Dallas did not try to beat Washington, either, but as Minnesota and New Orleans both lost, neither can complain about the Cowboys.)
Stat of the Week No. 1: Since taking the field for last year's NFC Championship Game, Chicago and New Orleans are a combined 15-20.
Stat of the Week No. 2: Indianapolis and New England outscored their opponents by a combined 503 points.
Stat of the Week No. 3: Kansas City was the sole team that did not win a game in the second half of the season.
Stat of the Week No. 4:
At 8-8, the Texans recorded their first non-losing season, with Matt Schaub 4-7 as the starter and Sage Rosenfels 4-1.
Stat of the Week No. 5: Over the past two seasons, Denver (2006) and Detroit (2007) each opened 6-2, then missed the playoffs.
Stat of the Week No. 6: In two meetings, San Diego outscored Denver 64-6.
Stat of the Week No. 7: Behind Eli Manning, the Giants are 23-9 in the first half of season and 12-20 in the second half.
Stat of the Week No. 8: After leading San Francisco to a loss Sunday, quarterback Chris Weinke is 2-18 as a starter.
Stat of the Week No. 9: Randy Moss had more touchdown receptions (23) than all players combined on two entire teams, Tennessee (9), plus Minnesota (12), Miami (12), Buffalo (12) or Baltimore (13).
Stat of the Week No. 10: The two highest-scoring offenses in NFL history (Patriots 2007, Vikings 1998) featured Randy Moss.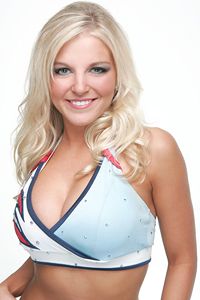 Titansonline.com
Should nurses cause dangerous racing male heartbeats?
Cheerleader of the Week: Reader Steven Goldburg of Nashville nominates Tandra Caldwell of the Tennessee Titans. According to her team bio, Caldwell is a nursing major in college. A nurse and a cheerleader -- male fantasy overload! Also according to her team bio, the historical figure she would most like to meet is Civil War nurse Clara Barton. There's a road near my house called the Clara Barton Parkway, and I bet not one person in 1,000 who drives on that parkway can identify Barton's historical accomplishment.
Sweet Pair of Plays: TMQ likes the "flip" run, when the quarterback fakes a handoff in one direction, then backhand flips to a runner going the other way. On the Sunday before Christmas, Washington added a new wrinkle -- a flip pass, with Clinton Portis taking the flip lateral, then pulling up to throw a touchdown pass. This Sunday against New Orleans, Chicago went the play one better. First a guard pulled left to sell the fake handoff left; then the "other Adrian Peterson" took a flip lateral right; then Peterson started to run forward to sell the fake; then he pulled up and threw a touchdown pass. Sweet!
Sour Play of the Week: Late in the Chicago-Green Bay game the Sunday before Christmas, Brian Urlacher jumped into the line over center as if to pass rush, then at the snap dropped back into the slant lane and intercepted a Brett Favre screen pass, returning it 85 yards for a touchdown. (See more on this play below.) This Sunday, with Chicago versus New Orleans scoreless, Urlacher did the same thing -- lined up over center, then backpedaled into the slant lane at the snap and intercepted a slant pass. New Orleans coaches had just seen this on film! From the end of the Green Bay game to the beginning of the New Orleans contest, Urlacher got away with the same trick on two of three opponents' possessions.
Sour Play of the Week No. 2: With Washington leading 10-3, Dallas had first down on its own 1 with 1:15 remaining in the second quarter. The Cowboys ran on first down, then the Redskins called timeout. On second and third downs, Dallas threw incomplete, stopping the clock; Washington brought the ball back the other way and kicked a field goal with one second remaining. Had Dallas simply rushed up the middle for no gain on both snaps, the Redskins would have run out of time.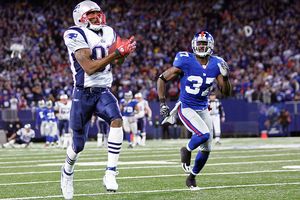 Chris McGrath/Getty Images
At the snap he had 22 touchdown catches -- maybe somebody should cover him!
Sweet 'N' Sour Play: The Giants led 28-23 in the fourth quarter, and the home crowd was pumping out as much energy as you will ever feel at a sporting event. Randy Moss went deep, the cornerback fell down, Moss was open for a long touchdown -- and dropped the pass. On the next snap, New England coaches called another long pass to Moss, 65-yard touchdown reception and perfection loomed. To call again the play that just failed is sweet, and it often works. Over on the Giants' side, three defenders were near Moss on the dropped pass. When New England called exactly the same thing on the next down, cornerback Aaron Ross simply let Moss go, making no attempt at all to cover him; safety James Butler was 10 yards behind Moss and never a factor. At the moment Ross simply let Moss race up the field unguarded, Moss had an NFL-record-tying 22 touchdown receptions on the season. If a man with 22 touchdown receptions goes deep, maybe someone should cover him! That was really sour.
And TMQ Wrote the Words "Lions Season Over" in His Notebook: With Detroit's once-promising 6-2 season having tumbled to 7-8 and the Lions trailing Green Bay 7-3, Detroit coach Rod Marinelli sent in the punting unit on fourth-and-3 -- on the Green Bay 38. I scarcely even need mention the Packers took the ball the other way for a touchdown. Note: Detroit has lost 17 straight at Green Bay, corresponding to the year of Brett Favre's arrival.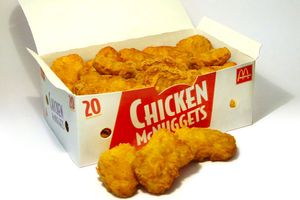 TMQ's nightmare -- SUVs with their engines running in the drive-through line at McDonald's.
So $100 Buys Either 400 McNuggets or 295 McNuggets: At my local McDonald's, four chicken McNuggets are $1 and 10 are $3.39. Thus, 12 McNuggets cost less than 10! Meanwhile, the Quarter Pounder with cheese costs $2.89 and contains 510 calories; the double cheeseburger costs $1 and contains 410 calories. Both have about the same content of fat (bad) and protein (good). Nutritionally, you're better off with the cheaper product! Fast food question: NFL Network has Wendy's as a lead sponsor and lends Rich Eisen to that incomprehensible Wendy's bacon-burger commercial. But the NFL itself has Burger King as a lead sponsor. Isn't this more than a tad odd?
How Emissions Testing Increases Air Pollution: A few TMQs ago, I railed against people leaving the motor running when stopped for a short time, such as waiting for someone to come out of a building. Shutting off the engine any time you won't be moving for a minute or more saves gasoline and reduces petroleum waste; leaving the engine running accomplishes nothing. Reader Jason Burkholder of Ruckersville, Va., wrote in to note that drivers waiting at fast-food drive-through windows almost always leave their engines idling, wasting gasoline. Last week, columnist George Will reported that most McDonald's outlets now sell more at their drive-through windows than at the counter. If all those mammoth SUVs are in the drive-through line with engines idling, rather than their drivers parking and coming inside, no wonder petroleum imports from Persian Gulf dictatorships keep rising.
Last week, I found myself in a group of dozens of cars and SUVs, almost all of which had their engines running even though they were stopped and not expecting to move. Where was this? At a Maryland state emissions testing station. The testing station had six lanes, each with a dozen cars waiting to be tested, the vehicles creeping forward about once every five minutes. I got out and walked around the cars and SUVs. Although it was obvious to drivers they would advance only every five minutes or so, nearly all left the engines running, wasting gasoline. And causing smog emissions! Not only was it absurd that drivers kept their engines running while mired in a slow-moving line, it was absurd that dozens of cars were stacked up, pointlessly emitting pollutants, at an emissions testing station.
Emissions testing stations themselves are technological dinosaurs. In the 1980s and early 1990s, the Environmental Protection Agency used Clean Air Act authority to pressure states into building emissions testing centers that were designed to attach hoses to tailpipes and catch old clunkers or poorly maintained cars emitting more air pollutants than 100 properly maintained cars. State governments fought the requirement because voters hate having to take half a day off from work to pay for the privilege of waiting in line for time-wasting tests. But eventually, most states built centralized emissions testing centers, creating a bureaucracy the states now seek to sustain. All cars and SUVs sold since about the start of the decade contain computer chips that report on emissions performance; the emissions centers no longer test the tailpipe, merely jack in to the chip for a few seconds. This could be accomplished wirelessly by attaching a small transmitter to the engine chip and putting receivers along highways; any car or SUV that was violating pollution standards would announce that fact -- and its VIN -- whenever it drove past a receiver, and the owners could be warned by mail. Setting the system up this way would ensure clean air while allowing the elimination of emissions testing stations, saving voters time and ending the long lines of cars idling at the stations, wasting petroleum and emitting greenhouse gases. However, centralized emissions testing now has interest groups that support it as a jobs program, another example of how government can create programs but cannot end them.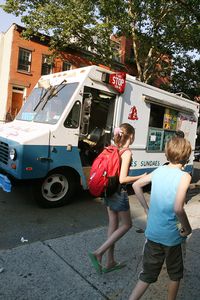 AP Photo/Bebeto Matthews
Turn off that ice cream jingle -- it's drowning out the sound of gunfire!
Here's another government action that has the unintended consequence of keeping engines running. New York City hands out $350 tickets to ice cream trucks that play their jingles when parked and making sales; a new noise ordinance says Mister Softee and similar trucks can play jingles only when moving, not after stopping. The goal of the rule is to cut down on the time ice cream trucks play their jingles, music that New York officials apparently think disturbs city dwellers' appreciation of the blaring horns, car alarms, sirens and pile-driver thumps that make up the sound track of New York City's life. Result of the rule? Ice cream trucks circle the block, playing music and wasting fossil fuel, until a crowd of kids gathers, then stop. Just as much noise, more fuel burned, more emissions.
Cold Analyst = Victory? The day after Christmas, CNN showed political analyst Bill Schneider doing an Iowa stand-up while wearing a heavy coat and a Russian fur hat three times the size of his head. The low in Des Moines that day was only 22 degrees! Schneider declared that John McCain and John Edwards "might shake things up" by winning the Iowa caucuses. This would seem to doom McCain and Edwards, given that the analyst praising them was wearing ridiculous Siberia survival gear.
The Injury List -- Doubtful and Questionable: Last month, Jon "Once I Was A Teenaged Coach" Gruden admitted that for two games he listed quarterback Jeff Garcia as "questionable" -- which the NFL defines as meaning a 50-50 chance the athlete will play -- despite knowing Garcia could not play. Gruden wanted to force opponents to prepare for two different styles of quarterbacking. Generally, NFL coaches would rather their opponents not know who is hurt, so the opponent wastes time preparing for players who won't play. This is why Bill Belichick gimmicked the Patriots injury list for years -- initially refusing to reported injured players, then, after the NFL reprimanded him, going to the other extreme and reporting practically everyone as hurt so opponents could not tell which were the true injuries.
In the spring, the NFL made its injury reporting system even more specific with this announcement: "The league will now require teams to include in their Wednesday, Thursday, and Friday disclosures identification of whether the player did not participate in practice, had limited participation in practice, or fully participated in practice. This disclosure will be in addition to the categories of 'out,' 'doubtful,' 'questionable,' and 'probable.'" No central reporting of concussions or injected painkiller use is required by the NFL, yet teams must report such obscure info as "limited participation in practice."
The whole injury-list business has always seemed quite strange to Tuesday Morning Quarterback because the real beneficiaries of the injury list are gamblers. Had gamblers known, for example, that Garcia would not play in the Tampa-Houston game, they would have been more likely to bet on the underdog Texans, who ultimately won. Gamblers read the NFL injuries lists closely. Probably the majority of gamblers don't come out ahead in the long run from reading injury lists -- in the long run, the majority of gamblers lose, which is why the books stay in business. But intel on injuries is avidly sought by bettors, especially high-stakes gamblers.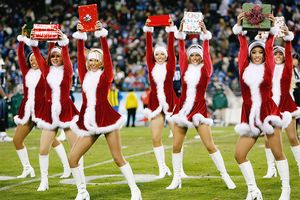 Kevin C. Cox/Getty Images
Must resist open-the-present joke ... must resist open-the-present joke.
It has always seemed to TMQ that the injury list, and the NFL's fastidious insistence that the list be accurate, mainly serves the interests of Las Vegas and The Strip's offshore counterparts. Considering that the NFL intensely worries -- as it should -- about the corrupting effects of wagering, the existence of the injury list is peculiar. Other pro sports and all of college athletics have no comparable system. Please, NFL, just do away with the injury list.
Jumping the Post-Christmas Gun: Reader Matt Regensburger of St. Louis reports he walked into the Target in Bridgeton, Mo., on Dec. 26 and found a front aisle decorated for Valentine's Day. Clint Lauderback of Lancaster, Ohio, reports he saw Valentine's candies and gifts on display at the Wal-Mart in Marysville, Ohio, on Dec. 23! Meanwhile, at the Official Domiciliary Residence of TMQ, a Lands' End catalog headlined "Winter's End Sale" arrived on Dec. 22 -- the first day of winter.
Change the Charles Rule: It's illegal to chuck a receiver beyond 5 yards of the line of scrimmage -- TMQ contends that calling this the "charles" rule would be more dignified. Illegal chuck is a five-yard penalty and automatic first down; the automatic first down is too much reward to the offense for what is often minor contact. Example: With Jersey/A leading 7-3, New England faced third-and-14; Tom Brady was sacked for an 8-yard loss, making the situation fourth-and-22. But Giants cornerback Corey Webster was called for an illegal charles, and suddenly the Patriots had first-and-10. They scored on the renewed possession to take a 10-7 lead and ultimately won by three. There was contact between Webster and the receiver maybe 6 or 7 yards beyond the line, but the contact was minor and only slightly beyond the legal contact zone. Yet the reward to New England was huge -- fourth-and-long in Patriots territory became first down in Giants' territory, a game-changing moment. Illegal charles should be 5 yards and replay the down, but no automatic first down; the rule as written is too generous to the offense. Remember, zebras call pass interference whenever the defender really slams a receiver. When the two merely make brief contact, the offense should not be rewarded with a first down.
Rules note: it was Giants 28, Patriots 16 when linebacker Gerris Wilkinson was called for pass interference against Randy Moss in the end zone, placing New England on the Jersey/A 1; the touchdown made it 28-23 and was key to the Flying Elvii comeback. I didn't see any pass interference on this play, did you? Wilkinson ran in front of Moss and held his hands up, facing away from the ball, but didn't hit Moss. Where was the pass interference? NFL Network announcers Bryant Gumbel and Cris Collinsworth declared that the penalty was for faceguarding. But the rule against faceguarding was abolished in 2005! When Collinsworth played, what Wilkinson did was illegal; now, it's perfectly legal. Once again, the Patriots benefit from a mysterious major officiating call in their favor. And NFLN guys, if you're going to represent the league, know the rulebook, OK?
The Football Gods Promised an Investigation: Minnesota ended first in rushing offense and first in rushing defense, a football purist's jackpot. Yet the Vikings honked their final two games, missing the postseason. Where might this team have gone with even average quarterbacking? As for Denver, its 2006 season ended with San Francisco knocking the heavily favored Broncos out of the playoffs. Now, Denver ends 2007 by knocking a heavy favorite out of the playoffs. Considering how San Francisco's 2007 went, Broncos fans will not play up this parallel. Bottom line on The Ultimate Leader's decision to bench Jake Plummer: Denver was 7-4 in November 2007 when Plummer was benched and is 9-12 since. Note that of the teams under pressure to record late-season wins to make the postseason, Buffalo, Minnesota and New Orleans completely collapsed; Cleveland, Tennessee and Jersey/A were so-so; only Washington excelled, closing on a 4-0 run.
Disclaimer of the Week:
As a Christmas gift, I ordered a DVD of New Yorker cartoons. Before I could place the order, I had to click "accept" to a 2,442-word disclaimer that included such verbiage as, "You hereby agree to release service provider, its affiliates and third-party service providers, and each of their respective directors, officers, employees, and agents from claims, demands and damages (actual and consequential) of every kind and nature, known and unknown, suspected and unsuspected, disclosed and undisclosed ('claims'), arising out of or in any way connected with your use of cartoonbank.com." A 2,442-word disclaimer for cartoons!
Buck-Buck-Brawckkkkkkk: With the game scoreless, the Buffalo Ivies faced fourth-and-inches at their 40. Coach Dick "Cheerio, Chaps" Jauron sent in the punting unit, and I scarcely need tell you it took Philadelphia just six plays to pass the point where the ball would have been spotted had Buffalo tried and failed. The Eagles scored a touchdown on the possession, and never looked back. Bills note: From the point at which the team was 7-6 with a strong playoff chance, Buffalo used ultraconservative offensive tactics and lost its final three, in the process converting just six of 37 third-down opportunities.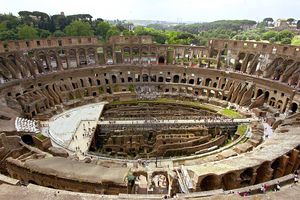 AP Photo/Plinio Lepri
Ancient Rome believed it was the Eternal City -- that seems like modesty compared to how contemporary Washington, D.C. thinks of itself.
How Can We Learn From the Past When We Can't Remember What Happened Yesterday?
Included in a headline from last week's New York Times: "Schools Could Learn From the Past." You can't learn from the future! Cullen Murphy's important new book "Are We Rome?" -- which asks whether the United States is becoming the Roman Empire at the point of its decline -- actually argues that you can't learn that much from the past, either. Murphy notes that European leaders who made mistake after mistake before and during World War I were all well-schooled in the historical mistakes made by ancient Greek leaders in similar situations. The most troubling contention of "Are We Rome?" is that Washington, like the city of Rome when the decline began, has a hugely exaggerated view of its own importance while refusing to believe other nations possess power or insight.
Bill Belichick Was Behind This Somehow: Just before Christmas, Danish officials charged the Danish Christmas Tree Growers Association with running a price cartel. Sinister Christmas trees! The charges were filed by Denmark's public prosecutor for serious economic crimes. Does Denmark also have a prosecutor for comedy crimes?
Grade Inflation Comes to High School Football: Over Christmas weekend, Texas determined its 12 state football champions.
Will Broadcast Television Sell Cable the Rope That Is Used to Hang It? First man on the moon, State of the Union address, Patriots at Giants -- Name three events simulcast on many networks! It's good that the NFL offered this game to NBC and CBS so that anyone could watch what otherwise would have been an NFL Network exclusive. (In the Boston and New York City areas, the game aired simultaneously on four channels because the NFL already had agreed to allow local affiliates to show the contest.) But don't believe for a minute the line that this was a big concession on the NFL's part: Rather, it was a big advert for NFL Network! Sure, many who watched the game via NBC or CBS did not care, or perhaps even realize, that the logos, announcers and trade dress were those of NFL Network. But NFL Network wants to muscle in on the territory NBC and CBS hold, and there were those networks providing their future competitor with a fantastic free publicity stunt.
Saturday night is the least-watched night for television, so the game -- the highest-rated regular-season NFL contest in 12 years -- surely drew NBC and CBS more viewers than they would have had with the scheduled cop-show reruns. Here is the plot description of one of the shows postponed from Saturday night:
"CSI: Slow-Motion Close-Up Unit." Starring Jimmy Smits and Jenna Elfman. Good-looking, wise-cracking investigators use the space shuttle to capture a single molecule that drifted away from the scene of a bizarre murder. Tracing the molecule to the beginning of time, they find the killer. Guest appearances by Lindsay Lohan and Cedric the Entertainer.
In Case of Fire, You Can't Break the Glass: Recent movies including "Mission: Impossible III," "X-Men: The Last Stand" and all the Bourne flicks featured characters smashing through the glass walls of skyscrapers. In "MI3," Tom Cruise runs through the glass wall of a Shanghai office tower and parachutes away. In "X3," the mutant Angel smashes through a skyscraper's glass wall and flies away. (Angel has wings and can fly, but otherwise is normal -- he has no super-strength.) In one of the "Rush Hour" movies, Jackie Chan kicks the bad guy, who flies backward through the air 10 feet and smashes through a skyscraper window, falling to his death.
Here's the problem -- not only could you not run through a skyscraper glass wall, odds are you couldn't break one with a sledgehammer. Skyscraper walls employ extremely strong structural glass, precisely to prevent breakage. In April 2007, two window washers became stranded on the outside of the 37th floor of a Manhattan skyscraper; firefighters used kickboxing moves to shatter the glass wall of the building, then rescued the workers.
Not! Actually, what they used was a diamond-studded industrial saw that the New York City Fire Department keeps on hand because it is capable of penetrating the strong structural glass used for skyscraper exteriors. When stunt men film scenes of action heroes leaping or smashing through glass walls or skyscraper windows, what appears to be a window may be a film of plastic or sugar, or if it is an actual window, has tiny explosive charges attached. People have died in building fires because they have been unable to break the windows to get out; treating skyscraper windows as easily smashed is just another of the many ways in which Hollywood becomes silly.
Best Blocks: "Look dad, the Saints are punting directly to Devin Hester, it's going to be a touchdown!" So spoke both my boys simultaneously as the Saints punted directly to Hester, and yea, verily, it came to pass. But no one scores without blocking; Brandon Rideau threw a terrific block to spring Hester. And on Ryan Grant's touchdown run for Green Bay, tackle Chad Clifton hustled almost 20 yards downfield to get the key block.
Private Mega-Jets: Tuesday Morning Quarterback has done many items on the ever-increasing levels of airborne luxury demanded by CEOs and the super-rich. First was the Learjet, which recently celebrated its 40th anniversary. As the initial private jet, the term "Learjet" came to represent extreme opulence ("He flew his Learjet up to Nova Scotia to see the total eclipse of the sun"), though early Learjets were quite cramped and required a highly proficient pilot to provide a smooth ride, as uncommanded wing rolls were a problem. Next, decent-sized private jets such as the Gulfstream appeared, but you still bent low to enter. Then CEOs began using shareholder funds to have entire Boeing 737 or Airbus 319 jetliners converted for their private use; after that, CEOs began spending other people's money to have even larger Boeing 757s and 767s converted for personal ego stroking. Observing the trend for ever-larger and ever-more-costly personal jets, others responded. Cessna is now taking orders for a large-cabin Citation personal jet in which there's ample room to walk around, while Lear is designing a big personal jet. Brazil's Embraer has what it calls a "super-midsize" personal jet in development. The aerospace trade magazine Aviation Week and Space Technology (known to aficionados as Aviation Leak and Space Terminology) recently said high-end personal jets and CEO conversions of passenger jets are now "flying off the shelves." Har har!
Airbus declared that the world's largest aircraft, the new A380, designed to carry 800 people, would be available in a single-passenger "flying palace" version for the super-rich. In November, Airbus announced that Saudi billionaire Al-Walid bin Talal, CEO of EADS, is the first buyer of a palace that flies. Forbes estimates bin Talal's worth at $20 billion; his firm owns blocks of stock in Citigroup, Disney (ESPN's parent company) and other American enterprises. Bin Talal will pay Airbus about $300 million for the plane, and is expected to spend at least $100 million on a custom interior; his personal A380 will weigh 70 percent more than Air Force One, and offer 6,400 square feet of interior space. Al Jaber Aviation of the United Arab Emirates has signed letters with Airbus indicating it expects to buy at least two personal A380s for conversion for unnamed customers.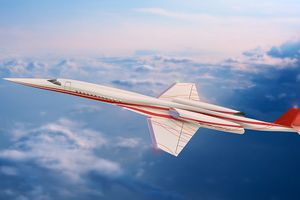 Aerioncorp.com
The CEO personal supersonic jet exists only on paper -- let's hope it stays that way.
But why stop at mere subsonic travel? Aerion, a Nevada start-up funded by billionaire Robert Bass, now claims it is taking initial deposits for an $80 million, 12-passenger supersonic personal jet capable of Mach 1.6, almost double the speed of other personal jets. Aviation Week says one of the initial deposits is from Saudi construction executive Tarek bin Laden. Aerion contends it will start certification of the private SST in 2014, though nothing built by the company has so far actually taken flight. Aerion also claims to have solved the sonic boom problem, and says its SST will be able to travel at Mach 1.2 over land without causing booms. (Owing to booms, U.S. law forbids supersonic flight over land except in military emergencies; to be appealing to the super-rich, the Aerion plane would need a solution to that restriction.)
Now comes word that European governments have tossed $31 million in subsidies into the High Speed Aircraft project, an attempt to design an Aerion-like supersonic private jet for CEOs and oil sheiks. Do you remember the history of the SST concept? During the 1960s, the United States, the former Soviet Union and a British-French coalition raced to build the first supersonic passenger plane. The European project resulted in the Concorde, which burned so much fuel that even at double first-class fares, it lost money. The Russian project resulted in the Tupolev TU-144, which burned so much fuel it had no chance of commercial success, and which crashed at the 1973 Paris Air Show. The United States project was canceled when, in a rare fit of social responsibility, Congress decided it was ridiculous to subsidize a sure money-loser whose sole benefit would be a slight increase in convenience for the super-rich.
Now European governments are returning to the nutty notion of subsidizing a supersonic commercial aircraft -- bear in mind, Boeing took a long look at supersonic flight four years ago and concluded that even with improved engines, the idea still makes no economic sense. The nutty European project is working with concepts for supersonic private jets from Sukhoi, which builds Russia's best military aircraft. The Sukhoi concept seems a lot like Aerion's paper airplane, engineered to carry a dozen plutocrats across the Atlantic Ocean at about Mach 1.5, with less sonic boom than previous supersonic planes. (Engineers say "paper airplane" when a company talks as though its aircraft exists, but the plane is strictly on paper.) Why are European taxpayers being fleeced for this nonsense? Supersonic private jets would be phenomenally expensive, waste huge volumes of fossil fuels while generating greenhouse gases, harm the ozone layer -- because of the altitude supersonic jets use, they threaten the ozone layer in a way conventional jetliners don't -- and cause earsplitting noise. And for what purpose? To make CEOs, the super-rich and government officials feel more important, at public expense. You know that if Europe subsidizes a small supersonic jet, and the market rejects it, European government officials will demand that they fly in such planes to their extremely important meetings!
Private Mini-Jets: As CEOs and the super-rich board increasingly impressive private jets, the merely very rich dream of personal jet travel. Cirrus is working on a five-person single-engine baby jet to cost $1 million, intended be on sale around 2011. Founded in 1984, Cirrus has sold about 3,400 aircraft; engineers make Cirrus aircraft easy to fly, and the company's signature innovation is the whole-plane parachute that allows a confused novice pilot a chance of living through his mistake. The Cirrus mini-jet will use one Williams engine, the mini-jet engine developed for the Air Force's cruise missile, and will have a whole-plane parachute. Eclipse, which builds the cute little Eclipse 500 being flown by new air taxi companies such as DayJet, is offering a personal small jet that costs $1.8 million and has no lavatory; Adam is offering a personal small jet that costs $2.3 million and does. So -- $500,000 for a bathroom!
Honda
The Honda Accord of the skies?
The most telling sign that the mini-jet market should be taken seriously is that extremely efficient Honda is moving in. Its $3.7 million HondaJet is dorky-looking, like the early Honda cars, but likely to be a huge hit once deliveries begin in 2010. Honda is building a factory in Burlington, N.C., at which to manufacture the HondaJet engine, following the company's success formula of manufacturing most of its U.S.-bound cars in the United States. Twenty years from now, the skies may be crowded with small Honda jets. Let's hope they make it harder for the super-rich to get clearance to land their mega-aircraft!
The "Security" Ruse of Personal Jet Purchases: TMQ is convinced that the market for personal jets has boomed in recent years because CEOs claim they need personal jets for security. Supposedly, putting the CEO aboard his own private jetliner makes him safe from terrorist attacks -- though even considering the tragedy of 9/11, terrorist attacks against commercial jetliners are so rare, CEOs might as well argue that they need to travel in tanks as protection against gunfire. The real reason CEOs want their own jets is not security but luxury, plus going directly from the limo into the plane without having to stand in line with the unwashed in security screening. (At most airports, cars bearing passengers can drive directly up to the stairs of private aircraft.)
Government officials and CEOs are now claiming terrorism protection to justify all kinds of spending on themselves, to say nothing of barricading themselves off against the public they supposedly serve. Ever-more government and corporate officials want bodyguards, for example -- not because they are in danger but because having a bodyguard makes you feel really important. In the current environment, spending on "security" tends to go unchallenged, regardless of whether it's justified or even actually increases security. Typical example: A year ago Alan Hevesi, the Comptroller of New York State, resigned and pleaded guilty to defrauding the state of $206,000. Hevesi had been assigning state troopers to drive his wife around and perform personal errands for her. His justification? Security; Hevesi claimed his wife might be attacked by terrorists.
TMQ's College Postseason Event, the Fiasco Bowl, to Be Joined by the Orangutan Bowl: Alabama, Cal, Colorado, Maryland and Oklahoma State made bowl games at 6-6. Considering TMQ's theory that an orangutan could coach a football-factory school to six wins -- not because coaching is easy, rather, because football-factory schools have such vast advantages in recruiting and gimmick schedules -- the Independence Bowl, pitting 6-6 Colorado against 6-6 Alabama, could have been renamed the Orangutan Bowl.
Buck-Buck-Brawckkkkkkk (Bowl Edition): Trailing Purdue 24-6, Central Michigan punted on fourth-and-1 from midfield, going on to lose the bowl by three points.
Single Worst Play of the Regular Season: Chicago was leading Green Bay 28-7 in the fourth quarter, the Packers' hopes of the first playoff seed fading fast. Brian Urlacher intercepted a short Brett Favre pass and returned the ball 85 yards for a touchdown, ending Green Bay's hopes of the first seed. As Urlacher made the interception and started upfield, only five of the 11 Green Bay players made any attempt to pursue him. From the point Urlacher reached midfield, nine of 11 Packers came to a complete halt and simply watched the play. Sure, Urlacher was likely to score. But people stumble; something might happen; anyway all the gentlemen on the field get a million dollars a year to chase a ball, why were they standing around doing nothing at all? Green Bay Packers, you are guilty of the Single Worst Play of the 2007 regular season.
Reader Animadversion: Got a complaint or a deeply held grievance? Write me at TMQ_ESPN@yahoo.com. Include your real name and the name of your hometown, and I may quote you by name unless you instruct me otherwise. Note: giving your hometown improves your odds of being quoted.
Wednesday: Nothing -- a readers' column next week.
Next Week: TMQ accuses the Patriots of violating the Treaty of Osnabrqck.
In addition to writing Tuesday Morning Quarterback, Gregg Easterbrook is the author of "The Progress Paradox: How Life Gets Better While People Feel Worse" and other books. He is also a contributing editor for The New Republic, The Atlantic Monthly and The Washington Monthly.