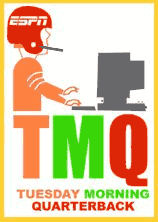 We just watched a slew of big-college football bowls, few of which were competitive, topped off by yet another disappointing runaway in the BCS finale game. We also just watched the first four NFL postseason games, one of which was a fantastic contest that came down to the final snap; two of which were exciting 'til the final two minutes; one of which was merely OK. Three of four games were really good. So explain to me why people complain about quality of play in the NFL.
This season, it's been a sports talk cliché to say the NFL is mediocre, there's too much parity, it's me-too, there's not enough innovation. From where TMQ sits, quality of play has never been higher.
Complaints about supposed runaway parity seem especially weak in a season when one team finished 16-0 and another went 1-15. How much more variation would you like? As reader Matt Miller of Portland, Ore., notes, the best-worst gap in the NFL this season was wider than in any other professional sport. Miller writes, "In baseball, the Red Sox and Indians led the league with winning percentages of .593, and the Devil Rays came in last at .407. Can you imagine the cries of awful parity if there was an NFL season where the best team went 9-7 and the worst team went 7-9? Translated into NFL schedule terms, that's what happened in major league baseball this season. And no one cries parity about baseball."
Here at the conclusion of last season, Tuesday Morning Quarterback slew the parity myths, showing that year-to-year changes in playoff qualification are little different in the NFL than decades ago; that the share of middle-dwelling teams is about the same today as decades back; and that "strength scheduling" has almost no impact on NFL outcomes because only two of each team's 16 annual matchups are determined on a parity basis. Parity is a myth -- maybe that's why so many people believe it!
As for the complaint that the NFL lacks innovation, what exactly would you like to see, singing linebackers on ice skates? In a mere decade, the NFL -- plus most of college and much of high school football -- has gone from conventional pro-set or I-back offenses to four- and five-wide offenses, plus the shotgun spread. Maybe there's some fundamental innovation that has not been tried, but many minds are working this problem and no one has come up with anything. (The Next Big Thing probably is not trick formations, as the Titans just learned against the Chargers.) There has been far more innovation in strategy and tactics in the past couple of decades of football than in all other team sports combined! Yet sports talk complains that it's not enough. Perhaps a hybrid of football and synchronized swimming would quiet the carping.
As for the fundamentals of the game -- hitting has never been harder, sprinting has never been faster, throws and kicks have never been longer. If you could measure today's players, my guess would be that they are jumping out twice as many ergs as players of the 1960s. And before you say the modern NFL has forgotten how to run, pass wackiness is even declining! Three decades ago, NFL yardage was split almost exactly 50-50, run and pass. Pass-wacky play began to rise year by year and peaked in 2001, at 65-35. Since then, rushing has made a gradual comeback, with the 2007 pass-rush ratio (counting sacks and scrambles as calling passes) at 57-43.
Too many instances of criminal or unethical behavior exist among NFL players. In the league's front offices and coaching suites, it remains far from clear whether there isn't cheating. NFL relations with the public are not great, owing to the simultaneous DirecTV monopoly and NFL Network problems. Lots of aspects of the NFL need serious work. But as for quality of play -- quality of play has never been better. Why doesn't the sports world appreciate this fact that is directly in front of its eyes?
In other football news, Bill Parcells is running the Dolphins now and is rumored to be maneuvering to hire Dallas Cowboys offensive line coach Tony Sparano as Miami's head coach. That rumor could turn out to be wrong, but if it's true, the move would be consistent with a Parcells pattern -- wishing ill against the clubs he leaves. When Parcells quit the Giants, he did so in April, when the in-demand coaches already had signed elsewhere. Parcells seemed to want Jersey/A to tumble from a Super Bowl win to a losing season, so people would say, "That Bill Parcells must be a genius, look what happened after he left." Parcells walked out on the New England Patriots just after a Super Bowl, leaving disarray, and walked out on Jersey/B, leaving the weirdness of his former acolyte Bill Belichick resigning as head coach less than an hour after being named. In each case, the Tuna seemed to want to ensure the franchise he had just departed would head downward, causing people to say losing Parcells was a calamity.
Now Parcells has a problem -- since he left Dallas a year ago, the Cowboys have been playing much better. Dallas won the No. 1 seed and has flourished under Wade Phillips, whom everyone likes but no one considers a genius. Should the Cowboys win the Super Bowl the year after Parcells' departure, people will say, "Man, Dallas really benefited from getting rid of that grumpy sourpuss Parcells." Perhaps this is a prospect Parcells cannot abide -- so he's trying to put his tentacles into the Dallas coaching staff, hoping to disrupt the current Boys' run.
Meanwhile, it's January, which means NFL coaches are shifting blame by firing assistants. Detroit finished last in defense, 19th in offense, and coach Rod Marinelli, who supervises the defense, fired offensive coordinator Mike Martz, seeming to blame him for the team's late-season collapse. Herm "I Honor My Contact When I'm in the Mood" Edwards just fired his entire offensive staff. The grapevine says Mike "The Ultimate Leader" Shanahan might fire defensive coordinator Jim Bates, one year after firing defensive coordinator Larry Coyer. Apparently, all these assistant coaches did terrible jobs -- they must all have forgotten how to coach! -- while all the head coaches in question were in no way responsible. "Win as a team, lose as a team" means that when you lose, all coaches are equally to blame. Instead, coaches shift blame by cashiering assistants, either implying or stating outright that whatever went wrong was the assistants' fault. And the coach had no way of knowing, no way at all, that these assistants were doing such terrible jobs!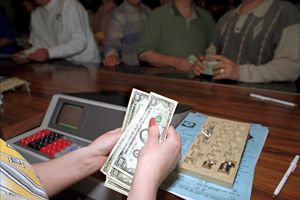 AP Photo/Lennox McLendon
Page 2 asked the ESPN art department either for a picture of a topless babe or of gambling. Here's what we got.
In other football news, here's a gambling tip. As TMQ readers know, my compromise with my Baptist upbringing is to be pro-topless but anti-gambling. (Note to ESPN art department: Insert accompanying photo either of topless megababe or of gambling, it's your call.) Serious wagering brings only loss, regret and sorrow. But if you're making a harmless $5 workplace bet on the NFL playoffs, take the home teams this weekend. Home teams in the NFL divisional round are the surest thing in sports. Since the current playoff format was adopted in 1990, home teams in the divisional round are 53-15, a .779 winning figure. Usually, the reason the home teams are at home is that they are better than the wild-card teams. Equally important, in the divisional round, the home teams have spent a bye week relaxing in hot tubs while their opponents were out in the cold being pounded. Home teams dominate the NFL divisional round, so checkmark them in your office pool. You don't even need to know which team is playing!
A week later in the championship round, the home advantage dissipates. Since 1990, home teams in conference championship games are 20-14, a .588 winning figure. That is nearly identical to the rate at which home teams have won all games over the same period. (This season, home teams are .579.) In the championship round, nobody has had the previous week off and the Super Bowl is just one W away. Players leave everything on the field in championship contests. So at the next step, the home team won't necessarily be the favorite. But this weekend, look homeward. And of course, if the visitors win, remember the Tuesday Morning Quarterback guarantee: All Predictions Wrong or Your Money Back.
And in other football news, Wild Card Weekend offered a historic demonstration of cheerleader professionalism. See more below.
Stat of the Week No. 1: New England has six wins over teams that also made the playoffs. Next-best is Jacksonville, which has five after its win over Pittsburgh.
Stat of the Week No. 2: The 12-5 Jaguars have no one in the Pro Bowl, while the 5-11 Ravens send three players.
Stat of the Week No. 3: Though the league's No. 1 defense for the season overall, Pittsburgh allowed an average of 29 points in its final five games.
Stat of the Week No. 4: The Titans are on an 0-6 streak in games played in California.
Stat of the Week No. 5: Baltimore, Detroit and Kansas City started a combined 14-7 and closed a combined 2-25.
Stat of the Week No. 6: San Diego started 1-3 and has been 11-2 since.
Stat of the Week No. 7: A January game in Green Bay approaches; over the past four seasons, the Packers are 7-9 at Lambeau Field when kickoff temperature is below 40 degrees. Stat noted by Judy Battista of The New York Times.
Stat of the Week No. 8: The Giants won in the playoffs for the first time in seven years.
Stat of the Week No. 9: The Chargers won in the playoffs for the first time in 13 years.
Stat of the Week No. 10: Dallas has not won a playoff game in 11 years.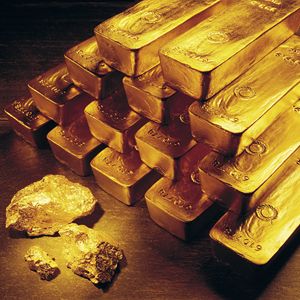 AP Photo/Newmont Mining
Remember, it was obvious that tech stocks were a bubble, it was obvious that housing prices were a bubble ...
Cheerleader of the Week:
Reader Jim Ruehlin of San Clemente, Calif., who attended Sunday's Titans at Bolts collision, nominates
Katrina of the Charger Girls
. San Diego's cheerleader bio pages are sparse, so all we really know about Katrina is that she's a cheerful Leo who likes Filipino food. We also know she just participated in one of the all-time great achievements of cheering -- see more below.
TMQ Futures Up in Heavy Trading: After the tech-stocks bubble burst in 2000 and dragged down Wall Street, everyone claimed it was obvious all along that this would happen; though, mysteriously, most who claimed they knew all along nevertheless failed to sell before the market collapse. After the housing bubble burst in 2006, everyone claimed it was obvious all along that this would happen; though, mysteriously, most who claimed to have known all along failed to sell their real estate when the market was high or even merely to re-fi to a fixed-rate mortgage. With the benefit of hindsight, investors, economists and pundits always say bubbles were "obvious." Though mysteriously, they fail to notice at the time!
So what bubble is inflating right now, to be deemed an "obvious" bubble after many shirts are lost? Gold has been up for seven straight years, rose at 31 percent in 2007 and already has risen several percentage points in 2008. The metal is now selling for $863, versus about $600 in 2004, and the price rise appears unrelated to any increase in the underlying economic utility of the commodity. Gold has little functionality beyond jewelry and dental fillings -- almost all those who buy gold plan to hold their purchase and sell at a higher price, rather than use the gold to make something. That is, they are counting on market psychology to make their purchase more desirable, rather than adding value to it themselves. Just a word of advice: THIS IS THE CLASSIC PATTERN OF A BUBBLE! Tulip bulbs, Web start-up stock, nutria, Florida condos: If the price is rising fast and buyers are jumping in solely with the goal of flipping, a bubble is in progress. Last week, gold futures rose to their highest level since January 1980, which is when the last gold bubble burst. Don't say you weren't warned! But after the gold bubble bursts, do feel free to say this was obvious all along.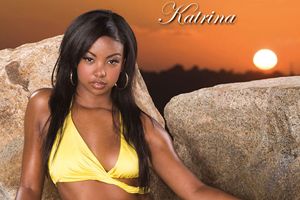 Chargers.com
No hurricane jokes, please.
Washington at Seattle Analysis:
I thought the Seahawks were in big trouble for cheer-babe-based reasons. In the first half, the Seattle cheerleaders showed professionalism, flouncing in miniskirts despite cold wind and rain, and the Blue Men Group jumped to a 10-0 lead. At halftime, the cheerleaders changed to track suits, and suddenly Washington was ahead 14-13.
Why didn't the football gods punish the Seahawks cheerleaders by causing their team to lose? One possible explanation is that, when LaRon Landry of the Redskins made his fourth-quarter interception that he appeared to return for a touchdown -- officials ruled Landry down by contact -- for the last 15 yards, he was waving the ball and pointing at Seattle players like a total, utter idiot. You boast after you win, not before! In last year's playoffs, the Saints were doing well against the Bears in Chicago until Reggie Bush, running for a touchdown, waved the ball and pointed at Chicago players like a total, utter idiot. From that moment on, New Orleans collapsed. Washington had the game under control at Seattle until Landry made a fool of himself -- in the process, calling out the Seahawks' players. Gee, golly, I wonder why they performed so well for the remainder of the game?
Or maybe the problem was that the Redskins did not arrive in Seattle until late afternoon local time Friday, less than 24 hours before the kickoff Saturday. Washington was the sole team to perform a coast-to-coast trip this weekend. The Redskins didn't leave for Seattle until Friday afternoon East Coast time; landed too late for a normal schedule of lunch and walk-through; and probably had trouble sleeping, then took the field while still jet-lagged -- only to see the Blue Men Group run roughshod over them in the fourth quarter, when tiredness seemed to set in. Why didn't the Redskins head for the West Coast on Thursday, so players could rest and reset body clocks before game time? The Titans, traversing two time zones, left Nashville at the crack of dawn Saturday for a Sunday afternoon start; they were in San Diego before lunchtime, sufficient for a normal lunch, an afternoon walk-through and a good night's rest. Tennessee played strongly throughout the game, losing but not fading at the end as Washington did. Tuesday Morning Quarterback has long puzzled about why, with all the millions of dollars spent on NFL preparations and all the scheming and film study and computer analysis, teams traveling from one coast to the other don't leave an extra day early to allow time to adjust to the time change. This mistake is made by many teams, year in and year out.
Then again, maybe Spenser, my 12-year-old, had the explanation. Trailing 10-0, the Redskins took possession on their 9 with 47 seconds remaining in the first half, holding three timeouts. Washington ran up the middle to kill the clock, not using its timeouts, and this led to some interesting tactical maneuvering in the closing seconds to prevent Seattle from attempting the extremely rare free kick after a fair catch. Anyway, when Spenser saw the Redskins had no intention of trying to score, despite a zero on the scoreboard and all three timeouts, he scoffed, "They're sure to lose now." And yea, verily, it came to pass. I don't care if you are backed up on your 9, it's a playoff game and you have no points. Try to score!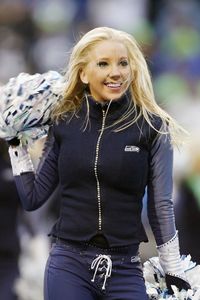 Greg Trott/Getty Images
The Seahawks cheerleaders tempted fate by overdressing for the second half.
Washington did an awful lot of defensive guesswork in this game, moving linebackers and safeties up or back before the snap based on guesses about whether Seattle would run or pass. The guesswork went quite well, with the Redskins holding the high-scoring Seahawks to 13 points through the first three quarters and nabbing two interceptions. But guesswork never lasts. With Washington leading 14-13 with six minutes remaining in the fourth quarter and the Blue Men Group facing second-and-7 on the Redskins' 20, the defensive backs moved up before the snap, guessing run. All four Seattle wide receivers went to the end zone, touchdown and the visiting team promptly collapsed. On the play, the Seahawks had two wide on each side; Matt Hasselbeck pumped right, then threw left to the slot man; four of four wide receivers going to the end zone was sweet. Seeing the pump fake, Skins nickelback Pierson Prioleau, covering D.J. Hackett, came to a complete stop. That was sour.
Twice in the game, Washington faced third-and-1 and couldn't convert, with these instances -- whether bad Redskins blocking or good Seahawks line play -- essential to the outcome. On the first third-and-1, Washington ran for no gain, then punted. On the second third-and-1, Washington threw short incomplete, then ran for no gain on fourth-and-1. Ye gods! Later in the game, the Redskins faced fourth-and-1 and called a clever play, sending little-used blocking back Mike Sellers up the field on an attempt for a home run; a fooled Hawks defender had to grab Sellers, and the penalty set up the visitors' first touchdown.
The game offered a pair of sour defensive plays. On Washington's 30-yard touchdown pass to Santana Moss in the fourth quarter, only two Redskins receivers went downfield, against five Seattle defensive backs -- yet no one covered Moss, with three blue-clad gentlemen simply watching him roar by. As for the other sour play, see below.
Game-speed note: On one snap, Washington quarterback Todd Collins held the ball too long and was sacked. The announcers bewailed how long Collins held the ball, and it sure did seem like a long time. So I put a stopwatch on the replay: exactly five seconds from snap to sack. Five seconds now seems like a long time for quick-release-dominated modern passing attacks.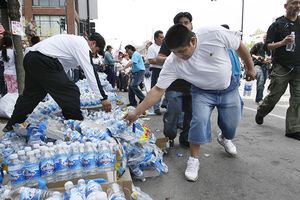 AP Photo/Nam Y. Huh
Maybe if tap water cost a lot more, people would like it.
Why Dentists Love Bottled Water:
The arrival of Jan. 1 means state and local tax increases go into effect. Among them, Chicago imposed a 5-cents-per-bottle tax on bottled water to discourage use, which leads to plastic-bottle trash in city parks. Water bottles in lunch boxes are one thing; drinking bottled water at home is ridiculous when most U.S. tap water, including Chicago tap water, is pure and of high quality. (European tap water, often of low quality, is another matter.) TMQ feels most U.S. bottled water consumption stems from chemophobia, snobbiness and sloth. On chemophobia, people falsely believe tap water is dangerous and bottled water confers health. In a few parts of the country, tap water should be avoided -- where there's naturally occurring arsenic in New Mexico, for example -- but in most of the United States, tap water is equal in quality to bottled water or better, and filtered water has no documented health-giving qualities. The snobbery part is obvious. Sloth? Americans have become so lazy they want to drink their water then throw the bottle away, rather than carry an empty glass back to the sink. Meanwhile, vast amounts of fossil fuels are wasted shipping water around the country, or even between continents.
Be these things as they may, the problem with the Chicago city tax is that neighboring jurisdictions didn't match it. Chicago's fee works out to $1.20 on a case of water bottles. Will Chicagoans drive across the city line, thus wasting gasoline, to buy a case of bottled water? There are lots of people who would waste a $3 gallon of gasoline to "save" $1.20.
Meanwhile -- as noted by reader Shawn Badlani of Beverly Hills, Calif. -- another consequence of the bottled water craze is that Americans aren't getting enough of the fluoride in tap water. Cavity incidence, which declined so sharply in the 1970s and 1980s that dentists worried about going out of business, has been rising in the past decade. Your local dentist is certainly glad you're drinking bottled water! When fluorination is factored in, most U.S. tap water actually is better for your health than bottled water -- and $1 buys either 16 ounces of bottled water or 50 to 100 gallons of tap water.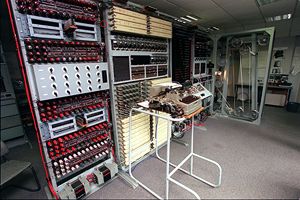 Press Association via AP Images
Here is the actual device the NFL uses to decrypt tiebreakers.
"M, We've Decrypted Some of the Ninth-Case, Within-Division, Three-Way Rule, But We're Going to Need Bletchley Park for the Rest":
Why did 10-6 Tennessee advance to the postseason over 10-6 Cleveland? Because of
the NFL tiebreaking formula
, which is 1,155 words long and still does not resolve all ties -- in some cases, coin flips are required. TMQ continues to think "Tiebreaker" would be a cool title for a James Bond film.
Jax at Steelers Analysis: Jacksonville won at Pittsburgh in December. NBC reported that Steelers coach Mike Tomlin ordered that all televisions in the team complex endlessly reshow film of the game last week to remind Pittsburgh players of that. Not a bad idea -- what weirded me out was how many televisions there are in the complex. Apparently, there are TVs in coaches' offices, in the weight room, in the lunchroom, in the corridors. Why do the Steelers have so many televisions? How can anyone get anything done if they're all on?
Pittsburgh used, and dearly paid for, an unorthodox look. With the score tied at 7 early in the second quarter, the Steelers came out in a "bunch" with three receivers close together next to the tight end -- and everyone, all linemen and receivers, in a two-point stance, hands on thighs. Flag football rules require the two-point stance because it reduces the intensity of initial collisions; why would the Hypocycloids want to accomplish that? First snap for this set was a sack. Pittsburgh gets the ball back and on second-and-long goes into this odd set again. Result: interception returned for a touchdown. Pittsburgh gets the ball again, now trailing 14-7, and again faces second-and-long, again goes into the odd hands-on-thighs set. Result: interception. The Steelers went to an unorthodox formation three times, resulting in two interceptions and a sack. Maybe this odd set had worked in a no-contact practice, but it sure looked out of place in a game.
Oh, how often coaches go for two and rue, really rue, that they didn't take one. Scoring to make the count Jaguars 28, Steelers 23 with 10 minutes remaining, Pittsburgh went for two and failed. Scoring to make the count Steelers 29, Jaguars 28 at six minutes, the Steelers went for the deuce again and failed. Had Pittsburgh simply taken one point each time, Jax's late field goal would have sent the game into overtime rather than causing victory for the visitors. And although it was the fourth quarter -- TMQ's law of the PAT holds: Take One 'Til the Fourth -- when it was 28-23, kicking for one made considerable sense, so that a Jacksonville field goal would put the score at 31-24. Note that even points-obsessed Bill Belichick rarely goes for the deuce.
Everyone who wants to see an even contest in the divisional round at Foxborough seems glad the Jaguars won, but bear in mind, they struggled to win. Their power run game? Taking possession at the start of the fourth quarter, ahead 28-17, the Jags went incompletion, incompletion, sack, punt. Until the game-deciding, 32-yard quarterback draw by David Garrard with 1:34 remaining, Jacksonville had only 8 yards rushing in the fourth quarter. You know Belichick will notice that. With Pittsburgh leading 29-28 and facing third-and-6 on its own 26 with 2:56 remaining, Ben Roethlisberger took off on a designed run; without a perfect form tackle by veteran journeyman Sammy Knight, Jacksonville's goose might have been cooked. And yes, that fourth-and-2 draw by Garrard was beautifully executed, but there was holding on the play: Jags center Brad Meester grabbed Steelers defensive tackle Casey Hampton and tackled him. Had a yellow flag flown, Pittsburgh likely would be watching endless tapes of its New England loss on all those televisions, getting ready for the Patriots game.
TMQ has done several items on the vexing moments when ball carriers ought to refuse to score, or defenders ought to let an opponent score. Reader Eric Grunzke of Denver writes, "When David Garrard broke free with 1:34 remaining and was racing toward the Pittsburgh goal line, I was shouting, 'Let him score! Let him score!' Pittsburgh still had all three timeouts, and their offense had been rolling in the second half. Letting Garrard score would have made it Jacksonville by either six or seven points with a minute and a half left, Pittsburgh holding three timeouts. Instead, Garrard was tackled at the Steelers' 11, from which Jacksonville ran three times, forcing Pittsburgh to use its timeouts, then kicked the field goal for the lead, then kicked off to the Steelers with seconds remaining. They should have let him score! Here's the other question: if the Steelers had stepped aside to let Garrard score, would he have wisely emulated Brian Westbrook's 1-yard-line kneel-down and refused to score?"
Stop Me Before I Blitz Again! Leading 14-7, Jax faced third-and-7 on the Pittsburgh 43 late in the second quarter. Given that the average NFL play gains about 5 yards, all the Steelers needed to do -- anyway, it's a blitz! Easy touchdown pass to Maurice Jones-Drew heading up the sideline, a sweet play call. But why the blitz? To that point in the game, Jacksonville had 26 net yards passing; Garrard was struggling against Pittsburgh's regular defense; and the Jags weren't in field goal range. Blitzing on third-and-long often comes to woe and is rued, really rued.
Stop Me Before I Blitz Again! No. 2 Now it's Jacksonville 28, Pittsburgh 10, at the start of the fourth quarter and the Steelers are facing fourth-and-12 on the Jax 37, their season close to over. Since the average NFL play gains about 5 yards, all the Jaguars needed to do -- anyway, it's a six-blitz! Easy touchdown pass to Santonio Holmes.
Once Again the Players Are Penalized While the Coaches Get Off: Reader Christian St. John of Downers Grove, Ill., writes, "Bill Belichick just won Coach of the Year. The NFL ruled not long ago that a player caught cheating will not be eligible for awards, such as the Pro Bowl, in that year. Why is it that a coach caught cheating is not subject to the same standards as the players in his charge?" Indeed, Belichick is NFL Coach of the Year in the year same season commissioner Roger Goodell sanctioned Belichick for "a calculated and deliberate attempt to avoid longstanding rules designed to encourage fair play and promote honest competition on the playing field." Pretty two-faced. The glitch is that the coach of the year award comes from The Associated Press, not from the league.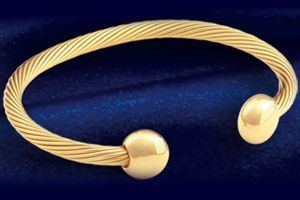 QT, Inc.
The Q-ray bracelet practically seethes with mystical bio-energy.
Maybe the Cloverfield Monster Was Exposed to Q-Rays:
Last week, Official Brother Frank Easterbrook, a federal appeals judge,
upheld a large judgment against the maker of Q-Ray bracelets
, saying its claim that "Q-rays" exist and confer fantastic health benefits is "poppycock" and "a form of fraud." Q-ray bracelets supposedly deliver astonishing "bio-energy." Frank found they were just metallic trinkets.
Yet here's a true story: In 2002 and 2003, the Official Wife of TMQ experienced persistent pain in her right hand, probably from too much keyboard time at work. She was taking ibuprofen and naprosyn, plus attaching pain patches (local analgesic) to her hand and right wrist, and was still in pain. The family was in Colorado for a while in conjunction with yours truly teaching at my beloved alma mater, Colorado College. I suggested she get a copper bracelet, especially one made by a Native American; she scoffed. We took the kids to see Manitou Springs, an old cowboy town that hosts craft shops. I went from shop to shop asking for not just a Native American-made copper bracelet but one that had been blessed by a medicine man. I found one seller, an Arapaho jeweler, who said his work was blessed by a shaman. (Probably later he said to his wife, "Guess what, today I had a customer from Maryland who believes in the medicine-man stuff.") Nan put the bracelet on. Her pain was gone in two days and has never returned. True story.
The Football Gods Smile on Rushing Leaders: Last week's column highlighted the intriguing fact that no NFL regular-season passing-yardage leader has gone on to win the Super Bowl that season. Regular-season passing-yardage leaders are 0-for-XLII as regards the Super Bowl, a restive point for 2007 passing yardage leader Tom Brady. (And how many sportswriters and sports announcers will make this same point in the coming weeks without crediting TMQ?) Reader Victor Lopez of Carrollton, Texas, was among many to ask the obvious follow-up: Has any NFL regular-season rushing leader gone on to win the Super Bowl in the same year? That has happened four times: Terrell Davis of the 1998 Broncos and Emmitt Smith of the 1995, 1993 and 1992 Cowboys.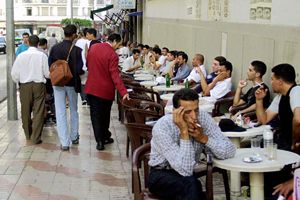 AP Photo/Sayyid Azim
In France they no longer say, "Thank you for smoking."
Next, France to Ban Trans-Fat in Goose Liver Pâté:
There are "fierce pockets of resistance" to France's new ban on smoking in cafés -- New York Times, last week.
Scene: Fumée Legion command post. Time: 17 hundred hours
CAPT. D'ISCARD D'ANTONIE: Did you recon the perimeter? SGT. GUY: Oui. Using les goggles infrarouges, I observed dozens of cigarette glows inside the café. CAPT. D'ISCARD D'ANTONIE: Mon dieu! SGT. GUY: Several were large-bore Gitanes, no filters. They are heavily armed, mon capitaine. In our favor, many of the smokers are languid. CAPT. D'ISCARD D'ANTONIE: I will call in an air strike. SGT. GUY: Sir, the civilian casualties! CAPT. D'ISCARD D'ANTONIE: Very well, commando assault. Assemble your toughest men. SGT. GUY: Mon capitaine, the French army now consists entirely of fashion models and postmodern existentialists. CAPT. D'ISCARD D'ANTONIE. Sacrebleu! Then it is up to you and me to break this pocket of resistance to the new anti-smoking law. We will give them a "whiff of grapeshot." Commence fire! FROM INSIDE THE CAFE: Hey, isn't that artillery? There's so much smoke in here, it's hard to tell.
Vorlons, Cardassians Mount Angry Letter-Writing Campaign Against Headline Bias:
Also from The New York Times last week, this headline: Humans Divided as Wolves Rebound in West. OK, so the humans have mixed views regarding the growing wolf population, but what do the Klingons think? Has anyone polled the Cylons? The affectation of referring to "people" as "humans" continues to spread.
Killer Moments of Wild Card Weekend: Leading 14-13 early in the fourth quarter at Seattle, the Redskins missed a short field goal -- if I were pro-gambling instead of pro-topless, I would have bet on the Seahawks at that moment. Trailing San Diego 10-6, Tennessee reached first-and-10 on the Chargers' 17 in the fourth quarter. The Titans lost 3 on a rush, then went incompletion, incompletion, missed field goal. Sports radio scoffs at field goals -- but in the NFL, where every yard is contested, three points are a big deal. It's very hard for a road team to recover from a missed short field goal in the fourth quarter.
Grade Inflation Comes to High School Football (Part Two): Last week, TMQ noted that Texas awards 12 high school football state championships, six divisions with two winners each. Many readers -- including Lydia Olsen of Morris Hills, N.J. -- countered that the Garden State awards an incredible 20 high school football championships. For instance, Hunterdon Central won this year's North 2 Group IV state championship. Galen Whipple of Klamath Falls, Ore., adds that on a per capita basis, New Jersey hands out five times as many high school football state championships as Texas.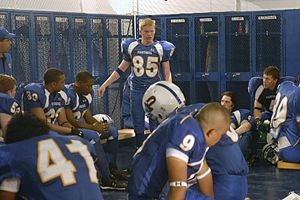 NBC
C'mon, guys! Suck it up! It's January and we've still only played five games!
"Friday Night Lights" Update:
Speaking of high school football, "Friday Night Lights" is airing new episodes written before the writers' strike. A team must appear 16 times to obtain one of those multitudinous Texas state championships. As TMQ has noted, "Friday Night Lights" was so obsessed with relationship talk and longing glances last season that the Dillon Panthers forgot to play enough games, winning the state title with a final record of 11-2. This season, it's already January and the Panthers are but 3-2. What happened Friday night? Dillon had a bye and didn't play! Scriptwriters, you have to work another 11 games in somehow.
Ingredient of the Week: Having once lived in Chicago, TMQ craves the taste of deep-dish pizza. I bought a frozen Uno's pizza. Listed among the ingredients was "natural smoke flavor." Natural flavor, or the flavor of natural smoke?
Jersey/A at City of Tampa Analysis: Even as someone who defends NFL quality of play, I'll be the first to admit this was a plodding game. Much of the time, it seemed both teams were running 60 Stretch [Yawn], the imaginary play in the Pepsi Max commercial.
The Giants were repaid by the football gods for their tremendous effort against the Patriots the previous week. Imagine if Jersey/A had rolled over and played dead in that game; the Giants would have come into the wild-card round on a bummed-out downer note. Instead, after giving it everything they had against New England and producing one of the regular season's most entertaining games, the G-Persons arrived in Florida feeling upbeat and finally won a postseason contest with Eli Manning at quarterback. This shows the football gods help those who help themselves.
As for the Bucs, the debate goes back and forth about whether to rest starters in a meaningless season finale. But once locking up his best seeding, Jon "Once I Was a Teenaged Coach" Gruden pulled many of his starters for the second half of Tampa's second-last game, causing the Bucs to go 1.5 contests without playing for real, and flatness seemed the result. That second-last game -- overlooked because it was played Dec. 23 and against the woeful 49ers -- ended up being both a poor effort by Tampa and exhausting, as Bucs' coaches called 59 passes. (Attempts plus scrambles and sacks.) Either play the starters to win, as New England did in its finale, or let the second team grind down the clock, as Indianapolis did. Don't play the second team, then drag it out! Man, were the Bucs flat.
Tactics oddity: On short-yardage downs, Tampa had its offensive linemen in a four-point stance. Hidden play -- hidden plays being ones that don't make highlight reels, but stop or sustain drives -- with Jersey/A leading 17-7 on the final snap of the third quarter, the Giants faced third-and-7 on their 11. A stop here, and the Buccaneers would have good field position to begin the final quarter, with the crowd roaring at military-afterburner decibels. Instead, Manning completed a short out for the first down and the Giants sustained a clock-killing 10-minute, 15-play drive that resulted in the new economy score of 24-7. At that point, Tampa -- a team built around defense being unable to get a fourth-quarter stop at home -- was beaten.
A Handful of Nonbinding Votes in a Small State -- That Was the Outcome of Their Year of Round-the-Clock Campaigning: Senators Joe Biden and Chris Dodd dropped out of the presidential nomination marathon last week, just hours after a nonbinding caucus vote by a tiny percentage of the residents of a small state. Why do so many people, especially United States senators, pursue presidential nominations they are all but certain not to win? Here are TMQ's theories:
• Running for the nomination allows you to spend an entire year giving speeches in which you jab your finger into the air and proclaim, "When I am president of the United States, I will … "
• Senators observe the other senators running for president and think, "I can bloviate just as well as that idiot, so I might as well run too."
• The highest priority for senators is avoiding making decisions on legislation. When campaigning, you have the perfect excuse!
It would seem a distraction that so many improbable candidates offer themselves in the primaries, TMQ suspects the front-runners actually like this. Because network news shows had to go through the motions of interviewing and profiling Dennis Kucinich, Fred Thompson and other long shots, news shows could not home in on finding the flaws of the few who might actually win. Also, whoever ultimately gets the two parties' nominations will appear to have defeated a huge field and can boast of winning against incredible odds.
In other campaign news, The Wall Street Journal reported Monday that Hillary Clinton and Mitt Romney, the front-runners who lost in Iowa, within mere days had "unveiled new speeches, new music, and even new clothes." Now that's sure to give voters confidence -- political leopards who instantly change their spots! And about that buzzword "change," being embraced by all candidates and also by President George W. Bush, who has used the word repeatedly since the Iowa caucuses. First, change is certain regardless of who or which party wins the presidency. Second, the two leading advocates of the word "change" -- Barack Obama and Mike Huckabee -- are high-ranking members of the establishment: a sitting United States senator and a former governor of an important state. Third, change is not necessarily positive. When it's sunny, a storm would be change. Suppose God appeared in a glowing cloud and said, "You either may have indefinite continuation of existing social and economic trends or you may have change, but I make no promises about what type of change" -- which option would you select?
Authentic Wins Watch: Coming into the playoffs, Jersey/A, Pittsburgh and Seattle each had only one victory over a team that also made the postseason. New England comes into the playoffs with six such victories; Dallas, Green Bay and Indianapolis come in with three apiece; Jacksonville came in with four and, by defeating the Steelers, is up to five. So New England isn't just winning, it is compiling authentic wins, beating other good teams.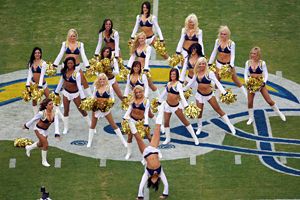 Paul Spinelli/Getty Images
No cheer-babes have ever shown as much professionalism as the Chargers cheerleaders on Sunday -- they are the reason San Diego's streak of playoffs losses ended!
Titans at Chargers Analysis:
The Titans-Chargers game was a great day for cheerleader professionalism. With a kickoff temperature of 57 degrees and precipitation, spectators donned raincoats and San Diego defensive coordinator Ted Cottrell sported full-body protection that appeared to be a North Sea oil-rig worker's survival suit. The
Bolts' cheer-babes
came out in their two-piece summer numbers that are little more than bikinis and boots. As the game wore on, the temperature fell and rain intensified, the San Diego cheerleaders "remained in their skimpy summer attire, dripping and dancing," reader Jim Ruehlin reported from the game. The Chargers trailed after the first half, but the football gods -- impressed by the cheerleaders -- intervened and granted San Diego its first postseason victory of the century. Outstanding cheerleader professionalism!
The Tennessee lines on both sides of the ball won the first half -- shutting down LaDainian Tomlinson but being able to rush up the middle against the Chargers -- even though the Flaming Thumbtacks' center and one starting guard are out injured. In the second half, both Titans lines tired, especially the defensive line, which ran an awful lot of twists; twists are more tiring than straight-ahead rushing. Although controlling line play in the first half, Tennessee took only a 6-0 lead, and you knew San Diego would come on strong at home in the second half. Again and again in the first half, I wondered: Where is the Vince Young design run? Quarterback draw, shotgun spread option run; there's no tomorrow, do what Young does best! Alas, alack.
When the Chargers had the ball, the Titans were selling out to stop Tomlinson, so the Bolts threw deep -- unsuccessfully in the first half, successfully in the second. San Diego was the only team to know success throwing deep on Wild Card Weekend, supporting my theory that pass defenders play better in the postseason than in the regular season.
Here was a sweet play. With the Flaming Thumbtacks leading 6-3 late in the third quarter -- and the Chargers' cheer-babes staying with the bikini look as rainfall increased -- San Diego faced second-and-6 on the Tennessee 25. A moment earlier, Tomlinson had had his best run of the night 'til then -- just 5 yards, a testament to the Titans' run defense. The Chargers came out in a heavy package with an extra offensive lineman in the game, reporting eligible. The extra lineman and a wingback lined up right; there was only one wide receiver on the field; Tennessee assumed a Tomlinson power rush; Philip Rivers faked the power rush, then threw to Vincent Jackson on a deep crossing pattern; touchdown, and the hosts never looked back. Jackson was running free even though he was the only receiver downfield on the play!
Here was a sour play. Leading 10-6, San Diego faced third-and-10 on the Tennessee 47 in the fourth quarter. The Bolts sent three receivers into the pattern and the Titans rushed four. That left seven men to cover three receivers; no one at all covered Chris Chambers, who ran a "go" for a 39-yard gain, setting up the clinching touchdown. Tennessee defenders Cortland Finnegan, David Thornton and Keith Bulluck simply watched Chambers go by, not covering him -- not covering anyone at all -- on this key play.
Four snaps later, the Bolts faced fourth-and-goal inside the Titans' 1, leading 10-6 with 8:48 remaining. On the previous snap, Tomlinson had dived toward the end zone but plainly hadn't broken the plane. Norv Turner challenged the call, and at first it seemed a silly challenge, wasting a timeout, because anyone could see Tomlinson was stopped short. But as the zebras hemmed and hawed, Turner pulled his field goal team off the field and sent in a play; Tomlinson scored on fourth-and-goal; and the day belonged to San Diego. Going for the touchdown was smart -- had the try failed, Tennessee's low-voltage offense would have been backed up on its goal line. Why the challenge? As TMQ has noted before, challenging a call essentially is taking a double-length timeout because the zebras never make up their minds in less than three minutes. Had Turner called timeout to consider whether to go for it, no one would have thought this strange. By issuing a challenge he was sure to lose, Turner essentially called a double timeout. Smart NFL coaches understand this rule quirk.
High football-IQ play: San Diego 17-6 at 6:45, Tomlinson swept left for a first down and slid to the ground as he approached the sideline to ensure he stayed in bounds and kept the clock running. Bobbleheads note: Phil Simms seems to believe there are only two possible conditions for a receiver, covered and "WIDE OPEN!" Simms pronounced, "He was WIDE OPEN!" of a Tennessee receiver who was hit as the pass arrived.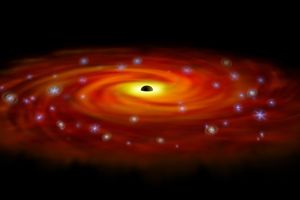 AP Photo/NASA, CXC, M. Weiss
Hey, black holes come in other colors! J. Crew would call this color Warm Butterscotch Cataclysm.
A Cosmic Bummer Thought:
Cosmologists continue to puzzle over gamma-ray bursts, extremely powerful flashes of energy that occur seemingly at random in deep space and that, for a few seconds to a few minutes, are the brightest feature of the universe. Science has yet to figure out why gamma-ray bursts occur or whether a powerful burst could happen close enough to Earth, in cosmic terms, to harm life. One new theory holds that the Ordovician-Silurian mass extinctions of roughly 450 million years ago were triggered when a relatively nearby gamma-ray burst blew the ozone layer off the upper atmosphere, greatly increasing the amount of solar radiation that reached Earth's surface.
In February 2007, satellites recorded a strong gamma-ray burst, designated GRB070201, coming from the direction of the galaxy M31. Recent analysis by researchers at Cal Tech and elsewhere suggests that GRB070201 could not have been caused by the merging of two large black holes or two neutron stars, these being leading proposed explanations for gamma-ray bursts. A project called Laser Interferometer Gravitational-Wave Observatory uses sensitive detectors to search for gravity waves. If gravity wave theory is correct, the merger of objects as dense as black holes or neutron stars should result in a wave detectable throughout the universe. But the LIDO devices sensed no gravity wave as the gamma-ray burst arrived, seeming to rule out black holes or neutron stars as the cause.
So theorizing about the source of gamma-ray bursts continues. Here is TMQ's bummer point: Why should we assume these events are natural? What if we are observing the muzzle flashes of cataclysmic weapons?
Leftover Bowl Point No. 1: Leading Division II cupcake opponent Northern Colorado 49-0 early in the third quarter of its season opener, Hawaii attempted 19 more passes, frantically running up the score to 63-6. You knew the football gods would exact punishment for that! Hawaii made the BCS tourney and got clobbered. E hana me ka ha aha a.
Leftover Bowl Point No. 2: A preseason favorite for the BCS title, West Virginia was poised to qualify for the BCS Championship Game, needing only to beat 28-point underdog Pittsburgh in its final game, at home yet. The Mountaineers lost. We now know that in the days leading up to this huge upset, West Virginia coach Rich Rodriguez was negotiating for the Michigan job -- that is, was furiously engaged in stabbing his school in the back. The West Virginia team played very poorly in a game staged as the coach was working behind the scenes to shaft the school. Strange coincidence? As soon as Rodriguez the Weasel was out the door, the Mountaineers looked great in the Fiesta Bowl under emergency coach Bill Stewart, who turned out to have some appealing qualities: a charming smile and not being a liar. After the Fiesta Bowl performance, we know West Virginia might have been national champion, had Rodriguez not betrayed those who trusted him. University of Michigan, you hired a coach who, given the choice between honor and money, did not hesitate for one instant to choose money. And the reason you think he will behave differently for you is … ?
Similarly, Hawaii earned a BCS bid, biggest sports achievement in the school's history, then performed poorly in the Sugar Bowl. Now we know that Hawaii coach June Jones was negotiating a new job for himself, busily angling to shaft his school at the moment of its glory. Did Hawaii perform poorly in part because its coach already had one foot out the door? Nine years ago, Hawaii took Jones in after he'd been fired repeatedly from NFL jobs, and was having trouble finding work. Yesterday Jones resigned to take more money at SMU, pausing to rip the University of Hawaii as a "Pop Warner" operation. Jones was liked in Hawaii; he could have stayed, won games and lived as a local hero, which seems a lot more important to satisfaction in life than the size or your paycheck or whether your office is fancier than the next guy's. Instead he chose to stab Hawaii in the back and sit in a really impressive office at SMU, where the pressure will be relentless and it will surprise no one if Jones ends up fired yet again. And SMU, now you have the kind of coach who not only walks out, but as he walks out, insults those who helped him. The perfect fit for the SMU program!
Who won college football's sort-of championship? LSU, where Les Miles wavered, but in the end stayed true to his school. Clearly, the right move. Let's hope Miles has the good sense simply to stay put, not entertain offers and be happy with what he has, not endlessly squint at the grass on the other side of the fence to see if it's greener.
Leftover Bowl Point No. 3: If there were a Plus One system of an extra college game following the bowls -- this seems the most realistic possibility for an event that's at least similar to a college football championship -- today it would be announced that USC will meet LSU. No wait, today it would be announced that Georgia will meet LSU. Georgia is second in the final Associated Press poll, but many football purists would rather see USC again. Regardless of whether the Plus One event was USC-LSU or Georgia-LSU, the game would be roundly censured as not the best possible pairing.
This is one of the reasons TMQ thinks a Plus One wouldn't accomplish anything beyond creating an extra interesting game: in most years, a Plus One would be unlikely to generate a true, consensus champion. Given that the Rose Bowl television contracts with ABC run till 2014, on a practical basis, converting Division I to a seeded-brackets playoff formula couldn't happen till then. But because the other BCS bowl television contracts with Fox end in 2009, the current apparatus is likely to be renewed before Rose Bowl participation can be addressed, and barring an act of Congress or sending in Tony Blair as a special emissary, it is hard to see the solution to this problem. Anyway suppose there was a Plus One format. That would have meant that after USC won the Rose Bowl last week, its team would have continued to practice, in hopes of a Plus One invite. Georgia would have continued to practice after its Sugar Bowl win. Wait, Missouri would have continued to practice too, pointing to the margin of its bowl victory. West Virginia would have continued to practice, just in case. A custom might develop in which numerous teams continue to practice after playing their bowl, theatrically insisting they deserve the extra bid. It could get silly pretty quickly.
Reader Animadversion: Got a complaint or a deeply held grievance? Write me at TMQ_ESPN@yahoo.com. Include your real name and the name of your hometown, and I might quote you by name unless you instruct me otherwise. Note: Giving your hometown improves your odds of being quoted.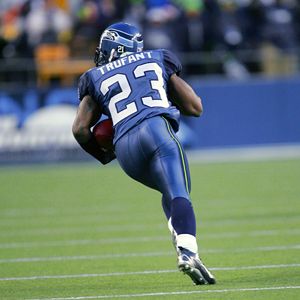 Paul Jasienski/Getty Images
Do you see any Redskins in this picture?
Single Worst Play of the Season So Far:
Host Seattle had just scored to take a 21-14 lead when Washington took possession on its 28 with 5:56 remaining. No need to panic. TMQ's Law of Sports Panic holds: Don't panic, there will be plenty of time for that later. On first down, Todd Collins heave-hoed a crazy pass deep right to Santana Moss, who had not beaten his man. Instead of trying to break up the pass -- whenever the pass is off-target, the receiver must become a defensive back -- Moss came to a complete stop and stood there, doing nothing at all, as Marcus Trufant intercepted. Moss' decision to spend the down relaxing was bad enough. Trufant started up the sideline toward the Washington end zone, and only six of the 11 Redskins chased him. A manageable situation for Washington became a 28-14 deficit as Trufant ran 78 yards for the touchdown, with several Redskins simply standing there watching. This is the playoffs; there's no tomorrow! And with seven games remaining, the Washington Redskins are guilty of the Single Worst Play of the Season So Far.
Wednesday: Readers debate why high school girls carry their textbooks high and high school boys carry them low.
Next Week: The Chargers at Colts and Giants at Cowboys games will be played indoors, and the Packers have no cheerleaders -- meaning that for the divisional round, only the New England cheer-babes will have a significant opportunity to appease the football gods with professionalism. Bill Belichick is behind this somehow!
In addition to writing Tuesday Morning Quarterback, Gregg Easterbrook is the author of "The Progress Paradox: How Life Gets Better While People Feel Worse" and other books. He is also a contributing editor for The New Republic, The Atlantic Monthly and The Washington Monthly.