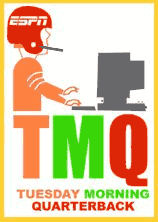 Going into last weekend, it was possible the Super Bowl would pair Peyton Manning versus Eli Manning. Promoters were excited, though to me the prospect sounded tedious -- the game would have been indistinguishable from the commercials. Going into this weekend, there is a solid chance the Super Bowl will match Brett Favre against Tom Brady. That would be arguably the best quarterback pairing in Super Bowl history, and could lead to a Nielsen record that will never be broken.
If the Packers meet the Patriots in Glendale, Ariz., the game will match two future first-ballot Hall of Fame quarterbacks both playing at the height of the powers. In terms of story lines, such a Super Bowl would be brimming. Patriots' faithful could be rooting for the first-ever 19-0 finish; Patriots haters could root for New England to stumble at the last; traditionalists could root for a small town over a big metropolis; a team with an old-fashioned image would face the team that represents hypermodernism. Certain writers who shall go unnamed, such as me, could spin the game as Good vs. Evil: The Sequel, with Favre bringing his honest down-home-boy image against Shady Brady's suspicious Hollywood slickness. (Of course, Favre is a skilled media manipulator who cultivates the aw-shucks aura, and Brady does charity work for African development -- please don't spoil my narrative with these annoying qualifiers.) Merely the privilege of seeing two of the best-ever quarterbacks face off when both are playing at peak form would be worth the price of admission. Or, of the many multiples of the price of admission such a game would command on StubHub.
Great quarterbacks have paired off in the Super Bowl before. Joe Montana faced Dan Marino in 1985, though the Forty-Niners were clearly the superior team and shut out the Dolphins in the second half. Favre faced John Elway in a 1998 Super Bowl that went down to the final play. Terry Bradshaw faced Roger Staubach in a 1979 Super Bowl that went down to the final play. Jim Kelly faced Troy Aikman twice, though he left one meeting early with an injury. Joe Namath faced Johnny Unitas in 1969, though Earl Morrall started the game and Unitas only made an appearance. Staubach faced Unitas in 1971, though again he was hurt and Morrall played most of the contest. And Montana faced Elway in 1990, but the Broncos were overmatched and the game wasn't close.
If Favre and Brady meet in Arizona, the matchup will be at least as good as any other in Super Bowl history -- perhaps the best, given how well both have played this season. Fan and viewer interest would go off the charts, as half the country cheered for New England to complete the 19-0 project and the other half cheered for Favre to stop the Pats, then immediately retire -- the latter move, if it happened, duplicating the storybook ending that so far has been achieved only by Elway. Yes, the Super Bowl might pair the Chargers and Giants, and that game would have its own virtues. But if you're a football addict -- or if you are Fox, which has the call, or Victoria's Secret or any corporation that has spent $90,000 per second for ad time -- you have to be palpitating over the thought of a Packers-Patriots Super Bowl.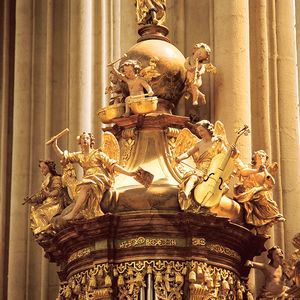 Imagno/Getty Images
A chorus angelorum sings "adoramus Giantus," praising their valor against New England. The football gods rewarded the Giants by allowing them to advance in the postseason.
In other football news, this postseason proves once and for all: teams that have locked in their best finish should keep playing to win in the regular season. On wild-card weekend, the Bucs, who took their last two regular-season games off after locking in, looked sluggish and lost at home. For the divisionals, Indianapolis took its regular-season finale off, then had the bye week, then honked at home. The Colts are 0-2 under Tony Dungy and Peyton Manning when they've earned a bye and opened the playoffs at home. Dungy, a career 127-65 in the regular season, is just 9-9 career in the postseason, and lost focus seems a major factor. Dallas took its regular-season finale off, then had the bye week, then honked at home. As you just might possibly have heard, certain Cowboys not only lost focus during the bye but treated the week as a vacation! Receiving millions of dollars per year for a part-time job, some Dallas players nevertheless felt they had to award themselves a vacation to get their minds off the playoffs -- and as we saw Sunday, the Cowboys' minds surely were off the playoffs! The Giants and Patriots, by contrast, staged a battle royal in their final regular-season game -- although each already had locked up its best seeding -- and look how well both are playing in the postseason.
Stat of the Week No. 1: New England and San Diego, which meet for the AFC title, are on a combined 29-2 run.
Stat of the Week No. 2: Last season, Dallas opened 8-4, then went 1-4 down the stretch. This season Dallas opened 12-1, then went 1-3 down the stretch.
Stat of the Week No. 3: Dallas has lost six consecutive playoff games.
Stat of the Week No. 4: At 9:49 p.m. ET, in the third quarter, Brady threw his first incomplete pass.
Stat of the Week No. 5: At 11:01 p.m. ET, with 32 seconds remaining in the fourth quarter, New England punted for the first time.
Stat of the Week No. 6: Brady and Peyton Manning combined to complete their first 30 passes.
Stat of the Week No. 7: Seattle has lost seven consecutive road playoff games.
Stat of the Week No. 8: Since the "We want the ball, and we're going to score" moment, Green Bay has outscored Seattle 48-20 head-to-head in the postseason.
Stat of the Week No. 9: Bill Belichick has 14 postseason victories.
Stat of the Week No. 10: The three other head coaches still in the playoffs have a combined 10 postseason victories.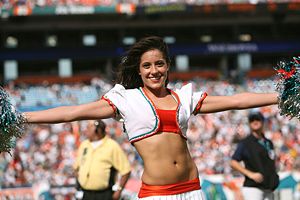 MiamiDolphins.com
Jennifer of the Miami Dolphins -- at least something about their season was positive.
Cheerleader of the Week:
Reader Alan Rosenberg of Miami nominates
Jennifer of the Miami Dolphins
. According to her team bio, Jennifer, whose parents are Cuban, has been dancing since age 4 -- way too late to start by modern competition standards! -- and was Miss Florida Teen 2006. As TMQ notes, future historians will need to puzzle out how Florida babes replaced California babes as best-looking on the nation's beaches.
Giants at Cowboys Analysis: Jerry Jones came down to the Cowboys' sideline for the final drive and was shouting at the coaches and officials. That must have been helpful! On the final possession, Dallas had the ball in Jersey/A territory with an excellent chance to win. Owner Jones, who has long considered his personal genius the essence of the Cowboys' success -- never mind that his personal genius hadn't won a playoff game in 11 years -- shows up and starts shouting at people. Already, the week before, he'd made a point of lending only a lukewarm endorsement to coach Wade Phillips, who had just rung up the best Dallas regular season in a decade but to whom Jones would not give unqualified backing. The best regular season in a decade must have been because of Jones' personal genius! Now Jones is down on the sideline next to Phillips as the coach tries to make decisions on the final drive. Ever see Robert Kraft standing near Belichick in the closing moments as Belichick tries to make critical decisions? When the double whistle sounded, it still had been 11 years since Dallas won a postseason contest, and Phillips had became a career 0-4 in the playoffs. Bonus anti-Jerry Jones note: As pointed out by many readers -- including Gary Toth of Stephentown, N.Y. -- several days before Sunday's game, Jones grandly handed each Cowboys player a pair of tickets to give to friends -- tickets to the NFC Championship Game at Texas Stadium, a game the Cowboys had not yet earned. The football gods surely took notice of that hubris.
You won't see many first-seeded 13-3 teams lose in the postseason at home to a team that gains only 230 offensive yards, but then, you won't see many first-seeded 13-3 teams whose coach is being distracted by the owner in the closing seconds as it goes down to the wire. The Giants' win was a testament to the role of special teams, but also was a meltdown by Dallas. For instance -- in the second quarter, the Cowboys staged a 20-play touchdown drive that lasted 10:28 and put them ahead 14-7 with 47 seconds till intermission. Ahead by a touchdown at the half at home, what's not to like? Except the defense allowed Jersey/A to counter with a 40-second, 71-yard touchdown drive that left it tied at 14 at halftime. The Giants' drive didn't even have any big plays, just several quick, intermediate passes aided by a careless personal foul by the Cowboys. As Jersey/A staged this quick drive for an amazingly easy seven points, several Dallas players were dancing and celebrating on the sideline as if they'd already won. They hadn't even gotten to halftime! Maybe they were looking at those NFC Championship Game tickets from Jones!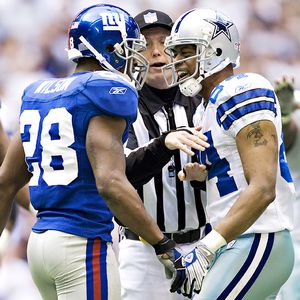 Wesley Hitt/Getty Images
So Patrick Crayton has butterfingers. At least after the game he did not wear sunglasses indoors while weeping about vacations.
With Dallas leading 17-14 late in the third, Boys' receiver Patrick Crayton dropped a perfect pass on third-and-13. Crayton would have made a substantial gain, but he took his eye off the ball to glance upfield. What do they teach receivers from middle school on? Look the ball in, catch it first, never start to run before making the catch. Jersey/A got a big runback on the Dallas punt and soon recorded what would prove to be the winning touchdown. How many million dollars does Crayton make a year to be a professional receiver, and he doesn't even look the ball in? Highly paid receiver Terrell Owens also had a slapdash drop, then grinned like an idiot. This was in preparation for weeping at the postgame news conference about how desperately badly NFL players need in-season vacations and how horribly, horribly wrong it is when NFL players are criticized. Watching the weeping, Hillary Clinton must have thought, "Suck it up, you wimp."
The 21-17 Jersey/A lead held because Dallas did not score in the fourth quarter. The Cowboys were the highest-scoring team in the NFC in the regular season, then failed to score in the fourth quarter at home in the playoffs, when one touchdown meant advancing to a home-field championship appearance.
What went wrong in the fourth quarter? First, Dallas offensive coordinator Jason Garrett, subject of head-coaching rumors, abandoned the run. Coming into the final quarter, Marion Barber had 125 yards rushing. In the fourth, Garrett called 20 passes (attempts plus sacks and snaps nullified by penalties) versus four rushes. Incompletion after incompletion clanged to the turf when running plays might have established rhythm and made use of crowd energy. Next, Jersey/A, a strong pass-rushing team, began blitzing in the fourth quarter. Though the Giants recorded only two sacks on the game, they regularly pressured Tony Romo into heave-hoeing the ball away in the fourth quarter. Jersey/A seemed to sense that Romo was not properly prepared for the game and would wilt under pressure, which is what happened. Romo kept trying to throw deep, rather than throwing slants, which are the standard counter to the big blitz. You sensed Romo wanted to hit a deep pass so everyone would credit him for winning the game. Garrett never straightened Romo out in the fourth quarter -- perhaps because Garrett's head wasn't really in the game, either.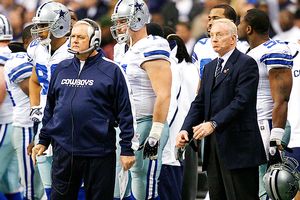 Joe Robbins/Getty Images
Having the owner bothering the coach during the final drive was really helpful! At least Jones didn't take his headset.
In the fourth quarter, Dallas' offensive line play broke down. Could this have something to do with offensive line coach Tony Sparano not having his head in the game because he spent the bye week interviewing for head-coaching jobs? The Cowboys put three offensive linemen into the Pro Bowl, best ever for one team, yet, in the fourth quarter, the Dallas offensive line looked
awful
, simply atrocious, barely slowing the Jersey/A rush. Rescind those Pro Bowl letters! Pro Bowl left tackle Flozell Adams was doing poorly despite getting double-teaming help from a running back or tight end -- and Pro Bowl offensive tackles should not need a back chipping off to assist them. With Jersey/A leading 21-17 with 1:50 remaining and Dallas facing second-and-1 on the Giants' 39, Barber was stopped for a loss as blocking totally broke down. Three guys from this line made the Pro Bowl, and they couldn't clear a path for a single yard with a home-field championship game on the line!
Yes, the Cowboys were hurt when Romo was called for intentional grounding with 4:16 remaining after he threw the ball away despite no Giant being near him. The rule says grounding occurs when the ball is thrown away by a passer "facing imminent loss of yardage because of pressure from the defense." After Romo sailed the pass, he ran over to the zebras and started shouting at them -- instead of doing the smart thing and jogging back to the huddle. When Romo began shouting, the referee pulled his flag and called grounding. It was a bad call, but why was Romo shouting at the officials, practically begging them to flag him?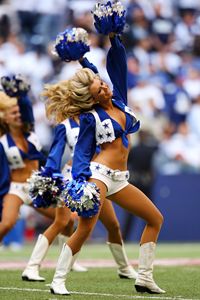 Paul Spinelli/Getty Images
At least someone in the Cowboys' organization brought their "A" game!
At the end, it was the second consecutive season the Cowboys lost in the playoffs after their glam-boy quarterback spent late December and early January boasting to the media and mingling with celebrities instead of focusing on football. And it was the second consecutive season the Cowboys lost in the playoffs after Romo made an error on the Cowboys' final play. Last year at this time, Romo played poorly against the Seahawks in Seattle, then, on the final Dallas play, botched the hold of what would have been the winning field goal. This year, with Dallas facing fourth-and-11 on the Jersey/A 23 with 16 seconds remaining, the Cowboys kept seven back to block because of their offensive line meltdown. Romo had plenty of time to scan the field, then forced the ball to a covered man, interception. This, with both starting Giants cornerbacks out injured! And the ball did not need to go to the end zone; there was enough time to throw under, then run up and spike for a last try. Two straight years, Dallas has made the postseason, then Romo has been awful in his playoff game. As for the Giants, there is only one thing to say -- the football gods continue to reward this team for its valorous showing in the regular-season finale against New England. Jersey/A had locked in its playoff seed and had every reason to rest starters. Instead, the Giants went all out to win, with coaches playing the starters and every Giant on the field giving his all versus the heavily favored Flying Elvii. The good karma from that performance now glistens on the Giants, and has carried them into the NFC Championship Game. Had Jersey/A rolled over in its final game against New England, surely the Giants would have honked in the postseason. Instead, Jersey/A played with valor and now is rewarded. The football gods smile on the gentlemen in gray pants.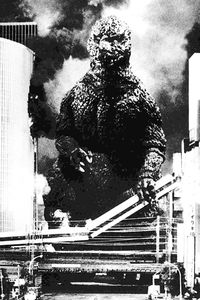 AP Photo/New World Pictures
No miniature city is safe when Godzilla puts on his bodysuit.
Sequel in Development: Mothra vs. Cloverfield:
New York City gets destroyed in "Cloverfield," the silly-sounding monster movie that opens Friday. New York was destroyed in "Independence Day," in "Escape from New York," in "I Am Legend," in "The Day After Tomorrow," in "Planet of the Apes," in "A.I.," in "Sky Captain and the World of Tomorrow," in the 1998 "Godzilla" remake, in all three King Kong movies, in the Tom Cruise movie version of "War of the Worlds," in the radio version of "War of the Worlds" and now in the Godzilla-esque "Cloverfield." How about a disaster movie that destroys Wichita or Saskatoon? The original Godzilla was caused by radiation, and rather than merely call it a silly monster movie, critics declared that the flick reflected postwar Japan's fear of the atomic bomb. Internet chatter says the monster in Cloverfield is caused when a sinister corporation discovers a growth substance that gets out of control; either an undersea creature or a person (Web reports differ) grows to the size of a skyscraper. If this is the story line, critics may somberly contend the movie reflects social fears of steroids, HGH and genetic engineering. Or maybe they'll somberly call the flick a 9/11 parable. My guess is the movie will represent a searing social commentary on derivative plot elements, product placement and viral marketing.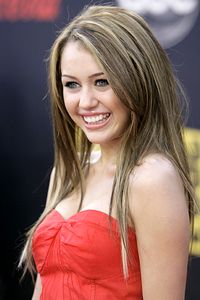 AP Photo/Matt Sayles
Imagine a gigantic Miley Cyrus attacking your city.
Anyway, if the plot rumor about Cloverfield is correct, TMQ notes in advance: No matter what strange substance you swallowed or what radiation you were exposed to, you could not grow to the size of a skyscraper unless you consumed fantastic amounts of food. Mass doesn't materialize out of the air. The Empire State Building weighs 365,000 tons. Let's assume a biological monster of that building's magnitude, with some sort of bone structure rather than steel, could weigh less. A skyscraper-height monster would need to weigh say 100,000 tons, meaning the Cloverfield creature would need to consume at least 100,000 tons of nutrients to reach its size, then more for energy. That's a lot of Whoppers or plankton or whatever. Objects cannot spontaneously gain mass; material is required. Yet in monster movies, things become dramatically bigger without consuming food or adding material. In the "Alien" sci-fi horror flicks, the snake-sized larval stage bursts out of someone's chest and scurries away, then, when seen an hour later, has become a gigantic monster -- without consuming anything!
Right now, the producers of "Cloverfield" want you to be scouring the Internet, looking for clues about what the monster is. Projecting out her current rate of increase in cultural footprint, it's Hannah Montana! Can't you envision a gigantic Hannah Montana striding through Times Square, smashing billboards as teens scream? This is perilously close to happening already.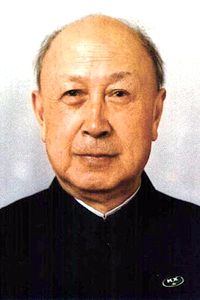 Qian Xuesen -- a great scientist, and also a great justification for defense budget increases.
Ideally from the Standpoint of U.S. Defense Contractors, China Will Begin Manufacturing Cloverfield Monsters:
Last week, Aviation Week & Space Technology, the trade magazine that is the semi-official publication of the Pentagon, named Qian Xuesen its Person of the Year. Qian is a Chinese military scientist who both led the design of China's nuclear ICBMs, and supervises the country's peaceful civilian space program. China's civilian space research is going well; there's a chance China will land astronauts on the Moon in the next decade or so. But China's military space program, also Qian's baby, a year ago launched an anti-satellite rocket that destroyed a target in orbit. Both the United States and Russia have refrained from anti-satellite warfare; China's was a warning shot to the United States of possible Cold War in space. So why is Aviation Week & Space Technology honoring Qian, a military leader of a foreign power? Because U.S. aerospace contractors really miss the Cold War and are hoping China starts a Cold War II, so the defense budget would rise!
Chargers at Colts Analysis:
Man, this game felt like the earlier New England at Indianapolis contest. In both, the Colts played terrific defense in the first half and weak defense in the second half, allowing 17 second-half points to the Patriots and 21 second-half points to the Chargers. In both, Indianapolis got the ball back with about four minutes remaining, needing a touchdown to win, the dome electric with crowd energy, and in both, Peyton Manning's offense wheezed out.
Marvin Harrison was not on the field either time, so perhaps this pair of wheeze-outs helps us appreciate how much Harrison meant to the Colts' winning run. But the Indianapolis defensive breakdowns in both games are just as puzzling as the pair of late offensive failures. The Colts allowed the fewest points in the NFL in 2007; stretching back to the beginning of last year's playoffs, before Sunday, Indianapolis had allowed an average of just 16.4 points per game over 20 games. That kind of steely performance is no accident. Yet in this season's two biggest Indianapolis games, both at home, the Colts' defense sagged in the second half. In Sunday's contest, one team converted six of 10 third downs, the other team converted three of 11 -- and Indianapolis was on the wrong end of those numbers. This season, the Colts paired high-scoring offense (450 points, the kind of total that usually leads the league) with the NFL's best defense against points, then went down in flames on their home field to open the postseason. Whoever coaches Indianapolis next season, if the Colts win a bye again, please, don't give the starters the season finale game off! Dungy has done this four times, and four times the result has been first-round home-field defeat for Indianapolis.
Was the problem that the Colts defenders relaxed when LaDainian Tomlinson and Philip Rivers went out? Football teams often relax when the opponent's stars leave the game, then end up rending their garments and gnashing their teeth. Indianapolis put no pressure on Rivers or backup Billy Volek, a sign of good San Diego offensive line play. But as Rivers stood calmly in the pocket patting the ball, several times I thought, "How can the Colts hope to beat the Patriots if they can't pressure the quarterback?" Indianapolis finished ranked second in pass defense in 2007, its Tampa 2 coverage designed to stop long completions. Yet San Diego struck deep three times, with breakdowns by backup cornerback Tim Jennings especially painful. With Indianapolis leading 7-0, San Diego scored its first touchdown on a left sideline pass to Vincent Jackson, as Jennings made the high school mistake of "looking into the backfield" trying to guess what the quarterback would do, rather than simply covering his man. Early in the third quarter, with Indianapolis leading 10-7, Jennings gave up a 30-yard touchdown pass to Chris Chambers along the same left sideline -- Jennings was beaten deep despite giving a 10-yard cushion at the snap! It's hard to get beaten deep when you start 10 yards off the ball. But as Chambers headed toward the end zone, Jennings came to a complete stop, frozen by a standard stop-and-go fake. Ay caramba.
Three red zone turnovers were killers for Indianapolis -- one a fumble by normally reliable Harrison, two interceptions that bounced off the receivers' hands. Had the Colts simply gotten field goals on the two possessions with bounced-pass interceptions, Indianapolis would be preparing for Foxborough right now. But in the end, the Colts undid themselves. With San Diego leading 28-24, Indianapolis had second-and-goal on the Bolts' 7 with 2:16 remaining. It's four-down territory, so if the Colts rush, rush, rush -- a touchdown is likely, plus running would drill the clock to complicate any San Diego comeback. Instead, Indianapolis went incompletion, incompletion, incompletion, and the clock struck midnight on the Colts and even on the RCA Dome. (It will be torn down soon.) Indianapolis offensive coordinator Tom Moore is smart and usually respects the percentages about running at the goal line. But here, with his best receiver out injured, Moore kept calling passes when rushes stood a good chance of bringing victory.
On the San Diego side, as noted by reader Scott Parsell of Indianapolis, Peyton Manning threw eight interceptions in two appearances against the Chargers this season; in his other 15 games, Manning threw eight interceptions. Once, the Patriots were said to be inside Peyton's head; now, the Chargers are. San Diego's defensive effort would have been still more dramatic had the 89-yard Antonio Cromartie interception return for a touchdown not been nullified seconds before the end of the first half. The Chargers were holding, though the hold occurred behind the play, and nothing hurts more than to lose a touchdown on a penalty behind the play.
The San Diego offensive line controlled the Indianapolis front seven, and the Chargers' wide receivers blocked well, too. When Darren Sproles took a screen 56 yards up the left sideline at the end of the third quarter to give San Diego a 21-17 lead -- three of the four Chargers' touchdowns were passing plays up the left sideline -- the action began with Chambers and Jackson lined up as double wide receivers on the left side. Normally on a screen, any receivers on that side run their men off by streaking deep. Jackson and Chambers stayed put and blocked their men, an usual tactic, and one that worked.
Whether San Diego can give New England a game in the AFC championship tilt depends, obviously, on the health of its key players. But the Chargers once again look like they looked early in the 2006 season, when they were a Super Bowl favorite. They're playing with emotion. They've scored on 32 consecutive red zone trips, and they've gotten solid special-teams play -- that 66-yard punt with 1:42 remaining against the Colts was a monster play. Just 12 months ago, San Diego was favored at home over New England in the postseason, and sports pundits were shocked when the Patriots pulled the upset. Surely the Chargers will be motivated to return the favor.
Peyton Manning Watch: By my count, there were six commercials featuring Peyton during the game. He now endorses MasterCard, Gatorade, Sprint, DirecTV and Oreo cookies. And I might have missed a few. Why are advertisers still signing him up when he's overexposed?
TMQ News:
Tuesday Morning Quarterback finished No. 6 on
the list of top ESPN.com searches for 2007
. TMQ trailed only fantasy football, power rankings and voting features, finishing ahead of all other columnists, commentators, experts, analysts and written-word content in the ESPN empire. This completes Phase 1 of my plan for world domination! And thanks, readers, for so much support.
Space: The Saudi Arabia of Electricity:
According to a recent estimate by the Department of Energy, human society is using about 15 terawatts of artificially generated energy per year; a terawatt is a trillion watts. The sun generates about 12 quadrillion terawatts per year -- about 800,000,000,000,000 times as much energy as made on Earth.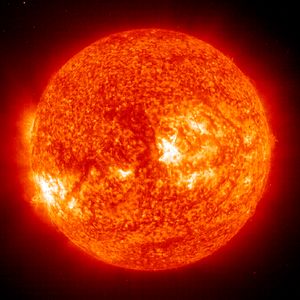 AP Photo/NASA
The sun makes 800,000,000,000,000 times as much energy as humanity uses -- all we need to do is tap a little.
Why do I mention this? First, this is Tuesday Morning Quarterback: I don't have to have a reason. But if you're worried about how society can solve its power needs while simultaneously breaking the fossil fuel habit -- the World Bank estimates that, even assuming big improvement in efficiency, global energy production must triple by 2050 -- think skyward. Solar cells are getting cheaper, but may always be limited to applications such as rooftop converters in places like Arizona that rarely experience cloudy weather. The real promise of solar power is up in space, where the sun always shines and the energy value of photons is much greater than on Earth's surface. (Passing through the atmosphere uses up most of the energy in sunlight.) It seems likely, though not certain, that huge solar collectors in orbit could supply all the world's power needs by capturing the intense form of sunlight found in space, then beaming the energy down to Earth via lasers or microwaves. Physicists at a recent Washington meeting estimated that solar collectors in orbit, using lasers to transmit power to converters in the North African desert,
could supply all of Europe's energy at a price competitive with current power generation
and without carbon emissions. A world of space-based energy would not need coal-fired or nuclear power plants, and there would be sufficient electricity available so that hydrogen could be made from seawater to power our cars and airplanes.
Homo sapiens
could kiss the greenhouse gas issue goodbye. Needless to say, building orbital solar power collectors would be hugely expensive -- although once the collectors were completed, operating costs would be relatively low because no fuel is required and no waste is made. Nations would need to cooperate on positioning the orbital systems and the ground receptors. There's some chance that zapping powerful lasers or microwave beams through the atmosphere would affect the weather. And extremely expensive power towers floating in space would, sadly, provide tempting military targets. Already, the Pentagon's National Security Space Office has quietly told lawmakers it would like to build a smallish orbiting proof-of-concept solar power station that would be used to beam energy down to deployed U.S. armed forces units. The Army and Marines have countless diesel-electric generators set up in Iraq and Afghanistan; if deployed forces could draw their electric power from a beam from space, this would be preferable. But if the first space solar generator is built to support the U.S. military, this could get the whole idea off on the wrong foot, making space solar power towers feel like valid military targets. Anyway, TMQ finds it reassuring that there are potential energy solutions that involve vast amounts of power without any greenhouse gas emissions, fissile materials that might be stolen, or atomic byproducts that must be buried. Plus, return to those sun statistics. Our star generates 12 quadrillion terawatts of energy per year, radiating in all directions, so that an estimated 100,000 terawatts per year will fall on Earth -- warming our world, causing plant growth and making life possible. Some 100,000 terawatts end up here -- the rest streams off into the void. Thus 99.999999 percent of the energy generated by the sun is wasted, except perhaps for offering career opportunities for alien astronomers and their postdocs in other parts of the galaxy. You think man wastes energy -- think about the sun!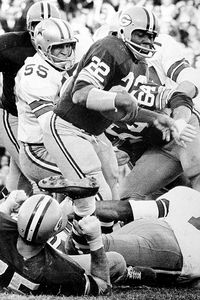 AP Photo
Historians believe Chuck Howley vacationed in Cancun with Raquel Welch shortly before the Cowboys' loss in the 1966 playoffs.
Don't Let the Screen Door Hit You on Your Way Out:
Since Mike Holmgren publicly complained about the officiating in the Seahawks-Steelers Super Bowl, 280 Park (NFL headquarters) has not liked Holmgren. On Saturday, with the Seattle at Green Bay game about to kick off, a full-page banner on the league's Web site, NFL.com, proclaimed that the contest pitted Brett Favre and Mike Holmgren, "both approaching the end of their careers."
Bill Belichick Was Behind Jessica Simpson Somehow:
TMQ found this dispatch in the Associated Press files:
LOS CABOS, Mexico -- Dec. 28, 1966. Dallas Cowboys quarterback Don Meredith said he was "just relaxing" when he took Gina Lollobrigida to a fancy Mexican coastal resort mere days before the NFL Championship Game against Green Bay in Dallas. "Coach Landry told us to get off our feet," a shirtless Meredith said in an impromptu beachfront news conference, as international photographers jostled for position to photograph Lollobrigida in her Riviera-cut bikini. Reached at Cowboys headquarters, coach Tom Landry told The Associated Press, "Playbook? Who needs to study the playbook, a quarterback can just wing it." Packers coach Vince Lombardi was seen playing golf, then drinking champagne in a nightclub, telling reporters, "I can't stand to look at another minute of game film, I need to chill. Winning isn't the only thing, it's one of many things."
AP Photo
Gina Lollobrigida, the Jessica Simpson of the early 1960s.
Jaguars at Patriots Analysis:
Now the 1972 Dolphins have company at 17-0. This game was even until late in the third quarter, when the Patriots asserted themselves and the visitors began to fold. With the score New England 21, Jacksonville 14, late in the third quarter, the Jaguars faced a third-and-11 on the Flying Elvii's 21 -- Dennis Northcutt flat-out dropped a perfectly thrown touchdown pass in the end zone, and Jax settled for a field goal. It was bad enough that the pass was to Northcutt,
whom TMQ previously has called out as having butterfingers
. It was bad enough that Jacksonville invested three recent No. 1 draft picks on receivers (Reggie Williams, Matt Jones and Marcedes Lewis), only to flat-out drop the most important pass of a playoff game. Regardless, you can't expect to dethrone a perfect team if you can't make a routine catch. From the point of the Northcutt drop, the night was all New England's. Jacksonville began the contest with a Belichick-like clever game plan: Knowing New England spent the entire week preparing to defend against a power-rush offense, the Jags play-faked and threw often. In the first half, Jacksonville's coaches called 11 rushes and 15 passes, catching New England off guard. David Garrard looked poised and professional, completing 12 of his 14 first-half throws -- and admit it, you'd never heard of Garrard before this season. Reaching fourth-and-1 in the Maroon Zone on their first possession, the Jags properly went for it and threw deep for 34 yards, setting up the visitors' first touchdown and brief lead. (Throwing short on fourth-and-1 is silly, but throwing deep can lead to home runs.) Initially, the game plan of surprising the Patriots with the pass was quite effective. But you can't expect to continue surprising a Belichick team with the same unexpected tactics after halftime! Jax coaches kept calling passes in the second half, abandoning the power-rush game that had defined their season. With New England leading 28-17, the Jags reached second-and-goal on the Patriots' 7 early in the fourth quarter. Incompletion, incompletion, field goal -- and as the kick boomed, TMQ wrote the words "game over" in his notebook. (Both Jacksonville and Indianapolis failed largely owing to going pass-wacky in identical positions at the goal line.) The second-and-goal in the fourth quarter was the mice-or-men moment for Jacksonville, and despite their reputation for daring, the Jags went mouse. Squeak squeak! Jacksonville trailed the highest-scoring team in football history by 11 points in the fourth quarter; reaching first-and-goal, the Jags absolutely had to score a touchdown. So why didn't the coaches assume they'd use all four downs and power-rush three times? Jacksonville
had
to get a touchdown. The mouselike field goal was all but running up a white flag. You could see at that point that Jack of the River had quit on the game. He wasn't going all-out to try to win, he was trying to hold down the margin of defeat so that on the banquet circuit in the offseason, people would say, "You gave the Patriots a good game." People will indeed say that to him in the offseason. But had he power-rushed at the New England goal line and played to win, del Rio might have defeated the first team to hit 16-0 in the regular season. On the next Patriots possession after the goal-line wimp-out, with the score now 28-20, Brady threw a 53-yard completion to Donte' Stallworth that iced the game. The throw was against a six-blitz, perfectly picked up by the New England offensive line, of course. Until that point, the Jacksonville defense had been playing it straight, and had been preventing long completions. But del Rio's passive offensive decision forced the Jaguars to gamble on defense, and the result was the Pats' sole deep completion in the game. Defensively, New England followed its recent pattern of playing straight in the first three quarters, then using hectic blitzing in the fourth quarter. This seemed to take Jacksonville by surprise, although it's been the pattern of all recent New England game film and has been pointed out here before.
Regarding the Patriots' offense, it is getting harder to think of new compliments for the highest-scoring team ever. Like Indianapolis, Jacksonville lined up its safeties deep to take away the New England long pass, so the Flying Elvii patiently threw underneath, underneath, underneath, with Brady completing 10 passes to running backs and tight ends. Last season, Peyton Manning matured into the Super Bowl-winning quarterback partly by the realization that if the other team lines up its safeties deep, it's perfectly OK to keep throwing underneath for intermediate gains. New England has raised this offensive philosophy to an art form. Randy Moss was neutralized by the Jacksonville defense, with only one catch for 14 yards. But it didn't matter, nor did Brady ever try to force the ball to Moss when he wasn't open. New England spent the entire game in the shotgun spread, even lining up in the shotgun spread on first-and-goal from the Jacksonville 3. But from the shotgun spread, the Pats threw underneath, underneath, underneath, never becoming impatient. NFL defensive coordinators, your offseason challenge is to counter short passing from the shotgun spread because, based on New England's success, this tactic might take over the league in 2008.
With the score tied 14-14 at intermission, New England received the opening kickoff of the second half and drove 82 yards in 11 plays -- three rushes, all to the left behind Logan Mankins or Matt Light, and eight passes, all short. The culmination of the drive was one of the sweetest plays ever. A standard high school action is the direct snap to the tailback while the quarterback leaps into the air to make the front seven think it was a high snap over the quarterback's head. This action does not have a name, though the CBS announcers repeatedly and erroneously called it the Statue of Liberty play; The New York Times sports section repeated the mistake. Since the action of a direct snap while the quarterback fakes a high snap lacks a name, let's christen it the Staten Island Ferry play. Anyway, New England faked a Staten Island Ferry play. It looked as though the ball had been direct-snapped to Kevin Faulk; Brady leapt in the air to simulate a faked bad snap; but actually, Brady had taken the snap! He held the ball for an instant with his back to the defense, then spun and threw a perfect touchdown pass to Wes Welker, with Jax safety Terry Cousin totally fooled.
This sweet play worked partly because the snap was perfect and, of course, New England blocking was perfect. Not only was Brady hit only once on the night but most of the time there wasn't any defender near him when he threw. Last week's TMQ noted that five seconds seems too long for an NFL quarterback to hold the ball and usually leads to a sack. TMQ put the stopwatch on the New England offensive line and found there were half a dozen plays Saturday night on which Brady held the ball for five seconds not only without getting hit but without any defender getting near him. When Jacksonville led 7-0 and New England went for it on fourth-and-4 in the Maroon Zone, Jacksonville erred by rushing only three, giving Brady and his receivers ample time. But even when Jax rushed four or five, Brady stood serenely in the pocket, patting the ball. Repeatedly, New England offensive linemen made big plays. Center Dan Koppen hustled way outside and downfield for the key block on a 33-yard screen pass to Laurence Maroney. Left tackle Matt Light made a fabulous block when the score was 7-7 and New England faced third-and-1, with Maroney gaining 9 behind Light.
The single most impressive thing about the 17-0 New England Patriots is that the offensive line never screws up and never has anyone standing around watching. Watch offensive line tape -- for most NFL teams, there are several downs per game on which the line call is totally fouled up or an offensive lineman simply stands there watching, doing nothing. I have not seen a single busted line call or stand-around-doing-nothing down for New England all season! Consider that when Garrard was sacked and lost a fumble in the first half, taking a lot of air out of the Jacksonville challenge, Jax guard Vince Manuwai, who got some Pro Bowl votes this season, was just standing there, blocking no one, watching Garrard get in trouble, not making the slightest attempt to hustle back and help.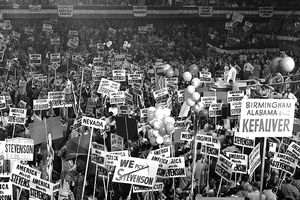 AP Photo
Twenty-five points if you can name, without Google or Wikipedia, the person who beat Estes Kefauver at the last brokered convention.
Cigar Manufacturers Also Rooting for a Brokered Convention:
So the Democrats have three strong candidates with none of the three yet in command, and the Republican field offers multiple contenders with nothing certain beyond that Mitt Romney will change his positions. Know what this might result in? Brokered conventions! In every nominating convention since 1948 (Republican) and 1952 (Democrat), the party's presidential candidate has been decided before the delegates assembled. That's more than a half century without genuine political questions to be settled at either presidential convention. Each fourth year, reporters pray for brokered conventions, only to see their hope of sensational news stories dashed by voter consensus. Could there actually be a political convention this summer that does something other than rubber-stamp? A political convention where
something happens?
Brokered conventions would be especially welcome if the writers' strike drags on.
Worst Crowd Response: The annual Punt, Pass and Kick winners were announced before the fourth quarter of the San Diego-Indianapolis game, and when a 15-year-old girl from New Hampshire was introduced as winner in her age group, the RCA Dome crowd booed because she was wearing a Patriots jersey. Indy fans -- you booed a kid! As pointed out by Jacob Skowronek of Somerville, Mass., among many readers, the football gods surely exacted vengeance upon the Colts.
Lack of Cheerleader Professionalism: Reader Pat Mulry of Dallas, who attended Bolts versus Colts at the RCA Dome, reports that, for the first half, the Indianapolis cheer-babes wore miniskirts; at halftime, the home team led. During intermission, the cheerleaders put on pants, and Indianapolis went down to defeat. The event was played indoors; what were the cheerleaders doing in pants! "The Indianapolis cheerleaders, like the Colts themselves, simply did not bring their A-game," Mulry writes.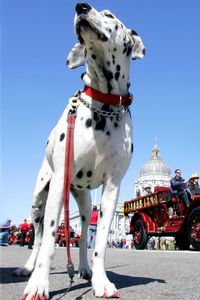 AP Photo/Jeff Chiu
At the Institute of Perception, they would say this dog appears to have spots.
Disclaimer of the Week:
In the Miller commercial in which a Budweiser Dalmatian jumps into a Miller truck that bears an advert saying Miller Lite tastes better than Bud Light -- the tiny type at the bottom proclaims, "Tasting conducted by the Institute of Perception." It's
here
. What if you worked at the Institute of Perception and thought a coworker had offended you? Thought a coworker wanted to ask you out, but weren't really sure? Thought the boss was being unfair to you? Thought ...
New York Times Correction of the Week: On Monday, The New York Times managed to work Jesus, Satan and Hitler into the same correction. Don't believe me? Go here. TMQ's theory is that one need never read more than three consecutive days of Times correction boxes to find an entertaining correction. Try this yourself and see! Actual correction from last week's Times:
"A film review in Weekend on Dec. 21 about 'National Treasure: Book of Secrets' referred imprecisely to a scene in the film 'North by Northwest' that takes place at Mount Rushmore, as does a scene in 'National Treasure: Book of Secrets.' While Eva Marie Saint dangles near George Washington's face in 'North by Northwest,' she is not shown dangling from his nose."
Seahawks at Packers Analysis: Ryan Grant lost fumbles on two of the Packers' first three snaps, resulting in a quick 14-0 Seattle lead. Yet Green Bay coach Mike McCarthy did not yank Grant or even chew him out on the sideline. This was smart. Unless a player is a fumbler by reputation, lost fumbles are basically just bad luck. In the regular season, Grant touched the ball 212 times and fumbled once, so he's not a fumbler. By leaving Grant in the game and not even getting mad, McCarthy sent a positive message to the Packers, and they responded positively.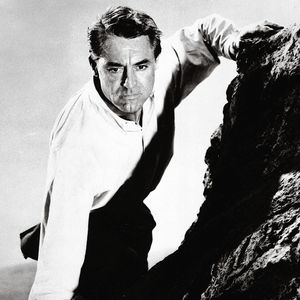 AP Photo
In the director's cut of "North by Northwest," Cary Grant rescues Eva Marie Saint from George Washington's nose.
With Seattle leading 14-0, Green Bay came out in 1950s-style T backfield with two fullbacks, one behind each tackle, and a tailback deep. The T formation is observed roughly once a decade in the NFL -- although San Diego would try it against Indianapolis the next day. Seeing the T, Blue Men Group defenders crowded into the box, assuming a power run. As the Packers approached the line, Favre looked left to wide receiver Greg Jennings, saw Jennings had single press coverage, and nodded to him. The nod was a "hidden audible" -- Favre and Jennings were changing the play to a quick slant, but nobody else knew that. At the snap, the Green Bay offensive line fired out for the power rush they thought was happening; Favre threw a quick slant; Jennings strolled to the end zone. Sweet! Except Packers' guard Daryn Colledge was 5 yards downfield, run-blocking. Green Bay should have been flagged for ineligible man downfield. Seven years ago in the divisionals, in Minnesota versus New Orleans, the same thing happened. The Vikings came out in a power-run set; Randy Moss had single coverage; Daunte Culpepper made eye contact with Moss to call a hidden audible; Moss took a quick slant for a touchdown as all other Minnesota players run-blocked; the entire Vikings' offensive line was ineligible downfield, no flag. Having your offensive linemen go downfield on a passing play makes for a very convincing run fake. But it's illegal, and Green Bay got away with one.
Seattle's luck was bad in other ways, too, with the Seahawks opening in a four-wide offense, seeing Deion Branch get hurt early and having to switch to different sets when they had practiced four-wide all week. But San Diego suffered key injuries at Indianapolis and hung in. Great offensive line play by Green Bay nullified the Seattle defense -- if the Packers and Patriots meet in the Super Bowl, that will match the NFL's two best offensive lines. Right tackle Mark Tauscher had a fabulous game against Pro Bowl defensive end Pat Kerney, turning Kerney into a very highly paid spectator. With Seattle leading 14-7, the Seahawks brought nine into the box in an obvious run situation; Grant gained 26 yards after Tauscher pasted Kerney at point of attack, then spun around and blocked Leroy Hill. On a long third-quarter run by Grant, Seattle put seven defenders in the box; Colledge pulled right from the left guard position as all Green Bay linemen down-blocked right; the Seahawks overpursued, and Grant simply cut back left.
The decisive play occurred with Green Bay leading 35-20 late in the third quarter, facing third-and-3. The Packers came out with an unbalanced line left, meaning three offensive linemen to the left of the center and one to the right. The Seahawks did not react, meaning their defensive front was outnumbered on the offensive left. To top it off, strong safety Brian Russell crept up and blitzed from the offensive left. When Russell was trapped inside, there was no Seattle player in Grant's way as he took the pitch left for 43 yards, setting up the icing touchdown. As Russell crept up toward the line, not realizing there was already a problem on his side that he was about to make worse, I said to my boys, "Here comes Green Bay's winning play." The solid defensive performance that had highlighted the Seahawks' season vanished in the snow at Lambeau.
Then again, perhaps there is a much simpler explanation for the Seattle defeat. A reader phrases it in haiku:
Seattle Seahawks:
smited by the football gods
for Brown's heated pants.
-- John Marx, West Henrietta, N.Y.
Meanwhile, Favre looked great, ducking under Julian Peterson to evade a sack when the game was close, later spinning away from Brandon Mebane to evade another sack and flip a falling-down underhanded pass for the first down. Not many 38-year-olds who star in jeans commercials can make athletic moves to beat NFL players a decade younger. But perhaps you've heard about Brett Favre.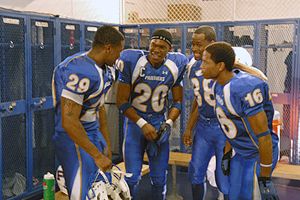 NBC
So then it was fourth-and-99 with one second remaining! We had them exactly where we wanted them!
"Friday Night Lights" Update:
Once again Friday night, the Dillon Panthers pulled out an improbable victory by going the length of the field on the final play. Dillon trailed Laribee 43-38 with 14 seconds remaining and had the ball at its own 40, facing fourth down. (Before the previous snap, there had been 1:38 on the clock, then SuperCoach Eric Taylor called timeout immediately after the play -- yet somehow time was down to 14 seconds and no one on the Dillon sideline noticed, nor did anyone in the NBC continuity department.) On the final down, Tim Riggins took a swing pass in the flat, and a swing pass to the blocking back is a puzzling call with 60 yards to go on the game's last snap. But it's the Dillon Panthers, so of course they won! As TMQ has noted before, the football-game aspects of "Friday Night Lights" are increasingly harebrained: Don't the show's producers know anything about actual football tactics, or of the extreme rarity of last-play length-of-the-field victories? Accuracy in football tactics and game situations would suit "Friday Night Lights" fans just fine. A reader haikuizes this concern,
Friday night: once more,
last-second Panther comeback.
Please -- realism!

-- Doug Helmreich, Ann Arbor, Mich.
Reader Animadversion: Got a complaint or a deeply held grievance? Write me at TMQ_ESPN@yahoo.com. Include your real name and the name of your hometown, and I might quote you by name unless you instruct me otherwise. Note: Giving your hometown improves your odds of being quoted.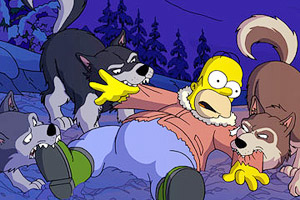 20th Century Fox
Homer gave Marge the best kiss of her life -- so far!
Single Worst Play of the Season So Far:
Flozell Adams, the Cowboys' Pro Bowl left tackle, has played well this year. But in the fourth quarter at home in the postseason, as the Dallas offensive line discipline broke down, Adams, the line's senior player, did not assert any leadership role or attempt to rally his linemates. Now it's Jersey/A 21, Dallas 17 with 26 seconds remaining, Cowboys' ball on the Giants' 23, crowd roaring, one pass completion might win it. At the snap, Adams merely brushes his man, Osi Umenyiora, then turns around to watch, doing nothing at all, as Umenyiora hammers Tony Romo, forcing a bad incompletion. Two snaps later, the Cowboys lose, have blown the No. 1 seed and are 12 years removed from their last postseason victory. With a home-field NFC Championship Game appearance on the line, Adams merely brushes his man, then turns around, doing nothing at all, watching his quarterback get hammered. Flozell Adams, you are guilty of the Single Worst Play of the Season -- so far.
Wednesday: Nothing this week.
Next Week: They weren't drafted, or were let go, or both. Yet they're really good players -- better than many glamour boys. Next Tuesday, meet Tuesday Morning Quarterback's annual All-Unwanted All-Pros. That will set the stage for the following week's bestowing of the coveted "longest award in sports," the Tuesday Morning Quarterback Non-QB Non-RB NFL MVP.
In addition to writing Tuesday Morning Quarterback, Gregg Easterbrook is the author of " The Progress Paradox: How Life Gets Better While People Feel Worse" and other books. He is also a contributing editor for The New Republic, The Atlantic Monthly and The Washington Monthly.