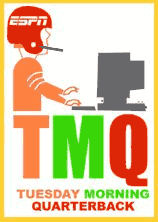 The annual TMQ All-Unwanted All-Pros appear below -- those NFL gentlemen who weren't drafted, or were let go, and now play better than most glory boys. Before we honor them, let's look at the bottom line of the championship round: Cold Coach = Victory, and Preposterous Punt ≠ Victory. Never have Tuesday Morning Quarterback's immutable laws of football been so on display as Sunday, nor has the voice of the football gods ever boomed so loudly.
First, Cold Coach = Victory. With a kickoff temperature of minus-1 Fahrenheit with a minus-23 wind chill, Packers coach Mike McCarthy came out as if preparing for the Wickersham Wall ascent at Denali. Oil-rig workers abandoning a North Sea drilling platform would have considered McCarthy overdressed. McCarthy was overdressed for a space walk! On the opposite sideline, Tom Coughlin wore a team parka, slacks and ski hat. As his face reddened throughout the contest, and viewers worried Coughlin would suffer frostbite, the Jersey/A coach never reached for additional clothing. Coughlin toughed it out, honoring the immutable law: Cold Coach = Victory. And yea, verily, victory came to pass. McCarthy seemed afraid of the weather, and seeming afraid sends the wrong message to your team.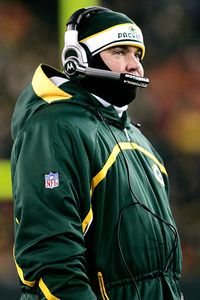 Scott Boehm/Getty Images
"Roger, Houston. We are in the airlock and go for egress for EVA."
The coaches' attitudes filtered down, most visibly to their quarterbacks. Eli Manning looked buoyant on the sideline during timeouts and often walked up and down among his teammates without a cape. During timeouts, Brett Favre crouched into his cape on the Packers' heated bench, pulling his balaclava up to his nose while putting hand-warmer pads inside the balaclava. As Bud Grant used to say, If you're afraid of the cold, you are already defeated! The fabled Packers Bikini Girls, who strip to triangle tops during Green Bay home games, impressed the football gods enough by doing this at minus-23 wind chill that the Packers were allowed to take the contest into overtime. But the Packers Bikini Girls put it out there for only a moment: McCarthy wore ridiculous
Amundsen-Scott Station
survival gear for the entire game. Cold Coach = Victory! Coaches, ignore this immutable law at your peril.
Next, Preposterous Punt ≠ Victory. Trailing New England, football history's highest-scoring team, 21-12 with 9:21 remaining -- meaning San Diego needs to score a touchdown plus another score to win -- the Chargers faced fourth-and-10 on the Patriots' 36. Needless to say, when the punt boomed, TMQ wrote the words "game over" in his notebook. New England required just four snaps to pass the point where the ball would have been had the Chargers gone for the first down and failed; New England held possession for the remainder of the game, with San Diego never touching the ball again.
Norv Turner's decision to punt in New England territory in the fourth quarter when trailing by two scores might go down as the single worst coaching decision of all time. Let us count the ways in which the decision was ludicrous. First, the Patriots have the best offense in football history, so the odds of getting the ball back quickly without New England scoring were very low. Second, you need a touchdown and a field goal and are in field goal range. Why aren't you at least attempting a field goal? Sure a long field goal try might not work, but punting is guaranteed not to work! Next, San Diego coaches should have decided already, when the Chargers had third-and-10 on the New England 36 at the 9:36 mark, that they would go for it on fourth down. The opponent is the highest-scoring team of all time; you will not defeat those guys by passively punting the ball away late in the game. Yet rather than use "four-down thinking" and call a draw or similar play on third-and-10 so the fourth-down situation would be more manageable, San Diego's coaches called a midrange pass on third down, then, facing fourth-and-10, shrugged and punted.
By sending in the punt team, Turner quit on the game. At that point, he no longer was trying to win -- rather, he appeared to be attempting to hold down the margin of defeat so people would hire him to do banquet-circuit speeches in the offseason and introduce him as a coach who gave the Patriots a good game. A more sinister interpretation of Turner's surrender is offered below. Giants coaches, please note -- two straight playoff games have featured opponents playing the Patriots close through three quarters, then folding in the fourth quarter after going passive. (Trailing New England by 11 points late in the divisionals, Jacksonville passively kicked a field goal on fourth-and-goal.) Jersey/A, if you are to prevail in the Super Bowl, you can't play passive. Don't try to avoid criticism or constrain the margin of defeat. Don't dance with the champ. Go all out!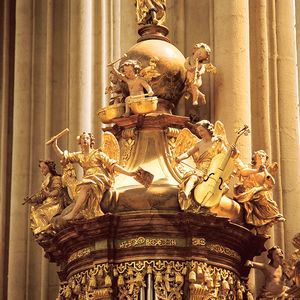 Imagno/Getty Images
A chorus angelorum sings "venite adoremus Gigantes" as the football gods praise the Giants, whom they have chosen as their champions to face the evil Patriots.
The football gods spoke clearly in a third way Sunday, choosing the Giants as their champion to face the ominous Patriots. In the final contest of the regular season, with New England playing for the right to be the first-ever 16-0 team and Jersey/A, already having locked up its best seed, playing solely for pride, the Giants went all out and nearly defeated the Flying Elvii. Can anyone doubt the football gods were impressed by this noble performance and have guided the Giants' hands since then? Not only does a rematch of that season-finale game feel like a great Super Bowl matchup but, more important, this is the will of the football gods!
Can Jersey/A best New England? Bear in mind that the Giants' last Super Bowl win was a huge upset over the heavily favored Bills, then the league's highest-scoring team in their first no-huddle year. Jersey/A held Buffalo to 19 points in that Super Bowl, after the Bills had scored 51 points in the AFC Championship Game. Of course, it helped that Bill Belichick was Jersey/A's defensive coordinator.
In other Super Bowl news, it is now possible Eli Manning will win the Super Bowl the year after Peyton Manning won the Super Bowl. If this happens, television commercials will feature the Manning family until the end of time.
In other football news, see below for the Tuesday Morning Quarterback All-Unwanted All-Pros, including my new award, Unwanted Player of the Year.
Stat of the Week No. 1: New England has advanced to the Super Bowl despite Randy Moss' having two receptions for 32 yards and no touchdowns in the postseason.
Stat of the Week No. 2: Jersey/A has advanced to the Super Bowl despite Michael Strahan and Osi Umenyiora having combined for just one sack in the postseason.
Stat of the Week No. 3: Eli Manning has not thrown an interception in the postseason.
Stat of the Week No. 4: Tom Brady has three interceptions in the postseason.
Stat of the Week No. 5: San Diego ends the season having scored on 35 consecutive red zone possessions.
Stat of the Week No. 6: Through the first three quarters, San Diego outgained New England by 32 yards.
Stat of the Week No. 7: In the fourth quarter, New England outgained San Diego by 68 yards.
Stat of the Week No. 8: In the first half, the Packers gained 174 yards; in the second half, 88 yards.
Stat of the Week No. 9: The Giants are 4-0 in the NFC Championship Game.
Stat of the Week No. 10: Three days after appearing on the cover of Sports Illustrated, Favre threw a killer overtime interception that cost the Packers the NFC Championship Game at home.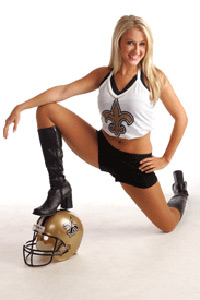 New Orleans Saints
Go-go boots would be a historical footnote if it weren't for NFL cheerleaders.
Cheerleader of the Week:
Reader Jeff Goldberg of New York nominates
Ashley
of the New Orleans Saintsations. According to her team bio, Ashley works as a dance teacher while studying for her nurse-practitioner degree. Triple male fantasy overload -- a cheerleader, dancer
and
a nurse. Also according to her team bio, when asked "what is your most outstanding attribute," Ashley answered, "Dedication and perseverance." That's two outstanding attributes!
Jersey/A at Green Bay Analysis: Is it possible the Giants are not only better off without Tiki Barber but also better off without Jeremy Shockey? Last season, Jersey/A had three me-me-me types in its offensive lineup -- Plaxico Burress, Shockey and Barber, the first two always me-me-me, the third a team player until he inexplicably became an egotist in 2006. With three me-me-me types, someone was always sulking and refusing to hustle (Burress) or throwing some kind of tantrum (Shockey) or denouncing his coaches and teammates (Barber). Now, Burress is the only bad-head player in the Giants' lineup, and that seems to be keeping him under control -- there are no other bad heads around to encourage him or amplify his behavior. Burress has hustled all postseason. Football psychology shows it is possible to handle one me-me-me type if everyone else around him is team-focused: See the Patriots and their experience with Moss. Now that Barber has retired and Shockey is on crutches, Jersey/A finally has that situation.
Sure, Eli Manning is maturing, but the lack of distractions in his own huddle seems equally important. As this season has progressed, the Giants' offense has become steadily more team-focused, calm and professional. Guys you never heard of, such as Ahmad Bradshaw, have emerged and been accepted; could the 2006 Giants have accepted taking the ball away from media stars and giving it to a rookie picked late in the draft? Nobody for the Giants is engaged in dumb on-field histrionics or pointing at himself. (Announcers always say, "Look how passionate Shockey is." TMQ always thinks, "Coach, when are you going to teach that guy the team matters more than his personal stats?") Now that Eli doesn't have to worry about feuding stars complaining about their touches, he can just throw to whoever's open and hand to whoever is hot. And suddenly, Eli is maturing.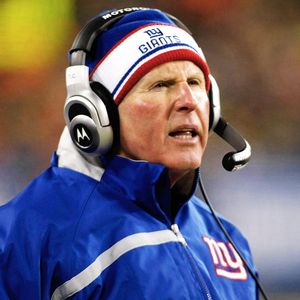 Scott Boehm/Getty Images
Cold Coach = Victory!
Shivering Coughlin showed courage in how he dressed and in how he called the game. Trailing 10-6, Jersey/A reached the Green Bay 36 with 48 seconds remaining in the first half and no timeouts. Rather than play conservatively for field goal position, the Giants threw deep hoping to score a touchdown -- and though they didn't, the boldness set the right tone. In overtime, Jersey/A had fourth-and-5 on the Green Bay 29. Trying the field goal was actually the bold decision here because Giants' kicker Lawrence Tynes had missed two shorter field goal attempts in the same direction in the fourth quarter and another miss would have put the Packers in business near midfield. But Coughlin let Tynes try again and was rewarded.
Sweet Jersey/A offensive series: In the third quarter, Amani Toomer dropped the ball on a stop-and-fade. The next play, the Giants ran exactly the same action, with Toomer catching the stop-and-fade for a 23-yard gain that helped set up a touchdown.
On the defensive side, Jersey/A played really well again, holding the Packers to 264 yards in their own house and shutting down the Green Bay running game that had seemed so potent the week before against Seattle. Jersey/A has gotten some notice for its performance against passing attacks, but it performed Sunday in the more workmanlike aspect of defense, stopping the rush. Surely the fact that Giants defensive coordinator Steve Spagnuolo also was underdressed in a team parka and ski cap aided his cause. And here was a sweet Jersey/A hidden play, hidden plays being ones that never make highlight reels but that stop or sustain drives. With 1:52 remaining in the second quarter, linebacker Antonio Pierce got past two Green Bay offensive linemen to hold a screen pass to a 1-yard gain on third-and-8, causing the Packers to settle for a 36-yard field goal. As the play formed, it looked as though the runner would get at least a first-and-goal, maybe a touchdown. Had everything about this game been the same except Pierce had not busted this screen, Green Bay might have won in regulation.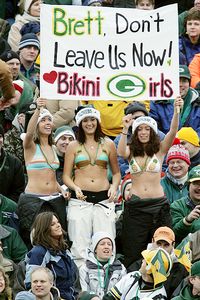 Jonathan Daniel/Getty Images
The Packers Bikini Girls in happier times.
On the Packers' side, Green Bay faithful are complaining about penalties against their charges, but I did not see any illegitimate flags thrown. Nick Collins roughing the passer on third-and-5 when Manning had just thrown incomplete, keeping Jersey/A alive for what would prove a touchdown drive, was about as dumb as it gets -- Collins had a clear view of Manning and knew the ball was away. Al Harris had no complaint when his interception was nullified by an illegal-contact flag -- Harris practically threw the receiver to the ground. I noticed three Green Bay pass interference or offensive holdings that the officials missed, and the Packers were offside, uncalled, on a late fourth-quarter third-down sack of Manning. And Donald Driver practically threw the cornerback defending him to the ground before his 90-yard touchdown catch and wasn't flagged, plus officials nullified a seeming game-winning touchdown for Jersey/A just before the two-minute warning, by calling a hold that happened behind the play. Green Bay -- quit complaining about calls! Your real complaint is that you didn't produce when the table was set.
The Packers' defense blitzed too much, especially considering that Eli is finally maturing and a mature quarterback wants to be blitzed. In the third quarter, Green Bay blitzed seven on the third-and-5 when Harris intercepted, but illegal contact gave Jersey/A the first down. The Packers blitzed seven on the roughing-the-passer penalty that kept a drive alive. Three other big Pack blitzes on long-yardage situations resulted in Giants' first downs, and only one big blitz on a long-yardage down worked.
As for the Green Bay offense, you don't win many games in which you go 1-for-10 on third downs. Favre was off target much of the night, sailing the ball over his receivers' heads. Favre seemed bothered by the cold and miserable on the sideline -- maybe he is 38 years old after all. The offensive line had its worst game of the season, same as the Cowboys' offensive line against the Giants. Four quick, hybrid defensive end-linebacker pass-rushers on the field at the same time seems to be a formula most offensive lines can't solve.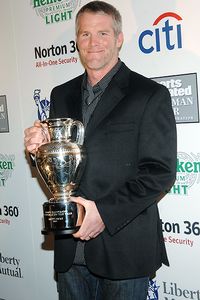 Brad Barket/Getty Images
Brett, don't accept that Sports Illustrated trophy for Sportsman of the Year. Don't accept it! Oh no!
As for the deciding play, Favre's throwing an interception in Green Bay territory on the second snap of overtime, here's what happened. Thrice during regulation, the Packers had shown an action designed to look like the power rush they'd run with success against the Seahawks the week before. Each time, a tight end lined up in the line but didn't set; then the tight end stepped back into the backfield while the wide receiver on that side stepped forward to cover up the tackle; then the tight end went in motion as if to "slide" block at the point of attack; then the line down-blocked as if for a power run; then Favre threw a quick out. The Packers used this basic action for several big runs against Seattle, on plays that were runs. Sunday, the Packers used the action three times in regulation, except it was a pass, twice complete. When, in overtime, Packers' coaches called the action for the fourth time, this time the Jersey/A defense knew what was coming. Linebackers did not buy the fake, and cornerback Corey Webster broke early on the quick out. Don't expect the same misdirection-based play to work four times in the same game.
"Friday Night Lights" Update: Friday's episode set a record: It contained nothing but relationship talk and longing glances, no football at all! Though the episode did offer the fourth time in the series that a teen character has walked in on his or her love interest passionately kissing someone else. For about 15 seconds in last week's show, SuperCoach and his assistant were watching game film, but then immediately turned to relationship talk. Attention "Friday Night Lights" producers, given the choice between watching game film and relationship talk, middle-aged males watch game film! Please "Friday Night Lights" producers, this is not supposed to be a series about teen dating and marital bickering, it's supposed to be a series about high school football. Show some high school football!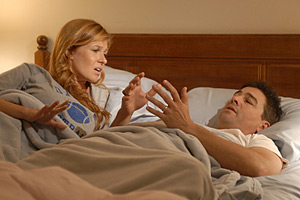 NBC
"Baby, your eyes are like limpid pools, our marriage is more complicated than the Geneva Convention -- plus it just struck me that it's January and the Dillon Panthers have only played six games."
Because there was no football in last week's episode, the game sequencing of the second season is now in serious jeopardy. As TMQ has noted, you must appear in 16 games to win a Texas high school championship. Yet last season, the Dillon Panthers won states at 11-2: They were so busy with relationship talk and longing glances, they forgot to play enough games! So far this season, Dillon is 4-2. In real time, it is mid-January; in the show's imaginary time, it is early October, with seven weeks of school having passed. Here's the problem. "Friday Night Lights" was renewed for 22 episodes and has aired 12. That's an average of one game every two episodes. There are 10 episodes remaining in the current season, which -- even lovers of the show accept -- will be the show's last. With 10 episodes remaining, the Panthers must play one game per episode to complete a 16-game schedule and repeat as Texas state champions in something at least similar to a realistic manner. Please, producers, allow "Friday Night Lights" to bow out showing some realistic football! Or any football at all.
And you know the Panthers will win states again despite, in just the seven weeks of the imaginary season for far, a head coach being fired, an attempted rape, a player killing someone, a melee in the school cafeteria, a riot in the football locker room, the quarterback and team's star being benched, the return of the former head coach, a divorce by the team's main booster, a robbery of the main booster's house, the starting fullback's disappearing for three weeks to binge drink in Mexico, the cheerleader captain quitting, the team's star running for his life from a college football player and having to hide outside overnight in his undershorts, the team's star assaulting three other boys, and a tornado striking the town.
Suppose the General Manager of the Miami Dolphins Awarded Himself the Same Bonus as the General Manager of the New England Patriots: Last week, this story appeared buried inside the business pages of The Washington Post. Why wasn't the story on Page 1? The Post reports that the blue-blooded five, Wall Street's five top investment banking houses, awarded their management $39 billion in bonuses for 2007 -- a period when those firms combined to earn investors about $11 billion in profits. Merrill Lynch lost $8 billion in 2007, Morgan Stanley $3 billion and Bear Stearns $230 million, yet the executives of these companies were showered with billions of dollars in bonuses. Otherwise, they would refuse to do any work! Which, apparently, would be in shareholders' interest. Merrill Lynch and Morgan Stanley could have done better by their shareholders in 2007 by simply purchasing Treasury bills; a software program designed to make simple conservative investment decisions about market-following mutual funds would have performed better in 2007 than the top management of most investment banking houses. And the software program would not have paid itself billions of dollars in bonuses for screwing up! (TMQ owns no stock in any of the mentioned firms.)
It's one thing when profitable firms shower money on their CEOs and other top brass; often the amounts are indecent, but as long as shareholders come out ahead, the executives have at least some justification for their windfalls. But in the modern milieu of corporate kleptocracy, even when the company does terribly and the CEO makes decisions that blow up in the firm's face, the CEO awards himself hundreds of millions of dollars, anyway. Why is this not seen as white-collar crime?
Last week's buried Post story included this priceless quote: "'To many people, [the bonuses] will be shocking and questionable,' said Jeanne Branthover, managing director of Boyden Global Executive Search. 'People in New York in the world of investment banking will understand it. It's critical that pay is still there or you're going to lose really good people.'" Beyond that executive headhunter firms such as Boyden have a self-interest in running up CEO pay -- this can increase the search firms' headhunting commissions -- consider the reasoning: OMG, we can't lose the really good people who cost our shareholders billions of dollars with dim-witted decisions! The notion that top corporate managers must be paid fantastic amounts because they possess incredible, astonishing expertise often is used to justify CEO pay, even when the managers who claim the incredible, astonishing expertise make foolish decisions. "We'll put billions of dollars of money entrusted to our care into subprime gimmick mortgages backed by no documentation of income; my incredible, astonishing expertise tells me this is totally safe!"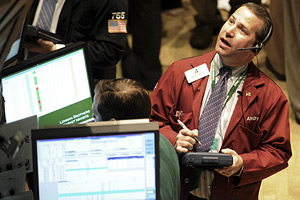 AP Photo/Henny Ray Abrams
Today the market fell sharply, while Wall Street executive bonuses rose in futures trading.
If corporate managers who screwed up received $5.85 an hour, the federal minimum wage, for the year in which they screwed up -- that is, if their wallets were at risk when they perform poorly -- then they might fairly argue for huge bonuses when they perform well. But there is no evidence that the people who made the big investment calls on Wall Street last year (except at Goldman Sachs, which avoided the subprime mess) are any better at what they do than people chosen at random off a Brooklyn street. You bet "people in New York in the world of investment banking" will understand huge executive bonuses paid in the same year as huge losses. What's happening is basically a hustle, intended to enrich the executives while separating the investors from their cash. "People in New York in the world of investment banking" understand that, all right!
Harvard to Purchase Ireland: Last week, Bowdoin College became the latest elite school to announce dramatic tuition reductions for middle-class students. Davidson College started this welcome trend two years ago; since then, Amherst, Bowdoin, Harvard, Pomona, Princeton, Swarthmore, Williams, Yale and a few other top-ranked schools have rolled out cost reductions, either via a big extension of financial-aid eligibility for middle-class families or by converting all student loans into tuition discounts, as Bowdoin did last week. Everyone is impressed by the cost-reduction actions taken by these schools. TMQ pointed out early this past fall that some elite colleges have amassed such fantastic endowments -- Harvard's endowment now exceeds the GDP of Ireland -- that it was shameful the schools continued to soak middle-class parents. The developing dynamic was that poor kids with good grades could attend an elite school free and the parents of rich kids did not care about the price but that kids from middle-class families were being squeezed out. Now, many elite colleges will become more accessible to the middle class, allowing students to graduate with less or little debt -- so idealistic young graduates are in a position to enter public-service careers, rather than racing to Wall Street to cash in and pay off their loans.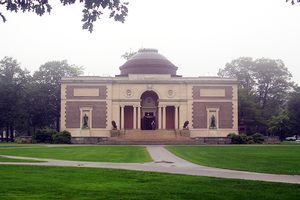 AP Photo/Annie Higbee
Bowdoin is the latest super-elite college to aid the middle class. Wonderful -- but now who will aid the middle class at state schools?
Top schools are not cutting middle-class costs exclusively for reasons of improving education. Elite colleges have been coming under increasing congressional pressure to stop hoarding in their endowments, with Sen. Chuck Grassley (R-Iowa) and Rep. John Tierney (D-Mass.) leading the charge on that score. Federal law requires most types of charities and foundations to give away a minimum 5 percent of their funds annually; many elite-school endowments were giving away only 3 to 4 percent, and the overall average in 2007 for college endowment giving-away was 4.6 percent, according to the National Association of College and University Business Officers. TMQ has been among many commentators to point out that if big-endowment colleges simply upped their annual endowment outflow to 5 percent, tuition prices could be slashed. The middle-class tuition price reductions unveiled by many top colleges will bring them some well-deserved positive press and should get Congress off their backs. Colleges would far rather improve their aid plans voluntarily than be hit with some 900-page congressional mandate.
But admirable as the recent elite-college decisions are, it's not enough. Harvard, with a $35 billion endowment, could charge undergraduates nothing at all, as could Yale, with a $23 billion endowment. Williams has the largest small-college endowment, at $2 billion, and could charge students nothing at all. Most well-endowed colleges are not in a position to charge nothing; neither Bowdoin nor Davidson could, for example. But Harvard, Yale, Stanford, Williams, Amherst and Pomona -- the best-endowed colleges relative to student body size -- should simply stop charging anything to students from other-than-rich families.
The larger problem is that as welcome as the decisions of the well-endowed elite colleges are, most kids don't attend elite colleges. About three-quarters of American undergraduates attend public colleges and universities, where the listed tuition price might be lower than at an elite private school but the effective price for a middle-class family actually might be higher. Under the new setups, a state university might list a $15,000 tuition price but not grant much financial aid, while one of the well-endowed elites lists a $35,000 tuition price but waives most of the cost for middle-class families. Now that the middle-class-crunch problem has been addressed, at least at the well-endowed elite schools, more attention must be paid to the middle-class crunch at typical colleges and universities. Consider that the University of Connecticut, which has twice as many students as Yale, has an endowment of $300 million -- meaning Yale's endowment is 75 times larger, and meaning the University of Connecticut has far less endowment income to give away as aid. Traditionally, the wealthy have given to elite schools for prestige reasons but giving to public universities tends to focus on athletic facilities, not on the endowment. It's time to convince the wealthy that Harvard, Yale and Stanford don't need any more money: They should give instead to public universities and lesser-known liberal-arts colleges, where their donations will have more impact. Here's an encouraging story about a rich man who is doing exactly that.
Yale's Secret Weapon: Harvard has so much money because it's Harvard; Stanford has a mega-endowment because the school was in on the ground floor of Google stock. Why does Yale have so much money? Because its endowment is run by remarkable money manager David Swensen. Yale's endowment has returned almost 16 percent per annum since Swensen took over in 1985, a much better long-term track record than that of any hedge fund or similarly hyped investment vehicle. In fact, it's a much better return than the investments made by places such as Merrill Lynch, where the executives award themselves hundreds of millions of dollars for their supposed astonishing expertise. Swensen is even a decent human being, paying himself far less than he could earn on Wall Street. A decent human being in the money-management profession, how did that happen? Swensen's 2005 book "Unconventional Success" is also the best personal-investment guide on the market. Unlike the phony junk in the get-rich-quick aisles of bookstores -- "How to Become a Billionaire in Twenty Seconds with Nothing Down" -- Swensen's advice is specific and practical. I commend "Unconventional Success" as containing all that most people need to know about rational investment decisions and retirement saving.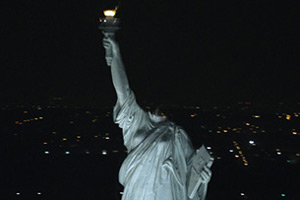 Paramount Pictures
"Cloverfield": A monster movie from script writers who didn't have heads, either.
"Hey Guys, I've Got An Idea, Let's Run Directly Toward the Monster!"
OK, to watch a monster movie, you must suspend disbelief about the idea of 500-foot-tall sea monsters. But if there were such beasts, wouldn't they be subject to laws of physics and principles of biology? Almost no explanation is given for the ultra-huge creature in "Cloverfield," except a hint that it was disturbed by a deep-seabed experiment. So it's a 100,000-ton sea-floor thing; Godzilla was said to weigh 20,000 tons, and the "Cloverfield" monster is a lot bigger. If this creature lived at the bottom of the ocean, why is it adapted to the substantially different pressure of the surface? Deep-sea creatures would die rapidly if brought to the surface, yet the "Cloverfield" beast strolls around Manhattan. How come the sea monster has lungs and breathes air? The creature must be an amphibian, or it could not leave the water. To possess lungs, part of its life cycle would need to occur on land, and a 100,000-ton living object in intertidal areas would, at some point in history, have been noticed.
Even if you accept the monster-existence premise, other aspects of the movie defy reason. Two million people live in Manhattan; the monster kills all but a handful in a single night -- near the end of the film, rescue teams are taking out individual survivors by helicopter. Even knocking over skyscrapers wouldn't kill everyone on Manhattan in a single night, the majority would survive. (Awful as the Dresden raid was, most residents survived it.) The monster attack starts about 10 p.m., and by about midnight, significant military forces are in the city. How did they get there so fast? If an actual sea monster attacked a city, initially, police officers would fight it; hours would pass before military units arrived. The movie characters are trying to cross the Hudson and East rivers to get off Manhattan, but why is being in Brooklyn or Hoboken any safer with a 100,000-ton amphibian right nearby? Then, at dawn, the military destroys Manhattan to ensure the monster is dead. It is inconceivable a mere eight hours could pass from the very first news that monsters exist to a presidential decision to bomb the nation's largest city. Even if you accept the premise of a 500-foot-tall amphibian that has never been noticed by anyone in all of human history, the rest of the movie should make sense.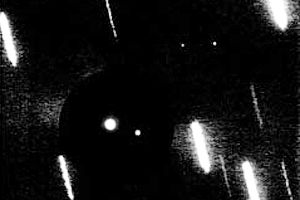 Tholen/University of Hawaii
Advanced telescopes can barely see this -- which is happening quite nearby in cosmic terms.
A Cosmic Thought:
Recently, astronomers at the University of Hawaii used the Mauna Kea telescopes to take
the sharpest-ever pictures of Pluto and its moons Charon, Nix and Hydra
. In the photo shown, Pluto is at the center, Charon is nearby, and Nix and Hydra are upper-right. The blurs are not alien dreadnoughts jumping to quadraspace but stars blurred by overlays of time-lapse photography. (Usually, stars change position in the night sky more rapidly than planets, a reason our primordial ancestors began to wonder whether the lights now known to be planets were different from the other lights.) Light from the sun requires about
eight minutes to reach Earth, as much as seven hours to reach Pluto
. It is believed that a person standing on the surface of Pluto would perceive Sol only as a bright star, white rather than yellow, and only a little larger than other stars, causing no feeling of warmth on the skin at noon. Pluto is
inside the solar system
, yet Earth can barely glimpse this world, which suggests the vastness of galactic distance.
At Least Norv Turner Did One Thing Right: For their coast-to-coast, three-time-zone trip, the Chargers left San Diego on Thursday, arriving in Boston almost 72 hours before kickoff of the AFC Championship Game. As a result, the Bolts suffered no jet lag and played strongly -- if handicapped by idiotic coaching decisions -- throughout the game. Why is it that so many NFL teams traveling coast-to-coast don't arrive until the night before the game, then act surprised when they play sluggish?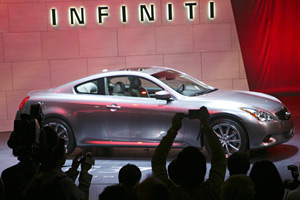 AP Photo/Mark Lennihan
It's much faster than a 1960s muscle car, and doesn't waste nearly enough gasoline to please the New York Times.
New York Times Assigns Judith Miller to Cover Cars:
TMQ has done many items this season about the absurd obsession with automotive horsepower, even though most cars and SUVs sold in the United States already are overpowered and use too much petroleum -- the higher the hp, the lower the mpg. Recently, The New York Times auto review section complained that the new Infiniti G37 "go[es] more slowly" than last year's model because the new model takes 5.3 seconds to reach 60 miles per hour, versus 5.2 seconds for the previous model. Both these acceleration numbers are absurd! Muscle cars of the 1960s took seven or eight seconds to reach 60. Now, the Times is calling 5.3 seconds to 60 mph slow, when this sort of speed is employed exclusively for drag racing and cutting off, both of which are anti-social. It would be in society's interest if the G37 and most other cars and SUVs sold in the United States offered less acceleration and higher fuel economy. Not only would petroleum waste decline but so would road rage. (Horsepower is the enabler of road rage.) It also would be in society's interest if big-newspaper auto reviewers cared about trends in petroleum waste, greenhouse gases and national dependence on Persian Gulf dictatorships. Even at The New York Times, most auto reviews read as if written by publicists for the automakers.
San Diego at New England Analysis: Not only did Norv Turner order the silliest punt ever, passively conceding a Super Bowl trip, but he also made mincing fraidycat calls throughout the game. Facing the highest-scoring team in football history, Turner punted three times inside New England territory -- from the Flying Elvii 36, 41 and 49. Turner ordered a punt on fourth-and-inches from the San Diego 33, and if you don't think your offense can gain a few inches, why bother to have the guys suit up? Plus, Turner opted for field goals from the New England 5-, 6- and 8-yard lines. You're playing the highest-scoring team in history -- a team whose season-low output was 20 points, and that was in a 27-mph wind. You're going to have to score a lot of points to defeat the highest-scoring team ever. Yet three times inside the New England 10, Turner shrugged and took the field goal, and three times inside New England territory Turner didn't even try to score, passively booming a punt. Attempting to defeat a 17-0 team, the Chargers took no risks and never went for it on fourth down. A reader laments in haiku:
Cannot dance with champ:
No meek kicks, go for seven!
Read TMQ, Norv!
-- Paul Kohnhorst, Grand Rapids, Mich.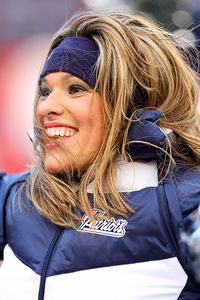 Paul Spinelli/Getty Images
When your coach controls the weather and the officials, the cheer-babes are under a lot less pressure to show professionalism.
Once again, not only did the weather (stiff winds died down just before kickoff) seem to be under Belichick's control, but so did the officials. Disciplined teams commit fewer penalties, and Belichick teams are disciplined -- but there's a difference between discipline and seeming to get a free pass from the officials. A few years ago, New England won an AFC championship when repeated obvious pass-interference penalties by the Patriots against the Colts went uncalled in the fourth quarter; that year, New England won the Super Bowl without ever being called for pass interference or offensive holding in the postseason. On Sunday, the Pats were flagged just twice, for 19 yards. With 11 minutes remaining and San Diego driving, Richard Seymour, after the whistle, shoved Philip Rivers to the ground directly in front of referee Jeff Triplette -- no flag. During a play, linebacker Mike Vrabel spun around his blocker, then leg-whipped Rivers, causing him to fall and throw an interception -- no flag. Reader Jacob Robertson of Rock Hill, S.C., writes, "Tripping is a penalty in the NFL, yet not only was this not called, the announcers praise New England linebackers when they cheat." Robertson haikuized:
Stick leg out to trip
and cause an interception:
get praised on TV!
-- Jacob Robertson, Rock Hill, S.C.
Jim Nantz and Phil Simms, the CBS announcers, said nothing about the leg whip. Nor did they note that Vrabel's move came against rookie tackle Jeromey Clary, who was filling in for yet another injured San Diego starter. Although CBS was oblivious to the Patriots' uncalled penalties, both "SportsCenter" and the NFL Network's Rich Eisen highlighted the tripping flag that wasn't thrown. So even the league's in-house network was bothered by New England's getting away with this play!
San Diego played with a lot of spirit, and held New England to 21 points, the Patriots' lowest scoring output of the season in a game in which they were still attempting to score in the fourth quarter. The Chargers, like the Jaguars the week before, neutralized Moss by jamming him at the line -- surely Jersey/A will notice this, and surely Belichick will devise a countermeasure for the Super Bowl. Both San Diego and New England played from the shotgun spread almost exclusively -- a January cold-weather game in the Northeast played almost entirely from the shotgun spread, perhaps it's best if the football gods don't mention this to Vince Lombardi? The Chargers players never seemed to give up. What a shame their coach did.
But although San Diego played with spirit, it made more tactical errors than New England, and you can't beat the league's best team by making tactical errors. Every Chargers run save one went straight up the middle, between the guards -- which meant San Diego kept rushing directly at Vince Wilfork, one of the league's best nose tackles. The one rush that went outside was the day's disaster play for the Bolts. Trailing 14-9, San Diego faced third-and-1 on the New England 4 in the third quarter. A conversion and a touchdown here, and who knows? San Diego swept left, but only after setting fullback Lorenzo Neal as a wingback left, which caused TMQ to say aloud before the snap, "It's a sweep left." New England linebacker Junior Seau, released as washed up by the Chargers five years ago, shot the gap behind the play and tackled the runner for a loss, followed by a San Diego field goal on fourth-and-3 -- this being a time when San Diego just had to gamble if it wanted to win.
San Diego did not start passing on first down until after it fell behind, and passing on first down proved effective for the visitors until the fourth quarter. As New England clearly was expecting run on first down, why didn't the Chargers pass on first down early instead of waiting until they were in trouble? On one of Rivers' two interceptions, he heave-hoed deep toward Chris Chambers on a "go," and Ellis Hobbs got the pick. Hobbs was 10 yards off the ball at the snap! A receiver won't be open on a go against a corner giving such a cushion, but Rivers threw the ball anyway. With New England leading 7-6 late in the first half, the Patriots had first-and-10 on the Bolts' 12. San Diego called a weird zone blitz in which three rushed and backup defensive tackle Jacques Cesaire dropped into coverage to cover Flying Elvii wide receiver Jabar Gaffney. Not only did Brady have four full seconds in which to scan the field, but it will not surprise you to learn that the defensive tackle was not able to cover the wide receiver -- officially, Cesaire is 297 pounds, but he sure looks 350. New England touchdown. What kind of defense is dropping a defensive tackle into coverage while not pressuring the league's most prolific passer?
Over on the New England side, once again the Pats played straight defense for the first three quarters, then began blitzing in the fourth. Just as this caught the Jaguars off guard the week before, it caught the Bolts off guard Sunday -- even though straight defense in the first three quarters followed by blitzing in the fourth has been the pattern of recent New England game film, as TMQ has pointed out several times. A six-blitz with 11:40 remaining in the fourth was not picked up by a surprised-looking San Diego offensive line, forcing Rivers to throw inaccurately toward an open Chambers, for instance. Rivers threw the ball away on San Diego's final offensive snap, third-and-10 from the New England 36, when a safety blitz took the Chargers' offensive line totally by surprise -- even though the pattern of recent New England game film is Rodney Harrison blitzing in the fourth quarter.
Leading 14-12 in the second half but having considerable trouble with the San Diego pass defense, Belichick made a Belichick-style move by switching to a three-tight-end power set and running the ball; Laurence Maroney finished with 16 yards rushing in the first half and 106 yards in the second half. Smart coaches such as Belichick aren't afraid to change the team's look completely in midgame -- yet surprisingly few NFL coaches try this. With the Patriots leading 14-12 early in the fourth quarter, New England ran an extremely sweet play. The Elvii lined up with three wide right, tight end Benjamin Watson being the farthest out in an unconventional bunch and Wes Welker being nearest, in the slot. Before the snap, San Diego defensive backs Antonio Cromartie and Drayton Florence were pointing -- nobody was sure who had Welker. They seemed to decide who did. But then Watson came in motion back toward the formation. Watson ran a down-and-out, Welker cut under him across the middle, and nobody at all covered Welker as he scored a touchdown. San Diego had five defensive backs in the end zone on that play -- to defend three receivers -- and no one covered the NFL's leading receiver of 2007.
Note 1: New England passed five times on third-and-short, resulting in one first down, three incompletions and an interception. New England rushed four times on third-and-short, resulting in four first downs. Note 2: Reaching first-and-10 at the San Diego 20 just after the two-minute warning and with the Chargers out of timeouts, the Patriots simply knelt on the ball. This is the first instance in months when Belichick has shown good sportsmanship -- What's up with that? Note 3: The game paired Welker and Chambers, who combined for 14 receptions for 144 yards. Both played for Miami last season, and both were shown the door by canny, crafty, cagey Cam "Cam" Cameron. Rather than having these two top-notch receivers, Miami has center Samson Satele (a promising rookie) and a late second-round choice from the Bolts. Teams become 1-15 when the coach actively tries to get rid of good players.
2007 All-Unwanted All-Pros: To qualify for the All-Unwanted All-Pros, a player must have gone undrafted, been waived or been let go in free agency with his initial team making no bona fide effort to retain him. If his original team tried to keep him but ultimately could not for salary cap reasons, he doesn't qualify. And players who were traded don't qualify because their original teams received something in return. So Randy Moss does not qualify because even though the Patriots were the sole NFL team that would touch him last winter, the Raiders did get a draft choice in the deal.
An asterisk means the player has been unwanted more than once, such as undrafted and waived. Boldface means the player made the Pro Bowl as well.
FIRST TEAM
Tackles: Jason Peters*, Buffalo (undrafted and once waived from the practice squad, had never played offensive line before coming to the NFL); Tony Pashos, Jacksonville.
Guards: Kris Dielman, San Diego (undrafted); Stephen Neal, New England* (undrafted and did not play football in college).
Center: Jeff Saturday*, Indianapolis (undrafted, out of football for a year after college; got TMQ's vote as Super Bowl MVP in February 2007).
Tight end: Antonio Gates*, San Diego (undrafted, did not play football in college).
Wide receivers: Bobby Engram, Seattle (has caught 349 passes for 4,370 yards since being given up on by Chicago); Wes Welker*, New England (undrafted and once waived, see more below).
Fullback: Lorenzo Neal*, San Diego (let go by four teams).
Running back: Ryan Grant, Green Bay (did not start in college, undrafted, missed 2006 season with injury suffered when he tripped and fell into champagne glasses at a party); Willie Parker, Pittsburgh (undrafted, did not start as a senior in college and started only two games as a junior; was the NFL's leading rusher when injured in Week 16).
Quarterback: Jeff Garcia*, Tampa Bay (undrafted and let go four times, a former CFL player with more NFL career victories than Daunte Culpepper and Carson Palmer).
Defensive ends: Patrick Kerney, Seattle; Paul Spicer*, Jacksonville (undrafted Division II grad who played in the CFL, then was waived by Seattle and Detroit).
Defensive tackles: Pat Williams*, Minnesota (undrafted and twice waived, see more below); Ryan Pickett, Green Bay.
Middle linebacker: Gary Brackett, Indianapolis (undrafted).
Outside linebackers: James Harrison, Pittsburgh* (undrafted, waived twice by his own team); Mike Vrabel, New England.
Cornerbacks: Nick Harper, Tennessee (undrafted Division II player); Charles Woodson, Green Bay.
Safeties: Rodney Harrison, New England; Brian Russell*, Seattle (undrafted, let go twice; was an Ivy League quarterback at Penn).
Kicker: Rob Bironas*, Tennessee (undrafted, thrice-waived, former Division I-AA and arena2 player; led NFL in field goals in 2007).
Punter: Chris Kluwe, Minnesota (undrafted; in '07 had 34 punts downed inside opponents' 20).
Return man: Josh Cribbs, Cleveland (undrafted even though the all-time offensive yardage leader at Kent State).
Special-teamer: Darrell Reid, Indianapolis (undrafted).
SECOND TEAM
Tackles: Tyson Clabo*, Atlanta (undrafted and let go by three teams); Matt Lepsis, Denver (sentimental choice -- undrafted college tight end who had never played offensive line before the pros; ends his career with 134 NFL starts).
Guards: Chris Gray*, Seattle (waived by Miami and Chicago; has started 143 of past 144 games for the Seahawks, best starting string in franchise history); Rich Seubert, Jersey/A (undrafted Division I-AA player).
Center: Kevin Mawae, Tennessee (let go by the Jets, suffers from "McFarlane curse" -- hasn't gotten any publicity since McFarlane made a figurine of him).
Tight end: Ben Utecht, Indianapolis (undrafted).
Wide receivers: Joey Galloway, Tampa Bay; Terrell Owens, Dallas.
Fullback: Casey FitzSimmons*, Detroit (undrafted NAIA player from Carroll College of Montana).
Running back: Earnest Graham*, Tampa Bay (undrafted, twice waived from practice squad); Jamal Lewis, Cleveland.
Quarterback: Tony Romo, Dallas (undrafted).
Defensive ends: Greg White*, Tampa Bay (out of football 2003-05, played Arena ball in 2006 while working at a Best Buy); Kyle Vanden Bosch, Tennessee.
Defensive tackles: Kelly Gregg, Baltimore (undrafted and tastefully named); Israel Idonije, Chicago* (undrafted out of the University of Manitoba).
Middle linebacker: London Fletcher*, Washington (undrafted Division III player who has been let go twice).
Outside linebackers: Eric Barton*, Jersey/B (undrafted and let go twice); Junior Seau*, New England (future Hall of Famer has been let go twice, was called washed up by San Diego five years ago).
Cornerbacks: Leigh Bodden, Cleveland (undrafted Division I-AA player); Jabari Greer, Buffalo (undrafted).
Safeties: Atari Bigby*, Green Bay (undrafted and twice waived); Will Demps*, Houston (walk-on in college, then undrafted, then let go by two teams; has started 70 games in the NFL).
Kicker: Phil Dawson, Cleveland (undrafted; his 49-yarder through driving snow was this season's best placement kick).
Punter: Brian Moorman*, Buffalo (undrafted Division II player from a favorite TMQ obscure college, Pittsburg of Kansas).
Returner: Andre Davis*, Houston (has been let go by three teams).
Special-teamer: Travis Minor, St. Louis (one of Cam "Cam" Cameron's canny, crafty, cagey decisions was to let Minor go).
Utility man: Lorenzo Alexander*, Washington (undrafted, out of football in 2005, waived by Baltimore in 2006; played guard, tight end, fullback and defensive tackle for the Redskins this season).
UNWANTED PLAYERS TO KEEP AN EYE ON
Quarterback Derek Anderson, Cleveland (waived by Baltimore; in his draft year, quarterbacks Charlie Frye, Andrew Walter, David Greene, Stefan LeFors, Dan Orlovsky and Adrian McPherson were chosen ahead of him).
Quarterback Todd Collins*, Washington (10 years after being waived by Buffalo, he finally took the field, going 4-1 as a starter; although 36 years old, Collins could be the Redskins' quarterback of the future because there's no wear and tear on his physique).
Linebacker Stephen Cooper, San Diego (undrafted Division I-AA player from out-of-the-way University of Maine).
Special-teamer Keith Davis*, Dallas (undrafted Division I-AA player has been waived five times, was out of football in 2003 and played for the Berlin Thunder in 2004).
Linebacker John DiGiorgio, Buffalo (undrafted Division II player).
Special-teamer Nick Ferguson*, Denver (undrafted and twice waived).
Center Hank Fraley, Cleveland (undrafted).
Defensive tackle Jovan Haye*, Tampa Bay (twice waived; had terrific year for Bucs in 2007).
Fullback Madison Hedgecock, Jersey/A (waived by St. Louis, mostly played defensive end in college).
Guard Montrae Holland, Denver (let go by New Orleans; could bench-press the "Cloverfield" monster).
Tailback Fred Jackson, Buffalo (undrafted Division III player from academics-oriented Coe College).
Center Jamaal Jackson, Philadelphia (undrafted).
Linebacker Akeem Jordan, Philadelphia (undrafted Division I-AA player).
Nickelback Kevin Kaesviharn*, New Orleans (undrafted Division II player, waived three times, played in the Arena League, did not sign his first NFL contract until four years after graduating from college).
Defensive tackle Ethan Kelley, Cleveland (waived by the Patriots, seemingly New England's sole personnel mistake of the current century).
Guard Kyle Kosier, Dallas (was on the All-Unwanted team until the Cowboys' offensive line's awful, I-went-on-vacation-last week-and-now-I'm-crying-about-it performance in the playoffs).
Linebacker Paris Lenon*, Detroit (undrafted and waived, played in Division I-AA).
Linebacker Kawika Mitchell, Jersey/A (let go by Kansas City; played at South Florida when it was Division I-AA).
Linebacker Brandon Moore, San Francisco (undrafted and twice waived).
Guard Jamar Nesbit, New Orleans (undrafted).
Tackle Erik Pears, Denver (undrafted).
Linebacker Antonio Pierce*, Jersey/A (undrafted and let go).
Tackle Donald Penn*, Tampa Bay (undrafted and waived).
Tackle Ephraim Salaam*, Houston (has been let go by three teams, yet has made 129 NFL starts).
Fullback Mike Sellers, Washington (undrafted out of Walla Walla Community College).
Wide receiver Jerheme Urban*, Arizona (thrice-waived, undrafted Division III player).
Tailback Derrick Ward, Jersey/A (undrafted, went to college in Canada).
Quarterback Kurt Warner*, Arizona (undrafted Division I-AA and Arena League player, let go three times -- you don't find many undrafted Super Bowl MVPs who have been let go repeatedly and are still playing well).
Tailback Selvin Young, Denver (as Gil Brandt has pointed out, only six undrafted players have surpassed 500 yards rushing as a rookie).
And now, the All-Unwanted Player of the Year: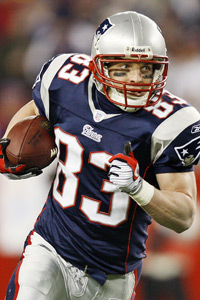 AP Photo/Winslow Townson
An NCAA record, plus 90 touchdowns in high school -- and no one wanted him.
Runner-up: Wide Receiver Wes Welker, New England.
No team drafted Welker despite his having 259 college receptions and leaving Texas Tech as the NCAA's all-time punt return leader. And he scored 90 touchdowns in high school! Maybe these were clues that he's good. Undrafted, Welker went to the San Diego rookie camp and was waived. Gradually, he worked his way into the Miami starting lineup, and he performed very well for below-average Marine Mammals teams with quarterback problems. When Belichick came knocking, offering a second-round draft choice for Welker, canny, crafty, cagey coach Cameron took the deal. Advice to all one-and-done coaches -- when Belichick makes you a sly offer, maybe there's a reason!
This season, Welker had 112 receptions for 1,175 yards and eight touchdowns; when teams shut down Moss, Welker drove them crazy with catch after catch. Plus, Welker is one of the best blockers among NFL receivers. Watch Patriots tape -- Welker not only blocks well but is always hustling to get a block, in situations where the Chad Johnsons of the league often stand around and watch.
Tuesday Morning Quarterback 2007 All-Unwanted Player of the Year: Defensive Tackle Pat Williams, Minnesota. A juco transfer, Williams started only 15 games in college, then went undrafted. In his rookie season, he was waived twice from the Buffalo practice squad. Williams did not start a game until his fourth season, and few (non-quarterback) players who are struggling are kept around so long, even at the league-minimum salary. Williams became a starter midway through 2002, when Buffalo was ranked 29th against the rush. The next season, the first full year for Williams, the Bills jumped to eighth against the rush. The following season, Buffalo jumped to seventh. Williams' contract was up, and his agent offered to re-sign him with the Bills for a $5 million bonus, low for a quality NFL starter. But crafty, canny, cagey Tom Donahoe, then Buffalo's general manager, declared Williams washed up and made no offer. Williams signed with Minnesota, where he often is confused with fellow Vikings defensive tackle Kevin Williams.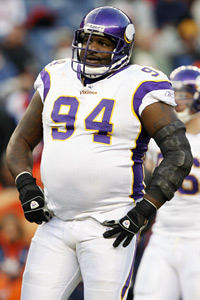 AP Photo/David Zalubowsk
He's svelte, he's on his way to Hawaii, and he's the Tuesday Morning Quarterback All-Unwanted Player of the Year.
The season before Pat Williams arrived, Minnesota was No. 21 against the run. The next season, it rose to 19th, then rose to first, where the Vikings have remained for two seasons, with Pat Williams anchoring the run defense and earning two consecutive Pro Bowl trips to Honolulu. Oh, and the year after Buffalo, then seventh against the run, let Williams go? The Bills fell to 29th against the run, and they have remained near the bottom since. With Buffalo posting consecutive 7-9 seasons in which the Bills haven't been able to stop the run, had everything about the Bills been the same in 2006 and 2007 except they had not given Pat Williams the boot, Buffalo might have made a couple of playoff appearances.
Note: According to the Vikings' official roster, Williams weighs 317 pounds. And if you believe that, I have some securitized subprime mortgages I'd like to sell you.
This Whole Item Is a Setup for the Final Line: In the past couple of weeks, I've been quoted in The Washington Post (about global warming), MIT's Technology Review (about agriculture) and The Chronicle of Philanthropy (about charitable giving); been interviewed on NPR (about economic trends); and been quoted in Playboy (about megababes). One of the pleasures of being a writer is having a range of interests. Anyway, ESPN.com can't link to the Playboy quote, for lack-of-thong-based reasons.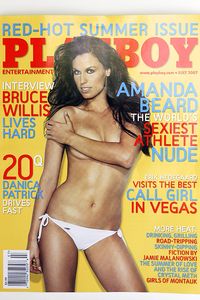 AP Photo/Kevork Djansezian
If you're quoted in Playboy, shouldn't a date with a centerfold be included? This seems only fair.
Single Worst Play of the Season -- So Far:
You're playing the highest-scoring team in football history; you're trailing by more than a touchdown with 9:21 remaining in the AFC Championship Game; and you're in New England territory on the Patriots' 36 -- you cannot seriously be sending in the punting team! I don't care if it's fourth-and-goal from the 36!
You must score
on this possession or the game is over. A fourth-quarter punt inside the territory of the highest-scoring team ever, when trailing by two scores, could well be the single worst coaching decision in NFL history. Norv Turner, with one game remaining, you are guilty of the Single Worst Play of the Season -- So Far.
Reader Animadversion: Got a complaint or a deeply held grievance? Write me at TMQ_ESPN@yahoo.com. Include your real name and the name of your hometown, and I might quote you by name unless you instruct me otherwise. Note: Giving your hometown improves your odds of being quoted.
Wednesday: Readers crack back on movie monsters, Chicago pizza and Chinese rocket scientists.
Next Week: TMQ bestows the coveted "longest award in sports," Entertainment and Sports Programming Network's Tuesday Morning Quarterback Non-Quarterback Non-Running-Back National Football League Most Valuable Player Award.
In addition to writing Tuesday Morning Quarterback, Gregg Easterbrook is the author of " The Progress Paradox: How Life Gets Better While People Feel Worse" and other books. He is also a contributing editor for The New Republic, The Atlantic Monthly and The Washington Monthly.

PAGE 2 ON THE SUPER BOWL
Don't miss any of Page 2's hard-hitting Super Bowl coverage as we gird for an epic clash between the Giants and Patriots.
Bill Simmons
•
Postgame: Free fallin' out into nothing
•
Super Bowl XLII preview and pick
•
Awards from the conference championships
Tuesday Morning Quarterback
•
TMQ: Super ending to a tumultuous season
•
Easterbrook: Spygate returns to headlines
•
TMQ: Conditional immortality
•
TMQ: All-Unwanted All-Pros
Notes, jokes and potpourri
•
Super Bowl commercials bingo cards
•
Flem File at the Super Bowl
•
Friday, Feb. 1: News you can't live without
•
Thursday, Jan. 31: News you can't live without
•
Wednesday, Jan. 30: News you can't live without
•
Tuesday, Jan. 29: News you can't live without
•
Monday, Jan. 28: News you can't live without
•
Celebrities make their picks
•
Poll: Tom Brady celebrity photo ops
Insight and wisdom
•
Hill: Super Bowl party report
•
Page 2: Pop culture roundtable
•
Gallo: Boston's five stages of grief
•
Neel: Bittersweet game for Hoover's people
•
Hruby: Page 2 Week in review quiz
•
Uni Watch: Where's all the blue in Big Blue?
•
Milz: What does Gisele's dad think of Tom?
•
Hruby: Super Bowl is hazardous to your health
•
Hill: Moss was right to quit on Raiders
•
Hill: Teflon Tom Brady
•
Page 2: Suggested questions for media day
•
Jackson: Perks for perfect Patriots
•
Hruby: Analyzing the Brady tape
•
Best teams not to win a championship
•
Fleming: Footnoting greatness
•
Gallo: The first 24 hours of hype
•
Page 2 obtains Boston's contract with the devil
•
Snibbe: Championship Sunday by the numbers
•
Garfamudis: Patriots aren't perfect
•
The curse of Mo Lewis
Inside the brain
•
Inside Jared Lorenzen's brain
•
Inside Matt Cassel's brain
•
Inside Tiki Barber's brain
All things Super Bowl
•
Complete ESPN.com coverage
•
From 2007: The Ultimate Super Rankings
E-Ticket
•
Klosterman: All too perfect
•
Neel: Almost immortal
ESPN Top Headlines