TMQ Nation fires back

This week's TMQ chorus angelorum was singing "Venite adoramus Giantus" to praise the Giants. The football gods address mortals in Latin, which is perhaps why so few coaches seem to understand their dictum not to punt in opposition territory when trailing in the fourth quarter. Lisa Korytowski of Monument, Colo., corrected the phrase to "Venite adoremus Gigantes." Wonder how you'd say "half-naked cheer-babes" in Latin?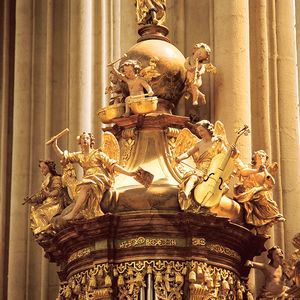 Imagno/Getty Images
A chorus angelorum warns Eli Manning not to appear on the cover of Sports Illustrated. Oh no, the warning was in Latin and he didn't understand!
This week's TMQ showed a photo of Pluto and its moons surrounded by blurry lines, and explained the blurs thus: "Stars change position in the night sky more rapidly than planets, a reason our primordial ancestors began to wonder whether the lights now known to be planets were different from the other lights."
T.J. Bay,
a Stanford University physicist, wrote: "Your statement has it reversed. It's actually planets that move more rapidly in the sky than stars. In the Pluto images you showed, the stars are blurred because the telescope is tracking with Pluto and using time-lapse photography." Sure, sure, that's what the government wants us to believe. What if the blurs are alien star cruisers jumping to quadraspace?
Tony Serianni of Orlando wrote, "I just watched the Will Smith movie 'I Am Legend.' In one of the scenes, Smith is watching a fake newscast made for the movie and as part of the broadcast, there was a ticker at the bottom detailing top stories. One of the headlines stated, 'Giants lose to Patriots for the 2nd time this year.' The setting of the scene dictated that the newscast took place in December 2009. For that statement to be true, the Giants and Patriots must be in the same division, unless the NFL decides to stage the Super Bowl before Christmas in 2009. Apparently despite millions of dollars spent and hundreds of people making the film, no one knew that the NY team in the same division as the Patriots is the Jets, not the Giants."
TMQ noted that the trade publication Aviation Week and Space Technology, the semi-official voice of the Pentagon, named Chinese military scientist Qian Xuesen its person of the year for 2007, and speculated this happened because all defense contractors long for a Cold War II with China, inflating the defense budget. Kamesh Sankaran, a physicist at Whitworth University, writes, "Maybe you are right, but there's another important issue that you seem to have overlooked: immigration. Like Dr. Qian, I too am an immigrant working in the field of rocket propulsion. His story of having his U.S. security clearance yanked and being deported back to China on scant evidence of being a Communist sympathizer is often in the back of my mind. While all the energy and vitriol in the debate over immigration has been almost entirely on illegal immigrants, the fate[s] of those scientists toiling in the legal immigration channels are seldom discussed. The mistake made in deporting Dr. Qian and thus equipping the Chinese missile program is a mistake we do not want to repeat." Qian worked at Cal Tech in the 1940s and helped found what is now the Jet Propulsion Laboratory. In 1955 he was deported to China on a false charge of being a Communist agent; in his head was the knowledge that would be used to devise China's nuclear-armed ICBMs.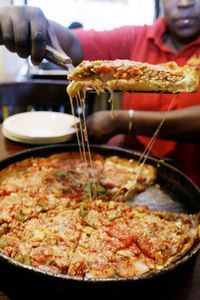 AP Photo/M. Spencer Green
Something about being cooked in Cook County just makes these taste better.
TMQ lamented that it longs to savor Chicago deep-dish pizza; those objects in the grocer's freezer just don't do it, and restaurant chains that advertise "Chicago-style" pizza seem to mean East Chicago, Ind.
Jeff Roberts of Columbus, Ohio,
reported that Giordano's, the current mecca of deep-dish pizza,
now ships its pies overnight
. The new pizza sensation that's waiting to happen is Buffalo pizza, which is roughly a cross between Chicago style and the Greenwich Village style of "foldable" pizza preferred in New York City. An out-of-the-way place called Bocce Club in the Buffalo suburbs makes the best Buffalo-style pizza
and also ships overnight
. Taste-makers, this form of pizza needs to be discovered.
TMQ noted that movie monsters always attack Manhattan, maybe because they MapQuested it. Why not a disaster movie that destroys Wichita or Saskatoon? Eric Flogan of Saskatoon wrote, "I think it would be great if there was a monster movie that destroyed our city. The movie would likely be quite short and not many people would care that Saskatoon was destroyed, though." Andrew Winz wrote, "'Asteroid,' a rip-off of 'Armageddon' and 'Deep Impact,' had Kansas City and Dallas destroyed by not one but two meteors. In 'Supervolcano,' Yellowstone goes boom and takes out the entire Northwest. In 'Solar Attack,' a sun flare destroys New Zealand in one swoop in about 30 seconds." And Molly Lexington of Los Angeles wrote, "Missing from your list was 'The Beast from 20,000 Fathoms,' progenitor of the modern monster movie, in which yet another sea creature attacked New York City."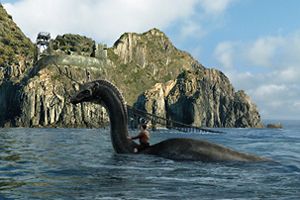 Sony Pictures
A fabled mythical beast. (The monster, not the kid.)
Further, TMQ noted that movie monsters become incredibly huge without eating anything.
Mark Fagin of Twinsburg, Ohio,
pointed out, "In 'The Water Horse,' an otherwise fine movie, the Loch Ness monster grows from football size to bathtub size in a matter of days, all the while feeding on a half garbage can full of vegetable scraps."
Timothy Enge,
a science teacher in Horsham, Pa., added, "In ecology, the generally accepted rule is that of the food an organism eats, 10 percent goes to the body and 90 percent gets used up by the body. If the Cloverfield monster weighs 100,00 tons, it would have to eat 1,000,000 tons of nutrients just to keep 10 percent of that. That's more than a heck of a lot of Whoppers." TMQ's estimate of 100,000 tons for the Cloverfield monster was based on the Empire State Building weighing 340,000 tons; TMQ assumed a biological object the size of that building might weigh less, containing no steel.
Kendal Stitzel of Fort Collins, Colo.,
, countered, "Therein lies the rub, for there is no known bony material that could support the weight of something that large without collapsing under the creature's own mass. This is the famous square-cube problem: when a creature gets larger, its weight (which increases in proportion to volume) increases as the cube of the increased dimensions. The animal's strength, however, can only increase in proportion to the square of the increase in dimension. Just as the Empire State is not supported by its masonry but by the steel and concrete structures inside, you would need some kind of similarly strong biological material to support any giant monster, be [it] Godzilla, Mothra or Cloverfield. There have been giant critters in the past, but no land mammal larger than the woolly mammoth. Whales are big, but their bodies are supported by water. Dinosaurs grew to be perfectly enormous; some were an order of magnitude larger than any other land creature since. Skeletal adaptations let them do this -- but they were near the limit of what is possible for critters on our planet, and the largest dinosaurs reached only a fraction of the size of many movie monsters."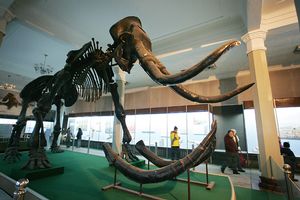 Frederic J. Brown/AFP/Getty Images
There's a lot of woolly thinking in monster movies.
On energy waste, TMQ complained that too many Americans leave their cars' engines running for long periods even when they know they aren't about to move.
Abe Abou-Hamad
reported, "I live in Ottawa, Canada and the city here has recently passed a new by-law that states: 'Vehicles are prohibited from idling more than three minutes in a given 60-minute period when the temperature is between 5 and 27 degrees Celsius." I don't know how they possibly plan to enforce this, but basically, you can't let your car idle for more than three minutes in a given hour when the weather is nice enough that you wouldn't need the car running for hot/cold air anyways! And TMQ noted that a pollution-free, essentially infinite source of electricity for the Earth could be achieved if sunlight were collected in space.
Susan Gillmore of Bethesda, Md.,
lamented that while NASA wants to spend $300 billion or more on a worthless moon base, the space agency is not spending anything on space solar power: "NASA has been floundering for a mission for 20 years, and the moon base is a boondoggle before ever leaving Earth's orbit. Solving our energy needs and providing a renewable alternative to fossil fuels seems like a winning NASA goal to me."
Finally, TMQ trotted out its long-standing proposal that for every year of Division I football or men's basketball a college athlete plays, he should receive an additional scholarship year -- so that he can buckle down and get an education once his eligibility ends. Darren Brudos of Houston, Texas, reported that a limited version of this idea is in effect at the University of Alabama: "I was a letterman at the University of Alabama on the swimming and diving team, and when I was a sophomore I found out the athletic alumni association offered a one-scholarship to anyone who lettered four years in any sport. Knowing I could have five years at college helped me take a lighter load of about 14 hours per semester, as opposed to 17 hours per semester, allowing time for sports practice. Then my final year was all course work, and I earned an electrical engineering degree in five years instead of four. The NCAA would be very smart to offer one additional year to scholarship football and basketball players as you suggest. Then after they realize the NFL or NBA aren't going to happen for them, they would still have a chance to finish their degrees."
In addition to writing Tuesday Morning Quarterback, Gregg Easterbrook is the author of "The Progress Paradox: How Life Gets Better While People Feel Worse" and other books. He is also a contributing editor for The New Republic, The Atlantic Monthly and The Washington Monthly.
PAGE 2 ON THE SUPER BOWL
Don't miss any of Page 2's hard-hitting Super Bowl coverage as we gird for an epic clash between the Giants and Patriots.
Bill Simmons
•
Postgame: Free fallin' out into nothing
•
Super Bowl XLII preview and pick
•
Awards from the conference championships
Tuesday Morning Quarterback
•
TMQ: Super ending to a tumultuous season
•
Easterbrook: Spygate returns to headlines
•
TMQ: Conditional immortality
•
TMQ: All-Unwanted All-Pros
Notes, jokes and potpourri
•
Super Bowl commercials bingo cards
•
Flem File at the Super Bowl
•
Friday, Feb. 1: News you can't live without
•
Thursday, Jan. 31: News you can't live without
•
Wednesday, Jan. 30: News you can't live without
•
Tuesday, Jan. 29: News you can't live without
•
Monday, Jan. 28: News you can't live without
•
Celebrities make their picks
•
Poll: Tom Brady celebrity photo ops
Insight and wisdom
•
Hill: Super Bowl party report
•
Page 2: Pop culture roundtable
•
Gallo: Boston's five stages of grief
•
Neel: Bittersweet game for Hoover's people
•
Hruby: Page 2 Week in review quiz
•
Uni Watch: Where's all the blue in Big Blue?
•
Milz: What does Gisele's dad think of Tom?
•
Hruby: Super Bowl is hazardous to your health
•
Hill: Moss was right to quit on Raiders
•
Hill: Teflon Tom Brady
•
Page 2: Suggested questions for media day
•
Jackson: Perks for perfect Patriots
•
Hruby: Analyzing the Brady tape
•
Best teams not to win a championship
•
Fleming: Footnoting greatness
•
Gallo: The first 24 hours of hype
•
Page 2 obtains Boston's contract with the devil
•
Snibbe: Championship Sunday by the numbers
•
Garfamudis: Patriots aren't perfect
•
The curse of Mo Lewis
Inside the brain
•
Inside Jared Lorenzen's brain
•
Inside Matt Cassel's brain
•
Inside Tiki Barber's brain
All things Super Bowl
•
Complete ESPN.com coverage
•
From 2007: The Ultimate Super Rankings
E-Ticket
•
Klosterman: All too perfect
•
Neel: Almost immortal
Also See
ESPN Top Headlines