The second act of the "Spygate" scandal began late in Super Bowl week. I'd like to drop my Tuesday Morning Quarterback persona and offer some observations on why these events are happening now and what they mean.
First, the timeline: The initial incident happened in September. After the New England Patriots were caught violating league rules by filming the New York Jets' sideline during a Week 1 game, NFL commissioner Roger Goodell stripped New England of a first-round draft choice, fined the team $250,000, fined coach Bill Belichick $500,000 and issued a harsh statement saying the Patriots' actions constituted a "calculated and deliberate attempt to avoid long-standing rules designed to encourage fair play and promote honest competition."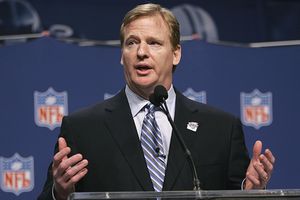 AP Photo/Morry Gash
Roger Goodell answered a lot of questions Friday that the NFL had refused to answer for months.
Belichick responded with
a brief apology
that referred only to sideline taping during games. Then, the first of many strange things happened. Goodell went on national television and implied the Patriots were dragging their feet about his order to hand over other cheating materials; he threatened them with more penalties. And then, the second of many strange things happened. Four days later, the NFL announced it had destroyed all cheating materials and refused to say what had been destroyed.
From that moment in late September until Friday, the NFL never answered the questions of exactly what the Patriots did and why the evidence was destroyed. People, including me, put these questions to NFL spokesman Greg Aiello and to Goodell, but were told the league would not reveal what was in the destroyed evidence. In December, The New York Times pressed the NFL to say what was in the destroyed materials, and again, the league refused. At his annual state of the league address Friday, Goodell made his first public comments about the destroyed evidence.
So, if you are a New England supporter, or simply a sports fan, wondering, "Why is all this coming out right before the Super Bowl?" the answer is, "Because the NFL would not answer the questions until Goodell was in front of the media this week." Some of this information might have emerged weeks or months ago, had the NFL not acted as if there were something to hide on the tapes.
ESPN and other outlets have been working on Spygate stories for weeks or longer, and all competing to be first with any further revelations. I can assure you there was no attempt to time this to the Super Bowl. Far from it.
Flash back to September. After the league made its strange decision to destroy the materials, then refused to say what they contained, several media figures, including me, did this Journalism 101 exercise: Current scandal involves current taping by the Patriots. Are there any former Patriots video officials from New England's Super Bowl runs? That led to a former New England scout and video department official named Matt Walsh, who now lives in Hawaii. Simultaneously, the NFL grapevine was alive with rumors -- caution, rumors -- that the Patriots were guilty not just of taping sidelines during games but rather of much more serious transgressions. The primary rumor, which was reported Saturday by the Boston Herald, was that the Patriots secretly taped the St. Louis Rams' private walk-through before Super Bowl XXXVI, that the Pats knew some of the Rams' plays and formations in advance.
Taping from the sidelines during games, although forbidden, is regarded as a minor violation of the rules. Secret taping of a Super Bowl opponent's practice, if true, would be much more serious.
Throughout the fall, I, as well as other journalists, had many conversations with Walsh. He would not say he taped the Rams' walk-through, but he would not deny it, either. He would not go on the record about what he knows.
Late in Super Bowl week, Walsh agreed with ESPN and the Times to go on the record as saying he knows damaging information about the Patriots that he will reveal if asked by the NFL. Walsh further noted that, although the NFL announced it had investigated New England's videotaping practices, the league had never spoken to him. People are right to be skeptical about Walsh's saying he knows something damning but not revealing it. Walsh says he fears legal retaliation by the Patriots because he signed a non-disclosure agreement when he left the team. He has been advised by an attorney that he will be on firmer ground if he reveals what he knows only at the request of the NFL or Congress.
Simultaneously, the Times learned that Sen. Arlen Specter of Pennsylvania -- the ranking Republican on the Senate Judiciary Committee, which has some jurisdiction over the NFL's precious antitrust exemption -- wants to hold hearings on why the material collected in the NFL's investigation was destroyed.
Think Congress has no business investigating sports? Most NFL teams play in publicly subsidized stadiums, and NFL games are aired over public airwaves controlled by federal licenses. The licenses, among other things, prohibit any pre-arrangement or artifice in what is presented as live competition. If a Super Bowl were affected by cheating, that would be a legitimate matter of concern to Congress. Plus, the recent lesson learned via baseball and steroids was that Major League Baseball did not clean up its own house until Congress put some pressure on.
At his annual Super Bowl news conference Friday, Goodell was peppered with questions about why the New England materials were destroyed. This was painful to watch; the NFL is an image-based enterprise, yet painted itself into a public relations corner by acting in a high-handed, suspicious way. If Goodell had been forthright about the tapes in the first place, perhaps no one would be spoiling the Super Bowl party.
At the news conference, Goodell disclosed several things the NFL previously had refused to discuss. He said that only six tapes and some notes had been turned over to the league by the Patriots, not voluminous materials, as had been assumed; that the tapes all contained only in-game film of opponents' sidelines; and that the oldest tape was from the 2006 regular season, with nothing before that year. Goodell went on to say several times that attempting to steal sideline signals during games is common in football and, although not encouraged, is viewed as an occupational hazard in the sport. Goodell also asserted the Patriots' questionable activities did not alter the outcome of any game.
Goodell's remarks were puzzling in several respects. First, if the Patriots were guilty only of occasional sideline taping, this would seem to merit a letter of reprimand. So why were the Patriots hit with the harshest fine in NFL history? When the scandal first broke, Goodell used extremely strong language about New England's sins. Now, he was implying the whole thing was no big deal.
Next, Goodell did not clarify whether the league had asked only for sideline tapes taken during games or whether this was all the Patriots volunteered. If New England gave the league only video taken from the sidelines during games, plus notes developed from such videos, there would be no evidence of really serious cheating, such as clandestine taping of other teams' walk-throughs.
Finally, Goodell declared that the materials the league destroyed contained no evidence of Super Bowl cheating. But the material went back only to 2006. The Patriots' Super Bowl wins came in 2002, 2004 and 2005. Of course the material contained no evidence of Super Bowl cheating! Did the league ask just for materials dating to 2006, or was that all the Patriots volunteered? Either way, it is more than curious that the league inspected one tape from this season and the rest, materials from a year when the Patriots did not appear in a Super Bowl.
Saturday morning, the Boston Herald ran a story asserting the Patriots secretly taped the Rams' private walk-through before Super Bowl XXXVI. The Herald cited an unnamed source and did not name Walsh as the person behind the camera.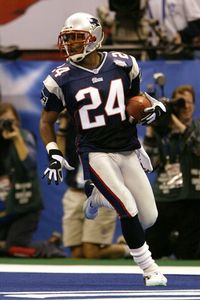 Brian Bahr/Getty Images
Ty Law and the Patriots defense stymied the Rams in Super Bowl XXXVI. Law's first-half interception helped the Pats beat the NFL's highest-scoring team.
Also Saturday, Mike Fish reported on ESPN that St. Louis' walk-through was devoted to red zone plays -- all new plays and new formations the Rams had not shown during the season. Going into that Super Bowl, the Rams' "Greatest Show on Turf" was the league's highest-scoring team. In that game, St. Louis was held to a field goal in the first half. The Rams kept getting bogged down, as if New England knew what plays were coming. If the Patriots secretly taped the Rams' walk-through, then stopped the red zone plays the Rams showed in that walk-through, then won that Super Bowl by three points, then logic says New England materially benefited from cheating in the Super Bowl. If true, this would be the worst sports scandal since the Black Sox.
Let's put that in capital letters: IF TRUE. We don't yet know whether the Super Bowl allegations are true. Then again, we are into only the second day of information going on the record and the league finally answering some questions about the subject.
The Patriots, for their part, are denying the allegations.
"The suggestion that the New England Patriots recorded the St. Louis Rams' walk-through on the day before Super Bowl XXXVI is absolutely false," Patriots spokesman Stacey James said. "Any suggestion to the contrary is untrue."
Here's another unanswered question. If the materials the Patriots turned over and the league destroyed really were just six sideline videos and some notes, that's pretty innocuous. So why didn't the NFL reveal what was destroyed? If the materials really were minor stuff, why the months of "No comment"?
When news of the second act of Spygate hit the sports world Friday, there was considerable backlash. Many radio and TV analysts initially reacted angrily, as if to say, "This is our private universe. In our private universe, everything is perfect. Keep reality out." But if you love athletic competition, if you want sports to be important and generate lots of money and attention, the games must be honest. Any indication of dishonesty should be deeply unsettling.
Footnote: The Giants held a final walk-through for Super Bowl XLII on Saturday, but the Patriots did not.
In addition to writing Page 2's Tuesday Morning Quarterback, Gregg Easterbrook is the author of "The Progress Paradox: How Life Gets Better While People Feel Worse" and other books. He also is a contributing editor for The New Republic, The Atlantic Monthly and The Washington Monthly.
SPY GAMES
Former Patriots employee Matt Walsh met with NFL commissioner Roger Goodell and Sen. Arlen Specter to discuss Patriots' illegal videotaping.
Story
More News
•
Belichick says he made 'mistake'
•
Herald reporter: Sources never saw tape
•
Walsh admits he knew it was wrong
•
Senator wants inquiry
|
Read it (pdf)
•
Fish: Would Congress investigate Pats?
•
Boston Herald apologizes for false report
•
Clayton: Five things we learned from Spygate
•
Walsh sends eight tapes to NFL
•
Fish: Pats stole offensive signs
|
Timeline
•
Clayton: Spygate will expire quietly
•
Former Pats employee sends tapes to league
•
Fish: NFL faces serious questions
•
Goodell to punish Pats, depending on evidence
•
Walsh, NFL to finally talk
|
Agreement
•
Goodell growing impatient with Walsh stalemate
•
Kraft, Belichick apologize to owners
•
Walsh still working on deal for testimony
•
Rams player, fans withdraw lawsuit
•
Spygate revelations might not be imminent
•
NFL, Walsh close to deal to turn over tapes
•
Report: Specter calls on Goodell to release letters
•
Report: Goodell proposes crackdown on cheating
•
Specter says Pats 'stonewalling' Spygate probe
•
Committee lauds Goodell's handling of Spygate
•
Goodell hoping deal to talk to Walsh close to done
•
Report: Belichick denies Pats taped Rams' drills
•
Walsh's attorney: NFL indemnity offer falls short
•
Specter prepared to extend Spygate investigation
•
Goodell has no regrets about destroying tapes
•
Source: Specter wants NFL indemnity for witness
•
Goodell, Specter to discuss Spygate Wednesday
Commentary
•
Mortensen: What were Rams thinking?
•
Yasinskas: Spygate stench won't go away
•
Paolantonio: Goodell's Spygate responsibility
•
Clayton: Spygate closing with a whimper
At The Pro Bowl
News
•
Ex-Pats video assistant mum on Spygate probe
At The Super Bowl
News
•
Goodell willing to give Pats' Walsh indemnification
•
Goodell, Specter won't meet until after Pro Bowl
•
Vermeil doubts spying made difference for Pats
•&nbsp
Goodell to meet with Sen. Specter about Spygate
•&nbsp
Report: N.E. taped Rams before XXXVI
•
Fish: Ex-Ram Warner suspicious of Pats
•
Specter to Goodell: Let's talk
•
Fish: Possible 'Spygate' witness surfaces
Commentary
•
Once burned, Goodell turns fireman
•
Munson: Congressional interest is serious business
•
Pasquarelli: Specter should stick with politics
•
Clayton: Spy saga won't distract Patriots
•
Hashmarks at Goodell's news conference
Letters
•&nbsp
Specter to Goodell (.pdf)
•&nbsp
Goodell to Specter (.pdf)
From September
News
•
NFL has all materials from Pats in spying scandal
•
NFL reviews how tape leaked to Fox
•
Belichick to turn over materials in spying probe
•
Pats owner perturbed by Belichick's spy games
•
Goodell orders Pats to turn over all video
•
Sources: Patriots give Belichick extension
•
Wilson spies inconsistencies in Belichick case
•
NFL fines Belichick $500K, Pats $250K for spying
•
Bill Belichick's apology to Patriots community
•
Clayton Q&A: Patriots can survive this penalty
•
Two days later, Belichick still won't comment
•
Some Eagles question Pats' tactics in Super Bowl
•
Belichick issues apology amid accusations
•
Sources: Goodell determines Patriots broke rules
Commentary
•
Clayton: NFL penalty for Belichick, Pats too light
•
Mosley: Pats lose first-rounder? Roger that
•
Scouts Inc.: What the Pats will miss in '08 draft
•
Chadiha: Legal spying widespread in NFL
•
Sando: What's legal, what's not in spy game
•
What they're saying: Players, coaches, pundits
•
Luksa: Spy stories once had comedic value
•
Bryant: Belichick deserves two-week banishment
•
Clayton: Goodell to treat breech seriously
•
Simmons: The camera doesn't lie
•
Simmons: Cheating not necessary to win opener
Video

•
What should happen to the Pats?
•
Belichick deflects videotape-related questions
•
Former Patriot thinks team should be punished
•
Reactions from around the league
Audio

•
Mike Vrabel, Pats linebacker: Don't criticize the players

•
Chris Mortensen: Situation might motivate the Patriots

•
Keyshawn: It was 'scouting,' not cheating

•
Salisbury: Story blown out of proportion

SportsNation
•
Vote: Was New England's punishment fair?
•
Mixed reader results on NFL spying
ESPN Top Headlines