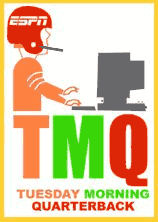 "Venite adoremus Gigantes." So sings TMQ's chorus angelorum as the football gods praise the Giants, victors in one of the most exciting sporting events ever staged. The football gods chose the Giants as their champions to face the Goliath-like Patriots -- and yea, verily, the will of the football gods was done. Tom Coughlin must now be credited as having made one of the smartest moves in the much-studied annals of coaching: his decision to play all-out in the regular-season finale against the Patriots, even though that game was meaningless to the Giants' playoff seeding. The boldness and effort Jersey/A showed that day carried through four straight postseason victories, to the double-whistle of the best Super Bowl ever. "Venite adoremus Gigantes!"
After an NFL year of crimes by players, cheating by coaches and stonewalling (best-case) or worse by the league front office, TMQ was hugely relieved the 2007 season ended with a fantastic, entertaining, well-played, thrilling game. Super Bowl 42 reminds us why we love sports -- every player left everything on the field, multiple compelling story lines were in progress, and the ending could not have been scripted for more exhilaration even if Hollywood writers were not on strike. It was wonderful that a season of negativity signed off on such a positive note.
And sports lovers should feel great relief that the season did not culminate in a tainted titleholder. New England's players are not to blame for the cheating scandal, and they acquitted themselves well on the sliding tray in Arizona. Nor should they feel disappointed at pulling up two downs short of finishing 19-0, because most likely no team will ever finish 19-0. Luck is too much a factor for that. Bill Belichick is 3-1 in the Super Bowl, with all four contests decided by three points. Change one play Sunday and Belichick is 4-0; change one play in each of the Flying Elvii's wins and Belichick joins Bud Grant and Marv Levy at 0-4. New England played a memorable season: The 2007 Patriots will live in sports lore regardless of ending two downs shy of perfection.
But what a relief the season did not produce a tainted title team. New England's run at perfection has been a boon to NFL ratings, which hit all-time highs even as nearly all other television ratings are in decline. Surely the marketing possibilities for a 19-0 Patriots team would have been endless. But there would have been stigma, too. First, questions about New England's contempt for sportsmanship. The game when Belichick kept his starters on the field in the fourth quarter and had Tom Brady frantically throwing deep late to humiliate mild-mannered Hall of Fame coach Joe Gibbs by a final of 52-7 was one of the low moments in NFL history. It would have been repugnant if such terrible sportsmanship had been rewarded with a crown. Second and more important, for New England to win the league title in the same year the team admitted cheating would have led to a general sense the championship was phony. Now that the NFL has a genuine champion untainted by cheating, that problem is avoided.
This column has been harsh this season on Belichick, New England management and NFL officialdom. That's not a reflection of my feelings about the Patriots, who are terrific -- it's a reflection of my feelings about cheating. Integrity matters. Neither football nor any other competitive sport will long stay popular or important if spectators cannot be sure whether what they are seeing is real competition or some rigged junk like the erstwhile World Wrestling Federation. We need food and shelter; we don't need sports; we will only care about sports if we know the competition is authentic, fair, and based on high standards of integrity and sportsmanship.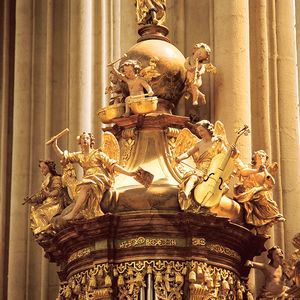 Imagno/Getty Images
Venite adoremus Gigantes, and on Earth, peace, goodwill toward men. Thus spoke the football gods.
I've been writing since early fall that the New England cheating scandal would get worse, and taking flak for doing so. Now the predicted has happened, and my comments specific to Spygate II are here. As the Super Bowl ends, I have reason to suspect -- though I emphasize that I cannot yet prove -- that the cheating scandal will become worse still with further damaging revelations. This scandal might be a long way from bottoming out. Please, Roger Goodell and other NFL officials, there is one and only one way for the NFL to safeguard its integrity, and that is to reveal everything.
Revealing everything will be painful, but once it's over, the stain on the league's reputation will be removed, and we can start again. "Reveal everything" does not mean to make legalistic couched statements. It does not mean to not ask about what you'd rather not know, as the NFL seems to have done by demanding not all Patriots' cheating materials but only whatever materials the team wished to surrender. "Reveal everything" means what it says -- tell the public absolutely everything about what the Patriots did, why the league destroyed evidence and, perhaps most significant, what the Patriots might have destroyed before responding to the league's order. The NFL will look better in the public's eye if it comes clean voluntarily rather than waiting to be forced to do so by Congress. Big institutions simply must tell the truth to the public. If the NFL can get away with covering up the truth about something as minor, in the scheme of things, as a football game, how can we expect government and business to tell the truth about what really matters?
My Super Bowl analyses are below. First, let me pause for a moment to reprint from my AutoText an item I reprint from my AutoText every year, changing only the details of the first line. Last season, I couldn't use this item until late November, which was later than it normally runs. This year, I couldn't use the item until February, the latest it is possible for this item to appear. Nevertheless, here I am punching my AutoText button and using the item. As, I am confident, I will every year for as long as Tuesday Morning Quarterback exists. My heirs will be using this item! The item reads:
"In other NFL news, at 10:06 p.m. ET on Sunday, as the Patriots left the field in Glendale, Ariz., mumbling '#@%*!' under their breaths, corks popped. In one of the sweetest traditions in sports lore, on opening day of every NFL season, each surviving member of the 1972 Miami Dolphins, the sole perfect team in modern pro football history, sets aside a bottle of champagne to cool. And it's genuine champagne from the French province of Champagne, not the boysenberry-infused sparkling-Gewurztraminer wine-like substance that passes for bubbly these days. At the moment the stadium clock hits all-naughts for the vanquishing of the season's last undefeated team, the 1972 Dolphins pull the corks, secure in the knowledge that they will reign as the sole perfect team for at least one more year. Gentlemen of 1972, enjoy your annual draught. TMQ feels confident you will continue to sip champagne each season until you are called to meet the football gods, and greeted by song and feasting."
In marketing news, I too am dreading that by next fall, three out of four commercials on NFL broadcasts will feature Eli Manning, Peyton Manning, their dad, their mom and their pet rhinoceros. I am further dreading the 2024 presidential election campaign, which TMQ forecasts will pit Peyton Manning running for president with Chelsea Clinton as his vice presidential candidate, against Eli Manning with Jenna Bush as his running mate.
In other football news, is the NFL turning into the British Admiralty? See below. Also see below for TMQ's annual State Standings feature. And who is football's first defensive coordinator with an endowed chair? See below.
Stat of the Week No. 1: Eight times, the Super Bowl has paired two teams that met in the regular season and played a game decided by a touchdown or less. The regular-season losers are 7-1 in the subsequent Super Bowl.
Stat of the Week No. 2: New England averaged 37 points in the regular season and 22 points in the postseason.
Stat of the Week No. 3: Fourteen points was New England's lowest scoring output of the season.
Stat of the Week No. 4: New England's scoring in its final four appearances: 38 points, then 31, then 21, then 14.
Stat of the Week No. 5: After four seasons, Eli Manning is 36-28 as a starter and has a Super Bowl ring; after four seasons, Peyton Manning was 32-32 as a starter and lacked a playoff victory. Stat noted by Pat Kirwan of NFL.com.
Stat of the Week No. 6: Randy Moss averaged 1.4 touchdowns per game in the regular season and 0.3 touchdowns per game in the postseason.
Stat of the Week No. 7: In the regular season, Brady threw six touchdown passes for each interception; in the postseason, two touchdown passes for each interception.
Stats of the Week No. 8: In the closing moments, the Super Bowl crowd chanted "18 and 1! 18 and 1!"
Stat of the Week No. 9: The Giants finished 3-5 at home and 11-1 away from Giants Stadium.
Stat of the Week No. 10: It remains true -- the regular-season NFL passing yardage leader has never gone on to win the Super Bowl in the same season.
New England Patriots
An "advanced" cheerleader on Halloween.
Cheerleaders of the Super Bowl:
Annually, Tuesday Morning Quarterback features cheerleaders whose teams made the Super Bowl; since the Giants lack cheerleaders, all this year's are from the Patriots. The first is
Alicia Bardaro
, who according to her team bio has studied ballet, tap, jazz dance and "advanced" cheerleading. Also according to her team bio, if Bardaro could be anyone for a day, she would be Adriana Lima, the Victoria's Secret winged spokesfigure. Alicia, you are
much
better looking than Adriana Lima, plus fit and strong, and you can dance! See TMQ's theory of why NFL cheerleaders are better than Victoria's Secret models
here
.
There's One Thing Brief About TMQ: Reader Ray Licata of Hoboken, N.J., points out that this column is one of the only destinations on the entire World Wide Web that can be found simply by typing three letters into Google. The letters are TMQ, of course. There are 17,576 three-letter possibilities, 17,576 being the cube of 26. "That makes you one in 17,576," Licata supposes. Some three-letter combinations, such as JFK, draw lots of pages when entered into Google but don't necessarily take you directly to your desired destination. Typing TMQ in the Google search box brings you straight to me! Unless you were seeking TMQ Electronics, an Australian manufacturer of sonar and marine radar.
I Thought So Little They Rewarded Me, and Now I Am an Associate Senior Director of the NFL-eee: Every year, the NFL gets more top-heavy -- the league is veering perilously close to becoming a ship called the NFL Pinafore. Every year, Tuesday Morning Quarterback charts title inflation in front offices. Some highlights from the 2007 league directory: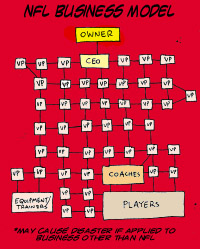 • The Rams have a chairman, a vice chairman, two presidents and an executive vice president.
• The Bears have a chairman, a president, a CEO, a general manager and eight senior directors, including a senior director of alumni relations.
• The Bucs have a president, three executive vice presidents, a general manager, a chief operating officer and a director of operations.
• The Ravens have an executive vice president, two senior vice presidents, eight senior directors and 12 directors.
• The Bills have 10 vice presidents and a "running game coordinator."
• The Jets have a chairman and CEO, a president, a general manager, and three senior vice presidents.
• The Giants have a president/CEO, a chairman/executive vice president, a treasurer, two senior vice presidents, seven vice presidents and 13 directors.
• The Falcons have a CEO, a president, an executive vice president, six vice presidents and 14 directors.
• Carolina has a president of the team and a president of the stadium.
• Tennessee's Bud Adams Jr. officially calls himself owner/chairman of the board/CEO/president.
• At Dallas, Jerry Jones and his son Stephen have awarded themselves these six titles: owner, president, general manager, chief operating officer, executive vice president and director of player personnel.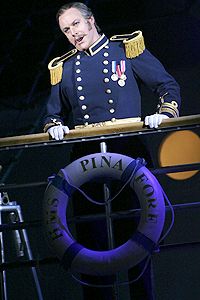 Patrick Riviere/Getty Images
Not even the British Admiralty was absurd enough to have someone with the title owner/chairman of the Board/CEO/president.
• The Texans, last year's winner for most top-heavy front office, have a chairman and CEO, a vice chairman, a general manager, a president, two senior vice presidents, four vice presidents, 13 directors, and a risk manager.
• The Patriots, this year's winner for most top-heavy front office, have a chairman and CEO, a president, a vice president of player personnel, a chief administrative officer, a chief financial officer, a chief operating officer, three other vice presidents, two executive directors, two people who both hold the title director of sales, a director of strategic initiatives, and 12 other directors.
• In addition to a man with the title executive vice president/general manager/director of football operations, the Packers have a director of research and development.
Despite all this verbiage, no one in the NFL actually has the title "guru."
When pondering football title inflation, bear in mind that individual NFL franchises are fairly small economic entities. Forbes magazine estimates that the Patriots earn about $255 million in annual revenue, with about $200 million in revenue being the NFL average. If $200 million sounds like a lot, it's half the annual revenue of Barney's, the New York department store. There are many enterprises viewed as small businesses whose revenue exceeds the $200 million brought in annually by the typical NFL team; $200 million in revenue just doesn't justify large numbers of grandiose executive titles. If General Electric had the same ratio of titles to revenue as the Patriots, GE would employ 652 presidents, 1,304 executive directors, 1,956 chief officers and 9,780 directors.
Jersey/A Super Bowl Analysis: Television cameras focus on the quarterback and running backs, but 90 percent of football action occurs away from the ball. Tuesday Morning Quarterback has long contended that line play is a bigger determinant of football victory than "skill player" performance, and never was this on better display than in Super Bowl XLII. Jersey/A's front seven simply ate the lunch of the league's best offensive line. Michael Strahan, Fred Robbins, Barry Cofield, Osi Umenyiora, Reggie Torbor, Antonio Pierce and Kawika Mitchell as starters, Justin Tuck and Jay Alford off the bench -- this group turned in one of the top performances in sports history. The Giants' defensive front recorded five sacks of Tom Brady, who had been sacked only 21 times during the regular season. Giants defenders also knocked Brady down hard five times -- Brady went through entire games in the regular season without getting his jersey dirty -- and forced him into several inaccurate throws when receivers were open, while holding New England to an anemic 45 yards rushing. In successive postseason contests, the Giants' front seven ate the lunch of the league's third-best offensive line (Dallas), then the second-best (Green Bay), and finally, in the Super Bowl, the best. What a performance! The Giants' front seven should, as a group, have been named MVP.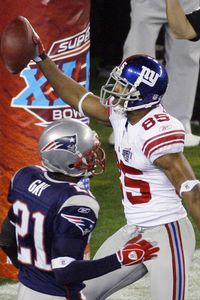 AP Photo/Charlie Riedel
An actual football photo!
Alford's slamming Brady to the ground hard on second-and-10 with 25 seconds remaining, a 10-yard sack, was the signature moment for the Giants' defense in one of the best defensive games ever played. On the play, Alford spun and blew past backup offensive lineman Russ Hochstein, long the top sixth-man lineman in the NFL. He also slammed Brady to the ground when the Flying Elvii snapped the ball at their own 5, with Brady barely getting the pass away in time to avoid a safety. Brady didn't get hit that hard, or at all, in all those games when New England was running up the score to mock opponents; when Brady finally got hit hard, suddenly he looked average. Umenyiora doesn't seem like much in the Super Bowl stat line, but he bedeviled Pro Bowl New England tackle (and 2007 Tuesday Morning Quarterback Non-QB Non-RB NFL MVP) Matt Light all night long, luring Light into two false starts and twice dropping New England runners for losses when they came his way. With New England leading 7-3 and facing third-and-1, Umenyiora strung out a run his way for a loss of two, forcing a Patriots punt -- the kind of play that will never make "SportsCenter" but helped Jersey/A carry the night. By the fourth quarter, the Flying Elvii were keeping tight end Benjamin Watson back to help Light with Umenyiora, depriving New England pass patterns of the five receivers the team's tactics are based on. As far as I know, it was the first time Light has gotten help all season.
In the Giants' secondary, cornerback Sam Madison played a fantastic game, holding Randy Moss to an average day; on Moss' touchdown, Madison fell down. On all but a few New England snaps, Madison simply went wherever Moss went -- it looked like a basketball defense in which a team's top defender goes wherever the opponent's top scorer goes. For every snap except the final Hail Marys, Madison lined up in press coverage directly across from Moss and jammed him; not once did Moss beat the jam for a long gain. On most downs, a safety shaded to Moss' side. By the second half, the Old Randy had re-emerged: On running plays, Moss made no attempt to block, merely standing around sulking. You can't take away everything -- often Jersey/A had its middle linebacker Pierce up on the line or no middle linebacker on the field, leaving the middle loose for the Super Bowl-record 11 receptions by Wes Welker. And Jersey/A came perilously close to a devastating error. On New England's final Hail Mary, Jersey/A safety Gibril Wilson played for the interception rather than simply knocking the ball down to end the contest; the pass bounced out of Wilson's hands and caromed only slightly beyond the grasp of Moss. On fourth down, knock it down! But overall, Jersey/A shut New England down. DEE-fence! What a performance.
On the Giants' offense, last week this space said, "TMQ expects the Super Bowl to be determined by how the Giants' offense performs versus the Pats' defense. Yea, verily, this came to pass, with Jersey/A scoring to win with 35 seconds remaining and the New England defense unable to get just two more stops when the Giants faced third-and-11 at the end. Obviously, Eli Manning spinning away from tacklers three times to throw a 32-yard completion with 1:15 remaining was the signature moment for the offense, a highlight-reels-forever play that should be christened simply The Play. Eli also made other fine plays, including the kind never shown on highlight reels. With Jersey/A facing third-and-16, offensive coordinator Kevin Gilbride called a screen. Manning was under pressure, and New England had the screen diagnosed; Eli simply hurled the ball at the feet of the screen receiver, preventing him from catching the pass and immediately being dragged down for a loss. That was pure football IQ. Does Eli come from a football family?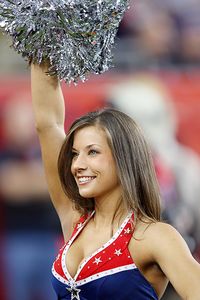 Paul Spinelli/Getty Images
A happy New England cheerleader before the final Giants drive.
Nothing about the Giants' game plan was unusual or flashy, though there were signature moments. Reaching first-and-10 on the New England 12 early in the fourth quarter, trailing 7-3, Jersey/A came out four wide and with Eli in the shotgun, a formation the Giants never use on expected rushing downs; this seemed to throw the New England defense for a loop, and two quick passes put the G-Persons ahead. After the victory, as Giants players and coaches danced at midfield in the confetti-cannon shower, Gilbride walked alone up and down the team box, seemingly forgotten by everyone. Gilbride has taken a lot of flak in his career, including from TMQ; he was the offensive coordinator when the old Houston Oilers blew a 35-3 lead in the playoffs -- and he has, it must be said, called a lot of terrible games in his day. But now he has won a Super Bowl ring, against the first-ever 18-0 team. Tom Coughlin and Giants defensive coordinator Steve Spagnuolo are now coaching stars; Gilbride mustn't be forgotten.
There were more than a few similarities between this and Jersey/A's most recent previous Super Bowl victory, in 1991. In that 1990 season, the Giants faced the Bills, another AFC East team, and the league's highest-scoring offense that season. In the 1991 game, Jersey/A won in a huge upset, in the process holding Buffalo to 19 points; now, the Giants have won in another huge upset, in the process holding New England to 14 points. On Sunday, Jersey/A kept New England off the field early with a Super Bowl-record 9:59 drive; in 1991, Jersey/A kept Buffalo off the field with the record drive at the time, which was almost as long. And Sunday, New England inexplicably punted on fourth-and-2 from the Jersey/A 44, just as Buffalo inexplicably punted on fourth-and-2 twice in Jersey/A territory in 1991.
In its 18-0 run, New England spent several fourth quarters mocking opponents in blowouts, and had only one game that came down to the final play. In its 13-6 run-up to the Super Bowl, Jersey/A played in close game after close game, numerous times having to fight until the final snap. The Giants were just better prepared for the pressure when the Super Bowl went down to the closing seconds -- whereas you could see a "How can this be happening?" look on the faces of Patriots players and coaches.
Maybe Mike Holmgren Should Found The Michael Holmgren Group: Bloated British-Admiralty-style titles are not confined to NFL front offices. Many NFL coaches have exaggerated titles, too. Mike Holmgren isn't just the head coach of the Seattle Seahawks, which would seem impressive enough. He is the "executive vice president of football operations/head coach." Not that puffed-up titles seem to make their holders happy. Previously Holmgren was the "executive vice president of football operations/head coach/general manager" of the Blue Men Group. In 2003, he lost the "general manager" part of the title. As recently as last month, Holmgren told Greg Johns of the Seattle Post-Intelligencer that he is still smarting about that lost title, although objectively the Seahawks have performed considerably better since Holmgren stopped trying to run the front office and concentrated on coaching.
Modern NFL coaches are hardly the only ones to award themselves exaggerated titles. Former politicians who sell their souls to become lobbyists now commonly name their lobbying organizations after themselves, then award themselves impressive titles. For example, William Cohen -- formerly a senator and Secretary of Defense -- isn't merely the boss of The Cohen Group, his influence-peddling firm. Cohen is the company's chairman and chief executive officer. Sign of the times: a former U.S. Secretary of Defense is happy to peddle influence in Chinese.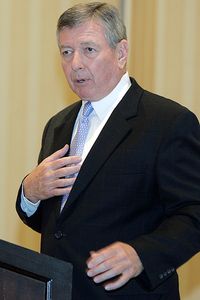 AP Photo/John Bazemore
John Ashcroft was chosen to be chairman of the Ashcroft Group following an arduous search conducted by John Ashcroft.
The latest politico to join these ranks is former Attorney General John Ashcroft, who now "serves as chairman of The Ashcroft Group." No doubt Ashcroft chose himself as chairman after an exhaustive search process! Note that Ashcroft declares of himself that he "serves" as chairman, as if The Ashcroft Group were a noble philanthropy, rather than a collection of hired guns angling to convert insider access into dollar signs: The New York Times recently reported that federal prosecutors just steered to The Ashcroft Group a no-bid contract worth between $28 million and $52 million. What noble public service! Ashcroft's lobbying clients are reported to include ChoicePoint, the scandal-plagued data-marketing company.
That Ashcroft, a leading conservative when he was in the Senate, has hung out a lobbying shingle a few blocks from the White House is another example of the phenomenon of conservatives denouncing Washington just enough to get their feet in the door, then cashing in. When he campaigned for the Senate, Ashcroft regularly called Washington, D.C., the root of the nation's problems. Now that he's a moneyed capital insider himself, suddenly Ashcroft has stopped denouncing Washington. Mark Andrews, John Breaux, Conrad Burns, John Johnston and Malcolm Wallop are among other former U.S. senators who spent their political careers wagging their fingers about the evils of Washington, and are now registered Washington lobbyists, feeding at the very trough they once denounced.
Grade Inflation First, Then Title Inflation: Last year, TMQ noted that, owing to title inflation, there are hundreds of people walking around who can say, "I was editor of the Harvard Crimson." Check out the current masthead. In addition to the top dogs, it lists two associate managing editors (plus eight more for the magazine), six executive editors, three senior editors, 49 "chairs" or "associate chairs," plus 15 people with the title "director" or "manager." For a college newspaper!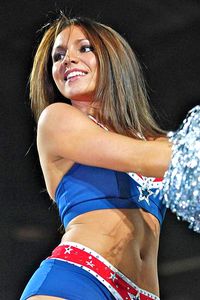 New England Patriots
Victoria's Secret models can only dream of being as sexy as NFL cheerleaders.
Cheerleader of the Super Bowl No. 2: Alysha Castonguay, who according to her team bio is a University of Rhode Island graduate who teaches cheerleading for a living. She has gone pro! Also according to her team bio, Alysha has 12 years of dance training and also wishes she could be a Victoria's Secret model. It's the other way around: Victoria's Secret models should wish they could be NFL cheerleaders, who are better role models and better sex symbols.
TMQ Has a Cheer-Babe Photo -- That's Unbelievable! Sports types constantly describe plays or events as "unbelievable!" Boomer Esiason: It's "unbelievable" that Devin Hester caught a touchdown pass. Al Michaels: It's "unbelievable" that Seattle handed off to the fullback on fourth down. Paul McGuire and Brad Nessler both: It's "unbelievable" that Michael Crabtree of Texas Tech stayed in bounds after a catch. Tony Kornheiser: It's "unbelievable!" the Bills had two interception-return touchdowns in the same game. Craig James: It's "unbelievable!" the Kansas football team was highly ranked. Ben Roethlisberger: It's "unbelievable!" that a lot of rain causes mud. Phil Simms: It's "unbelievable!" that Troy Smith completed a 13-yard pass. Dave Pasch: It's "unbelievable!" that Valdosta State came back from a 14-3 deficit to win the Division II title. Daryl Johnston: It's "unbelievable!" that Green Bay fumbled twice against Seattle. Troy Aikman: Marion Barber is "unbelievable!" and Ahmad Bradshaw is "unbelievable!" Both were "unbelievable!" at the same position in the same game. Aikman: It's "unbelievable!" that it is cold in Green Bay in January.
When sports types call something "unbelievable!" what they mean is that the something was exciting or interesting. Isn't being exciting or interesting sufficient? Calling a play or situation "unbelievable!" adds needless hyperbole; constant use of this term in sports commentary renders the word meaningless. Besides, you just saw the play with your own eyes. Why don't you believe it?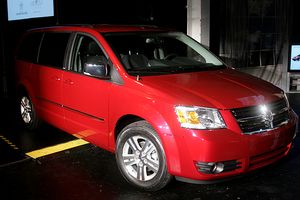 AP Photo/Jerry S. Mendoza
The new Caravan SXT, it's a sex machine! Well, it's a machine.
New TMQ/SX Column Unveiled: With all the bird-of-prey and wild-horse names already used, carmakers are increasingly desperate about what to call new models. At one point, as noted by writer Jacob Weisberg -- whose upcoming book, "The Bush Tragedy," is excellent and deserves a wide audience -- it was possible for a Mirage (Mitsubishi) to collide with a Charade (Daihatsu). Recent made-up car names include the Vue (Saturn), the Yaris (Toyota) and the Impreza (Subaru). Recent weird car names include the Nissan Armada (the Spanish armada lies at the bottom of the ocean!) and the Chevy Avalanche (avalanches are disasters). Tata Motors, the Indian automaker in the news, just came out with a very small model called the Nano. Why doesn't the company offer a model called the Bodacious? The salesperson could say, "Perhaps you'd like to test-drive our Bodacious Tatas." Then there's the Chevy Cobalt -- cobalt is a deadly substance, and to top it off, the Cobalt is not available in cobalt, but it does come in Victory Red.
Because carmakers are running out of names, many are resorting to letters and numbers. Audi, BMW and Mercedes already use nothing but letters and numbers: "Park that 535xi between the A5 and the E550, OK?" Some letter combinations are considered classy, others not. Ford has the Mustang GT, Porsche has the Cayenne GTS. Last year, Acura sued Ford over letters -- Acura already has the MDX and claimed Lincoln could not have an MKX because Acura was already using the letter M.
Many car model designations are so similar to the word "sex" that it's hard to believe there's anything subliminal about the impact. Cadillac offers an SRX, Honda has the Accord EX. I own an Accord and really like the car, but if you believe that a Honda Accord can cause you to think about sex, I have some subprime-backed derivatives I'd like to sell you. Inevitably, there will be a car model called the Hot SX with an upmarket SXXX variant. But brace yourself, Dodge just came out with a Caravan SXT. It's a minivan!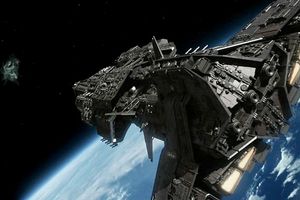 Courtesy of MGM Television
Welcome to our super-advanced intergalactic starcruiser. Please don't press that single button that instantly destroys the ship.
Sci-Fi Movies Need a Button Labeled, "Improve Premise": "Stargate Atlantis" is airing fresh episodes, and though the series has gotten lame, bear in mind that Atlantis and the droning, desperate-for-material "Battlestar Galactica" are the only first-run, space science-fiction programs on U.S. television. With all the money made on the various "Star Trek" serials, it's hard to believe the Trek franchise has abandoned the Alpha Quadrant and no alternative has appeared. Someone needs to come up with a new space-based sci-fi series. Just make sure the title includes the word "star," as sci-fi's three most successful television and theatrical efforts are "Star Trek," "Star Wars" and "Stargate."
A recent "Stargate Atlantis" episode hinged on an absurd button, which brings up the role of Absurd Buttons in sci-fi. Our plucky, wise-cracking Stargate commandos had been taken captive aboard a super-advanced alien starcruiser on its way to destroy Earth. The starcruiser was a product of an alien society that built the most sophisticated technology in the universe. The wise-cracking commandoes saved Earth by causing the starcruiser's power source to overload, exploding and destroying the ship; the plucky earthlings beamed off at the last instant. How did they cause the power source of overload? By pressing one single button.
I've never been aboard a super-advanced, faster-than-light starcruiser, but am guessing they don't have buttons marked CAUSE DEADLY POWER OVERLOAD. I am guessing that engineers capable of designing intergalactic starships do not build buttons that, if touched, instantly destroy the vessel. I am guessing that super-advanced, faster-than-light starships would have power sources that are elaborately safeguarded against overloads, plus protected by multiple redundant backup systems.
Reader Víctor Moreno of Querétaro, Mexico, an aviation engineer, notes that in the sci-fi movie "The Island," "The hero turns off a big switch and a huge spinning wheel catastrophically collapses. I wonder who was the bright guy who designed a switch that, if thrown at the wrong moment, could create such havoc. I work in the aircraft-engine business, and we definitely don't engineer those kind of switches. On the contrary, we go to great lengths looking for possible failure modes and act to eliminate or minimize the possibility."
Yet Absurd Buttons that cause instant catastrophe are a staple of the sci-fi and action genres. In one episode of "Star Trek: the Next Generation," an invincible battlestar of the ominous Borg fleet is about to destroy Earth. Plucky Captain Picard uses telepathy to trick the aliens on the Borg battlestar into falling asleep; immediately, their invincible ship explodes. Its self-destruct mechanism, we are told, was rigged to activate if everyone on board went to sleep. And why exactly would a super-advanced species able to construct gigantic, faster-than-light starcruisers design a mechanism that causes a ship to explode if the crew needs to sleep? In "The Return," a Star Trek novel sold as "by" William Shatner, Captain Kirk also fights the menacing Borg. Arriving at the Borg homeworld, Kirk discovers the sinister cyborg society has a self-destruct mechanism capable of exploding the planet; Kirk activates the mechanism, saving the galaxy while, of course, beaming out at the last instant. Set aside why a super-advanced alien world would want to devise a self-destruct mechanism for its own home planet. The fun part is that the planetary obliteration system is triggered by flipping a single toggle switch.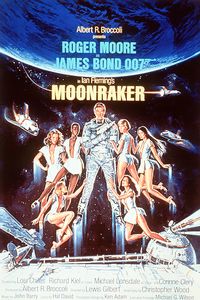 Getty Images
No one noticed the super-villain hollowing out an entire mountain. No one noticed the dozens of rocket launches.
The best Absurd Buttons come in the James Bond movie "Moonraker." A supervillain has built his own private fleet of space shuttles, plus constructed an entire hollowed-out mountain from which five space shuttles can be launched simultaneously. I haven't priced hollowed-out mountains lately, but a construction project to excavate a mountain and place inside it a spaceport five times the size of the Kennedy Space Center should cost hundreds of billions of dollars, plus require thousands of workers many years to complete. Yet no one noticed the thousands of workers and their countless pieces of heavy equipment spending years hollowing out a mountain! The five space shuttles blast off, and fly to a space station several times the size of the actual International Space Station. Since the ISS has cost about $100 billion to build and place in orbit, the supervillain's much larger space station must have cost more. So based on his spending, the supervillain is by far the richest person in world history, yet no one knows about him, and no one notices the dozens of heavy-lift rocket launches necessary to place the components of his space station in orbit.
Needless to say, the space station is designed to destroy the world, and needless to say, James Bond gets aboard. What does 007 find but two big toggle switches. The first engages a "radar cloaking device" that, the supervillain explains, has prevented the space station from being detected by NORAD. Here is NORAD's Web site; note that this Pentagon-owned, top-secret military installation has a marketing slogan. Wait, even if there were "radar cloaking," a huge space station could be seen with the naked eye! Anyone can see the ISS with the naked eye; I've watched it pass overhead. This utility allows you to determine when the actual space station will make a naked-eye pass above your area.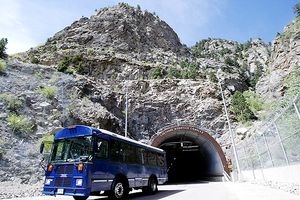 Robert Nickelsberg/Getty Images
Buried deep inside Cheyenne Mountain is NORAD's greatest secret -- its marketing slogan.
Be that as it may, Bond lunges for the "radar cloaking device" switch and throws it into the OFF position. Immediately, NORAD detects the evil facility, and shortly thereafter, a space shuttle full of U.S. Marines is launched to attack. Now, if you built a space station designed to destroy the world, and its existence depended on "radar cloaking," would you include a mechanism that switches off the cloak by pushing a single button? But here's the best part. The other huge ON/OFF button controls the station's artificial gravity. Bond flips the switch to OFF and immediately the station begins to spiral out of control and break up. If your ultra-expensive space station depended on artificial gravity, would you design that system to be switched off by pushing a single button?
Disclaimer of the Week: Reader Therissa Libby of Annapolis, Md., spent $100 at a Best Buy, receiving a $10 Best Buy gift card as part of a promotion. Here, she reports, is what the disclaimer on the back said:
"Gift card good toward future purchase. Qualifying purchases exclude cellular phones, HP ink and paper, notebooks and desktop computers, monitors, projectors, internal hard drives, Geek Squad in-home services, VOIP, broadband, desktop packages (packages include computer, monitor and printer), video game hardware, Apple products, Bose products, Digital SLR cameras, high-definition camcorders, JBL and Shure MP3 player accessories, Zune devices, satellite radio service, digital music service and download cards, Gift Cards, taxes, prior purchases, special order, clearance, demo and open-box items."
New England Super Bowl Analysis: At 5:12 remaining in the second quarter, something happened in the Super Bowl that shocked me. You didn't see it on television. Brandon Jacobs ran into the line for a 4-yard gain -- and three New England Patriots stood around doing nothing. This was the first time all season I had seen a snap on which any New England Patriot stood around doing nothing. TMQ maintains that it is amazingly common to observe a very highly paid NFL player simply doing nothing at all during a play. Watch tape: You'll catch every team, and the worse the team, the more often a player does nothing. TMQ has maintained that the reason for New England's Super Bowl run is that no one on this team ever stands around doing nothing. And there it was, with perfection on the line, three Patriots were standing around doing nothing. I turned to my daughter -- see below -- and said, "Mara, the Giants are going to win."
On the way to a touchdown on their opening possession, the Patriots showed 11 formations on their first 12 snaps; at one point, four guys shuffled in as the Pats changed packages between downs. You got the impression New England had put together a special game plan, featuring everything the team had learned in achieving the highest-scoring NFL season ever. But the initial impression was wrong; after the opening possession, New England's offense became predictable and showed little imagination. Most of the time after the opening possession, the Pats went with the same base formation -- not even double tight ends as surprised San Diego in the AFC championship. Except on the opening possession, New England did not attempt any kind of reverse, end-around or fake reverse action, nor show the throwback trick play that was the best play of its season. Unable to rush, New England rarely bothered to play-fake.
Until the fourth quarter, the Flying Elvii attempted only two deep passes -- and deep passes were New England's killer plays in its big regular-season wins over Indianapolis, Pittsburgh and Jersey/A. New England beat Jersey/A with deep passing in December, then in the Super Bowl, did not start to look deep until the hour was late and the clock about strike -- well, 8 p.m. Mountain. Endlessly, New England took the short middle completion the Giants' defense was offering: This turned out to be a formula for 14 points. New England likes to run the hitch screen, every high school coach's favorite pass. New England ran the hitch screen six times. Not even the Dillon Panthers run the hitch screen that often! The first two worked, the others were drops or slight gains. New England coaches kept calling low-yield sideways passes, never establishing a bold sense. Fifty-three called passes (attempts plus sacks) resulted in just 229 net yards and a paltry 4.3 yards per passing attempt -- versus 8 yards per attempt for Tom Brady in the regular season. Early in the season, pass-wacky teams are often effective because defensive backs aren't used to playing with each other and make coverage errors. As the season progresses, secondaries become more coordinated. As recently as the Patriots-Giants game in December, two New England touchdowns resulted from Jersey/A coverage errors. In the Super Bowl, Jersey/A did not commit a single coverage error. One reason was that New England showed so little variation to G-People defenders.
The 53 called passes exposed Brady to being hammered by the NFL's best pass-rush personnel. A month ago, TMQ supposed that New England was too in love with its passing statistics and could not win the Super Bowl unless it committed to the run. That column also includes the data on the 41 previous NFL passing-yardage leaders who failed to reach or win the Super Bowl that season; NFL passing-yardage leaders are 0-for-42 regarding the Super Bowl of the same season. Maybe that means you must be able to run to win the Super Bowl! That column warned, "New England has put all its eggs in the passing basket" and "a team that wants to win the Super Bowl must be able to run." New England put all its eggs in the passing basket in Arizona, and did not win. Forty-five yards rushing -- great defense by the Giants, sure, but come on, this is not the kind of stat produced by a team strutting around claiming to be the best ever.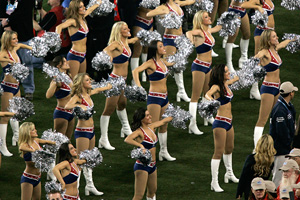 Scott Boehm/Getty Images
The New England cheerleaders wore next to nothing, yet the Patriots lost -- that's how bad Bill Belichick's karma was.
Not caring about the rush isn't merely a matter of presenting a balanced offense. Trailing 10-7, New England reached first-and-goal on the Giants' 6 with 2:55 remaining. The Flying Elvii went incompletion, incompletion, touchdown. The two incompletions stopped the clock, leaving 2:45 for Eli Manning to work with; the Giants scored the Super Bowl-winning touchdown with 35 seconds showing. Reaching first-and-goal at the 6, had New England gone rush, rush, rush, rush, a touchdown was likely, and the clock would have depleted. Even though Brady threw a touchdown pass on this sequence, the coaches' pass-wacky worldview left the Patriots' defense with a problem that could have been avoided.
And what the hey happened on the series to start the second half? Leading 7-3, New England reached fourth-and-2 on the Jersey/A 44, and punted. The most potent offense in football history is afraid to try for 2 yards! The Giants had 12 men on the field on the punt, so New England retained possession -- but the mincing, fraidycat decision to punt was very non-Belichick and communicated lack of courage to the team. Three downs later, New England faced fourth-and-13 on the Giants' 31, and Belichick called a shot into the end zone, the pass sailing far over the head of Jabar Gaffney. Why not a 48-yard field goal attempt under ideal dome conditions? (The Arizona roof was closed owing to forecast rain.)
Luck has a lot to do with sports outcomes, and after good luck the past 18 times, especially against Baltimore, New England's luck ran out. The Patriots were hit with two killer offensive holding calls, their only offensive holding calls of the postseason, both of which stymied drives. Late in the third quarter, Jersey/A got away with would could have been called pass interference in the Jersey/A red zone; the Pats ended up punting. New England receivers dropped three well-thrown passes; even reception machine Wes Welker dropped a pass. And one snap before The Play, cornerback Asante Samuel dropped an interception that would have made New England the first team with a trademarked final record.
TMQ's Super Bowl forecast said to expect New England to blitz often hoping to get Eli Manning to make a mistake and start hanging his head. Blitz the Patriots did, and it's another proof of the primacy of line play that the Jersey/A offensive line mostly handled the blitz. New England big-blitzed 12 times, with this net: two third-down blitzes that forced punts, two incompletions, two long completions (including The Play), four first-down completions, one short incompletion on second down, and the touchdown that won Super Bowl 42. The Giants gained about half their passing yardage on New England's 12 big-blitz downs, the other half on 27 called passes (attempts plus sacks) against straight coverage. You do the math.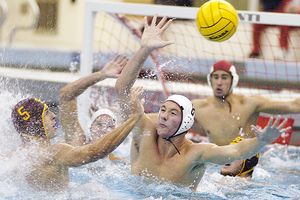 AP Photo/Ralph Wilson
Our coach has a chaired title, your coach just has flippers.
TMQ Hopes to Becomes ESPN's First Endowed Columnist; Donors Please Contact the Bristol Development Office: Why should exaggerated titles be confined to NFL ranks? A few months ago, I asked readers for examples of college coaches with fancy titles or endowed chairs, plus examples of selling names for more than just stadia. I though I'd get a few examples but instead got a landslide. Here are merely the highlights:
Tony Lin of Boston, a Princeton alum, reports that Princeton's Roger Hughes is the Charles W. Caldwell Jr. '25 Head Coach of Football at Princeton University. Not just the football coach -- the Head Coach of Football! Princeton also boasts the Robert H.B. Baldwin '42 Head Coach of Baseball, the Franklin C. Cappon-Edward G. Green '40 Head Coach of Men's Basketball and the William M. Weaver '34 Track and Field Head Coach. David McDonald of Pittsburgh notes that, at Harvard, Tim Murphy's title is the Thomas Stephenson Family Head Coach for Harvard Football. Not just the Harvard football coach, the Head Coach for Harvard Football!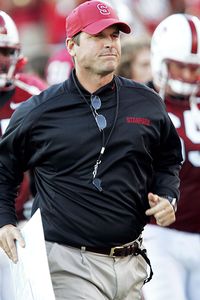 AP Photo/Paul Sakuma
Stanford's Bradford M. Freeman Director of Football.
Yale alum Joe Racine of Arlington, Va., reports that Yale's offensive and defensive coordinators just became chaired associate head coaches. Josh Galanter of Burlingame, Calif., notes that Stanford calls Jim Harbaugh the Bradford M. Freeman Director of Football. He's not just the football coach, not just the Coach of Football, he's the Director of Football! Stanford also calls its athletic director the Jaquish & Kenninger Director of Athletics.
Kevin Johnson of Brunswick, Maine, notes that the Boston College football coaching job is chaired. Sid Steinberg of Philadelphia reports that Glenn Miller recently became the John R. Rockwell Men's Basketball Coach at Penn. Ben Miller of Washington, D.C., reports that at his alma mater, Brown, Jean Burr holds the Liz Turner '98 Coaching Chair for women's basketball. Paul Stinson of Colgate University in Hamilton, N.Y., notes that at his school, Erik Ronning is the John W. Beyer Head Coach for men's soccer.
Joanna Beck of Charlotte, N.C., Cornell University '98, reports this about goings-on far above Cayuga's waters: "There are two chaired football coaches at Cornell University: Jim Knowles, the Roger J. Weiss '61 Head Coach of Football, and Clayton Carlin, the John B. and Ann M. Rogers '45 Defensive Coordinator. Also, Mike Shafer is the Jay R. Bloom '77 Head Coach of Men's Hockey." Billy Lustgarten, also Cornell '98, adds that even the women's rowing coach holds an endowed position, and Cornell alum Geoff Green points out this great Cornell title: the Peter B. Orthwein '69 Head Coach of Polo.
How much does it cost to name a coaching chair after yourself? The discreet Ivy League won't say, but, as noted by Matt Argo of Tulsa, Okla., Kansas State lists its prices. The tab is $3.5 million to put your name on the football coaching chair. A conservatively managed $3.5 million would throw off $175,000 annually, a nice supplement to any coaching income.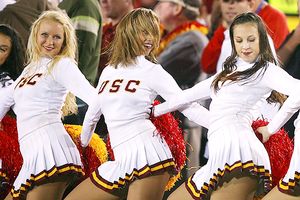 Christian Petersen/Getty Images
Your trademark here.
Noting that USC now seeks individual sponsorships for the glamorous Song Girls, I asked whether readers knew of other college sponsorship arrangements for athletes or cheerleaders. Erin Eckert of Chapel Hill, N.C., objects to the idea: "As a former cheerleader, the whole discussion of buying sponsorship of a specific cheerleader gives me the creeps. Doesn't buying something imply special treatment or access? I'd rather not know about some wealthy businessman buying sponsorship of a gorgeous 19-year-old girl. Plus the general consensus is that the Song Girls are already well-endowed. Sorry -- couldn't resist."
Erin, other colleges do not share your concerns -- pretty much everything and everyone is for sale. Cade Hodgson of Lubbock, Texas, reports that Texas Tech will let you endow and name a football position for $200,000. Better hurry -- the "defensive tackle, center, punter, quarterback, cornerback, safety, rush defensive end and offensive tackle" positions are already named. If you endow a position, Texas Tech keeps your money forever, but your game-day parking privilege expires after 20 years. Christopher Gleason of New York City, a TCU grad, notes that the tight end position is the first endowed at the school. Doug Kornreich of Hanover, Md., reports that a decade ago, Kerry Collins endowed a quarterback scholarship at Penn State, one of the first such endowed positions in the nation. Kornreich further notes that not only is the University of Virginia pretty much open to selling a name on anything: Its athletic endowment alone is $56 million, a figure that exceeds the entire academic endowment, $39 million, of nearby but lower-status James Madison University. Michael Shochet of Baltimore notes the list of UVa endowed positions, including one that must go to a linebacker and one that must go to a women's freestyle diver.
John Owens of Berkeley, Calif., reports that Frank Gifford just endowed a USC tailback scholarship, first held by Joe McKnight. (Future recruiting pitch: "Come to our college and we'll not only give you a condo and an SUV and you'll never need to study but you also will have a classy named position.") Gabe Merrell writes that Penn State has the John and Willie Leone Endowed Scholarship for Nickel Linebackers -- I didn't even know there was such a thing as a nickel linebacker. Merrell also reports that non-powerhouse Western Kentucky is up to 13 endowed football scholarships, which sounds great, although nevertheless, "Football coach David Elson declined comment." Maybe the Western Kentucky coach is mad because he isn't the Director of Football.
Jason Johnson of Indian Land, S.C., reports that Appalachian State offers these naming opportunities, among them "the Field Tunnel at $50,000, the bathrooms at the new baseball and soccer complex at $10,000 and the bubble at the tennis complex at $100,000." Darling, in commemoration of our 50th wedding anniversary, I've named the school bathroom after you! Here are other Appalachian State donor offers: Giving $18,000 gets you lunch with the coach, and $5,000 buys you a numbered parking space at home football games. Sherman McMurray of Indianapolis notes that Indiana University has an elaborate point system to determine the relationship between donations and how good your men's basketball seats are; meanwhile, it's $7 million if you want to name the north end zone of the football stadium.
Finally, Jere Northridge of State College, Pa., points out this wonderful flip side of the coin -- although Joe Paterno has no chair and no fancy title, he and his wife have endowed academic projects at the school, including the Paterno Family Librarian Endowment for Literature.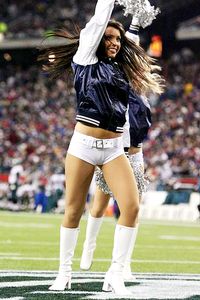 New England Patriots
Sandra Smyly of the Patriots cheerleaders. Let's hope that in college she does not inadvertently alter any fundamental constants of the universe.
Cheerleader of the Super Bowl No. 3: Sandra Smyly, who according to her team bio has been dancing since age 3 and is a senior at Babson, one of the top business colleges. Sandra, as you complete your studies, just be careful not to inadvertently nullify gravity. Babson College founder Roger Babson also started the Gravity Research Foundation, which since 1948 has funded the study of anti-gravity theories. Many colleges around the country have campus monuments to Babson's anti-gravity quest. For example, a monument at Tufts University looks forward to "the blessings forthcoming when a semi-insulator is discovered in order to harness gravity as a free power and reduce airplane accidents." Before his death, Babson said something along the lines of, "I started off trying to nullify gravity, then I switched to merely trying to understand gravity, and I never accomplished that either." Bear in mind that although the equations of gravity are well understood, science still has no idea why an apple falls from a tree. No gravity-mediation wave or particle has yet been discovered: gravity obviously exists, but the mechanism by which it works is a complete mystery.
Final State Standings: Annually, Tuesday Morning Quarterback compiles my proprietary, branded-product State Standings, based on where teams actually play -- the Giants are a New Jersey team, the Redskins are a Maryland team and so on. Below are the final State Standings for the 2007 NFL season.
Note that California and Florida, traditional hotbed states for prep recruiting, once again finished as losers in the NFL standings. Data mining shows that the old industrial states were winners this season with a combined 137-128 finish, and the South, the Sun Belt and the West Coast were losers at a combined 130-139. Data mining further shows that the blue states, those that voted for John Kerry in 2004, finished 143-128 and the red states, those that voted for George W. Bush, finished 124-139. And not only was the Super Bowl blue-on-blue, pitting liberal Massachusetts against liberal New Jersey, but in NFL playoff games this season that pitted a blue state versus a red state, blue finished 5-1. New Jersey over Florida, California over Tennessee, New Jersey over Texas, California over Indiana and Massachusetts over Florida were blue-beats-red postseason victories; only Florida over Pennsylvania was red-beats-blue.
Final 2007 State Standings:
Massachusetts: 18-1
Indiana, Wisconsin: 13-4
Texas: 21-12
Tennessee, Washington: 11-7
Pennsylvania: 18-15
Ohio: 17-15
New Jersey: 18-18; Arizona, Minnesota: 8-8
Colorado, Illinois, Louisiana, Michigan, New York, North Carolina: 7-9
Maryland: 15-19
California, Florida: 22-29
Georgia: 4-12
Missouri: 7-25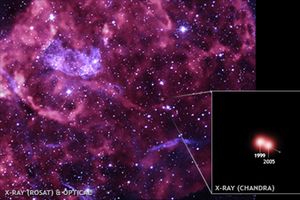 NASA/CXC/Middlebury College/F.Winkler et al
This extremely fast natural object is still extremely slow compared to galactic distance.
A Cosmic Thought: Recently, astronomers from Middlebury College discovered one of the fastest-moving large objects ever observed, a neutron star, designated RX J0822-4300, which appears to have been hurled away from a supernova that exploded about 3,700 years ago. Using the Chandra X-ray telescope in orbit around Earth, the astronomers calculated that the neutron star is moving about 3 million miles per hour and will, over the course of time, exit the Milky Way, hurtling into the intergalactic void. The incredible speed of RX J0822-4300 offers an opportunity to put cosmic velocity and distance into perspective. Since light moves at about 671 million miles per hour, the star is traveling at slightly under one-half of 1 percent of light speed. That means the star has traversed about 20 light-years since Hammurabi was king of Babylonia. It would take the star 20 million years to cross our galaxy from one end to the other, another 350 million years to reach the next-closest galaxy to ours.
Observation of this star tells us it is physically possible to accelerate a very heavy object to a measurable fraction of light speed; some physicists had contended that might always be impossible. Now that we know it can be done, we should assume humanity someday will accomplish this artificially. So let's suppose humanity someday builds a spaceship capable of one-half of 1 percent of light speed. (The fastest manmade object so far, the New Horizons space probe currently bound for Pluto, had a peak velocity of .007 percent of light speed, meaning the neutron star is moving about 75 times faster.) If humanity someday builds a spaceship capable of moving as fast as the neutron star, such technology would open up the solar system to every conceivable shenanigan. A ship moving at half of 1 percent of the speed of light could reach Mars in about 10 hours and be at Saturn in about a day. But a spaceship moving at half of 1 percent of light speed would still be a rowboat compared with cosmic distances -- requiring 800 years to reach the nearest star to our sun and 6 million years to reach the galactic center.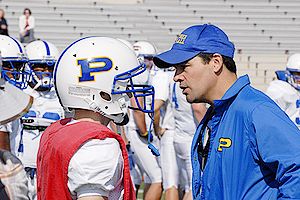 Courtesy of NBC
"You listen to me, Saracen! Go moon over high-school girls! Engage in excruciating relationship talk! Have an emotional crisis! Glance longingly! But don't you dare expect the Dillon Panthers to play an actual football game!"
"Friday Night Lights" Update: The Dillon Panthers have gone three episodes without actually playing a game. Rather than extremely unrealistic football scenes, viewers are now treated to extremely unrealistic scenes of girls' volleyball. "Friday Night Lights" has aired 14 of its planned 22 final episodes, and in that time depicted a mere six games. We've gone three straight episodes without high school football even being mentioned, though there's plenty of teen dating angst, tedious marital bickering and characters walking in the door exactly at the moment their love interest is kissing someone else. What in heck happened to this once-great show?
The Giants Should Be Marching to Ticker Tape in East Rutherford: Patriots management -- don't tempt fate by trying the trademark the phrases "19-0" and "19-0: The Perfect Season" before you actually are 19-0, as New England attempted to trademark these phrases a week before the Super Bowl. Boston mayor Thomas Menino, don't announce the details of the Patriots victory parade many days before the Super Bowl is even played, as Menino did last week. Note that last week, New York City mayor Michael Bloomberg refused to discuss victory parades, fearing giving offense to the football gods. Of course, it should be New Jersey Gov. Jon Corzine arranging the parade, but that's another matter.
TMQ Family Update: I took my daughter, Mara, to this year's Super Bowl. It was the first NFL game she had ever attended and turned out to be one of the best football games ever staged at any level. Talk about starting at the top!
Hall of Fame Update: Congratulations to the Hall of Fame selectors, who chose two defensive backs (Darrell Green and Emmitt Thomas), two linemen (Fred Dean and Gary Zimmerman), a linebacker (Andre Tippett) and a receiver (Art Monk). Nary a quarterback nor running back in the group! If TMQ ever composes an All-Unwanted Hall of Fame, Thomas will be a charter member; he was undrafted out of college.
Bobblehead Update: Endlessly, TMQ chronicles the absurdity of coaches ordering punts on fourth-and-short late in games when trailing. Further, TMQ goes crazy when TV announcers in such situations opine that the trailing teams "must" punt or that it is some kind of huge risk to try for the first down when about to lose and only a yard is needed. The all-time worst for this kind of commentary came in the closing moments of the Super Bowl. Jersey/A trailed 14-10 at the two-minute warning and faced third-and-10. Fox announcer Troy Aikman declared that if the Giants reached fourth down, "They'll have a tough decision to make." Tough? You actually think they would punt when trailing with less than two minutes remaining in the Super Bowl? The Jersey/A play gained 9 yards, causing fourth-and-1 with 1:34 remaining. As the Giants lined up to go for it, Aikman said, "I think they're making the right decision here."
Wheels Up! I offer -- with no further comment -- the below, which was written by reader John Conrad of Calgary, Alberta:
The Arizona host committee for the Super Bowl anticipated 800 to 1,000 private jets and had problems finding parking spaces for them. Dave Zirin of Sports Illustrated noted: "Giants co-owner Steve Tisch spoke about the pugilistic plutocrats at the airport. He said, 'When that game's over and a lot of people who've flown on private planes want to go home and everybody feels that they're entitled to be the first to take off, that's when it gets interesting. A lot of people are saying to their pilots to tell the tower, Do you know who I've got on my plane?'" Perhaps now is an appropriate time to mention that 21.2 percent of children in Arizona live below the poverty line.
Next Week: The stadium lights have been turned off, the film rooms have gone dark and the cheerleaders have put their miniskirts away in very small drawers. But the 2007 NFL season has one act remaining -- Tuesday Morning Quarterback's annual Bad Predictions Review. Here's a preview: Everyone was wrong about everything, except me!
In addition to writing Tuesday Morning Quarterback, Gregg Easterbrook is the author of "The Progress Paradox: How Life Gets Better While People Feel Worse" and other books. He is also a contributing editor for The New Republic, The Atlantic Monthly and The Washington Monthly.
PAGE 2 ON THE SUPER BOWL
Don't miss any of Page 2's hard-hitting Super Bowl coverage as we gird for an epic clash between the Giants and Patriots.
Bill Simmons
•
Postgame: Free fallin' out into nothing
•
Super Bowl XLII preview and pick
•
Awards from the conference championships
Tuesday Morning Quarterback
•
TMQ: Super ending to a tumultuous season
•
Easterbrook: Spygate returns to headlines
•
TMQ: Conditional immortality
•
TMQ: All-Unwanted All-Pros
Notes, jokes and potpourri
•
Super Bowl commercials bingo cards
•
Flem File at the Super Bowl
•
Friday, Feb. 1: News you can't live without
•
Thursday, Jan. 31: News you can't live without
•
Wednesday, Jan. 30: News you can't live without
•
Tuesday, Jan. 29: News you can't live without
•
Monday, Jan. 28: News you can't live without
•
Celebrities make their picks
•
Poll: Tom Brady celebrity photo ops
Insight and wisdom
•
Hill: Super Bowl party report
•
Page 2: Pop culture roundtable
•
Gallo: Boston's five stages of grief
•
Neel: Bittersweet game for Hoover's people
•
Hruby: Page 2 Week in review quiz
•
Uni Watch: Where's all the blue in Big Blue?
•
Milz: What does Gisele's dad think of Tom?
•
Hruby: Super Bowl is hazardous to your health
•
Hill: Moss was right to quit on Raiders
•
Hill: Teflon Tom Brady
•
Page 2: Suggested questions for media day
•
Jackson: Perks for perfect Patriots
•
Hruby: Analyzing the Brady tape
•
Best teams not to win a championship
•
Fleming: Footnoting greatness
•
Gallo: The first 24 hours of hype
•
Page 2 obtains Boston's contract with the devil
•
Snibbe: Championship Sunday by the numbers
•
Garfamudis: Patriots aren't perfect
•
The curse of Mo Lewis
Inside the brain
•
Inside Jared Lorenzen's brain
•
Inside Matt Cassel's brain
•
Inside Tiki Barber's brain
All things Super Bowl
•
Complete ESPN.com coverage
•
From 2007: The Ultimate Super Rankings
E-Ticket
•
Klosterman: All too perfect
•
Neel: Almost immortal
ESPN Top Headlines