Atlanta and Oakland flipped a coin to determine which would receive the third selection in Saturday's draft. Atlanta won, and will go third. As winners of the toss, the Falcons should have been allowed to go fourth! This year, the fourth choice in the NFL draft is worth more in practical terms than the third choice. Only in America!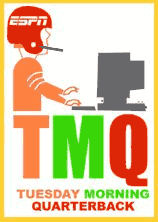 Recently many football pundits have begun to say that because the gentlemen chosen at the very top of the draft demand huge guaranteed payments that befoul the salary cap, teams that want to trade down from the initial picks cannot do so because few want to trade up. Since Tuesday Morning Quarterback is nothing if not self-referential -- hmmm, have I said that before? -- let me note that seven years ago, my very first
mocking of mock drafts
began by demonstrating that picks at the top of the draft are actually less desirable than picks that closely follow. If nothing else, this means the NFL needs a rookie salary system, a la the NBA. JaMarcus Russell, the first overall choice last year, received about the same amount of guaranteed money as LaDainian Tomlinson has in his contract, though Tomlinson is one of the league's top performers and Russell had yet to play a down.
Suppose Atlanta drafts Matt Ryan in the third position; that would cost the Falcons perhaps $5 million more in guarantees than drafting Ryan in the fourth position. So if Atlanta wants Ryan, it should simply pass on its pick -- this is legal under league rules -- forcing Oakland to go third, then choose Ryan fourth. There's no chance Oakland, which just drafted Russell, will draft Ryan. There's a small chance Oakland would trade the pick to a team that would. In the main, if Atlanta wants Ryan, the Falcons would be better off to pass on the third selection and choose Ryan with the fourth.
In this regard, rumors are circulating of a proposed new trade value chart that makes the first few picks less pricey. Supposedly the new chart is being circulated by teams that hope to trade up into the first five. TMQ thinks the chart is being circulated by the Dolphins, Rams and Falcons, which hold the initial choices and want to trade down. They want to devalue their own choices so someone will make an offer for them. Only in America!
On the new trade value chart circulating, the first overall choice is worth 2,000 points instead of 3,000; the third pick worth 1,825 points instead of 2,200; after the 10th pick, values are the same as before. The old chart creates an expectation that any team trading out of the top selections will receive a bonanza in return; if a team made a deal for less than a bonanza, fans would howl. Suppose St. Louis, selecting second, wanted to trade down with Baltimore, selecting eighth. The standard chart says that to make this deal, the Ravens would need to surrender their first choice plus two second-round picks. Unless there were a Hall of Fame player at the second choice, the Rams would be much better off trading the second choice for the eighth choice and two No. 2s. The proposed new chart says that for dropping from second to eighth, St. Louis should receive just one second-round selection. That's a realistic exchange that might happen. Because the proposed chart assigns realistic values to the lottery portion of the draft, it makes trades imaginable. Thus, devaluing the top picks favors those holding those picks. Only in America! Next week we'll talk currency theory.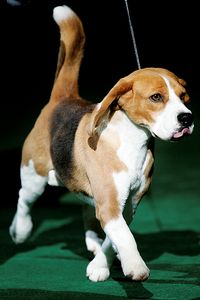 AP Photo/Seth Wenig
"With the first choice of the 2008 NFL draft, the Miami Dolphins select the world's cutest dog."
In other NFL news, see below for my annual fearless projection of the draft's seventh round. But first -- everyone's got a mock draft, only Tuesday Morning Quarterback annually mocks the draft:
1. Miami Dolphins: Uno the beagle, winner, Westminster Dog Show. The woeful Dolphins need some lovin' -- who doesn't love a cute, cuddly beagle? Bill Parcells worries that the hound will demand to be traded to a contender; Tuna is trying to get Uno to dip a paw in ink and step on his contract before draft day.
2. St. Louis Rams: Terrelle Pryor, quarterback, Jeannette (Pa.) High School. Unless Pryor is admitted directly to the Hall of Fame in Canton without ever actually appearing in a game.
3. Atlanta Falcons: Eliot Spitzer, former governor, New York. Falcons owner Arthur Blank explains: "Compared to Bobby Petrino, this guy is a class act."
4. Oakland Raiders: Karen Erickson, guidance counselor, Jefferson High School (Bloomington, Minn.). Barely-out-of-high-school Raiders' coach Lane Kiffin needs someone to enforce the hall-pass and snap-quiz systems he has instituted for Oakland training camp. (Jefferson was Kiffin's high school.)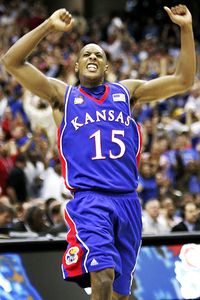 AP Photo/Eric Gay
Everybody who couldn't cover him in the NCAA final is turning pro -- but Mario, stay in school!
5. Kansas City Chiefs:
Mario Chalmers, guard, University of Kansas men's basketball. He Da Man in the Midwest! Kansas steak must make Chalmers miss the halibut he dined on growing up in Alaska. Best dinner I have ever had: Cajun-style crab-stuffed halibut at the
Double Musky Inn
of Girdwood, Alaska. Hey Mario:
Stay in school! Stay in school!
6. Carolina Panthers (from Jets): Bob McKillop, men's basketball coach, Davidson College. Perhaps this North Carolina hero can revive the Panthers' fortunes. (Projected trade: Panthers send first and third choices in 2008, third choice in 2009, fourth and seventh selections in 2010, fourth pick in 2011, sixth choice in 2012 and an iTunes Store account password to Jets for Jersey/B's first choice in 2008, fifth choice in 2009, third selection in 2010, fifth pick in 2011, seventh choice in 2012 and a mint-condition collection of Rosemary Clooney albums.)
7. New England Patriots (from San Francisco): Michael Hayden, director, Central Intelligence Agency. A perfect fit for the Patriots' program.
8. Baltimore Ravens: Trent Dilfer, quarterback, Fresno State. Dilfer won the Super Bowl for Baltimore, then just a few weeks later was let go. The football gods have been punishing the Ravens ever since.
9. Cincinnati Bengals: Marc Dann, attorney general of Ohio. At this point, might as well have him on the sideline.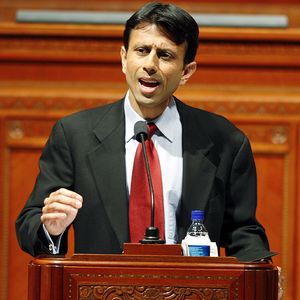 AP Photo/Richard Alan Hannon, Pool
Bobby Jindal isn't an Austrian-born blind female jock, but he is governor of Louisiana!
10. New Orleans Saints:
Piyush "Bobby" Jindal, governor, Louisiana. New York now has a legally blind governor, California's governor is a former bodybuilder and former citizen of Austria, Alaska's governor is a woman who was the point guard for a high school state championship basketball team, and America's youngest governor is the 36-year-old Jindal, who was raised as a Hindu by Indian parents. (Jindal is a U.S. citizen who converted to Catholicism as an adult.) Much of the innovation in American politics is happening at the state level, and one reason is the governorship guild is no longer dominated by WASP males.
11. Buffalo Bills: Peter Berg, producer, "Friday Night Lights." Berg has kept this fabulous series alive against all odds -- maybe he is the man to keep the Bills in Buffalo.
12. Denver Broncos: Rex Tillerson, CEO, Exxon Mobil. Artificially emitted greenhouse gases are causing climate change, which in some places will mean more precipitation. Colorado skiers thank Exxon Mobil for a fabulous snow season.
13. New Jersey Jets (from Carolina): Ashley Alexandra Dupre ("Kristen"), aspiring singer. She's a Jersey girl, and the Jets need to add some star power to their game-day experience. Whether true consensual prostitution should be a crime is a matter for debate. Regardless of the answer, TMQ hopes Dupre is never prosecuted. Anyone who has had sex with Spitzer has already been punished enough!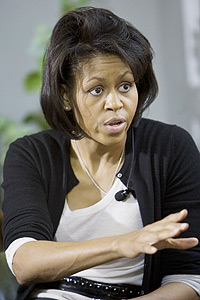 AP Photo/Matt Rourke
Princeton, Harvard, the University of Chicago -- how about a MICHELLE 08 campaign?
14. Chicago Bears:
Michelle Obama, Illinois lawyer. Princeton, Harvard, the University of Chicago -- let's elect
her!
15. Detroit Lions: James Cayne, former CEO, Bear Stearns. He and Matt Millen will form a Mismanagement Dream Team.
16. Arizona Cardinals: Heather Mills, Beatles ex. Maybe if she poured cold water on the heads of the Cardinals, it would wake them up.
17. Minnesota Vikings: Benedict XVI, Bishop of Rome, Vicar of Jesus Christ, Successor of the Prince of the Apostles, Supreme Pontiff of the Universal Church, Primate of Italy, Archbishop and Metropolitan of the Roman Province, Sovereign of the State of the Vatican City and Servant of the Servants of God. At age 81, Benedict doesn't have much burst, but divine intervention seems the best hope for the Vikings' passing game.
18. Houston Texans: Keith Van Horn, retired NBA forward. In an elaborate deal, Texans gain salary cap space by repeatedly signing then waiving Van Horn.
19. Philadelphia Eagles: Marissa Miller, swimsuit issue cover girl. Birds tab mega-babe who wears even less than the Eagles' cheerleaders.
20. Tampa Bay Buccaneers: Jeremiah Wright, retired pastor, Trinity United Church of Christ. He can deliver just the kind of halftime tirades that Jon Gruden likes.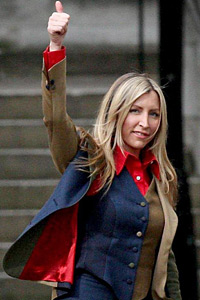 Press Association via AP Images
When I get older losing my hair, pretty much exactly now, will you still be sending me a subpoena ...
21. Washington Redskins:
Mitt Romney, Rudy Giuliani, Joe Biden, Ron Paul, Chris Dodd, Fred Thompson. Like 20 minutes ago, these dudes were treated as incredibly important by the media. Like now, would you recognize one if he sat on your lap?
22. Dallas Cowboys (from Cleveland): Matt Damon, handsome actor. His contract will require him to become the boyfriend of Jessica Simpson. "That way if Romo calls, she'll say she has plans," Dallas scouts explain.
23. Pittsburgh Steelers: Jacob Beam, 18th-century Kentucky distiller who formulated the recipe for the bourbon now called Jim Beam. Steely McBeam will do endorsements for Jim Beam! (Here is the whiskey's Russian Web site.)
24. Tennessee Titans: Kentwan Balmer, defensive tackle, North Carolina. Possible actual choice thrown in for variety.
25. Seattle Seahawks: Sue Payton, undersecretary, United States Air Force. She made the decision to award a multibillion-dollar aerial tanker contract to France-based Airbus rather than America's Boeing. And you know why? Airbus did a better job with its proposal! In a globalized economy, not even defense contractors can take their customers for granted. In the second round, Seahawks hope to tab Clay Bennett, owner, Seattle SuperSonics. OK, Oklahoma City is his hometown. But Bennett desperately wants his team to leave Seattle, the most beautiful city on Earth. Something does not add up here.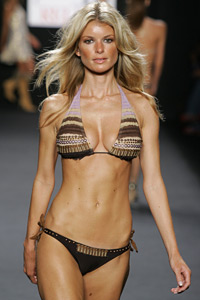 Thomas Concordia/WireImage.com
Marissa Miller -- chosen by Philadelphia because she's the only person who wears less in public than the Eagles cheerleaders.
26. Jacksonville Jaguars:
Chelsea Clinton, youth role model. Jack Del Rio doesn't like the press, so when reporters ask him questions, Chelsea could be there to snap, "That's none of your business!" Aside to Chelsea: The events in question led to an impeachment in the House and a trial in the Senate, which does rather seem to make the matter the public's business.
27. San Diego Chargers: The Gerald R. Ford (CVN-78), supercarrier. Lead ship of the new Ford class of 100,000-ton supercarriers, this vessel will be laid down in 2009 and home-ported in San Diego when operational. At that point, there will be supercarriers named Gerald R. Ford, Ronald Reagan, and George H. W. Bush. Missing from the presidential succession will be capital ships named for Jimmy Carter and Bill Clinton. Even as someone who is often pro-military, TMQ finds repugnant this blatant Pentagon favoritism for Republicans. Gerald Ford was never elected to national office: he was appointed to the vice presidency, then became president by succession when Richard Nixon resigned. The never-elected, half-term Ford will have a supercarrier named for him while Clinton, a two-term president twice chosen by U.S. voters, does not. Aside to United States military: Your job is to defend the country, not to defend Republican fundraising.
28. Dallas Cowboys: Raul Castro, president, Cuban Council of State. In appointing his brother as his replacement, Fidel Castro said Raul was chosen strictly "on account of his own personal merits." Raul could hang around with Stephen Jones, the chief operations officer of the Cowboys and son of Cowboys owner Jerry Jones. Stephen is just one of numerous high-ranking NFL front-office officials who got their positions strictly on account of their own personal merits.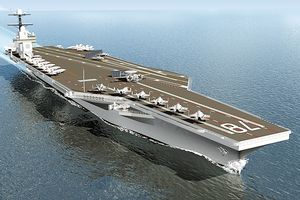 United States Navy
The 100,000-ton Gerald R. Ford -- protecting America against ships named for Democratic presidents.
29. San Francisco 49ers (from Indianapolis):
Lin Li, Olympic torchbearer. As the Olympic torch arrived in San Francisco, Lin, a 1992 medalist for China, San Francisco resident and the first torchbearer for California, was for security reasons moved to an undisclosed location, where she ran an undisclosed distance in undisclosed shoes with no public witnesses present, perhaps having undisclosed thoughts. How festive!
30. Green Bay Packers: Bruce Pickens, Mike Croel, Eric Swann, Charles McRae, Antone Davis, Dan McGwire, Bobby Wilson, Vinnie Clark, Stan Thomas, Randal Hill, Todd Marinovich and Mike Jones -- just a few of the players chosen ahead of Brett Favre in the 1991 draft.
31. New England Patriots. (Despite forfeiting this choice in the Spygate scandal, the Patriots select a player anyway. Bill Belichick is seen backstage at Radio City Music Hall swinging a gold watch in front of Roger Goodell while repeating, "You are getting sleepy … you are getting very sleepy … you will walk to the podium and announce a draft selection by the New England Patriots … you are getting very sleepy …")
32. New Jersey Giants. Curt Mueller, pharmacist, inventor of Stickum. From now on, Giants will spray the tops of all their helmets.
TMQ Campaign Retractions: I misspoke when saying I wrote my Super Bowl column "under sniper fire." Videotapes that surfaced on YouTube show I wrote the column in a fancy hotel while eating sandwiches. I did not have to run to a deli with my head down to get the sandwiches, they were delivered by room service. Also, when I said, "I brought peace to Ireland," what I meant to say was, "I bought souvenirs in Ireland."
I was just testing the media when I declared that al Qaeda is based in New Zealand. Because of my deep, profound national security experience, I know that Iran and Iraq are actually different countries located on another continent or something. Don't worry -- when I get confused about things like the difference between our allies and our enemies, there will always be a staffer there to whisper into my ear. And of course I know that actually, Fox News is run by Zoroastrians and MSNBC is an insurgency run by Jains.
I was not present in church the day my pastor called the United States "a revolting, pathetic, sinking, miserable, seething hellhole." If my pastor regularly used the word "seething," I would have switched to a different church.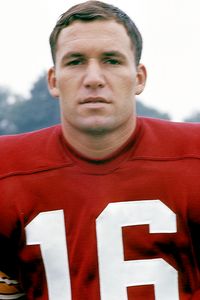 NFL/Getty Images
Gary Beban, the Official Draft Bust of TMQ.
The Official Draft Bust of TMQ:
Last week's ESPN.com list of the
50 all-time NFL draft busts
skipped TMQ's favorite, Gary Beban. In 1967, he won the Heisman as a quarterback at UCLA, then was drafted in the second round by the Los Angeles Rams. Maybe it's not fair to class a second-rounder as a bust, but what happened next put the gentleman into Bustville. Shortly after the draft, the Washington Redskins traded a first-round choice for him -- though Beban had yet to appear in an NFL game, and though the Skins had future Hall of Famer Sonny Jurgensen at quarterback. Beban never completed a forward pass for Washington, though he did take
a few snaps at halfback
, then retired from football after just two seasons. A Heisman-winning quarterback acquired for a first-round draft choice, who never completes a pass and gives up in two years? That's a bust. (Happy ending: Unlike some college stars who flop in pro sports, Beban adjusted psychologically and went on to become a successful businessman.)
Vote, Pennsylvania, Vote: Just before today's Pennsylvania primary, Hillary Clinton ditched her year-long campaign theme song, Celine Dion's "You and I" ("Take me higher than all the stars above/ I'm burning, yearning") for the theme from the first "Rocky" movie ("Tryin' hard now/ It's so hard now"). Obviously this was a pitch for Philadelphia-area votes. In a tactical error, Barack Obama did not immediately declare that his theme song was "Fly, Eagles, Fly." Perhaps in two weeks Clinton will switch theme songs again, to "Sweet Caroline" if she has a chance in North Carolina or "Small Town" if she might win in Indiana. (John Mellencamp was born in Seymour, Ind.)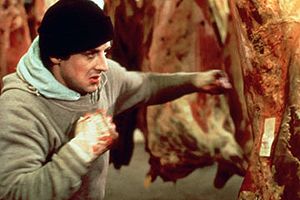 Courtesy of MGM
Hillary Clinton, PETA at odds over latest campaign ploy.
The Cursed Draft:
No matter what happens Saturday, it can't be any worse than 2002: The Cursed Draft. Of the first six players chosen, one was a mega-bust (Mike Williams, already OOF -- Out of Football), two were disappointments (David Carr, Joey Harrington), one became a journeyman backup (Ryan Sims has not started a game in two seasons) and the final two are solid performers but have yet to live up to their billing (Julius Peppers, Quentin Jammer). Other forgotten or forgettable first-round choices of 2002 included Wendell Bryant, T.J. Duckett, William Green, Mike Rumph, Jerramy Stevens and Patrick Ramsey.
The Fallacy of "Balanced" State Budgets: Because this is an election year, many states are campaigning for more federal money, and simultaneously boasting of how, unlike Washington, they nobly "balance" their budgets. Speaking recently on NPR, Governor Ted Strickland of Ohio, whose deficit will be about $1 billion this fiscal year, said his state urgently needed emergency aid from Washington. In the same interview Strickland complained about the federal deficit, declaring, "The federal government needs to become fiscally responsible." This points to a leading fallacy of American politics: the notion that states responsibly have balanced-budget requirements, while the federal government is the cause of all government deficits. Michael Dukakis in 1988, Bill Clinton in 1992 and George W. Bush in 2000 all boasted during their presidential runs that, as governors, they "balanced" their states' budgets. What nonsense! Most state budgets are "balanced" only in the sense that Washington gives large sums to state governments, shifting deficit spending upstream to the federal level.
In fiscal 2007, the federal government handed out $232 billion in routine operating grants to state governments -- a figure that excludes federal payments for Medicaid, a federally imposed but state-administered entitlement, and excludes special federal hurricane aide to Mississippi and Louisiana. The fiscal 2007 federal deficit was $163 billion. That is to say, if the federal government had not rained money on state houses, Washington's books would have shown a surplus rather than a deficit in the latest fiscal year. So the "fiscally responsible" thing for Washington to do would be to stop giving money to the states! Ohio, for example, received $6.2 billion in other-than-Medicaid federal money in fiscal 2007, toward an other-than-Medicaid state budget of about $31 billion. This means about 20 percent of the Buckeye State budget was billed to the federal taxpayer, making it appear Washington was overspending while Columbus was being careful and cautious with money. The same applies to nearly every other state, where only federal gifts make state budgets appear "balanced."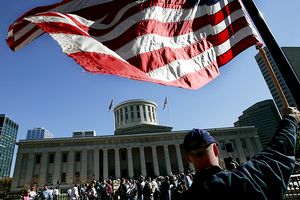 AP Photo/Laura Rauch
The Ohio statehouse in Columbus -- fiscally prudent, so long as someone else provides the money.
The situation is basically a bookkeeping swindle. Today federal taxes seem excessive, while state taxes seem affordable, because state taxes don't pay the full cost of state government, while federal taxes fund considerably more than the cost of federal government. The bookkeeping switcheroo makes the federal government appear less cost-effective than it actually is, while causing state governments to appear more prudent in their spending than they actually are. For instance, since the early Ronald Reagan presidency, state government employment has been rising while federal government employment has been declining; yet because states bill so much of their costs to Washington, people think the states are cautious about money while Washington is spendthrift. If states simply raised all their own revenue, federal taxes would decline, the federal deficit would vanish, and state taxes would skyrocket. Then voters would be mad at governors while objecting less to Washington.
California projects a $16 billion deficit in fiscal 2009, much worse per capita than New York, with an expected $5 billion fiscal 2009 shortfall, or Arizona, at a projected $2 billion. Yet California has not taxed itself to cover the problem, expecting instead a federal bailout. When times were flush and tax revenues high from 2003 to 2006, California, New York, Arizona and other states now short of money did not save for a rainy day: They spent freely, and now demand that someone else cover the bill. So far, only Maryland has done the manly thing: raising state taxes to pay off its deficit on its own.
Don't Do It, Brett -- Don't Accept That Trophy! In January, Brett Favre made the astonishing blunder of accepting the Sports Illustrated Sportsman of the Year award -- and a few weeks later, his career was over. The final snap of Favre's storied career was an interception in overtime at home in the playoffs, leading to a three-point loss. This is weirdly reminiscent of the final snap of Hall of Fame quarterback Jim Kelly's career -- a fumble in opposition territory late in a home playoff game, leading to a three-point loss. During the 16-year period Favre was Green Bay's sole starting quarterback, Atlanta -- which traded Favre away -- had 16 starters. Falcons starting quarterbacks Favre was shipped out to make way for included Tony Graziani, Bobby Herbert, Danny Kanell, Kurt Kittner and Billy Joe Tolliver. August 2013 is when Favre will don the garish yellow jacket in Canton. Packers fans, make your hotel reservations now.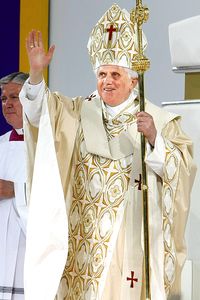 AP Photo/Chang W. Lee, Pool
If he's drafted, the league will ban his skull cap and miter.
An Ecumenical Proposal:
Easter fell unusually early this year, on March 23 -- it will not fall on that date again until 2160 -- while Passover is in progress now. Why doesn't Easter come immediately after Passover? That is, after all, what happens in the Bible. Passover begins on the 15th day of Nisan under the ancient Hebrew calendar; the Easter date is determined by a complex formula involving the vernal equinox and the paschal full moon. Both dates are arbitrary in the sense that no one knows which day the historic Passover or resurrection occurred. When Jesus walked the Earth, Passover commenced on the 15th day of Nisan, just as today. The complicated formula for scheduling Easter was invented during the Middle Ages, when the Church of Rome was hostile to Judaism and wanted to avoid reminding parishioners of the Passover-Easter relationship.
So here is my ecumenical proposal: Junk the Easter dating formula and have Easter immediately follow Passover. This corresponds to what happened in biblical times: Scholars debate whether the Last Supper was a seder, but the Gospels do clearly state that Jesus had come to Jerusalem to celebrate Passover. Having Easter follow Passover would be historically authentic, and remind us of the closeness of the Jewish and Christian faiths -- a subject many Christians go to great lengths to avoid. Last week, Pope Benedict XVI visited a New York synagogue and declared his desire for more Jewish-Christian ecumenical unity. Having Easter follow Passover would be a great start, and entail nothing more than discarding a bunch of Middle Ages mumbo-jumbo about dating.
Everyone Needs Everything: TMQ has long contended that those "draft needs" thumbnails should read the same for every team: "Needs: QB, RB, FB, WR, TE, OT, OG, C, DE, DT, ILB, OLB, CB, FS, SS, P, K, RS, SPT." In the NFL, everybody always needs more at every position. Consider the New England Patriots, who came within 35 seconds of perfection last season. Their offensive line suddenly looked suspect in the Super Bowl, they have a question mark at wide receiver with Donte' Stallworth gone, they're playing with fire at backup quarterback, their linebackers are aging, they need a better pass rush, they are hurting at cornerback since Asante Samuel departed, it's not clear Brandon Meriweather is the answer at safety and their special teams are not special. The Patriots are among the best teams ever assembled -- and they need help at every position!
Time for a Resign-to-Run Law: On March 13, and again on April 8, Hillary Clinton, John McCain and Barack Obama were in Washington at the same time and present for the business of the United States Senate. I mention this because, so far as I can tell, those are the only dates in 2008 when all three presidential candidates have been in Washington attending to the business of the Senate -- and the business of the United States Senate is their job. Taxpayers are providing the three senators with salaries of $169,300 per year, health-care benefits and pension contributions, plus staff support and office expenses, to do nothing but tour the country campaigning for their own self-promotion. If you told your boss you wouldn't appear at your job for months because you were going to travel around boasting about yourself, would you expect full pay and benefits to continue? The tax-funded salaries paid to Clinton, McCain and Obama are for doing the people's business. Instead, all three are absent from their desks, engaged in round-the-clock self-promotion.
Everyone, including the press corps, seems to assume that if you say the words "I am running for president," then it's fine to receive tax-funded pay yet perform no duties. Au contraire! It is a conflict of interest, plus negligent, to hold one position, accepting pay, yet spend your time attempting to obtain a different position. Presidential candidates who are taking tax-funded pay from an office whose duties they are not performing essentially hold no-show jobs, and the no-show job is among the worst forms of government corruption.
States including Arizona, Florida and Georgia have in recent years passed "resign to run" laws that require an office-holder seeking higher office to resign from his or her present position. The time has come for a resign-to-run law at the federal level. Membership in the U.S. Congress should not be treated as a lifetime entitlement that pays whether you perform your sworn responsibilities or not. In 2007, Senator Chris Dodd of Connecticut, then in the Democratic field, actually moved to Iowa and lived in the state -- yet was still taking his taxpayer-funded salary for serving the people of Connecticut, a job he was making no pretense of performing. It may be nonsense that the current political reality requires a year of round-the-clock campaigning to win a party's nomination, but taxpayers should not subsidize this nonsense.
A federal resign-to-run law would make government more accountable, and how can anyone but the holder of a no-show job object to that? Such a law also would eliminate many marginal candidates, especially senators who have scant hope of winning a nomination but declare for the presidency for reasons of vanity -- then demand taxpayers support them as they self-stroke their own egos. Members of the Washington establishment constantly praise the risk-taking spirit of entrepreneurs, but when it comes to themselves, they want zero risk, running for president while clinging to their current positions. If declaring for the presidency meant a senator could lose his or her seat, few senators would run. And what a relief that would be!
Here's a backup possibility: return Congress to per diem. Until 1855, members of the Senate were paid on a per diem basis -- they drew money for those days on which they engaged in their duties. Suppose senators were given a high per diem rate (say $1,000 per day) but only received this pay when actually performing the public's business, rather than when campaigning, fundraising or slipping away for other self-serving activities. Panic would strike the Senate if such a law were passed. Senators would be expected to earn their pay!
NBA to East Coast -- Please Don't Watch Our Games: For two consecutive years, TMQ has lamented that the interesting early playoff action in the NBA has been in the Western Conference, yet the NBA draws up its schedule such that weeknight games in Arizona, California, Colorado and Texas don't start until 9:30 or 10:30 p.m. ET. Half the United States population lives in the Eastern Time Zone; the NBA schedules many appealing playoff games too late for half the U.S. population to watch, then claims to be shocked and amazed that ratings are low. With the Western Conference hotter than ever, you'd think the problem would finally be fixed. Think again -- weeknight contests of Lakers versus Nuggets have a 10:30 p.m. ET tip time, weeknight Spurs versus Suns games tip at 9:30 or 10:30 Eastern, likewise for weekend Rockets-Jazz games, and the New Orleans-Dallas meetings in Dallas tip at 9:30 Eastern. How is it that the NBA muffs this up year after year? No NFL game other than the opening-weekend "Monday Night Football" doubleheader kicks off later than 8:30 p.m. Eastern; the NFL schedules West Coast and Mountain Zone games early enough for people east of the Mississippi River to tune in. And perhaps it is not some amazing coincidence that NFL ratings tower over NBA ratings.
If ABC News Covered the First Presidential Debate: LIBERTY HALL, Philadelphia, 1796. Welcome to this ABC News presentation of Vote 96, the first contested presidential election in American history. In 1788 and 1792, the Electoral College unanimously chose George Washington. Now John Adams and Thomas Jefferson are top contenders for the presidency, though, of course, there is a Clinton in the race, New York Governor George Clinton. Adams and Jefferson will be questioned by Charles Gibson and George Stephanopoulos.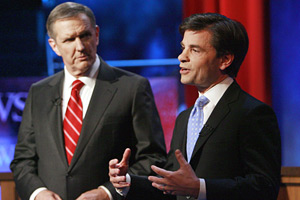 AP Photo/Matt Rourke
"Senator Douglas, forget about the Dred Scott ruling, the Kansas question and the debate over popular sovereignty. Why don't you wear a lapel pin?"
GIBSON: Mr. Jefferson, isn't it true that you once ate at the same tavern table as a Tory sympathizer who 38 years previously might have believed in the overthrow of the United States government?
JEFFERSON: Though I reject the Tory cause, I would defend to the death a man's right to advocate it. What has your question to do with anything?
STEPHANOPOULOS: Vice President Adams, recently you told a closed-door meeting of fundraisers the Whiskey Rebellion began because backwoods Pennsylvania citizens are "bitter" and "cling to muskets and Methodism." Doesn't this statement prove you are an elitist, a phony, can't win and also are nowhere near as smart as me?
ADAMS: Voters wish to know about the French Revolution, state's rights, relations with Upper Canada, the controversy over the First Bank, the rumors of discovery of a smallpox vaccine. Prithee question me on any such matter of importance, sir.
STEPHANOPOULOS: Mr. Jefferson, you said that during the French and Indian War, you visited the site of the Battle of Ticonderoga, and "there were arrows whizzing all around my head." YouTube videos surfaced showing that on the date in question, you were actually attending class at the College of William and Mary. Though you have already apologized for this mistake 700 times, please apologize again. Be sure to grovel, and please make some tiny slip-up in choice of words so we have fresh material to obsess over.
JEFFERSON: What is YouTube?
GIBSON: Mr. Adams, you said you were in the family pew at your Unitarian church when your pastor advocated abolitionism. Then when pandering to voters in South Carolina, you said you were not in church that day. Isn't this the seeming appearance of the possibility of a pattern of contradictions?
ADAMS: Good sir, I prefer to speak of the issues, such as the John Treaty. Excuse me, I meant the Jay Treaty.
STEPHANOPOULOS & GIBSON TOGETHER: Gaffe! Gaffe! [They high-five each other.]
GIBSON: Mr. Jefferson, previously you opposed the Second Amendment, and you have cut verses out of your personal Bible because you don't believe in miracles. Now your leaflets say you love guns and God so much that you shoot firearms in church. When was the last time you actually fired a gun?
JEFFERSON: I do not see that as relevant.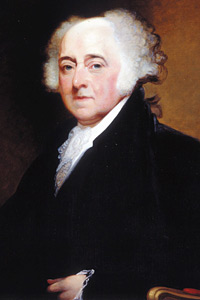 AP Photo
After checking out the blogsphere, reading his RSS of the latest polls and visiting the HuffPo to skim postings about the ABC debate, John Adams decided to become a corporate P.R. consultant.
GIBSON: [Pulls out a musket] Here is a musket. When loading, which do you force down the barrel first, the wadding or the powder? Anyone who often fires a gun can answer that.
JEFFERSON: He threatens us with a flintlock -- attack him! [Audience charges the stage.]
GIBSON: Oh -- the crowd is turning on me.
More Trade-Down Theory: The debate about trading down focuses on the glamorous first round, but what about latter rounds? Fans usually cheer when a team trades, say, two third-round choices for a second-rounder, or two fourths for a third, because higher selections are presumed sexier. Yet in most cases, you'd be better off with two fourth-round choices rather than one third-rounder. Unscientifically, TMQ checked the third and fourth rounds of the 2005 draft (a draft can be effectively evaluated after three years). The 2005 third round produced eight to 10 starters, only one well-known player (Frank Gore) and numerous gentlemen who have contributed little. The fourth round that year produced about the same number of starters but five notable players: Marion Barber, Brandon Jacobs, Chris Canty, Kerry Rhodes and Todd Herremans.
Still More Trade-Down Theory: Jeff Legwold of the Rocky Mountain News recently suggested that Mike "The Ultimate Leader" Shanahan do something he has never done as Broncos coach: spend his first-round pick on a running back. Given Denver's history of finding 1,000-yard rushers late in the draft, TMQ counters that Shanahan should trade his first-round choice for 55 sixth-round selections, then use them all on running backs! According to the traditional draft trade value chart, Denver's first-round selection this year is worth 55 sixth-round choices, averaging the value of sixth-round picks. Yes, I know 55 sixth-round choices would cause some complications under the roster limit. But does anyone doubt that Denver, or any team, would be better off with 55 sixth-round choices than with one first-round choice? Even assuming a max of half the sixth-rounders made your team, they'd still outperform your single first-round choice. And speaking of the late part of the draft …
Seventh-Round Forecast: Every Tom, Dick and Harry has a first-round mock; increasingly, every Tammy, Doris and Helen also forecasts the first round. But only Tuesday Morning Quarterback saunters where others fear to tread by going directly to forecasting the seventh and final round:
208. Miami Dolphins: Gary Barnidge, Louisville, tight end. At the combine, impressed scouts with a 29.642 in the pogo stick chicane.
209. Minnesota: Matt Flynn, LSU, quarterback.
210. Kansas City: Mackenzy Bernadeau, Bentley, guard. Aspires to be the first-ever NFL player from Bentley, a business college.
211. New Jersey Jets: Rod Johnson, Oklahoma State, linebacker.
212. Atlanta Falcons: Chase Ortiz, TCU, defensive end. Has driven from Fort Worth to San Antonio in 3:28.
213. Oakland Raiders: Corey Clark, Texas A&M, tackle.
214. San Francisco 49ers: Derek Fine, Kansas, tight end. Inevitably to be nicknamed "Not So" by Chris Berman.
215. Baltimore Ravens: Jerome Felton, Furman, fullback. Seems to have intangibles, but it's hard to be sure.
216. Detroit Lions: Brian Bonner, TCU, safety. Horned Frogs just flying off the board at this point.
217. St. Louis Rams: Jason Reitman, independent filmmaker. Rams want him to produce a documentary on their Super Bowl walkthroughs.
218. New Orleans Saints: George Chukwu, Rice, defensive tackle.
219. Buffalo Bills: Bernard Morris, Marshall, quarterback. Wowed scouts at the combine with his ability to complete couplets in iambic pentameter.
220. Denver Broncos: Paul Raymond, Brown, wide receiver. Aced "Econ 1880, Introduction to Two-Sided Matching Markets."
221. Carolina Panther: Brett Kern, Toledo, punter. When Rockets coach Tom Amstutz is angry, he gives players a red glare.
222. Chicago Bears: Thomas Williams, USC, linebacker.
223. Houston Texans: Sam Keller, Nebraska, quarterback. He has all the tools, and the repair shop wants them back.
224. Buffalo Bills: Jason Rivers, Hawaii, wide receiver. As a senior he had 92 receptions for 1,174 yards and 13 touchdowns -- disappointing numbers in the Hawaii offense.
225. Arizona Cardinals: Tim Hightower, Richmond, running back.
226. Oakland Raiders: Marcus Richardson, Troy, linebacker. Confounded opponents by shouting defensive signals in Greek.
227. Denver Broncos: David Hale, Weber State, tackle. Broncos file protest with league over being listed next to the Raiders on draft trackers.
228. Washington Redskins: Nehemiah Warrick, Michigan State, safety. Confounded opponents by shrieking at them, "Thou accursed Persian cup-bearer!"
229. Tennessee Titans: Kerry Brown, Appalachian State, guard.
230. Philadelphia Eagles: Justin Tryon, Arizona State, cornerback. Inevitably to be nicknamed "Two Garments Only" by Berman.
231. Cleveland Browns: Chris Horton, UCLA, safety.
232. Atlanta Falcons: Derrick Doggett, Oregon State, safety. As a child, involved in recruiting scandal when he orally committed to middle school.
233. Seattle Seahawks: Shane Longest, Xavier, kicker. No Berman nickname necessary.
234. San Diego Chargers: Jaymar Johnson, Jackson State, wide receiver.
235. Dallas Cowboys: Adamm Oliver, Georgia Tech, defensive end. At combine, became confused and ran the 40-yard dash while holding the 225-pound barbell.
236. Indianapolis Colts: Alvin Bowen, Iowa State, linebacker.
237. Green Bay Packers: James Blair, Western Michigan, guard.
238. New England Patriots: Kyle Wright, Miami, quarterback. Patriots impressed that he is a distant descendant of Mata Hari.
239. Kansas City Chiefs: Andrew Larsen, Cal, punter.
240. Baltimore Ravens: Malcolm Kelly, wide receiver, Oklahoma. Really slid after throwing a fit on his Pro Day.
241. Carolina Panthers: Anthony Alridge, Houston, running back. Was the body double for Smash Williams in "Friday Night Lights" locker room scenes.
242. Washington Redskins: Fernando Velasco, Georgia, center.
243. Chicago Bears: Rex Grossman, quarterback, Florida. If he'd been chosen low he would be considered a big success, right?
244. Cincinnati Bengals: Dick Wolf, "Law & Order," producer. In the National Football League system, the Cincinnati fans are represented by two separate yet equally important groups: the coaches who are in a daze and the players who break the laws. These are their stories.
245. Miami Dolphins: Chris Brown, Tennessee, fullback.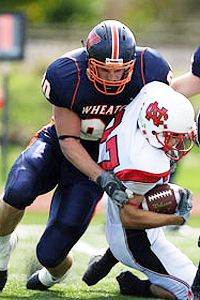 Wheaton College
Wheaton's Andy Studebaker -- he's the Avanti of Division III players.
246. Cincinnati Bengals: Brian Stamper, Vanderbilt, tackle. Has read "The Blind Side" by Michael Lewis, now pouring over galleys of the forthcoming "Blindsided" by K.C. Joyner.
247. Chicago Bears: Joe Clermond, Pittsburgh, defensive end.
248. Chicago Bears: Matt Spanos, USC, center. Shrewdly stockpiling late seventh-round picks, Bears totally dominate bottom of draft.
249. Washington Redskins: Adarius Bowman, Oklahoma State, wide receiver.
250. Carolina Panthers: Al Phillips, Wagner, cornerback. Seahawks' faithful continue to demand that "Ride of the Valkyries" be played during team introductions.
251. Buffalo Bills: Drew Miller, Florida, center.
252. St. Louis Rams: Andy Studebaker, Wheaton, linebacker. Classic player, but if he becomes injured, will be hard to get spare parts.
Next Week: TMQ grades the draft using the NCAA's Academic Progress Rate.
In addition to writing Tuesday Morning Quarterback, Gregg Easterbrook is the author of "The Progress Paradox: How Life Gets Better While People Feel Worse" and other books. He is also a contributing editor for The New Republic, The Atlantic Monthly and The Washington Monthly.

2008 NFL DRAFT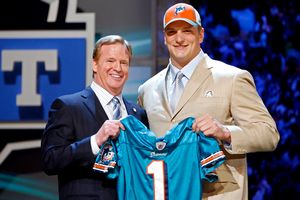 The 2008 draft lasted 14 hours, 26 minutes. Michigan offensive tackle Jake Long (above), selected by Miami, was the No. 1 overall pick. This year's Mr. Irrelevant -- the last pick in the draft -- is David Vobora, a linebacker from Idaho selected by St. Louis with the 252nd pick.


Round-by-round, team-by-team picks
•
Round:
1
|
2
|
3
|
4
|
5
|
6
|
7
•
AFC East:
Buffalo
|
Miami
|
N. England
|
NY Jets
•
AFC North:
Baltimore
|
Cinc.
|
Cleve.
|
Pitt.
•
AFC South:
Houston
|
Indy
|
Jax
|
Tennessee
•
AFC West:
Denver
|
K.C.
|
Oakland
|
San Diego
•
NFC East:
Dallas
|
NYG
|
Philadephia
|
Wash.
•
NFC North:
Chicago
|
Detroit
|
G.B.
|
Minnesota
•
NFC South:
Atlanta
|
Carolina
|
N.O.
|
Tampa
•
NFC West:
Arizona
|
S.F.
|
St. Louis
|
Seattle
Inside Radio City Music Hall
•
Panoramic views
Commentary/Features
•
Wickersham: Bears, Ravens take opposite turns
•
Williamson: Remembering Heath Benedict
•
Yasinskas: Falcons should be patient with Ryan
Day 2
•
Clayton: Six draft trends
•
Chadiha: 10 great marriages
•
Walker: NFC East draft review
•
Sando: NFC West draft review
•
Willamson: NFC North draft review
•
Yasinskas: NFC South draft review
•
Sando: AFC East draft review
•
Williamson: AFC West draft review
•
Walker: AFC North draft review
•
Yasinskas: AFC South draft review
Day 1
•
Clayton: Day 1 winners and losers
•
Williamson: Davis couldn't resist McFadden
•
Walker: Ravens had to work for Flacco
•
Sando: Long addresses Rams' D-line needs
•
Chadiha: AFC East hustle continues on draft day
•
Yasinskas: Ryan gives Falcons hope, identity
Mel Kiper
•
Kiper's team-by-team draft grades
•
Day 1 good, bad moves: Questionable Titans
News
•
2008 breaks previous trade record
•
Jets sign NCAA career rushing leader Woodhead
•
Lions pick Smith with first pick of second day
•
Miami, Long make it official
|
NFL Local
Video
•
Green: First-round pick instant analysis
•
Complete draft analysis
•
One-on-one with Jake Long
•
One-on-one with Chris Long
•
One-on-one with Matt Ryan
•
One-on-one with Darren McFadden
•
One-on-one with Glenn Dorsey
•
One-on-one with Vernon Gholston
•
Ed Werder on Cowboys
•
Norv Turner interview
•
Fantasy Spin
Audio
•
Jake Long
|
Chris Long
|
Matt Ryan
•
Darren McFadden
|
Vernon Gholston
•
Glenn Dorsey
|
Keith Rivers
|
Chris Williams
•
Lawrence Jackson
SportsNation
•
Vote:
Best first-round pick?
|
Potential busts?
•
Grades: How did your team fare?
Scouts Inc.
•
Analysis:
Round 1
|
2
|
3
|
4
|
5
|
6
|
7
Cheat Sheets
:
RB
|
DL
|
DB
|
LB
|
OL
|
REC
|
QB
•
McShay: Seven-round mock draft
•
Revisiting the 2005 draft
|
2005 re-draft
ESPN Top Headlines