This story has been corrected. Read below
NFL coaches, scouts and front-office personnel invest months in preparing for the moment their draft selections are chosen -- more time and effort on a man-hours basis than is invested in assembling game plans -- while sports pundits yak for weeks nonstop about draft strategy. Yet in most cases teams might as well be pulling names from a hat. All the pseudo-science of draft preparation usually goes down the drain, while most public attention is wasted. No one knows who's going to be good.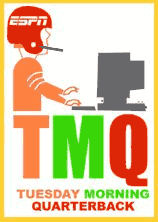 Year in and year out, months of homework and bull sessions lead to blown draft choices both ways -- clunkers chosen high, great players overlooked. Ryan Leaf or Walt Patulski become top-of-the-draft fiascos, Tom Brady or London Fletcher last until late or are never chosen at all. In the decade before this weekend, megabucks NFL scouting departments spent more first-round picks on wide receivers than any other position, though experience shows a high percentage of such picks are wasted (see more below). Year in and year out, megabucks NFL scouting departments recommend that first-round picks not be invested in guards or centers, though Scouts Inc. says experience shows
these are the positions
most likely to yield high-drafted quality starters. A few draft decision-makers, such as Bill Belichick and Bill Polian, consistently do better than the norm, but a big reason is that they place rookies into well-run team environments. In the main, no one knows who's going to be good.
Year in and year out, incredible significance is attached to specific draft decisions -- though most turn out to differ little from chance. In 2003, Charles Rogers, Dewayne Robertson and Johnathan Sullivan went at the top of Round 1, regarded as the cream of the crop by full-time super-knowledgeable football insiders. Two of the three have already busted their way out of football entirely, while the third was just unloaded for a late-round draft pick, conditional on his making an NFL roster in the summer. Meanwhile in 2003, not one of the full-time super-knowledgeable football insiders drafted Antonio Gates, now a perennial Pro Bowler. In 2004, wide receiver Reggie Williams was the ninth player chosen in the draft, and after the 255th name was called and the television lights turned off, wide receiver Wes Welker had not been chosen. So far the undrafted Welker has more career catches than Williams. There are dozens of similar examples. Many of the gentlemen chosen in the first round on Saturday will turn out to be clunkers, while numerous unknowns tabbed late in the draft will turn out to be tremendous performers. It's just that I don't know which ones they are. And neither does anyone else.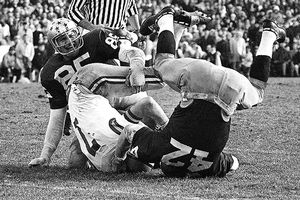 AP Photo
Walt Patulski (85) -- No. 1 choice in the NFL draft, asterisk a couple years later.
Yet all parties in the system -- scouts, touts, coaches, general managers, sportswriters, TV analysts -- want to pretend they do know who will be good. Pretending you know what you're doing justifies your salary. (Note to ESPN management: I know what I'm doing.) Realizing that drafting is glorified guesswork is the beginning of NFL wisdom.
You
didn't take Saturday seriously, did you?
I also hope you don't take tenths or hundredths of a second seriously, though the draftnik system surely does. Aqib Talib went 20th, to the Bucs. Before the draft, the Houston Chronicle reported Talib's stock was rising because at his pro day he ran a Wright 40-yard dash, improving on the 4.46 he ran at the combine. Set aside that it is inconceivable the timing was accurate enough to make this a statistically significant difference. Suppose the timers were flawless -- 4.42 is 0.9 percent faster than 4.46. Vernon Gholston went sixth, to Jersey/B. Before the draft, Todd McShay reported that Chris Long looked slow at 4.75, but Gholston looked fast at 4.67. Assume it's 10 yards to the quarterback, considering forward and perpendicular movement. A defensive end who runs a 4.67 would get there 7 inches before a defensive end who runs a 4.75. Leodis McKelvin went 11th, to Buffalo. Bills coach Dick Jauron said he was pleased that McKelvin is "a legitimate 4.38." Though 4.38 is half a percent faster than 4.4.
Meaningless decimals have run wild throughout football scouting and commentary. Dominique Rodgers-Cromartie, who went 16th to Arizona, ran the cone drill in 6.74 at the combine. Not in 6.73, not in 6.75 -- in 6.74. Absurd hundredths were scattered throughout combine results. Last year on draft day, the ESPN broadcast crew debated whether Yamon Figurs runs a 4.29 or 4.3. A player running a 4.29 would complete a 40-yard dash 3 inches ahead of a player running a 4.3. And this business of wanting to run on a "fast surface" for the best possible hundredths-of-a-second readout. Malcolm Kelly of Oklahoma ran a 4.68 on FieldTurf at the University of Oklahoma, then arranged a retest during which he ran a 4.63 on AstroTurf. So the "fast surface" improved his time by 1 percent. And NFL scouts took this seriously.
But then we take everything about the draft seriously, though year in and year out, the empirical record shows the draft is glorified guesswork. Below, my team-by-team comments. Note to ESPN management: I know what I'm doing.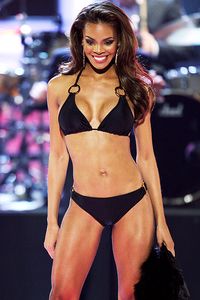 AP Photo/Eric Jamison
If traditional males had to choose between the Miss Congeniality winner and the swimsuit winner, which would -- wait, why are we even asking?
Arizona.
One playoff victory in the past 61 years: Abandon hope, all ye who enter
here
.
Atlanta: Falcons owner Arthur Blank told Peter King of Sports Illustrated he feels disappointed that Bobby Petrino never wrote him a letter of apology. Mr. Blank, you still don't get it about Petrino -- only people with class apologize.
Baltimore: Net of Ravens' first-day trades: The Nevermores gave up the eighth choice overall and a sixth-round pick for the 18th choice overall (used to grab Joe Flacco, whom they might have chosen had they stayed put), a third-round pick and two fourth-round picks. At a time when trading down is hard, credit Ozzie Newsome for pulling three midround choices out of the air.
Obviously this item exists to justify the swimsuit picture: General Electric and Donald Trump -- now there's a combo -- were the sponsors as Crystle Stewart of Texas became Miss USA this month. The pageant's sub-award, Miss Congeniality, has been given out since 1965, but only once has Miss Congeniality gone to the same woman who won Miss USA. This tells us something, though I am not sure what.
Buffalo: The Bills are still reeling from the final two years of bumbling former president and general manager Tom Donahoe; his 2004 and 2005 drafts produced just one player expected to start in 2008: receiver Lee Evans. Donahoe was also the genius who let Pat Williams go, though Bills owner Ralph Wilson strongly wished to re-sign the Ticonderoga-class defensive tackle. Donahoe told Wilson that Williams was washed up; since being shown the door at Buffalo, Williams has been voted to two Pro Bowls. Note that after being shown the door himself in 2006, Donahoe has not worked in football.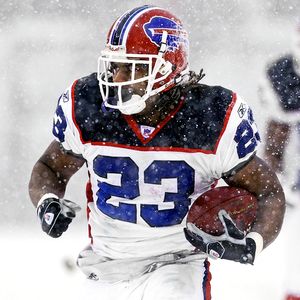 AP Photo/Ron Schwane
Marshawn Lynch plays in the snow in his pajamas.
Bottom line for a web of Bills trades over the past year: Buffalo surrendered the complaining Willis McGahee and the fading Takeo Spikes for Trent Edwards, Marcus Stroud and a late draft choice. That's the kind of sharp management decision making the Bills lacked under Donahoe. But note, Buffalo has not made the playoffs since abandoning red, white and American flag blue -- not to put too fine a point on it, but the single most successful color scheme in world history -- for its current hideous livery based on a hue TMQ calls Rusting Russian Dreadnaught Aft Bulkhead Cyanic. Plus the new Bills road uniforms look like toddlers' pajamas. Please Bills, simply return to your handsome old unis. No questions will be asked.
Carolina: The Cats paid quarterback money for tackle Jeff Otah, trading a first, second and fourth choice for him. This gent better perform. And Carolina better post a few W's, since its 2009 first-round draft pick choice is already gone.
Chicago: Honk if you want to play quarterback for the Bears! Chicago just burned through 12 draft choices without selecting a quarterback. The team's depth chart shows Rex Grossman and Kyle Orton and two undrafted rookie free agents, Caleb Hanie and Nick Hill, that the team signed Monday. The Bears are approaching their third consecutive decade without a franchise signal-caller, and seemingly, at this point no longer even trying to find one.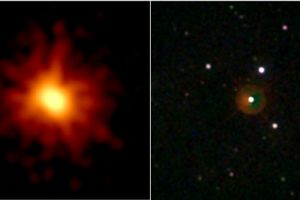 NASA
This happened 7.5 billion years ago, halfway across the universe: and was so bright it could be seen from Earth with the naked eye.
A cosmic thought:
On March 19, astronomers using NASA's Swift orbital telescope detected what was both the most distant object ever visible to the naked eye, and by a huge margin the brightest object ever seen.
Gamma ray burst GRB 080319B
, perhaps caused by the explosion or collapse of a mammoth star, occurred 7.5 billion light years away -- roughly halfway across the observable universe. That means whatever caused GRB 080319B happened 7.5 billion years ago, long before our planet formed. Yet 7.5 billion years later, the light from this event could be seen in Earth's sky
without a telescope
. The farthest-away event previously visible to the naked eye, a supernova in the galaxy called M33, was 2.9 million light years distant -- in the 'hood compared to GRB 080319B. NASA reported, "GRB 080319B's optical afterglow was 2.5 million times more luminous than the most luminous supernova ever recorded, making it the most intrinsically bright object ever observed."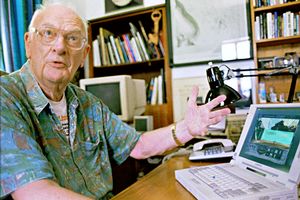 AP Photo/Dexter Cruez
Arthur C. Clarke, 1917-2008.
As TMQ has noted before, cosmic gamma bursts, which advanced instruments are detecting with increasing frequency, are both majestic and spooky. It is majestic there was a moment in our cosmos so dazzling, the light could still be seen halfway across the universe 7.5 billion years later. It is spooky that "hard" radiation from a gamma burst this powerful may have wiped out all life in the galaxy where the explosion occurred. The same day the splendid and spooky ancient light reached Earth, the Swift telescope detected three other strong gamma bursts, most ever seen on a single day -- and also on that day, Arthur C. Clarke died. Astronomer Judith Racusin of Penn State University speculated that all these fantastically bright flashes were the universe saying goodbye to Clarke.
Cincinnati: The Bengals screw up in every imaginable way, so let's mention one that has been overlooked. Last year, Cincinnati let guard Eric Steinbach go in free agency; Steinbach went on to have a terrific year for the Browns, helping to trigger their winning season. Dazed-and-confused Bengals coach Marvin Lewis said Steinbach was let go because in an NFL offense the tackles, running backs, quarterbacks and wide receivers should be highly paid but the guards, centers and tight ends should not be. Huh? Pay should be determined by a mix of performance and luck (your luck is good if your contract expires when you're playing well, as happened with Steinbach). Anyway, let's test Lewis' theory against the latest Super Bowl winner. The Giants' quarterback was very well paid, but the team's two running backs were making the league minimum. Jersey/A had a well-paid wide receiver, Plaxico Burress, but the game's pivotal catch was by league-minimum David Tyree. The Giants' interior linemen make about the same as the tackles, while the team last season played both a very highly paid tight end (Jeremy Shockey) and a league-minimum tight end (Kevin Boss). There's just no relationship between what Lewis claims an NFL offense's salary structure should be, and the salary structure of the offense of the defending champion.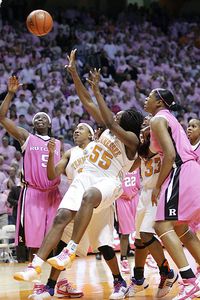 AP Photo/Wade Payne
"About" 0.3 seconds failed to run off the clock during this play.
Absurd tenths in women's basketball:
In the Tennessee versus Rutgers women's basketball game in Knoxville on Feb. 11, Tennessee won 59-58 when, according to The Associated Press, "the game clock appeared to pause for more than a second just before reaching zero, and Tennessee made a pair of foul shots with two-tenths of a second remaining." The speculation was that a homer clock operator helped the first-ranked Vols win the game. AP reported, "Television replays showed the game clock seemed to pause at two-tenths of a second for more than about 1.3 seconds" as Tennessee struggled for a last-gasp rebound and got the foul call. Thus The Associated Press has introduced the concept of "about 1.3 seconds." (In 2007, the Miami Herald said linebacker Jon Beason of the University of Miami ran the 40 in "around 4.62 to 4.63 seconds," turning hundredths of seconds into approximations.) If not for the absurdity of tenths of seconds on the game clock, the clock would simply have ticked from one to zero and Rutgers would have won.
Cleveland: The Browns just invested a No. 2, a No. 3 and a No. 5 in Corey Williams and Shaun Rogers, gentlemen their original teams -- Green Bay and Detroit -- did not want back. The Browns just gave a bundle of money to Donte' Stallworth, who had three employers in three previous seasons -- New Orleans, Philadelphia and New England -- none of whom wanted him back. Let's hope Cleveland knows something Detroit, Green Bay, New England, New Orleans and Philadelphia do not.
Dallas: Bottom line on a web of Cowboys trades: Dallas gave up Brady Quinn, J.P. Losman, Stewart Bradley and C.J. Gaddis for DeMarcus Ware, Felix Jones, Anthony Spencer, Julius Jones and Sean Ryan. (Julius Jones is now with the Seahawks; Bradley and Gaddis are with the Eagles; Ryan is with the Dolphins. TMQ wishes Ryan well because he went to high school in Kenmore, N.Y., my hometown.) In a weekend of a record 33 draft trades, Dallas made a league-high six trades. In a sequence of five Dallas transactions involving Cleveland (twice), Oakland, Detroit and Jacksonville, the Cowboys essentially banked their own third-round choice until 2009, swapped a high fourth-rounder for a low fourth-rounder, added fifth- and seventh-round picks, and added a fourth-round choice in 2009. If Jerry Jones were a stockbroker, he'd be accused of churning.
Denver: In a cutting-edge move, the Broncos attempt to corner the market on "defensive line futures," tradable rights to defensive linemen other teams no longer want.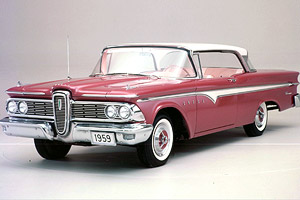 AP Photo/Ford Motor Co
Paparazzi hide in weeds, snap the car parked in Matt Millen's personal spot at Detroit Lions headquarters.
Detroit:
Proposed Lions' new motto: "The Bear Stearns of the NFL." Detroit is 31-81 under general manager Matt Millen. Prior to this weekend, Millen has supervised 18 first- and second-round draft picks. That bonanza of choices produced just five players who seem certain to start in 2008: Calvin Johnson, Jeff Backus, Dominic Raiola, Roy Williams and Ernie Sims. Four of the other 18 high choices may start: Drew Stanton, Ikaika Alama-Francis, Gerald Alexander and Daniel Bullocks. After that, it's all busts (Charles Rogers, Mike Williams) or players let go (Joey Harrington, Kevin Jones, Kalimba Edwards, Boss Bailey, Teddy Lehman). Tom Kowalski of the Web site Michigan Live reports the Lions have $15 million in back debt on their 2008 books for blown high draft picks, and will likely carry more over to 2009. Kowalski says that in 2009, the Lions will owe $4 million in accounting charges for Edwards, who will not play for them in 2008. This is like Ford still writing off amortization of the Edsel. Sign of the times: Ford just declared a profit, and its new Edge and Fusion models are hits. Matt Millen is doing such a poor job, by comparison Ford Motors is well-run. Maybe that was the plan all along. (The Lions are owned by the Ford family.)
Houston: The NFL's dullest team stays true to form -- can you name anyone the Texans chose this weekend? Cheat here -- one choice is lauded for "adequate feet."
TMQ would have preferred a foldout of Elle Macpherson: All mock drafts are worthless no later than midway through the first round, but Sports Illustrated took the cake with a multiple-page foldout mock draft, which correctly predicted just four of the 31 choices.
Indianapolis: The Colts used their highest choice on a center, who will eventually replace TMQ favorite Jeff Saturday. Another example of draft guesswork: Saturday, a future Hall of Famer, went undrafted in 1999.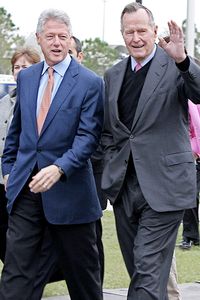 AP Photo/Chitose Suzuki
Hi, we're rich, give us your money.
Stop subsidizing rich former presidents:
Last year, TMQ complained
that although former chief executives George H. W. Bush and Bill Clinton are wealthy, both continue to take large amounts of presidential retirement benefits and other sweetheart payments -- money forcibly removed from the pockets of taxpayers who are struggling to get by. Reader Zach Stanley of Boston points out
this Politico story
indicating the situation is worse than my 2007 item suggested. Clinton, whose recently released tax forms show he has made more than $10 million per year since leaving office, nevertheless has already claimed $8 million in retirement benefits (and he's not retired), plus $3.2 million for office overhead, plus $420,000 for his phone bill. The later figure is difficult to take seriously; even if you yakked 24/7 on a satellite line to Tajikistan, it's hard to believe you could ring up $420,000 in telephone charges. Is some of this money really going to staffers for Clinton's speechmaking business? In public the very wealthy Clinton wags his finger about how the rich are shafting the average guy. He himself is shafting the average guy by claiming lavish tax subsidies.
All this is doubly vexing because the payments are made under the Former Presidents Act of 1958. That bill was enacted when news broke that former president Harry Truman was living on little more than his Army pension: As a matter of principle, Truman refused to give paid speeches, make endorsements or serve on corporate boards, because he believed such actions demeaned the dignity of the presidency. Phrases like "the dignity of the presidency" and "as a matter of principle" don't seem to have much meaning anymore in politics. But the whole point of the Former Presidents Act was to enable previous White House occupants to live comfortably without having to sell their names. Now Clinton is selling his name like mad, while George H. W. Bush, who was born into wealth, demands subsidies too. Thank goodness the dignified Truman did not live to see this selfish spectacle of ex-presidential money-grubbing.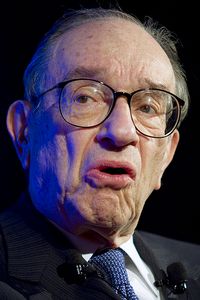 AP Photo/The Canadian Press, Jonathan Hayward
He knew what he was doing. Just ask him!
Jacksonville:
The Jaguars gave up a first-round choice, two third-round choices, a fourth-round pick and seventh-round selection in order to draft two defensive ends -- and Jax came into the draft looking strong at defensive end. Alan Greenspan said he knew what he was doing, too.
If the SDS could see us now: Last week was the 40th anniversary of the 1968 student shutdown of Columbia University, an event which occasioned considerable media thumb-sucking. The shutdown was a silly action with serious causes. The serious causes were the Vietnam War, free speech and the status of the civil rights movement. But we forget that the official reason for the protest was student opposition to a new Columbia University gymnasium to be built in Morningside Park. Flash forward to 2008. The Iraq war, personal freedom in a Patriot Act world and treatment of minorities remain as important as issues of 1968. But so far as TMQ knows, there is no student opposition to Columbia University's current $100 million sports fundraising drive to build new gymnasiums, expand training facilities, endow coaching positions and add athletic scholarships. It's the 21st century -- even antiwar students want their schools to win football games!
Jersey/A Giants: The Newark Star-Ledger recently reported that Jeremy Shockey demanded to be traded because … he doesn't like to block. If you don't like to block, perhaps you should not be a football player. TMQ noted before the Super Bowl that the Giants were better off without Shockey and Tiki Barber: "Now that Eli doesn't have to worry about feuding stars complaining about their touches, he can just throw to whoever's open and hand to whoever is hot. And suddenly, Eli is maturing." Shockey began to look bad when the Giants improved after he was injured, then made himself appear even less desirable by refusing to join his teammates on the sideline at the Super Bowl, instead sitting in a luxury box. Now we learn Shockey doesn't like to block -- he only wants to line up wide. Jersey/A may soon wish it unloaded Shockey to New Orleans when the chance arose. Why would any team even want this joker?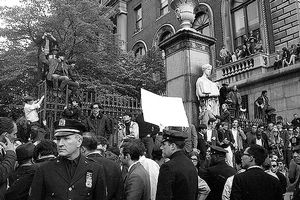 AP Photo/Marty Lederhandler
Ho, Ho, Ho Chi Minh, the NFL is going to win!
The Star-Ledger report casts further light on why the Jersey/A offense improved so markedly in its final few regular-season games, then blossomed throughout the playoffs. Shockey was refusing to block. He got hurt and his replacement, rookie Kevin Boss, enthusiastically blocked. Running games do tend to perform better if the tight end blocks. And which new Giants offensive coordinator was offending Shockey by demanding the tight end block? Kevin Gilbride, long ridiculed for refusing to run the ball -- today insufficiently appreciated for the Super Bowl-winning, 50/50 balanced offense he installed for Eli.
Jersey/B Jets: Net of the Jets' Dewayne Robertson deals: Jersey/B traded two first-round draft choices to obtain Robertson, and just unloaded him for a conditional late-round choice in 2009. The picks the Jets gave up were the 13th and 22nd selections in 2003. Had the Jets simply stayed at 13th and 22nd that year, and taking into account their needs then, they could have selected Ty Warren or Troy Polamalu 13th and Dallas Clark 22nd. Imagine how much better the Jets would be today.
Absurd Tenths in the NBA: In Game 4 of the 2007 NBA Finals, at the end of the second quarter, the ball careened out of bounds -- Cleveland possession with 0.2 seconds showing. Referee Bennett Salvatore confidently signaled the scorer's table to change the clock to 0.5 seconds, making it possible under NBA rules for the Cavs to attempt a catch-and-shoot. NBA referees can sense thirds of seconds! Better still was a Golden State-Washington regular-season game in 2007. The clock expired with the Warriors ahead by two points, and a Wizards player was fouled seemingly just after time expired. Officials looked at the replay and ordered one-tenth of a second put back on the clock, thus allowing two free throws and an opportunity for Washington to tie the contest. This ruling could have been correct only if basketball officials can sense a tenth of a second. When Golden State coach Don Nelson used profanity to protest the decision to restore one-tenth of a second, officials correctly signaled a technical foul on Nelson. Washington proceeded to hit all three free throws, winning the game. You don't often lose after being ahead when the clock expired! NBA vice president of basketball operations Stu Jackson reviewed the ending and declared, "The crew made the correct decision to conduct an instant replay review which ultimately resulted in putting one-tenth of a second back on the clock." Even NBA executives are now able to sense one single tenth of a second.
Kansas City: Honk if you want to play quarterback for Kansas City! The Chiefs just burned through six choices in the first three rounds of the draft, and still have only Brodie Croyle, Damon Huard and Tyler Thigpen at quarterback.
Record ratings for series finale of "Debate Friends": Jon Stewart says Hillary Clinton and Barack Obama debated so many times, their smackdown was a reality series. Now the 21-epsiode series has ended -- but without a series finale. Here is the tear-jerking series finale episode:
Shown: A familiar apartment. Scattered around are various sentimental objects: a foosball table, coffee cups from Central Perk, a deck of pinochle cards, bowling balls, travel brochures to Hawaii, Bibles, camouflage hunting suits and lots of shotguns. Hillary Clinton is seen dabbing back tears.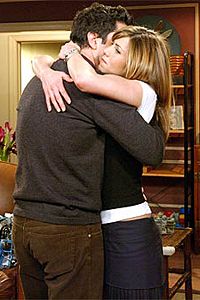 NBC
In the final reel, they made up and made out. The Barack-Hillary series finale may be somewhat different.
HILLARY: I can't believe I went to the wrong airport! I thought he was arriving at Dulles, but it was Andrews Air Force Base. I went to the wrong airport and missed him! I was going to beg him not to take his new job as president, and just go on debating me forever. (Throws back a shot of Crown Royal.) Maybe I should shoot some ducks to take my mind off this. (Picks up a shotgun.) I wonder which end the bullets go in? (Pours another shot of whiskey and throws her head back.)
(Unseen by Hillary, Barack Obama has stepped into the doorway and has been standing behind her the entire time.)
BARACK: I can't leave you. I just gave my ticket on Air Force One to John McCain. He can be president -- that seems to be what the Democratic National Committee wants, anyway. We'll go on running against each other forever.
HILLARY: Are you bitter?
BARACK: There's a campaign bus outside waiting for us. I heard there's a primary in Manitoba. It's nonbinding -- but let's go!
HILLARY: Oh Barack, promise me there will be sniper fire!
(They leave hand in hand. Schmaltzy music plays, and we see the apartment door close.)
Miami: Drew Brees offered to sign with Miami; the Dolphins did not want him, and since that moment, New Orleans has been to a conference championship game while Miami has gone 7-25. Last year the Dolphins passed on Brady Quinn, while trading away Wes Welker and Chris Chambers. Currently Miami is desperate for a quarterback, while in the 2007 Welker and Chambers combined for 178 catches, 2,145 yards and 12 touchdowns. You must go back to Troy Vincent in 1992 to find a Miami first-round draft choice who became an unqualified success. The prototypical Dolphins first-round choice of the past decade is John Avery (1998), who was waived by Miami after a single season and ended up spending most of his career in the CFL. Avery is now trying to become a sitcom writer; here you can download a podcast of him doing stand-up comedy at a Toronto club. Maybe Avery could pitch Hollywood on a sitcom about a dysfunctional 1-15 football team?
Final shocking revelation: The Fifth Cylon Is You! Before the recent start of its fourth season, "Battlestar Galactica" ran a double-spread inside-cover advertisement in the New Yorker showing its characters in a ridiculous Leonardo da Vinci's "Last Supper" pose, each holding a symbolic object that buffs are supposed to analyze for clues, under a headline promising the concluding season will offer "The Final Revelation." Season 1 of the show was straightforward; Season 2 started to wander on topics such as logic and reason; little that happened in Season 3 made sense. Like "Lost," viewers were supposed to keep watching week after week, asking themselves, "When will any of this be explained?" The New Yorker ad was ironic in that it simultaneously touted the series yet mocked the fact that last season's episodes appeared to be pure gibberish. And it's also ironic that "Battlestar Galactica" producers believe New Yorker readers are the show's core audience.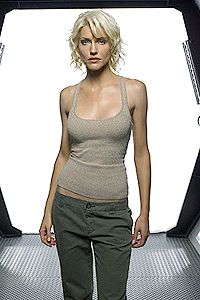 Sci-fi Channel
Show the prisoner to her cell -- but first, offer her the strapless Versace.
Here's my guess on what Galactica's "final revelation" will be: In the end, the show still will not make any sense. All the screwy plot twists of Season 3 -- supernatural visions that speak in riddles, mystic temples with evidence that ancient beings knew about the starship Galactica 1,000 years before it was built, culminating in the news that the people desperately fighting the evil Cylons are themselves Cylons -- simply will never be explained. Starbuck's ship explodes; we see her funeral. Later, Starbuck (and her ship) return and she claims to have found Earth. As far as viewers know, no one on Galactica has said to her, "So Kara, just what happened when we saw your ship explode? What specific actions did you take that allowed you to find Earth?" She's simply back as a member of the crew, nothing explained, and the latest plot line is that Starbuck is tormented by guilt because she has forgotten the location of Earth. Next time you find something entire fleets of super-advanced starcruisers are searching the galaxy for, write down the directions. As the writers for "Lost," "Heroes" and other series have shown, it's a lot easier to pen episodes if the action does not have to make sense.
As Season 3 ended, TMQ noted that when the Galactica crew captured one of the gorgeous evil cyborgs known as Model Six, they threw her into the brig -- where her prison garb was a plunging evening gown. In the show's time, the start of Season 4 comes two months following the end of Season 3. We see that Model Six is still in her cell, and she is still wearing a plunging evening gown. Apparently on the opposite side of the galaxy, prisoners are always dressed for cocktails.
Minnesota: The Vikings surrendered a first-round choice and two third-rounders to obtain defensive end Jared Allen, plus they gave him a contract with $31 million in guaranteed money, more than the guaranteed money in LaDainian Tomlinson's contract. That's an awful lot to invest in a player with two DUI arrests in 2006 and another in 2002. (Some of the guaranteed money can be withdrawn if Allen gets in legal trouble.) If this guy is so good, how come Kansas City was ranked 28th against the rush in 2007? The Chiefs had great pass-defense stats, but because they were cellar-dwellers, opponents rarely needed to pass against them in the second half. Bad teams often rank high in passing defense -- 1-15 Miami was fourth against the pass last season. Minnesota has a stout rush defense, and figures Allen will improve its pass defense. But more often than not, what opponents were trying to do against Kansas City last year was run. And though Allen always hustles, when he was on the field, Kansas City was soft against the run.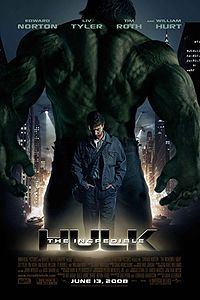 Universal Pictures
Even the poster for the upcoming "Hulk" remake resembles a scene from the awful original. Will this be the worst motion picture of all time?
Then why did he command such a price on the trade market? Because Allen led the league in sacks, football's most overrated stat. Sacks are important, of course -- but a defensive end who plays the run as well as pressures the quarterback is more valuable than a defensive end who gambles for sacks, as Allen often does. Watch tape of his 2007 sacks and note how many came on inside moves. A defensive end who cuts inside often is giving up his contain, gambling for sacks but surrendering sweeps and draws. Osi Umenyiora was a much better player last season than Allen, yet had fewer sacks; Umenyiora "maintained contain" and thus was just as good against the rush as the pass. Only once in the past two decades has the team with the league's sack leader gone on to win the Super Bowl in the same season. (The 1999 Rams, with Kevin Carter.) Gambling for sacks while disregarding the run is bad football -- it brings glory and money to you, but harms the team. Minnesota should know that Allen plays a selfish style, since this is not a carefully guarded secret. Allen was with the Chiefs for four seasons, and in that time the club went 30-35. If he's so great, why didn't his team have a winning record?
Allen trade Note 1: Alcohol consumption is high in cold-weather areas; Minnesota ranks third among the states for binge drinking. Maybe this is not the ideal environment for a guy with recent DUIs. Allen trade Note 2: In addition to the major price of a No. 1 and two No. 3 draft picks, Minnesota agreed to swap positions with Kansas City in Round 6, giving the Chiefs a choice that was No. 182 overall in return for Kansas City's No. 187 overall. This part of the transaction is so trivial as to seem a gratuity: "There you are my good man, there are your draft choices, and I've put in a little something extra for your trouble."
New England: The Pats sent San Diego a third-round choice in order to bank the Bolts' second-rounder in 2009. True, Bill Belichick has banked choices before. But putting an extra high selection on ice for next April might be smart if you knew what was next in Spygate II, and feared another draft-choice forfeiture.
Coming in summer of 2009 -- A Remake of "The Dark Knight": TMQ was hardly the only moviegoer annoyed that the 2006 flick "Superman Returns" turned out to be a remake of the 1978 movie "Superman," but at least a decent interval had passed. Now comes word that "The Incredible Hulk," due in theaters in June, is a remake of the 2003 movie "Hulk." A mere five years between original and remake -- isn't that a record for lack of creativity? Plus the 2003 "Hulk" was a crummy movie and a box-office bomb: An instant remake of a bomb! ("Hulk b-a-a-a-a-d," David Edelstein of Slate wrote at the time.) Maybe the remake will explain what's never explained in the comics. For instance, when Bruce Banner transforms into the Hulk, increasing to 10 times his previous size, where does the additional mass come from? And why do his pants expand at the same rate as his body? Presumably he's not still wearing the same pants he had on in 1962 when he was accidentally exposed to gamma rays.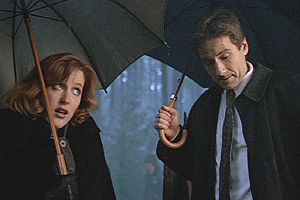 Fox
Mulder, your sister was kidnapped by space aliens, I was impregnated by aliens, aliens are about to enslave humanity -- let's relax by doing a movie where none of this is ever mentioned.
There's another "X Files" movie due in July. At the end of the "X Files" television series, Mulder and Scully learn that space aliens have infiltrated the United States government in preparation for enslavement of the human race in the Year 2012, when the current Mayan time cycle ends. According to the Hollywood grapevine, the upcoming "X Files" movie has a supernatural mystery plot that never mentions space aliens. Wait a minute: Our heroes find out the world is in danger of being invaded from outer space, then
forget
about this and move on to other concerns?
Oakland: In the offseason, the Raiders signed free agents to contracts with a paper value of about $180 million, half against the 2008 salary cap. How long until the Federal Reserve forces a sale of the Raiders to JP Morgan Chase, with taxpayers footing the bill?
Philadelphia: Rev. Jeremiah Wright was born in Philadelphia. Even if, like me, you think many of Wright's remarks are being lifted out of context for political purposes, now would be an excellent time for him to meditate in a remote monastery in Nepal for the remainder of the year. Example of context: attack ads show Wright saying only "God damn America." Deleted is the full quote, "God damn America for treating its citizens as less than human." The full quote isn't extremism, just an overblown choice of words. Steven Waldman, author of the must-read new book "Founding Faith," about the religious values of the Framers, recently noted, "Many of the Framers believed God would either bless or condemn the new nation based on its moral behavior, and so would have found perfectly fitting a warning that God would damn the country for wickedness."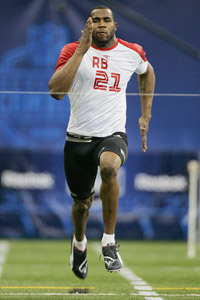 AP Photo/Michael Conroy, File
Announcers can tell how many hundredths of a second it will take Darren McFadden to reach the tape.
Pittsburgh:
Is "Limas Sweed" the best football name in years, or what?
Absurd hundredths on NFL Network: As noted by many readers, including David Warder of Cumming, Ga., last season during the Saints-Falcons game on MNF, Ron Jaworski said quarterback Chris Redman of Atlanta was doing a good job because he was "making his three-step drops in 2.1 seconds." Warder adds, "If only he'd have shaved those drops down to 2.0 seconds, the Falcons might have won." The time sense possessed by the "Monday Night Football" booth crew turns out to be nothing compared to the perceptive powers at NFL Network. NFLN's Rich Eisen was narrating combine coverage when Darren McFadden ran his 40. McFadden hit the finish line, and before his number was flashed, Eisen pronounced, "I'm going to say that was a 4.38."
San Diego: The Bolts tabbed DeJaun Tribble in Round 6. Wasn't DeJaun a character in "Star Wars"?
The revenge of the small schools: As a lover of small-college football, TMQ was pleased to see two Division I-AA players chosen in the first round. But they weren't the only non-football-factory draftees. Thirty below-Division-I players were selected -- from Division III colleges such as Wheaton and Mount Union, and Division II schools such Grand Valley State and Saint Augustine of North Carolina.
San Francisco: In happy news, the Candlestick Park name is back -- San Francisco voters approved a referendum forbidding the city from reselling the naming rights when the deal with Monster expired a few months ago. The Monster Park name referred to the firm that makes stereo cables; there are two large corporations named Monster, and no, I do not know what this tells you about Western capitalism. The Niners' venue also joins the double name fad: the playing surface itself has been christened Bill Walsh Field at Candlestick Park.
LITTLE SCHOOLS, BIG TALENT
Players drafted from non-Division I schools:

Division III
(6) PHI -- Andy Studebaker, DE, Wheaton
(6) IND -- Pierre Garcon, WR, Mount Union

Division II
(5) KC -- Brandon Carr, CB, Grand Valley State
(6) BUF -- Xavier Omon, RB, NW Missouri State
(7) TEN -- Cary Williams, CB, Washburn
(7) CLE -- Alex Hall, DE, St. Augustine
(7) CAR -- Mackenzy Bernadeau, G, Bentley

Division I-AA
(1) ARI - Dominique Rodgers-Cromartie, CB, Tennessee State
(1) BAL -- Joe Flacco, QB, Delaware
(2) CIN -- Jerome Simpson, WR, Coastal Carolina
(2) TB -- Dexter Jackson, WR, Appalachain State
(2) MIA -- Kendall Langford, DE, Hampton
(3) HOU -- Antwaun Molden, CB, Eastern Kentucky
(3) PHI -- Bryan Smith, DE, McNeese State
(3) WAS -- Chad Rinehart, G, Northern Iowa
(4) TEN -- William Hayes, DE, Winston-Salem State
(4) OAK -- Arman Shields, WR, Richmond
(4) BAL -- David Hale, OT, Weber State
(5) DET -- Jerome Felton, FB, Furman
(5) ARI -- Timothy Hightower, RB, Richmond
(5) ATL -- Kroy Biermann, LB, Montana
(6) CIN -- Corey Lynch, S, Appalachian State
(6) WAS -- Kareem Moore, S, Nicholls State
(6) MIN -- Jaymar Johnson, WR, Jackson State
(6) PHI -- Joe Mays, LB, North Dakota State
(6) MIA -- Lex Hilliard, RB, Montana
(6) CIN -- Matt Sherry, TE, Villanova
(7) KC -- Brian Johnson, DE, Gardner-Webb
(7) BUF -- Demetrius Bell, OT, Northwestern State
(7) ARI -- Brandon Keith, OT, Northern Iowa

Why high-drafted receivers go bust:
No wide receiver was taken in the first round, versus six taken in Round 1 in 2007. The wideouts' slide to the second round was a reflection of recent commentary on the frequency with which first-round-drafted wide receivers flop in the NFL. Set aside the Class of 2007 wide receivers, because for them it's too soon to tell. In the decade prior to 2007, 41 wide receivers were chosen in Round 1. Of those 41, six became Pro Bowl-caliber players (Randy Moss, Andre Johnson, Reggie Wayne among them); six became quality starters (Braylon Edwards and Lee Evans among them), 11 became average players; and 18 were out-and-out busts (Charles Rogers, Yatil Green, R. Jay Soward -- it's a cover-your-eyes list). Thus a first-round wide receiver is twice as likely to become an average player or a bust as to become a Pro Bowl performer or a quality starter. At the top of the draft, where the best athletes supposedly are found, the situation is particularly bad. In the decade prior to the 2007 draft, 16 wide receivers were chosen in the top 10. Only four (Plaxico Burress, Larry Fitzgerald, Torry Holt and Andre Johnson) became premium performers while six were so dreadful that spectators should have gotten their money back (David Boston, Koren Robinson, Charles Rogers, David Terrell, Peter Warrick and Mike Williams).
Why is the track record of first-round wide receivers poor, perhaps worse than for any other position? The answer seems the interplay of egotism and the differences between college and professional football. Quarterbacks have big egos, but every quarterback entering the NFL knows the challenge will be much greater than in college, and accepts that harder work is required. Wide receivers also have big egos -- by some measures, receivers have become football's most egotistical position (Chad Johnson, Randy Moss, Terrell Owens). But unlike quarterbacks, many wide receivers entering the pros either don't understand, or don't want to understand, that they will have to work much harder than they did in college. Instead they think nobody can cover them, that all they need to do is step onto the field and outrun everybody. In college, they really could outrun everybody; the worst NFL defensive back is better than most of the defensive backs they faced in college. Many wide receivers who were stars in college are drafted in the first round, and arrive in the NFL thinking they are unstoppable and only need to wave their hands for the ball. This is a formula for bust status.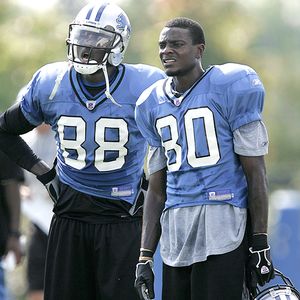 AP Photo/Paul Sancya
Welcome to Bustville. Stay as long as you can.
Then there are the differences between the collegiate and pro games. Pro passing attacks are more complex, requiring more memorization. Endless hours of film study and practice are needed to recognize the ever-shifting quirks of pro coverages; many high-drafted wide receivers simply refuse to put in the work, believing all they need to do is show up on game day and run fast. Many college wide receivers never were asked to execute more than the nine patterns of a standard nine-branch passing "tree." In the pros, the tree is just the beginning of a passing offense. In college, a star receiver can ad lib or carelessly "round off" his routes and still get the pass, because most defenders are not pro-caliber players. In the NFL, all defenders are pro-caliber; if every pattern is not run precisely, right down to the exact number of strides taken, the ball will sail into the stands, or into the other team's hands. Many college offenses do not require wide receivers to make sight adjustments, changing their routes based on presnap keys. All pro offenses require this. Some receivers are a lot better at sight adjustments than others, a weeding-out process that doesn't start until the NFL. And in the pros, everybody blocks and everybody runs decoy routes. Many college star wide receivers are accustomed to taking rushing downs off, or pulling up short when the play is to someone else. Coaches lose patience with high-drafted wide receivers who don't like to block or be decoys, and send in the sixth-round drafted guy who hustles like crazy, because receivers like that help you win games.
Seattle: Who better to replace retired blocking back Mack Strong than blocking back Owen Schmitt -- and how did this guy last till the fifth round?
Tampa: Owing to cell phone text-messaging misinterpretation at the Bucs' desk in Radio City, the team inadvertently chose Lol Fomc in the fifth round.
Tennessee: Jim Wyatt of Gannett News points out that under Jeff Fisher the Flaming Thumbtacks are 2-12 on the West Coast, 53-39 in all other road games. They should have drafted a travel agent.
Frequent flier pick of the draft: Choice No. 71, listed as "Baltimore Ravens from Baltimore Ravens through Buffalo and Jacksonville."
Washington: In other campaign news, Howard Dean suggests that the team leading in the fourth quarter of the Super Bowl should concede the game if the trailing team has political connections and complains a lot.
Here's some advice -- End the Advisory Committee: Some years ago, the NFL established a committee to advise juniors thinking of skipping their senior years. Each January, juniors can ask the committee for private advice on where in the draft they might be chosen; in theory this allows the junior to make a rational decision about whether to declare or return for senior year. But the Advisory Committee system has gone haywire and needs to be fixed, or junked altogether.
This winter, the Advisory Committee supposedly told Mario Manningham he would be a late first-round choice, told Steve Slaton and Davone Bess they would be second-round selections and told Erin Henderson and Adrian Arrington they would be third-round choices. (This is according to the grapevine; the Advisory Committee makes no public announcements.) Perhaps inveigled by the promise of lofty status, all declared. What happened? Manningham and Slaton went in the third round, Arrington was chosen in the seventh, Bess and Henderson were not selected at all.
Essentially, the NFL may have misled these guys into giving up a year of college education, plus the chance to improve and go higher in the draft as seniors. Obviously this was not what the NFL wished to do; it's a sterling example of the Law of Unintended Consequences. The core problem of the Advisory Committee concept is that everybody overestimates how many players will be chosen high. Suppose you collected all the first-round draft projections made by ESPN.com, ESPN, NFL.com and NFL Network analysts, representing the best in the business. They would show perhaps 50 players projected to go in the 31 slots of this year's first round. Brian Brohm, Dan Conner, Brandon Flowers, James Hardy, Chad Henne, DeSean Jackson, Malcolm Kelly, Phillip Merling, Limas Sweed, Devin Thomas and others were projected by leading analysts to be first-round choices, and were not. Analysts also collectively grade out as second- and third-rounders more players than can be chosen in the slots available in those rounds.
Because the Advisory Committee overestimates the likelihood of a player being chosen high, this system has the effect of entrapping players into giving up their final year of college. Any 20-year-old college junior wants to believe he will be a high choice by the NFL; when an NFL committee tells a 20-year-old this "might" happen, it is the fault of the committee, not the kid, for failing to give proper emphasis to the caveat that nothing is guaranteed. Either the Advisory Committee system should be scrapped, or its ratings made public, so the NFL would be embarrassed when it lures juniors into leaving school then getting bad news of draft day, or the NFL should adopt an NBA-like system that allows an underclassman to place his name in the draft pool, but withdraw and return to college if he isn't chosen where he thought he might be.
Next Week: See you in August when the NFL artificial universe resumes.
In addition to writing Tuesday Morning Quarterback, Gregg Easterbrook is the author of "The Progress Paradox: How Life Gets Better While People Feel Worse" and other books. He is also a contributing editor for The New Republic, The Atlantic Monthly and The Washington Monthly.

In an April 29 Tuesday Morning Quarterback story on ESPN.com's Page 2, the opponent of Southern Illinois in a 2007 NCAA men's basketball tournament game was incorrectly reported. The opponent was Kansas.
2008 NFL DRAFT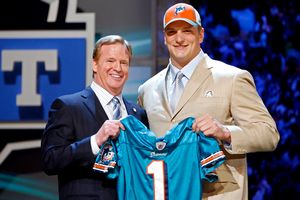 The 2008 draft lasted 14 hours, 26 minutes. Michigan offensive tackle Jake Long (above), selected by Miami, was the No. 1 overall pick. This year's Mr. Irrelevant -- the last pick in the draft -- is David Vobora, a linebacker from Idaho selected by St. Louis with the 252nd pick.


Round-by-round, team-by-team picks
•
Round:
1
|
2
|
3
|
4
|
5
|
6
|
7
•
AFC East:
Buffalo
|
Miami
|
N. England
|
NY Jets
•
AFC North:
Baltimore
|
Cinc.
|
Cleve.
|
Pitt.
•
AFC South:
Houston
|
Indy
|
Jax
|
Tennessee
•
AFC West:
Denver
|
K.C.
|
Oakland
|
San Diego
•
NFC East:
Dallas
|
NYG
|
Philadephia
|
Wash.
•
NFC North:
Chicago
|
Detroit
|
G.B.
|
Minnesota
•
NFC South:
Atlanta
|
Carolina
|
N.O.
|
Tampa
•
NFC West:
Arizona
|
S.F.
|
St. Louis
|
Seattle
Inside Radio City Music Hall
•
Panoramic views
Commentary/Features
•
Wickersham: Bears, Ravens take opposite turns
•
Williamson: Remembering Heath Benedict
•
Yasinskas: Falcons should be patient with Ryan
Day 2
•
Clayton: Six draft trends
•
Chadiha: 10 great marriages
•
Walker: NFC East draft review
•
Sando: NFC West draft review
•
Willamson: NFC North draft review
•
Yasinskas: NFC South draft review
•
Sando: AFC East draft review
•
Williamson: AFC West draft review
•
Walker: AFC North draft review
•
Yasinskas: AFC South draft review
Day 1
•
Clayton: Day 1 winners and losers
•
Williamson: Davis couldn't resist McFadden
•
Walker: Ravens had to work for Flacco
•
Sando: Long addresses Rams' D-line needs
•
Chadiha: AFC East hustle continues on draft day
•
Yasinskas: Ryan gives Falcons hope, identity
Mel Kiper
•
Kiper's team-by-team draft grades
•
Day 1 good, bad moves: Questionable Titans
News
•
2008 breaks previous trade record
•
Jets sign NCAA career rushing leader Woodhead
•
Lions pick Smith with first pick of second day
•
Miami, Long make it official
|
NFL Local
Video
•
Green: First-round pick instant analysis
•
Complete draft analysis
•
One-on-one with Jake Long
•
One-on-one with Chris Long
•
One-on-one with Matt Ryan
•
One-on-one with Darren McFadden
•
One-on-one with Glenn Dorsey
•
One-on-one with Vernon Gholston
•
Ed Werder on Cowboys
•
Norv Turner interview
•
Fantasy Spin
Audio
•
Jake Long
|
Chris Long
|
Matt Ryan
•
Darren McFadden
|
Vernon Gholston
•
Glenn Dorsey
|
Keith Rivers
|
Chris Williams
•
Lawrence Jackson
SportsNation
•
Vote:
Best first-round pick?
|
Potential busts?
•
Grades: How did your team fare?
Scouts Inc.
•
Analysis:
Round 1
|
2
|
3
|
4
|
5
|
6
|
7
Cheat Sheets
:
RB
|
DL
|
DB
|
LB
|
OL
|
REC
|
QB
•
McShay: Seven-round mock draft
•
Revisiting the 2005 draft
|
2005 re-draft
ESPN Top Headlines