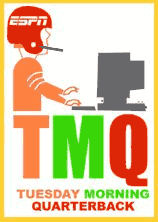 Actual quotation: "I don't want to be a distraction to the Packers." Brett Favre, July 26. Brutus also said he did not want to be a distraction to Julius Caesar. Et tu, Brette?
Now that Favrarama is finally over -- please, say it's over -- it's time to confront the real reason No. 4 is no longer a Packer: bureaucratic politics. From a distance, it appeared irrational that Green Bay actively wanted to be rid of the leading performer in its history -- Lambeau Field in January is not as frosty as this Packers press release -- while Favre actively wanted to disparage the organization that conferred celebrity on him. Yet seen through the lens of bureaucratic politics, all made sense.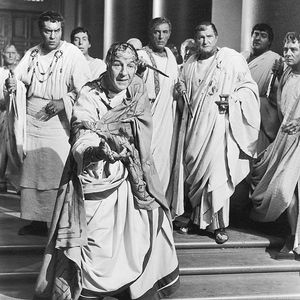 Hulton Archive/Getty Images
First Brutus demanded to be traded to Carthage, then he took matters into his own hands.
Favre wanted Green Bay management to bow and scrape before him, and wanted the world to think he was the one calling the shots. There's never been a Bill Russell or Dave Cowens in the modern NFL, as player-coaching doesn't work in such a complex sport. It seems Favre longed to be seen as the first player/general manager. For years, he has been lecturing Green Bay leadership in public about decisions regarding Randy Moss, Marco Rivera and others. When Favre appeared to hang up his cleats in March, Green Bay management made the decision to anoint Aaron Rodgers and add another prominent quarterback in the draft. By demanding to come back, Favre was essentially saying to the world, "Another wrong management decision, what they should have done was spent the spring begging me to return." It's arguable this is indeed what Green Bay management should have done -- the Packers were more likely to have a strong season in 2008 with Favre than with Rodgers. (Switching to Rodgers probably improves the five-year outlook.) From the bureaucratic standpoint, the key was that Favre wanted to be the one in charge, making the decision about who takes the snap.
For Green Bay's management -- president Mark Murphy, general manager Ted Thompson and coach Mike McCarthy -- bureaucratic politics was paramount. All were sick of waxing Favre's car and picking up his dry cleaning; he treated them like footmen, and they've been simmering. In 2006, Favre staged a retirement melodrama that ended with Favre acting in public as though he saved the team by coming back. Maybe the coaching staff and management had something to do with team success, too! So long as Favre hung around, there was no way Murphy, Thompson or McCarthy would ever get credit for Green Bay accomplishments: it would be Favre, Favre, Favre in the media. Consider the possibilities grid created when Favre tearfully "retired" in March:
Favre ends career; Packers have winning season. Murphy, Thompson and McCarthy are praised as mega-geniuses for having a succession plan in place.
Favre ends career; Packers have losing season. Murphy, Thompson and McCarthy off the hook. People say, "What did you expect after they lost Brett Favre?"
Once Favre started demanding a comeback, the possibilities became entirely negative from the standpoint of Green Bay management:
Green Bay agrees to whatever Favre wants. "Boy, what a bunch of wusses those guys running the Packers are."
Favre stays in Mississippi; Green Bay has winning season. Fans complain, "The year would have been so much more fun if those idiots running the team had brought Favre back."
Favre stays in Mississippi, Packers have losing season. "The Packers are run by idiots!"
Favre traded to another team, plays well. "Idiots! Idiots!"
Favre traded to another team, plays poorly. Murphy, Thompson and McCarthy blamed; their disrespect to Favre is said to have caused him to end his storied career on a sour note. Surely, Favre himself will be saying this.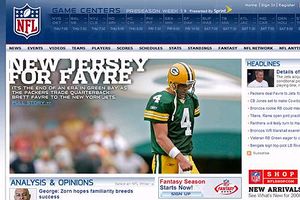 NFL.com
Broadway Joe actually played in New York -- Hacksensack Brett will play in New Jersey.
Favre returns to Packers; Green Bay has winning season.
Brett Favre! Brett Favre! Brett Favre! That's all you hear from the national media. Green Bay management will be seen as fools for almost fouling up a Favre comeback -- in which Favre single-handedly won games, of course.
Favre returns to Packers, Green Bay has losing season. "It's all their fault because of the way they treated him!"
Thus if Favre actually stayed retired, Murphy, Thompson and McCarthy faced an appealing set of prospects -- either they would be lavished with praise for success, or not blamed for failure. Once Favre began demanding reinstatement, there was no scenario in which Packers management came off looking good. This explains why Murphy, Thompson and McCarthy reacted so negatively to the late June news that Favre was talking comeback. They knew they'd not only have to deal anew with a runaway ego, but no matter what they did, they'd be denounced.
Meanwhile, Favre was "retired" for five months, during a period in which people in his profession are normally inactive anyway. There must be a better verb than "retire" for what occurs when a pro athlete ends his playing career, since this happens when the person is relatively young and will continue working for decades.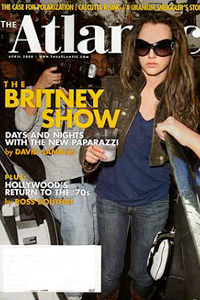 Atlantic Monthly
Only the Atlantic Monthly could put Britney Spears on the cover fully clothed.
In other football news, on the morning he was traded the main headline of NFL.com read, "NEW JERSEY FOR FAVRE." Finally, they get it! Carrying Favrarama to its logical extreme, what if Brett retired every week? See below.
In still more football news, Tuesday Morning Quarterback is back -- I'm back and I'm bad! Well, anyway, I'm back. With the resumption of the football artificial universe, TMQ returns to these pages through that Super Bowl thing you might have heard about. Block out Tuesday time on your day planner. This week, my annual offseason lowlights column.
The Book of Revelation Warns, "Verily, Ye Shall Know the End of Days Approaches When All Bow Before the Airheaded One." The Atlantic Monthly had Britney Spears on the cover.
Buyers Received a Free Copy of Madden 2010: The 2009 Toyota Corolla went on sale in March 2008.
Excuse Me, Could You Move That Cargo Ship? I'm Trying to Tan: The MV Artemis was grounded by a storm off France and ended up sitting on a beach.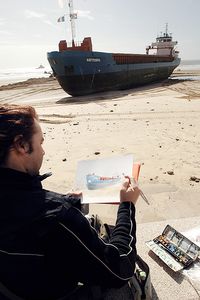 Frank Perry/AFP/Getty Images
Parking problems plague cargo ships, too.
Les Belges Replace Canadians as TMQ's Bete Noir:
Belgium's InBev brewing company bought Anheuser Busch, ending Budweiser's association with the American flag. If only the original Budweiser of the Czech Republic could have taken over the company! "The Great American Lager" is now
La Grande Bière Blonde Américaine.
Days after becoming Belgian, Anheuser Busch signed a deal to sponsor the U.S. Olympic team through 2012. They will tell us not to worry when the training table menu for the U.S. Olympic team mysteriously becomes chocolates and burgers with bordelaise -- cheeseburgers with bordelaise being an actual fast-food item at
Quick
, Belgium's answer to McDonald's. They will tell us not to worry while Budweiser brewery workers in St. Louis are ordered to attend mandatory classes in snobbery and surrender, the Scylla and Charybdis of Belgian culture. To fight the sinister Belgian takeover of American beer, drink Miller or Coors! Wait, both are now owned by Canada's Molson.
House of Representatives Moment Beyond Satire: Facing controversies over his fundraising and allegations he is violating New York City rent-control laws, Rep. Charles Rangel called for an investigation of himself.
Senate Moment Beyond Satire: Senator Ted Stevens, former chair of the Senate Ethics Committee, was indicted on corruption charges. Note the present Senate Ethics Committee has only a couple of members. Typical committee membership is much higher; for example, the Foreign Relations Committee has 21 members. But then, senators are interested in international relations and not interested in ethics. The Senate Ethics Manual is 542 pages, no doubt deliberately long so senators can claim it is incomprehensible.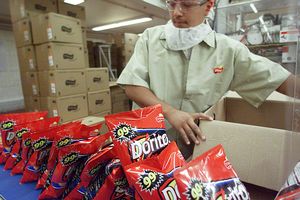 AP Photo/Donna McWilliam
For all we know, "Doritos" means "war" at 47 Ursa Major.
"It Is Confirmed, Mighty Zolton. Earth Deliberately Sent a Message Ridiculing Our Belief in the Existence of a Corn God. The Attack Cruiser Fleet Is Ready to Depart."
Scientists from the University of Leicester in the United Kingdom used
a high-powered radar dish
in the Arctic Circle to beam a satirical Doritos ad into deep space.
I am not making this up
. In about 40 years, the message will reach 47 Ursa Major, a star system that appears similar to our solar system. The event was an advert stunt, but suppose there is intelligent life in the 47 Ursa Major system. First contact will consist of … a Doritos ad. If they are at or above our level of science, the other beings will realize the message was not a random electronic leak -- rather, it was deliberately sent to them. Imagine them trying to figuring out what the message could possibly signify and what kind of civilization would be so, so strange as to beam this to another world.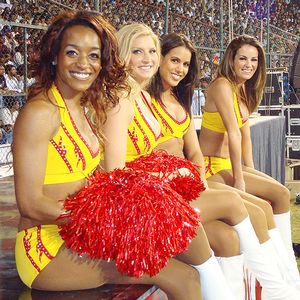 Courtesy of The Washington Redskins
The Redskins cheer-babes are in the foreground, the cricket fans in the background -- in case you didn't look at the background.
Globalization Strips to Two-Piece:
The Redskins cheerleaders were hired
to promote a cricket team in India
, and caused a local sensation by being "too sexy." TMQ does not recognize that there is any such concept as "too" sexy. Though you can understand why scantily clad cheer-babes did not mesh with cricket. Excitement and cricket do not go together!
Wacky World Leader Food of the Week When G8 leaders met in July in Japan, in part to decry the rising price of grain and rice -- convening one day after U.K. Prime Minister Gordon Brown, a G8 member, advised British citizens to buy less at the grocery store in order to economize -- they had a six-course "working lunch" with two wines, followed by an 18-course dinner with six wines. Even considering a ceremonial Japanese meal consists of many courses, this seemed to be Marie Antoinette territory. Menu items included caviar, "almond oil foam," winter lily bulb, "kelp flavored beef" and "hairy crab bisque soup," which must be really rich since "bisque" means "shellfish soup." The wines, paid for by taxpayers, were usually expensive; for example, a Ridge Monte Bello 1997, which sells for about $125 per bottle. News reports said California wines such as the Ridge were specially flown to Japan, again at taxpayer expense, for the heads of state and their assistants.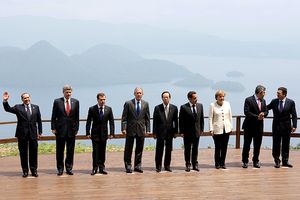 AP Photo/Alexander Zemlianichenko
We promise someone else will do something about greenhouse gases in 42 years -- now, more wine!
After the bisque and champagne, the G8 leaders announced to much theatricality that greenhouse gases would be reduced 50 percent -- but not until 2050. That is, current leaders will do nothing, leaving all real work to their successors. But while demanding that somebody else cut greenhouse gases, the G8 leaders were perfectly happy to burn fossil fuel to improve their dining experience. And the bold G8 declaration that somebody else will act against greenhouse gases 42 years from now?
It's nonbinding
.
New York Times Correction of the Year: The New York Times recently published a correction of a correction: "An article on Saturday about Representative Charles B. Rangel's defense of his use of four rent-stabilized apartments in Harlem, and a correction in this space on Wednesday, omitted the source of an assertion …"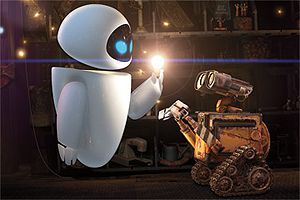 Disney
Tracy and Hepburn, Myrna Loy and William Powell, Eve and Wall-E.
Tracy, Hepburn to Star in "Wall-E II":
Hollywood's best love story of the season -- the best old-fashioned romance a major studio has produced in years -- took place eight centuries in the future and involved mute robots. But then again, compared to most of today's megabucks Hollywood stars, mute robots have broad acting range.
"Michelangelo's 'Pieta & Robin' Left Me Staggering!" -- Orvieto Daily Etruscan: An Associated Press critic called "The Dark Knight," a movie of recycled comic-book clichés, "an epic that will leave you staggering." The Arizona Daily Star compared the film favorably to Michelangelo's "David."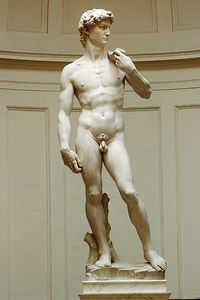 Franco Origlia/Getty Images
Art critics praise this statue as nearly as good as the new Batman movie.
The Airline Pay Toilet -- How Long From Punch Line to Reality?
Delta Airlines announced that free frequent-flyer awards tickets will now cost $50 each.
Offseason Football-Like Substance: Mark Grieb of San Jose led the Arena Football League with 100 touchdown passes this season; Chris Greisen of Georgia was second with 97. Derek Lee of Columbus led Arena Football League receivers with 1,755 yards, while Marlion Jackson of Cleveland was the league's leading rusher with 354 yards. Aaron Garcia of the New York Dragons threw nine touchdown passes in a 77-63 playoff victory over the Dallas Desperados. The game, which featured 20 touchdowns and no field-goal attempts, pitted Garcia, with 881 career touchdown passes, against Dallas quarterback Clint Dolezel, with 955 career touchdown passes. In the Arena Bowl, the Soul beat the SaberCats (quick, what cities do these teams represent?) 59-56 in a game that featured 16 touchdowns, one field goal, one safety and no punts. The teams combined for 578 yards passing and 15 yards rushing.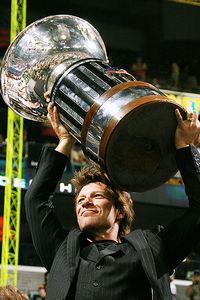 Marc Serota/Getty Images
Jon Bon Jovi hoists the ArenaBowl Trophy, just won by the team from -- quickly now, what city?
Over in arenafootball2 -- the Arena League's little brother that cannot afford capital letters -- Antwun Williams of the Albany Conquest caught seven touchdown passes in a game against the Manchester Wolves, while Wilkes-Barre/Scranton Pioneers quarterback Ryan Vena threw 10 touchdown passes in a game against the Wolves. Man, lemme at the Manchester Wolves' secondary! Arenafootball2 did not have a 100-yard rusher this season, but did have a game that ended Pioneers 84, Quad City Steamwheel 26, with the winners recording 12 touchdowns. And the Central Valley Coyotes beat the Tri-Cities Fever 62-61 in a game that featured 18 touchdowns.
Football-like substance question: Dolezel has 955 touchdown passes as a pro, and threw 23 touchdown passes in college at Texas A&M-Commerce. Does anyone know how many touchdown passes Dolezel threw as a juco player and in high school? If so, let me know at TMQ_ESPN@yahoo.com, because I am wondering whether Dolezel is the first Homo sapiens to heave-ho more than 1,000 touchdown passes. Here are the Dallas Desperados' cheer-babes, essentially the junior varsity of the Dallas Cowboys' cheerleaders.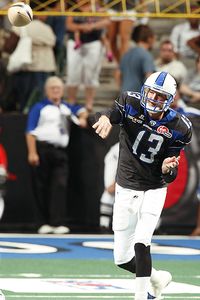 James D. Smith/Arena Football League/Getty Images
He's thrown at least 978 touchdown passes -- has he thrown more than 1,000?
New Frontier in Multitasking: Supreme Court Justice Thinks You Can Shoot and Dial at the Same Time:
A standing complaint about the Supreme Court is that, while the justices are always willing to say what's wrong, they often refuse to say what's right. The Court's decades-long flip-flop-flip on the death penalty, for instance, stems partly from the Supremes invalidating some capital-punishment practice or other in some state and then, rather than spelling out what practices are permissible, sending the issue back to state legislatures to let them guess again about what might find the Supreme Court's favor. They guess again, years pass, and again the Supremes find some fault and send the issue back, again refusing to spell out what is and is not allowed.
Here's another example. One reason it took 19 years to settle how much in punitive damages Exxon Mobil would have to pay for the Exxon Valdez oil spill is because the Supreme Court often invalidates punitive damage awards against corporations as too high, but then sends the cases back to lower courts to guess again, rather than simply spell out what formula should be used. The trial in the Exxon Valdez damages suit ended in 1994, five years after the spill -- itself too long. Then 14 more years passed, as judges repeatedly sent the case back down for new consideration and more guesswork, in light of vague, impenetrable Supreme Court pronouncements. In June 2008, 19 years after the tort, the Exxon Valdez matter finally was resolved when the Supremes girded themselves up to say, in plain English, what cap the judge should employ in setting punitive damages.
Now consider the recent Second Amendment decision, in which the Supreme Court threw out the District of Columbia's ban on handgun ownership. The Court said handguns may not be prohibited outright, but firearm possession may be subject to reasonable regulation. And off we go -- the majority opinion does not spell out what regulations are reasonable. Now city councils, state legislatures and state and federal judges will spend years trying to mind-read the justices' cryptic pronouncements, in order to guess what kinds of gun rules are constitutional.
Considering the importance of the case, TMQ was bothered that Justice Antonin Scalia, who wrote the 5-4 majority opinion, seemed to have poor knowledge of firearms. Scalia went into an extended rhapsody about how handguns are the ideal weapon for home defense because, among other things, a pistol is "easier to use for those without the upper-body strength to lift and aim a long rifle, and can be pointed at a burglar with one hand while the other hand dials the police." You try pointing a handgun at a burglar with one hand and dialing the phone with the other! Especially considering that the gun better be in your "handed" hand! Why does Scalia think rifles are too hard to lift? The Savage Arms American Classic hunting rifle, a typical long gun, weighs seven pounds.
Scalia's valentine to the handgun ignores the fact that the shotgun is generally considered the best home-defense firearm. Shotguns are visually scary and have a deterrent effect; they do not need to be precisely aimed (it is amazingly easy to miss with a handgun); if stolen, they are not likely to be used in street crime because they cannot be concealed. When living in Pakistan, I owned a shotgun to protect the house, and learned firsthand that the visual-deterrent aspect of the shotgun should not be overlooked, since the ideal outcome of a confrontation is to show a weapon but never fire it. In modern society, handguns are used in law enforcement, as military sidearms and for crime. Shotguns and rifles are primarily used for hunting, marksmanship and home defense, and hardly ever in crime. Whether the District of Columbia handgun ban reduced the murder rate is far from clear. But as a policy matter, for legislators to want handguns out of homes, but allow rifles and shotguns in homes, makes sense, passing the Constitutional test of firearm ownership that is "well regulated." Maybe if the Supreme Court understood guns, the justices would see that.
The Court's Second Amendment decision did make clear that states can continue to restrict "dangerous and unusual" firearms. Aren't all guns dangerous? "Dangerous and unusual" is the legal standard employed to ban private ownership of machine guns and other fully automatic weapons - which is weird, since "unusual" is defined as firearms not common in society, and the same standard could be employed to ban flintlocks and the blunderbuss. But the fact that even Scalia voted to uphold the precedent that allows restriction of "dangerous and unusual" firearms points to a way to understand the Second Amendment dilemma -- namely, by figuring out which firearms are "dangerous."
Whether owning a gun makes you safer, or it places you in more danger, is hotly debated. This famous study says a handgun kept at home is 12 times more likely to kill someone who lives in the home (usually by suicide) than to kill a criminal. There are problems with studies like this, which consider only instances when guns are fired. Gun use for deterrence needs to be factored in; my guess is that in defense-against-crime situations, guns are shown but not fired much more often than they are fired. Studies clearly find that waiting-period gun purchase laws, background-check laws and strict enforcement of laws against the unlicensed carrying of handguns -- cracking down on those who take their weapons onto the streets, rather than keeping them at home -- do reduce murder rates and other crime rates. So at least we can be sure that waiting periods, background checks and strict enforcement of concealed weapon permit laws are sensible rules.
Now back to "dangerous and unusual." Dangerous in this sense means a type of gun that poses some threat to society beyond the normal risks associated with self-defense, hunting and marksmanship. Shotguns and hunting rifles are not "dangerous" in this sense, because it is rare for either class of weapon to harm a person. Handguns are in this sense extremely "dangerous," because handguns are the primary weapon used in homicides and robberies. So why can't handguns be found "dangerous" in the sense the Supreme Court decision upholds, and tightly regulated?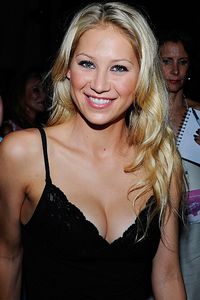 Chris Gordon/WireImage
How can we miss her when she won't go away?
Obviously This Item Exists to Justify a Kournikova Photo:
Sports Illustrated's annual "Where Are They Now?" issue, which offers updates on decades-past athletic celebrities -- Alex Karras and Willie Mays made the 2008 edition, for example -- contained a lengthy nostalgic feature on Anna Kournikova. She's 27 years old!
George W. Bush is Clearly Worth 10.199004 Percent Less: The EPA reduced the value of a human life, used to determine the cost-effectiveness of regulations, from $8.04 million to $7.22 million. In the spirit of this absurd pseudo-precision, you are now worth 10.199004 percent less than a year ago.
Gives New Meaning to "Cheat Keys": If the NFL won't suspend Bill Belichick for his sins in Spygate, how about this punishment: Put him on the cover of the next "Madden" game!
The Solar Energy Should Be Used for a Mood-Activated Automatic Unhook Feature: A Japanese lingerie company introduced a solar-powered bra.
Political Cost-Effectiveness: In the presidential primaries, Mitt Romney spent $87 million to win 4.2 million votes -- $21 per vote. John Edwards spent $13 million to win 391,000 votes -- $33 per vote. Chris Dodd spent $5 million to win 34,663 votes -- $144 per vote. The Clinton campaign spent $95,384 on sandwich platters for the Iowa caucuses, and won 737 county delegates -- $129 in sandwiches per delegate.
Food cost note: In my experience, one of the best restaurants in the world is the cafeteria at Google headquarters in Mountain View, Calif. The food is fantastic, everything is fresh, the variety is tremendous -- plus everything is free. The newsletter Silicon Valley Insider calculates Google spends about $7,500 per year per employee for the free-food plan. That's $30 per employee per working day on the cafeteria. Another fantastic restaurant is the dining halls at Bowdoin College in Maine. Princeton Review ranks Bowdoin's cafeterias, subject of an offseason New York Times dining section article, as the No. 1 college food in the country. The Maine shrimp cakes with lobster sauce -- better than in a pricey seafood restaurant!
Many Return to a Life of Going Up and Down: The authority that runs the Washington, D.C., subway system announced an elevator "rehabilitation."
Do You Swear to Tell the Truth, the Whole Truth? Anybody could make a mistake about a first marriage. Maybe anybody could make a mistake about a second marriage. Christie Brinkley's position at her fourth divorce, the testimony public because she requested pubic testimony: Your Honor, he was a wonderful man when I married him, but after living with me, he became a monster!
Wait, We've Just Found Another Vote for Thomas Dewey! Cindy Nunley of Wyoming became the final Democratic superdelegate to endorse Hillary Clinton -- announcing her endorsement about 45 minutes before Barack Obama clinched the nomination. There's a superdelegate with her finger on the pulse of history!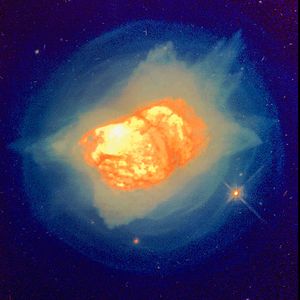 AP Photo/NASA
A billion years from now, NASA will refuse to comment on this.
NASA is in the Habit of Frightening the Public With its Budget Requests:
NASA's inspector general released a
report
saying Bush White House political hires toned down agency statements about global warming, to make the issue seem less important. Buried in the report, which is mainly about climate change, is this nugget: The Spitzer space telescope identified a star system similar to ours but with a dead sun, and NASA prepared a news release saying that was what our solar system may appear like far in the future. The news release was blocked by a political appointee who wrote, "NASA is not in the habit of frightening the public with gloom and doom scenarios."
OK, let's not frighten the public about what might happen in a billion years -- just when the national debt is being paid off! The dead-sun scenario is certain to come to pass, but long after humanity has either left the cradle for something greater or fallen extinct anyway. Just as we today say, "Can you imagine that entire generations of Easter Island residents lived out their lives on that tiny atoll without ever visiting or knowing of the rest of the world," our far descendents will say, "Can you image that our ancestors lived out their lives on that tiny dot Earth without ever visiting or knowing of the other 1,000 layers of reality?"
Though it is Possible God Sent Erwin Lutzer and Sharon Stone to Punish Humanity: Erwin Lutzer, pastor of the ultra-fundamentalist Moody Church of Chicago, said on Fox News that God sent the China earthquake to punish the Chinese government for persecuting Christians. The Chinese government does persecute Christians, but Lutzer's claim was too much even for Fox News -- the host countered that the dead were poor people who do not make government policy. The same month, Sharon Stone suggested the earthquake was "karmic" retribution for Beijing's repression of Tibet. This cost Stone her role as endorser for Dior, which is selling well in China, and inspired the official Xinhua News Agency to dub Stone "the public enemy of all mankind."
Please -- it was an earthquake, a spontaneous movement of the Earth's crust. It was not sent by God, by the karmic wheel or by any larger agency. It just happened. Some Christians insist on believing God controls daily events; there's no indication of this in history, and this is never claimed in scripture. (The notion of divine control of daily life comes from preaching and from hymnals, not the Bible.) As for karma, many forms of evidence, for instance the world's corrupt wealthy people living in luxury, run against the contention that misdeeds are repaid by fate. Like all natural disasters, the earthquake was just something awful that happened. Don't insult the dead by saying a cosmic force actually wanted them to die.
Warning: Read Thriller Under Water: Ads for the latest from genre-thriller writer David Baldacci contain the statement, "When Balducci is on fire, no one can touch him!" If he was on fire, no one would want to touch him.
Leftover Draft Point No. 1: Every football pundit comments on who the teams took -- what about who they didn't take? Below are the results of trade-downs in the first round of the 2008 draft, noting who passed on whom and what the team gained by trading down; the list takes into account players you'd have thought the teams would have been interested in. New England passed on Sedrick Ellis, Derrick Harvey and Keith Rivers, in order to take Jerod Mayo and gain third-round linebacker Shawn Crable. Baltimore passed on Rivers, Mayo, Leodis McKelvin and Ryan Clady in order to take Joe Flacco and gain third- and fourth-round picks minus a sixth-round pick. Detroit passed on Branden Albert in order to take Gosder Cherilus and gain fifth-round wide receiver Kenny Moore. Houston passed on offensive tackles Jeff Otah and Sam Baker in order to take offensive tackle Duane Brown and gain running back Steve Slaton, plus add a sixth-round choice. Philadelphia passed on Otah and Baker in the first round, then high in the second round passed on Jordon Dizon, Malcolm Kelly and Limas Sweed, in order to take Trevor Laws and Quintin Demps, plus bank Carolina's 2009 first-round pick. Green Bay passed on Dustin Keller, Kenny Phillips and Devin Thomas in order to take Jordy Nelson and gain Dwight Lowery.
Leftover Draft Point No. 2: In years past the appearance on newsstands of football annuals, those thick magazine-like books crammed with stats and roster info, heralded the coming of autumn and the blissful return of the football artificial universe. With so much sports info now on the Web 24/7, the football annual is a dying breed. Several still exist, including the Sporting News, Pro Football Weekly, Lindy's and Athlon annuals -- buy one now while you still can, and reminisce about those childhood days when leafing through a football annual was one of the rites of summer. And though time is passing the annual by, that doesn't mean they still can't contain interesting material. Here, Braden Gall of Athlon shows that none of the first three players chosen in the 2008 NFL draft were blue-chip recruits coming out of high school, while four gents not taken until the draft's second day were the No. 1-ranked players nationally at their positions when recruited.
I Say Grand Mum, Why Don't You Take Up Pearl Diving? Uncle Charles, Have You Thought About BASE Jumping? Cousin William, Care for a Cigarette? Peter Phillips, eldest grandson of Queen Elizabeth, married Autumn Kelly in a ceremony at Windsor Castle. On the day of the ceremony, Kelly renounced her Roman Catholic faith and became an Anglican. She did this because a Cromwell-era British law says anyone wedded to a Catholic cannot be crowned king or queen of England. Set aside how ridiculous it is that such a law remains on the books: Phillips is 11th in line to the throne. Is he hoping all 10 people in front of him will die soon?
Listening to Favre -- Now, There's an Ordeal: Brett Favre called his comeback demands an "ordeal." Granting rambling interviews while demanding $12 million and exemption from league rules that apply to everybody else is an "ordeal"?
Phase One of Rupert Murdoch's Master Plan for the Wall Street Journal: From the Wall Street Journal's "Fiscally Fit" column by Terri Cullen: "The recent rise in gasoline prices has prompted my husband and me to change a few habits to save money -- to cut back on unnecessary car trips ... and switch to a gas station that consistently offers lower prices." Wait a minute, why were you taking "unnecessary car trips" in the first place? Why merely cut back, why not eliminate "unnecessary" driving? And if you know of a gas station that "consistently offers lower prices," why weren't you already patronizing it? Remember, the speaker is a financial advice columnist!
TMQ Disclaimer: Linebacker Violence, English Language, Cheerleader Sensuality: TMQ dislikes movie disclaimers that warn of "action violence" or "sci-fi violence," suggesting these are, somehow, not "violence." In this summer's euphemisms, ads for "Indiana Jones and the Kingdom of the Crystal Skull" warned of "adventure violence" -- it's not really violence if you're having an adventure! Ads for "Prince Caspian" cautioned of "epic battle action and violence," ads for "The Incredible Hulk" warned of "intense action violence." How is "intense action violence" different from "violence"? Ads for "Wanted" cautioned of "strong bloody violence" -- is there meek, lighthearted violence? Ads for "Speed Racer" -- a children's movie! -- cautioned of "some violence." In what sense is "some violence" different from violence?
Next Week the Premiere of "CSI: Side Salad": Actual plot synopsis posted by DirecTV this offseason for the PBS program Cranford, which is about a mid-19th century English village: "Cranford. Drama. A leg of mutton is stolen. Series."
Please Tell Me They Did Not Get Federal Crop Subsidies for This: A Wisconsin farm couple created a corn maze based on Brett Favre.
He Slipped Off From Us Like a Cadillac Eight: TMQ will miss Bo Diddley, who will not fade away. Somehow it was a fitting exclamation point to his spirited life that in its obituary, the New York Times repeatedly referred to the songwriter -- born Otha Bates -- as "Mr. Diddley."
Buckley and His Wife Both Died of Emphysema; Though a Conservative, Late in Life He Advocated a Federal Ban Against Cigarettes; If You Smoke, Think About That: TMQ will also miss William F. Buckley. Somehow it was a fitting exclamation point to his extraordinary life that Buckley managed, in his passing, to get the word "sesquipedalian" on the front page of the New York Times, in the headline of his obituary. Note -- or as Buckley would say, exegesis -- his son Chris' new comic novel Supreme Courtship is hysterical.
The Song is Honest, Which is What CBS Found "Inappropriate": The CBS affiliate in New York City, WCBS, censored from its Tony Awards coverage a song called "We Just Had Sex" from the musical "Passing Strange." CBS called the song "inappropriate for broadcast television." CBS is the same network that airs "Dexter," a show that glorifies a serial killer; three "CSI" series, all of which feature graphic violence; "Two and a Half Men" and "How I Met Your Mother," which consist almost entirely of puerile attempts at sexual humor.
More Proof of the Decline of Western Civilization: In May, Redskins draft choice Fred Davis overslept and missed a practice; the Washington Post devoted a 1,002-word story to this. In the same day's paper, the Post devoted a 696-word story to warnings that many hospitals no longer have sufficient emergency room capacity to respond to a terrorist attack, and a 601-word story to congressional negotiators cutting funds for school lunches for the poor.
Week by Week in Jersey/B: If Favre can retire then nonretire every year, why not every week? Below is a weekly agenda for the Jets' season:
Sunday immediately following game: Favre tells reporters he's "considering" retirement. Says he will come back if all networks agree that cameras will show no player except him.
Monday morning: Favre's agent says client feels "not appreciated" because New York City has not been renamed Brettopolis. Holds tearful farewell news conference, says "I would never go back on my word unless there was something in it for me." Thanks teammates for not coming between him and cameras. Returns to Mississippi.
Monday evening: Hosts vigil in Hattiesburg tent. Tells Oak Grove High School players, "Always be a self-sacrificing team player."
Tuesday morning: Invites hundreds of reporters and cameramen to his farm to see him happily working the land.
Tuesday lunchtime. Tires of working the land.
Wednesday morning. Calls ESPN, New York Times to plant comeback rumor.
Wednesday afternoon. Calls ESPN, New York Times to deny comeback rumor.
Thursday morning. Demands immediate reinstatement. Grants "exclusive" interviews to ESPN, ABC, CBS, NBC, NFLN, CNN, MSNBC, BBC, Fox College Sports/Pacific, CSPAN-2, Planet Green, Oxygen, Toon, Home Preview Channel, HBO Signature HD, SOAPNet, Canal Plus and the MHz4 Nigerian TV Authority.
Thursday evening. Demands New Jersey annex Delaware and give it to him, also demands USM change its sports nickname to the Golden Fours. United States Senate stages all-night emergency session to debate Favre return.
Friday morning. Congress offers $600 billion bailout if Favre returns. Senate Majority Leader Harry Reid explains, "We don't care who gets the bailout, we just like to give away borrowed money. Hey Nancy, they want more. OK, $800 billion."
Friday afternoon. United Nations Secretary General Ban Ki-moon flies to Hattiesburg in the space shuttle to accompany Favre on his return to New Jersey. Manhattan casting agency hires hundreds of extras to pretend to be adoring Favre fans at arrival.
Saturday morning. Favre attends walk-through, disabled children allowed to touch his garments.
Sunday morning. All other players' names removed from program in order to print Brett Favre in 72-point type across every page. Governor of New Jersey washes Favre's feet during player introductions.
Postgame: Favre hints game may have been his last.
He's in Midseason Form: Exiled from the NFL, kicker Mike Vanderjagt missed three field-goal attempts in his debut with the Toronto Argonauts of the CFL.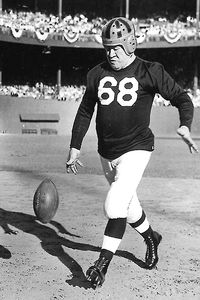 AP Photo

Which Olympian would you rather see naked, Jim Thorpe or Amanda Beard?

She's in Midseason Form: Swimmer Amanda Beard posed nude for PETA, which declared she "might be the sexiest and most compassionate U.S. Olympic athlete of all time." Of all time! Sexier than Jim Thorpe?
You Lose Your Mind With the Pentagon You Have, not the Pentagon You Wish You Had: The Associated Press reported that the U.S. military wants to build a $5 billion complex of shopping malls, luxury hotels and condos in the Green Zone in Baghdad.
Groundskeepers Reported the Grass Was Singed Wherever They Stood; Seven-Headed Dragons Were Observed Having Pina Coladas in the Clubhouse: Rich Rodriguez and Nick Saban played a round of golf together at the Reynolds Plantation resort in Georgia.
Why Not a Movie Where the Monster Attacks Brussels?: Last season TMQ complained that New York City is constantly destroyed in monster movies, sci-fi and disaster flicks. New York is destroyed in "Independence Day," in "Escape from New York," in "I Am Legend," in "The Beast from 20,000 Fathoms," in "The Day After Tomorrow," in "Cloverfield," in "Planet of the Apes," in "A.I.," in "Sky Captain and the World of Tomorrow," in the 1998 "Godzilla" remake, in all three King Kong movies, in the Tom Cruise movie version of "War of the Worlds" and in the Orson Welles radio version of "War of the Worlds." This June, New York was destroyed on the same day in the premiere of "The Happening" and in the midseason cliffhanger of "Battlestar Galactica." And I think the destroyed future city of the lonely robot Wall-E was New York, though you couldn't be sure.
Later, the Hospital Billed $42,750 for Having the Dog Sniff the Sample: A South Korean firm claimed it had cloned four pups of a Labrador retriever who has the ability to distinguish cancerous cells from normal cells by sniffing. Some physicians think dogs find cancerous tissue more effectively than high-tech tests. But how would patients trust the process? In this case, the doctor could say, "The Lab is analyzing your samples."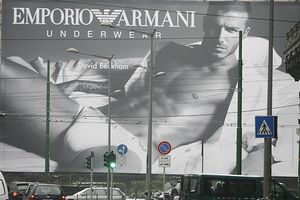 AP Photo/Luca Bruno

David Beckham relaxes on a San Francisco billboard.

Department Store Promotes Beefcake; This Really Must Be the Third Millennium: The San Francisco Chronicle ran a full-page ad showing a nearly naked David Beckham wearing Emporio Armani undershorts, the photo angled to emphasize the bulge of his crotch. It was a Macy's ad! The Macy's Beckham near-nude photo also ran as a billboard in San Francisco's Union Square. Maybe there's something about David that Posh doesn't know?
Misplaced Network Priorities: The NFL switched its season opener to a 7 p.m. Eastern start time so the game does not conflict with John McCain's acceptance speech at the Republican National Convention that night. This suggests the presidency is more important than football, an idea I am not entirely comfortable with.
Haven't You Mistaken a Nuclear Bomb for a Battery? The Pentagon accidentally shipped four crates of nuclear bomb parts to Taiwan. The crates were supposed to contain helicopter batteries.
If Bush Can't Pronounce "Nuclear," Good Luck with "Niebuhrian": Speaking to the columnist E.J. Dionne, Barack Obama not only used but correctly pronounced the word "Niebuhrian," which means, "The thinking of Reinhold Niebuhr." Most theologians probably cannot pronounce that word! Though Niebuhr, a religious celebrity of the midcentury, is little-known today, it is not that unusual to hear him cited by political leaders (who may or may not actually have read him; Obama surely has). Niebuhr saw the world as a malevolent place, and argued that although Christ was a pacifist, Christians serve Christ by fighting evil. Much contemporary "just war" philosophy is Niebuhrian. His writing and speeches convinced many Christians to support war against Germany in World War II -- war against Japan was self-defense, while war against Germany needed just-war underpinnings -- and then to oppose Communist tyranny. Before the elder George Bush took the United States into the 1991 Gulf War, he consulted religious scholars, including experts on Niebuhr; the soldiers who fought in that war knew their commander-in-chief was deeply concerned with moral reasoning. Before George W. Bush took the United States into the invasion of Iraq, did he engage in any philosophical contemplation at all?
We the People, in Order to Give Government Officials Luxury ...: Mayor Michael Bloomberg admitted that a reason there is so little legal street parking in New York City is the city has granted 142,000 free-parking placards to its employees. This is classic government hypocrisy. Taxpayers in New York pay outrageous parking garage fees while government employees park free on the street. Bloomberg has been pressing for congestion pricing to discourage private citizens from having cars in the city, while simultaneously granting more than half of the city's 250,000 employees free street parking that encourages them to own cars. OK, parking isn't mentioned in the Constitution. Still, I think the Framers would be upset.
Did Client No. 9 Drink Love Potion No. 9?: New York Governor Eliot Spitzer was hoisted on his own petard -- as a prosecutor he had abused his office by employing leaks to destroy others and in the end, was brought low by abuse-of-power leaks against him. Example of a Spitzer abuse: While a prosecutor, in a television interview, he accused Maurice Greenberg, then CEO of insurance giant AIG, of "illegal" actions, and the next day leaked corporate e-mails he had obtained using subpoena power that made Greenberg sound ruthless in business. But that's not illegal! AIG fired Greenberg after Spitzer's leaks, yet ultimately Spitzer never indicted Greenberg for anything, nor cited him for any specific crime. Spitzer's anti-Greenberg campaign was conducted using leaks and innuendo, rather than formal charges, exactly the kind of abuse of prosecutorial power that would have shocked the Framers who wrote the Constitution.
Now to Spitzer's downfall. Federal investigators went after an escort service -- the kind of should-this-even-be-a-crime that is almost never prosecuted -- hoping to get something to use against Spitzer. The current Justice Department is Republican, Spitzer was a Democrat; the goal seemed to be for Republican Party hacks to use federal power to shaft a Democratic hack. Federal prosecutors filed an affidavit about the escort service; the affidavit did not contain Spitzer's name, nor any detail that would identify him. Then someone either from the U.S. attorney's office in New York or from the Attorney General's office in Washington -- Attorney General Michael Mukasey is a New York Republican who is said to despise Spitzer -- leaked that "Client #9" was the governor. That was prosecutorial misconduct. Turnabout, sure, against a creepy guy who built himself up by tearing others down; but misconduct nonetheless. Prosecutors should either indict people for specific violations of law, or leave them alone. They are not supposed to use the powers of office to cause embarrassment to political opponents. Months after he was driven from office by prosecutorial leaks, Spitzer still has not been accused of any crime. Spitzer may have been a creepy power-mad jerk; but who among his persecutors is not also a creepy power-mad jerk?
Note that no one in the media establishment pointed out Spitzer was the victim of prosecutorial misconduct. Because media types love leaks from prosecutors, they never acknowledge that prosecutors who leak information for the purpose of triggering scandals are breaking their profession's code of ethics -- to say nothing of breaking faith with the Framers, who designed the Constitution's grand jury system specifically in an attempt (failed, obviously) to prevent prosecutors from destroying their targets by use of hearsay and unsourced accusations.
The mistreatment of Steven Hatfill is a similar example. The Federal Bureau of Investigation leaked copious unsourced allegations against Hatfill to the New York Times, USA Today and other newspapers and tipped off television networks to cover its 2002 raid of his apartment. Attorney General John Ashcroft named Hatfill a "person of interest," a term that has no legal meaning but conveys slander. The government was trying to frame Hatfill to create an appearance there was progress in the anthrax investigation. While this was going on, a large team of FBI investigators spent seven years failing to notice that a high-level scientist entrusted with anthrax spores was on a variety of antidepressants, antipsychotics and antianxiety drugs and according to a therapist, made frequent threats to kill. If the FBI is finally now telling us the truth, the security clearance process that allowed Bruce Irvins long-term access to the world's deadliest bioweapons never detected that Irvins was mentally unstable. This does not raise my confidence in the FBI or the Army, which runs the anthrax lab. Hatfill was finally formally vindicated last week by a Justice Department statement, shortly after winning $5.8 million in compensation in a lawsuit against the federal government. Bear in mind: Hatfill wasn't "falsely accused," because he was never accused! No charge was ever filed against him: Leaks and unsourced accusations were employed, and the media reported them uncritically because it made for a good story.
The Framers were insistent that prosecutorial accusations be made only through formal charges, because once a charge is filed, the government must disclose its evidence, allowing the accused to defend himself. Spitzer and Hatfill are two recent victims of the kind of official misconduct the Framers would say should land prosecutors and FBI agents in jail. Yet the media are silent on this, because journalists love leaks. Here, the Times details others besides Hatfill who were victimized by FBI and Justice Department misconduct during the anthrax investigation -- which for seven years failed to find the perpetrator directly under the FBI's nose, a tip from a frightened addiction counselor finally breaking the case. The Times played its story on Page 17, to divert attention from the media's own complicity.
Great Moments in Campaigning: Stumping in Florida, John McCain called governor Charlie Crist "one of the greatest governors in the history of this country." Crist had been governor for one year when McCain said this.
Great Moments in Campaigning No. 2: Barack Obama responded to criticism of his church's former pastor by writing a blog post.
More Proof of the Decline of Western Civilization: On Feb. 23, the two featured items on the front page of the Huffington Post were details of a John McCain lobbyist scandal, and nude photos of Lindsay Lohan. According to the hits tally, three times as many people preferring reading about the incomprehensible McCain charges to gazing at a naked mega-babe.
More Proof of the Decline of English Civilization: J.K. Rowling, the wealthiest author in history -- a billionaire based on books that may charitably be called derivative -- told a U.S. federal court she felt "exploited" by publishers.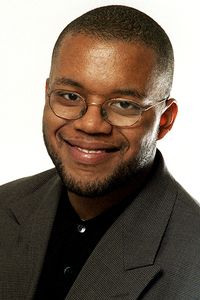 New York Times/Getty Images
Jayson Blair to become journalism dean at Northwestern University; a "perfect fit" for the Northwestern program.
Northwestern to Name Janet Cooke Dean of Journalism: John Lavine, dean of the Medill School of Journalism at Northwestern University, admitted to exercising "poor judgment" for use of anonymous quotes there is strong reason to believe he fabricated. If the quotes were genuine, using them was not poor judgment! In a classic exercise of institutional whitewash, Northwestern's provost cleared Lavine, the provost saying he could find no proof the quotes were made up. Of course, you can't prove an unnamed person does not exist! The whole reason unethical journalists invent unnamed people is because it is impossible to disprove the anonymous comment. Lavine offered no notes to back his suspicious quotes -- which means Northwestern University has a journalism dean who, under the best-case analysis, is unaware of the standards of his profession. Medill charges graduate students $58,399 per year then declares all is fine because the dean is ignorant of basic practices of the profession being taught. Why isn't this simple fraud on the part of Northwestern University? Everyone who attended Medill in the past academic session should get his or her money back.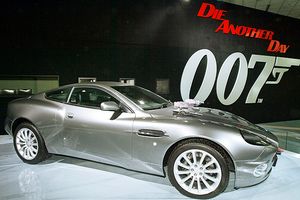 AP Photo
You mean it doesn't actually operate underwater and in outer space?
Amazingly, the Aston Martin Did Not Suddenly Convert into a Submarine: James Bond was attacked by an irate Chilean mayor. Carlos Lopez was angry that though the new Bond movie was filming in the rustic Chilean town of Baquedano, the scene depicts Bolivia. Later, the formulaic-action-movie gods punished the Bond producers by causing an Aston Martin being driven to a set in Italy to plunge off a road into Lake Garda.
Watch for TMQ's Shocking True Memoir, "My Life as a Secret Agent for George Washington During the Revolutionary War": In the offseason the highly promoted shocking memoir of barrio girl gang life in Los Angeles, "Love and Consequences," turned out to be a fabrication, written by an upper-class white woman. Around the same time it was revealed that "Misha: A Memoir of the Holocaust Years" also is a fake. James Frey's 2003 No. 1-ranked "A Million Little Pieces," the 1998 bestseller "Fragments" and the bestselling "Mutant Message Down Under" are other highly promoted volumes, sold as shocking truth, that were fabrications. "Mutant Message," which hit No. 1 in 1994, claimed to be the shocking authentic account of a woman who lived with Australian aboriginals and learned a cosmic secret about the fate of humanity; it turned out the author had never even been to Australia. "The Celestine Prophecy," one of publishing history's great successes -- some 20 million copies sold -- was originally promoted as the true account of the author's quest for an ancient Peruvian manuscript that could bring world peace; evil government agents would stop at nothing to kill him! "The Celestine Prophecy" is still in stores, now sold as a novel. The 2002 bestseller "Running with Scissors" was marketed as a memoir. After it made the author wealthy, he settled a lawsuit from people whose identities were implied by the text, and who claimed fabrication; as part of the settlement, the author agreed to call what he had written a "book" rather than a "memoir."
Here, Motoko Rich of the New York Times details how publisher Penguin Group USA and the New York Times itself fell for the "Love and Consequences" hoax book, which the Times lavishly praised when circulated for review. A Penguin editor spent three years working with hoax author "Margaret B. Jones," whose real name turns out to be Margaret Seltzer, without, the publisher claims, ever suspecting anything was amiss. This, despite "Jones" writing a memoir of a crime-ravished inner-city foster-home childhood when Seltzer actually "grew up with her biological family in the prosperous Sherman Oaks neighborhood of Los Angeles and graduated from a private Episcopal school." Penguin asserts with a straight face that the company never noticed a woman claiming to have experienced a traumatic inner-city childhood in foster homes had the mannerisms of a private prep school.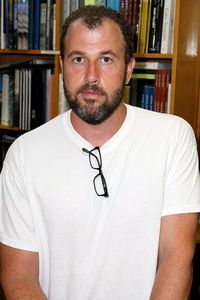 Andrew H. Walker/Getty Images
The problem is that publishers don't want to know if books are true.
The problem, as with Frey and other bookstore liars, is that the publisher did not want to know what was true. For Margaret Seltzer of Sherman Oaks to invent a fictional account of inner-city gang life is a perfectly respectable thing to do, but such a book must be marketed as a novel, and the vast majority of novels sink without a trace. If on the other hand the book is marketed as a shocking, astonishing true story, sales are likely. So the publisher didn't want to know.
The incident serves to remind us of something important about the world of books: Though books are seen as the ultimate carriers of veracity, books are not fact-checked! I wrote an Atlantic Monthly story in the offseason, and spent several excruciating days going over the piece line-by-line with a super-efficient fact-checker, who wanted documentation for each claim down to whether the sky is blue. Everything I've ever published in The Atlantic Monthly, the New Yorker and the New Republic has been elaborately fact-checked; even much of what ESPN.com publishes is now fact-checked. Yet books are not fact-checked. Penguin's defense of its incredible screw-up was that authors, not publishers, warrant the truth of books. This is indeed the standard of the publishing industry, and when controversy arises, publishers often say they never claimed to have the slightest idea whether the book was true (this was Frey's publisher's defense). Responsible book authors do not abuse the privilege of author warrant: Many, including me, even hire their own fact-checkers. Swindlers such as Frey and Seltzer abuse the author-warrant standard to perpetrate fraud at the bookstore. Though Seltzer was caught before she lined her pockets, Frey and other hoax book authors have gotten to keep fraudulently obtained royalties. Frey also keeps his status as a celebrity, which he never would have become had he told the truth.
The outcome is like CEOs who overpay themselves -- they are caught, but get to keep the money. What worries me is that readers do not, by and large, understand that the truth threshold for many books is incredibly low.
IOC Officials Were Allowed to Wear Badges Saying, "Place the Cash in My Pocket": Olympic officials forbid French athletes to wear badges that said "for a better world," ruling this violated strictures against political statements. Apparently the notion that the world should be "better" is too controversial for the Olympics! Then again -- in a better world, there would be no bribes.
Next Week: Joe Namath demands to be reinstated by Jets and traded to Green Bay. Plus, AFC preview.