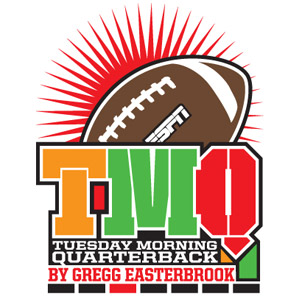 Finally it's about to happen -- real football resumes on Thursday night. Not a moment too soon! Since the football artificial universe kicks off with college, let's pause to consider one of the defects of big-college football: the cupcake schedule.
In the NFL, all teams play the same number of home and away games -- but in the NCAA, many football factories play mostly at home. Obviously, this is what the boosters like. The tailgating and cocktail parties are a lot more fun on home turf. In turn, playing mostly at home is like starting the season at 2-0; from there, it's falling off a log for bowl eligibility. Unlike in the NFL, where pairings are determined by a binding formula no team can influence, in college, some pairings are determined by conference affiliation while others are simply whatever two schools will agree to -- and it is perfectly permissible for money to change hands.
Thus, many football-factory schools buy their way into favorable schedules by giving cupcake teams bonuses for coming to the football factory's stadium. Here, Pete Thamel of the New York Times
spells out how this system works
-- cupcake University at Buffalo was paid $600,000 to travel to Auburn and be pounded, for example. Imagine if NFL clubs could gimmick their schedules with extra games against the Cardinals or Lions, and always play those games at home! Imagine if who got to play at home in the NFL was determined by how much they could pay! That's how it often works in the NCAA.
Monster schools that play seven home games versus just five road dates this autumn include Michigan, Ohio State, Oklahoma State, Texas, West Virginia and Wisconsin (andone of Texas' five road games is actually at a neutral site). Phonier still are the teams that play seven at home, five on the road and also have home dates against cupcakes. Oklahoma boldly opens by hosting Chattanooga, a Division I-AA team that last season went 2-9 with losses to Furman and Elon. Georgia Tech boldly hosts tiny Gardner-Webb, which last season lost by 35 points to Wofford. Little Nicky Saban's Alabama bravely hosts Western Kentucky, which, in the process of moving up from Division I-AA, technically is not in any subdivision this year. Preseason favorite Georgia bravely opens by hosting Division I-AA Georgia Southern.
two
cupcakes. The Texas Tech Red Raiders, who style themselves as little guys among giants, bravely face off on their home turf against Division I-AA Eastern Washington and Division I-AA Massachusetts. The Kansas Jayhawks boldly open by hosting Florida International, which is on a 1-23 streak, then entertain Division I-AA Sam Houston State.
You want even phonier? Ponder the big-money football schools that buy their way into eight home games and four road dates. One is defending national champion LSU. This fall, the Tigers play eight at home versus four on the road, and bravely host North Texas, which is riding a 7-28 streak. Louisville not only has eight at home and four away, the Cardinals also play six of their first seven at home. Clemson plays eight at home, four away and boldly hosts Citadel, a Division I-AA team whose own main athletics Web page featured this midsummer headline: "Bulldogs picked to finish sixth in conference." Florida State has eight home games versus four road and fearlessly opens with consecutive games against Division I-AA teams -- first Western Carolina, which was 1-10 in 2007, and then Chattanooga.
Cupcake Note 1: Division I-AA Eastern Washington funds its athletic program partly by allowing its football team to be profitably pounded. In 2006, Eastern Washington lost 52-3 at West Virginia. Last year, the Eagles lost 42-7 at BYU. This fall, Eastern Washington opens at Texas Tech, then travels to Colorado. Cupcake Note 2: Ever on the lookout for a pushover, West Virginia just signed to host Division I-AA Liberty in 2009 -- Liberty normally lines up against North Greenville and Stony Brook. Cupcake Note 3: While dunning the Packers, Brett Favre worked out with the Oak Grove High School football team of Hattiesburg, Miss. Oak Grove High has more home games than away games -- just like a football factory!
All hail the Pac-10, whose conference structure strongly discourages rigged schedules. This year, USC plays six at home, six away, and faces only worthy rivals. USC's schedule is much stronger and a much better test than the cushy-soft skeds of pretenders like Missouri and Florida State. Most other Pac-10 teams also have more serious schedules than their Midwestern and Southeastern counterparts. And will there be a victorious cupcake all may hail? Last year, Michigan hired Appalachian State to come to Ann Arbor and roll over; we remember what happened.
has Christmas on its Web site
. "My kids started school two days ago, and already the Christmas rush is on," she writes. Joe Kissel of Huntsville, Ala., reports that Christmas decorations were on the floor at his local Sam's Club in mid-August. Danny Chamberlin of Memphis, Tenn., writes, "On August 11th, the first TMQ of this season had yet to be published when I walked into my local Garden Ridge and was inundated with aisles of inflatable Santas, Christmas trees, ornaments and tinsel. Christmas before TMQ?" Michael Landers of Sacramento, Calif., makes it still worse -- he saw a display touting Christmas ornaments in his local Hallmark store on July 12.
Ho ho ho! To help get you into the Christmas mood, here is my NFC Preview:
Arizona:
This team has one playoff victory in the past 61 seasons; Liechtenstein has more wins in that period. For reasons I do not pretend to know, every summer, football pundits suggest that the coming year will finally be the Cardinals' year. It's never going to be the Cardinals' year! Pundits saying nice things about the team this summer base their optimism on last season's 8-8 finish. But Arizona defeated only three teams that finished with winning records, while the Cactus Wrens managed to lose twice to hapless San Francisco. Receiver Anquan Boldin is demanding a new contract with star-sized numbers though he didn't post 1,000 receiving yards last season and has never had a 10-touchdown receiving season. Players who aren't that good demanding to be treated as stars is the sort of thing that happens to a terrible team. Plus, the Cards play in ridiculous uniforms that look like children's pajamas; they might as well have feetsies instead of cleats. Year in, year out, this club shows it has earned TMQ's nickname, the Arizona (CAUTION: MAY CONTAIN FOOTBALL-LIKE SUBSTANCE) Cardinals.
Atlanta: The Falcons used a third-round draft choice on Harry Douglas from Louisville. Will he quit the team after 13 games? Atlanta also gave $15 million in guarantees to free agent Michael Turner, though Turner has never been an NFL starter. His exploits were based on coming in when the defense was already worn down by LaDainian Tomlinson. Let's see what happens when Turner is the man and getting pounded from the first quarter on.
New Atlanta defensive coordinator Brian VanGorder is in his 16th coaching job in 27 years. Prior to assuming his Falcons post, he was defensive coordinator at South Carolina, linebackers coach for the Falcons, head coach at Georgia Southern, linebackers coach for Jacksonville, defensive coordinator for Georgia, defensive coordinator for Western Illinois, defensive coordinator for Central Michigan, defensive coordinator for Central Florida, linebackers coach for Central Florida, head coach at Wayne State, linebackers coach at Grand Valley State, and before these things, head coach or an assistant coach at four different high schools. Sixteen coaching positions in 27 years -- and this isn't weird! Many football coaches are vagabonds, especially assistant coaches. When a season goes poorly, the owner (in the pros), athletic director (in college) or principal (in high school) wants to fire people, and assistant coaches are a lot easier to dispatch than the head coaches. When a season goes well, the assistants from that team or school are much in demand by the teams or schools that just fired their assistants. So assistant football coaches should always keep their bags packed.
The ultrafawning official team bio of new Falcons head coach Mike Smith rivals the Broncos' team bio in which Mike Shanahan proclaimed himself "The Ultimate Leader" (see below). Smith "has always been a man with a plan." His coaching is "deeply rooted in certain basic tenets or a core of beliefs that drive him to succeed." According to the official Atlanta bio, Smith is tireless, a great communicator, a teacher, has passion, has an unbelievable work ethic and nobody has a better football mind. TMQ is still trying to figure out what this means: "As basic as it may seem, Smith not only understands, but fosters communication, and takes it to a new level in the way he interacts with his Falcons players." Another sentence I am trying to figure out: "A native of Daytona Beach, Florida, Smith was born on June 13, 1959 in Chicago, Illinois." The official bio further declares Smith has a "winning résumé." Considering the Atlanta roster, the coach may have to send his résumé into the game!
You're Telling Me There Actually is a Power of the Press? Many readers, including Ellen Beth Morrow of Boulder, Colo., pointed out that a few hours after last week's TMQ made sport of Mike Shanahan calling himself an "ultimate leader" in his official bio, this phrase disappeared from the Broncos' Web site.
Carolina: Dear Panthers, the Eagles' front office thinks you will be awful this season. That's why Philadelphia traded its 2008 first-round choice to Carolina for the Cats' 2009 first-rounder and other selections. The trade made sense if you assume Carolina's 2009 first-round choice will come near the top of the draft; if the Panthers have a winning season and draft low in 2009, the Eagles will be losers in the transaction. Two-thirds of NFL teams have at least one No. 1 drafted quarterback. As Darin Gantt of The Herald of Rock Hill, S.C., has pointed out, Carolina is the sole NFL club without a drafted quarterback. Records note: Though the Cats have appeared in a Super Bowl, this club is underwater at 103-114 (including playoffs) since its inception.
Chicago: Curtis Enis, Rashaan Salaam, now Cedric Benson -- honk if you've been a highly drafted running back bust for the Bears! Chosen fourth overall by Chicago in 2005, Benson has not only been waived, but nobody has picked him up. Chicago's second-round choice in 2005, wide receiver Mark Bradley, has just 38 career receptions. Kyle Orton is the sole player from the team's 2005 draft likely to start for Chicago in 2008. Ay caramba!
Since Chicago reached the Super Bowl two years ago, every major Bears management decision has been a head-scratcher. It's not just the obvious weakness of Bears quarterbacking, coupled to the team's weird disinterest in improving its quarterback caliber. Just after their Super Bowl appearance, the Bears unloaded running back Thomas Jones and canned defensive coordinator Ron Rivera. Jones was shown the door so that Chicago could start Benson in 2007; the club had a bureaucratic stake in Benson because it expended a high first-round pick on him. Last year, Jones rushed for 1,119 yards, while Benson was cover-your-eyes awful. Meanwhile, Chicago's defense, which under Rivera was second in 2005 and fifth in 2006, plummeted to 28th in 2007 after Rivera was booted. Rivera became a defensive assistant at San Diego, where the Chargers' defense allowed the fifth fewest points in the league and performed quite well in the AFC Championship Game at New England, against the highest-scoring offense ever.
As for Chicago's quarterback slot, it has now been more than 20 years -- Jim McMahon of the "Super Bowl Shuffle" era -- since this position has been ably filled. If Brett Favre had been traded to Chicago, would Favre instantly have become bad, like all whom the Ming Ding Xiong ("Bears whose outcomes are decided by fate" in Chinese) line up under center? Of Bears quarterbacks under his reign, "everyone has been booed," Lovie Smith said.
Dallas: Last year, things came together for the Cowboys, who finished 13-3 before losing in the playoffs to the eventual Super Bowl champion. Dallas performed well, Terrell Owens remained calm, the stats were good, two No. 1 draft picks were added in April. Into this favorable picture we insert -- Adam Jones, who brings the same nutty flavor as Mr. Peanut. Jones was nothing but trouble in college at West Virginia and nothing but trouble in the pros at Tennessee, where he missed the 2007 season on suspension. Between Tony Romo's celebrity dating rituals and Owens' genetic proclivity to self-destruct, you would think the last thing the Cowboys need is the kind of me-first locker room influence who can bring out the worst in teammates. Yet that's exactly what owner Jerry Jones brought in by trading for Adam Jones.
Plus, the owner signed the cornerback to a contract whose terms encourage selfish play. A bonus clause specifies that if Adam Jones intercepts at least seven passes in two of the next three seasons with Dallas, about $10 million will be added to the back end of his contract. So what's going to happen? Jones may gamble for interceptions and not care if he gives up easy touchdowns; there's a bonus for interceptions, but no penalty clause for being burned deep. Contrast that to the contract cornerback Darrelle Revis signed as the Jets' first draft choice in 2007: that deal has all kinds of incentive clauses, but none for interceptions, because Eric Mangini wants Revis to be a team player. Indeed, Revis showed great fundamentals in his rookie season. Don't expect Jones to show fundamentals with the Cowboys -- expect him to gamble for interceptions to bring himself bonus money and personal attention.
All football purists love Zach Thomas, new mike man for the Cowboys. But is it realistic to think, as Jerry Jones said in June, that Thomas will be a big factor in the Boys' 2008 campaign? On opening day, Thomas will be 35 years old, and as Nancy Maginnes once said of her husband, Henry Kissinger, "He's not getting any taller." Like Ray Lewis, Brian Urlacher and London Fletcher, Thomas excels at MLB because he stays on the field on passing downs. But the past two seasons in Miami, his passing-down performance was waning. Maybe being on a better team in Dallas, and feeling at home (Thomas grew up in small-town Texas) will refresh him and prolong his career. But the realist in me thinks a good outcome for Thomas will be a nice season of spot duty.
Tactics note: The Boys are an example of the contention by Aaron Schatz, founder of Football Outsiders and first author of the Pro Football Prospectus series, that establishing the pass is more important than establishing the run. Schatz, the Bill James of football, has countless charts to show that the rushing statistics of winning teams are a result of getting ahead using the pass, then once ahead, running to grind the clock. Last season, the Cowboys passed 65 percent of the time in the first half, then ran in the second half in order to hold leads. In the first half, they deployed pass-wacky sets. In the second half, they often had a traditional two-back look on the field. Coaching note: Wade Phillips has never won a playoff game (0-4 career), and stands in danger of becoming the new Marty Schottenheimer. But don't fire him! Buffalo fired Phillips after consecutive seasons that ended with playoff losses; the Bills have not appeared in the postseason in the eight years since. How Buffalo fans wish their seasons were ending with playoff losses!
Euphemism Watch:
The Official Dog of TMQ is no more, replaced by the Official Puppy of TMQ, a cute little male yellow lab named Dublin. I bought him a bag of Purina One puppy chow. Emblazoned on the bag: "The #1 Ingredient is Real Chicken!" In what sense is "real chicken" different from "chicken?"
Detroit: The Cowardly Lions are 31-81 under Matt Millen, by far the worst percentage in the league during Millen's tenure. Yet the Ford family, which owns the team, continues to say Millen has their full support. No wonder Ford stock is trading at $4.47! Think about the parallels. For years the Lions have been losing and the Ford family has done nothing; for years Ford Motors' market share has been declining and the Ford family kept responding by investing in super-huge low-mileage vehicles. Psychological research shows people do not change until they admit they have problems. Both the Lions and Detroit automakers got deep into the swamp by refusing to admit they have problems. Ford Motors is finally wising up -- the Fusion is a well-built, fuel-efficient car -- but the football part of this equation still refuses to admit the obvious. For his part, Millen recently said he has "100 percent confidence" in coach Rod Marinelli, which sounds like the kiss of death.
Draft note: Detroit, which needed offensive line help, traded down in the first to pass on guard Branden Albert, choosing instead tackle Gosder Cherilus; the Lions picked up only a fifth-round choice. Detroit thought Cherilus was better than Albert, though most teams felt differently. Now Cherilus has pleaded guilty to assault in a bar fight; my five bucks says Detroit will wish it simply stayed put and chose Albert. Colors note: The Lions, whose sweet Honolulu Blue is the sole thing about the team in working order, this season will have three players who were born in Hawaii: Dominic Raiola, Ikaika Alama-Francis and second-round choice Jordan Dizon. Dizon recently plead not guilty to a drunken driving charge. Did the Lions do any homework on their first two draft choices?
Tactics note:
Detroit passed 69 percent of the time, most in the league. During that strange span when Millen selected a wide receiver in the first round of the draft for four of six years, TMQ's line was the Lions' goal was to field the first offense composed entirely of wide receivers. Now it turns out a high school in California actually does field an offense composed
almost entirely of wide receivers!
The "A-11" offense relies on a quirk in National Federation of High Schools rules; you won't see this look in the NCAA or NFL. But word of the A-11 has spread so fast via the Internet, many high school teams may try the formation this fall -- hoping to trick opponents who are likely to have seen the A-11 on the Internet, too.
Green Bay: The Packers' first-round choice of 2007, defensive tackle Justin Harrell, started only two games as a rookie. Harrell injured himself lifting weights this spring, rendering his 2008 outlook murky. In 2007, the Packers spent a second-round choice on Brandon Jackson, who jumped to the pros early after lining up in a mere 11 games in college. Jackson barely played in 2007 for Green Bay; considering he barely played in college, this kid has not seen much of the field, yet was a high draft pick. The Pack's third-round choice in 2007, safety Aaron Rouse, played special teams. It's normal for a draft class to do little in its first season. When Marv Levy was coaching he always used to say in August, "I am not excited about this year's rookies, I am excited about last year's rookies." But by the second year, draftees should be producing. The Green Bay Class of 2007 better start producing.
Who was on the draft board in 2007 when the Packers spent their first-round choice on Harrell? Brady Quinn. This winter Green Bay traded defensive tackle Corey Williams, a good player, to Cleveland for the second-round choice used to select quarterback Brian Brohm. This means Green Bay traded away a good performer at the same position it had just spent a No. 1 choice on, with no yield so far. The Williams-to-Cleveland deal was done so the Packers could obtain an extra pick to shore up the quarterback position in the event the weeping Mississippi farmer actually was telling the truth when he said he didn't want to play anymore. So rather than having the dubious Harrell at defensive tackle and the unknown Brohm at quarterback, Green Bay could now have the appealing Quinn at quarterback and the accomplished Williams at defensive tackle. General manager Ted Thompson's series of choices that left Green Bay without Quinn and Williams may have more to do with the Packers' future more than any aspect of the handling of Favre.
Tundra note: Green Bay has lost three of its past five playoff games at Lambeau Field, which seems like saying Maria Sharapova has been turned down by three of the past five guys she asked out.
TMQ, Trinity of Texas Foiled at ESPYS: Here are this year's ESPY winners. The Best NFL Player nominees were Tom Brady, Brett Favre, Eli Manning, LaDainian Tomlinson, Randy Moss and Bob Sanders -- nary a lineman among them. Obviously ESPN needs to add a Non-Running Back Non-Quarterback ESPY category. There was an ESPY for Best Bowler; bowling is recreation, but is it a sport? Knowing little about tennis, I voted for Maria Sharapova for best female tennis player, in hopes she would win and attend the event, and then I could gawk at her. She won but did not attend because women's tennis was not featured in the presentations this year. I would have settled for Ashley Harkleroad!
that's
an upset! TMQ also thought Trinity of Texas should have won Best Play over Manning-to-Tyree. Yes, the Super Bowl helmet catch will go down in sports lore. But how many times will you see a
15-lateral touchdown
on the game's final play -- to win a conference championship to boot! Trinity had a dozen players and coaches at the ESPYS parties and ceremonies, glorying in the limos, Hollywood chic and special effects. One of the Trinity players said to me in wonderful excitement, "Last night at the ESPN party I was hanging with Plaxico Burress!" (One could only imagine what Burress said to the Trinity player: "You gotta hold out. Refuse to come to the cafeteria. Don't answer the door at your dorm. Make them up the scholarship offer.") Considering the Western Oregon-Central Washington women's softball sportsmanship demonstration won Best Moment, with Mallory Holtman, Sara Tucholsky and Liz Wallace up on the stage at Nokia Theater not once but twice, it was great to see small-college athletics well-represented at the premiere annual event in sports.
Jersey/A: At the Super Bowl, did the Giants play the greatest defensive game ever? They held the highest-scoring team in football history to 14 points -- though high-scoring teams have a tendency to sputter within view of trophies. (Think 1990 Bills, 1998 Vikings.) The physical performance of the Giants' defenders against New England was a spectacular, consistent effort -- nobody took a down off. Steve Spagnuolo compiled a smart game plan. Jersey/A did not blitz anywhere near as much as it had in the teams' meeting two months before, and New England seemed to expect blitzing. Rather, Giants linebackers dropped to cut off the curls and comebacks that Brady likes so much. Dropping linebackers meant Wes Welker had lots of catches, but in front of the linebackers, preventing a long gainer. A safety almost always shaded toward Randy Moss, neutralizing him. Every defense has a weakness; what the Giants offered was the deep pass to any receiver other than Moss. Yet except on one down, Brady threw deep only toward Moss. New England's penchant for looking deep to Moss gave the Giants' pass rush time to get to Brady, resulting in five sacks and lots of hurries -- I counted four snaps on which a receiver was open deep, but the pass was off-target because Brady was hurried by the rush. It was either the best defensive game ever, or at least the best defensive game TMQ has ever seen.
Yet already the Giants' defensive unit is broken up by the retirement of Michael Strahan, the free agency departure of three other starters, and the season-ending injury to Osi Umenyiora. It was there, a great defense, and now it's gone.
Defending champion note: Stretching back to November 2006, the Giants are on a run of 14-2 on the road and 3-8 at home. Aesthetic note: For a generation, the Giants and Jets have lacked cheerleaders, despite the New York area being home to large numbers of leggy young women with dance training who are looking for a break in show biz. In 2006, the Jets added a squad that was initially billed as "flag carriers," and in 2007 turned into scantily clad cheer-babes. Giants, you are now visually outclassed by the Jets -- time to correct that imbalance.
Make Room for Lettuce:
As a lover of cheeseburgers, TMQ is not against fast food -- perhaps a family thing; my distant relation
Steve Easterbrook runs McDonald's U.K.
-- but the nutritional aspect must be within reason. Right now, Wendy's is promoting its Baconator burger, which has two beef patties, two cheese slices, cheese sauce and six strips of bacon but "no room for lettuce," according to the adverts. Wendy's recommends a Frosty Shake with the Baconator -- these add up to 1,380 calories,
according to the company's calculation
. Add a medium fries and lunch hits 1,810 calories. The typical adult male should consume about 2,500 calories daily. California's
In-N-Out
, my favorite burger chain, does not disclose calorie numbers -- why is that, In-N-Out? The standard cheeseburger with fries at my second-favorite burger chain, Five Guys of Maryland,
contains an outrageous 1,390 calories
. In keeping with the mindless supersizing of food, the standard burger at Five Guys is a double; if you want a single, you must ask for a "little cheeseburger." Here is
Brian Wansink's Web site on "mindless eating,"
the phenomenon of wolfing down far more calories than you think you are consuming.
Minnesota:
The Vikings are the darlings of NFL conventional wisdom -- with a great run defense and Adrian Peterson, they are being picked by almost everyone to push deep into the postseason. TMQ is not sold on Minnesota, however. This team lost 34-0 at Green Bay last season, and you can't hang that all on struggling quarterback Tarvaris Jackson. Holding the inside track to a wild-card berth, the Vikings dropped their final two games last year, and you can't hang that all on struggling quarterback Tarvaris Jackson. Football is a team sport, and often last season the Vikings were not a particularly good team. Their big offseason addition was defensive end Jared Allen, who's talented but plays a selfish, my-stats-matter-more-than-winning style. Again, TMQ is not sold on these Vikes.
Minnesota is remembered for surrendering far too much in the Herschel Walker transaction years ago; now add to the bad-trade annals the Randy Moss deal. In the 2005 trade, the Vikings sent Moss to the Raiders for the seventh overall choice in the 2005 draft (which the team used to select wide receiver Troy Williamson) and linebacker Napoleon Harris. Minnesota let Harris go; he now toils for Kansas City. Williamson drops balls as if they were live ferrets, and in the offseason was unloaded by the Vikes to the Jags. In return for Williamson, the Vikings received Jax's sixth-round draft choice, which they used to select Jaymar Johnson, a wide receiver from Jackson State. Bottom line: Randy Moss for Jaymar Johnson. That's some trade!
New Orleans:
In 2005, the Saints got only seven home games, with just five played in Louisiana, owing to Hurricane Katrina. Now New Orleans will get just seven home games in 2008, owing to being the home team of record for the Chargers-Saints contest in London. Somebody had to be shafted out of a home date for the London game, but why the Saints? When NFL schedule-makers sat down this offseason, they knew that in recent decades, just two NFL teams had been shafted out of a home game: New Orleans in 2005, and Miami in 2007, when the Dolphins were classified as the home team for the first London game. Why did NFL decision-makers choose New Orleans to be shafted again, when 30 never-shafted teams were available?
New Orleans acquired Jonathan Vilma from Jersey/B, promising a second-round draft pick if Vilma participates in 85 percent of the Saints' defensive snaps (the pick defaults to a third- or fourth-round choice otherwise). Then New Orleans acquired Jeremy Shockey from Jersey/A, again promising a second-round pick. The Giants-Saints deal stipulates that if Vilma performs well and the Jets receive the Saints' No. 2 pick, the Giants get the Saints' No. 1 pick. Naturally this means that if Vilma participates in 84 percent of the Saints' defensive snaps, he will suddenly develop a mysterious injury. More importantly, the pair of deals means the Saints have mortgaged a chunk of their future for two players that the state of New Jersey did not wish to retain. Usually, when a team wants to get rid of a player, there's a reason.
Weasel, Not Wolverine, Now the University of Michigan Mascot: After months of refusing to pay the $4 million contractually specified default fee he incurred to West Virginia University by walking out, Rich Rodriguez finally admitted he owed the money. Rodriguez is a weasel whose word means nothing, so why shouldn't he try to weasel out of his debts? In a settlement, the University of Michigan agreed to pay $2.5 million of what Rodriguez owes, while WVA agreed to give Rodriguez several years to remit the balance. Michigan also agreed to cover Rodriguez's legal fees. Since it is believed Rodriguez will receive about $3 million this season, and now Michigan is out the $2.5 million plus legal fees, he has become a very expensive coach indeed. Will all this spending on Rodriguez and his personal baggage make the Wolverines any better?
Legalism note: The deposition given by the WVA athletic director prior to the settlement lasted eight hours and ran 200 pages. This dispute was not the AT&T antitrust case -- at issue was a single clause of a contract for a single individual. An eight-hour deposition? Imagine how judges must feel about this sort of junk clogging up dockets when there are important cases to be heard. WVA note: West Virginia University president Mike Garrison resigned after just a year on the job; while on the job, he allegedly supervised the alteration of school records to justify a master's degree awarded to the governor's daughter. When Garrison quit, the school's announcement did not mention resignation. Rather, it said he decided to "complete his service." WVA's board of governors issued a statement saying, "We thank you, President Garrison, for your extraordinary service to this University." The guy was on the job for barely a year, and in that time single-handedly trashed the reputation of West Virginia University, while reinforcing every prejudice about West Virginia as a corrupt state run on incestuous politics. That's "extraordinary service?" Here's the school's report about the scandal. How come so much is blacked out?
Philadelphia: Five of the past six years, the Eagles' highest draft choice has been a lineman -- three defensive tackles, a defensive end and an offensive tackle. Add to that another defensive end chosen with the team's second of two second-round selections in 2007, and Andy Reid has gone line-heavy in a spectacular way. Reid's Eagles always have strong offensive stats, despite using few high draft choices on running backs and wide receivers. This follows TMQ's rule that football success is primarily determined by line play, away from the ball that the sportscasters are watching. For three seasons now, sports pundits have talked nonstop about Donovan McNabb and Brian Westbrook, missing the line-play aspect of the Eagles' success. Line play was the primary reason that, in 2007, Philadelphia was ranked sixth on offense and 10th on defense -- the NFL's only double top-10 team not to reach the playoffs. Based on two strong lines, I'd feel pretty good about the Eagles' prospects this coming season.
Marketing note: Considering that there are 60,000 names on the waiting list for Eagles season tickets, and the 99.7 percent renewal rate by existing season-ticket holders, those at the bottom of the waiting list should expect a chance to purchase season tickets in about 4,000 years.
Cheer-Babes Also Raise Awareness:
Always at the cutting edge of cheesecake technology, the Philadelphia Eagles cheerleaders have posed for
an environmentally themed swimsuit calendar
. The calendar is printed on post-consumer recycled paper, and the cheerleaders' bikinis are made of organic cotton. To conserve resources, very little cotton was used.
St. Louis: Les Mouflons lost their first eight games in 2007, including four defeats in which the Rams were outscored by a combined 114-19. Just to prove it was no fluke, the team then lost four straight to end 2007, including a season-ending 48-19 defeat by Arizona. When you're getting blown off the field by Arizona, you stink, to use the technical term. The Rams, 15-28 since Mike Martz departed, are at the nadir of a talent cycle. Their Super Bowl players are either gone or aging. Brett Romberg, Quinton Culberson, O.J. Atogwe -- these are just a few of the household names expected to start for St. Louis this year.
San Francisco:
San Francisco put substantial bonus money into signing defensive backs Nate Clements and Michael Lewis, then finished last season ranked No. 22 in pass defense. This is doubly dismaying, since losing teams usually have good pass defense stats, because opponents don't have to throw the ball in the fourth quarter. Dropping 10 of 11 during one stretch of 2007, the Squared Sevens simply looked awful -- bad on defense, offense, special teams -- you name it. Who's looking forward to seeing the Niners again? The Seahawks, who outscored the Niners 47-3 in two 2007 meetings. Now J.T. O'Sullivan takes over at quarterback, for a club that in 2007 threw more interceptions (17) than touchdown passes (15). O'Sullivan has been waived eight times in six years in the NFL -- there's never been a finer candidate for TMQ's annual All-Unwanted team! Alex Smith, the first overall draft pick of 2005, will hold the clipboard. TMQ can't help but think that if Smith had been chosen in the second round instead of at the top of the first, his career would be going a lot better.
Seattle: Who's the career victories leader among active NFL coaches? Bill Belichick? Tony Dungy? No, it's actually Mike Holmgren. And by a comfortable margin -- Holmgren has 170 career wins, compared to 146 for Mike Shanahan and 142 for Belichick. This is Holmgren's farewell tour; he has already announced he will leave at the conclusion of the season. And, Hapsburg-like, the Seahawks have already declared a line of succession that will transfer the head coach post to his assistant, Jim Mora.
TMQ has speculated on the reasons for coach worship
. Yet in an environment in which coaches generally receive too much credit, admiration and money, the active coach with the most career victories in the most prominent of all sports gets little attention. Holmgren's teams have reached the Super Bowl three times, winning once. There are modern-era Hall of Fame coaches who don't have a Super Bowl appearance (Sid Gillman) or whose Super Bowl track record is either inferior to Holmgren's (Bud Grant, Marv Levy) or who coached in fewer Super Bowl (John Madden, Hank Stram). Still, Holmgren is barely acknowledged in the sports press or within his own profession. Maybe it's the walrus look; Holmgren is not winning any medals for personal appearance. But Belichick has not been professionally handicapped by looking like a hobo asking for quarters at the bus station. Maybe it's Holmgren's reputation for being cranky and yelling at low-ranking staffers -- it is inexcusable for a wealthy person to yell at a lowly paid person. But as for crankiness and ego, half the head coaches in Division I are guilty of that.
The best TMQ can figure out is that Holmgren gets no coaching respect because the Seattle Seahawks get no respect. Despite five straight playoff seasons, a Super Bowl appearance and a 51-29 record in that span, the Seahawks are rarely mentioned when good teams are discussed, and rarely shown on national television. Matt Hasselbeck, 56-34 as the Seattle starter, has less name recognition than his sister-in-law Elisabeth. Sure, the Seahawks play in the northwestern corner of what is still a Northeast-oriented nation. And sure, their uniforms make the Blue Man Group look like they just fell into a pot of finger paints. But the standard dismissive comment about the Hawks -- "they're just a system team" -- drives TMQ crazy. If so, why doesn't everybody adopt their system? Transplant the Pittsburgh Steelers or Carolina Panthers to the Emerald City, give them the same record and results over the past five years, and football pundits would yak nonstop about how great they were. Instead, the Seahawks barely even get mentioned.
they even take it off for the Fourth of July
.
City of Tampa: The Tampa 2 speed defense is back -- the Bucs finished second overall in yards allowed in 2007. The Tampa 2, now also in use in Buffalo, Chicago and St. Louis, is a conservative scheme -- linebacker blitzes are rare (corner blitzes favored), safeties play deep to prevent long gainers. Sportscasters call what Tampa does an "attacking" defense, because "conservative" defense doesn't sound manly. But conservative defense is often what works. As for the Bucs' offense, it sputtered in 2007, seeming endlessly to run 60 Stretch [Yawn], the imaginary play in the Pepsi Max commercial. Though Tampa can boast that it scored the same number of points against the Giants' defense in the playoffs (14) as did the New England Patriots. The Bucs entered September with some $27 million in salary cap space; their fans may wish they had spent some of it.
without anyone noticing
, plus rig devices to take over the ferries' engines. Joker is able to move thousands of pounds of explosives into Gotham General Hospital
without anyone noticing
. Positioning the explosives for the two giant-blast sequences in "The Dark Knight" would have required large trucks and a front-loader carrying multiple heavy objects through places crawling with police officers
without anyone noticing
. Joker always knows exactly where everyone he wants to kill is in a huge city (how?); he's beaten to a pulp by Batman, yet just minutes later, easily overpowers a huge policeman; Joker steals from the mob, yet no mob soldier simply shoots him. Joker has a bomb sneaked into the jail where he's being held -- somehow he knew in advance what cell he would be in! -- and it blasts open the jail wall, plus kills all the police officers standing around the Joker, but does not hurt him.
In Canny Move, Biden Choice Announced on Saturday -- Exactly When People Pay Least Attention to the News:
My daughter registered her cell phone for Barack Obama's running mate announcement. At 3:06 a.m. on Saturday her text-message alert sounded. She woke up proclaiming, "Who the #@$%! is texting me at 3 a.m.?" and discovered it was the Joe Biden announcement. The Obama campaign spoiled the sleep of millions of young adults all around the country -- some strategy. "Spread the word," the text message ended. At 3 a.m.?
Eugene Upshaw, 1945-2008: Gene Upshaw died young last week, and many of the same people who had denounced him while he was alive praised him after he was dead. When their words could be heard and inflict hurt, they slammed him; when their words could not be heard, they were gracious. As TMQ argued a year ago in detail, Upshaw did a fabulous job for players -- winning 59 percent of the richest pot of gold in sports is hardly to be sneezed at. In 1993 the NFLPA, under Upshaw's leadership, adopted cooperative bargaining as its core tactic. Since then, adjusting to today's dollars, NFL payments to players and retirees are up from $1.3 billion to $3.8 billion, an increase of about 13 percent per year. How many professions do you know where pay rises an inflation-adjusted 13 percent annually? Recently, the NFL owners voted unanimously to exercise a clause that lets them opt out of the Collective Bargaining Agreement two years early. When that same deal was signed in 2006, Upshaw was roundly ridiculed by sports pundits, and by retired NFL players, as a lapdog, because he worked cordially with the owners rather than calling a strike. That the owners unanimously opted out, after having time to think about what they had agreed to, is the proof the NFLPA, not the owners, won the 2006 negotiating round. If some lapdog union leader had agreed to a weak deal, the owners wouldn't be opting out, would they? Upshaw had a difficult personality, and the NFLPA gets self-inflicted bad press because its public-relations operation is among Washington's worst. But in terms of substantive accomplishment, the NFLPA under Eugene Upshaw provided magnificently for its members, including for its retired members. My advice to all who play touch football with Upshaw in the afterlife: watch for the trap block; even in paradise, this guy is unlikely to ease off.
Washington: The Redskins were fast becoming the federal government of the NFL, with two people owning the title Associate Head Coach: Al Saunders and his 700-page playbook, and Gregg Williams and his ultracomplex defense. Maybe the Redskins should file Environmental Impact Statements for their plays! Now Saunders and Williams are departed, both passed over for the head coaching vacancy, which went to Jim Zorn -- yet another gentleman who had never been a head coach at any level before becoming an NFL head coach. The Redskins are now on their sixth head coach in the 10 years that the impossible-to-please Chainsaw Dan Snyder has owned the team. Pity quarterback Jason Campbell, who going back to college is in his fifth offensive system in seven years. In the past 11 years, Peyton Manning has played under two head coaches and in one offensive system; in the past nine years, Tom Brady has played under one head coach and in one offensive system. Endless coach-and-scheme turmoil does not win games, a lesson Chainsaw Dan refuses to learn.
Saint Olaf College
. TMQ has long maintained the small-college and high school coaching scenes have far more talent than the NFL recognizes. To coach a small college or a high school, you need to know about all aspects of football -- plus be able to get along with people, a skill sorely missing in much of pro sports.
Maybe the Canadian Announcer Was Smashed: Last week, Tuesday Morning Quarterback complained about the absurdity of hundredths of seconds to decide Olympic results. Since then, Usain Bolt has broken Michael Johnson's 200-meter record by a 50th of a second. Initially Bolt was ruled to have run the race in 19.31, or one-hundredth of a second faster than Johnson's record 19.32; a moment later, Bolt's finish was changed to 19.3 (or, as sportscasters insisted on saying, "19.30"). Bolt is great, but declaring him one-fiftieth of a second better than the previous record-holder seems absurd. Reader Ryan Stormo of Bellingham, Wash., adds that a Canadian announcer declared Bolt had "smashed" the record. By a 50th of a second?
Chris Griffith of Austin, Texas, counters that my complaint about the hundredth-of-a-second win by Michael Phelps wasn't fair: "The highest swimming speeds are about 6.3 feet per second, so two swimmers finishing one hundredth of a second apart will hit the wall a little less than one inch apart. To a person standing poolside this difference is not observable, but is absolutely measurable, both by the timing pads and by high-speed cameras taking thousands of frames per second. If the timing interval were cut to a tenth of a second as you suggest, swimmers could be separated by a much as eight inches, a large margin at the most competitive levels of swimming, and still finish with the same time."
Next Week: For seven years, the lead-up to my annual all-haiku predictions column has said, "Still America's only all-haiku NFL seasons' predictions." As readers, including Becky Messengill of Philadelphia, pointed out, last week CBSSports.com ran an all-haiku NFL season prediction. A reader on the CBS message board asked, "What's next, someone [at CBS] going to start calling himself The Sports Dude? Going to hold your own sports awards show, The CBSpys?" Hey CBS Sports -- next time think up your own idea!
Also See
ESPN Top Headlines