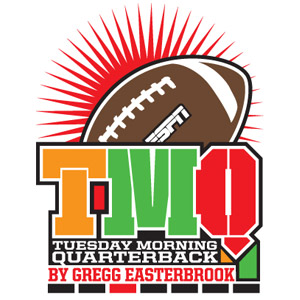 Last week I journeyed alone to a distant mountaintop -- OK, a distant parking lot -- and beseeched the football gods to give me a manly man coach. Here is last week's column on cowardly NFL coaches kicking instead of going for it. What to our wondering eyes does appear but the Denver Broncos, down 38-37 to San Diego with 24 seconds remaining, going for two and the win rather than passively kicking and proceeding to overtime. Mike Shanahan, who styles himself as The Ultimate Leader, made a bold leadership decision! And the football gods crowned him with success.
Not only was Shanahan rewarded by the football gods, all football enthusiasts were rewarded with a fabulous conclusion to the game. Whatever happened on that deuce attempt, the ending would have been one of the most entertaining and talked-about game endings in years. Suppose instead Shanahan had kicked, and either team had won in overtime with a field goal -- yawn. Instead, what a fabulous game!
From the moment Shanahan made his decision, sports nuts called it "gutsy" or "bold" or "a huge risk." As TMQ has pointed out before, going for it is actually playing the percentages! Suppose Denver had kicked the PAT and advanced to overtime. That's about a 50/50 prospect, and in overtime you may never even touch the ball -- on Sunday, San Francisco won the overtime coin toss, took the ball and beat Seattle, which never had a snap. Go for two in the waning seconds, and all you need is 2 yards to win the game. Up to that point, Denver had rolled up 484 yards of offense. The offense was hot, so why not try for 2 yards more? The invaluable Pro Football Prospectus reports that since 2003, deuce attempts have succeeded about 55 percent of the time, which sounds better than trotting on to overtime. True, in the past 15 years, teams that have gone for two to win in the final minute won three times and lost three times. That's still no worse than proceeding to overtime -- and tells you how rare going for two in this situation is. TMQ suspects that if coaches went for the win in this situation more often, they'd do better than 50/50.
Shanahan's decision was "bold" mainly in the sense that if the gamble failed, sports pundits would now be bashing, bashing, bashing him. Whereas if he ordered a kick and the Broncos lost in overtime, the players would be blamed. Coaches act like cowards mainly to avoid criticism -- how wonderful to see Shanahan not caring about that.
Now consider another aspect of the decision: The deuce try helped Denver score the touchdown. How's that? When the Broncos took possession with 4:22 remaining, trailing 38-31, Shanahan told the offensive unit that if they scored, the team would try for two. This must have excited the offensive players -- their coach was challenging them to go win the game, and expressing confidence in them. Going for two is a lot more exciting for an offensive player than passively trotting off the field as the kicker trots on. The knowledge they would go for the win was likely a factor in the Broncos' pumped-up drive down the field.
In other football news, coaches are obviously important, as Shanahan just showed. Yet TMQ contends they are overrated as factors in sports outcomes; see my argument in detail. TMQ's Law of Coaching is that great coaching adds about 10 percent to performance, and bad coaching subtracts about 10 percent; everything else comes from the athlete. A good example of attaching too much significance to coaching is this Washington Post article asserting that Maryland's monster upset of Cal occurred mainly because Terrapins coach Ralph Friedgen gave his players a good pep talk. I am sure it was, in fact, a really outstanding pep talk. But 90 percent of an athlete's motivation comes from within. Friedgen was the same coach, using the same techniques, the week before when Maryland was upset by Middle Tennessee. As for Cal, coach Jeff Tedford had his team fly through three times zones and arrive on the East Coast at 4 p.m. Friday for a game that kicked off at noon Saturday. That really dumb coaching decision likely hurt Cal more than the best pep talk in history could have helped Maryland.
In other football news, some of the financing for the Giants' new $1.6 billion stadium was to come from Lehman Brothers. See more on stadium economics below. And in world news, recently an important scientific discovery was made by an attractive woman. You'd think the mainstream media would be all over that story; strangely, they were not. But you'd better believe TMQ has it! See below.
Stats of the Week No. 1: In 2007, New England scored more points in a season than any team in football history. So far this season, 19 NFL teams have scored more points than the Patriots.
Stats of the Week No. 2: Denver is on pace to break New England's record for most points in a season.
Stats of the Week No. 3: Stretching back to last season, Minnesota, picked by many touts to reach the Super Bowl, has lost four straight games.
Stats of the Week No. 4: Stretching back to last season, San Diego, picked by many touts to reach the Super Bowl, has lost three straight games.
Stats of the Week No. 5: Green Bay scored 24 points in a 3:14 span Sunday.
Stats of the Week No. 6: Cleveland lost to Pittsburgh for the 387th consecutive time. (Well, it seems like that, doesn't it?)
Stats of the Week No. 7: In Sunday's loss to the Packers, Detroit was trailing 21-0 for the second consecutive week.
Stats of the Week No. 8: At one point on Sunday, Aaron Rodgers had 165 more passing yards than Jon Kitna; by early in the fourth quarter, Kitna had more passing yards than Rodgers; then the game ended with Rodgers having more passing yards than Kitna.
Stats of the Week No. 9: Tony Romo and Donovan McNabb combined to complete 46 of 67 pass attempts for 593 yards Monday night -- see note below.
Stats of the Week No. 10: The Dolphins are 7-27 since the moment Sports Illustrated predicted they would win the Super Bowl in 2006.
Cheerleader of the Week: Erica Golding of the Broncos, who according to her team bio works as a "broadcast host," an occupation I did not know existed. Surely the aesthetic appeal and professionalism of the Broncos cheerleaders were a factor in Denver's spectacular victory! Golding reports her career goal is to host a show on the Travel Channel, which is about the places you won't be going, in the same way that cooking shows are about the food you won't be eating. The two people she would like to have dinner with are her mom and Anderson Cooper.
Sweet Play of the Week No. 1: Green Bay, leading Detroit 14-0, faced third-and-2. Detroit put nine defenders on the line, including press corners. Jordy Nelson was single-covered on the outside by a cornerback right on the line; Aaron Rodgers saw it and audibled to a "go" route; Green Bay sent five men into the pattern; the Packers' blocking was perfect. The result? A 29-yard touchdown, and the rout was on. (Then off, then on again.) Sure, it's been only two weeks with Rodgers at the helm, but the Packers look solid. Could it be that they went 14-4 last season mainly due to players who are not named Brett Favre? Could it be that coach Mike McCarthy finally has a quarterback who actually executes the game plan?
Sweet Play of the Week No. 2: Bill Belichick may be a sinister threat to western civilization, but he sure is a smart football coach. Leading Jersey/B 6-3 midway through the third quarter, the Flying Elvii had second-and-goal on the Jets' 8; the Jets jumped offsides on a play that reached the 1. Belichick's choice: second-and-goal on the 4, or third-and-goal on the 1. Most coaches would have taken the extra down. Belichick declined the penalty, accepting third-and-goal on the 1, and the Patriots scored on the next snap. Once you've gotten right to the goal line, you will score - or if you can't punch it across, you don't deserve to win! Two downs before the penalty, New England converted a third-and-9 with a weakside screen. Most teams call screens to the strong side, reasoning there is an extra blocker there. On a weakside screen, there is one less defender to beat. Ominous New England omen No. 1: Several times against the Jets, Patriots offensive linemen were simply standing around, not trying to block anyone. Ominous New England omen No. 2: For the second straight week, TMQ contains something nice about the Patriots. Reader Cynthia Pleach of Canton, Mass., a New England fan, asks, "So what's the deal this year? Are you figuring if you're nice, they'll lose?"
Sweet Play of the Week No. 3: What play did Denver use for its winning deuce? Almost exactly the same play it employed a moment before to score the touchdown on fourth-and-goal. Tight trips left, rookie receiver Eddie Royal ran a "stutter in" -- stopping and chopping his feet for an instant, then cutting over the middle. Stutter moves are chic this year; they seem to hypnotize defensive backs for about a second. Plays that just worked, and plays that just failed, are the ones defenses don't expect to see on the very next snap. Denver called the play that just worked -- sweet. Plus, on both the touchdown and the deuce, Denver cleverly looked not to Brandon Marshall -- with 18 receptions, the target the defense expected -- but to an unknown rookie.
Sweet Special Teams Play of the Week: The TMQ Iron Law of Kicks holds: Rush eight if you want to block that kick. Too many NFL coaches timidly don't even try to block kicks, rushing four or five because they fear a roughing-the-kicker penalty. Tennessee rushed nine when Cincinnati lined up to punt from its end zone: blocked punt, touchdown.
Sour Play of the Week: As Reggie Bush ran a punt back 55 yards to put New Orleans up 24-15 over Washington at the end of the third quarter, he pointed at Redskins defenders and taunted them. Reggie, didn't you learn your lesson when you taunted the Bears during the 2006 NFC Championship Game, and the Saints promptly collapsed? Following Sunday's taunt, the Saints promptly collapsed, and the Skins came back to prevail 29-24.
Sour Possessions of the Week: After taking a 15-0 lead against Indianapolis late in the third quarter, Minnesota went fumble, punt, missed field goal, punt, punt for the remainder of the game, recording just three first downs. The Colts scored their winning points with 0:03 showing. Had the Vikings picked up just one more first down in the fourth quarter, playing at home with a power-rush offense, Indianapolis would have run out of clock. When Minnesota punted to the Colts with 1:20 remaining, Spenser, my 13-year-old, immediately said, "They're doomed."
Cheer-Babe Professionalism Watch: Mike Rhodes, a student at Seattle University, notes that for the first half Sunday, the Seattle Seagals wore their pleasingly revealing "hello sailor" summer outfits; at intermission, the Seahawks led 20-13. For the second half, the cheerleaders inexplicably changed into long pants, though the sun was still out and kickoff temperature was 67 degrees. Angered, the football gods granted a comeback victory to San Francisco.
Seahawks to Announce Core Curriculum: Mike Holmgren said last week he plans to take "a sabbatical" after this season. Other upcoming changes for the Seahawks:
• Sherry hour for coaches.
• Subtitled foreign films screened in film room.
• Quarterbacks to have dissertation adviser.
• Cheerleaders to wear academic robes.
• Honor code for looking at wristbands.
• Opening kickoff replaced by opening convocation.
Christmas Creep Watch: Melanie Triebel of Winfield, Ill., reports that on Sept. 6 she was in the Santa Ana, Calif., Target: "They have the Christmas decorations up, and were using Christmas bags at checkout." William Bradley of Fort Worth, Texas, reports he received the Smithsonian Institution's Christmas catalog on Sept. 6.
"Monday Night Football" Note: The Cowboys and Eagles both have made huge investments in defensive backs, via high draft choices and free agency. In Monday night's game, Dallas fielded four first-round draft choice DBs -- Adam Jones, Mike Jenkins, Terence Newman and Roy Williams -- plus megabucks free agent Ken Hamlin. Philadelphia fielded first-round draft choice DB Lito Sheppard, plus second-round choices Sheldon Brown and Brian Dawkins, plus megabucks free agent Asante Samuel. Yet not only could neither team stop the other's passing attack, both seemed unable, simply unable, to cover any kind of speed move deep. And note that despite all the high-priced flashy performers on both sides, the game's decisive moment was a routine handoff that was botched between Donovan McNabb and Brian Westbrook. At the time, there were nine minutes remaining in the game. Philadelphia led 37-34, and had a first-and-10 on the Dallas 33. The ball hitting the ground on the handoff determined the game.
At Least All New TV Shows Can Say They Were Still on the Air When the Christmas Decorations Went Up: New television shows are beginning their premieres, with several expected not to be canceled for weeks! Here are the new shows premiering on TMQ Channel:
"Detective Wormhole." A police officer from a mirror universe is teleported to New York City and must search for a scientist who is about to destroy the Earth by turning on a super-advanced atom smasher. Running joke: In his reality, New Yorkers are incredibly polite.
"Incomprehensible." Ten people of diverse backgrounds awake to find themselves on a beautiful island guarded by the Loch Ness monster. They locate a series of mysterious prophecies warning of the destruction of humanity. A stranger appears in their midst without explanation. Beneath the island are stairs leading to a cavern full of Mayan ruins. A rescue plane circles above the island, sending radio messages in an unknown language. Gradually they discover they are acquiring superpowers. They find an extremely strong power generator that appears to be of extraterrestrial design. Five figures dressed in white robes walk out of the water and refuse to speak. A room of scientific experiments is found, many in progress, as if the scientists had just left the room. They come across a table set for an elaborate feast. One day a child holding a lamp appears ...
"CSI: Park Service." Someone didn't take out the trash. Jimmy Smits and Jenna Elfman will stop at nothing until they find out who.
"Chick Flick -- The Series." An immortal Mayan warrior who has been cursed to wander the Earth in search of the resurrected soul of the only woman he ever loved has touching, teary encounters with modern career women who are discontent despite their seemingly perfect lives.
"Emergency Law." At a combined hospital and law firm, doctors and lawyers see patients and clients simultaneously.
"The Strength of Ten." A rift in the space-time continuum transports Sir Galahad from Camelot to present-day Los Angeles, where he fights criminals using the Sword of Balin. In the pilot, Galahad causes a riot by insisting the damsels on Venice Beach cover themselves.
"How Low Can You Go?" Television network executives compete to win a big promotion by coming up with the most exploitive reality series. Weekly reality show-within-a-show is the highlight. In the pilot, Tom green-lights "Tenement," in which volunteers are locked in an abandoned apartment building full of famished rats. Stephanie backs "Platinum," in which attractive women have 24 hours to see who can make the most money as high-class call girls.
"Mr. Edward." Talking-horse show revived as part of fad for "reimagining" old television series. "Darkening" the story, as is the current trend, the eponymous palomino is now the result of a sinister genetic experiment conducted by An Agency Far, Far More Secret Than the CIA. Wilbur Post now is an arms dealer, while Carol Post is now trying to have her husband committed for his talking-horse claims, so that she can seize his property and move in with her lesbian lover. Their neighbors the Addisons are now involved in international smuggling.
"Hillary Montana." A tween who shrieks and jumps around a lot has a secret identity as a presidential candidate. What if her friends find out!
"Dexter and the Housewives." Cutting-edge situation comedy about a serial killer who tortures ditzy women to death in their over-decorated suburban homes. Zany, madcap action as the hero uses power drills and rotary saws on his helpless victims in extremely graphic scenes, all the while engaged in hilarious misadventures with a roster of wacky, zany friends. USA Today gushes, "Combines 'Hostel' and 'The Dick Van Dyke Show.'"
"Mean Girls B.C." High-concept show mixes graphics from the movie "10,000 B.C." with Valley Girls teen-queen high school melodrama, to show the evolution of adolescent nastiness. In the pilot, some prehistoric cool girls exchange gossip about the bones in each other's hair and their boyfriends' low cranial capacity.
"An Agency Far, Far More Secret Than the CIA." Good-looking, wisecracking operatives of a super-ultra-secret agency use near-omnipotent technology to prevent Congress from finding out about their budget.
Sweet 'N' Sour Play No. 1: The Giants have first-and-10 on the St. Louis 33, play-fake, and both Rams safeties bite and come up. Touchdown pass to Plaxico Burress; fooling both safeties was sweet. Both safeties were still running forward, toward the fake ball carrier, as Eli Manning cocked his arm to throw deep; both safeties only got back to their own 20 as Burress crossed the goal line. That was sour.
Hurray for the Voorwerp: TMQ has supposed that the Golden Age of astronomy is about to begin -- more will be learned about the cosmos in the next 50 years than in all of human history so far. The reasons are the improving quality and number of powerful telescopes, and the democratization of astronomy -- especially the planned Large Synoptic Survey Telescope that would broadcast its images live on the Web for anyone to use, rather than be reserved for academic researchers who exert proprietary claims on data. Once, anyone in the world could gaze up at the sky and ponder. Now light pollution makes that impractical in many places, while telescope views of deep space are monopolized by the guild structure of professional astronomy. That's about to change.
The value of bringing average people back into astronomy was just demonstrated by Hanny van Arkel, a Dutch primary school teacher who used the Galaxy Zoo citizen-science Web site to discover the first cosmic Voorwerp. Her Voorwerp -- the weird green thing in the photo -- is a vast region of space glowing at about 18,000 degrees Fahrenheit despite containing no stars or other apparent source of power. No professional astronomer had ever seen a Voorwerp (Dutch for "unknown object"), and the pros still aren't sure what it is. The current betting line is that the Voorwerp is a hot cloud that somehow captured the energy emitted by a quasar once relatively nearby, but no longer exists. How could an entire region of space retain energy emitted by something else? Your guess is as good as the nearest Ph.D.'s. Once significant amounts of astronomy resources are on the Internet, amateurs are sure to find many more unknowns.
Sweet 'N' Sour Play No. 2: Trailing New Orleans 24-22 with less than four minutes remaining, the Potomac Nanticokes took possession on their 33 and came out four-wide. Santana Moss was outside right and ran a zed-in, twisting the cornerback around and catching a game-winning 67-yard touchdown pass. That was sweet. The cornerback was rookie Tracy Porter, who had no safety help deep. NFL rookie defensive backs are known to bite on double moves, and a deep pass was the big threat to New Orleans at that moment. Leaving a rookie "on an island" at this critical juncture was sour.
Football Gods May Now Favor Bucs: TMQ crusades against blame-shifting by coaches. Reader Amnon Wenger of New Jersey notes that after the Bucs lost to the Saints, Jon Gruden actually took the blame: "It's obviously bad coaching. I didn't call a very good game.'' Ye gods -- an honest coach!
Notation on TMQ Chess Comment: "?!" Of Romeo Crennel's strange decision to kick a field goal when trailing Dallas 28-7 in the fourth quarter and facing only fourth-and-3, I wrote that if it were a chess match, the notation would read, "!!!!!!!!!!" Many readers, including Clara Willoughby of Santa Monica, Calif., pointed out that since "!" means "good move" and "!!" means "great move," the notation "!!!!!!!!!!" would have to mean, "Greatest coaching decision in all of football history." Sorry about that, chess buffs. In notation, "?" means bad move, "?!" means "dubious move" and "??" means really bad move; I should have used "??"
Worst Crowd Reaction: Reader Idan Avisar of Ramat HaSharon, Israel, notes, "As Minnesota was lining up in the third quarter to kick its fifth field goal, the fans in the Metrodome were booing their team for not going for the touchdown. You're ahead of the Colts 12-0, it's about to be 15-0 -- what are you booing for? I knew the football gods would punish Vikings fans for such poor manners." And ye, verily, it came to pass.
More on Mileage and Politics: Last fall, after 20 years of strident inaction, Congress finally passed a bill to increase the fuel efficiency of cars, SUVs and pickup trucks. There was a lot self-congratulation on Capitol Hill. The law seemed to mandate roughly a one-third increase in new-vehicle MPG by 2020 - enough to eliminate the oil the United States imports from the Persian Gulf. Sounds great! But as your columnist wrote in December 2007, "TMQ is hugely suspicious … [there is] a waiver provision that says that if the new standards prove too onerous, automakers can ask they be waived. That is a formula for what Washington specializes in: the appearance of dramatic action while nothing actually happens." So what's going on in Washington right now? Pleading poormouth, the big three automakers are already asking for a waiver from the 2015 interim standard, which requires roughly a 15 percent improvement in fuel efficiency. That standard does not take effect for seven years, and already Detroit automakers are saying they can't meet it.
Or perhaps, they don't want to try. Lee Hyun-Soon, president of Hyundai, told the Wall Street Journal last week his company will meet the entire 2020 standard by 2015, and will do so entirely with conventional vehicles -- no complex plug-in hybrids, just sensible engineering using existing technology. Whenever Washington seems to get serious about oil waste, Toyota, Honda, Hyundai and Subaru put their engineers to work -- then build, at American factories staffed by American workers, vehicles that comply with MPG rules. Whenever Washington seems to get serious about oil waste, Chrysler, Ford and General Motors put their lobbyists at work to dilute or evade the standards. There are only 535 people in the United States so gullible they would believe Korean engineers can meet a technical standard, yet American engineers cannot. Unfortunately, those 535 people are the members of the United States Congress.
Has anyone from the mainstream media followed up on how last year's seemingly strict MPG bill is being watered down? As Eric Patashnik of the University of Virginia details in his powerful and timely new book "Reforms at Risk," reporters are often present when "dramatic" legislation passes, then treat the enactment as the end of the story -- paying no attention as lobbyists later water down a bill. As Thomas Friedman points out in his important new book "Hot, Flat and Crowded," the refusal of Congress and the White House to take any real action against oil waste has had the effect of transferring hundreds of billions of dollars to Moscow, and to the oil sheiks who support anti-Western and anti-Israel terrorism. If MPG standards were higher, oil demand would fall. Instead, high demand holds up barrel prices, enriching Persian Gulf dictatorships and Vladimir Putin. Why, Friedman asks, is Russia suddenly confrontational? Because in the past two years, Russian elites have gotten super-rich, owing to rising oil prices brought on at least in part by U.S. stupidity regarding petroleum waste. If Congress grants Detroit the MPG waivers it seeks, the stupidity will march on.
Meanwhile, back at the federal budget: In 1976, the entire U.S. national debt was about $800 billion, converted to today's dollars. Last summer, Congress without debate and with barely any notice added $800 billion to the national debt ceiling -- raising that ceiling by an amount equal to the entire debt a generation ago. With no debate! The U.S. national debt was $5 trillion in 1997, and has doubled to almost $10 trillion since. Why aren't the young outraged? The old are acting irresponsibly -- spending like crazy but unwilling to tax themselves, then handing the bill to the young. If the young were spending borrowed money like crazy, the old would be lecturing them. How come in Washington, the old can get away with behavior that would be called reckless for the young?
At any rate, the moment another $800 billion worth of borrowing was authorized, supposedly for "emergency" purposes, lobbyists got to work trying to seize every penny now. The big three automakers are now asking Congress for $50 billion of that $800 billion, supposedly to retool to build the fuel-efficient vehicles they had no way -- just no way on Earth -- of knowing they would ever be required to build. As Paul Ingrassia pointed out in last week's Wall Street Journal, when Congress bailed out Chrysler in 1980, the deal was structured so that if the company recovered, taxpayers got most of their money back. But what's being asked for now is pure subsidy -- money taxpayers will never see again, and that will be used in part to fund the bonuses of overpaid auto executives who got their companies into trouble in the first place. (The Journal opposes the bailout, though the $50 billion would go to Corporate America.) Ingrassia further notes that when Chrysler's Lee Iacocca tried to weasel out of the deal and keep the money that was promised back to taxpayers, Ronald Reagan stood firm and would not budge. Contrast Reagan's sense of civic responsibility to the current president and Congress, both of which just cannot wait to give away other people's money.
Now connect the dots! The automakers are asking for $50 billion in handouts to meet new fuel economy requirements -- at the very time they are also asking for waivers from those requirements. If the past is any guide, they will get both the subsidies and the waivers. The net will be zero progress, more billions of dollars for oil shipped to anti-American forces in the Persian Gulf, and more debt handed to everyone under the age of 30.
Beer-Drinking Excuse Creep Watch: Maggie Ehler of Cincinnati reports that when she attended this year's Oktoberfest in Covington, Ky., across the river from Cincinnati, numerous booths were devoted to Christmas crafts. How could she already have attended an Oktoberfest? Covington held its Oktoberfest the first weekend of September.
While The Fact The New Giants' Stadium Is Financed Partly Through Lehman Brothers Sounds Funny, It Is No Joke: Last week the Giants and Jets said they would not sell naming rights to their new stadium to Allianz, a German insurance conglomerate. Talks had started somewhat by chance. The upcoming New Jersey stadium's coolest feature -- its walls will turn blue when the Giants are home, green when the Jets are performing -- is an idea originated at Allianz Arena in Munich, shared by two soccer teams. There were strong objections to the Allianz name going on the new facility, because Allianz was admittedly complicit with the Nazi regime.
Meanwhile the place the NFL calls Giants Stadium when the Giants play, and The Meadowlands when the Jets play, opened in 1976 and cost $297 million in today's dollars. The new joint Giants-Jets facility under construction is to cost $1.6 billion. Are we seriously supposed to believe it will be five times better than the current stadium? The Giants and Jets emphasize they are footing $1.3 billion of the bill -- yet New Jersey has been hit for $300 million in public funds for the infrastructure around the new stadium, plus $30 million to pay taxes on the bonds the Jets and Giants are issuing to private investors. That's $330 million forcibly removed from the pockets of New Jersey taxpayers, most of who will never be able to afford to attend a game, but must subsidize the high rollers in the luxury boxes.
The Giants are selling personal seat licenses: $1,000 to $20,000 for the right to purchase a season ticket. The PSLs are tradable -- maybe you can trade one for a greenhouse gas emissions permit! Top-tier Giants season tickets will cost $20,000 for the license and $7,000 per season, which is a $160,000 expense (not including future price increases) if you hold the seat for 20 years. In 20 years, will the PSL be worth more than today's selling price? My bet is yes. The Jets will charge $4,000 to $25,000 for personal seat licenses, but only those who park their fannies in the lower bowl must buy PSLs: the 27,000 nosebleed seats will be sold without a license. The Jersey/B plan is more fan-friendly than Jersey/A's, yet carries a higher premium for the best club seats; this suggests the best Jets PSLs are worth more than the best Giants PSLs, which surely must have the older team steaming. Note that trading for Brett Favre, even a declining Favre, in the same year they are asking their best corporate customers to plunk down $25,000 per club seat makes marketing sense for the Jets. Strange as these PSL sales sound, bear in mind that Southlake Carroll of Texas is among several high schools that now not only sell seasons tickets but impose a personal seat license charge. (It's $50 a year for the PSL, $75 annually for the seat; tickets to the entire home football slate at my kids' high school cost $25.) Also note the Jets have decided to auction off their Coaches Club seats, which are directly behind the team benches; these seats have the highest resale value on StubHub. Last year TMQ foresaw that NFL teams would begin auctioning off seats, and yeah, verily, it came to pass.
This spring MetLife agreed to pay $8 million a year to sponsor one corner of the new joint stadium; the Giants and Jets will also sell sponsorship to the other three corners, to the entranceway and finally to the stadium itself. Will NFL stadia become like college campuses, with every arch, bench, room and door named? "There's Tom Coughlin on the Tostitos home sideline, walking past the Quaker Oats trainer's table. Now he's throwing the Curtis and Edith Hollingsworth clipboard …" Dennis Howard, a professor at the University of Oregon, has estimated that $5.9 billion was spent on facilities naming rights in 2007. Sports facilities were most popular, but hardly the only choices: Las Vegas is asking $4 million to put your name on one of its new monorail stations.
Down south, Texas Stadium opened in 1971 and cost $165 million in today's dollars; the Cowboys' new stadium expected in 2009 will cost at least $1 billion. Are we seriously supposed to believe it will be six times better than the existing stadium? Taxpayers of Arlington, Texas, where the not-yet-named facility is rising, are being hit up for $325 million in public subsidies. There's even a subsidy-within-the-subsidy. The Fort Worth Star Telegram (known in Texas as the Startle-Gram) reported that of the $600 million spent on the stadium so far, taxpayers have already covered $300 million; that is, the public has already paid most of its share, while the Cowboys have paid only a portion of their invoice. Having the public cash come first adds a hidden $15 million or so gift to Cowboys owner Jerry Jones, allowing him to enjoy "float" as he postpones his payments. The public subsidies to the wealthy Jones are being funded via an increase in the city sales tax. Thus when Arlington's poor and working poor buy at convenience stores, the government will reach into their pockets for money to hand over to the oil men and stockbrokers who will party in the new facility's luxury boxes. The Cowboys, Giants and Jets are highly profitable private enterprises. Why are taxpayers being compelled to fund their stadia?
The Cowboys recently extended an agreement to feature Miller Lite, now a Canadian-South African product, at Texas Stadium and then at its replacement. Miller will pay Jones $8 million annually for the next decade. An NFL team plays 10 home games annually. Assume Miller keeps around $2 for each $7 beer sold. That's a guess -- stadium concession economics vary a lot from place to place. Anyway, this suggests that merely to cover the promotional fee, Miller must sell 400,000 Lites per Cowboys game. That's six beers per game per seat in Texas Stadium, five beers per game per seat in the larger new facility. Drink up, Boys faithful!
Defending Champion Note: Though the Giants' defense lost Michael Strahan to retirement, Osi Umenyiora to injury and Kawika Mitchell to free agency, Jersey/A has still surrendered only 20 points in its first two games.
Buck-Buck-Brawckkkkkkk No. 1: Trailing Arizona 24-0 midway through the third quarter, Miami faced fourth-and-10 on the Cardinals' 14. In trotted the field-goal unit. After nailing a 32-yarder to make it 24-3, the Marine Mammals kicked away, instead of onside kicking.
Buck-Buck-Brawckkkkkkk No. 2: Reader Alvaro Vargas of Texcoco, Mexico, notes that Les Mouflons trailed the Giants 34-13 with five minutes remaining -- and boom went the St. Louis punt. It doesn't matter where the ball was or where the line-to-gain was. Why are you punting???????????
Buck-Buck-Brawckkkkkkk No. 3: Last week Romeo Crennel ordered a field-goal attempt when trailing Dallas 28-7 in the fourth quarter, then did not even follow with an onside kick. This week, notes reader Evan Birnholz of Highland Park, Ill., the Browns trailed Pittsburgh 10-3 late in the fourth quarter and Crennel ordered a field goal on fourth-and-7 at the Pittsburgh 20: "Everybody at Browns Stadium started booing. NBC's Al Michaels and John Madden were staunchly defending the call, but it seems obvious Crennel was more interested in shrinking the margin of defeat than trying to win. Meanwhile I think every Browns fan at the game had read your column last week." Footnote: Once again, after the fraidy-cat field goal, Crennel did not order an onside kick. Cleveland did not touch the ball again until 26 seconds remained.
What Am I Bid for a Plaque on This Column? Auctioning has come to sports seats -- why not to charity? Recently the New York Public Library (a ritzy private institution, despite the name) sold the naming rights on its historic lion-guarded building for $100 million, to Stephen Schwarzman, CEO of the Blackstone hedge fund. Schwarzman's name will soon be on the structure's stone, also guarded by lions. The New York Times reports the library's board approached Schwarzman privately and offered him the naming rights for $100 million. They should have held an auction! Given the significance of the building, the selling price for a name in perpetuity seems way too low -- even where the stock market is today, you'd think the megarich would have lined up to chisel their names onto one of Manhattan's prime edifices. If the Forbes 400 estimate is correct, Schwarzman paid about 1 percent of his net worth for the naming right. Surely he would have dug deeper if asked. Museums, art companies, colleges -- auction to the highest bidder!
Weasel Bowl Approaches: This Saturday it's Little Nicky Saban versus Bobby Petrino as Alabama meets Arkansas -- the first Weasel Bowl! Note the schools of the Weasel Three -- Saban, Petrino and Rich Rodriguez -- are a combined 13-8 since these extremely expensive promise-breakers arrived. They'd probably be a combined 13-9 if Arkansas' game at Texas had not been postponed by Hurricane Ike, and surely Arkansas boosters are now praying that meeting is never rescheduled. The 13 victories include wins over cupcakes Western Illinois, Western Kentucky, Western Carolina and Miami (Ohio). Between huge salaries, legal fees and buyouts, Alabama, Arkansas and Michigan have already spent about $20 million to get a mediocre 13-8 result. Considering the fantastic advantages in money and recruiting power possessed by Alabama, Arkansas and Michigan, orangutans could have coached them to 13-8.
Buck-Buck-Brawckkkkkkk (College Edition): Josh Wheatly of Yakima, Wash., was among many readers to point out that UCLA not only attempted a field goal when trailing BYU 35-0; trailing 59-0, UCLA attempted a field goal from the BYU 10. Outraged, the football gods did not allow either between the uprights.
Obscure College Score of the Week: California of Pennsylvania 54, Lake Erie 0. Occasionally I fret that someday the supply of obscure colleges will be exhausted. Thus my spirits rose when I came across this score, because I had never heard of Lake Erie College. Located in Painesville, Ohio, Lake Erie College is "one of the oldest institutions of higher learning in the Western Reserve," the 18th century Connecticut land claim whose name lives on in Case Western Reserve University. Here are pics from the school's founding as Lake Erie Female Seminary. Lake Erie College says, "Over 10,000 individuals have graduated from this fine institution and all have left their mark on the campus in some way." That's a lot of initials carved into trees!
Single Worst Play of the Season -- So Far: Green Bay leading Detroit 41-25, Nick Collins intercepted a fourth-quarter pass and headed toward the end zone. Highly drafted, highly paid Lions receiver Roy Williams basically watched Collins roar by, then jogged half-heartedly in pursuit. It doesn't matter if the game is lost, earn your pay! Roy Williams of the Lions is guilty of the single worst play of the season -- so far. Nominated by John Whitt of Madison, Wis.
Next Week: Hollywood studios commission disaster-movie scripts based on a runway Voorwerp approaching Earth.
In addition to writing Tuesday Morning Quarterback, Gregg Easterbrook is the author of "The Progress Paradox: How Life Gets Better While People Feel Worse" and other books. He also is a contributing editor for The New Republic, The Atlantic Monthly and The Washington Monthly.