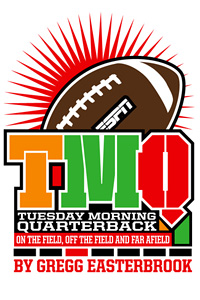 Oakland quarterback JaMarcus Russell, the first overall NFL draft choice in 2007, was outplayed Sunday by Buffalo quarterback Trent Edwards, chosen late in the third round of the same draft. Low-drafted, six-times-waived quarterback J.T. O'Sullivan led San Francisco to victory, while Alex Smith, the first overall selection in 2005, is on injured reserve again and expected to be released before next season. Fourth-round draftee David Garrard led Jacksonville to a victory over Indianapolis. Recently waived quarterback Chad Pennington led Miami to a victory over mighty New England. Brian Griese and Kerry Collins, both intimately familiar with the waiver wire, led Tampa and Tennessee to victories; Griese, who has been waived four times, threw for 407 yards. Oft-waived, seventh-round draft pick Gus Frerotte led Minnesota to a victory. Six-round draft pick Matt Hasselbeck led Seattle to a victory. Undrafted Tony Romo, who nobody had heard of when he was coming out of college, led Dallas to a victory over Green Bay and its 2005 first-round pick, quarterback Aaron Rodgers. In only a few games (Washington over Arizona, Baltimore over Cleveland, Denver over New Orleans, Atlanta over Kansas City, San Diego over Jersey/B) did first-round-drafted quarterbacks beat lower-drafted or undrafted quarterbacks. Only in two games (New York Giants over Cincinnati and Philadelphia over Pittsburgh) did two first-round quarterbacks face off.
Overall, only 14 of the 32 quarterbacks who started this week were first-round draft choices. This NFL weekend was the best reminder ever that it's not about how much hype you get, it's about how you perform.
In other football news, weeks ago, Tuesday Morning Quarterback praised the NCAA for matching the National Federation of High Schools' two-year crackdown on dangerous hits. Last week the National Football League joined in with its own crackdown. Roger Goodell, why isn't your league the lead institution in football safety? Why does the NFL always follow high school and college reform? Here is a cause where the NFL needs to get out front and lead: the anti-concussion helmet. Helmets that reduce concussion risk exist. Many NFL players wear them voluntarily. Yet the NFL will not mandate their use, setting a poor example for other levels of the sport.
First, the NFL action last week. Adam Schefter of NFL.com reported Goodell sent all players and coaches a memo about dangerous hits, declaring, "Any conduct that unnecessarily risks the safety of other players has no role in the game of football and will be disciplined at increased levels, including on a first offense." Presumably this means officials have been instructed to more closely enforce helmet-as-a-weapon hits, late hits and out-of-bounds hits. High school cracked down on such hits in 2006, and the NCAA declared a crackdown on such hits last month. At least the NFL has caught up.
But the NFL has not mandated use of anti-concussion helmets, the Riddell Revolution or Schutt DNA. Research suggests they are efficacious; this University of Pittsburgh study found anti-concussion helmets reduce the likelihood of suffering a concussion by about one-third among high school players. Traditional helmet designs seem OK for youth-league play, owing to low intensity of contact. But from the high school varsity level on up, studies suggest football jocks shouldn't have anything on their heads but anti-concussion designs. Some design features of the anti-concussion helmets are the result of NFL studies, which showed that helmet-against-helmet contact is the most dangerous kind of hit, and hits near the ears are most likely to result in concussions. Yet the NFL does not require the anti-concussion helmets it helped inspire. And because such helmets have a slight space-alien look, the recent fashion trend is back toward the traditional shell design. Schutt has been pushing its new Air XP, a traditional-shape helmet that looks really cool, but lacks the anti-concussion engineering of the company's DNA helmet. (Schutt also has a new helmet type, the Ion, which might reduce concussions; it's so new there is no data yet. This startup company claims a breakthrough in helmet padding design to reduce concussions, but its product is not yet on the market.)
On paper the reason for the lack of action to require anti-concussion helmets is that the National Operating Committee on Standards for Athletic Equipment still hasn't made up its mind about whether such helmets should be universal. Though you will be pleased to know NOCSAE recently issued a 10-page set of specifications for football gloves, taking on the highly controversial glove-stitching issue. Inaction by NOCSAE on the helmet question matters because the NFL, NCAA and most state high school sports associations use NOCSAE standards. If NOCSAE mandated anti-concussion helmets, the NFL and all big-college teams would adopt them immediately -- if only for liability reasons -- while small colleges and high schools would start switching over. Yet NOCSAE keeps twiddling its thumbs, and the NFL has declined to mandate anti-concussion helmets unilaterally -- a puzzling stance considering Goodell has said decreasing concussions is one of his priorities.
NOCSAE has a good reputation; past tightening of NOCSAE helmet-engineering rules was important to the reduced incidence of brain and spinal injuries among football players. You hear more about serious football injuries now because all sports issues are better-covered, but the rates of brain and spine injuries, and of football deaths, have been going down steadily for three decades as equipment, sports medicine and coaching knowledge have improved. Research at the University of North Carolina shows that during the 1960s, high school football averaged around 30 deaths per year from head and spine injuries. Today, with the national population larger and far more boys (plus a few girls) playing high school football, head-injury deaths have declined to an average of three per year. Better helmets and NFHS restrictions against helmet-first tackling -- high school athletics outlawed helmet-first tackling in 1978, long before the NFL did -- are the reasons. Since 2000, participating in high school or college football has created a roughly 1-in-400,000 risk of death. The overall accidental death rate for ages 15 to 24 is 1 in 2,700, so nonsports accidents are a dramatically higher cause of death than football accidents. The teen-to-young-adult death rate for car accidents is about 1 in 4,500 per year. Even adjusting for more time spent in vehicles, arguably you're safer playing football than in the car driving to the game.
But the decline in head injury rates is no reason to stop progress. Universal use of anti-concussion helmets seems like the next logical step. This will be especially important at the prep level, since high school players are more susceptible to head injuries than college players -- both the brain and brain case are still maturing in high school, and thus more vulnerable. NOCSAE has been pushing hard on helmet-test standards, to prevent high schools from using beat-up old headgear, while taking its sweet time on the anti-concussion helmet question. Could special-interest lobbying be a factor in the latter? Two or three million traditional-design football helmets are in circulation. A small industry exists around reconditioning those traditional helmets and selling them to high schools, where the vast majority of football action takes place (in revenue terms, the high school football market is much more important to equipment suppliers than college or the pros). The helmet-reconditioning lobby does not want a NOCSAE mandate of anti-concussion designs, because all the old helmets would become worthless.
Yes, new anti-concussion helmets cost $75 to $100 more than reconditioned traditional helmets. But the cost is irrelevant at the NFL and big-college level, and even most small colleges would rather spend an extra few thousand dollars on helmets than face a concussion lawsuit. Cost does matter at the high school level, where money is always tight. But the cost-benefit calculation seems promising. My rough guess is that it would cost about $100 million to equip every one of the 1 million high school football players in the United States with Revos or DNAs. Some high schools have already gone over; my kids' high school team has been all-Revo for four years, and we've had one concussion in that span. The cost seems within reason if it leads to a statistically significant decrease in concussions. Add that football is the sole sport that pays for itself at most high schools, and the case seems strong. The boys (and occasionally girls) who are leaving it on the field deserve the best possible protection.
Head-injury awareness is rising throughout the ranks of sports, in the same way heat-stroke awareness rose a decade ago. At the coaches meeting of the league in which the middle-school team I coach plays, the very first item was a sports orthopedist lecturing on the dangers of concussions, how to diagnose the symptoms, and how to coach boys to avoid head injuries. The "get back in the game kid" macho attitude about head injuries is changing, which is a positive sign. So what are we waiting for? Why won't the NFL take a leadership role by mandating the anti-concussion helmet?
In other football news, there's talk that the East Coast and West Coast college football powers should play each other more often. Maybe they should never play each other! See below. And Ronnie Brown of Miami was so sweet Sunday, he gets his own personal subhead.
Stats of the Week No. 1: Denver is on a pace to score 608 points. The NFL record is 589 points, by New England last season.
Stats of the Week No. 2: Pittsburgh, which last week beat Cleveland for the 10th straight time, this week lost in Philadelphia for the eighth straight time.
Stats of the Week No. 3: Stretching back to last season, St. Louis has lost seven consecutive games, by an average margin of 23 points.
Stats of the Week No. 4: Buffalo is 3-0 for the first time since 1992 -- but owing to its Toronto date in December, already has just five true home games remaining.
Stats of the Week No. 5: After trailing 21-0 in its first two games, Detroit trailed 21-3 against San Francisco.
Stats of the Week No. 6: At 1:33 p.m. ET on Sept. 21, the Cincinnati Bengals held a lead for the first time in the 2008 season.
Stats of the Week No. 7: Indianapolis has lost four consecutive home games, dating back to last season.
Stats of the Week No. 8: In the past two weeks, 143 points have been scored at Please Don't Call It Invesco Field in Denver.
Stats of the Week No. 9: If Brett Favre had stayed retired, he would be able to say he never lost a start to the San Diego Chargers.
Stats of the Week No. 10: Miami is mathematically alive to finish 14-2.
Cheerleader of the Week: Devan of the Philadelphia Eagles, a dean's list student at Temple University. According to her team bio, Devan is pursuing a degree in "dance and advertising" -- a lot of advertising involves dancing around facts! Also according to her team bio, Devan has taken German for six years and would like to visit Germany. If she hurries, she can just barely make Oktoberfest -- see below.
Sweet Play of the Week: Jersey/B was leading San Diego 7-3 behind Brett Favre -- whose name, taking the cue from game announcers of all the networks, at this point should be changed to "Brett Favre Brett Favre Brett Favre." The Chargers faced a second-and-goal on the Jets' 1-yard line and lined up with tight end Antonio Gates and undrafted rookie fullback Mike Tolbert of Football Championship Subdivision school Coastal Carolina, both tight right as a power slotback pair. Needless to say, the Jets were expecting a dive by LaDainian Tomlinson. Instead we saw a play fake and an easy touchdown pass to Tolbert in the flat. Tolbert had one touchdown reception in his entire collegiate career, but he already has one in the pros. What made the play sweet was that Jets safety Eric Smith had responsibility for the flat. At the snap, Smith tried to jam Gates but Gates instead threw Smith down onto his keister, leaving no one to cover the fullback. When the receiver jams the jammer, that is sweet. Note: Hosting research centers provides high prestige for colleges. Coastal Carolina boasts 11 research centers, including the Clay Brittain Jr. Center for Resort Tourism: "Center researchers seek to study the synergistic affect each of the elements of the tourism mix has on the overall tourism phenomenon."
Sweet Defensive Play of the Week: Minnesota cornerback Antoine Winfield sacked Carolina quarterback Jake Delhomme, picked up his fumble and ran it back for six points. TMQ suspects this play was an uncalled "automatic" -- if Winfield saw a certain alignment, he was free to blitz. On the play, Delhomme only looked to his left, with Winfield coming from his right. The Vikings' corner left his man uncovered, but Delhomme never looked that way. From film study, Minnesota coaches must have noticed a formation or down-and-distance situation in which they were certain Delhomme would never look to his right.
Sweet Tackles of the Week: Trailing 34-32 with 2:19 remaining in Denver, New Orleans faced a third-and-1; linebacker D.J. Williams stopped running back Pierre Thomas for a loss, and on the next snap the Saints missed a 43-yard game-winning field goal. Had New Orleans gotten a first down, there was time to move the kick in closer. Leading 24-17 with 2:20 remaining and facing a third-and-2, Chicago quarterback Kyle Orton scrambled toward the first-down line. But City of Tampa linebacker Cato June tackled him first, Chicago punted, Tampa scored in the closing seconds to force an extra session, and won in overtime.
Sour Play of the Week: With the game scoreless, Washington faced a second-and-goal on the Arizona 3-yard line. The Cardinals came out with just two down linemen, then placed four "box" defenders to the right of the center, and just two to the left. Chess notation: "??" Jason Campbell audibled to a dive left, and Clinton Portis practically walked into the end zone.
Sour Officiating Moment: City of Tampa defensive end Gaines Adams intercepted a screen pass and returned it for a touchdown against Chicago. The play was a tight end screen, and Adams not only got into position for the interception by interfering with Bears tight end Desmond Clark, he practically threw Clark to the ground. That would have been legal in high school, where there is no pass interference behind the line of scrimmage. But in the NFL, Adams should have been flagged, and it should have been a first down for Chicago.
K.C. Joyner, the Football Scientist, fact-checks TMQ: "You are correct that there should have been a flag on the play, but not for pass interference. Quoting the 2008 NFL Record & Fact Book's digest of rules, pass interference rules, Note 4: 'There can be no pass interference at or behind the line of scrimmage, but defensive actions such as tackling a receiver can result in a 5-yard penalty for defensive holding.' The penalty should have been defensive holding."
Sweet 'N' Sour Play: Trailing 24-17, City of Tampa faced a second-and-goal on the Chicago 1 with 10 seconds remaining. The Bucs lined up with double tight ends and a full house backfield. But they didn't set; often it's unclear when the offensive players have set, especially quarterbacks and tight ends. (Tony Dungy went ballistic last year when a Colts trick play was flagged because officials thought the tight end was set, then moved; replays showed the tight end did not set, after he had elaborately rehearsed not setting.) The Bucs' left slot back jogged right, which looked to the defense like motion, but it actually was a shift. Then tight end Jerramy Stevens shifted from tight left to way out left, almost at the sideline; linebacker Hunter Hillenmeyer went with Stevens. At the snap, both Tampa running backs simulated a power dive right; Stevens simply stepped inside of Hillenmeyer and caught a high-thrown jump ball. That was sweet. Chicago fell for the play-action fake even though Tampa had no timeouts, meaning the Bucs were likely to throw, and even though Tampa had just 30 yards rushing in the game up to that point. Falling for the play-fake was sour.
This Really Must Be the 21st Century: Actual photo caption from the current Aviation Week and Space Technology: "The high-resolution GeoEye-1 photo satellite was launched from Vandenberg Air Force Base by a Delta II rocket to serve the National Geospatial Intelligence Agency, Google and foreign customers." So a rocket derived from a Cold War ICBM designed to obliterate the Soviet Union was launched at a U.S. Air Force base by a consortium of defense contractors (United Launch Alliance is owned by Boeing and Lockheed Martin) carrying a privately owned reconnaissance satellite (GeoEye is listed on the NASDAQ) that will provide photos of your backyard for a spy agency, for Google and for "foreign customers." Neal Stephenson's 1992 cyberpunk novel "Snow Crash" posits a future in which military operations, national intelligence and international commerce have all merged into the same thing, available for sale. If Stephenson had put this month's rocket launch into the book, readers would have said, "Come on, that will never happen."
Satellite Note 1: Recently, I looked at my backyard using Google Earth, and was able to see the patio furniture. What will I (or you) be able to see once GeoEye-1 images go operational? Satellite Note 2: Geo-Eye sounds an awful lot like GoldenEye, the satellite designed to destroy the global financial system in a James Bond movie. GeoEye was launched on Sept. 6; the global financial meltdown began on Sept. 14. Satellite Note 3: The National Geospatial Intelligence Agency has a marketing slogan.
Gimme! Gimme! Gimme! Last week, TMQ asked why no one was paying attention to the fact that the national debt ceiling was quietly raised by $800 billion during the summer. Well, toss that column: The White House just asked the national debt ceiling be raised another $700 billion, for the proposed financial-sector bailout. If that happens, in 2008 alone, $1.5 trillion will have been added to the national debt: every penny borrowed from your children and their children. Stated in today's dollars, in 1979 the entire national debt was $1.5 trillion. George W. Bush and Congress have in a single year added an amount equal to the entire national debt one generation ago. And the year's not over!
It took the United States 209 years, from the founding of the republic till 1998, to compile the first $5 trillion in national debt. In the decade since, $6 trillion in debt has been added. This means the United States has borrowed more money in the past decade than in all our previous history combined. Almost all the borrowing has been under the direction of George W. Bush -- at this point Bush makes Kenneth Lay seem like a paragon of fiscal caution. Democrats deserve ample blame, too. Harry Reid and Nancy Pelosi, Democratic leaders of the Senate and House, have never met a bailout they didn't like: Harry and Nancy just can't wait to spend your children's money. Six trillion dollars borrowed in a single decade and $1.5 trillion borrowed in 2008 alone. Charles Ponzi would be embarrassed.
If you borrowed, borrowed, borrowed, you could afford to live high for a while -- then there would be a reckoning. Hmmm … that sounds a little like what many Americans did with gimmick mortgages in 2005 and 2006. They were only imitating their political leadership! Why is it both parties in Washington think the United States can borrow, borrow, borrow without a reckoning ever coming? Bush, Reid and Pelosi seem poised to transfer hundreds of billions of dollars of borrowed public money to political insiders on Wall Street and in banking, whose bonuses will now be tax-subsidized. The capitalist maxim is, "She who reaps the gains also bears the losses." Now Washington wants those who reaped the gains to shift the losses to those who lived humbly. The young will pay and pay for these cynical ploys to insure the luxury of the powerful old. Why aren't the young outraged?
TMQ's pal Isabel Sawhill, among the leading public-policy economists of our day, says Washington does indeed need to intervene in the financial system -- the harm to the average person of letting credit markets freeze would be greater, she thinks, than the harm caused by more public debt. Fair enough. But it doesn't inspire confidence that on Sept. 12, Treasury Secretary Henry Paulson said the financial system had been fixed and "under no circumstances" would there be further bailouts; on Friday, Paulson said the system was collapsing and another $700 billion was needed. Suddenly Paulson is insisting the country has no choice other than immediately to hand over $700 billion to Wall Street fat cats, with barely any debate or even explanation of the plan. Why should anyone believe this guy, when just one week previously he said no further bailouts would occur? It seems clear Paulson had no idea what he was talking about then, while if the problem is really as bad as Paulson says now, his past delay in facing the problem has made the cost far higher. With such a poor track record, why is the treasury secretary suddenly viewed as a superbrilliant genius whose marching orders must be followed?
It is not public intervention that is objectionable. University of Chicago Nobel Prize winner Gary Becker, among the top conservative economists, just said, "I have reluctantly concluded that substantial intervention was justified." Rather it is size of the bailout, and the hurry-up-give-the-money-don't-stop-to-think aspect, that are troubling. Much of the $700 billion will flow to investment-community friends of Paulson, Bush and other administration figures. Average Americans who behaved irresponsibly by signing gimmick mortgages may get some taxpayer aid from the Paulson proposal, and maybe they should get none. But in the end, average Americans will still be liable for most of what they owe -- that is, will still be held responsible for their actions. Wealthy, politically connected insiders who run banks and companies such as American International Group will be exempt for responsibility for their actions, and will stuff taxpayer-subsidized millions into their pockets.
On Sunday, Paulson called the self-serving actions of top Wall Street figures "inexcusable" -- yet the plan is not only to excuse them, but to shower them with free money. Paulson said Wall Street pay levels were "excessive," but should be discussed later, after the bailout is done. Now is the moment of maximum leverage! Once they are holding the public's money and laughing about how easily they got it, financial executives will have no incentive to compromise on pay. Here's an idea: Any company that participates in the bailout agrees to limit its top-tier executives to the federal minimum wage. That is, after all, the amount Washington says is enough to live on. Meanwhile, of the two jokers who drove Fannie Mae and Freddie Mac into the ground, one was paid $19.8 million in 2007, the other $14 million; each will get nearly $5 million in taxpayer-funded "retirement" bennies.
Yet there's scant outrage. Maybe this is because in an era of fiscal irresponsibility by both parties, everybody wants a bailout. Wall Street, bankers, homeowners who lied on their mortgage applications, Detroit automakers, farmers -- gimme, gimme, gimme! Rather than asking whether the $700 billion giveaway is too large or being structured in a way that benefits the rich, numerous members of Congress are instead demanding more bailouts be appended: for seniors (see below), cities, states, more "stimulus" checks, you name it. Give money to whoever will fund my re-election! The money is being forcibly extracted from the pockets of our children and their children. Every dollar borrowed today by the irresponsible old of Washington will subtract two dollars from future economic growth, leaving our children and their children a legacy of stagnation.
The 1980 Chrysler bailout, which was nationally debated for months before happening, cost $3.2 billion, in present-value dollars, and was financed by revenue rather than by borrowing. Here is the borrowing that's happened in 2008 alone, with precious little public debate:
• $29 billion to bail out Bear Stearns.
• $40 billion in the first mortgage-holder bailout.
• $80 billion for an additional year of Iraq war operations. (Another $150-$200 billion in war costs such as future veterans' disability benefits were incurred but not funded.)
• Up to $85 billion to bail out AIG.
• $153 billion to households for "economic stimulus."
• $200 billion, and possibly more, to bail out Fannie and Freddie.
• $290 billion in farm subsidies, despite agricultural prices and grains profits being at record highs.
• $700 billion general bailout of securities backed by bad debt. (The International Monetary Fund estimates this figure will rise to at least $1 trillion.)
That comes to $1.6 trillion, explaining the debt-ceiling rise, and does not include roughly $300 billion in essentially interest-free cash issued to banks by the Federal Reserve on an emergency basis, which may or may not be repaid, but which in any case make all existing money somewhat less valuable. Why is the debt aspect of the splurge barely being remarked on by the mainstream media and by politicians? Why are the young not furious? And about that $700 billion about to the shoveled to the Wall Street elite -- in 2007, George W. Bush vetoed an increase of $7 billion per year in health care spending for the poor, saying the country couldn't afford it.
Buck-Buck-Brawckkkkkkk No. 1: Trailing Washington 24-17, Arizona faced fourth-and-4 with 2:39 remaining at midfield, and punted. Needless to say, the Cards never touched the ball again. Arizona came into the game averaging 5.6 offensive yards per game. The clock is draining, it's only fourth-and-4 and you're at midfield. Why are you punting????????????
Buck-Buck-Brawckkkkkkk No. 2: Trailing Dallas 24-9 early in the fourth quarter, Green Bay faced fourth-and-2 on its 35, and sent in a punt unit. "Got to be a fake," yours truly thought -- boom went the punt, and Dallas scored on its possession to ice the game. As TMQ endlessly notes, teams that punt on fourth-and-short when trailing in the fourth quarter almost always go on to lose.
Best Purist Drive: Jacksonville ran an 18-play, 82-yard drive that consumed 12 minutes and 18 seconds of the fourth quarter. Fourteen of the snaps were rushes; the result was a field goal that put the Jags ahead 20-14 with 2:36 remaining.
Lions Always Welcome at Your House: Detroit is 8-50 in its past 58 road games.
Christmas Creep Watch:
Jason Bulthuis of Chicago writes, "My fiancée and I recently returned from a trip to Hawaii. On September 4, I went to [the] store across the street from the hotel and was greeted with a full Christmas display. The store had the Christmas tree set up, even a model train going around the base of the tree. As I entered the store there was an electronic sign displaying a current temperature of 88 degrees. Merry Christmas!" William Wilbar writes, "I was in the new Pacific Mall in Cabatuan, Philippines, on 10 September, when the weather was approaching 90 degrees F. What do you think I hear but 'White Christmas' blaring on the PA." Cecelia Carson of Flower Mound, Texas, reports "Rick Steves' European Christmas" ran on PBS stations in Texas on Saturday. Tim Reukauf of Buffalo, N.Y., reports, "Today, September 11th, the LL Bean Christmas catalog arrived declaring, 'Christmas is right around the corner!' Earlier this week, my wife spotted Christmas decorations next to the Halloween candy in Tops, our local supermarket. Not only is Christmas not right around the corner, Halloween wasn't even around the corner! In astronomical terms it was still summer at the time, the autumn equinox falling on September 22nd this year."
Sweet Ronnie Brown Plays of the Week: At Buffalo, Oakland lined up running back Darren McFadden as quarterback -- then had him hand off. What was that supposed to accomplish? At New England, Miami eight times lined up running back Ronnie Brown at quarterback, and it was a delight to behold. Six times Brown rushed, two of the runs being touchdowns. Once he handed off to Ricky Williams, then "ran out the fake" -- sprinted in the opposite direction, just like a high school quarterback after a handoff. Later Brown faked a handoff to Williams, "ran out the fake," stopped and tossed a touchdown pass.
The Miami game plan was magnificently pure high school. Often high school teams line a running back up as quarterback -- my kids' high school team did it three times last weekend. The dynamic is that when a quarterback simply takes the snap and hands off, the offense is rushing 10-on-11. When a running back is at quarterback, the offense is rushing 11-on-11. That 11-on-11 edge worked well for Miami in its upset of New England; it was as if the Flying Elvii had never seen this high school ploy. Having Brown "run out the fake" was particular fun, since quarterbacks usually do this at the prep level, hoping to draw one defender along with them. In the pros, quarterbacks never run after handing off, just stand there and watch. That's why the rush becomes 10-on-11. If a defender has to shadow the run-out figure, the rush becomes 10-on-10. Who was responsible for Miami's high-school-venerating game plan? Offensive coordinator Dan Henning, who wasn't even working in the NFL last season. Maybe he attended some Friday night high school games and remembered that football is supposed to be fun.
Success Has a Thousand Fathers: Turns out Miami calls its delightful high-school-inspired tactic "The Wildcat." Who gets credit? I speculated Dan Henning. Several readers with good memories, including Marcy Foster of Mint Hill, N.C., noted that when Henning was the offensive coordinator for the Carolina Panthers, he had tailback DeAngelo Williams line up at quarterback for most of one game against Atlanta; the Panthers rushed a high-school-like 52 times, and won. That strategy failed to register in the collective consciousness because the game occurred on Christmas Eve 2006. According, however, to Armando Salguero of the Miami Herald, "The Wildcat formation is the brainchild of [Dolphins] quarterback coach David Lee [who] used it at the University of Arkansas." OK, then why wasn't the formation called "The Razorback?" (Note: The Dolphins will never have a formation called "The Crimson Tide.") Jeff Parrotte of Syracuse, N.Y., writes, "Miami's new offensive quality control coach is Steve Bush, who was hired by the Dolphins two months after winning the AA State Football Title at West Genesee High School of Camillus, New York." And the West Genesee football team is called the … Wildcats. Dr. Watson, I believe the case is solved.
As for New England, have the football gods turned their faces away? The vaunted Patriots offensive line looked average; tackle Nick Kaczur was toasted repeatedly by Joey Porter. Game scoreless, New England faced third-and-goal on the Marine Mammals' 16. A draw followed by a field goal seemed prudent with a shaky young quarterback; instead coaches called a pass that was intercepted, setting up Miami's first touchdown drive. Scoring to pull within 28-13 at the end of the third quarter, New England did not onside kick: Miami got the icing touchdown on its possession. Even the crowd had a bad game! Fans were streaming toward the parking lot at the start of the fourth quarter. Sure, the Pats won the Super Bowl three times this decade, and entered Sunday's game on a 25-2 run. But what have you done for us lately!
Stadia Cost Update:
Yankee Stadium, which took its last bow Sunday, cost $35 million to build in today's dollars, and over the decades has received about $200 million in renovations. That's about $235 million. The new Yankee Stadium is slated to cost $1.6 billion -- does anyone seriously believe it will be seven times nicer than the present building? Last week, I noted Texas Stadium cost $165 million in today's dollars, and opined that its replacement, slated to cost more than $1 billion, could not possibly be six times better than the original. Reader Matt Woolsey of New York City writes, "If Texas Stadium cost $165 million in present-value dollars, it should in theory cost less to build an exact replica today, because today technology is better and management more efficient. Therefore, to justify the $1 billion expense, we should expect the new stadium to be eight or nine times nicer than Texas Stadium, as opposed to the factor of six you suggest." Dave Kennedy of Ft. Lauderdale, Fla., notes that
Florida International's new stadium
, which opened this weekend, cost about $80 million -- evidence that you could in fact build Texas Stadium today for well less than that $165 million present-value cost. And though the new Cowboys stadium surely will be nicer than the new Florida International stadium, can anyone seriously believe it will be 13 times nicer?
Meanwhile, several readers have made the same point, which I will attribute to Lauren Steinberg of Bergen County in New Jersey: If New Jersey taxpayers are being hit for $330 million in subsidies for the new Giants-Jets stadium, why don't they receive the naming rights? New Jersey taxpayers will shell out far more than is likely to be paid by whatever multinational corporation gets to choose the stadium name. So how come the taxpayers pay a lot and get nothing, while corporations pay less and get something? Of course, this is the way government increasingly is run. But suppose the world were fair and New Jersey taxpayers got to name the stadium. What name would they choose? Make your suggestions using the address at Reader Animadversion. And note, all Jimmy Hoffa suggestions are automatically disqualified.
Bailout-a-Rama Note 1: A major line of business for American International Group is pledging collateral to insure debts secured by others; if someone else's debt goes bad, AIG would pay. In return for such pledges, AIG received the hefty fees that helped make it large ($110 billion in revenue in 2007) and profitable ($9 billion in profits in 2007), and allowed it to pay fantastic bonuses to top management ($23 million to CEO Martin Sullivan in 2007). Now it turns out AIG's pledges were not what it claimed, or at least were poorly hedged: As debt-backed securities started going underwater, the company could not, in fact, make good. In steps the federal taxpayer, hit for a breathtaking $85 billion bailout.
AIG was in a bank-run situation, and there is legitimate public purpose in stopping bank runs. Taxpayers get a stock position in AIG, and a repayment promise; it's possible the ultimate cost of the bailout will be well less than $85 billion. But attached to the bailout is no requirement that the AIG top managers who lavished money on themselves, justifying it on decisions now known to be "inexcusable" (Paulson's word), give up any of their bonuses, which are now effectively tax-supported. At the moment of the Treasury Department's maximum power over AIG, the federal government asked nothing of company officials. Essentially Treasury said, "We propose the taxpayers give up $85 billion, and you give up nothing." The Bush administration sure drives a hard bargain! This is the same basic agreement -- $700 billion in return for no concessions about pay -- the White House now wants to reach with the financial industry as a whole. And yes, on paper some of the money could come back to the taxpayer. But bear in mind: Government money has a tendency to be looted.
TMQ contends the reason the United States is in a decadelong cycle of financial scandal and corporate lying is because executives are never required to return the money they filch. They may be caught and fired, but keep the bags of gold. Given this incentive structure, what will future executives do? Lie and cheat. Personal responsibility has vanished at the top of corporate America. When executives screw up, taxpayers are punished, not the executives.
Bailout-a-Rama Note 2: The home page of American International Group does not say, "Dear American taxpayer, thanks for handing us $85 billion!" Nor does it say, "Because of this debt being imposed on your children, our executives will continue to receive huge bonuses -- while you and your children get shafted. Thanks again!"
Three Cheers for Drinking More Beer: Last week I declared Oktoberfest creep had joined Christmas creep, noting a letter from a Cincinnati woman who attended a local Oktoberfest the first weekend of September. Many readers including Heidi Dornberg of Munich, Germany, wrote to note the genuine-article Oktoberfest begins in September, though late September. "Munich usually has better weather in September than in October, and Oktoberfest is an outdoor festival," she wrote. "Over the years the start date has crept into September to take advantage of favorable weather. This year the festival began on September 20th and runs till October 5th. Also, bear in mind the warmer September days make people thirsty, so they drink more beer."
What If Your Brother Wouldn't Let You Have $88 Million? Pittsburgh businessman Stanley Druckenmiller last week withdrew his offer to buy the 64 percent of the Steelers owned by the four Rooney brothers who are not Dan Rooney. These brothers are feuding with Dan, who has in effect control of the team despite owning just 16 percent, and also are under a cloud with respect to the NFL, because they are involved in the racetrack business and NFL rules forbid anyone with an ownership stake in a team from being involved in gambling. Residual respect for Art Rooney, founder of the Steelers who died in 1988, is why the league has let his four racetrack-linked sons get away with an obvious violation of rules. But the league is uncomfortable with this, and wants the brothers bought out. Druckenmiller's offer was in effect rebuffed by Dan Rooney. If Druckenmiller acquired 64 percent he would have clear voting control of the team, wiping out Dan's unusual insider position that allows him to run the team despite lacking a voting majority. (Dan owns 16 percent and has proxy for another 20 percent owned by cousins, but that's still only a third.) Dan wants to remain in command, so endless impasse regarding the brothers' stock serves his position.
The brothers wanted Druckenmiller to prevail, because he offered $800 million for their position. That's $200 million per brother; Dan has been offering each brother $112 million for his stake. Imagine if you had a business proposition that would bring you an extra $88 million, and your big brother said no! Thanksgiving dinner must be real fun in the Rooney household. Note Druckenmiller's offer values the Steelers at $1.25 billion. Last year, when real estate developer Steve Ross bought half of the Dolphins for $500 million, this valued the team at $1 billion, highest in American sports for a franchise sale. One year later, in a slack economy, Druckenmiller just valued an NFL franchise in a smaller city at 25 percent higher. And was rebuffed!
You There, Janitor, a Black Hole Just Spilled at Tunnel Three, Go Clean It Up: Many readers, including Jared Adkins of Silver Spring, Md., noted that full-power start-up of the Large Hadron Collider in Switzerland has been postponed several months after discovery that the 10 billion Euro super-advanced device leaks. He notes, "So it not only might inadvertently create a black hole, the black hole might leak out?"
Lane Kiffin Sent to Detention: Oakland punter Shane Lechler looked to be a Player of the Week cinch after his placement punts nailed the Bills with drive starts on their 1, 4, 11, 12 and 13. Oakland receiver Johnnie Higgins looked to have iced the contest with an 84-yard fourth-quarter touchdown reception; coming into the game, Higgins, in his second season, had 47 career receiving yards. Lane "Hey Mom, I Got My Learner's Permit" Kiffin was blamed for the collapse that saw the Raiders' defense surrender 200 yards in the fourth quarter. But Kiffin doesn't call defensive signals. Rob Ryan does, and it was Ryan who called too many blitzes in the fourth quarter, practically sending the Buffalo Budgies an engraved invitation to stage a comeback. Buffalo gained 152 yards on its first 10 possessions and 221 yards on its final three possessions. Ryan's job seems secure -- Al Davis likes Ryan because he swaggers around boasting of his prowess. When it counted Sunday, Ryan's unit could not hold a lead. Ryan remains unpunished; hey, maybe George W. Bush and Nancy Pelosi should give $700 billion to Rob Ryan!
Coaching note: After staging his inexplicable pointless summer holdout (he has three years remaining on his contract), Budgies Pro Bowl tackle Jason Peters has lacked focus in his early play. On Sunday, he struggled early against Oakland speed rusher Derrick Burgess. Buffalo coaches took Peters out, but rather than yell at him, had him stand with them and watch as undrafted Kirk Chambers played left tackle and shut Burgess down. That was all the motivation Peters needed to return and perform well in the second half.
Ban the Coast-to-Coast College Game! Jon Pinyan of Allendale, N.J., writes, "Your comment on Cal's trip to Maryland, 'Coach Jeff Tedford had his team fly through three times zones and arrive on the East Coast at 4 p.m. Friday for a game that kicked off at noon Saturday. That really dumb coaching decision likely hurt Cal more than the best pep talk in history could have helped Maryland.' What else was Tedford supposed to do? At least in principle, his players are college students who should be attending classes. For the team to travel any earlier would require his players to miss Thursday classes. While college football may as well be semi-pro in all respects other than paying the players, some schools at least try to keep up the pretense that players are students who occasionally go to class." Outstanding point! Lately there has been some buzz about why the ACC and SEC don't play the Pac-10 much -- maybe they should never play each other. There's no way a team from one conference could travel to the other without either playing jet-lagged, or dropping any pretense its players are college students.
Stop Me Before I Blitz Again! In overtime, the defending champion Giants faced third-and-10 at the Cincinnati 38. Straight defense is statistically likely to produce a stop, plus Jersey/A is already outside field-goal range, so a sack is not a priority. The Bengals send a six-man blitz, Amani Toomer is left uncovered up the left sideline, and a few snaps later, Jersey/A wins its seventh consecutive game.
Network Priorities Praised: TMQ lives in the Washington, D.C., area, where endlessly the network affiliates show excruciatingly dull Baltimore Ravens games instead of whatever the day's headliner is, on the theory that Washington is a "secondary market" for Baltimore. On Sunday, WUSA, the CBS affiliate, had the late slot and showed Pittsburgh at Philadelphia, the headliner game, not the Cleveland-Baltimore stinker. Good call! Pittsburgh at Philadelphia wasn't a fireworks game, but was a lot better than the Cleveland-Baltimore stinker. Also, WUSA began by showing the overtime of Cincinnati at New York, then switched to the scheduled contest. Another good call!
Eagles note: The sports press gushes over Donovan McNabb and Brian Westbrook, but TMQ contends line play is the essence of the Nesharim franchise. Never was that on better display than Sunday, when the Philadelphia front seven shut down the Steelers with nine sacks. Browns note: "Brady! Brady!" That's what I would be chanting if I were a Cleveland fan. This team has one of football's most expensive offensive lines, and Sunday could not run. It has two high No. 1 draft choices at receiver positions, and Sunday could not pass. It has an average of nine points scored per game, all losses. And it has Brady Quinn on the bench.
Here's An Idea -- Privatize Wall Street: Imagine how much worse the bailout landscape would be if Social Security were privatized now. In theory, privatizing would mean benefits belonged to you but also were no longer federally backed; in theory, Fannie Mae and Freddie Mac were private companies not federally backed. The Standard & Poor's index, the best broad-market indicator, is down 14 percent since George W. Bush took office, meaning $100 saved in a privatized Social Security account would be worth $86 now. Owing to cost-of-living increases, which roughly track inflation, $100 in Social Security benefits in 2001 has become $112 today. Of course, when the market rises, retirees who opted for privatization would come out ahead; had the broad market followed its historical average, $100 in 2001 would be $154 now. But imagine if the retirees who took the privatization deal proposed by Bush had seen their $100 in benefits shrink to $86, while those who stayed in the regular system saw benefits rise to $112. The privatized would be screaming for more, and Congress, ever-spineless, would likely bail them out, billing the borrowing to future generations. In years when the privatized Social Security recipients came out ahead, they'd insist on keeping the surplus, boasting about being risk-taking free-market types. Privatized Social Security would be all but identical to the current corporate bailout scene -- if the risk works you keep the money, if the risk fails, taxpayers are punished.
Yet Another Federal Giveaway: Here's another giveaway on which the media have been silent. Tossed into last summer's bailout bill for people behind on their mortgages -- many of them freely signed something-for-nothing gimmick loans, and don't deserve subsidies any more than Wall Street does -- is a tax favor for senior citizens. The break allows seniors to deduct their property taxes, even if they have paid off their homes and thus do not itemize deductions because they no longer have any mortgage interest to declare. The senior citizens' lobby has long wanted retirees exempt from the property taxes everybody else must pay, even though seniors are, as a group, the best-off American demographic. Property taxes are deducted on Schedule A, where home mortgage interest is deducted; those who lack home mortgage interest generally benefit by not filing Schedule A, instead claiming the standard deduction. Now seniors can claim the standard deduction and write off their property taxes, while people below age 65 can do only one or the other. This new tax favor quietly slipped into the summertime bill helps only those seniors who have paid off their homes, which in most cases will be well-to-do retirees. Not only is this yet another favor for the well-off at the expense of the average -- the new handout has nothing to do with the distressed-mortgage problem the bill was supposedly about. The seniors receiving the new handout don't have mortgage problems, because they don't have mortgages! The summertime bill was simply another gimme, gimme, gimme situation. Congress was giving away money borrowed from future generations, and well-off seniors wanted to grab some.
Congress Announces 700 Billion-Ton Ice Bail-Out: Here, scientists report ever-lower Arctic ice levels. Maybe Fannie Mae and Freddie Mac executives were stealing ice, too.
Sportsmanship Watch: Marius Meissner of Cologne, Germany, notes Slovakia's women's ice hockey squad beat Bulgaria 82-0 in an Olympic qualifying round, blasting shot after shot at a team that could barely skate.
Obscure College Score of the Week: Trine 42, Defiance 14. Always concerned about the possible exhaustion of the obscure-college resource, TMQ was relieved to come across this line score, since I'd never heard of Trine. Located in Angola, Ind., Trine University was until last month Tri-State University. Here, Trine explains that "an educational marketing firm from Minneapolis" advised the school it had to get the word "state" out of its name or people would never understand Tri-State is a private institution. Trine was chosen as the new name because Ralph Trine is the college's leading donor. Trine University will not say how much Ralph Trine gave; in 1992, Henry Rowan gave $100 million to have Glassboro State College renamed Rowan University. One hundred million dollars in 1992 inflates to $156 million today, so let's hope that's how much the Indiana college got for selling its name. According to Trine, the new name jointly honors Ralph and his wife, Sherri. This means they missed the chance to rename the school the College of Ralph & Sherri, a la the College of William & Mary.
Trine-Defiance note: ESPN Radio's "Mike and Mike in the Morning" also featured the Trine-Defiance matchup last week, inviting listeners to come up with a good nickname for the game. The winner? "The Clash of Mother Nature's Wrath," because the game featured the Thunder vs. the Yellow Jackets.
Single-Worst Sequence of the Season -- So Far: Chicago had led 24-14 at home with 6:38 remaining, and managed to lose in overtime. When City of Tampa took over on its own 7 in overtime, Bears defenders repeatedly casually jogged toward the ball carrier, rather than going all-out to pin the Bucs deep and force a punt. As Tampa relentlessly moved down the turf for its winning points, play after play, many Chicago defenders only jogged toward the ball, especially on the 36-yard pass to Antonio Bryant that set up the visitors' victory. Sure the Bears were tired: Tampa players were tired, too. NFL players receive serious money in part to do offseason conditioning. In consecutive weeks, the Chicago defense couldn't hold 14-point leads, and both times, appeared to be dogging it. When the Tampa offense went hurry-up in the fourth quarter, Chicago's defense seemed to lack the conditioning needed to respond. Bears defense, you are guilty of the single-worst sequence of the season -- so far.
Reader Animadversion: Got a complaint or a deeply held grievance? Write me at TMQ_ESPN@yahoo.com. Include your real name and the name of your hometown, and I may quote you by name unless you instruct me otherwise. Giving your hometown improves your odds of being quoted.
Next Week Charles Ponzi posthumously awarded $700 billion by George W. Bush and Nancy Pelosi.
In addition to writing Tuesday Morning Quarterback, Gregg Easterbrook is the author of "The Progress Paradox: How Life Gets Better While People Feel Worse" and other books. He also is a contributing editor for The New Republic, The Atlantic Monthly and The Washington Monthly.