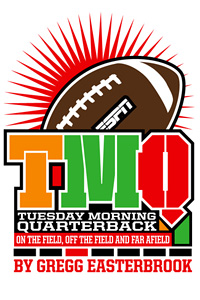 Eli Manning has always been the kid brother. Peyton was a highly lauded No. 1 overall NFL draft choice when Eli was still in high school. When Eli in turn became a No. 1 overall draft choice, there was whispering about how he was only riding his older brother's coattails. Few football scouts -- including scouts for the San Diego Chargers, who drafted and then promptly traded away Eli -- thought he would match his brother's achievements. Eli has been booed in New York (which, for NFL purposes, is located in New Jersey); Peyton has never been booed in Indianapolis. New York sports radio hosts and callers once shrieked that the Chargers picked the Giants' pockets in that trade. In their joint commercials, Eli has always appeared deferential and inconsequential compared to Peyton. Two years ago at the Super Bowl in Miami, where Peyton's Colts would line up, TMQ saw Eli at a party. He looked miserable -- not just out of sorts, but miserable. Big brother was outshining him, as usual.
Well, ponder this: Eli Manning is now a better quarterback than Peyton Manning. At the current rate, his career achievements will at least match, and perhaps surpass, his big brother's.
Four games into his fifth season, Eli is 44-30 as a starter and has a Super Bowl ring. At the same point in his career, Peyton was 35-35 and had not won a postseason game. In terms of passing stats, the two players are approximately the same. In terms of leadership, Eli won the Super Bowl in his fourth season with a team whose personnel was so undistinguished, not one of the 16 sets of expert predictions ESPN.com ran before the 2007 season even had the Giants making the playoffs, let alone winning the Super Bowl. On Sunday, both Manning brothers recorded monster wins, and both played well. Eli achieved close to perfection -- he was 19-of-25 for 267 yards, with two touchdowns and no interceptions. His perfect passing made who-dat backup receiver Domenik Hixon (see below) look like a star, and his leadership skills inspired the who-dat Giants offensive line -- quick, how many of them can you name without peeking? -- to play like the New England offensive line of 2007. Stretching back to last season, the Giants have won eight straight games, and this season's 127-49 scoring margin over their opponents is spectacular. If football stays popular for a thousand years, Eli's escape from four tacklers on that last-minute Super Bowl scoring drive will always be one of the sport's signature plays. Peyton is great, and a near-lock for Canton. Eli may be bound for the same place, with his bust in a slightly nicer corner.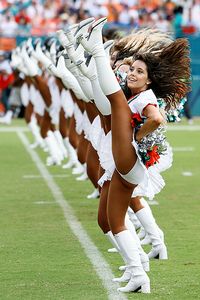 Doug Benc/Getty Images
They're kicking up their heels for high school football!
In other football news, the Miami Dolphins ran the Wildcat -- tailback at quarterback -- for the second consecutive game, and for the second consecutive game an NFL defense acted like it had never seen this standard high school tactic. The Wildcat even has a prep moniker: It is named for the Wildcats of West Genesee High School, where Miami assistant coach Steve Bush once worked. As TMQ has pointed out, the virtue of having a running back take the snap is that the rushing play is 11-on-11; on a standard NFL rush, when the quarterback stands watching, the offense operates 10-on-11. Miami ran 12 Wildcat snaps against San Diego, and the Wildcat was a main reason why the Marine Mammals rushed for 167 yards against the Chargers. The Dolphins' defense was an overlooked factor in the win, holding the high-scoring Bolts to 202 yards of total offense and stuffing LaDainian Tomlinson at the goal line on a crucial play. But the Wildcat was the pivotal factor in the game.
With this tactic obviously working, why aren't other NFL teams jumping on the bandwagon? Anti-high-school prejudice! NFL head coaches want the world to believe they are super-ultra-geniuses using super-advanced insider knowledge known only to a super-select few. They don't want to admit that a coach could stroll into an offensive meeting and say, "Hey, let's try what we used to do in high school" and turn out to be right. Tuesday Morning Quarterback has been arguing for years that the NFL should pay more attention to high school football for tactics, safety regulations and coaching skills. Now the Miami Dolphins are proof that the NFL should indeed pay more attention to high school football. The NFL coaching guild does not like this one bit.
In mega-babe news, the Washington Redskins and Philadelphia Eagles seem locked in a competition to see whose cheerleaders can wear the least in warm-weather games without getting arrested. The Eagles' cheer-babes certainly made a statement at Lincoln Financial Field on Sunday. Will the Redskins' cheer-babes reply when Washington plays at home this coming Sunday? As for the Redskins' new coach, it seems TMQ was premature in dubbing him Jim "Dan Snyder Hasn't Fired Me Quite Just Yet" Zorn. Consecutive road wins against division foes is mighty impressive, especially because division wins count for more than other wins in the NFL playoff system. They shouldn't -- the playoffs should be a seeded tournament -- but they do. Moreover, Washington has already completed its 2008 road schedule against division foes, already appearing in New Jersey, Texas and Pennsylvania. This means the Skins' three remaining division dates are in Maryland, where the home crowd roars and the glamorous Washington cheerleaders dance. See the Redskins analysis below.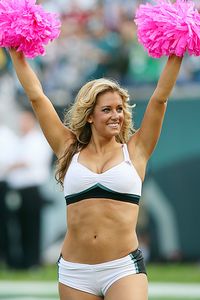 Paul Spinelli/Getty Images
The Eagles' cheerleaders lay down a challenge to the Redskins' cheerleaders.
In other football news, as the season began, NFL commissioner Roger Goodell high-mindedly declared, "Any conduct that unnecessarily risks the safety of other players has no role in the game" and threatened "discipline at increasing levels, including on a first offense." So far, this declaration seems like nothing but empty words. On Sunday, Arizona safety Adrian Wilson gave Buffalo quarterback Trent Edwards a concussion with a flagrant helmet-to-helmet hit -- Wilson was coming toward Edwards unblocked, and had full control over how he hit the quarterback. Wilson wasn't even flagged, let alone thrown out of the game, as he should have been. And Wilson has a reputation for being a dirty player, having been fined for illegal hits before. Yet when Wilson used his helmet as a weapon, causing dangerous injury, the officials did nothing. This wouldn't be tolerated in the Canadian Football League! There, commissioner Mark Cohon issued a mandatory-suspension order after an Edmonton Eskimos linebacker injured a Winnipeg Blue Bombers quarterback with a flagrant helmet-to-helmet hit.
Goodell has made several seemingly strong statements about his desire to eliminate dirty play, and he did suspend Jets safety Eric Smith after a helmet-to-helmet hit on Anquan Boldin. But until officials actually enforce the rules against unnecessary roughness -- a deliberate helmet-to-helmet hit is supposed to result in disqualification -- players will continue to view the whole matter as a big joke. Roger Goodell, if I were you, I wouldn't like seeing my directives being treated as a big joke.
Stats of the Week No. 1: On Oct. 5, the Houston Texans played their first home game of the 2008 season.
Stats of the Week No. 2: Minnesota and San Diego, picked by many to meet in the Super Bowl, are, stretching back to last season, on a combined 4-9 streak.
Stats of the Week No. 3: Indianapolis is being outrushed by an average of 121 yards per game.
Stats of the Week No. 4: In the Carolina-Kansas City game, the Panthers' DeAngelo Williams had more yards from scrimmage (148) than the entire Kansas City offense (127).
Stats of the Week No. 5: Detroit has not scored in the first quarter this season.
Stats of the Week No. 6: Jersey/A waiver-wire pickup Hixon, who had 5 yards receiving in his first season in the NFL, had 102 yards receiving against Seattle.
Stats of the Week No. 7: The average Arizona game has ended 29-24, for the highest combined average in the league.
Stats of the Week No. 8: Chad Pennington has never lost a start to the San Diego Chargers.
Stats of the Week No. 9: New Orleans gained 729 total yards (offensive yards and kick returns), and lost.
Stats of the Week No. 10: In back-to-back games, Miami defeated the two teams (New England and San Diego) that met in last year's AFC Championship Game.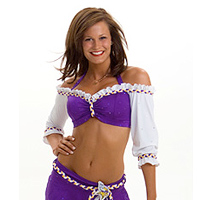 MinnesotaVikings.com
Her favorite fragrance is perfect for football.
Cheerleader of the Week: This week's honoree is Jenna from the Minnesota Vikings, a University of Minnesota student studying to become a pediatric nurse. A cheerleader and a nurse -- male fantasy overload. According to her team bio, Jenna's favorite perfume is Coach. Presumably she means from the Coach leather company, not perfume that would make her smell like a coach.
Sweet Play of the Week: Trailing 14-9 in the third quarter, the Potomac Nanticokes had a first-and-10 on the Philadelphia Nesharim 18-yard line. Quarterback Jason Campbell faked up the middle, then handed the ball to college QB Antwaan Randle El on the end-around; Randle El then threw a touchdown pass to tight end Chris Cooley, and the visiting team never looked back. The sweet part of this play was that Randle El "sold" the fake by running at full speed toward the line of scrimmage, only pulling up to throw at the last instant. To defenders, the action looked like a standard end-around.
Sweet Quarter of the Week: New England held the ball for all but six snaps of the third quarter at San Francisco -- and on the Squared Sevens' snaps, the results were zero first downs and one turnover.
Sweet Play in a Lost Cause: Trailing Atlanta 27-17 at the two-minute warning of the second half, Green Bay lined up at the Typos' 4 (Atlanta's uniforms look to me like printers' smudges). Aaron Rodgers threw an extremely sweet underhanded shovel pass to tight end Donald Lee on the tight-end center screen for a touchdown. Then Atlanta recovered the onside kick, ending the contest. As for the under-the-radar 3-2 Falcons, TMQ declared a month ago on the Adam Carolla Show that Atlanta would be this year's surprise team. Of course, remember my column motto: All Predictions Wrong or Your Money Back.
Sweet Defense of the Week: That looked like the Steelers playing defense, holding Jacksonville to 213 yards and breaking Jax's string of four consecutive wins against Pittsburgh. The Jaguars' home crowd booed when tastefully named defensive coordinator Gregg Williams kept sending just a three-man rush against the troubled Pittsburgh offensive line, and this tactic kept not working. During the offseason, Jacksonville paid a king's ransom in draft choices to bring in two pass-rush specialists, and so far on the season the Jags have just eight sacks. With Jax leading 14-10, the Steelers lined up empty with trips left; it resulted in a 48-yard touchdown pass to Nate Washington as Ben Roethlisberger stood in the pocket patting the ball, under no rush. Washington ran a "stutter" move, this year's fad -- stop and chop your feet for an instant, which seems to hypnotize defensive backs. In this case, the route was a stutter-go, which I guess is a "stuggo."
Sour Play of the Week: A week ago, Devin Hester caught a touchdown pass when single covered up the right sideline. Now Chicago leads Detroit 10-0 and has possession at the Cowardly Lions' 12. Hester heads up the right sideline -- and is single covered, totally ignored by the safety on that side. Touchdown. When you ignore what you just saw your opponent do to someone else in film study, you must be the Detroit Lions. In case you missed this gloomy detail, Detroit's 34-7 loss was at home.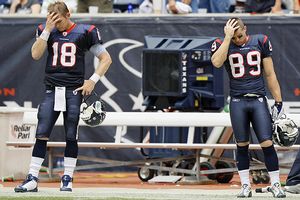 AP Photo/David J. Phillip
"We allowed three touchdowns in the final 4:14. We must be the Houston Texans."
Sour Warhead Meltdown of the Week: Winless Houston leading mighty Indianapolis 27-17, the Moo Cows faced third-and-8 at the Colts' 39 with 3:54 remaining. Backup quarterback Sage Rosenfels, playing well to that point, rolled left and saw he wasn't quite going to reach the first down. So hook-slide! It would have been Houston fourth-and-1 on the Colts' 32 with a 10-point lead and the clock ticking. Instead, Rosenfels attempted to hurdle two defenders and fumbled. Indianapolis' Gary Brackett returned the fumble for a touchdown. Now it's Houston 27-24, the Texans are facing third-and-9 on their 21 with 2:50 remaining; Rosenfels rolls left again, to the same area of the field, and is stripped of the ball by Indy's Robert Mathis, and the Colts quickly score to go ahead 31-27. With 50 seconds remaining and the Texans in Indianapolis territory, Rosenfels threw an interception. Three turnovers in three minutes -- the Three Mile Island meltdown took hours, not minutes.
KC Joyner, the Football Scientist, reports, "When Rosenfels scrambled around and lost that second fumble, CBS did a field-level replay that had a few of the Texans' cheerleaders in the background. As he is pulling the ball back and motioning to the receivers, oblivious to the approaching Colt, some of the cheerleaders were yelling 'No!' and had looks of 'What in the world are you doing!' on their faces." In Texas, even the cheerleaders know their football. If only the quarterbacks did! Sked note: Houston's upcoming schedule includes two other winless teams: the Lions and Bengals. Twice Houston may be confronted with this challenge: Can the Texans beat a winless team?
Sweet 'N' Sour Play: Trailing New Orleans 27-20 midway through the fourth quarter, pass-challenged Minnesota, with 15-year seven-times-waived retread Gus Frerotte at quarterback, completed a 33-yard touchdown pass to Bernard Berrian for the tie, then went on to win. That was sweet. Extra sweet for the Hyperboreans was winning on the road despite being held to 44 yards rushing. As for the Saints, their much-criticized defense held Adrian Peterson to 32 yards on 21 carries, yet they lost. That was sour. Extra sour was the situation on the Berrian touchdown. Minnesota faced a third-and-16. If you play straight defense, the odds favor a stop, followed by a long field goal attempt, which, even if successful, still leaves the home team with the lead. You've already guessed that New Orleans big-blitzed. New Orleans blitzed eight men, a tactic rarely seen because it is practically an engraved invitation to score a touchdown. Had New Orleans simply played straight defense on this snap, victory would have been likely.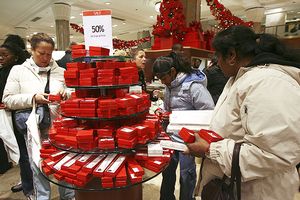 AP Photo/Mary Altaffer
Will Christmas-format radio begin before United Nations Day?
Christmas Creep Watch: Drew Kozak of Melbourne, Australia, writes, "I saw the Christmas spread out in full force at the Coles supermarket in South Melbourne last week." Gianmarco Radice of Glasgow, Scotland, reports, "Last weekend was out in a club with some friends and saw a decked-out Christmas tree; yesterday I was shopping with my daughter at Costco where a section had been taken over by Christmas paraphernalia." Roger Blair of Cary, N.C., reports an ice cream truck passed through his neighborhood over the weekend playing "Oh Come All Ye Faithful" on its jingle machine. And Zach VanLemmeren of New York reports, "On October 1st, WCBS-FM in New York City started a daily contest, Santa Song of the Day. I heard the first Ho Ho Ho of the year during a promo." I almost dread to ask, but have radio stations started going all-Christmas format yet? Report the first ones you hear to the address at Reader Animadversion.
Of Course They Vote for More Subsidies, They Themselves Are Subsidized: In the spring, as a dozen Democratic and Republican officeholders were crisscrossing the country campaigning for presidential nominations yet still receiving taxpayer money for jobs they were making no pretense of performing, TMQ declared there should be a federal resign-to-run law. Several states now have resign-to-run laws: They prevent officeholders from taking tax-funded salaries while not doing their jobs. Why is it assumed that saying the words, "I am running for president" makes it OK for a senator to pull in $200,000 or so per year in pay and benefits, yet perform no duties? If you told your employer you would not perform your duties for a year because you were running for president, yet still expected full pay, your employer would say two words that are not "Merry Christmas." Now we're down to four White House-seeking freeloaders, and both parties look bad. All three senators are billing the federal taxpayer to self-promote around the clock; the governor is billing her state's taxpayers to self-promote around the clock. Either presidential candidates should be required to resign to run, or at least anyone who declares for the presidency or vice presidency should have his or her public salaries and benefits suspended.
Maroon Zone Plays of the Day: Leading 3-0, Dallas faced fourth-and-4 on the Cincinnati 33. This is the Maroon Zone -- where a field-goal try is dicey, but a punt would be preposterous. The Boys went for it, with Felix Jones taking a pitch right behind pulling tackle Marc Colombo -- touchdown. Note: Bumbling coach Marvin Lewis of the winless Bengals has such a reputation for ultraconservative decision-making that when Cincinnati onside kicked with the score 17-16 in the fourth quarter, Dallas was surprised and lost possession. It was the fourth quarter!
In the Indianapolis-Houston game, reader Andrew Keller of Hagerstown, Ind., points out the Colts went for it on fourth down three times in Houston territory -- from the Texans' 41, 45 and 7. All three attempts were successful, and led to scores. Note: Keller reports the signs leading into Hagerstown read, "Population: 2,000 Happy People."
Happy Hour in Hell's Sports Bar: Hell's sports bar has 28 wide-screen plasma TVs, and now gets DirecTV! But local blackout rules may apply. On Sunday, NFL Sunday Ticket in Hell's sports bar offered only this choice -- Kansas City at Carolina or Chicago at Detroit. For the highlight program, all 28 screens in Hell's sports bar showed nothing but, over and over, Seattle kicking a field goal when trailing the defending champion Giants 27-3.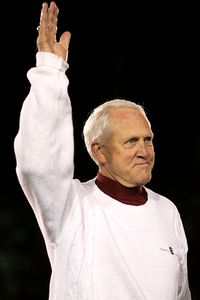 AP Photo/Paul Sakuma
Bill Walsh, TMQ's favorite coach.
Marketing in Hell's Sports Bar: In Hell's sports bar, they are already taking reservations for tables for Sunday, Oct. 19 -- when the winless Lions play the winless Texans. Whoever loses that game will become hell's favorite team.
Book Plug: My favorite coach was Bill Walsh, not only an innovator and a motivator but also an educated man: He read the New York Times every morning, read medical studies about orthopedics, read literary novels. Walsh's career proved that you don't need to be a screaming yahoo to be a football coach. Most football coaches are, shall we say, mentally one-dimensional. But Walsh and Marv Levy (who gave Walsh his first break, hiring him from a high school to be an assistant at Cal) belie that stereotype, and there are dozens of sophisticated, world-wise football coaches at the small-college level. I mention Walsh because there's a fine new biography of him, "The Genius," by David Harris. The title is over the top; this is, after all, only football we're talking about. But Harris' book is a must-read for anyone interested in the San Francisco 49ers, in the history of California sports, or in the story of a man who proved you don't have to switch off your brain to love football.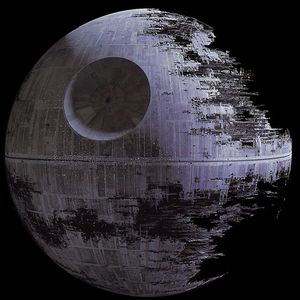 20th Century Fox
Billions of years ago in a galaxy far, far away, the rebel fleet destroyed the Death Star at coordinates SCP 06F.
TMQ Still Doesn't Understand: If Palpatine Had Such a Dark Side, How Could Yoda Stand Right Next to Him and Not Sense That? And Why Didn't He Sense Darth Vader Was About to Kill Him? Last week's column noted the strange stellar object SCP 06F6 -- the focus of 100 days of intense energy that appeared from nowhere and then vanished, corresponding with no known natural phenomenon. I wondered if these were the muzzle flashes of ancient combat, since the light came from more than a billion years in the past. Reader Curtis Silver of Sarasota, Fla., notes, "So it was a long time ago in a galaxy far, far away! Could it be that what was witnessed was the final battle between the Empire and the rebel fleet, culminating in the destruction of the emperor's personal Death Star?"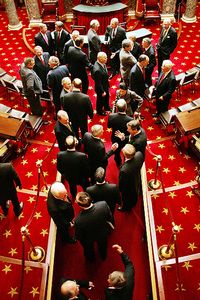 Win McNamee/Getty Images
You won't find Obama, McCain or Biden here, and you won't find Palin in the Alaska statehouse. But you will find all their hands in your pockets.
What, No Subsidies for Rum-Soaked Wool? SENATE ADDS SWEETNERS TO BAILOUT BILL was a standard headline last week. Oh, so it's not enough to give away $700 billion of taxpayers' money, we've got to add sweeteners! Special-interest groups across the spectrum tacked wish-list items onto the bailout bill, which also passed the House and became law with George W. Bush's signature. Some $100 billion in business and upper-middle-class tax breaks were added, along with tax favors or direct subsidies for solar power, wool marketing, subway maintenance, Puerto Rican rum sales, "motorsports racing track" facilities, and investing in the District of Columbia (already among the most heavily subsidized place on Earth; Alaska, which consistently ranks first or second in federal spending per capita, may be the most subsidized -- scan down to "Alaska" in this study), tax breaks for farmers, eligibility of foreign banks for U.S. bailouts, tax favors for people who won money from the Exxon Valdez lawsuit, subsidies for "certain wooden arrows used by children" -- the list goes on. Scan the bill for the word "wool," for example. It's the noise of the lambs! What started as a $700 billion bailout could easily cost taxpayers $850 billion, and every penny of it borrowed from our children.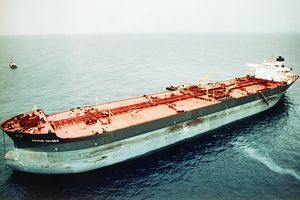 AP Photo
It's ridiculous that it took 19 years for the Exxon Valdez lawsuit payments to be made. But why does that justify special tax favors for the recipients?
Three points need to be made about the bailout legislation. First, conservatives in the House torpedoed the initial bill, calling it too expensive at $700 billion, then voted for the second version, bloated to $850 billion. Now there's a profile in courage! Second, the bill was originally three pages -- and grew to 451 pages as enacted, as giveaway after giveaway was tacked on. The United States Constitution and all amendments is about 20 pages; it takes 451 pages to legislate a bank recovery payment? Super-long legislation is both inherently too complex and litigation-prone -- last year's Warner-Lieberman greenhouse gas regulation bill, which almost passed the Senate, was 491 pages -- and invites giveaways. In a brief, straightforward bill, a tacked-on special-interest favor stands out and looks embarrassing to the sponsor. In a gigantic laundry-list bill with hundreds of pages of special favors, none stand out. Everybody else's constituent is getting a handout, where's mine? Proposal: Congressional legislation should be limited to the word length of the United States Constitution. If Congress can't say something in fewer words than the Framers required to found the country, then Congress shouldn't say anything.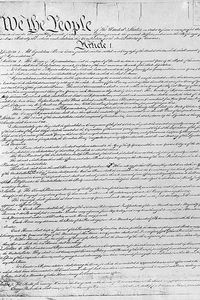 AP Photo
This thing is way too short. Where are the tax breaks for hedge fund managers? The ethanol subsidies?
Third, why do members of the national legislature give away your money as fast as it can be borrowed? Because they want campaign donations. Polls show Americans don't like the idea of public funding for House and Senate elections, because it seems like a giveaway. But the public already funds congressional elections, just in an incredibly overpriced, inefficient way. Members of the House and Senate give away billions of dollars in subsidies and tax breaks to special-interest groups, in order to get back thousands of dollars in campaign donations. The $150 billion or so in sweetheart handouts in the bailout legislation will probably result in several million additional dollars given to House and Senate members as campaign donations. It would be far, far cheaper for taxpayers just to fund congressional campaigns! Suppose the public funded each House race at $1 million (435 races every second year) split between the parties, and each Senate race at $5 million split (roughly 34 races every second year), then banned campaign contributions. (Skip whether the Supreme Court would allow the latter, this is a thought experiment.) The cost would be about $600 million every second year, when there are national elections. That's peanuts compared to the amounts House and Senate incumbents give away to PAC-backed lobbies in order to inspire campaign donations. Federal financing of House and Senate races would save the public tens, if not hundreds, of billions of dollars.
Quote of the Week: After Kansas City, which has lost 13 of its past 14 games, was defeated 34-0 by Carolina, Herm "I Honor My Contract When I'm in the Mood" Edwards declared of his team's performance, "It wasn't good."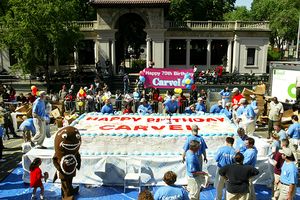 Timothy A. Clary/AFP/Getty Images
The rich of Wall Street got $700 billion, arrow-makers got a bailout, but no one saved the original Carvel.
Ice Cream Update: Last year, TMQ lamented that the original Carvel's, in Hartsdale, N.Y., was in danger of closing. Reader Seth Horowitz of Great Neck, N.Y., reports the sad news that on Sunday, it closed. I would a thousand times rather Goldman Sachs went out of business and the Carvel were saved.
Stop Me Before I Blitz Again! With Carolina leading Kansas City 7-0, the Chiefs executed the almost-never-seen -- and for a reason -- eight-man blitz. Easy flare pass to DeAngelo Williams for a 25-yard touchdown, and the rout was on.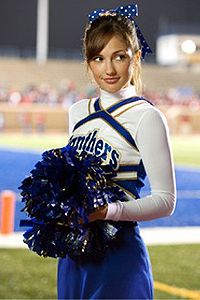 Courtesy of NBC
The beguiling 28-year-old Lyla Garrity.
Spoiler Alert -- "Friday Night Lights" Update: "Friday Night Lights" has returned, on DirecTV; the episodes will re-air on NBC this winter. I won't give away what's happening to the characters, but I think generic commentary is OK. Here's my news flash -- it is the third year of the show and once again Riggins and Lyla are still seniors! The 2006 television season told the story of the 2006 season of the Dillon Panthers; the show's 2007 season told the story of the Panthers' 2007 season, interrupted by the writers' strike (the conclusion of the 2007 campaign is revealed in flashbacks in the first new episode); the 2008 season is telling the story of the Panthers' 2008 season. So the series is contemporaneous, occurring in what increasingly, and annoyingly, is called realtime. And Riggins and Lyla are seniors for the third consecutive autumn.
In Season 1, Matt Saracen was the nervous sophomore thrust into the starting quarterback role, Riggins was the grizzled veteran fullback boasting of past exploits, and Lyla was captain of the cheerleaders. Riggins and Lyla were never actually called seniors, but were in senior social roles, plus Lyla was talking of her college aps. In Season 2, Riggins was a senior again, while Lyla was never seen in the high school or studying (but was seen cheerleading). Now it's Season 3, two years after we met the characters: Riggins is still a senior, and Lyla is back in the halls of Dillon High, textbooks pressed to bosom. Forever young! Plus both are now the same class year as Saracen, who's become a senior, despite once being two classes ahead of him.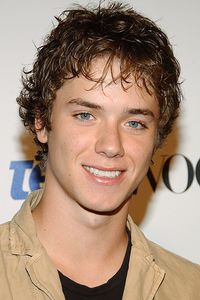 Jean-Paul Aussenard/WireImage
He belongs in college, yet plays a freshman at Dillon High.
As for the football part, Dillon won its opener 44-13, so no last-second 99-yard touchdown this time. But leading 38-13 with three minutes to play, super-coach Eric Taylor called a deep pass. The football gods aren't going to like that! Plus quarterback Jason Street (played by Scott Porter) and running back Smash Williams (played by Gaius Charles) have been cut from the cast! Both are gone from the show's credits, though expected to make occasional appearances. Meanwhile a new cast member is a freshman who is already getting into games because he is described as a phenom who holds "middle school records." Actor Jeremy Sumpter, 19 years old, plays the high school freshman; can't wait till the scene where he compares American Express cards with the actor who plays Riggins (27 years old) and the actress who plays Lyla (28).
Buck-Buck-Brawckkkkkkk No. 1: Trailing the defending champion Giants 17-3, Seattle faced fourth-and-1 on its own 40, and punted. Instantly, TMQ wrote "game over" in his notebook. It took Jersey/A just four snaps to move the ball past where it would have been had the Blue Man Group gone for it and failed; the G-Persons scored on the possession to make the lead 24-3. Just to prove it was no fluke, Seattle, trailing 24-3, then punted on fourth-and-6 from midfield.
Schmedly, See If You Can Motivate the Frozen Associate, He's Hardly Moving: TMQ lives in Montgomery County in Maryland, which is booming and has fantastic demographics for any kind of business. The paradox of Montgomery County is that there are no good Italian bakeries or Jewish delis. Not just Brooklyn, but any town chosen at random in New Jersey, beats thriving Montgomery County hands-down for Italian bakeries or Jewish delis. Montgomery County also lacks high-quality grocery stores -- no Kings, no Wegmans. Ah, for a Wegmans! So I was relieved to hear at least a Harris Teeter -- no Wegmans, but still good -- is opening soon in Rockville, Md. At Rockville-area subway stops are signs advertising employment opportunities in the new store. Like many modern corporate entities, Harris Teeter calls all workers "associates." The employment ad at the subway stop I use lists openings that include "associate" jobs in the dairy section, prepared foods department and so on. One listing: frozen associate.
Buck-Buck-Brawckkkkkkk No. 2: Trailing the Broncos 16-6 with 9:28 remaining, City of Tampa faced fourth-and-2 on its 20. Sure, the NFL coach who tries for it on his own 20 and fails will be sizzled by sports radio the next day. But what is the coach's goal, to hold down the margin of defeat or go all-out trying to win? Jon Gruden ordered a punt, and the game ended with Denver winning 16-13 after a Bucs onside kick failed with 2:02 remaining. The expected onside kick is a low-percentage play, but Gruden at that point had no choice because the clock was dwindling and his timeouts were exhausted. The onside kick had about a 14 percent chance of success (according to Aaron Schatz of Football Outsiders) -- whereas going for it on fourth-and-2 against the weak Denver defense had maybe a 75 percent chance of success. (Tampa is averaging 5.2 yards per play this season.) Gruden played it conservative when a gamble might have altered the game, then gambled when he had no choice and the gamble was almost certain to fail. End result: Gruden can say it was a close loss, and avoid criticism.
Governors Vow: We Will Be Fiscally Responsible As Long As Someone Else Pays: In April, Tuesday Morning Quarterback noted that governors boast about balancing their states' budgets while wagging their fingers at Washington -- yet about a fifth of the typical state's non-Medicaid revenue comes from Washington. That is, the federal government expands the national debt so that states can appear to have balanced budgets, creating a switcheroo in which taxpayers are angry at Washington when they should be angry at their statehouses.
Here's the update. New York state has a $6.4 billion budget shortfall in the current fiscal year, second only to California's budget problem. Recently, New York Gov. David Paterson asked the state's legislature for $1.2 billion in spending cuts -- meaning the Empire State volunteered to take responsibility for only a fraction of its self-created problem -- then called on Washington to hand Albany the rest of the money: $5.2 billion. Paterson said, "We are going to have to turn to the federal government for help." So New York is not willing to make significant spending cuts and not willing to tax itself; but perfectly happy to demand that voters in other states be taxed to bail out New York! Last week, California Gov. Arnold Schwarzenegger said the state would ask the federal government for a $7 billion loan. So California is not willing to tax itself to solve its self-created budget problems, but perfectly happy to demand that voters in other states be taxed to bail out California!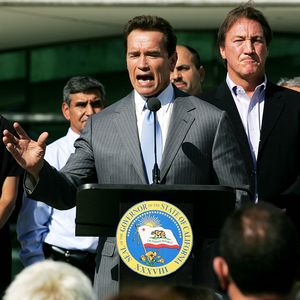 AP Photo/Gary Kazanjian
Schwarzenegger to federal deficit: "I'll be back."
Perhaps this is what should be expected when Washington is so poorly run; the nation's capitol seems like little more than a giveaway machine. Yet numerous states, including Colorado, Oregon and Pennsylvania, have budgets in fine shape because they did not overspend, as New York and California did; or saved during surplus years (all states had a combined $74 billion surplus in fiscal 2006 -- the responsible states saved some of that amount); or are not plagued by official corruption. Why should the people who live in states that spend carefully and pay their own way be compelled to subsidize government waste and kickbacks in California and New York? And why do the mainstream media continue to depict governors as fiscally paladins when so many shift their problems, and their debts, to Washington?
Here is evidence that the fiscal switcheroo favors governors politically. Polling data from the Pew Center shows that only 37 percent of Americans have a positive impression of the federal government, while 59 percent have a positive impression of state government. Remove the bookkeeping gimmicks that send federal money to the states and state taxes would rise while the national debt declined. Favorable-impression rankings surely would improve for Washington, while governors would decline in popularity.
Dolphins Demand Florida Taxpayers Subsidize Cheerleader Training Facility on South Beach: The Jets just moved their training facility to Florham Park, N.J. Thus the Jets cut all ties to the state of New York -- previously they trained on Long Island. Jersey/B's new practice facility has sold its naming rights, and is the Atlantic Health Jets Training Center. Quite a facility: a 20-acre campus with a 120,000-square-foot main office structure designed by David Childs (designer of the proposed Moynihan Station train center for Manhattan), a 12,000-square-foot locker room, an 11,000-square-foot weight room, a 100-seat auditorium and a huge field house. The Jets say they spent $75 million converting the facility, previously an Exxon Mobil corporate office, to football use; the state of New Jersey spent $20 million to buy the site and give it to Jets. That is, New Jersey handed $20 million of taxpayers' money to Jets owner Robert Wood Johnson IV, who is an heir to the Johnson & Johnson fortune and is among the world's richest men. Can anyone explain why New Jersey taxpayers should be subsidizing a very rich NFL owner?
Best Purist Drives: Taking possession with a 23-17 lead and 7:12 remaining, the Redskins drilled out the clock by rushing on eight of the next 10 snaps, including on fourth-and-1 from the Eagles' 38 with 2:48 remaining. After that play succeeded, the rest was Victory Formation. Though this being the modern NFL, the fourth-and-1 rush to decide the game was conducted from shotgun formation. Taking possession with a 24-22 lead and 7:39 remaining, the Cowboys ran on eight of the next 11 snaps, producing a game-icing touchdown just inside the two-minute warning.
Positive Economic Sign: Last week David Wessel, economics editor of the Wall Street Journal, said on NPR, "There is universal agreement among experts that a recession is either here or beginning." This means everything is going to be fine! One of TMQ's laws is that when all experts are in total agreement about something, the reverse will happen. For example, you will recall that all credentialed experts believed the old Soviet Union would never, ever allow freedom for its satellite states. Wessel is one of the smartest, best-informed observers of the economic scene. If all the experts he is talking to think a recession will happen, then it won't. Order champagne!
Redskins Analysis: Washington is 4-1 under Zorn, and just laid all-important division wins on Dallas and Philadelphia. What's up? One big factor is that Campbell is finally looking like the star-quality player and leader he was at Auburn. He's in yet another new offensive system, and constantly changing systems has held him back. But Zorn's West Coast passing attack seems to take the pressure off. Under Joe Gibbs, offensive presnap movements were complex, while Campbell was under pressure to hit the deep ball. Under Zorn there's almost no presnap movement -- Zorn considers it a needless complexity -- while the attitude is that an 8-yard completion is just fine. That's taking the 16-ton weight off Campbell's shoulder. He has no turnovers so far this season, versus 11 interceptions and 13 fumbles in 2007.
Equally important, Zorn has created a West Coast variant that emphasizes the run. Washington has run 64 times more than opponents so far; when the Redskins fell behind 14-0 to the Eagles in the first quarter, Zorn didn't go pass-wacky, but stuck with a run-based game plan, slowly crawling back and frustrating Donovan McNabb by keeping him off the field. After the first quarter ended with Philadelphia ahead 14-0, for the remainder of the contest, Washington outrushed Philadelphia 180 yards to 20. Over on defense, Greg Blache is using conservative, responsibility-oriented schemes with hardly any of the blitzing or exotic fronts that bobbleheads in the booth always extol. It's only been five games, but the Skins look like a very solid traditionalist team.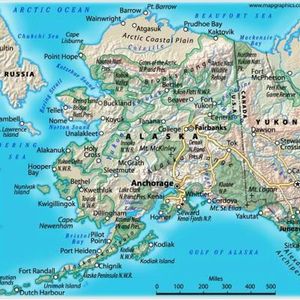 TBD
The Cowboys' new stadium is really nine times nicer than this entire state?
Stadia Economics: Reader Martin Benz, a high school math teacher in West Valley, N.Y., writes to note that stated in present dollars, the Louisiana Purchase was $205 million, while Seward's Folly, the purchase of Alaska, cost $106 million. He asks, "Is the Yankees' new stadium, at $1.6 billion, really going to be eight times nicer than the entire Midwest? Is the Cowboys' new stadium, at $1 billion, really going to be nine times nicer than Alaska?" That most of the Midwest was sold for $205 million in 1803 just proves you should buy real estate planning to hold, not to flip!
Adventures in Officiating: A roughing the quarterback call sustained Tennessee's late winning drive at Baltimore, changing what would have been a punting situation into a first down. Not only was the call ticky-tacky -- Terrell Suggs hit the arm of Kerry Collins and brushed his helmet, and the contact was far from violent -- but the Flaming Thumbtacks had been whistled for a false start, which should have stopped action at the snap. Officials inexplicably let the down continue, blowing whistles but not stepping into the center of the action, as zebras do to break up plays. Had the officials called the play correctly, action would have stopped and Tennessee would have faced third-and-15; instead, Tennessee got a first-and-10. This was a worse screw-up than the inadvertent whistle in the Denver-San Diego game. That was pure error; in this case, the zebras seemed not to know the rules: the action stops on false starts, because it is a dead-ball foul.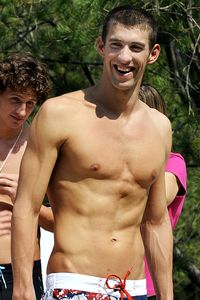 Timothy A. Clary/AFP/Getty Images
The cheerleaders were scantily attired for the Ravens' coin toss. Why wasn't Michael Phelps?
Note: Olympics hero Michael Phelps, who is from Maryland, came out with the Ravens' captains for the coin toss -- but did not remove his shirt! This has to be one of the first times since Beijing he has appeared in public fully clothed, and in keeping with increasing women's interest in football, it seemed entirely inappropriate.
Obscure College Score of the Week: Abilene Christian 66, East Central 7. Quick: What state is East Central College located in? To what region of the country is it eastern or central? Located in Union, Mo., East Central College is in the east central area of the Show Me State, and has an admirably short mission statement. As for Abilene Christian -- it doesn't sound very Christian to run up the score.
Bonus Obscure College Score: Bowie State 28, Lincoln of Pennsylvania 2. The Lions' faithful lament: If only we'd gotten 14 more safeties! Lincoln University of Pennsylvania is located in the town of Lincoln University, Pa. -- "I go to Lincoln University, at Lincoln University."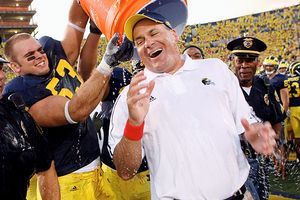 AP Photo/Tony Ding
Maybe they should hold off on the Gatorade shower until, say, the team is above .500.
Rich Rodriguez Was Behind This Somehow: Reader Brian Lemay of Ann Arbor, Mich., notes the Wolverines were playing well against Illinois in the first half. At intermission, the Michigan cheerleaders donned jackets and pants; in the second half, Michigan was blown out. And about that Gatorade shower Rodriguez received the week before, after the Wisconsin game: Standards are slipping if the coach gets a bucket dunked on his head for reaching a .500 record.
Reader Animadversion: Got a complaint or a deeply held grievance? Write me at TMQ_ESPN@yahoo.com. Include your real name and the name of your hometown, and I may quote you by name unless you instruct me otherwise. Note: Giving your hometown improves your odds of being quoted.
Next Week "Friday Night Lights" characters have flash-forwards in which it's 20 years in the future, and they are still high school seniors.
In addition to writing Tuesday Morning Quarterback, Gregg Easterbrook is the author of "The Progress Paradox: How Life Gets Better While People Feel Worse" and other books. He also is a contributing editor for The New Republic, The Atlantic Monthly and The Washington Monthly.