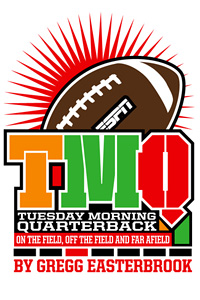 Tom Brady is hurt, but that's not the only problem New England is facing right now. The Patriots looked awful against San Diego -- awful on defense, awful on the offensive line, you name it. (See examples below.) Since posting an amazing 31-5 run that led up to the kickoff of February's Super Bowl, the Patriots are a blah 3-2. Last year they outscored opponents by an average of 20 points per game; this year the Patriots have been outscored. At San Diego, the Flying Elvii were beaten by halftime, and might as well have gone home then.
Is it possible we should actually feel sympathy for the New England Patriots?
Everything in Patriot-land is out of sync. Obviously, the quarterback position is an issue. With San Diego leading 17-3 in the third quarter, the Flying Elvii faced third-and-goal at the home team's 1-yard line. On a play fake, running back Sammy Morris was open on a short curl, and Matt Cassel had time, and threw the ball into Morris' feet. But Cassel hardly deserves all the blame. On the next down, fourth-and-goal, New England came out in a power set, Cassel play-faked, no one was open and the blocking was poor as he scrambled and lost a yard. San Diego then marched 98 yards in the opposite direction to turn the contest into a laugher. On the night, New England gained an anemic 5.1 yards per pass attempt. The offensive line has to play poorly for that to happen (New England gave up 21 sacks in all of 2007, and has already surrendered 20 this season). The receivers have to play poorly for that to happen (Randy Moss had 26 yards). The coaches have to call a bad game for that to happen (reaching first-and-goal on the San Diego 1 with a shaky guy at quarterback, New England's coaches called three passing plays instead of just pounding the ball straight ahead). And why is the shaky Cassel under center? Because New England's plan was that if Brady got hurt, the team would switch to a guy who hadn't started since high school. That was the plan.
Consider a few other moments from the New England-San Diego contest. With the Chargers leading 10-3 with 3:21 remaining in the second quarter, New England faced third-and-2 on its 14-yard line. Kevin Faulk went off tackle but was stopped after 1 yard; the Flying Elvii punted, the punt return and a penalty brought the ball to the Pats' 31, and San Diego soon scored to make it 17-3 at halftime. Why this is worth mentioning: New England blocking tight end David Thomas was the extra blocker at the point of attack on the third-and-2 play. At the snap he simply stood up and did nothing, blocking no one. As TMQ often points out, it is amazing how many NFL plays include at least one gentleman who stands there and does nothing at all. Last season, when New England was near-perfect, the Patriots never had a player stand around and do nothing. Never, ever. This year, it's happening.
Even good travel planning didn't help New England. As TMQ previously noted, when the Arizona Cardinals stayed on the East Coast for back-to-back games at "Washington" and "New York," they booked a hotel in the middle of a gigantic shopping mall, a dreadful place to spend a week. Arizona lost both games. Playing back-to-back at San Francisco and San Diego, the Flying Elvii stayed in this pleasant hotel with jogging trails and golf nearby, plus they arranged to practice at a pleasant college campus, San Jose State. That seemed perfect for relaxation and preparation, but the Patriots got hammered by the Chargers anyway. Maybe this means the seemingly smart strategy of staying on the opposite coast when facing back-to-back games there doesn't work, and that teams should fly home for four days. Even if that's all it means, in the past New England always made its littlest touches, including travel plans, effective.
What does the humble condition of the New England team tell us -- that the football gods are punishing Bill Belichick for Spygate and poor sportsmanship in 2007? That Brady was even more valuable than we thought? That those sideline tapes were more valuable than we thought? When Brady went down, TMQ thought the Patriots would continue to click. Now the click is turning to a clunk. It's spooky to think of feeling sympathy for this team, but that moment is close.
In other football news, whether a field-goal attempt is good is now a reviewable play. In the San Francisco-Philadelphia game, the field goal that put the Eagles ahead 27-26 in the fourth quarter was disputed, because the ball passed above the uprights, somewhere along the imaginary line between the top of the poles and the outer moons of Meepzor. High school, college and the pros all have different, confusing rules regarding which part of the ball must pass over which part of the imaginary line above the upright for a field goal to be good; as usual, rule simplification and standardization are advised. Officials looked at the kick replay and called it good, but San Francisco supporters continued to protest, partly because no one (including me) can remember the exact wording of the rule. (In the NFL, the entire ball must pass inside the outside edge of the upright, extended indefinitely above the top of the upright.) At any rate, why aren't there optical lasers at the tops of uprights, so the imaginary line is clearly visible to everyone? The lasers could be turned on before a field goal try. This should not be difficult from a technical standpoint.
Stats of the Week No. 1: Indianapolis has won six consecutive games against Baltimore.
Stats of the Week No. 2: The NFC North has no teams with a winning record.
New Feature: TMQ reader poll
Note: Margin of error +/- 50 percent. Poll not scientific, although scientists are allowed to answer. Your results may vary. Do not drive a vehicle, operate heavy equipment or fire artillery for 12 hours after taking poll. Never insert poll into your ears. Side effects of poll may include dizziness, headache, and inadvertent teleportation to the year 1973. If you spend more than four hours on poll, contact your doctor.
Stats of the Week No. 3: Two divisions, the NFC East and the NFC South, have no teams with a losing record.
Stats of the Week No. 4: Detroit has not scored in the first quarter this season.
Stats of the Week No. 5: New Oakland coach Tom Cable is 11-36 as a head coach.
Stats of the Week No. 6: Last season, after five games, the Jets had scored 96 points. This season, after five games with Hackensack Brett, the Jets have scored 141 points.
Stats of the Week No. 7: The Chicago Bears, at 3-3, have held late-fourth-quarter leads in all three of their losses.
Stats of the Week No. 8: Baltimore, Carolina and Oakland combined to score nine points this week.
Stats of the Week No. 9: Cleveland won on a Monday for the first time since 1993.
Stats of the Week No. 10: Last season, New England scored an NFL-record 589 points; this season New England is on pace to score 285 points.
Cheerleader of the Week: Kylette of the San Diego Chargers, who according to her team bio is a college student studying speech pathology and a former Miss Teen Latina of New Mexico. She's also a former member of the dance team for the Albuquerque Thunderbirds of the NBA Development League. (The NBA D-League has some of sports' wackiest names, highlighted by the Fort Wayne Mad Ants.)
Sweet Play of the Week No. 1: Miami ran the Wildcat with good results for the third straight week, and Atlanta also used the Wildcat, as this high school tactic -- tailback takes the snap -- begins to catch on in the NFL. On many of Miami's Wildcat snaps, quarterback Chad Pennington lines up as a wide receiver and is ignored; the defense figures he is only lined up this way to draw a defender outside. On Sunday Pennington lined up as a wide receiver; tailback Ronnie Brown took the snap; Brown handed off to tailback Ricky Williams running right, toward Pennington. Is the quarterback really a blocker on this play? Not likely. Pennington stepped back behind the line, Williams flipped him a lateral, and Pennington threw to uncovered tailback Patrick Cobbs for a 53-yard touchdown. Sweet high-school-style action, plus Miami had three tailbacks on the field for the play.
Sweet Play of the Week No. 2: After Chicago scored with 17 seconds remaining to take a 20-19 lead, Atlanta got the ball on its own 44-yard line with six seconds remaining, holding a timeout. Football logic pointed to the Falcons' attempting a throw down the middle to reach field-goal range, then trying to call the timeout. Instead, Atlanta threw deep to the sideline; Michael Jenkins gained 26 yards and stepped out of bounds, stopping the clock with one tick. Atlanta then kicked a field goal to win. The Falcons did not need to throw to the sidelines because they held a timeout. Exactly! It was brilliant reverse psychology, with the Bears crowding the middle of the field and conceding the sidelines.
Sour Play of the Week: Finding sour Detroit Lions plays is easy -- still, this one takes the cupcake. With the game scoreless, Detroit faced a third-and-10 from its own 1-yard line against Minnesota. The Lions faced third-and-10 from their 1 because on first down and second down they had thrown incomplete passes, never attempting a rush to get out of the "back to the wall" position. On third-and-10, quarterback-of-the-day Dan Orlovsky took the snap and raced toward the rear of the end zone. The Vikings rushed four against six Lions blockers. Yet no offensive lineman even attempted to block Minnesota's best pass-rusher, Jared Allen; Detroit tight end Michael Gaines was one-on-one against Allen and brushed him briefly before Orlovsky, under pressure, ran out of the end zone for a Minnesota safety. The Vikings ultimately won by two points.
Sour Special Teams Plays of the Week: Sean Morey of Arizona blocked a Dallas punt in overtime, and the Cactus Wrens recovered for the winning score; Geno Hayes of City of Tampa blocked a punt against Carolina, got the ball and ran it back for a touchdown. These are sour for the punting teams because, in both cases, no one from the punting team blocked the player who got to the kick. Morey and Hayes ran free directly to the punter.
Sour Defensive Play of the Week: With the game scoreless, Indianapolis had a first-and-10 on its own 33-yard line against visiting Baltimore. Marvin Harrison ran a fly, single-covered by veteran cornerback Chris McAlister. Rather than watch Harrison, McAlister made the high school mistake of "looking into the backfield" to see whether the play was a run; Harrison blew past him for a 67-yard touchdown that set a rout in motion. McAlister had no safety help, because the Nevermores had put eight into the box on an expected rushing down. Without safety help, what exactly was he accomplishing by looking into the backfield? And since Peyton Manning and Harrison have connected for more touchdowns than any other quarterback-receiver combination in NFL history, maybe, just maybe, he'll try to throw another one, Chris!
Sour Coaching Decisions of the Week: Down 21-0 with 3:57 remaining in the first half, Baltimore faced fourth-and-inches on its own 13-yard line. Sure, nobody likes to go for it deep in his own territory. But the Ravens were getting steamrolled. To get back into the game, Baltimore needed to take a chance, and fourth-and-inches is as good as chances get. As the punt boomed, TMQ wrote the words "game over" in his notebook. The tactic did not even succeed in making the defeat respectable -- Baltimore lost 31-3. And about that Baltimore field-goal attempt when trailing 31-0 …
Sweet 'N' Sour Play: Winless Houston faced fourth-and-goal on the Dolphins' 3 with seven seconds remaining, trailing 28-23. The Moo Cows came out four-wide, Matt Schaub dropped back to pass, then ran a designed draw straight up the middle, entering the end zone untouched for the winning score. That was sweet. Now check the Miami defensive alignment for the down -- the Marine Mammals had no middle linebacker on the field. Miami lined up with four defensive linemen and seven defensive backs -- a "quarter," which is more than a nickel or a dime, though TMQ calls seven defensive backs the American Ballet Theater defense -- and all the defensive backs lined up wide. As Schaub prepared to take the snap, he had five offensive linemen facing four defensive linemen, and no defender at all standing in front of him. Leaving the middle of the field unguarded when Miami only had a small amount of territory to defend was sour.
Predictions of the Week: The Washington Post Sunday morning, forecasting the day's games: "Something about playing the Buccaneers brings out the best in Panthers' quarterback Jake Delhomme." Delhomme threw three interceptions as Carolina lost 27-3. The New York Times Sunday morning, predicting Le'Ron McClain of Baltimore would have his first 100-yard day at Indianapolis: "The Colts may be prone to allowing another relatively unknown runner to have a big day." McClain rushed for minus-2 yards.
Three, Two, One -- Hey, Nothing's Blasting Off: Last week SpaceX, on its fourth try, launched the first entirely privately designed and operated large rocket to reach orbit from Earth's surface. (A tiny privately-designed rocket had previously been air-launched into orbit from a cargo plane.) That's the good news, especially if you hope that someday space flight will begin the same transition once made by aviation -- from super-rare government-run activity to common privately run activity. The bad news is that the SpaceX company's rocket, Falcon 1, basically is a privately built version of the kind of rockets NASA and the Air Force were using 50 years ago -- only slightly more powerful in terms of payload than the rocket that put Explorer, America's first satellite, into orbit in 1958. It's a bit as if 50 years after the Wright Flyer took to the air in Kitty Hawk, a start-up company announced it had built a wooden plane that could sustain 12 seconds of flight. Private industry is barely dipping its toe into the ability to reach space.
That hasn't stopped the hype. In July, French flight attendant Mathilde Epron won, in a contest, a suborbital space-tourism flight from Rocketplane. Mathilde, don't start packing just yet. The Rocketplane spaceplane does not, technically speaking, exist. Rocketplane is one of several companies promising space tourism aboard vehicles the companies contend can be developed and built for far less than the cost of a regular airplane. Suborbital flight, to the lower boundary of space, is easier than going into orbit, because far less velocity is required. An Air Force spaceplane, the X-15, flew suborbital flights repeatedly in the 1950s. But the old X-15 program was expensive. How is a start-up company supposed to develop a rocket-powered spaceplane for Mathilde and others to ride for a few million dollars in investment capital, when much simpler corporate jets cost a few hundred million dollars to develop? SpaceX spent about $120 million in capital merely to get the first successful Falcon 1 flight, mimicking a 1950s rocket.
Rocketplane is owned by Rocketplane Kistler, the "Kistler" part being a firm that tried, and failed, to develop an unmanned conventional rocket similar to Falcon 1. The rocket Kistler failed to develop would have functioned roughly the same way as any of a dozen U.S. and Russian rockets that were operating reliably when Lyndon Johnson was president. Rocketplane couldn't make its rocket work, because developing space flight hardware is expensive. Now the same firm, having failed to build a conventional unmanned rocket, is asserting it can build a revolutionary space-tourism flying machine, and is getting credulous press. Even Jeff Bezos of Amazon thinks he can build a rocket!
These efforts are inspired by SpaceShipOne, the Burt Rutan project which in 2004 won the X Prize as the first privately financed vehicle to take a person above the atmosphere. SpaceShipOne, which used suborbital trajectory, cost about $50 million to develop, quite low by aerospace standards, and its success was a great moment. But the spacebound part of the vehicle had just one seat, was crude in many ways (the pilot constantly wiped condensation off the inner windshield using paper towels) and incorporated no safety systems, relying on the courage of its test pilot. Plus SpaceShipOne flew twice, then was retired -- to make commercial sense, a space tourism spaceplane would need to fly dozens of times. Now Richard Branson of Virgin Airlines is backing SpaceShipTwo, which is supposed to have passenger room and much-improved safety standards. So far no SpaceShipTwo hardware has flown; a test component exploded on the ground, killing three technicians. Branson has talked vaguely about how SpaceShipTwo can be developed and built on the cheap. In rocketry, cost-cutting leads to explosions.
Space tourism has not even started and already there is a discount airline -- Xcor, which says it will charge $100,000 for a half-hour suborbital flight, while the Branson venture is quoting $200,000. Xcor describes building a rocket whose engine would cut out three minutes after launch; from then on, you would coast and look at the view out your window. Xcor says it can build its suborbital spacecraft for $10 million -- versus a price of $70 million for a Gulfstream 5, a conventional corporate jet that operates at low altitude based on well-established technology. I don't know about you, but I ain't getting on no space-bound machine that did not cost billions of dollars to develop and test.
New York Times Correction of the Week: Actual correction from the New York Times: "An article last Sunday about cases before the Supreme Court in its new term misidentified the celebrity who spoke some of the four-letter words during an awards show that are at issue in a free-speech case before the court. The swearing was part of banter between Paris Hilton and Nicole Richie, but it was Ms. Richie -- not Ms. Hilton -- who used the four-letter words."
In Development at HBO: A Series About a Network Executive Who Endlessly Relives the Same Upfronts: Last fall, TMQ inventoried the astonishing number of movies and television shows premised on police officers or detectives with supernatural powers or imaginary super-advanced technology. My favorite was "New Amsterdam," about a 400-year-old New York City detective who had attained immortality. He was immortal -- until he was canceled! Which happened after eight episodes.
This year's fall lineup includes "Life on Mars," about a detective who falls through a time warp into the year 1973; a remade "Knight Rider," about a secret agent driving an invincible supercar; "Fringe," about an FBI agent fighting a global outbreak of paranormal events; and "The Mentalist," about a detective who may or may not be psychic. Note about "Knight Rider": the new car is described as powered by a "solar hybrid" engine, yet has no solar panels. Even if it did, covering an object the size of a car even with hypothetical 100 percent efficient solar cells would produce maybe enough electricity to run a lawnmower -- one of the technical obstacles to solar power is the relatively low amount of energy in sunlight that reaches the ground. (Sunlight in space carries far more energy.) Note about "Life on Mars": viewers are supposed to be brimming with nostalgia for 1973? "Life on Mars" is a remake of a BBC series about a British detective who falls through a time warp to London of 1973. That show had a sequel, "Ashes to Ashes," about a British detective who falls through a time warp to London of 1981. Viewers are supposed to be brimming with nostalgia for 1981?
Best Purist Drive: Taking possession with a 24-17 lead and 5:46 remaining at Denver, Jacksonville drilled out the clock with eight runs and one pass, leading to three kneel-downs. Denver's altitude is supposed to give the Broncos the advantage in the fourth quarter, but Denver's defense -- ranked 30th, and once again staffed by rent-a-defensive-linemen -- could not get a stop. They're still playing Cleveland Browns castoffs on the Denver defensive line, while defensive end Jarvis Moss, the Broncos' No. 1 draft pick in 2007, has one career start.
Congress Immediately Voted to Bail Out the Sun: Here's a concern to take your mind off credit-market worries: is there something wrong with the sun? From a March 2006 government news release: "The next sunspot cycle will be 30-50 percent stronger than the last one, according to a breakthrough forecast using a computer model of solar dynamics developed by scientists at the National Center for Atmospheric Research (NCAR)." Instead the current sunspot cycle, which began in January, is almost eerily meek. The Space Weather Prediction Center -- a real place -- said last week that sunspots had been observed on only 71 of the 276 days of 2008 to that point, which is scant activity, hardly the predicted strong sunspot cycle. Meanwhile, research using the Ulysses sun-study space probe recently reported that the "solar wind," charged particles blown off the sun, is at its lowest strength since measurements began, about 50 years ago. The relationship between sunspots and solar output is poorly understood. It is known that from 1645 to 1715, when almost no sunspots were observed, global temperatures declined and the Little Ice Age occurred; people skated on the canals of Holland, though surely shivered the rest of the time. The sun has been producing a stable amount of heat and light for at least 600 million years, and probably a great deal longer than that. (The sun is thought to be about 4.5 billion years old; early in its existence, the sun is thought to have been "faint.") So probably the sunspot and solar wind fluctuations don't mean much. But they are spooky -- and oh, the magnetic polarity of the Earth may reverse in the year 2012.
Christmas Creep Watch: Sinai Levi of Israel writes, "I live in a mixed Jewish-Arab neighborhood in Jerusalem, and the Christian-Arab-owned falafel stand across the street from me has Christmas lights on display." Sinai, put on a Santa hat and go get a falafel! Monharn Lo of Seattle, currently residing in Guangdong Province, China, reports, "I walked into a Costco in Taipei on September 13th and saw a huge section devoted to Christmas items." Brandon Moseley of Waco, Texas, writes, "I just got back from Wal-Mart here in Waco, and not only do they have many Christmas items displayed, they were playing the Charlie Brown Christmas special on a flat screen TV." Chris Caswell of Houston reports, "On October 3rd, Macy's department store in downtown Houston was loading its windows and aisles with Christmas displays." Anand Satyamoorthy of Boston writes, "Some friends and I were getting dinner at a sushi restaurant in Boston last week, and Christmas music was playing." It's that classic sushi-Christmas connection! Cameron Mohajerin of Birmingham, Ala., reports, "A friend of mine got married on Oct. 11th, after 'Christmas Shower' where you buy the couple a Christmas decoration. I thought it would be hard to purchase Christmas decorations so early in the season -- and was I ever wrong about that. Our local Target had the Christmas aisles set up on September 20th." The Official Wife of TMQ reports the entire front of the Home Depot of Montgomery County (Maryland), was Christmas lights and animatronic Christmas displays on Columbus Day, 2008. And Darlene Dralus of Murfreesboro, Tenn., writes, "I spotted my first nativity scene in a homeowner's front-yard. What amazes me is there is no commercial incentive for this home owner to put up a Christmas scene weeks before Halloween!"
'Tis Better to Have Rushed and Lost Than Never to Have Rushed at All: Leading 21-14 with 3:35 remaining, Arizona faced third-and-5 on the Dallas 23; the Cardinals threw incomplete, stopping the clock, then kicked a field goal. Regulation ended with Dallas tying the game at 24 on a 52-yard field goal with four seconds remaining. Arizona won in overtime, but had the Cards simply rushed up the middle for no gain on the snap at 3:35, keeping the clock advancing, Dallas would have run out of time.
Buck-Buck-Brawckkkkkkk: Fourth-and-10 is a challenge. But Oakland trailed New Orleans 27-3 at the end of the third quarter, and faced fourth-and-10 at midfield. Why are you punting??????? Oakland special teams note: Since the start of last season, Raiders' place-kicker Sebastian Janikowski has missed from 76, 64, 59 and 57 yards. The Raiders have yet to pay for this nonsense with a long return of a missed place kick. If they keep it up, they will.
"Friday Night Lights" Update After winning their opener 44-13, but running up the score by throwing deep in the final minutes, the Dillon Panthers won their second game 49-0 -- and again tempted the football gods. With Smash Williams having graduated, perpetual senior Tim Riggins is now the star player. With Dillon leading 42-0 late in the fourth quarter, Riggins was still on the field and getting the ball. The football gods will not smile on that! The first two episodes of the final season, showing now on DirecTV and reairing on NBC this coming winter, have been good in that they contained some football scenes; football scenes were few and far between in the previous season. But "Friday Night Lights" continues to make cringe-worthy mistakes about the specifics of the sport -- please, producers, have a football person read the scripts! In last week's episode, to "walk on" at a college was used as if it meant "to receive an athletic scholarship."
Gasoline Plentiful, Perspective Scarce: "Financial chaos is sweeping the world," a New York Times lead story said last week. I didn't notice any chaos in my part of the world -- every business was open, ATMs were working, goods and services were plentiful. There are economic problems to be sure. But chaos? Collapse? Next Depression? Please, media and political worlds, let's stop hyperventilating and show some perspective.
What is going on is a financial panic, not an economic collapse. Financial panics are no fun, especially for anyone who needs to cash out an asset right now for retirement, college and so on. But financial panics occur cyclically and are not necessarily devastating. The most recent financial panic was 1987, when the stock market fell 23 percent in a single day. Pundits and politicians instantly began talking about another Depression, about the "end of Wall Street." The 1987 panic had zero lasting economic consequences -- no recession began, and in less than two years, stocks had recouped all losses. (See John Gordon's excellent 2004 book on the history of financial panics, "An Empire of Wealth.") Perhaps a recession will be triggered by the current financial panic, but it may not necessarily be severe.
Politicians and pundits are competing to see who can act most panicked and use the most exaggerated claims about economic crisis -- yet the fundamentals of the U.S. economy are, in fact, strong. Productivity is high; innovation is high; the workforce is robust and well-educated; unemployment is troubling at 6.1 percent, but nothing compared to the recent past, such as 11.8 percent unemployment in 1992; there are no shortages of resources, energy or goods. Here, University of Chicago economist Casey Mulligan shows that return on capital is historically high; high returns on capital are associated with strong economies. Some Americans have significant problems with mortgages, and credit availability for business could become an issue if the multiple bank-stabilizing plans in progress don't work. But the likelihood is they will work. When the 1987 panic hit, people were afraid the economy would collapse; it didn't. This panic is global, enlarging the risks. But there's a good chance things will turn out fine.
Why has a credit-market problem expanded into a panic? One reason is the media and political systems are now programmed for panic mode. Everything's a crisis! Crises, after all, keep people's eyes glued to cable news shows, so the media have an interest in proclaiming crises. Crises make Washington seem more important, and can be used to justify giveaways to favored constituent groups, so Washington influence-peddlers have an interest in proclaiming crises.
An example of the exaggerated crisis claim is the assertion that Americans "lost" $2 trillion from their pension savings in the past month, while equities "lost" $8 trillion in value. "Investors Lose $8.4 Trillion of Wealth" read a Wall Street Journal headline last week. This confuses a loss with a decline. Unless you cashed out stocks or a 401(k) in the past month, you haven't "lost" anything. Nor have most investors "lost" money, let alone $8.4 trillion -- crisis-mongering is now so deeply ingrained in the media that even Wall Street Journal headline writers have forgotten basic economics. People who because of financial need have no choice but to cash out stocks right now are really harmed. Anyone who simply holds his or her ground with stocks takes no loss and is likely, although of course not certain, to come out ahead in the end. During the housing price bubble of 2003 to 2006, many Americans became much better off on paper, but never actually sold their homes, so it was all paper gains. Right now many Americans holdings stocks or retirement plans are much worse off on paper, but will be fine so long as they don't panic and sell. One of the distressing things about last week's media cries of doomsday is that they surely caused some average people to sell stocks or 401(k)'s in panic, taking losses they might have avoided by simply doing nothing. The financial shout-shows on cable tend to advise people to buy when the market is rising, sell when the market is falling -- the worst possible advice, and last week it was amplified by panic.
We've also fallen into panic because we pay way too much attention to stock prices. Ronald Reagan said, "Never confuse the stock market with the economy." Almost everyone is now making exactly that mistake. The stock market is not a barometer of the economy; it is a barometer of what people think stocks are worth. These are entirely separate things. What people think stocks are worth now depends on their guess about what stocks will be worth in the future, which is unknowable. You can only guess, and thus optimism feeds optimism while pessimism feeds pessimism.
There is no way the American economy became 8 percent less valuable between breakfast and morning coffee break Friday, then became 3 percent more valuable at lunchtime (that is, improved by 11 percent), then became 3 percent less valuable by afternoon teatime (that is, declined by 6 percent) -- to cite the actual Dow Jones Industrials swings from Friday. And the economy sure did not become 11 percent more valuable Monday. Such swings reflect panic or herd psychology, not the underlying economy, which changes over months and years, not single days. For the past few weeks pundits and Washington and London policy-makers have been staring at stock tickers as if they provided minute-by-minute readouts of economic health, which they do not. It's embarrassing to see White House and administration officials seemingly so poorly schooled in economic theory they are obsessing over stock-price movements, which they cannot control and in the short term should not even care about.
Consider this. On Black Monday in 1987, the market fell 23 percent. If you had invested $100 in a Dow Jones Index fund the following day, it would be $460 now, a 275 percent increase adjusting for inflation. That's after the big slide of the past month, and still excellent. So don't panic, just hold your stocks. And if you'd invested $100 in real estate in 1987, it would be $240 today, a 30 percent increase adjusting for inflation. That's after the housing price bubble burst. A 30 percent real gain in 20 years isn't a great investment -- until you consider that you lived in the house or condo during this time. To purchase and live in a dwelling, then come out ahead when you sell, is everyone's dream. Not only do stocks remain a good buy, America on average is still coming out ahead on the housing dream. (This example uses the Case Shiller Index for the whole country; because housing markets are local, some homeowners have lost substantial ground while others enjoyed significant appreciation.)
Economic problems are likely to be with us for awhile, but also likely to be resolved -- the 1987 panic and the 1997 Asian currency collapse both were repaired more quickly than predicted, with much less harm than forecast. Want to worry? Worry about the fact that the United States is borrowing, mainly from foreign investors and China, the money being used to fix our banks. The worse the national debt becomes -- $11 trillion now, and increasing owing to Washington giveaways -- the more the economy will soften over the long term. It's long-term borrowing, not short-term Wall Street mood swings, that ought to worry us, because the point may be reached where we can no longer solve problems by borrowing our way out. TMQ's former Brookings Institution colleague Peter Orszag, now director of the Congressional Budget Office, was on "Newshour" last week talking about the panic. Orszag is a wicked-smart economist -- for instance, he is careful to say pension holdings have declined, not been lost like most pundits are saying, as if there were no difference between decline and loss! The below exchange occurred with host Jeffrey Brown. Remember these words:
PETER ORSZAG: One thing we need to remember is we're lucky that we have the maneuvering room now to issue lots of additional Treasury securities and intervene aggressively to address this crisis.
JEFFREY BROWN: Wait a minute. Explain that. Lucky in what sense?
PETER ORSZAG: That people are still willing to lend to us. If in 20 or 30 years we continue on the same path, with rising health-care costs and rising budget deficits, we would reach a point where we wouldn't have that ability.
Happy Hour in Hell's Sports Bar: There was rending of garments and gnashing of teeth in hell's sports bar on Sunday -- actually, there is always rending of garments and gnashing of teeth in hell's sports bar -- as Houston and St. Louis won. That leaves Cincinnati and Detroit the league's only winless teams, and Cincinnati and Detroit do not play each other this season. So there will be no Hell Bowl matching winless teams at midseason. On the upside, Cincinnati and Detroit can both finish 0-16.
Stop Me Before I Blitz Again! No. 1: Last week, TMQ praised new Redskins defensive coordinator Greg Blache for "using conservative, responsibility-oriented schemes with hardly any of the blitzing or exotic fronts that bobbleheads in the booth always extol." With Washington leading St. Louis 17-16, Les Mouflons faced third-and-13 on their 41 with 1:13 remaining. To that point in the game, St. Louis had just 158 yards of total offense. If Washington simply plays straight defense, a stop is likely. Instead, Blache called not just a safety blitz but a double safety blitz. Speedster Dennis Avery was single-covered on a deep go route for a 43-yard completion, and the Rams kicked the winning field goal with two seconds showing.
Redskins Sour-Play Bonus: Leading 10-0, Washington reached first-and-10 on the St. Louis 16 with 26 seconds remaining in the first half. Jason Campbell's pass was tipped, making everyone eligible; Redskins guard Pete Kendall caught the pass behind the line and started to rumble. No! No! screamed TMQ at the screen. Kendall fumbled; Mouflons defensive back Oshiomogho Atogwe "scooped and scored," going 75 yards for a touchdown. Offensive linemen are supposed to be coached to swat tipped passes to the ground, making them incomplete; for one to run with a caught tipped pass almost always leads to loss of yardage or a fumble. Had Kendall simply whammed the ball to the ground, the Redskins likely would have led 13-0 or 17-0 at intermission. Instead they led 10-7, and the day's big upset was brewing.
Football Gods Note: After Josh Brown of St. Louis kicked the winning field goal as time expired, he danced around the field pointing to himself with both hands. Verily, doubt not, the football gods will punish him.
Stop Me Before I Blitz Again! No. 2: Seattle blitzed seven as Aaron Rodgers tossed an easy 45-yard touchdown pass to Greg Jennings, making the score Green Bay 17, Blue Man Group 10. The down-and-distance was third-and-6 at the Seattle 45. Since Green Bay was already beyond field-goal range, why was Seattle gambling for a sack in the first place?
Large Hadron Collider Control Center Warned Against Showboating: Reader Yaney Deering of Cincinnati notes this story in which a "Norwegian physicist" contends Usain Bolt "could" have run a 9.55 in the 100 meters at the Beijing Olympics, rather than a 9.69, "if he had not slowed down to showboat." The showboating took fourteen-hundredths of a second? That's some pretty fast showboating!
Is Gasoline the New Tobacco? This ad campaign from Chevron basically boils down to, "Please don't buy our product." One of the Chevron public-service ads urges people to trade a regular car for a hybrid. As Tuesday Morning Quarterback spelled out here, trading a 10 MPG SUV for a 20 MPG regular car reduces petroleum demand considerably more than trading a 20 MPG regular car for a 30 MPG hybrid. Chevron, if you really want to cut oil consumption, urge people to get out of SUVs.
Hidden Plays: Hidden plays are ones that never make highlight reels, but stop or sustain drives. With Jacksonville leading 10-7, Denver went for it on fourth-and-1 from the Jags' 30: John Henderson stuffed the run, Jax ball. Highlight reels showed Maurice Jones-Drew's 46-yard touchdown run; but it was the run stuff on fourth-and-1, the hidden play, that swung the momentum of the contest. There's also the hidden series, the series that comes right before whatever sports talk is interested in Monday. With San Francisco leading Philadelphia 26-17, the Squared Sevens had first-and-10 on their 12 on the final play of the third quarter. San Francisco went rush for no gain, incompletion, sack. The Eagles then returned the punt to the home team's 38, setting the visitors' fourth-quarter comeback in motion.
Honk If You've Been Fired at Auburn: Auburn coach Tommy Tuberville, in his 10th year, is now on his sixth offensive coordinator and fifth defensive coordinator. He has fired two offensive coordinators, Tony Franklin and Al Borges, in the past 10 months alone. Some Auburn coordinators left of their own accord for bigger jobs, others were thrown overboard to deflect criticism away from Tuberville. In 2007, Auburn was "only" 8-4 and the boosters were restless, so Borges was blamed and fired. When Franklin was fired last week, Auburn was "only" 4-2 and the boosters were restless, so Franklin was blamed and fired. And just where was Tuberville, paid $2.6 million annually, while his offensive coordinators were making blameworthy mistakes? He's in charge, he didn't know what his own assistants were doing? Oh no, he had no idea. (Last week, the guy who ran Lehman Brothers claimed he had no idea what mistakes the company was making, though in 2007, his $45 million paycheck was justified by Lehman's board on the grounds that the guy was a super-effective manager.) Tuberville is using the survival strategy employed by Mike Shanahan of Denver and other head coaches who often fire assistants: If things go well, I get the credit, if things go poorly, the coordinators take the blame.
Franklin, who has coached at high schools and at Troy University, can now go back to marketing what football types call the Franklin System but what he simply calls The System. It's a no-huddle spread offense in which all players, even linemen, wear color-coded wristbands. Franklin sells playbooks, installation guides, practice manuals and software that make it easy to change what's on the wristband; he also holds seminars and camps, and can be hired by the day to demonstrate his offense at high schools. The Franklin System has a good track record in most places it has been used, although, of course, you don't need Franklin's guides to run a spread. The wristbands, whose codes are easy to learn, are genuinely clever: I've been wondering since Franklin introduced this idea why every football player, including every lineman, doesn't have a wristband. Whether Franklin's approach would work at a football-factory school we may never know now, after Tuberville gave the guy a grand total of seven games to prove it. There's no way any new offensive philosophy, from pass-wacky to wishbone up-the-middle, can settle in over just seven games. A few days after Tuberville blame-shifted by firing Franklin, his team was beaten at home by lowly Arkansas, gaining just 193 offensive yards in the process. When Auburn was facing fourth-and-32 in the fourth quarter against Arkansas, maybe that was somehow Franklin's fault, too. Note to Panthers, Raiders and Ravens, all of whom failed to score a touchdown Sunday: Why didn't you immediately fire your offensive coordinator?
A high school in my county runs the Franklin System and has gotten good results, nearly upsetting the defending state champion with it. The downside for high school use is rain. Prep players tend to have smallish hands, meaning an all-passing offense backfires in wet conditions. The same local school that usually plays well with the Franklin System was recently blown out by six touchdowns on a rainy night.
Obscure College Score of the Week: Thiel 50, Bethany 44 (four overtimes). Five touchdowns and two field goals were recorded in overtime. Located in Greenville, Pa., Thiel College is starting college marketing early.
Bonus Obscure College Score Claremont Mudd/Scripps 44, LaVerne 14. Located in LaVerne, Calif., the University of LaVerne, promotes Greek life. Here, the school assures prospective brothers and sisters they are not actually required to drink to join a fraternity or sorority.
Bonus College Stat: In its showdown with Texas, Oklahoma rushed for 48 yards and passed for 387 yards. Yes, Bud Wilkinson, the University of Oklahoma.
Weasel Watch: Alabama is clearly happy with Little Nicky Saban, the coaching weasel of 2006. But remember, Tide faithful, TMQ's law of weasel coaches: When you hire a coach who's only in it for himself, you get a coach who's only in it for himself. Now let's check the coaching weasels of 2007, Bobby Petrino and Rich Rodriguez, who are a combined 5-7. Michigan is listing in the water at 2-4 despite playing five of those six at home, and just lost to the Toledo Rockets. (Needless to say, last autumn Michigan lost at home to Appalachian State.) Arkansas is bailing fast at 3-3, helped by the gift of playing Auburn a few days after Tuberville made the brilliant move of firing his offensive coordinator in the middle of the season. Will the weasels of 2007 finish with a combined winning record? TMQ doubts it.
Checking my time machine (patent pending), I found this news story from 2010:
ANN ARBOR, Mich., Oct. 16, 2010. (ESPN-CBS-Google-Bank-of-America-SmithGlaxoKline News Service.) University of Michigan supporters were crushed today after the Wolverines lost at home to Middlebury College, the first-ever defeat for Michigan by a Division III program. Middlebury's F. Worthington Cartwright III rushed for six touchdowns as the visitors bested the home team 45-3.
Michigan coach Rich Kotite called the loss "a major disappointment." He added, "We will look at film and figure out how Middlebury was able to shut down our exciting new A11 offense."
Last year, Michigan lost at home to East Stroudsburg, the Wolverines' first-ever defeat by a Division II team. Lane Kiffin, who was coach of the Wolverines in 2009, said at the time, "We will look at film and figure out how East Stroudsburg was able to shut down our exciting new single wing offense."
In other news, former Michigan coach Rich Rodriguez, out of football for the past two years, was hired as a public-relations specialist by the Department of American International Group. AIG was once a privately held insurance company. Since late 2008 it has been a federally subsidized agency; all Americans pay $100 per month directly to AIG to support bonuses and luxury-resort weekends for AIG executives. The Department of AIG called Rodriguez "a perfect fit for our program."
Reader Animadversion: I wrote that Fermi Lab, America's largest atom smasher, is heavily subsidized despite a 10-year decline in discoveries. Jon Riechert of Aurora, Ill., reports Fermi Lab just claimed discovery of the "Omega-sub-B" quark, depicted here. He asks, "Does this drawing show a subatomic particle or the Denver Broncos' zone blocking scheme?" … I included the University of Texas system on the list of very large college endowments. Javier Perez of El Paso, Texas, counters, "Yes, the UT system has a large endowment, but consider the number of students -- UT's many campuses have 190,000 men and women attending. That means the system has $82,000 in endowments per student, a number similar to Goucher College. Meanwhile, Princeton has $2 million in endowments per student; Carleton College has $332,000 in endowments per student. The Texas endowment number is deceptive owing to the size of the state's higher education system."
Next Week: Tommy Tuberville fires Mac Macgill, offensive coordinator for the Dillon Panthers.
In addition to writing Tuesday Morning Quarterback, Gregg Easterbrook is the author of "The Progress Paradox: How Life Gets Better While People Feel Worse" and other books. He also is a contributing editor for The New Republic, The Atlantic Monthly and The Washington Monthly.