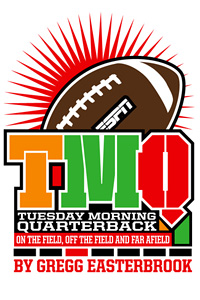 The Chargers, Colts, Cowboys and Patriots, expected power teams, are all struggling. The Bills, Giants and Steelers look solid with a lone defeat. But with United Nations Day approaching, just one NFL team stands undefeated, and it is the Tennessee Titans. What's their secret? Coaching stability in a sea of panic.
It would be tempting to say the Flaming Thumbtacks owe their undefeated status to traditionalism: In a world gone pass-wacky, Tennessee emphasizes the ground game, being fourth overall in rushing and eighth overall in rush defense. With shotgun spreads, empty backfields and all-passing everywhere you look -- Oklahoma and Texas are now all-passing teams, and on Sunday, even the Chicago Bears went no-huddle! -- emphasizing the run has practically become unconventional. Column-writing depends on spotting unexpected twists in the news, and "the traditional becomes unorthodox" is a pretty good twist regarding Tennessee's success. Yet I don't think that is the core explanation.
It would also be tempting to say Tennessee has simply benefited from a soft schedule so far. If the postseason began today, only one of the six teams Tennessee has defeated (Jacksonville) would be in the conversation. (I am certainly not going to run the tiebreakers in October.) The teams the Flaming Thumbtacks have beaten stand a combined 11-26, though of course, Tennessee gets the credit for six of the 26 L's. As the season progresses, the Titans face Indianapolis twice, Chicago, Pittsburgh, Green Bay and Jacksonville again; obviously some losses await. But before Opening Day, touts were saying New England was favored by a really soft schedule. Yet New England is 4-2; a favorable sked is no guarantee of success. Sure, the Patriots lost their starting quarterback to injury, but so did Tennessee!
Tuesday Morning Quarterback thinks the secret of Tennessee's success is stability. Jeff Fisher has been coach of the Oilers/Titans since 1994, the longest tenure of any current NFL headmaster. Defensive coordinator Jim Schwartz has been with Tennessee since 1999, first as linebackers coach and then running the defense. Schwartz is one of the NFL's underappreciated figures: A smart guy who graduated from Georgetown University, Schwartz not only does a fabulous job but also belongs to that small club of NFL coaches who read the New York Times and books about intellectual affairs. Offensive coordinator Mike Heimerdinger is in his sixth year with the Titans, though his tenure wasn't continuous. Offensive line coach Mike Munchak has been coaching with the Oilers/Titans since 1994, when Fisher arrived. Prior to that, Munchak enjoyed a Hall of Fame career with the Oilers from 1982 to '93. Others on the coaching staff are also long-term employees.
During the time Fisher has held the Tennessee post, the NFL has become the NPL -- the National Panic League. Head coaches are fired at the first sign of trouble: three have already been fired this season. Owners fire head coaches almost for sport, Chainsaw Dan Snyder of Washington being on his sixth in 10 years. Assistant coaches are such vagabonds they should always keep their bags packed; many teams change at least one coordinator each season. Bad game? Let's change quarterbacks. Finished in the middle of the pack last season? Let's have an all-new offensive system. Bad punt? Get a new punter. Even football-factory colleges, where coaches have long enjoyed a circumstance close to academic tenure, have begun firing coaching personnel at the slightest hint of adversity. One of TMQ's immutable laws of football is: Don't Panic, There Will Be Plenty of Time for That Later. This law is not being observed much in contemporary football. The Tennessee Titans are a pleasant exception.
Secure coaches don't fall apart if a star player hits a rough patch in life, as Vince Young just did. Stable organizations don't throw out the entire philosophy and start over if the team itself hits a rough patch, as the Titans did with salary cap problems a few years back. Stable sports organizations aim to win more often than they lose, which the Titans have done under Fisher, and don't come unglued during the inevitable bad game or off year. Of course, I am not saying everything at Tennessee runs smoothly -- hiring and then dismissing collegiate offensive guru Norm Chow was a recent Tennessee management decision that did not go as planned. But in the main, while all others around them are panicking, the Titans stay calm. So far at least, it's a formula for being the only undefeated NFL team.
In other football news, over the years, Tuesday Morning Quarterback has grown accustomed to timid coaching decisions. Trailing Chicago 48-31 with nine minutes remaining, Minnesota faced fourth-and-3 on the Bears' 5, and kicked a field goal. Needless to say, the Vikings went on to lose. Forget the 17-point margin; the hour was late and the Vikings were within view of paydirt. To have hope of winning, they needed a touchdown. Trailing Houston 21-0, Detroit kicked a field goal. Needless to say, the Lions went on to lose. Trailing Texas 35-0, Missouri kicked a field goal. Needless to say, the Tigers went on to lose. Fraidy-cat coaching decisions like these are intended to deflect criticism away from the coach. Maybe they make a modicum of sense in college, where margin of victory counts in the polls -- as Missouri's ridiculous field goal boomed, coach Gary Pinkel seemed to fear being blanked and his team dropping out of the Top 25 altogether. (It was irrelevant that it was the last play of the first half; Missouri was on the Texas 16 and should have tried for a touchdown.) But margin of victory is meaningless in the NFL. When NFL coaches make decisions intended to keep the final score respectable, or avoid a shutout, while giving up any hope however small of victory, it isn't just bad tactics. It is unprofessional -- the coach is placing his own résumé and career prospects ahead of the team.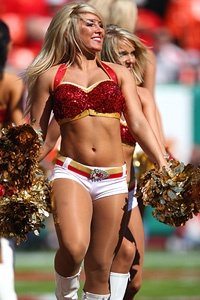 Paul Spinelli/Getty Images
At least some parts of the Kansas City organization showed professionalism on Sunday.
That's why Herm "I Honor My Contract When I'm in the Mood" Edwards' decision against Tennessee on Sunday ranks among the worst in the annals of sports. Undefeated Tennessee led 27-0 with five minutes remaining; Kansas City had fourth-and-goal on the Titans' 8; rather than try for a touchdown and maintain some tiny hope of a comeback, or at least salvage the Chiefs' dignity, Edwards sent in the field goal unit. Herm wasn't even trying to protect his team's interest; instead he was protecting his own by keeping a shutout off his résumé. The football gods, disgusted, granted Tennessee another touchdown in just two snaps, putting the visitors ahead 34-3. What a shame Tony Gonzalez, a consummate max-effort professional, was denied his trade request and is now trapped on this team whose coach will not even go through the motions of attempting to win.
In other sports news, is cheerleading too dangerous? And what's the real reason most of the country's high schools are switching to the spread offense? See below.
Stat of the Week No. 1: The Chicago Bears lead the NFL in scoring.
Stat of the Week No. 2: After scoring just four offensive touchdowns in its first four games, St. Louis scored four in a single game against Dallas.
Stat of the Week No. 3: Detroit has not scored in the first quarter.
Stat of the Week No. 4: Stretching back to last season, Dallas, picked by many touts including the consensus of ESPN.com experts to win the Super Bowl, has lost five of its past nine games.
Stat of the Week No. 5: In seven starts for San Francisco, J.T. O'Sullivan has been sacked 29 times, thrown 10 interceptions and fumbled nine times.
Stat of the Week No. 6: Oakland went nine consecutive quarters without a touchdown.
Stat of the Week No. 7: San Francisco became the first team in NFL history to return a blocked field goal for a touchdown in consecutive weeks; however, San Francisco lost both games.
Stat of the Week No. 8: Indianapolis lost in the month of October for the first time in four seasons.
Stat of the Week No. 9: Denver is the sole NFL team that has a winning record and has also been outscored.
Stat of the Week No. 10: West Coast teams are 0-8 in games played in the Eastern Time Zone, and East Coast teams are 3-6 in games played in the Pacific Time Zone.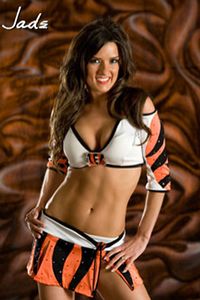 Cinncinati Bengals
Sway to the left, sway to the right, file a deposition and fight fight fight!
Cheerleader of the Week: Reader Gerard Milewski of Cincinnati nominates Jade of the Ben Gals, who according to her team bio is a University of Cincinnati College of Law graduate currently studying for the Ohio bar. "Your Honor, may it please the court, my lawyer will be here as soon as she finishes posing for the swimsuit calendar." Milewski points out that on her team bio, under the question "person I would most like to meet and why," Jade answers, "Thomas Jefferson, to discuss the thought processes behind building the republican form of government, all of his accomplishments, and whether the current state of the country even remotely resembles what he had in mind." Jade, I suspect Jefferson would say the cheerleaders are a lot better looking now than in the 18th century, but many aspects of the current state of the country are not what he had in mind. Cincinnati note: Philadelphia and Washington squads beware, this warm-to-the-touch Ben Gals squad photo is at the cutting edge of cheesecake technology. Here is a Jeffersonian cheer:
Our national prospects are high
That government is best whose demands are low
All men are created equal
Now go team go!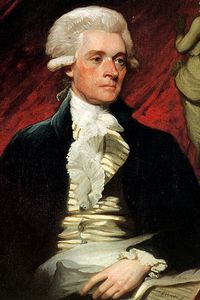 AP Photo
In his day, the cheerleaders were old men in wigs. So, life really is getting better.
Sweet Play of the Week: New England's slow start isn't just a quarterback issue; the team's offensive line, near-perfect last season, has been below-average in 2008. The Patriots' line has already allowed 26 sacks, five more than in all of last year. On Monday Night Football, unknowns Billy Yates and Mark LeVoir manned Flying Elvii offensive line positions and twice Broncos' defenders blew through barely touched to sack Matt Cassel as he was setting up. Tony Kornheiser attributed the sacks to Cassel not releasing the ball as quickly as Tom Brady -- but Brady would have been sacked too; one of the sacks came on "one thousand one." No quarterback can perform if he's hit before he can set up!
Anyway, if your offensive line is feeling blue, the best way to bring spirits up is some rushing plays: On rushing plays the blockers are aggressive, contrasted to passing downs, when they defend space. Leading 6-0, New England faced fourth-and-1 on the Denver 4 midway through the second quarter. The Pats came out Jumbo with three tight ends and a fullback; Denver put 10 defenders in the box; the New England offensive line and extra blockers blew the Broncos off the ball so well that Sammy Morris walked into the end zone untouched. That was sweet. Jay Cutler threw an interception on Denver's possession, and a few minutes later New England faced fourth-and-1 again, this time on the Cursors' 42. Again Bill Belichick played the percentages and went for the first. (As TMQ reminds, going for it on fourth-and-1 is usually not a "huge gamble"; it is usually playing the percentages.) Again the Pats lined up Jumbo. Again Denver put 10 in the tackle box. The New England offensive line blew the Broncos off the ball so well that Morris ran 29 yards, setting up the touchdown that turned the contest into a rout. That, too, was sweet. Tactics note: on both fourth-and-1s, linebacker Mike Vrabel reported eligible as an extra tight end; both times, Denver covered him in case it was a trick-play pass to Vrabel; both times, Vrabel simply blocked.
Sweet Defensive Play of the Week: As the result of a turnover, Cleveland ran seven snaps inside the Washington 2-yard line late in the fourth quarter; the Redskins stuffed the first six, allowing a touchdown only on the seventh. This was sweet for Washington even though the touchdown was allowed, because so much time was taken off the clock that when the Browns staged a frantic last-minute drive that resulted in a failed long field goal try and Washington victory, the clock situation forced Cleveland into a succession of harried, poorly executed pass attempts.
Sour Play of the Week: With the game tied at 3, Miami had a third-and-5 on its 45. After two consecutive Wildcat snaps (tailback at quarterback) netted only 5 yards, the Marine Mammals put actual quarterback Chad Pennington in at quarterback. A Baltimore safety came through untouched; Pennington committed the high school mistake of trying to throw the ball while being tackled, and heave-hoed directly into the hands of Ravens linebacker Terrell Suggs, who returned the interception for a touchdown on the game's key play. Miami should have left a tailback at quarterback!
Sweet Defensive Play of the Week: With the Buffalo Budgies leading San Diego 20-14 with 3:08 remaining, the Bolts faced second-and-10 on their 29. Buffalo ran a "choregraphed" blitz of the type favored by Steelers defensive coordinator Dick LeBeau. Three defensive linemen got into down stances; defensive end Chris Kelsay and linebacker Kawika Mitchell, both standing, jumped into the "A" gaps then jumped backward; at the snap Kelsay crossed in front, Mitchell looped behind him and came through the San Diego offensive line untouched, hitting Philip Rivers and causing the fumble that iced the contest for the home team. The point of a choreographed blitz is to confuse blockers enough that one rusher is never blocked. In a standard blitz, everybody is trying to reach the quarterback. In a choreographed blitz, all but one of the rushers is not trying to reach the quarterback, rather, is tying up blockers or carrying out feints so a teammate comes through the line untouched.
Neglected power grid infrastructure note: Due to intermittent electricity failures at Wilson Stadium during the contest, Buffalo radio announcer John Murphy called parts of the game over a cellular phone. TMQ heard from a couple of people present at the contest that having the power out was actually fun. No blaring music, no JumboTron, no squealing feedback when the zebras explained calls; just watching a sports event and having to figure for yourself what's going on, like a high school game only with 80,000 in attendance. Perhaps it was as well the power came back, however. Otherwise the beer would not have stayed cold.
Sour Defensive Play of the Week: The Raiders had first-and-10 on their 35 late in overtime against visiting Jersey/B. Oakland called a pass; Jets safety Kerry Rhodes ran a delay-blitz, on which a safety does not blitz immediately. But Rhodes was lined up 12 yards off the ball, so far away he hadn't even reached the line of scrimmage, let alone the quarterback, when the ball was released. Worse, the pass was a middle seam to tight end Zach Miller -- Rhodes ran right past the intended receiver, going the wrong way as JaMarcus Russell hit Miller for the 27-yard completion that set the stage for Long Johns' winning field goal. To top it off, as Rhodes rushed forward for his too-late delay-blitz, he brushed into the Jet who was guarding Miller. Essentially the defense ran a pick play to get the other team's receiver open for the game's key catch. That was sour.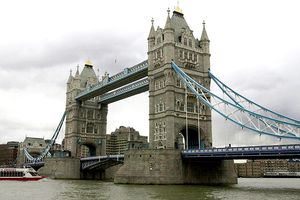 AP Photo/Richard Lewis
In London, they are reading TMQ and chortling. In a dignified manner, of course.
And I Don't Even Drink Gin: Several British readers including Holly Abbington of Whetstone, England, noted that a week ago, Tuesday Morning Quarterback was No. 2 on the list of "favorite things" -- excuse me, "favourite things" -- being perused on the Web by readers of London's Guardian newspaper. A screenshot is here.
Sweet 'N' Sour Play: With the game scoreless, Houston had the ball on the Detroit 2. The Moo Cows play-faked, tight end Owen Daniels faked a block in, then jogged into the flat uncovered -- touchdown. Later, leading 21-10, Houston had the ball on the Detroit 1. The Moo Cows play-faked, tight end Owen Daniels faked a block in, then jogged into the flat uncovered -- touchdown. To use the same trick twice and succeed twice in the same game and same situation -- that was sweet. For the Cowardly Lions to fall for the same trick twice in the same game and same situation -- that was sour.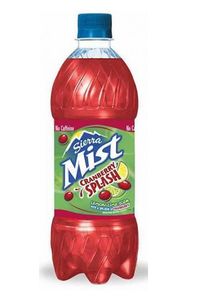 Pepsico, Inc.
This Yuletide soda hit convenience stores around Labor Day.
Christmas Creep Watch: Kelly Skubrick of Alexandria, Va., reports the Macy's in Pentagon City Mall across the river from the nation's capital already has "racks and racks of girls' red Christmas dresses" plus Christmas china on display -- but no Halloween costumes. Mike Blissett of Romeoville, Ill., reports, "Chicagoland furniture dealer Walter E. Smithe started a 'Holidays Are Closer Than They Appear Sale' on the first of October. 'Only 7 weeks until Thanksgiving!' the ads remind us." (Yes, people who live in the Chicago area call the place "Chicagoland.") Keith Bowden of Luton, England, reports Disneyland Paris is running adverts on British television saying, "Christmas starts early this year, on November 8th." Mike Boucher of Lunenburg, Mass., writes, "My wife and I were watching Boston television and about 9:45 a commercial came on where it showed a woman walking out the door of her house, saying to her husband, 'I'm going Christmas shopping at Kmart.' A Christmas shopping commercial in primetime before Halloween." Ryan Lindhurst of Mount Clemens, Mich., reports, "You might have noticed at your local grocery stores that Pepsi has begun selling Sierra Mist Cranberry Splash. It is advertised as a 'holiday drink' and for the last two years has been available from late October until New Year's. This year it hit the shelves shortly after Labor Day." Click Cranberry Splash on the Sierra Mist home page and you will be offered Christmas wallpaper plus Christmas songs containing the word "cranberry." The worst: Nicole Zavradinos of St. Louis was among many readers to report that WMNV-FM in St. Louis has already switched to an all-Christmas-music format. She just heard "Little Drummer Boy" on the radio while driving to work. Ye gods!
Cheerleading -- Not All Smiles and Poms: Lately there has been attention to the uneasy fact that high school girls are more likely to sustain sports injuries than high school boys, especially torn knees. The female body structure can't take as much knee stress as the male, and it is harder for girls than for boys to build muscle mass -- increasing the muscle around a joint takes pressure off the joint. High school girls' soccer and basketball may carry a higher risk of knee injury than prep football. It's not clear if there is a solution to this problem, though this new study led by medical researcher Julie Gilchrist of the Centers for Disease Control suggests girls and women can reduce knee injuries from athletics by using flexibility exercises.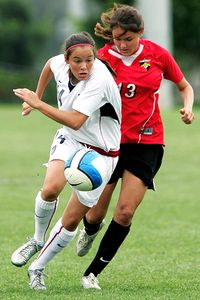 Scott Bales/Icon SMI
For safety reasons, maybe they should switch to playing football.
Now Rob Stein of the Washington Post reports that cheering for a high school or college sport may be as dangerous as playing many of the sports being cheered on. Between the complex toss moves increasingly favored by college cheerleaders -- consider the famous, spectacular photo of the University of Kentucky's five-at-once-toss -- and the advent of can-you-top-this "competitive cheer" events, cheerleading injuries have doubled in the past two decades. At our high school's homecoming game the cheerleaders did a triple toss (three girls in the air in rapid succession). It looked great, but if anything went wrong, well, old-fashioned pom-waving was nothing like this.
Because tosses can lead to head injuries, high school and college cheerleaders run a roughly 1 in 40,000 chance of a severe injury. That's greater than the severe injury risk for any high school or college sports other than football and soccer. (Soccer injuries are more common than you think, by some estimates occurring at a worse rate than football injuries; but that's a topic for another day.) Stein's big point is that although there are regulatory bodies that impose at least some safety standards on team sports, competitive cheer, though increasingly sport-like, is unregulated. Some girls in high school who competitively cheer, and many women and men in college who cheer, are not only attractive faces but athletes performing daunting stunts. It's time they had more protection.
Knee note: ACL tears require surgery, but what about chronic knee pain? Many docs promote arthroscopic surgery. This recent study found physical therapy just as effective as arthroscopy. In most cases, therapy is less expensive.
Adventures in Officiating No. 1: Two Peyton Manning interceptions returned for long touchdowns were the decisive plays in the Indianapolis at Green Bay contest, and one -- a 99-yard runback by Aaron Rouse -- was simply a busted play by the Colts combined with a great move by Rouse. On the other, a 62-yard touchdown by Nick Collins, there was a significant blown no-call by the officials -- and the call that wasn't made can be as important as the call that was. Collins got the pick and accelerated into the open field, where he was hemmed in by Indianapolis players, including Manning. Packers defensive back Tramon Williams blocked Manning in the back -- it wasn't subtle -- yet no flag was thrown; the block in the back enabled Collins to break out of the pack of Colts defenders and score. Had yellow floated, Green Bay would have had possession near midfield. Instead, six points.
Adventures in Officiating No. 2: With the Giants leading San Francisco 24-10 at the place that really ought to be renamed Bada Bing Field, Ahmad Bradshaw ran for a first down to the Niners' 7, then lost the ball. San Francisco recovered, and Jersey/A center Shaun O'Hara was called for unnecessary roughness during the Niners' runback. The Giants challenged the fumble ruling; officials reversed and said the runner was down by contact. The penalty stood, moving the ball back to the San Francisco 23 -- though had the runner been whistled down by contact as should have happened, the action that caused the penalty never would have occurred. Deprived of a first-and-goal, Jersey/A ended up attempting a field goal that was blocked and returned for a Niners touchdown. Unnecessary roughness must be flagged even if it happens on action that is an officials' mistake. But in this case, an official's no-call -- the failure to blow the whistle -- resulted in a seven- to 14-point swing for San Francisco.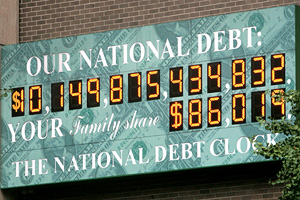 (AP Photos/Bebeto Matthews
It just added another digit. Not a joke -- it just added another digit.
Federal Debt Growing Exponentially: TMQ believes long-term borrowing, not short-term financial market freeze, is the big issue facing the U.S. economy. And the borrowing continues without the slightest sense of discipline by either party. At least the issue is finally drawing notice. Here, the Washington Post reports that the federal deficit may zoom to $1 trillion -- adjusted for inflation and economic growth, the worst deficit ever, including the Depression and World War II. Actually it's even worse than that! Charles Morris, an astute commentator on finances and banking, notes in the Washington Independent -- fast becoming the leading serious politics and news Web destination -- that the Federal Reserve has quietly loaned an extra $650 billion to banks and other financial institutions, essentially doubling the announced price of the "$700 billion" financial bailout. It is possible the Fed's quiet loans will be repaid, and if so, taxpayers won't be harmed. But if the loans are not repaid, taxpayers could be stung for about $1.4 trillion to bail out the lifestyles of bankers and Wall Street dilettantes -- see below. That's more than double the defense budget, and a truly obscene giveaway of wealth and power by George W. Bush, who just a year ago vetoed a Medicaid increase on the grounds that there is not one spare dime available to improve health care for the poor.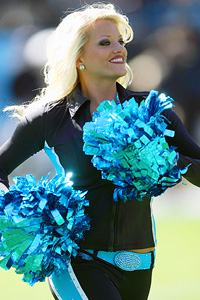 Paul Jasienski/Getty Images
The Panthers played at Bank of America Stadium, whose naming rights fee is now partly paid by federal taxpayers. Go Cats!
Buck-Buck-Brawckkkkkkk No. 1: With Carolina leading 13-7, New Orleans faced fourth-and-2 from its 39, and punted; three snaps later, Carolina was leading 20-7. The Saints have the league's No. 1 offense statistically, averaging 6.3 yards per snap. What's the point of having a high-powered offense if you're afraid to try for 2 yards? Toward the end of the contest, trailing big and desperate, the Saints twice went on fourth-and-short and twice missed. A small gamble when the game was still close might have changed the outcome.
Buck-Buck-Brawckkkkkkk No. 2: With Les Mouflons leading 24-7 in the third quarter, Dallas lined up to go for it on fourth-and-1 from the St. Louis 24. The Cowboys jumped offsides, and the TV announcers immediately said, "Now Dallas has to kick." No you don't, go for it anyway! So what if it's now fourth-and-6 on the 29, Dallas needed to recover the momentum and create some hope. Instead, the Boys' field goal unit came on and the football gods, disgusted, pushed the try wide. Before the kick was launched, TMQ wrote the words "game over" in his notebook.
Buck-Buck-Brawckkkkkkk No. 3: Scoring to pull within 48-34 of Chicago with nine minutes remaining, Minnesota did not onside kick, but rather kicked away. Scoring to pull within 48-41 with three minutes remaining, Minnesota kicked away again. Needless to say, the Vikings lost.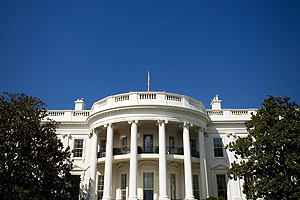 Brendan Smialowski/Getty Images
Officials worked late into the night trying to figure out how to borrow more money and give it away.
Near-Washington Governments Follow Washington's Lead: Congress and President Bush are giving away your children's money as fast it can be borrowed from China. This may be terrible public policy, but at least it is legal. Regular old-fashioned government corruption is also endemic in the Washington area. Recently it was disclosed that $48 million had been embezzled from the District of Columbia government by crooked government employees operating directly under the noses of supposed watchdogs. The crooked employees were parking brand-new Mercedes in their employee slots, and no one ever asked how they afforded this on civil-service salaries. Last week a former manager of the capital's subway system pleaded guilty to stealing $500,000 from the agency. Recently it was revealed that government workers in Prince George's County in Maryland, just east of the nation's capital, were routinely stealing large quantities of gasoline from pumps intended for official vehicles. Tens of thousands of gallons were drawn, presumably pumped into personal cars, before anyone questioned why fuel was being used in quantities that could be proper only if official vehicles were being driven to the moon and back. Recently it was revealed that large numbers of police officers in Montgomery County in Maryland, just west of the nation's capital, were retiring young on lavish full-disability pensions intended for those with acute health problems, then immediately going to work in other police departments of other counties. Leadership starts at the top. Congress and the current White House have set examples of careless disregard for the taxpayers' money. Other government bodies in the region are following suit. When will either party in the city of Washington set any kind of positive example -- in any category?
"Friday Night Lights" Update: Spoiler alert -- the Dillon Panthers lost their most recent game on the final play, rather than winning on the final play. Talk about an unexpected plot twist! Improbably, this led to the townspeople demanding Supercoach Eric Taylor be fired -- even though the Panthers won the Texas 5A championship under Taylor two years before, and are now 2-1 in their current season. Not even a Texas town would turn against a high school coach that fast, especially considering many of the school's boosters would have a vested interest in keeping the current coach happy in order to ensure their boys get into the game.
This season, FNL is introducing a "spoiled handsome rich brat against honest working-class kid" subplot, a staple of teen fiction. The way in which the spoiled handsome rich brat has arrived on the scene is quite amusing. Previously we have been told that Dillon, Texas, is a fading town of truck stops and burger joints -- a dead-end place everyone wants to get out of, where high school football is the sole thing that's exciting. Dillon High is depicted as perpetually peeling and underfunded; all the homes we have seen have been average or below-average American dwellings.
Now a rich kid and his family arrive in Dillon, because Dad wants his son to play for the famous Dillon Panthers. In last week's episode, we saw their house -- it was not just a McMansion but a true mansion, 15,000 square feet and immaculately decorated, like the true mansions one finds in the Preston Hollow section of Dallas. In an outdoor shot, as the "Friday Night Lights" regulars approached the rich kid's house, we saw other mansions in all directions. How can depressed Dillon, Texas, have a mansion-filled neighborhood? And if the town did have gigantic mansions of the super-rich in a public high school district, the school wouldn't be peeling and desperate for textbooks!
The Russians Have Nothing Like This Technology: The new Honda Fit, which has four seats, also has 10 cup holders.
The Real Way Many Kids Reach College: Here's a spoiler that matters to public policy -- a subplot of the current season of "Friday Night Lights" has Brian "Smash" Williams, graduated from Dillon High but without an athletic scholarship owing to an injury, rehabbing his knee and trying to get an offer from a college. Reader Robert Matranga of Orange, Calif., writes, "The show is giving the implication that a football scholarship is his only ticket to college -- that without it, college is unreachable. Smash's family cannot afford the tuition to Texas A&M, where he hopes to go -- but what about an academic or need-based scholarship? The show's implication that athletic scholarship is the only way Brian can attain college feeds the already poor awareness of federal aid in the form of Pell grants and subsidized loans, plus the need-based aid offered by many colleges directly."
This is an important point. The deck is stacked against African-American males in many respects; one of the few places where the deck is stacked in favor of African-American males is college admission. Most colleges and universities want to increase the black male population in their student bodies, and are generous with financial aid for African-American males who earned good grades. Black teens in fiction are often depicted as seeking athletic scholarships rather than regular need-based and academic scholarship opportunities -- though far more kids of all races attend college on regular need-based aid than on NCAA letters. In terms of college admission and the doors that college can open in life, the focus should be on African-American high schoolers doing well with grades and aspiring to academic and need-based scholarships. If you're an athlete too, great! Yet in popular culture, even on a good show like "Friday Night Lights," there's a subtle inference that black high school kids only get to college via athletics. In the show, Smash's mother has been dealt a hard hand in life but is smart and determined. Why is she presented as not even knowing financial aid exists? Regular need-based aid is much more common and important than athletic scholarships.
Scouts Notes: Going into the Oakland game, Brett Favre -- who TMQ contends at this point should legally change his name to "Brett Favre Brett Favre Brett Favre" -- had thrown eight of his 13 touchdown passes while already in the red zone. Since Jersey/B's coaches were criticized early in the season for not letting Favre throw near the goal line, they are having him throw near the goal line constantly now. Sunday, with the Jets and Raiders tied 3-3, Favre threw from the Oakland 8-yard line and the hosts were ready, intercepting the pass. Opponents: Expect Favre to throw near the goal line, because Jersey/B's coaches want to avoid further criticism for not letting him throw there.
Did Lions Tip the Cowboys? Dallas traded first-, third- and sixth-round draft selections to Detroit for Roy Williams and a seventh-round pick. The seventh-round throw-in is so trivial, it seems like a gratuity: "Here you are my good man, here's your highly paid perpetually complaining wide receiver, and I've thrown in a little something extra for your trouble." And just a thought: Dallas is foundering, so the solution is to raid the roster of the Detroit Lions?
Dispensation for Compensation: One of the reasons some Wall Street types and CEOs are absurdly overpaid -- as AIG was losing $4.9 billion in the fourth quarter of 2007, CEO Robert Willumstad received a $5 million bonus for the quarter; imagine how much Willumstad would have gotten if AIG had lost even more -- is the word "compensation." You and I receive "pay." Bankers and executives insist on calling the sums they pocket "compensation," as if they weren't in it for the money, but are merely being compensated for lofty service. Calling executives' pay "compensation" also suggests that people at the top of organizations are higher beings, not just more important, but worthier than the rabble beneath them. George Orwell was right when he contended that the words we use can alter our ability to think clearly; letting CEOs and bankers get away with calling their paychecks "compensation" causes us to view them as high-and-mighty Olympians, rather than as employees of shareholders.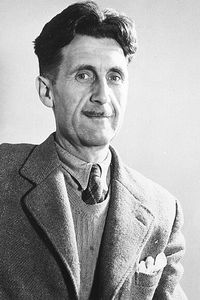 AP Photo
The phrase "executive compensation?" He would call it Orwellian.
Politicians and the media go along with the "compensation" conceit. When Lehman Brothers CEO Richard Fuld Jr. was being grilled by the House Committee on Oversight last week about the $480 million he awarded himself from 2000 till the company's 2008 ruin, members of Congress repeatedly called this sum Fuld's "compensation," as if he were a great humanitarian just back from public service work among remote Amazonian tribes. Journalists are supposed to call things what they are, not what they claim to be, yet the media constantly use the misleading euphemism "compensation." Here's two things from last week's New York Times: "At its peak, Goldman Sachs gave away $16.5 billion in compensation," while the latest corporate bailout plan specifies that "executives who are compensated based on company performance that is later found to be inaccurate will have to forfeit that compensation." I wasn't caught engaging in stock fraud, your honor, I just forfeited compensation!
What bankers and Wall Street figures receive is "pay." Pay should be called what it is. Since it is perfectly legitimate to receive pay, why won't high-corporate types use this word? To be paid $45 million for one year -- Fuld's actual number for 2007, when the company was careening toward wiping out its investors -- sounds obscene. Receiving $45 million in compensation -- well, it's only compensation, right?
In true private enterprise, not taxpayer-subsidized concerns such as what AIG has become, high pay is justified if executives perform. The elite investment banking houses worked on the assumption that 40 percent should go to management as bonuses. If management brings in $10 billion and keeps 40 percent, that's better for shareholders than if management brought in $5 billion and kept 20 percent. The problem is that management awards itself vast sums regardless of performance. For example, in 2007, Citigroup's profits fell 83 percent, but executive bonuses went down only 5 percent. Here are details of how AIG, shortly before the bailout, gave its CEO a $20 million golden parachute even as shareholders were about to be wiped out, while awarding $34 million in bonuses to AIG executive Joseph Cassano -- whose division had just lost $25 billion.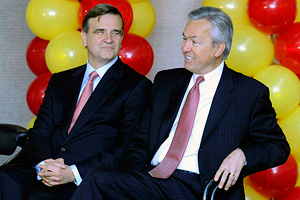 AP Photo/The Charlotte Observer
We're supposed to subsidize bankers making $750,000 a year?
Last week, financial giant USB, which is struggling to stay above water and expected to succeed, limited senior executives to $750,000 per year until losses end. That's a start, anyway. From a New York Times story about the decision: "That is still an extraordinary amount of money, but given the costs built into bankers' lives -- mortgages, private school and so on -- the money can quickly run out." Wait, bankers have trouble paying their mortgages on $750,000 per year? Prices are high in Manhattan, but it's ridiculous for the Times to express concern for executives forced to get by on $750,000 a year. Bear in mind, your tax dollars are now subsidizing this lifestyle for the banking elite. And where is it written that bankers' children must attend private schools? Congress refuses to enact a living minimum wage of $10 a hour, but couldn't wait to underwrite the Sag Harbor weekend homes and private schools of bankers.
Stop Me Before I Blitz Again! According to Pro Football Prospectus 2008, Minnesota blitzed on 36 percent of opponent downs in 2007, which is way too often. Over the winter, the Vikes traded a king's ransom in draft choices for pass-rusher Jared Allen, supposedly to break the blitzing habit. But there they were again, blitzing like mad against the Bears on Sunday, and surrendering 48 points in the process. With the Bears leading 34-31 late in the third quarter, Minnesota big-blitzed on a first-and-10 -- the result was an easy 51-yard touchdown pass from Kyle Orton to Marty Booker.
Untouched Touchdown Run of the Week: LenDale White went 80 yards untouched for a touchdown against Kansas City, behind great blocks by Jake Scott and Kevin Mawae. It's pretty fun to run 80 yards for a touchdown when everyone in front of you has already been knocked to the ground! Also, Steven Jackson had two touchdown runs on which he was only lightly brushed by Dallas defenders, never hit, owing to great St. Louis blocking. And Ryan Grant of Green Bay scored from 11 yards out against the Colts essentially untouched, behind a great block by Jason Spitz.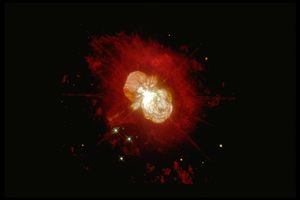 J. Hester/ASU/NASA/Time & Life Pictures/Getty Images
Puzzling natural phenomenon -- or evidence of ultimate war?
A Cosmic Thought: After the sun, the most-studied star in the universe -- at least, most studied from Earth -- is Eta Carinae, an extremely large, super-hot star visible only from the Southern Hemisphere. In the year 1843, Eta Carinae, located about 7,500 light years away, suddenly brightened significantly. A generation ago, astronomy students were taught this meant the star had gone supernova about 7,500 years in the past, and the light from the blast took until the 19th century to reach our world. But Eta Carinae did not contract and cool, but rather has continued to pump out heat and light in heroic fashion, which shouldn't be happening if it had detonated and thrown off most of its mass. Recently Nathan Smith of the University of California at Berkeley proposed that Eta Carinae experienced some kind of explosion that fell short of a supernova explosion -- that stars are not either stable or about to fail, as conventionally assumed, but can undergo something akin to a gigantic blast wave without detonating altogether. Smith thinks supernova explosions may be only one of many dramatic things that can happen to a star. Blasts like Eta Carinae's, which would devastate nearby planets but leave the star functioning, may be common in the cosmos, and we just haven't learned to identify them yet.
As TMQ always wonders about deep-space cosmology, why assume everything we are observing is natural? In the Iain Banks "The Culture" sci-fi novels, a utopian human society battles a monstrous biologically immortal (they never age, but can die by violence) alien race called the Idirans. As an ultimate weapon, The Culture learns how to destabilize stars and make them engulf planets; faced with destruction of their worlds, the Idirans yield. How do we know some distant advanced race has not learned to make stars like Eta Carinae unstable, and is using this knowledge in an apocalyptic war?
Draft Bust Update: Last week Indianapolis canceled a trade with Buffalo for underwhelming 2006 first-round defensive tackle John McCargo, who seems on his way for admission to the Bust Hall of Fame as a first-round selection who never started so much as one game. In the 2006 first round, three defensive linemen from North Carolina State were chosen: Mario Williams, first overall to Houston; Manny Lawson to San Francisco; and McCargo to Buffalo. As the third of the three was picked, Michael Irvin asked how so many guys could go in the first round from a team that was only 7-5, saying, "Look at their record, look at their record, how can they have three first-round picks?" Look at their record is the kind of thing a player says, and here the player's instincts were better than the instincts of scouts. Williams of course has become a star, Lawson has been hampered by injuries but had a big blocked kick against Jersey/A on Sunday, and at this point it looks like McCargo's best-case outcome is that some team gives him cab fare to the airport.
Sportsmanship Watch: Cory Barker of Wintersville, Ohio, reports, "Recently I went to our local high school's game against a rival. The opposing team, Harrison Central of Cadiz, Ohio, didn't have a kicker so they went for two on every PAT. Our school is having a down year, and Harrison was beating us 22-3 in a hard-fought game. When they scored with under two minutes to take a 28-3 lead, their coaches took a page from the TMQ playbook and ordered the quarterback to just take a knee on the PAT. It was great to see such a classy move." Congrats to the coaching staff at Harrison Central for showing good sportsmanship.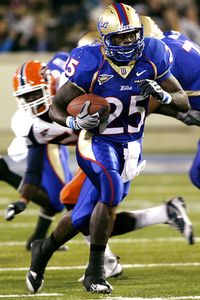 AP Photo/David Crenshaw
Tulsa wants attention. Bad sportsmanship is not the way to get it.
In contrast, Luke Thompson of Winfield, Kan., notes that last month, Tulsa led Central Arkansas 55-34 with a minute remaining yet was frantically throwing the ball, trying to run up the score. On Saturday, Tulsa beat UTEP 77-35, frantically running up the score: ahead 63-35 Tulsa was still throwing deep, and ahead 70-35 in the fourth quarter, continued throwing. Tulsa wants the media to notice its team. Hey Tulsa, here's some media notice -- for bad sportsmanship. Here's how it is done with class: USC was leading 48-0 at the end of the third quarter against Washington State, and did not attempt a fourth-quarter pass.
The Real Reason for Pass-Wacky High School Offenses -- Summer Practice Rules: Here is last week's New York Times front-page take on the A-11 offense (Page 2 had the story earlier this year. The Times piece includes this remarkable line, quoting Kurt Bryan, the California high school coach who devised the A-11: "In the next 10 or 15 years, offensive tackles may effectively become extinct at football's upper levels because defensive ends and linebackers, as much as 100 pounds lighter and far faster, will be too evasive to block." Really! Aren't many NFL defensive ends already much lighter than offensive tackles, and already faster, and also blocked out of the picture on most downs? On Sunday, ginormous Green Bay offensive tackle Chad Clifton squared off against speed-merchant Indianapolis defensive end Dwight Freeney, who weighs perhaps 60 pounds less than Clifton and is "far faster." If Freeney was in that game, you wouldn't have known it -- Clifton made him disappear.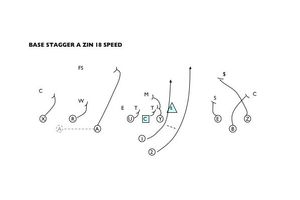 Piedmont High School
Diagram of an offense that eliminates the left tackle. Don't mention this to Michael Lewis, author of "The Blind Side."
Describing the basic A-11 trick of making all 11 players appear eligible just before the snap, the Times continued, "The difficult task for a team defending against the A-11 is to quickly and accurately figure out who those five eligible receivers are." Wait -- this should be easy, it's whoever goes downfield! This winter, the National Federation of High Schools rules committee is expected to vote on whether the A-11, which relies on a rules quirk, should be flagged as unsportsmanlike, or whether the quirk should be eliminated. The A-11 already can't be run in Texas, where NCAA rules are used in high school games; the NCAA rulebook lacks the quirk necessary for the A-11. TMQ thinks the NFHS should continue to allow the A-11, because innovation is a good thing. But my bet is that within a year or two, defenses will have adjusted to the point that the A-11 no longer produces better results than a standard offense.
Or maybe the A-11 has barely begun to proliferate. A decade ago the shotgun-based spread offense was considered weird and exotic; now it's close to mandatory. Here, Randy Jennings of the Dallas Morning News details how the spread has taken over Texas prep football, becoming the most common offense. Scoring is up: "In 1998, before the spread became the overwhelming offense of choice, Week 5 and 6 games involving The Associated Press' Top 10 Class 5A [Texas] teams produced an average of 44 points. This year, the average grew to 63.6 points, an additional three touchdowns per game." In last week's "Friday Night Lights" episode, boosters were pressuring SuperCoach Eric Taylor to switch to a spread. Jennings reports even Euless Trinity, the 800-pound gorilla of Texas high school football, traditionally an I-backfield team, is tinkering with a spread offense. Why spread madness? It's a fad, defenses at the high school level haven't really figured out how to stop the spread yet, and boosters and fans love to watch the spread (when it works).
For high school, another attractive aspect of the spread is that it is essentially "seven on seven" in pads, which can make midsummer practices legal. All states forbid contact practices before some date in August; powerhouse high schools often cheat on this rule, and no high school principal is really comfortable condoning illegal practices. But most states allow summerlong "seven-on-seven" competition -- five receivers, a center and a quarterback in shorts against seven defenders in shorts. Since the spread is seven-on-seven plus pads, installing a spread offense allows a high school to conduct perfectly legal summer practices, get the passing game timing down, then concentrate on defense and line play once the official start date arrives.
Happy Hour in Hell's Sports Bar: Hell's sports bar has 28 wide-screen plasma TVs, and now gets DirecTV! But certain blackout rules may apply. On Sunday in the early slot, the TVs in Hell's Sports Bar showed nothing but Ravens at Dolphins and Cowboys at Rams, and the far more attractive Chargers at Bills pairing was not offered. (Wait -- this is what actually happened in the Washington, D.C., television viewing area.) For the highlight program, all 28 screens in Hell's Sports Bar showed nothing but, over and over, winless Detroit kicking a field goal when down 21-0.
Awful Series of the Week: The Pittsburgh-Cincinnati game was close, Steelers leading 17-10, when the Bengals reached first-and-10 on the Steelers' 37 at the start of the fourth quarter. Cincinnati proceeded to go incompletion, run for no gain, sack, punt; from that point, Cincinnati collapsed, losing 38-10.
Obscure College Score of the Week: Jamestown 51, Mayville State 0. Located in Jamestown, N.D., Jamestown College offers a course titled Nonverbal Communication. Is the professor allowed to speak? Topics covered by the course in Nonverbal Communication include "vocalizations."
Bonus Obscure College Score: Belhaven 35, Campbellsville 33. Located in Campbellsville, Ky., the male athlete's dorm of Campbellsville University has cable TV jacks in every room plus "common lobby with 27-inch TVs. How much television colleges should allow is a longstanding conundrum. Increasingly, colleges not only allow TV but make it easy for students to watch television, which the parents who pay the tuition should object to.
Reader Animadversion: Got a complaint or a deeply held grievance? Write me at TMQ_ESPN@yahoo.com. Include your real name and the name of your hometown, and I may quote you by name unless you instruct me otherwise. Note: Giving your hometown improves your odds of being quoted.
Next Week: The Pentagon requests funding for study of how to make distant stars explode.
In addition to writing Tuesday Morning Quarterback, Gregg Easterbrook is the author of "The Progress Paradox: How Life Gets Better While People Feel Worse" and other books. He also is a contributing editor for The New Republic, The Atlantic Monthly and The Washington Monthly.