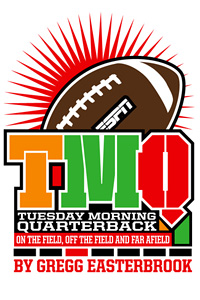 Tuesday Morning Quarterback has learned on an exclusive basis that when the producers of the "X-Men" movies were casting Scott Summers, the character with the laser eyes, they considered Mike Singletary for the part. Singletary was rejected as too intense.
Instead, Singletary joins that ever-increasing group of football coaches who start at the top -- whose very first head coaching assignment is in the NFL. Singletary's odds of success are low. The three head coaches who've already been fired this season -- Lane Kiffin, Scott Linehan and Mike Nolan -- all had never been a head coach at any level before taking a top job in the NFL.
Right now only 10 of the 32 head coaches in the NFL had been a pro or big-college head coach before attaining their current postings: Bill Belichick, Tom Coughlin, Tony Dungy, Herm Edwards, Jim Haslett, Mike Holmgren, Dick Jauron, Wade Phillips, Mike Shanahan and Norv Turner. Three others had some head coaching experience: Tony Sparano was a small-college head coach at Division II New Haven, Tom Cable was a mid-major head coach at Idaho and Mike Smith was a high school head coach. The remaining 19 NFL head coaches started at the top, never having been a head coach in high school, let alone college, before taking command of a pro team. Five current NFL head coaches -- Singletary, John Harbaugh, Rod Marinelli, Andy Reid and Jim Zorn -- had never even been an NFL offensive or defensive coordinator before hitting the big time as NFL head coaches. Harbaugh's highest previous position was as an NFL special teams coach; Reid's highest previous position was as offensive coordinator at Division II San Francisco State. And just one of the current NFL head coaches, Coughlin, held a major head coaching position (Boston College) before attaining his first NFL head coaching slot. The rest, one way or the other, learned on the job.
Learning on the job doesn't have much of an NFL track record. Before hiring Jauron, Buffalo fired two consecutive head coaches who had never before been an NFL or major-college head coach. Cincinnati has experienced 17 of 18 bad years (see below) under a succession of bosses who had never been head coaches. Cleveland has a never-before head coach who's 23-32 with the Browns. Dallas went 33-49 under never-before head coaches Dave Campo and Chan Gailey, then improved under successive experienced head coaches. Never-in-the-postseason Houston has a never-been-a-head-coach-before. Never-before head coaches Mike Tice and Brad Childress have combined for a 50-56 record in Minnesota. The rule is not universal -- never-before head coach Mike Tomlin is doing well at Pittsburgh, and Super Bowl-winning head coach George Seifert thrived in San Francisco but failed at Carolina. But for the most part, if you haven't been a head coach before becoming an NFL head coach, chances are your tenure will not be joyful.
It seems like troubled teams tend to hire never-before coaches. San Francisco is 20-52 since the start of the 2004 season, and the team changed coaches in midseason this year because the Niners were playing cover-your-eyes awful. In recent years, big-deal college coaches have tended to be busts in the NFL (Butch Davis, Bobby Petrino, Nick Saban, Steve Spurrier), making pro teams reluctant to hire from the big-time college ranks; if big-time college coaches are disqualified as candidates, NFL assistants are the next logical choice. Few NFL assistants have head coaching experience, so the pool of candidates tends to be thick with never-before types.
Plus, so many never-before head coaches fail in the NFL that the list of available people who have been successful NFL head coaches is often quite short. And for reasons TMQ can't quite grasp, no one will hire Marty Schottenheimer! Last holiday season when the college coaching deck chairs got reshuffled, there were candidates aplenty: Mississippi, for example, did not have much trouble coming up with Houston Nutt. In January, when the next NFL head coaching purge happens, everyone will be scrambling for Bill Cowher. Everyone's second choice will be … who, exactly?
As for Singletary, an old-school guy, good luck. Old-school Joe Gibbs had considerable trouble relating to contemporary media-driven athletes when he made his comeback. On Sunday, Singletary said of today's NFL players, who seem to care about themselves more than about the team winning, "I cannot play with them. I cannot coach with them." There are going to be some roster openings in San Francisco! It's not that NFL players fail to go hard -- even the biggest me-first guy in the league is exhausted after a game. Rather, many players know their celebrity status and income will be aided more by me-first behavior than by the team's record. Because the current sports world incentive structure rewards acting out at the expense of the team -- see more in the NBA items below -- me-first players often are only following what Adam Smith would have called enlightened self-interest. Coaches such as Belichick, Coughlin and Dungy have been able to find middle ground between their athletes' desire for celebrity status and the teamwork required to win. Can Singletary do this too? Good luck, Mike.
In other sports news, the NBA season tips off Tuesday night. Tuesday Morning Quarterback maintains that basketball is approximately 1 percent as interesting as football, and therefore I devote 1 percent of my annual line length to the hardwood sport. Basketball items are scattered throughout today's column.
Stat of the Week No. 1: West Coast teams are 0-10 in games played in the Eastern Time Zone or in Greenwich Mean Time.
Stat of the Week No. 2: Jacksonville's next two opponents, Cincinnati and Detroit, are a combined 0-14.
Stat of the Week No. 3: Washington quarterback Jason Campbell still has not thrown an interception this season.
Stat of the Week No. 4: NFC East teams are a combined 17-5 outside the NFC East.
Stat of the Week No. 5: Chiefs QB Tyler Thigpen, whose team played against Brett Favre and the Jets on Sunday, has 259 fewer quarterback starts than Favre.
Stat of the Week No. 6: At 1:34 p.m. ET on Oct. 26, the Detroit Lions scored in the first quarter for the first time this season.
Stat of the Week No. 7: This will be Cincinnati's 17th non-winning season in the past 18 years.
Stat of the Week No. 8: Because they do not play each other, Cincinnati and Detroit are both mathematically alive to finish 0-16.
Stat of the Week No. 9: New England has won 13 of its past 14 games against NFC opponents -- the sole loss coming in February's Super Bowl.
Stat of the Week No. 10: San Diego leads the NFL in points scored -- and has a 3-5 record.
Cheerleader of the Week: Lauren of the Baltimore Ravens, who according to her team bio is the co-owner of a printing shop. The Ravens are the sole NFL team that have muscular cheer-hunks in addition to buff cheer-babes. Here are the guys -- but not only do they not strut on the sidelines shirtless, they don't get a swimsuit calendar like the Ravens' women and they don't even get individual bios on the team Web site. Come on Ravens, it's the 21st century, have the men wear as little as the women!
Sweet Play of the Week: Tied at 14, Jersey/A reached the Pittsburgh 2-yard line with three minutes remaining. The Giants brought in backup guard Kevin Boothe, reporting eligible as an extra tight end on the right; they then play-faked to the right; all of the Steelers' defenders assumed power-run right, and no one covered regular tight end Kevin Boss slipping out left. Note: Boothe went to Cornell. The defending Super Bowl champions' roster is packed with alums from smart schools, such as Boston College, Cornell, Michigan, Notre Dame (two), Northwestern and Vanderbilt.
Vengeance is Sweet Game of the Week: In London, Drew Brees faced the San Diego Chargers for the first time since they let him go in the winter of 2006. Brees has 11,404 passing yards since then -- the most in the league in that span -- and the Saints prevailed Sunday, with Brees throwing for three touchdowns. With New Orleans leading 9-3, the Saints faced fourth-and-goal on the Bolts' 1. Backup tackle Zach Strief reported eligible as an extra tight end, and the normally pass-wacky Saints power-rushed for the touchdown. In the fourth quarter, with New Orleans leading 30-20, the Saints again reached the San Diego 1, and again Strief reported eligible, and again normally pass-wacky New Orleans power-rushed for the touchdown.
Sour Play of the Week No. 1: With Miami leading 20-16, Buffalo faced second-and-1 on the Dolphins' 33 in the fourth quarter. Many of football's biggest fiascos happen on second-and-1 -- the tendency is to waste second down because converting on third down will be "easy," and a fiasco follows. On the play, Buffalo threw deep -- incomplete. ("It's a free play," offensive coordinator Turk Schonert may have thought.) On third-and-1 the Bills ran a quarterback sneak, and Trent Edwards stretched forward with the ball and fumbled. The Bills would have been better off with second-and-10 than second-and-1! Buffalo's possession results in the fourth quarter: interception, fumble, safety, fumble, muffed punt. Budgies note: Sometime not long before kickoff, Buffalo reached a contract extension agreement with coach Dick "Cheerio, Chaps" Jauron. Was Jauron personally involved in negotiating the extension in the days leading up to the game? The Bills seemed poorly prepared in game-plan terms, and seemed not to take Miami seriously as an opponent. If a player was involved in midseason contract negotiations and then performed poorly, he'd be hammered by the sports-yak world.
Sour Play of the Week No. 2: With Seattle leading 13-3 with 44 seconds remaining before intermission, San Francisco faced fourth-and-4 on the Blue Man Group 29. Rather than launch a long field goal attempt, the rookie Niners coach did the manly man thing and went for it. The result? An interception, returned for a Seattle touchdown; ye gods.
Sour Play of the Week No. 3: Trailing Washington 16-10 in the fourth quarter, Detroit faced third-and-17, threw a short check-down to a running back, then punted; the Redskins returned the punt for a touchdown. Now trailing 25-17 with 48 seconds remaining and facing fourth-and-3 at midfield, Detroit threw super-short to Calvin Johnson, who was barely across the line of scrimmage. Knowing where the line-to-gain marker was, London Fletcher delivered a perfect backward-driving hit on super-premium athlete Johnson, knocking him backward just shy of the stick and concluding the contest. Hey, cowardly Lions coaches -- what's the point of throwing underneath on critical downs? Earlier, with Detroit actually ahead 10-9, the Lions blitzed nickelback Ramzee Robinson, who had a clear path to sack Jason Campbell. Campbell pump-faked, Robinson leapt into the air, Campbell ducked under him and then delivered a 50-yard touchdown strike to Santana Moss. Pass-rushers, it's exactly like playing defense in basketball: Never leave your feet unless the opponent has already left his feet.
Sweet 'N' Sour Play: Reserve quarterback Troy Smith came in as a tailback for Baltimore and took a handoff running right. Quarterback Joe Flacco slipped into the left flat and ran a wheel route up the field, making a fine catch for a 43-yard gain. Running a high-school favorite -- the pass back to the quarterback is commonly called the "gunslinger" play in high school -- was sweet. But when a second quarterback entered the game, Oakland did not suspect a trick play. That was sour.
Monday Night Football Analysis: TMQ knew before kickoff that the Titans would win and remain undefeated. How? Kickoff temperature was 45 degrees, coaches wore varsity jackets and, on the sideline, the injured Vince Young wore a ski cap, a hoodie with the hood pulled up and a heavy cape over that. Yet the Flaming Thumbtacks' cheer babes came out in two-piece numbers. Outstanding professionalism -- perhaps a record for cheerleader professionalism! Glimpsing the scantily clad cheerleading squad, I thought, "Surely the football gods will smile on the home team." And ye, verily, it came to pass.
It's fashionable to blame the Colts' struggles this year on an undersized defense. But what happened Monday night? Indianapolis held run-oriented Tennessee to 88 yards rushing and just 2.8 yards per rush; overall, the Titans gained a modest 281 yards from scrimmage. It was the Indianapolis offense that underwhelmed. Two interceptions by Peyton Manning -- he's thrown four in the past two games -- plus just 5.4 yards gained per pass attempt. (Seven yards per attempt is the minimum for a good passing attack.) As Tennessee led 17-14 early in the fourth quarter, the Colts had third-and-2 at the Flaming Thumbtacks' 34. But Manning went incompletion and incompletion, and it was Tennessee's ball. The home team then staged a methodical drive the other way for a touchdown and a 10-point lead, grinding seven minutes off the clock in the process. Manning had failed to gain two yards on two tries, then on the Colts' next possession threw an interception that was returned to the Indianapolis 16. Game over. Everything about the Colts' offense seems out of sync -- Manning himself, the pass-route timing, the blocking, you name it. Defense is not the problem in Indianapolis.
Christmas Creep Watch: Aaron Snyder of Farragut, Tenn., reports he saw his first Christmas lights outside a home on Oct. 20. Children will be trick-or-treating at houses with Christmas lights up! Tam Tran of Kansas City writes, "Every year the neighborhood my parents live in does a Christmas candle event where people put votives into bags and place them in the front steps. There's one or two families who take charge and buy the candles and bags and distribute them, then everyone pays them back. In previous years my parents received the votives a couple of weeks before Christmas. This year they received them two weeks before Halloween." Eric Lay of Ottawa reports, "There has been eggnog in the dairy section of my local grocer since mid-October." Steve Krempasky of Pittsburgh reports his local grocery store does not have apple cider but does have eggnog. B.J. Haeck of San Diego writes, "Many microbreweries put out a holiday beer. When I was up in Seattle on the 30th of September, I purchased a six pack of Jubel-Ale, a Christmas-themed beer. Returning to Southern California, on October 17, I purchased a six pack of Wassail Ale, the Full Sail brewery's entry into the Christmas market. Both are excellent. Of course, my purchase of them will probably lead to their release in August next summer." Caesar Montevecchio of Erie, Pa., notes, "As I strolled into our local branch of your beloved Wegman's on October 18th, I was greeted in the foyer by decorated Christmas trees." Kaiulani Watson of Aiea, Hawaii, reports, "Macy's here is already fully decorated for Christmas. Nothing is stranger than Christmas decorations when it is 85 degrees." Jon Powell of Evinston, Fla., writes, "Calling FedEx Kinko's on October 24th to check on a print job, I was put on hold -- and listened to an instrumental version of Jingle Bells."
Stephanie Chockley of Memphis, Tenn., writes, "Isn't there something inherently pointless about continuing the Christmas Creep Watch? When you started a month ago it was newsworthy, but each subsequent week the examples become less shocking as we move closer to Christmas. If there were already absurd Christmas displays last week, logic says no example from this week could outdo the example from the week before, simply because of the passage of time." Stephanie, you have called me "inherently pointless"! I must journey alone to a distant mountaintop -- OK, to a distant parking lot -- and contemplate the existential consequences. But the point is a good one. Christmas creep started so early this year that the novelty value will wear off not by Thanksgiving but by Veterans Day. When TMQ started doing the Christmas Creep Watch, about five years ago, the item first appeared around Halloween. This year it began in late September. Next year it may begin before Labor Day. Christmas Creep Watch is, itself, creeping. How existential!
Be that as it may, Deb Jyoti Ghosh of Singapore reports, "Last week I saw Christmas decorations outside a bar near the Paya Lebar shopping mall -- Christmas trees and reindeer lined up. This while half of the city has Deepavali decorations." Deepavali, the Hindu festival of lights, occurred this Monday. Traditionally, Deepavali is observed by lighting many candles. Maybe Deepavali could switch to red and green Christmas lights! And Elie Yudewitz of Manhattan reports he was in a Bed, Bath & Beyond in New York City last week, and "a giant Happy Hanukkah banner hung from the ceiling." This year Hanukkah begins at sundown on Dec. 21. Considering that's four days before Christmas, Hanukkah actually has fallen behind in the holiday-creep race. The Happy Hanukkah banners are way overdue!
Weird NBA Trade: Denver sent Marcus Camby, who was Defensive Player of the Year in 2006-07 and is among the NBA's top rebounders, to the Los Angeles Clippers for the option of swapping second-round choices in the 2010 draft. That is, in exchange for a quality player, Denver received only a roughly 50/50 chance of a somewhat improved second-round pick; if the Nuggets draft before the Clippers in 2010, then Denver receives nothing. From Denver's perspective, the point of the trade was to get a guaranteed salary off the team's books. Why? So the cap space can be used to sign someone who is nowhere near as good as Camby? It's one thing to unload the contract of a crummy player. Camby is a good player in a league with an obvious scarcity of good players.
Sweet 'N' Sour Game Result: Dallas snapped its losing streak, which was sweet, but defeated City of Tampa despite only 172 yards of offense, which was sour. On the Boys' sole touchdown drive, starting at midfield, Dallas gained 28 of its 50 yards on Tampa penalties, including a personal foul that turned a fourth-and-11 into a first down.
Manly Man Play: Leading 13-9, Dallas faced fourth-and-1 on its own 38 with 6:28 remaining. Dallas went for the first down and succeeded. Though the Boys did not score on that drive, they used up enough clock so the Bucs' final possession was hurried and unsuccessful. Many teams went for it on fourth down this Sunday -- Dallas, Jersey/A, Jersey/B, New England, New Orleans, San Diego -- in situations in which NFL teams usually launch mincing fraidy-cat kicks. Dallas gets the manly man nod because the Cowboys went for it in their own territory despite having a miserable day on offense.
Count on the Knicks for Weird Trades: The New York Knickerbockers have so cornered the market on bad NBA decisions that it's easy to overlook some Knicks blunders. The Knicks traded a second-round choice in the 2008 draft to Portland for the rights to Demetris Nichols, who refused to sign with New York when he heard the Knicks wanted him to play in Europe for at least one year. Nichols was promptly waived; currently he is nailed to the bench in Chicago. This June, Portland traded the 2008 second-round choice it obtained for Nichols for three future second-round selections. Thus the Knicks got nothing while Portland got three draft selections -- another canny move for the once-proud Madison Square Garden tenant!
Best Use of TMQ: Last week's TMQ "Scouts' Notes" item declared, "Since Jersey/B's coaches were criticized early in the season for not letting Brett Favre throw near the goal line, they are having him throw near the goal line constantly now. Opponents: Expect Favre to throw near the goal line, because Jersey/B's coaches want to avoid further criticism for not letting him throw there." On third-and-2 from the Kansas City 8, Favre threw and the Chiefs appeared to be expecting him to throw on this rushing down -- interception. The analysts on NFL Network, who complained early in the season when Jets coaches would not let Favre throw near the goal line against New England, complained that a run should have been called in this case.
Seen the New Brett Favre Brett Favre Brett Favre Coin? Many readers have reported to TMQ that the United States Mint is about to issue a Brett Favre coin. This is an urban legend; the commemorative is being sold by the National Coin Mint, a business which is to actual coins what those star-registry telemarketing schemes you hear advertised on the radio are to actual astronomy. Anyone can mint a coin-like disc of metal and sell it to collectors. Tuesday Morning Quarterback Enterprises is working on a TMQ gold dollar. The heads, a Dan Snyder image, says, "punt." The tails, a scantily clad cheer-babe image, says, "don't punt."
Can't Hit the Broad Side of a Barn? Here's $165 Million! Gilbert Arenas is now one of the highest-paid players in basketball history. A few months ago, Arenas signed the second of two monster contracts with the Washington Wizards; the latest, which guarantees $111 million, means he has inked combined deals worth $165 million. Arenas is popular with fans, has an appealing personality and tirelessly makes time for children; from the standpoint of marketing, he's solid gold. Because he is responsible in the community, Arenas is the sort of athlete you'd want your child to idolize, and this cannot be said of many contemporary sports stars. But during Arenas' five years with the Whizzies, the team is 204-230 and has won just one playoff series. Arenas is a shooting guard with a career 42.7 regular-season field goal percentage and a career 41.1 in the playoffs -- for poor shooting, he should be one of the highest-paid players in NBA history?
Last spring in the playoffs, the Whizzies were 2-1 when Arenas was out injured and 0-3 when he played. That is to say, the team performed better if Arenas couldn't dress. When Arenas is in the game, the other four Wizards simply stand like topiary watching him go one-on-one, and one-on-one is a low-percentage strategy, as Arenas' poor career shooting numbers attest. Pull Arenas off the floor and the Wizards come to life on offense, moving and running plays. And yes, Arenas hits the occasional wild 3 that brings down the house, but anyone shooting every time he touched the ball would hit an occasional 3. To top things off, Arenas, who has a history of knee injuries, got his megadeal despite issues regarding his health. Already he's out injured again at least till the snow falls, and it's an open question whether he will ever recover to full speed. The Whizzies are stuck with the $111 million guaranteed regardless.
That Arenas, a low-percentage shooter who has never led an NBA team to a memorable season -- his clubs are a combined 240-358 -- and never gone deep into the playoffs, should become one of the highest-paid performers in the league's history is everything that's wrong with the sports-culture incentive structure in a nutshell. Arenas has been lavishly rewarded for shooting too much, acting flashy, getting media hype and using poor fundamentals. Given this is what the NBA incentive structure rewards, it would be irrational for young basketball players not to aspire to acting flashy, getting media hype, shooting too much and using poor fundamentals.
Clang! Clang! Clang! In the men's NCAA tournament, Duke missed 15 consecutive 3-point attempts in losing to West Virginia, while Oregon missed 17 consecutive 3-point attempts in losing to Mississippi State.
Krumble on the Play! TMQ believes the "krumble" -- kickoff return fumble -- is the most devastating turnover, since the team that just scored immediately gets the ball back. With New Orleans leading 9-3, San Diego fumbled the kickoff, and a moment later it was a 16-3 lead. Jacksonville staged a late fourth-quarter goal-line stand to prevent a Cleveland touchdown and make the Browns' lead a manageable 20-17. But after the Browns kicked a field goal, the Jaguars then krumbled the ensuing kickoff, and suddenly it was 23-17 with the sun setting.
French President Expresses "Shocked Disbelief" at Reports of Malaise in Paris Cafes: "Those of us who have looked to the self-interest of lending institutions to protect shareholders' equity, myself included, are in a state of shocked disbelief," Alan Greenspan told Congress last week. Greenspan devoted much of his career as Fed chair to fighting the very regulations that might have prevented the 2008 financial meltdown and saved taxpayers $1 trillion; few high-and-mighty persons have ever been discredited more thoroughly. TMQ proposes that in slang, "greenspanning" should mean "putting a pompous dupe in charge of something" while "a greenspan" will mean "a colossal screw-up" and "to greenspan" will mean "to say in full seriousness such utter nonsense you should giggle." Comparisons to Captain Renault being "shocked, shocked" to discover gambling in the casino in Casablanca are not apt, because Renault knew exactly what he was doing. Greenspan, we now learn, had no idea what he was doing. In 2003 Greenspan fought to prevent regulation of credit derivatives, which in 2008 caused the collapse of AIG; in 2004 he fought attempts to impose stricter credit monitoring rules on commercial banks, investment banks and mortgage brokers, saying "the financial system as a whole has become [so] resilient" that a meltdown was impossible. Despite these vastly wrong views, Greenspan was treated reverentially by Congress, the White House and the media as a super-ultra-genius.
Greenspan's excuse to Congress last week was that he believed executives of banking and Wall Street firms would not take crazy risks with debt because market forces would pressure them to protect their shareholders. There's a small problem and a big problem with this flimsy excuse. The small problem was that in 1998, Greenspan arranged a bailout of Long Term Capital Management, a hedge fund that took crazy risks in order to run up bonuses for its executives. Market systems respond to incentives, and Greenspan's message to top executives of the financial markets via the LTCM bailout was -- no matter how poorly you perform, there will never be any consequences. Now Greenspan is "shocked" to discover the result was that financial executives took more crazy risks to enrich themselves, confident they personally would never face any consequences. Which, so far, they have not.
The big problem is that Greenspan, the uber-guru of market economics, seems to have little grasp of what actually happens in many modern businesses. According to econ textbooks, top corporate managers are employees of shareholders, serving the shareholders' interest, while boards of directors are the watchdogs that make sure top managers aren't cheating. In well-run companies with corporate-governance standards, this does occur. But Greenspan seemed to think the entire economy operated according to the textbook model, despite extensive evidence (LTCM, Enron, Tyco, WorldCom) that top managers routinely lie to shareholders in order to justify management bonuses. Human beings respond to incentives. Dishonest CEOs realized that if they lied about earnings or took crazy risks, they could use phony numbers to award themselves hundreds of millions of dollars. What they were doing was stealing from shareholders, who would eventually lose equity when the truth was revealed. But by then top managers would have their bags of gold and, experience shows, never be required to give the money back.
The chair of the Federal Reserve had no idea that top executives and fund managers would game the system to their own personal financial benefit? He feels "shocked disbelief" they would care more about stuffing their own pockets than protecting shareholders? And Greenspan's contention that boards of directors should have stopped fraud or crazy risks strains credulity. Well-run companies have active boards of directors, but in many firms, the board is strictly a rubber stamp. Many corporate board members are paid huge sums for virtually no work -- when Lawrence Small was head of the Smithsonian Institution, he earned $89,000 a day for sitting on various corporate boards. Board members know they will be lavished with money only if they are lapdogs who wag their tails for management on cue. If Greenspan had said to Congress, "I was a fool and I apologize," the public might respect that. Instead he greenspanned.
Best Purist Game Plan: As noted by many readers, including Alex Waller of Overland Park, Kan., Navy rushed 49 times and did not attempt a pass in beating SMU 34-7 during a rainstorm.
Stop Me Before -- Hey, It Worked: Though TMQ is generally anti-blitz, of course I do not contend the blitz never works: three defensive-back blitzes by Cleveland were essential to frustrating Jacksonville's two last-minute drives in a 23-17 Cleveland victory. Jax players seemed not to take the game seriously. Did they assume a three-week stretch of 2-4 Cleveland, followed by winless Cincinnati and then winless Detroit, was going to be a cakewalk? Nothing in the NFL is easy. Even beating a wretched team like Detroit can take all you've got, as the Redskins found out Sunday.
NBA Trades of the Year: Everyone heard about the Dallas-New Jersey trade that entailed the Mavericks signing Keith Van Horn, out of basketball for nearly two seasons, to a $4.3 million guaranteed deal solely to trade him to the Nets, who immediately paid him the money then waived him -- NBA salary-cap fine print required Dallas to throw an additional $4.3 million worth of contracts into the deal. Just as amusing but overlooked was the 11-player Cleveland-Chicago-Seattle transaction, in which the Sonics gave up two starters, Wally Szczerbiak and Delonte West, for three benchwarmers, Ira Newble, Donyell Marshall and Adrian Griffin. As soon as the season ended and the rules permitted it, the Sonics, now the Oklahoma City Thunder, waived Newble and Marshall; a few weeks later, they packaged Griffin to Milwaukee in another three-club deal. That is, the former Seattle team traded two starting players for one guy used as a thrown-in on a deal for someone else.
"Friday Night Lights Update" Spoiler alert -- Smash Williams has recovered from his injury, won a tryout at Texas A&M, impressed the coach, and in last week's episode departed from the town of Dillon, and from the show, in a sentimental final sequence for actor Gaius Charles. In the FNL reality, it's late September, the Panthers are 2-1 and have a bye week. So Smash is admitted to Texas A&M in late September -- could that happen? Could Smash, or any prospective student-athlete, be allowed to don pads and play against the Aggies' first-team defense, as occurs in the episode? So far as I know, the NCAA does not permit live-contact tryouts. In the jubilant scene between Smash and his mother, he says only, "I got in, I am going to college!" It's not clear whether that means Smash has been admitted as a regular student and will receive need-based financial aid, or has attained an NCAA scholarship. (It is unlikely Texas A&M would have an unused football scholarship in September.) The admission scenario depicted in the show doesn't appear to be square with what actually could happen in major college football.
Last week TMQ objected that popular culture often presents African-American males as able to attend college solely via athletic scholarship, when academic scholarship, regular need-based aid and federal loans are far more common for college students of all races. I supposed that so long as Smash's grades were good, and he's been presented in the show as a diligent student, he could have been admitted to Texas A&M as a regular undergraduate receiving need-based aid, regardless of football. Reader Alexander Ekrut of Valley Mills, Texas, supplies the key detail that would send Smash to College Station: As of last month, Texas A&M will grant a full tuition scholarship to anyone who qualifies for academic admission and whose family earns less than $60,000. That's a fantastic reform -- bully for the board of trustees of Texas A&M. High school kids remember: Good grades and regular need-based aid are far more likely than sports to matter when you're applying to college.
Now about Smash's final cinematic sequence. He drops by the house of Dillon coach Eric Taylor at night to thank him, then says the guys from the team are driving him to Texas A&M to enroll the next morning. In the sentimental last scene, on their way out of town, Riggins, Saracen and Landry take Smash to the Dillon stadium, turn on the lights, and play touch football with him. It's a lovely scene and echoes the best moment of the early series, when Coach Taylor took the terrified Saracen to the stadium at night, turned on the lights, and tried to get Saracen over his fear of playing. The show's final shot of Smash Williams is him grinning in the end zone under the same lights he felt on Friday nights -- you know he will leave Dillon behind and go on to something great.
But about that lovely scene: Before starting the touch football game, the boys put a 12-pack of beer on the field. They're all drinking beer, then they're going to drive Smash to college and drive themselves back in the dead of night. Many supporters of "Friday Night Lights" are uneasy with the casual depictions of large-volume drinking in the show -- high-school kids chugging tequila straight from the bottle, cases of beer consumed, always without any consequences. The Riggins character is shown consuming so much alcohol, including regularly drinking beer in the morning, that it's hard to believe he could be a football star, since his body would deteriorate. Now "Friday Night Lights" has crossed the line and depicted its characters as drinking before driving, without consequences. Suggestion to NBC, which will rebroadcast the current FNL season after its first-run concludes on DirecTV: Alter the touch football scene to remove the drinking and driving part.
Caution -- Side Effects of Placebon™ May Include Believing Whatever You Are Told: This study published last week in the British Medical Journal found that nearly half of American physicians had prescribed placebos for patients. In most cases, the doctors prescribed benign pills such as vitamins or aspirin-related compounds, but told patients they were receiving an advanced new medication. Many then reported feeling better. So was it unethical of the docs to mislead their patients? The American Medical Association says physicians may give placebos "only if the patient is informed of and agrees to its use." But if you know the pill is a placebo, the benefit disappears!
The medical community has a long, tormented relationship with the fact that studies show placebo medications -- and even "placebo surgery," in which the patient thinks an operation took place -- may work as well, or better, than other interventions. It's common sense that the placebo effect might help some patients, especially those suffering one of medicine's "nonspecific" conditions -- pain or impaired function without any clear physical cause. (Nonspecific back pain is among the most common diagnoses.) But the fact that placebos sometimes are beneficial drives many physicians to distraction, because this demonstrates how little even the best and most conscientious doctors really know, while reminding us how much of medicine is guesswork.
Considering placebos have tangible benefits and no known risks, TMQ maintains they should be used more often, while medical schools should teach placebo therapy. Further, Tuesday Morning Quarterback contends the reason the benefits of placebos are not more widely enjoyed is because placebos are not expensive enough. Solution: make placebos expensive! If placebos were expensive, drug companies would be excited about selling them and docs would be eager to prescribe placebos in order to get consulting fees and Caribbean vacations paid for by pharmaceutical firms. This 2006 column contains TMQ's proposal for Placebon", an incredibly expensive drug: "A patented, proprietary formula consisting entirely of sugar, Placebon" will revolutionize medicine. Elaborately packaged in individual foil doses, Placebon" will be obtained only with a doctor's prescription. Placebon" will be the subject of a multimillion-dollar marketing campaign consisting of costly television advertising and full-page magazine ads with hundreds of words in disclaimers. In the TV ads, smiling multicultural people will run through fields of wild flowers laughing and embracing, but the announcer will never give the slightest hint what the drug is for. By converting the placebo from cheap to extremely expensive, Placebon" will expand the benefits of the placebo effect to millions of Americans." See the column for the rest of my Placebon" marketing plan.
Weird NBA Trade: Denver acquired Renaldo Balkman from the Knicks for Taurean Green and Bobby Jones; the Knicks immediately waived Green and Jones, neither of whom are currently on an NBA roster. The whole point of the transaction was to get Balkman's guaranteed contract off New York's books.
Happy Hour in Hell's Sports Bar: The 28 wide-screen plasma TVs in Hell's Sports Bar showed nothing but an Oakland Raiders highlight special. Over and over again, patrons saw Oakland punting on fourth-and-1 when trailing Baltimore 16-0, then kicking a field goal from the Baltimore 3 when trailing 19-0, then punting on fourth-and-1 when trailing 22-3.
Early Voting Comes to Sports as Well as Elections: Tuesday Morning Quarterback is on record as opposing the NFL's silly decision to allow Pro Bowl voting beginning with the sixth week of the season -- how can anyone know who belongs in the Pro Bowl when just six of 17 weeks have been played? The Downtown Athletic Club has jumped on board by allowing readers early voting on the Heisman. How can anyone know who deserves the trophy until all the games have been played? Note that the nominees are exclusively quarterbacks, running backs and wide receivers: nary a lineman to be seen. TMQ contends the award name should be changed to the Heisman Trophy for the Quarterback or Running Back Who Receives Most Publicity.
Weird NBA Trade: Drafting third in June, Minnesota chose O.J. Mayo; two picks later at fifth, Memphis chose Kevin Love. Minnesota then traded Mayo for Love. So why didn't the Timberwolves simply take Love with the third selection? In the transaction, Minnesota also sent Antoine Walker and Marko Jaric to Memphis. That is, Minnesota traded the third overall pick plus players to Memphis for the fifth overall pick. In any league other than the NBA, this would make no sense. But Walker is a malcontent with a guaranteed contract and Jaric is just dreadful -- a shooting forward with a career .408 field-goal percentage -- yet has $21 million remaining on a guaranteed contract. Thus in return for going up two slots in the draft, Memphis agreed to take off Minnesota's hands a pair of unwanted players and their featherbedded contracts.
Adventures in Officiating: Leading 20-14, Philadelphia punted to Atlanta. The Falcons' Adam Jennings stepped forward as if to fair-catch, then jumped backward. Officials erroneously ruled he touched the ball, which an Eagle jumped on. Replays clearly showed there was no touch, and that possession should have belonged to Atlanta, not Philadelphia, as the zebras signaled. But Atlanta was out of time outs, meaning the Falcons could not challenge, and the clock showed 2:22 remaining, meaning booth review had not gone into effect. Had this play happened 23 seconds later, booth review would have corrected the mistake; as it was, Philadelphia was given a possession it did not deserve, and scored on the next snap to ice the game. Offseason rule tweak to prevent this from happening again, please.
Clang! Clang! Clang! Against George Washington University, St. Louis University missed 23 consecutive field goal attempts, finishing 7-for-48, and 1-for-19 on 3-point attempts. The leading scorer for St. Louis was Bruce Husak with five points.
India Enters the Moon Race -- 39 Years After the Race Ended: India put a satellite in orbit around the moon last week; China continues to work toward a manned lunar landing. It was always inevitable that the U.S.-Russian monopoly on space flight would end. Congratulations to India, but enough already with the ridiculous pundit claims the India launch means American technology is in some kind of decline. The United States placed a satellite in lunar orbit in 1966, plus soft-landed five robots on the moon beginning that year. What India just accomplished is to the country's credit, but considerably less impressive than what the United States did more than 40 years ago. So can the "decline" talk, please.
And India, if you're going to be a space-faring nation, you need better mission names! The new lunar satellite is named Chandrayaan, which means "moon craft" in Sanskrit. The Sanskrit is a nice touch, but "moon craft" -- that's the best you can do? NASA missions have had cool names like Voyager, Pioneer and Cassini. Voyager was such a successful name that the name itself became part of a Star Trek movie plot, then of a Star Trek television serial. At least, Bollywood must now make the first-ever Indian sci-fi flick and incorporate the name Chandrayaan.
'Tis Better to Have Rushed and Lost Than Never to Have Rushed At All: With Carolina leading 24-23, Kurt Warner threw a killer interception on second-and-3 at the Panthers' 15 in the fourth quarter. To that moment in the contest, Arizona coaches had called 44 passes and 14 rushes. Nice moment for Carolina: Leading 27-23, the Cats faced third-and-13 at midfield with 1:51 remaining and the visitors out of timeouts. The Arizona (Caution: May Contain Football-Like Substance) Cardinals came out in a pass defense, clearly expecting pass despite the game situation: DeAngelo Williams ran up the middle from a shotgun spread for 15 yards and a first down, and Carolina knelt to conclude the contest. Williams ran behind fine blocks by Geoff Hangartner and Travelle Wharton. Since the start of the 2002 season, Arizona is 3-19 in games played in the Eastern Time Zone.
Wacky Food of the Week: Last week TMQ noted the New York Times' bizarre expression of sympathy for banking executives forced to get by on $750,000 a year -- why, the poor things are saddled with vacation home costs and private school bills! Many readers including Julia Jamison of Manhattan pointed out another wacky instance of the country's most important newspaper bowing down before wealth: this restaurant review of Per Se. Dining there, the Times asserts, can "instantaneously" bring a "smile to your face" and conveys "a profound sense of peace." So it's run by social activist nuns? Not exactly; the Times doesn't tell you that the prix-fixe menu at Per Se is $275, and that's before wine; dinner for two with cocktails and a bottle of wine can run $700. Here's what $275 plus wine gets you at Per Se. Caramelized pumpkin -- sounds yummy. Lamb with "Rainbow Swiss Chard, Fennel Bulb and Tokyo Turnips." Don't miss the "wilted mizuna." But if you want the white truffles from Alba with Castelmagno cheese, that's a "$150 supplement." Not an extra charge, a supplement! Even considering Manhattan prices, you can get a fine meal for two in New York for $200. If you want a special night out, why not have a fine meal at $200 and give to the poor the money you might have spent in some obscenely overpriced restaurant? Then you'd have a nice night out and you'd feel good for helping others, rather than just lavishing money onto yourself.
Clang! Clang! Clang!: The Celtics and Cavaliers combined to miss 90 shots -- nearly two missed shots per minute -- in Game 2 of their playoff series. On the night, Boston and Cleveland were a combined 5-of-27 from the 3-point arc. Just to prove it was no fluke, in Game 6 the Celtics and Cavaliers again combined to miss 90 shots.
Syracuse Under Siege Again, Previous Times Were During the Second Punic War: Syracuse has hired an executive search consultant to look for a new football coach for the embattled Orange program. Coaching search firms -- what's next, a board of trustees on the sidelines to vote on play calling? Then again, check out the astonishingly bureaucratic structure of the Syracuse athletic department: six people with the title "senior director" or "senior administrator," 10 people with the title "associate director," seven "assistant director" titles, a "senior associate director" and nine people with the title "director." The football staff alone is 19 people, plus four graduate assistants. The women's basketball program has four coaches, a director of basketball operations and a coordinator of player development. The men's basketball program has a men's basketball administrative secretary and a men's basketball office coordinator. Best Syracuse athletic department title: assistant athletics director for athletic performance. The search firm Syracuse retained is Neinas Sports Services, whose Web site declares, "Trust is surely the most important asset that Chuck Neinas can provide, because of his proven ability to conduct a personnel search in a confidential manner with the goal of protecting those involved." But a report of Neinas' search has already been leaked to the New York Times!
Of course, Syracuse is hardly the only modern university to become excessively bureaucratic. Here is the University of Kentucky's 5,701-word cheerleading policy.
B-Ball Guys, Forget "One and Done;" Stay in School to Be Drafted Higher and Earn More Overall Through Your Career: Following the NFL draft, TMQ noted that the NFL's advisory committee, which gives underclassmen an estimate of where they will be drafted, and draftnik commentary in general, both overstate a player's odds of being drafted high, or drafted at all. I cited examples of football players who had been enticed by such overestimates to give up their senior years because they expected to be drafted high, then were drafted low or not drafted at all.
The same tendency to overestimate draft chances is drawing underclassman basketball players out of college. In the run-up to the NBA draft, ESPN.com's Insider ranked the top 100 prospects and estimated their draft slots. The estimates had 19 players going in the lottery (where there are 14 positions), 44 players going in the first round (there are 30 choices) and 69 players going in the 30 choices of the second round (that adds up to more than 100 owing to some players listed as likely to go in the "late first to early second" round). Many basketball touts and hangers-on were urging players on the bubble to jump out of college, in part by overestimating their draft prospects. Jump early and become a star, like Kobe Bryant, and you maximize your lifetime earnings. Jump early and struggle -- like the majority of those who jump early to the NBA -- and you cost yourself millions of dollars.
Underclassman basketball players ranked by touts as likely to be drafted in the first round, including Mario Chalmers, DeAndre Jordan and Chris Douglas-Roberts, gave up the rest of their college experience only to last until the second round. After the draft, John Denton of ESPN.com wrote, "Chalmers, the Final Four's Most Outstanding Player and a hero for hitting the clutch 3-pointer that forced overtime, looked on in disbelief on draft night as the first round came and went without his name being announced ... Douglas-Roberts ... has fumed about his horrifying draft experience." I attended the Final Four, and while watching CDR, I thought, "He is a potential star but there is no way he's ready." Egged on by overstated estimates, CDR left college and declared for the draft, only to discover the NBA consensus was that he should have stayed in school.
JaVale McGee left college as a sophomore but after playing for only one year -- he did not start as a freshman, and was not dominant when he did play as a soph. Perhaps he believed projections of himself as a lottery pick; instead McGee went 18th overall, to Washington. Had he stayed in college longer and become a great player, plus well-known, fans would be saying, "Wow, the Wizards got JaVale McGee!" Instead fans are saying, "Who is JaVale McGee?" Because McGee jumped too soon, the odds are he will have a hard climb to be more than an NBA backup, because at the pro level, he's not going to get the minutes he needs to improve his game. In turn, he will have a nice income in the next two years, versus no income had he remained in college. But his lifetime income will likely drop way down because he may never advance to a mega-contract. Jordan was a particularly sad case because he jumped after his freshman year, expecting to go in the first round. Had he stayed in school he had an excellent chance of reaching the high first round and substantially increasing his lifetime earnings. Instead, he went in the second round, will struggle to get minutes, and is now much more likely to have a minimum-scale NBA career than ever advance to a mega-contract. Jumping early may have reduced his lifetime sports earnings by tens of millions of dollars.
Will current college basketball players learn the lesson of overestimation of draft status? Already ESPN Insider is listing the top 100 prospects for the 2009 NBA draft. Seventeen are listed as going in the 14 lottery positions, 56 in the 30 positions of the first round and 71 in the 40 possible positions of first round to early second round. There may be many cases where the universe of basketball agents, gossip Web sites and AAU hangers-on is overestimating the chances that underclassmen will be first-round NBA draft choices if they declare early. Most of these underclassmen will be better off -- and have higher career earnings -- if they stay in school.
Buck-Buck-Brawckkkkkkk No. 1: After a 49ers field goal made it Seattle 20, San Francisco 6 near the end of the third quarter, San Francisco kicked away rather than onside kick. Needless to say, San Francisco went on to lose.
Buck-Buck-Brawckkkkkkk No. 2: Leading 3-0, City of Tampa reached fourth-and-3 on the Dallas 43, and punted. On the day the Buccaneers drove to the Dallas 18, 18, 18, 23, 33 and 42 with a net of just 9 points.
Arbitrage Comes to NBA Trading: Darrell Arthur of Kansas was drafted late in the first round by New Orleans, and an hour later traded (actually, sold) to Portland. About an hour after that, Portland traded (actually, sold) Arthur to Houston, and about an hour after that, Houston traded Arthur to Memphis. According to the New Orleans Times Picayune, Portland gave the Hornets about $3 million for Arthur. So the Trail Blazers' part of the transaction -- buying Arthur's rights from the Hornets for $3 million, then almost immediately later selling Arthur's rights to Houston -- would have made sense only if Houston paid more than $3 million. That in turn means New Orleans failed to get top dollar, because Houston was willing to pay more for Arthur than Portland was. Note: Though it's normal for NBA teams to sell draft picks or rights to players, the league always insists on announcing that the pick or player has been traded for "cash considerations." In what way do "cash considerations" differ from "cash"?
Three Cheers for the Mad Ants: Mike Taylor of the Idaho Stampede became the first NBA Development League player ever taken in the draft, chosen 55th by Portland and then, of course, immediately traded: We could save space by listing the players chosen in this year's NBA draft who were not immediately traded. The choice used for Taylor originally belong to Phoenix, then was traded to Indiana, then was traded to Portland; then the player selected was traded to the Los Angeles Clippers. Can all this trading of low NBA selections possibly accomplish anything? Do NBA general managers get a commission on every trade?
NBA Development League team names include the Amarillo Dusters, Oklahoma City Yard Dawgz and Quad City Steamwheelers and Colorado 14ers -- here's the 14ers dance team. The D-League has one seriously goofy name in the Fort Wayne Mad Ants; the cheer-babes are the Madame Ants. (The Denver team name invokes the numerous 14,000-foot peaks of Colorado; for the Fort Wayne explanation, look up "Anthony Wayne" in Wikipedia.)
Obscure College Score of the Week: Doane 43, Dordt 0. Occasionally TMQ frets that the supply of obscure colleges will be exhausted, so imagine my delight to learn of the existence of Dordt College. Located in Sioux Center, Iowa, Dordt started selling a Christmas CD featuring its choir on Oct. 6
Bonus Obscure College Score: Otterbein 38, Capital 9. Not to be confused with Capitol College, Capital University, located in Columbus, Ohio, offers a course on horror movies.
Buck-Buck-Brawckkkkkkk (College Edition No. 1): Reader Matthew Crisp of Wooster, Ohio, noted Arizona punted on fourth-and-8 from its 36 with three minutes remaining, trailing USC 17-10. Needless to say, Arizona never got the ball back. Sure, fourth-and-8 is a hard conversion, but you're facing a heavily favored top-10 team. Victories do not come in the mail -- you have to take a few chances to beat a favorite!
Buck-Buck-Brawckkkkkkk (College Edition No. 2): Unranked Tennessee was trailing Alabama 16-3 midway through the third quarter when the Vols punted on fourth-and-1 from their 35. Alabama took the ball the other way for the touchdown that made the contest a walkover. Tennessee came in 3-4 against the nation's second-ranked team, and was afraid to try to gain one single yard at home? Once again, victories don't come in the mail! A team that is afraid to try to gain one single yard at home deserves to lose.
Reader Comments: Benoit Ferland of Montreal notes Tony Dungy is on the cover of the new EA Head Coach game -- "The EA curse may explain the Colts' struggles this year." I said parents should be uncomfortable with colleges that make it easy for students to watch television. A reader who asked not to be named for an obvious reason wrote, "I work in the college housing industry, and I laughed out loud at your comment that parents who pay the tuition should object to the proliferation of TV in college residence halls. I see a steady increase in the number of big-screen plasma TVs and over-sized PC monitors that double as televisions. The vast majority are purchased by PARENTS for their children for the specific purpose of being placed in their residence hall room." Mike Lauer of Danville, Ky., notes this study which among other things shows that excessive television viewing reduces grades in college. Meanwhile, televisions proliferate not just in dorms but in the public spaces of colleges. A year ago, I attended a lunch in the cafeteria of Williams College, among the most prestigious liberal arts schools in the world. What was on the wall next to tables where students eat? A gigantic flat-screen television. Even though tuned to ESPNEWS, a fine choice, I thought a television had no business there in the first place.
Scott O'Neil of Waltham, Mass., notes of my contention that university endowments should, like philanthropies, be required to disburse 5 percent per year: "Shouldn't the same be true of the world's major religions? Several have hoarded substantial sums of money, while enjoying tax-exempt status. Religions are not required to report the size of their 'endowments,' so direct comparisons are difficult. But we can safely assume the big denominations have accumulated capital and assets that dwarf Harvard in the same way Harvard's endowment dwarfs smaller universities. Religions should either be required to disclose their financial holdings and disburse five percent per year to the needy, or should lose their tax-exempt status." Hard to argue with.
Sportsmanship Watch: With Missouri leading Colorado 48-0 in the fourth quarter, Chase Daniel was still on the field and still throwing. Who cares if Missouri was mad about its loss the previous weekend? The Tigers' behavior in the fourth quarter against Colorado was bad sportsmanship. The football gods will now punish Missouri.
Next Week: Sports tout services rank the 29 people they expect will be elected president next Tuesday.
In addition to writing Tuesday Morning Quarterback, Gregg Easterbrook is the author of "The Progress Paradox: How Life Gets Better While People Feel Worse" and other books. He also is a contributing editor for The New Republic, The Atlantic Monthly and The Washington Monthly.