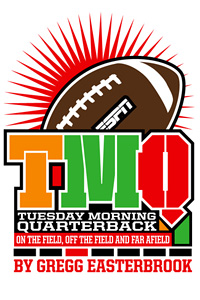 In this spread-offense empty-backfield era -- I don't wish to alarm you, but pass-wacky Arizona leads the NFL in scoring -- Tuesday Morning Quarterback longs for some old-fashioned ground-based football. On Saturday night, Texas and Texas Tech combined for 768 yards through the air and 185 yards on the ground. Will all of football turn into the Arena League? What a relief Sunday was, with old-fashioned rushing and good offensive line play dominating many games. Here's my prediction: The next big innovation in football will be the rediscovery of the power run. Consider:
• Tennessee remained the NFL's sole undefeated team by rushing for 178 yards against Green Bay. On the game's signature play, the Flaming Thumbtacks lined up in an old-fashioned power set with double tight ends; LenDale White ran 54 yards on a simple off-tackle buck before he was first touched by a Packers defender. Titans linemen Michael Roos, Eugene Amano and Kevin Mawae threw flawless blocks, with Mawae pulling from his center position -- few centers can pull -- and hustling downfield. Two plays later, Tennessee kicked a field goal to take a 13-10 lead. And with the game tied in overtime, the Titans won the coin flip and staged an old-fashioned ball-control drive for the wining field goal, rushing seven times and passing just twice.
• The defending champion Giants humbled the ship-taking-on-water Cowboys on the strength of 200 rushing yards, culminating with Derrick Ward's run for 17 yards untouched on a draw for the score that iced the contest. Quick, name the undrafted Division I-AA player who is a Pro Bowl-quality performer for Jersey/A's fabulous offensive line.
• Atlanta rushed for 252 yards behind some tremendous offensive line performances; see more below.
• Detroit was leading -- that's not a misprint -- Chicago 23-20 in the fourth quarter when Bears tailback Matt Forte had old-fashioned off-tackle runs for 13 and 19 yards on a drive that set up Chicago's game-winning touchdown. On the day, the Bears outgained the Lions by 101 yards on the ground. Tremendous blocking, especially by Chicago guard Roberto Garza -- a Division II product -- was the key.
• With Miami leading Denver 19-17 and facing first-and-goal on the Broncos' 2-yard line in the fourth quarter, Ronnie Brown went into the end zone standing up for the icing points. Anytime a running back at the goal line rushes in standing up, the line did well. Undrafted offensive lineman Ikechuku Ndukwe had a perfect block on the play.
In other football news, with the pros at the midpoint of the season, that means high school playoffs start this coming weekend in some states; prep playoffs will be in swing nationwide by next weekend. TMQ's annual High School Confidential section is below.
And in other news, not only is Christmas creeping up at an unprecedented pace, so is everything else! TMQ proposes a Unified Field Theory of Creep below.
Stat of the Week No. 1: The Oakland Raiders, at 2-6, are two games out of first place in the AFC West.
Stat of the Week No. 2: The AFC West is on a combined 0-11 streak.
Stats of the Week No. 3: The NFC East is on a combined 8-2 streak.
Stat of the Week No. 4: Detroit has been outscored 71-3 in the first quarter this season.
Stat of the Week No. 5: From the fourth quarter of their previous game through this week's game against the Jets, Buffalo had these possession results: interception, fumble, safety, fumble, muffed punt, touchdown, fumble, interception, turnover on downs, punt, field goal, missed field goal, interception.
Stat of the Week No. 6: Jacksonville has lost in consecutive weeks to teams that are a combined 4-13; next week, Jacksonville plays 0-8 Detroit.
Stat of the Week No. 7: Of the NFL's top four sack-producing defenses, two are from Pennsylvania (the Steelers and Eagles) and the other two are from New Jersey (the Giants and Jets).
Stat of the Week No. 8: Against Atlanta Oakland gained 0.4 yards per pass attempt.
Stat of the Week No. 9: Pittsburgh is the sole team whose defense has not surrendered a play of 40 or more yards.
Stat of the Week No. 10: Denver, a perennial top-five team in rushing, ran for 14 yards -- at home.
Cheerleader of the Week: Erin Verbel of the City of Tampa Buccaneers, who, according to her team bio, is a University of Florida graduate who works as an information technology recruiter. Getting a foot in the door is not likely a problem for her! The Bucs' cheerleaders are known for performing some of the most complex dance routines in pro sports. Between the rehearsal demands, and members of the squad making some 300 charity appearances per year, dancing for the Tampa cheerleaders sounds really time consuming! Yet the Tampa cheerleaders are unpaid; other NFL teams pay cheerleaders token amounts, such as $50 per game. NFL franchises are rolling in money -- around $200 million in revenue per club per year -- and glamorous cheer-babes are part of the entertainment appeal. Why isn't there a movement to organize pro sports cheerleaders and pay them fairly?
Sweet Team of the Week: In Michael Vick's happier days, the Falcons led the NFL in rushing; this stat was dismissed by the sports-yak world as a mere byproduct of Vick's runs, as if quarterback rushes somehow did not count. Be that as it may, the No. 1 rushing team in the NFL right now is the Atlanta Falcons, averaging a sparkling 163 yards per game and 4.7 yards per rush. Obviously Atlanta's running backs are playing well, but rushing success begins with the offensive line -- can you name a single Falcons blocker? On Sunday, the Falcons' starting offensive linemen were undrafted Tyson Clabo, who's having a Pro Bowl season; undrafted Harvey Dahl; seventh-round draft choice Todd McClure; Todd Weiner, who was let go by Seattle; and second-round draft choice Justin Blalock, Atlanta's sole high pick on what may be the NFL's best offensive line in 2008. Great blocking is also a reason rookie quarterback Matt Ryan looks so good; all quarterbacks suddenly become more talented when they have time to pass. Who's running the offensive line show in Atlanta? Little-known Paul Boudreau, himself an offensive lineman in college and now a classic coaching vagabond who has been hired and fired in a dozen places.
Sweet Play of the Week: In a year when high school tactics are blossoming throughout the NFL -- Buffalo, Kansas City, Miami and New England all ran the Wildcat this weekend -- Kansas City became the second team in two weeks to call "gunslinger," a pass back to the quarterback. The Chiefs lined up in a Wildcat formation and snapped the ball to tailback Jamaal Charles, who flipped it to waiver-wire receiver Mark Bradley, who threw deep to quarterback Tyler Thigpen for a 37-yard touchdown. Extra sweet was the fact that Thigpen burned perennial Pro Bowl cornerback Ronde Barber.
Sour Teams of the Week: Two weeks ago, Jacksonville was entering perhaps the softest schedule stretch any NFL team has ever enjoyed: 2-4 Cleveland, followed by 0-8 Cincinnati (citing their records at that point), followed by 0-8 Detroit. The Jags have managed to lose the first two of these three gimme games. Yes, this shows nothing is easy in the NFL. And yes, Jax has injuries. But in football, everybody always has injuries. The Jaguars seemed overconfident and "played down" to their opponents; Sunday they didn't wake up until the fourth quarter, when they outscored Cincinnati 16-0, but missed the decisive two-point conversion try at the end. And why wasn't the deuce try a power rush, by this team that specializes in power rushing? Instead it was a rinky-dinky pass attempt that fell incomplete. If Jacksonville loses to Detroit too, the Jags' season is over.
Meanwhile, Buffalo opened the season 4-0 and has since gone 1-3; the Bills have been incredibly careless with the football in successive division losses to Miami and Jersey/B -- and in the NFL, division losses hurt more than other kinds of losses. Against the Jets, Buffalo rushed for a mere 30 yards, at home, while the Bills' offensive line allowed five sacks. Left tackle Jason Peters, who made the Pro Bowl in 2007, has looked awful this season after staging a classless training-camp holdout despite having three years left on his contract. Peters' silly holdout, followed by poor play, has dropped him out of the ranks of elite tackles and may cost him many millions of dollars down the road, to say nothing of hurting his team. And what of coach Dick "Cheerio, Chaps" Jauron? Two weeks ago, when Buffalo was 5-1, the Bills' management gave Jauron a lavish contract extension -- despite Jauron having a career record of 55-68 on the day the extension was agreed to. Now he's 55-70. Has Jauron been paying more attention to his purse than his team? Since the contract extension, the Bills have played two stinker games, and in both seemed poorly prepared.
Sour Play of the Week: Kansas City led City of Tampa 24-3 in the first half. But at the end of regulation, the Bucs scored to cut the lead to 27-25 and lined up for a deuce try. In very sour fashion, Kansas City rushed only three, dropping enormous defensive tackle Glenn Dorsey into coverage, where he did nothing but stand around. Pass complete, and Kansas City lost in overtime. Sour bonus: With Kansas City leading 27-19 with 25 seconds remaining, Tampa out of timeouts and the ball on the Chiefs' 24, the Kansas City secondary let Antonio Bryant get behind everyone deep, even though Kansas City knew at the snap that Tampa had to throw the ball into the end zone. How could any receiver get behind any secondary in this situation?
Sweet 'N' Sour Play No. 1: With Baltimore leading 30-27, Cleveland was driving late in the fourth quarter; Nevermores linebacker Terrell Suggs intercepted a screen pass and returned the rock for a touchdown, icing the contest. That was sweet. But how did this happen? Highly paid Browns guard Eric Steinbach never so much as brushed Ravens defensive tackle Haloti Ngata before heading downfield; coming through not even slowed, Ngata hit Derek Anderson as he threw, causing the screen pass to go awry. Not even giving a brush block, with the game on the line, was sour.
Sweet 'N' Sour Play No. 2: Game tied at 7, Philadelphia reached first-and-goal on the Seattle 1-yard line with 45 seconds remaining in the first half. The Nesharim came out in a jumbo, in which starting guard Todd Herremans shifted outside and lined up as an extra tight end, reporting as an eligible receiver. At the snap, Herremans sold his fake by blocking hard against Blue Men Group linebacker Darryl Tapp; for good measure, Herremans threw Tapp to the ground. Then he curled into the end zone and caught the touchdown pass on a play that had always been intended to go to him. For extra good measure, right guard Max Jean-Gilles pulled left while Donovan McNabb rolled right, further confusing the defense -- a sweet, sweet play. (The announcers erroneously called the touchdown a "tackle eligible" play, which can happen only from an unbalanced line; on the play, Herremans was a tight end, not a tackle.) From Seattle's standpoint, if Philadelphia wants to go jumbo at the goal line, why does it move Herremans out of his normal guard position and report him eligible, instead of just leaving Herremans where he is and sending in an extra blocker? The failure to suspect a trick play was sour by Seattle.
We Don't Know What the Weather Will Be Tomorrow, But We Are Certain We Know Precisely What Happened 14 Billion Years Ago: This news story credulously headlines that astronomers have proven the universe is 13.73 billion years old, "plus or minus 120 million years." That's a margin of error of 0.9 percent! My, we humans are confident in our ability to figure things out: We already know exactly how old the universe is, to a margin of error much smaller than an election poll. Here is NASA's timeline of the research in question, using data collected by the Wilkinson Microwave Anisotropy Probe, which measures background radiation in deep space. It looks from the NASA timeline as if the whole reason the universe was created was … to bring about the Wilkinson Microwave Anisotropy Probe. For all we know, that is the whole reason the universe was created!
Johns Hopkins University had lead responsibility for analyzing the data. Check this delightful university news release, which confidently asserts Johns Hopkins professors now know what happened in the first trillionth of a second of creation, when "ripples in the very fabric of space may have been created." What are "ripples in the very fabric of space"? No one at Johns Hopkins or any school has the slightest idea what this means, yet the phrase is batted around by tenured professors who claim to be certain they have already figured out creation. "Ripples in the very fabric of space" have never been observed or experimentally created, nor can the idea be falsified.
Once, in science, an idea that cannot be falsified was presumed meaningless; now it's presumed true! The "multiverse," the "brane," the compacted dimensions assumed by string theory -- these notions are received with perfect seriousness in contemporary departments of physics though all are unobservable, and based on what's known so far, can neither be proved nor disproved. Just like God, only better for getting tenure. As priests of the Middle Ages could tell you, pronouncements sound heftier if you call on a colossal cosmic force you don't explain, such as "ripples in the very fabric of space."
Rich People: Stop Giving to Harvard! Recently TMQ proposed that since Harvard, Yale and Stanford are amply endowed -- $37 billion for Harvard, $23 billion for Yale and $17 billion for Stanford -- the rich cease giving to these schools, and instead donate to money-strapped institutions where the gifts will have more meaning. Update: In the past month alone, billionaire Hansjörg Wyss donated $125 million to Harvard, while Business Wire founder Lorry Lokey gave $75 million to Stanford. Wyss' gift to Harvard exceeds the entire academic endowments of Xavier, Pace, Wittenberg, Ursinus, Alfred, Millsaps and other colleges that serve mainly average people, not the mainly elites served by Harvard. Lokey's gift to Stanford exceeds the entire academic endowments of Juniata, Linfield, Sacred Heart, Hastings, Capital University, Ripon, Lenoir-Rhyne and other colleges that likewise serve those of average means rather than from privileged backgrounds. (Look up any college's endowment here; the numbers are for fiscal 2007. Harvard and a few other schools have already announced higher fiscal 2008 figures.)
TMQ's contention is that many gifts by the rich to max-status schools are not true gifts -- that is, given selflessly. Rather, they are intended to flatter the giver's ego, by associating his or her name with status. Think how much more good $125 million or $75 million would do -- how many lives would be changed in favorable ways -- at the nonelite schools mentioned in this item, or at a hundred more like them. Plus a donor who gave a large sum to an under-endowed school for average people would become a local hero and be loved by the school's community forever. Give $125 million to Harvard and you're just another filthy-rich guy with a big ego taking your place in a line of filthy-rich types with big egos.
I Wrote This Item In 568.9 Seconds: This recent New York Times story about the work habits of Florida quarterback Tim Tebow and Florida offensive coordinator Dan Mullen is both unintentionally hilarious, and disquieting. The hilarious part: "The hours Mullen and Tebow spend together are geared around 1.3 seconds, the amount of time Tebow has to make a decision after the snap." This is another instance of the sports world's nutty obsession with claiming to be able to sense tenths of seconds. The NBA season has started, so it won't be long until an official somberly instructs a timekeeper to put a tenth of a second back on the clock. There is no chance Tebow or any quarterback under game conditions can tell the difference between 1.2 seconds, 1.3 seconds or 1.4 seconds. Probably a good quarterback can tell the difference between one second and two seconds under game conditions, which is impressive enough. But, "Tim, make your read in 1.3 seconds" is a meaningless instruction. Coaches, officials and others in football and basketball talk about tenths of seconds because it makes them seem super-skilled -- obviously only an incredible genius could plan events down to the tenths of seconds! No human being accurately senses the passage of tenths of seconds.
The disquieting part is the Times story reports, "Tebow said he voluntarily spends 20 hours a week digesting film of opponents, far more time than he devotes to studying for school. (He has a 3.81 grade point average.)" If Tebow devotes all that time to the film room and still performs well in class, that's to his credit. But is what he's doing legal under NCAA rules? During the season, "A student-athlete's participation in countable athletically related activities shall be limited to a maximum of four hours per day and 20 hours per week." Most of that 20 hours, needless to say, goes toward practice. During the offseason, "A student-athlete's participation in such activities [practice, lifting, film study] shall be limited to a maximum of eight hours per week, of which no more than two hours per week may be spent on the viewing of film." Few college football programs mess with practice limits, because pads-on time is monitored and violations lead to sanctions. Off-field activities -- conditioning, meetings, film study -- generally are impossible to monitor. College athletes may spend many hours per day in what are described as voluntarily or unsupervised but in effect are team activities, including film study. Too much time spent on team matters can make being an effective student difficult, if not impossible for most. The true amount of time athletes in big-deal college programs spend on athletics -- and it's not just football, today there are time-consuming commitments in everything down to volleyball and swimming -- is a scandal waiting to happen.
TMQ Accuracy Improves by 0.14 Percent: Over the weekend, Mike Pereira, the NFL's chief of officials, said officiating accuracy, which was 97.78 percent in 2007, was down this season to 97.64 percent. That's a difference of 0.14 percent! About 14,500 plays had been run in the NFL this season to the point of Pereira's statement; the difference breaks down to 20 more officiating mistakes leaguewide this season compared to last season. TMQ has always believed that most officiating decisions are correct, in college and high school as well as the pros. But 97.64 percent accuracy seems like runaway pseudo-precision.
Fort Wayne, Ind., Leads World In Odd Sports Names: Mike Heckman of Ossian, Ind., writes, "You mentioned the Fort Wayne Mad Ants of the NBA D-League. Our minor league baseball team gets a new name this year. Fort Wayne is the resting place of Johnny Appleseed, famous for wandering with a tin pot on his head. Beginning this spring, the baseball team is the Fort Wayne Tin Caps.
Stop Me Before I Blitz Again! Minnesota leading Houston 14-7 and facing third-and-3; seven-man blitz; long touchdown to Bernard Berrian. Arizona leading St. Louis 17-7; six-man blitz; long touchdown to undrafted Division III player Jerheme Urban.
Patients Say "Placebo Beer" Tastes Better If Told It Comes From an Expensive Microbrewery: Last week, TMQ rehashed my longstanding contention that in order to spread the demonstrated benefits of the placebo effect to as many patients as possible, placebos need to become expensive and hard to obtain. That way, people will want them! Readers including Diego Pava of Delray Beach, Fla., noted this idea was recently tested by medical researchers, led by Rebecca Waber of MIT. Her conclusion? If patients were told an advanced new pill cost $2.50 each to make, they reported more improvement than if told the new pills cost a mere 10 cents to manufacture. In both cases, the pills were identical placebos.
High School Confidential: Here are this year's high school points:
• Grade Inflation Comes to Prep Championships: Last year, there were 314 state high school championship football teams. Figuring around 50 players per school, this suggests that last autumn nearly 16,000 teens -- some of them girls; see next item -- earned the right to say they were on a state champion football team. The recent trend is for states to confer multiple championships, in order to spread the glory. The more state championships created, the more adults of the future who will be able to say they played for championship teams in high school. Multiple championships are proliferating at an uneven rate, however. Last year, Wyoming (population 522,000) had more state championship football teams than Pennsylvania (population 12.4 million) and as many as New York (population 19 million). Rhode Island (population 1 million) had more state championship teams than California (population 36 million). No state can touch New Jersey, which in 2007 proclaimed 20 state championship football teams. Massachusetts (13 state champions) and Texas (12 state champions) come close.
• High School Numbers: According to the most recent National Federation of High Schools participation survey, 1,104,548 boys played 11-player prep football last year with another 26,000 involved in six-, eight- and nine-player football at rural schools. In addition, 1,073 girls played high school football in 2007.
• The Paid Cupcake Comes to High School Football: The Washington Post reports that high school football teams from the District of Columbia, where schools are crumbling and athletics are perennially underfunded, are taking fees from opposing schools to travel long distances to play games at those schools, in order to generate athletic department funds. Dunbar High of D.C. was paid $2,500 for a 140-mile bus trip to face Fort Hill High of Cumberland, Md., though there are many high schools within a short ride of Dunbar. H.D. Woodson High of D.C. received $5,000 for sending its football team all the way to Lakewood, Ohio (an 800-mile round trip by bus), where Woodson lost 33-0 to Saint Edward, an affluent private institution. Since any football coach would love to face a squad that's exhausted from a long bus trip, such arrangements obviously favor the home team. It is the high school equivalent of a football-factory college hiring a lower-division team to travel to its stadium and be pounded.
Not only is the arrangement unfair to D.C. football players, it's yet another indictment of the D.C. public school system -- which ranks close to the top for per-capita student spending in the United States, yet underfunds activities, because so much of the spending disappears to waste and corruption. At least new D.C. Mayor Adrian Fenty is trying to clean up D.C. school system corruption.
Away games in which the high school team boards a jet, rather than a bus, are entering the prep scene. As Stacy Hicklin of the South Florida Sun-Sentinel noted, last month two South Florida high school football teams, Pahokee and Cypress Bay, arranged air travel for big-deal, out-of-state pairings, one to South Carolina to play Byrnes High and one to Texas to play Katy. The traveling team receives $2,500 to $5,000 plus expenses, while the home team receives an exhausted opponent for an easy win: Katy hammered Cypress Bay 31-6, while Byrnes hammered Pahokee 38-12.
• Winning by 50 Should Embarrass the Winner, Not the Loser: Hiring a high school team to travel a long distance because you know an exhausted team is easy to defeat -- even when they fly, prep players hardly travel in the pleasant manner that pro and Division I players do -- is yet another aspect of two unpleasant high school trends: running up the score and recruiting. Officially, nearly all public school jurisdictions and most private school conferences ban high school recruiting, but on a practical basis, the bans are impossible to police. Coaches of power schools urge promising boys to move into their districts (or live with a friend or relative in the district) in order to get noticed by college recruiters; often home addresses are faked. The result is fewer competitive games, more blowouts and bully play replacing old-fashioned rivalry. Of the Washington-Baltimore region's high school football games, about 15 percent are averaging 50-point-plus victory margins. A weekend ago, Texas 5A results included scores of 70-6, 57-6, 56-7, 55-0, 52-6, 51-6, 50-7, 49-0, 45-0 and 42-0. None of these games sounds like competition in any meaningful sense -- it sounds like a stacked team beating up on a team that everyone knows has no chance. Local boosters may clap, but this trend is bad for high school sports.
• Rugs Proliferate: Artificial turf is now becoming common at high school. An estimated 1,300 high schools have FieldTurf, with turf surfaces going in not just in football hotbed areas such as central Texas and South Florida, but across the country. My county, Montgomery County in Maryland, most of whose 25 high schools are academics-first, recently installed its first FieldTurf field, and has promised that eventually all of its high school football playing surfaces will be artificial. Even some county recreation departments across the land are switching their football fields and soccer pitches to turf. FieldTurf costs more to install than grass but less to maintain; especially west of the Mississippi, where water supply is an issue, the ability of FieldTurf to eliminate water costs (easily $10,000 a year for a well-groomed football field in California, Colorado or Arizona) is increasingly attractive. Players love to play on the new non-hardened turf, and spectators get to see a faster game. Here's how FieldTurf took over the industry by making a product that feels like nice spongy grass rather than "green concrete."
• Do Your Math Homework -- Because the Math on Reaching the NFL Isn't Good: So 1.1 million boys played high school football in 2007. That means about 275,000 varsity high school football players graduated. NCAA-regulated schools had about 4,300 scholarships to hand out for football for the Class of 2008, plus a few hundred more paid opportunities from the Ivy League and Patriot League, which officially ban football scholarships, but by the most amazing and astonishing coincidence, find that a high share of football recruits qualify for need-based or academic aid. All this means about one graduating high school varsity football player in 60 received a football scholarship or football-based financial aid for college. That, in turn, means roughly one kid per high school football team got into college with a football scholarship. (This is a simplified analysis that assumes all high school players graduate and all who win an NCAA scholarship hold it for five years; also it skips "recruiting letters," which admit football players to elite academic schools but don't provide any money.)
Some powerhouse high schools send several football players on to NCAA scholarships each year, while many high schools go years between a football player attending an NCAA signing ceremony. Still, it's a good rule of thumb that one graduating senior per high school gets college money help via football.
At the other end, each year about 15,000 college football players either graduate or leave college, and each year about 150 rookies make NFL teams. That's 1 percent -- one college football player in 100 goes on to receive an NFL paycheck. Plus, the average NFL player's career lasts just three years.
In sum: A kid playing varsity high school football has roughly one chance in 65 of a college football scholarship. A young man playing college football has roughly one chance in 100 of making an NFL roster. Roll the two together and you'll find that a high school varsity football senior has roughly one chance in 6,500 of ever receiving a paycheck from the NFL. The chance of sticking around the NFL long enough to make pro football a career -- earn lots of money, become well-known and then enter some form of sports-related employment when your ankle-taping days end -- is maybe one in 50,000.
So high school players, enjoy the glory of Friday night lights -- playing under the lights before your hometown, family and friends is a wonderful experience. Otherwise study, study, study, because a college education means far more to your future than athletics. College players who do get scholarships, take that opportunity to study, study, study. Far too many lauded high school athletes peak at age 18, discover there's no NCAA deal awaiting them, then can't get into college as a regular student because their grades are poor. Far too many college athletes goof off on campus because they assume they will advance to the pros, then when they discover the pros are not calling, it's too late and they have wasted their collegiate years. If you study in high school and study in college, your chance of a financially successful life is quite good. If you live the illusion that you don't have to do homework because you're headed to the NFL, your chance is roughly one in 50,000. Numbers don't lie. High school boys, don't lie to yourself. Lying to yourself is for losers. Be honest with yourself: Grades matter far more than athletics.
"Some Enchanted Evening, You Will Launch a Spacecraft …" Last week I said the launch of an Indian probe to the moon means Bollywood should begin producing sci-fi. Many readers, including Stephen Carter of New Haven, Conn., pointed out that Bollywood not only already makes sci-fi flicks -- Bollywood has completely locked up the genre of the science-fiction musical.
"Monday Night Football" analysis: The Steelers' first five possession results: Interception, punt, punt, punt, punt. The Steelers' next six possessions included three touchdowns and a field goal. Some clichés become clichés because they are true, and the relevant true cliché in this case is that football is a four-quarter game. Washington controlled the first quarter, jumping out to a 6-0 lead. With 2:21 remaining in the first half, Washington led 6-3 and had held the visitors to just four first downs. When one team outplays the other early on, fans tend to assume that means the good-early team "should" win or "deserves" to win. But second-half performance means just as much as first half-performance. At 2:21 before intermission, Pittsburgh blocked a Washington punt and quickly recorded a touchdown; the rest of the night belonged to the Steelers, who prevailed 23-6. Another thing is that defenses sometimes relax when an opponent's star quarterback or running back leaves the field with an injury. Ben Roethlisberger did not trot out for the third quarter for Pittsburgh, and Washington immediately surrendered a 50-yard completion thrown by backup Byron Leftwich. Considering that Jason Campbell threw his first interception of the season Monday night -- after the Redskins went an NFL-record 12 straight games without an interception -- TMQ wonders whether fans will begin to complain about Campbell. I mean, you didn't throw your first interception till November, but what have you done for us lately?
The Unified Field Theory of Creep: Jim Suess of Tyrone, Ga., reports he saw Aretha Franklin talking on the CBS Morning News two days before Halloween -- plugging her Christmas album. Jason Rezvan of Brooklyn writes, "I was riding the R train on my way to work last Wednesday when a mariachi band stepped into the car. I was surprised to hear the lilting rhythm of Feliz Navidad being strummed by the 12-string." Mike Neel of Arcade, N.Y., reports, "On October 30th, my roommate and I figured we should buy some Halloween candy. I walked into the local Tops supermarket to see employees on ladders ripping down Halloween decorations. I went to the seasonal aisle, where there is ample Halloween candy beginning in early September, only to find out it had all been replaced by Christmas candy. So when I handed out candy on Halloween, I was guilty of contributing to the Christmas Creep, by dropping Christmas candy in their bags." Jon Taylor of Houston writes, "Over the weekend I was [in] Hangzhou, China on my way back to Shanghai after presenting a paper at an academic conference. In my hotel room I watched the Giants-Cowboys game live. This morning in the restaurant of the Hai Hua Hotel, they were playing nothing but Kenny G. Christmas music."
Fred Ruonala of Dover, N.H., notes, "The Sunday newspapers to which I subscribe, the Boston Globe and Foster's Daily Democrat, both have already had articles predicting the amount people will spend on Christmas gifts this season. Maybe the Black Friday sales events should become Black Saturday, launched the day after Halloween." Two days after I got Ruonala's e-mail, Michael Shochet of Baltimore reported this seemingly wacky idea is already official: Kmart held an "early Black Friday" sale immediately after Halloween. This Black Friday event was held on a Sunday; but then, you already know about contemporary trends in literacy.
Dan Schwert of Rochester, N.Y., proposes, "My theory on the continued encroachment of Christmas is that it is driven by the downturn in the economy. There have been several reports on the local news of retailers offsetting a decrease in current sales by targeting early Christmas shoppers. Of course, this tactic may catch up with the retailers in late November and early December when those shoppers would normally be buying the Christmas things that they already bought in October." TMQ proposed two years ago that Christmas Creep happens because many people want to live as long as possible in the fuzzy holiday feeling of adolescent pleasantness. Since the holidays go "poof" within a day or two afterward, and the bills begin arriving shortly after, those who would prolong the holiday feeling must do so in advance. Increasingly in recent years, retailers, many of whom do a third of their annual business in the run-up to Christmas and Hanukkah, have also tried to have the pleasant holiday experience last longer -- or at least, as Schwert points out, to take the gains sooner rather than later.
Then I heard from Tim Bryner of Anchorage, Alaska, who reported that last week he heard a radio advert for Fur Rendezvous, an annual Alaska festival that begins -- at the end of February. This made got me to thinking that event-creep is an underlying force of human nature. We want holidays to start before they are actually here. We want to borrow to have everything now instead of waiting until we can afford our desires. (Then when the bill comes due, we are outraged to be expected to pay.) In sports, pundits and bobbleheads devote endless attention to predictions about what might happen in a game; the instant the game is played, they lose interest in what actually happened and move on to speculating about what might happen next week. (What actually happens is what fascinates TMQ; if Suetonius was alive and had a sports column, he'd be what I'd read.) In politics, the 2008 presidential election does not close till tonight, yet commentators are already speculating about 2012. Thich Nhat Hanh said, "We are better at preparing for the future than living in the moment." Thus my Unified Field Theory of Creep: the more society accelerates, the farther forward our attention will creep, as we think more about what happens next than what is happening now. Based on an incredibly scientifically advanced calculation, I project that by the Year 2018, Christmas will lap itself: at Halloween 2018, people will be preparing for Christmas of 2019.
Overtimes a Bust Again: Tampa and Tennessee both won in overtime, driving for field goals after calling correctly the overtime coin flip; neither Kansas City nor Green Bay touched the ball. Come on NFL, change your overtime system. The Bucs attempted a field goal on third-and-5 from the Kansas City 20, though a penalty wiped out the play; Tennessee kicked on third-and-2 from the Green Bay 23. Supposedly teams in a sudden-death overtime try for the winning figgie on third down so that if the snap is bad, the holder can cover the ball, permitting a second try on fourth down. I have watched way too much football in my life, and never actually seen the holder cover a bad third-down snap.
"Friday Night Lights" Update: This doesn't really count as a spoiler -- in last week's episode, the Panthers once again won by scoring an improbable touchdown on the final play. Otherwise the series, airing its third season on DirecTV with reairing on NBC planned for the winter, is running out of gas. The third season is not well written, unfortunately, and lacks the creativity the show once possessed. Last week's episode did offer the fifth time in the series in which one of the teen-angst characters stumbled upon his or her love interest kissing someone else. Note: Matt Saracen has lost his job as the Dillon Panthers' quarterback -- maybe he can start for the Cowboys.
NASA Drops 1,400-Pound Tank on Taxpayers' Heads; This is Nothing Compared to What Government is Doing to Taxpayers With AIG: Yesterday a 1,400 pound ammonia tank accidentally cast overboard from the International Space Station re-entered Earth's atmosphere, burning up harmlessly over the South Pacific. Government authorities had said there was no risk and no need to act -- yet just nine months earlier, the Navy spent $60 million to shoot down a 1,000-pound hydrazine tank re-entering Earth's atmosphere from the malfunctioning spy satellite USA 193; this tank was also deorbiting above the Pacific. At the time, the Pentagon said a 1,000-pound hunk of space junk was a dire threat to life, though the tank was all but certain to burn up harmlessly. The real reason USA 193 was shot down was because the Navy is desperate to get a piece of the antimissile program budget, and the February hunk of space junk was in an orbital position a Navy interceptor rocket, launched from the guided-missile cruiser Lake Erie, was able to reach.
So far the Air Force has most of the antimissile funding, including for an airborne laser carried by a modified 747. The Army has some of it, and an interservice "purple suit" agency has some of it. The Navy really wants its guided-missile vessels to win acceptance as antimissile systems, too. Traditionally the Navy receives one-third of the defense budget. Our Navy is the best of the best, but with U.S. naval power now exceeding by a wide margin the naval power of all other nations combined, it's far from clear why Navy funding should remain so high. Adding an antimissile mission to the Navy's portfolio would justify continued high Navy budgets: So far, 15 cruisers and destroyers are being modified to carry the extended-range SM-3 missile that shot down the hydrazine tank in February. The feat was technically impressive, but did it indicate ship-launched rockets could provide missile defense in war? The Navy had a month to prepare for the shoot-down of the satellite, whose course was well-known, then almost called off the launch because rough seas threatened the rocket's accuracy. An actual missile attack against the United States will not come with a month's notice!
Budget note: You know the Pentagon's Missile Defense Agency plans a long-term assault on the federal deficit because it just started building itself a sizable headquarters building. Junk note: NASA's Orbital Debris Program Office is tracking more than 12,000 pieces of space junk. Here you can subscribe to its newsletter, Orbital Debris Quarterly News.
Sour Play Ere the Clock Struck Midnight: With Indianapolis leading New England 18-15 late in the fourth quarter, and most right-thinking people already in bed, the Flying Elvii reached second-and-2 on the Colts' 32 and ran for 1 -- setting up a monster third-and-1. But New England backup tight end Dave Thomas, who only plays in jumbo sets, was called for unnecessary roughness for a late hit. The Pats were moved back to third-and-16, and two snaps later Matt Cassel threw an interception, effectively ending the contest. Dumb penalties are bad enough; when a backup comes into the game and commits a dumb penalty because he cares more about himself than the team, that is extremely sour. And the sort of thing that used to never happen to the Patriots.
Cold Manager = Victory: Many readers pointed out that Tampa Bay Rays manager Joe Maddon dressed in preposterous K2 survival gear for Game 3 of the World Series, all but assuring his team's defeat. A reader offered this haiku:
Game Three: Joe Maddon
Dressed in a winter parka.
I wrote: "Phillies win."
-- Peter Hesse, Oak Hill, Va.
Oakland is the Opposite of a Lot of Things: The Oakland Raiders have exhibited the opposite of good offensive line play. First overall pick JaMarcus Russell looked awful on Sunday, but any quarterback with awful protection will look awful. On one late second-quarter Falcons sack, as Russell went down, Raiders blockers Robert Gallery, Jake Grove and Kwame Harris had all been thrown to the ground by defenders, and not one of Oakland's five offensive linemen were even making contact with a defensive player as their quarterback was sacked.
Trust Him, He's Overpaid: Former Federal Reserve chief Alan Greenspan, now revealed to have done immense damage to the U.S. economy pushing for the financial markets anything-goes policy that caused this year's financial freeze and trillion-dollar bailout, in 2006 was paid an $8 million advance for a book. Among other things, the book proposal on which the fee was based declared that Greenspan's astonishing insider expertise allowed him to predict that "an independent presidential candidate" is "likely" to win the White House in November 2008. I don't know who you are voting for today -- vote, vote, vote -- but I am pretty confident an independent won't win. On Wall Street, the worse your track record at predictions, the more money you make, and Greenspan's book advance reflected that dynamic. This is yet another thing Greenspan was completely wrong about. Why did Congress, the White House and the media treat him as a super-ultra-genius?
Obscure College Score of the Week: Moravian 17, Ursinus 7. A college and also a seminary, Moravian, located in Bethlehem, Pa., stages a monthlong phonathon to ask alums for money, though promises not to call on Valentine's Day.
Bonus Obscure College Score: Southern Virginia 30, Kentucky Christian 27. Located in Grayson, Ky., Kentucky Christian is having an off year in football at 2-6, but is favored next week against Tennessee Heathen. The school's annual Feast of Christmas occurs three weeks before Christmas.
Reader Animadversion: Got a complaint or a deeply held grievance? Write me at TMQ_ESPN@yahoo.com. Include your real name and hometown, and I may quote you by name unless you instruct me otherwise. Note: Giving your hometown improves your odds of being quoted.
The Football Gods Chortled: At 8-0, Tennessee has reached the halfway point undefeated. Of the most recent NFL teams to reach at least 8-0 -- the 13-0 1998 Broncos, the 9-0 2003 Chiefs, the 13-0 2005 Colts, the 9-0 2006 Colts and the 18-0 2007 Patriots -- only two of these five went on to win the Super Bowl.
Next Week: If you haven't voted yet, vote. If you don't vote, promise never to complain about any aspect of the outcome.
In addition to writing Tuesday Morning Quarterback, Gregg Easterbrook is the author of "The Progress Paradox: How Life Gets Better While People Feel Worse" and other books. He also is a contributing editor for The New Republic, The Atlantic Monthly and The Washington Monthly.