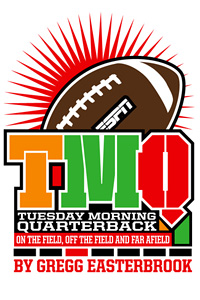 Did Marion Barber get the ball across the goal line against Washington before his knee went down? Did Santonio Holmes get out of bounds with three seconds remaining in the first half against San Diego, stopping the clock so Pittsburgh could kick a field goal in a game the Steelers ended up winning by one point? Did Marvin Harrison get the ball across the goal line before his knee went down against Houston? Did Ben Roethlisberger get the ball across the goal line at all on the key play of Super Bowl XL?
More importantly, why do we even have to discuss this stuff? Let's put a chip in the football and end these debates.
If swim meets and horse races can be photo-timed to the hundredth of a second, it is ridiculous that the football world has to argue about whether a ball crossed a line. Some kind of radio chip embedded in footballs, and weighing next to nothing, could surely provide a GPS-like readout on whether the ball touched some kind of electronically projected line in front of the end zone and along a field's sidelines. Considering the state of miniature electronics, this doesn't seem as if it would be very hard to do. College engineering departments surely would compete for the right to design such a system. The system might prove too expensive for high schools and small colleges, but with all the money involved in the NFL and in football-factory colleges, the price of adding electronic sensing would be small by comparison. So let's insert a chip in the football!
Of course a chipped football would not solve all arguments. On the classic goal-line quarterback sneak, it still might be impossible to know where the quarterback's knee was when the goal-line buzzer gizmo sounded. But most of the time, there is a pretty clear view. Consider Barber's dive toward pay dirt Sunday night. The side judge had a clear view of Barber, it's just that it was impossible to be sure whether the ball crossed the plane before his knee hit. With a chipped football -- and some nice stop-action cameras, similar perhaps to the optics used in Olympic swimming -- there's no reason the replay official could not quickly be shown a frozen image displaying the exact position of the runner's body at the instant the ball made contact with the goal-line sensor. Same thing along the sideline. Most of the time, this would provide a clear answer to whether a play had been called correctly, settling disputes.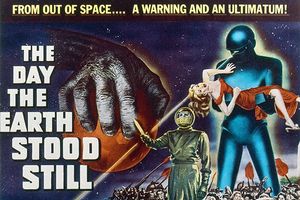 Silver Screen Collection/Hulton Archive/Getty Images
Ed Hochuli to be replaced by Gort. (Rent the original "The Day the Earth Stood Still" -- it's really good, plus no Keanu Reeves.)
The next step should be an artificial-intelligence device that can remember NFL rules! Because the zebras don't seem to know them. Perhaps robots could be built to officiate NFL games, programmed with a rulebook memory that does not fail on national television. Imposing 10-foot-tall robots with perfect memories would command the respect of players. And if the coach of the Giants wanted to challenge a ruling, he would call to the robot referee, who would wear a white carapace, "Gort -- Coughlin barada nikto!"
The fabulous Pittsburgh-San Diego game was marred by another officiating blunder. The blunder wasn't a judgment error -- judgment errors cannot be eliminated -- but yet another knowledge-of-the-rules failing. Sunday's had no impact on the outcome but again showed the disturbing trend of lack of knowledge of the rules by highly paid NFL officials.
Earlier this year, in the Tennessee-Baltimore game, the officials failed to know that a false start is a dead-ball foul that ends a down. They allowed a Titans play to proceed after a false start by Tennessee, leading to a sequence of events that put the Titans back into a game the Ravens appeared to have won. That kind of blunder would get a high school zebra chewed out. On Nov. 9, officials flagged Green Bay for a safety and announced the reason was Aaron Rodgers had thrown an "illegal forward pass" from his end zone. But the pass was perfectly legal, and anyway it's impossible to throw an illegal forward pass from your own end zone -- such a pass can only come from beyond the line of scrimmage! Referee Alberto Riveron seemed not to know what "illegal forward pass" means. Later, the NFL's official game book was altered to make it appear as if Riveron had called intentional grounding, which wasn't right either, but at least would have been only a judgment error.
Sunday, with Pittsburgh leading 11-10 with five seconds remaining, San Diego had the ball at its own 21-yard line and called a Stanford-band-style endless-lateral play. (Perhaps this should now be called a Trinity-of-Texas-style endless-lateral play.) LaDainian Tomlinson caught a pass at the 26 and lateraled; the ball hit the ground; and the Steelers' Troy Polamalu ran it back for a meaningless touchdown as time expired. The announcers had just been discussing how the game was the first 11-10 outcome in NFL history, and suddenly it wasn't, with the scoreboard showing 17-10. But wait -- the booth official, Mike Wimmer, announced the touchdown shouldn't have counted, making the score 11-10 again. Why didn't it count? Wimmer ruled that Tomlinson threw an illegal forward pass from the 26, and at the instant there was a penalty, the ball became dead. Huh? Say what? Since when does a penalty during a play end the play at that point? Pittsburgh should have been given the choice of declining the penalty and taking the touchdown, or accepting the penalty and ending the game at 11-10. The booth official appeared to have no idea how football rules work.
Down on the field, referee Scott Green somberly announced that the illegal forward pass made the ball dead the instant it occurred. Green, too, seemed to have no idea how football rules work, nor did he seem to know that booth officials cannot gives orders to referees -- the guys in the white caps are the final arbiters. Junior NFL officials earn about $43,000 a year for part-time seasonal work, and referees such as Green and Riveron earn as much as $180,000 a year or so for part-time seasonal work. Yet they don't know the rulebook! This is getting embarrassing.
In other football news, TMQ has grown accustomed to timid Preposterous Punts by NFL coaches seeking to avoid criticism. I also thought I'd seen it all -- but of course I was wrong. With New Orleans leading Kansas City 27-20 with 10:05 remaining in the game, the Chiefs faced a fourth-and-2 on the Saints' 40-yard line -- and punted!!!!!!! Kansas City had lost 16 of its last 17 games going into Sunday's contest, and, needless to say, now has lost 17 of its last 18. You've failed 16 of the last 17 times, what do you have to lose? Why are you punting???????
Further, TMQ notes that although NFL coaches order mincing fraidy-cat punts when there's still a chance of victory, after hope has been lost, then they go for it. Herm Edwards would not try for a first down on fourth-and-short in opposition territory when there was plenty of time left to win the game. Down 30-20 to New Orleans at the two-minute warning and facing a fourth-and-10 in his own territory, Edwards went for it. Likewise, trailing by nine points -- two scores -- with 4:28 remaining, Lions coach Rod Marinelli ordered a punt on fourth-and-4. When the margin was still nine points but the game clock was down to 1:22, when it made no difference what the Lions did, then Marinelli had his charges go for it.
And in other football news, the NFL regular season soon enters the home stretch. How are TMQ's off-price generic predictions, such as Home Team Wins, faring versus the experts? See below.
Stats of the Week No. 1: Jersey/A is on a 13-1 streak.
Stats of the Week No. 2: Peyton Manning is 13-1 against the Houston Texans.
Stats of the Week No. 3: Baltimore, No. 3 in rushing defense going into the weekend, allowed 207 yards rushing by Jersey/A; Chicago, No. 4 in rushing defense going into the weekend, allowed 200 yards rushing by Green Bay.
Stats of the Week No. 4: Brett Favre, who squared off against Matt Cassel Thursday night, has 255 more NFL starts than Cassel.
Stats of the Week No. 5: Green Bay has nine touchdowns from its defense and special teams this season.
Stats of the Week No. 6: Oakland has nine touchdowns from its offense this season.
Stats of the Week No. 7: The AFC East and NFC East have no teams with a losing record; the NFC North has no team with a winning record.
Stats of the Week No. 8: Buffalo has lost consecutive Monday night home games in the last two minutes by field goals of 56 yards and 53 yards.
Stats of the Week No. 9: At 4-6, San Diego is two games out of first place in its division. At 4-6, Jacksonville already has been eliminated from winning its division.
Stats of the Week No. 10: Drew Brees is on a pace to throw for 5,201 yards; the NFL record is 5,084.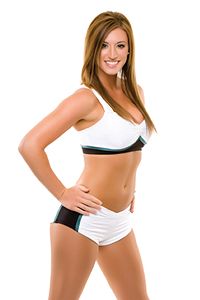 Philadelphia Eagles
A $1 billion price tag would sound far more reasonable if she explained it while wearing a swimsuit.
Cheerleader of the Week: Reader Dan Martin of Sudbury, Mass., nominates Victoria of the Philadelphia Eagles who, according to her team bio, just graduated from Temple University and went to work as a construction estimator. "Given the outrageous costs of the NFL stadia going up in Texas and New Jersey, maybe I would have an easier time accepting those numbers if she were explaining them to me," Martin writes. Also according to her team bio, Victoria doesn't eat cheesesteaks -- maybe that's something best kept to oneself in Philadelphia. At her bio link, you can watch a video of Victoria talking about the importance of environmental protection while conserving resources by wearing very little. In keeping with the cheer-babes' new green-themed swimsuit calendar, the Eagles' coaching staff will recycle game plans.
Sweet Play of the Week: Undefeated Tennessee trailed at Jacksonville 14-3 at the half, then gradually bounced back to take a 17-14 lead. Facing a second-and-8 with four minutes remaining, Flaming Thumbtacks quarterback Kerry Collins saw Cover 1 -- a single safety with press coverage on both wide receivers -- and audibled to "double go," both wide receivers streaking deep. Collins hit receiver Justin Gage for the 38-yard touchdown that iced the contest. Jacksonville was so sure Tennessee was going to run the ball that four Jax defenders (three linebackers and a safety) were standing around in the tackle-box area doing nothing at all. Collins played another solid, smart game. Seven weeks ago, TMQ noted that because Collins has been given up on by half the teams in the league, he's under zero pressure, and "A guy playing under zero pressure can be dangerous." Not only is Collins now on track for the Pro Bowl but he's a plausible candidate for league MVP.
Sweet Number of Plays of the Week: The team that runs the most offensive plays in a game tends to prevail. Just ask Texas Tech! Indianapolis ran 80 offensive plays to 45 for Houston on Sunday, a spectacular margin; this included a 16-play Colts possession to grind down the clock in the fourth quarter. The Moo Cows franchise has played seven games in Indianapolis and lost all of them. As for the Colts, Peyton Manning is hot, Joseph Addai and Marvin Harrison are back -- I'd look out for these guys.
Sweet Tactics of the Week: Chicago, facing Green Bay on Sunday, came in with the fourth-ranked rushing defense and 30th-ranked passing defense in the league. The Bears backed their safeties way off, hoping to stop long passes; the Packers responded by throwing intermediate curls and comebacks to the boundary area between the corners and safeties. When that worked and the Chicago linebackers started sprinting backward at the snap into the curl zones, Green Bay called rushes; the rushes worked against backpedaling linebackers. You don't beat a good team 37-3 without winning the tactics chess match.
Sour Play of the Week No. 1: With Arizona leading Seattle 26-6, Cards linebacker Karlos Dansby intercepted a pass 3 yards deep in his own end zone -- then, instead of kneeling, he tried to run the ball back. Dansby immediately lost a fumble, Seattle scored to make the count 26-13, and near the end of the game the Cactus Wrens were desperately hanging onto a 26-20 lead. A linebacker is not going to run an interception back 103 yards! Linebackers, if you catch the ball in your own end zone, take a knee and let the offense worry about the rest.
Sour Play of the Week No. 2: "Catch the ball with your hands!" That's what coaches endlessly tell running backs and receivers -- meaning, do not catch the ball against your body, instead hold your hands outward and catch the ball before it can strike your chest or pads and ricochet away. Specifically, receivers are coached to form their hands into a diamond shape to catch the ball away from the body. On the decisive play of the Giants-Ravens game, Ravens wide receiver Derrick Mason let the ball ricochet off his upper chest and into the hands of Aaron Ross for an interception, which was returned for a touchdown. Mason's hands were not in a diamond; he had his hands all wrong in terms of form, allowing the ball to strike his body.
Sour Decision of the Week: With the score 13-13 in overtime, Philadelphia faced a fourth-and-1 on its own 22-yard line with 1:30 remaining in the fifth quarter and punted. The end result was the NFL's first sister-kisser in six years. But for the Eagles, wasn't a tie as bad as a loss? Philadelphia, at 5-4-1, is in last place in the NFC East. TMQ suspects that at the end of the season, that tie will effectively be a loss for the Nesharim. The situation in the NFC East seemed to justify a little risk taking. Donovan McNabb has been ripped by the sports media for admitting after the game that he did not know NFL regular-season contests end after five quarters, unlike postseason contests, which continue until someone wins. Could it be that the Eagles' coaches didn't know this either?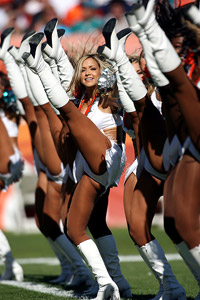 Marc Serota/Getty Images
What does it spell? WILDCAT!
Sweet 'N' Sour Plays: Miami gave up a safety on a play that started not from its own 1-yard line but from its 6 -- sweet for Oakland, but why do NFL coaches insist on having quarterbacks sprint backward into their own end zones? San Diego faced a second-and-9 on its own 3-yard line; Philip Rivers sprinted backward into his own end zone and threw incomplete. On third-and-9, he again sprinted backward into his end zone. This time, the Chargers had seven blockers for five rushers, yet tight end Brandon Manumaleuna was left alone to block linebacker James Harrison, who came into the game with 11 sacks. Harrison got a safety, and San Diego lost by one point. The safety was sweet for Pittsburgh, but single-blocking the other team's best pass rusher at your own goal line is pretty sour.
Sweet 'N' Sour Results: In Week 10, the key element of Minnesota's victory over Green Bay was Minnesota coach Brad Childress' deciding to go for it on fourth down, challenging his players to win. This week, with the score tied at City of Tampa, Childress went for it on fourth-and-1 -- Adrian Peterson dropped what would have been a touchdown pass. Then trailing by six with 2:29 to play and facing a fourth-and-3 on his own 27-yard line, Childress went for it rather than booming a mincing punt and trying to shift the blame in the postgame news conference. This try didn't work, either -- two sweet decisions with sour results. But suddenly Minnesota has an all-out-to-win attitude, and the football gods are likely to smile on this team down the stretch. As for Tampa, the Bucs are allowing 11 points per game at home. You don't want to play the Bucs in Tampa.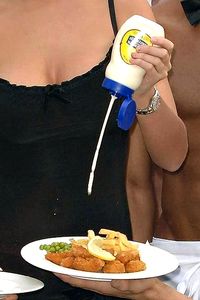 Ian West/PA Wire
Not even the French would put "extra heavy" mayonnaise on fries.
Hidden Calories: Last week, TMQ was at Five Guys, my favorite Washington-area burger joint -- sadly, there are no In-N-Outs on the East Coast -- and happened to glance into the grill area. There in the corner was a stack of gallon jars of this, Kraft Extra Heavy Mayonnaise. "Extra heavy" mayo -- isn't that like 10W-40 frying oil? Sold only to the food-service market, Kraft Extra Heavy Mayonnaise is advertised to restaurant operators as providing "superior binding and cling." This awful stuff has 90 calories per tablespoon, versus 27 calories in Kraft's plenty-tasty Miracle Whip dressing and 18 calories in Hellmann's Reduced Fat Mayonnaise. People know mayo is a rich substance, but I bet no one thinks restaurants are stealthily serving a fat-crammed "extra heavy" version, and I bet not one single customer anywhere in the world wants fat-crammed "extra heavy" mayonnaise. Kraft, why do you market a product designed to add fat to consumers' diets without their knowledge? The company even recommends Extra Heavy Mayonnaise for "prepared salads and salad dressings." That is, Kraft recommends that menu items consumers assume to be healthy alternatives instead be larded up with high amounts of fat. Hey, Five Guys, don't you want your customers to survive for a return visit?
Let the Coaches Out of the Box! The ending of last week's "Monday Night Football" game -- San Francisco attempting a power rush up the middle to win against Arizona on the final snap and failing -- happened in part owing to confusion over where the ball was spotted. On the second-to-last play, Frank Gore fell down just shy of the Cardinals' end zone; booth review confirmed Gore down by contact, then San Francisco quick-snapped to avoid the clock expiring. Squared Sevens' offensive coordinator Mike Martz said afterward that he called a dive because he believed the ball was on the Arizona 1. Actually, the ball was a little outside the Arizona 2. The dive play gained 1 yard, meaning that if the spot had been at the 1 as Martz thought, San Francisco would have won. Afterward, the sportsyak commentary focused on clock management by the Niners and zebras alike. But the confused ending (the officials and both teams seemed unsure what was going on during the final sequence) brought to mind a generic fault of football, one that has bothered TMQ for some time -- that coaches cannot follow the ball down the sideline into the red zone.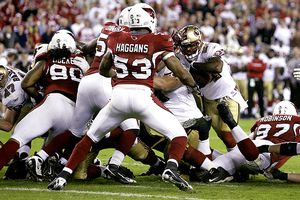 AP Photo/Paul Connors
It's a dive from the 3! Or the 1! Or the 2! Say, where is that ball spotted?
Bordering a football field are painted rectangles where the team benches sit; some high schools lay down a tarp to indicate this area. Players, coaches and hangers-on can wander in this "team box" zone but not outside it. In the NFL, this area stops at each 30-yard line. Thus, coaches and players can stand parallel to the ball whenever the action is between the 30-yard lines; when the ball moves below either 30-yard line, players and coaches must remain in the box. In the NCAA and those states that use NFHS (National Federation of State High School Associations) rules, the players must stop at the 30-yard line but the head coach can continue an additional five yards, as far as the 25-yard line in either direction. There he must stop; if the coach goes below the coach's box, it's a penalty.
There's a good reason to keep players in the team box. Players often stand too close to the sideline as they cheer their teammates on (note: This statement does not apply to the Oakland Raiders), and the players get in the way of the officials, who need free run of the sideline. But the head coach is only one person. Why can't he stand parallel to the ball as it moves down the field? Or at least, why can't one coach (in most cases it would be the offensive coordinator or defensive coordinator) be permitted to follow the ball?
The reason Mike Singletary and Mike Martz didn't know where the ball was spotted on the fateful "Monday Night Football" play is that they were back at the 30-yard line. From there, perspective is terrible. From my own adventures in coaching, I can attest that when the down is a goal-to-go situation and you are standing at the high school-allowed 25, you have no idea on exactly what yard line the spot is. Once this season, in a critical situation, I thought our runner got to only about the 2-yard line. I called timeout to go on the field (in high school, the coach is allowed in the huddle during a timeout) and settle the boys down for what I thought was fourth-and-goal. As I launched into a standard "I am challenging you …" spiel, the guys said, "Coach, we just scored. This is the extra point." I had been watching the ball, not the officials' arms and, from the 25, couldn't tell that the ball had crossed the goal line.
NFL and NCAA teams have personnel upstairs (hundreds, seemingly, at this point) who can radio the spot down to the coach. But upstairs perspective isn't perfect -- in a hurried situation, the booth coaches might not be sure whether it's the 1 or the 2. When you're already having a hurry-up discussion of some other source of confusion, as happened in the Arizona-San Francisco endgame, added confusion might happen. Why not solve these issues by letting one coach follow the ball along the sideline, anywhere on the field?
I put this question to Brandon McAnulty of Apple Valley, Calif. McAnulty, who prowls the turf of California high school games as a referee (the guy in the white cap), is one of the top football officials I know. Why, I asked him, aren't coaches allowed past the 30 or 25? His reply: "I wish I had an answer. I asked some of my referee pals, and not one could come up with a specific reason why a coach restriction exists. A team box is necessary; if players could go anywhere along the sideline, things would get out of hand. But I would be in favor of having the coach's area extended down to the 5-yard line, or possibly the goal line. That way they could always be in position to see where the ball is marked. It would also help on calling timeouts. I've been in situations on PATs or goal-line plays where we allow a play to proceed and afterward find out the coach was yelling for a timeout. With crowd noise, sometimes we can't hear a coach who is 25 yards away. Allowing coaches free run of the sideline would also solve an NFL problem -- when the ball is near the goal line and the coach is madly screaming for the officials' attention to throw the challenge flag.
"An area down by the goal line is already marked. It's called the restraining line. That line keeps photographers, reporters, stat girls, etc. out of our way. It runs from the edges of the team box down to the goal line. If the lines are already there, why not use them to designate a coaching area? Maybe one coach could be allowed down by the goal lines." Makes sense to TMQ.
Dick Cheney Demands Immediate Bombing of Fomalhaut B: Last week, the Hubble Space Telescope recorded the first visible-light photo of a planet beyond our solar system. It's an inspiring moment. There are surely millions of other worlds in our galaxy, but because "exoplanets" are distant and emit no light, glimpsing them has been a challenge. The photographed planet orbits a star called Fomalhaut, which is close in galactic terms -- 25 light-years away. The planet appears to be three times the size of Jupiter and much farther from its star than Jupiter is from the sun, meaning our type of life is unimaginable there. But at least humanity has finally seen a world beyond the solar system. Separately, astronomers using telescopes in Hawaii obtained an electronically enhanced image of three planets orbiting a star similar to the sun. It is assumed the Milky Way contains vast numbers of stars similar to the sun, but this is the first time one with a system of planets has been observed. The star is 125 light-years distant, and the planets, all gas giants larger than Jupiter, could not support our form of life. Here is the inspirational aspect of the second discovery: The star is young, and its planets appear to be about 60 million years old, versus an age of approximately 4.5 billion years for the Earth. Creation has existed for unfathomable lengths of time, yet stars and planets are still forming, some right in our neighborhood.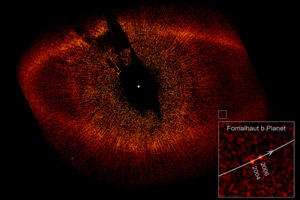 AP Photo
There's another world out there -- so, so far away.
Though the planet dubbed Fomalhaut B is nearby in galactic terms, sending a probe there is out of the question. Warp speed, hyperdrive and the rest exist solely in sci-fi -- unless there is something fundamental about physical law that is not yet known, nothing formed of matter can exceed the speed of light. At the highest velocity ever achieved by a manmade object, the 14 miles per second recorded by the New Horizons probe on its way to Pluto, travel to Fomalhaut B would require about 600,000 years. The fastest naturally accelerated complex object ever observed, this neutron star, moves at about one-half of 1 percent of light speed: at that speed, it would take about 5,000 years to reach Fomalhaut B. Since acceleration to half of 1 percent of light speed is known to be possible, we should assume humanity eventually will learn how to do this with large objects. Starships moving at half a percent of light speed could zip around the planets of our solar system like nobody's business. But they still would be worthless for visiting even relatively nearby worlds.
Atom smashers already push individual subatomic particles to 99 percent of light speed, so assume for the sake of argument that large-object acceleration to this velocity will be possible someday. The energy requirement would be unfathomable, but then, the 70,000 pounds of thrust produced by the new F-22 fighter would have been viewed as unfathomable power two centuries ago. At 99 percent of light speed, a trip to Fomalhaut B would require about 25 years, which would seem like only a few years to the ship's crew, owing to time dilation. So if complex objects can be accelerated to somewhere near the speed of light, travel between adjacent star systems might happen someday.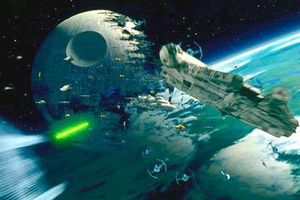 20th Century Fox
A Death Star is unlikely to materialize above our world. Unfortunately, bombs might.
Sadly, so might war. Suppose there's an Earth-like world orbiting Fomalhaut that is inhabited by an advanced society. Their astronomers noted Earth, and centuries ago they sent an automated probe here to keep an eye on us. In 1948, the probe broadcast a radio code signaling humanity had acquired the hydrogen bomb. Traveling at light speed, that message arrived in 1973. Now suppose the advanced world orbiting Fomalhaut is warlike, or merely paranoid. The beings there worry that humanity will acquire the 99 percent stardrive and try to invade their world. They decide to stage a pre-emptive strike while Earth's space technology is still rudimentary. They launch hundreds of large bombs toward Earth at 99 percent of light speed, so we won't even know the bombs are coming.
I don't think this will happen -- I think that although intelligent life will turn out to be present on many worlds, the odds will be against multiple intelligent societies evolving near each other at the same time. Contact with an alien civilization is more likely to come in the form of messages sent from a very great distance than as weapons sent from nearby. But if acceleration to a good percentage of light speed is possible, then relatively nearby worlds could attack each other, and it's a concern. Flip the situation around. Suppose it's a couple of centuries from now and Earth has acquired 99 percent stardrive. We discover that an intelligent species on a planet orbiting Fomalhaut just detonated its first hydrogen bomb, then landed on its moon. We would know that we have a window in which to stage a pre-emptive strike to wipe out life on that world, eliminating any threat to Earth. But if we wait, the life forms there might become advanced enough to strike us. In this situation, how might humanity act?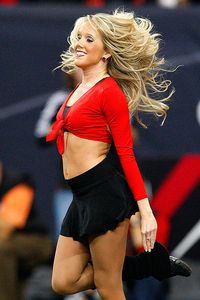 Kevin C. Cox/Getty Images
"Defense! Defense! Get that ball back!" was an especially relevant cheer in the Denver-at-Atlanta contest.
Best Purist Drives: Denver second-half possession results against Atlanta: touchdown, field goal, touchdown, kneel-downs. Because the Broncos held serve for long stretches, Atlanta had possession of the ball only three times in the second half; typically an NFL team has six or seven possessions per half. Peyton Hillis, you da man! The seventh-round draft choice, obtained with the selection Denver essentially purchased from the Buccaneers for $3.5 million, scored two touchdowns and became the fifth player this season to lead the Broncos in rushing for a game. On Hillis' 10-yard, toss-sweep touchdown, Denver tackle Ryan Harris pulled and made a perfect block. And you heard about sixth-round draft choice Spencer Larsen, first NFL player in five years to start both ways. Here's the Game Book listing his dual start.
Why Are Taxpayers Paying Lavish Bonuses to Retain the People Who Screwed Up AIG? American International Group, the insurance giant that has swallowed $152 billion in federal subsidies in just a few months, "plans to pay $503 million in deferred compensation to some of its top employees, saying it must tap the funds to keep valuable workers from exiting the troubled insurance giant," Carol Leonnig of The Washington Post reported a few days ago. I suspect all the gold being shoveled to AIG is a colossal blunder by the George W. Bush administration. Money to reinforce Fannie Mae or to buy stock in banks may or may not be a wise decision, but at least there is accountability regarding where the funds end up. The money being shoveled to AIG is simply vanishing -- AIG isn't even telling the Treasury Department what the money is for. When the General Services Administration buys pencils, many layers of auditors check the deal. Isn't it a tad naive to think $152 billion can be entrusted to a firm with a demonstrated track record of financial mismanagement and that money is not going to be looted? The Treasury Department's handling of AIG appears to be spectacular irresponsibility with public money.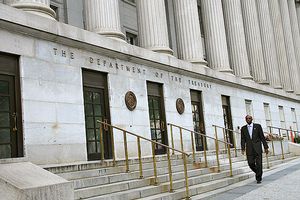 Karen Bleier/AFP/Getty Images
The people who work here give away your money to the Wall Street rich. But they ask tough questions! Such as, "How much do you want?"
Now, about the $503 million in tax-subsidized bonuses to prevent "top employees" from "exiting the troubled insurance giant." The top employees of AIG are the ones who drove the company into the ground by making crazy deals, taking on bad debt or promising to insure bad debt when they knew AIG lacked adequate collateral. Those "top employees" at AIG are either cheats or incompetents -- we want them to leave! They haven't demonstrated any financial expertise. Yet the same AIG top managers who did a terrible, terrible job are set to receive huge bonuses: an example of the problem that corporate bonuses are awarded regardless of performance.
Management-suite types often rationalize huge bonuses by threatening to jump to another job. What job exactly would a top AIG employee jump to? The financial services industry is contracting; lots of well-qualified people with strong résumés are out on the street; no financial firm in its right mind would hire a failed manager from AIG over the fully qualified financial managers looking for work. AIG top employees have no career options right now; it is inconceivable any other financial firms are offering them lavish raises to hire them away. So "retention bonuses" aren't necessary. But either the Treasury Department is too dim-witted to realize this or it doesn't care and is merely trying to redistribute wealth from the middle class to the rich by allowing tax-subsidized bonuses that the giveaway team at Treasury knows perfectly well are not merited.
Side note: You might think, "How could the fancy-degree top people at Treasury possibly be that completely, utterly stupid?" But Treasury officials have a self-interest in maintaining the assumption that financial managers should receive gigantic bonuses regardless of performance. Almost everyone at the top of Treasury came from the firms being bailed out, plans to return to such firms and wants to pocket gigantic bonuses regardless of performance. So not only is the Treasury Department acting irresponsibly with tax money but its top executives have a personal stake in irresponsible action.
Maybe He Could Work for AIG, He Has an AIG-Style Grasp of Numbers: Asked about being 0-10, Detroit coach Rod Marinelli snapped to a reporter at a news conference, "I am not 0-10; you are 0-10." Maybe you've got to be in serious denial to work for the Lions. Overall, Marinelli is 10-32 as a head coach. Sorry, you are 10-32 as a head coach.
Happy Hour in Hell's Sports Bar: Hell's sports bar has 28 wide-screen plasma TVs and now gets DirecTV! But certain blackout rules might apply. On Sunday, the only game shown in hell's sports bar was the Philadelphia at Cincinnati tie. For the highlight program, all 28 screens in Hell's Sports Bar showed nothing but, over and over, the 45 incomplete passes, 21 punts, 10 sacks, four fumbles and three interceptions in that game.
Reader Comments: TMQ regularly claims tenths of seconds are too brief to have meaning in athletics. Reader David Williams of Dunbar, W.Va., writes, "While I agree with your assessment of athletes, coaches and officials, keep in mind that musicians deal with fractional divisions of seconds all the time. Take the Sousa march, the Stars and Stripes Forever -- that march is traditionally played at the speed of 120 beats in a minute, one beat every half second. The thunderous passage for trombones and tubas in the middle of the final section has everyone playing four notes on each beat, one one-eighth of a second each per note. The difficulties are higher for concert artists. I can think of passages in violin concertos that require 12 notes played in one second. So maybe the way to get an accurate assessment of whether an NBA player really can get a shot off in half a second is to have Hilary Hahn or Joshua Bell be the replay official."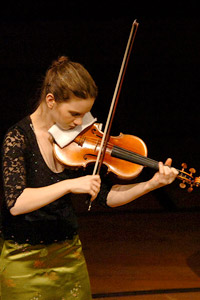 AP Photo
She plays even faster than an NBA clock.
After observing a field goal try on third down in overtime, I wondered whether any team ever actually covered a bad third-down kick, then tried again on fourth down. Apparently this has happened at least twice in big-deal football. Mark Baker of Cleveland notes that in 2002, a Browns-Steelers game went to overtime and Pittsburgh attempted a winning field goal on third down: "The kick was blocked and recovered by Pittsburgh. Officials determined the ball never passed the line of scrimmage, so Pittsburgh was awarded possession with fourth down, and launched the game-winning field goal on the next play." Allan Farber of Metairie, La., reports that in the 1999 Georgia-Georgia Tech contest, "Georgia Tech lined up for a game- winning kick on third down in overtime. Georgia blocked the kick, Tech recovered behind the line of scrimmage then kicked again for a 51-48 win."
Now that the federal government is handing out free money (borrowed from your children) in all directions without any accountability, by the strangest and most amazing coincidence, everyone wants some! All kinds of businesses are reaching into the cookie jar -- last week, for example, the Treasury Department gave several billion dollars of free handouts to American Express, which finances the purchases of the well-off, and agreed to guarantee the short-term debt of General Electric, one of the best-run companies in the world. States, cities, everyone's demanding a bailout. In this environment, we can expect even secure, affluent institutions or special-interest groups to claim the wolf is at the door, hoping to score some of the free money. Sure enough, Phil Smith of Tampa, Fla., notes this story in which Harvard -- the school with the $37 billion endowment -- cries "Woe is me" about money.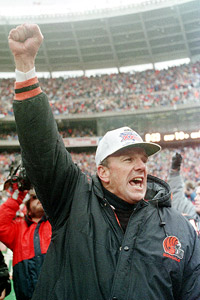 AP Photo/Al Behrman
If Sam Wyche can be elected to public office, can Sen. Wayne Fontes be far behind?
Jason Greer of Greenville, S.C., notes that two weeks ago, Sam Wyche was elected to the Pickens County Council in the northwestern part of South Carolina. "To my knowledge, Wyche is the only former NFL head coach now holding elected office," Greer writes. Wyche told reporters he supports improved education because "If you've got good schools, you've got well-trained labor." How NFL coaches wish they had well-trained labor!
"Monday Night Football" Analysis: Phil Dawson of Cleveland had just put the Browns ahead 29-27 with 1:44 remaining on a 56-yard field goal kicked with the gusting wind, and then Buffalo reached first-and-10 on the Cleveland 34 with 1:03 remaining and a timeout. Buffalo was facing into the wind -- the Budgies needed another 15 yards for a realistic field goal opportunity. But ultra-conservative coach Dick "Cheerio, Chaps" Jauron acted like the game was already won, running Marshawn Lynch straight ahead three times. To the surprise of no one except "Cheerio, Chaps," the 47-yard attempt into the wind failed, and Cleveland prevailed. Acting like they've already accomplished something has been the theme of the Bills' season. When the Bills started the season 5-1 and stood atop the AFC East, players, coaches, fans and management began to celebrate as though they'd already accomplished something. Management awarded "Cheerio, Chaps" a lucrative contract extension, even though his career record is 55-73 and it was unlikely Jauron would be recruited by other teams in the offseason. (That is, he received a retention bonus although no one else was bidding for his services.) Since reaching 5-1, the Bills have played four straight cover-your-eyes awful games, in all four cases using the kind of ultra-conservative strategy that makes sense when holding a big lead but is inexplicable when trailing. On its current course, Buffalo could end the season among the year's worst teams. But at least it has Jauron locked up for more losses in the future!
I See Ratings: Annually, Tuesday Morning Quarterback mocks Larry King for having "psychics" on his show and treating them credulously despite their demonstrated lack of ability to divine anything whatsoever. For a while, I thought King would give up on psychics. But wait, I see -- it's becoming clearer now -- psychic kids! Recently, King credulously hosted "psychic kids" from the A&E show of the same name. The "Psychic Kids" show is so preposterous, it resides beneath comment. But given that King is an influential person who interviews politicians and artists, his treatment of the latest psychic nonsense seems worth dissecting.
What evidence was presented that the kids are psychic? CNN viewers saw videos of children claiming they can communicate with spirits. No factual material that could be tested was given, just impossible-to-verify claims that children have visions of spirits: spirits conveniently lacking names or identifying details. What follows are condensed snippets from the CNN transcript:
KING: Do you read minds?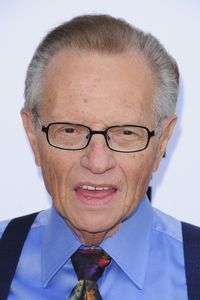 AP Photo/Litboy
If you actually can talk to the dead, why doesn't Larry King interview them?
JULIAN HERNANDEZ (Age 12): I see spirits and occasionally I'll have a dream about a place and I'll end up going there.
KING: Are they [the spirits] here now?
HERNANDEZ: Well, I don't know.
KING: What do the spirits do for you?
HERNANDEZ: They don't really do anything for me besides I can learn lessons from some of them.
Chip Coffey, co-host of "Psychic Kids" and "a psychic medium" according to CNN, then declares that all children are born able to see spirits.
KING: And spirits are, what, dead people? What are spirits?
COFFEY: [They are] an energy that no longer lives inside the body, that has exited the building and exists in another realm.
King then introduces the "unbelievable story" of 8-year-old Reanne Kelly, who says she can see the spirit of a dead girl.
KING: (To Reanne's mother.) When did you first sense that your daughter had something unusual going on?
REANNE'S MOTHER: I realized it a few years ago when she started having sleeping issues. She'd wake up three or four times a night. She said she heard footsteps following her to bed and she would see things. And when my mother died, it seemed to increase.
KING: Do you see your grandma?
REANNE: Yes, I do.
KING: What is she doing?
REANNE: Well, usually she's in -- like we have this room in our house and we call it the round room because it's round. And sometimes I see her there.
As the show continued, several kids made vague claims of sensing spirits, though no identifying detail was presented, nor was any specific revelation. Coffey declared himself a psychic, yet offered no divination or prediction of any kind. An "unidentified child" (CNN's description!) was shown declaring the ability to see a "demonlike figure" who wears a black robe. Another never-identified figure was shown saying spirits ask her to give messages to their families, though no message, name or other specific was presented. CNN showed a hazy image of an unidentified child saying, without the slightest explanation or verifiable detail, "I was clinically dead for 47 minutes."
So -- children envision vague images of people, imagine scary things they've seen on TV or in the Harry Potter books (menacing figures in dark robes), and have trouble sleeping after the death of a beloved grandmother. Obviously this is a psychic phenomenon!
To comment on the "psychic" kids, King introduced John Edward, who was announced to CNN viewers as a "famous psychic and medium." Edward said that he can communicate with the dead and that the dead return to life via reincarnation. This exchange followed:
KING: I don't understand. If you're communicating with dead people and dead people come back to life, how are you still talking to them as dead people?
EDWARD: That's putting an Earthly timeline on it … we don't know how long it would take for a soul to choose to reincarnate.
Wait, you just said you can communicate with them! Ask them how long it takes! King also asked Edward whether there is an afterlife. Edward said there is, explaining, "It's a place of energy. It's a place of thoughts and growth." After you die, you grow?
You can see John Edward in his act at the Flamingo Showroom in Las Vegas. Tickets are"$175 plus fees." Spectators are promised "an exciting opportunity to witness messages from the other side." Some of the breasts in Vegas are fake, too!
Predictions Update: Tuesday Morning Quarterback's off-price ultra-generic prediction, Home Team Wins, isn't doing bad at 92-67-1 -- 58 percent correct. Over at MSNBC, Jay Novacek is getting only 59 percent of his picks right -- Jay, just pick the home team! More interesting to track is the Isaacson-Tarbell Postulate, proposed by readers Eric Isaacson and Catey Tarbell. This simple formula holds: Best Record Wins Unless Records Equal, Then Home Team Wins. So far, the Isaacson-Tarbell Postulate is 107-52-1, counting London as a "home" game for New Orleans, which is the way the league scored that contest. Isaacson-Tarbell's 107 correct puts the formula ahead of all ESPN experts except the Accuscore computer with 110 and Chris Mortenson with 109. But hmm, Mort, the computer and in fact all ESPN experts are awarding themselves a correct prediction for the Philadelphia-Cincinnati tie, though no one in the local space-time continuum predicted that game would end in a tie! So the computer really has 109 correct and Mort is really at 108. Mike Ditka, Keyshawn Johnson, Mike Golic and other ESPN football experts are way, way behind a professor in Indiana and a software writer in Washington state. Plus the beauty of the Isaacson-Tarbell Postulate is that you don't need to think -- you don't even need to know who's playing!
Buck-Buck-Brawckkkkkkk: A week ago, St. Louis, trailing 40-0, kicked a field goal -- then did not even have the dignity to onside kick, kicking away. Sunday, trailing by 35-3, St. Louis kicked a field goal -- then did not even have the dignity to onside kick, kicking away. Not even attempting to win is simply unprofessional. Anyone who has purchased a Rams ticket this season should receive a refund.
Stop Me Before I Blitz Again!: With Washington leading 7-0 late in the second quarter, Dallas faced third-and-5. Seven-man blitz, easy pitch-and-catch for the first down; the Cowboys scored a touchdown on the possession and went on to prevail 14-10. Blame the cheerleaders! Kickoff temperature 45 degrees, the glamorous and normally professional Redskins cheer-babes came out as if bundled up for skiing. "Look at the cheerleaders, Washington will lose," reader Jedediah Williams of Mosinee, Wis., e-mailed to me as the coin flip was being conducted. On Thursday night, with kickoff temperature 44 degrees, the New England cheerleaders also came out heavily bundled, and the home team honked that game, too.
"Friday Night Lights" Update: Once again, the Dillon Panthers won on the final snap, this time a last-play 50-yard touchdown pass. The Panthers are 5-1, yet a character said "The playoffs start next week" -- again the FNL gang has been so obsessed with relationship talk and longing glances that the team has forgotten to play enough games.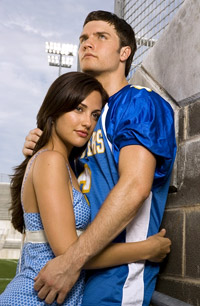 NBC
"Oh Jason, if only we could be high school seniors forever."
Spoiler alert: To save money for the final season, several characters are appearing only in limited-episode "arcs." The Smash Williams character had a three-episode arc, finally got his scholarship to a big college and departed from the show. The wheelchair-bound Jason Street character, played by actor Scott Porter, just finished his final "arc," and last week had a sentimental departure from the show. The episode was nicely written: Jason left Dillon to join a sports-agent business in New York City, and there were nicely subtle foreshadowings that he will become a success and lead a happy life. Jason's final episode also foreshadows that he will never see his high school sweetheart, super-cheerleader Lyla Garrity, again. Just as ages and times are constantly confused on Friday Night Lights -- Lyla is a high school senior for the third straight year, the Panthers forget to play enough games -- details of Jason's departure seemed confused. He is leaving Dillon forever to work as a sports agent in Manhattan. But by the clock of the show, he's 20 years old and has forgotten to attend college.
Franklin System Update: A few weeks ago, TMQ noted that the Franklin System increasingly popular in prep football -- a no-huddle pass-wacky shotgun spread using coded wristbands for play calling -- often produces high scoring, but only in good conditions. In our county, a perennial-underdog high school went Franklin two years ago, practiced hard and played really well this year, making the playoffs for the first time since 1991. The school's quarterback had a Maryland-record 451-yard passing game, which, considering the shorter high school clock, equates to a 500-plus-yard NFL passing performance. But the defect of a fast-paced pass-only offense is that it doesn't work in bad weather, especially considering high school boys have smaller hands than college or NFL players and tend to drop the ball when it's wet. On Friday night, there was steady rain in the Washington area, and the local Franklin System school lost its opening-round playoff game 36-0.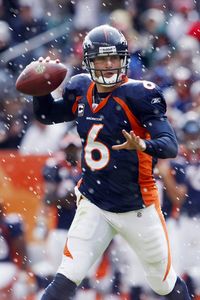 AP Photo/David Zalubowski
When it rains, leave your Franklin System offense at home.
Manly-Man Coaching Decisions: With Jersey/B leading 24-6 with 2:40 remaining in the second quarter, New England went for it on fourth-and-3 from the Jets' 23 rather than do the safe thing and take a field goal. The Pats' try failed. Two minutes later, New England faced fourth-and-1 on the Jets' 21 with 33 seconds remaining and again went for it -- and converted that time, scoring a touchdown just before the clock expired to make the count 24-13 at the half. Any one fourth-and-short attempt might fail, but going on fourth-and-short on a consistent basis ought to succeed. Had Bill Belichick taken field goals in both cases, as most NFL coaches would have, the halftime score would have been 24-12. More important, had New England taken the field goal at fourth-and-3, making the game 24-9, Jersey/B might have gotten a big runback and scored the other way, or the half might have ended 24-9. As it was, the failed fourth-and-3 left the Jets pinned in their territory, they punted after three snaps and the Flying Elvii got a touchdown from the sequence of field-position changes.
Arguably, Belichick should have stuck to his guns. With Jersey/B leading 24-21 early in the fourth quarter, New England reached fourth-and-2 on the Jets' 29. Belichick took the field goal and the tie; the Pats went on to lose in overtime. Considering New England gained 511 yards of offense in regulation -- an average of 6.5 yards per offensive snap -- the odds of converting that fourth-and-2 were fairly good. Had New England scored a touchdown on this possession, it might well have won in regulation.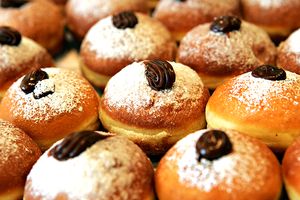 David Silverman/Getty Images
Tasty Hanukkah treats for our celebrate-winter sale -- say, would you pass the sunscreen?
Unified Field Theory of Creep: Reader Nir Lewis of Haifa, Israel, reports, "On November 14, I walked into a local supermarket where sufganiyot, traditional Hanukkah pastries, were already being offered, though as you have noted, Hanukkah falls this year at twilight on December 21. The sufganiyot were being promoted as part of a 'winter sale.' It was autumn, the sun was shining and the temperature was approximately 75 degrees Fahrenheit." Reader Roger Sperberg of Montclair, N.J., notes that this recent Newsweek column is marked "Copyright 2009." He haikuizes,
Christmas in August?
2009 has started
already -- catch up!
-- Roger Sperberg
Obscure College Score of the Week: Nebraska Wesleyan 9, Briar Cliff 6. Located in Sioux City, Iowa, Briar Cliff University advises students, "Thoughtfully, consider what you can do for the University and how you can help make Briar Cliff a better place to live and to learn." Statements from institutions of higher learning should not contain grammatical errors!
Bonus Obscure College Score: DePauw 36, Wabash 14. Located in Greencastle, Ind., DePauw University charges $40,225 a year for tuition and fees -- then requires students to buy a university-marketed laptop. Many colleges now forbid students to bring laptops to class, as increasingly they are seen not as great tools but as barriers to classroom attention.
Reader Animadversion: Got a complaint or a deeply held grievance? Write me at TMQ_ESPN@yahoo.com. Include your real name and the name of your hometown, and I may quote you by name unless you instruct me otherwise. Note: Giving your hometown improves your odds of being quoted.
Weasel Coach/Weasel Boosters Watch: Auburn was 4-2 when Tommy Tuberville, who constantly fires assistant coaches, fired offensive coordinator Tony Franklin, who devised the Franklin System; Auburn is 1-4 since that moment. In November 2007, Southern Mississippi forced out coach Jeff Bower, though Bower had taken Southern Mississippi to bowl games in 10 of 11 years, because boosters were furious about the Golden Eagles' winning just seven games in 2007. This season, Southern Mississippi is 5-6 and guaranteed its worst finish since 1993. And aren't they glad in Ann Arbor that they spent many millions of dollars and considerable school prestige on weasel coach Rich Rodriguez! Michigan has five losses at home, most in the Wolverines' 129-year football history, and eight losses overall, also worst in 129 years. The loss number is likely to advance to 9, considering Michigan closes at Ohio State.
Adventures in Officiating: Too many officials don't know the rules. But here is credit where due: Zebras were right to throw a flag for holding against Pittsburgh when the Steelers seemed to score the winning touchdown with 15 seconds remaining. Tight end Sean McHugh committed an obvious hold, and at the point of attack. It takes guts to call a penalty against the home team on what seems the winning play with 15 seconds remaining -- all too often, officials in this situation are more concerned with getting safely to the parking lot.
Next Week: Treasury Department announces, "We are really cracking down on AIG. From now on, whenever we give them billions of dollars of taxpayer money, we will demand a receipt."
In addition to writing Tuesday Morning Quarterback, Gregg Easterbrook is the author of "The Progress Paradox: How Life Gets Better While People Feel Worse" and other books. He also is a contributing editor for The New Republic, The Atlantic Monthly and The Washington Monthly.