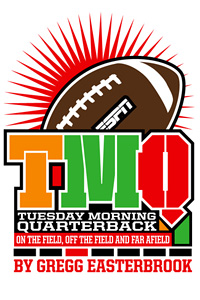 Everyone's gone ga-ga over out-of-nowhere Patriots quarterback Matt Cassel. Defensive coaches are scrambling to find film of Cassel from the last time he was a starter. That was nearly a decade ago at Chatsworth High School in California: "This guy must have a weakness, let's check out how he did in 1999 against the Regents of Reseda High." Although Cassel is playing well, the New England rebound isn't about him. What's happening is the resurgence of a team and its system. Considering how rapidly Cassel has become effective, in retrospect, maybe it was never about Tom Brady, either.
Cassel's recent deeds have been impressive. Two straight 400-yard passing games -- and since New England's running back corps is injury-depleted, his big outputs have come despite the fact opponents know the Patriots will throw on most downs. Much of the time Sunday, the Patriots were in a five-wide spread -- not much mystery there. Cassel is seeing the field and throwing to the correct man. Almost all NFL quarterbacks can fire the ball, but many never learn to see the field. Cassel has won the confidence of the huddle, which many highly drafted quarterbacks never do. And he doesn't panic if no one is open. Cassel's touchdown run against Miami may have looked like a called quarterback draw, but that was a scramble. Cassel saw his targets were covered but the middle of the field was open, and he made the high-percentage move. He's performing extremely well for someone who never started a game in college.
But unless Matt Cassel is one of the most gifted athletic prodigies of all time (and probabilities say he is not), the system he's in is causing him to succeed, rather than it being the other way around. How quickly we forget that just nine months ago, the New England Patriots were 35 seconds away from perfection! Then Brady got hurt and the New England system hiccupped. Now that's over, and the Patriots have adjusted, allowing their previously stellar performance level to return. From the start of the 2003 season until the first game of this season, when Brady was injured, the Patriots were 78-17 with two Super Bowl rings and a third title oh so close. This doesn't happen without excellent team players, top coaches and a well-run system.
Then Cassel was installed as the starter, and New England sputtered, going on a 6-4 stretch. Sports commentators wrote off the Flying Elvii. Lose a Pro Bowl quarterback, bring in a guy who hasn't started since high school, and "only" produce a 6-4 stretch? That's a testament to a good system. Now the sputtering appears over. Two and a half years ago, when Cassel was a total nobody, TMQ wrote, "This being New England, something tells you that if Cassel has to play, he'll look like a polished veteran." It's taken fewer than 10 starts for this prediction to come true -- incredible success for the Pats' system. Against the Dolphins on Sunday, the Patriots looked almost indistinguishable from last season, putting up points, completing curl pattern after curl pattern, protecting the quarterback, all with flawless timing and sound tactics.
Brady is a superb athlete, but right now he may be at some supermodel's Mediterranean seaside villa wincing, because Cassel is demonstrating that Brady was not essential for the Patriots to win. If New England had melted down without Brady, that would have cemented Tom's reputation as an all-time talent. If the Patriots end up having a great season without Brady, nobody will hold that against No. 12, but the focus will shift away from Brady and toward the New England team and system overall. Say what you like about Bill Belichick -- and there are many things not to like -- he runs the best ship in the NFL. And choose your nautical cliché: the ship has steered off the rocks, is back to flank speed, is headed to the blue water, etc.
Meanwhile, sports radio hosts and callers are already obsessing about where Cassel will play and how much money he will make next season, since he'll be a free agent. Will he be franchised? Will he ascend directly to Valhalla? I'd let him finish the season, then worry about that. The New England system cog everyone will want in the offseason is Josh McDaniels, the offensive coordinator and quarterbacks coach. Obviously he's doing a top-notch job, getting all the pieces of a complex offense to perform in a well-coordinated manner. McDaniels has the Patriots' favored pedigree, having played football at a Division III college, John Carroll. (Belichick and former Pats assistant Eric Mangini played for Division III Wesleyan.) Like Belichick and Mangini, McDaniels' foot-in-the-door opportunity came as a glorified NFL intern. And you'll hear this soon if you haven't already: McDaniels was born in Canton, Ohio.
In other football news, San Diego is gasping for air at 4-7 -- yet very much alive for the playoffs, because AFC West leader Denver is just 6-5. It is not hard to imagine Denver or San Diego winning the AFC West at 9-7 or even 8-8, or Chicago or Minnesota winning the NFC North at 9-7 or even 8-8, while more than one 10-6 team in another division fails to make the playoffs. Check the current standings: Atlanta, Baltimore, Buffalo, Chicago, Dallas, Indianapolis, Miami, Minnesota, New England, New Orleans, Washington and either Carolina or Tampa all could finish 10-6 but not win their divisions -- and only four of these 12 can garner a wild-card berth. Many of the 12 will fall by the wayside in the coming weeks, of course. But there is a realistic possibility that one or more10-6 teams will be shut out of the postseason while a 9-7 or 8-8 club is admitted.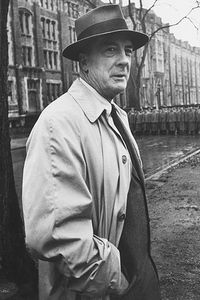 Donald Uhrbrock/Time Life Pictures/Getty Images
Red Blaik's Lonesome End offense is a half-century out of date -- which could make it perfect for the Miami Dolphins.
This is yet another reason why the NFL postseason should be a seeded tournament. Divisions are fine for organizing rivalries and schedules, but playoff invites should be based purely on merit -- the top 12 records admitted. The best teams should advance, not the teams that get lucky being in a weak division. Hey NFL, when will you adopt a seeded postseason format? The result would be better pairings and more public interest!
And in other NFL news, this season Baltimore, Buffalo, Chicago, Miami, New England, Oakland and other teams have gone to the Wildcat, using an old-fashioned high-school-inspired set. On Sunday, Arizona and Miami (from 1-15 to Vegas favorite against the Patriots) used the wishbone for several plays. What other throwback sets are there to revive? Single wing, full house, Lonesome End? Someone's mental file must contain an old-fashioned offense that's so completely outdated, it just might work today.
Stat of the Week No. 1: With five regular-season games remaining, the Jets have scored 323 points. In all of last season, they scored 268 points.
Stat of the Week No. 2: Pittsburgh has a combined 15 consecutive victories against Ohio teams (Cleveland and Cincinnati).
Stat of the Week No. 3: Detroit and Kansas City are on a combined 2-36 streak.
Stat of the Week No. 4: Kansas City gained 462 yards Sunday, averaged 8.4 yards per offensive play, and lost by 23 points.
Stat of the Week No. 5: The Kansas City defense is on pace to finish the season with nine sacks; the all-time NFL season low is 13 sacks.
Stat of the Week No. 6: At 4-7, San Diego has a realistic chance of winning its division; at 7-4, Dallas, Indianapolis and Washington have almost no chance of winning their divisions.
Stat of the Week No. 7: Philadelphia has one offensive touchdown in its past nine quarters of play.
Stat of the Week No. 8: Oakland went a month between offensive touchdowns.
Stat of the Week No. 9: Drew Brees is on pace to throw for more than 5,084 yards, breaking Dan Marino's single-season record. Kurt Warner is also on pace to throw for more than 5,084 yards.
Stat of the Week No. 10: Jersey/A is on a 14-1 streak.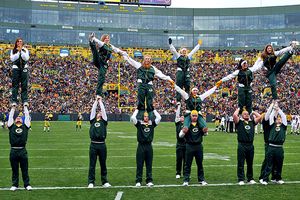 Tom Dahlin/Getty Images
Sis-boom-bah! It's college-style cheerleading at Green Bay.
Cheerleaders of the Week: Reader John Whitt of Madison, Wis., collectively nominates the all-female cheerleaders of St. Norbert College and the mixed-gender cheer squad of the University of Wisconsin at Green Bay. The Packers have not had official cheerleaders since 1988 -- it's too cold in Green Bay for bikini calendars, anyway -- but St. Norbert and UWGB cheerleaders inject college-town pep at most Packers home games. Located in Green Bay, UWGB has one of the top art galleries outside the world of mega-endowment colleges. Located in De Pere, Wis., St. Norbert offers an innovative January term.
Sweet Player of the Week: Finally Atlanta has a reason to thank the University of Louisville! Falcons rookie receiver Harry Douglas scored early against Carolina on an end-around, then caught a 69-yard pass, then iced the game late with a punt return touchdown. The Falcons also recorded a fine manly man play. Leading 24-21 with 7:16 remaining, facing fourth-and-goal on the Cats' 1, there was no mincing field-goal try -- instead we saw Michael Turner carry off-tackle for a touchdown. And the Falcons recorded the weekend's best crowd performance! After the Turner score, Carolina took the ball with a 10-point deficit and seven minutes to work with. The Georgia Dome grew so loud, the Panthers were called for consecutive false-start infractions. Carolina ended up punting from its own 2 on fourth-and-28, which resulted in Douglas' touchdown return.
Sweet Plays of the Week: With San Diego and Indianapolis tied at 10, the Colts faced fourth-and-goal at the Bolts' 1 and went for it in manly man fashion. Indianapolis lined up with an empty backfield, with recycled backup tailback Dominic Rhodes as the slot receiver left. Indianapolis has Marvin Harrison, Dallas Clark, Reggie Wayne -- surely the play would be to one of them, right? The play was a slant to the recycled Rhodes, for a touchdown. Lining up for a big play and giving the ball to the least-prominent person on the field is often sweet.
If you're talking sweet, consider that with the game tied, Indianapolis faced a fourth-and-1 on the San Diego 48 with 26 seconds remaining, after a lengthy officials review that effectively awarded the Colts a free timeout. As Indianapolis prepared to snap the ball, San Diego put 10 men on the line, obviously thinking run; the NBC announcers talked confidently about how it was sure to be a sneak up the middle. But Indianapolis needed 15 yards to reach field goal range, and the Colts are manly men! Instead we got a play-fake, and Harrison, a future Hall of Famer, was ignored by the lone safety; Harrison made the catch in field goal position, and was so ignored he would have gone the distance if he hadn't stumbled because the pass was underthrown. Indianapolis is now 7-4, and check its upcoming sked: Cleveland, Cincinnati, Detroit, Jacksonville and Tennessee. The first three are terrible teams, the fourth will be eliminated before facing the Colts, and the fifth is likely to have locked up its best possible playoff seed and should be resting its starters when it plays the Colts. Indianapolis is a long shot to win its division, but the table is set for the Colts to take the first wild-card slot.
And why did the preseason-favorite Chargers blow yet another contest? One reason was their failure to go manly man. Trailing 20-17, San Diego faced fourth-and-2 on the Colts' 29 with 1:35 remaining, holding two timeouts. You should go for it there, with an offense that averaged 6.8 yards per play Sunday night, and seize the game outright -- score the winning touchdown while draining the clock, so Indianapolis has no time left to work with. Instead San Diego launched a figgie to tie, and was praised by the announcers for doing the "safe" thing by kicking. Indianapolis, with the fastest no-huddle attack in football, took possession with 1:30 remaining and a timeout, systematically nickel-and-dimed it down the field, and launched the winning three-ball as the clock hit all-naughts. At many critical junctures, especially the second half of January's AFC Championship Game, Chargers coach Norv Turner has used timid, conservative tactics. Considering its record, if San Diego stages another conservative game, its season is over. The Bolts have good players. Time to let 'er rip.
Sweet Call of the Week: Arizona called a timeout to force Jersey/A to punt with a few seconds remaining in the first half. The Cards fair-caught the ball at their 42, and then attempted a 68-yard free-kick field goal. It fell short, but it was the first time a free-kick field goal had been attempted since Oct. 9, 2005 by Tennessee's Rob Bironas (he missed from 58 yards away).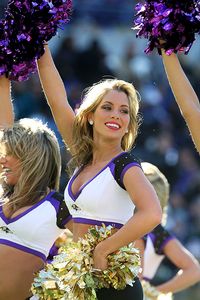 Jim McIsaac/Getty Images
Cheerleader professionalism with a kickoff temperature of 39 degrees -- no wonder the Ravens won big!
Sour Play of the Week No. 1: Trailing Baltimore 22-7, Philadelphia reached second-and-goal on the Nevermores' 1 midway through the fourth quarter. Relief quarterback Kevin Kolb play-faked, then sprinted way backwards -- you're on the goal line, why are you sprinting backwards? -- before lofting a terrible pass that was intercepted by Ed Reed and returned 108 yards for the game-breaking touchdown. You've got three tries to run 1 yard, why is your inexperienced backup quarterback attempting a pass into the most congested part of the field?
Sour bonus: While the game was still tight, Baltimore backup linebacker Jameel McClain blocked a Philadelphia punt out of the end zone for a Ravens safety. McClain came straight through the middle unblocked, and the Eagles had no up back to protect the punter -- the Eagles were spread wide for kick coverage. Until this season, Baltimore head coach John Harbaugh was Philadelphia's special teams coach. Please don't tell me Philadelphia made the classic mistake of facing a former coach and failing to alter the tactics he installed and knew how to beat!
Sour Play of the Week No. 2: Houston's Kevin Walter caught a touchdown pass -- and danced around wildly making the "shhhhhhh" finger gesture. The Texans entered the game 3-7. The team has never appeared in a playoff contest, and with seven losses, is all but mathematically eliminated from the AFC field. Houston won the game and now is 4-7. Accomplish something, then dance!
Caution: Side Effects May Be Positive: For years, TMQ has contended that in order to spread the benefits of the placebo effect to patients outside controlled trials, placebos should become expensive and excessively marketed -- that way, everyone will want them! Numerous readers, including Leah Castle of Wilmington, Del., have noted that a new book, "The Placebo Response and the Power of Unconscious Healing" by Richard Kradin, a physician, also contends placebos should be more broadly used -- but adds the wonderful fact that about 25 percent of people who receive placebos report experiencing side effects!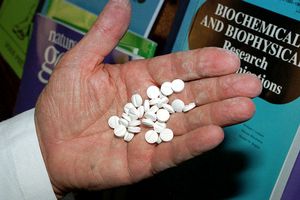 AP Photo/Remy de la Mauviniere
Warning! Side effects of the TMQ placebo may include improved football tactics and more sex appeal.
It's long been known that side-effect warnings on prescription medications cause patients to report experiencing side effects even when they are statistically unlikely, or cause patients to attribute routine conditions they probably would have had anyway (tiredness, headache) to the medication. But Kradin's book makes me think: If those taking placebo pills nonetheless experience side effects, why not warn of positive side effects, and by power of suggestion, trick people into feeling positive things? If a warning of a negative effect such as dizziness causes you to feel dizzy, warn of something nice! Thus Placebon®, my proposed extremely expensive, prescription-only, high-pressure-marketed placebo, would have this warning disclaimer:
Caution: Side effects may include euphoria, romance, serenity, goodwill, open-mindedness and willingness to assist strangers.
Sour Sequences of the Week: On its first three possessions, San Francisco reached the Dallas 35, 4 and 4, netting just six points. With its initial first-and-goal on the Dallas 4, San Francisco lost a yard in three tries before kicking. With its second first-and-goal on the Dallas 4, San Francisco gained nothing on three tries before kicking. Six first-and-goal snaps in the first quarter resulting in a net of 1 yard lost -- -- that was pretty much the contest there. Four of the six snaps were incomplete passes. Yes, we know San Francisco failed on a rush at the goal line on the final play against Arizona, but that does not justify abandoning the run at the goal line.
Sweet 'N' Sour Sequence: After allowing winless Detroit to bust out 17-0, the City of Tampa defense produced these results for the next six Lions possessions: punt on fourth-and-20, interception, punt on fourth-and-22, punt returned for a touchdown, punt on fourth-and-15, interception returned for a touchdown. That was sweet, and the Bucs went on to win 38-20. What was sour? Tampa had to stage a furious comeback against the Detroit Lions!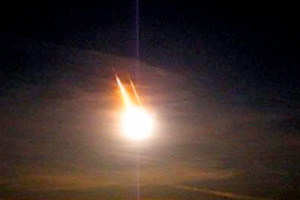 Global News
A deadly asteroid couldn't strike the Earth. That couldn't happen. No sirree.
Look Up in the Sky! It's a Bird, It's a Plane -- It's a Threat of Human Extinction: TMQ believes society is making a big, big mistake by not preparing an asteroid defense. We can't stop tsunamis or hurricanes. We probably can stop asteroids, and they represent the No. 1 natural threat to human life. Details of my argument are here. Because photos of space objects streaking across the sky are so rare, we can thank an Alberta police camera for this spectacular view of last week's falling rock. Given the flash, that rock probably was around 10 feet across. Had it been 20 or 30 meters across, Edmonton might no longer exist.
Oh No! Gasoline Prices Are Falling! Just last winter, gas at $4 a gallon was said to represent a super-ultra emergency, and ExxonMobil profits were said to be obscene. Now gas is $2 a gallon and this is bad, according to CNBC economics bobbleheads, who last week warned the lower pump price will depress oil-company profits. Just last winter, rising consumer prices were said to represent a super-ultra emergency -- now that consumer prices are falling, that's supposed to be bad too, owing to the possibility of deflation. But innovation and rising labor productivity are supposed to drive down prices. Lower prices are a core goal of capitalist economics!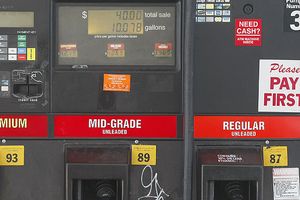 Joe Raedle/Getty Images
Oh no, the price is falling! Oh no!
These points should serve as reminders that the mainstream media always present all economic news as bad. Higher interest rates? Bad for borrowers. Lower interest rates? Might cause inflation. Normally, the media's penchant for spinning all economic news as bad doesn't matter -- but right now it does, as pessimism more than logic seems to be driving the weak economy. Speaking as someone who pulled the election lever for Barack Obama (and whose daughter worked for the Obama campaign round the clock for months), I agree with John McCain's statement, "The fundamentals of the economy are strong." They are. McCain was right! Innovation is high. Labor productivity is high. There are no shortages of any resource or commodity. Pessimism is driving the downturn, and that pessimism is advanced by relentless media negativism.
Even the Wall Street Journal is spinning events in the most pessimistic light. A page one story declared, "Investors in the U.S. stock market have lost more than $9 trillion since its peak a year ago." But there is a distinction between a decline and a loss. The paper value of U.S. equities has declined $9 trillion since the peak in October 2007, but many investors have suffered no loss because they haven't sold. Many people's houses have declined in value in the last two years, but most people haven't lost a dime because they haven't sold -- just as many people's houses rose in value from 2002 to 2006 but most people did not gain, again because they did not sell. Doing nothing can be the smart move in a bear market, and those investors, individual or institutional, who have cleverly done nothing have incurred no losses and are likely to come out ahead in the long run. Yet some insist on claiming $9 trillion has been "lost." Exaggerating the negative only worsens the economic-confidence picture.
Weasel Coach Watch: Donovan McNabb did not find out he was being benched from Philadelphia head coach Andy Reid, rather from quarterbacks coach Pat Shurmur. At a critical midgame juncture, Reid wouldn't speak to McNabb. If you think that's weird -- actually it is surprisingly common in the NFL and in big-college football, where the head coach often has little direct contact with players, leaving the unpleasant interpersonal stuff to assistants. When he was coach of the Dolphins, Nick Saban is said to have sent around a memo instructing that no one from the office staff was to speak to him. A friend of mine has a son playing on scholarship at a Famous Football Factory College; in three years there, he has spoken to the Famous Head Coach exactly once. The young man tried to ask the Famous Head Coach a question. The head coach replied, "Do not speak to me. Talk to your position coach."
When offensive line coach Tom Cable was promoted to head coach of the Oakland Raiders, he said, "I coach the offensive line, but I don't live in that little world. I know who [the team's other players] are. I talk to them about life. I shake hands." Outside the football artificial universe, this comment must have been puzzling. He knows the other players and talks to them -- why was this worth mentioning? Because at the NFL and big-college football level, knowing your players personally and checking up on them personally are rare. One reason players like to play for Tony Dungy, Jeff Fisher, Mike Tomlin and the new, improved Tom Coughlin is because their office doors are open and they regularly ask players how they're doing.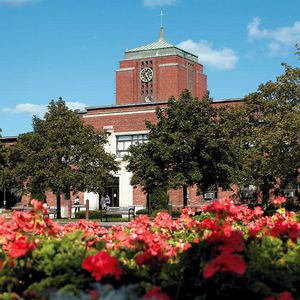 LeMoyne College
Le Moyne College -- where a kindly rich couple will always be remembered.
Incredible But True -- Two Rich People Who Weren't Snobs: TMQ has been harping on the notion that the rich should cease giving to Harvard, Yale and Stanford -- schools that already have ginormous endowments -- and donate instead to lesser-known colleges where the gift will change lives. The problem is that many of the rich give to Harvard or similarly over-endowed institutions to flatter themselves, not to cause good. How delightful, then, to read this story noted by reader Dave Alles of San Luis Obispo, Calif., reporting that the late Robert and Catherine McDevitt of Binghamton, N.Y., left $50 million to Le Moyne College. Located in Syracuse, Le Moyne will really be helped by the gift -- which doubles its endowment -- whereas the same amount given to Yale or Stanford would never have any distinguishable impact. Relatives of the McDevitts must be proud. Come on rich people, give your money to places where it matters!
Buck-Buck-Brawckkkkkkk No. 1: Entering Thursday night's contest at Pittsburgh, the best-case outcome for the Cincinnati Trick or Treats' season was to finish ahead of the Lions and avoid being the worst team in the league. With the game tied at 7 in the second quarter, Cincinnati faced fourth-and-1 at midfield. That cannot, absolutely cannot, be the punt unit trotting on! You're 1-8-1, what do you have to lose? And now, of course, you are 1-9-1. Cincinnati also punted on fourth-and-2 from midfield when trailing by 13 points in the fourth quarter, then kicked a field goal from the Steelers' 8 when still trailing by 13 points with 6:50 remaining in the game. Down by 13 points with 6:50 remaining, Cincinnati's sole hope was to cut the margin to one score: fourth-and-goal from the 8 at least held out some hope of victory, while a figgie was running up the white flag. After the fraidy-cat field goal, Cincinnati didn't even onside kick! Pittsburgh won 27-10, and the Bengals left the stadium seeming no more than a practical joke. Here is a proposed game plan for the Bengals' next date, Baltimore at home: Try to win.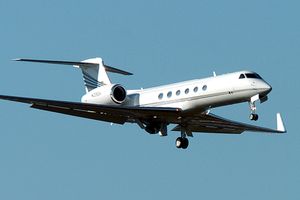 AP Photo/Greg Wahl-Stephens
Explain why average people should be taxed so that automaker CEOs can fly in these.
Maybe If the Big Three CEOs Had Driven to Washington In Their Companies' Cars ... Gabe Goldstein of Chantilly, Va., was among many readers to express outrage that the Big Three automaker CEOs flew in high-end private jets to Washington last week to ask taxpayers to subsidize them. They weren't even in the same jet, it was three separate private jets! This seems to be everything that's wrong with Detroit in a nutshell -- luxury for the CEOs combined with special-favors pleading in Washington. In 2007, Ford Motors lost $3 billion, yet Ford CEO Alan Mulally took home about $22 million. If General Motors, Ford Motors and Chrysler executives flew commercial or -- perish the thought -- drove to their destinations, and were not showered with millions, their companies would do better in the marketplace. Earning less and out of the luxo world, Detroit management would be in touch with the real world, rather than living like little kings. Detroit isn't going to recover unless automaker management cares more about the real world than about bonuses and personal luxury.
Sweet 'N' Sour Play: Bills rookie Leodis McKelvin ran an interception back for a touchdown against Kansas City. In his past two outings, McKelvin has three interceptions, two return touchdowns and 314 total return yards; that is sweet. On the interception return TD, Kansas City quarterback Tyler Thigpen had perfect blocking, no rusher near him, and forced the ball directly to McKelvin, which was sour. Beleaguered Buffalo fans get a consolation prize in the 54 points the Bills scored, but why were Buffalo players and coaches high-fiving on the sidelines? Buffalo had just beaten up on a 1-9 team. The Bills are a postseason long shot at 6-5. The Bills haven't defeated a team with a winning record. Accomplish something, then you can celebrate! And when Buffalo was leading 54-24 midway through the fourth quarter, what in blazes was the first-team offense doing on the field?
Sympathy for Detroit -- and a Fabulous Idea: The core reason the Big Three have lost so much market share in the past quarter-century is because they conceded the quality issue to Toyota, Honda and other international carmakers. In the 1980s and 1990s, a Honda Accord was so much better built than anything from Detroit, it wasn't funny. Today that has changed -- General Motors, Ford and Chrysler cars of the past five years have improved substantially in quality, to the point that many Detroit models are just as well-made as those produced by Japanese- or German-based marques. But reputation is hard to gain and easy to lose: Many consumers now take as given that Detroit builds shoddy products, and may not even test-drive the improved recent models. If you need a car, head to a General Motors, Ford or Chrysler showroom. Chances are you will be pleasantly surprised.
The hauteur of the Big Three CEOs should not cause us to lose track of several major points on which empathy for General Motors, Ford and Chrysler is justified. One is that the sterling health benefits they give workers and retirees, often mocked as an excess, saves everyone else money. Detroit spends about $1,500 more on health benefits per car sold than is spent on health care per car manufactured in the United States by Subaru, BMW and the rest. Big Three retirees are sending their medical bills to Detroit (increasingly, to a United Auto Workers trust), not to the Medicare system. This aspect of the Big Three dilemma is underappreciated, because Detroit health care spending reduces government spending, especially on Medicare.
Suppose General Motors, Ford and Chrysler went out of business. Medicare (and in some cases, Medicaid) spending would rise by billions of dollars. General Motors says it spends about $8 billion annually on health care and pensions; most of this cost would shift to taxpayers, indefinitely. In regard to pensions, failure of the Big Three would foist much of their obligations onto the federal Pension Benefit Guarantee Corporation, which in theory is an independent company supported by insurance-like payments but in practice is a pass-through mechanism for the national debt. Not only would taxpayer pension subsidies rise should the Big Three fail, we would reach the repulsive condition in which average workers who themselves have no special pension deals were being taxed to provide extra-sweet pensions for retired autoworkers.
If the Big Three are to survive, they need significant structural reform, including UAW wage concessions, cuts in retiree benefits, ouster of the little-kings management teams and enforceable restrictions on bonuses and perks for new leadership. Let some Silicon Valley entrepreneurs run the Big Three and maybe good things will happen! If structural reform can be agreed upon, then there is a case for temporary public support of the automakers. Not only because the alternative is worse -- Big Three failures would deepen the recession -- but because General Motors, Ford and Chrysler pay substantial amounts that taxpayers otherwise will be hit for. This should be factored in to the calculus of whether temporary public support is justified.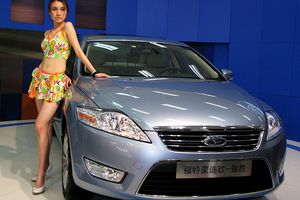 AP Images
Why only available in Europe, not the United States? We mean the car, not the model.
Now the fabulous idea. The fuel efficiency of Detroit products simply must go up, to reduce national dependence on Persian Gulf dictatorships and to cut greenhouse gases. Your columnist is a strong supporter of lower-horsepower, higher-mileage vehicles. But in Detroit's defense, the Corporate Average Fuel Economy standard used by the federal government to enforce mileage rules is dizzyingly complex and riddled with perverse incentives -- among other sins, the system in effect discourages General Motors and Ford from importing into the United States the high-quality, high-mileage models each builds in Europe. For years, Americans traveling in Europe have come back saying, "I rented a [Ford or GM] car in France and I loved it! Why can't I buy that car here?" Consider the Mondeo, a fabulous car Ford builds in Europe -- high-quality, fun to drive, 40 mpg with a smooth-running, clean diesel engine. Why isn't the Mondeo in U.S. showrooms? Unintended consequences of the CAFE rules are part of the reason. Here, my Brookings Institution colleague Robert Crandall summarizes his longtime opposition to CAFE, with links to details of his argument. Brookings is as liberal as the day is long; if even Brookings Institution economists don't like CAFE, there must be a problem.
So is there a grand compromise that gets rid of CAFE but preserves incentives to reduce petroleum waste? The other day on NPR, Fortune columnist Allan Sloan proposed a deceptively simple idea. Gasoline prices have fallen from $4 a gallon to nearly $2 in less than a year. Why not, he supposed, tax gasoline in such a way that it will always cost the equivalent of $4 (the amount rising in sync with inflation), and at the same time abolish CAFE standards. This is the sort of transformational insight Washington needs more of. A higher gasoline tax could be used to retire national debt or to lower Social Security taxes, which matter more to average people than income taxes. If the public knew that gasoline would always cost at least $4 per gallon, super-complicated MPG regulations would no longer be needed, because free-market forces would take care of the rest -- most buyers would choose lower-horsepower higher-mileage cars of their own free will. Those who were willing to pay the piper could purchase whatever kind of vehicle they pleased. Detroit wouldn't have to spend any time or money twisting arms in Washington, and could focus its energies on car-making rather than on regulatory lobbying.
Sloan's idea is fantastic! Of course, it would require a gifted politician to sell the idea to the public; as luck would have it, the most gifted natural politician since Ronald Reagan is about to unpack his bags in the White House. And didn't Barack Obama say something about wanting change? Tax gasoline so the price is always at least $4 a gallon, then eliminate federal mileage regulations. Detroit would be more likely to recover. The Persian Gulf oil sheiks would howl. Either the national debt or Social Security taxes would decline. Federal bureaucracy would shrink. What's not to like?
"Monday Night Football" Analysis: So how does New Orleans do it? Drew Brees has passed for 3,574 yards, on pace to break the all-time NFL season record, and he's running an offense that's ball-handlers include undrafted free agent Lance Moore, undrafted free agent Pierre Thomas, thrice-waived Billy Miller and seventh-round draft choice Marques Colston. For that matter, how does Arizona do it? Kurt Warner has passed for 3,506 yards, and is also on pace to break the record. Warner's offense is stocked with big names, but the performance of the New Orleans and Arizona offensive units is close to identical: New Orleans is first in total yards, Arizona second; Arizona is third in total points, New Orleans fourth.
What's going on here is the spread, which is now used by many high school teams, and at Oklahoma and Texas Tech, among many college teams. With the Rams in 2000, Kurt Warner was also on pace to break Marino's record for most of the season -- but that Greatest Show on Turf offense used more conventional tactics. In 2004, the Indianapolis Colts became the first NFL team to adopt the spread offense, although they did not call it that. The Colts went 13-5 that season, 14-3 the next season, and then won the Super Bowl the season after that while using a modified spread offense (modified to switch to rushing the ball when advantageous). Bill Belichick and Josh McDaniels took note of the Colts' success, and in 2006 began installing spread plays. By 2007, New England had the highest-scoring NFL season ever.
This season, New Orleans and Arizona are running the spread the best, though look out for New England. The spread requires a quarterback who reads the field really well, a half dozen wide receivers with esprit de corps, offensive linemen who hold their blocks, an offensive coordinator with endless patience, and practice, practice, practice to get the routes and timing down. Timing is especially important, because few spread plays are deep strikes. Comebacks and curls, comebacks and curls: spread offenses run them endlessly, almost always with two receivers in the same area either crossing or faking crosses. Lance Moore's 70-yard touchdown reception against Green Bay on Monday night began as a 10-yard curl, but with another wide receiver on his side running a post to draw the safety away, and the tight end on his side running a stop. Three guys were flashing in front of four defenders; the defenders got confused and failed to tackle Moore. Most of the big gains in the spread are due to yards after the catch.
Given its rate of success, why doesn't everybody run the spread? In a sense, nearly every NFL team does, at least sometimes. But most simply don't run it well. There was a time when most NFL teams were running the West Coast offense, and most didn't run it well. In a sense, the spread is the West Coast, only using a shotgun formation and replacing the fullback with another wide receiver. Like the West Coast, the spread's goal is endless relatively short completions and then yards after the catch. But beware, all spread teams: yours is an ideal-weather offense. In rain or snow, the spread doesn't work. Two years ago, when the Super Bowl in Miami became the Purple Rain Game, Indianapolis was ready with a backup rush-oriented bad-conditions game plan. If it rains or snows on New Orleans or Arizona, will they be able to win a pressure-packed game on the ground?
Buck-Buck-Brawckkkkkkk No. 2: Two weeks ago, St. Louis, trailing 40-0, kicked a field goal -- and then did not even have the dignity to onside kick. A week ago, trailing 35-3, St. Louis kicked a field goal -- and then did not even have the dignity to onside kick. This Sunday, trailing 21-0, St. Louis kicked a field goal -- and then did not even have the dignity to onside kick. Here is a proposed game plan for Les Mouflons' next date, Miami at home: Try to win.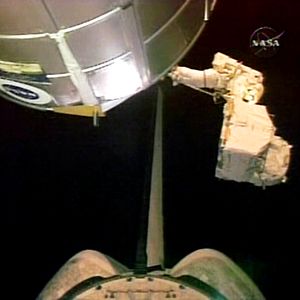 AP Photo/NASA TV
"Maybe if I tell Sears I lost the tools, they'll replace them for free."
Future Historians Blame Decision to Evacuate Earth On Clumsy 21st Century Repair Crew: Last week during a spacewalk to fix some gizmos on the International Space Station, astronaut Heidemarie Stefanyshyn-Piper accidentally let go of her tool bag, which drifted away. It probably will burn up harmlessly on re-entry many years from now; low-Earth orbits gradually degrade because of minute friction from stray air molecules. TMQ fears, however, that centuries in the future, a starcruiser jumping to quadraspace will slam into the tool bag, causing an explosion that blows off the upper atmosphere. At very high velocities, collisions with even small low-mass objects would release stupendous amounts of energy. If there ever are starcruisers moving at near the speed of light, keeping them from colliding with micrometeorites and interstellar dust will be an engineering problem.
Happy Hour in Hell's Sports Bar: Hell's sports bar has 28 wide-screen plasma TVs, and now gets DirecTV! But certain blackout rules may apply. For the highlight program, all 28 screens in Hell's Sports Bar showed nothing but, over and over, St. Louis facing fourth-and-25, fourth-and-22, fourth-and-20 and fourth-and-15 on its first four possessions against Chicago.
Flaming Thumbtacks Falter in Maroon Zone: "Dad, look, the Titans are making a tactical error!" So said my 13-year-old, Spenser, as the undefeated, well-coached and methodical Tennessee Titans lined up to make a tactical error. With Jersey/A leading 7-0, the Titans faced fourth-and-3 on the Jets' 35 -- and punted. This is the Maroon Zone, where a punt is preposterous, but a field goal attempt may not be practical. The punt was indeed preposterous, booming into the end zone for a touchback and a net gain of just 15 yards in field position for Tennessee. The Titans should have gone for it, or tried a 52-yard field goal with light winds -- later in the game, Rob Bironas hit a 49-yard field goal facing the same end of the stadium.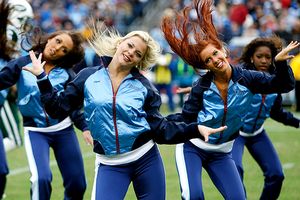 Kevin C. Cox/Getty Images
They're overdressed -- the undefeated Titans are doomed!
The Tennessee coaches aren't perfect -- they make weak calls, too. TMQ's question: Were the Titans better off losing? They were not likely to finish undefeated, so that was a fool's errand as a team goal. Had they reached 13-0, the Flaming Thumbtacks would have locked the first playoff seed at that point, then faced an excruciating five weeks till their next meaningful contest. Losing to the Jets will help Tennessee take seriously its next three dates: Detroit, Cleveland and Houston. The Titans finish the regular season with Pittsburgh at home, then on the road at Indianapolis. There's a strong chance Tennessee will have locked the first seed before the Indianapolis game, perhaps before the Pittsburgh game. Staying fresh will then be a huge concern to the team, if it faces one or two meaningless regular-season contests, followed by a bye week. During which, you can rest assured, Titans players will not vacation in Mexico!
As for the Jets, perhaps you have heard that Brett Favre Brett Favre Brett Favre is playing pretty well. But he doesn't block or tackle -- the other Jets are playing pretty well, too. Tennessee has the best power-rush offense in the NFL. Facing third-and-1, the Titans power-rushed off right tackle; Jersey/B defensive lineman Kris Jenkins pushed a Thumbtacks offensive lineman into the backfield and dropped the runner for a loss. Tennessee punted. Jets coach Eric Mangini was a nose tackle in college; if you watch film, the signature player of the Jersey/B season so far is not Favre, but nose tackle Jenkins. At this point, if you're going to defeat the Jets, you must scheme for Jenkins.
Now excuse me whilst I press an AutoText button: "In other NFL news, at 3:58 Eastern on Sunday, as the Titans left Long Playing Field mumbling #@&!?*!! under their breaths, corks popped. In one of the sweetest traditions in sports lore, on opening day of every NFL season, each surviving member of the 1972 Miami Dolphins, sole perfect team in pro football history, sets aside a bottle of Champagne to cool. And it's genuine Champagne from Champagne, not the boysenberry-infused sparkling-Gewurztraminer wine-like substance that passes for bubbly these days. At the moment the stadium clock hits double-zeros for the defeat of the season's last undefeated team, the 1972 Dolphins pull the corks, secure in the knowledge they will reign as sole perfect team for at least one additional year. Gentlemen of 1972, enjoy your annual draught. TMQ feels confident you will continue to sip Champagne each autumn until you are called to meet the football gods, and greeted by song and feasting."
I just reproduced the above item from my AutoText, substituting only the name of the last undefeated, the field where it fell and the moment when all-naughts showed on the clock. Since TMQ began, annually I have reproduced that item from my AutoText, substituting only the year's particulars. Gentlemen of 1972, Tuesday Morning Quarterback feels confident I will continue to reproduce that item from my AutoText on an annual basis for many seasons to come. My heirs may be reproducing it!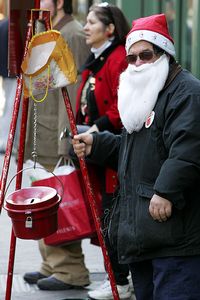 AP Photo/Michael Dwyer
Salvation Army bells are ringing early this year. Unfortunately, there's a reason.
Unified Field Theory of Creep: Kris Pasterick of Aurora, Ill., reports, "Traditionally the Salvation Army starts its Kettle Campaign the day after Thanksgiving, after a halftime ceremony to kick it off at the Cowboys' game on Thanksgiving Day. On November 17th, as I got off my train at Chicago's Union Station, I heard that familiar bell clanging. I thought to myself no way has the Salvation Army's Kettle Campaign started to creep up earlier than Thanksgiving! Much to my chagrin, I passed not one but two kettles on my way out of the station." This does seem like absurd creep. But it's a tough year, and if you want to give to the Salvation Army online, here's a virtual kettle. Positive creep: The UPS driver who works my neighborhood has had a holiday helper since Nov. 20. Maybe seasonal sales will turn out better than expected.
"Friday Night Lights" Update: Correction from last week's edition! The Jason Street character did not sentimentally leave the show, as I thought -- the latest episode was about him, though he may sentimentally have left the show in that episode. Street and Riggins ended up in Manhattan, looking for the ultra-expensive Paul Stuart shop on Madison Avenue; you'll just have to watch the episode to understand why. Last week's was the second consecutive well-written episode, so maybe there's hope FNL will end with a bang after all.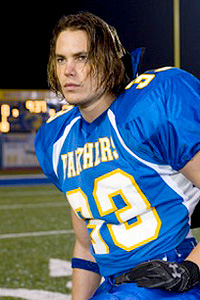 NBC
Of course he never goes to high school, he's 27 years old.
But again, football subplots were unrealistic. It turns out Dillon had a superstar athlete who was friends with Street, is now finishing his senior year and is expected to be a No. 1 NFL draft choice: Street heads north to convince the superstar friend to sign with a particular agent, and this act gets Street the sports-agency job he dreams of. But the series time is contemporaneous: In the show, it's November 2008. The superstar friend wouldn't have finished his senior season yet. (Jason meets him at his dorm at a leafy New England college.) If the star friend signed with an agent, he'd immediately lose his eligibility. Speaking of eligibility, last season Riggins spent two weeks in Mexico during the fall, came back and was immediately reinstated by the Panthers. This season he took two weeks off from school to help renovate a house, and now has taken at least several days away from school to be the wheelchair-bound Street's attendant on his trip to Manhattan and New England -- yet Riggins is still on the Dillon team! Not even in football-crazed Texas could a high school player get away with barely being in school at all, and remain eligible.
Stop Me Before I Blitz Again!: With the defending champion Giants leading Arizona 17-12 in the third quarter, Jersey/A faced third-and-2. The hosts sent a seven-man blitz: easy long completion. The defending champions scored a touchdown on the next snap, and never looked back. My, the Giants like to play on a sliding tray. After the mega-blitz connection, Jersey/A had first-and-goal on the Arizona 2. Play-fake, touchdown pass to fullback Madison Hedgecock. TMQ's law of the goal line holds: If you're going to pass, do it on first down when the defense is thinking run, not on second down after the defense has just stuffed a run and is thinking pass.
Sour Season-Ending Possibility: Suppose San Diego snaps out of its funk and challenges Denver for the AFC West lead. That could make the regular-season finale Broncos-at-Bolts game a monster collision. Now suppose the clubs end up tied in the standings, Denver making the playoffs via tiebreaker while the Chargers stay home. In that event, the early-season Ed Hochuli blown call, which handed to Denver a game San Diego should have won, will end up handing Denver a playoff position. Wonder how many e-mails Ed will see if that happens!
Reader Comments: In the running controversy regarding the two bungled "illegal forward pass" calls in high-profile games, Green Bay versus Minnesota and Pittsburgh versus San Diego, I said it was impossible for an illegal forward pass to result in a safety because, by definition, an illegal forward pass must be thrown from beyond the line of scrimmage: that is, not from the end zone. Rules-adept readers including Caitlin Pelecan of Memphis, Tenn., pointed out I was wrong. Turns out there are two (very improbable) ways to generate a safety from an illegal forward pass.
First, an offensive team may throw forward only once per down. If an offensive team snapped the ball near its goal line, threw forward within the end zone -- a screen pass, say -- then threw forward a second time, that would be an illegal forward pass. If the second pass also came from within the end zone, the result would be a safety. Second, during a change-of-possession down, there is never a circumstance in which the team which started the down as the defense can throw forward legally. If a defensive team intercepted a pass or recovered a fumble in its own end zone, then a player lateraled forward from the end zone, that would be an illegal forward pass and a safety against the team that started the down on defense. Has anyone ever seen either of these calls made?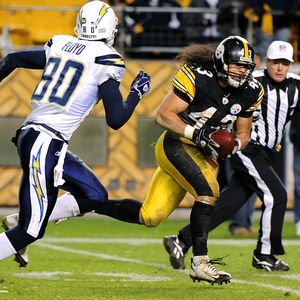 George Gojkovich/Getty Images
His touchdown should have counted -- but the officiating blunder wasn't as bad as TMQ made it seem.
I also went through NFL Rule 8, governing forward passes, and 8-1-5 says that an illegal forward pass becomes incomplete, with the ball dead, if it strikes the ground. In a 2006 Chargers-Raiders game, San Diego's Vincent Jackson spiked a live ball forward and Oakland recovered what looked like history's dumbest fumble. Officials correctly ruled Jackson's boneheaded move was an illegal forward pass, dead when it stuck the ground, resulting in a penalty against San Diego; but the Bolts retained possession. The booth official's decision to deny the Pittsburgh touchdown at the end of the Chargers-Steelers game was still wrong. The illegal forward pass was caught and thus "complete" (live ball, though a penalty against San Diego). It was a legal lateral which struck the ground, and a legal lateral can be recovered and advanced. So the officiating at the end was indeed fouled up, just not as badly as TMQ thought.
Tim Schoenfeld of Princeton, N.J., writes, "Thought you would like to know that Princeton University's Intro to Psychology course is imparting your wisdom. In the lab section on decision making and judgment, graduate students TAs like me have been touting the wisdom of statistics over the wisdom of the individual estimates, using your Home Team Wins as the example. Thanks for helping to teach our students that it is okay to trust statistics over so-called experts."
Best Purist Drives: The Raiders get this nod! Last week, Atlanta could not get Denver off the field in the fourth quarter. This week, Oakland returned the favor to Denver. Its fourth quarter possession results: touchdown, touchdown, kneel-downs. The final possession drilled the last 6:47 off the clock. Even with the home altitude advantage, Denver could not stop any Oakland third-down conversion attempt in the fourth quarter.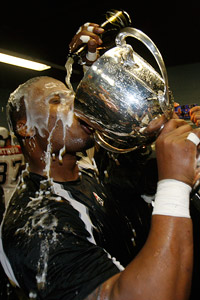 AP Photo/Ryan Remiorz
Grey Cup victors: Quick, drink the champagne before it freezes!
Global Warming May Allow CFL to Play Into January: Congratulations to the Calgary Stampeders, winners of the Grey Cup -- the CFL season has to conclude in November, before the annual advance of glaciation. James Sclater of Montreal, who attended the game, writes, "Montreal was leading Calgary 13-10 at halftime. For the third quarter, the Alouettes cheerleaders returned having changed out of their skimpy two-piece outfits into jogging suits. Calgary's cheerleaders stayed in their skimpy two-piece outfits for the entire game. Needless to say, Calgary outscored Montreal 12-1 in the second half to win the championship. The worst part is the game was played at Olympic Stadium under a dome, so cheerleader professionalism did not require sacrifice." Here is a Calgary cheerleader who is a member of the Royal Academy of Dance.
Best Purist Game Plan: Seattle seemed to be expecting a West Coasty pass-wacky offensive game plan when former assistant Jim "Dan Snyder Hasn't Fired Me Quite Just Yet" Zorn brought his Redskins to town. Instead Zorn called 40 rushes and 36 passes, factoring in sacks and scrambles. As for the Blue Man Group -- ye gods. At this point they should paint their faces blue -- at least it would complete the look.
TMQ Forced to Do a Terrell Owens Item: "I want you to take him out of the game." That's what many a head coach has said to his defensive coordinator about an opponent's star receiver. It means we will always have a safety helping the guy who covers him, or have our best defensive back shadow him, or both: Neutralize their best target and force their lesser guys to try to beat us. Opponents have been taking Terrell Owens out of the game pretty well this season, which is why T.O. has been cryin'. On Sunday, San Francisco did not scheme to take Owens out of the game, simply covering him with whatever corner was on his side, and not jamming Owens at the line either. T.O. blistered the Niners for 213 receiving yards, many coming at the expense of corner Nate Clements, the Squared Sevens' highest-paid player. San Francisco, of course, drafted Owens, made him a star and then showed him the door -- in his two games against the Niners since, Owens has 356 receiving yards. OK Terrell, we get your point about San Francisco. Miami didn't have anything special planned for Randy Moss either, and also paid the price.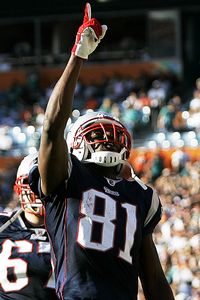 AP Photo/Alan Diaz
Jam him! Double him! "Take him out of the game."
Buck-Buck-Brawckkkkkkk Bonus No. 1: Trailing 35-17, Detroit faced fourth-and-6 on the City of Tampa 22 at the end of the third quarter. An 18-point deficit means the Lions need two touchdowns, a field goal and a deuce conversion. Detroit boomed a field goal, after which it trailed by 15 points -- meaning the Lions needed two touchdowns and a deuce conversion. The odds of converting a fourth-and-6 were better! Dear Rod "I Am Not 0-11, You Are 0-11" Marinelli, you have nothing to lose, next time be aggressive. Check the Lions' home-stretch sked: Tennessee, Minnesota, Indianapolis, New Orleans and Green Bay. All are winning teams and all may need to win their Detroit games for playoff-position jockeying. By year's end, Marinelli may be saying "I am not 0-16, you are 0-16."
Buck-Buck-Brawckkkkkkk Bonus No. 2 : Trailing Buffalo 47-24 early in the fourth quarter, Kansas City faced fourth-and-3 on its own 11. To that point, Kansas City had lost 17 of its past 18 games. Why are you punting??????? And now Kansas City has lost 18 of its past 19.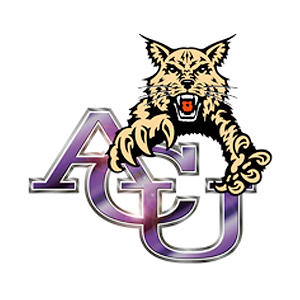 Abilene Christian
The Abilene Christian coach made the offense run laps because it punted once.
Obscure College Score of the Week: Abilene Christian 93, West Texas A&M 68 (Division II playoffs). Perhaps 93 points isn't running up the score if the opponent has 68 points. Here's an inventory of the NCAA records set in the game, including most combined points in regulation, most combined touchdowns (22) and most combined offensive yards (1,531). Sorry I missed the third quarter, in which 57 points were scored. Christian averaged 14.5 yards per offensive play, while the teams combined for 89 pass attempts without an interception. Abilene Christian possession results: touchdown, missed field goal, touchdown, touchdown, touchdown, touchdown, touchdown, punt, touchdown, touchdown, touchdown, touchdown, touchdown, touchdown, touchdown, kneel-down. If I were coach Chris Thomsen, I'd want to have a word with the offense about that punt.
Reader Matt Sherwood of Amarillo, Texas, adds: "West Texas A&M scored its last touchdown with 3 seconds remaining and squib-kicked rather than try a meaningless onside. Abilene Christian fielded the kick and proceeded to run a Trinity University style multiple-lateral play to attempt to hit 100 points. Fortunately it didn't work; the two teams nearly fought because of this. Total lack of class by ACU -- surely the football gods will now not allow this team to win the national championship!"
Here is the play-by-play description, which shows that, leading by 25 points as the clock expired, Abilene Christian lateraled twice in attempting to score again. That's pretty much the definition of bad sportsmanship.
Bonus Obscure College Score : Curry 26, Ithaca 21 (Division III playoffs). Located in Milton, Mass., Curry College offers "individualized attention." What other kind is there?
College Sportsmanship Watch: Urban Meyer began benching starters in the second quarter. Still, what pleasure can Florida take in beating overmatched Citadel 70-19? According to The Associated Press, Citadel was paid $450,000 to travel to Gainesville and be pounded. The Citadel is a 4-8 Division I-AA team that normally lines up against Samford or Wofford; last month, Citadel lost to Elon. This auto-victory matchup was ridiculous for a team that wants to be taken seriously. The victor should feel embarrassed, not the vanquished.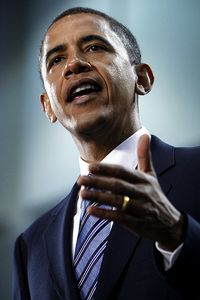 AP Photo/Chris Carlson
He has named his secretary of the treasury. When will he name his college football adviser?
But the annoying reality is that Florida benefits in the polls by scoring 70 points, regardless of opponent. Because college poll voters reward running up the score, it made sense for Oklahoma to have its starters on the field, with Sam Bradford still throwing, when the Sooners led Texas Tech 58-14 in the fourth quarter. Barack Obama will need some sort of diversion for his spare time, when he wants to get his mind off war and a $11 trillion national debt. In addition to figuring out a Division I playoff format, maybe he can figure out a poll format that does not encourage bad sportsmanship in the form of running up the score.
Single Worst Play of the Season -- So Far: Money time is approaching, which means TMQ's Single Worst Play item roars back to prominence. Single Worst Play recognizes not a bad outcome -- that could happen to anyone -- but failure to try. Jacksonville came into Sunday 4-6, and another loss would end the Jags' season, considering no 9-7 team is likely to win a wild card in the AFC in 2008. On the very first snap, Jacksonville center Brad Meester thought the call was an under-center formation, but quarterback David Garrard was in the shotgun. Meester snapped to no one, and the ball rolled around. Garrard stood with his hands on his hips, watching, making no attempt to recover, actually stepping backward from the pile. When Minnesota defender Napoleon Harris came out of the pile headed for the Jax goal line, Garrard, who had the angle, at first made no attempt to pursue Harris, then jogged half-heartedly in the general direction and watched him score. Jacksonville was down 0-7 after just one snap, and now at 4-7, its season has concluded. David Garrard, you are guilty of the Single Worst Play of the season -- so far.
Next Week: Why Barack Obama may have an easier time reforming the health-care system than the college bowl system.
In addition to writing Tuesday Morning Quarterback, Gregg Easterbrook is the author of "The Progress Paradox: How Life Gets Better While People Feel Worse" and other books. He also is a contributing editor for The New Republic, The Atlantic Monthly and The Washington Monthly.