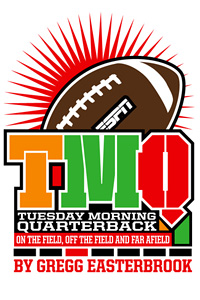 The NCAA continues to insist that two perfectly good names, Division I-A and Division I-AA, be changed to the Football Bowl Subdivision and the Football Championship Subdivision. TMQ proposes changing them to the Football at Variance with President-Elect Barack Obama Subdivision and the Football in Accord with President-Elect Barack Obama Subdivision. Obama's gotten as much ink for saying that big-time college football should have a playoff system as he has for his health-care reform plans! And both would be equally complex.
Since bowl invitations are mailed this week, the playoffs-or-bowls-or-both question becomes prominent once again. A year ago for bowl-invite week, TMQ stated the reasons why bowl mania is not as bad as many people assume. The bowl system rarely produces a clear champion, but it has many virtues that would be lost if Division I-A converted from a bowls to a playoff format. Considering his gift for ideas that are sweeping and vague simultaneously, Obama didn't make clear whether his eight-game playoff format would replace the bowls, or come before the bowls, or come after.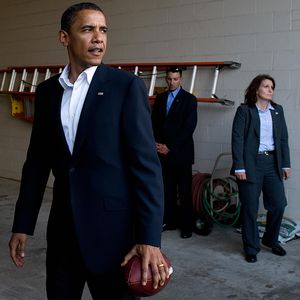 Saul Loeb/AFP/Getty Images
He will open cabinet meetings by saying "Down, set, hike!"
If a playoff system replaces the bowls, a lot of college football's pleasingly goofy traditions would be lost, a lot of bowl business would be knocked out, and far fewer teams and alums could attend games because the 34 current bowl games would yield to the seven contests caused by an eight-team tournament. Suppose the playoffs took place between the regular season and the bowl games. To make this practical, the college regular season would need to be "trimmed," as Obama suggested, but this would deprive 111 of the 119 Division I-A football schools (and their fan bases) of a game in order to add action to the slates of eight schools. If a before-bowls playoff system were in place today, here is the opening round that would occur if the current BCS rankings held up for one more week: Penn State at Alabama, Texas Tech at Oklahoma, Utah at Texas, and USC at Florida. Those games sound great, but the inevitable upset would completely scramble the BCS bowl pairings. A before-bowls playoff bracket probably would mean the BCS pairings couldn't be announced until mere days before the BCS bowls were staged, and imagine what that would do to the travel plans of alums and boosters.
That leaves us with post-bowl January playoffs. In such a format, big-time college football would continue into late January, which many enthusiasts would like. But this would make the college football season so long, it would dissolve any remaining pretense that the players at football-factory schools are actual students. As it is, the Ivy League and the New England Small College Athletic Conference won't allow their football teams to participate in the Division I-AA and Division III playoffs, because that pushes the season through December and ruins the academic calendar for the players. Do we really want to push the Division I-A football season another three weeks? At that point, just drop the academic pretense and pay the players.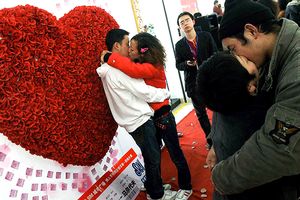 AP Photo/EyePress
Oh, darling, it's Valentine's Day. Let's watch the college football championship together.
In case you just got back from climbing Ama Dablam and haven't heard, ESPN recently won a bundle of BCS-bowl broadcast rights. The Rose Bowl already appears on ESPN partner ABC; from 2011 through 2014, all the BCS bowl games will air either on ESPN or ABC. Because big conferences are unlikely to jeopardize bowl-broadcast contracts, on a practical basis, this suggests that Division I-A will remain the Football at Variance with Barack Obama Subdivision at least until 2014. Of course, if Obama is a two-term president, that gives him six years to figure out if there is some fundamentally different approach to the big-time college football postseason that would combine the lore of the bowls with a true championship structure. And Obama will need a hobby in the White House. See other miscellaneous bowl comments below.
In other football news, the 837 points scored in Week 11 were the highest total ever for an NFL weekly slate, and with three Top 25 college teams (Boise State, Oklahoma and Oregon) topping the 60-point mark this weekend, scoring has been pervasive in college, too. (I will not make a cheap joke about scoring in college -- no, I will not.) The pass-wacky shotgun-spread mania surely is raising point totals in college, though you don't have to throw the ball all the time to keep the scorekeeper busy -- see the note on the James Madison-Wofford game below. The profusion of spread offenses throwing endless short crossing routes is raising scoring in the NFL, and seems unstoppable now. Trust me though, it will be stopped, and another fad will come along. In recent years, many NFL defenses have favored Cover 2 and Cover 3 shells designed to prevent long passes; they accomplish that, but they also make short completions easier. Soon the safety-high coverages may fall out of fashion as defenses focus on short routes to stop the "unstoppable" spread. I hope so. Watching endless short crossing routes is already getting a bit old.
And is the scoring increase all it's played up to be? In the NFL, this year's average of almost 45 combined points per game is only slightly higher than the 1978 average of 44, and that was long before anyone had heard of the shotgun spread or the empty backfield. The current NFL numbers for offensive yards are slightly below the record of 335 yards per game per team, set in 1981, when every team used the I-backfield or the forgotten "pro set," a conventional attack. In 2003, NFL teams averaged a combined 42 points per game; this year they're averaging 45. One additional field goal per contest just does not seem like a monumental change. (Excuse me -- the average is 44.7 points per game this year. Everybody's using the pseudo-precise decimal place.)
On the subject of scoring, sports pundits are agog over Jersey/A defensive coordinator Steve Spagnuolo, yet you don't hear a peep regarding the team's offensive coordinator, Kevin Gilbride -- though the Giants are first in scoring. Gilbride is not an out-of-nowhere phenom like Spagnuolo, and the media love phenoms. Gilbride has been around the horn many times in the NFL, and has run many offenses that sputtered. But now his charges have won the Super Bowl and lead the league in scoring. How about some recognition?
Another strike against Gilbride may be that the Giants' offense is conventional. Two backs, no weird sets, no claim of revolutionary tactics. The Giants' offense is playing traditional football, and playing it well. On Sunday, in bad weather against a stout Redskins defense, the Giants put 23 points on the board and controlled the clock. Early in the game, Washington choked up on the line of scrimmage to stop the Giants' power rushing, so Eli Manning threw the ball repeatedly, including a lovely old-fashioned "chip-and-pop" to tight end Kevin Boss. Once Washington backed off, Gilbride switched to calling running plays. Nothing revolutionary, just effective. Give the guy some credit already.
In holiday news, now that it's December, Christmas lights and Hanukkah mania are appropriate. If you have any nutty suggestions for TMQ's Christmas List, send them to the address found below under Reader Animadversion.
Stat of the Week No. 1: Since taking the field for the start of January's AFC Championship Game, San Diego is 4-9.
Stat of the Week No. 2: Pittsburgh's defense has allowed just 21 plays of 20 or more yards, by far the best in the league.
Stat of the Week No. 3: Detroit is 0-12 for the second time this decade.
Stat of the Week No. 4: At 5-7, Green Bay has a realistic hope of winning its division; at 7-5, Washington cannot win its division.
Stat of the Week No. 5: Buffalo had a 17-play, 87-yard drive and a 14-play, 82-yard drive that both resulted in no points against San Francisco.
Stat of the Week No. 6: Buffalo scored 51 fewer points Sunday than in its previous game.
Stat of the Week No. 7: Indianapolis won, but went without an offensive touchdown for the first time in more than five years.
Stat of the Week No. 8: San Francisco became the first Pacific Time team to win in Eastern Time or Greenwich Mean Time. West Coast teams are 1-17 on the East Coast or in Greenwich Mean Time.
Stat of the Week No. 9: The NFC South is on a combined 15-5 streak; the NFC West is on a combined 5-15 streak.
Stat of the Week No. 10: Jersey/A is on a 15-1 streak.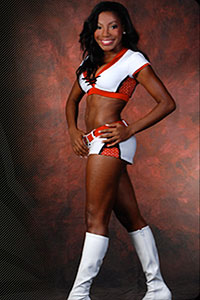 Arizona Cardinals
Arizona cheerleaders sing as well as dance -- but then, in nature, cardinals sing.
Cheerleader of the Week: Whitney W. of the Arizona Cardinals, a college student who according to her team bio is majoring in supply chain management. Something tells me getting the foot in the door to talk to purchasing agents will not be a problem for her! The Cardinals cheerleaders also have a Show Team that will sing and dance at conferences and charity events.
Sweet Play of the Week: With Chicago leading 7-3, the Ming Ding Xiong ("Bears whose outcomes are decided by fate" in Chinese) had first-and-goal on the Vikings' 1. Incompletion; run for no gain; run for no gain; run for no gain, Minnesota takes over on downs. The final two rushes for no gain were directly at Ticonderoga-class defensive tackle Pat Williams, TMQ's All-Unwanted Player of the Year for 2007. Williams stuffed both runs, which was sweet. Now Minnesota had possession on its own 1, and as you've seen on the highlight reels, retread quarterback Gus Frerotte threw a 99-yard touchdown pass to Bernard Berrian, whom the Bears discarded. To go 99 yards for a touchdown against your former team on national television certainly does count as sweet.
What happened on the play? The Bears were in a Cover 1, meaning they had a single safety in the center of the field; the Bears were choking up on the line, expecting an Adrian Peterson rush. Berrian ran a fly while another Vikings receiver ran a curl underneath on the same side. Bears cornerback Charles Tillman, lined up across from Berrian, let him run straight by, making no attempt to cover him, and instead stepped forward to double-team the man running the curl. That would have made sense if Chicago had been in a Cover 2, with the safety taking deep responsibility; in a Cover 1, the corner never lets his man go. Tillman made a killer mental error about the coverage scheme. Usually mental errors result in short gains; this one resulted in a 99-yard gain. Reader Mario Salazar of Monterrey, Mexico, suggests Tillman's boneheaded play was an example of TMQ's Law of the Other Shoe: When something bad just happened (Chicago getting stuffed on fourth-and-goal), beware that something even worse will happen on the next down. Reader Curtis Faessler of Algonquin, Ill., notes that since Berrian was never touched by the defense, his 99-yard scamper will always be the longest offensive Untouched Touchdown in NFL history.
Sweet Player of the Week: Baltimore's Mark Clayton threw a touchdown pass and caught a touchdown pass -- in the same quarter.
Sweet Carolina Players of the Week: With Carolina leading 7-3 at Green Bay, the Panthers' Jonathan Stewart broke into the clear for a 43-yard run, but fumbled on the Packers' 3. Carolina recovered the fumble and scored a touchdown two snaps later; the Cats went on to win 35-31. Who recovered the fumble? Offensive tackle Travelle Wharton, who instead of standing around watching -- as so many NFL players do when a teammate breaks into the clear -- hustled all the way down the field to trail the play. All you kids out there learning how to play football: Always trail a breakaway play! You never know what will happen. Wharton also made a perfect block on an unusual onside tackle pull, as teammate DeAngelo Williams scored an untouched touchdown. Carolina had another sweet player in Jon Beason, who made the game-icing interception of an Aaron Rodgers pass. Beason, the middle linebacker, had hustled 30 yards downfield to cover a receiver. When your offensive tackles and middle linebackers are hustling like crazy, you wake up on Monday morning, look at the newspaper and find yourself 9-3.
Sour Play of the Week: In 2000, the Eagles ran an amusing fake field goal in which the holder flipped a no-look pass over his shoulder to kicker David Akers, who ran for a touchdown. On Saturday, Nebraska tried this trick against Colorado -- except the no-look pass was flipped straight into the arms of a Colorado defender, who went the distance for a touchdown. On Sunday, the Raiders tried this trick against Kansas City -- and the no-look pass was flipped straight into the arms of Chiefs defender Maurice Leggett, who went 67 yards the other way for a touchdown. Hey Raiders coaches, didn't you hear about the Colorado-Nebraska game? And what's really sour was that holder Shane Lechler, who threw the botched flip, simply turned around and watched the Kansas City touchdown happen, making no effort whatsoever to chase Leggett.
Sweet 'N' Sour Play No. 1: With Denver leading 27-17 early in the fourth quarter at Jersey/B, unheralded Denver tailback Peyton Hillis had consecutive rushes of 8, 3 and 5 yards. The next snap was a play-fake to Hillis and the game-icing touchdown pass. Near the end of the game, Hillis had consecutive 4- and 7-yard runs for the first down that enabled the Broncos to start kneeling. For an unheralded player to star in crunch time was sweet. Here's what was sour: The Jets knew Hillis would get the ball, since he was the only running back that carried the ball for Denver the entire game! In this year's NFL draft, three Arkansas running backs were chosen: Darren McFadden and Felix Jones in the first round, Hillis in the seventh. Hillis has outgained Jones this season, 285 yards to 266; he is on pace to outgain McFadden, who has 405 yards.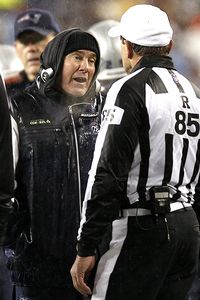 AP Photo/Winslow Townson
Bill Belichick preps for ascending Ama Dablam after the game.
Sweet 'N' Sour Play No. 2: Sometimes a clever tactic is to call exactly the same play that failed on the previous snap, figuring opponents won't expect it. New England offensive coordinator Josh McDaniels likes to call a play that just failed. With the score tied at 10, the Flying Elvii reached the Steelers' 9 with 35 seconds remaining in the first half. McDaniels called a quick turn-in to Randy Moss, who dropped the ball. On second down, McDaniels called the exact same play; this time it was broken up. On third down, McDaniels called the exact same play again, figuring the defense would never expect a play that just failed twice! Again Moss dropped the ball, then New England missed a field goal. Calling the same play on three consecutive snaps was a sweet idea; the result was sour. Reader Mark Leppert of Faribault, Minn., notes that for the game, played in wind and wet snow, Bill Belichick was elaborately bundled in a hoodie, heavy parka and ski cap, while Pittsburgh's Mike Tomlin looked smart in a varsity jacket. This brought into play TMQ's immutable law, Cold Coach = Victory. "I've noticed that since Tomlin was called out by TMQ for wearing too much in a 2007 loss, he has been dressing much lighter for cold-weather games," Leppert adds.
Bowl-a-Rama No. 1: This year there are 34 Football at Variance with President-Elect Barack Obama Subdivision bowls, meaning 68 of the 119 big-deal teams will appear in a bowl game. That means 57 percent of teams reach the postseason. In Division I-A, on average we are above average! Just a decade ago, there were only 18 bowls. Is a Bowl Bubble in progress? Will the bowls crash and demand federal bailouts? Around mid-autumn there was nervousness in the bowl-promotion ranks that 68 teams would not finish with at least six wins, forcing a bowl to take a losing squad. This did not happen. Now that Division I-A teams play a 12-game season, the threshold for bowl eligibility is incredibly low -- you're eligible if you finish 6-6 -- that is, if you avoid a losing season. Considering the recruiting and gimmick-schedule advantages possessed by the football-factory programs, avoiding a losing season just isn't that hard to do. (Note: Statement does not apply to the University of Michigan.) The ACC has 12 member schools for football, and 10 of them are bowl-eligible. On average, we are above average!
To put the big-time college bowl proliferation in context, 12 of 32 NFL teams (38 percent) reach the postseason, along with 32 of 236 Division III teams (14 percent), 16 of 123 Division I-AA teams (13 percent), 32 of 272 NAIA teams (12 percent) and 32 of 282 Division II teams (11 percent). "Making the postseason" means less at the mega-college football-factory level than at any other level of the sport. In turn, because 68 teams will play in a season-ending bowl game, 34 teams will end their seasons with a playoff victory. That's 29 percent ending the season with fireworks and confetti -- versus 3 percent (a single team) in the NFL, 0.8 percent (a single team) in Division I-AA, 0.4 percent (a single team) in Division III, 0.36 percent (a single team) in the NAIA and 0.35 percent (a single team) in Division II. Talk about major-college grade inflation!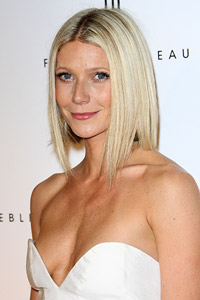 Alexander Tamargo/Getty Images
She'd be perfect for the movie role of TMQ's glamorous assistant -- if TMQ had a glamorous assistant, or any kind of assistant.
TMQ in the News: Andrew Segal of Eugene, Ore., was among many readers to note that last week in a New York Times story about the bust of the new Broadway musical by Mel Brooks, the phrase "Tuesday morning quarterback" appeared as a cultural reference. The manager of the theater that closed the Brooks show is quoted as saying, "It's always easy playing Tuesday morning quarterback." Easy! You think it's easy! If the TMQ concept is penetrating cultural consciousness, a movie can't be far behind. "Tuesday Morning Quarterback" starring Ashton Kutcher and Gwyneth Paltrow. Proposed dialogue:
KUTCHER: Ye gods -- they're punting!
PALTROW: If we don't stop this punt, the Earth will be destroyed. (Disrobes.)
OK, let me work on the concept; the backstory and motivations need to be fleshed out. I'll Google "script doctor."
Unified Field Theory of Creep: Matt Burke of Atlanta reports, "I just drove by the local Home Depot and they had a huge sign announcing where to drop off your Christmas trees for recycling. Don't you recycle your tree after Christmas, not a month before?"
The Corporate Security Hustle: When they come to Washington again Tuesday to appeal for subsidies, the Detroit automaker CEOs are likely to travel by Greyhound, if not hitchhiking. What possible excuse did they have to fly in private jets the first time? "Like many corporations, [the Big Three] have policies requiring their CEOs to travel in private jets for safety," CNN reported. Safety? That cannot mean crash safety -- U.S. commercial airline fatality rates are so phenomenally low that you're safer aboard a big commercial jet in bad weather than you are riding a bicycle in the park on a sunny day. By "safety," corporations mean security from terrorism: not being aboard a commercial airliner that might be hijacked. General Motors "requires top executives to fly on company planes for their security," the Washington Post added. But the odds a person will board a jetliner that is hijacked are substantially lower than the odds any given person will drown, yet no big companies forbid their CEOs to swim. Even taking into account the horror of 9/11, over the past decade the chance that a regularly scheduled U.S. airline departure would be involved in a terrorism incident was about one in 25 million, while the chance of being struck by lighting in the same period was about one in 700,000. So do corporations require their CEOs to wear lightning rods?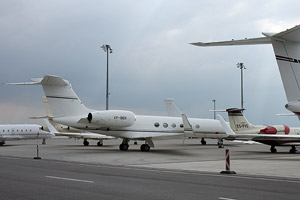 AP Photo/Ronald Zak
Really, CEOs don't want to fly in them. It's not for their egos. It's a requirement!
The real reason CEOs demand private jets is to stroke their egos. Private jet travel is luxurious, there's no waiting in line with the unwashed, no crowding on the plane, no security checks. At most airports a limo can drive right up to the door of a private jet parked in the general-aviation area. Security is the cover story for CEO airborne luxury. No corporate leader needs to fly a private jet to be safe. They do so to feel important and lord over others. The suspicious "requirement" that CEOs "must" travel by private jet is usually imposed by boards of directors composed largely of people who are themselves CEOs, and who know that inventing a private jet rule at one company creates a justification for the same luxury at their own companies. If 9/11 had never occurred, CEOs would be saying, "I must fly in a luxury private jet for protection against climate change."
Security is being used as the cover story for all manner of CEO perquisites, including armored chauffeur-driven SUVs, that have little to do with protection of life and everything to do with granting CEOs a visiting royalty treatment at the expense of shareholders and workers. Recently Joann Lublin of the Wall Street Journal reported Occidental Petroleum spent about $775,000 in 2007 on security for its CEO, much of this money for bodyguards. No CEO actually needs bodyguards, but the guards lend an illusion the CEO is some kind of world leader. ("Make way, make way, VIP coming through.") The Journal reported Oracle spent about $1.7 million in 2007 on bodyguards and other security for CEO Larry Ellison, while Limited Brands spent about $1.2 million to protect its CEO. Macy's approved $87,000 last year for CEO Terry Lundgren for "a specially equipped SUV driven by a security professional for his commute and his personal use." Driver, take me to the golf course, where I will boldly play a round of golf in defiance of these terrorists.
It may well be there is an inverse relationship between top-management pay and corporate success -- the more CEOs are overpaid and treated like little kings, the less they care about the real-world concerns of shareholders, workers, and most of all, customers. Corporate America has experienced meltdown after meltdown in the past decade -- the very period in which CEO pay has skyrocketed and costly luxuries such as private jets have become considered by top management as necessities. The CEO can't stand in line at the airport like everyone else, the CEO is a little king! Perhaps the overpay and the perks are causative factors in the meltdowns.
Government officials are now also using security to justify spending that could never pass the giggle test otherwise. The independent Project on Government Procurement recently reported that the Air Force wants to divert $16.2 million from counter-terrorism funds to build personal comfort "capsules" for senior officers traveling in its transport planes. Most military transport aircraft have austere seating, plus it's much louder inside than in a commercial airliner. But there's a difference between adding decent seats for soldiers and providing luxury for generals -- the latter is what the Air Force wants. The Project on Government Procurement reports the Air Force has already spent $2.7 million building the first luxury capsule, a unit that can be loaded into the open area of a cargo plane: it has leather chairs, a 37-inch flat screen television and other luxo touches. Supposedly, generals need more comfort in order to focus their minds on fighting terrorism.
Otto Kitsinger III/Getty Images
Boise State versus Ball State on blue turf might steal some BCS thunder.
Bowl-a-Rama No. 2: TMQ's favorite college football postseason event has long been the Humanitarian Bowl -- ill-tempered gentlemen in body armor slam into each other in the name of global brotherhood. Staged annually on the Smurf Turf at Boise State University, mountains as the backdrop, the Humanitarian Bowl offers fresh air, God's country and a blue playing surface. Who could ask for more? TMQ would love to be present! Coming into the season, this year's game was slated to match the WAC champion against the ACC's eighth seed -- as bowls have proliferated, the Humanitarian has had to dig deeper to get conference commitments. You'd think the ACC would be thrilled to have its No. 8 team guaranteed a bowl date, but you'd think wrong: the conference declined to renew, and in 2009, the bowl will match two WAC teams. Hey ACC, why so snobby about Idaho?
In an amusing twist of fate, the Humanitarian Bowl may attempt to disinvite the ACC by swapping that conference's eighth seed to a different bowl. The odds are Boise State won't be smiled on by the BCS formula, which was designed to favor the big conferences -- it's no secret the whole point of the BCS system is to insure the big conferences dominate the megabucks bowls. If Boise State gets no FedEx envelope from the BCS, a fantastic matchup would be Boise State versus Ball State in the Humanitarian (although as the likely MAC champ, Ball State is committed to the Motor City Bowl). Both are currently undefeated, and to the football purist, such a game might be more attractive than several possible BCS pairings. It's surely a game TMQ would circle on his calendar. Ball State would have to consent to play what is supposed to be a neutral-site game on the opponent's home field. On the other hand, Ball State would get the chance to prove it is for real, by besting an undefeated team on its own blue turf.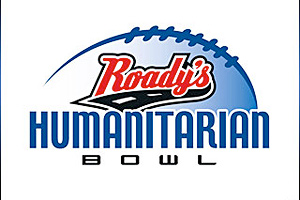 Humanitarian Bowl
In the name of world peace and brotherhood, get out there and hit somebody!
The Humanitarian Bowl has run through many sponsors, this year's being Roady's Truck Stops. The Roady's Humanitarian Bowl -- maybe Jackson Browne will sing at halftime! If only the formal name were the Roady's Truck Stops Humanitarian Bowl, which might be the best bowl name ever. Most would confer the distinction on the Poulan/Weed Eater Independence Bowl, a name that was retired in 1998. (The Weed Eater brand is now owned by Husqvarna, a Swedish manufacturer of landscaping equipment.) This year the Independence Bowl lacks a naming-rights sponsor: TMQ proposes the AIG We're Stuffing Our Pockets with Your Money and Laughing Out Loud at Taxpayers Independence Bowl, with all costs billed directly to the federal deficit. For 2008, three bowls -- the Meineke Car Care Bowl, the EagleBank Bowl and the Chick-fil-A Bowl -- don't have bowl names, only sponsor names. Best name this year? The San Diego County Credit Union Poinsettia Bowl. The event promotes the San Diego County Credit Union, which is open only to residents of Orange, Riverside and San Diego counties. Is watching this bowl supposed to make you want to move to San Diego and open a checking account?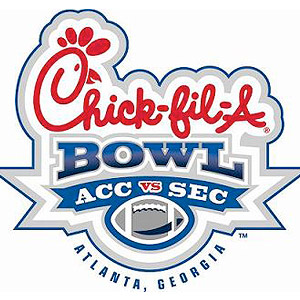 Chick-fil-A Bowl
Cows are snapping up tickets to this game.
New York Times Correction of the Week: "An article on Tuesday about dark matter in the cosmos misstated the energy of proton collisions at the Large Hadron Collider, a new particle accelerator at CERN, outside Geneva. When the machine is running at full strength, each colliding proton will have seven trillion electron volts of energy, not seven million." Million, billion, trillion -- the Treasury Department can't tell the difference, either.
"Hey Hank, Somebody Just Called and Said His Company Needs a Billion Dollars. I Wired It. Sorry, I Forgot to Write Down the Company's Name." On Nov. 24, the Washington Post calculated the total cost of the bailout-a-rama may rise to $2.8 trillion, though the figure includes guarantees for loans that may end up being repaid, thus reducing the final tab. Just two days later, the Post recalculated to $4.7 trillion, after the Treasury Department ("Hey Hank, should this say billion or trillion?") made huge additional commitments to cover bad loans, again some of which may not fail. The $4.7 trillion figure equals the entire national debt on the day George W. Bush took office. One day after that, the New York Times calculated that so far this year the United States has actually spent $1.4 trillion on the bailout, while committing to as much as $7.8 trillion, if all loans default. The $7.8 trillion figure equals the entire national debt just three years ago.
The speed with which government is giving away money is breathtaking. In less than a year, the United States has casually added to the deficit -- with virtually no public accountability and in most cases without a vote of Congress -- at least $1.4 trillion, an amount equal to almost three times annual Social Security benefits. Anyone who a year ago had proposed doubling Social Security benefits would have been hooted down as fiscally irresponsible, even by senior citizen advocates. Last week, White House officials casually announced that an extra $800 billion -- more than the fiscal 2009 defense budget -- was being spent, without a congressional vote, without public accountability, sometimes without even knowing what the money is being spent on! (Treasury officials have said they do not know what AIG is doing with its billions in tax funds.) In 2007, Bush vetoed an additional $7 billion for health care for the poor, saying the country could not afford that much. Now taxpayers are on the hook for up to 671 times the figure Bush said was too high. Our children and their children will be paying for this mess in Washington for a long, long time.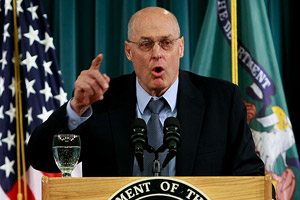 Mark Wilson/Getty Images
If you don't like today's federal financial recovery policy, just wait for tomorrow's.
Note 1: When all this started last winter -- back when Henry Paulson said that Fannie Mae and Freddie Mac would "never" be bailed out -- economic columnist and 2008 Nobel Prize for Economics winner Paul Krugman calculated that converting to present dollars and adjusting for GDP size, the 1990s Japanese financial restructuring had cost that country $3 trillion. Krugman predicted our meltdown would eventually cost America about the same. Krugman said this at a time when Paulson ("Hey Hank, five minutes have passed, what's your policy now?") was asserting in public that the damage would always be limited to the $29 billion given to Bear Stearns. Based on recent numbers, Krugman's prediction may prove eerily close.
Note 2: AIG, which has been shoveled $152 billion of your children's money without accountability, announced last week that new CEO Edward Liddy will work for $1 a year and receive no bonus. Sounds good, and media reports were favorable. But buried in the announcement is that Liddy is also receiving stock ("equity grants"). The announcement mysteriously does not say how much. With AIG selling for $2 a share -- the strike price of the grant would be the price when awarded -- even if the shares rose only to $5, a large block of stock acquired at $2 could be quite valuable. So how come AIG doesn't disclose how much taxpayer-subsidized stock its CEO is pocketing?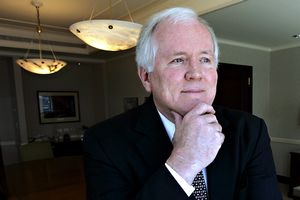 AP Photo/Charles Rex Arbogast
The new CEO of AIG just promised he won't pilfer your money -- except for that "special bonus."
Also buried: Liddy "may be eligible for a special bonus for extraordinary performance." Have you ever read anything more transparently phony? A good guess is that no matter how the current CEO does, the board will find he deserves a "special bonus" that won't be announced until media attention has shifted to whatever the next scandal is. Sadly, reader Melanie Cleten of Providence, R.I., notes, "AIG's management has tricked taxpayers into handing the company $152 billion. What other corporate executives in history have brought in so much cash so quickly? Maybe they do deserve bonuses, unless we are fools." She leaves it there.
Motivation Watch: Andy Reid presents a bumbling image, and when he pulled Donovan McNabb during the Philadelphia Nesharim's loss to Baltimore, Reid was savaged by the sportstalk media. "He has no idea what he's doing" was the gist. But the Eagles were playing listlessly, and had played listlessly the week before in their soporific five-quarter tie against Cincinnati. Yanking the team's leader sent this message to Philadelphia players: "None of your jobs are safe either." Four days later, Philadelphia pounded Arizona 48-20 as the Eagles played with great enthusiasm. Did the sports radio world acknowledge that Reid's motivational ploy worked?
When a Liar Tells You Someone Else Is Lying, Should You Believe Him? A few months ago, former White House press secretary Scott McClellan joined former White House antiterrorism adviser Richard Clarke and former CIA director George Tenet in the "I knew it all along, I just forgot to say so" school of Iraq war revisionism. In his book, "What Happened," McClellan asserts that in early 2007, as many White House lies about the need to invade Iraq became known, he realized the American people were sold a bill of goods and he was partly to blame. If a former high White House official comes to believe a war he helped sell actually was based on lies, his duty is to declare this in public immediately. Instead, McClellan sat on this knowledge for a year, while preparing a book -- that is, he placed his own profit above the lives of those fighting in a war he now believes unjust.
McClellan violated the 1,549-word PR Code of Ethics when he was at the White House, since the code requires that spokespeople "adhere to the highest standards of accuracy and truth." But did he violate the code a second time by revealing that he'd been lying the first time? The Code further requires spokespeople to be "faithful to those we represent." That makes it seem McClellan was obligated to keep lying and protect his former boss, the president.
Ari Fleischer, who preceded McClellan as George W. Bush's spokesman, has gone into the sports-communication business. In April, Fleischer addressed a meeting of NFL head coaches. He has done consulting work for the Dolphins and Packers, speaking to Green Bay officials the night before Brett Favre's one-day return. Maybe he advised them, "Say the quarterback position needed regime change!" Fleischer is the man who declared from the White House press podium in December 2002, "The president of the United States and the secretary of defense would not assert as plainly and bluntly as they have that Iraq has weapons of mass destruction if it was not true." Thus Fleischer used the Orwellian argument, "Because we say so, it must be true." Anyone with that little concern for the difference between candor and propaganda should be kept far away from public relations.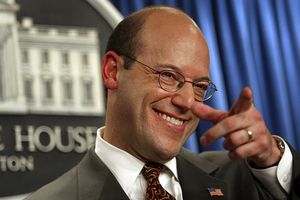 AP Photo/Charles Dharapak
Ari Fleischer announces Ari Fleischer Sports Communications, founded by Ari Fleischer.
Fleischer's new company says of itself, "Ari Fleischer Sports Communications offers world-class media management for today's high-profile world. Founded by Ari Fleischer, former White House Press Secretary, our unique media training and consultancy company brings to the world of sports the lessons of how to successfully handle the toughest situations with the most aggressive reporters. No one faces tougher coverage than sports figures -- except for Presidents and top government officials. Ari Fleischer Sports Communications, with its deep expertise in both sports and communications -- can help you successfully deal with the media." The word-use errors, split infinites and non-grammatical dash come from Fleischer's Web site; apparently he does not promise press relations in the king's English. Consultancy company? And just what is "today's high-profile world"? Nor does Fleischer promise fact-checking. His Web site misspells the name of NFL vice president Joe Browne. Ari, spell your client's name correctly! Fleischer further boasts he was "primary spokesperson for President Bush ... during the historic presidential recount." Bush was not president during the historic recount. Fleischer is a highly paid specialist in communication, yet goes out of his way to tell you Ari Fleischer Sports Communications was founded by Ari Fleischer. Does he assume the American public consists solely of idiots? Wait, don't answer that.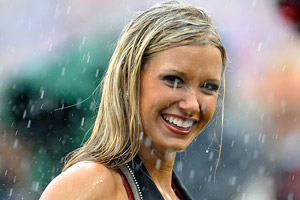 Al Messerschmidt/Getty Images
This is a tasteful, alluring artistic photo. What's it doing in TMQ?
Sweet Aging Players of the Week: Tampa's leading rushers were 33-year-old Warrick Dunn and 39-year-old Jeff Garcia; among its leading tacklers were 33-year-old Ronde Barber and 35-year-old Derrick Brooks.
TMQ's Christmas List: How about this $1,400 Swiss Army knife with 87 tools, including a bicycle chain rivet setter? Obviously it's a gag gift, but it's a $1,400 gag gift. Even if only a few are sold, the mere existence of a $1,400 gag gift is offensive. Rich people -- give your money away to those in need.
Maybe Chargers Coaches Were Busy Opening Checking Accounts: Two weeks ago against Pittsburgh, San Diego coaches had Philip Rivers sprint backward into his end zone on third-and-long; safety. Now the Bolts are fighting to save their season, ball on their 5. San Diego coaches have Rivers sprint backward into his end zone; safety. Fool me once, shame on you; fool me twice, shame on me.
Absurd Specificity Watch: In the Chicago at Minnesota collision, it wasn't clear if Minnesota tight end Jim Kleinsasser got the ball across the plane of the goal line. Referee Bill Leavy huddled with the replay assistant and announced, "The ball will be spotted at the quarter-yard line." A quarter of a yard is 9 inches.
'Tis Better to Have Rushed and Lost Than Never to Have Rushed At All: Buffalo's Marshawn Lynch ran for 134 yards on 16 carries, an average of 8.4 yards per carry. Yet on eight Buffalo snaps inside the San Francisco 10, Lynch never touched the ball. Those three possessions inside the opposition 10 netted Buffalo three points. In the Denver at Jersey/B contest, three times the Jets went for it on fourth-and-short in the second half. All three were pass attempts, resulting in two incompletions and a sack. On the game, Jersey/B rushed 19 times for 142 yards, a 7.5-yard average.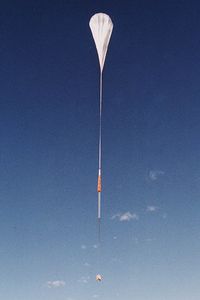 Chris Miller/NASA/Time Life Pictures/Getty Images
Evidence of nearby "dark matter," or of nearby interstellar war?
Creepy Cosmic Thought: A running mystery of cosmology is gamma-ray bursts, extremely strong energy blasts from deep space that cannot be explained by any known mechanism, including supernova explosions and neutron stars. Astronomers assume gamma-ray bursts must be natural in origin: TMQ asks, what if they are the muzzle flashes of horrific planet-killer weapons? Recently Louisiana State researchers using the Advanced Thin Ionization Calorimeter, a balloon-borne experiment drifting at the edge of the atmosphere above Antarctica, announced they had detected very strong gamma bursts coming not from deep space, but from about 3,000 light years distant -- the general neighborhood of our galaxy. The researchers went on to speculate that since there are no known cosmic objects in our neighborhood of the galaxy capable of projecting strong gamma rays, perhaps they had witnessed interactions involving the hypothesized "dark matter." TMQ's reaction: Great, maybe there is an interstellar war going on just 3,000 light years away.
A few columns ago, I speculated that even if there is never any way to exceed or circumvent the light-speed barrier, relatively nearby planets might still fight by hurling nuclear bombs at each other at 99 percent of light speed -- with existing technology, something moving that fast wouldn't even be seen until nearly here. Let's hope any world advanced enough to build near-light-speed stardrive will also have become wise enough to forswear war. But based on the only model we know, human society, technology and wisdom do not go hand in hand. Anyway, John Duezabou of Helena, Mont., adds this creepy postscript: "A bellicose or paranoid extra-solar civilization that could accelerate an object to 99 percent of light speed wouldn't need to launch bombs at us. They could shoot anything with devastating results, because the kinetic energy of a moving object is half its mass multiplied by the square of its velocity, or KE = 1/2 mv2. Thus, one pound of anything -- a pint of vanilla ice cream, for instance -- accelerated to 99 percent of light speed has an energy of about 4.8 megatons, roughly the blast yield of the largest hydrogen bombs." A moderate-sized object, say a small asteroid, if accelerated to 99 percent of light speed, could conceivably shatter the Earth. Happy holidays!
Speaking of happy holidays, the Tom Cruise movie "Valkyrie," about the great Claus von Stauffenberg and the July plot to kill Hitler, opens Christmas Day. What a joyous subject for the holidays! Take the family to see a movie that ends with the good guys being lined up and shot. TMQ just hopes the Cruise movie also lauds the 2,000 other anti-Nazi German patriots who aided several failed attempts to kill Hitler and who were executed in the aftermath of the July plot, and that the movie tells audiences of the Confessing Church, the Christian anti-Nazi movement in wartime Germany, which had many martyrs.
Free Agency Creep Watch: Where will LeBron James play in 2018? That's the question plaguing me. Already the sportsyak world is obsessed with what team James will sign with in the summer of 2010, almost two years from now. Assuming he signs an eight-year deal, the real question then becomes, who will he sign with in 2018? On an exclusive basis, TMQ has learned that the New York Knicks plan to go the next 10 years without anyone on the roster at all, in order to clear salary cap space to sign James in 2018.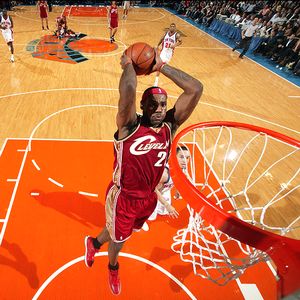 Nathaniel S. Butler/NBAE/Getty Images
LeBron Creep Watch -- we're already wondering what team he will sign with in 2018.
Happy Hour in Hell's Sports Bar: Hell's sports bar has 28 wide-screen plasma TVs, and has been extensively redecorated to feature Detroit Lions memorabilia! Now the walls are lined with signed mementos of each of the Lions' 100 losses in this decade, plus actual paper sacks that fans have worn on their heads. This weekend, all 28 screens in Hell's Sports Bar showed nothing but, over and over, Detroit, when trailing Tennessee 35-3, punting on fourth-and-2. Then punting on fourth-and-1 while trailing 38-10. Then punting on fourth-and-1 while trailing 44-10.
Buck-Buck-Brawckkkkkkk No. 1: Trailing 24-7 in the third quarter at Philadelphia, the Arizona Cardinals faced fourth-and-1 at midfield, and punted. Immediately TMQ wrote the words "game over" in his notebook. It took the Eagles just four snaps to pass the point where they would have been had Arizona tried and failed; Philadelphia scored on its possession to make the margin 31-7, and the Cards went on to lose 48-20. What good is the league's No. 3-rated offense if you are afraid to try to gain one single yard at midfield when trailing big in the second half? Plus note inclement weather season is arriving. This was Arizona's first chance to test its pass-wacky offense in less-than-ideal conditions (kickoff temperature 41 degrees). Cards, you could have won your division Thursday night. Why were you punting?
TMQ projects a rapid playoff exit for Arizona, unless somehow all its postseason games occur at noon on sunny days in resort cities. In consecutive games against NFC East power teams, Arizona rushed for a combined total of 48 yards, losing both contests, of course. The defending champion Giants are first in the NFL in rushing; the Cardinals are last. Which offense would you rather have in January, an NFC East power offense or an Arizona Cardinals pass-wacky we're-afraird-to-run-on-fourth-and-1 offense?
Buck-Buck-Brawckkkkkkk No. 2: With Baltimore leading 13-0 on the final play of the first half, Cincinnati kicked a field goal from the Ravens' 4, rather than use the final snap to try for a touchdown. The Bengals went on to be clobbered 34-3. Cincinnati entered the game 1-9-1. What do you have to lose? Go all-out to try to win! It was obvious bumbling coach Marvin Lewis was more concerned about keeping a shutout off his résumé than trying to win. When the Cincinnati players saw their coach quit on the game, they quit too.
Sportsmanship Watch: Taking possession in New Orleans territory with a 23-20 lead, 1:30 remaining and the Saints out of timeouts, the Buccaneers simply knelt to end the game. Taking possession at the Bills' 14 with a 10-3 lead, 1:30 remaining and Buffalo out of timeouts, the Niners simply knelt to end the game.
Reader Comments: I credited Allan Sloan with this idea -- tax gasoline so that it will always cost $4 a gallon (the price rising with inflation), then eliminate federal mileage standards on vehicles. If buyers knew gasoline would always cost $4 a gallon, they would choose fuel-efficient cars of their own free will. Super-complex federal rules, which have hurt Detroit, could be done away with, while the revenue could be used either to reduce the national debt (magic fairies are not going to pay for all these bailouts) or to lower Social Security taxes, since Social Security taxes matter more to average people than income taxes. Jay Goodliffe of Brigham Young University points out this idea was first advocated by columnist Charles Krauthammer, who Goodliffe reports has been stumping for a "gas floor" tax combined with mileage-rules elimination for years.
Texas Tech was riding into the BCS championship until being blown out by Oklahoma. I checked my back e-mails. On Oct. 21, Rich Cuthbertson of Highland Park, N.J., had written noting that with Texas Tech leading unranked Texas A&M by 36-25 with 22 seconds remaining and the Aggies out of timeouts, Mike Leach kept the first offense on the field, in the hurry-up, in order to run up the score. "The football gods surely will exact vengeance on Texas Tech down the road," Cuthbertson foresaw. And yeah, verily, it came to pass.
Bowl-a-Rama: The Prequel: TMQ has long crusaded for the NFL postseason to be a seeded tournament, simply taking the top 12 records. Why don't college conferences adopt the seeded tournament approach? By performance, polls and the BCS computer, Oklahoma and Texas were the top Big 12 teams this season. Wouldn't you like to see them play a rematch in the Big 12 championship on Saturday? Yet owing to the conference's two-division structure, that game will pair Oklahoma and 9-3 Missouri, while 11-1 Texas and 11-1 Texas Tech stay home and eat popcorn. Instead of a monster Oklahoma-Texas rematch, we get a yawner that may be over at halftime. And it's only good luck that the best SEC teams, Alabama and Florida, are in opposite divisions, allowing them to meet for that conference's crown. Imagine what a letdown it would be if they were in the same division, and the championship was, say, Alabama versus Mississippi.
College conferences, use a seeded tournament format! The only possible result would be better games commanding more public interest. Or at least follow Mike Leach's suggestion and choose your championship pairings based on graduation rates. Texas Tech proudly graduates 79 percent of its football players, versus 52 percent for Oklahoma and a miserable 40 percent for Texas.
Obscure College Score of the Week: James Madison 38, Wofford 35 (Division I-AA playoffs). The teams combined for 106 rushing attempts for 644 yards -- somebody in college can still run the ball. Located in Spartanburg, S.C., Wofford College brands itself as "providing quintessential undergraduate education." The school is perfect!
Bonus Obscure College Score: California of Pennsylvania 27, Bloomsburg 24 (Division II playoffs). Located in Bloomsburg, Pa., Bloomsburg University has a policy regarding its policies.
Double Bonus Obscure College Score: Mount Union 42, Hobart 7 (Division III playoffs). Located in Geneva, N.Y., on the shore of one of the Finger Lakes, Hobart has one of the most attractive campuses in the world. The official name is the Hobart and William Smith Colleges. The school has a history of writing angry letters to the editor of any publication that simply calls it "Hobart," though alumni never say, "I went to the Hobart and William Smith Colleges."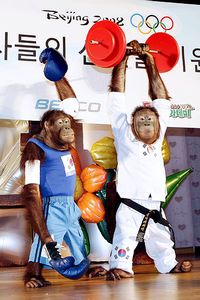 Choi Jae-Ho/AFP/Getty Images
They're available for football-factory head coaching jobs -- and they'd do better than 8-16.
Weasel Coach Watch: When Auburn was "only" 4-2, Tommy Tuberville fired offensive coordinator Tony Franklin; the boosters were in an uproar because Auburn was not winning by huge margins. Auburn went 1-5 for the remainder of the season, its sole win over cupcake Tennessee-Martin. TMQ predicted the Weasel Coaches of 2007, Bobby Petrino and Rich Rodriguez -- acquired by their schools at substantial cost in money and lost prestige -- would not combine to go .500. They didn't come close; Arkansas and Michigan combined to finish 8-16. Considering the incredible advantages in recruiting power and gimmick schedules possessed by these programs, a couple of orangutans could have coached Arkansas and Michigan to a combined 8-16 record.
The Football Gods Chortled: Over the weekend a California high school lost a championship when an official's inadvertent whistle nullified an apparent 50-yard game-winning touchdown with three seconds remaining. Was this the vengeance of the football gods? This season the high school in question has relentlessly run up the score against overmatched opponents, winning games by 92-0, 81-0, 61-0 and 52-0. Plus it's a Christian school! Running up the score doesn't sound very Christian.
Reader Animadversion: Got a complaint or a deeply held grievance? Write me at TMQ_ESPN@yahoo.com. Include your real name and the name of your hometown, and I may quote you by name unless you instruct me otherwise. Note: Giving your hometown improves your odds of being quoted.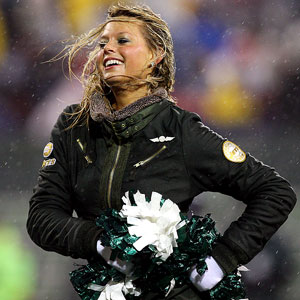 Jim McIsaac/Getty Images
At least some Jets personnel looked good Sunday.
Single Worst Play of the Season -- So Far: Playing at home, the Jets were fighting to sustain their improbable division lead. With the game scoreless, Jersey/B went Wildcat, lining Brett Favre up as a wideout while slash player Brad Smith took the snap. Smith flipped the ball for an end-around, and the Jets' Jerricho Cotchery lost control. As several Broncos fought madly for possession, several Jets simply stood watching, making no attempt to help. Very highly paid former Pro Bowl lineman Damien Woody stood like a statue, doing nothing, not even moving in the direction of the ball. The Broncos eventually picked up the fumble and returned it for a touchdown. Woody had recovered a Jets fumble earlier in the game, and seemed to feel he had already done his duty. Damien Woody, you are guilty of the single worst play of the season -- so far.
Next Week: Promoters seek a home city for the [Your Trademark Here] Bowl, which would auction sponsorship on an annual basis.
In addition to writing Tuesday Morning Quarterback, Gregg Easterbrook is the author of "The Progress Paradox: How Life Gets Better While People Feel Worse" and other books. He also is a contributing editor for The New Republic, The Atlantic Monthly and The Washington Monthly.