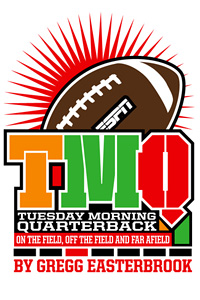 Finished. Done. Put butter and jam on them, as in, toast. That's the sports talk radio view of the defending champion Giants. They've lost two straight games! They can't run the ball! Their defensive line is terrible! And the Plaxico distraction … they're finished!
The Cowboys? Their Sunday night win was an aberration; Terrell Owens causes too much trouble; Tony Romo's hurt; the Cowboys couldn't gain a yard at home on third-and-1; they're finished. The Titans? They're a house of cards; they just lost to the Texans; they've lost two of four; they're finished! The Steelers have no chance; they only win games in the final minute -- that's not blowing people out; the Steelers aren't for real. The Panthers? Too reliant on the running game; Jake Delhomme is too erratic; they're finished. The Colts? Everybody's injured; they struggled to beat the Lions; they're finished. The Bucs? Can't win on the road; no way they advance. The Vikings? No quarterback; about to have no defensive line; no chance. The Patriots? Last year's story; too many injuries. The Ravens? The Steelers just exposed their offensive weakness; they can't win it all. The Jets? The Bills had to gift-wrap the game and hand it to them. The Dolphins? Nobody goes from 1-15 to the Super Bowl. The Falcons? Their record is beginner's luck; it won't last. The Cardinals? Puh-leez.
Such is the perceived football wisdom dominating sports yak at the moment. In short -- no one can win the Super Bowl.
Why does the sports world think no one is good enough to win this year's Super Bowl? The reason is rankings mania is leaking into NFL thinking. In the big-college world, it's a disappointment if you have one loss in a season, and a calamity if you have two losses. Unless you're winning every game by 30 points, you're suspect. But then again, in college the big football-factory schools have such incredible advantages in terms of recruiting power and gimmick schedules, so if you're not winning big every week maybe you should be suspect!
In the NFL, by contrast, schedules are uniform and neutral. (The much-claimed "parity scheduling" is a myth. In the NFL, the talent differential between the best team and the worst team is maybe 10 percent. To reach the Super Bowl, an NFL club must play 19 or 20 games -- if it wins 14 or 15, that is a fantastic performance. On Sunday night, the Giants played awful. An NFL team that plays awful only a couple of times per season is a very, very happy team! The least interesting thing about big-college football is that teams at the top are expected to be invincible. Professional football is fascinating because nobody's invincible. Even good NFL teams occasionally play poorly or have bad luck -- luck is more important to sports outcomes than generally accepted. So don't get all worked up about the Giants hitting a rough patch or the Titans not scoring a touchdown. It's not even Christmas. We still have no idea which is the best team.
In college football news, the bowl season is fast approaching. What if the BCS computer formula rewarded academic performance? Lindsey Luebchow of the New America Foundation asks that question here. She concludes that if academics were factored into big-college football, the BCS National Championship Game would feature Boston College versus Northwestern. Penn State and Cincinnati would meet in the Tostitos Fiesta Bowl, Ball State and TCU would line up in the Allstate Sugar Bowl, Oklahoma State and Boise State would pair up in the FedEx Orange Bowl, and Utah and Virginia Tech would meet in the Rose Bowl.
An Oklahoma State-Boise State bowl sounds fantastic! Sorry, I was thinking about football. Note that only four of the 10 actual big-deal bowls schools could make the BCS if academics mattered. Luebchow calculates that Florida and Texas can't even make an academic top 20 among football powers. Florida and Texas, why aren't you ashamed of the poor academic performance of your football teams? Florida graduates a wretched 36 percent of its football players. As for Texas, Luebchow writes, "Every year, college football fans get caught up in some 'major' controversy with the BCS rankings. They spend hours talking about obscure statistics and cursing computer formulas. This year … Texas fans were devastated when they lost the rankings fight. But the real tragedy for this team is that only 40 percent of its players, and only 27 percent of its black players, will graduate. Texas' football players put the university on the national stage. And what do they get in return? Besides the precious few that will make it to the NFL, most will leave school without a degree and with few career prospects."
On the Pittsburgh-Baltimore ending, it didn't matter whether Santonio Holmes' feet were in the end zone, the question is whether the ball crossed the white line: "A touchdown is the situation in which any part of the ball, legally in possession of a player inbounds, is on, above, or behind an opponent's goal line (plane), provided it is not a touchback." Referee Walt Coleman didn't help things -- in his explanation of the ruling, he seemed to say he thought what mattered was whether the feet were in the end zone. Come on NFL officials, memorize the rulebook! The whole controversy could have been avoided if, as TMQ has been campaigning for, the league would simply put a chip in the football. If NFL footballs contained tiny chips that triggered an electric-eye beam projected along the goal line, we wouldn't have these tedious discussions about whether the ball got in or not.
In other football news, the number of high school championships continues to soar -- see this year's count below. One newly crowned state champion is Pulaski Academy of Little Rock, Ark. The media world has begun to notice Pulaski -- "NFL Films Presents" had coach Kevin Kelley on a couple of weeks back -- because this successful team has not punted in 20 games. Please recall that TMQ featured Pulaski and Kelley more than a year ago. Two years ago, TMQ laid out in detail the mathematical reasons for avoiding most punts. That Tuesday Morning Quarterback article helped convince Kelley to try out the idea. Now he's up to 20 games without a punt, and has a state title to show for it. In my own modest adventures in coaching -- this year I coached my kids' high school's eighth-grade affiliate team -- confirms the wisdom of rarely punting. Our team finished 7-1 against the feeder teams of other high schools, and through the entire season we punted twice.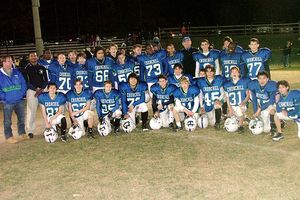 Chris Rigaux
The youth team that had a great season despite being coached by TMQ. Save the photo -- TMQ's unbiased view is that several boys from this team will play in college.
Going for it on fourth down will backfire sometimes, but over the course of a season the team that shuns the punt will score more and its opponents will score less. The 2006 article linked above explains how rarely punting increases the total possessions of the bold team while reducing total possessions by its opponents; that article also suggests a decision tree of what down-and-distance and field position make sense for not punting. Not punting not only sustains drives, it relaxes the offense, because when it's third-and-10, a 5-yard gain is OK since you know you're going for it on fourth down anyway. The opposing defense is driven crazy by a team that doesn't punt, while your own defense benefits. A coach who commits to rarely punting can tell his defense, "Constantly going for it means that a couple of times this season, we will fail and you will go out to defend terrible field position that could have been avoided by punting. But overall, it means you'll be on the field less while our offense scores more."
Most NFL and big-college coaches won't even ponder the math that argues against punting, because they are terrified of the criticism that would follow if they went for it in their own territory and failed. But if you decide to shun the punt, the backfire effect doesn't scare you -- because you assume going for it occasionally will fail in your own territory, and you plan accordingly. Overall the team that rarely punts will hold the ball longer and score more, while the opponent gets fewer possessions and scores less. At some juncture an NFL or big-college coach will try a rarely punts offense -- and revolutionize America's top sport.
Stat of the Week No. 1: Ben Roethlisberger has led 16 fourth-quarter drives that resulted in game-winning points on the Steelers' final offensive play.
Stat of the Week No. 2: Since taking the field for their playoff games in January, Green Bay, Jacksonville, Seattle and San Diego are a combined 24-41.
Stat of the Week No. 3: Detroit became the second NFL team to reach 0-14 in a 16-game season.
Stat of the Week No. 4: Four players this season have thrown touchdown passes for Kansas City.
Stat of the Week No. 5: In two starts, J.P. Losman has four interceptions and six fumbles.
Stat of the Week No. 6: In the first quarters of its past three games, Washington has fallen behind by a combined 38-0.
Stat of the Week No. 7: Since the start of the 2005 season, Dallas is a combined 33-13 before Dec. 1 and a combined 7-11 after.
Stat of the Week No. 8: The East divisions are a combined 68-43-1 and the West divisions are a combined 37-75.
Stat of the Week No. 9: Going back to the beginning of last season, Miami has had a 0-13 stretch followed by a 10-7 stretch.
Stat of the Week No. 10: There is a plausible scenario in which two 8-8 teams (Denver or San Diego in the AFC West, and Arizona in the NFC West) make the playoffs while at least one 10-6 team (Atlanta, Baltimore, Chicago, Dallas, Indianapolis, Miami, New England or Tampa Bay) does not.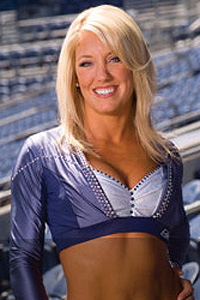 Seattle Seahawks
Mental-health counselors urge you to watch the Seahawks' cheerleaders rather than the Seahawks.
Cheerleader of the Week: Kat of the Seattle Sea Gals, who according to her team bio holds a master's in mental health and works as a mental-health counselor. Also according to her team bio, her hobbies include barefoot water-skiing and trap shooting. Considering the Seahawks and the Huskies, many Washington state sports enthusiasts could use some mental-health counseling. (University of Washington fans, check this announcement of new coach Steve Sarkisian -- the football is way too big for his body.) Here is how a counseling session with Kat might sound:
KAT: So you are planning to attend the Jets at Seahawks game Sunday, even though the Seahawks are 3-11. Does that seem to you to be well-adjusted behavior?

FAN: Well, you'll be there.

KAT: Yes, but I have a professional obligation to dance half-naked in front of 67,000 people.

FAN: And we're glad for that.

KAT: Do you always paint your face blue in the middle of the week?

FAN: No. Sometimes green.

KAT: That dog of yours, the one you painted purple -- that's not a husky. That dog is a Pomeranian.

FAN: What!!!!!
Sweet Play of the Week No. 1: In high school, a standard ploy is to bring in a kid who never plays and thus will be ignored by the defense, then go to him for a big play. Leading 7-3, the Marine Mammals faced second-and-7 at the San Francisco 19. In came backup tight end Joey Haynos, an undrafted free agent who had never had an NFL catch. The call was a seam route to Haynos -- touchdown. This high school-esque call was doubly sweet because in the first quarter, Miami's starting tight end, David Martin, caught a 61-yard touchdown pass; the Niners' defense was extra-concerned with Martin and totally ignored Haynos. Sputtering against winless Detroit, Indianapolis brought in undrafted free-agent running back Chad Simpson, who had six career carries to that point, and gave the ball to Simpson running left while Peyton Manning and the rest of the offense rolled right. The Lions ignored Simpson -- touchdown.
Sweet Blockers of the Week: Michael Turner is getting the attention in Atlanta, but when TMQ watches the Falcons, what impresses me is the offensive line. Turner went 22 yards through the three hole against Tampa as center Todd McClure and undrafted free agent guard Harvey Dahl executed perfect blocks. It's pretty fun to run 22 yards when everyone at the line of scrimmage has already been blocked completely out of the picture. The big play of Cincinnati's defeat of Washington was a 79-yard screen pass catch-and-run on second-and-19 by maybe-he's-not-a-bust-after-all Cedric Benson. No one touched Benson till he was almost 50 yards downfield, owing to perfect screen blocks by center Eric Ghiaciuc and guard Bobbie Williams.
Sweet Play of the Week No. 2: Trailing 21-19 at the start of the fourth quarter, winless Detroit lined up for a deuce try against Indianapolis. The Lions rolled right. Undrafted NAIA player Casey FitzSimmons, switched this year from fullback to tight end, lined up as the extra blocker left and blocked in, then sprinted into the left flat for a tight end screen -- two points. FitzSimmons "sold" his fake by hitting a Colts defender hard and maintaining the block for a moment, instead of just brushing him. So Detroit fans, you can fairly say today -- sure we're 0-14, but we just ran a really nice two-point conversion.
Sour Call of the Week: Leading 27-24 at Jersey/B, Buffalo faced second-and-5 on its 27, one snap before the two-minute warning. To that point, Bills rushing had been magnificent, gaining 5.8 yards per carry, while Bills passing had been dreadful, gaining 3.3 yards per attempt. Power back Marshawn Lynch was having a monster game, with 127 yards rushing; quarterback J.P. Losman was having an awful game, and had already fumbled twice. "As long as they don't throw, the Bills will win," my 13-year-old, Spenser, opined. Bills coach Dick "Cheerio, Chaps" Jauron called a pass: Losman scrambled and fumbled, and the ball was returned by the Jets for the winning touchdown. TMQ's immutable Law of the Obvious holds: Sometimes all a team needs to do is rush up the middle for no gain, and everything will be fine. Had the Bills sent Lynch straight ahead, victory was likely.
But that doesn't begin to express how sour the Buffalo coaching decision was. This situation can justify a play-fake to throw deep, because a deep completion ices the contest. That is not what Jauron called. He called an ultra-short flat pass to blocking back Corey McIntyre. Buffalo had run the play earlier in the game, and McIntyre, one of the slowest gentlemen ever to don pads in the NFL, caught for no gain. On the botched down that won it for Jersey/B, McIntyre was executing his pattern 5 yards behind the line of scrimmage -- if he'd caught the ball, he would have lost yardage. So the Bills weren't going deep to ice, they were trying to throw behind the line, exactly where run-blitzers were likely to be in that situation. (The flare to a blocking back works when defenders are retreating in an expected pass situation.) To top it off, Losman sprinted backward 10 yards and then waved the ball around in one hand before fumbling, instead of just throwing out of bounds. Ye gods. Ay caramba. "Cheerio, Chaps" Jauron is so completely, utterly out of it he even told reporters afterward that it was "one of those times in the game that's good for a pass."
Sour Overall Performance of the Week: Playing at home, the division-winning Arizona Cardinals rushed for just 43 yards against Minnesota, and scored just one offensive touchdown in a 35-14 loss. Something tells me that because the dome roof was open and it was 54 degrees at kickoff, the Cards considered this "bad weather." If 54 degrees brings your offense to a halt, good luck in the playoffs in January.
Sweet 'N' Sour Play No. 1: Maurice Jones-Drew ran a turn-in for a 14-yard touchdown reception, helping Jacksonville retain some dignity by defeating Green Bay. That was sweet. On the play, the Packers had a zone blitz, with defensive end Michael Montgomery dropping into coverage -- Jones-Drew blew past Montgomery like he wasn't there. But what kind of scheme gives a defensive lineman downfield responsibility for a tailback? When a defensive lineman drops into coverage on a zone blitz, usually he backpedals into a slant lane, rather than trying to cover someone man-on-man. Green Bay's defense was sour.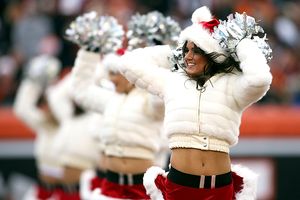 Andy Lyons/Getty Images
Bare midriffs at a kickoff wind-chill of 43 degrees -- no wonder the Cincinnati Bengals won.
Sour Player of the Week: Clinton Portis yapped, yapped, yapped all week about how he didn't like Jim "Dan Snyder Hasn't Fired Me Quite Just Yet" Zorn and wasn't getting the ball enough. With Cincinnati leading 20-10 with 1:51 remaining, Washington facing third-and-10 on the Bengals' 13, and a loss meaning all-but-mathematical elimination for the Redskins, the call was screen right to Portis. Two blockers were in front and a touchdown likely, but Portis dropped a perfectly thrown pass. If you're going to spend the week boasting about yourself, you better perform Sunday. Sour player runner-up: when the Nanticokes' Santana Moss scored to make the game 17-7, he was called for unsportsmanlike conduct for using a prop in a touchdown celebration. This meant Washington had to kick off from its 15. Not only was the celebration (which Moss knew would draw a flag, because props are specifically prohibited) unprofessional and selfish -- to that point, Washington had lost two straight and was trailing a terrible team. What exactly was there to celebrate? Maybe the problem with Zorn is that he hasn't cracked down on two selfish stars who think their egos are more important than the team.
Sweet 'N' Sour Play No. 2: St. Louis ran a zany trick play on which wide receiver Dane Looker ended up throwing a pass to quarterback Marc Bulger. That was sweet. This being the Rams, the play only gained 11 yards. That was sour.
"But He Seemed Liked Such a Nice Man": A couple of months ago, TMQ warned about investment hucksters and asserted, "There are no secret investing formulas." Put your money in the bank, buy into a reputable mutual fund that's open to the public and performs about the same or maybe a little better than the industry average. For goodness sake, don't believe any investment hustler who claims a secret formula! Now it turns out as much as $50 billion may have been entrusted to a man who is alleged to be the greatest investment hustler of all time, Bernard Madoff, just accused by federal prosecutors of running a colossal Ponzi scheme. Madoff had been claiming a super-special investment secret that allowed his fund to return 10 percent per year regardless of market conditions. Sounds fishy, huh? There are no secret investing formulas! Rather than keep clients' funds in a commercial bank or an investment bank, as do reputable firms -- this allows outside auditing -- Madoff set up private accounts that only he could access, and had the account "audited" by a storefront firm that employed a single accountant.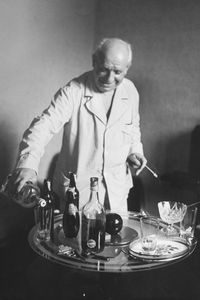 Hart Preston//Time Life Pictures/Getty Images)
Compared to Bernard Madoff, Charles Ponzi was a trustworthy figure.
So only a total fool would fall for an investment adviser who claimed a secret formula and who hid clients' funds where they could not be checked on. Only a total fool would fall for this, right? The weird thing about Wall Street con men, such as Ivan Boesky, who went to prison for stock fraud in the 1980s, is that smart people swallow the snake oil. All con men know you can only make a mark believe what the mark already wants to believe -- and the rich seem to want to believe there are hush-hush insider investing secrets that can only be known to a special few, not to average people. According to news reports, clients who entrusted personal funds to Madoff include Fred Wilpon, majority owner of the New York Mets; Norman Braman, former owner of the Philadelphia Eagles; Leonard Feinstein, one of the founders of the Bed Bath & Beyond chain; and J. Ezra Merkin, chairman of GMAC. What is GMAC? The financial services arm of General Motors! GMAC is no longer owned by General Motors, having been spun off in 2006. But Merkin is chairman of the board of a huge financial firm, yet fell for a swindler running a Ponzi con! The more Wall Street and the financial world melt down, the more it seems highly paid financial "experts" have no idea what they are doing, and are merely using mumbo-jumbo to fleece the rest of us.
Grade Inflation in High School Football: Most states have crowned their high school champions; a few championship contests remain for the coming weekend. High school titles continue to multiply. This year the states anoint an incredible 322 high school football champions. New Jersey alone allows 20 schools to win state titles, and little New Mexico has seven state champions. California, the most populous state, has a dignified and restrained three championships -- one each for small-, medium- and large-class high schools. Florida, New York and Pennsylvania are other big states with a realistic number of high school champions. Check out in contrast Massachusetts, Texas and Utah. Find me a Utah high school that isn't a football state champion! If California had the same ratio of high school football champions to residents as does Wyoming, California would have 356 state championship-winning high schools.
Amazingly, Elder Did Not Win One of the Six Ohio State Championships: Not just football-factory colleges but even some high schools now gimmick their schedules by playing more home games than road dates. Reader Gregory Peak of Cincinnati notes that Elder High School, an Ohio football power, in its regular season played seven home games and three games at neutral sites. Zero away games! "No wonder they made the state playoffs," Peak says.
"Friday Night Lights" Update: Yet again Dillon wins with a touchdown on the final snap, this time merely a 23-yard touchdown on the last play, not the fourth-and-99 touchdown to which viewers have become accustomed. Last week, TMQ noted that although a high school must win five playoff games to reach one of the multiple state championships in the 64-team Texas bracket, "Friday Night Lights" showed a 32-team bracket while the voiceover said the Panthers needed four wins to reach the title game. Now in the most recent episode, Dillon has two playoff victories, and the voiceover says the Panthers "need one more win" to reach the championship game. Wait, that would be possible only with a 16-team bracket! In Dillon, Texas, they're so obsessed with relationship talk and longing glances, they can't keep track of how many games they are required to play.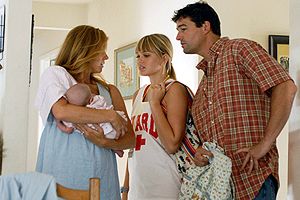 NBC
Everybody kiss the baby, she's about to vanish.
The series is down to its concluding episodes, yet central events remain completely unexplained. Last season, perpetual-senior Lyla Garrity became an evangelical Christian who spent every minute on church matters. This season she is a sex-crazed vixen type; the evangelical life has vanished and is never commented on. Did she undergo a reverse conversion? If you'd been an evangelical then changed your mind, your friends would sometimes mention that. On the show, it's as if her previous personality never existed.
But the real mystery is, where's the baby? At the end of Season 1, Tami Taylor, SuperWife of SuperCoach Eric Taylor, unexpectedly became pregnant. The baby was born in September 2007: The show's episodes are contemporaneous. During the second season, a running concern was adjusting to the baby and arranging child care for the baby. Now it's December 2008, the baby is 15 months old -- and the baby has vanished. Nobody in the Taylor family ever looks after little Grace or even mentions her. Tami Taylor is now principal of Dillon High, so the baby would need to be at a creche or the Taylors would need a nanny. But there's no nanny in their house. The baby is never going back and forth to child care -- indeed, never seen in either of their cars. In the Taylor kitchen, there's no baby stuff -- no rockers, bottles or high-chairs, and parents know that baby stuff totally takes over your life. The baby has vanished, and none of the characters have noticed she's gone.
Millions for AIG Executives, Not One Cent for Autoworkers: Congress signed off on a $700 billion financial-markets bailout without even knowing how the money would be used. Yet Congress has argued and argued about $14 billion to keep the Big Three automakers in business. Why was the huge number approved easily while the smaller number is resisted? Because the smaller number can be understood! Few people in Congress comprehend what AIG does or what credit-swap derivatives are, so when these subjects come up, eyes glaze over. (It might be that the people who run the financial sector are bluffing and don't understand what they are doing either, but that's another matter.) In contrast, everyone drives a car, has opinions about cars, and has opinions about $50-an-hour wages. Plus, the political ramifications of an auto bailout are much more clear than of a financial bailout. Thus the small number gets more attention than the large number -- classic government misplaced priorities.
Last week in the Senate, it was clear Republicans wanted to shaft the United Auto Workers because the UAW almost always backs Democrats. It was clear, too, that Republicans who think it's fine for upper-crust males in suits to receive millions of dollars for sitting at a Wall Street desk and producing nothing were offended by the notion that factory workers who make tangible products people need should receive $50 an hour in wages and benefits. What's offensive is that all labor does not pay $50 an hour! If all labor paid $50 an hour, poverty would end.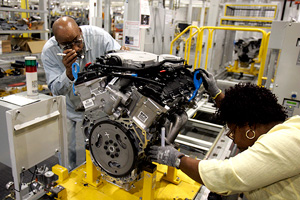 AP Photo/Carlos Osorio
Their role is important, but why should people who earn less be taxed to exempt them from the laws of economics?
For its part, the UAW could not have acted more arrogant. Union leadership wants typical Americans who earn less than $50 an hour taxed so that most UAW members give up nothing. Around the country, employees are accepting fewer hours or benefits to keep their companies going until the recession ends -- but not the UAW; it demands federally subsidized exemption from the laws of economics! The UAW talks as if it's still 1966, the Big Three has dominant market share and unlimited money, and it's just a matter of demand and management gives in. Plus low-quality assembly-line work is one of the reasons Detroit got into its present mess. Non-UAW autoworkers in Toyota and Honda plants in the United States, who earn roughly the same $50 an hour in wages and benefits, build great-quality cars that make their firms successful. The UAW won't take responsibility for its share of the Detroit decline; with UAW leadership it's always "we're victims, we're not responsible." Nobody, it seems, caused the decline of Detroit. Blame space aliens!
Meanwhile, Congress is shocked to learn that the executive pay limits in the Wall Street and banking-industry bailout package are toothless. Who's to blame? Congress. It was the members of Congress who voted for a bailout package whose executive pay "limits" were unenforceable, plainly intended solely as a PR exercise. Yet Congress did nothing. Now it turns out AIG is paying top executives up to $4 million each in taxpayer money as "retention bonuses," justified on the transparently fake claim that otherwise they will jump to other lucrative offers. The financial industry just experienced widespread layoffs, there are no other lucrative offers! But what is Congress doing? Nothing! Not even rushing to amend the legislation to prevent further abuses. Congress is in the situation Congress likes best: Members of the House and Senate can complain nonstop while taking no responsibility for anything and wasting large amounts of other people's money.
If the Super Bowl is Tennessee Versus Carolina, How Will We Tell Their Uniforms Apart? Tennessee is 12-2, Carolina 11-3, and both have power-rush games, which would seem to bode well for both. But can either pass if the pressure is on? Houston stacked the box, daring the Flaming Thumbtacks to throw, and Kerry Collins had a bland game -- no touchdowns for the Titans. Of course, the problem may be that Sports Illustrated had just run a laudatory article about Collins, engaging a lesser version of the SI curse. The Titans also failed to convert a critical third-and-1, when LenDale White was stuffed for a loss. As for Carolina, overall they have only outgained opponents by 351 yards on the season, and starter Jake Delhomme has an 82 passer rating. The Panthers plod a lot on offense, then occasionally break a big play -- they lead the league in 40-plus-yard rushing plays and are second in 20-plus runs. Long runs are good, obviously, but does Carolina have the offensive balance to face a premium club in a pressure situation? The Cats are 4-3 against teams with winning records.
TMQ likes Jeff Fisher not only because he's the NFL's longest-serving coach, he is among the few who consistently gives straightforward answers to media questions. Against the Texans, the deciding down came when Tennessee, trailing 13-12, faced fourth-and-3 at the Houston 32 at the two-minute warning. Rather than let Rob Bironas attempt a 49-yard field goal, Fisher went for it and the Titans failed. The Reliant Stadium roof was open, and Bironas would have kicked into a swirling wind; he'd failed on long kicks in that direction during warm-ups. After the game, Fisher, who at halftime had the choice of the wind in the third quarter or fourth quarter, explained that he'd chosen the wind in the third quarter "because I thought by then we'd have the game locked up," and should have made the conventional choice of saving the wind for the fourth quarter.
Few coaches would be honest enough to admit they underestimated their opponent -- Tennessee also seemed to underestimate Andre Johnson, who was singled most of the day and ran wild. At this point nobody will underestimate the Texans. Too bad their next up is Oakland. Since Houston can't make the postseason, surely it would have preferred to finish against strong teams and prove something positive for the offseason.
Adventures in Officiating: Officials deny they employ the makeup call -- but why not use makeup calls? If the zebras know they made an error in one team's favor, promptly making an equivalent error in the other team's favor has never sounded bad to me. On Thursday night, with the Bears trailing 24-21, Chicago reached the New Orleans 9 with 12 seconds remaining in regulation. A Kyle Orton pass fell incomplete as officials botched the call -- it should have been pass interference against the Saints, placing the ball on the New Orleans 1. From there Chicago, which held a timeout, could have had two tries to win with a touchdown. Instead the Bears kicked a field goal from the New Orleans 9 and went to overtime. Chicago got the kickoff -- yes, yet another overtime period in which the losers never touched the ball -- and faced third-and-7 at midfield. This time, officials did call pass interference against New Orleans, though the infraction wasn't as bad as the previous no-call. The penalty put Chicago on the New Orleans 15, from where the winning figgie was launched.
Congress to Debate "Placebo Stimulus" Bill: I proposed that since pharmaceutical side-effect warnings sometimes cause patients to experience negative side effects that are purely psychosomatic, why not warn of pleasant conditions and trick people into feeling good? Reader Mike Knezovich of Chicago writes, "Once I got a script for prednisone. One of the side effects listed was 'false sense of well-being.' I showed this to some friends and we agreed: Bring it on!" The entire nation should be sprayed with a drug that causes a false sense of well-being.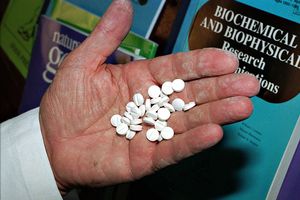 AP Photo/Remy de la Mauviniere
Warning: Side effects may include wishing TMQ was longer.
I proposed spreading the benefits of the placebo by creating Placebon®, an extremely expensive placebo promoted using high-pressure marketing -- if placebos were extremely expensive, then everyone would want them! Dave Warner of Arlington Heights, Ill., notes many pharmacies already are stocked with a prescription-only placebo, Cebocap, which pharmacists dispense when a physician prescribes a placebo. Walgreen offers this online information for the Cebocap placebo, which comes in three colors, presumably so patients can think they are taking three different drugs. When a doc prescribes Cebocap, the patient doesn't know it's a placebo. Cecelia Higgins of Fort Lauderdale, Fla., reports this Australian company markets a placebo that people are supposed to order for themselves -- you buy the stuff knowing it's a placebo, and dose yourself.
Get Simpson Out of the Hall of Fame and Off the Wall at Wilson Stadium: O.J. Simpson is now a convicted felon, yet Canton officials say they won't remove his bust from the Hall of Fame, and the Bills say they won't remove his name from their stadium wall unless the Hall of Fame acts first. What is 2008, the year of avoiding responsibility? Hall of Fame voters have been quoted recently as saying nothing should be done about Simpson because Canton should only consider on-field performance. Why bring up little off-field indiscretions such as gun felonies or a wrongful-death finding against Simpson by a California civil jury! The voters put Simpson into the Hall of Fame, the voters should remove him. But they don't want to take responsibility. It's incredibly repulsive that young people walking into either the Pro Football Hall of Fame in Canton or Ralph Wilson Stadium in Buffalo can see Simpson -- a criminal -- held up as a person of respect. Apparently, all the adults involved are petrified of taking responsibility for anything.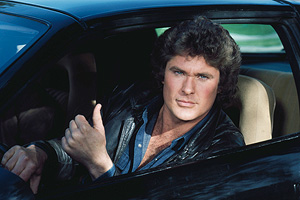 Tom/NBCU Photo Bank via AP Images
Save us from David Hasselhoff nostalgia!
Actual Good Example for the Rich: TMQ believes the rich should stop giving to Harvard, Stanford and other over-endowed schools, donating instead where their money can make a difference. Last month the column lauded the late Robert and Catherine McDevitt, who left $50 million to little-known Le Moyne College. Now it turns out the McDevitts also left $75 million to Georgetown University, which is well-known, but nowhere near as well-heeled as the Ivies. Give $75 million to Yale and your name will be an entry on an accounting chart; give $75 million to Georgetown and you will always be remembered. Reader John Walker reports that an estate trust established by Frank Doble, an electrical engineer who attended Tufts University and later was on the board of Lesley University, was dissolved last spring and the value ($272 million) evenly divided between the schools. Tufts is well-known but you've probably never heard of Lesley. The latter college's endowment was trebled by Doble's wonderful gift, making Lesley's future bright.
TMQ's Christmas List: Mikey Morris of West Palm Beach, Fla., suggests this GPS device that talks like the car on the original 1982 edition of the show "Knight Rider." It will even address you as "Michael," or you can switch the device to another name. "Turn every road trip into an adventure of epic proportions," the advert says. I am not sure I want an adventure of epic proportions when I drive to the mall.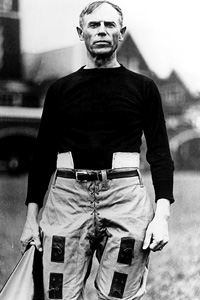 Getty Image
John Heisman -- as an offensive lineman, he couldn't be considered for his own award.
Bradford Wins Heisman Trophy for Big-College Quarterback or Running Back Who Receives Most Publicity: And the winner is -- hey look, a quarterback! Sam Bradford won the award TMQ calls the Heisman Trophy for Big-College Quarterback or Running Back Who Receives Most Publicity. The award was been conferred since 1935, and has gone to 43 running backs, 25 quarterbacks, four wide receivers and one cornerback. No lineman or linebacker has ever won; the last to finish in the top three in the voting was Pittsburgh defensive end Hugh Green, who finished second in 1980. It's fine if the voters want to confer an annual award on the best quarterback or running back, but they should stop pretending the award is for the best college player, since offensive linemen, tight ends, linebackers and defensive linemen are for intents and purposes not eligible. The ceremony was promoted by saying that the winner would "transcend greatness and become a legend." You can transcend greatness? And the word "legend" is commonly misused, but bear in mind it doesn't mean "someone famous," it means "a mythical person who is spoken of as if he existed." Heisman winners do not even necessarily become famous, except fleetingly. Of course you've forgotten who won the Heismans of the 1970s, but the Heisman Trophy in 2003? Not even most college football devotees can remember.
As for Bradford going to the BCS National Championship Game, bravo for him. But if Oklahoma beats Florida and Texas beats Ohio State in the Fiesta, my money will be on Texas as national champion. In that scenario, Oklahoma and Texas would be tied at 12-1, would have played nearly identical schedules, and Texas would have beaten Oklahoma head-to-head. How can Texas not be No. 1? You'd best believe the BCS organizers are hoping this scenario does not come to pass, because if it does and the BCS says Oklahoma is No. 1, the BCS will be roundly denounced yet again.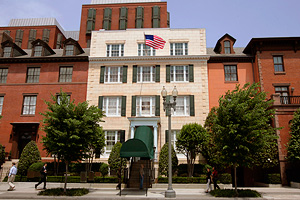 AP Photo/J. Scott Applewhite
Blair House belongs to the public. How come the White House asserts it is a private facility?
No Vacancy: The Obamas were denied early check-in at Blair House, the presidential guest house, where the incoming president's family traditionally stays before the inauguration. Obviously, Barack Obama isn't in the right frequent-flyer program! What's strange about this is that the White House declared Blair House was already booked with visitors but would not say who because their identities are "private." Blair House is a public facility owned by the federal taxpayer. Federal taxpayers provide substantial sums for the building and the Secret Service protection there. In no sense is Blair House "private."
Reader Comments: Among my complaints about the new James Bond movie was that it was unrealistic to depict a luxury hotel in the middle of nowhere in South America's Atacama Desert. Readers, including Russ Hancock of Old Lyme, Conn., countered there actually is a luxury hotel in the Atacama Desert, though presumably the actual luxury hotel does not begin to blow up if there is a fistfight in the hall.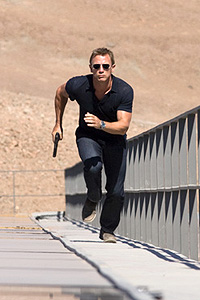 MGM/Sony Pictures
Not many secret agents could cause an entire luxury hotel to explode by starting a fistfight.
I urged the rich not to wait for an Obama tax increase, rather tax themselves now. Then I wondered if a donation to the federal government would, itself, be deductible. Kristina Hultman of Norwood, Mass., answers: "Donations to the government are tax deductible as a donation to a qualified charitable organization under Section 170(c)(1) of the tax code. The taxpayer could make a contribution to the United States government and receive a deduction for that contribution up to 50 percent of the taxpayer's adjusted gross income." So if a rich person gave $1 million to the federal government, it would really only cost $650,000 because the donation could be used as a deduction to reduce the person's tax bill. Um -- I think in this scenario, the government comes out ahead. This is the kind of accounting we may need to keep the national debt under control. And note that the IRS considers the government a charitable organization!
There has been running speculation in the column about whether advanced planets could fight by hurling basketballs or pints of vanilla ice cream at each other at 99 percent of the speed of light; calculations suggest that a pound of any mass striking at 99 percent of light speed would detonate with 60 megatons of kinetic energy. Kenny Booth of Bothell, Wash., supposes that accelerating a pint container of vanilla ice cream to relativistic speed would melt the contents. What you'd really want, he thinks, is Comet Crunch ice cream.
Happy Hour in Hell's Sports Bar: Hell's sports bar has 28 wide-screen plasma TVs, and now gets DirecTV! But certain blackout rules may apply. On Sunday, all 28 screens in Hell's Sports Bar showed nothing but 2-11 Seattle at 2-11 St. Louis. For the highlight program, all 28 screens showed nothing but, over and over, Arizona, trailing 28-0, punting on fourth-and-1 from midfield. Hell's sports bar is booking up fast for Saints at Lions on Sunday -- all 28 screens will show nothing but Detroit's quixotic quest to complete the first 0-16 season. Actually, since that's what they'll want to see in hell, maybe management will tune to the Steelers-Ravens game. Anyway, check out Sunday's special: unlimited hot wings! Hot as in, on fire. And Detroit fans, just remember: The 1976 Bucs had to stop at 0-14 because the season had 14 games that year. But the losing streak didn't stop, the next year the Bucs lost another 12 for an 0-26 run. Something for the Lions to aim for in the offseason.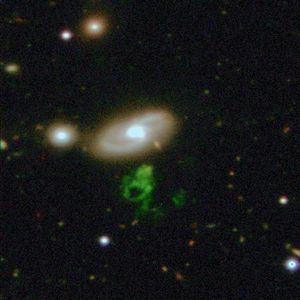 Dan Smith, Peter Herbert, Matt Jarvis & the ING, University of Oxford
It's just a gigantic glowing green frog in outer space. Sure, there's a logical explanation.
Voorwerp Update: A few months ago TMQ noted that cosmologists could not explain the Voorwerp, a mysterious glowing deep-space cloud discovered by a Dutch schoolteacher. Reader Neal Gilbert of Grand Rapids, Mich., reports the science world now has a theory -- something about black holes and heated gases. Yeah, yeah. Astronomers don't want to be shown up by a Dutch schoolteacher, so they are pretending they know what the thing is.
Sour Tactics of the Week: Joey Porter of Miami leads the NFL in sacks, so here's a wild thought: on passing downs, block him. With Miami leading 14-9, San Francisco had fourth-and-10 on the Dolphins' 21 with 1:07 remaining. Barry Sims, who once was a quality offensive tackle but whose play has declined with age -- though they can never take away from him that he is a member of the Scottish Claymores Hall of Fame -- had entered the game at right tackle for San Francisco owing to an injured starter. Porter lined up across from Sims and blew past him on his first step (Sims barely even brushed Porter) for the sack that concluded the contest. San Francisco coaches know they've got an aging backup in decline facing the NFL sack leader. Why didn't Sims get any help?
Postmodern Play of the Week: Leading 7-3, Dallas reached first-and-goal on the Jersey/A 1. The Cowboys came out in the shotgun formation, four-wide.
Worst Crowd Response : In Kansas City, even the crowd had a bad game! With the Chiefs leading the Chargers 21-10 at the start of the fourth quarter, much of the crowd filed out. By the time the game reached its action-packed final two minutes, Arrowhead Stadium was nearly empty. Why 73,842 people would turn out in cold and wind to watch a 2-11 team is beyond me, but if you're a Chiefs fan who goes to the game, the reason you're there is the hope of seeing the home team win, right? As the home team was poised to win, everybody left. Deathly silence in the final two minutes was a factor that aided San Diego's improbable comeback.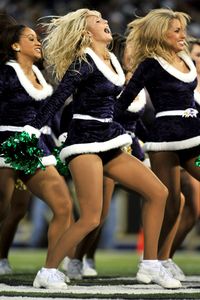 Larry French/Getty Images
Must resist something-in-your-stocking joke, must resist something-in-your-stocking joke ...
Scouts Notes: A month ago when everyone was obsessing about Brett Favre Brett Favre Brett Favre, yours truly wrote that the Jersey/B front seven, especially nose tackle Kris Jenkins, was the story of the team. On Sunday, Jenkins looked awful as the low-voltage, practically uncoached Bills ran up 187 yards rushing on the Jets at home. Budgies center Duke Preston, who is not going to make anyone forget Dwight Stephenson, was shoving Jenkins around at will. As the Jets sputter, TMQ's question is: What's happening to the defense?
Ho Ho Ho: New England led 49-20 with 2:33 remaining at Oakland when the Raiders were awarded a first down on a close call. Bill Belichick challenged the ruling. That's right, ahead 29 points just before the two-minute warning, Belichick challenged a call. Trying to stop the opponent from scoring a meaningless last-second consolation touchdown is the flip side of running up the score, and it seems the old Belichick is reasserting himself.
The low point of the 2007 NFL season was the New England-Washington game, when the Patriots led 38-0 in the fourth quarter and Belichick kept his starters on the field and Tom Brady was throwing deep, frantically trying to humiliate the mannerly, dignified Joe Gibbs. The game ended 52-7, with many New England starters still on the field at the whistle, and Belichick still frantically trying to humiliate the dignified Gibbs. Was Belichick engaged in some psychological cry for help -- or was the New England coach acting out an idea planted in his head by his father Steve? Over the winter, I stumbled across this Belichick statement during a 2004 interview on Boston sports radio station WEEI:
"I remember when I was a kid and my father was coaching at Navy. He was a defensive coach -- coached the secondary, coached the linebackers at different points during his career there. I remember one game where I said that to him after the game -- you know, where I really thought the other team kind of ran it up on you. And he said, as a defensive coach would say, 'You know what, it's our job to keep the score down, not theirs. We're on defense. That's what our job is, to keep them from scoring.' Having been a defensive coordinator, those words have rung in my head many times. When they're moving the ball, when they're scoring points, it's your job to stop them. Not their job to ... [Host interjects: 'Stop themselves.'] Right, pull back."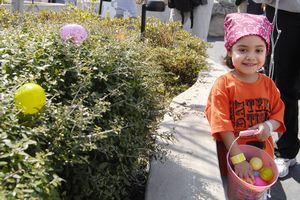 AP Photo/Mike Wintroath
Finished your Easter shopping yet? Hurry!
Unified Field Theory of Creep: Paul Cantor of Erie, Pa., reports, "Last weekend, I received an invitation to the Greater Erie YMCA Easter Egg hunt -- scheduled for April 4, 2009." Christopher Burch of Palmetto, Fla., notes, "During the pregame show for Monday Night Football, the crawl at the bottom of the screen had predictions for the Top 5 picks in next spring's draft -- five months away, plus the predictions included 'underclassmen who have yet to declare.'" David Heim of Chesapeake, Va., writes, "Hurricane season begins on June 1. Our local paper ran predictions for the 2009 season on December 11, 2008. This will be followed shortly by local news channels screaming at us that we need to start preparing!"
Buck-Buck-Brawckkkkkkk: Facing all-but-mathematical elimination at Cincinnati, Jim "Dan Snyder Hasn't Fired Me Quite Just Yet" Zorn ordered a punt on fourth-and-4 from midfield when trailing 17-0.
Obscure College Score of the Week: Minnesota-Duluth 21, Northwest Missouri State 14 (Division II championship). Located in Duluth, Minn., the University of Minnesota-Duluth gives its civil service workers the day off when the temperature exceeds 88 degrees.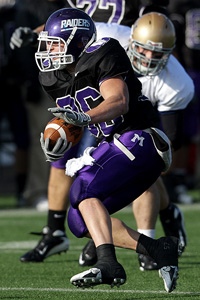 AP Photo/Ron Schwane
Advice to defenders: You might as well just get out of Nate Kmic's way.
Bonus Obscure College Score: Montana 35, James Madison 27 (Division I-AA semifinal). Located in Harrisonburg, Va., James Madison University is named for the principal author of the U.S. Constitution. The school's policies are substantially longer than the Constitution.
Double Bonus Obscure College Score: Mount Union 45, Wheaton of Illinois 24 (Division III semifinal). Mount Union's Nate Kmic became the all-time NCAA leading rusher at 7,986 career yards, surpassing -- surely you know! -- Danny Woodhead. Woodhead, who played for Chadron State, broke the record previously held by -- surely you know! -- R.J. Bowers. Woodhead went undrafted, had a tryout with the Jets and was waived. Bowers, who played for Grove City College, spent a year on the Steelers' practice squad, then carried seven times for Pittsburgh in a late-season game. Kmic has one more appearance, next weekend's Division III championship versus Wisconsin-Whitewater, in which to extend his record. The Division III championship is called -- surely you know! -- the Amos Alonzo Stagg Bowl. Not to be confused with Wheaton College of Massachusetts, Wheaton College of Illinois, located in Wheaton, Ill., held its annual Christmas Festival three weeks before Christmas.
Next Week: The Dillon Panthers score a final-play winning touchdown from outside the stadium.
In addition to writing Tuesday Morning Quarterback, Gregg Easterbrook is the author of "The Progress Paradox: How Life Gets Better While People Feel Worse" and other books. He also is a contributing editor for The New Republic, The Atlantic Monthly and The Washington Monthly.