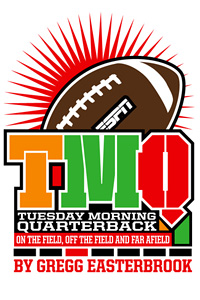 Seven-headed dragons stalk the NFL; armored locusts will be observed in stadium stands this weekend; the league headquarters will move from Manhattan to Babylon, N.Y. Why? It is the Armageddon of the playoff system.
When the regular season concludes, there is a chance that two 8-8 teams will advance to the playoffs, and a chance that two 10-6 teams will not. It is possible that two 8-8 teams will make the playoffs while an 11-5 team does not. The mere fact that this is possible as the final weekend arrives tells you the NFL playoff system is broken. It must be replaced by a seeded tournament.
It's bad enough that Indianapolis, already 11-4 with a possible 12-4 finish, will open on the road at either 8-8 San Diego or 9-7 Denver. It's bad enough that Arizona, which has lost four of its past five games, could finish 8-8 and host a playoff game against a team that finished 11-5. It's bad enough that those same Cardinals, who were just blown off the field 47-7 by New England, are already in the postseason while the Patriots could finish 11-5 and not make it. Just consider: Baltimore, Chicago, Jersey/B, Miami, New England and Tampa all enter the final weekend in danger of finishing 10-6 yet being eliminated. All of them won't, of course. But a few will.
It's Armageddon for the NFL's division-based postseason format. For an 8-8 NFL team to reach the postseason while an 11-5 team does not would be like if, in Major League Baseball, an 81-81 team made the playoffs while a 111-51 team did not. Such a result would make a mockery of the notion that sports rewards merit -- luck in division assignments would mean more than performance on the field. The NFL's flawed postseason formula has been producing skewed results for years, such as last season, when the 9-7 Bucs hosted the 10-6 Giants and the 10-6 Browns did not make the playoffs at all. In 1985, the 11-5 Broncos were denied entry into the postseason while the 8-8 Browns advanced. But this year's results may be the most skewed ever for the NFL, making a laughingstock of the league's postseason format. Armageddon! Grab your tuna fish cans and rifles and head for the hills!
Not only is the premise of the sport sullied when teams that don't perform well are rewarded while teams that do perform well are sent home, think of the matchups we'll be missing! Are you really anxious to watch the Arizona Cardinals again? Wouldn't you rather see what the Patriots, Dolphins, Ravens, Jets or Bears can do in the postseason? Great matchups are the essence of postseason NFL ratings. The current system discourages great matchups by placing such a high value on pure luck regarding how your division performs that season.
The NFL postseason format simply must be switched to a seeded tournament. Divisions are fine for organizing regular-season play, but when it comes to the postseason, the top 12 teams should be taken regardless of division or conference. The current system was not handed to Moses etched onto a stone tablet -- NFL owners changed the playoff format in 2002, they changed it in 1990, they can change it again. A seeded NFL tournament could only make the postseason more exciting.
If the season ended today as a seeded tournament, these (using simplified tiebreakers -- I did not run every ramification) would be the pairings. Byes: Titans, Giants, Steelers, Panthers. First round: Jets, Bears or Bucs at Colts, Cowboys at Pats, Ravens at Falcons, Vikings at Dolphins. Is there one single NFL fan anywhere who does not think this seeded postseason tournament would have more appeal than the first round we're going to end up with?
In other football news, thanks for collapsing, Denver! Football enthusiasts will be rewarded with a bonus playoff game -- the Broncos at Bolts contest, where the winner is in and the loser is out, regardless of what any other team does. To defeat City of Tampa, San Diego called repeated screen passes, to tailbacks and tight ends, seeking to tire out the aging Bucs front seven -- chasing down screen passes requires a lot more exertion than a standard pass rush. The tactic worked. Meanwhile, the Bucs have dropped three straight, descending from postseason favorite to nearly out. Defensive coordinator Monte Kiffin decided to leave for the University of Tennessee when the season ends -- looks like Kiffin will be in Knoxville sooner than planned! If, during the midst of a postseason push, an NFL player was negotiating with another team to join it at season's end, there would be huge outrage, fines, etc. How come it's OK when coaches do this, all but walking out on their current obligations in the process?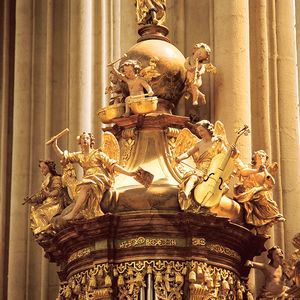 Imagno/Getty Images
The chorus angelorum sings holiday good wishes to all space aliens, mega-babes and football enthusiasts.
In seasonal news, no more creep objections, the holidays are finally here. I hope all grown-ups as well as kids revel in that pleasing sensation of lulling around in pajamas near colored lights, smelling cocoa and marveling at foil-wrapped presents. If you have a Christmas tree, put an electric train around the base! Mine's up, pulled by a 1963 vintage American Flyer steam engine. Every year the sound of the train huffing around the tree, and the smell of simulated railroad smoke mingling with pine scent, take me straight back to childhood happiness.
Tuesday Morning Quarterback sends holiday good wishes to all space aliens, mega-babes and football enthusiasts. Bells are ringing all across the local star cluster!
Stat of the Week No. 1: Atlanta and Miami, a combined 5-27 in 2007, are a combined 20-10 in 2008.
Stat of the Week No. 2: East Coast teams other than the Jets are 10-1 on the West Coast this season.
Stat of the Week No. 3: The Jets are 0-4 on the West Coast.
Stat of the Week No. 4: Undrafted Division III product Fred Jackson gained 119 of Buffalo's 151 total yards in the fourth quarter at Denver.
Stat of the Week No. 5: Cleveland has not scored an offensive touchdown since Nov. 17.
Stat of the Week No. 6: The Cardinals are 0-5 on the East Coast this season, and have been outscored by a combined 100 points in those losses.
Stat of the Week No. 7: Coming into the season, Denver was 207-82 at home since the 1970 merger, the second-best home winning percentage in the NFL. This season, Denver is 4-4 at home.
Stat of the Week No. 8: The Bears gained only 210 yards in five quarters, had a quarterback with a 48.7 rating, didn't record a sack or have an advantage in turnovers -- yet won.
Stat of the Week No. 9: San Diego has not lost a game in December in three seasons.
Stat of the Week No. 10: Indianapolis is the first NFL team to win at least 11 games in six consecutive seasons.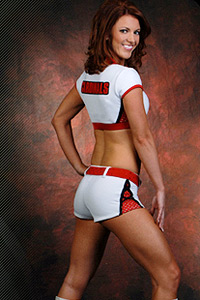 Courtesy of Arizona Cardinals
She'll also be reading the new business best-seller, "This Book Printed On Paper Bought by the U.S. Congress."
Cheerleader of the Week Ken Akerman of Tempe, Ariz. nominates Neeley Neal of the Arizona Cardinals who, according to her team bio, holds an MBA from Arizona State University. Neal has started a cheer choreography company that features studly cheer-hunks as well as buff cheer-babes, and her hobbies include "reading business and investment books." TMQ projects these investment book best-sellers for 2009:
• "Halve Your Money In 30 Days!"
• "Subprime Prime Time: Buy Real Estate With Nothing Down and False Documents, Then Let Taxpayers Pick Up the Tab" (Second edition, first edition published in 2006)
• "The Bear Stearns Guide to Financial Freedom"
• "The Former Millionaire Next Door"
• "Bernie Madoff's Sure-Fire Moneymaking Secret"
Sweet Plays of the Week: If I'd told you a few months ago that Miami at Kansas City would be one of the most entertaining contests of the 2008 season, would you have believed me? Miami ran beautiful high-school-inspired play after beautiful high-school-inspired play Sunday. On one, Ted Ginn Jr. lined up in a double slotback right; the Dolphins faked a power toss right; Ginn took the ball on an end-around left; offensive linemen Samson Satele and Ike Ndukwe (who played with far more enthusiasm than the Cowboys' overhyped, overpaid offensive line; see below) pulled left and got blocks 30 yards downfield as Ginn scored. Later in the game, the Marine Mammals went Wildcat with tailback Ronnie Brown taking the snap, faking an inside handoff to tailback Ricky Williams, then handing the ball on another end-around left to third tailback Patrick Cobbs, who went 44 yards, also behind fine downfield blocks by Satele and Ndukwe, setting up another Miami touchdown. And you'll watch a lot of football before you see the chip fake executed any better. With Miami facing first-and-10 on the Kansas City 14, the Dolphins faked a roll-out left; tight end Anthony Fasano faked zone blocking to the left, then sprinted into the right flat for a touchdown reception.
As for the Chiefs, well, blue-chip high school recruits trying to choose your college, time to check out Coastal Carolina University! Little-known second-year quarterback Tyler Thigpen from Division I-AA Coastal Carolina is just tremendous -- his arm, his running ability, his poise, everything. Thigpen is going to leave many first-round quarterbacks in his dust. He didn't look the slightest bit nervous when Kansas City went for it on fourth-and-1 on the Miami 8, throwing a nice touchdown pass. With the clock ticking down, Thigpen moved the Chiefs 95 yards in less than two minutes for a touchdown as the first half ended. When Kansas City went for it on fourth-and-1 from its own 26 with three minutes remaining, Thigpen had Mark Bradley open on an out-and-up, and if he hadn't slipped as he set to throw, Miami might not be preparing for a win-and-in game Sunday. Kansas City put up 492 yards of offense against an opponent that had 10 times the motivation. Nice work, Chiefs.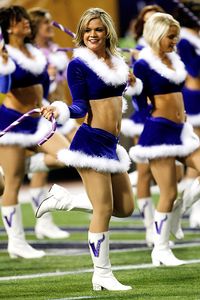 Scott Boehm/Getty Images
"Oh, the weather outside is frightful, and in our dome, the coaching is not delightful ..."
Sour Play of the Week No. 1: Trailing Atlanta 24-10, Minnesota took possession near midfield with nine minutes remaining -- incompletion, short pass, short pass, incompletion, and the Falcons got the ball back. Adrian Peterson did not touch the pigskin on the series. True, Peterson fumbled twice in the game. But Peterson is the Vikings' meal ticket, and often seems to perform best after starting poorly. This season Peterson has fumbled once per 45 touches -- too much, considering Thurman Thomas fumbled once per 138 touches and Emmitt Smith fumbled once per 91. But short-term fumble numbers are mainly due to luck. The Vikings' coaches really thought Tarvaris Jackson throwing gave them a better chance to win than Peterson running?
A Cosmic Thought: Recently the Hubble Space Telescope took these pictures of a star-forming region in the Large Magellanic Cloud, a "dwarf" galaxy relatively close to our Milky Way. The cloud is considered a "dwarf" galaxy because it contains only a few billion stars -- only! -- rather than the estimated 100 billion stars of the Milky Way. The star-forming region in the Large Magellanic Cloud is about 100 light-years across, and may spawn hundreds of new stars. The Large Magellanic Cloud holds many thousands of giant stars that are 10 to 60 times heavier than our sun -- such very massive stars are thought to have been a feature of the dawn eon that followed the Big Bang (see below). As telescopes improve in power and inspect the Large Magellanic Cloud more closely, increasingly they find it is young, active and busy making new stars in fantastic numbers.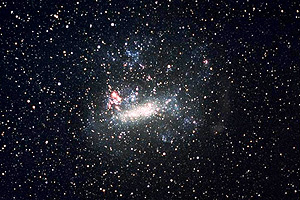 NASA
The Large Magellanic Cloud teeming with energy.
Each year at this time, TMQ likes to remind everyone: The universe is at least 14 billion years old, yet stars are still forming. An entire "dwarf" galaxy in our neighborhood is youthful by the standards of celestial time, and seething with the energy of creation. The cosmic enterprise may last for unfathomable spans -- some astronomers now guess trillions of years -- or may last forever. Stars are still forming, right in our neighborhood. Who can say what humanity's ultimate role in the cosmic project may be?
Sour Performance of the Week: When the Jets were winning, the sports media lavished praise on Brett Favre Brett Favre Brett Favre. Now that the Jets have dropped three of four and Favre Favre Favre's numbers are bad, the sports media are lambasting him. I would have sworn football was a team sport -- Favre was getting too much credit when things went well, and now he's taking too much blame. On Sunday at Seattle, the Jersey/B front seven played terribly against a makeshift Seattle offensive line (Steve Vallos and Mansfield Wrotto started, while Kyle Williams got his first-ever start, replacing Walter Jones; all five starters on the O-line were backups). And Jersey/B's very highly paid offensive line played poorly, forcing their quarterback to scramble often.
The coaching was suspect too. With Seattle leading 10-3 at the start of the fourth quarter, Jersey/B faced fourth-and-7 on the Blue Men Group 27. The Jets' coaches hesitated to make their decision, then sent the field-goal unit in late, and then didn't call a timeout, though they still had all three available. The result was a delay of game penalty. Then it was fourth-and-12 on the 32 and the Jets' coaches ordered a punt, rather than try a 49-yard field goal. Sure, the conditions were bad, but Phil Dawson of Cleveland hit from 49 yards in a driving snowstorm last season (plus Jay Feely's try from 44 yards right as the penalty was called was good, with plenty of room to spare). The Jets were desperate for points, and coaching indecision cost them a field goal. Still trailing 10-3, Jersey/B faced third-and-2 at its 20 with 2:23 remaining and still holding all three timeouts. Rather than run to ensure the first down -- with three timeouts plus the two-minute warning, there was ample opportunity to do so -- the Jets' coaches called consecutive passes whose results were incompletion, incompletion, game over. Sports yakkers always pay too much attention to the quarterback, good or bad. When I've watched the Jets in recent weeks, I've thought, "What is going on with this team?"
Sour Play of the Week No. 1: With Jacksonville leading 24-14 with 12:36 remaining in the fourth quarter, the Colts faced third-and-goal on the Jags' 1. Peyton Manning play-faked and threw to an uncovered Dallas Clark for the touchdown. To that point in the game, with three quarters complete, Indianapolis had a grand total of 13 yards rushing, yet the Jacksonville defense fell for the play fake.
Sweet 'N' Sour Possession: Leading 17-14, Tennessee faced fourth-and-3 on the Pittsburgh 30. Fourth-and-3 on the opposition 30 is exactly the situation the Titans faced the previous week at a critical juncture. Jeff Fisher went for it, believing his place-kicker lacked the range; the try failed, and Fisher was mercilessly pounded on sports talk radio for the decision. Facing exactly the same choice, Fisher made the same decision again, and this time the result was a 17-yard completion for the first down, eventually leading to a game-icing touchdown. How sweet. The touchdown came about after the Flaming Thumbtacks reached fourth-and-1 on the Steelers' 4, and from there lined up to kick. Officials whistled Tennessee for illegal motion; but as officials were waving their arms to stop the play, Pittsburgh linebacker James Harrison shoved the Tennessee snapper to the ground. The unsportsmanlike penalty on Harrison gave Tennessee first-and-goal, from which the Titans iced the game. Very, very sour of Harrison to make such a dumb move.
Football gods warning note: Fisher also went for the first down on fourth-and-1 from the Pittsburgh 21, not because he thought his kicker couldn't make it but because he believed in his offensive line. The result was a 21-yard touchdown run by rookie Chris Johnson. But Johnson started waving the ball around in the air at the 10-yard line. This is the third time this season Johnson has waved the ball around in the air, to taunt opponents, before actually crossing the goal line. This kind of thing must stop, since you shouldn't taunt opponents in any case, much less risk a fumble that will embarrass you forever.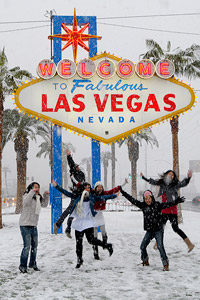 AP Photo/Darrin Bush
Look, another tenth of an inch is falling!
Sweet 'N' Sour Game: TMQ has been warning that Arizona's pass-wacky offense will malfunction in bad weather -- but even so, what happened at New England was ridiculous. At halftime, the Patriots led 31-0 with Arizona outgained 270-55 in yards and 16-3 in first downs. Don't tell me the problem was that the Cardinals franchise was playing in snow for the first time in 25 years. Football is the only sport played in all elements. If you are afraid of snow, then you are not a "football team." And don't tell me that's because it is impossible to pass in snow and freezing rain. New England threw for 343 yards! Arizona's performance was so feeble it didn't even qualify as a phone-in. On the first play of the second half, New England faked a power toss right and threw a basic high school hitch to Randy Moss left, with two offensive linemen pulling left; Moss went 76 yards for an untouched touchdown with no Cardinals defender even in the picture for most of the run. Arizona is 5-0 in its weak division, 3-7 in all other games. They may have won the NFC West, but TMQ assures they remain the Arizona (Caution: May Contain Football-Like Substance) Cardinals. And Bill Belichick remains Bill Belichick. With New England leading 44-0, the starters were still in on defense, executing a safety blitz. The starters were still in on offense, with Matt Cassel still throwing!
Absurd Specificity Watch: Rich Campbell of Rohnert Park, Calif., notes the Las Vegas snowfall wasn't three inches or four inches, it was 3.6 inches. Hey kids, another tenth of an inch of snow just fell! (If there's a ruler on your desk, have a look-see at a tenth of an inch.) Jeremy Nichols of Ballwin, Mo., points out this Olympic women's kayak event was officially decided by thousandths of a second -- the winner was four-thousandths faster, or one-250th of a second. Over the time span of the race, that equated to 0.00000026 percent faster than the silver-medal competitor.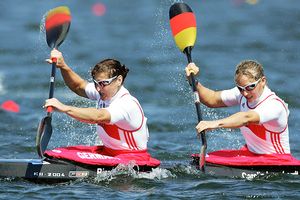 AP Photo/David Guttenfelder
Faster! Faster! They're only one-thousandth of a second behind us!
TMQ Asks Again -- Why Isn't This Considered Embezzlement? Last week, Louise Story of The New York Times reported that Merrill Lynch top executives awarded themselves between $5 billion and $6 billion in bonuses in 2006, based on claims of spectacular gains in mortgage-based securities. This year, it turned out the claims were false: Merrill declared a $19.2 billion loss on mortgage paper, and the 2006 results were "written down" (declared worthless). Merrill was sold at a distress price to Bank of America, and shareholders were clobbered in the transaction. Yet Merrill executives kept the bonuses. As stock prices have tumbled, many financial companies have admitted to cooked books, declared big losses and taken huge write-downs. Charles Prince, who was recently shown the door as CEO of Citigroup, paid himself $110 million in bonuses for five years as CEO, and upon departure, received an exit package worth $68 million which included such absurd perks as a car and driver for life. Owing to bad management moves by Prince, Citigroup's share price fell 60 percent during his tenure, costing stockholders $64 billion in lost value, yet Prince got to keep the bonuses. Angelo Mozilo, the CEO of Countrywide Financial, which melted down as a result of its sale of gimmick loans, paid himself $410 million over the past eight years, plus many perks such as private jet travel for his wife. In the year before Countrywide was also acquired at a distress price by Bank of America, the company's stock plunged almost 85 percent, costing stockholders about $20 billion in lost value -- yet Mozilo got to keep the bonuses.
Very high pay to Wall Street managers is justified on the grounds that they are financial geniuses with astonishing expertise. Instead it turns out many financial industry managers made basic blunder after basic blunder. The 2008 financial markets crash belies the entire premise of Wall Street -- that the people there deserve huge paychecks for incredible skill in finance. Any fool can make money in a rising market by borrowing! But if the rise stops and you're leveraged, you hit the wall. This is the short version of how many Wall Street and hedge fund managers appeared to be "financial geniuses" from 2003 to 2006, then ended up destroying their investors. The financial manager with true expertise knows to avoid bubbles, especially bubbles based on borrowing. Many Wall Street and big-bank managers during the housing bubble were taking wild risks or performing no due diligence -- and when the risks blew up, they got to keep their bonuses while investors and stockholders got hosed. At this point, it's totally obvious the system is rigged -- lie about returns (or take crazy risks), claim a spectacular year, award yourself a vast bonus. When the scandal hits, so what? You keep the bonuses. TMQ's basic question: Why isn't this considered embezzlement, punishable by law? Financial managers have a fiduciary responsibility to act in their investors' interest. When financial managers instead act against their investors' interest in order to line their own pockets, that isn't just cynical -- that sounds like a crime.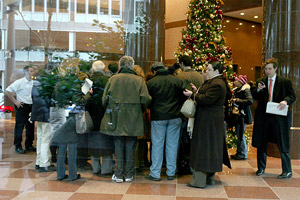 AP Photo/Diane Bondareff
"Our senior executives are counting their bonuses and can't see you now. Your money can't see you now, either."
Note 1: In case you're wondering, I hold no grudge against Wall Street since I've had no problems -- years ago I took my own advice and kept my money far away from highly paid financial managers claiming to possess incredible insider expertise. Note 2: Here, Robert Chew describes how he lost his life savings by entrusting the money to Bernard Madoff. Why did he do it? Chew had some rich relatives who invested with Madoff, and whispered about how Madoff had a super-secret investing formula. Tuesday Morning Quarterback repeats: There are no secret investing formulas! If there were, Goldman Sachs (which still exists) would immediately buy them.
Worst Crowd Reaction: With Carolina leading 21-13 late in the second quarter, the Giants gave up a sack and, facing third-and-16 in their own territory, threw a flare to Derrick Ward, who lost yardage. The G-Persons home fans booed lustily. Sure, you just won the Super Bowl, you're 11-3 and on the cusp of home-field advantage throughout the playoffs, but what have you done for us lately! Ward ended the night gaining 210 yards from scrimmage, so giving him the ball was not such a bad idea, even if it didn't work on that down. Giants fans, if you will boo your home team when it is the league's defending champion, when, precisely, will you be happy?
Chip the Football Update: Many readers, including Melissa Crukshank of Philadelphia, sent me this story about a Carnegie Mellon engineering professor who challenged her class to chip a football. The idea is promising, but relies on the GPS satellite system, whose data is only accurate within about a yard -- to solve did-he-cross-the-goal-line disputes, a high-tech football needs to do better than that. Brad Riddle, a senior engineering student at Lehigh University, proposes this concept:
"The system must meet a few requirements. The first is there has to be a way that the ball can be sensed crossing the plane within about one millimeter, less than a tenth of an inch. The second is that it does this irrespective of players in the way of the signal. The third is that the ball cannot have its physical characteristics changed so much that the ball feels different -- the problem the NBA ran into with its new ball. The fourth is that anything added to the ball has to survive being tossed, kicked and spiked in a celebration dance.
"One solution would be to have a radio or microwave transmitter in the ball that would emit a signal and a mounted receiver, with a thin slot facing down the goal line. One of the main problems with this method would be the need to have a broadcasting frequency that could penetrate the human body, like a cell phone or wireless internet antenna that can also fit through a 1 mm slot. This solution does, however, allow any part of the ball to cross the plane of the goal line and set off the detector. Another solution would be to put a wider detector underneath the goal line of the field. In this case, there is a larger opening so a signal emitted from the ball would be able to get through. By lining the area with iron, only signals from the right direction (nearly straight up) could be detected.
"A big issue is that the ball would have to have a radio transmitter inside, though a weight of an ounce or two could be achieved because the signal power could be low. The only electronics would be a battery and something to generate the signal and some encoded information to prevent interference. Another problem is that if the ball is up in the air and in front of the goal line, the signal might be detected because the line from the receiver to the ball would not pass through the metal barrier. The solution to this would be to put the antenna deeper under the field so that unless the ball is seven or eight feet up in the air the system works. By putting the receiving antenna underground, if the field above it gets wet, the ability for the wave to get through will be lowered. This problem would mean increasing the power of the signal, which decreases the lifetime of the ball. This second solution seems to meet the initial criteria. If any part of the ball (with antenna in the seams) crosses over the buried metal edge of the goal line, a detection would be registered. The transmitted signal can be made so that it goes through the human body. The hardware inside of the ball could be balanced in such a way it does not change the physical characteristics of the ball. The type of hardware required for a transmitter is robust enough to survive the conditions a ball goes through during a game.
"If the NFL would consider doing this, the development cost, the implementation cost and the reliability could be issues. The development cost could be as high as several million dollars, the installation just as high. Also, the price per ball would be increased by $10-$15 per ball, and could only be used for a few series before the battery ran out. A system like this could be feasible if the NFL thought it was worth it to spend money on electronics R&D for something that is unproven, and the players (quarterbacks and kickers) could be convinced that the electronics in the ball did not alter its performance.
"This solves the problem in concept at least; the next stage would be proof of concept. And yes, I am looking for a job after graduation."
Pass-Wacky Update: Quarterbacks in the Indianapolis at Jacksonville game were a combined 57-of-75 for 693 yards; running backs a combined 45 carries for 137 yards. Leading 17-7 at halftime, host Jacksonville nevertheless threw 21 times and rushed 11 times in the second half. Can't anyone in the NFL work the clock anymore? With 12:31 remaining and Jax leading 24-21, the Jaguars took possession on their 32 and went incompletion, run, incompletion, punt. If Jacksonville can't run at home on national television against the smallest front seven in the NFL, what can it do? Now trailing 31-24, Jacksonville had third-and-4 on the Colts' 34 with 3:48 remaining. Considering the Maroon Zone ball position and the need for a touchdown on the possession, Jax coaches should have been assuming they would go for it on fourth down -- so any positive play is fine because you'll snap again on fourth down anyway. Instead, David Garrard sprints way backward, and was sacked for a loss of 16 yards; Jacksonville ended up punting. Ye gods.
The Lucky Charms are in the postseason after efficiently winning eight straight. In what TMQ calls authentic games -- pressure appearances against quality teams -- Indianapolis is 3-1 this season, beating Baltimore, New England and Pittsburgh, and losing to Tennessee. Indianapolis is peaking at the right time, plus Peyton Manning should be tremendously motivated to get back into the Super Bowl and make his mother love him more than she loves Eli.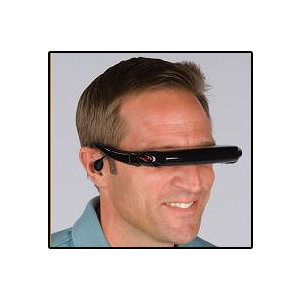 Hammacher Schlemmer
"Wow, 'Mission Impossible 4' is really realistic! Well, gotta drive to work."
TMQ's Christmas List: Isn't it time we all wore television sets on our faces? Here is the prototype -- a viewing bar worn like glasses and said to simulate a "52-inch widescreen" experience. This would allow you to look really weird aboard an airplane, and your eye doctor will be delighted just thinking of the new business in his future. TMQ shudders to ponder that 20 years from now, people will be wearing devices similar to this all the time, plus watching movies while driving.
Sour Play of the Week No. 2: With Green Bay leading 14-3 in the third quarter, Chicago faced third-and-goal on the Packers' 3. Kyle Orton play-faked and threw to an uncovered Greg Olsen for the touchdown. To that point in the game, Chicago had a grand total of 19 yards rushing, yet the Green Bay defense fell for the play fake. As for Green Bay -- 'tis better to have rushed and lost than never to have rushed at all. Leading 14-10, the Packers reached first-and-goal on the Chicago 5 in the fourth quarter. Green Bay went incompletion, loss of yardage on a quarterback scramble, incompletion, field goal. Next time you're knocking on the door of the goal line and it's 2 degrees outside, just run the ball!
More Prejudice Against the Offensive Line: Last week, the Washington Post ran its all-met section honoring high school football players in the Baltimore-Washington area. The list included 32 quarterbacks and running backs, 17 offensive linemen.
More Nonsense About the Offensive Line: Not only do sports pundits and bobbleheads have no idea who's good on the offensive line, Pro Bowl balloting shows even NFL coaches and players pay little attention to the O-line. Annually, most offensive linemen get Hawaii tickets based on rep and publicity, not performance. Check this year's squads:
The NFC roster
has Andre Gurode, Steve Hutchinson, Walter Jones, Chris Snee and Jordan Gross as starters and Chris Samuels, Leonard Davis and Shaun O'Hara as backups. Jones is a future Hall of Famer but has struggled all season. Samuels is a decent player, but also struggled this year and often left games injured. If Dallas has two offensive linemen and a tight end headed to the Pro Bowl, how come the Cowboys had four third-and-short rushes on Saturday night and only one succeeded? How come Dallas coaches were so confident in those three Pro Bowl offensive linemen that they punted on fourth-and-1 from midfield? Snee of the Giants is good, but he gets press because he's a high draft choice who is married to the coach's daughter; the Giants' other guard, undrafted Division I-AA Rich Seubert, whom most New York football beat writers couldn't pick out of a police lineup, is the better player. And no offensive lineman to the Pro Bowl from playoff-bound, strong-rushing Atlanta? Reason: Until this weekend, Atlanta has gotten no hype, and the voting closed before this weekend.
Here are the NFC offensive linemen TMQ would send to Hawaii, bearing in mind that all such choices are somewhat arbitrary -- it's impossible to be sure who is best. Starters: Seubert; Ryan Kalil, Carolina; Tyson Clabo, Atlanta; David Diehl, Giants; Harvey Dahl, Atlanta. Backups: Gross, Jeff Otah of Carolina and Roberto Garza of Chicago. Note: I chose two Giants offensive linemen, the Pro Bowl voters chose two other Giants offensive linemen; any way you slice it, Jersey/A has the league's best blockers, as they demonstrated by pounding the Carolina Panthers backward for 301 yards rushing Sunday. (Rushing success is mainly a measure of blocking, not running.)
On the AFC roster, the starters are Joe Thomas of Cleveland, Alan Faneca of Jersey/B, Jason Peters of Buffalo, Kris Dielman of San Diego and Kevin Mawae of Tennessee, with backups Michael Roos of Tennessee, Brian Waters of Kansas City and Nick Mangold of Jersey/B. Waters is a fine player but hasn't had a top year; voters chose him because they recognize his name. Dielman has had a so-so year -- there's a reason LaDainian Tomlinson keeps getting stuffed at the line. Peters being on the squad is a practical joke. Peters was a legit Pro Bowler in 2007, and as an undrafted free agent, is an appealing story. But he held out of training camp this season and played so poorly early on that Bills coaches twice pulled him from games. When Buffalo's season ended in Week 15 as J.P. Losman was hit and fumbled at the two-minute warning, whose man made the hit? Peters' man. Watch the tape: It's a roll right. Peters plays left tackle, but he simply brushes his man and then stands there, hands on hips, watching the play, appearing to think he doesn't need to block his guy since it's going the other way anyway. For this you are rewarded with a Pro Bowl invitation? Here is TMQ's Pro Bowl AFC offensive line. Starters: Mawae, Roos, Ben Grubbs of Baltimore, Logan Mankins of New England and Jake Long of Miami. Backups: Faneca, Jeff Saturday of Indianapolis and Eric Winston of Houston.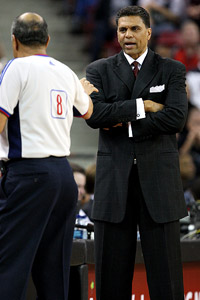 Jed Jacobsohn/Getty Images
Don't feel bad, Reggie. The Kings would have fired Errol Flynn, too.
Fire All the Owners Who Agreed to Guaranteed Contracts: Six NBA coaches already have been fired so far in this young pro basketball season. It's unlikely these decisions will have much impact on the records of the clubs involved. But in the NBA, you can't fire players! Almost all players have fully guaranteed contracts, and get paid the same whether they perform selflessly or dog it, whether they obey the coach or not, whether they start or get benched. In turn, because you can't fire players, firing coaches doesn't accomplish much. Coaches hold no hammer over players, who know they will receive full pay even if waived. The absurdist Knicks melodrama of trying to "punish" Stephon Marbury by giving him $268,000 a game to stay home says it all. At a few teams (San Antonio, Boston, others) players listen to their coaches and play well out of pride, but at others the players ignore the coach and do whatever they please -- which often means selfish, me-first basketball. TMQ feels the quality of NBA performance, not the economy, is the reason ticket sales are down: You need food, clothing and shelter, you don't need to watch spoiled millionaires stoking their egos. At any rate, since NBA management cannot do anything about its players, firing the coach is the sole option available to placate fans.
TMQ thinks recently cashiered Reggie Theus is in the wrong line of work, anyway. He should not be a basketball coach, he should be a matinee idol. Theus should report to some casting agency and say, "Hi, I'm here about the job opening for a matinee idol." Ridiculous specificity note: In the wake of the Theus firing, The New York Times declared the average NBA coach tenure is now 2.64 years. So Coach, how many hundredths of a year were you at Sacramento?
Another Cosmic Thought: If the Big Bang theory is right, when the universe formed there was matter and radiation and heat, but no stars. How much time passed until the first stars came into existence is a puzzle about which we can only speculate. Recently, Naoki Yoshida of Nagoya University in Japan and Dr. Lars Hernquist of the Harvard-Smithsonian Center for Astrophysics in Massachusetts published elaborate computer simulations of what the first stars might have been like. They speculate that the first stars were far larger than the sun, perhaps 100 times its mass, and burned so powerfully they exploded in about a million years. One reason there is life on Earth is that our star is a kind that does not burn violently, has existed for perhaps 5 billion years and should continue to burn at about its current power for hundreds of millions of years to come.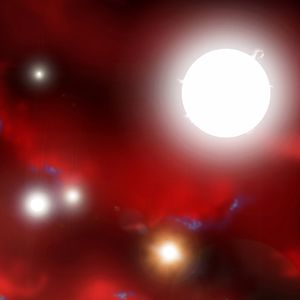 David A. Aguilar, Harvard-Smithsonian Center for Astrophysics
Did stars, and perhaps life, begin even further back in the past than supposed?
As stars burn, they fuse light elements into heavy ones and then, exploding, hurl into the galaxies the dense materials that forms planets and living things. Researchers have tended to presume that the incipient universe contained only the light elements hydrogen, helium and lithium, and that a very long period passed before the first supernovae made dense material. Now Yoshida and Hernquist speculate that the early large, violent stars coalesced, burned and exploded much more rapidly than previously assumed, beginning to fill the cosmos with the materials of life an unfathomable length of time ago -- almost from the moment of creation. Stars formed from the moment of creation on; and stars are still forming, right near us. From far in the past and forward to this day, the universe behaves as though it wants to host life.
Why Tactics Matter: This season big-blitzing has been out of fashion in the NFL, but not in Dallas, where the Cowboys have replaced the Eagles as pro football's wackiest defense. Hosting Baltimore in the last dance at Texas Stadium, Dallas ran several beautiful first half big-blitzes. On one, linebacker DeMarcus Ware crept up on the right, causing Baltimore offensive linemen to point at him; then ran over to the left and crept up there, to more pointing; then both cornerbacks came up to press, suggesting a mega-blitz; then Ware ran back to the right and another linebacker came up next to him as if to overload blitz. When the play started, Ware, the other linebacker and the corners all dropped off and middle linebacker Bradie James came straight ahead unblocked, forcing Joe Flacco to throw the ball away. The point of all the movement had been to make the Baltimore offensive line forget about James, and it worked perfectly. Several times in the first half, Dallas ran complicated blitz choreographies designed to result in a rusher coming over center untouched, and pressure up the middle is the shortest path to the quarterback.
But it's a four-quarter game, as the cliché goes. With Baltimore leading 19-17 with 3:50 remaining, the Ravens faced a first-and-10 on their 23. All three Cowboys linebackers came up to run-blitz, two of them charging the "A" gaps. Baltimore's offensive line at that point was tired of getting shown up, and simply blew the Dallas front seven out of the picture as Willis McGahee enjoyed a 77-yard untouched touchdown run. Now it's Baltimore 26, Dallas 24 with 1:35 remaining, the Boys holding three timeouts and the Ravens facing first-and-10 on their 18. This time, Dallas put eight defenders into the box against a jumbo-set backfield with two fullbacks, Le'Ron McClain and Lorenzo Neal. Fabulous blocking up front for McClain, who stiff-arms megabucks Dallas safety Ken Hamlin and goes 83 yards to ice to the game. The contest was an example of why it's ridiculous that the Pro Bowl squads are chosen after only 13 of 16 games are in the books. Grubbs, who's been playing at a Pro Bowl level all season, just pasted Dallas defenders on down after down Saturday night, including the two long touchdown rushes. But that didn't count toward Hawaii, because the decision had already been made. Nor did the poor performance of the Dallas offensive line count against its three Hawaii-bound members, because they'd already been tapped.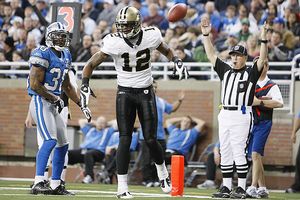 Leon Halip/Getty Images
"We did it! We're mathematically alive for 0-16!"
Happy Hour in Hell's Sports Bar: At Hell's Sports Bar, they will be lining up outside and camping overnight days in advance -- not that they really have anything else to do -- hoping to score prime seats near the 28 wide-screen TVs for the Detroit at Green Bay game, in which the Lions compete for the first 0-16 season. In a charming charity fundraiser tie-in, whenever Detroit allows a touchdown, federal taxpayers will donate $1 billion to Chrysler and General Motors. Last week in Hell's Sports Bar, Pittsburgh-Tennessee, Miami-Kansas City, Atlanta-Minnesota and Buffalo-Denver mysteriously refused to tune in. But the Cleveland-Cincinnati game was shown in its entirety, while the highlight show featured exclusive interviews with Cleveland quarterbacks Ken Dorsey and Bruce Gradkowski (combined 45 net yards passing, four interceptions).
Break Somebody Else's Record! Drew Brees played every down against the hapless Lions, on the field and still throwing when the Saints were ahead 42-7 late in the fourth quarter. Brees ended the game needing 402 yards to break Dan Marino's single-season passing yards record. This seems unlikely, since New Orleans closes against the Carolina Panthers, who will be playing to win a first-round bye. (A Cats defeat coupled with an Atlanta victory would give the Falcons the division.) New Orleans fans will want the Saints to go all-out to get Brees the record -- might as well salvage something from the season. But what about Marino? He will feel compelled by protocol to say he wishes Brees luck in breaking the record. TMQ has always felt that record-holders should be honest and say, "Tarnation no, I don't want my record broken." In this case, if Brees succeeds, it will be essentially a stunt, given the finale game has no meaning to the eliminated Saints. Marino's record year came as the Dolphins reached the Super Bowl -- those were all yards the team needed to win pressure games.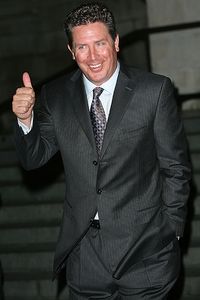 Ferdaus Shamim/WireImage
Dan, just vent. Tell Brees to keep his football gloves off your record.
Reader Comments: In an era of state high school championship inflation -- New Jersey crowned 20 state football champions -- I lauded California for showing restraint with just three state champs. David Vickers of Brea, Calif., counters that not only is the number already up to five, "These games are only championship games in the sense that the BCS title game is a championship. The participants are selected by a committee of section commissioners from a pool of section champions. There are ten sections: Northern (six divisions), North Coast (five divisions), Sac-Joaquin (seven divisions), San Francisco (one division), Oakland, Central Coast (four divisions), Central (six divisions), Los Angeles (three divisions), Southern (fifteen divisions), and San Diego (five divisions). So from a pool of at least 53 section champions, ten are selected to play for state championships." Thus 53 California high schools ended the 2008 season calling themselves "champions."
I zinged Belichick for challenging a call in Oakland's favor when the Flying Elvii were leading the Raiders by 29 points near the two-minute warning, saying trying to prevent a meaningless consolation touchdown by your opponent is the flip side of running up the score. Steve Brereton of Detroit counters, "Jeff Fisher, a coach you often compliment, did the same against my pathetic Lions on Thanksgiving. The Titans up 44-10 late in the fourth quarter, a Tennessee receiver was called out of bounds. Fisher challenged the call and it was reversed, giving the receiver the yards. As someone who watched in a bar filled with Lions fans, there was much disbelief and annoyance that Fisher would challenge when we all just wanted the game mercifully over. I'm not the biggest fan of Belichick's tactics, but to rip on Belichick and not call out Fisher for the same thing seems a bit biased." Point taken: I never watch the Thanksgiving games for family reasons, but the situations were essentially identical.
Adam Peindl of Chicago adds, "Isn't it possible Belichick challenged the play because of the tight race in the AFC East, which may come down to a points tiebreaker?" When the 12-team playoff format was adopted in 1990, points were dropped in significance in order to remove an incentive to run up the score; when the divisions realigned in 2002, points were dropped further, to the sixth or seventh tiebreaker, depending on the situation. Since the 1990 tiebreakers came into effect, points have never been used to determine a playoff slot. The last time points were used for a playoff decision was 1980, when San Diego won the AFC West over Oakland and Philadelphia won the NFC East over Dallas, in both cases owing to net points. But that was under the old tiebreaker, which gave more weight to points than the system in use since 1990. So although it is possible points could matter to a playoff decision, it's really unlikely. Coaches may believe points matter more than they do, not grasping the change in tiebreakers.
Hidden Series: Hidden plays and hidden series are ones that never make highlight reels, but stop or sustain drives. With the game scoreless, Pittsburgh had first-and-goal on the Tennessee 3. Titans' defenders stopped Steelers runners for losses on first and second down, then tackled Ben Roethlisberger hard at the goal line on third down, causing him to lose a fumble. Not only had Pittsburgh not scored on a first-and-goal, this hidden series set the tempo for a monster Tennessee win.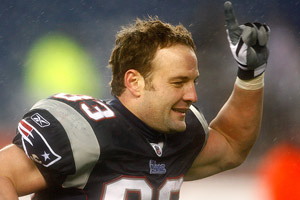 Jim Rogash/Getty Images
Don't, Wes! Don't make an unauthorized snow angel!
Adventures in Officiating: Wes Welker scored a touchdown in the snowstorm at Foxborough, dropped to the ground and made a snow angel. He was flagged for unsportsmanlike conduct. Oh, come on!
Obscure College Score of the Week: Richmond 24, Montana 7 (Division I-AA championship). Located in Richmond, Va., the University of Richmond has one of the goofiest nicknames in athletics: the Spiders. The school sponsors the biennial Richmond Quest, in which students compete for a $25,000 prize for writing a single question. Past $25,000 winners include "When does discovery inspire change?" and "What moves us?" The current contest seeks a single question that will "transform the minds of faculty, staff and students." I am not sure I want my mind transformed!
Bonus Obscure College Score : Mount Union 31, Wisconsin-Whitewater 26 (Division III championship). Located in Alliance, Ohio, Mount Union College has a purple parrot as its sports mascot -- better perhaps than Williams College, whose mascot is a purple cow.
Double Bonus Obscure College Score: Sioux Falls 23, Carroll 7 (NAIA championship). Located in Sioux Falls, S.D., the University of Sioux Falls has a Department of Critical Thinking.
Obscure College Sign-Off: This item folds its tent and steals off into the desert, as the colleges that play from here on out tend to be pretty well-known. For years at this point in the season TMQ has said, "I find it reassuring that long after you and I have left this mortal coil and are trying to scalp tickets to meet the football gods, every Saturday at small colleges across our great nation, plastic-clad gentlemen will be slamming into each other as leaves fall, boys try to get girls' phone numbers and car alarms go off in the parking lot. This is part of the Great Chain of Being (the football link)." At current rates of advance in technology, someday boys will be trying to get girls' prefrontal cortex telepathy routing codes. The car alarms, I feel quite confident, will still be going off in the parking lot.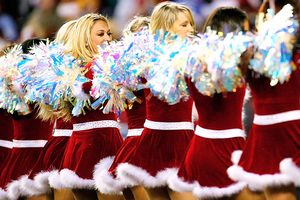 Kevin C. Cox/Getty Images
Suddenly, a job making toys at the North Pole doesn't sound so bad.
Single Worst Play of the Season -- So Far: Baltimore leads 26-24 with 1:36 remaining in the final game at Texas Stadium. The Boys have three timeouts, so a comeback that ends the stadium's run happily, and causes Dallas to advance, is possible. On the previous Ravens possession, McGahee went 77 yards for a touchdown as numerous Dallas defenders simply laid on the ground and watched, and megabucks corner Terence Newman made only a halfhearted chase attempt. The previous Baltimore play was a pathetic effort by Dallas. Now fullback McClain runs 83 yards for the icing touchdown. McClain is a slow 260-pound power back, yet no Dallas defender catches him. Most Dallas defenders didn't even try to catch McClain; they merely stood watching him go the length of the field, or jogged halfheartedly in his direction. Watch the tape and there's a blur to McClain's left -- it's Neal, the blocking back, who beats all the Dallas defenders down the sideline to escort McClain. Two fullbacks outran the entire Dallas defense, racing past the team's highly paid speed-merchant secondary. Dallas Cowboys defense, you are guilty of the single worst play of the 2008 season -- so far.
Next Week: Football creep: TMQ's preseason preview for the 2009 NFL season.
In addition to writing Tuesday Morning Quarterback, Gregg Easterbrook is the author of "The Progress Paradox: How Life Gets Better While People Feel Worse" and other books. He also is a contributing editor for The New Republic, The Atlantic Monthly and The Washington Monthly.