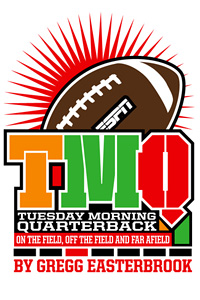 Sunday was the Single Most Interesting Day in NFL History, both for the numerous high points and for the Single Worst Game Ever Played, supplied by the Dallas Cowboys. Before we get to the particulars, let me make sure you know about the player of the day. I speak, of course, of Ramzee Robinson. In the second half at Green Bay, Robinson, a Lions defensive back, was penalized for taunting. The Lions at that point were 0-15 and within sight of attaining the designation they now hold, that of worst NFL team ever. After a Green Bay incompletion, Robinson danced around, pointing at himself and taunting Packers receiver James Jones. A player for the worst-ever NFL team was called for taunting in the game in which that team reached 0-16.
As for the Single Most Interesting Day in NFL History, consider:
• Not only did Miami rebound from 1-15 to make the playoffs in spectacular fashion, but the Dolphins did it in manly-man fashion. Leading 24-17, Miami faced fourth-and-1 on the Jersey/B 39 with 2:38 remaining. This is a classic Maroon Zone dilemma, and most NFL coaches timidly order punts. The Meadowlands crowd was eerily quiet because fans knew what the scoreboard did not show -- that Baltimore had beaten Jacksonville, ending the Jets' hopes. Dolphins coach Tony Sparano had his team go for it; Miami converted, and the game was over for Brett Favre & Co. Fascinating stat: Thirteen different players passed, ran or caught the ball for the injury-depleted Dolphins offense. The Dolphins might not have much chance against the Ravens, but their season has already been a big success.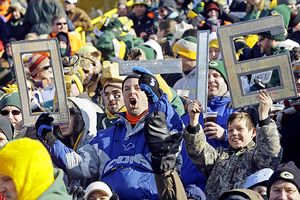 AP Photo/Morry Gash
This Associated Press photo from Sunday was headlined "Lions fans." There are Lions fans?
• Baltimore rebounded from a 5-11 record in 2007 to reach the postseason in 2008. The usually low-scoring Ravens have developed a high-scoring, innovative offense under a Division I-AA rookie quarterback and a coach who had never been a head coach at any level. Last season, the Ravens averaged 17 points per game. This season, they averaged 24 and tied the Titans for the highest net-points number in the league. On Baltimore's final possession of the first half against Jacksonville, leading 17-7, the Ravens ran four short plays in succession, lulling the Jags into thinking their foes were content to take the 17-7 edge to the locker room. Then, with 56 seconds remaining, they threw deep to Mark Clayton, which led to a 24-7 edge at intermission. Earlier, Baltimore scored a touchdown when Clayton engaged in an unusual man-in-motion that made the play look like a Wildcat trick but then Baltimore simply ran Willis McGahee straight up the middle. See more examples of Nevermores innovation below; this team might advance well into January. ("The Ravens are going nowhere this season." -- New York Times preseason prediction.)
• Atlanta post-Michael Vick and post-Bobby Petrino was supposed to have another train-wreck season, and instead is 11-5 with a rookie quarterback and a rookie head coach. ("Atlanta made a major mistake by drafting Matt Ryan." -- Mike Florio of Pro Football Talk the day after the 2008 draft.)
• Tampa Bay dropped from 9-3 to out of the playoffs by losing its last four games, the losses beginning when defensive coordinator Monte Kiffin decided to bail on the Bucs and go to work at the University of Tennessee as soon as Tampa's season ended. Until Kiffin's defection, Tampa was allowing 16 points per game; afterward, it allowed 32 points per game, building up to a humiliating season-finale home loss to Oakland that knocked the Bucs out of the postseason. If a player in the midst of a playoff push was negotiating to join another team, there would be outrage and sanctions. How come it's fine for a coach to all but walk out on his commitments during the season? Nick Saban did it, Bobby Petrino did it, and now Kiffin has done it -- all with immediate disastrous results for their teams, and no consequences for them.
• It turns out Philadelphia was right to play for a tie in that excruciating 13-13 overtime snorefest against Cincinnati. Had the Eagles gambled to win and lost, they would have finished 9-7 and tiebreakers would have sent Tampa to the postseason. As it was, 9-6-1 put Philadelphia in. And what were the chances both Chicago and Tampa would lose to opponents that had nothing to play for, thus opening the door for the Eagles?
• The football gods did not want Drew Brees to break Dan Marino's single-season passing yards record -- because that record was set in a Miami playoff year when the yards were needed, whereas Brees' breaking the record for the eliminated Saints would have been a stunt. Brees finished 16 yards shy of the record, and Marques Colston dropped a perfectly thrown 21-yard fourth-quarter pass. Having reached field goal range and trailing 31-30, Carolina for some reason called its final timeout with six seconds left, rather than the traditional three seconds in this situation. After the kick split the uprights, the clock did not expire; one second remained. Carolina's kickoff went out of bounds, meaning Brees had one more play to throw for the record. New Orleans' coaches called a play that sent most receivers deep for a Hail Mary but one underneath the backed-off secondary for Brees to throw to for the record. Brees, an accurate passer, completely missed the open man. Surely the football gods pushed the pass off target.
• With Green Bay leading 14-7 in the third quarter, 0-15 Detroit punted on fourth-and-5 from the Packers' 41. A 0-15 team punting in opposition territory -- words fail me. Later, after scoring to pull within 24-21 with seven minutes remaining, the Lions did not try an onside kick. Words fail me. Immediately, Aaron Rodgers threw 71 yards for the oh-and-16-icing touchdown, as the football gods punished Detroit for playing timidly when the Lions had literally nothing to lose.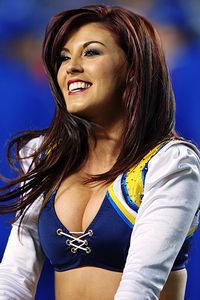 Paul Spinelli/Getty Images
The cheerleaders had better bring their A-game when the 8-8 Chargers host the 12-4 Colts.
• Trailing 44-3 in the fourth quarter of yet another season-finale collapse, the Dallas Cowboys kicked a field goal. Who cares if it was fourth-and-15 -- play like men! Then the Boys did not even have the dignity to attempt an onside kick. As for extremely overpaid Dallas receiver Roy Williams, who whined during the week that he wasn't getting the ball enough, Tony Romo threw to him seven times Sunday. The results? Four incompletions, 4 net yards gained and an interception on which Williams made no attempt to break up the play. Whoever whines most in Dallas during the week gets the ball forced to him on Sunday; Romo kept looking for Williams even though the guy is so terrible that he should not have been on the field. See the Dallas meltdown item at the end of the column.
• It is more than a shame that 11-5 New England did not qualify for the postseason but 8-8 San Diego and 9-7 Arizona will host home games. NFL, adopt a seeded tournament! This is the second time in NFL annals that an 11-5 team did not reach the postseason, but it's worse than the first time -- Denver in 1985 -- because in 1985 each conference had only one wild-card invite. NFL, adopt a seeded tournament! Last season, the Patriots were caught cheating, acted arrogantly when caught and relentlessly ran up the score to humiliate opponents. For this unsportsmanlike behavior, the football gods first punished New England by letting the Pats -- Moses-on-Mount-Nebo-like -- come within 35 seconds of perfection, then be denied. Now the Pats have been punished anew by finishing 11-5 with an unknown at quarterback yet being deprived of the playoffs. At this point, New England has been punished enough for its 2007 offenses; it's time for the football gods to smile on the Patriots again. Watching Bill Belichick utterly outcoach Dick Jauron at Buffalo was like watching Itzhak Perlman give a violin lesson to an 8-year-old.
• It was fascinating that a 4-8 club, San Diego, could rally to make the postseason; other than that, TMQ is suspicious of the Bolts. They finished as the NFL's second-highest-scoring team, but went 0-5 against teams that made the playoffs. If the best you can do is 8-8 in the weak AFC West, you're not very good. That 12-4 Indianapolis must travel to 8-8 San Diego to open the postseason is yet another indictment of the NFL's flawed, division-based postseason format. It's time for a seeded tournament!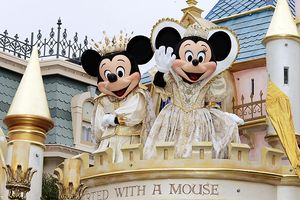 AP Photo/Damian Dovarganes
TMQ hopes Atlanta or Miami will be goin' to Disney World.
Now here's my Super Bowl pick: I am pulling for a Miami versus Atlanta contest. Why? Neither team was on "Monday Night Football" this season. The Raiders were on, the Texans were on, the woeful Browns were on thrice; but no 11-5 Dolphins or 11-5 Falcons. Annually, TMQ predicts that the team going to Disney World will be one that did not make the "Monday Night Football" cut, and two of the seven times I've predicted this, I've been right. This postseason offers a chance to make it three of eight on my annual improbable prediction. Disclaimer: TMQ's column motto is All Predictions Wrong or Your Money Back.
Stat of the Week No. 1: Atlanta and Miami, a combined 5-27 in 2007, went a combined 22-10 in 2008.
Stat of the Week No. 2: Tony Romo is 22-8 as a starter in September, October and November, and 5-8 in December.
Stat of the Week No. 3 The Lions have lost 18 straight games in the state of Wisconsin; the last time Detroit won in Green Bay, Netscape Navigator did not exist.
Stat of the Week No. 4 New England has won 16 of its past 17 games against Buffalo.
Stat of the Week No. 5 Oakland became only the third Pacific time zone team to win in the Eastern time zone this season; overall, West Coast teams finished 3-16 in Eastern time or in Greenwich Mean Time.
Stat of the Week No. 6 Teams based in the Eastern time zone finished 10-7 playing in Pacific time.
Stat of the Week No. 7 Cleveland became the first team in NFL history to fail to score an offensive touchdown in six consecutive games.
Stat of the Week No. 8 Denver became the first team in NFL history to hold a three-game division lead with three games to play and fail to reach the postseason.
Stat of the Week No. 9 In Brett Favre's first four games with the Jets, he threw 12 touchdown passes and four interceptions. For the remainder of the season, he threw 10 touchdown passes and 18 interceptions.
Stat of the Week No. 10 The state of Missouri (Chiefs and Rams) is a combined 11-53 over the past two seasons.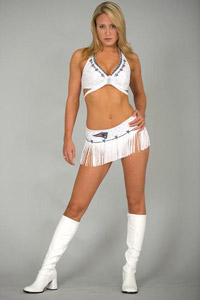 New England Patriots
Her team won't be going to the playoffs, but it should be.
Cheerleader of the Week: Alyssa of the New England Patriots. According to her team bio, she graduated cum laude from Northeastern with a degree in mechanical engineering and works as a mechanical engineer. You don't run into too many mechanical engineers who have been on the cover of a bikini calendar. Also according to her team bio, Alyssa is studying for her MBA and, in 2002, was first runner-up in the Miss Maine competition. Wait, in 2002 there was someone in Maine better-looking than her?
Sweet Play of the Week No. 1: Tailback Jerious Norwood of Atlanta lined up at quarterback in a Wildcat formation; quarterback Matt Ryan lined up at tailback and went in motion right; Norwood took the snap and ran left for the touchdown as two Rams defenders chased Ryan.
Sweet Play of the Week No. 2: Baltimore backup quarterback Troy Smith lined up at quarterback while starter Joe Flacco lined up at wide receiver right; Smith lateraled to Flacco; the entire Jacksonville defense ran toward Flacco, who faked a pass deep; then Flacco threw back to Smith, who ran 36 yards, setting up the field goal that iced the game, and a playoff invite, for the Ravens.
Sweet Play of the Week No. 3: With New England leading 13-0 at Buffalo with 5:20 remaining and strong wind at the Patriots' back, the Flying Elvii faced third-and-8 on their 42. Bill Belichick called a quick kick by Matt Cassel. The kick caught Buffalo totally unaware and traveled 57 yards to the Bills' 1-yard line, icing the contest.
Sweet Series of the Week: Carolina leading 9-3, the Cats ran DeAngelo Williams three straight times and play-faked to him on the fourth snap, then scored on a touchdown pass.
Sour Play of the Week No. 1: With Miami leading 21-17 with 12:53 left in the fourth quarter, Jersey/B faced fourth-and-2 on the Dolphins' 43. That cannot, absolutely cannot, be the punt team trotting onto the field! Must be a fake! It wasn't: Eric Mangini ordered a punt on fourth-and-short in opposition territory when trailing in the fourth quarter. No wonder he was fired! Disgusted, the football gods intervened to cause Miami to block the punt, setting up a field goal and a final score of 24-17. Karma note: Favre's final pass for Green Bay was an interception. His second-to-last pass for Jersey/B was an interception. And on his final play, Favre threw an illegal forward pass nullified by a penalty.
Sour Play of the Week No. 2: As Michael Bush accelerated for a 67-yard touchdown run against the proud-'til-a-month-ago City of Tampa defense, three Bucs defenders near the runner, including Derrick Brooks and Tanard Jackson, quit on the play. Meanwhile, Oakland offensive linemen Cooper Carlisle and Robert Gallery had great blocks on the play.
Sweet 'N' Sour Play No. 1: Minnesota hit a 50-yard field goal on the game's final snap to defeat the defending champion Giants and win the NFC North; that was sweet. But clock management by Vikings coaches was terrible. Reaching a first down at the Jersey/A 30 with about a minute remaining, holding one timeout, Minnesota did not rush to the line and spike the ball but rather let the clock tick down to 36 seconds, then ran a play. Then, rather than spike on second down, Minnesota burned its final timeout. Now it's second-and-12 from the Giants' 32 with nine seconds and no timeouts -- with proper clock management, it would have been third down with a timeout! At nine seconds, Minnesota attempted a pass, which luckily for the Vikings was an incompletion, stopping the clock with five seconds left and allowing the winning kick. Even in a dome, you can't exactly count on a 50-yard field goal. Minnesota seemed completely disorganized in the final minute -- and was up against Jersey/A scrubs to boot.
Sweet 'N' Sour Play No. 2: Green Bay backup DeShawn Wynn had a total of 4 yards rushing on the season when he went 73 yards for a touchdown against Detroit. That was sweet. Detroit allowed a guy with 4 yards rushing to run 73 yards for a touchdown. That was sour.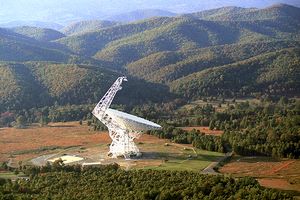 NRAO/AUI
The radio telescope whose readings suggest conditions for life might have begun far, far longer ago than assumed.
A Cosmic Thought: Last week, TMQ noted new evidence that suggests the first stars formed far earlier than previously supposed, and thus planets (made from material expelled by exploding supernovas) might have formed far earlier than previously supposed. Now consider this recent finding by astronomers at the University of California at San Diego. Our galaxy, the Milky Way, has an internal magnetic field that aids in forming the kind of stars that are like our sun: stable and burning for very long periods at about the same luminosity. Stable, very-long-lived stars are necessary to support the evolution of life, at least carbon-based life. For various techno-reasons, it has been assumed that galaxies such as the Milky Way are relative latecomers -- the early galaxies that formed in the aftermath of the Big Bang would have lacked magnetic fields. Galaxies like ours, the assumption went, would not have developed until the cosmos was 5 to 10 billion years old, and thus life as we know it could not have happened before then.
Instead, by inspecting very distant (and thus ancient) galaxies, the UCSD researchers found evidence of strong galactic magnetic fields tracing nearly back to the conjectured moment of creation. This suggests the conditions for life could have arisen far earlier in the evolution of the universe than previously thought. What if thinking beings at least somewhat like us evolved eons ago? Where are they now? Every time instruments improve, or new discoveries are made, astronomers find more indication the cosmos is bigger, older, more energetic and more amenable to life than had been supposed. The cosmic enterprise seems grander every day. Who can say what our ultimate role in it might be?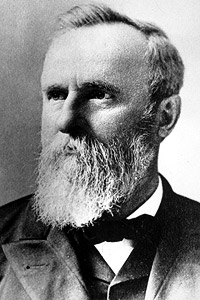 AP Photo
Rutherford B. Hayes, who wrote a mean letter.
Curators Prepare "Tuesday Morning Quarterback Through the Ages" Exhibit with Priceless Vintage Swimsuit Calendars: Recently, The New York Times ran this retrospective on each presidential candidate the editors had endorsed since the young newspaper put its weight behind Abraham Lincoln in 1860. Many of the endorsements make fascinating reading -- see, for example, the incredibly faint endorsement of Rutherford B. Hayes in 1876, or the paper's controversial 1940 choice of Wendell Willkie over FDR. But the headline on the section is: "New York Times Endorsements Through the Ages." The past 150 years is "the ages"?
Advert Claim of the Week: I bought a bottle of omega-3 fish oil at a Whole Foods supermarket; it was prominently labeled "molecularly distilled." Meaning individual molecules were distilled? That's substantially more advanced than the process used to make plutonium.
Buck-Buck-Brawckkkkkkk: With Cincinnati leading 10-0, Kansas City punted on fourth-and-1 from its own 40. You're 2-13 and you're punting on fourth-and-1! And now you are an all-time franchise-worst 2-14.
TMQ Achieves Factual Accuracy Rate of 386.95442628: With bowl season upon us, it's time to reflect on the NCAA's continuing struggle to put the student into student-athlete. TMQ agrees with the NCAA that its new Graduation Success Rate calculation is fairer to schools than the traditional federal graduation rate stat. Most schools look better on the GSR than on the traditional federal scale, but this is not a case of the NCAA manipulating data. The GSR gives credit for athletes who transfer away, then graduate somewhere else; the federal calculation gives no credit for transfers. That an athlete graduates is what matters, not where. Thus the GSR is the evenhanded measure: Check any college's athletic GSR here. But the newer metric the NCAA is now promoting over graduation success, the Academic Progress Rate, is another matter. The Academic Progress Rate is either worthless or intended to mislead.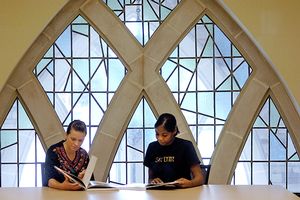 AP Photo/Greg Campbell
Merely being enrolled in a college gets you half the possible points on the NCAA Academic Progress Rate score.
Under the Academic Progress Rate calculation, a player gets a full point -- half the total score! -- merely for being enrolled in school. Given that an athlete must be enrolled to compete, everyone starts off the calculation with half the maximum score guaranteed. The athlete gets the other possible APR point simply by remaining academically eligible for sports. That is, if a football player is enrolled and eligible to play, his APR score is perfect! (The invaluable Lindsey Luebchow of the New America Foundation analyzes the APR in detail here.) What must an athlete do to remain eligible by NCAA rules? Annually complete 20 percent of the courses required for a major, plus take a minimum of six credit hours per semester. Both requirements are of the falling-off-a-log variety. Many rocks-for-jocks majors have light course-completion requirements, and 20 percent of required courses per year assumes a five-year stay in college. Most schools mandate 12 credit hours per semester. The University of Georgia, for example, defines someone taking six credit hours per semester as a "half-time student." Given the incredibly low bar set by the Academic Progress Rate -- the athlete need only be enrolled, making below-average progress toward an easy major and taking a below-average course load -- you'd think every college and university would receive a perfect mark. You'd think wrong.
So what happens when an APR number falls below NCAA standards? In theory, there are sanctions; in practice, if the school in question is a football factory, regulators seem to look the other way. A few months ago, the NCAA announced the football programs receiving sanctions under the new Academic Progress Rate: By the strangest and most amazing coincidence, just two of the 37 penalized schools are in BCS conferences. The BCS conferences generate money, so almost all football-factory institutions received passing grades or waivers, but the NCAA came down like a ton of bricks on Gardner-Webb, Murray State, Sacred Heart and other schools that do not produce much revenue from football. Ohio State, which has a football graduation rate of 52 percent, was not sanctioned, but the University of Alabama at Birmingham got a harsh NCAA football penalty, a loss of nine scholarships -- even though UAB's football graduation rate of 44 percent differs only somewhat from the not-punished Ohio State. Texas State was penalized but the University of Texas was not -- even though Texas State has a 74 percent football graduation rate and the Longhorns' football graduation rate is 50 percent. The University of Akron was penalized five football scholarships even though its football graduation rate, 61 percent, is notably higher than the rates of numerous not-punished BCS schools. Graduation rates and the new APR don't measure the same things, so it is possible a football-factory school could look bad on one while being OK on the other. But if they are using the new APR to create the appearance of academic discipline by punishing smaller schools, while effectively exempting the revenue-producing football factories, is insincerity.
Meanwhile, the APR number itself is incomprehensible, derived by a formula only slightly less convoluted than the NFL passer-rating system. The current average APR of men's Division I sports is 951. What does 951 represent? I have no idea. You have no idea. And that's the way the NCAA wants it. NCAA statements about the APR contain such cryptic passages as, "The average eligibility rate for 2006-07 is 967.1, up from 965 in 2003-04. The average retention rate has increased steadily over the first four years of data collection, beginning at 953.6 in 2003-04 and showing a 956.7 in the most recent collection year." These pseudoscientific numbers with their ridiculous decimal places don't have any commonsense meaning. Graduation rate is a straightforward metric whose significance is obvious and a measure that speaks directly to the purpose of higher education. The APR, by contrast, is unfathomable; it's sort of defined here. What's the point of downplaying graduation rates, a simple metric anyone can grasp, while promoting the new Academic Progress Rate, which no one understands? I contend that a number no one understands might be what the NCAA is striving for!
The irony is that graduation rates -- the comprehensible metric -- in the main reflect favorably on college sports. Some 79 percent of college student-athletes overall graduate, a higher rate than for college students generally. Studies consistently show that athletes as a group get better grades in high school and in college than nonathletes, while graduating at higher rates than nonathletes. Sports participation teaches good work habits: Athletes must be disciplined, goal-oriented and hardworking, all qualities that carry over into academic success. High school kids and college students who aren't involved in extracurricular activities always have an excuse for putting off homework; athletes go to practice and then do homework -- they don't have an excuse. Work ethic and work routines are the keys -- high school and college students involved in theater, music, debate or similar work-ethic activities also have higher GPAs and better graduation rates than students generally. Overall, the child who becomes involved in athletics increases his or her odds of academic success. In terms of improving academic performance, sports is just as good as debate.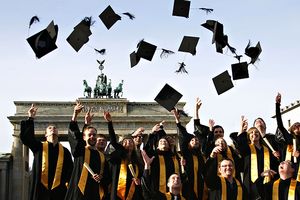 Michael Kappeler/AFP/Getty Images
Lots of NCAA athletes graduate -- but the numbers are lower in football and men's basketball.
But that's overall: Graduation numbers for football and men's basketball remain dismal, which is why the NCAA is trying to shift attention to the meaningless APR. What's going on statistically is that high college graduation rates in sports that don't generate money are pulling up the low rates in football and men's basketball, leaving the overall student-athlete grad rate attractive while the grad rates in revenue sports are dismal. Only 65 percent of NCAA men's basketball players graduate, and this is not because of onerous practice schedules. Women's basketball players have essentially identical regimens, and 85 percent of them graduate. Just 66 percent of Division I football players graduate. Add the racial breakdown and it gets worse, with just 58 percent of African-American football players graduating. The African-American men's basketball graduation rate has been rising in recent years, but also is only 58 percent.
Why isn't the NCAA, along with its member institutions and their booster organizations, ashamed of this? Of the BCS bowl schools, Texas Tech at 79 percent, Penn State at 78 percent, Virginia Tech at 75 percent, Cincinnati at 73 percent and Florida at 68 percent have football graduation rates to be proud of. The rest? Alabama's football graduation rate is 44 percent. Oklahoma's football graduation rate is 46 percent. Alabama spent much of the season No. 1 in the football polls but dwells right at the bottom for football education. Why aren't the Crimson Tide faithful ashamed of this?
Now let's praise major Division I sports programs that combine athletics with educational success. Notre Dame graduates 94 percent of football players and 100 percent of men's basketball players. Penn State is at 78 percent graduation for football and for men's basketball. Nebraska graduates 78 percent of football players and 77 percent of men's basketball players. Davidson graduates 98 percent of football players and 100 percent of men's basketball players. Holy Cross graduates 93 percent of football players and 100 percent of men's basketball players. Bucknell graduates 90 percent of football players and 89 percent of men's basketball players. It is not impossible to participate in big-deal collegiate sports and graduate lots of football and men's basketball players. It is just a matter of priorities.
Krumble on the Play! TMQ contends that the krumble -- kickoff return fumble -- is the most damaging turnover because the team that has just scored immediately gets the ball back. Chicago, Dallas and New Orleans all krumbled Sunday, and all lost.
The Sorry Six: Discounting expansion Houston, there are six NFL teams that have not won a playoff game in a decade: Buffalo, Cincinnati, Cleveland, Dallas, Detroit and Kansas City.
Happy Hour in Hell's Sports Bar: There was wild, raucous cheering in hell's sports bar as Detroit faced fourth-and-27 on its final snap of 2008 and Dan Orlovsky threw an interception, completing the 0-16 dream season. Unfortunately, all the fascinating Sunday games refused to tune in on the 28 wide-screen plasma TVs, but Cleveland at Pittsburgh was shown in its entirety. For the highlight program, all 28 screens in Hell's Sports Bar showed exclusive interviews with Browns quarterback Bruce Gradkowski (12 net yards passing, two interceptions).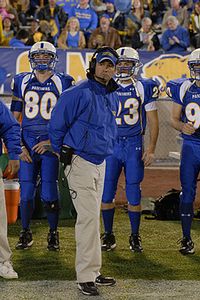 NBC
We're down by 20 points with two minutes to play -- we have the other team right where we want it.
"Friday Night Lights" Update: The Panthers are back in the Texas state championship, via yet another last-second touchdown -- Dillon blocked a punt with 34 seconds remaining, scored to draw within 14-13, then went for two and won. The episode included five crying scenes and four drinking scenes: Don't they do anything in Dillon, Texas, but cry and drink? A subplot involved redistricting Dillon to build a new high school because of population growth, which was puzzling because previously we have been told Dillon is a dying town that's so small it has only two motels. There are two more episodes in the "Friday Night Lights" series. Let's see whether the finale involves a game at Reliant Stadium, site of this year's actual Texas 5A championship. Dillon's 2006 fictional championship game was played at Texas Stadium, though the actual 2006 5A title game was in the Alamodome.
Disclaimer of the Week: TMQ recently passed an evening at the Westin Hotel at San Francisco International Airport, which looks super on a Web page. The Web page doesn't mention that when winds dictate north departures, the airport uses a runway that begins 400 yards from the hotel -- guests enjoy the sleep-friendly luxury of enormous jetliners spooling up their engines right near your room! At any rate, this hotel had not one, not two, but three disclaimers: Not in its brochures but physically on the hotel, as placards on a column near the entrance. One placard warned that hazardous materials might have been used in the hotel's construction. This warning was supposed to -- what, make guests decide not to rip out ceiling tiles with their bare hands and inhale fumes? The second disclaimer warned pregnant women not to drink at the bar. The third disclaimer essentially said that if the parking valet took your car out joyriding and rammed a bridge abutment, you had no recourse. This third disclaimer instructed customers not to hand over a car for parking until they had read the warning. The disclaimer was placed so that it was physically impossible to read until after you handed over your car.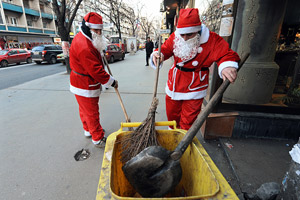 Atanasoviski/AFP/Getty Images
Clean up fast, boys, Christmas Creep 2009 starts soon!
Skopje is Beautiful in the Spring: Greece has vetoed the entrance into NATO of the nation that calls itself the Republic of Macedonia, that the United Nations calls the Former Yugoslav Republic of Macedonia and that Greece refuses to recognize diplomatically. Greece insists that, in the U.N. General Assembly, the delegate from the Former Yugoslav Republic of Macedonia not be seated under the letter "M." I am not kidding -- Greece filed an objection to letter "M" seating. The nation in question then refused to be seated under the letter "F," insisting Former is not a formal part of its name. Provisionally, the nation is seated at the United Nations next to Thailand under the letter "T," using the "The" for seating purposes -- as if the country's name were The [Disputed Word] Yugoslav Republic of [Disputed Word]. (Note: The United Nations has a marketing slogan, see it by rolling over a language choice. ) The issue is expected to heat up soon, as the "The" nation applies for entry into the European Union. A Christmas Day news report, datelined Gostivar: "Macedonian President Branko Crvenkovski believes accepting a geographical term for the name of Macedonia is a partial compromise in the name dispute with Greece."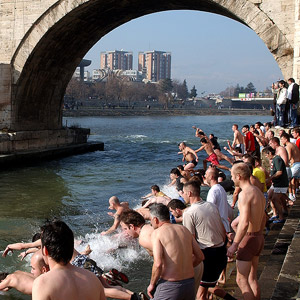 AP Photo/Boris Grdanoski
Macedonians swim in the scenic Vardar in The (Disputed Word) Yugoslav Republic of (Disputed Word).
This absurd dispute is a small piece of a quarrel that arose because Greece asserts that the term Macedonia is historically Hellenic, though the Macedonians themselves are Slavs and nearly all of them live in the "The" country, whose capital is, of course, Skopje. Greece contends that it will continue to veto everything having to do with the new nation, which formed in 1991 during the collapse of Yugoslavia, until such a time when it might pick a name that does not contain the word Macedonia. But Greece, titles cannot be copyrighted! Anyone may publish a book called "Gone With the Wind." Any country can call itself France, though it's not clear what the incentive would be. In the spirit of international compromise, TMQ offers these alternate names for the new nation:
• The Republic Formerly Known As Prince.
• Steve. Wouldn't Steve be a cool name for a nation?
• An Obscure, Landlocked Mountainous Region Along the Vardar River.
• Emmanuelle. Really sexy woman's name might increase tourism.
• ROM. Subliminally suggests Republic of Macedonia, but the official name would be just initials -- like KFC -- thus frustrating Greece's objection.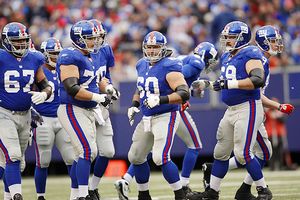 AP Photo/Rob Carr
They're all going to Hawaii! And unlike the Dallas offensive linemen, they earned it.
• Skopje and So Much More!
• The Greatest Nation in Human History. This would force the United Nations to say, "Now we will hear from the delegate representing The Greatest Nation in Human History."
• The United States of America. Leading national brand in the world, yet cannot be copyrighted.
Rare Good News for Offensive Linemen: Two Jersey/A offensive linemen were chosen for the Pro Bowl, as was Eli Manning; a Pro Bowl invite also includes expenses for a wife or girlfriend. Manning said last week that he would pay to bring the Giants' other three starting offensive linemen and their wives to Hawaii for the week. This is one smart move by Eli. If you want to keep your keister off the ground, be nice to your offensive line.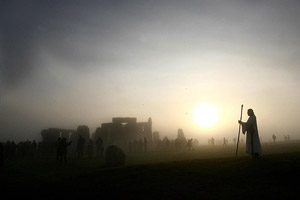 AP Photo/ Chris Young/PA
Druids chant for the winter solstice, the ancient traditional day when spring sales begin.
Unified Field Theory of Creep: On Dec. 22, there arrived in my mailbox a Lands' End catalog boldly headlined WINTER'S END SAVINGS EVENT. Not only did the "winter's end" sale kick off before Christmas -- it started one day after the solstice, the first day of winter. On Dec. 23, the L.L. Bean "Late Winter" catalog arrived in the mailbox. Thus the "late winter" catalog came when 88 days of winter remained. Avrohom Dickman of Bronx, N.Y., reports, "This morning I heard an ad on the radio saying the Joseph A. Bank 'post Christmas sale' was in progress. I heard this ad on December 24th."
'Tis Better to Have Rushed and Lost Than Never to Have Rushed at All: Two weeks ago, the Bills led at the two-minute warning against the Jets, were having a great day rushing and needed only a couple of runs to drill the clock: Buffalo coaches inexplicably called a pass, and the play resulted in the winning touchdown for Jersey/B. Don't you think maybe this fiasco would have been fresh in Bills coaches' minds Sunday? With the Patriots leading 13-0, Buffalo faced fourth-and-1 on the Flying Elvii 39 midway through the fourth quarter. To that point, Buffalo had 129 yards rushing and 70 yards passing -- and Buffalo coaches called a shotgun spread pass. Incompletion, and TMQ wrote the words "game over" in his notebook. Plus, it wasn't even a deep attempt to hit the home run, rather, a rinky-dinky sideways thing that would have gained maybe 5 yards. When New England faced a fourth-and-2 in the same contest, the Pats ran and converted.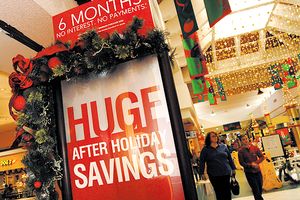 AP Photo/The Daily Record/Mark Wilson
Next fall, post-holiday sales might begin on Labor Day.
To call the New England at Buffalo game an example of a great coach versus a novice would be sugarcoating what happened. In strong gusting wind, both teams mainly ran. But the Patriots called a variety of rushing tactics and 30 of the 31 non-scramble Buffalo rushes went between the tackles; Bills coaches never took advantage of the up-the-middle pattern to call a reverse, bootleg, end-around or even a counter. Bill Belichick worked the details of the wind, Dick "Cheerio, Chaps" Jauron seemed oblivious to it. Trailing 3-0, Buffalo had third-and-9 on the New England 30 with the wind at the Bills' back. Buffalo ran up the middle for 2 yards, as if a 47-yard field goal in a 40-mph wind would be a gimme. The ball corkscrewed wildly and missed -- and why was Jauron playing for a field goal rather than a touchdown in the first place? Reaching third-and-5 at the New England 12 with 22 seconds remaining in the first half and no timeouts, Bills coaches called another run up the middle -- though it's third down, so unless you make the first, you can't spike! The run gained 3 yards, and the clock expired before Buffalo could snap for a field goal attempt. One Buffalo player was wasting precious seconds pushing and shoving with two Patriots -- don't think the New England players didn't do that on purpose, knowing the clock situation. Rather than rush the field goal team out, Buffalo coaches stood on the sideline watching the fight. And why was Jauron playing for a field goal rather than a touchdown in the first place? Buffalo had the wind advantage in the third quarter, but New England staged a long drive, keeping the Bills off the field. When Buffalo got possession, the Flying Elvii led 10-0 and there was 4:39 remaining in the third quarter, Buffalo's last chance to work with the wind -- and the Bills did not go no-huddle! A listless three-and-out followed, and the game might as well have concluded there.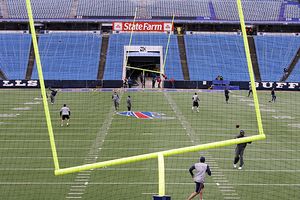 AP Photo/David Duprey
If they hadn't straightened the goalposts, Buffalo's kick might have gone in.
Jauron is 57-77, has just one winning season in his entire coaching career and has led the Bills to three consecutive losing seasons. On game days, Jauron looks bored on the sideline. The AFC East test of manhood is how you play against New England: Jauron is 0-6 versus the Patriots, and the Bills have been outscored 174-50 in those games. Game in and game out against New England under Jauron, the Bills simply roll over. Yet rumors persist that Buffalo management just granted Jauron a long-term contract extension. Patriots fans certainly hope so.
Reader Animadversion: Got a complaint or a deeply held grievance? Write me at TMQ_ESPN@yahoo.com. Include your real name and the name of your hometown, and I might quote you by name unless you instruct me otherwise. Note: Giving your hometown improves your odds of being quoted.
Single Worst Game Ever Played: Teams in the win-and-in situation in the regular-season finale have blown it before. But what happened to the Cowboys at Philadelphia wasn't a case of nerves, and it wasn't a bad day; it was a meltdown. Most of the team's highly paid stars -- Tony Romo, Terrell Owens, Terence Newman, Adam Jones, Roy Williams -- were actively awful. Head coaching was awful. Assistant coaching was awful -- how come Offensive Genius Jason Garrett was running the same stuff that was stopped by the Ravens the week before? Even the owner did an awful job, distracting the team during the week with incessant talk about what he might do if the Boys didn't win. And play by specific play, performance was awful. You've got to be truly, utterly awful to give up 41 unanswered points in a game in which the playoffs are on the line, in a season when you've been boasting -- as Newman did -- "We're the greatest team in the league."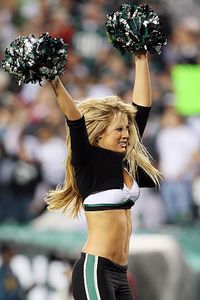 Jim McIsaac/Getty Images
Cheerleader professionalism was another factor in the Eagles' huge victory.
With the score tied at 3 in the second quarter, Donovan McNabb scrambled on third-and-7 and flipped a short pass to Correll Buckhalter. There were six Cowboys defenders within tackling distance, and all basically did an "Olé"! Buckhalter, who will not make anyone forget Gale Sayers, outran everyone, going 59 yards to set up a touchdown. Dallas got the kickoff and went loss of yardage, incompletion, incompletion, punt. After Philadelphia punted, as well, Dallas again went three-and-out, unable to run despite opening the game with three tight ends on the field. Philadelphia scored again for a 17-3 lead. On the next Dallas possession, Romo forced the ball to the receiver Williams: interception. With 1:04 remaining in the first half, Philadelphia had first-and-10 on the Dallas 42. The Nesharim drove 42 yards for a touchdown -- 26 of the yards on penalties against Dallas, one an incredibly boneheaded late hit by Jones. The touchdown play came when Philadelphia had first-and-goal on the Dallas 1 with 15 seconds remaining -- the Cowboys fell for a play-fake even though Philadelphia held no timeouts. The Eagles kicked off, Jones got the ball and immediately fumbled; Philadelphia kicked a 50-yard field goal to complete a 24-0 second quarter.
Dallas was not finished being awful! In the third quarter, Romo fumbled on the Eagles' 25; Chris Clemons returned the fumble 75 yards for a touchdown. Clemons is a defensive end, yet no Dallas speed player -- not Owens or Williams the receiver -- made any attempt to catch him. On the next Dallas possession, Marion Barber fumbled on the Eagles' 4; Joselio Hanson returned the fumble 96 yards for a touchdown, and only four of 11 Boys on the field made any attempt to chase him, the rest standing with hands on hips, watching, no doubt trying to think of something to whine about. On the next Dallas possession, Romo fumbled yet again -- he got little protection from that Pro Bowler-heavy Dallas offensive line that always seems to be having "an off day" -- setting up the Philadelphia field goal that completed the 41-0 run. Then, trailing 44-3, Dallas punted on fourth-and-3! Still trailing 44-3 in the fourth quarter, Dallas punted on fourth-and-2! And reaching the Philadelphia 24 with the game nearly over, Dallas launched the field goal that made the final 44-6. The Philadelphia crowd collectively laughed as that field goal boomed. Just to prove the whole thing was no fluke, trailing 44-6 with 3:23 remaining, Dallas punted again.
TMQ offers a Single Worst Play of the Season item, but what Dallas did Sunday at Philadelphia goes far beyond that standard. Imagine a 16th-century wooden warship with a cannon rolling loose on its deck and a typhoon approaching, and you're imagining a better situation than the current Dallas Cowboys.
Next Week: Christmas Creep 2009 begins.
In addition to writing Tuesday Morning Quarterback, Gregg Easterbrook is the author of "The Progress Paradox: How Life Gets Better While People Feel Worse" and other books. He also is a contributing editor for The New Republic, The Atlantic Monthly and The Washington Monthly.