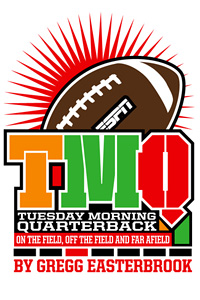 The maxim is that offense sells tickets, while defense wins championships. This season, four of the five top offensive teams -- New Orleans, Denver, Houston and New England -- failed to reach the playoffs. In contrast, four of the five top defensive teams -- Pittsburgh, Baltimore, Philadelphia and Jersey/A -- did reach the playoffs. Of top offenses, only Arizona is in the postseason and of top defenses, only Washington is out. Is that a trend? Wild-card weekend said yes, because defense ruled both days. San Diego held the high-scoring Colts to 17 points, seven of them on a fluky play. Arizona shut down Atlanta's second-ranked rushing attack, holding the visitors to 60 yards rushing and throwing their offense out of whack. Baltimore's defense held host Miami to nine points while ringing up five takeaways plus a defensive touchdown. Philadelphia's defense held host Minnesota to 14 points and recorded a defensive touchdown. Things that have worked all year for the offenses of the defeated teams -- Atlanta's cutback running, Miami's Wildcat series, the Colts' fifth-rated passing attack -- did not work this weekend owing to defense. More in game-by-game analysis below.
This weekend was distinctive in two other ways. First, the games were yet another argument the Pro Bowl voting should wait at least until the regular season is complete, not close around Armistice Day. The NFC Pro Bowl roster includes 16 players from teams that did not reach the playoffs, and only two Philadelphia Eagles. Yet the Eagles were the NFC's hottest team down the stretch and on Sunday played tremendous defense. The AFC roster has 20 players from teams that did not reach the postseason, and only two San Diego Chargers. Yet the Chargers were the AFC's hottest team down the stretch and on Saturday played tremendous defense. Both Pro Bowl rosters are dominated by gentlemen from clubs everyone was talking about at midseason (the Cowboys, the Jets) rather than those that performed well over the long haul. Please change the Pro Bowl voting so that full-season performance rather than early-season hype is what's rewarded!
Second, this year's wild-card weekend was the high point for cheerleaders in NFL history. Three games were played at warm-weather sites and the fourth inside a dome. All the host teams (Arizona, Miami, Minnesota and San Diego) have reputations for glamorous barely-dressed cheerleaders, and all four cheerleader squads upheld their reps. Has there ever before been a weekend in which every NFL game offered alluring cheer-babes flouncing in skimpy attire? Unfortunately, home teams won only two of four contests, else TMQ could have proclaimed final scientific proof that cheerleader professionalism leads to victory.
In other news, how much longer till Christmas comes back? I love Christmas, but you can have New Year's. Christmas Eve is my favorite day of the year -- when all is anticipation, and bells ring in the distance. New Year's Eve is my least favorite day of the year. First, New Year's is a wasted holiday, coming too close to Christmas and Hanukah -- why isn't the new year spaced out better into one of the slow months? New Year's Day means football is nearly over, which is bad news, especially since -- many don't believe this, but it's true -- discounting preseason, there are nearly two weeks in which football is not played for every one in with football each year. Worst of all, New Year's Eve makes it official that Christmas has come and gone once again. And once again, no matter how earnestly you swore next time to prepare for Christmas in advance so that during the week itself you could relax and savor the moment -- annually I swear this -- once again the whole thing went by in a fast-forward blur.
In other football news, since Andy Reid benched Donovan McNabb, a move roundly denounced by football pundits, the Eagles are 5-1 and have advanced to the divisional round. Not only did the temporary demotion shake McNabb out of his lethargy, it communicated to other Philadelphia players this message: "Your jobs aren't safe, either." When will Reid get some praise for a decision the experts mocked?
And in other football news, here's a gaming tip. As TMQ readers know, my compromise with my Baptist upbringing is to be pro-topless but anti-gambling. (Note to ESPN art department: Insert accompanying photo either of a topless dancer or an office sports pool, it's your call.) Serious wagering only brings loss, regret and sorrow. But if you're making the harmless $5 workplace bet on the NFL playoffs, take the home teams this weekend. Home teams in the NFL divisional round are the surest thing in sports, except perhaps if San Diego plays Dallas in December. Since the current playoff format was adopted in 1990, home teams in the divisional round are 55-17, a .764 winning percentage. Usually the reason the home teams are at home in the first place is because they are better than the wild-card teams. Equally important, in the divisional round the home teams have spent a bye week relaxing in hot tubs while their opponents were out being pounded. Home teams dominate the NFL divisional round, so check-mark them in your office pool. You don't even need to know who's playing!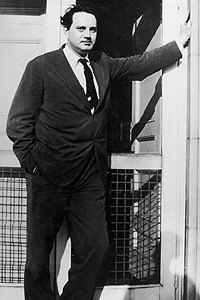 American Stock/Getty Images
Thomas Wolfe originally called his masterpiece "Look Homeward in the Divisional Round," but meddlesome editors shortened the title to "Look Homeward, Angel."
A week later in the championship round, the home advantage dissipates. Since 1990, home teams in conference championship games are 21-15, a .583 winning percentage. That's only a tad better than the rate at which home teams won all games over the same period. (So far this season, home teams are .554.) In the championship round, nobody's had the previous week off and the Super Bowl is just one W away. Players leave everything on the field in championship contests. So at the next step, the home team won't necessarily be the favorite. But this weekend, look homeward. And of course, if the visitors win, remember the Tuesday Morning Quarterback guarantee: All Predictions Wrong or Your Money Back.
In other news, yet another NFL overtime ended with the team winning the coin toss scoring on its first possession. It's bad enough when a coin toss decides a regular-season game, how can this be tolerated in the playoffs? I am not crazy about the high school/college overtime system -- alternating possessions starting near the goal line -- as an alternative. So how about some entirely fresh thinking? Here is my NFL overtime proposal. An entire fifth quarter is played: but in the fifth quarter kicking is forbidden, except after scores. No punts, no field-goal attempts, no PAT kicks. Such a system would ensure each team more than one overtime possession, but enforce a standard of very aggressive play because you'd have to go for it on every fourth down and go for two after a touchdown. Fans might find they prefer football without kicking! If the game was still tied at the end of five, the sixth quarter would be sudden-death.
And in news of globe-spanning international significance, today I name the 2008 Tuesday Morning Quarterback Person of the Year. See below.
Stat of the Week No. 1: Against Indianapolis, Darren Sproles gained 328 combined yards; the entire Indianapolis team gained 435 combined yards.
Stat of the Week No. 2: Miami committed 10 giveaways in its first 14 games and eight giveaways in its final three games.
Stat of the Week No. 3: The Cardinals got a home playoff win for the first time since Harry Truman was president.
Stat of the Week No. 4: Indianapolis and San Diego opened a combined 7-12, then went a combined 14-1.
Stat of the Week No. 5: Atlanta and Baltimore brought rookie head coaches and rookie starting quarterbacks to a postseason game; the last time there was a rookie head coach-rookie starting quarterback combination in the playoffs was 1945.
Stat of the Week No. 6: Miami went 11 consecutive postseason quarters without scoring a touchdown.
Stat of the Week No. 7: Indianapolis started drives on its 1, 3, 7, 9, 10, 19 and 19, and none in San Diego territory. San Diego's worst drive start was its 20, and the Chargers started three drives in Colts territory.
Stat of the Week No. 8: Arizona, last in rushing in the NFL, won a playoff game.
Stat of the Week No. 9 (bowl stats bonus): In the Sugar Bowl, Alabama and Utah combined for 513 yards passing and 44 yards rushing.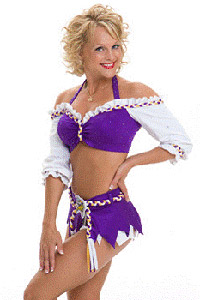 Minnesota Vikings
She's been on reality TV. Aside from that, she's real.
Stat of the Week No. 10: Carolina, Jersey/A, Pittsburgh and Tennessee, which host this weekend's playoff games, are a combined 28-4 at home.
Cheerleader of the Week: Krisandra of the Vikings who according to her team bio not only once worked as a magician's assistant on a cruise ship and has made several reality-TV appearances -- TMQ Law of Reality TV holds that nothing is phonier than a reality show -- but also holds the Marshall Field's Merchandise Hero Award for 2003.
Sweet Play of Wild-Card Weekend No. 1: With Philadelphia leading 16-14 at the midpoint of the fourth quarter but the home crowd on Minnesota's side -- home teams tend to win close games -- the Nesharim had first-and-10 on their 29. Donovan McNabb threw a weakside screen to Brian Westbrook; the always-playing-for-sacks Jared Allen of the Vikings totally bit on the fake; Jamaal Jackson, Todd Herremans and Nick Cole made great blocks; Westbrook went 71 yards for the touchdown, and the visitors never looked back. In the Fox pregame show, sideline reporter Pam Oliver said Westbrook told her the game plan called for screens on first down. Hey Brian, loose lips sink ships! But apparently no one on the Vikings' staff watched the pregame show. I don't know this for a fact, but I bet you Bill Belichick always has someone assigned to watch the pregame show.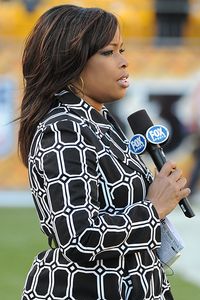 George Gojkovich/Getty Images
Pam Oliver knew the Eagles' plan. All America knew the Eagles' plan -- except for the Vikings' coaches.
Sweet Play of Wild-Card Weekend No. 2 With Philadelphia leading 16-7 in the second quarter, Minnesota speed receiver Bernard Berrian snagged a pass and seemed headed for the house. Twenty-seven yards downfield, he was caught from behind by … Chris Clemons, an Eagles defensive end! In a wild-card weekend dominated by defense, this was my favorite defensive play.
Sour Play of Wild-Card Weekend No. 1: Miami had pulled to within 20-9 of Baltimore and was driving midway through the fourth quarter, facing second-and-7 on the Nevermores' 25. If the Dolphins score a touchdown here, what seemed like a rout could become an all-time comeback. Baltimore called an overload blitz from the offensive left; Miami called an end-around to Ted Ginn running left, an ideal play for that situation; Ginn had one man, Terrell Suggs, to beat and three blockers down the left sideline; if the very fast Ginn gets around Suggs, a touchdown is likely. Ginn fumbled the handoff, kicked the ball hither and yon and ended up losing 19 yards. And TMQ wrote the words "game over" in his notebook.
Sour Play of Wild-Card Weekend No. 2: Things were going well for Atlanta -- the Falcons led Arizona 17-14 at intermission, and got the ball to start the second half. On Atlanta's second snap, a second-and-7 from its 30, something really odd occurred. Typos right tackle Tyson Clabo lined up way wide of right guard Harvey Dahl, leaving three times the normal "split" between offensive linemen. This wasn't planned, just a pure blunder. Rookie quarterback Matt Ryan should have noticed the line was set all wrong and called timeout. Instead an unblocked Cardinals defender came through the weird mega-gap and hit Ryan as he was attempting to hand off; Antrel Rolle of Arizona snatched the fumble in midair and ran for six. The Falcons never recovered.
Sweet 'N' Sour Play of Wild-Card Weekend No. 1: Leading Atlanta 30-24, Arizona faced third-and-16 on the Falcons' 46 with 2:17 remaining and Atlanta out of timeouts, meaning a first down ices the contest. TMQ loves the ploy of going to a total unknown in a high-pressure situation. Arizona play-faked, and backup tight end Stephen Spach -- an undrafted free agent who has been waived by three NFL teams -- ran an intermediate turn-in and made the catch for 23 yards, and the first Cardinals home playoff win since the Berlin airlift was complete. That was sweet. On the play, veteran Atlanta linebacker Keith Brooking had initial coverage on Spach, then let Spach go to come forward and cover an Atlanta running back who was running a 5-yard, safety-value route. When it's third-and-16, you don't care if the offense gains 5 yards! Before the game-icing catch, Spach had two receptions in the past two seasons. But even if a guy only has two receptions in two seasons, you don't leave him totally uncovered on the deciding snap of a playoff game! That was sour.
Sweet 'N' Sour Play of Wild-Card Weekend No. 2: San Diego led Indianapolis 14-10 at intermission; the Colts got the ball to start the second half, and drove to third-and-1 on the Bolts' 34. Jamal Williams stopped the run for no gain; when the Colts went for it on fourth-and-1, the Bolts forced an incompletion and took possession. That was sweet. But about that fourth-and-1: Peyton Manning play-faked and sprinted almost 15 yards backward, then had to throw the ball away. You only need 1 yard, why are you sprinting backward? That was sour.
On the next Indianapolis possession, Manning made a brilliant play when he noticed San Diego defenders were talking among themselves and quick-snapped for an easy 72-yard touchdown. But he made a strange decision on the fourth-and-1 and later made a similar strange decision. Peyton is the sole NFL quarterback who regularly calls his own plays. Offensive coordinator Tom Moore signals in code that allows Manning to choose among several plays; it's one reason he's a three-time MVP, but also a reason Peyton gets extra blame for failed calls. With Indianapolis leading 17-14 and facing third-and-2 on its 9 with 2:30 remaining and San Diego out of timeouts, the Colts came out empty backfield, Manning sprinted backward, and was sacked by an untouched blitzing linebacker. Indianapolis had to punt from its 1, giving the Chargers the field position from which they tied the game to force overtime. Indianapolis was second-to-last in the league in rushing in 2008, and gained only 64 yards on the ground against San Diego. Still, had the Colts simply run on both of these key short-yardage downs, success on at least one was likely -- along with a different game outcome.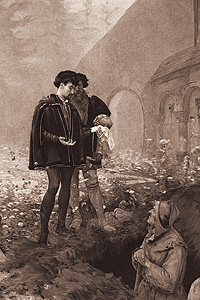 Stock Montage/Getty Images
"Alas, poor Yorick. I knew him, Horatio. He was an Arizona fan."
Atlanta at Arizona Analysis: The Arizona Cardinals won with defense? There are more things in heaven and earth, Horatio, than are dreamt of in your philosophy! The hosts held the Falcons to 250 yards gained from scrimmage and just 2.5 yards per rush attempt. Atlanta uses the zone-blocking approach that is widely misunderstood by sports pundits. In zone blocking, the offensive line blocks in the direction of the rush, rather than try to push defenders the opposite way. Linemen block the back of a defender (blocking in the back is legal between the tackles at the start of a running play) rather than the front, then the runner attempts to cut behind the movement of the line. Arizona's defense was disciplined and kept its defensive ends "at home," stopping the Atlanta cutback action. Deprived of a power running game and the play-fakes that work off one, Atlanta rookie quarterback Matt Ryan looked like a rookie quarterback, throwing two interceptions. Atlanta's offensive line, its bulwark during the regular season, choose the wrong day to have a bad game. Not only did the line make the weird mistake noted above; megabucks first-round draft choice tackle Sam Baker barely slowed Cards reserve defensive end Antonio Smith on the fourth-quarter safety that put the visitors into panic mode. All in all, it was a fine afternoon on which to be a Cardinals defensive player -- the first time that's been said since maybe 1975.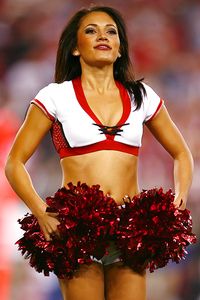 Jeff Gross/Getty Images
Cheerleader at the Atlanta at Arizona game.
On offense, the Cardinals finally showed some balance, rushing 28 times. Balance will be needed Saturday when the Cards (0-5 in the Eastern Time Zone this season) visit the Panthers (8-0 at home). Leading 7-3, Arizona faced third-and-9 on its 29. Two Cards receivers set left, then Anquan Boldin came in motion left, so a trips was formed at the snap. Atlanta blitzed six, and Arizona blocked the blitz -- usually when you block a blitz, something good happens. The two receivers on the left had drawn cornerbacks, but no safety or nickelback had called out Boldin. (The defender who gets the motion man points at him and calls, "He's mine.") The two receivers ran a short cross, which looked to the secondary like the purpose of the play. Then Boldin sprinted behind them into the left flat, uncovered, and took a catch-and-run 71 yards for a touchdown.
Later, with Arizona leading 30-24, the Cards took possession on their 20 with 4:10 remaining. Atlanta expected Arizona to run, which most teams would do in this situation in order to advance the clock. Instead Arizona threw on three of six snaps before it reached the kneel-down stage, and all three were big completions. In the endgame, Atlanta seemed to forget that Arizona likes to throw, though the Cards were the pass-wackiest team in the NFL this season. And about Atlanta panic: Falling behind 28-17 late in the third quarter, Atlanta got the ball back and on first down panicked and threw deep: interception. There was ample clock for the Falcons to work slowly down the field, while Arizona was expecting a deep strike. TMQ Law of Panic holds: Don't Panic Yet, There Will Be Plenty of Time for That Later.
Brett Favre Brett Favre Brett Favre Once Again Just Brett Favre: Who is Shaun Hill? One of the 20 NFL starting quarterbacks who finished with a higher passer rating than Brett Favre. Over the past four years, Favre threw 84 interceptions, the worst of any NFL quarterback in that period. Yet the sports media treated him as a little god -- and he treated himself the same way! As Jets players begin to go public about Favre egotism sabotaging the team's season, bear in mind this was no state secret when Jersey/B acquired Favre. TMQ warned in August 2008 that Favre's ego was so out of control, Green Bay players were happy to see him go.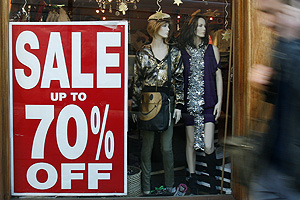 AP Photo/Kirsty Wigglesworth
End-of-summer clearance coming soon!
Unified Field Theory of Creep: Stuart Rogers of Greenwood, Ind., reports, "On December 10, I went to my local Kroger to pick up some beer for the weekend. What to my wandering eyes should appear but Blue Moon Spring Seasonal beer, on sale already. It was nearly two weeks before the official beginning of winter, and the Spring Seasonal brew was available." Michael Rowton of Dallas writes, "On New Year's Eve 2008, I got a 'save-the-date' announcement for -- a 2009 Halloween party." Wade Argo reports from a few days after Christmas, "I was in my local mall today and saw in a major department store several racks featuring specials on men's shorts. Shorts already? Here's the catch. I live in Winnipeg, Manitoba, where it is around 20 F on the warmest of days right now and will be that way for at least another two months."
Indianapolis at San Diego Analysis: They sure aren't complaining about NFL officials in San Diego now! From the start of the fourth quarter, when the Colts led 17-14, till the Bolts prevailed with a TD in overtime, zebras called eight major penalties against Indianapolis versus no penalty of any kind against San Diego.
Officials have no responsibility to balance out calls. If one team commits more penalties than the other, then it deserves more flags, and all three calls against Indianapolis in overtime were clearly correct. But other calls in San Diego's favor were arguable. Leading 17-14 with 12:17 remaining, Indianapolis threw for a first down at its 46. Colts center Jeff Saturday was flagged for tripping, a penalty which is enforced from the basic spot rather than the end of the play. Suddenly instead of first-and-10 at midfield, the Colts faced first-and-20 on their 11. Officials seemed to think Saturday used a "leg whip," a 1950s-vintage maneuver in which an offensive lineman lies on the ground then spins his legs and kicks a defender's knee. To me it looked like Saturday himself was the one who tripped, then got his legs tangled with a defender. Maybe Saturday is so super-ultra-sophisticated he was pretending to fall down in order to leg-whip. To me it looked like a bad call in San Diego's favor at a critical junction in the playoffs. So Bolts fans, enough already about Ed Hochuli!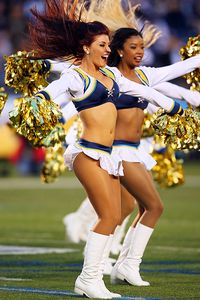 Paul Spinelli/Getty Images
Cheerleaders at the Indianapolis at San Diego game.
From the Indianapolis perspective, the killers on offense were an inability to rush and dropped passes -- two "clean drops" each by Reggie Wayne and Anthony Gonzalez. (A clean drop is one that hits the receiver perfectly.) On defense, the Colts could not get San Diego off the field on third-and-long, allowing the Chargers to convert third-and-7 twice, third-and-9 twice, third-and-11 and a third-and-13. (On that third-and-13, Philip Rivers ran for 12, then he sneaked for the final yard on fourth-and-inches; so although it wasn't a third-down conversion, they still converted.) Dwight Freeney and Robert Mathis both played for sacks on every third-and-long, leaving the Colts' edges vulnerable to draws and flares.
On San Diego's side, the defense often lined up with only two down linemen and four linebackers, leaving Indianapolis guessing about who would rush. Manning often calls plays at the line of scrimmage. He'd see a funky San Diego alignment, call a play, then seconds before the snap, the Chargers would shift to a different alignment. Chargers defensive signal-caller Stephen Cooper, an undrafted Division I-AA linebacker who's become a near-star, was watching the play clock and not shifting sets until it was too late for Manning to react. Nice tactic. Bolts defenders moved around so much before the snap they practically used what TMQ calls the Times Square Defense -- Eric Mangini's contribution to coaching, a defense first employed in New England about five years ago, in which the entire front seven mills around (like gawking tourists in Times Square). The Chargers also overload-blitzed often, as Baltimore would do the following day. Frequent blitzing only brought the Bolts one sack, but seemed to put the Indianapolis offensive line in such a Manning-protection mindset that the run game went poorly.
On the San Diego offensive side, twice Indianapolis got sacks when the Colts' defensive linemen ran "twists" and San Diego blockers became so confused that a defender came through untouched. Note to San Diego offensive staff: The Steelers love to run twists. San Diego ran a high number of trap or pull plays, and they worked. Note to San Diego offensive staff: Steelers linebackers love to shoot gaps behind a pull. As for Darren Sproles, all human beings of normal size delighted in his performance. Hope all 5-foot-6 high school football players were watching!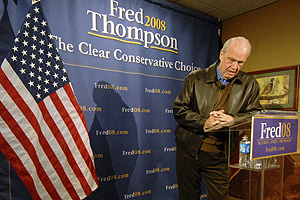 AP Photo/Dave Weaver
"And when I am elected president, I will name Peyton Manning as my Secretary of Offense."
TMQ adores the Bolts' throwback powder-blue unis, and wishes San Diego would return to them permanently. But since teams must inform league headquarters before the season the games in which they will wear throwbacks, how did San Diego get to wear throwbacks in a game that wasn't even placed on the schedule till last week?
They're Crying in Their Beer at the Oreo Cookie Marketing Department: The Oedipus Bowl -- Peyton Manning versus Eli Manning in the Super Bowl, to determine which one their mother will love most -- now cannot happen. But if Peyton Manning predicts this year's Super Bowl winner, or the direction of the economy or anything else, ignore him. Why? As noted by reader Evan Birnholz of Highland Park, Ill., in the presidential primaries, Manning put his money on Fred Thompson.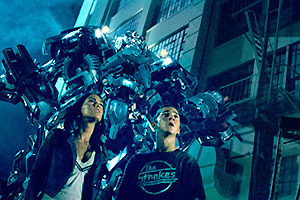 DreamWorks/Paramount Pictures
Hurry into the pyramid! The computer-generated special effects can't find us there!
Buck-Buck-Brawckkkkkkk: With the game scoreless, host Minnesota faced fourth-and-inches at its own 28. The Vikings punted, and Eagles returner DeSean Jackson ran the ball back to the Vikings' 27 -- where it would have been anyway had Minnesota gone for it and failed. Needless to say, Minnesota went on to lose.
More Proof of the Decline of All Civilization: The Egyptian government granted permission for the first time ever for a movie to be shot at the 5,000-year-old Great Pyramid of Giza. This permission went to producers of: "Transformers II." One of the greatest products of human civilization will be used as a prop for a computer-generated action movie about good-looking brainless people texting while pretending to be attacked by space-alien robots. King Khufu, there is no immortality, only sequels.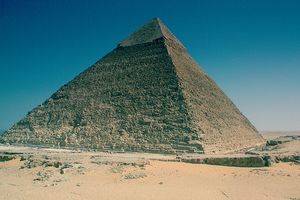 Tim Graham/Getty Images
The Great Pyramid of Giza -- an actual physical marvel converted into a phony movie special effect.
Buck-Buck-Brawckkkkkkk (Bowl Edition): Alabama was No. 1 most of the college season. Now the Crimson Tide trail mid-major Utah 28-17 halfway through the third quarter of the Allstate Sugar Bowl, and face fourth-and-2 on the Utes' 32. That cannot be the field goal team trotting on -- especially when the Alabama kicker missed from the same spot in the first half. Outraged, the football gods pushed the try aside. Now Alabama, still down 28-17, faces fourth-and-3 well into the fourth quarter. That cannot be the punt team trotting on! Who cares if it's your own 24 -- score on this possession or give up!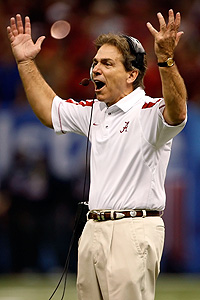 Chris Graythen/Getty Images
"Blame my players! Don't blame me!"
Alabama had pretensions of being national champion, and ended the season afraid to try to gain a couple of yards when trailing in the fourth quarter against a Mountain West team. Victories do not come in the mail: If you want to win, you can't play afraid. Late in the bowl, Alabama coach Nicky Saban engaged (perhaps subconsciously) in a classic example of coaching blame-shifting. Many coaches think they deserve the credit when things go well, and players should be blamed if things go poorly. With six minutes remaining, a Utah receiver caught a short down-and-out and was being wrestled to the ground near the Bama sideline, right in front of Saban. The very person who had made the pair of fraidy-cat decisions not to go for it screamed lividly at his own player when the Tide defender failed to shove the Utah receiver out of bounds, thus allowing the clock to run. Saban's decisions had far, far more to do with the Alabama defeat than one defender failing to drive a receiver out of bounds (and it wasn't even clear that he could have). By screaming lividly at one of his players on national television, Saban was subliminally projecting an excuse: "I am not to blame, how am I supposed to win with these idiots!"
Weasel Coach Season Finale: Even with Alabama going 12-2, the Weasel Three -- Saban, Bobby Petrino and Rich Rodriguez -- coached their schools to a combined 20-18 record this season. In 2006, before the Weasel Three arrived at their current schools, those teams were a combined 27-13. So the huge investment that Alabama, Arkansas and Michigan made in embracing promise-breaker coaches has, so far, resulted in declining performance. Considering the fantastic advantages in recruiting power and gimmick scheduling possessed by these three schools -- Alabama has five times the recruiting power of Utah, and played a gimmick schedule with more home games than away dates while Utah played a balanced schedule of six home and six away -- three orangutans could have coached Alabama, Arkansas and Michigan to a combined 20-18, no-bowl-win finish.
Baltimore at Miami Analysis: Coming in, Chad Pennington had thrown just one interception in his previous five games, yet he threw four picks in this game. Known as a quarterback who's careful with the ball, Pennington seemed to toss caution to the wind -- the first three interceptions were thrown just as Pennington was about to be hammered by a pass-rusher. In all three cases he should have pulled the ball down and taken the sack; a sack is much more preferable than a turnover. But the Dolphins' season was already a success. If the Marine Mammals ran out of gas against a better team, their faithful have no reason to complain. If you'd told a Miami fan last summer that the Dolphins would make the playoffs and then falter, that fan would have replied, "You're nuts. I will be real happy with six wins."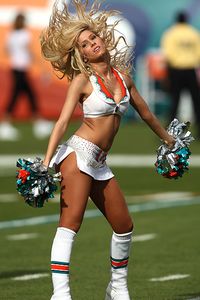 Joe Robbins/Getty Images
Cheerleader at the Baltimore at Miami game.
Baltimore has a spectacular defensive unit, and it showed Sunday. Often the Ravens fielded only two down linemen, with huge nose tackle Haloti Ngata lined up as a linebacker. Usually he rushed, and you wouldn't want to jump in this guy's way when he's running at full speed. (Ngata did seem to tire in the fourth quarter -- the Titans will notice that on film, so Ngata may be back in his regular position Saturday.) Baltimore loves to overload blitz -- Tennessee offensive line, get ready for that tactic. As for Ed Reed, ay caramba! Often he lined up a full 20 yards deep, as if he expected to receive a punt. Most safeties that deep would just be wasted, but Reed's instincts are so good that he can read the play and get into the action from that depth. On the fourth Baltimore interception, Miami had the ball on the Ravens' 20. Reed and fellow safety Jim Leonard both lined up 20 yards deep, both at the goal line, and Reed read a Miami curl pattern so quickly he was able to hustle into the action and make the pick. If I was tasked to choose the 2008 Tuesday Morning Quarterback Non-QB Non-RB NFL MVP -- and I guess I am -- I'd be thinking seriously about Ed Reed.
Note to Baltimore's coaches: The Miami defense really isn't that great, but it gave you a good game. The Ravens gained only 286 yards on offense; a defensive touchdown and four drives that started in Miami territory (thanks to the Ravens' defense) were the keys to Baltimore's points. Baltimore and Miami came into their meeting with the highest trick-play percentages in the NFL, yet trick plays accomplished nothing for either team. Miami called a halfback pass and Ricky Williams decided not to throw the ball; Miami called an end-around that led to a 19-yard loss and the end of its comeback attempt; Baltimore called a Wildcat set with Troy Smith at quarterback on a third-and-4 and he failed to gain a first down. Tennessee's defense is head-and-shoulders better than Miami's, just in case you don't already know. With the Baltimore offense playing vanilla at Miami, Tuesday Morning Quarterback expects an avalanche of trick plays from the Ravens at Long Playing Field.
Shanahan's Big Mistake -- Winning Too Often Raised Expectations: If you can explain why Mike Shanahan was fired while Dick "Cheerio, Chaps" Jauron kept his job, raise your hand. Shanahan has a career record of 154-103 and eight postseason wins, including two Super Bowl rings; with Mike Holmgren's resignation taking effect the day before, Shanahan was fired while being the winningest active coach in the NFL. Jauron has a career record of 57-77, has never recorded a postseason victory, and is 1-7 lifetime in terms of producing winning seasons. The Broncos might have collapsed in December 2008, and Shanahan might possess an insufferable ego, but the defining aspect of his tenure at Denver was playoff season after playoff season. Buffalo has not reached the postseason in a decade, and performed much worse down the stretch than Denver did, losing eight of its last 10 games, yet Jauron got a raise! Ego is not Jauron's problem -- he is mild-mannered to the point of being invisible. At Buffalo he has produced three years of milquetoast teams that consistently rolled over in pressure games. Jauron's only notable skill is making excuses, so perhaps he is already thinking up reasons why the 2009 season will be a disappointment.
As for The Ultimate Leader, in November 2006 the Broncos were 7-4 with the inside track to a wild-card slot. Then Shanahan benched Jake Plummer for Jay Cutler, and the Broncos have gone 17-20 since. Should Shanahan simply have stayed with Plummer? Whoever takes the helm at Denver will be the beneficiary of the time Shanahan invested in letting Cutler learn by struggling. Shanahan surely thought his situation was secure enough that he could invest a season or two in educating a young franchise quarterback without being fired. As pointed out by many readers, including Victor Gregor of Glen Rock, N.J., The New York Times' account of the firing included this tidbit: "Last spring, Shanahan and his wife, Peggy … began building a 35,000-square-foot home" near Denver. That's roughly 15 times the size of the typical American detached home. Will it have a helicopter landing pad? Gun turrets for defense against sportswriters?
Should Shanahan land in Dallas, there will be a lot of ridicule of Jerry Jones' repeated statements that the Boys would not change coaches. Actually, what Jones repeatedly said was, "The coaching staff is in place." He didn't say what place! Maybe he meant Colorado?
2008 Tuesday Morning Quarterback Person of the Year: Annually TMQ hands out two coveted awards: the Tuesday Morning Quarterback Non-QB Non-RB NFL MVP to a football player, and the Tuesday Morning Quarterback Person of the Year. The latter goes to someone who personifies truth, justice and the American way, or at least the worldview of this column. Three years ago, the winner was Senator Arlen Specter, who was and is engaged in a quixotic quest to end the monopoly arrangement by which anyone in Canada and Mexico can subscribe to NFL Sunday Ticket, but in the United States most households are effectively forbidden to purchase this alternative to the bad games that local affiliates force-feed viewers. A few years back the winner was a man named Ira Black, who publishes a magazine for recreational boaters on the Chesapeake Bay. Black's distinction was that he thought of a perfectly legitimate reason for young women in bikinis to hang around his office; he publishes swimsuit pictures, but only for women who personally stop by the magazine office and demonstrate that they look good in a bikini. And a couple of years ago the winner (after a completely unbiased selection process) was TMQ's friend John Mueller of Ohio State, who is an important political scientist, but more to the point holds the best academic title of all time: the Woody Hayes Chair in National Security Studies.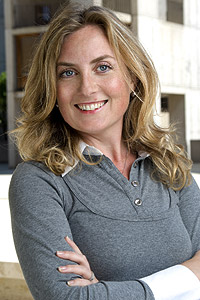 saramednick.com
Sara Mednick, the 2008 Tuesday Morning Quarterback Person of the Year.
Now, without further ado, the 2008 Tuesday Morning Quarterback Person of the Year: Sara Mednick, assistant professor of psychiatry at the University of California at San Diego. Mednick has produced scientific proof that people ought to take afternoon naps. Her latest study, published in the technical journal "Behavioral Brain Research," is in my opinion irrefutable. Naps, she found, improve cognitive performance better than caffeine and better than placebos -- and as TMQ readers know, for even the most expensive medical intervention, to exceed the effectiveness of a placebo is quite impressive. Mednick is now campaigning for naps and even engaged in corporate nap consulting -- there's a 21st century field! She believes companies that allow employees to nap will realize improved productivity in the same number of work hours, a proposition that makes intuitive sense to me. Modern globalized life grows ever more stressful; the only sane response may be to take a nap. While most people who gain notoriety have caused harm to others, Sara Mednick is working to make our lives better, and for this she is the 2008 Tuesday Morning Quarterback Person of the Year.
Bad Sportsmanship Watch: Unless you went to LSU as an undergrad and then attended grad school at Georgia Tech, you weren't watching the fourth quarter of the Chick-fil-A Bowl late on New Year's Eve. But leading 38-3 in the fourth quarter, LSU staged a fake punt, trying desperately to run up the score. LSU threw nine passes in the fourth quarter, despite having a 35-point lead, as it frantically tried to humiliate Georgia Tech. Running up the score to impress pollsters bothers TMQ more than the lack of a true national champion in college football. Les Miles knew that if he could push the victory margin just a little higher, that might add one more notch to the school's final ranking in the post-bowl polls. This perverse incentive must be eliminated -- the polls system rewards poor sportsmanship, so poor sportsmanship is what we get.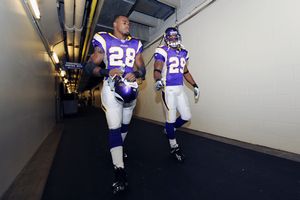 G. Newman Lowrance/Getty Images
"So, Adrian, the game plan is to keep the ball away from you. That's not the Philadelphia game plan -- that's our game plan."
Philadelphia at Minnesota Analysis: Two weeks ago, TMQ warned that, for good or ill, Adrian Peterson is the Vikings' meal ticket -- and it would be a big mistake to think the team has a better chance to win with Tarvaris Jackson passing than with Peterson running. So what happened Sunday? With Philadelphia leading 16-14 and Minnesota facing second-and-13 on its own 35 with 7:12 remaining, Peterson came out of the game. The Vikes went incompletion, incompletion, punt. Philadelphia scored in one snap; then Minnesota got another possession and went incompletion, incompletion, incompletion, punt, with Peterson still sitting out. Up to the point with 7:12 remaining when Minnesota abandoned the run, the Vikings had 131 yards rushing and 123 yards passing. Peterson didn't carry the ball again, or even catch a screen pass. He couldn't, because the meal ticket was off the field for much of the fourth quarter.
When I checked the stats at the end of the game, I saw two touchdowns by Peterson and no touchdowns by any other Viking. Sure, he is a feast-or-famine meal ticket, often getting bottled up or even losing yardage before popping a big gain, such as his 40-yard scoring run Sunday. But Jackson had yet another awful day passing the ball -- Minnesota would have been better off handing the ball to Peterson, especially since he often performs best in the fourth quarter when defenders are tired. Defensing Peterson requires "stringing out" -- a lot of fast lateral motion -- which is more tiring than defensing runs up the middle. Yet Peterson stood on the sideline as Minnesota crumbled. The Vikings finished the regular season fifth in the NFL in rushing, and 25th in passing, yet the Vikings went pass-wacky when down by just two points in the third quarter. And Peterson was the -- what's the phrase I am looking for? -- oh yes, the NFL's leading rusher in 2008. If I had the NFL's leading rusher on my team, my super-sophisticated strategy would be to let him play. Minnesota's second-half possession results: punt, punt, punt, punt, punt, fumble, end of game.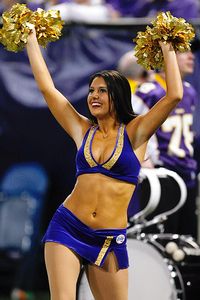 Scott Boehm/Getty Images
Cheerleader at the Philadelphia at Minnesota game.
Philadelphia blitzed on 20 percent of Minnesota's offensive downs -- not "constant" blitzing, as the announcers said, but slightly above the league average of about 15 percent. The difference was that most Philadelphia blitzes included a safety -- frequent safety blitzing means the defense does not fear the opposing quarterback. When safeties are coming, the center of the field is inviting. Yet most of Minnesota's deep passes were thrown to the sidelines, which requires less quarterback skill than going down the middle. Philadelphia offered Minnesota the middle, and the Vikings declined to throw there. Twice early in the contest, Philadelphia cornerbacks "jumped" a Minnesota curl or comeback pattern and came close to an interception. It is not a state secret that Jackson telegraphs his passes; surely the Eagles' coaches saw that in film study, and told their defensive backs to jump certain types of throws. Trailing 9-7 in the second quarter, Minnesota had a third-and-4, and Jackson threw an interception returned for a touchdown. Asante Samuel saw Jackson telegraph his target and jumped a short comeback route. Jackson was being hammered by a pass-rusher as he threw wildly, thus making two fundamental errors on the same play. Good thing they didn't just hand off to the league's leading rusher!
As for Philadelphia, its front seven -- Juqua Parker, Mike Patterson, Brodrick Bunkley, Trent Cole, Akeem Jordan, Stewart Bradley and Chris Gocong -- are playing as well as the Giants' front seven was when the G-Persons rolled to the Super Bowl last season. Plus the Eagles' defensive schemes have become less predictable lately, as Philadelphia now shows blitz and then backs off more than it did in the past. If we can't have a Manning-Manning Super Bowl, at least a Pennsylvania Turnpike matchup of Philadelphia and Pittsburgh remains possible.
Reader Animadversion: Got a complaint or a deeply held grievance? Write me at TMQ_ESPN@yahoo.com. Include your real name and the name of your hometown, and I may quote you by name unless you instruct me otherwise. Note: Giving your hometown improves your odds of being quoted.
Next Week: It's the annual awards time. With the Tuesday Morning Quarterback Person of the Year chosen, brace for my All-Unwanted All-Pros, and then the Non-QB Non-RB NFL MVP.