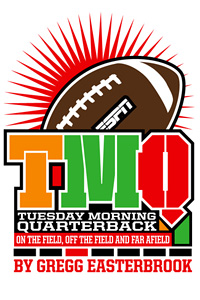 Saturday night I was walking along the road to Damascus, and the scales fell from my eyes. OK, to Damascus, Md., not Damascus, Syria. Anyway I heard a voice crying "TMQ, TMQ, why do you persecute me?" The voice belonged to Kurt Warner. And I realized -- I have been mocking the Arizona Cardinals, when actually I should be praising them.
For years this column has called the team in question the Arizona (Caution: May Contain Football-Like Substance) Cardinals. But will they not host Sunday's NFC championship? Sure, it's the Cardinals' first championship appearance in 60 years, but they are hosts, and no other NFC team can make that claim. Did the Cardinals not just blow heavily favored Carolina off the Panthers' own field? Did the Cardinals' defense not recover from games in which it surrendered 56, 47, 37 and 35 points to allow only 13 points to the heavily favored Panthers? Has Arizona not just won two playoff games in the same season for the first time in the franchise's 89-year history? Is that not noble refusal to give up?
Most important, are not the Cardinals a rag-tag collection of undrafted and unwanted players -- exactly the sort of gentlemen whose praises TMQ sings? Check the Arizona front seven that shut down Carolina: you won't find a first-round draft choice. (Details below.) The Bears said Mike Gandy was a bust, the Colts said Edgerrin James was washed up, and both looked good on Saturday night. And the Cardinals are led by Warner, perhaps the most retreaded, unwanted player in NFL history. Undrafted, exiled to the Iowa Barnstormers and Amsterdam Admirals, let go by Green Bay, St. Louis and the Giants; let go by St. Louis after he won the Super Bowl for the team! Not even Arizona coaches believed in Warner, spending a high first-round draft choice on Matt Leinart in order to get Kurt back to the bench. The unwanted, 37-year-old Warner was nearly perfect against Carolina. Retread Brett Favre got so much ink this season, he nearly drowned, yet Favre's team did not reach the postseason. Warner has been ignored or condescended to by the sports media, his 2008 performance viewed as some kind of fluke. Warner has always been condescended to and viewed as some kind of fluke -- and now Warner is one W away from a return to the Super Bowl.
I repent! I repent! For the rest of this season, the desert franchise will be, to TMQ, the Arizona (Contains Powerful Football Substance) Cardinals.
In other playoff news, TMQ contends that on fourth-and-1, it can be better to go for it and fail than to launch a mincing fraidy-cat kick. Proof was seen in the divisional round. Both No. 1 seeds, Jersey/A and Tennessee, faced critical fourth-and-1 decisions near the opponent's goal line, both launched fraidy-cat kicks and both went on to lose. Pittsburgh faced a fourth-and-1 at the opponents' goal line, went for it and failed -- then dominated the remainder of the game, winning decisively. Plus, Philadelphia actually would have been better off to go for it and fail in the endgame! See analyses below.
And in other football news, last week TMQ noted that bye-week teams win a high percentage of divisional round games. Needless to say, this weekend the bye-week teams went 1-3. You didn't take my advice to an illegal bookmaker, did you? TMQ's motto: All Predictions Wrong or Your Money Back. Even after this weekend's home-team Armageddon, since the current playoff format was adopted in 1990, bye-week clubs are 56-20 in the divisional round, a .737 winning percentage.
TMQ thinks what's going on is not any trend in home-team postseason performance but rather a trend toward high-seed collapse. This season, the NFC's first, second and third seeds are out, and the AFC's first and third seeds are out. The NFC championship is fourth seed versus sixth; the AFC championship is second seed versus sixth. In the 2007 season, the NFC first-seeded Cowboys lost their playoff opener, while in the previous season, the AFC first-seeded Chargers lost their playoff opener. Who was the last No. 1-seeded team to win the Super Bowl? New England in the 2003 season. That's five seasons since a first seed hoisted the Lombardi Trophy, and it can't happen this year. Maybe No. 1 seeds become overconfident, or nervous. Maybe all of human history has been manipulated by the Tralfamadorians to put the Arizona Cardinals into the Super Bowl!
Stat of the Week No. 1: A regular-season nine-win team, either Arizona or Philadelphia, will appear in the Super Bowl. Discounting strike years, the only nine-victory team to win the Super Bowl was the 1967 Packers, and back then the season was 14 games.
Stat of the Week No. 2: After sacking Donovan McNabb 15 times in two meetings last season, the Giants failed to sack McNabb in three meetings this season.
Stat of the Week No. 3: In the first half, Arizona's Larry Fitzgerald outgained the entire Panthers offense, 151 yards to 70.
Stat of the Week No. 4: Outscored by 68 points in its previous two Eastern Time games, Arizona won by 20 points in Eastern Time on Saturday night.
Stat of the Week No. 5: San Diego had just one offensive snap in the third quarter, which resulted in an interception.
Stat of the Week No. 6: The Ravens had the first rookie head coach/rookie starting quarterback combination to win consecutive playoff games.
Stat of the Week No. 7: Asante Samuel has interceptions in seven of his 10 career postseason games.
Stat of the Week No. 8: The Chargers are 2-14 all time at Pittsburgh.
Stat of the Week No. 9: The defending champion Giants lost four of their final five games.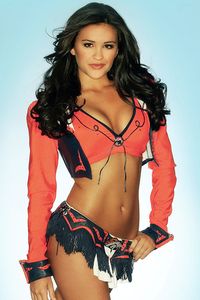 Denver Broncos
Amanda Lofland of the Denver Broncos, a team that could use some sports-event coordination.
Cheerleader of the Week: Amanda Lofland of the Denver Broncos, who according to her team bio admits one of her favorite activities is napping. She should check out the 2008 Tuesday Morning Quarterback Person of the Year. Also according to her team bio, Lofland works as a sporting-events coordinator and jokes that the worst part of being a cheerleader is having to run stadium stairs like the players do. What if there is more overlap between NFL players and NFL cheerleaders than we know? Here is what a cheerleader psyche-up session in the tunnel might sound like:
CHEERLEADER SQUAD DIRECTOR: Get out there and give 110 percent! Hip-hop like every hip and every hop is the most important of your life! Other teams' cheerleaders don't respect you! Nobody believes in us but us! I want to see some professionalism out there! Leave it all on the sideline! (Pause.) Who are we?
SQUAD: Cheerleaders! (They start jumping.)
DIRECTOR: I can't hear you!
SQUAD: Cheerleaders! (They head-butt and chest-thump.)
SQUAD DIRECTOR: I still can't hear you!
SQUAD: CHEERLEADERS! (They run onto the field, each ceremonially tapping a cover of the Sports Illustrated swimsuit issue.)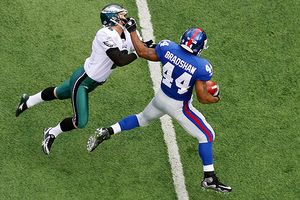 Al Bello/Getty Images
The most important play of the Eagles-Giants game was the first play.
Sweet Play of the Divisional Round: The atmosphere was electric at Giants Stadium, the crowd raucous as it expected to watch the defending champions notch the first victory of their title defense. Philadelphia kicked off, Ahmad Bradshaw broke into the clear. He appeared to be headed for six; only Eagles kicker David Akers remained between Bradshaw and the goal line. Akers took a good angle and forced Bradshaw out of bounds at the Philadelphia 35, and the Giants had to settle for a field goal on the possession. Had Jersey/A scored six points on the game's first play, the crowd would have gone nuts and the day might well have been a rout for the defending champions. Instead the first possession was a tad deflating for the Giants, then a moment later Eli Manning threw a careless interception, and suddenly Philadelphia was on the home team's 1. Rarely is the first play of a game the most important play -- in this case, Akers' tackle was the most important play of the contest. Akers also hit 3 of 3 field goal attempts, while Jersey/A kicker John Carney missed twice.
Sour Play of the Week: The atmosphere was electric at Long Playing Field, the crowd raucous as it expected to watch the AFC first seed notch the first victory of its Super Bowl run. The Titans staged a solid early drive and scored to take a 6-0 lead, just as Tennessee had scored first in 2001, when Baltimore came to Nashville and upset the favored home team in the divisional round. Tennessee lined up for the extra point, and Baltimore jumped offsides. Half the distance moved the ball to the 1, whence the PAT was kicked. But wait -- now the ball is on the 1-yard line, go for two! Tennessee rushed well on the day. There's only 1 yard to cover, go for two! Had Jeff Fisher gone for two and taken an 8-0 lead, it would have communicated the message that Tennessee would play all-out to win. Even a missed deuce try would have communicated this message. Instead the Titans played cautious, and that would become the theme of the team's loss -- see below.
Sweet Defensive Play of the Divisional Round: With the score tied at 7 early in the second quarter, the Flaming Thumbtacks reached third-and-3 at the Baltimore 25. The call was a tight end screen, and undrafted waiver-wire Ravens strong safely Jim Leonhard read the action perfectly, dropping Bo Scaife for a 5-yard loss. On a windy day, the loss pushed the home team out of field goal range; Tennessee went for it on fourth-and-8, and a bad snap led to another loss of yardage. In a game ultimately decided by a field goal, Tennessee's failure to score on this possession was critical.
Sweet 'N' Sour Play: With underdog Arizona leading 20-7, the Cardinals faced second-and-9 on the Panthers' 29 with 3:41 remaining before intermission. TMQ counted one thousand one, one thousand two, one thousand three, one thousand four, one thousand five, as the Cards' offensive line, led by unknown Mike Gandy, kept a five-man Carolina blitz far from Kurt Warner, who threw to Larry Fitzgerald for the touchdown that made the halftime score a shocking 27-7. That was sweet. To that point in the game, Fitzgerald already had 122 yards receiving, yet was singled deep. That was sour.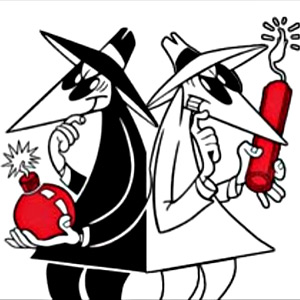 MAD Magazine
Top CIA operatives plan to turn Leon Panetta into a double agent -- as soon as they as turn on the television to find out what's going on.
CIA Also Not Consulted on Daniel Craig Choice; Agency Backed Adam Sandler for James Bond Role: TMQ has no clue whether Leon Panetta is the right person to run the CIA, but was immensely amused by complaints last week from intelligence-community insiders that they had no idea Panetta was being considered. If they are such good spies, why didn't they know? A Washington Post account contained this unintentionally hilarious passage on CIA anger about the selection: "One senior [CIA] official said 'the process was completely opaque' and that the agency was neither consulted nor informed. The official was among several who discussed the subject on the condition of anonymity." That is, spies complained the new chief spy was chosen in secret. People have a right to know! Note the very intelligence officials complaining the Panetta deliberations were not open would speak only "on the condition of anonymity." This is classic Washington hypocrisy: I demand special treatment, but everyone else should be accountable to the public.
Baltimore at Tennessee Analysis: In the first half, Tennessee reached the Baltimore 17, 25 and 27 without scoring; at intermission, the home team led statistically with 162 more yards gained and nine more first downs than the visitor, yet the score was tied. Baltimore's defense is strong, of course, but the Titans seemed to grow careless deep in opposing territory -- calling a screen when on the cusp of field-goal range, throwing a deep interception instead of checking down, fumbling when failing to wrap the ball up in a crowd. Then in the third quarter, Tennessee reached the Baltimore 32 without scoring, missing a field goal. Then Tennessee reached the Baltimore 1 without scoring, another sloppy didn't-wrap-up fumble.
With multiple failures to score, one could simply say Tennessee deserved to lose. Yet the Titans' defense played well throughout, and trailing 10-7, the home team reached fourth-and-inches on the visitors' 10 with 4:26 remaining. Tennessee had the home-crowd energy and, to that point, 116 yards rushing. Go for it! Jeff Fisher sent out the field-goal team, no doubt thinking he could not bear another trip into Baltimore territory without points.
Yet he would have been better off to go for it and miss than to kick! By taking the field goal, Tennessee only tied the game, leaving Baltimore 4:23 and a timeout to try to win. Sure, Fisher hoped his defense would get a stop. But if Tennessee had gone for it and missed, his defense still would have needed a stop -- and Baltimore would have been pinned deep in its own end of the field. If Tennessee went for it and made the first down, chances were good for a touchdown to take the lead while grinding clock, so the slow-moving Baltimore offense would have little time to reply. Sure, the Flaming Thumbtacks were thrown akimbo by all those trips without scoring. But facing fourth-and-inches in the endgame, what came before did not matter. Playing at home, the first-seeded, power-running Titans needed to gain 1 yard to reach for victory -- and instead didn't even try.
On the Baltimore side, the Ravens' defense was stout as always. Baltimore blitzed defensive backs eight times, and each time Kerry Collins looked to the sidelines to throw rather than down the middle as he should have. If the Ravens blitz defensive backs against Ben Roethlisberger, he will throw down the middle. Haloti Ngata lined up as a linebacker for the second consecutive week, and again largely disappeared; TMQ does not get this tactic at all. The Baltimore offense sputtered, as it did at Miami. Tennessee outgained the Ravens by 180 yards and 12 first downs; those sorts of margins are "not sustainable," to use a trendy phrase. Baltimore was the league's most enthusiastic user of trick plays this season, yet radioed in no trick play in the wild-card or divisional round.
Attention has focused on whether the Ravens should have been called for delay of game before a 23-yard completion that sustained the winning drive. Maybe. If so, it's the cosmic wheel, since a questionable late officiating decision helped Tennessee beat Baltimore when the teams met in the regular season. Plus check 9:58 of the second quarter in the Game Book. Officials flagged Tennessee for unnecessary roughness. Either the result of the play counted (usually on running plays, penalties are enforced from the end of the run), in which case Tennessee should have had second-and-12 from its 10; or the result did not count, in which case Tennessee would have had the down over but faced first-and-16 from its 6. Instead, Tennessee was awarded first-and-12 on its 10. I am still scratching my head.
The Ravens have had a tremendous season, reverting from 5-11 in 2007 to 13-5 so far. Baltimore's future is bright. If the Ravens' run ends Sunday, as TMQ thinks it will, Baltimore fans bear in mind, before that game even kicks off, you've already had a tremendous season.
Unified Field Theory of Creep: Pepsi is running artsy black-and-white television ads that show sports celebs ask, "What's G?" Actually viewers can't tell the ads are from Pepsi because the crawl cryptically reads "S.V.C." That's Stokely-Van Camp, the company that developed Gatorade and later was purchased by Pepsi. The ads are to build buzz for a rebranding of Gatorade as just "G." I've had "G"-branded Gatorade in my refrigerator since mid-December, having found it at my local grocer's -- shelf-stocking creep!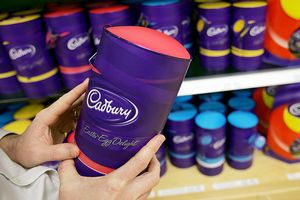 Graeme Robertson/Getty Images
Was Rudolph snacking on Easter treats when he pulled Santa's sleigh?
David Niederbaumer of Wilmington, Ohio, writes, "On December 30th, I went shopping for a new washing machine at Lowe's. In the front of the store, I found riding lawn mowers lined up for a promotion sale. Three years ago, I lived in the Berkshires in Massachusetts, and in February, my wood pellet stove died. In the process of installing the new stove, I discovered I needed to re-pipe the exhaust. I went to Home Depot to buy a pipe but was told they had already put away their winter inventory."
Reader Taha Jamil of Appleton, Wis., notes of my lament last week that I wished Christmas wasn't over, "Already there are people, namely you, longing for Christmas 2009. Surely you must zing yourself for the earliest Christmas Creep ever." Consider me zung. Numerous readers including Rachel Kempmen of Providence, R.I., reported already seeing Cadbury cream-filled chocolate eggs, an Easter treat, on sale. "And I just bought one, which means next year they'll go on sale even earlier," she writes. Juan Alvarez of Brisbane reports January sale of Easter candy has become an issue in Australia. The story adds this nugget about an Aussie grocer's chain called Coles: "Coles spokesman Jim Cooper said hot cross buns were due to arrive in stores any day now." Keith Castings of Doncaster, England, topped that: hot cross buns are already for sale at Sainsbury's, the renowned grocer that aspires to be the Wegman's of Britain. Tuesday is the last day Brits can take their Christmas cards to Sainsbury's for recycling. I wonder how friends and family members who sprung for fancy Christmas cards with foil and custom pictures would feel if they knew recipients were so anxious to get rid of the cards, they were having them mulched.
Arizona at Carolina Analysis: I sure didn't think Arizona could beat the Panthers in Carolina -- neither, apparently, did the Panthers. Carolina scored easily on its first possession, then forced the Cardinals into a fourth-and-23. At that point, you could see Cats players dancing and celebrating on the sideline. Only four minutes had been played, but Carolina seemed to think the game was already in the bank. "Looking ahead" past the present opponent to a big game the following week is a siren, luring athletes toward the rocks. Carolina players, and perhaps coaches, must have assumed Arizona would be an automatic W and were looking ahead to an NFC Championship Game matchup against a much higher-regarded NFC East team. Having star Anquan Boldin out for Arizona no doubt increased overconfidence on the blue sideline. Upsets happen, but when was the last time you saw a serious underdog clobber the favorite in its own stadium?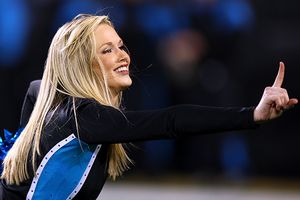 Paul Spinelli/Getty Images
A Panthers cheerleader signals along the sideline Saturday night, "Arizona is No. 1!"
Coaches have good games and bad games just like players, and the Cards' staff totally outcoached the Cats' staff. Carolina rushed well on its first possession, then on its second possession went three-and-out with three rushes. Carolina coaches then abandoned the run, the team's strongest suit. Considering sacks and scrambles, while the game was still contested in the first half, Carolina coaches called 11 passes and nine rushes. Rush result? Net of 50 yards and a touchdown. Pass result? Net of 20 yards and three turnovers. Early in the third quarter, Carolina kept throwing rather than establish the run, resulting in another interception. Even down 30-7 in the third quarter, it was important that Carolina work the run, get a touchdown and settle down. There was still time, especially since pulling to 30-14 would have brought the home crowd to life and made Arizona nervous. But reaching first-and-10 on the Arizona 47 with 4:05 in the third quarter, Carolina went pass for 5 yards, incompletion, incompletion, incompletion -- and TMQ wrote the words "game over" in his notebook. Of Jake Delhomme's five interceptions, one was a tipped ball and was not his fault, the other four were all forced into double-coverage -- not only bad, but the double-coverage where the ball went meant someone else on the field was open!
Arizona had the league's last-ranked rushing attack in 2008. Carolina had the league's third-ranked ground game. Yet Arizona outrushed Carolina 145 yards to 75. This happened partly owing to great Arizona line play -- twice-waived Cards left tackle Mike Gandy totally outperformed megabucks Carolina defensive end Julius Peppers -- and partly because Carolina inexplicably gave up on the run. Cardinals defenders surely came into the contest hoping to stop the Panthers' rush. Panthers coaches stopped the rush for them!
Watching the little-known Gandy outperform the hyped Peppers, who earns at least five times as much, was a treat. Except on the first Carolina possession, the Arizona front seven shut down Carolina's highly paid offensive line, causing the pressure that helped force Delhomme's egregious six turnovers. A fashionable defense right now in the NFL is two down linemen, four linebackers and five defensive backs, with a linebacker and defensive back blitzing. The offensive line knows four guys are coming, but doesn't know which four. Baltimore has been frustrating opponents with this look, and Arizona rolled the tactic out against Carolina. On three occasions, the result was an Arizona pass-rusher coming unblocked as one or even two Cats offensive linemen stood looking dazed and blocking no one. Once Delhomme had to throw the ball away, once he was hammered as he threw then was slow to get up and once he was hit while throwing, resulting in an interception.
Carolina's offensive line starts two highly paid first-round-drafted tackles. Quickly now, can you name anyone from the Arizona front seven that outperformed Carolina's big-deal blockers? Here they are: Bryan Robinson, an undrafted 12-year veteran who has been waived by four NFL teams; Bertrand Berry, a twice-waived 11-year veteran who played for the Edmonton Eskimos once when no NFL team wanted him; Chike Okeafor, waived by two NFL teams; Antonio Smith, a fifth-round draft pick; Darnell Dockett and Gerald Hayes, third-round draft picks; and Karlos Dansby, a second-round draft pick. Nary a first-round gentleman in that group. NFL coaches often fire up players by saying, "No one respects you; no one cares about you; they get all the glory; they make 10 times as much as you do." When Carolina was on offense, a bunch of unknowns and cast-offs faced highly paid glory boys, and the cast-offs prevailed.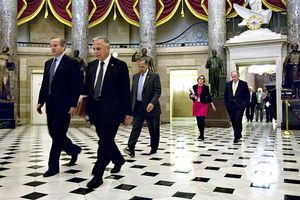 AP Photo/J. Scott Applewhite
"So we're agreed -- undisciplined runaway borrowing for the special interests now, coupled with angry demands that someone else protect the taxpayer."
If Teenagers Borrowed to Spend the Way Washington Borrows to Spend, Adults Would Call Them Irresponsible: Since the taboo against serious deficit spending in peacetime was shattered under Ronald Reagan, presidents and Congress have borrowed lavishly to give constituent groups and special interests whatever they want -- then handed the debt to our children and grandchildren, all the while wagging their fingers about how somebody else must do something about the federal deficit. George W. Bush added the wrinkle of simultaneously cutting taxes and borrowing to increase spending, all the while wagging his finger about the deficit. The result was that the national debt nearly doubled in eight years. But Bush will never have to deal with that, since he will be retired when the bill comes due. Bush took the easiest possible path, cutting taxes and increasing spending, leaving the real work for someone else. The easiest things for a politician to do are to cut taxes and increase spending. Tax cuts and spending increases are candy. Dealing with the deficit is castor oil, since this requires either increasing taxes or reducing spending. (Tax reduction can raise government revenues if the cuts increase economic growth or capital-gains transactions. This happened in the mid-1960s, late 1980s and third and fourth Bush years; the effect has never been sustained, however.) Barack Obama was right last week to call Bush's handling of the country's finances "profound irresponsibility," though, of course, Democrats in Congress went along with it.
This matters in the context of the incoming president's aides estimating the current fiscal year federal deficit will balloon to $1.2 trillion, double the worst number under Bush. At $1.2 trillion, the 2009 deficit will represent roughly 8 percent of the GDP. That's the worst borrowing-to-output figure since World War II -- the previous max was 6 percent of the GDP under Reagan in 1983, while the postwar average is less than 3 percent. The soaring debt is worrisome for many reasons, not least because it represents headlong borrowing when there is no national emergency. Terrorism is a concern, but not an emergency. The economy is a concern, but recessions are cyclical and all previous postwar recessions cured themselves. Though life is mainly normal, we're borrowing as if the whole world were at war. If the United States borrows like mad even when things are under control, what's in reserve for a genuine emergency?
Considering the slack economy, some short-term deficit spending may be a lesser evil. But where's the plan for fixing the problem down the road? Obama said last week, "We're going to have to stop talking about budget reform and totally embrace it" in order to "make a change in the way Washington does business" on the budget. Genuine budget reform will require either deep spending and benefits cuts, or tax increases, or both. Little of the federal budget is discretionary; most is entitlements (Social Security, Medicare and Medicaid), defense and payments on the debt. If you ended agriculture subsidies, shut down the National Park Service, abolished NASA and the Environmental Protection Agency, stopped all federal support for education, and canceled all pending Pentagon weapons programs, there would still be federal deficits. And of course, everybody favors eliminating government waste. Suppose 5 percent of government spending is waste, and you eliminated it. That would save about $150 billion -- about a fifth of what Congress is expected to borrow this month alone.
As Matt Miller points out in his important new book "The Tyranny of Dead Ideas," current federal revenue is 18.8 percent of the GDP while federal spending is above 20 percent of the GDP and increasing as every Tom, Dick and Harry demands a bailout. (Contacted by ESPN, Tom, Dick and Harry declined to comment.) By 2020, federal spending may be 23 or even 24 percent of the GDP, as the retired, pension-drawing share of the population keeps rising. There just isn't any way out of the debt mess that does not involve long-term tax increases; or Social Security cuts (perhaps eliminating benefits to any senior whose household income is above $50,000 annually); or Medicare reduction (perhaps requiring seniors to pay for half their care). It is doubletalk to say you advocate a better budget process in the future but for now want unlimited new spending based on borrowing -- and this is basically the position of all current members of Congress. Someone in Congress should introduce the Future Dramatic Spending Cuts Act, which would require big spending cuts, but only once everyone who voted for the bill has left office.
With each passing year that the United States refuses to deal with its deficit, the problem gets worse, owing to the compounding of interest. Starting about five years ago, Americans, hedge funds, Wall Street and financial institutions began to borrow, borrow, borrow as if tomorrow would never come. Amazingly, tomorrow came! For the past three George W. Bush budgets and at least the first Obama budget, the country is borrowing, borrowing, borrowing as if tomorrow will never come. TMQ predicts: Tomorrow will come. Washington can't even learn the lesson that is directly under its nose!
Note in this regard that Obama is expected to propose $300 billion in additional tax cuts -- that is, simultaneous to increasing spending by borrowing, he proposes to slash federal taxes for the third time in eight years. Maybe stimulus spending, underwritten by borrowing, is justified as a lesser evil because it will cause economic growth to resume. But further tax cuts are a horrible idea. Suppose the economy is fine in a year or two, and Obama wants to reverse his 2009 tax cut in order to address the deficit. Obama's opponents and cable news will shriek, "He's raising taxes! He's raising taxes!" Borrowing for further tax cuts that will exist for many years if not permanently is reckless, as opposed to borrowing for specific one-time payments.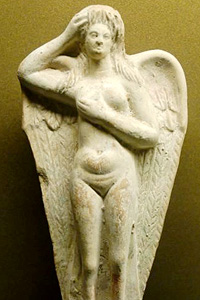 Marie-Lan Nguyen
Come closer, you handsome high-scoring teams, come closer to the rocks ...
Beware the Sirens of High Scoring: Last season the New England Patriots became the highest-scoring team in NFL history, putting up 37 points per game -- and then in the Super Bowl they were held to 14 points in defeat. This season the Oklahoma Sooners became the highest-scoring team in major-college history, putting up a stunning 58 points per game -- then in the BCS National Championship Game they were held to 14 points in defeat.
What lessons can be learned? First and most basic, defense trumps offense. Second, when you're playing a pass-wacky team, jam the receivers. The Patriots and Sooners became discombobulated by press coverage; both were accustomed to defensive backs playing soft to prevent big gains. Third, when you face a high-scoring team, have a positive defensive attitude. Opponents of New England in 2007 and Oklahoma in 2008 visibly became discouraged if the Pats or Sooners scored fast, and seemed to think, "Oh no, here it comes." On Thursday, the Gators' secondary seemed to have a mindset of, "Of course they will complete some passes -- who cares if they throw for 200 yards, if we hold them to 200 yards passing, we will win."
Finally and most importantly, TMQ suspects there is a siren-like effect of being a very high-scoring team, luring you toward the rocks. Running up the score is always punished in the end -- and in most of the games when the 2007 Pats and the 2008 Sooners got big point totals, they needlessly ran up the score. The desire to win is admirable; the desire to strut around boasting about how much you won by is not. If your brain is taken over by the craving to humiliate opponents with high scores, the football gods exact punishment.
New England in last year's Super Bowl and Oklahoma in the BCS title tilt seemed to enter the final game thinking the goal wasn't merely to win, but rather to ring up lots of points and be lauded as mega-terrific. A few days before the Giants-Patriots Super Bowl, Tom Brady openly scoffed at a suggestion the Patriots might be held to half their scoring average. How they wish they'd reached half their scoring average! Oklahoma went into the BCS title game on an incredible run of five straight 60-plus scoring days, and seemed concerned with flashy touchdowns scored quickly so people would "ooh" and "aah." Reaching third-and-goal on the Florida 1, Oklahoma went ultra-hurry-up, then ultra-hurry-up again on fourth-and-goal, ending up with nothing. Both plays were snapped seconds after the ball was signaled ready for play, and both looked disorganized. At the 1, why not huddle and get things right? But the Sooners wanted people to say, "Look how fast they scored, how do they do that?" TMQ thinks if the same Oklahoma squad had entered the BCS title game not being a record-setting points team, the Sooners' chances would have been better. Players would have been focused on victory rather than on running up the score, and been psychologically prepared to be happy with a 17-13 win rather than obsessed with impressing people by scoring really fast.
Countdown Begins to the Exciting Series Finale of "Battlestar Galactica" Complaints: The reimagined "Battlestar Galactica" returns to the air Friday and will stumble toward its final episode and final question: In the end, will anything make sense? Much of the show so far has made little sense, for instance the contention that it is physically impossible to tell a human from the evil Cylon cyborgs, even via medical examination. The cyborg characters are depicted as having super-strength and powers such as telepathic communication that projects instantaneously across light-years. You couldn't have such powers without mechanisms or internal organs to support them, and thus it would be possible to tell humans from cyborgs.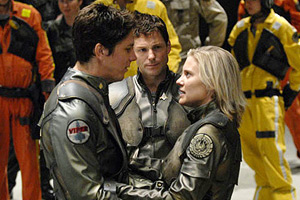 The Sci-Fi Channel
"Someday, when we reach Earth, we will find an explanation for all our previous episodes."
As the show winds down, increasingly the Cylons themselves make no sense. At the beginning of the series, we were told that 40 years prior the Cylons were robot servants of humanity; then they became self-aware and rebelled; then they remade themselves in human form. Now the Cylons constantly refer to being prisoners of their "programming," but if they made themselves, who programmed them? In the first and second seasons, the Cylons regularly saw one of the seemingly human characters revealed in the 2008 cliffhanger to be a Cylon, and never recognized him, though previously we've been told all Cylons recognize each other telepathically. And all through last season, viewers were asked to believe the Cylons can build faster-than-light starcruisers and immortality technology (see below), yet are not able to remember what five of their own 12 models look like. How could the Cylons have existed less than 40 years, yet already lost all knowledge of their own origin?
A central plot element of recent episodes was a raid to destroy the Cylons' resurrection system. It seems the sinister Cylons built a gigantic spaceship which houses devices that confer biological immortality -- whenever a cyborg dies, his or her memories and personality are reborn in a new adult body aboard the ship. Galactica found the immortality ship and blew it up; since then, we are told, the nature of Cylon existence has fundamentally transformed, because the Cylons are now mortal and must come to terms with mortality. Won't the Cylons use their seemingly unlimited super-technology to build a new resurrection ship? Don't tell me they discovered the secret of immortality and then lost the plans!
Strength Is An Arms Race -- Get It? Last week, the New York Times had a story about the five-person strength training staff at the University of Florida football program, headed by a guy who earns $300,000 a year -- surely more than any professor at the school -- and the three-person strength staff at the University of Oklahoma, headed by a guy who earns $235,000 annually, enough to add two professors and their overhead costs to the English Department. Conditioning programs at colleges today are tremendously sophisticated, and not just for football; there's a reason swimming records keep falling. Surely both teams that played in the BCS Championship Game are in better shape than were the 1972 Miami Dolphins -- if not in better shape, including stronger, than were Super Bowl-winning teams of the early 1990s. Until such time as the NCAA may actually enforce its rules about how athletes spend their offseason hours, schools are locked in a strength arms race -- because opponents devote hours per day to conditioning, they must do the same.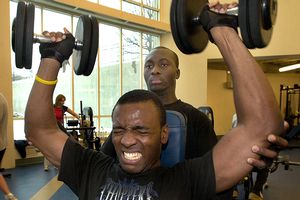 AP Photo/Jamie-Andrea Yanak
Strength is an arms race -- get it?
But the year-round, time-consuming commitment required to reach peak physical fitness means there is little chance the typical NCAA football player can be a genuine student. A highly motivated football-playing student can devote three hours a day to conditioning, rest, then still complete his studies; an average football-playing student is going to let classwork slide. Now think about the misplaced priorities. Big-college football programs have several well-paid people doing nothing but preparing players physically -- though the vast majority will never use their physical abilities once they leave school. Their education, if they get one, is what they'll use once they leave school. And at too many big NCAA institutions, little or nothing is being done about that.
Gators championship note: This is the University of Florida's 31-person training and sports medicine staff, which covers all NCAA athletes at the school; this site details the football team's 12 coaches and 21-person support staff. I felt hugely relieved to learn the University of Florida Department of English actually does outnumber this group. But then again, this year Florida has 47,390 students.
Philadelphia at Jersey/A Analysis: The Giants had not sacked Donovan McNabb in two meetings this season, and boy were the Giants eager to change that. Between attempts, penalties and scrambles, Philadelphia coaches called 47 passing plays, and Jersey/A blitzed on a phenomenal 40 of 47, three times the rate that aggressive defenses normally blitz. Result? A safety when McNabb grounded the ball under pressure in the end zone; an interception when McNabb was hit by a blitzing cornerback as he threw; a Philadelphia conversion of a key third-and-20 against a mega-blitz; no sacks. In their game planning, the Giants "sold out" to get sacks of McNabb, as if performing their sack dances before the home crowd was the objective. Forty blitzes, no sacks. That is abject failure for the defensive game plan -- maybe Steve Spagnuolo's mind was on the job offers he's supposedly entertaining? On the flip side, it was a triumph for the Eagles' offensive line, which had just one breakdown (the safety) the entire afternoon, and a triumph for McNabb's ability to elude the rush and find receivers on the fly. Because McNabb moves in a plodding manner, he never gets credit for his scrambling and throwing-on-the-run talents. Now McNabb has led the Eagles to their fifth title game in eight seasons. Explain please why this guy gets so little love from sports pundits, including in the Philadelphia media.
There were many puzzling tactical choices by the Giants, perhaps an indication Spagnuolo wasn't the only blue coach who didn't have his head in the game. Tom Coughlin challenged a call that was obviously correct, costing his team a badly needed second-half timeout. Coughlin had the choice of goals to defend in the second half, with a flag-snapping wind, and chose to take the wind in the third quarter. That meant he expected to put the game away in the third quarter, since football theory says that in a wind-choice situation, take the wind for the fourth quarter, when games are decided. Given the wind in the fourth quarter, Philadelphia outscored the home team 10-0; as the Giants attempted their late comeback, they had to throw into the wind.
Note I don't say "furious comeback" as the sports cliché demands, since the comeback was not. Trailing 23-11 early in the fourth quarter, Jersey/A went for it on fourth-and-inches from its 44 and got no push, and several Eagles defenders hit Eli Manning before his sneak could even start. The defense forced a three-and-out, and Jersey/A regained possession with 10:22 remaining. The Giants only went no-huddle for one play and for the rest took their sweet time and ran as if trying to grind the clock -- the possession was rush, rush, rush, short pass, rush, rush and now it's fourth-and-2 with the clock down to 6:40. Of course the Giants are going for it, but time to make a statement, play-fake and throw deep! Instead another rush and no push, Philadelphia ball, and TMQ wrote the words "game over" in his notebook. It's one thing to try to settle a team down, even when behind, by running in the third quarter; quite another to do this late in the fourth quarter! On the 6:40 play, Philadelphia seemed to want success really badly, while the Giants seemed to want to shower and go home.
The key tactical error came at 1:38 of the first half. The Giants to that point were dominating the game in yards gained and first downs, but trailed 7-5. They faced fourth-and-inches on the Philadelphia 17, in a game in which they averaged 4.3 yards per rush. This was the man-or-mouse moment, when the defending champions had their chance to take control of the contest: go for the first down, then score a touchdown for a nice intermission lead, while drilling the clock so McNabb, a master of the late second-quarter drive, had no time for reply. Instead Coughlin did the supposedly "safe" thing and ordered a field goal. To that point in the game, Philadelphia had just 32 yards of offense. Before the half could end, the Eagles moved 65 yards down the field, kicking a field goal with a second left on the clock. So Jersey/A's "safe" kick decision did the team no good, because Philadelphia still led by two at halftime anyway. More important, the decision fired the Eagles up. Philadelphia players seemed to sense that Jersey/A was playing not to lose, rather than playing to win.
In kick-or-go situations, TMQ asks: "What does my opponent hope I will do?" With the Giants facing fourth-and-inches on the Philadelphia 17, the Eagles unquestionably hoped the Giants would kick. When you send out the field goal team and notice the opposing sideline has broken into relieved smiles, you've gone fraidy-cat. Sure, Jersey/A tried for it on fourth down twice in the fourth quarter, and failed. But then the Giants had to go for it, and the situation psychology was very different.
As for the Eagles, they opened the game run-blitzing like crazy, stifling the Jersey/A rush. It took till the second quarter for the Giants to do the obvious and begin throwing to the tight end. Kevin Boss caught three passes for 52 yards in the second quarter and immediately the Eagles backed out of the run blitz, allowing the defending champions to rush. Why did it take Jersey/A so long to react to Philadelphia's opening tactic?
Leading 13-11, the Eagles had first-and-goal on the Giants' 1 on the first snap of the fourth quarter. If you're planning to play-fake at the goal line, first down is the time to do so. Philadelphia came out heavy with two tight ends and a full-house backfield, play-fake, backup tight end Brent Celek was all by himself in the end zone. Leading 20-11, Philadelphia faced second-and-11 at midfield with 5:57 remaining. In this situation, either rush to grind the clock or throw deep to take command. Eagles coaches called the latter, resulting in a 48-yard completion to the Giants' 1.
Two snaps later, Philadelphia faced third-and-goal on the Giants' 2 with 4:10 remaining. The Eagles threw incomplete, stopping the clock, then kicked a field goal for a 23-11 lead. TMQ thinks Philadelphia should have run on third down, keeping the clock ticking, then run again on fourth-and-goal. At that point a Philadelphia touchdown would have ended the game, while a Philadelphia failure would have pinned the Giants' on their 1 yard line with three minutes to play and needing two scores. Kicking kept the Giants just barely in the game -- it's what the Giants were hoping Philadelphia would do.
AP Photo/Diane Bondareff
He's a "special" adviser. That tie is pretty special, too.
When all-naughts showed on the scoreboard, Philadelphia had won six of its past seven, the Giants lost four of their past five. So the Eagles' victory was no fluke -- Philadelphia was headed up as Jersey/A was headed down, and they crossed paths.
Wonder What AIG Translates to in Sanskrit? In yet another case of corporate fraud, the Indian tech firm Satyam Computer Services, a high-flier in the Asian stock market, last week admitted it has been lying about revenues and profits. Satyam means "truth" in Sanskrit.
This Is a Special Item: Reporting that its medical correspondent Sanjay Gupta was being tapped as Surgeon General, CNN said Gupta had once been a "special adviser" to Bill Clinton. Not an adviser, a special adviser! And a special adviser differs from an adviser -- how, exactly? This mirrors the contemporary affectation of adding "special" where the word carries no meaning. Walk through Washington's Dulles Airport and you endlessly hear a computer voice saying, "This is a special security announcement …" Not an announcement, a special announcement. And a special announcement differs from an announcement -- how, exactly? Stores advertise "special offers," which differ from offers -- how, exactly? Readers are encouraged to keep their ears open for empty uses of the word "special," and report them, with specifics, to me at TMQ_ESPN@yahoo.com.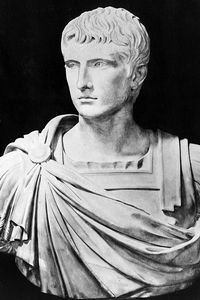 Getty Images
No one in Washington can remember ancient history, such as the economy under Caesar Augustus in 1991.
The Crisis-Claiming Crisis: Barack Obama also said last week the recession may last "years and years" unless Congress votes him fantastic new spending power. The recession is unlikely to last "years and years" even if Congress does nothing: The late-1970s and early-1990s recessions ended on their own without dramatic legislation. But presidents love crises -- famously, Bill Clinton lamented that he never got to preside over a war. The economic situation is "a crisis unlike any we have seen in our lifetime," Obama declared at George Mason University. Really! Unlike Sept. 11, unlike the 1980s crime wave, unlike the 1960s civil-rights riots and murders? To me the current recession resembles the early 1990s recession, which was also triggered partly by mortgage-based financial fraud (in that case the S&L meltdown), which also caused credit and investment markets across the United States and European Union to seize up, which also was accompanied by a stock swoon (about 30 percent, only somewhat worse than the current swoon) and which also brought about deflation in the housing market. But who remembers 1991? That's ancient history. Wasn't Augustus the Emperor in 1991?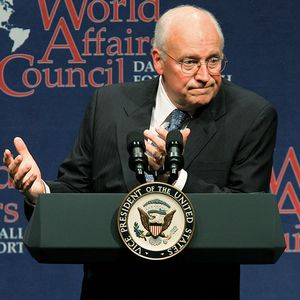 AP Photo/Tim Sharp
Dick Cheney won't have to deal with any more crises after next Tuesday.
Presidents love to proclaim things are worse than they seem, because this can be used to justify the awarding of extra presidential power. Just after George W. Bush took office, in the winter of 2001, he proclaimed an "energy crisis" and demanded sweeping new powers from Congress. Petroleum and electricity-generating capacity should have run out by now based on Dick Cheney's 2001 statements. In the spring of 2001, a U.S. military plane collided with a Chinese jet and crash-landed in China; this was declared a crisis and said to justify new White House powers. Sadly, on 9/11, an actual crisis occurred. Next, Bush declared a crisis of weapons of mass destruction in Iraq, and asked Congress for extraordinary powers to invade a nation that did not appear to pose any threat to the United States. Then terrorists within the country were said to be a crisis, said to justify board expansion of presidential powers including warrantless wiretapping of American citizens and the holding of prisoners without charges. When gas pump prices hit $4 a gallon in the winter of 2008, Bush called that a crisis and asked for additional powers. When financial markets froze in the autumn of 2008, Bush immediately asked for $700 billion to spend without congressional oversight. Presidents love to cry crisis and then ask for extra power and extra money outside normal channels of accountability.
Obama hasn't even been sworn in, and already seems susceptible to the desire to proclaim a crisis. "A bad situation could become dramatically worse," the president-elect said of the economy last week. This seems exactly what a president-elect should not be saying -- there's a lot of self-fulfilling prophecy in business. But such comments sync with the practice of presidents describing situations as much worse than they actually are, in order to justify more presidential authority. The moment the economy resumes ticking upward, expect President Obama to tell us there is a shocking super-ultra global warming crisis that justifies expanded presidential powers and extraordinary spending programs. (Climate change is a genuine problem, but no crisis.)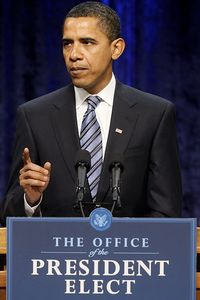 AP Photo/Charles Dharapak
Advice to the incoming president: Don't throw around the word "crisis."
The news media like the sense of crisis, because it keeps viewers glued to TV news and nervously scanning newspapers. Part of the downward psychology of the recession is that journalists are using the most negative language possible -- "SALES PLUMMETED 2.2%" is an actual headline from last week's New York Times economic coverage -- while demonstrating no sense of history or proportion. The latest Bureau of Labor Statistics figures show 7.2 percent unemployment. That is a serious concern, yet was presented by the media as an unprecedented calamity -- in 1991, unemployment was 11 percent. Even with 2.6 million jobs lost in 2008, obviously a disturbing number, there are more people employed right now than five years ago, since overall, employment grew in that period. The civilian labor force did not even decline in December -- read the fine print. Unemployment rose because jobs did not keep pace with population growth. This kind of perspective is utterly missing from media coverage, since news organizations perceive a self-interest in making the situation sound worse.
Members of Congress of both parties like the sense of crisis, whether real or imagined: it gives them excuses to take money away from average people and hand bags of gold to favorites and interest groups, who repay the representatives and senators with campaign donations. The extent to which members of Congress have a financial incentive to tax the average and confer money on political favorites would I think shock the Framers, who did not anticipate the corrupting impact of campaign donations, because campaigning in their time entailed giving speeches in town halls.
You might think: Washington is full of somber experts and urbane talking heads, why don't they warn presidents not to declare crises? Institutional Washington loves the sense of crisis, because this makes institutional Washington feel important. Lobbyists, think tank fellows, news-channel figures, government officials and Washington pundits all become more significant when there is a sense of national peril -- plus, they get to strut around projecting gravitas. If things are basically fine, why give extra attention, to say nothing of extra money, to institutional Washington?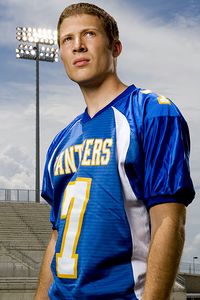 NBC
He's looking pensively into the distance, thinking about his artwork that he didn't even know he was doing.
"Friday Night Lights" Update: DirecTV just ran the penultimate episode of FNL, though is billing tomorrow's as the "season finale," not the series finale. Why the episode is not billed as the series finale isn't clear, since the words "series finale" always bump up ratings. After tomorrow's final episode on DirecTV, on Friday night the series jumps back to NBC, reairing the season now concluding on satellite. Anyway, in what TMQ thinks was the penultimate episode of the series, the Dillon Panthers played the Texas 5A championship. Two years ago, when Dillon won the state championship on an extremely improbable last-second play, game scenes were filmed in Texas Stadium in Irving, while the exteriors showed Austin; the actual 5A championship of 2006 was played in San Antonio. This time the game scenes are filmed at the University of Texas facility, whose formal name is Joe Jamail Field at Darrell K. Royal-Texas Memorial Stadium, and the exteriors were shot in Austin. Actual 2008 Texas 5A title games were played at Reliant Stadium in Houston. In the 2006 imaginary Texas title game, Dillon fell behind 26-0 at the half. In the 2008 Texas title game in the latest episode, Dillon falls behind 27-0 at the half -- things are even worse! You'll have to watch to find out what happens. Since the championship has been played and one episode remains, presumably the series finale will show what happens to the characters once the football phase of their lives ends, and that sounds like a nice windup.
The episode's inexplicable plot twist is that suddenly the Matt Saracen character is an accomplished artist who is applying to the Art Institute of Chicago rather than to a regular college. We see his lovely sketches and drawings all over the modest bungalow he shares with his grandmother; Julie, Matt's girlfriend, is admiring the latest Saracen. In three years of the series, none of this has ever been mentioned before. Not only has Matt's artistic ability popped out of the air, so have all the sketches and portfolios around his house. Previously, Matt was a hardworking football player who worried that his life had no direction beyond sports. Suddenly he's a starving artist!
San Diego at Pittsburgh Analysis: At last, order was restored. The high-seeded bye team decisively beat the low-seeded pretender, and the football gods finished toying with us mortals. Plus the chance of a Pennsylvania Turnpike Super Bowl -- Pittsburgh versus Philadelphia -- was preserved.
San Diego began the game with a smart psychological ploy. Speed receiver Vincent Jackson had been shut out by the Colts, then during the week, was charged with driving under the influence. Their first play call was a deep post to him, though Philip Rivers couldn't get the pass his way. San Diego's third play call was again a deep post to Jackson, who was single-covered, the Steelers' safeties seeming to think it was safe to ignore him: 41 yards, touchdown.
Pittsburgh wanted to run, began with three tight ends on the field and snapped off 22 yards rushing on its first three plays. Then the tight ends came out and the shotgun spread formation came in and predictably, the Steelers' offense bogged down. On its first possession of the third quarter, ahead 14-10, Pittsburgh put the jumbo set back out, ran five of its first seven snaps, and scored the touchdown that put the home team in control. And a sweet touchdown it was: facing second-and-6 at the San Diego 8, Pittsburgh play-faked from a heavy set, and tight end Heath Miller held his fake block several seconds and then turned out into the flat for the catch and six points. Dominating the third quarter -- in which San Diego had but one offensive snap -- Pittsburgh converted third-and-7, third-and-11, third-and-8, third-and-3, third-and-11. Do I even need to tell you at this point that San Diego blitzed on all the third-and-longs?
A comedy of errors -- or perhaps a chicken run -- characterized the second quarter. With the game tied at 7, San Diego punted on fourth-and-1 from its 39. On the ensuing possession, Pittsburgh punted on fourth-and-2 from its 49. San Diego punted back and then Pittsburgh, facing fourth-and-1 on its 48, lined up to punt, faked the kick and lost 4 yards. Fake punts work when they are not expected, not on fourth-and-1 from midfield! Anyway, why all this punting mania, doesn't anyone want to win a playoff game? If you're afraid to try to gain a yard, go home!
On the first snap of the fourth quarter, leading 21-10, Pittsburgh was not afraid to try to gain a yard -- and thereby, won the game. The fourth quarter began with the Steelers facing fourth-and-goal on the Bolts' 1. Pittsburgh went for it and failed. But the Steelers actually were better off going and failing than kicking! Obviously if they'd gone and scored, TMQ would have written "game over" in his notebook. Had Pittsburgh taken the field goal, the Steelers would have led by 14, but then had to kick off, likely giving San Diego good field position with a full quarter remaining. That would have kept San Diego in the contest. By going and failing, Pittsburgh pinned San Diego on its 1, needing two scores. The Chargers could do nothing from their own 1, and the next time you looked up, Pittsburgh led 35-17. In kick-or-go situations, TMQ asks: "What does my opponent hope I will do?" On the fourth-and-goal from the San Diego 1, the Chargers were hoping Pittsburgh would kick a field goal. Though the Bolts stopped the fourth-down rush, they were worse off than if the Hypocycloids had kicked for three.
For the Chargers' part, since the Ed Hochuli game, Bolts faithful are convinced of an officiating conspiracy -- and once they see the film, won't be happy that on a 41-yard completion to Hines Ward in the final minute of the second quarter, setting up the touchdown that put Pittsburgh ahead to stay, not one but two Steelers offensive linemen were holding -- uncalled. But the Chargers have no one to blame but themselves. They got cute so often on defense -- many two-man defensive fronts with multiple defensive backs blitzing -- that they forgot fundamentals. San Diego's defense surrendered 28 points, and three times Ben Roethlisberger overthrew receivers running behind the Chargers' secondary; the game might have been a blowout. San Diego's offensive line left much to be desired, as the visitors rushed for just 15 yards. Much of that was due to solid Pittsburgh run-stuffing, but some to poor blocking by San Diego. Even Arizona knows you can't win a playoff game if you can't run the ball! Rivers often was under pressure almost from the snap. On one sack of Rivers, the Bolts had six to block four rushers, and Lamar Woodley came through so fast for the sack it seemed he was barely brushed.
Buck-Buck-Brawckkkkkkk: After scoring to pull within 28-17 with nine minutes remaining at Pittsburgh, San Diego did not onside kick. The Steelers moved down the field to ice the game at 35-17, then with 3:23 remaining, San Diego punted. Who cares if it was fourth-and-17? It's a playoff game, you trail 35-17 late in the fourth quarter -- why are you punting?????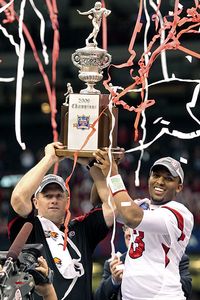 AP Photo/Dave Martin
Many BCS big-deal schools wish they had the season Utah had.
Reader Comments: Readers, including Mary Beth Billington of Park City, Utah, objected to my describing the Utah football program as a "mid-major." She writes, "By record and by big-game performance, the Utes were arguably national champions. If USC or Texas had gone 13-0 and beaten Alabama in the Sugar Bowl, would there be the slightest doubt about who the national champion was?" Beyond that the Mountain West, producing Associated Press final poll No. 2 Utah and No. 7 TCU, outperformed several BCS conferences.
The sports media roundly condemned Andy Reid's decision to bench Donovan McNabb, then when the decision worked, triggering the Eagles' surge, the sports media simply ignored that. Samir Bhakta of Mount Laurel, N.J., notes that last week at least one Philly sports columnist swallowed his pride and gave credit where due. I asked how the Bolts could have worn their powder blues against Indianapolis in the playoffs, when the league requires one year's notice on throwback apparel. Michael Thyen of Alameda, Calif., pointed out this San Diego Union-Tribune article explaining how it happened. Brad Fisher of Winston-Salem, N.C., notes The Associated Press just gave its high school player of the year award for the state to Xavier Nixon, an offensive lineman for Fayetteville Britt high. "The award has existed for 27 years, and previous gone to a quarterback or running back 26 times," he adds.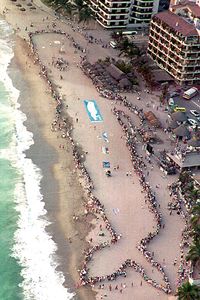 OmarTorres/AFP/Getty Images
A glamorous beach, a Hard Rock Cafe, and NFL hell.
Titans tailback Chris Johnson had 12 touches for 100 yards against Baltimore in the first half, then sat out the second half with an injury. The energetic Johnson leaving the game and the plodding, low-intensity LenDale White coming in was a factor in the favorite's defeat. As many readers, including Becca Garrison of Gallatin, Tenn., noted, thrice this season Johnson has taunted opponents, and thrice this season, TMQ has predicted the football gods would exact vengeance.
Finally Dave of Boston laments, "My family was in Puerto Vallarta for Christmas vacation. We went to the Hard Rock Cafe on Sunday of the final regular season week, looking forward to watching the Patriots-Bills game, which we were confident would be on because it was the AFC game with playoff implications in the early slot. Instead the only thing showing was the meaningless Steelers-Browns game on a huge projector screen. Hell's sports bar actually exists!"
Next Week Arugula! Arugula! Clear the decks, prepare to dive! The Tuesday Morning Quarterback Challenge returns.
In addition to writing Tuesday Morning Quarterback, Gregg Easterbrook is the author of "The Progress Paradox: How Life Gets Better While People Feel Worse" and other books. He also is a contributing editor for The New Republic, The Atlantic Monthly and The Washington Monthly.