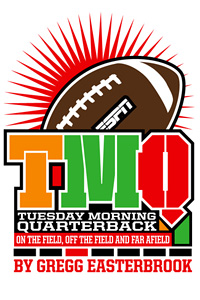 You will hear a million times before kickoff of Super Bowl XLIII -- just XII days away, at VI:XX Eastern on Feb. 1 -- that the game will be a battle of Arizona's offense versus Pittsburgh's defense. Tuesday Morning Quarterback suspects the game will be a battle of Pittsburgh's offense versus Arizona's defense.
In past Super Bowls in which a great offense has been paired against a great defense -- last year's Giants-Patriots contest, the Colts-Bears Super Bowl of the year before, the Bills-Giants Super Bowl in 1991 -- the great offense and great defense roughly neutralized each other, leaving the trophy to be decided by the lesser offense against the lesser defense. Last year, New England's record-setting offense faced Jersey/A's lockdown defense, and the Patriots led when their offense left the field with four minutes remaining -- but the so-so New England defense could not prevent the so-so Giants offense from scoring in the final minute. The year before, the Super Bowl was supposed to be about the fast-break Indianapolis offense against the ferocious Chicago defense; instead, two interceptions by the Colts' defense were the decisive plays. More often than not when a great offense meets a great defense, neither decides the contest.
If this form holds, Super Bowl XLIII will come down to how the Arizona defense performs against the Pittsburgh offense. The Steelers' offense has been erratic (rushing troubles, blocking breakdowns). Against San Diego and Baltimore in the postseason, its big plays came on Ben Roethlisberger scrambles, and counting on scrambles is not a high-percentage strategy. For its part, the Arizona (Contains Powerful Football Substance) Cardinals' defense played marvelously at Carolina in the divisional round. But the Cards' defense has been torched for 56, 48, 47, 37 and 35 points this season, and just gave up 454 yards to Philadelphia at home. Neither the Arizona defense nor the Pittsburgh offense inspires confidence. Whichever one bests the other may determine who drinks champagne in Tampa while confetti falls.
In other football news, are you a defensive back? Then go rush the passer! Trend-wise, nothing has been more striking in the 10 postseason games so far than the degree of cornerback and safety blitzing. In the championship games, all four defenses sent defensive backs on down after down; in the Baltimore at Pittsburgh contest, both teams rushed at least one defensive back on two-thirds of the third-and-long situations. Bringing defensive backs is viewed as the most radical possible defensive tactic. More corners and safeties have rushed in this postseason than in any chunk of games in NFL annals, and the result has not been particularly radical: no sacks in the Giants-Eagles playoff game, 11 total sacks in the two championship games despite regular defensive back blitzing. On Sunday, the tactic led to a couple of big turnovers and also to long touchdown passes when Arizona and Pittsburgh blocked a safety blitz and found the deep middle open. Overall, it seemed the net of lots of radical defensive back blitzing is about what would have happened if everyone had played conventional defense.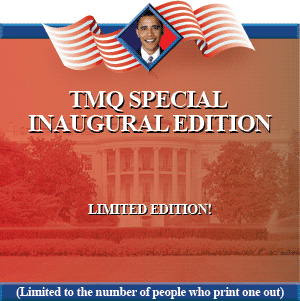 But because corner and safety blitzing are this year's postseason trend, and both Arizona and Pittsburgh game film shows the tactic over and over, expect the Cardinals and Steelers to spend the next XII days elaborately preparing to exploit DB blitzes. What if one or the other doesn't DB blitz? Among TMQ's off-price generic Super Bowl predictions is that the game will be won by the team that has the gumption not to do what it is expected to do -- Indianapolis' featuring the run rather than the pass against the Bears, for example. Owing to the two-week Super Bowl lag, some teams overprepare for the game, then come unglued if the opponent does not do as two weeks of preparation said it would. TMQ forecasts: If either the Cardinals or Steelers do not use lots of cornerback and safety blitzes, that team will emerge victorious. The playoffs so far have been all about radical defensive schemes; that means a conventional defensive scheme would come as a surprise.
In national news, Tuesday is the inauguration of Barack Obama as 44th president of the United States. We've been so wrapped up in various forms of financial panic, real or imagined, that some may have lost sight of what a great day this is for America. Regardless of whether Obama ultimately proves to be an outstanding president or an average chief executive or a dud, only in America could this happen. A country whose eternal shame is that it once held slaves elects a black man as its leader, and a black man who came from nothing, entirely self-made. Obama is so appealing because he is the embodiment of the American story -- and that story is still in the early chapters. Today every American, even those who exercised their right to oppose Obama, should beam with pride. Until now I felt proudest to be an American on July 20, 1969, when Neil Armstrong put his foot on the moon. I thought then, "No other nation can accomplish such a thing, no other nation can dream so big." Today I feel prouder, because Obama represents a much grander and more important dream. Today America proves to the world that we meant what we said about freedom and equality.
And every newspaper and magazine in the local star cluster is offering special commemorative inaugural editions available for sale. Today's Tuesday Morning Quarterback Special Inaugural Edition is absolutely free! Inside you'll find special inaugural football items, special inaugural statistics, special inaugural cranky complaints and even special inaugural news stories about events that haven't happened yet. Print out hundreds of copies of today's TMQ and save them for your grandchildren!
Not only that, but today the Tuesday Morning Quarterback Challenge returns for a special engagement -- see below.
Stat of the Week No. 1: Fifteen of the NFL's 32 teams have never won the Super Bowl; Arizona can make it 14 of 32.
Stat of the Week No. 2: Under Andy Reid, Philadelphia is 1-4 in the NFC Championship Game.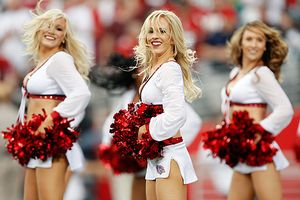 Jamie Squire/Getty Images
Since the Steelers have no cheer squad, the Arizona cheerleaders will have the Tampa sidelines all to themselves.
Stat of the Week No. 3: The three teams to have allowed the most points per game and reach the Super Bowl are the 2008 Cardinals, 2007 Giants and 2006 Colts.
Stat of the Week No. 4: When Arizona played Philadelphia in November, the Cardinals had 25 total rushing yards; in the NFC championship, the Cardinals had 35 rushing yards on their first possession.
Stat of the Week No. 5: After committing no turnovers and not being sacked in his first two playoff starts, Joe Flacco threw three interceptions, was sacked three times and finished with a passer rating of 18.2 against Pittsburgh.
Stat of the Week No. 6: If every pass an NFL quarterback attempts clangs to the ground incomplete, his rating is 39.6.
Stat of the Week No. 7: Reid now has a career 10-7 postseason record. Only Marv Levy (11-8) and Dan Reeves (11-9) have more postseason victories without winning a Super Bowl.
Stat of the Week No. 8: In 18 games so far this season, Pittsburgh has allowed 29 third-quarter points.
Stat of the Week No. 9: The Super Bowl will pit the league's No. 1 pass defense (the Steelers allowed 2,511 passing yards) against the No. 2 pass offense (the Cardinals threw for 4,674 yards).
Stat of the Week No. 10: Super Bowl quarterbacks Ben Roethlisberger and Kurt Warner are a combined 15-4 as playoff starters.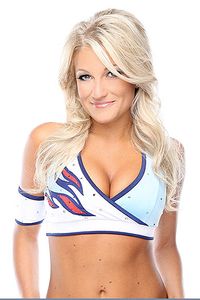 Tennessee Titans
When Melissa is in the neuroscience laboratory, all the brain-scan images light up.
Cheerleader of the Week: Mike Siuta of Nashville, Tenn., nominates Melissa of the Titans, who according to her team bio is a skydiver who works at Vanderbilt University as a neuroscience research assistant. If you're reading TMQ at work, steer clear of the "video" button on Melissa's team bio, as her swimsuit poses may cause a corporate Klaxon to sound. On the other hand, if you're on your own PC or laptop, you're not going to have all that many chances to watch a video of a gorgeous woman in a string bikini talking about progress in neuroscience. Here, a Nashville television station offers a feature about her.
Sweet Play of the Championships: With Pittsburgh leading 6-0 late in the first quarter, Baltimore reached third-and-1 on the Steelers' 34. The Ravens shifted into an unbalanced line, with tackle Adam Terry reporting eligible as an extra tight end. No gain on the rush. Now it's fourth-and-1 on the 34 and Baltimore decides to go for the first down -- a reasonable decision, though note Baltimore won the coin toss and chose the wind, so a field-goal attempt would have been with the wind. The unbalanced line and extra lineman remained on the field; a slotback went in motion right as a diversion; Joe Flacco tried the quarterback sneak; Pittsburgh nose tackle Casey Hampton hit him low and safety Troy Polamalu leapt high -- Steelers' ball. Three snaps later, Pittsburgh led 13-0. Had this sweet defensive stand gone the other way, the game might have been very different.
Sweet Play of the Championships No. 2: My 2008 middle school team had a trick play called Varsity Special, so named because all the boys hope to make varsity. On the play a running back takes a counter pitch right; the quarterback stands watching as if out of the play; the left receiver stops and watches as if out of the play; the running back laterals to the quarterback, throwing the ball backward so it is not a forward pass; the left receiver blows down the field, the target of the play all along. With the hosts leading 7-3, the Arizona (Contains Powerful Football Substance) Cardinals had first-and-10 on their 38. Tailback J.J. Arrington took a counter pitch right, then stopped and looked back toward Kurt Warner. As Arrington looked back toward the quarterback I said to Spenser, my 13-year-old, "It's Varsity Special!" So it was, 62 yards for the touchdown to Larry Fitzgerald. The Miami Dolphins this season were raiding high school playbooks; the Super Bowl-bound Cardinals raided the middle school playbook!
Sweet Play of the Championships No. 3: Trailing 25-24 with 2:59 remaining and the franchise's first Super Bowl trip on the line, Arizona faced third-and-goal on the Eagles' 8. The Cardinals lined up four-wide but with unusual personnel on the right -- third-string tight end Ben Patrick and rarely used fullback Terrelle Smith. This made it seem like the action would be some kind of power rush or power screen right. Instead, the call was a screen left to Tim Hightower, away from the extra blockers, with right guard Deuce Lutui pulling left and getting a perfect block. Touchdown. Now Arizona leads 30-25, and goes for the deuce. Same formation with the little-used guys on the right, but this time the call is a slant to Patrick, who had one catch in the regular season. TMQ loves the tactic, in a pressure situation, of calling a play for a guy who never plays; two points, and a 32-25 Arizona lead. Arizona iced its first-round postseason game against Atlanta by throwing a slant to rarely used backup tight end Stephen Spach in a pressure situation. Then he got hurt and Patrick stepped in!
Sour Play of the Championships: Philadelphia was hardly done when the hosts led 32-25; with 2:09 remaining, the Eagles had first-and-10 on the Arizona 47, holding a timeout. Donovan McNabb threw the ball away under pressure; then on second-and-10, missed an open DeSean Jackson; then on third-and-10, missed an open Hank Baskett. Then on fourth-and-10, against a crazy all-out blitz that might have cost Arizona dearly, Kevin Curtis dropped a pass after slipping following apparent contact with the defensive back. From the point in late November when Philadelphia seemed finished, the Eagles went 7-2, and took the NFC Championship Game down to the final minute. Not bad, but the final Nesharim series was sour.
Sour Play of the Championships No. 2: At the end of the third quarter, Philadelphia scored to pull within 24-19. Early in a game it makes sense to kick the single extra point, since one never knows what the endgame scoreboard dynamic will be. But with the fourth quarter about to begin, the endgame scoreboard dynamic was within view. Not only did pulling within three points make a lot more sense than pulling within four, at that juncture the Cardinals were reeling and a deuce conversion would have added to the sense that the home team was falling apart. Instead Andy Reid sent out the kicker and the football gods, peeved, pushed the PAT try aside.
Sweet 'N' Sour Play of the Championships: For Baltimore's first touchdown, on first-and-goal at the Pittsburgh 3, the Ravens went unbalanced and both Terry and defensive tackle Haloti Ngata reported eligible as extra tight ends; Willis McGahee ran untouched for the score behind a monster block by Ngata. For Baltimore's second touchdown, on first-and-goal at the Pittsburgh 1, Terry and Ngata reported eligible as extra tight ends; McGahee ran untouched for the score behind a monster block by Ngata. Two touchdowns behind two monster Ngata blocks was sweet. But these were the sole snaps on which Ngata played offense; on other short-yardage Baltimore plays that failed, Ngata was not on the field. Not using Ngata more on short yardage was sour.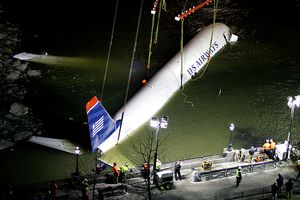 AP Photo/Craig Ruttle
Fortunately for passengers, the pilot knew how to fly gliders.
Big Day for the Glider Business: It's only January and already I have a Tuesday Morning Quarterback Person of the Year candidate: Chesley Sullenberger III, the US Airways pilot who last week brought all his passengers home with a skillful landing in the Hudson River. Everyone lived because Sullenberger made a perfectly smooth ditch into the water. Landing smoothly kept the plane intact and able to float, while avoiding injuries to passengers, enabling them to evacuate quickly. Buried in the coverage: Sullenberger's hobby is flying gliders. So he's had practice landing without power. In the rush to praise Sullenberger, the media for several days did not even mention USAir first officer Jeffrey Skiles, who also performed well under stress. Once reporters realized there were two people on the flight deck, one news account called it "startling" that Skiles was at the controls as the aircraft took off and struck birds. Actually it is common for the copilot to be flying while the captain monitors instruments. Flying under the supervision of a captain is how first officers advance to captain.
Could This be Rap Music from Deep Space? Many readers, including Judith Lexington of Fort Lauderdale, Fla., noted this story reporting researchers using radio telescopes have detected an unexplained radio-wavelength "roar" from deep space. "Perhaps this is the sound of the interstellar war that you worry we are seeing when we observe gamma-ray bursts," she notes. Maybe! The laser weapons in "Star Wars" movies always make sounds, even though there should be no sound in the vacuum of space. Plus I like that when lasers fire at starcruisers in "Star Wars," or phasers fire at Klingon ships in "Star Trek," you can see the beam extending from one vessel to another, though moving at the speed of light, such beams would be perceived as extending instantaneously.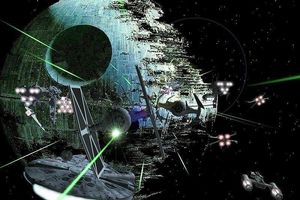 20th Century Fox
Maybe that "roar" from deep space is the sound of Star Wars beam weapons, which in the movies always make a loud sound -- when fired in a vacuum.
In another astronomy development, Mark Reid of Harvard-Smithsonian led astronomers who estimated the Milky Way galaxy is quite a bit larger than previously thought, with perhaps 50 percent more mass than earlier estimates. The solar system, they determined, revolves around the galactic center at about 600,000 miles per hour, faster than previous estimates; in order to hold the sun in its orbit at that speed, the galaxy must project more gravity than previously assumed, and thus contain more matter. Dominic Larubina of Mystic, Conn., notes, "Harvard scientists discovered this by applying a standard method of surveying, triangulation. To me, this is similar to the Dolphins using high school tactics to score points." And does 600,000 miles per hour sound fast? Light travels 600,000 miles in about three seconds.
NFC Championship Analysis: The Arizona (Contains Powerful Football Substance) Cardinals' season was all about the drive that began early in the fourth quarter. Arizona led 24-6 at the half, then allowed the visiting Eagles to score touchdowns on three consecutive possessions as the Cards failed to gain a first down in the third quarter. Now Philadelphia led 25-24 with 10:39 remaining, the home team on the verge of a historic collapse that would brand them forever as -- well, as the Arizona Cardinals. Rather than fold, and rather than go pass-wacky, Arizona staged a 72-yard, 14-play touchdown drive that took 7:40 off the clock, both regaining the lead and placing the pressure back on Philadelphia. Arizona, the 32nd-ranked rushing team during the regular season, rushed nine times on the drive. Included was a signature sequence in which the Cards faced second-and-1 and rushed, then faced third-and-2 and rushed, then faced fourth-and-1 and rushed -- first down. The Cards picked a good time to go traditionalist.
This winning drive worked on several levels. First, Arizona did not impatiently try for a quick strike. Instead, it tried to control the clock like elite teams do. Second, coaches decided to surprise Philadelphia with runs and did not lose heart when the second-and-1 rush was stopped. Third, offensive coordinator Todd Haley stayed cool when star receiver Anquan Boldin began screaming at him on the sideline during the drive. Boldin is the Greatest Athlete in Human History -- just ask him! -- and was furious about being yanked for Ben Patrick and Terrelle Smith, two unheralded backups who are good blockers. Fourth, Haley no doubt had noted that Philadelphia opened the game with nickel and dime defenses on the field, and the run worked early (partly because the Eagles' dime takes linebacker Chris Gocong, an excellent player, off the field). During the Philadelphia comeback, the Eagles put their regular defense out, and Arizona had trouble moving against it. With 10 minutes remaining and Arizona trailing, Philadelphia expected the Cards to go pass-wacky, and sent its dime onto the field. Against a dime, power rushes work, so Haley sent out his jumbo offense and started rushing.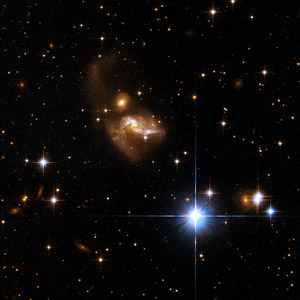 AP Photo
The Milky Way, now with less sodium but 50 percent more mass!
Once again the Arizona offensive line performed well against a touted defense; on the first Arizona touchdown, no pass-rusher came near Kurt Warner as he scanned the field. The Cards surely knew about the safety-blitz trend; three times in the game when Philadelphia sent safeties, Warner immediately threw a tight end slant to the area the safety vacated for first downs. Stutter moves are a trend for receivers, and Larry Fitzgerald ran the nicest stutter-fade I've ever seen for his third touchdown. He stuttered so much he almost dug a hole! Arizona blitzed its safeties often, including a double safety blitz (the rare "Cover Zero") that caused a Donovan McNabb lost fumble. Double safety blitzing is as likely to backfire as to produce a turnover -- I'd leave that one out of the defensive playbook for Tampa.
As for Philadelphia, the Eagles' hot streak could not continue indefinitely. Highly paid first-round Eagles left tackle Tra Thomas had a terrible game, several times barely slowing former Edmonton Eskimo Bertrand Berry, including on a down in which Berry forced McNabb to commit a costly intentional grounding penalty. Fitzgerald came into the contest with four consecutive 100-yard-plus receiving days, yet was single-covered on all three of his touchdown receptions; maybe when a receiver already has two touchdown catches his man should be getting some help to prevent the third.
Little things seemed to suggest the Eagles were overconfident. For instance, with Arizona leading 21-6, Philadelphia defensive end Trent Cole recorded a sack and celebrated wildly, as if oblivious to the scoreboard. And what was the deal with Andy Reid angrily berating David Akers after he honked a kickoff out of bounds? Akers had a bad day, missing a field goal attempt and a PAT in addition to the botched kickoff. Yet just a week before, as the Eagles upset the defending champion Giants, Akers played one of the best games a placekicker has ever played -- three field goals in stiff wind and a touchdown-saving tackle. Berating any player on the sidelines during a game is poor coaching (rebukes should come in private), let alone berating a player who's normally a top performer. That Reid lost his temper when the team needed him to stay focused possibly suggests he has trouble handling pressure.
News item: The New York Times, in its 158th year of publication, announced it will accept front-page advertising.
WASHINGTON (January 20, 2022). Speaking at the White House Presented by Gazprom, Eli Manning, the CVS 46th President, said today the United States would begin to accept advertising on fighter planes, naval vessels and Air Force One.
"Just think, the next time I fly to an international conference to be jeered, your company's name and logo could be right next to the stars-and-bars on Air Force One," Manning said. "Call me in my sales office and I personally will handle your order." As for ads on the sides of military aircraft and warships, President Manning said that none of the generals in the Lockheed Martin Air Force have objected, nor have admirals for the Cunard Navy 'N' Caribbean Fun Line.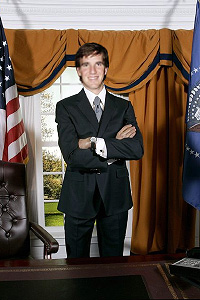 Kurt Snibbe
In 2022, President Eli Manning announces that Social Security benefits will be replaced with credit-default swaps.
U.S. government agencies and officials began to accept advertising in 2016, the final year of the Boysenberry Diet Pepsi Barack Obama Administration, after the federal deficit exceeded the Citibank Gross Domestic Product. "The bailouts of Lexus, Tiffany and the Harvard endowment were bad enough," said a White House source who asked to be identified only as someone who finds it easy and convenient to buy office products from Staples. "Unlimited direct federal subsidies for country clubs, yachts and private jets was, in retrospect, a misjudgment," the source continued. "But the bankers told us they would refuse to lend unless they had free country club memberships. We had to do it, no one under any circumstances is allowed to question a banker!"
Speaking from the CNN/ESPN/BBC/Nigerian State Television White House Press Room, framed by adverts for toothpaste, pizza delivery and drive-through colonoscopies, President Manning strongly denied critics' claims the United States is for sale. "We cannot be for sale, the Beijing Investment Trust already owns 51 percent of our preferred stock," Manning said. Negotiations are ongoing to find new investors willing to inject funds into the Capital One United States Treasury and Payday Loan Service, in hopes that Treasury bills will be raised back above junk-bond status. "Until that happens, you can still use your Treasury bills for discounts at Quiznos," President Manning reassured Americans.
In other news, Lands End First Lady Abby Manning lit the national Christmas tree, signaling the festive start of the 2022 Christmas season.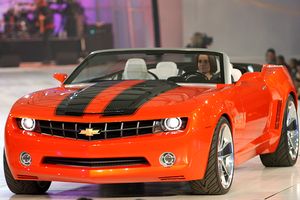 Stan Honda/AFP/Getty Images
The 2010 model is on sale -- just in time for Christmas!
Unified Field Theory of Creep: Brian Johnson from Concord, N.H., reports, "Sometime between Christmas and New Years our local Target changed over the clothing sections to put out summer swimwear. Decent swimming weather in New Hampshire is maybe six months off." Nir Lewis of Haifa, Israel, writes, "Early in January, I noticed that Hamantash, traditional Purim pastries, were being offered in the supermarket. Purim falls this year at twilight on March 9, two months after the Hamantash went on sale. The 'best before' date was January 22, six weeks before the holiday." Matthew Alley of Richmond, Va., notes Mercedes is now selling a 2010 model year GLK, while John Brannon of Charlotte, N.C., notes Chevy is offering the 2010. All buyers receive a free copy of Madden 2011!
AFC Championship Analysis: The Steelers are one seriously good defensive team. They finished first statistically in the regular season, then played two dominant defensive games at home in the postseason. What makes them so good? Top players, obviously. But top players with a team-oriented approach -- no one on the Pittsburgh defense is pointing at himself or dancing. Four of the top five defensive backs have spent their entire careers with the Steelers, one reason the secondary plays so cohesively: the defensive backs know each other's moves and show loyalty to each other.
Because the zone-blitz approach means everyone on the front seven must be able to rush the passer, stop the run and cover the slant lanes, when you play the Steelers, essentially you are playing a defense that starts seven defensive ends. The Giants did that last year before Michael Strahan retired and Osi Umenyiora got hurt, and it was a Super Bowl-winning formula. Surely the Giants' and Steelers' success playing seven hybrid types on the front seven (nose tackle Casey Hampton is the sole Steelers defender who looks like the Ticonderoga-class lineman found on most NFL defenses) should serve as a model for other teams. In turn, because all members of the Steelers' front seven are expected to play the same roles, there are no ego fits. Julius Peppers is throwing at fit at Carolina right now because he wants to play for a defense designed to produce personal stats for Julius Peppers. Nobody on the Steelers' defensive front has particularly fantastic personal stats. That's part of the point.
About the zone blitz: Most of the time only four guys are coming, sometimes five; the Steelers "sell out" blitz a lot less than it seems, or than announcers make it seem. But the offensive line is never sure which four or five guys are coming, or which defensive lineman will unexpectedly drop into a slant lane that's usually open. Fifteen years ago, the zone blitz was a funky idea; now everyone in football knows how it works. But Steelers defensive coordinator Dick LeBeau, who invented the tactic, runs it best. Week by week, LeBeau changes the choreography of the "twists" he calls, so that watching film doesn't do you all that much good. TMQ is constantly amazed at how many NFL teams, with their dozens of coaches, nevertheless do not change tactics week-by-week -- see for example the 2008 Dallas Cowboys.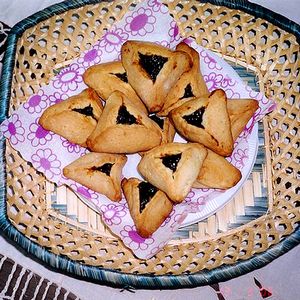 ESPN
Yummy! "Best before" expires six weeks before you're supposed to eat them.
For big games, LeBeau always has something new. Sunday it was what TMQ calls the Times Square Defense: The Steelers' front seven players were walking around before the snap, only one or two with their hands down, to confuse the Baltimore offensive line. Repeatedly, Joe Flacco pointed to what he thought was a blitzer just before the snap, only to see that gentleman backpedal into coverage. On Flacco's first of three interceptions, every Pittsburgh defender except Hampton was walking around before the snap; blockers were frantically pointing at James Harrison, wondering which way he would rush; two Steelers were in Flacco's face as he threw his first careless pass of the postseason. Harrison was a great example of the Pittsburgh defensive ethos. He did nothing flashy and got no big stats, but consistently drew two blockers, opening the path for teammates.
As for the Pittsburgh offense -- ye gods. Pittsburgh won the AFC championship despite getting just 11 first downs. It's not that the offense was excessively conservative; Steelers coaches called 39 passes and 26 rushes. But the running game was poor, blocking often jumbled, and Ben Roethlisberger did way too much scrambling around and improvising. Even though this sometimes worked -- a 65-yard touchdown pass to Santonio Holmes off a zany scramble -- you can't count on scrambling as your game plan.
Both Pittsburgh players and coaches seemed careless on offense. Leading 13-7 with a minute remaining in the first half, Pittsburgh had possession at midfield. Rookie Limas Sweed was running alone up the left sideline on a stutter-go and dropped a perfectly thrown touchdown pass. Eventually the Steelers reached second-and-10 on the Baltimore 21 with 16 seconds remaining, out of timeouts, the wind at their backs. Why was Pittsburgh out of timeouts? Because after dropping a perfect touchdown pass on national television, Sweed did a very unconvincing "oh, I am hurt" number; stopping the game for an injury within the final two minutes cost the Steelers a timeout. (In a miracle of modern medicine, Sweed was fine an instant later, and did break up an interception in the second half.) Anyway, in the situation the Steelers were in, you either kick the field goal or throw a shot to the end zone; you don't risk having a player tackled inbounds and the clock running. Instead, Roethlisberger scrambled around and then threw to the middle of the field, where the half expired before Pittsburgh could spike the ball. No matter how good your defense is, you can't casually squander scoring opportunities.
The Pittsburgh defense seemed to tire in the second half, because the Pittsburgh offense couldn't hold the ball. Example: Leading 16-7 at the start of the fourth quarter, Pittsburgh faced third-and-1 on its 37. That cannot be the Pittsburgh Steelers in a shotgun spread on third-and-1 when trying to grind the clock! Incompletion, clock stopped, bad punt, Baltimore scored and suddenly the pressure is on at 16-14. The pass was not a gamble for a deep completion, rather a dinky-dunky 5-yard thing. No matter how good your defense is, you can't casually throw incompletions on third-and-1 in a clock-killing situation.
As for Baltimore, the Ravens had a terrific season: from 5-11 to 13-6, not too shabby. Baltimore's defense surrendered only three touchdowns in three postseason games. During the regular season, Baltimore called more trick plays and high school actions than any NFL club, including the Dolphins; during three postseason games, the Ravens didn't run a single trick play and only showed one reverse (inevitably called "a double reverse!" by the CBS announcing crew). In the playoffs, Baltimore seemed to lose the courage of its convictions about trick plays. Ravens coaches, when the 2009 season rolls around, go back to high school calls -- they work! Also, feel free to come by and check my middle school playbook.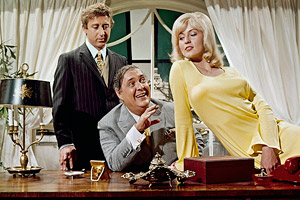 AP Photo
TMQ still wants someone to produce "Prisoners of Love," the fake-show-within-a-fake-show at the movie's end.
"You Can't Shoot the Actors, They're People," Leo Bloom Said to Max Bialystock, Who Replied, "Ever Eat With One?" Pizza Hut's new taste-test commercial for whole-wheat-crust pizza (quite good) prominently proclaims the customers depicted are "real people, not actors." Actors aren't people?
Watch Out for That Bruiser With the Dark Sunglasses and Earpiece. He's an Out-of-Work Actor: At the inaugural and Tuesday night at the balls, Washington will be crawling with bodyguards, most of them unnecessary. The president and a few top officials need Secret Service protection, the overwhelming majority of government officers do not. In the Middle Ages, courtiers would walk before the rich saying "make way, make way;" today the bodyguard with earpiece serves that function. As noted in a previous TMQ, many public corporations now provide bodyguards for their top executives, not because the executives are in any danger but to stroke their egos -- "Look, the CEO is so incredibly important he must be surrounded by bodyguards!" In 2004, when the United States Capitol was evacuated because an aircraft strayed into its restricted airspace, the offender was a private plane carrying, at taxpayer expense, Kentucky Governor Ernie Fletcher and three state troopers to serve as his bodyguards. Fletcher wasn't in any danger -- indeed, he was on his way to attend the state funeral of Ronald Reagan, one of the most heavily guarded events in history. The bodyguards were there to make Fletcher seem important.
The mania for ego-boasting bodyguards funded by average people is even filtering down to local government. Jack Johnson, county executive for Prince George's County in Maryland, adjacent to Washington, has a security detail of police officers who accompany him everywhere he goes, including overseas. (Why a county official should take tax-funded trips overseas is another question.) This recently caused controversy when Johnson took a lengthy international trip accompanied by several publicly funded assistants, including a bodyguard, the later surely present to make a county official appear instead to be a high-ranking dignitary. When traveling in Prince George's County, Johnson always has two police officers in his presence as bodyguards -- as he engages in such risky activities as attending school board meetings. If Prince George's County is such a dangerous place its chief executive must be surrounded at all times by police, then its chief executive deserves to be fired! But the bodyguards aren't needed for safety, their real function is theatrical. And that will be the real function of the bodyguards on display tonight.
At tonight's inaugural balls, some CEOs and public officials will have there-to-impress bodyguards paid for by shareholders or taxpayers; some celebrities or the wealthy will have bodyguards they hired themselves. Last week, the Washington Post reported that private bodyguard agencies including Off Duty Group were charging $1,200 per day, plus travel and hotel costs, to provide bodyguards for "corporate and entertainment clients who are attending parties and balls." Or call Security Pro U.S.A., which rents bodyguards, armored SUVs and "celebrity body armor." (So that's why Kirstie Alley has put on weight again!) This bodyguard agency lists its prices on the Web -- $125 an hour for an armed guard, $75 for unarmed. Since it's rare for a bodyguard to do more than open doors and shoo away autograph-seekers, unarmed guards are just as good as armed.
During the 2000 and 2004 inaugurals, there were rumors that to hold down costs, some of the wealthy hired actors to strut around in dark suits with blackout sunglasses and phony earpieces, pretending to be bodyguards or even that height of status, Secret Service agents. If the real function of a bodyguard is not to protect someone but rather to create the appearance of importance, an actor -- wearing an earpiece not connected to anything -- might be the ideal choice!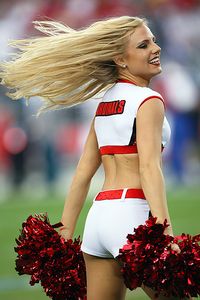 Paul Spinelli/Getty Images
Cheer professionalism helped put the Cardinals into the Super Bowl.
"Friday Night Lights" Update: What was probably the series finale of "Friday Night Lights" just aired on DirecTV, though it was marketed as the "third season finale." The third season is now reairing on NBC, and is well worth watching. The (probably) final episode ended in an ambiguous manner, such that it could either close out the series or set the stage for a fourth season with new characters. The (probably) final episode takes place in April 2009, as Dillon High's perpetual seniors are waiting nervously for college letters and pondering life after high school. "Friday Night Lights" episodes are distinguished by high-quality acting, staging and cinematography; by a disparaging written-from-Los Angeles view of small-town events; by an optimistic, almost sweet view of romance as the redeeming force in life; and by hard-to-believe football subplots. All these were on display in the (probably) final episode. "Friday Night Lights" is by a huge margin the best sports-themed series ever to appear on television, and also stands among television's best drama series regardless of subject. The people who made the show should feel proud, and if by some chance NBC does bring the series back, we'll watch.
TMQ News No. 1: I just completed my next book, which is an immense relief. Book writing is like hitting yourself with a hammer: it feels SO good when you stop. I hit myself with this particular hammer for three and a half years. Because books are financed by advances at the outset then royalties long after publication, writers tend to run out of money around the time they are completing the manuscript. That sure happened to me. Being self-employed, I must pay quarterly estimated taxes, and self-employment taxes for the fourth quarter of 2008 were due mid-January. I borrowed from my bank, the Bank of America, to make the tax payment. Last week Bank of America, which had already received a $25 billion federal gift, was given another $20 billion in federal subsidies to cover losses caused by poor decisions by its top managers, all of whom have kept their ritzy jobs and high salaries. So: First the federal government borrowed money, probably from China; then gave the money to Bank of America; then I borrowed some of that money from Bank of America and gave it to the federal government; then the federal government gave the money back to Bank of America.
Increasingly this is how our great nation is financed -- and a reason I am worried about my children's future. For the past eight years, Washington has been run by people who were totally irresponsible regarding the public's money -- George W. Bush, his appointees in the cabinet, at the Federal Reserve and at Fannie Mae and Freddie Mac, and their Democratic enablers in Congress. The 2008 credit meltdown did not materialize spontaneously from a rift in the space-time continuum, it was triggered by fiscal irresponsibility at the top. Barack Obama's first challenge is to put our financial house back in order, quite a challenge considering the magnitude of the irresponsibility and the fact that some of the people to blame remain in power. (One of Bush's many negative legacies is the notion that wealthy or influential persons in government or business should not be held accountable for anything.) To fix the nation's books, there simply is no solution that does not involve higher taxes or reduced Social Security benefits.
TMQ News No. 2: About the upcoming book: On receiving the manuscript my literary agent called to say, "Hey, this could sell!" He's been my agent since 1983 and has, ahem, never said that before. The book is called "Sonic Boom" and has nothing to do with football, or flight for that matter. More soon.
Weasel Coach Watch: TMQ thinks Boston College was justified in firing football coach Jeff Jagodzinski because he interviewed for the Jets' head coaching vacancy. In December 2006, Jagodzinski signed a five-year contract to become Boston College coach -- more specifically, to become the Gregory P. Barber and Family Head Coach of Football at Boston College. Unless that contract specified Jagodzinski was free to entertain offers and dissolve his deal, why should a coach who has three years remaining on a contract be allowed to walk out for a better offer from another team? Now check this Boston Globe story on the hunt for Jagodzinski's replacement. DeFilippo is interested in coaches who currently have posts, but won't come to Boston College to interview. That is -- he wants them to do to their schools exactly what he just fired his own coach for doing!
Jagodzinski was not the football coach, he was the Head Coach of Football! If you know of any amusing college athletic titles that weren't in last year's item on that topic, send them to me here TMQ_ESPN@yahoo.com. Title update: My church just named a new minister. His title isn't minister, he is the Pastor/Head of Staff.
Weasel Investor Watch: Last week subpoenas were issued for J. Ezra Merkin, who is linked to the Bernard Madoff scandal. Officials allege that like Madoff, Merkin pretended to possess an incredible super-ultra-secret investing formula, luring the wealthy into giving him funds to invest. Then, amazingly, Merkin lived well while the money vanished! Merkin's contribution to the art of the confidence game was that he got himself on the boards of colleges and philanthropies and then, from the goodness of his heart, offered to invest endowment reserves using his super-ultra-secret formula. The super-ultra-secret formula turned out to be taking a hefty cut, and then handing the rest to Madoff. According to this New York Times article, by entrusting funds to Merkin, Yeshiva University lost $110 million, New York University lost $24 million, Tufts University lost $20 million and Bard College lost $11 million. Merkin was either a board member or trustee in these places; he's since been fired from all, needless to say.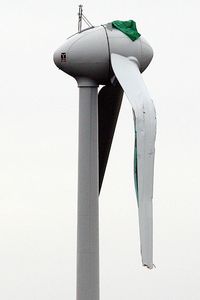 AP Photo/PA, Chris Radburn
Does this look to you like the work of birds?
TMQ continues to wonder why Congress has not noticed that until a few weeks ago, Merkin was the non-executive chairman of GMAC, the financing arm of General Motors. In December, the Federal Reserve allowed GMAC to begin calling itself a bank holding company, which it plainly is not -- Elizabeth Duke was the sole Fed governor to vote against this preposterous subterfuge. Stamping the words "bank holding company" on a car-sales financing enterprise allows it to reach into the federal till; already taxpayers have given GMAC $6 billion, without the slightest public debate. (The 1979 Chrysler bailout, preceded by months of debate, cost about $4 billion, stated in today's money.) That is to say, $6 billion has been forcibly removed from the pockets of law-abiding citizens and handed over to a company which until a few weeks ago had a chairman who is a high-class con artist. The irresponsibility with which George W. Bush, Congress, the Treasury Department and Ben Bernanke have in the past year mishandled public money is breathtaking.
At least there is an amusing detail in all this -- one of Merkin's victims was Marc Rich, who has lost at least $10 million he gave to Merkin to invest. Rich is himself by profession a swindler. He is the man Bill Clinton pardoned a few hours before leaving office in 2001, after Rich's wife made sizable donations to the Democratic Party. Rich had fled the United States to avoid prosecution for illegal financial dealings with Iran, and his case has since dragged in Eric Holder, Barack Obama's nominee for attorney general, Lewis Libby, the Bush White House official who was convicted in 2007 of lying to a grand jury, and other notables. Marc Rich was taken in by a confidence man! That made my day.
Go Down to the Turbines and Slant In, I'll Hit You: Did a UFO cause this damage to a wind-power turbine in England? Many British commentators are saying it must have been a UFO. An errant Joe Flacco pass is another possibility.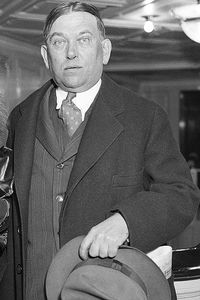 AP Photo
He warned about the crisis-claiming crisis.
Reader Comments: Dave Walcher of Baltimore writes, "Last week you discussed how politicians love a good crisis. You didn't mention what I think is the best quote on the subject, from Mencken: 'The whole aim of practical politics is to keep the populace alarmed, and hence clamorous to be led to safety, by menacing it with an endless series of hobgoblins.'" Matt Melbye of Maple Grove, Minn., writes, "You've made the point that there is no secret money-making formula, yet even intelligent people fall for swindlers claiming to possess secret money-making formulas. I think your own evidence points to one sure-fire fool-proof formula for riches -- become the CEO. You'll be showered with money regardless of how you perform, and it's all perfectly legal."
Jerry Franke of Philadelphia writes, "You've probably seen the story on University of Miami quarterback Robert Marve's decision to transfer to another school. Have you seen the conditions the University of Miami imposed? Initially Marve had to sign an agreement that he would never play for any other college in the ACC, the SEC, or the state of Florida; after public outcry, the forbidden schools were reduced to LSU, Florida and Tennessee. Apparently restrictions on where an NCAA big-deal football player can transfer to are not an uncommon practice. Can the University of Miami math department stipulate that transfers can't study math at any other Florida schools to make sure the competition doesn't learn their teaching strategies? Many businesses impose employment-limitation clauses for skilled workers to avoid having knowledge transfer to their competitors if the employee leaves. But an institution of learning? The legal restrictions placed on Marve were the kind placed on employees. If football factories are going to treat players like employees, why aren't they paid?"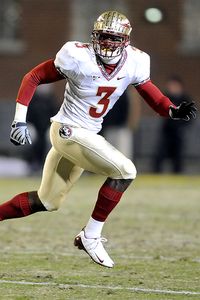 G Fiume/Getty Images
He's running in the correct direction, toward Oxford.
Many readers, including Mike Khalil of Jacksonville, Fla., have written about the marvelous Myron Rolle of Florida State: "Who as I'm sure you know, won a Rhodes Scholarship this year. He is truly the epitome of a student-athlete. He was the #1 recruit in the nation out of high school, then became a three-year starter at FSU before graduating with a degree after two and a half years. He likely would be a [first-round] NFL draft pick this year, except [he] is skipping the draft to study at Oxford. I can say without a doubt that I am more proud of the Seminoles for Rolle's achievements than I was seeing Charlie Ward or Chris Weinke lead Florida State to national championships." Rolle is a heartwarming story. I haven't featured him because his story has been widely covered, including by our own Jemele Hill.
Hidden Play of the Championship Games: Hidden plays are ones that never make highlight reels, but stop or sustain drives. With Pittsburgh leading 16-14, the Ravens had second-and-8 with 5:13 remaining. The Steelers go with a five-man zone rush, and linebacker LaMarr Woodley gets a sack causing a third-and-13. Facing third-and-13 and clearly now worried, Joe Flacco heave-hoed a poor pass that was intercepted and returned for the game-icing touchdown. The sack that made it third-and-13 was a classic hidden play.
Tuesday Morning Quarterback Challenge: Arugula! Arugula! Clear the desks, prepare to dive! The Tuesday Morning Quarterback Challenge returns. (Limited engagement.)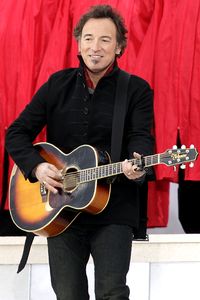 AP Photo/Alex Brandon
The red background: Can it be that Springsteen is a Cardinals fan?
As a fading Baby Boomer, I sure am looking forward to seeing Bruce Springsteen at the Super Bowl. This year I'm taking my 13-year-old, Spenser, to the game, and even he is excited to see Springsteen, though Spenser does seem to be of the impression that Springsteen first toured with Felix Mendelssohn as his sideman. That said, some Springsteen lyrics are puzzling. "I'm sick of sitting 'round here trying to write this book." What book? Or, "The hungry and the haunted/explode into rock-and-roll bands." Or, "They scream your name at night on the street/Your graduation gown lies in rags at their feet." Lots if not most of rock lyrics make little sense, and this isn't an issue with artists such as, say, T. Rex. But Springsteen's claim to fame is that he is a rock intellectual. His lyrics are supposed to be, like, you know, deep.
Thus the Super Bowl Buildup Challenge: Name your favorite bewildering Springsteen lyric and append a short comment. Submit to TMQ_ESPN@yahoo.com, giving your name and hometown for mention in the column. The winner gets a Super Bowl souvenir sent to you personally by me from Tampa. Bear in mind this is a Challenge, not a contest. We promise nothing, the rules are kept secret even from the judges, and the final decision will be completely arbitrary.
Next Week The Tuesday Morning Quarterback All-Unwanted All Pros.