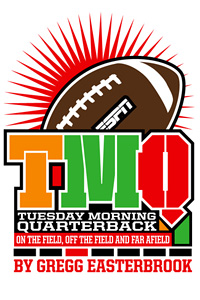 Welcome to Tuesday Morning Quarterback's annual Bad Predictions Review. There is fertile ground to be plowed after a Super Bowl in which the Arizona Cardinals appeared; needless to say, the world is not sagging under the weight of predictions that Arizona would reach the Super Bowl. And if you're thinking, "Hey, I predicted Steelers over Cardinals 27-23" -- actual prediction by ESPN.com's Jemele Hill -- remember, this is the annual bad predictions review.
Category 1 -- Offseason Predictions: "Off" is the operative word. Jersey/B owner Woody Johnson predicted in March 2008, "Eric Mangini absolutely will be our coach in 2009." Sports Illustrated predicted the Patriots' quarterback situation was set: "So what if they don't have an experienced backup? Tom Brady hasn't missed a start since early in 2001." Tom Curran of MSNBC predicted John Fox was "likely" to be fired; the Panthers finished with the second seed in the NFC. Mike Florio predicted in The Sporting News that the Steelers would not make the playoffs and the Titans would finish last in their division (they won the AFC's top seed). The Giants, he predicted, also would miss the postseason; they won the NFC's first seed. On his Web site Pro Football Talk, Florio added that Atlanta made "a major mistake" by drafting Matt Ryan; Ryan was Offensive Rookie of the Year.
Jeremy Green of ESPN Insider predicted "James Hardy has a chance to be a real sleeper this season." Perhaps he meant to say Hardy would oversleep; the wide receiver caught nine passes. Pete Prisco of CBSSports.com predicted Troy Williamson of Jacksonville would have a "breakout" year. Perhaps he meant to say "breakdown" year; the wide receiver caught five passes. John Czarnecki of Fox Sports predicted that the Giants would be glad they kept Jeremy Shockey -- they traded him -- and that of Cleveland, Carolina, Denver, Jacksonville and Minnesota, "two of these five" would reach their conference championships. None did, and only two even appeared in a playoff game. The day after the 2008 NFL draft, ESPN.com's Todd McShay predicted the first round of the 2009 draft. His first choice was Fili Moala of the USC Trojans, going to the Atlanta Falcons, the team McShay predicted would be the league's worst in 2008. The Falcons made the playoffs.
Detroit coach Rod Marinelli predicted the Lions "will not abandon the run" in 2008; the Lions finished 31st in rushing attempts. "Of course the Dolphins are not going to the playoffs this season," Judy Battista of The New York Times predicted; the Dolphins hosted a playoff game. Don Banks of Sports Illustrated predicted the Browns would finish 12-4 and be "the team to beat in the AFC North." Cleveland finished 4-12; coach Romeo Crennel was fired; and AFC North member Pittsburgh won the Super Bowl. Banks further predicted the Lions would finish 9-7; Mark Schlereth of ESPN made the same prediction. Detroit became the first team ever to finish 0-16. Jean-Jacques Taylor of the Dallas Morning News predicted Wade Phillips would be fired at the end of the 2008 season even if things went well; Dallas staged another embarrassing December collapse, yet Phillips was not fired. Curran and the tastefully named Gregg Rosenthal of MSNBC predicted Mike Martz and Alex Smith would be "a great fit" in San Francisco. Martz was fired; Smith was benched for unknown J.T. O'Sullivan.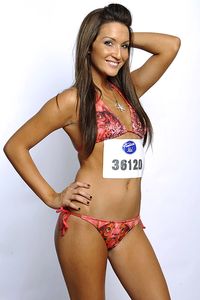 Getty Images
Obviously this photo exists to justify the item.
Obviously This Item Exists to Create a Justification for the Photo:
Katrina Darrell, the bikini model just booted off "American Idol," said she performed poorly because she was tired from wearing stiletto heels the whole day. Katrina, forget singing -- go to work for the Dallas Cowboys as director of excuses.
Category 2 -- Season-Start Predictions: As opening day approaches, every sports page and sports news outlet offers season predictions -- and hopes you don't copy them down. Peter Schrager of Fox Sports predicted the Texans would be the surprise team of the season, saying, "Pencil them in for the playoffs." The Sporting News' football annual predicted Atlanta would finish 1-15, a prediction that did not hold up past the third week of the season.
Fox Sports ran six sets of NFL season predictions, including predicted Super Bowls of Dallas over San Diego (predicted twice), San Diego over Dallas (predicted twice), Dallas over New England and Jersey/A over Indy. Six of the 12 predicted Super Bowl entrants failed to make the playoffs. Alex Marvez of Fox predicted that the Lions would make the playoffs and that "Matt Millen may be the squirrel that finds the nut." What Millen found was his dismissal notice. Czarnecki of Fox predicted Detroit would win more games than Chicago; Detroit finished nine games behind Chicago. Vinnie Iyer of Sporting News predicted six of the 32 NFL teams had no chance of making the postseason -- three of the six were Atlanta, Baltimore and Miami, all of which made the postseason.
USA Today ran eight sets of NFL predictions, including predicted Super Bowls of San Diego over Dallas (predicted three times), Dallas over San Diego (predicted twice), Jersey/B over Green Bay, New England over Dallas and New England over Minnesota. None of the eight predicted Super Bowl winners reached the Super Bowl, and 10 of the 16 failed to make the playoffs. USA Today's Sean Leahy predicted Romeo Crennel would win Coach of the Year; Crennel was fired. Halfway through the season, USA Today updated its Super Bowl predictions -- one of the eight new predictions was Green Bay over Jersey/B, and neither made the playoffs. Thus halfway through the season, with much about the standings known, USA Today was predicting Super Bowl appearances for teams that ended up at home for New Year's.
Sports Illustrated ran nine sets of season predictions, including Super Bowls of San Diego over New Orleans (predicted twice), New England over Dallas (predicted twice), Dallas over New England, New England over Seattle, Seattle over San Diego, New England over Philadelphia and Indianapolis over Dallas. Of nine predicted Super Bowl winners, six failed to make the playoffs, and 13 of the magazine's 18 predicted Super Bowl entrants failed to make the postseason. None of the nine SI-predicted Super Bowl pairings mentioned either of the teams that did make the Super Bowl. Sports Illustrated predicted a total of 36 championship game participants, and 35 were wrong: Paul Zimmerman had the Eagles reaching the NFC Championship Game, while no Sports Illustrated football writer predicted the Steelers, Cardinals or Ravens would reach the title round. Of nine Sports Illustrated-predicted Coach of the Year winners, one was fired (Mike Nolan) and six others failed to make the playoffs. Dominic Bonvissuto of Sports Illustrated predicted the Ravens would have the league's worst record; the Ravens played in the AFC Championship Game. Halfway through the season, with much about the standings known, Sports Illustrated predicted Arizona "won't make a deep playoff run."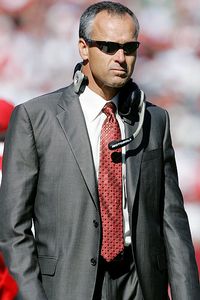 AP Photo/Jeff Chiu
The Coach of the Year! If he hadn't been fired.
Pro Football Weekly ran these dueling sets of Super Bowl predictions: New England over Dallas (predicted twice), Dallas over New England (predicted twice), San Diego over Dallas (predicted twice), Dallas over San Diego (predicted twice), New England over Seattle and San Diego over Philadelphia. Seven of the 10 predicted Super Bowl winners failed to reach the postseason, and no prediction mentioned either of the teams that did reach the Super Bowl. PFW's annual edition had the Cowboys winning the Super Bowl, as did the Athlon annual -- both publications forecast as the Super Bowl winner a team that did not make the playoffs.
The New York Times predicted that "Dallas is the favorite to be in the Super Bowl" and "The Eagles could finish last again." Dallas failed to make the playoffs; the Eagles reached the NFC Championship Game. The Times further foresaw, "Don't bet against a deep playoff push for the Seahawks"; "The Jags may make a deep playoff run"; and "The Ravens are going nowhere this season." Seattle finished 4-12; Jacksonville finished 5-11; Baltimore played for its conference title. The Sacramento Bee printed eight predictions about the NFL season, and seven of them were wrong.
At season's start, ESPN's "Sunday NFL Countdown" Super Bowl predictions were Seattle over Indianapolis (Chris Berman), Tennessee over Jersey/A (Mike Ditka), New England over Jersey/A (Keyshawn Johnson) Dallas over Indy (Cris Carter) and Dallas over San Diego (Chris Mortensen). That made Countdown 0-for-12 in predicting teams that would actually reach the Super Bowl, and four of the six Super Bowl winners predicted by Countdown failed to reach the postseason.
Then there was the incredible ESPN.com meta-forecast, headlined, "Cowboys Emerge as Super Bowl Favorites." ESPN.com ran 16 sets of NFL season predictions, including San Diego over Dallas (predicted four times), Dallas over San Diego (predicted thrice), Dallas over New England (predicted twice), New England over Dallas (predicted twice), Indianapolis over New Orleans, Indianapolis over Seattle, New England over Philadelphia, Jacksonville over Dallas and New England over New Orleans. None of the 16 ESPN.com predicted Super Bowl pairings included either team that actually made the Super Bowl; 22 of the 32 predicted Super Bowl entrants failed to reach the playoffs. Ten of the 16 ESPN.com predicted Coach of the Year winners failed to make the postseason.
And of course, no one in the local space-time continuum predicted Arizona would reach the Super Bowl.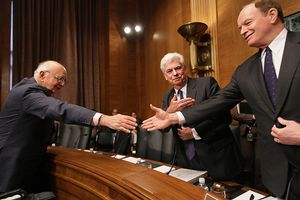 AP Photo/J. Scott Applewhite
"So we're agreed: It's fine to waste someone else's money."
TMQ Hats on Sale for $78 Billion, Treasury Department Said To Be Interested:
The George W. Bush administration was so incredibly careless with your money that, according to
this report
to the Senate Banking Committee, it paid $254 billion this past autumn for bank stock worth $176 billion on the dates of purchase. Seventy-eight billion dollars wasted! Why isn't this on the front page of every newspaper in America? If you made a workplace decision that wasted several thousand dollars, you'd be in hot water -- yet Bush administration White House and Treasury Department officials wasted $78 billion without consequences or accountability. That amount would have been more than sufficient to create universal health care for a year. Instead the money was forcibly removed from your pockets and transferred to the rich of Wall Street and the banking world (buying stock at more than market value effectively is a gift to the firms). Your children will be paying for this and similar irresponsible use of public funds for their entire working lives.
Treasury officials had the temerity to tell Harvard Professor Elizabeth Warren, chairwoman of the bailout oversight panel -- by the way, her excellent 2003 book "The Two-Income Trap" predicted a national financial meltdown caused by bad mortgages -- the mistake isn't quite as bad as it sounds because the stocks purchased have returned $271 million in dividends to taxpayers. So we threw $78 billion out the window but $271 million (three-tenths of 1 percent) blew back! In contemporary Washington, this is viewed as driving a hard bargain.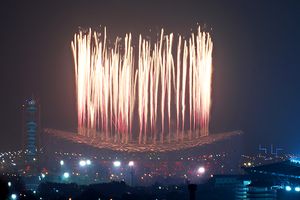 Imaginechina/AP Images
There is a 7.4 percent chance this photo shows the Beijing Olympics.
TMQ Predicts Duchy of Grand Fenwick to Lead Next Olympic Medal Count:
Three years ago, Daniel Johnson, an econ professor at TMQ's beloved alma mater,
Colorado College
, employed an incredibly scientifically advanced computer formula using per capita income, population, "past performance and political systems" to forecast the medals outcome at the Turin Olympic Games. Johnson's predicted medals finish was Germany, Russia, Norway, United States; the actual was Germany, United States, Canada, Austria. Undeterred, Johnson was back with his incredible formula for the Beijing Games, with
Colorado College pronouncing
the formula "remarkably accurate, as much as 95 percent." Johnson predicted a Beijing final medals standing of United States, Russia, China, Germany. The
actual
was China, United States, Russia, Great Britain. The Wall Street Journal used a different incredibly scientifically advanced formula to predict this gold medals final tally: United States 47, China 38, Russia 28, Australia 17, Germany 15, Great Britain 14. The actual was China 51, United States 36, Russia 23, Great Britain 19. The experts at the Journal added with absurd pseudo-precision, "There is only a 7.4 percent chance the Chinese will win the gold medal tally."
Disclaimer of the Week: Reader Bruno Jimenez of Mexico City writes, "Verisign, the biggest company that guarantees security to Internet sites with electronic certificates, asks for Proof of Organization to ensure you are an 'organization that actually exists.' Read the list of acceptable proofs. One is, 'Fictitious Name Statement.'"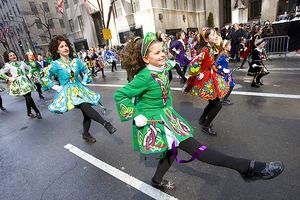 AP Photo/Shiho Fukada
It's Valentine's Day -- let's have a St. Patrick's Day parade.
Unified Field Theory of Creep:
St. Patrick's Day is March 17. Wouldn't that make a nice date for the parade? Not in Hoboken, N.J., where the parade
will be on March 7
. The Philadelphia parade is on March 9; the Dutchess County, N.Y., parade is on March 1. Isn't this like having Christmas on Dec. 15? In reverse creep, reader Natalie Monique of Montreal notes that this year's St. Patrick's Day Parade
in her city
will be held on March 22, almost a week after St. Patrick's Day. Reader Adrian Smith of Chicago writes, "A study
published recently
by researchers at Harvard and the University of California at Berkeley concluded that since 1981, the hottest and coldest day of the year has shifted nearly two days earlier than previously in the century. Even nature is subject to the Unified Field Theory of Creep."
Category Three -- Bad Brett Favre Predictions: Suppose William Tecumseh Sherman had said in 1884, "I sort of guess I could be president, but maybe I kind of don't think I am really into that." Weeping, Brett Favre announced his retirement in March 2008, saying, "I know I can play, but I don't think I want to." The most excruciating story in sports history was on.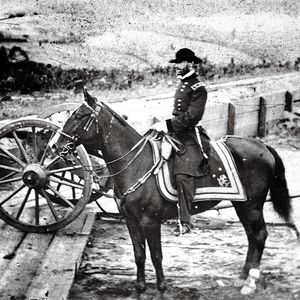 AP Photo
"Maybe I'll run for president ... maybe I'll play for the Jets ..."
A few weeks later, the Los Angeles Times said Favre already was planning a comeback. Peter King of Sports Illustrated and NBC promptly debunked the story, reporting Favre had told him exclusively that a comeback was "the last thing I am thinking about." (For most people, "exclusive" means, "Yours is the only news organization I am speaking to." For Favre, "exclusive" means, "Yours is the only news organization I am speaking to at this instant.") Four days later, King said he was "98 percent certain" Favre would never play again. King wrote, "I talked to Brett for 20 minutes and he's content … to be married to his 465-acre spread in Mississippi and work the land."
In early July, ESPN reported Favre might indeed play anew; Favre promptly told the Sun Herald of Biloxi, Miss., the ESPN story was "all rumor." Sporting News predicted Favre would play for one of five teams: the Bucs, Dolphins, Eagles, Seahawks or Vikings. Soon after, Packers chairman emeritus Bob Harlan declared that "down deep," Favre wanted to stay retired. Speculation began that Favre would land with the Jets, but the New York Daily News scotched such crazy thinking with the July 12 headline, "Source: Jets won't pursue Brett Favre." What did Favre think of the Jets rumor? On July 14, King wrote, "Favre has gone underground. My text messages for him and agent Bus Cook went unreturned." Text messages not returned -- maybe Favre was hiding in the sewers, or in an air shaft! Just two days after King said Favre had "gone underground," the quarterback spoke to a national television audience at the ESPYS in Los Angeles. Is that what life underground was like for Che Guevara? A few days later, King declared that Favre would come back, with the Buccaneers. Apparently the thrill of working the land had worn off.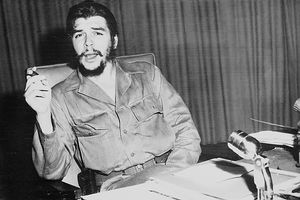 AP Photo
While underground, Che did not return text messages or update his Facebook page.
In mid-July, Pat Kirwan of NFL.com declared with pseudo-precision that Favre was "80 percent" likely to return, this estimate attributed to "people close to Favre." So, people who live in Sumrall, Miss.? On July 24, Adam Schefter of NFL.com reported exclusively that Favre would be at Green Bay training camp the next day; 10 days passed until Favre appeared at Green Bay camp. On July 30, Pro Football Talk predicted Favre would play for Minnesota, saying, "Favre's defection to purple is, to a certain extent, inevitable." Don Banks of Sports Illustrated predicted Favre would not play for anyone in 2008, and Schefter said Favre had only two options: Green Bay or Mississippi.
August arrived, and Green Bay management offered Favre a long-term contract to remain retired and publicize the Packers' brand. On Aug. 1, Favre told Ed Werder of ESPN he would accept the money and not perform again. On Aug. 2, King seconded that, saying, "Favre has all but decided to take the team's offer of a rich, long-term marketing contract instead of playing." Working the land looks a lot better if promotional fees are included! On Aug. 3, Favre told Werder he was on the way to Green Bay to rejoin the team. Suddenly, it seemed Favre would play for the Packers after all; on Aug. 4, Battista of The New York Times predicted, "It may not be much longer till [Favre] returns to the [Packers] starting quarterback job." Forget that Tampa Bay business: King said on NBC, "Favre has definitely decided not to play for anyone except the Packers or Vikings."
That lasted one day! Favre walked into the Packers' practice facility and walked out a few hours later, carrying assorted items in a plastic garbage sack. (Can't millionaires afford a gym bag?) On Aug. 5, Jay Glazer of Fox Sports declared it was "less and less likely" that Favre would ever play again for any team. The same day, King said it was his "strong feeling" Favre would play for the Vikings. On Aug. 6, the Tampa Tribune reported Favre was "on the verge of joining the Bucs. … The deal is likely to be finalized within 24 hours."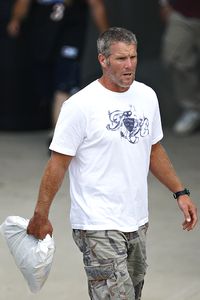 AP Photo/Matt Ludtke
With his $12 million 2008 salary, he could have bought a gym bag.
Then No. 4 was traded to the Jets. Warren Sapp predicted on NFL Network that "There will be no problems with Favre in New York." The season would end with a deafening chorus of boos from the Jersey/B home crowd and the Jets' coach fired. Jeffri Chadiha of ESPN predicted the Packers "will be fine" without Favre; Green Bay dropped from 14-4 in 2007 to 5-11 in 2008. Dan Pompei of Sporting News predicted, "There is no reason [Favre] should not be playing at a very high level this season." Favre led the NFL in interceptions. On Jan. 26, 2009, King said Favre "has had enough" of playing -- but might come back if offered a trade to the Vikings. Aaaaaiiiiiiiyyyyyyeeeee!
Peter King addendum: King makes so many hyperspecific predictions it's hard to know what to take seriously. For instance, as noted by reader Ben Binningen of Switzerland, King predicted that in the Super Bowl, Willie Parker would carry 25 times for 113 yards. Not for about 100 yards but for exactly 113 yards. (Parker ran for 53 yards.) On NBC this fall, King predicted, among other things, that "Roy Williams will not be traded" (two days later, he was traded) and that "the Patriots are definitely going to let Matt Cassel walk & Cassel will not be franchised" (he was franchised). Owing to King's track record, it worries me that he has predicted, "There is no danger of the NFL being interrupted by a labor dispute" in 2009 or 2010.
Obama to Announce Voluntary Speed Limits: Given that TMQ has been railing against big bonuses to CEOs and Wall Street types, you'd think I would be happy about the executive-pay limits Barack Obama announced Wednesday. The announcement got fantastic press for Obama -- our new president is the most gifted media manipulator since Ronald Reagan, and successful modern presidents have had media-manipulation skills. But the "limits" are not what they seem. For most firms that receive federal bailout money, the "limits" are voluntary. Golly gee whillikers, CEOs will voluntarily limit their own pay, won't they? Corporate executives don't need a presidential directive to place voluntary limits on their bonuses, they can do that on their own at any point. The "limits" apply only to firms that receive what the Treasury Department calls "exceptional aid," meaning most of the millions and billions being handed out as gifts to banks around the country will continue to come with no strings attached. So far, three firms have received aid classified as "exceptional" -- AIG, Bank of America and Citigroup. Guess what? AIG, Bank of America and Citigroup have been exempted from the limits. The "limits" announced by Obama would bind any firms that may receive "exceptional" aid in the future, but for now, bind no one.
Perhaps some companies will decide to comply for public-relations reasons. But it's disturbing that one of Obama's first major acts in office is classic Washington make-believe -- something that seems like a sweeping reform but actually is nearly toothless. If the country is to have the change Obama promised voters in his campaign, genuine reform is required, not more exercises in Washington phoniness. Plus, if the new president stakes some of his prestige on what seems like a dramatic decision and it turns out a year from now that CEOs easily evaded the seeming "limits" and stuffed their pockets with tax money anyway, Obama will seem an ineffectual leader.
Our Checked Bags Still Haven't Been Found: The trade journal Aviation Week ran an April 2008 article warmly praising luxury-oriented Eos Airlines: "Something must be right with the business model for Eos Airlines," the article began. Two days later, Eos went out of business.
Prediction: Lions Unlikely to Face Bengals in Super Bowl: Lions coach Rod Marinelli, after Detroit reached 0-12: "We are not going to 0-16." Bengals player T.J. Houshmandzadeh, after Cincinnati reached 0-8: "Are we going to the playoffs? Probably not."
Vote for Hillary! "Hillary is inevitable, she is a juggernaut, and he [Barack Obama] is not going to stop her," columnist Charles Krauthammer said on Fox News. "Hillary Clinton will be the next president of the United States," The Economist touted in its first issue of 2008. (That issue also predicted a boom year for Wall Street.) Hillary "will crush Barack Obama … you heard it here first," Joe Scarborough said on MSNBC. "[Hillary] is a meteor hurtling through space towards the White House," said Kirsten Powers of Fox News. "It is almost inevitable that Hillary will be the nominee," CNN's Strategy Session show announced. "If [Hillary] wins Texas and Ohio, I think she will be the nominee," predicted Bill Clinton; Hillary did win Texas and Ohio and was not the nominee. (Halfway through the primaries, Bill also said, "This campaign is playing out exactly like I thought it would." So he knew all along -- he just forgot to say so!) "I am in it for the long run. It's not a very long run. [The nomination race] will be over by Feb. 5," said Hillary Clinton on the night before the Iowa caucus, predicting her own rapid victory.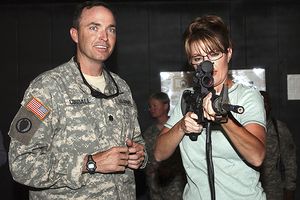 AP Photo/Department of Defense/Pvt. Christopher T. Grammer
ESPN is publishing this photograph as a warning to all moose.
Vote for Mitt! The week before Obama made his vice presidential choice, The Huffington Post said it was "sure" to be Evan Bayh. Three days before the choice, MSNBC said Obama would select Tim Kaine. Before the announcement, Joe Biden told The Associated Press, "I am not the guy." He didn't say which guy! Ten days before John McCain made his vice presidential choice, Politico.com declared the pick was "certain" to be either Mitt Romney or Tim Pawlenty. Seven days before, Time magazine said it had "confirmed" with "senior sources" that Romney would be chosen. The day before the choice, The New York Times said McCain would choose Romney, Pawlenty or Joe Lieberman. No dark horse candidate, the Times said, was under consideration. What about a dark-moose candidate?
The U.S. Air Force Is Already Three Times More Powerful Than All Other Air Forces Combined: In Washington, D.C., news-radio adverts are touting the incredible prowess of the Air Force's new F-22 Raptor. So are these ads supposed to make you want to rush out and purchase a supersonic fighter plane? "Hey kids, let's head over to Lockheed Martin and buy an F-22!" What's happening is that as the new president draws up his first defense budget proposal, Obama is under tremendous pressure to prove he is a tough guy via a defense spending increase -- which seems the last thing the country needs with the defense budget already historically high and debt being a greater danger to the republic than any foreign government.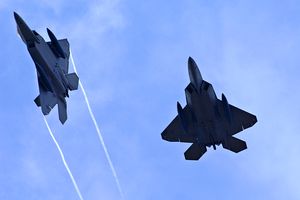 AP Photo/Courtney Witt
The F-22 looks great, performs great -- and was designed for conditions that no longer exist.
Air Force top brass desperately want to buy more F-22 fighter planes; Defense Secretary Robert Gates, a George W. Bush appointee who is staying on in the Obama administration, wants to end F-22 production. The Raptor is the best fighter any nation has ever built, but it was designed for a mission that no longer exists -- Cold War air superiority against top Soviet interceptors. Someday, an unexpected need for the Raptor might happen, considering that actual use of military hardware often differs from planned use. But although the aircraft has been operational for three years, the Raptor has never been deployed in Iraq or Afghanistan, suggesting F-22s lack utility in the low-intensity conflicts expected to characterize future warfare. At any rate, the Air Force already has 180 F-22s. That seems plenty, considering no other nation is even attempting to build a fighter matching the Raptor's characteristics. Gates wants to stop production because the F-22 is very expensive and, as a nearly 20-year-old design, is in some ways already obsolete compared with the upcoming F-35 fighter, which costs less.
But Air Force flyboy types love the F-22 because it looks seriously zoomy and is the sole fighter ever built that can sustain supersonic speed for long periods. Members of Congress from districts where the plane's components are built love the very fact that the airplane is so costly, about $150 million per additional copy -- if only it cost a lot more! Last June, Gates fired the Air Force chief of staff and Air Force secretary, an unprecedented disciplinary act for a Republican defense secretary, because Air Force top brass acted more interested in obtaining F-22s for service prestige than in supplying drones to assist U.S. forces fighting in Iraq and Afghanistan. But Air Force leadership is not excited by drones. If anything, Air Force leadership is worried that drone aircraft will soon put flyboys out of business. (Look up the X-47 in Wikipedia; not only is it pilot-less but it's a Navy idea.) The blue-suit F-22 faction is staging a whispering campaign on Capitol Hill that Obama will be seen as weak unless he buys more superexpensive Cold War fighters. George W. Bush wasted huge amounts on the defense budget; Obama must prove he's tough by wasting huge amounts, too!
"Could" Predictions: Practically anything "could" happen. Jennifer Aniston "could" pose nude for TMQ like she did for GQ (both names contain Qs); Merrill Lynch top management "could' behave responsibly. The Washington Post predicted the Houston Texans "could be in a position to make some noise this season." Well, at least they played really loud rock music at Reliant Stadium. Pro Football Talk predicted, "The Lions could put something together." Perhaps a Lego crawler crane. Bucky Brooks of Sports Illustrated predicted Randy McMichael "could led the Rams back to prominence"; McMichael had 11 receptions as the Rams finished 2-14.
Weekly Game Predictions: The Isaacson-Tarbell Postulate, proposed by TMQ readers Eric Isaacson of Indiana University and Catey Tarbell of Kirkland, Wash., holds: Best Record Wins Unless Records Equal, Then Home Team Wins. If you'd picked 2008 NFL games using this simple algorithm, you would have picked 175 of 267 contests correctly (.665), counting London as a "home" game for New Orleans, Toronto as a "home" game for Buffalo and the Super Bowl as a "home" game for Arizona, which was the home team of record. The Isaacson-Tarbell Postulate is a huge time-saver because you don't have to think about picks -- you don't even need to know who's playing!
How does this result compare to those who actually thought about their picks? Among the "ESPN Sunday NFL Countdown" gang, Tom Jackson finished with 173 correct, almost matching the algorithm. (Note: "Countdown" was a combined 27-28 in forecasting the playoffs.) Chris Mortensen finished with 172 correct in his "Countdown" predictions, 175 correct in his ESPN.com predictions. (Future historians can figure out the difference.) The wisdom of crowds concept did poorly this year, with ESPN.com's SportsNation calling only 154 games correctly. That's barely better than the ultra-generic, off-price Home Team Wins prediction, correct 147 times. Merrill Hoge of ESPN had the best correct total, 178, of any major forecaster I saw, with the exception below. The worst major-forecaster performances were turned in by Jay Novacek of MSNBC, with 155 correct, and Greg Cote of the Miami Herald, with 152 correct. Last year, TMQ noted that Eric and Catey's system worked except in Week 17, when many winning teams have locked in their best possible seed and are resting starters. So I proposed the Transformed Isaacson-Tarbell Postulate, which uses the formula except for regular-season finales. I forecast Week 17 the old-fashioned way -- by thinking -- and went 15-1, wrong only about the Oakland-Tampa game. That gave the Transformed Isaacson-Tarbell Postulate a total of 181 correct calls for the season, the best of any forecaster or forecasting system TMQ could locate. But it was still only .678, which tells you that no matter how smart the analysis, a third of NFL games will not go as expected.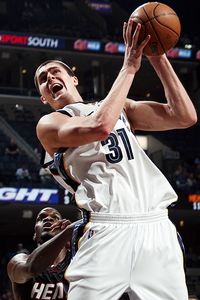 AP Photo/Nikki Boertman
Carmelo Anthony, Chris Bosh, Dwyane Wade -- all taken after Darko Milicic in the 2003 NBA draft.
Bonus -- Bad Basketball Predictions:
Going into the 2007-08 NBA season (that is, last season), Sports Illustrated predicted Kevin Durant would
not
be a "youngster to watch" and Darko Milicic "may finally fulfill his potential." Durant was Rookie of the Year, and Milicic averaged seven points per game. Wait, maybe that means Darko did finally fulfill his potential! After the 2008 Final Four was won by Kansas, Sports Illustrated predicted the winter 2009 Top 10 to be North Carolina, Connecticut, UCLA, Purdue, Kansas, Texas, West Virginia, Georgetown, Duke and Tennessee. Three of 10 correct,
based on the current AP poll
.
Trust Us, We're Experts: In spring 2007, Treasury Secretary Henry Paulson said the housing market was "at or near bottom" and Federal Reserve chair Ben Bernanke said the maximum total loss caused by subprime gimmick mortgages would be $100 billion. Housing prices have declined about 20 percent overall since then, and subprime losses could exceed $1 trillion. On March 11, 2008, Christopher Cox, then chairman of the Securities and Exchange Commission, said Bear Stearns and Lehman Brothers were stable because "We have a good deal of comfort about the capital cushions at these firms." Both failed within months. On March 12, 2008, Bear Stearns CEO Alan Schwartz said his company had no cash problems and "We don't see any pressure on our liquidity." Three days later, Bear Stearns was insolvent. Paulson said using tax money to bail out Bear Stearns for its bad market decisions was "a nonstarter, that will not happen." Two days later on March 14, the federal government gave Bear Stearns $35 billion. In March 2008, Erin Callan, chief financial officer of Lehman Brothers, told investors they should buy the company's stock because Lehman already had its "full-year capital needs" satisfied; in September, Lehman went out of business because it had no cash flow.
In March 2008, James Lockhart, chief regulator for Fannie Mae and Freddie Mac, said rumors of shady dealings in these organizations were "nonsense ... the companies are safe and sound," and in July 2008, Paulson said federal taxpayers would "never pay a cent" to cover losses caused by management errors at Fannie Mae and Freddie Mac. Two months later, Washington committed $200 billion to bail out Fannie Mae and Freddie Mac. On Sept. 12, Paulson said that "under no circumstances" would there be further taxpayer bailouts of private financial firms; three days later, federal taxpayers gave $152 billion to AIG. On Oct. 2, Paulson said the United States would never purchase stock in banks; 12 days later, the United States spent $254 billion on bank stocks.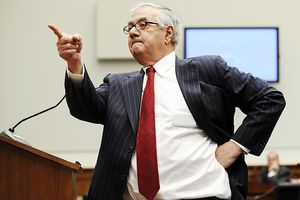 AP Photo/Susan Walsh
"Neatness isn't everything" -- Frank's actual 1980 campaign slogan -- turned out to apply to Fannie Mae accounting.
Retroactive Bailout Prediction:
Rep. Barney Frank, now chairman of the House Banking Committee, in 2000 worked to defeat legislation that would have strengthened oversight of Fannie Mae and Freddie Mac. Why? Because, he said, the two created "no federal liability whatsoever."
If You Don't Like the Weather Forecast, Wait a Few Minutes and It Will Change: Some corporations purchase proprietary weather forecasts rather than simply checking the National Weather Service Web site. Supposedly, having a proprietary forecast enables companies to engage in "weather risk management" with respect to fuel and agricultural contracts. Yet the forecasts are full of vague generalizations and differ little from what the NWS releases for free. Storm Exchange, which gives away some info as a teaser, in May 2008 predicted "largely favorable weather patterns in the Southwest" for the remainder of the year; instead, most of the Southwest experienced drought. Storm Exchange further predicted that pleasant weather in the fall would be "a boon to retail sales"; retail sales experienced their sharpest drop since World War II. The Weather Research Center predicted a 90 percent chance of a hurricane striking the Southeast in 2008; none did, though winds from Hanna, a relatively mild hurricane, brushed Myrtle Beach, S.C. If you're planning ahead, Weather Research predicts a 70 percent chance a hurricane will strike the Southeast in 2011.
TMQ's favorite forecaster, pumped-up Joe Bastardi of Accuweather -- he and his wife are competitive bodybuilders -- warned in spring 2008 of a "heightened risk for the eastern United States coastline," including a "major hurricane" striking as far north as New England. Nothing like this happened, though remnant winds from Hanna were felt in Rhode Island. Bastardi markets private forecasting services to corporations by boasting of his correct calls but saying nothing of his failed forecasts. For instance, Bastardi praises himself for predicting that Tropical Storm Humberto would grow into a hurricane in 2007, while neglecting to note that his primary hurricane forecast for 2007 was "the U.S. Gulf Coast is at much higher risk of destructive tropical weather" than in past years. Instead, 2007 hurricane activity on the Gulf Coast was far lower than in 2004 and 2005.
Why Do Playmobil Figures Have No Noses? Beck Based Them on Children's Drawings of Faces: Last week, Hans Beck, inventor of Playmobil toys, died at his retirement home in Germany at age 79. Imagine spending your life designing toys for little children. Here is Beck's own favorite Playmobil -- a pirate ship. Working anchor! Space for treasure!
Iraq Predictions: Just before the March 2003 invasion of Iraq, Defense Secretary Donald Rumsfeld estimated the maximum cost of an Iraq war would be $60 billion. When Lawrence Lindsey, then George W. Bush's chief economic adviser, countered that the cost would be $200 billion, Rumsfeld called that number "way too high," and Lindsey was promptly fired. So far, Congress actually has allocated about $700 billion for the war; recently the Congressional Budget Office estimated that long-term medical care and disability payments for injured Iraq veterans, replacement of destroyed military equipment and interest on the increased national debt caused by borrowing for the war will push the ultimate cost to about $2 trillion. See this 2002 document in which the CBO, then led by Dan Crippen, a Republican, forecast almost exactly what the Iraq war would cost: The forecast was ignored by the White House, Congress and the media.
Beware "Best" Bets: In its regular issues, Pro Football Weekly publishes two or three "best bets," to entice readers to sign up for an online Handicapping Inner Circle product that costs $59.95 annually. In 2006, the PFW Best Bets went 31-34-2; in 2007, 32-36; in 2008, 35-32-1. That's a three-year total of 98-102-3, meaning when Pro Football Weekly pundits are certain they are right, they are usually wrong. To pay extra for advice from those whose "best" bets are usually wrong seems like paying Merrill Lynch $10 billion for investing advice. Wait, taxpayers did exactly that -- and the advice turned out to be, "Give us another $25 billion." Sports writer Matt Bonesteel of The Washington Post picked a Lock of the Week this season, and went 8-9 -- meaning when he was certain he was right, he was usually wrong. The ESPN Countdown gang picked Dead-Bolt Locks before each "Monday Night Football" game. Mike Ditka was 6-10, and only Steve Young and Cris Carter finished above .500.
We Don't Know What the Weather Will Be Tomorrow, But We Know What Will Happen in 7.59 Billion Years: Writing in the Monthly Notices of the Royal Astronomical Society, astronomers Klaus-Peter Schroeder and Robert Connon Smith predicted that owing to the expansion of the sun, the Earth will be destroyed in 7.59 billion years. Not in about 8 billion years, not in about 7 billion years -- in precisely 7.59 billion years.
Great Moments in Predictions: On the eve of the college football season, The New York Times projected the exact finish of all 120 Division I teams. The paper had Texas Tech 13th, Penn State 18th, Alabama 25th, Cincinnati 28th, TCU 33rd, Northwestern 60th, Buffalo 88th and Vanderbilt 93rd. The paper forecast that "no one will be able to stop Tulsa" (Arkansas, East Carolina and Houston were able to) and that new coach June Jones "will transform SMU into a conference contender in no time." The Mustangs finished 1-11.
Dewey Blows Out Truman! Politico.com predicted John McCain could win the presidency in a "blowout."
Category Four -- Bad TMQ Predictions: "The Steelers were the best 2007 team to draw little media notice. They finished third in points allowed, ninth in points scored -- the sort of combination normally associated with a Super Bowl entrant." So I wrote in my preseason preview: so far, so good. Then again, I forecast the Packers to finish 13-3, Arizona to finish 6-10, Carolina to finish 5-11, Miami to finish 2-14. I am glad no one does a Bad Predictions Review of my bad predictions.
TMQ predicts the final season records of NFL teams, and had just 13 of 32 either exact or within one game of exact. Since my annual average is 15 of 32 exact or within one game, that's not much of a forecasting performance. Then again, the main Sports Illustrated prediction had seven teams either exact or within one of exact. My worst call, from August: "Indianapolis is my pick to go back to the Super Bowl this year, and I think a Peyton versus Eli Super Bowl is a realistic prospect." The Colts and Giants both lost their opening-round postseason games.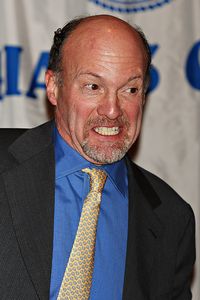 Scott Gries/Getty Images
"Mad Money," indeed.
Cramer Also Advised Listeners to Buy Tulip Bulbs and Nutria: On March 11, 2008, James Cramer, arm-waving star of the cable investing show "Mad Money," declared, "Bear Stearns is fine, Bear Stearns is not in trouble ... don't move your money." Over the next three days, Bear Stearns stock dropped from $71 to $10. On July 16, 2008, when the Dow Jones Industrials was at about 11,500, Cramer advised viewers to "buy, buy, buy" because the stock market had bottomed out and would rise; five months later, the Dow had fallen to about 8,500. On June 24, Cramer said Wachovia Bank was "crash material" and urged viewers to sell Wachovia stock, then trading at $18. On Sept. 19, Cramer called Wachovia "a strong buy" at $14, saying the company was "likely to be a winner" in the federal bailout-a-rama. Two weeks later, Wachovia was essentially liquidated, with stockholders receiving $7 per share. A few days after that -- after Cramer had given a succession of spectacularly bad financial advice that would have caused anyone who listened to lose his or her shirt -- "The Today Show" had Cramer on to give financial advice.
His advice? Most investors should get "out of the stock market right now," meaning sell your stocks at a loss, and use some of what's left to buy gold. When he said this, the Dow was at 10,000 and gold at $875.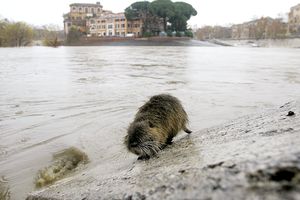 AP Photo/Pier Paolo Cito
Cramer on nutria: "Buy, buy, buy."
Anyone who did exactly what Cramer said -- buying stocks in July, then selling them in October -- would have taken a major loss in just three months. Cramer's "Today Show" appearance is viewed by financial analysts as having been like shouting "fire!" in a crowded theater; he convinced many people to sell, and thus helped depress the market, because when the supply of stock for sale increases, prices decline. Cramer's much-ballyhooed investing advice seems to boil down to: Buy when prices are rising and sell when prices are falling. This is the core psychology of bubbles, and a great way to lose money.
This is the right approach: Buy stocks only if you plan to hold them for years, and never try to beat the market by jumping in and out! Here's my prediction: in October 2009, the one-year anniversary of Cramer's "get out now" declaration, the Dow will be above 10,000 and gold will be below $875.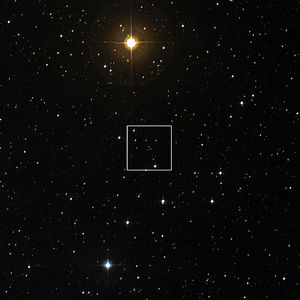 DSS/STScI/AURA
Mysterious explosions began when the universe was young. That's not a good sign.
Bummer Cosmic Thought: Recently, astronomers glimpsed the most distant gamma-ray burst ever observed -- so far away it may have occurred only about a billion years after the universe formed. If gamma-ray bursts are caused by dying super-massive stars, as some cosmologists think, this is the oldest (or youngest, from the perspective of the cosmos) such death so far observed. But as TMQ cautions about gamma-ray bursts, don't assume they must be natural. Maybe they are the muzzle flashes of doomsday weapons. Maybe what GRB 080913 tells us is that shockingly soon after life began, so did the horror of combat.
Reader Comments: Jacob Holloway of Fruitland, Md., writes, "The fourth quarter of Super Bowl XLIII saw 23 points scored, almost as many as the previous three quarters combined (27). In the nine Super Bowls played this millennium, an average of 9.1 points are scored in each of the first three quarters, but an average of 18.3 scored in the final quarter. This probably means something that a smart coach could take advantage of, but I have no idea what."
Eric Skaugset of Redlands, Calif., writes, "Your item in last week's column regarding the Federal Reserve buying bonds from the Treasury Department reminded me of an article in the Los Angeles Times recently. Some California cities are selling their streets and buildings to local financing authorities, then leasing them back. The financing authorities issue bonds, which they can do without voter approval. The kicker is that the elected officials who make up the city council doing the selling, and the financing authority doing the buying, are essentially the same. So we're pushing the art of fishy public financing here in California." Eric, here's something else to worry about: The issuing of municipal bonds, and insurance on such bonds, is historically fraught with fraud; no-bid contracts and inflated commissions tend to go to cronies. Each time a local government uses the on-paper ploy of selling an asset and then leasing it back, multiple opportunities for corruption are created. Wouldn't it be nice if government bodies simply matched outlays to revenues? But when you do that, it's a lot harder to skim from the public till.
Bryan Watts of Denver notes that in Roger Goodell's pre-Super Bowl chat with Bob Costas, Goodell said the NFL is now investigating "maybe putting a chip in a ball so that we can determine exactly when a ball crosses the goal line." Chipping the football is, of course, a long-standing TMQ cause. I said James Harrison should have been Super Bowl MVP. Numerous readers protested he was not the right candidate, having been called for a personal foul during the contest. One noted in haiku,
MVP award:
The P stands for best player
not best punch-thrower.
-- Benjamin Johnson
Category Five -- Bad Super Bowl Predictions: Michael Wilbon of ESPN and the Washington Post predicted Pittsburgh would win "on the strength of a sack-strip-fumble recovery in the final 90 seconds." Wait, that's exactly what happened -- erase that prediction! Since most authorities picked the favored Steelers, let's turn to the incredible celebrity ring-up conducted annually by David Nielsen of Scripps-Howard News Service. For 20 years, Nielsen and his colleagues have called celebrities the week before the Super Bowl to ask their exact final score predictions. So far he has collected 1,741 final score predictions, and two have been correct: Martina Navratilova predicted Denver 31, Green Bay 24 in 1998 and tough-guy actor Dennis Farina predicted New England 24, Philadelphia 21 in 2005.
In 2000, TMQ did an incredibly scientifically advanced calculation of the odds of predicting an NFL final score, if working within the band of probable outcomes. (Which teams are playing has nothing to do with it.) I concluded there was roughly a one-in-500 chance of an exact final score prediction being correct. The Scripps-Howard celebrity ring-up has tested this notion and so far has produced two of 1,741 correct. Back when the Multicolored Lady predicted NFL final scores, TMQ had a running item called New York Times Final-Score Score. Times predictions ended on the last day of 2003, and at that point, the paper was 3-for-1,085. Add these two score-prediction test cases together and you get 5-for-2,826 correct: all but square on the one-in-500 result that Tuesday Morning Quarterback predicted in 2000. Thus, I predicted the ability of people to predict!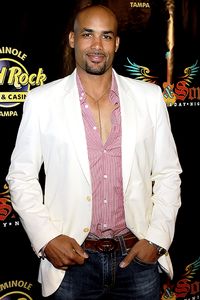 Chris Gordon/Getty Images
James Blake's Super Bowl prediction creates a perfectly legitimate reason for a beefcake photo.
Anyway, here are some selections from this year's Scripps-Howard celebrity derby. Poet Maya Angelou predicted Arizona 27-16 "because the Cardinal bird is so poetic." Paul Pierce of the Celtics predicted Pittsburgh 31-17 "because the Steelers won't be overwhelmed with all the hype." Penn and Teller predicted Pittsburgh 27-17, noting, "Ben Roethlisberger has an unbeatable motivation, the NFL promised that if he wins a second Super Bowl, he can put an umlaut on his uniform." Newly sworn-in Interior Secretary and TMQ college classmate Ken Salazar predicted Arizona 21-14. Tennis stud James Blake predicted Pittsburgh 24-10. Vanilla Ice predicted Arizona 31-21, adding with rare self-awareness, "I don't know why I believe this." Oscar-nominated actress Taraji Henson predicted Pittsburgh 45-12. (Hint: choose score pairs in the probable-outcomes band.) Actress Connie Britton of "Friday Night Lights" predicted the Dillon Panthers would win the Super Bowl. Cartoonist Scott Adams predicted Pittsburgh 21-14 because "a steelworker should be able to stomp a bird."
Now let's examine two Scripps-Howard predictions closely. First, outgoing CIA director Mike Hayden was close with a forecast of Pittsburgh by 10 points. Two years ago, Hayden predicted Indianapolis would beat Chicago by 13 points in the Super Bowl, and the actual by Indianapolis by 12 points; last year he predicted Giants over Patriots 17-14 in overtime, and the actual was Giants over Patriots 17-14 in regulation. So the Central Intelligence Agency was totally wrong about Iraq, yet has sophisticated insights into the Super Bowl. What are CIA agents really doing all day long?
Second, former Playboy model Pilar Lastra, now a briefcase-holder on "Deal or No Deal," predicted Pittsburgh 28-24; Miss United States, Crystle Stewart, predicted Pittsburgh 27-21; former Miss Panama, Patricia de Leon predicted Pittsburgh, 27-24. Lastra, Stewart and de Leon came closest of the 100 Scripps-Howard predictions to the exact final score. Three years ago, Playboy model Andrea Lowell came within one point of predicting the exact Super Bowl score; two years ago, one of the closest Scripps Howard predictions was from Playboy model Kendra Wilkinson. If scantily-clad mega-babes are better than washed-up jocks at predicting football outcomes, perhaps ESPN should re-examine its business model.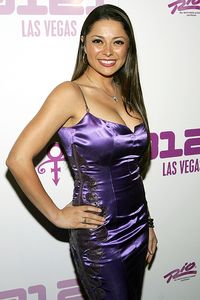 Ethan Miller/Getty Images
If ex-centerfolds predict football better than ex-jocks, numerous business models need to be re-examined.
Worst Predictions of the Year: If you think the above predictions are bad, here are the pits:
Honorable Mention: Skip Bayless, ESPN/Deuce: "Brett Favre absolutely, definitely will play for the Packers next season." Said the day Favre announced his March retirement.
Honorable Mention: Hub Arkush, publisher, Pro Football Weekly, August: "Pittsburgh looks to me like a club headed in the wrong direction."
Honorable Mention: Phil Simms, CBS, to the Milwaukee Journal Sentinel in July: "I hope Brett Favre stays retired." Simms on air on CBS in September: "Favre clearly made the right decision by coming back."
Third Runner-Up: Tuesday Morning Quarterback, Page 2, early December: "The Chargers and Eagles are all but mathematically eliminated." Both made the playoffs.
Second Runner-Up The incredible ESPN.com meta-forecast. Ten of the 16 ESPN.com-predicted Super Bowl winners failed to make the playoffs.
First Runner-Up Mike Florio of Pro Football Talk and The Sporting News. In early October he wrote, "It's not too early to say that it's over for the Ravens." The Ravens made the AFC Championship Game. In July, Florio predicted the AFC North would have no team above .500; both AFC title-game entrants came from the AFC North. The Steelers "haven't done much in the offseason to improve," he foresaw.
Worst Prediction of the Year: Alex Marvez of Fox Sports, who predicted Pittsburgh would be the season's "most overrated" team while Detroit would be "most underrated." Pittsburgh won the Super Bowl; Detroit went 0-16.
TMQ Season Sign-Off: Tuesday Morning Quarterback folds its tent and steals off into the desert till August, though will resurface briefly around the NFL draft. As usual, I recommend you employ the offseason to engage in spiritual growth. Take long walks. Perform volunteer work in your community. Exercise more and eat less. Attend worship services of any faith. Drink less coffee, more green tea. Appreciate the beauty of nature -- God did not make nature by accident. Read one of the great books you've always meant to read. Be with your family and friends. As Barbara Bush said to the graduating class of Wellesley College in 1990, "At the end of your life, you will never regret not having passed one more test, not winning one more verdict or not closing one more deal. You will regret time not spent with a husband, a child, a friend or a parent."
Of newly released works, in political books, I recommend "The Party Faithful" by Amy Sullivan; in science, "Why Evolution Is True" by Jerry Coyne; in psychology, "Beyond Revenge" by Michael McCullough (explains why the desire for retribution is an evolutionary proclivity we must overcome); in general nonfiction, "Traffic" by Tom Vanderbilt (hilariously shows that traffic jams have plagued society at least since the days of the Caesars); in economics, "Good Capitalism Bad Capitalism" by William Baumol, Robert Litan and Carl Schramm; in history, "A Nation on Fire" by Clay Risen (about the murder of Martin Luther King Jr. -- the night before King died, he said, "Only when it's dark can you see the stars"); in self-published books, "The Losing Game" by T.E. Scott, which argues Wall Street is a giant hustle designed to separate investors from their money; in sports, "Positive Sports Parenting" by Jim Thompson, a book every youth-league and high-school coach and parent should read; in humor, "Our Dumb World" by the writers of The Onion; in fiction, "Bridge of Sighs" by Richard Russo and "Lark and Termite" by Jayne Anne Phillips.
Read, mediate, serve others: Do these things, and you will feel justified in racing back to the remote, the swimsuit calendars and the microbrews when the football artificial universe resumes anew in the autumn.
In addition to writing Tuesday Morning Quarterback, Gregg Easterbrook is the author of "The Progress Paradox: How Life Gets Better While People Feel Worse" and other books. He also is a contributing editor for The New Republic, The Atlantic Monthly and The Washington Monthly.