Commentary
The NFL draft must be mocked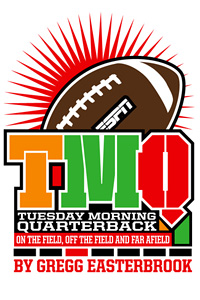 With the NFL draft approaching -- oh, you hadn't heard? -- it's trendy for sports pundits to say the teams at the top wish they had lower selections, owing to the outrageous bonus demands of top choices and the media pressure that comes with choosing high. This isn't a new problem! Eight years ago, TMQ made this very point. The free market must not be entirely rational if Wall Street executives and high NFL draft choices are so overpaid compared to how they perform. Including this year, it's usually not even clear whom the team holding the first selection should choose -- the last consensus No. 1 choice was Carson Palmer in 2003. Two college professors have gotten ink for proposing that teams with high selections should trade them straight-up for lower selections. This year the buzz question has been whether the Lions, holding the first choice, should simply refuse to pick -- putting the Rams on the clock and allowing the Lions to go second, thus saving maybe $5 million in bonus money.
Perhaps if the Lions refused to pick, then the Rams would refuse to pick and the Chiefs would refuse to pick and the Seahawks would refuse to pick. In an everyone-passes scenario, how far down would you have to drop to find a team willing to choose first? My guess is you'd get all the way to choice No. 17, the Jets, to find a team that would volunteer to choose first and pay first-selection money. Then again, the way PSL sales are going for the new New Jersey stadium, even the Jets might pass.
But no team holding a top choice will ever pass or trade down straight-up, for a reason college professors and sports pundits overlook: public relations. Public image has monetary value for businesses -- the money a team would save by deliberately surrendering a high draft choice would be lost in negative public relations. Suppose last year, when the Dolphins held the first selection and there was no consensus No. 1 choice, Miami had deliberately passed in order to drop to the second or third position. Suppose the Dolphins had then ended up with Jake Long, the player they chose first in 2008, anyway, and saved millions on his bonus. The bad feelings and negative publicity would have gotten the Dolphins' season off to a horrible start, and perhaps there would have been no worst-to-first turnaround. The NFL is, first and foremost, a form of entertainment. High draft choices are entertaining for a team's fan base. By drafting first, at the very least you can leave 'em laughing!
As for the claim that no team wants to trade up into the top 10 because of high bonuses and little difference between the talent in the top and the middle of the first round: Touts said that last year too, and then on draft day, Jacksonville and New Orleans traded up into the top 10. As regards rookie deals, there is increasing pressure for the NFL to adopt an NBA-style rookie wage scale. A year ago, NFL commissioner Roger Goodell said it was "ridiculous" that high-first-round choices, who have never played an NFL down, signed for more money than established NFL stars. It is indeed ridiculous. In recent years, the first-selection guaranteed-money average has been $29 million, meaning draft picks have hauled in more guaranteed money than LaDainian Tomlinson received in the deal he signed three years ago at the peak of his career. It is equally ridiculous, but less commented on, that first-round choices receive so much more than midround choices, when football is a team sport, and midround players often outperform first choices. Last year the average guaranteed money for a first-round choice was about $8 million -- for a fourth-round choice, about $300,000. There's no way the typical first-round draftee means 27 times as much to his NFL team as the typical fourth-round draftee. But that's how the pay assumptions work.
The NFL Players Association has fought a rookie wage scale on the assumption it would just be used to cut overall payments to players. But since there is now both a salary cap and a salary floor -- this year NFL teams can spend a max of $127 million on players, but must spend a minimum of $111 million -- limiting the bonuses at the top of the draft would result in more money paid to veterans, and also more paid to low-drafted players. Thus, reducing bonuses at the top would not reduce total monies paid to NFL players, and would make the overall pay structure fairer. It's just that having Goodell say this does no good, because any pay plan backed by the commissioner is assumed by players to be a trap. The NFLPA must come around to believe in rookie pay reform on its own. Goodell should say he strongly favors preserving the current draft bonus system -- then players would want to change that system!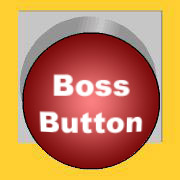 In other draft news, last month the top of the Scouts Inc. player board read Aaron Curry, Michael Crabtree, B.J. Raji, Eugene Monroe and Jason Smith. What do these five collegians have in common? They're all from schools with good football graduation rates. Wake Forrest (Curry) is at 83 percent; Texas Tech (Crabtree) at 79 percent; Boston College (Raji) at 92 percent; Virginia (Monroe) at 66 percent; and Baylor (Smith) at 78 percent. So you can have a monster-good football program and still graduate most players -- please tell that to Texas (50 percent) and Alabama (44 percent). Check any Division I college's athletic graduation rates here.
Here's some draft advice. The top three offensive teams last season -- New Orleans, Denver and Houston -- did not make the playoffs. The top three defensive teams last season -- Pittsburgh, Baltimore and Philadelphia -- all made the playoffs. Now, what should your draft strategy be? In addition to drafting for defense, follow the leads of Baltimore and New England, rightly regarded as the best current drafting teams. The Ravens' draft coup last year with Joe Flacco -- not only picking this little-known gent, but trading twice in the first round to gain extra choices while moving down to save bonus costs -- is but the latest in a recent line of Baltimore draft day successes. As for the Flying Elvii, last year on draft day, needing front-seven help, they traded down, passing on the chance to draft touted front-seven players Sedrick Ellis, Derrick Harvey and Keith Rivers, in order to select Jerod Mayo and gain an extra choice, which they exercised on linebacker Shawn Crable. Rivers had a sound rookie season, but Ellis was invisible with 30 tackles, while Harvey, supposedly a sackmaster, rarely was in the same area code as opposing quarterbacks. Mayo was terrific for New England, and Crable looks like a quality addition.
Going into Saturday's draft, New England has stockpiled three second-round choices -- look for the Patriots to choose wisely while others around them reach. I'd rather have New England's draft position than the positions held by Buffalo, Denver or Detroit, even though each of these teams has two first-round choices. Detroit is under pressure not to blow the first overall pick; Denver has a history of first-round busts (Dan Williams, Marcus Nash); and the Bills haven't made a smart choice about linemen in some 15 years (recent first-round line busts John McCargo, Mike Williams and Erik Flowers). New England can accomplish more with three second-round choices than most teams can accomplish with two first-round selections.
In other sports news, at this time of year every Tom, Dick and Harriet has a mock draft, but only Tuesday Morning Quarterback actually mocks the draft, with my annual mock of mock drafts, which follows. And everyone projects the first round -- some boards even forecast the middle rounds. But Tuesday Morning Quarterback annually goes where others fear to tread by forecasting the last round; see below for my annual seventh-round mock draft. In cultural news, "Friday Night Lights" was renewed, but "Battlestar Galactica" has made a hyperspace jump into oblivion -- see below for the incredible series finale of Battlestar Galactica Complaints.
THE ANNUAL MOCK OF MOCK DRAFTS
1. Detroit Lions: Edward Liddy, CEO, AIG
By the standards of the 0-16 Lions, AIG is a huge success.
2. St. Louis Rams: Mark Grieb, quarterback, Anaheim Piranhas, Milwaukee Mustangs, Scottish Claymores, Las Vegas Outlaws and San Jose SaberCats
Last year Grieb threw 100 touchdown passes in the Arena League, which isn't operating in 2009, though hopes to resume in 2010. The Rams could snatch up this potential new Kurt Warner.
[+] Enlarge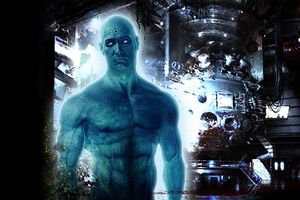 Warner Bros.Those all-blue Seahawks would look more formidable with an invincible mutant at linebacker.
3. Kansas City Chiefs: Buck Buchanan, defensive tackle, Grambling
The state of Missouri (Rams and Chiefs) has gone 11-53 the past two NFL seasons. Seriously, this is awful.
4. Seattle Seahawks: Dr. Manhattan, naked blue superhero
He could play for the Blue Men Group without needing a uniform, thus cutting costs.
5. Cleveland Browns: Jim Brown, running back, Syracuse
Ohio, you're not looking so good either -- 8-23-1 in the NFL in 2008.
6. Cincinnati Bengals: Tim Geithner, secretary, U.S. Treasury
The Bengals' ownership hopes the TARP fund will buy up the franchise as a toxic asset.
7. Oakland Raiders: Jaymin Patel, president, GTECH, "architects of gaming"
The California state lottery supposedly exists to fund schools, but only 1 percent of the state's public schools budget comes from lottery revenue. Gov. Arnold Schwarzenegger has called for a vote next month on a major expansion of the California lottery program, which is run by GTECH. A wit once called lotteries "a tax on stupidity," since there is almost no chance you will win, while total assurance you will lose the average of $190 annually that Americans throw away on government-run roulette. Worse, public lotteries, with their glitzy false promises of instant wealth, are a tax on poverty -- as David Brooks of The New York Times has noted, households with an income under $13,000 spend an average of $645 annually on scratch-off tickets, meaning the poor are the main group throwing away cash at government lotto sites. For California or any state to do little of substance to help the poor, then to place flashy gambling machines in convenience stores to trick the poor into handing over what little spending money they possess, is beyond cynicism.
8. Jacksonville Jaguars: Macho B, believed to be the last wild jaguar in the United States
Federal officials are conducting a criminal investigation into the circumstances under which Macho B was recently trapped and euthanized.
[+] Enlarge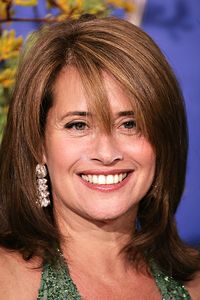 Carlo Allegri/Getty ImagesDon't tear a page out of the Broncos' game program during a therapy session. Dr. Melfi will get mad.
9. Green Bay Packers: James L. Kraft, door-to-door cheese merchant
It's time for Packers fans to forget the Brett Favre era and get back to their roots -- wearing cheese on their heads. Kraft, who began selling cheese from a horse-drawn wagon in 1903, went down in history as the developer of pasteurized processed cheese, while Kraft employee Edwin Traisman invented Cheez Whiz. Recently, Cheez Whiz was repackaged in a wide-mouth jar that allows direct dipping, sparing indolent consumers the bother of picking up a knife.
10. San Francisco 49ers: Ralph Ostrove, founder, Paul Stuart clothiers
The Niners have gone from a coach who wears business suits on the sideline to a coach who drops his pants in public; they might benefit from this high-end fashion store that caters to men. Stuart's new business-casual affiliate says it offers a "curated collection."
11. Buffalo Bills: Kurt Bryan and Steve Humphries, coaches, Piedmont High School of California, creators of the A-11 offense
The Bills appear to be planning to enter the 2009 season without any offensive linemen at all, so an everyone-eligible offense might be their only hope.
12. Denver Broncos: Dr. Jennifer Melfi, psychiatrist
She can help coach Josh McDaniels and owner Pat Bowlen talk through their issues about communicating with players.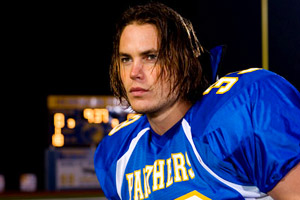 Courtesy of NBCThe end of his Panthers career was emotional -- after all, he'd been playing high school football for seven years.
13. Washington Redskins: Charles Ponzi, Italian investment adviser
He would run government spending much more responsibly than the George W. Bush or Barack Obama administrations. Already the federal deficit is $1 trillion just for the first half of the current fiscal year. The deficit grew by $193 billion in March alone -- that's more than the entire federal deficit for fiscal 2002. The full deficit for fiscal 2009 is projected to be $1.8 trillion, four times the previous highest federal deficit. On the day George W. Bush became president, U.S. public debt was $5 trillion; at the end of this fiscal year, public debt will be $12 trillion. In a single decade, the country will have borrowed more money than in its entire previous 211 years of existence. And there is no national emergency. The economy is cold, but not as bad as 1981-1982, when no special spending programs were enacted. The bill for Washington's unaccountable, undisciplined borrowing will be handed to the young. Future generations may curse the names Henry Paulson and Nancy Pelosi.
[+] Enlarge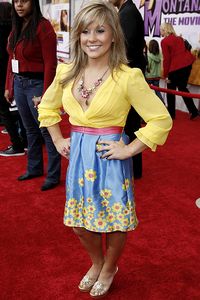 AP Photo/Matt SaylesShe sure can dance -- which is what receivers did in the San Diego secondary last season.
14. New Orleans Saints: Tim Riggins, fullback, Dillon Panthers
Between the "Friday Night Lights" movie and TV series, he just finished his seventh year of high school football. That ought to make him eligible to jump directly to the pros.
15. Houston Texans: Allen Stanford, owner of the Houston-based Stanford Financial Group, alleged Ponzi scheme operator
The Texans will allow seasons-ticket buyers to invest their tickets in a fund that will pay back even more tickets, but only so long as the number of season-ticket buyers who join the fund endlessly increases.
16. San Diego Chargers: Shawn Johnson, gymnast and dancer
She's a little undersized to play cornerback in the NFL, but the 31st-ranked Chargers passing defense can't get any worse.
17. Jersey/B Jets: Jon Stewart, Comedy Central
Unlike the Jets, he still actually performs in New York.
18. Denver (from Chicago): Rod Blagojevich, former governor, Illinois
Will institute "pay to play" policy in the Broncos' huddle.
[+] Enlarge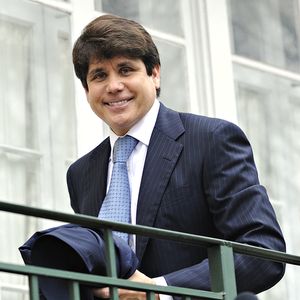 AP Photo/Paul Beaty"I ask, Your Honor, is this not the face of an honest man?"
19. City of Tampa Buccaneers: Caprica Six, evil hot-babe cyborg, "Battlestar Galactica"
Will lead the Bucs' glamorous cheerleaders in an insurrection against humanity.
20. Detroit (from Dallas): Matt Millen, former team president
After he was fired in September 2008, the Lions went 0-13 for the rest of the season anyway. So the losing was never really his fault! Come back, Shane!
21. Philadelphia Eagles: Dr. Strangelove, doomsday fanatic
Philadelphia-based Comcast and NFL Network have their hands wrapped around each other's throats, seemingly bent on mutually assured destruction. Maybe Dr. Strangelove could negotiate a compromise.
[+] Enlarge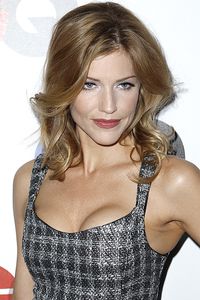 AP Photo/Matt SaylesActress Tricia Helfer, who played an evil robot temptress on "Battlestar Galactica."
22. Minnesota Vikings. Al Franken, retired comedian
He could play a few years for the Vikings while waiting for the 2008 Minnesota senatorial election to be settled.
23. New England Patriots. Tajh Boyd, quarterback, Clemson
Since he has never started a college game, he fits right into the Matt Cassel developmental profile.
24. Atlanta Falcons. Joshua Vick, 19th century pharmacist, inventor of Vick's Vaporub, originally marketed as Vick's Magic Croup Salve
Since the Falcons are done with Michael Vick, at least they can make peace with his last name.
25. Miami Dolphins. Tony Soprano, waste-hauling executive
Will join Tony Sparano's staff, be assigned to visit opposing coaches the night before games.
26. Los Angeles Clippers (from Baltimore Ravens)
It makes absolutely no difference whom the Clippers draft, and it never will.
27. Indianapolis Colts. Peria Jerry, defensive tackle, Mississippi
Possible actual choice thrown in for variety.
[+] Enlarge
Hulton Archive/Getty ImagesHere's Dr. Strangelove, the only man who can end the Comcast-NFL Network confrontation.
28. Buffalo (from Carolina through Philadelphia). Vaughn Martin, defensive end, University of Western Ontario
With the Bills becoming the NFL's first globalized franchise, a Canadian is a box-office must. Canadian law requires disclosure of the salaries of highly paid public employees, including at public universities. Here, the University of Western Ontario discloses 16 pages of staff paid more than $100,000 per year Canadian, including hundreds of professors. Eat your hearts out, temp faculty at American public colleges!
29. Jersey/A Giants. Nouriel Roubini, New York University economist
If he called plays as well as he called his warnings about the mortgage securities market, the Giants would be unstoppable. Then again, Roubini also predicted economic decline and bear markets in what turned out to be great years: Presumably as a football coach, he would punt on first down.
30. Tennessee Titans. Al Gore, Nobel Prize half-winner and occasional Nashville, Tenn., resident
Will bring "cap-and-trade" scheme to NFL, allowing teams to swap each other the rights to timeouts. Note: Though Gore is referred to as the "winner" of the 2007 Nobel Peace Prize, actually he won half the prize. The other half went to a far more deserving recipient, the scientists of the Intergovernmental Panel on Climate Change, who were working selflessly to help others, not engaged in self-promotion. And maybe it's just me, but increasingly Gore looks like Ernst Stavro Blofeld.
[+] Enlarge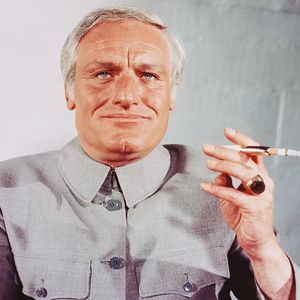 Silver Screen Collection/Hulton Archive/Getty ImagesErnst Stavro Blofeld or Al Gore -- who can tell these days?
31. Arizona Cardinals. Belial, prince of Hades
If the Cardinals hope to return to the Super Bowl, they're going to have to make another deal with the devil. In mythology, Belial commands 80 legions of demons, which ought to be enough to tighten up the Arizona secondary.
32. Pittsburgh Steelers. Michael Collins, Irish ambassador to the United States
"Need" selection -- with the Steelers' Dan Rooney becoming ambassador to Ireland, Pittsburgh tabs his replacement. Note: The U.S. Department of State now has a marketing slogan "Diplomacy in Action." Too generic. TMQ proposes "Signing Fine Treaties Since 1789."
WWJHE -- When Would Jesus Hold Easter? Last year, Easter fell almost a month before Passover. TMQ complained that Easter should always fall on the Sunday after Passover begins. Jesus, after all, just before his crucifixion had come to Jerusalem to celebrate Passover. So why doesn't Easter fall immediately after the first night of Passover? Dating for Passover has always been determined by the ancient Hebrew calendar; in 2009, Passover began on the 15th of Nisan, exactly as it did when Jesus walked the Earth. Easter dating involves a complex formula having to do with the vernal equinox and paschal full moon. During the Middle Ages, the Roman church established that Easter dating formula in part to de-emphasize Christianity's relationship to Judaism. Protestant denominations decided to accept the Roman dating, though nothing about the equinox-and-moon business is mentioned in scripture. Formally linking the observance of Easter to Passover would benefit both Christianity and Judaism, by emphasizing common history. Actually, it would benefit Western Christians. As pointed out by readers, including Sylvia Denisov of St. Louis, in the Eastern Orthodox Church, Easter always falls on the Sunday following the first night of Passover.
[+] Enlarge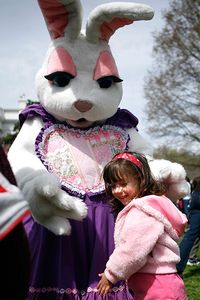 Alex Wong/Getty ImagesWestern dating of Easter has about as much in common with scripture as the Easter Bunny.
Changing the Western dating formula for Easter, to sync with Passover as is done in Eastern Christianity, would be both historically accurate and a nice ecumenical step. This spring, Easter in the West did fall on the Sunday after Passover began. Turns out that for the next six years, Easter as observed by Western Christianity will follow the first night of Passover; the schedules aren't out of whack again until 2016, when Easter falls on March 27 and Passover does not begin until April 23. That creates six years in which Western Christians could stage a campaign to restore the Passover-Easter relationship. How's about it?
Series Finale of "Battlestar Galactica" Complaints: In the final episode of this six-year television project, the survivors of a nuclear attack against a distant star system destroy the stronghold of the evil cyborgs, thus winning the war, then fly their fleet to Earth, arriving 150,000 years ago. Finally we know when the events of the series were taking place. Landing on the African veldt at a time when Homo sapiens idaltu was learning to use tools -- we see a hunter-gatherer party in the distance -- the 38,000 remaining members of the Kobol society vote to scuttle their super-advanced starships into the sun and forsake technology. They vow to stop building factories and cities, and live as simple farmers: One character declares that science always leads to war, and they must not infect Earth with that dark impulse. The result is that the civilization Galactica represented fades from history. Long before our forebears began domesticating wheat by the banks of the Tigris and Euphrates rivers, all knowledge from the 12 worlds of Kobol had been lost.
This is the concept for a great, even moving series ending. Instead the ending was frustrating and perplexing. There's never any convincing reason why people arriving at a verdant planet aboard faster-than-light starships would decide to give up all technology and learning. Would you vote to surrender the ability to make power generators, steel plows and antibiotics? I especially didn't buy that having enduring awful suffering to reach a safe destination, the last of an old, proud civilization would agree to adopt a subsistent lifestyle and gradually die off, leaving no trace they ever existed. If they left no record of themselves, the billions who perished in the nuclear cataclysm at their home planets would be forgotten. The finale also was a letdown from a storytelling standpoint. In a two-hour, 11-minute finale of a series that set television's record for total air time devoted to exposition, at the end, precious little was explained. The show generated 74 episodes of encyclopedic detail about characters' backstories and dating histories, and how participants in a space war behaved during battle, then told almost nothing about what happened once the battle ended. I would have liked some denouement on what occurred in the characters' lives beyond the first few days when they arrived at Earth and wandered awestruck through its meadows. A lot of storyboard was left on the table -- central character William Adama's eventual death on the African plain, for instance, or whether trying to influence the development of Earth's culture by communicating with early humans would do more harm than good. The latter is the core question of all legends and scripture about contact between God or the gods and early man. For a series that devoted substantial dialogue blocks to pseudo-theology babble, a chance to take a crack at a genuine theology question was whiffed.
The reimagined "Battlestar Galactica" was well above the norm for television, outstanding in some respects. The scene in which Adama makes, alone, a final nostalgic flight from the abandoned smashed-up battlestar, while flashing back to the moment he almost quit the military for a cushy defense-contractor job -- if he'd done that, no one would have survived the nuclear attack -- is as near as sci-fi comes to art. Look closely: As Adama, piloting a fighter, circles the once-mighty starcruiser where he spent his adult life, silently regarding the ship, the serene Earth revolving in the background, on his craft's windshield a faint reflection can be seen of the fighter's battle-management display, no longer needed but still scanning nearby space for targets. And it was nice that after episode upon episode of unremitting slaughter and pessimism, the final 40 minutes showed the survivors in a peaceful setting, released from their personal demons. But that 40 minutes was the most interesting sequence in the series. I would rather have seen more of the series spent on what happened at the end, less on long-running "Battlestar Galactica" kill-timers such as visions involving ruined temples. It's as if the scriptwriters just could not function without a stereotypical good-versus-evil combat plotline to hang the action on.
[+] Enlarge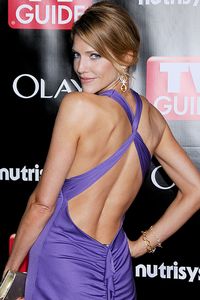 Gregg DeGuire/WireImage"Is that a 'Battlestar Galactica' script in your pocket, or are you glad to see me?"
And now the incredible series finale of "Battlestar Galactica" complaints:
• Early in the series the 10-foot-tall Cylon battle bots were depicted as having such strong armor it was impossible to kill one without explosives. In the final battle, small-arms fire not only kills them easily, they go flying backward when hit.
• For the climactic confrontation, Galactica discovers the location of the cyborg stronghold, a mega-enormous starship perhaps 50 miles long. The vessel is parked just above the event horizon of a black hole. If you were a malevolent life form whose continued existence hinged on protecting a mega-enormous starship, would you position the ship directly above a black hole -- where, during a battle, it might fall in? Which, needless to say, is what happens.
• Galactica and the civilian vessels she is protecting wander space for years looking for Earth, while suffering regular attacks and having no repair facility or supply depot to call at. Yet they never run out of food, fuel, ammunition or medical supplies, and Galactica's stores contain a seemingly inexhaustible quantity of whiskey.
• The recurring visions characters experienced -- such as a foretelling of five glowing people on a balcony, realized at the culmination of the last battle -- could have occurred only if some higher being already knew Galactica's future. If some higher being already knew the future, why did they have to go through all that?
• Numerous studly males wander the corridors of Galactica, but the attractive women have little interest in them. The space babes have the hots for a nerdy scientist and a 60-ish balding colonel. TMQ has long contended that because many Hollywood scripts are written by guys who always flunk out with girls, cinema often depicts a reality in which good-looking young women crave sex with geeky, overweight or aging men. Talk about science fiction!
• In the very last scene, set in the present day, two never-explained supernatural manifestations reflect that a girl brought to Earth aboard Galactica became Mitochondrial Eve. Clever touch -- we all carry a bit of DNA that evolved on a distant planet. But this plot twist means a gentle child of a futuristic space-faring culture, or at least her immediate matrilineal offspring, grew up to have sex with cavemen. Doesn't sound likely. The final subplot "arc" involved a succession of bloody battles over the girl, who had a human father and machine mother, and was kidnapped by the Cylons' sinister leader. Several times it was declared that without the hybrid child, the human race would fall extinct. Why? There were 38,000 survivors when Earth was reached -- ample men and women to begin populating a world. That any one child was crucial to reproduction was illogical, to put it mildly.
• Setting foot on Earth, Adama marvels it is "1 million light-years" from home. The Milky Way is 100,000 light-years across, while the next closest galaxy, Andromeda, is 1.5 million light-years distant. If you traveled 1 million light-years in any direction from Earth, you'd end up in the intergalactic void: the worlds of Kobol either were much closer to Earth than a million light-years, or much farther away. Considering dozens of people worked on the Battlestar series for six years, couldn't someone have fact-checked basic astronomy references? (This recalls the first "Star Wars" movie, which drew groans by referring to a parsec as a measure of time rather than of astronomical length.) Plus, previously viewers were told that Galactica had outdated engines capable of traversing only short hyperspace distances, and that structural fatigue from repeated passage through hyperspace restricted the ship to moving no more than a few light-years at a time. A few episodes before the finale, Galactica arrived at a planet described as 2,000 light-years from its home star system. So how, in its final leap, did Galactica travel 998,000 light-years?
• Throughout the series, the Baltar character conversed with a spirit-image of the Caprica character, and vice versa. In the finale, the Baltar and Caprica avatars appeared together to the flesh-and-blood Baltar and Caprica. Then in the very last scene, Baltar and Caprica were seen conversing in present-day New York City -- actually, present-day Vancouver, British Columbia. Anyway who were these beings? There were references to crew members believing angels were aboard Galactica. If angels intervene in the mortal world, why didn't they prevent numerous human tragedies? And were the spirits walking the Vancouver streets at the conclusion the same ones who appeared in the far past during the show, or angels of the flesh-and-blood Baltar and Caprica, by then long since dead? The beings simply were never identified. To have a central running plot element never explained is a cop-out. But quite a handy deus ex machina gimmick for scriptwriters who have dug themselves into a ditch.
[+] Enlarge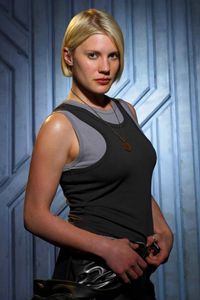 Courtesy of The Sci-Fi ChannelThe single greatest cop-out in scriptwriting history.
• Then there's Starbuck. Ace pilot Kara Thrace is taught a mysterious melody as a child; as an adult, endlessly draws a mysterious mandala; is the subject of mysterious prophecies by sundry clairvoyants; halfway through the series is visited by a spirit who tells her she must die to fulfill her destiny and commits suicide by flying her space fighter into a mysterious energy vortex that looks exactly like the mysterious mandala. Her fighter explodes and her corpse is found. Two months later she returns, resurrected, and even has a brand-new ship in factory-fresh condition. The guidance device on her mysterious new fighter leads the fleet to Old Earth, a cyborg planet obliterated by nuclear war. A spirit-image of her dead father reveals that the notes in her childhood song can be converted into numerals. In the finale, as Galactica is about to fall into the black hole, she realizes the numbers are hyperspace coordinates; she punches them into the stardrive and Galactica materializes above our world, saving the day. Standing on the lush pastures of ancient Africa, Kara declares her purpose is complete, and vanishes into thin air.
None of this is ever explained. "What am I!" the resurrected Starbuck shouts in torment at several points. Viewers never find out; we don't even find out where her brand-new spaceship came from. Even if, as the Greeks believed, the gods toy with mortals for amusement, Kara Thrace was the cheapest cop-out in the history of screenwriting. Here, series producer Ronald Moore admits to Newark Star-Ledger reporter Alan Sepinwall that Starbuck and the angel characters made no sense. Never explaining them kept the show interesting right up to the end, Moore contends. It's a lot easier to be a television producer if you can create mysterious paranormal characters that keep viewers watching for six years awaiting the explanation, then not be bothered producing the explanation.
Also, the NFL Gave Several Billion Compensatory No. 1 Draft Choices to AIG: The system by which the NFL awards compensatory draft choices continues to mystify. The league said San Diego was owed a fourth-round compensatory pick for losing Drayton Florence to Jacksonville; the Jags benched Florence, then waived him after one season. The league said the Redskins were owed a seventh-round compensatory pick for losing quarterback Mark Brunell to New Orleans; Brunell did not attempt a pass in 2008.
At 11 p.m. the Night Before Games, Bills Coaches Conduct a Passport Check: "I just have to create my own following up here in North America" -- Terrell Owens being introduced in Buffalo. Texas is in North America; so is Mexico for that matter. Though, Owens' statement that the Bills may become "North America's team" is a good reading of the Toronto alignment. My favorite Owens claim about the Cowboys: that Tony Romo and Jason Witten were meeting in secret to draw up plays that did not include him. On an exclusive basis, TMQ has obtained this surveillance tape of one of the secret meetings, held at a vacation resort:
ROMO: (Wearing dress and wig.) What's the password?

WITTEN: (Wearing false beard.) Swordfish. (Enters room.)

[+] Enlarge

AP Photo/CP,Troy FleeceForward, lads! T.O. needs us!

ROMO: The new play diagrams are on this microdot.

WITTEN: How do you read a microdot?

ROMO: Shhhhhh -- not so loud. (Turns on radio to a mariachi station.) That's in case Terrell has the room bugged. Check out Blast Max 88 Cross.

WITTEN: (Examines play.) Wow -- Owens covers his body in Krazy Glue, then sticks himself to my defender so I can go deep. Sweet!

ROMO: We can't tell him the play is really to you.

(Tape interrupted as Canadian Mounties burst into room.)
Please Click "I Accept" to the Unwritten Rules: Everybody's talking about Mark Sanchez -- but is he a one-year wonder, like Akili Smith? As FootballOutsiders has shown in convincing detail, the single best predictor of success for an NFL quarterback is how many games he started in college. Remember Matt Blundin? Of course you don't! He was a one-year wonder at Virginia in 1991, his sole college season to start, when he threw 224 passes without an interception. A second-round choice of the Kansas City Chiefs during the next draft, Blundin was in the NFL for five years, and in that time compiled 15 passing yards and two interceptions. Beware of one-year wonders at quarterback.
Pete Carroll was mad at Sanchez because he expected Sanchez in red and gold for 2009. The quarterback broke an unwritten rule of USC recruiting -- that Carroll will support a star player who departs early for the NFL if the player has given back on the field, and if there is no doubt the player is doing the right thing for himself and his family. Thus, Carroll supported Reggie Bush's decision to leave after his junior year. Bush performed for the Trojans for three seasons, and there was no doubt that leaving when he did was the right move. There's considerable doubt Sanchez is making the right move, since he performed for the Trojans for only one season. A guy who wants to walk through all the doors in athletics that USC can open, then doesn't pay his dues on the field, isn't honoring the unwritten rule. Though Sanchez will get a big paycheck soon, where he would have received none in 2009 had he stayed in school, there's a good possibility his early departure will cause his lifetime earnings to decline. The fact that Sanchez had only one season of high-pressure college game experience reduces his odds of doing well in the NFL. If he cashes a big bonus check this year, then becomes a bust owing to inexperience, he will earn far less over the course of his sports career than if he'd played out the string at USC. So TMQ understands why Carroll was mad when Sanchez left early. Hey Pete -- next time, show recruits the exact wording of the unwritten rule!
Trojans note: On draft day, TMQ will root for linebacker Clay Matthews III, who despite his fabulous football pedigree -- related to former NFL stars Clay Matthews, Clay Matthews Jr. and Bruce Matthews -- was a walk-on at USC. No major-conference school offered Matthews a scholarship. Now he's likely to be a first-round NFL draft choice.
At Least Someone's Gruntled: "Disgruntled no more" -- that's how "SportsCenter" anchor Linda Cohn introduced the news that Jay Cutler had been traded. Cutler whined so much that "disgruntled Jay Cutler" practically became his name. Since he is no longer disgruntled, does that mean he is now gruntled? Yes! Little known dictionary fact: "gruntled" means "satisfied." From now on, the gentleman in question to TMQ will be "the gruntled Jay Cutler." And TMQ will remain suspicious of the grunted gentleman. Cutler has a fine arm, but what exactly has he accomplished in the NFL to justify all his whining? Cutler is 17-20 as an NFL starter. Kyle Orton is 21-12 -- I'll take the guy who wins the game, please. Orton did play with a better defense in Chicago, but Cutler played with better offensive personnel plus the Denver home-field advantage. Though Cutler made the Pro Bowl, he finished 16th in quarterback rating, behind Seneca Wallace and Shaun Hill, while throwing 18 interceptions, second-worst in the league. Cutler's high school team was 15-0 when he was a senior; since then, in college and the pros, he's 28-55 as a starter. For seven consecutive seasons, Cutler has not been a winner -- while becoming a guy who cares about his stats and complains nonstop about the treatment he is receiving. Bad habits are easy to acquire and hard to break; how long until Cutler starts complaining in Chicago?
TMQ thinks the Broncos will be seen as coming out way ahead in this trade. Way behind? The Redskins, who publicly undercut quarterback Jason Campbell by trying to trade him and draft choices for Cutler, only to have the world find out the Broncos would rather have the workmanlike Orton. Like Cutler, Campbell is 17-20 as a starter -- yet Cutler is constantly praised and Campbell constantly criticized. Yet Campbell was the one who played behind a terrible offensive line last season, while Cutler was protected by one of football's best pair of tackles. And what of Mike Shanahan? TMQ continues to think the reason he was fired after the 2008 season -- on the day of the firing, Shanahan was the NFL's winningest active head coach -- was his mid-2006 decision to bench Jake Plummer and start Cutler. At the time, Denver was 7-4 with the inside track for a playoff invite; since then, the Broncos haven't gone to the postseason. Shanahan was fired for wanting Cutler, and now Cutler is gone too. Plummer, who's about to become an assistant coach at this Idaho high school, must be chortling. Trade fun fact: The Broncos requested that other teams not call them about Cutler, only send e-mails or text messages. Answering the phone is so last century! Soon NFL trades will be negotiated on Facebook.
Regrettably, TMQ was Right About Something: Reader Dan Krueger of Pontiac, Ill., notes that in February, after Barack Obama said he would act decisively to stop executives of bailed-out firms from receiving bonuses, TMQ cautioned, "If the new president stakes some of his prestige on what seems like a dramatic decision and it turns out a year later that CEOs easily evaded the seeming 'limits' and stuffed their pockets with tax money anyway, Obama will seem an ineffectual leader." It didn't take a year -- only a month! In mid-March, the No. 1 news item was tax-subsidized bonuses to the very executives who screwed up AIG. Obama said from the White House he was "deeply outraged." Speaker of the House Nancy Pelosi said she was taken by surprise and called for an investigation. Treasury Secretary Tim Geithner declared he had just absolutely no way on Earth of knowing the bonuses were coming. Wait -- they could all have read about the planned AIG bonuses in November in a football column. Anyone paying attention to the business pages knew in November 2008 that tax-subsidized bonuses for AIG were coming. Yet no national leader paused from the Washington ritual of round-the-clock self-promotion to do anything. When in March the AIG payouts were announced, Federal Reserve chair Ben Bernanke told "60 Minutes" he was "full of anger" about the bonuses. Bernanke was the one who, in the fall of 2008, decided to hand AIG up to $172 billion in taxpayers' money without imposing any accountability or conditions. This was a much worse business decision than anything any AIG executive did.
Beyond the irresponsibility with which Washington's Democrats and Republicans alike are mishandling taxpayers' money, my worry about Obama continues -- if he keeps theatrically denouncing tax-subsidized bonuses, yet does not actually do anything, he's going to make himself into an ineffectual leader.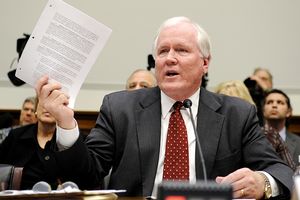 AP Photo/Susan WalshEdward Liddy of AIG -- he's giving away your money as fast as he can.
What's the next AIG bonus scandal coming? The company's CEO, Edward Liddy, told Congress he is pure because he is "not getting a bonus and is only drawing $1 a year in salary." This is the classic statement that is literally true but intended to deceive. Liddy is likely to receive a "special bonus" from AIG in 2010. How do I know this insider fact? Because months ago, AIG announced it! Liddy claimed he found paying bonuses to AIG managers "distasteful" but had to honor bonus clauses in their contracts because "honoring contracts is at the heart of what we do in the insurance business." Liddy may be saying that because his contract calls for a "special bonus," and he wants to make sure he gets the money! If, after the AIG bonus hullabaloo goes right up to the White House level, the CEO of AIG stuffs his pockets with a taxpayer-subsidized bonus in 2010, Obama will look like a phony.
About the sanctity of contracts: For years, AIG raked in rich profits by signing contracts promising, in return for a fee, to make good any losses on securities defaults. Last fall many mortgage-backed securities defaulted -- and AIG refused to make good. The company would not honor its contracts, instead insisting taxpayers cover the losses. "Honoring contracts is at the heart of what we do" -- this AIG fib would be amusing if it weren't being used to expropriate money from average Americans. When AIG owed money to others, the company ignored the contracts it signed. When contracts could be used to justify taxpayer money to AIG executives, well then, we must honor the sanctity of the contract!
Now about AIG's small outrage ($165 million in bonuses) and its large outrage ($172 billion in taxpayer subsidies). White House economic adviser Lawrence Summers called the bonuses "outrageous" but then said they must be paid because AIG "has entered into a binding contract requiring the payments, and we are not a country where binding contracts get abrogated willy-nilly." Not only had AIG already shown itself eager to abrogate contracts willy-nilly, think of the situation in the fall of 2008, when AIG was days away from insolvency. Liddy could have put his senior staff on a conference call and said, "I know you have contracts promising bonuses. But if we go out of business you not only will never see those bonuses, you will lose your jobs, salary and benefits. I offer a compromise in which you keep your jobs and salary but forgo the bonuses. Do you want that, or nothing? Choose now." This is how smart business people run organizations -- it's called negotiating. Instead AIG's CEO took no action on the bonuses, then turned to taxpayers to cover his ineptitude.
[+] Enlarge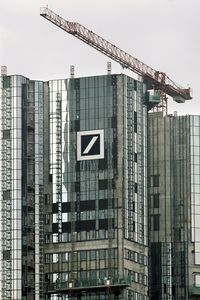 AP Photo/Oliver MulthaupConstruction at Deutsche Bank -- funded by American tax dollars!
On the big outrage, of the $172 billion taxpayer-funded giveaway, we now know much of it used to cover credit-default swap debts AIG refused to honor. Large amounts went to foreign banks, such as Deutsche Bank and Societe Generale of France. AIG simply handed over payment in full, without negotiating. When AIG was days from insolvency, it should have said to Deutsche Bank and others, "If we go bankrupt, you will stand in line with all the other creditors at the bankruptcy court and be lucky to get 10 cents on the dollar. Would you accept 50 cents on the dollar to settle instead?" Negotiating with creditors to avert bankruptcy is a standard business tactic; General Motors and Chrysler have been doing this for the past few months. As the Wall Street Journal recently reported, a year ago Merrill Lynch was owed credit-default swap payments by an insurer called XL Capital, and after negotiations, Merrill accepted 13 cents on the dollar.
But instead of negotiating a reduction of debt, AIG simply immediately handed over full value. After all, the money was coming from taxpayers' pockets, and when has anyone cared how much taxpayer money is wasted? Goldman Sachs was the largest single recipient of AIG's paid-in-full taxpayer-funded gift, receiving $13 billion. Merry Christmas! And now we learn that Liddy owns at least $3 million worth of Goldman Sachs stock -- whose price was shored up by the paid-in-full taxpayer gift. AIG's tax-funded gift to Goldman Sachs couldn't possibly have had anything to do with Liddy's stock, could it? The worst sin is that the Washington muckety-mucks running the tax-money giveaway team did not require AIG to negotiate down its counter-party obligations. Bernanke and Henry Paulson, who approved AIG's actions last fall, deserve to be run out of town on a rail for their irresponsibility in management of public funds. Meanwhile, can anyone imagine that if a French or Germany insurer owed money to an American bank, that the French or German governments would ever pay one single centime or pfennig, let alone cover the entire debt immediately?
AIG fiasco note No. 1: Treasury Secretary Geithner, who has taken Paulson's place on the giveaway team, said the AIG bonuses were justified because AIG "cannot retain the best and the brightest" without paying bonuses. Geithner and everyone at the Treasury Department have a personal self-interest in the notion that money managers should be paid huge bonuses even for screwing up. Treasury officials (and Summers) come from jobs in which they were paid millions of dollars a year for giving financial advice, and want to return to such jobs; it is critical to their own pocketbooks to maintain the illusion that executives on Wall Street and in banking are super-brilliant geniuses who deserve millions under all circumstances. Anyway, the phrase "the best and the brightest," the title of David Halberstam's great 1972 book, is derisive. The treasury secretary should know enough about the recent history of the United States to know what "the best and the brightest" means.
AIG fiasco note No. 2: Here is AIG's 2007 annual report, in which the company declares of its financial products division, "AIG believes any losses that are realized over time on the super senior credit default swap portfolio … will not be material to AIG's overall financial condition." Important false financial statements in annual reports often are viewed as securities fraud. Yet while former Enron executives are in jail, AIG executives keep rolling like pigs in taxpayers' money.
AIG fiasco note No. 3: How does the $58 billion in AIG funds given as a gift from American taxpayers to foreign banks compare with stimulus spending that will benefit American taxpayers? There is $28 billion in the stimulus bill for road and bridge construction and repair.
More Proof of the Decline of Western Civilization: "SportsCenter" went live at 12:30 a.m. on Feb. 27, moments after the midnight onset of NFL free agency, to report middle-of-the-night player movements.
TMQ's Seventh-Round Forecast: First-round mocks are a dime a dozen -- but Tuesday Morning Quarterback dares to forecast the seventh round. And yes, I'm worried that if once again Jerry Jones simultaneously trades up and trades down in every round, the ramifications will mess up my seventh-round board.
210. Dallas (from Detroit). Andre Smith, tackle, Alabama. Slid a bit more than scouts expected.
211. St. Louis. Taurus Johnson, wide receiver, South Florida. Can outrun the '60s-vintage Beetle in Volkswagen commercials.
212. Kansas City. Roger Allen, guard, Missouri Western. Has tested positive for Jujubes.
213. Seattle. Vince Anderson, cornerback, Webber International. Has eaten a tuna salad sub in under 58.24.
214. Miami (from Cleveland). Jahi Word-Daniels, cornerback, Georgia Tech. Ranked No. 1 name in 2009 draft.
215. Cincinnati. Ventrell Jenkins, defensive tackle, Kentucky. In high school, lettered in football, track and Yahtzee.
216. Oakland. Chris Evans, linebacker, Auburn. Always gives 110 percent, then deducts 110 percent from his taxes.
217. Tampa Bay (from Jacksonville). Rulon Davis, defensive end, Cal. Dazzled at the combine with a 6.22 in the inverted sled toss.
218. Green Bay. Ladarius Webb, cornerback, Nicholls State. Wowed scouts at the combine with his ability to add up the trillions in the federal deficit.
219. San Francisco. Steve Rehring, guard, Ohio State. Thought "Watchmen" was too easy to follow.
220. Buffalo. Sekou Yansane, wide receiver, Lehigh. Hired out-of-work Broadway choreographer to improve his touchdown dance.
221. Minnesota (from Washington). Jose Valdez, tackle, Arkansas. Has filed for conscientious objector status against NFL draft.
222. New Orleans. George Hypolite, defensive tackle, Colorado. Plans to auction his draft position on eBay.
223. Houston. Graham Harrell, quarterback, Texas Tech. His career 15,793 passing yards and 134 touchdown throws viewed as disappointing for a Red Raiders-system QB.
224. San Diego. Marcus Thigpen, running back, Indiana. At 5-8, viewed as big back to alternate with Darren Sproles.
225. Denver. Joe Burnett, cornerback, Central Florida. Embarrassed when teammates learned he has Bee Gees and Abba on his iPod.
226. Pittsburgh (from Tampa Bay). Anthony Kimble, tailback, Stanford. Ran a 0.00004503 on a really fast track at the Stanford Linear Accelerator.
227. Dallas. Derek Nicholson, linebacker, Florida State. Asked, "What do you want for lunch?" in school cafeteria, was given answers in advance.
228. New York Jets. Terrence Jackson, linebacker, Indiana of Pennsylvania. From TMQ's favorite obscure college.
229. Tampa Bay (from Chicago). Maurice Evans, defensive end, Penn State. Tries to meet girls by saying, "Some people call me 'Maurice.'"
230. Philadelphia. Alex Halls, safety, Colby. Plans to invest his bonus money with Bernard Madoff.
231. Minnesota. Jordan Norwood, wide receiver, Penn State. Could not answer this Wonderlic question: "If Jane is rowing a boat upstream at 2.5 miles per hour, and Jeff is rowing downstream at 4.5 miles per hour, why did the government give AIG $172 billion to waste?"
232. Jacksonville (from Miami). Orion Martin, linebacker, Virginia Tech. Not that fast or strong, but owing to science-lab accident, can see future and project force fields.
233. Tampa Bay (from Baltimore). James Gregory, linebacker, Franklin & Marshall. Hides homework inside a printout of TMQ so teammates won't realize he is studying.
[+] Enlarge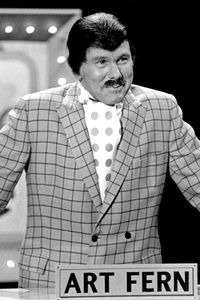 NBCU Photo Bank/AP Images"Hay, U.!"
234. New England. Matt Slauson, guard, Nebraska. His chop block known as the Slauson Cutoff. If only Slauson had attended Hay University -- here is Johnny Carson's famous "Hay, U." routine.
235. Denver (from Atlanta). Drew Willy, quarterback, Buffalo. School's formal name is the University at Buffalo/The State University of New York, as in, "I go to UABTSUONY."
236. Indianapolis. Conredge Collins, fullback, Pitt. Scouts feel he has intangibles, but can't cite anything specific.
237. Miami (from Carolina). Marcus Crump, defensive end, St. Augustine. Small-school star is 6-6, 216 pounds; projects as a power forward in the NFL.
238. New York Giants. Courtney Greene, safety, Rutgers. If fails in NFL bid, may go pro in Double Dutch.
239. Tennessee. John White, quarterback, Bentley. Division II business college has an NFL draft prospect for second consecutive April -- in 2008, Mackenzy Bernadeau of Bentley was chosen in the seventh round by Carolina.
240. Arizona. Darius Passmore, wide receiver, Marshall. Perfect fit for the Cardinals' offensive philosophy.
241. Pittsburgh. John Gill, defensive tackle, Northwestern. Dreams of growing up to be awarded a United States Senate seat -- like current unelected senators from Colorado, Delaware, Illinois and New York.
242. Tennessee (compensatory selection). Reshard Langford, safety, Vanderbilt. Has athleticism; someday there may be a cure.
243. Washington (comp selection). Collin Mooney, fullback, Army. Rumored to hide precision-guided-munitions targeting device in his helmet.
244. San Francisco (comp selection). Jordan Scott, running back, Colgate. Declined Barack Obama's invitation to be Secretary of Commerce.
245. Seattle (comp selection). Aaron Brown, running back, TCU. Was stunt double who caught the 99-yard winning pass with one second remaining in a "Friday Night Lights" episode.
246. Chicago (comp selection). Dallas Reynolds, tackle, BYU. At combine, brought ice cream to the three-cone drill.
247. Seattle (comp selection). Ryan Succop, place-kicker, South Carolina. His cell phone ring tone is Max's shoe phone sound from "Get Smart."
248. Seattle (comp selection). Charles Helms, center, LSU. Hopes for tryout on new reality show, "Raking Leaves with the Stars."
249. Cincinnati (comp selection). Ra'Shon Harris, defensive tackle, Oregon. Has explosive first step that might go off accidentally.
250. Jacksonville (comp selection). Colin Cloherty, tight end, Brown. Twitters during plays -- "Right now I'm running a 12-yard comeback against Dartmouth."
[+] Enlarge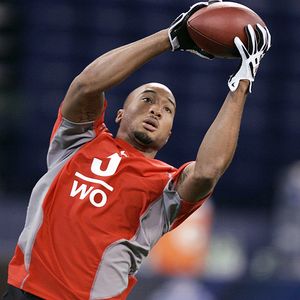 AP Photo/Michael ConroyAnybody can forecast the first pick in the draft. TMQ is forecasting Jeremy Childs of Boise State as the final pick in the draft.
251. Chicago (comp selection). Ryan Kees, defensive end, St. Cloud State. Has driven from St. Cloud to Duluth in under two hours.
252. Cincinnati (comp selection). Tavares Williams, safety, Troy. Parents also considered naming him Aeneas, Dardanus, Laomedon or Tithonus.
253. Jacksonville (comp selection). Mike Iupati, guard, Idaho. At campus party, made frozen Gatorade daiquiris.
254. Arizona (comp selection). Stryker Sulak, defensive end, Missouri. At the combine grocery-store drill, found the 10 items and got through the express line in 3:44.63.
255. Detroit (comp selection). Stanley Bryant, tackle, East Carolina. Confused during recruiting visit because East Carolina is located in North Carolina.
256. Kansas City (comp selection). Jeremy Childs, wide receiver, Boise State. During film study, noticed Hannibal used a lot of pincer movements in the Second Punic War.
Next Week: TMQ's plan to grade the draft interrupted when honor-code violations are discovered in fifth round.
In addition to writing Tuesday Morning Quarterback, Gregg Easterbrook is the author of "The Progress Paradox: How Life Gets Better While People Feel Worse" and other books. He also is a contributing editor for The New Republic, The Atlantic Monthly and The Washington Monthly.
Author of "The King of Sports"
Former Fulbright distinguished fellow
Contributing editor to "The Atlantic"