Commentary
TMQ breaks down the NFL draft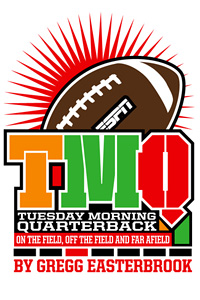 "We have not found a saturation point for pro football," NFL commissioner Roger Goodell said last week, advocating more games and a longer season. Don't try to find the saturation point -- because you might! Don't search for the level at which people become sick of NFL football. Leave things the way they are!
Twenty years ago, the NBA thought its ratings, gate and marketing income could only soar, and sure found out otherwise; NBA numbers are gradually starting back up again, but only after years of decline. Major League Baseball was rolling until the 1994 strike and World Series cancellation; it took years to rebound to 1994 attendance levels. Could there never be a saturation point for Yankees ticket prices? The elaborate new Yankee Stadium is not selling out; neither is the Mets' elaborate new Citi Field. The National Hockey League thought its future was relatively promising until the entire 2004-05 season was cancelled owing to a lockout/strike/whatever-that-mess-was; now NHL games air on a channel that previously broadcast camping and hiking shows. Today, the National Football League is so popular and profitable it may seem like no decision the NFL might make could undo that. But other sports have thought the same before.
As Tuesday Morning Quarterback endlessly cautions, there is no law of nature that says the NFL must remain popular. Today, with 16 games, each contest has a high excitement level. Make it 18 games and you run the risk of people shrugging, "Oh, another NFL game." Today, with a five-month competition cycle -- September, October, November, December and January -- there is more of the year without NFL action than with, allowing the games that occur to retain a special feeling. Stretch the competition cycle through February with more games, hold the Super Bowl after Valentine's Day, and you risk diluting the product. Plus, two more regular-season games in which stars and starters play -- most rarely take the field during preseason games -- will mean more injuries to stars and starters. How is that good? No, we have not found the saturation point for the NFL: If a "Monday Night Football" game suddenly was announced for this coming Monday, surely millions would watch. But we don't want to find the NFL saturation point. Better never to know. To tamper with the current super-successful NFL formula is asking for trouble. The current formula is exciting and profitable. Let's leave matters as they are.
[+] Enlarge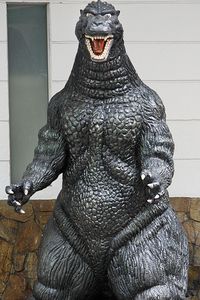 AP Photo/David LongstreathMonsters are complaining that the Obama stimulus package doesn't hire them to smash skyscrapers.
In economic news, facing a budget crunch, the Bronx Zoo will lay off dozens of animals, including bats, caimans, porcupines, lemurs, night monkeys, Arabian oryx and two types of antelope. I am not making this up! How is a caiman supposed to find another zoo to work at in this economy? And the oryx, are they in the country legally or should they be deported to Arabia? This got me to thinking: I bet times are tough for movie monsters, too. What if Godzilla gets laid off? He'll be in a foul mood and take out his frustrations on Tokyo. If the "Cloverfield" sequel gets canceled for cost-cutting reasons, that monster could end up as some kind of juvenile delinquent, staying out all hours, associating with the wrong kinds of creatures. King Kong, Mothra, the Blob -- none of them has the right résumé for globalization, either. Imagine a couple of unemployed movie monsters bumping into each other in a studio lot:
PREDATOR: Wassup 'Zilla? Got a gig?
GODZILLA: I would rather not talk about it.
PREDATOR: Any residuals checks come in lately?
GODZILLA: I said, I don't want to talk about it! (Smashes skyscraper.)
In other football news, we were surprised he was there! If you listened to draft coverage over the weekend, not only did every NFL coach and general manager praise his own selections -- what else were they supposed to say? -- but from the sound of things, half the players picked should have been chosen higher. "We were really surprised he was there" was the leading cliché of this year's draft. A year or two from now, you'll understand why he was there.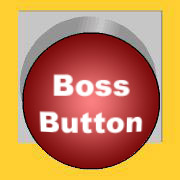 Arizona. Beanie is not a fierce-sounding football nickname; Beanie is some guy hustling speed chess in the park. Let's be Chris Wells from now on, please. The Cardinals failed to move Anquan Boldin, who complains so much, why would anyone want to trade for him? Boldin has been complaining about his contract for two years and about supposed slights from the Arizona coaching staff for nearly as long. His constant complaining surely is why other teams haven't shown more enthusiasm about obtaining his services -- thus preventing Boldin from getting the new contract he wants. At a reception before the Super Bowl, I was talking to former Raiders wide receiver Tim Brown, a likely Hall of Fame entrant and known for being level-headed. I asked Brown whom among current receivers he likes to watch and he answered, "You may not believe this, but the guy I like to watch play is Anquan Boldin, because he is completely fearless going over the middle." So I watched Boldin during the Super Bowl and sure enough, he was going over the middle, drawing defenders away from Larry Fitzgerald. But Boldin is just not going to get the money or the general appreciation he seeks until he stops complaining in public.
Atlanta. The Falcons traded for Tony Gonzalez and only had to surrender a draft choice in 2010 -- TMQ is still trying to figure out how they got away with that. Matt Ryan will be a very happy quarterback with Gonzalez to look for. Atlanta could well go into 2009 as the NFC favorite, and this is the team many touts picked to be the NFL's worst last season.
Baltimore. Not many NFL draftees have already been the subject of a book, as has Ravens first choice Michael Oher, profiled in "The Blind Side" (there's a movie in the works too). Oher's father was murdered, his mother was a crack addict; after years of foster care and homelessness, he found his way into an exclusive private prep school and was adopted by an affluent, loving family. The true story of an impoverished African-American boy adopted by an affluent white family has obvious Hollywood appeal, but can any 22-year-old handle such media pressure? Oher joins a strong Baltimore roster, and may not be expected to start in 2009. It's possible no Baltimore draft choices will start in the fall, a sign of the team's overall strength.
Buffalo. Bills first-round draft choice Aaron Maybin majored in "integrative arts" at Penn State. Electives in the major include a course on Elvis Presley ("eight chronologically arranged units of study that trace Elvis Presley's life") and a pop arts course with this incredibly rigorous requirement: "Every two weeks, students will be required to see, read, or hear an assigned contemporary work of popular mass media art." Note that after the Bills gave major-money free-agent contracts in past years to offensive linemen Derrick Dockery and Langston Walker, both of whom are average performers, they refused to make a big-money offer to Pro Bowl left tackle Jason Peters, now traded to Philadelphia. Common thread? Dockery and Walker were high draft selections, Peters was undrafted. So it's not just agents who assume that high-drafted players should be paid more; apparently management assumes this, too. Dockery was waived because the Bills decided to go "in another direction." Maybe toward the end zone!
[+] Enlarge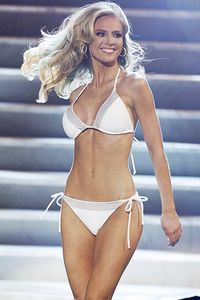 AP Photo/Eric JamisonKristen Dalton, the new Miss USA. Take your eyes off the bod for a second and check out that hair!
Carolina. If I were the Cats, I would have used my first choice on Kristen Dalton, Miss North Carolina and the newly crowned Miss USA. In the second round, I would have tabbed Jessica Simpson, who designed (true!) Dalton's bikini. Though already possessing one of the league's top fullbacks in Brad Hoover, Carolina spent a fourth-round selection on Tony Fiammetta of Syracuse, viewed as the best fullback in the draft. When was the last time an NFL team was overstocked at fullback?
Chicago. So Chicago didn't have a first-round choice -- the Bears might have blown the pick anyway. The Bears have plenty of first-round pure busts in their recent past, including David Terrell, Cedric Benson and Cade McNown, plus other players such as Rex Grossman and Michael Haynes who failed to justify first-round status. TMQ fears the gruntled Jay Cutler is overrated. But Chicago hasn't had a franchise-quality quarterback since Jim McMahon back in the '80s; the gamble was worth it.
Cincinnati. Tired of waiting for players to get into trouble or act strangely in the pros, the Bengals spend their first choice on Andre Smith, who's already good at these things -- Smith was suspended for his final game at Alabama, then got mad and walked out at the combine, then showed up for his Pro Day out of shape. A perfect fit for the Cincinnati program!
Cleveland. The Browns traded down from the fifth choice to the 17th, then traded down to 19th, then traded down to 21st and finally, perhaps weary of filling out trade forms, chose someone. In this succession of trades, the Browns picked up a second-round choice, two sixth-round selections, two decent players and a backup. That's not bad -- the money saved on the rookie bonus as Cleveland dropped through the first round will pay the full salaries of all six other guys. Of course, someone the Browns passed on in slots five through 20 will end up being a star. It's just that no one knows who.
Dallas. Five hours into the draft before the words "Dallas Cowboys" were mentioned. No Dallas pick on the first day of the draft. Initial Dallas choice comes at 10:48 a.m. ET on Sunday. Jerry Jones, are you feeling OK? Maybe you should see a doctor.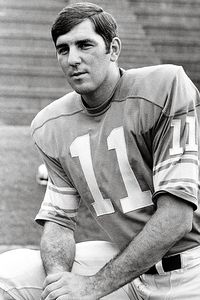 AP PhotoThe Lions' last star quarterback, photographed during the Ordovician Period.
Detroit. The Lions have not had a Pro Bowl quarterback in 38 years, and now they have Matt Stafford, first overall choice, at quarterback. The Lions used their second first-round selection on tight end Brandon Pettigrew, and after pass blocking, nothing helps a young quarterback more than a reliable tight end to check down to. The Lions are now in the hands of Jim Schwartz, one of the smartest guys in football. If this team is ever going to recover, now would be a good time.
Denver. What's the best thing to happen to the Broncos this offseason? The Matt Cassel deal fell through. Denver coach Josh McDaniels tried to put together a three-way trade in which the Broncos would have surrendered Cutler and acquired Cassel. Instead, the Broncos got Kyle Orton, two first-round draft choices and a third-round pick. This outcome is so much better for Denver, there's no comparison. Those extra choices were burning a hole in the Cursors' pocket, however, as Denver traded a first-round choice in 2010 for a second-round choice Saturday. Touts think next year's draft class will be better than this year's, so the trade was mildly puzzling -- same for Carolina trading its 2010 first-round choice for a 2009 second-rounder. The Broncos made so many subsequent transactions with choices obtained from Chicago that it's hard to net out the deal. Here is how Lindsay Jones of the Denver Post summed up Cutler-to-Chicago: "The Broncos got Kyle Orton, defensive end Robert Ayers, cornerback Alphonso Smith, tight end Richard Quinn and tackle Seth Olsen in exchange for Cutler and wide receiver Johnny Knox."
Green Bay. Lydell Mitchell and Franco Harris notwithstanding, TMQ has always been suspicious of college teammates at the same position drafted high into the NFL, because there's the possibility they made each other look better. Two USC linebackers went in the first round, a third in the second, and another in the fourth round. If USC's linebackers were that good, how come the Trojans lost at Oregon State? Green Bay spent a high first-round selection on Boston College defensive tackle B.J. Raji, then New England spent a high second-round pick on Boston College defensive tackle Ron Brace. If both of BC's defensive tackles deserved to be high NFL draft choices, how did anyone ever run inside on Boston College? If I had to guess, I'd guess the guy taken by the Patriots is the better one -- based solely on knowing he was taken by the Patriots.
Houston. Year in, year out, the Moo Cows manage to be the NFL's dullest team. Last season they even managed to be dull despite finishing third in total offense. Test of ongoing Houston dullness: Can you name anyone the Texans drafted, without peeking? Scouts Inc. said Houston draftee Glover Quin "needs some tweaking to his overall footwork."
Indianapolis. Since the Colts already have Joseph Addai at tailback, using their first selection on tailback Donald Brown seems a luxury pick. I've got five bucks that says Brown will be an NFL star, and will make the Indianapolis offense scary again. The Colts were terrific in the second half of 2008, then ended their season with a somewhat flukey playoff loss at San Diego. TMQ expects them to be terrific from the outset in 2009.
Sci-Fi News: The premise of the recently concluded "Battlestar Galactica" series -- cyborgs become self-aware, then rebel against humanity -- is hardly novel. Karel Capek's 1921 play "R.U.R.," which introduced the term "robot," had as its plot cyborgs who become self-aware and wipe out their creators. Just like the evil Cylons on "Galactica," the cyborgs in "R.U.R." find they cannot reproduce; they beg the tiny remnant of humanity to save them. The play ends with the last biological being on Earth doing something that allows the cyborgs to reproduce, then realizing the two robots he has been helping are the new Adam and Eve.
[+] Enlarge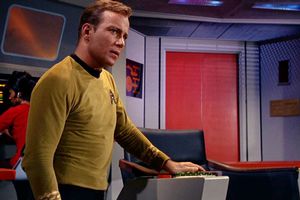 CBS Photo Archive/Getty Images"Raise shields! Fire phasers! The original series is under attack by computer-generated special effects!"
I mention this because the rumor is a big-budget Hollywood version of "R.U.R." has just been green-lighted. Please Hollywood, this play is an allegory about social Darwinism, racial-superiority beliefs and what it means to be human. Don't turn it into an action flick! Capek, a Czech, was an ardent opponent of Hitler, and arrested by the Gestapo shortly after the Nazi annexation of Bohemia in 1938; he died of illness on Christmas Day, 1938. His brother Josef, also an anti-Nazi activist, and the one who coined the term robot, died in the Bergen-Belsen concentration camp. Please, Hollywood, don't take this sensitive, symbolic work, which in the original contains nothing but discussion, and turn it into yet another monotonous computer-generated shoot-'em-up. Bear in mind that H.G. Wells' "War of the Worlds" was an allegory about the injustice of European imperial rule of Africa, China and India. In the hands of Steven Spielberg, that magnificent book became a monotonous computer-generated shoot-'em-up.
Meanwhile, the latest Star Trek movie opens next month, this one a prequel to the 1960s television show -- the flick depicts the young James Kirk meeting the young Spock. "Star Trek: The Teen Years" is what the movie might be called. Maybe Spock will experience dating angst! The visuals of the original 1960s show were delightfully cheesy -- simple sets, starcruiser models held up by wires, "futuristic" coffee mugs that obviously were Styrofoam cups covered with tin foil. The minimalism of the sets and special effects forced the show to be plot-driven, which is why it was so good. You've already guessed that the upcoming movie is crammed with super-advanced computer-generated battle scenes and superbly detailed sets. My guess is that the quality of the dialogue will decline in proportion to the improvement in the special effects.
But wait, how could fancy Starfleet spaceships have happened before the spare, low-rent Starfleet depicted in the 1960s series? Why, the timeline has been altered! In the upcoming movie, Romulans travel backward in time to try to kill the young James Kirk. ("Oh man, Jennifer won't answer my text messages, and now aliens have come backward in time to kill me! Plus I lost my learner's permit.") The appearance of the Romulans in the past will be declared to have altered events; this will allow the studio to reboot the whole Star Trek concept. Watch for new Kirk-and-Spock TV or cinematic episodes in which it is once again 2264, the year when the original Enterprise of the 1960s departed on its original five-year mission, but the ships are now ultra-zoomy and the situations different because "the Romulans altered the timeline."
[+] Enlarge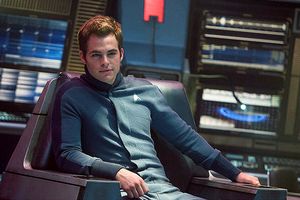 Zade Rosenthal/Paramount Pictures"Whoa, this starship is sweet! I could definitely pick up chicks cruising in this."
Yet if time travel were possible, at the instant anyone departed for the past, any changes he or she caused would already be in effect -- since after all, they already occurred long ago. If Romulans interfered with the past when Kirk was a teen, any changes they caused already would have been apparent when the Year 2264 was first depicted in the 1960s original series. Of course, it's just the movies, and the studio needs a reboot excuse. But this is one of the arguments that time travel is not possible -- every time anyone went into the past and had any impact no matter how minor, the present would instantly transform, because at the moment that person stepped into the time machine, his or her interference would already have happened. That a time traveler's interference with the past has already happened at the instant the trip begins is the premise of the renowned Ray Bradbury short story, "A Sound of Thunder."
Jacksonville. Jax has been wide receiver Bustville, with recent No. 1 draft pick receivers Reggie Williams and Matt Jones both let go in the offseason, as was megabucks free agent wide receiver Jerry Porter. So why not make another wide receiver blunder? When the Jags went on the clock with the eighth selection, Michael Crabtree was available. Of course, you can never be sure, but Crabtree has a high probability of being an NFL star -- and Jacksonville is a bland team that needs star power. Perhaps fearing another wide receiver disaster, Jax passed on Crabtree, a decision the team may someday rue -- really rue.
Salary cap note: Jacksonville invested about $40 million in Williams, Jones and Porter -- $11 million for Porter in 2008 alone -- and they combined for six touchdown receptions last season.
Jersey/A. The Giants have one of the league's best rosters, but check their recent draft history -- first- and third-round picks spent on wide receivers this year, third-round pick on a wide receiver in 2008, second-round choice on a wide receiver in 2007, second-round choice on a wide receiver in 2006. The Giants have drafted several defensive backs high in the same period. That's a lot of skinny gentlemen. Who's going to man the trenches? Tackle William Beatty, taken in the second round, is the first high-drafted offensive lineman for Jersey/A in five years. As for first-round selection Hakeem Nicks, this catch has got to be the reason -- a one-handed, between-the-legs reception. Throw it to the top of his helmet!
[+] Enlarge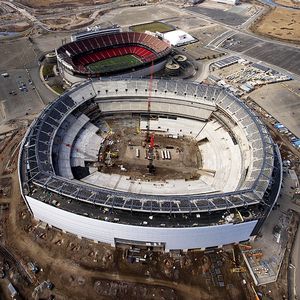 AP Photo/Mark LennihanPlease buy a PSL in our huge, new, high-tech entertainment complex. It will even have a football field!
Jersey/B. On ESPN, Steve Young called Mark Sanchez "presidential." OK, the kid has charisma, but the Constitution says you must be 35 years of age to be sworn in as president! If Sanchez runs the Jets' huddle in a presidential manner, it will take him two hours to call a play, dozens of advisers will be in the huddle, and all of them will claim "I was not informed" about whatever goes wrong. Will Sanchez help the Jets move the PSLs that are not selling at their swank new stadium? Fun factoid from this story about the Yankees and Mets having trouble selling seats in their swank new stadia: the Mets' average premium seat is $150, the Yankees' is $500. The Yankees really think their team has three times the appeal of the Mets?
Kansas City. Kansas City had a league-low 10 sacks in 2008, despite two recent first-round draft choices on the defensive line. Now the Chiefs have added another high-first-round defensive lineman, Tyson Jackson, the third choice overall. Kansas City better sack someone this autumn.
The Car Bubble: As debate continues on whether to extend the federal bailouts of General Motors and Chrysler, a key fact is being overlooked -- all light vehicle sales are down by roughly the same amount, even for the secure manufacturers. What's happening is the bursting of another economic bubble, in this case an auto-sales bubble. From 2002 to 2007, Americans bought about 16 million light vehicles (cars, SUVs and pickup trucks) annually. This year, maybe 10 million will sell. The 16 million rate was a bubble based on cheap financing and loose credit, plus pent-up demand for new vehicles. Credit is now available again, but demand is no longer pent-up -- it's been satisfied. The 16 million annual rate meant that over a five-year period, almost half of American adults bought a new car. People simply don't need so many new cars, especially with rising manufacturing quality resulting in cars that last longer than the ones they replace. It's likely the Big Three would have been hit by declining sales around now regardless of economic conditions or their internal problems. After all, Honda and Toyota, which don't have internal problems, are experiencing about the same sales decline as the Detroit marques. So what's happening is not that General Motors and Chrysler have been exposed as doomed enterprises. What's happening is that the entire auto industry is in a funk, but General Motors and Chrysler are most vulnerable, owing to their featherbedded union contracts and history of management blunders. (Ford has not asked for federal money, which raises a separate issue -- if General Motors or Chrysler effectively go on the dole, how can Ford, still paying its own way, be expected to compete? Now healthy, Ford could be made sick by government-subsidized competitors.)
[+] Enlarge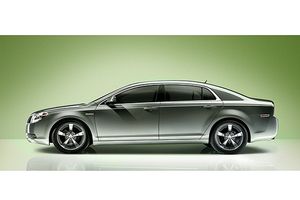 ChevroletThe new Malibu -- car buffs are wild about it, and it's built by Chevy in Kansas and Michigan.
Meanwhile, it seems widely believed that Detroit can save itself only by switching to econobox-style cars -- indeed, it's widely believed that Washington should compel this outcome if either Chrysler or General Motors gets a long-term bailout. "Chrysler rolls out SUV after government scolding" read a recent Associated Press headline, when the company unveiled an updated Grand Cherokee a few days after a White House internal report said Detroit should stop building SUVs. Econoboxes aren't selling, though -- Chevy dealers have on hand more than a year's worth of Aveo econoboxes, Honda dealers have on hand four months of the Fit minicar. Econoboxes shouldn't sell! They are unsafe, as this Insurance Institute for Highway Safety report finds. It is a false dichotomy to suppose that carmakers can build either dangerous econoboxes or wasteful SUVs. What America needs is midsized regular cars that combine safety, comfort and decent gas mileage. Get everybody into the Chevy Malibu or its equivalent and we'll all be safer, while petroleum demand would drop.
Can Detroit-built regular cars succeed in the marketplace? Car mags are raving about the Malibu, which is said to offer the same overall manufacturing quality and driving experience as the Honda Accord. Four times this year I've rented a car on a trip and each time asked for a Malibu, so I could try one for myself. Each time the rental agent has said the same thing: All our Malibus are out because customers are requesting them. A Chevrolet regular car is a hot product! Maybe Detroit will survive.
[+] Enlarge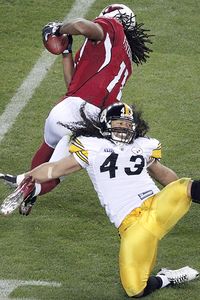 AP Photo/Charlie RiedelThey're on the cover of the new Madden game. So long, Super Bowl repeat appearance for both teams.
Miami. Bartender, Wildcats for everyone! Miami shook up the NFL by using the high-school-style Wildcat in 2008, and now signals it wasn't a one-year gimmick by spending a high pick on West Virginia quarterback Pat White, who's got "Wildcat" written all over him. Touts assume the Dolphins will switch White to slot receiver and kick returner; TMQ thinks he will play quarterback. In 2008, Miami worked the Wildcat by having tailback Ronnie Brown take the snap; the action was almost always a rush. (Brown threw three times on the season). Suppose Chad Pennington starts at quarterback, but White comes in for, say, 10 snaps a game behind center. White can either run or throw -- his passing accuracy is better than you think. Michael Vick was the last NFL quarterback who was a legit threat to run or throw on any down. If White performs as a Wildcat quarterback who will throw at least a couple of times a game, defenses will go nuts trying to prepare for the Marine Mammals -- they'll need to prepare for traditional pro sets (Pennington), high-school-style Wildcats (Brown), and who knows what (White).
Minnesota. By far the best news for Vikings fans -- Adrian Peterson declined an offer to be on the cover of the next Madden video game.
New England. No first-round selection but four picks in the second round, four picks in the third round -- can that be real? That's what the Flying Elvii were holding at one point Saturday evening. Bill Belichick traded two of the threes to bank two second-rounders for 2010, but did choose six times in the second and third rounds. TMQ wrote last week that he'd rather have the New England position in the middle rounds than be any of the several teams selecting twice in the first round. Super Bowl wins, salary-cap management, endlessly trading down to stockpile midrange choices -- in case you haven't noticed, New England knows what it's doing. Not only did New England choose four times in the second round this weekend -- without, seemingly, giving anything up! -- the Pats already are holding three second-round choices for next April. New England's Achilles' heel? Matt Cassel is gone, and the Patriots did not draft a quarterback. What if Tom Brady gets hurt again -- can you name New England's backup quarterback?
[+] Enlarge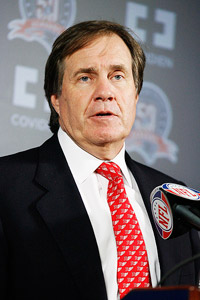 AP Photo/Stew MilneHis draft strategy is totally obvious. It's conducted in the open for anyone to see. Yet other teams still aren't smart enough to simply copy him.
New Orleans. The Saints were benefactors in the draft to the state of New Jersey, sending their second-round choice to the Giants and their third-round selection to the Jets. New Jersey Gov. Jon Corzine should send the Saints a fruit basket.
Oakland. Darrius Heyward-Bey is the king of "measurables" -- big, real fast -- but just was not a dominant player in college. So how is he supposed to become a dominant player in the NFL? Sure, Maryland had inconsistent quarterbacking during the past two years. But Heyward-Bey dropped balls, took plays off and sulked. He had games with no catches at all. How can that be, for a receiver worthy of going seventh in the draft? You get the feeling that if Heyward-Bey had gone in the second round, his chances of a successful NFL career would be higher. The pressure will be intense, and ridicule immediate if he doesn't excel.
Philadelphia. What's the deal with the Eagles and their secondary? Lito Sheppard demanded a trade and is now with the Jets; Sheldon Brown has demanded a trade; Brian Dawkins left for Denver and was openly unhappy about how Philadelphia handled it; last year the Eagles signed Asante Samuel from New England, and this weekend they traded for Ellis Hobbs from New England. Troy Vincent was hardly happy about the Eagles when he left, too.
Pittsburgh. Big victory in the Super Bowl, most Super Bowl wins in NFL history -- this franchise must have a flaw. The Steelers are very low on salary cap space. There, found one. The Steelers have a flaw.
San Diego. The Chargers used their first selection on a little-known Northern Illinois player, then used their third selection on a player from Western Ontario. If Jacksonville hadn't traded a 2010 second-round selection in order to choose a player from William & Mary, San Diego's draft board would have taken the weekend's eccentricity award.
He Got $135,000 For A Speech, And We Bet He Didn't Even Have an Opening Joke: A rule of news management is: When you have something bad to announce, announce it Friday evening, because Saturday's newspapers are the least-read of the week. Early this month, at 10 p.m. on a Friday night, the White House announced that in 2008, presidential economic adviser Larry Summers received $2.7 million in speaking fees, almost all from Wall Street and banking firms now being given taxpayer bailout money. Summers also received $5.2 million as an adviser to a hedge fund that has not been bailed out. Considering Summers is a poor public speaker -- I've twice been in the audience to hear him drone on with vague generalizations and statements of the obvious -- plus considering most of his economic predictions of recent years have been wrong, it is very hard to believe Summers' speeches actually were worth $2.7 million. Summers, the White House says, gave 40 speeches last year for an average fee of $68,000 -- which makes him one of the highest-paid speakers ever. And I can assure you, he is at best a below-average public speaker.
[+] Enlarge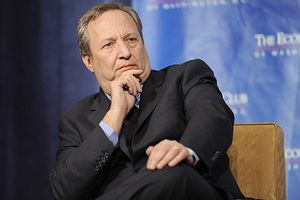 AP Photo/Susan Walsh"If you pay me $135,000, I will mumble a few vague generalizations."
Goldman Sachs paid Summers $135,000 for a single talk, the kind of speaking fee normally reserved for ex-presidents. Such an absurd fee, conveyed when Summers was known to be consulting with likely future president Barack Obama, sure looks like a polite gratuity conveyed in the hopes of future favors. The Wall Street companies hiring Summers to speak probably didn't want to hear him drone on; more likely, they wanted his good will if he got back into a high government post. (Goldman Sachs has received at least $13 billion in bailout money, via AIG.) How can Summers possibly be allowed to participate in decision making involving Goldman Sachs, or any financial firm he's received a "speaking fee" from?
Late that Friday night, the White House also disclosed that Summers, a former president of Harvard, received $587,000 in teaching salary from Harvard in 2008. This surely makes Summers the highest-paid professor in world history. How could Summers possibly have done $5.2 million worth of work for a hedge fund, and traveled the country to give 40 speeches, and done $587,000 worth of teaching at Harvard? Tuesday Morning Quarterback reiterates a longstanding cause: Harvard alums, stop giving to Harvard! Give to any of the hundreds of fine colleges where your money can make a difference. Don't give to Harvard only to have your money lavished on a wealthy "professor" who's busy somewhere else doing something else. Elocution note: Summers might be a highly paid dud as a speaker, but TMQ heard Obama political adviser David Axelrod speak last week at Colorado College, and Axelrod was terrific -- funny, charming, substantive. How much was Axelrod paid for his speech? Nothing! Maybe there is a law of nature: The more a speaker is paid the worse the speech, and vice versa.
San Francisco. What receiver is going to be right across the bay from the Raiders? Michael Crabtree, whom the Raiders passed on. Texas Tech coach Mike Leach was fuming Saturday night about how various supposed NFL conspiracies prevented Crabtree from going at the very top of the draft, which would have been a feather in Leach's cap. Hey, Crabtree went 10th. This is not chopped liver!
Seahawks. The Blue Men Group brain trust must think 2008 was a fluke and Seattle's accustomed winning ways will return in 2009, since they traded their second-round selection to bank a 2010 first-rounder. The transaction was with Denver, which was holding its own 2010 first-rounder plus Chicago's. The Seahawks got Denver's 2010 first-round pick, with Denver keeping Chicago's 2010 first choice. Thus Seattle wagers that Denver will have a worse season than Chicago: Spectators at Qwest Field will chant for whomever Denver is playing. Seattle got back into the second round by trading third- and fourth-round choices for a second-round pick, so in effect, the Seahawks banked a future first-round pick at the cost of only a third- and a fourth-rounder.
St. Louis. Will the Rams' drafting second become an annual event? To go 2-14 in the weak NFC West, you've got to be bad news, so a third straight draft at No. 2 seems a realistic objective for St. Louis. Last year at No. 2, Les Mouflons passed on Matt Ryan, an instant star at quarterback; this year at No. 2, they passed on Mark Sanchez. One reason: St. Louis awarded Marc Bulger a monster contract two years ago. Since that contract, Bulger has more interceptions than touchdown passes, while St. Louis would owe him $11 million if waived. This makes the Rams perceive themselves as locked in to Bulger. But if he struggles next season, while Sanchez performs well, St. Louis may go down in boneheaded draft-decision annals.
[+] Enlarge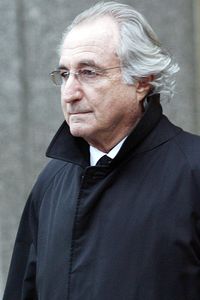 AP Photo/Stuart RamsonIf he'd been a "Sopranos" character, people would have said, "Come on, that could never really happen."
And, Yes, Madoff Can Deduct His Attorney's Fees: In March, the IRS ruled that victims of the Bernard Madoff swindle can claim their vanished principal as a theft loss, rather than an investing loss. What's the difference? Theft losses can be taken in a single tax year, and used to shelter income from taxation; investing losses are limited to a $3,000 deduction annually. Madoff victims' groups praised the IRS decision, and everyone sympathizes with Madoff victims. But wait -- what about all those people who told reporters they were "wiped out" by Madoff? If you're wiped out, then you have no income to offset. Having IRS approval to claim the full Madoff loss in the current tax year only matters if you've got substantial income; if you're still a millionaire even after being bilked by Bernie. So either this IRS favor only really helps Madoff's super-rich victims, or many of those telling reporters they were "wiped out" are not in fact wiped out, and still have substantial income to offset.
Tampa. The Bucs must have assumed Denver was going to pick Josh Freeman since, selecting 19th, they traded with the Browns at 17 to get ahead of the Broncos at 18. All they gave up in this transaction was a sixth-round choice, so the deal was harmless. But TMQ doubts Denver would have chosen Freeman. TMQ takes Josh McDaniels at his word about wanting Kyle Orton under center. Remember, at New England, McDaniels worked with Tom Brady, whom no other team wanted, then with Matt Cassel, whom no other team wanted. Now McDaniels has Orton, whom no other team wanted. A quarterback without a super-high profile and without ego issues is someone you can work with as a coach. The Bucs also conducted the draft's smallest trade, giving Dallas a seventh-round selection in order to move up three positions in the middle of the fourth round.
Tennessee. Remember the Titans? Tennessee had the best record in the AFC last season and mostly outplayed Baltimore in the divisional round; the Flaming Thumbtacks would have hosted the AFC Championship Game were it not for a couple of boneheaded turnovers. Going into the 2008 season, the Pittsburgh Steelers were the best team under the radar. Going into the 2009 season, the Tennessee Titans are the best team under the radar.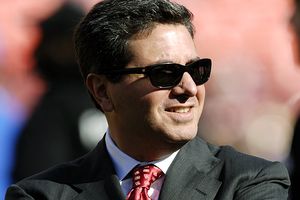 AP Photo/Nick WassHe hasn't fired anyone in months. Is Chainsaw Dan feeling OK?
Washington. All offseason, Chainsaw Dan Snyder has been trying to put together a blockbuster trade. You gotta feel for Chainsaw Dan -- he hasn't fired anyone in months, so he needed a blockbuster trade for therapeutic reasons. But nothing came together. Then it turns out the best defensive end in the draft, Brian Orakpo, simply falls to the Redskins at the 13th selection. Doing nothing turned out to be the best strategy, how Buddhist! This was a welcome break for the Skins, since Chainsaw Dan traded this year's second-, fourth- and seventh-round draft choices for players Washington already has waived. And what is the matter with the front office? After undercutting starting quarterback Jason Campbell by openly attempting to unload him before the draft, on draft day, Skins general manager Vinny Cerrato and head coach Jim "Dan Snyder Hasn't Fired Me Quite Just Yet" Zorn both openly told reporters they tried to trade up for Mark Sanchez. Wouldn't it be nice if Redskins management was putting its quarterback into a position to succeed rather than systematically undercutting him!
The Car Bailout: So far, General Motors and Chrysler, plus their subsidiaries and suppliers, have received about $31 billion in federal aid. At the typical selling price of GM and Chrysler products, $31 billion buys about 1.4 million cars. So instead of just giving $31 billion to these firms as a taxpayer-subsidized gift, enabling them to put off addressing their core problems of union featherbedding and management blunders, why didn't the government use the money to buy cars? Buy 1.4 million cars and distribute them to taxpayers by lottery! Hand them out to school systems and charities! General Motors and Chrysler combined to sell 4.3 million cars and light trucks in the United States in 2008; adding 1.4 million in sales to the 2009 figures for both would send them roaring back into the black. But instead of being used to buy something, the federal subsidies to General Motors and Chrysler were pure waste -- money straight down the drain.
It's now been seven months since taxpayers began supporting GM and Chrysler, and only in the past two days has there been significant progress -- union concessions to Chrysler, management-level hard choices at General Motors. Finally, positive movement. But under the current plan, General Motors does not even need to ask its unions for concessions till June 1. Right now, UAW members at GM can retire in their early 50s with pension and health care benefits funded by taxpayers. How many early-50s taxpayers are receiving full pension and health benefits for no work? Chrysler is owned by a private-equity firm; why are taxpayers handing a $9 billion gift (the total so far) to a private-equity firm? "Private equity" is an asset class used almost exclusively by the very rich. And former GM CEO Rick Wagoner, ordered fired by the White House, stands to collect a $20 million retirement bonus soon. This bonus will be funded by taxpayers with a median household income of $50,000 -- it is an outrage average people will be taxed to hand $20 million to a wealthy man. General Motors has been emphasizing the money is for Wagoner's retirement, as though he were a poor church mouse shivering at the door. If it's the case that a person needs $20 million for a secure retirement, let's see that factored into Social Security! But please don't let us hear the money must be paid because Wagoner's contract calls for it. Eventually the UAW will be compelled to tear up its contracts and accept less. Why haven't management's contracts already been torn up, to set a good example? Plus without tax subsidies, General Motors would already be bankrupt; Wagoner's golden parachute would already have been voided by a bankruptcy court. If it ends up that the former CEO of GM stuffs $20 million of taxpayer money into his pocket, President Barack Obama, for all his complaints about management bonuses, will seem a phony.
General Motors just announced a months-long production shutdown at most plants, to clear out a backlog of cars at dealerships. Why isn't this opportunity being used to convert the facilities into "flexible factories," ones that quickly change output based on demand? The chief advantage Honda and Toyota have over the Big Three isn't their workforce -- UAW workers are hard-working and skilled -- it is flexible factories that use "lean" production techniques. Chrysler and General Motors have been in semi-suspension since last fall, but instead of using the time to retool for the future, the companies have spent these months postponing major decision making, while extending their hands to the taxpayer. Washington shares the blame, since it has taken its sweet time about pressuring either company to make significant changes. The rich who hold shares of private-equity funds, the UAW, the big bondholders -- all are politically connected. Washington would rather shaft average taxpayers, by continuing to hand over subsidies in exchange for empty promises that concessions will be considered later, rather than compel the politically connected to sacrifice. Based on how poorly Washington has negotiated with General Motors and Chrysler, here's what it might sound like if Nancy Pelosi was buying a car:
DEALER: Yes sirree, I can let you have this cherry-red baby for $19,999.99! Plus undercoating and dealer prep.
PELOSI: I'll pay $50,000.
[+] Enlarge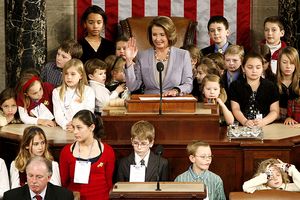 AP Photo/Pablo Martinez Monsivais"Children, this is where we give away your future."
DEALER: For a limited time only, I can throw in remote-controlled eight-way power cupholders, for another $999.99.
PELOSI: I'll buy them at $75,000.
DEALER: Do you want the extended warranty?
PELOSI: No. But I'll pay another $25,000 for it.
DEALER: Aren't you worried something will go wrong?
PELOSI: If it does, I'll just send the bill to the taxpayer.
DEALER: So you are willing to pay $150,000 for a $20,000 car? I'll have to go ask my manager! (Disappears into back, pretends to talk to manager, returns.) Lady, you drive a hard bargain. He says that for $31 billion, we will give you absolutely nothing at all.
PELOSI: Sold.
Leftover Bad Prediction: In my Bad Predictions Review, I neglected to cite the primary Super Bowl forecasts made at the season's start by Sports Illustrated and by ESPN: The Magazine (Published on Earth: The Planet). SI forecast Patriots over Eagles; The Mag predicted Chargers over Saints. None of the predicted Super Bowl entrants made the Super Bowl. Over the past four seasons, Sports Illustrated and ESPN: The Magazine have combined to predict Super Bowl victories for Miami (predicted twice), San Diego (predicted twice), Minnesota, Carolina, New England and New Orleans. No prediction was right, while six of the eight Super Bowl winners predicted by these two publications failed to make the playoffs in the year of the prediction.
[+] Enlarge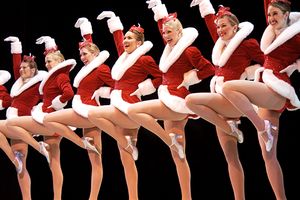 AP Photo/Josh ReynoldsMother's Day is coming. Buy your Christmas tickets now!
Unified Field Theory of Creep: Last week reader Alec Stais of New York received an e-mail from Radio City Music Hall, urging him to buy tickets now to the 2009 Christmas pageant. Radio City said the tickets were offered for "presale." Isn't a "presale" the same as a "sale"? Jonathan Boyd of Urbana, Ill., reports his local newspaper's most recent Sunday section included a flyer advertising Christmas ornaments. Peter Love of Arlington, Va., writes, "My family and I were watching 'It's the Easter Beagle, Charlie Brown.' The Peanuts gang goes to a department store to get Easter presents for Sally, Peppermint Patty and Marcie. Charlie Brown complains that the store already has its Christmas decorations and merchandise out. There's even a store sign visible in a scene that says, 'Only 246 Days Left Until Christmas.' This special first aired in 1974, so obviously Christmas Creep was an issue back then." And Jack Bell of Budapest, Hungary, notes the Oktoberfest promotion organization unveiled the Oktoberfest 2009 logo in February. Make your travel plans soon -- in Munich, this year's "October" fest begins on Sept. 19 and ends on Oct. 4.
Frequent Flier Pick of the Draft: It's a tie this year. Selection 137: Baltimore from Detroit through Seattle, Philadelphia and New England. Selection 141: Denver from Cleveland through Philadelphia, New England and Baltimore. Note the trade-wacky Eagles and Patriots were involved in both.
Mr. Irrelevant Watch: Ryan Succop, placekicker from South Carolina, was the final selection of the draft, going to Kansas City with the 256th choice overall. Darn, I had Succop going to Seattle with the 247th overall selection. I just have to spend more time on the horn with general managers, working on my seventh-round board.
Next Week: "See you in September ..." Actually in August, when the football artificial universe resumes.
In addition to writing Tuesday Morning Quarterback, Gregg Easterbrook is the author of "The Progress Paradox: How Life Gets Better While People Feel Worse" and other books. He also is a contributing editor for The New Republic, The Atlantic Monthly and The Washington Monthly.
Author of "The King of Sports"
Former Fulbright distinguished fellow
Contributing editor to "The Atlantic"